Use this Panzanella salad recipe to make an effortless, delicious summer salad. It incorporates a quick crouton-making tutorial so you can adapt it for National Crouton Day (May 13).
When the heat hits hard, you need a decent bowl of salad in your meal plan. Something full of juicy, crunchy bites that's fun to eat and rehydrates.
Our Panzanella salad, accompanied by plenty of crunchy croutons, ticks all of these boxes. After just 15 minutes, you'll have a fun, nutritious snack to help you get through the day.
What Is Panzanella?
Panzanella is a Tuscan salad consisting of stale bread, veggies, and a simple vinaigrette. 'Pane' means 'bread', and 'zanella' refers to the deep dish the salad is often served in.
It's important to think of Panzanella as a bread salad 'decorated' with vegetables. The recipe may evolve, but the stale bread always takes a larger proportion within the dish.
Why stale bread? Allowing bread to stale was a commonly-used storage method in the past. Panzanella was one of the good ways to use stale bread. Folks would cut it into cubes, soak it in water, squeeze it, and mix it with the veg and dressing.
Now that there are more bread choices, the salad can still be made without this traditional ingredient. We used fresh bread, turned them into croutons, and they made for a really fun eat.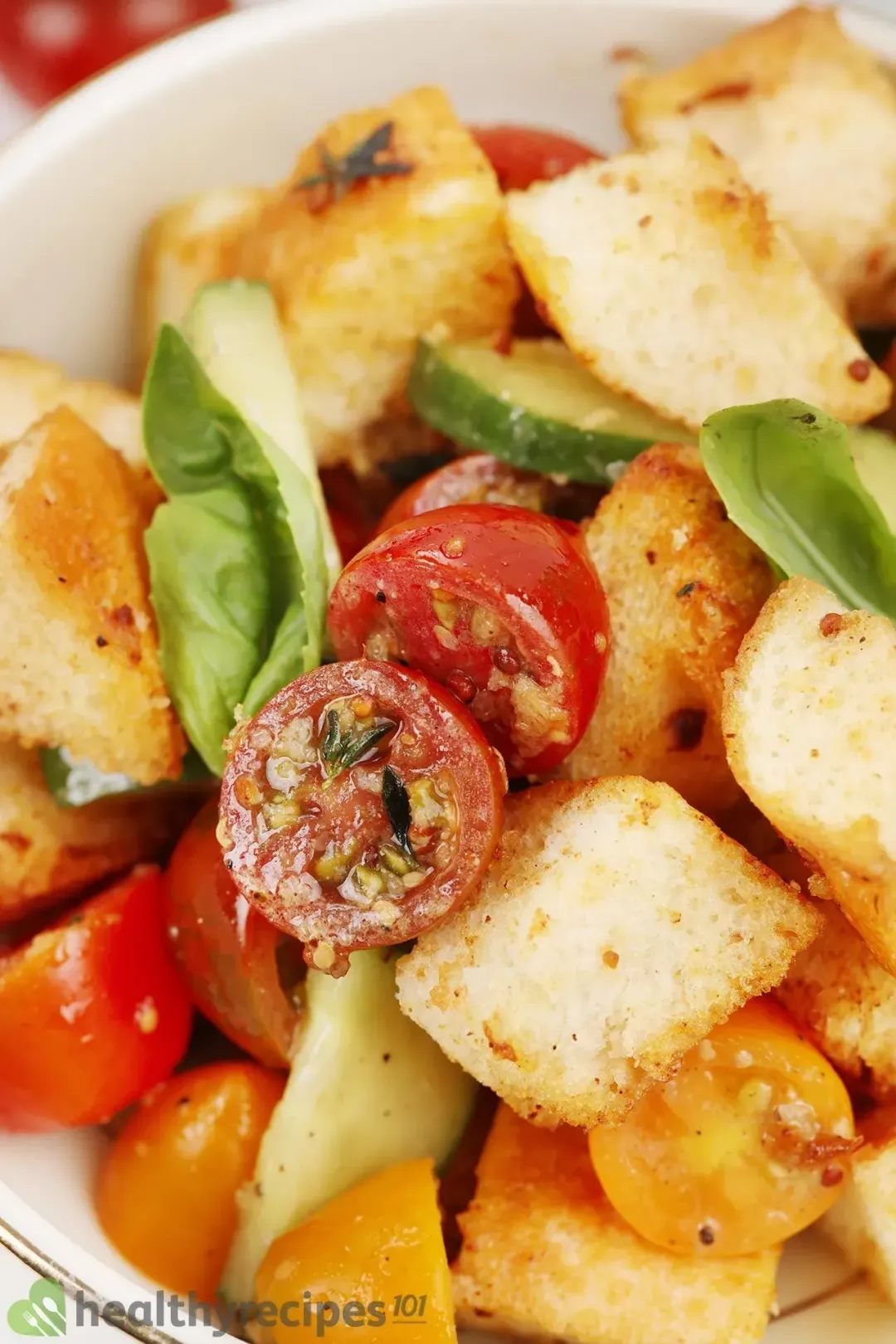 Is Panzanella Salad Healthy?
Our Panzanella salad recipe has tomatoes, cucumbers, and onions, which give plenty of immune-enhancing micronutrients. They also help you meet your daily fiber needs, which can result in a healthier body.
Olive oil in the dressing comprises mainly healthy fats. If you can, use extra virgin olive oil to get some vitamin E and antioxidants, which can help reduce bad cholesterol.
Unlike many other dishes, panzanella salad itself does not contain a lot of sodium and saturated fats. We only had to look after the calorie content, which is now also within a reasonable level.
Is Stale Bread Healthy?
Stale bread is bread exposed to air or heat, resulting in it losing moisture and hardening. It is not to be confused with spoiled bread, which has one (or all) of the following properties:
It has mold — fuzzy spots in green, black, white, or even pink. This indicates there are poisonous spores growing all over the loaf and that it should be discarded.
It doesn't have mold but has an unpleasant odor and a funny taste. If there is mold, do not attempt to inhale the bread or taste it because you can get food poisoning.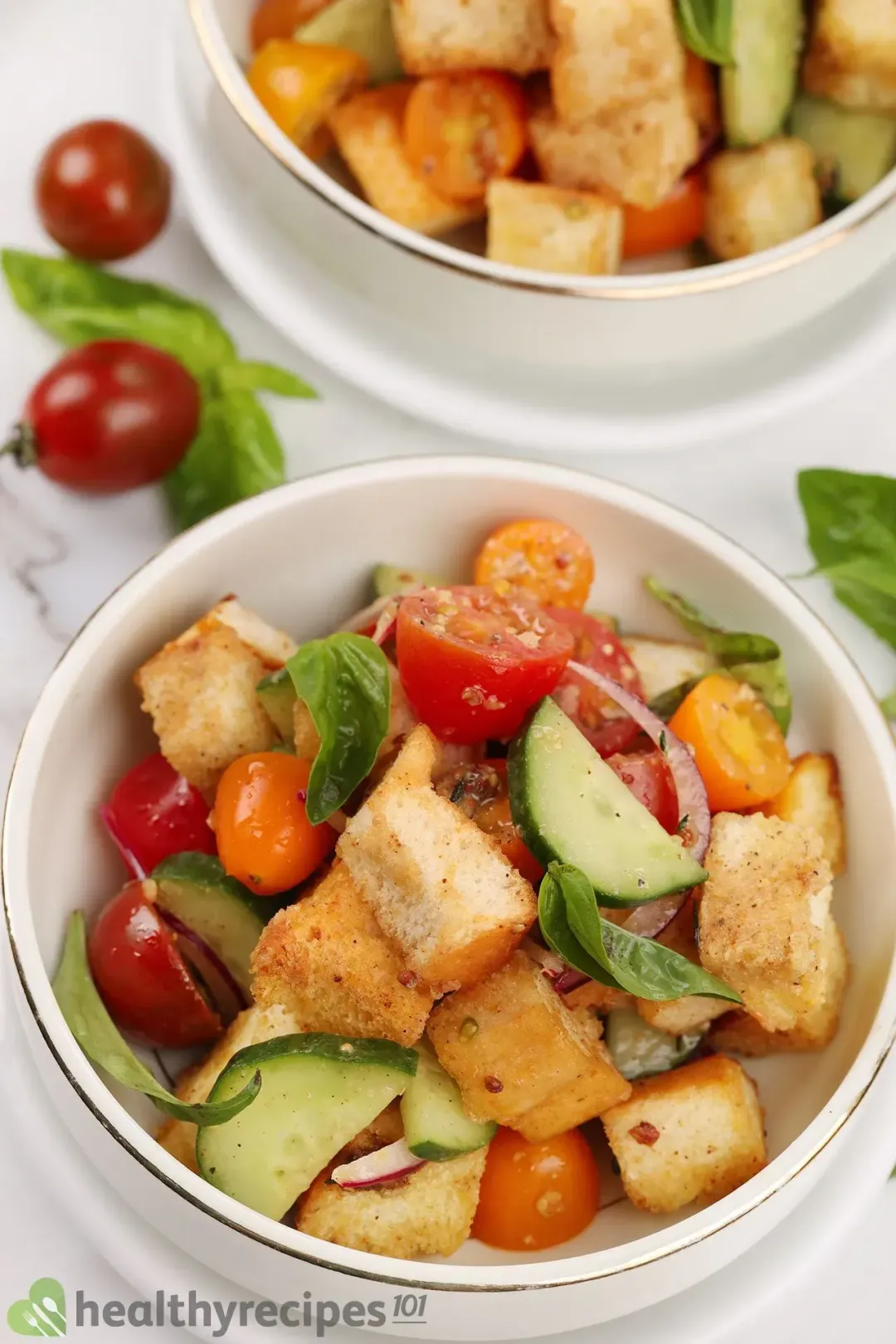 Besides a shift in texture, a recent discovery tells an interesting tale about stale bread. It contains resistant starch, which is digested in a very unique way.
Once consumed, this starch goes straight to the large intestine and gets feasted on by the bacteria. It's turned into fatty acids, which have some positive effects on the colon lining.
However, the research also indicates that the amount of resistant starch is no more than 2% of the total starch, in other words, an insignificant amount. It's safe to say that stale bread is nutritionally the same as fresh bread.
The Panzanella Dressing
The classic Panzanella dressing is a vinaigrette made of olive oil, red wine vinegar, and seasonings. A proper dressing should be tangy. Not too salty, not too wet, and not too oily.
The vinaigrette we're about to show you has a touch of mustard. Not only does it intensify the flavor, but it also helps to dissolve vinegar in oil, something that would otherwise be impossible.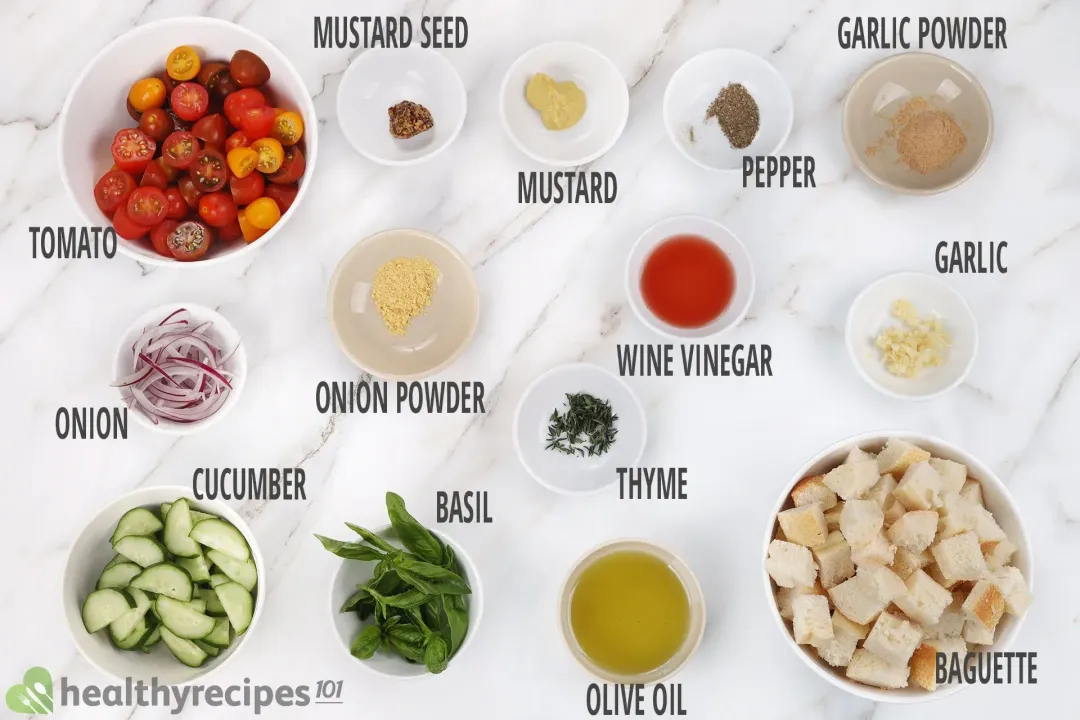 So, when we ask you to whisk the dressing ingredients, we really mean it. You will end up with a uniform, silky dressing that disperses flavors evenly throughout the salad.
How to Make Panzanella Salad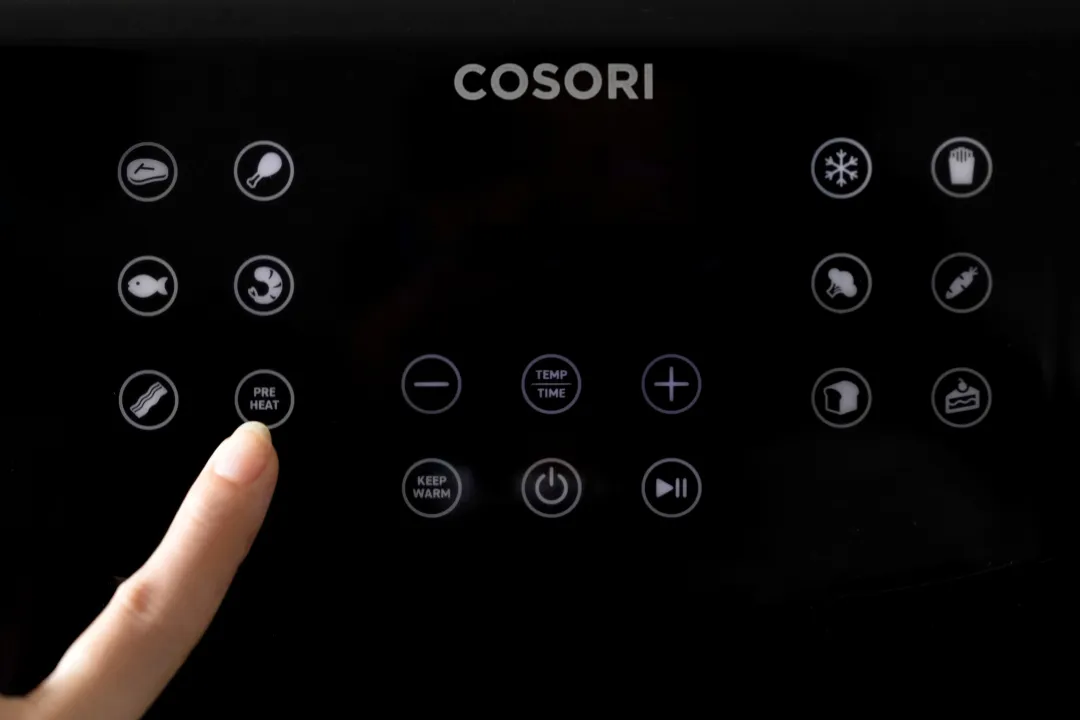 Preheat the air fryer (or your oven)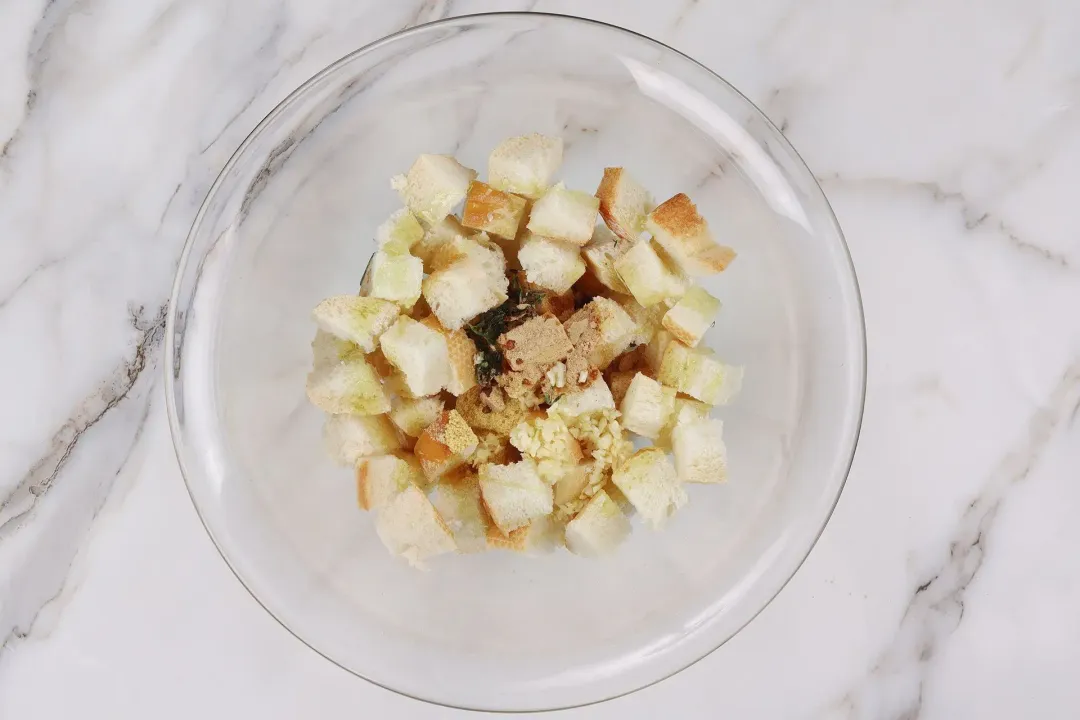 Toss the bread cubes with the seasonings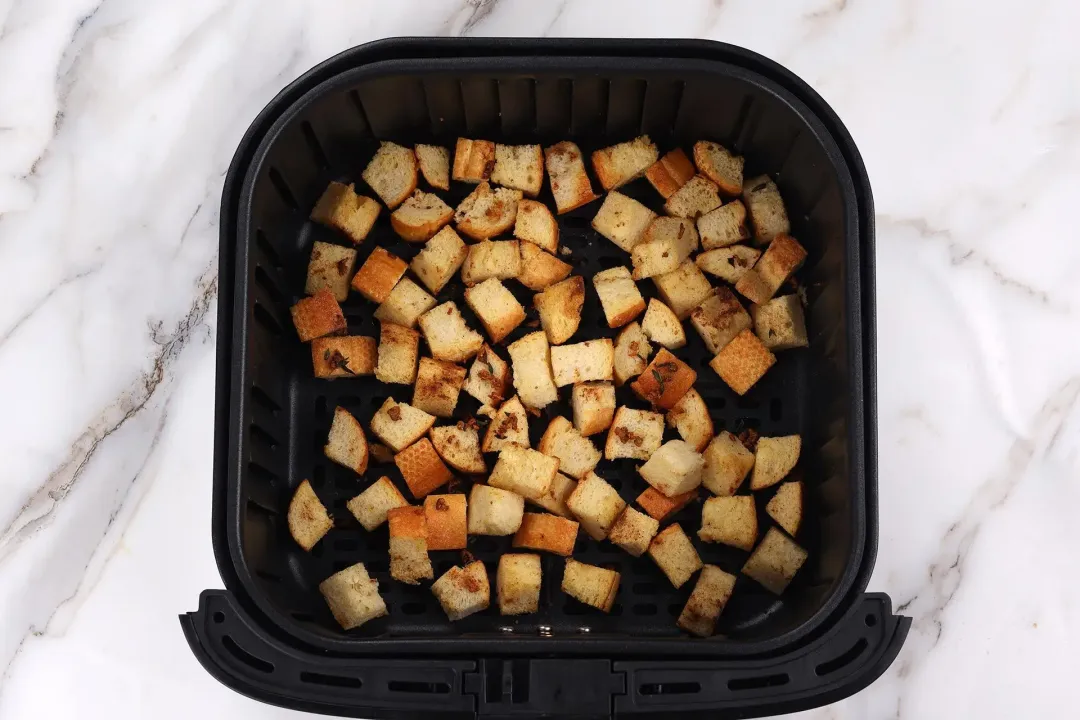 Air-fry (or bake) the bread cubes to make crunchy croutons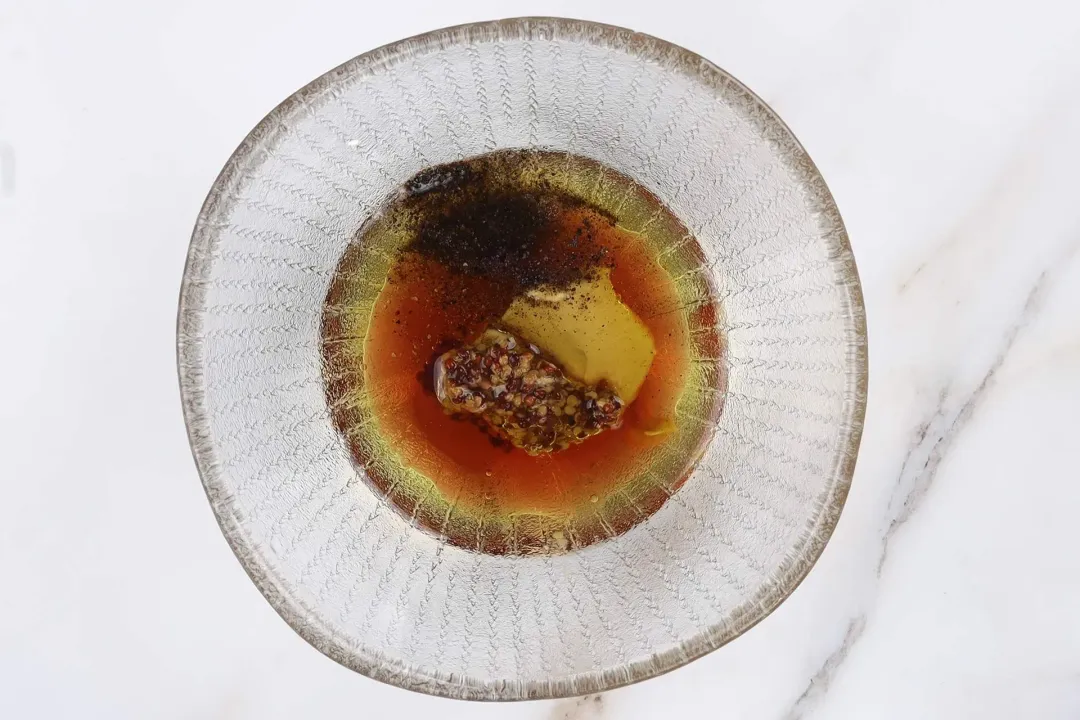 Whisk together the dressing ingredients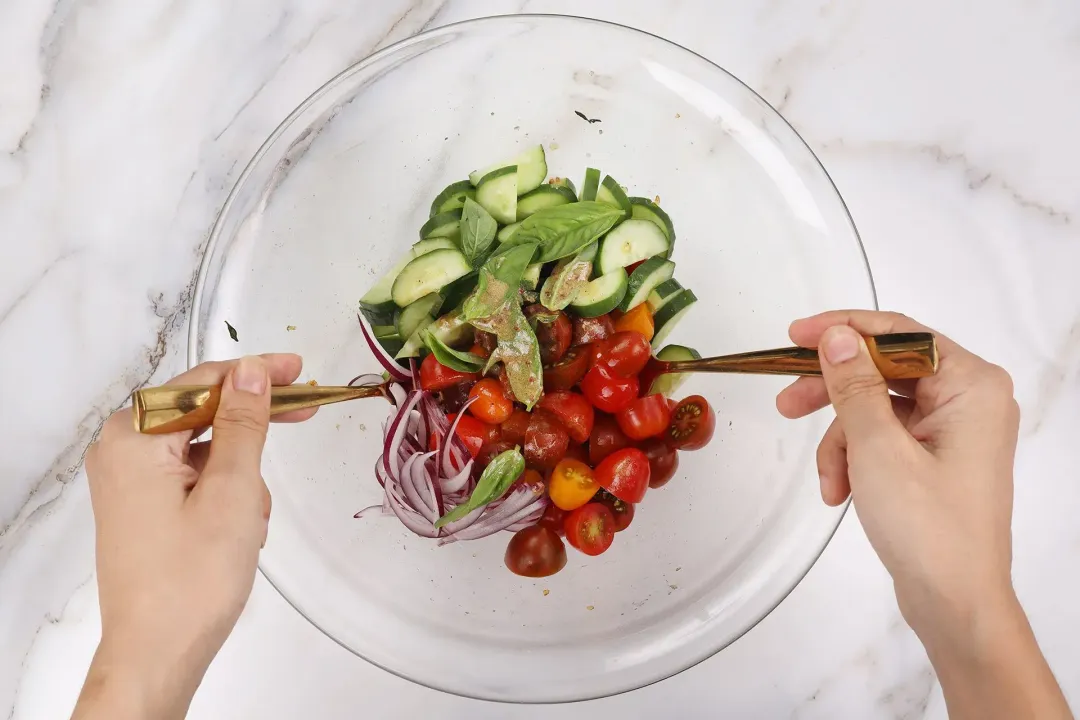 Toss the vegetables with the dressing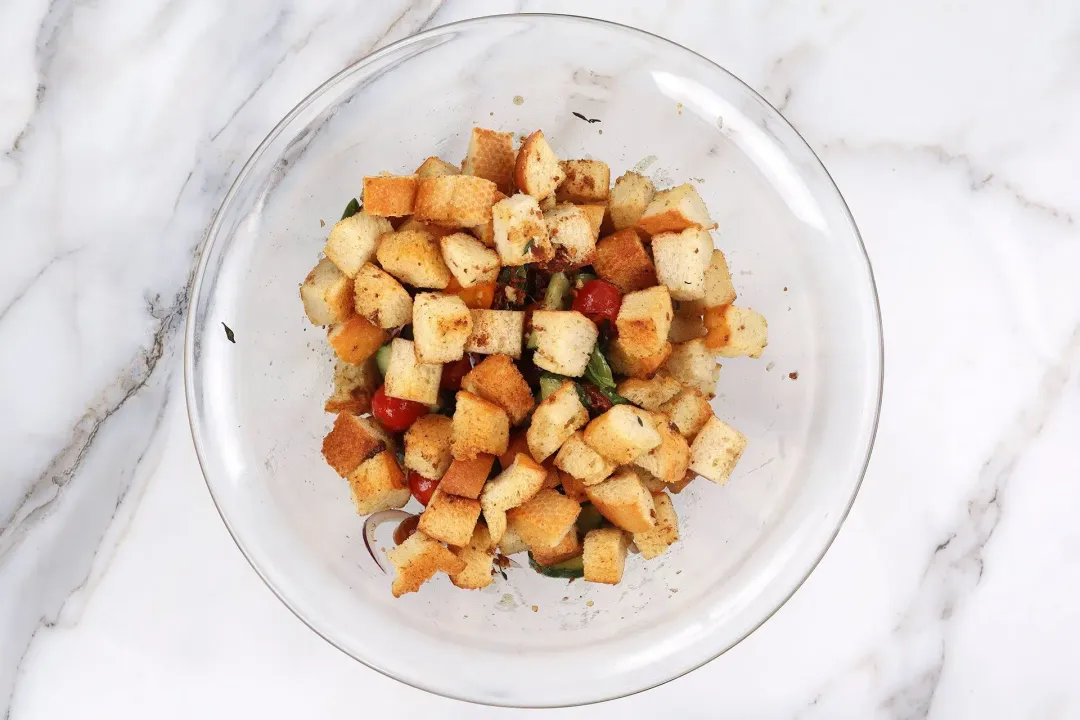 Quickly toss in the crispy croutons and serve
For exact ingredient measurements, refer to the 'Panzanella salad recipe' card down below.
What to Serve With Panzanella
Like many salads, this one complements grilled meat — chicken, steak, shrimp, or fish. Its crunchy bites pair nicely with the tender, juicy texture of properly cooked meat.
Since Panzanella is a Tuscan dish, we think it's beautiful to serve it with Tuscan butter salmon. You can dip the croutons into the cream sauce then eat it along with a piece of fish — the ultimate bite bursting with flavors.
How Long Does This Salad Last?
It's important to serve this salad right away because the bread won't be crispy for long. We recommend you make just enough salad, but if there's leftover, you can store the components separately in the fridge (for up to a week).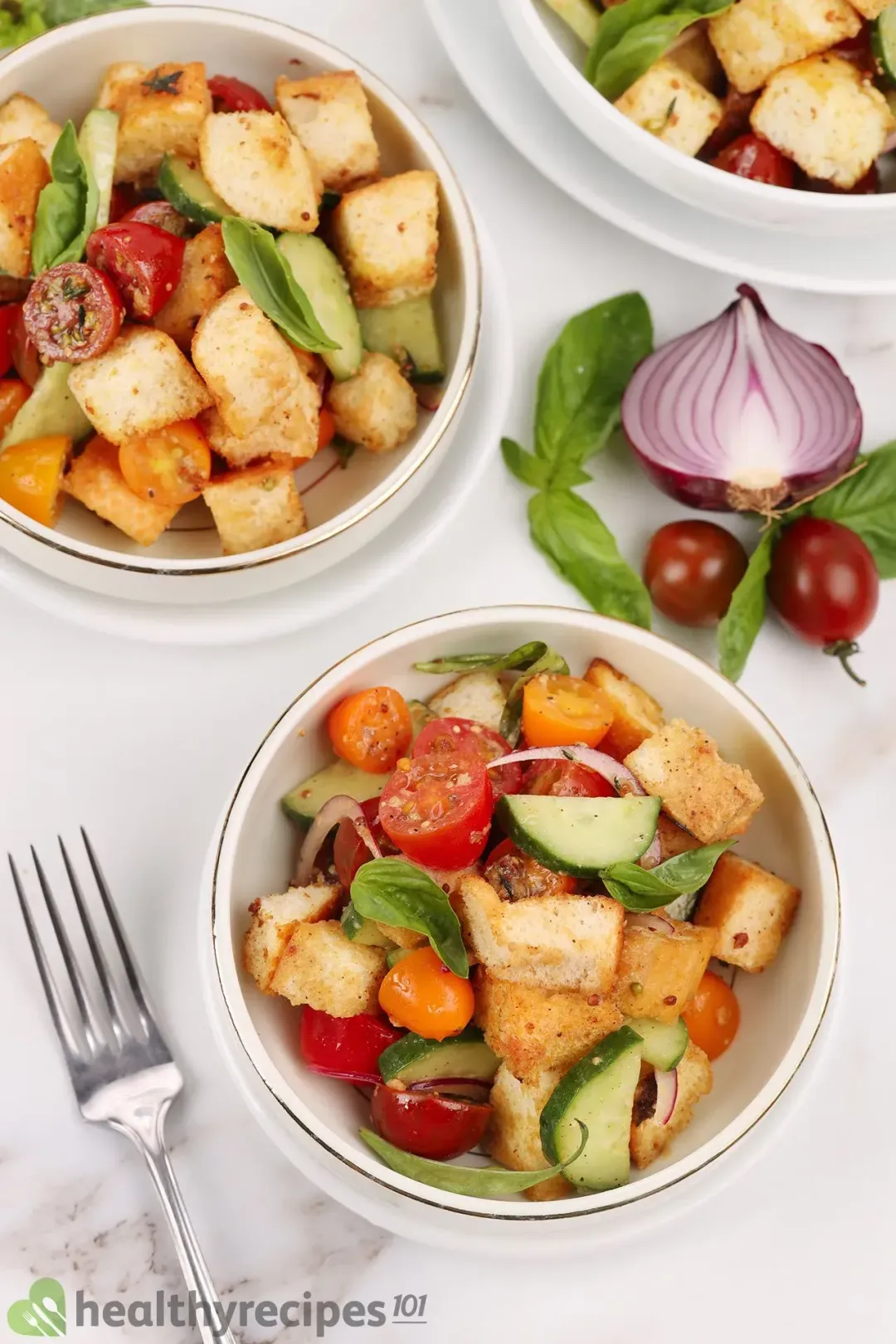 To reheat, you can air-fry/ bake the croutons briefly or toast them in a pan over low heat. When they're warm, have them tossed with the veggies and the dressing.
Don't store the salad in the freezer as it is full of juicy vegetables. They will come out mushy and not appetizing at all.
We also have this easy and healthy salad roundup, dedicated to salad lovers. The recipes are easy to follow and complied with our healthy eating standards.
More Delicious Salad Ideas!
Panzanella Salad Recipe
Our Panzanella salad recipe is quick and simple. The bread needs 13 minutes of baking, and while it's baking, you can prep the ingredients to make the salad in just 15 minutes.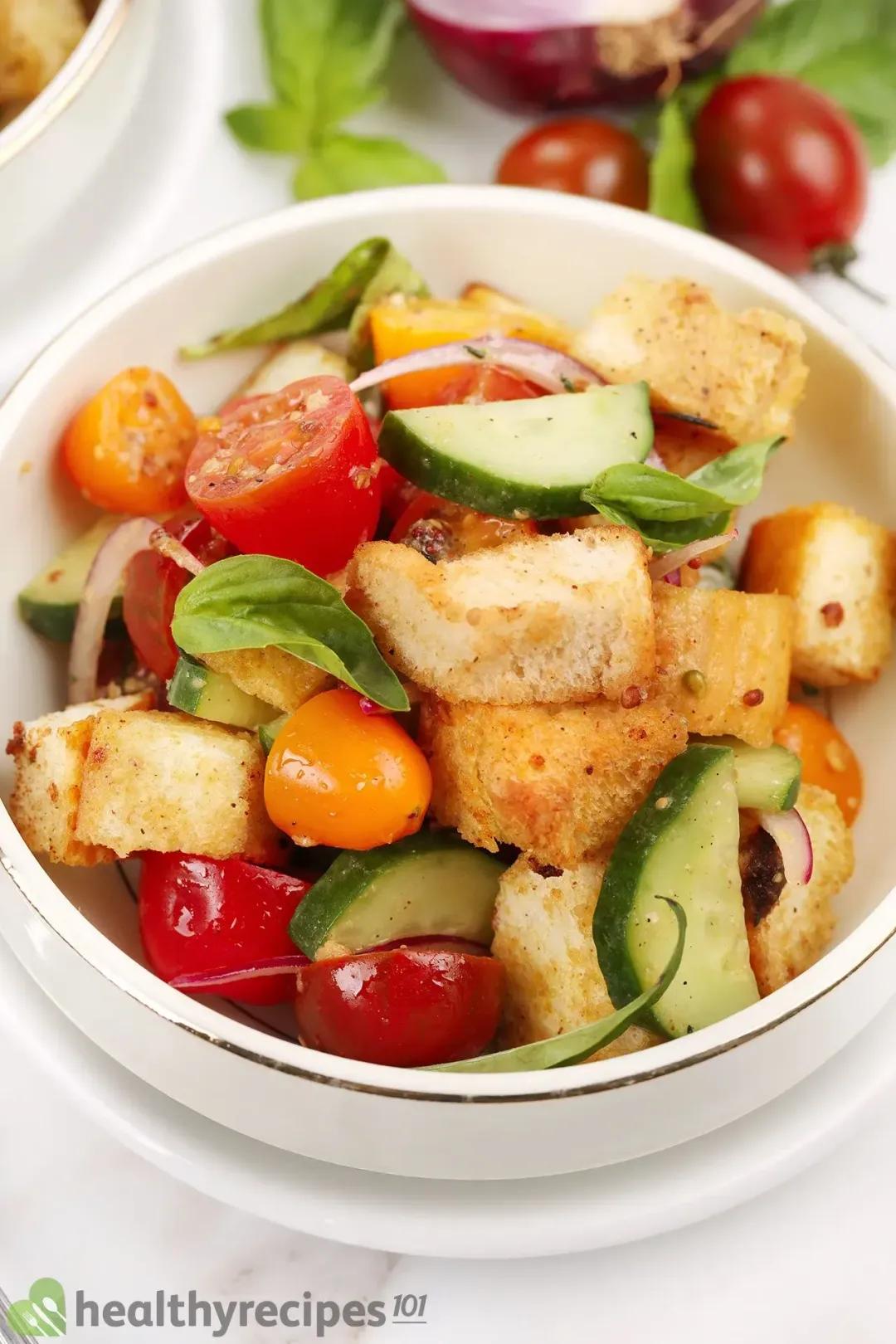 cook TIME

13 mins

prep TIME

2 mins

total TIME

15 mins
COURSE

Side Dish

CUISINE

Italian, Tuscan

SERVINGS

servings

CALORIES

191 kcal
INGREDIENTS
4 oz

French baguette

(cut into 1-inch cubes)

3 tbsp

olive oil

(divided)

1/4 tsp

ground black pepper

2 tsp

traditional Dijon mustard

1 tsp

whole grain mustard

10 oz

cherry tomatoes

(halved)

4 oz

cucumbers

(halved then sliced)

0.5 oz

red onions

(sliced)

1 oz

basil

(about 10-12 leaves)
INSTRUCTIONS
1
Preheat the air fryer/ oven to 300°F (or 150°C).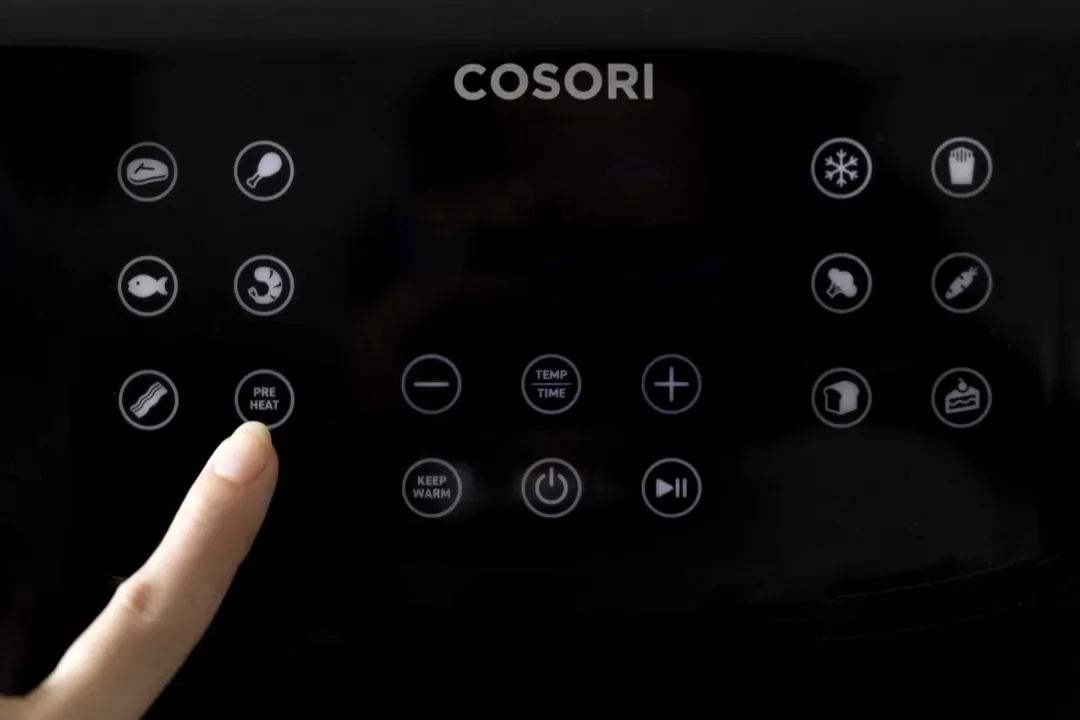 2
Toss 4 oz cubed baguette with 1 tbsp olive oil, 1 tsp minced garlic, 1 tsp fresh thyme, 1/2 tsp onion powder, and 1/2 tsp garlic powder. Make sure to sprinkle the dry ingredients so every piece of bread is coated evenly.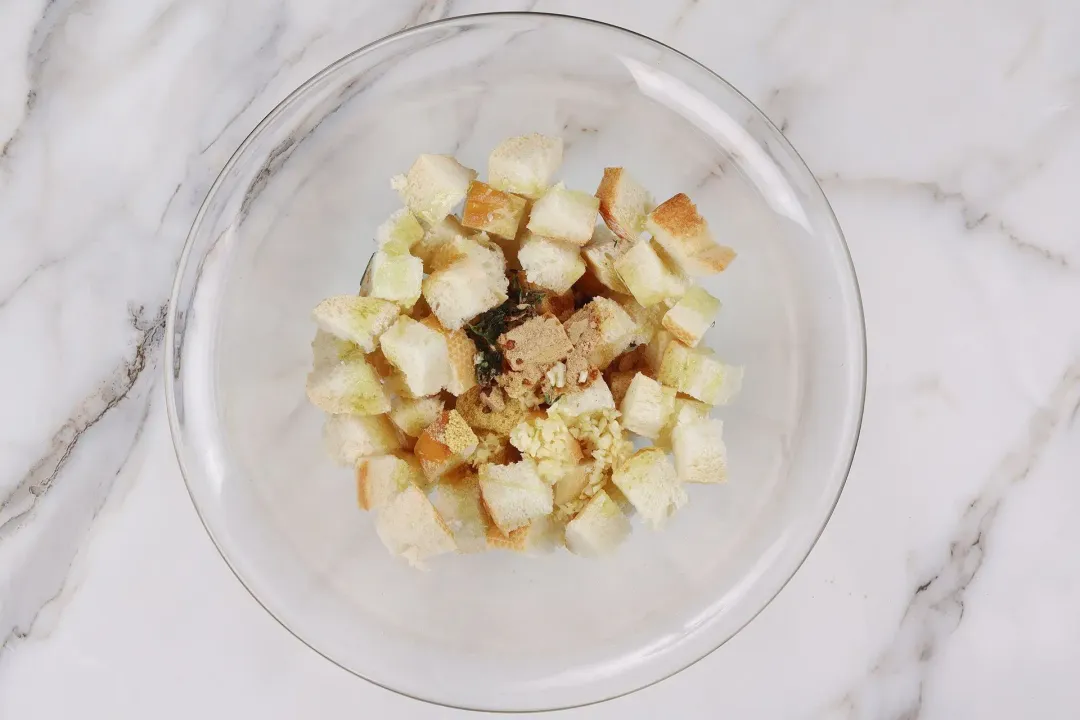 3
Add the seasoned baguette cubes into the air fryer basket and spread them out in one layer. Air-fry for 13 minutes to make golden, crispy croutons. If you're using the oven, spread them out onto the baking sheet and bake for 15 minutes.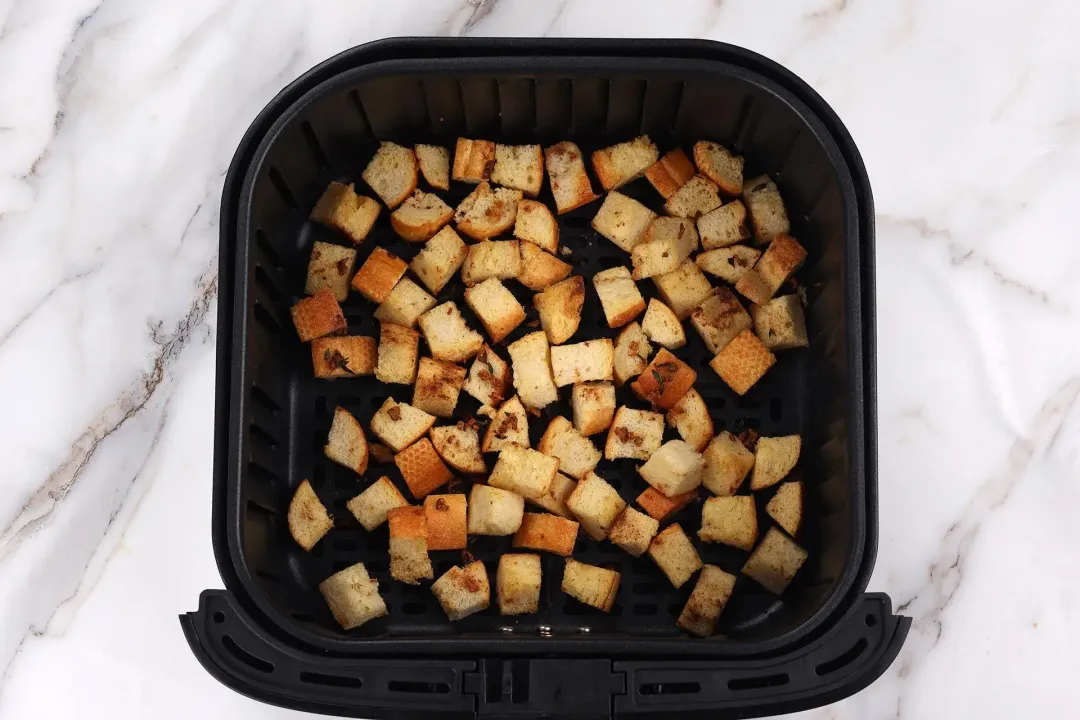 4
Meanwhile, in a dressing bowl, whisk together 2 tbsp olive oil, 1 tbsp red wine vinegar, 1/4 tsp pepper, 2 tsp Dijon mustard, and 1 tsp whole grain mustard. Whisk until you no longer see two layers separating.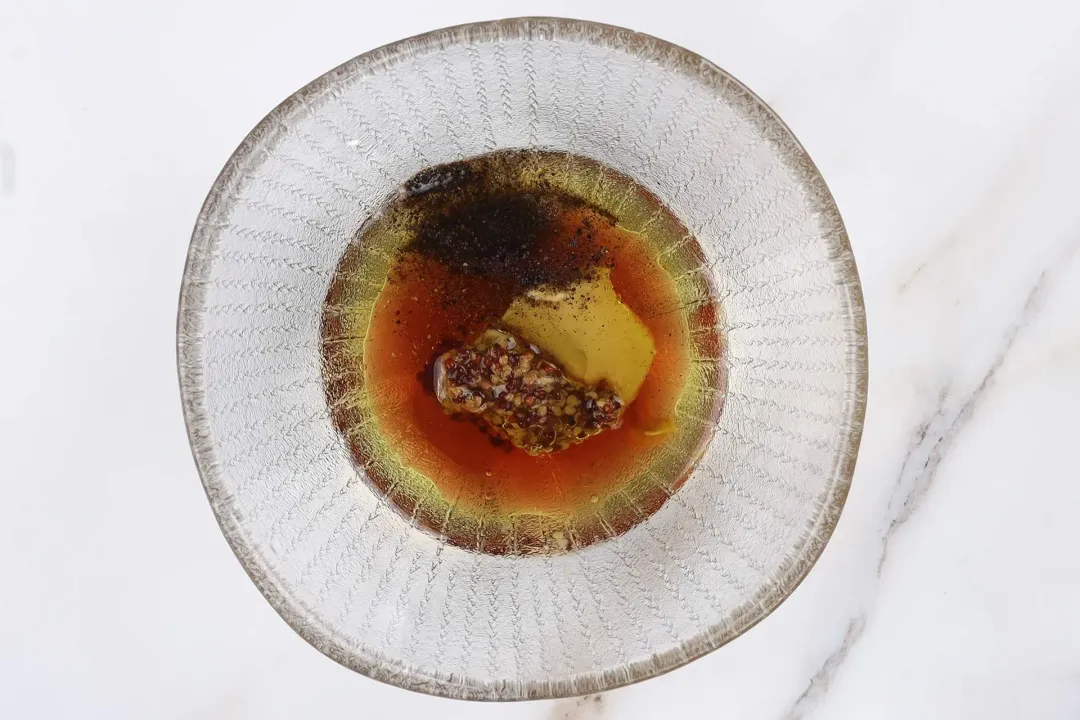 5
In a large salad bowl toss 10 oz halved cherry tomatoes, 4 oz sliced cucumbers, 0.5 oz sliced red onions, and 1 oz basil with the dressing.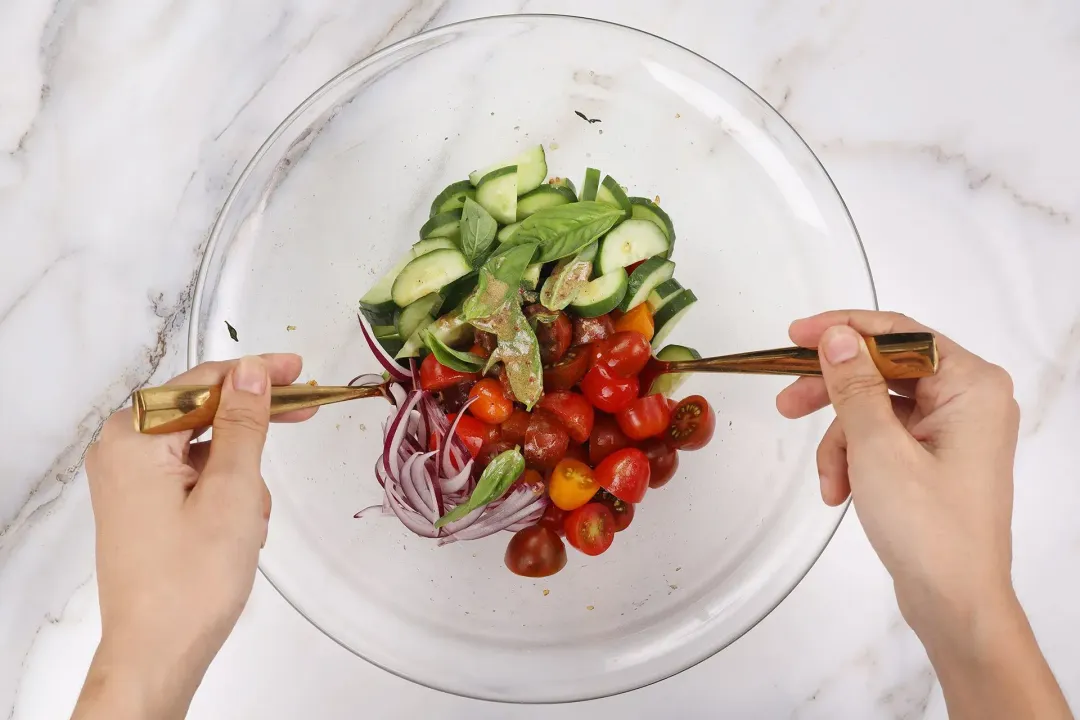 6
To serve, add the crispy croutons to the bowl and toss quickly. Only toss the croutons right before serving or they'll be soft.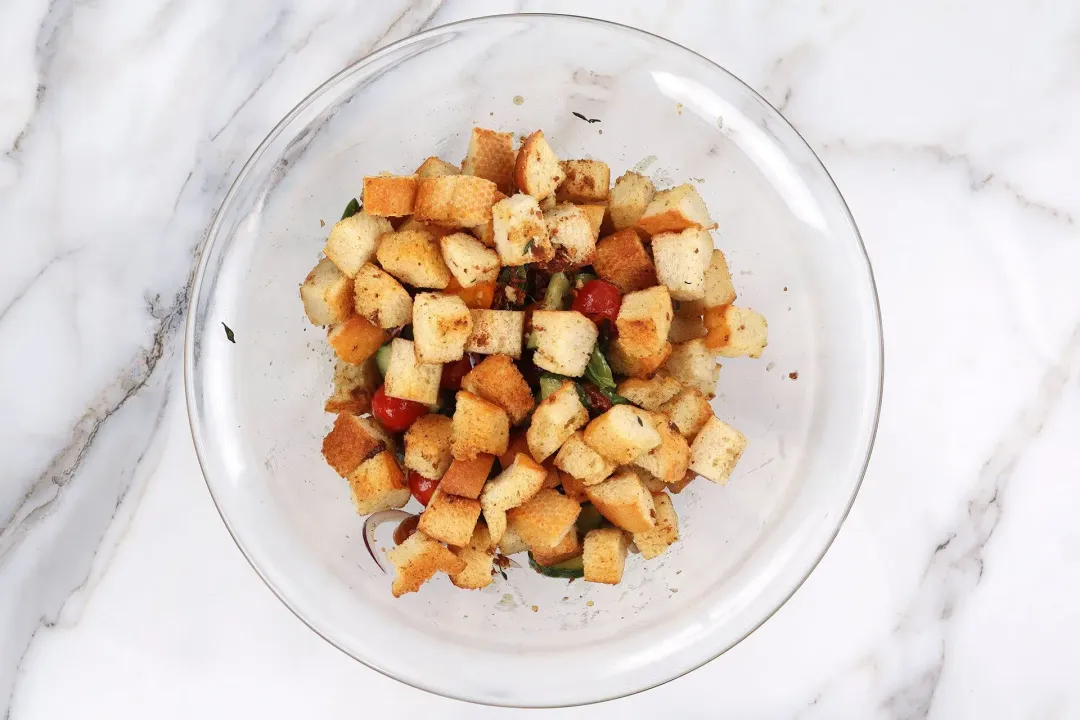 NUTRITION
Nutrition Facts
Panzanella Salad Recipe
Amount Per Serving (1 serving)
Calories 191
Calories from FDA
% Daily Value*
* Percent Daily Values are based on a 2000 calorie diet.
Keywords: how to make panzanella salad, panzanella salad, panzanella salad recipe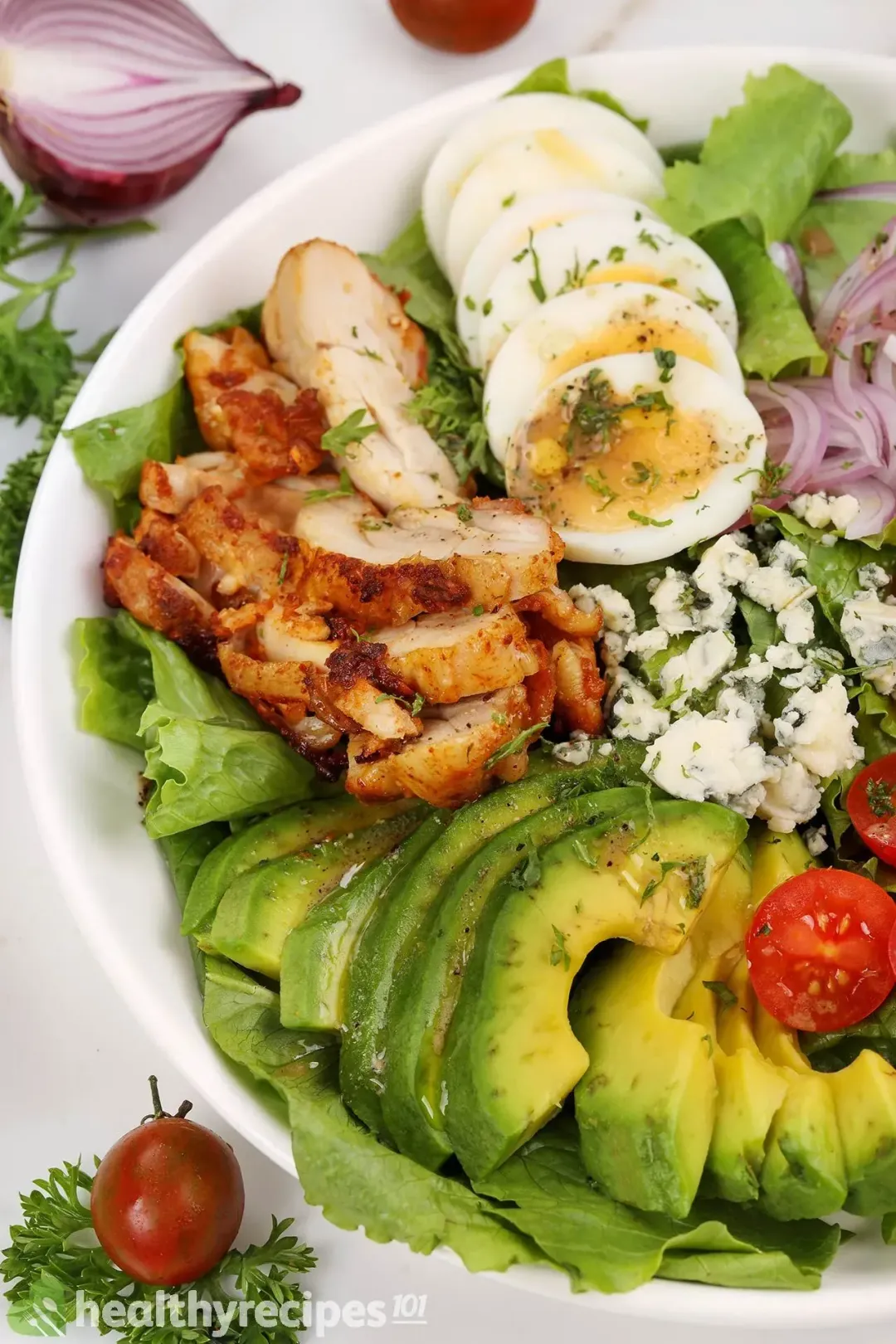 Previous Recipe
Cobb Salad
Cobb Salad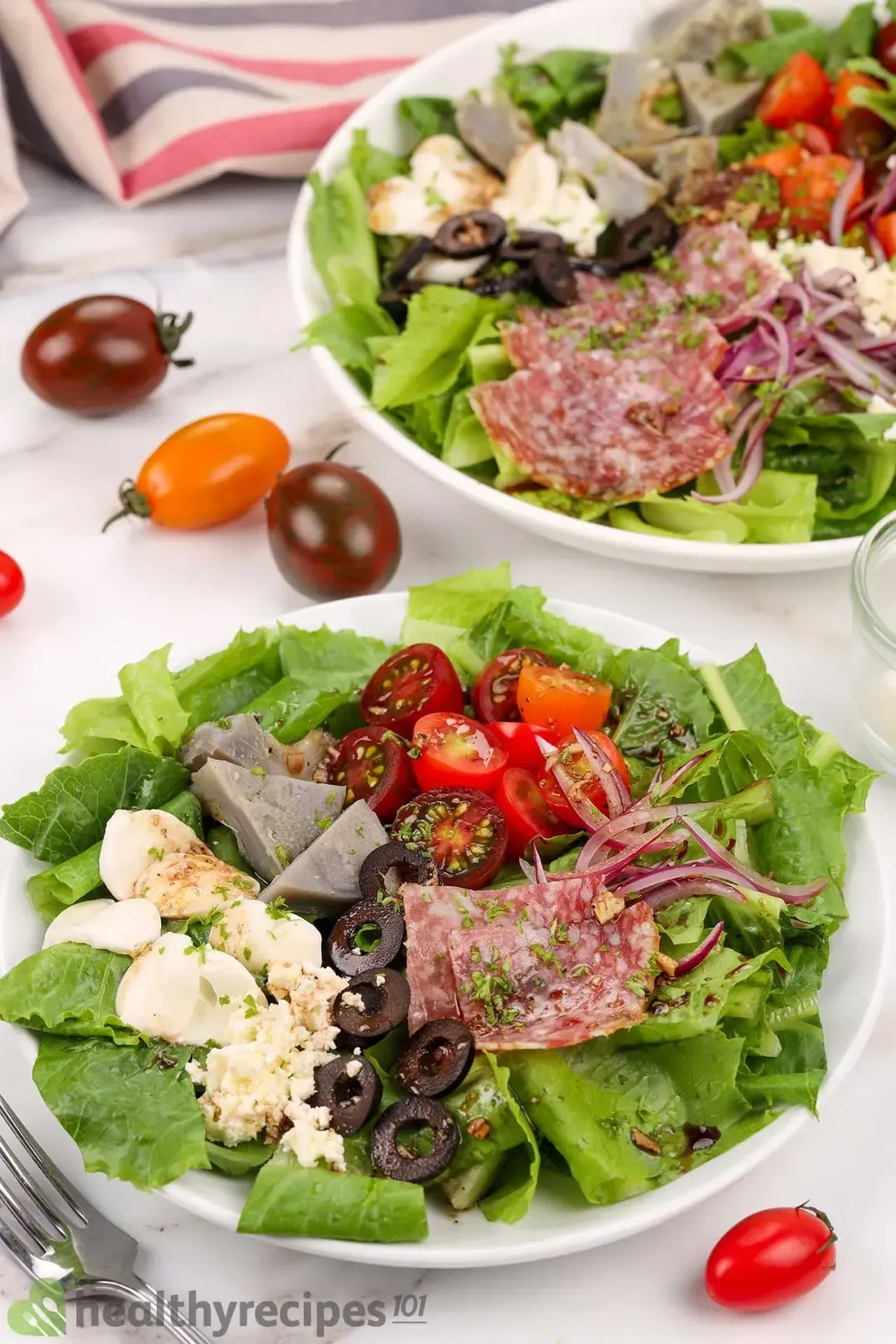 Next Recipe
Antipasto Salad
Antipasto Salad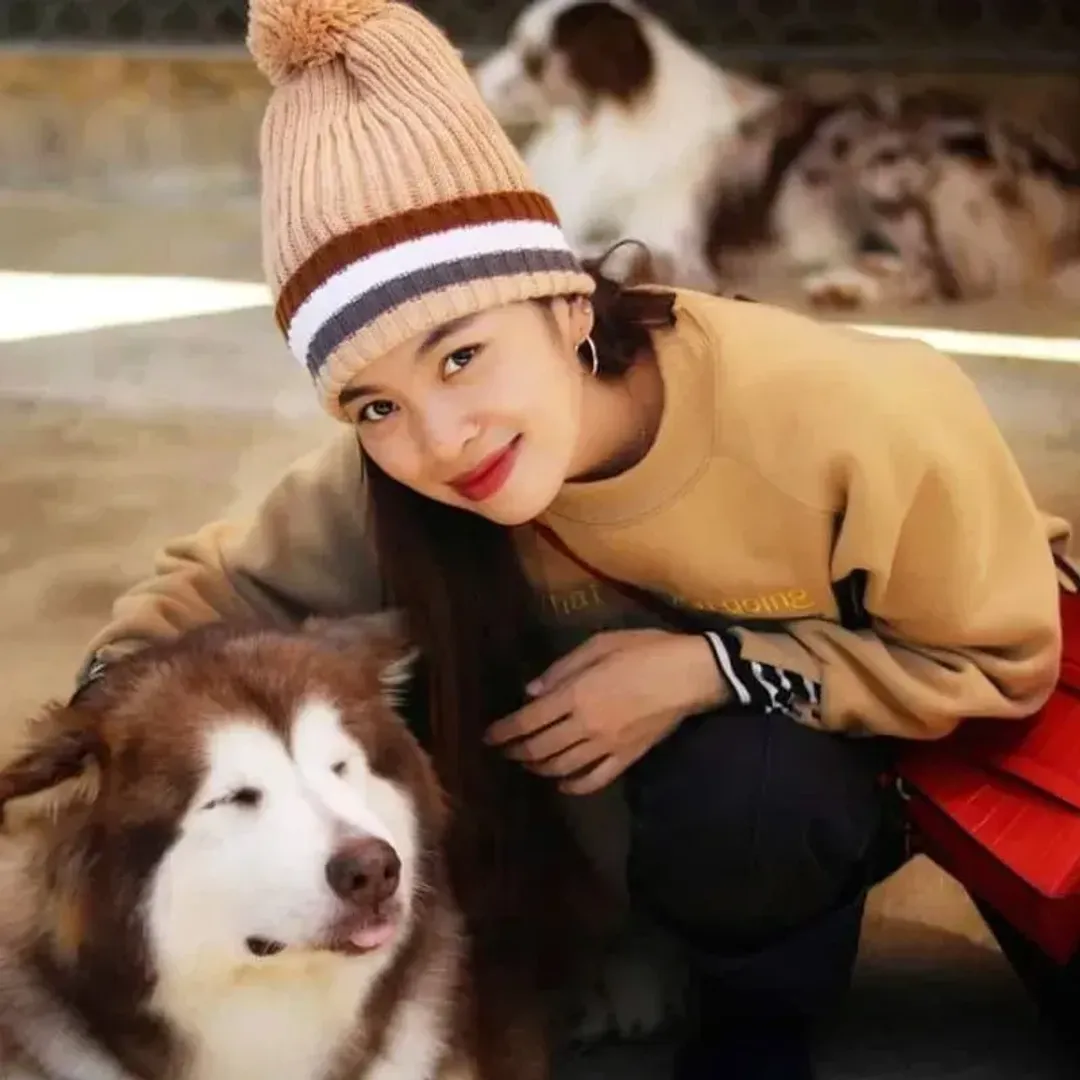 Chef, Culinary Consultant
Tuyet Pham is an award-winning Saigonese chef who believes that joy is the secret ingredient to delicious food. At Healthy Recipes 101, Tuyet personally tests and simplifies every recipe, ensuring maximum flavor with minimal effort. With a background at prestigious French restaurants P'TI Saigon and Le Corto, Tuyet knows how to make every dish exceptional.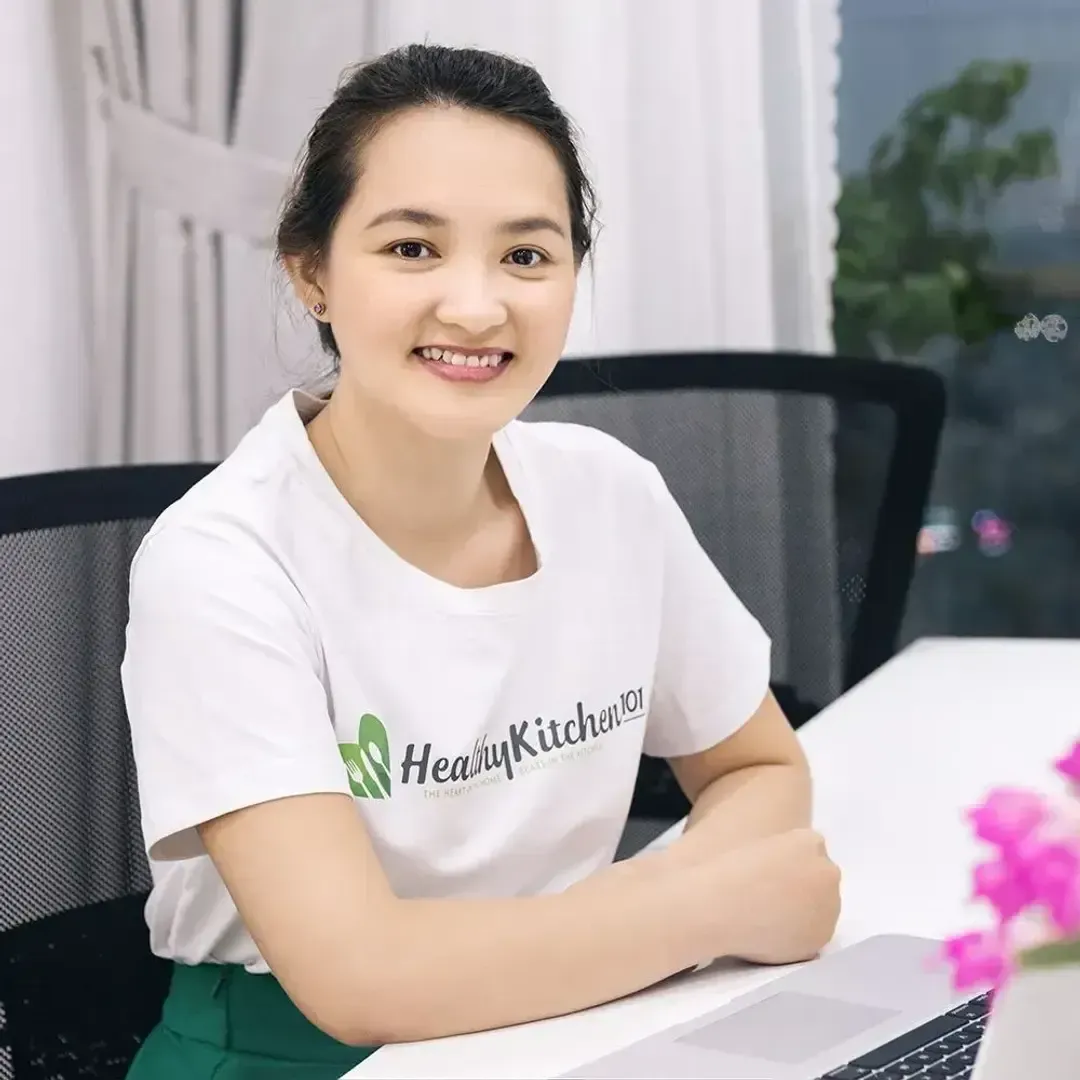 Writer, Author
Luna Regina is an accomplished writer and author who dedicates her career to empowering home cooks and making cooking effortless for everyone. She is the founder of HealthyKitchen101.com and HealthyRecipes101.com, where she works with her team to develop easy, nutritious recipes and help aspiring cooks choose the right kitchen appliances.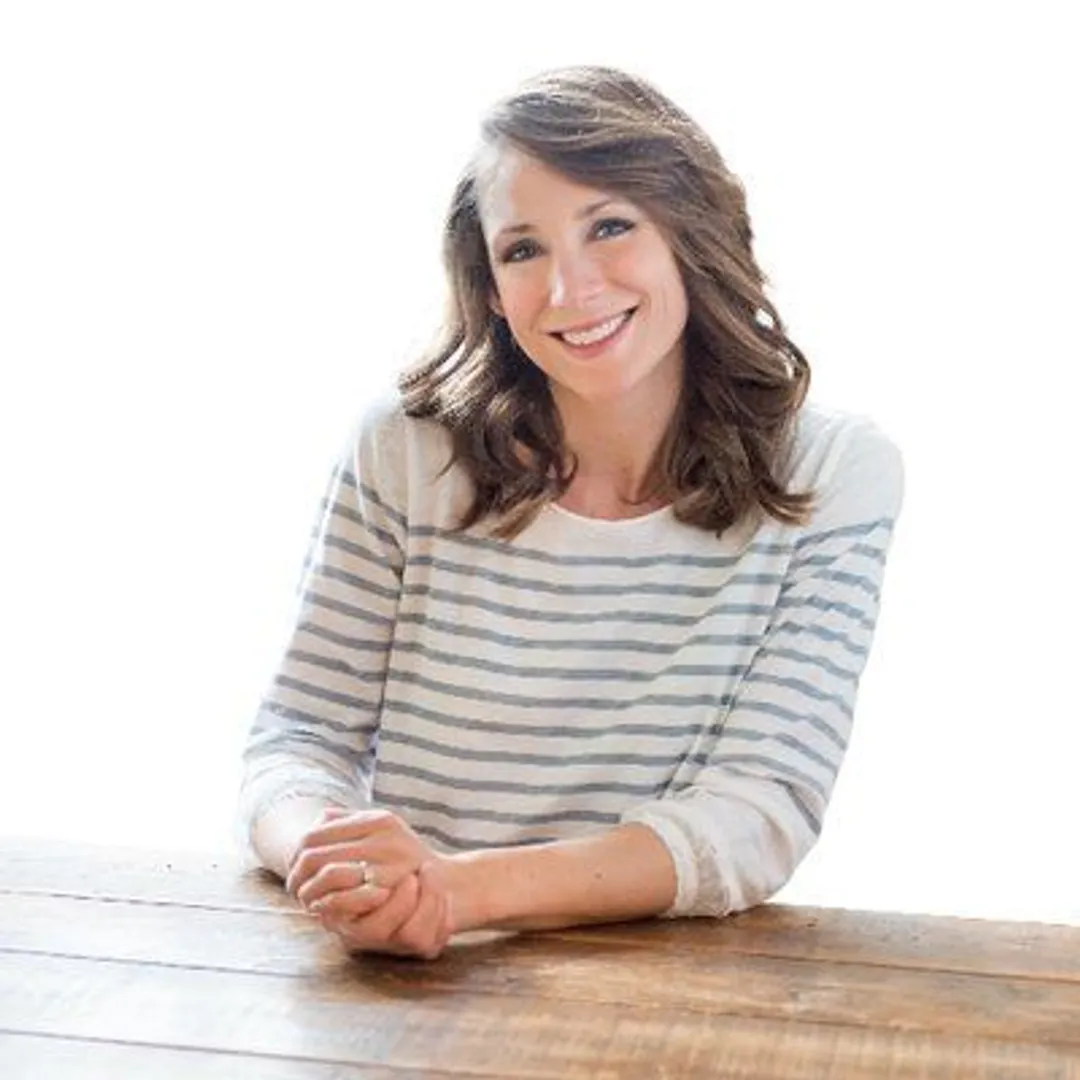 Nutrition Reviewer
Natalie is a registered dietitian nutritionist with a passion to help others live their best life through food, fitness, safer beauty and a healthy lifestyle. She has expertise with a variety of diets and diseases and believes that there is no one-size-fits-all approach for health.
Comments/ Reviews