Today's burrata salad recipe makes simple food exciting. Bread cubes, fresh vegetables, and a tangy balsamic dressing come together to create a glorious 10-minute meal.
However, this dish wouldn't be worth all the rave reviews without the star of the show: burrata. It's every cheese lover's dream and an excellent selection for National Cheese Maker's Day (June 18th).
What Is Burrata?
Burrata is a fresh, soft Italian cheese that dates back to the dawn of the 20th century. The word "burrata" stems from "burro" and "burrato," meaning "butter" or "buttery," respectively.
Although burrata is typically made with cow milk, some cheese makers use buffalo milk instead and still end up with a beautiful delicacy. You can also use this soft, buttery cheese in salads with minimal seasoning to allow its flavor to shine through.
While the outer appearance of burrata resembles that of mozzarella, once you cut it open, you'll notice that they're not quite the same.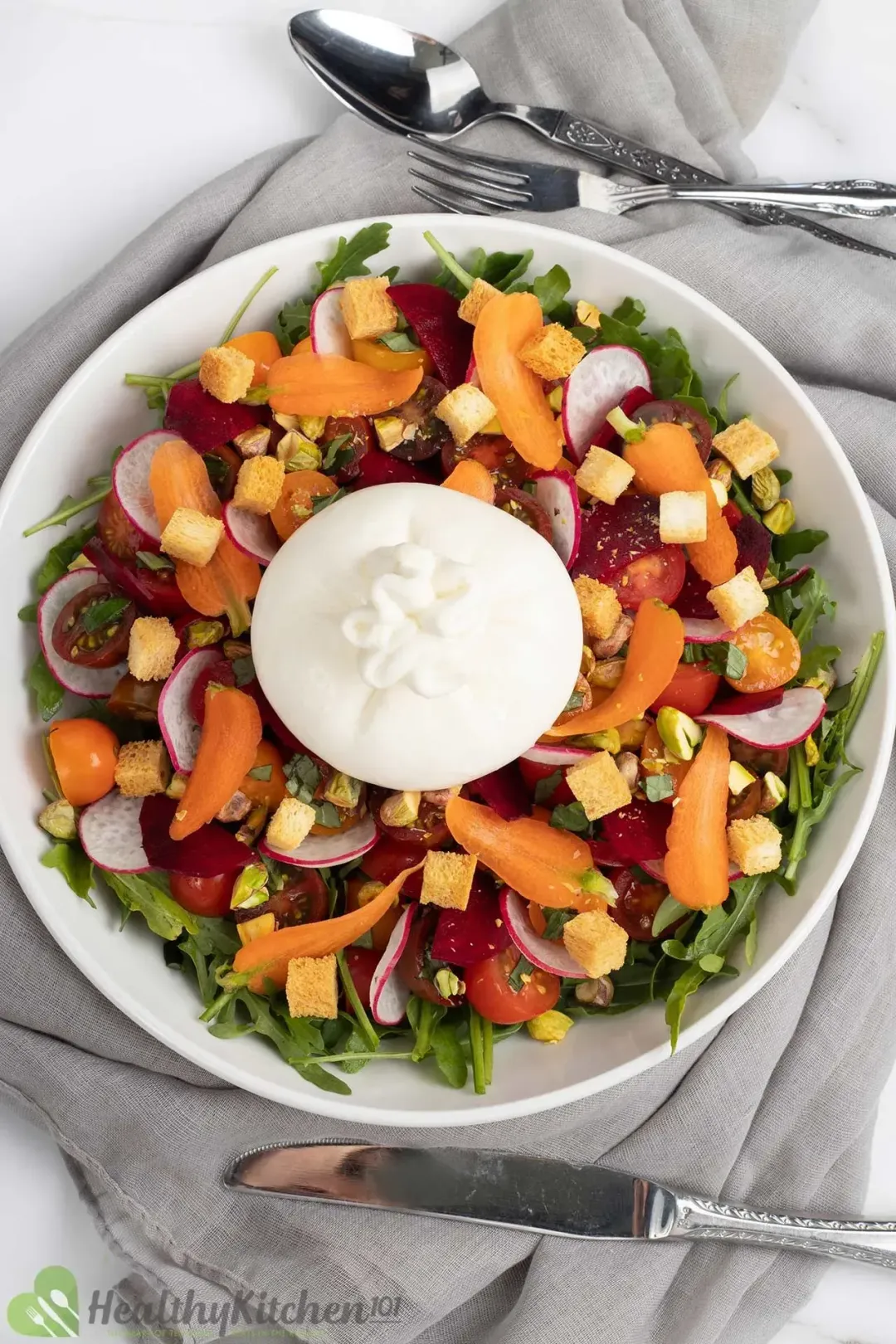 Burrata vs Mozzarella
Burrata and mozzarella look similar. They both take the form of a soft, supple ball of cheese.
This is because the process of making burrata starts by making mozzarella. Burrata is basically stuffed mozzarella, so their outward appearances are practically identical.
It's the creamy filling inside that distinguishes the two.
Mozzarella is made entirely of curd, while burrata stuffing is made of stracciatella. Stracciatella is cream and mozzarella cheese scraps that make their way into the filling during the cheese-making process.
In addition to having the same mozzarella base, both kinds of cheese are kept in liquid. Mozzarella's high moisture content requires that it be stored in liquid to maintain its freshness.
The liquid is often salted brine, water, or whey — a byproduct of the cheese-making process.
As a side note, it's a good idea to look for authentic, Italian-made fresh mozzarella and burrata. These are always labeled with a PDO (Protected Designation of Origin) or DOP (Denominazione di Origine Protetta) logo.
How to Eat Burrata
Although you have to store burrata in the fridge, we recommend letting it come up to room temperature before serving. It makes the cheese softer and allows you to taste its complete delicate and creamy profile.
If you plan on sampling the cheese as is, try drizzling a bit of olive oil over the top and seasoning very lightly with salt and pepper. Or, mix a salad and add the cheese on top like we're doing today.
Tip: When serving, wait to cut the cheese open in front of guests; burrata's oozing theatrics is a show unto itself.
Is This Burrata Salad Recipe Healthy?
Yes — this burrata salad recipe is indeed healthy.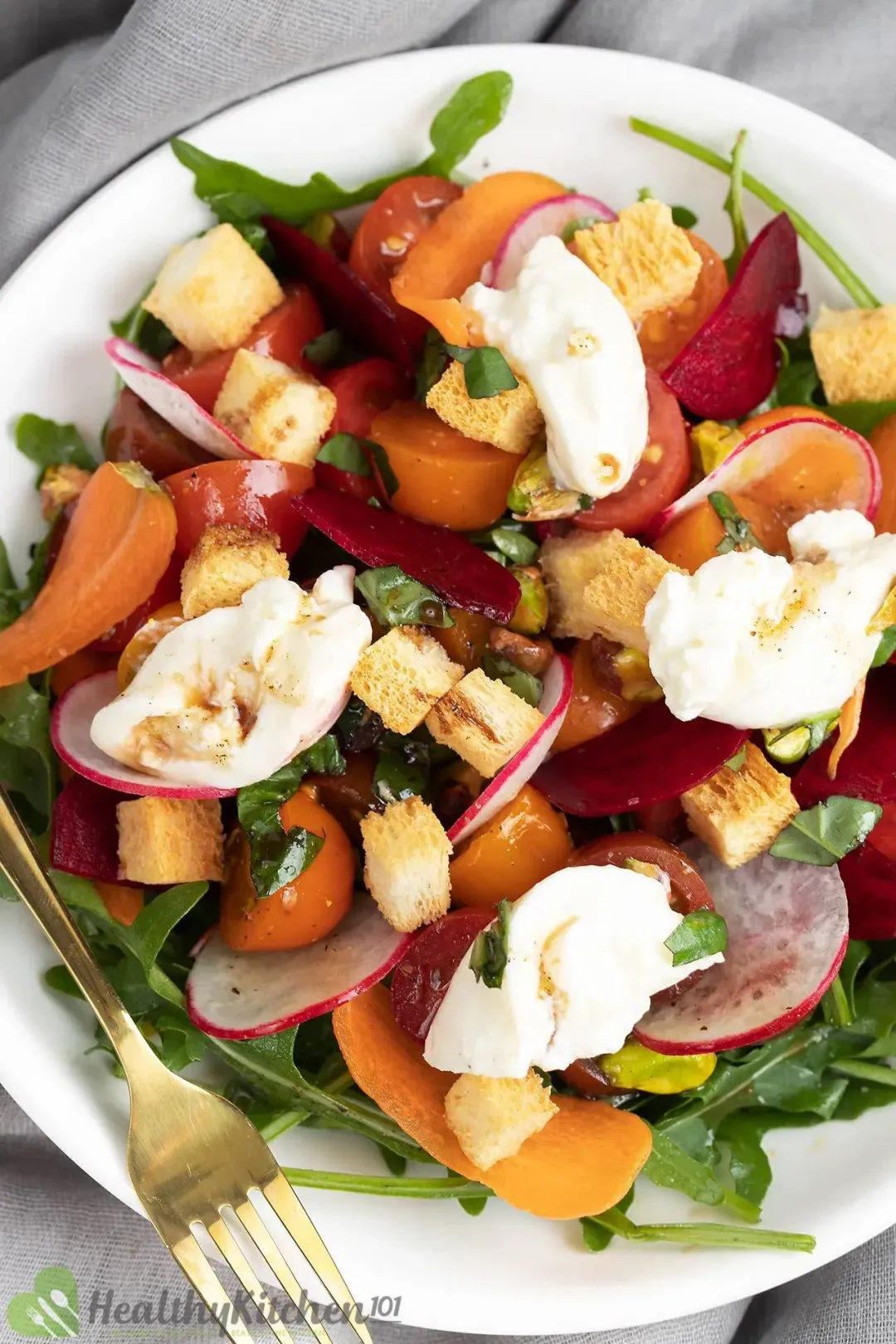 Foods containing cheese and oil tend to be high in saturated fat content and may lead you to exceed your daily sodium and calorie intake.
This salad, however, adheres to our healthy eating guidelines designed according to USDA health specifications. It contains 213 calories, 4g of saturated fat, and 252mg of sodium per serving.
You can rest assured that the above-mentioned amounts are all within healthy limits. And by following careful guidelines, this salad promotes a healthier diet.
Burrata Salad Ingredients
The main ingredients in our burrata salad recipe are:
Burrata cheese: You can easily find burrata cheese in any supermarket. Look for a tub or airtight plastic container filled with liquid in the cheese section.
Croutons: Croutons are made by toasting bread cubes into crispy bits.
Vegetables: A mix of arugula, cherry tomatoes, radishes, baby beets, and baby carrots act as a base to the salad. You can add more veggies or leave some out depending on your preference; see our tasty beet and feta salad for more ideas.
Pistachios: This uncommon addition contributes some crunch and complex texture to the salad. You can substitute with different nuts or seeds such as cashews, almonds, walnuts, or sunflower seeds.
Fresh herbs: We used basil, but you can also try tarragon for a slight mint aroma.
Balsamic dressing: This classic vinegar-based dressing base rounds out the Italian character of your salad. It's also far healthier than most other salad dressings.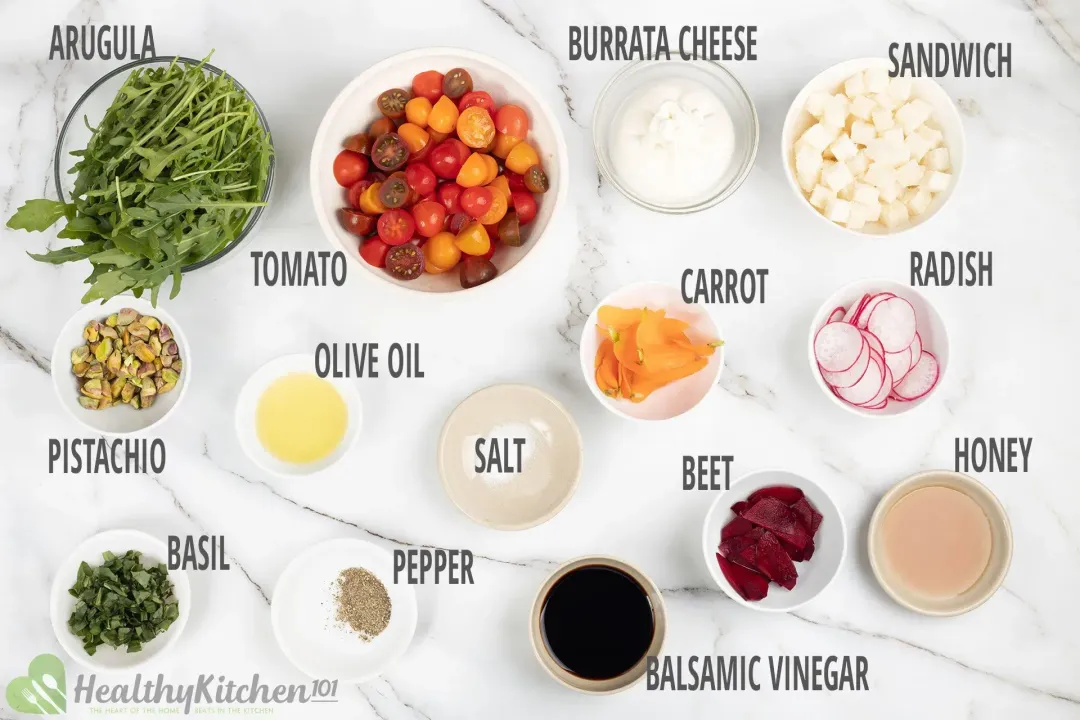 Burrata Salad Dressing
This salad requires a simple dressing to accentuate its soft, delicate texture. A balsamic honey vinaigrette is our pick for the job.
Here are the ingredients:
Balsamic vinegar;
Olive oil;
Honey;
Salt and black pepper.
Simply whisk everything together until emulsified to attain a delicious balsamic honey vinaigrette. The harsh smell and taste may put you off at first, but — trust us — this is perfect for the salad!
Wait to drizzle the balsamic dressing over the salad until just before serving. This keeps it from soaking into the croutons and making them soggy.
How to Make Burrata Salad
Here is a summary of our burrata salad recipe with photo instructions: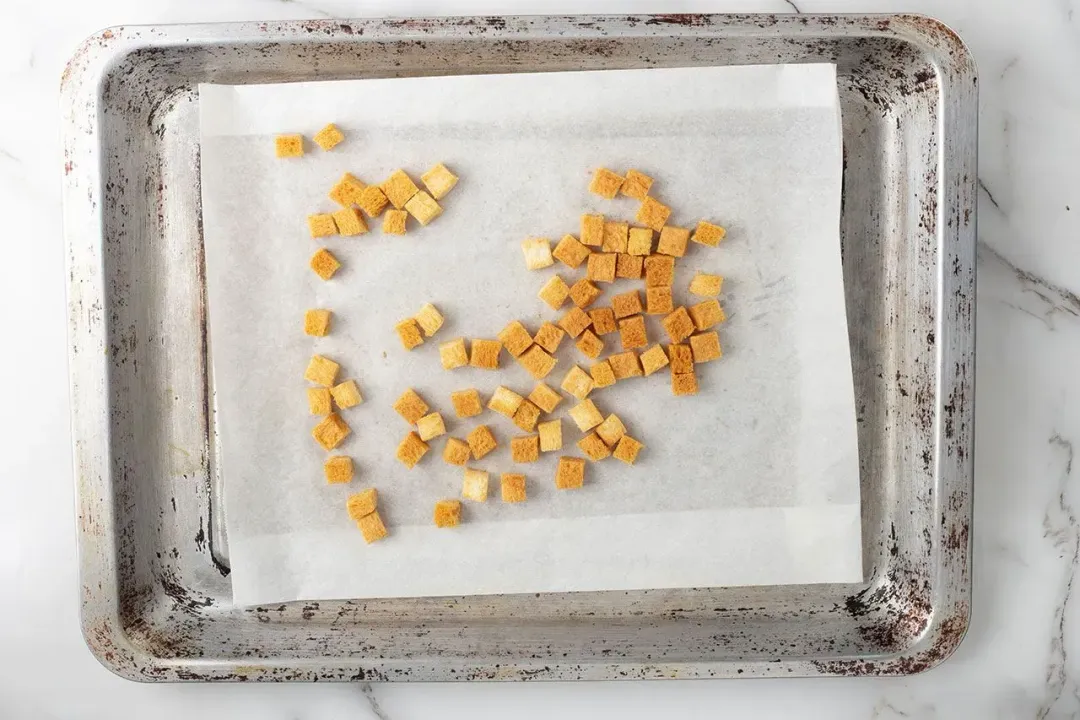 Make croutons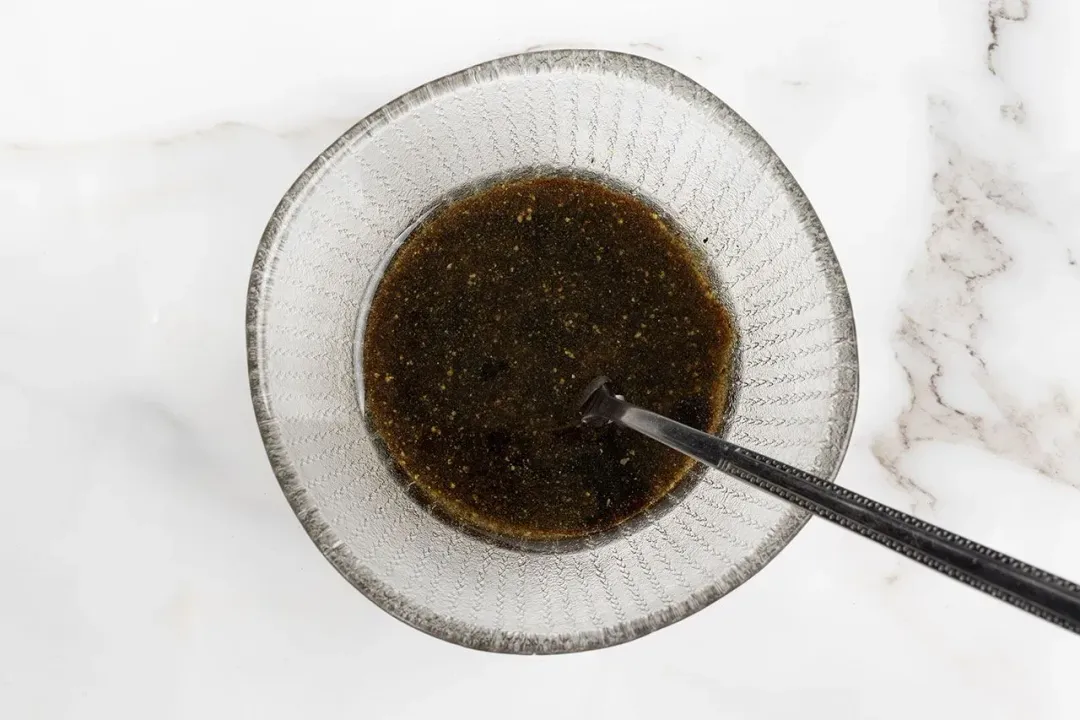 Mix the dressing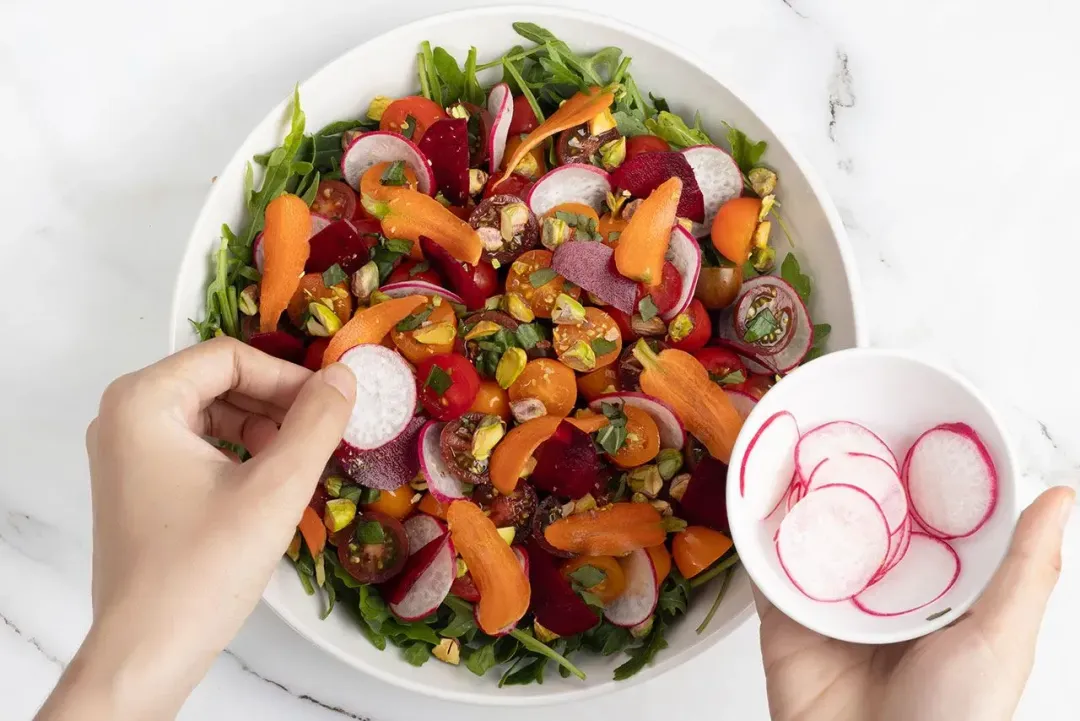 Arrange the salad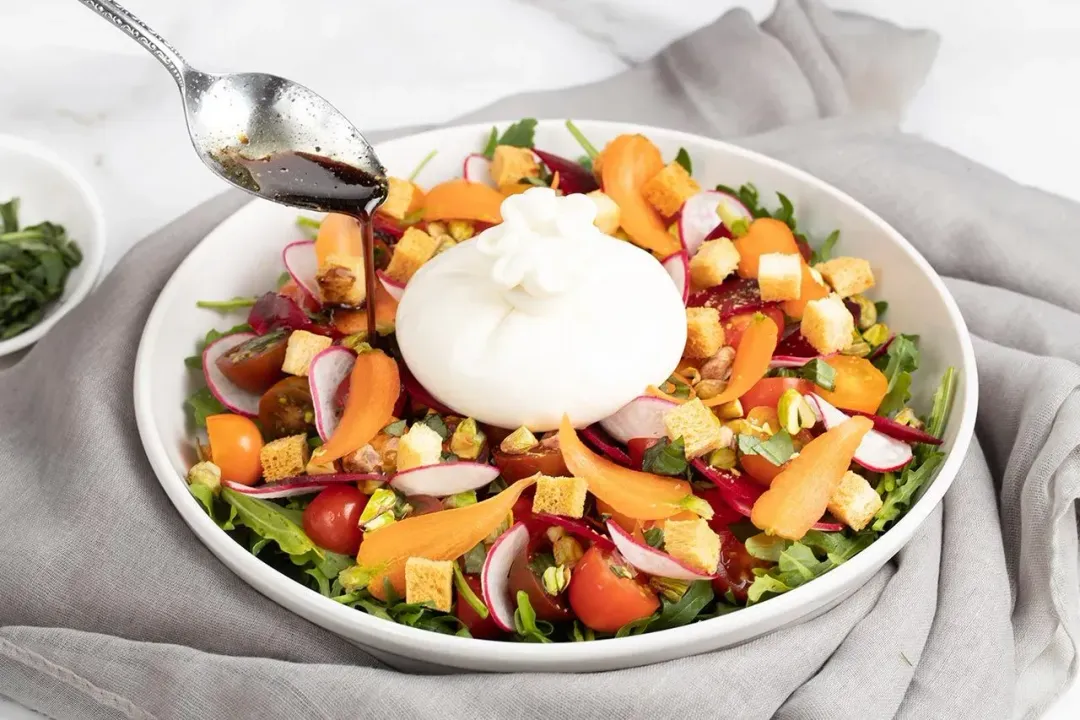 Add the dressing and serve
Full ingredient measurements and detailed instructions are available in the recipe section below.
How Long Does Burrata Salad Last?
The salad can sit for three days at most, as this recipe contains mainly fresh ingredients. Store it in an airtight container in the refrigerator to help preserve its freshness.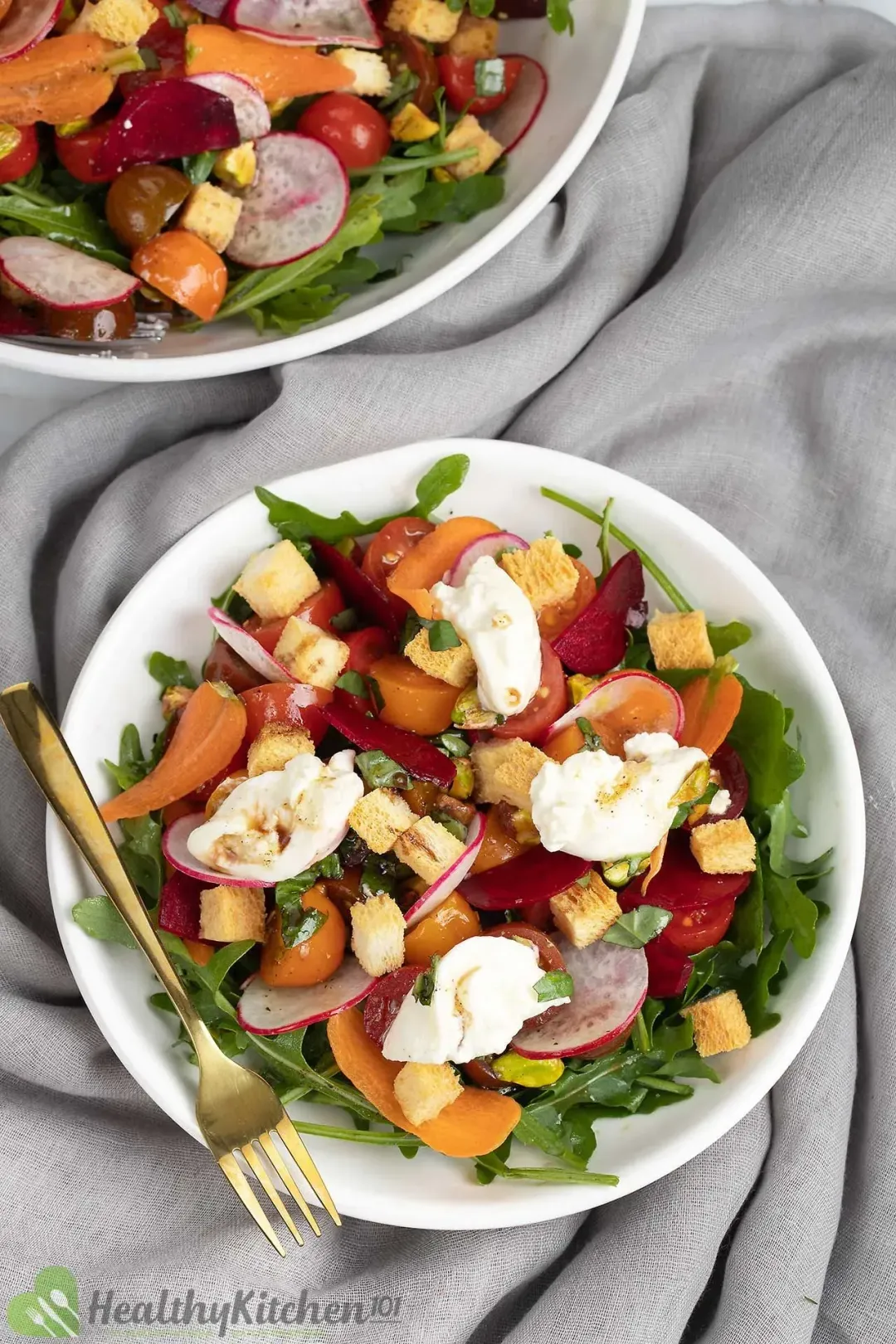 That said, the sooner you eat it, the better. Once taken out of its storing liquid, burrata's flavor and freshness begin to diminish.
Love This Recipe? There's More!
Burrata Salad
This burrata salad recipe makes a light dish with vibrant summer colors. If you need a quick mix of greens, this tasty arrangement will do the job.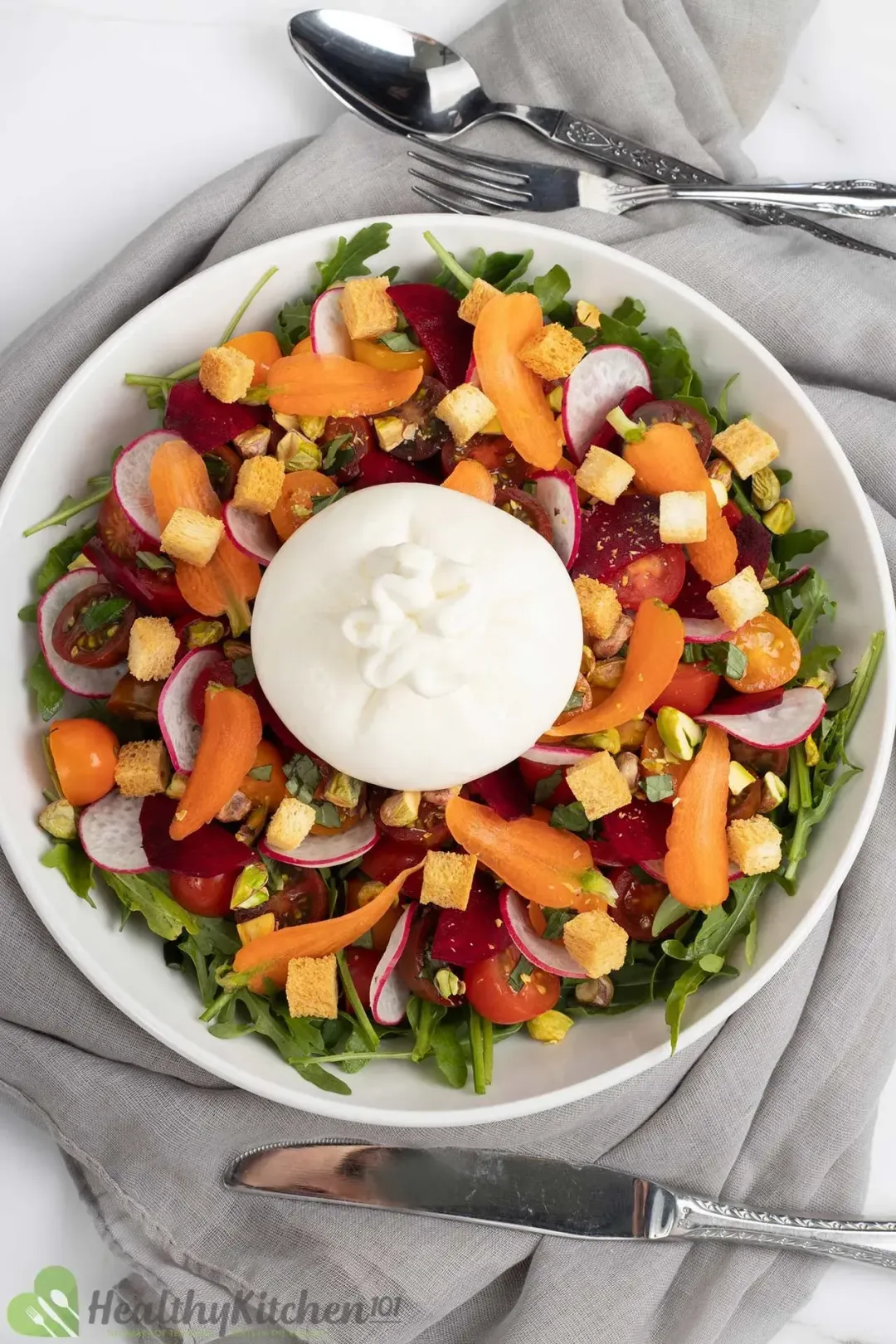 prep TIME

10 mins

total TIME

10 mins
COURSE

Side Dish

CUISINE

Global, Italian

SERVINGS

CALORIES

213 kcal
INGREDIENTS
1 oz

white bread

(cut into cubes)

1/4 tsp

ground black pepper

10 oz

cherry tomatoes

(cut in half)

0.5 oz

radish

(thinly sliced)

0.5 oz

baby beets

(peeled and thinly sliced)

0.5 oz

baby carrots

(thinly sliced lengthwise)

1 oz

pistachios

(roughly chopped)

0.2 oz

fresh basil

(roughly chopped)
INSTRUCTIONS
1
Make croutons: Preheat the oven to 265°F. Spread bread cubes on a baking sheet lined with parchment. Bake for 15 minutes. Remove from the oven and set aside.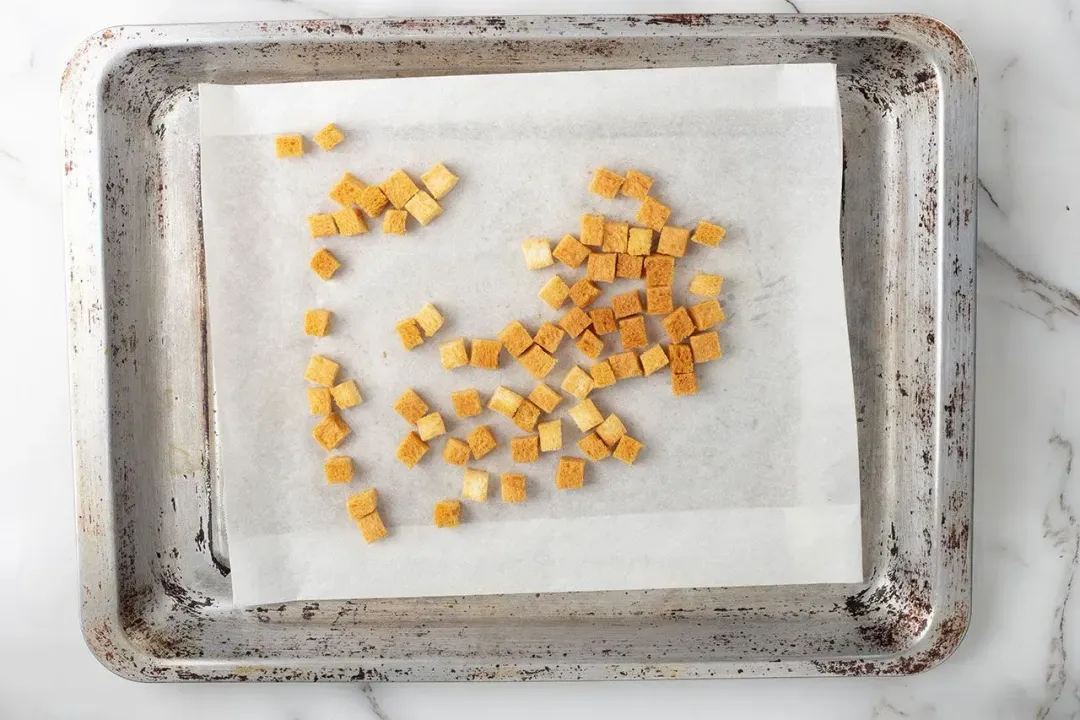 2
Make the dressing: In a small bowl, combine balsamic vinegar, olive oil, salt, pepper, and honey. Whisk well to emulsify and set aside.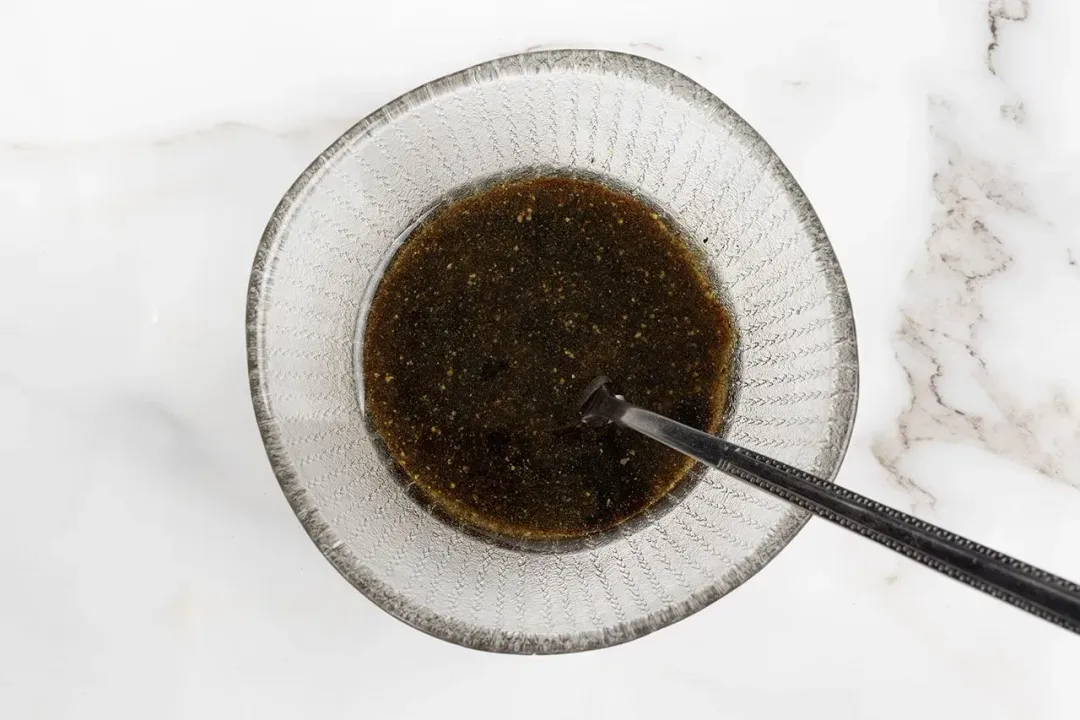 3
Arrange the salad: Lay arugula in the center of a large serving platter. Scatter cherry tomatoes, radishes, beets, carrots, chopped pistachios, croutons, and basil over the top. Place the burrata cheese on top of the salad.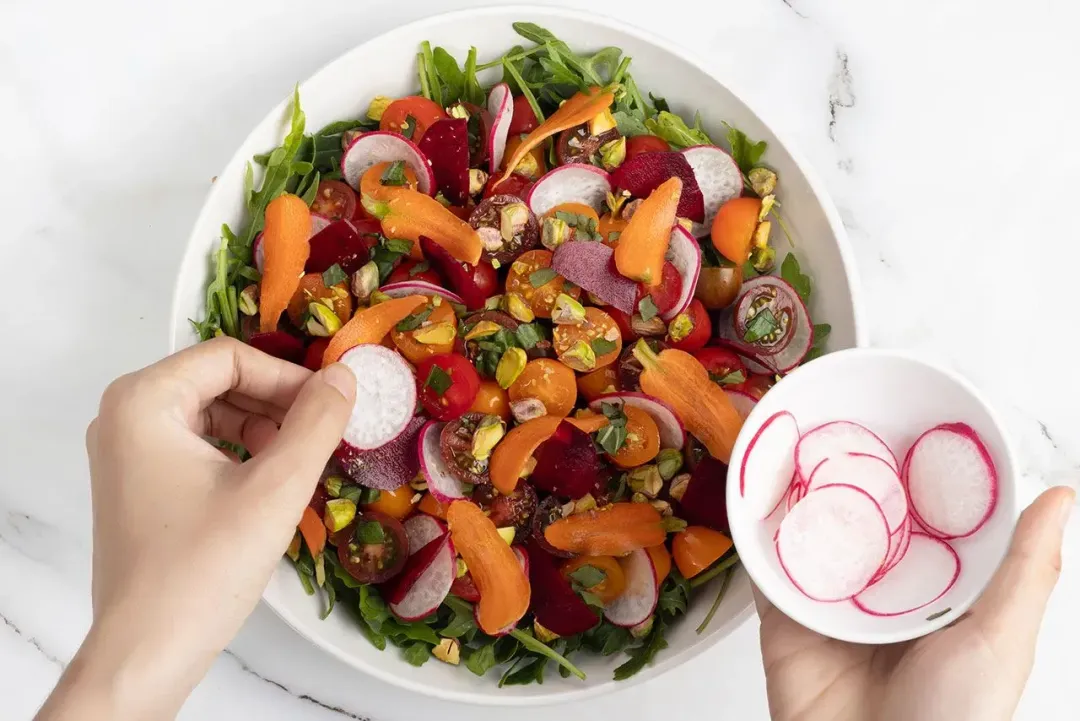 4
Add the dressing and serve: Once ready to serve, drizzle the dressing over the salad. Cut the burrata open, divide it into small pieces, and enjoy.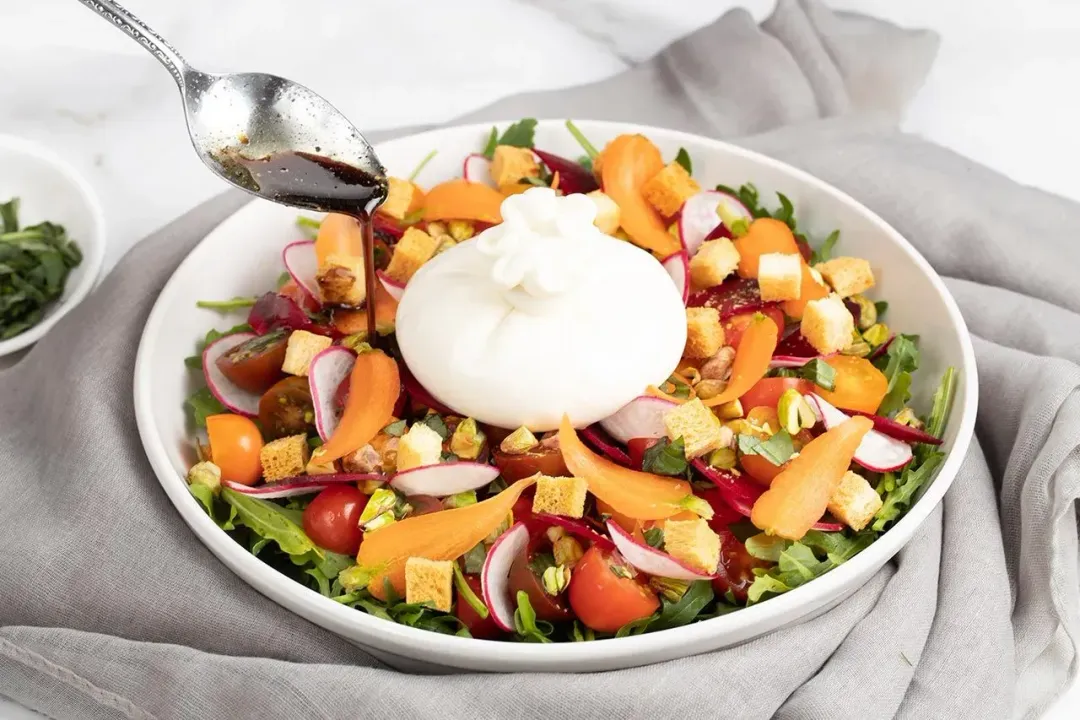 NUTRITION
Nutrition Facts
Burrata Salad
Amount Per Serving (1 serving)
Calories 213
Calories from Fat 108
% Daily Value*
* Percent Daily Values are based on a 2000 calorie diet.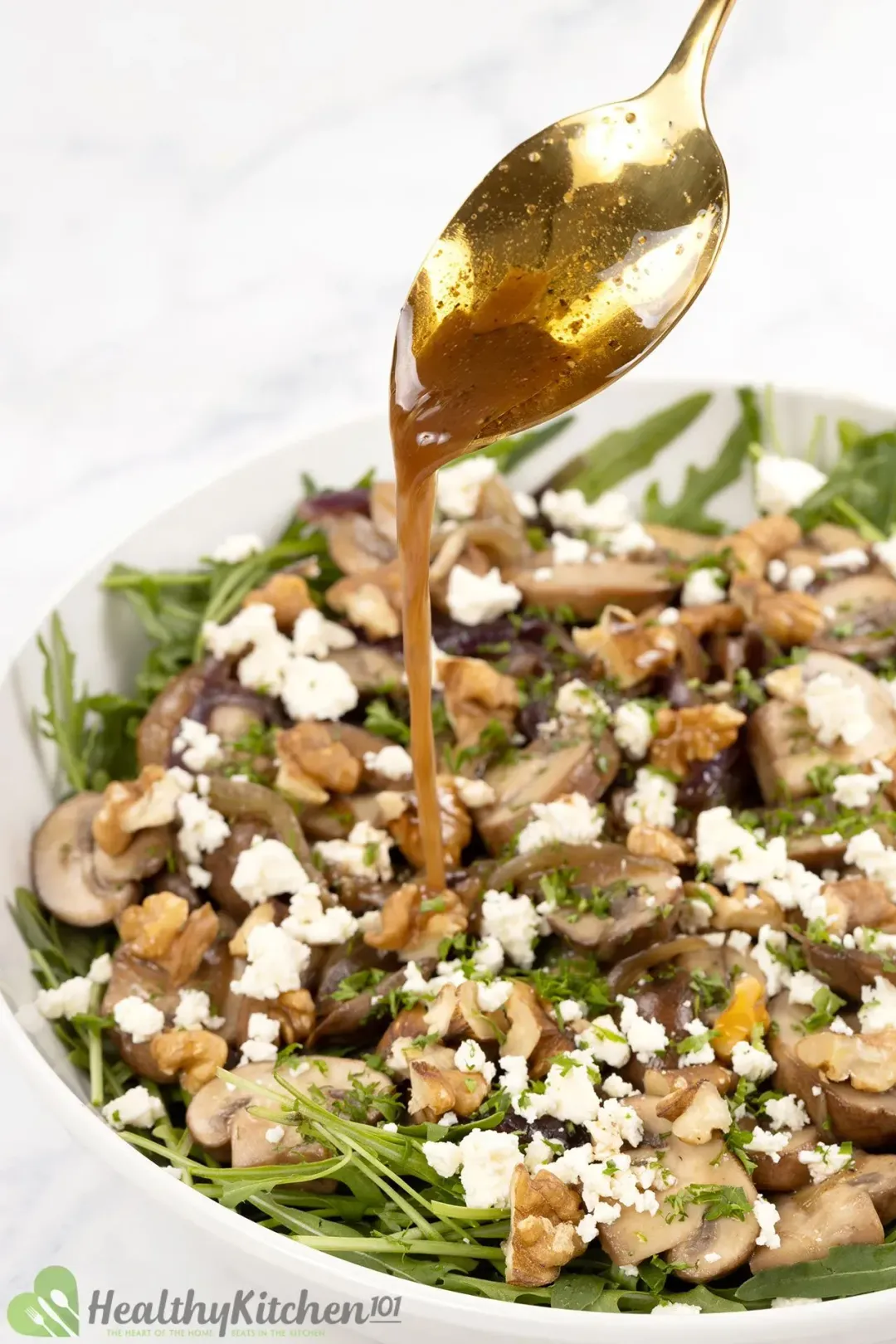 Previous Recipe
Mushroom Salad
Mushroom Salad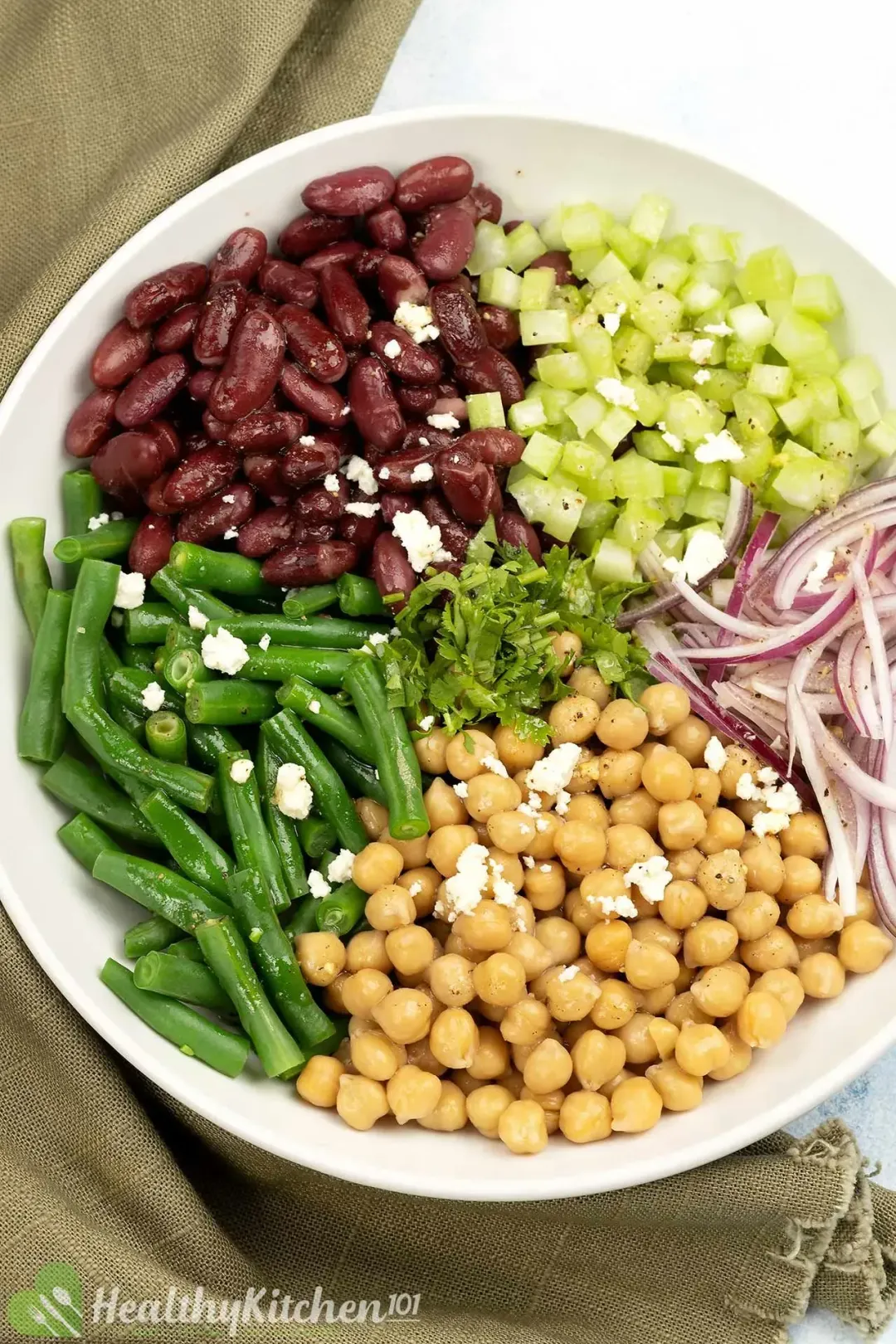 Next Recipe
Classic Three Bean Salad
Classic Three Bean Salad
Made burrata salad and it was a real hit! A wonderful combination of tangy, sweet, creamy, and crunchy. Highly recommend!