In today's pesto pasta salad recipe we will show you how to make a delicious, herby, savory Italian sauce. All that's required is a few simple ingredients and a bit of effort.
Is Pesto Pasta Salad Healthy?
Traditional pesto contains mostly olive oil, roasted nuts, salt, and parmesan cheese. This can sometimes lead to it being high in saturated fat and sodium.
We follow our healthy eating guidelines and try to minimize the saturated fat and sodium content as much as possible. We wanted to make this recipe as healthy as we could while still maintaining its delicious flavors.
This recipe ends up having about 3g of saturated fat and 311mg of sodium. With this amount of fat and sodium, the salad is well-seasoned without being too fatty or too salty.
In addition, our salad also contains basil, spinach, garlic, cherry tomatoes, onions, and bell peppers. These fresh fruits and vegetables are a great source of essential nutrients such as vitamins C, K, B9, and calcium.
These micronutrients play important roles in maintaining a healthy metabolism, immune system, brain function, and more.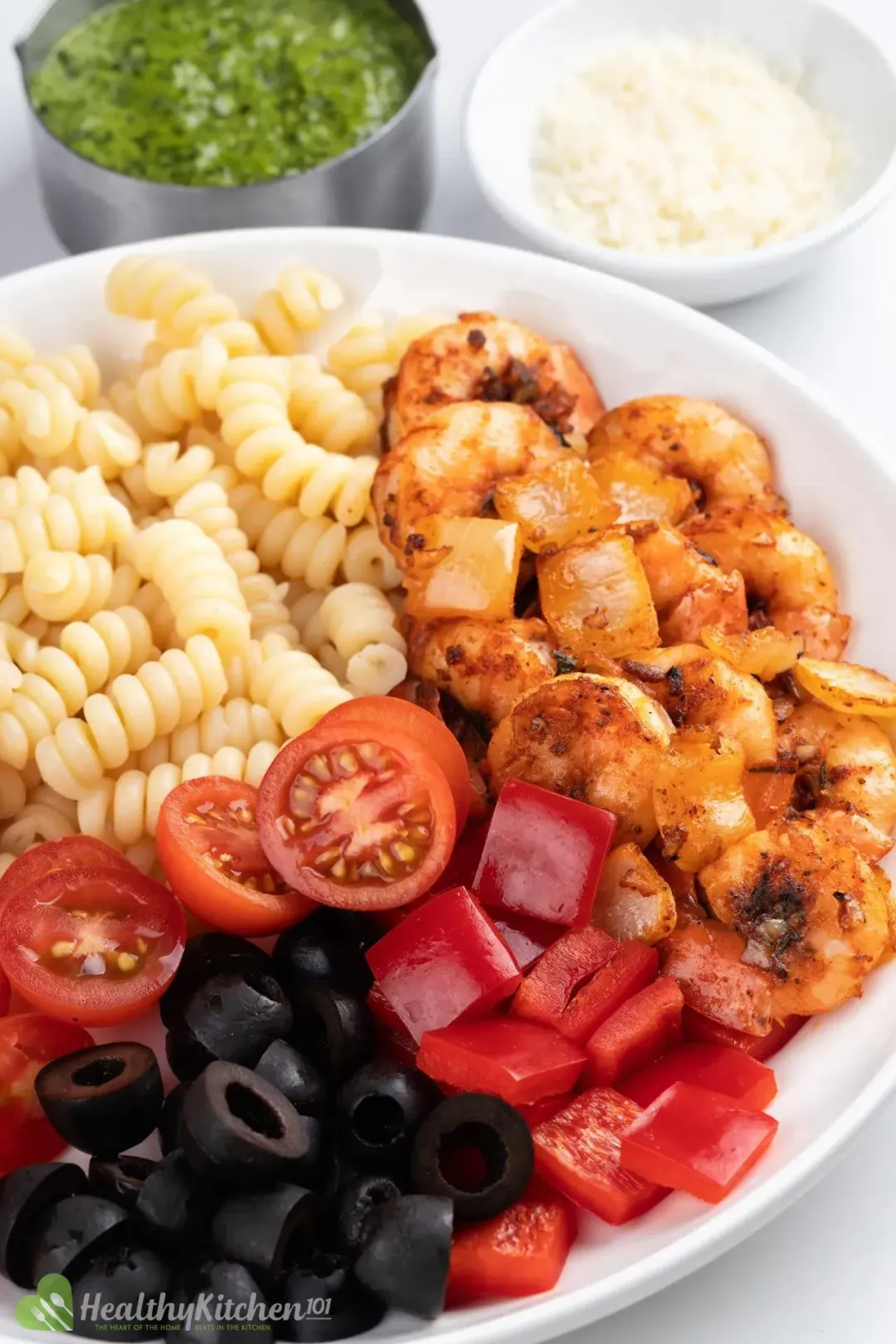 1. Calories
There are 241 calories in one serving of our pesto pasta salad recipe.
As a side dish, you want it to contain no more than 250 calories. Pair it with a 500-calorie main dish, and you have a healthy 750-calorie meal.
This should be enough calories for an average adult to have sufficient energy to function properly.
2. Carbs
Our salad contains about 20g of total carbohydrates, including only 1.7g of sugar. Most of these carbs come from the pasta and can make you feel full for a long time.
If you love healthy pasta salad recipes, be sure to check out our quick and easy macaroni salad recipe too. These carby recipes are reminders that you don't need to eliminate carbs from your diet to stay healthy.
Ingredients for Pesto Pasta Salad
Here are the ingredients we used in our pesto pasta salad recipe: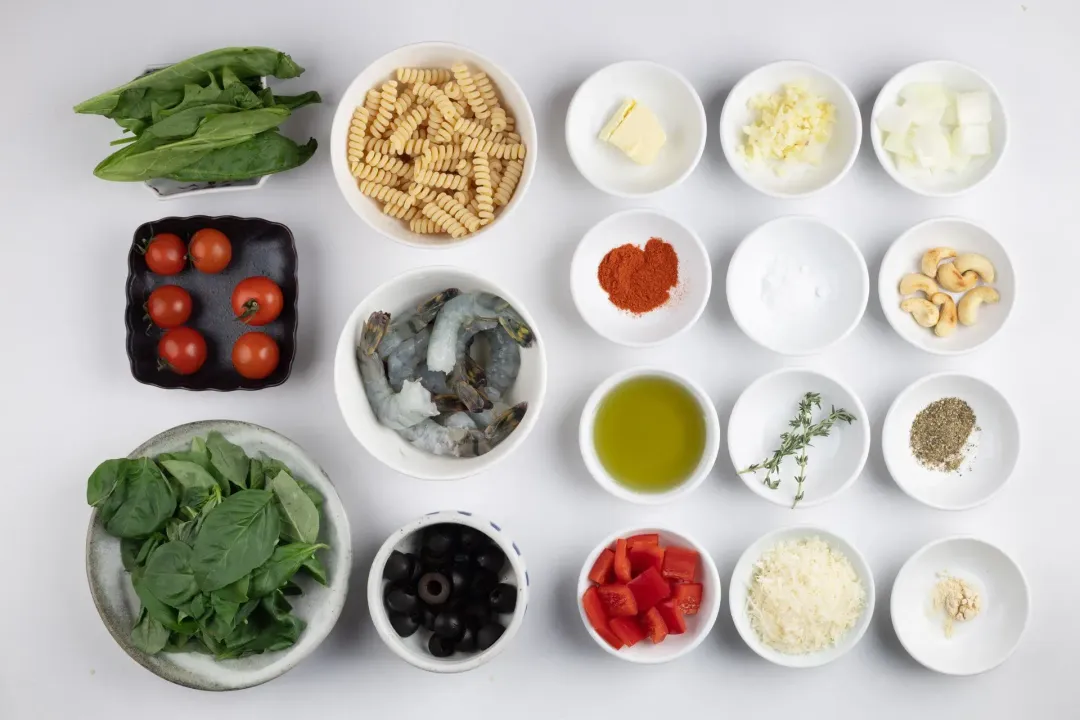 Here are the ingredients we used in our pesto pasta salad recipe:
For the pesto:
Nuts: cashews.
Herbs and vegetables: fresh spinach and basil.
Fat: olive oil.
Seasonings: salt, minced garlic, and grated parmesan cheese.
For the salad:
Pasta: rotini.
Main protein: shrimp.
Vegetables: onions, cherry tomatoes, red bell peppers, and canned black olives.
Why Cherry Tomatoes?
Cherry tomatoes are often sweeter than regular tomatoes, as well as being tart and tangy. They also contain less juice than regular tomatoes and won't make the salad wet and soggy.
Another reason why we love cherry tomatoes is that they are the perfect bite size for salads. All you have to do is cut them in half and toss them in the salad.
Other Types of Seafood for Pesto Pasta Salad
In our recipe we use shrimp but there are countless other options too. Here are a few seafood ideas to customize this pesto pasta salad recipe to your liking:
1. Shrimp
Seared shrimp is simple to make and it pairs perfectly with pesto sauce.
You can use either fresh or frozen shrimp. All you have to do is peel and devein the shrimp and then they're ready to go into the pan.
Seasonings can be as simple as salt and black pepper. Or you can add other spices such as cayenne, paprika, thyme, oregano, garlic and/or onion powder.
2. Salmon
If you're not a fan of that shellfish taste, you'll love salmon. This type of fish has an interesting flavor that is both rich and refreshing, and pairs well with pesto.
Salmon also doesn't require much preparation. All you need to do is pan-sear the salmon fillet and season it lightly with salt and pepper.
There are two ways to serve salmon and pesto salad:
Break the salmon into chunks and toss it in the salad.
Brush the fillet with pesto and serve it whole on top of the salad.
3. Canned Crab or Tuna
If you don't have the time to prepare meat, shrimp, or fish, canned crab or tuna is the best way to go.
The prepping is simple: drain the preserving oil/water in the can and transfer the meat to a bowl. At this point, you can break it down with a fork into small flakes or leave it in big chunks.
Finally, mix the meat in with your pesto pasta salad and voilà— an easy, no-cook side dish!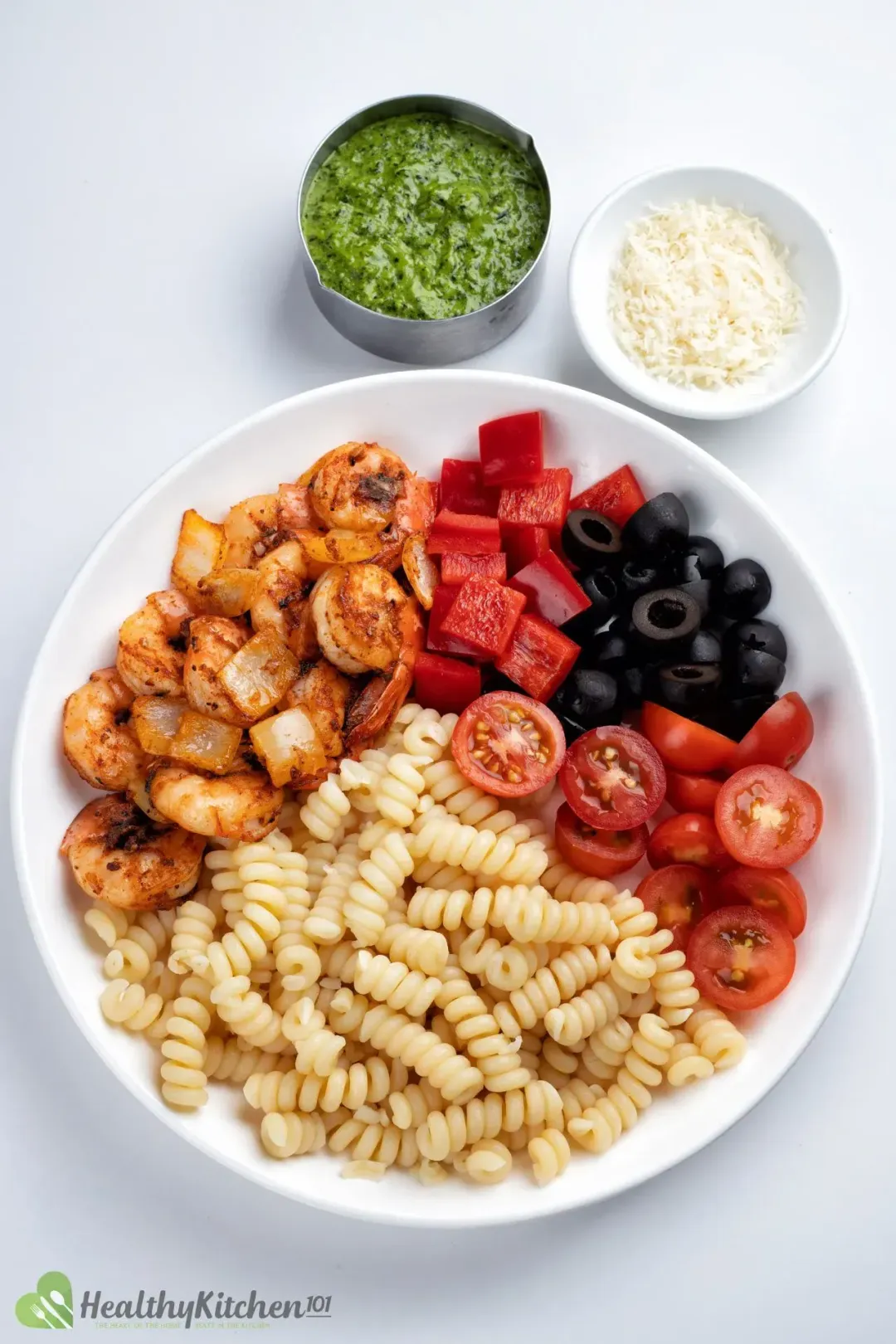 What Else Goes Well with Pesto Pasta Salad?
1. Chicken
Boneless skinless chicken breasts are the best pick for any salad.
They require hardly any effort or seasonings to cook to perfection. Simply season the chicken breasts with salt and pepper, and sear with a little olive oil.
Allow the chicken to rest for a few minutes before cutting into it to allow the juices to redistribute. You can cut the breast into cubes and mix it in, or slice it and fan it out on top of the salad.
2. Avocado
Whether your main protein is chicken, shrimp, or tuna, avocado can be a great addition to your pesto salad. Just remember to be extra gentle when you mix the avocado in the salad or it'll become mushy.
You can even get more creative and make avocado pesto dressing for the salad as well. Since the fruit is creamy and rich, it can replace the oil in the pesto.
Simply blend avocado with nuts, basil leaves, parmesan cheese, and a bit of lemon juice. You'll have a creamy, flavorful, vibrant green pesto dressing for your salad.
3. Feta Cheese
Rich, creamy, savory, and tangy— feta cheese always adds a wonderful touch to any salad.
Keep in mind that our recipe is well-seasoned and contains the right amount of sodium. If you want to add feta cheese, leave out the salt and/or reduce the parmesan cheese.
4. Vegetables: Broccoli/Asparagus/Peas/Cucumber/Arugula
These vegetables are crunchy and crispy, and can intensify the texture of your salad.
Broccoli and asparagus need cooking before getting added to the salad. You only need to cut them into bite-sized pieces and steam them for 5 minutes to get just the right texture.
With frozen peas, you want to blanch them for 1 minute in boiling water and then rinse under cold running water. This will stop them from cooking further and losing their texture.
Cucumber and arugula require the least preparation. Simply cut them and toss them in the salad.
How to Make Pesto Sauce
To make pesto sauce, you'll need:
Roasted cashew nuts
Spinach (for color)
Fresh basil leaves
Olive oil (extra virgin, if available)
Raw garlic
Grated parmesan cheese
Salt
All you need to do is put all of these ingredients in a food processor and blend. You shouldn't blend the sauce until completely smooth— it should be fairly thick and slightly grainy.
How Long Does Pesto Pasta Salad Last?
Our pesto pasta salad can last up to 3 to 5 days in the refrigerator. If you've mixed the salad, put it in an airtight container and it'll stay good for 3 days.
If you haven't mixed the salad, keep the pasta, sauce, vegetables, olives, and shrimp in separate containers. They'll last for 5 days in the fridge.
The purpose of keeping the ingredients in different containers is because they reheat at different rates in the microwave. For example, pasta takes longer to reheat than the sauce, and the veggies may not need reheating at all.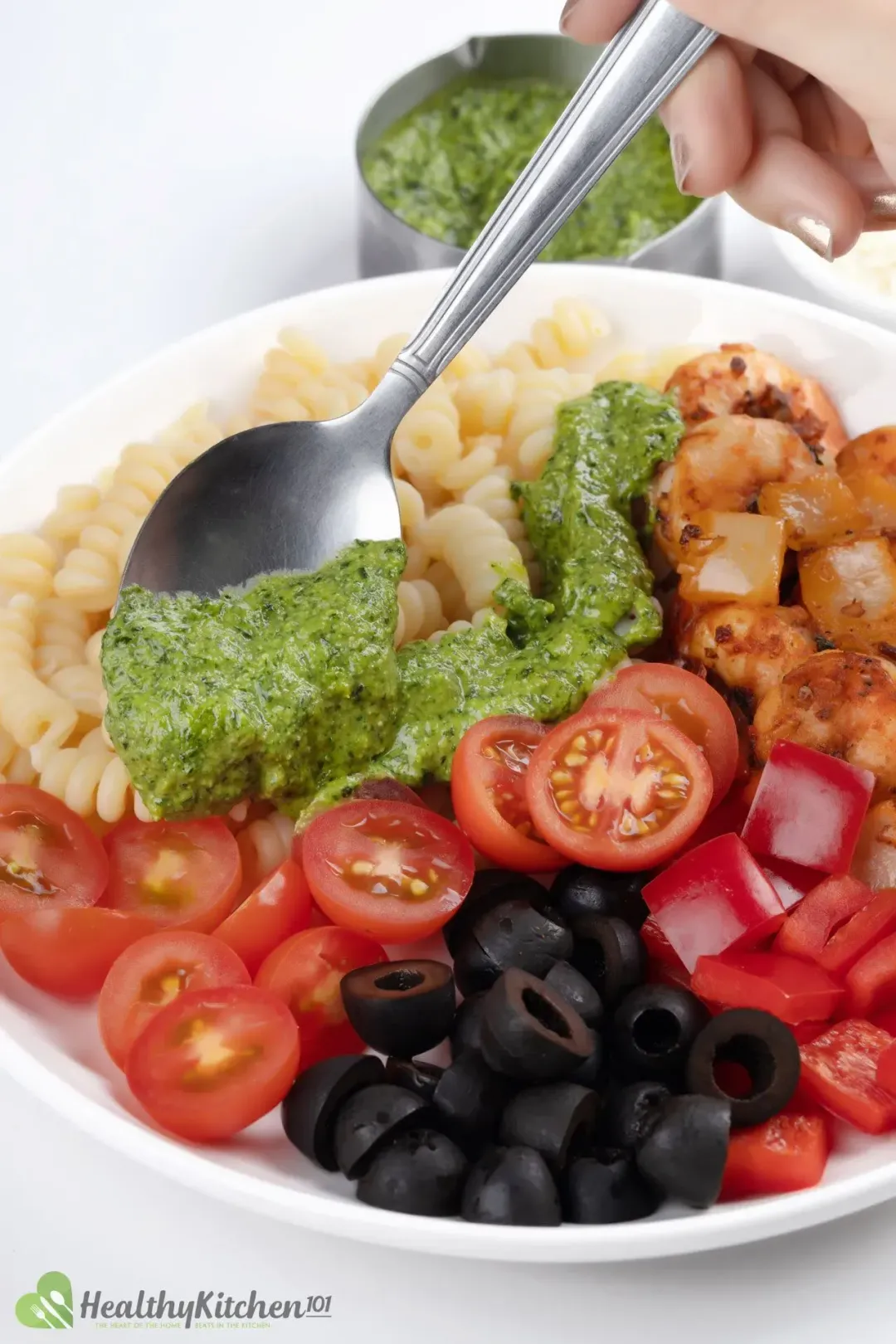 Can You Freeze Pesto Pasta Salad?
Yes, you can if you want to. However, we don't recommend freezing our pesto pasta salad as the flavors won't be as good.
Cooked pasta and shrimp have a delicate texture. Once you freeze and defrost them, you'll risk ruining this delicate texture and lowering the food's quality.
Furthermore, pasta and shrimp don't take much time to cook. It would be best to make them fresh every time you eat them.
Pesto sauce, on the other hand, freezes and defrosts well without losing its flavor. You can make a big batch and keep it in the freezer.
You can pour the sauce into an ice cube tray, freeze, and then transfer the ice cubes to a ziploc bag. If you don't have an ice tray, you can simply put the sauce in an airtight container.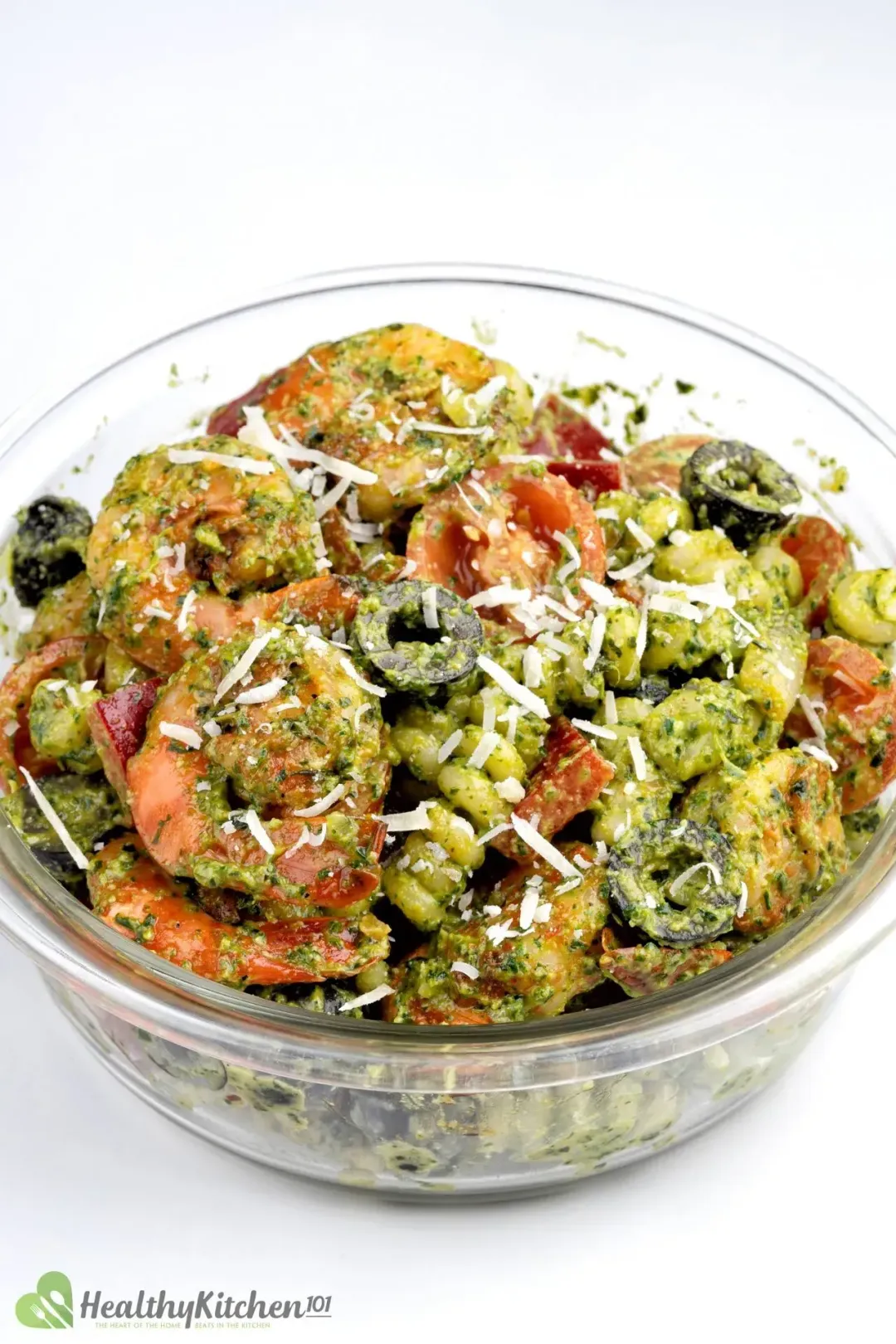 Pesto sauce can last up to 3 months in the freezer without losing its quality.
Pesto Pasta Salad
This pesto pasta salad recipe may take some extra effort, but it's well worth it. It's rich, buttery, savory, and slightly smoky— simply amazing.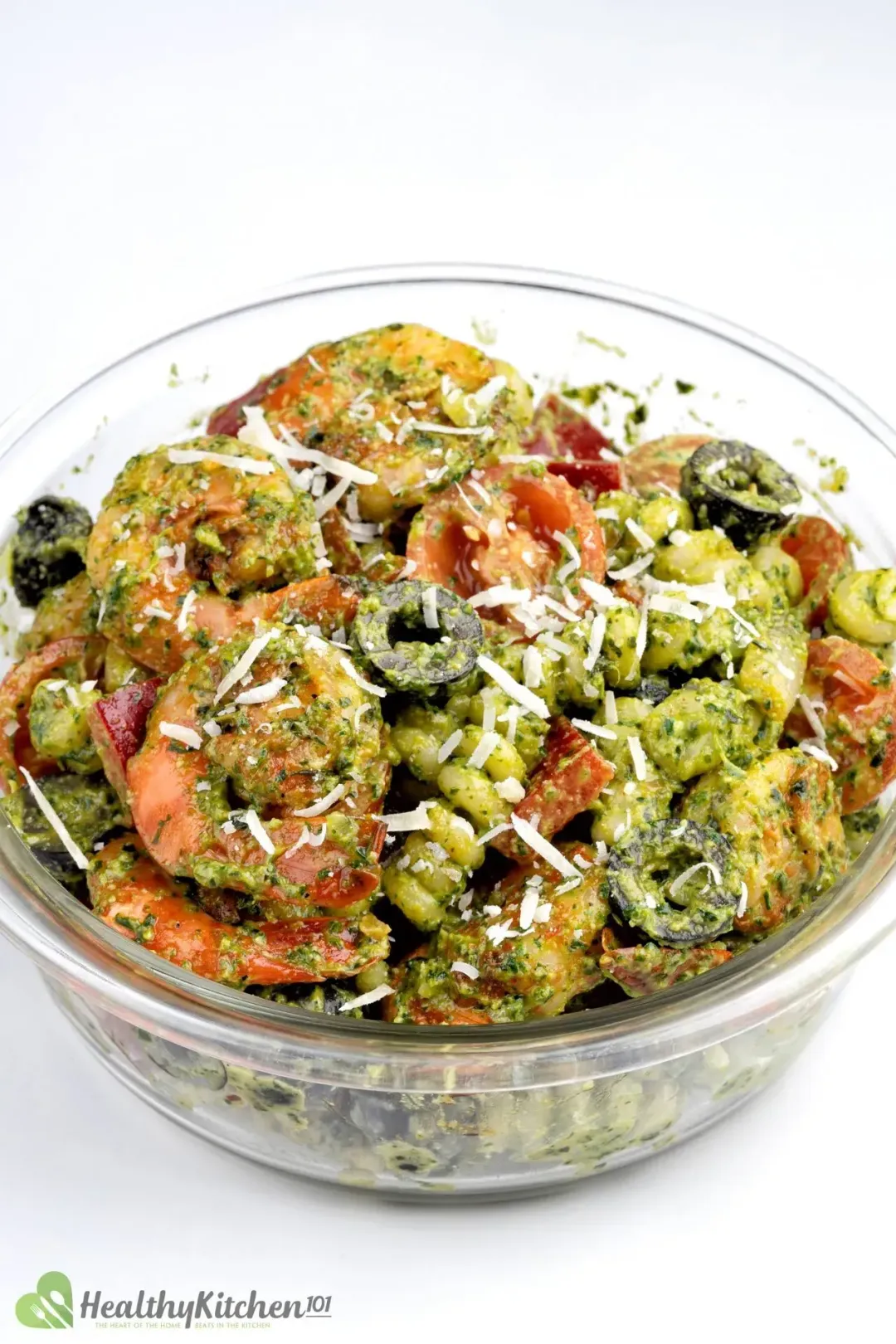 cook TIME

17 mins

prep TIME

8 mins

total TIME

25 mins
COURSE

Side Dish

CUISINE

American, Italian

SERVINGS

CALORIES

241 kcal
INGREDIENTS
0.4 oz

spinach

(fresh, leaves only)

0.7 oz

fresh basil leaves

2 1/2 tbsp

olive oil

(divided)

2 tsp

garlic

(divided, minced)

3 tbsp

grated parmesan cheese

(divided)

3.5 oz

raw shrimp

(peeled and deveined)

2 oz

cherry tomatoes

(cut in half)

1.2 oz

red bell peppers

(diced)

1.2 oz

black olives

(pitted, sliced)
INSTRUCTIONS
1
Roast the cashew nuts: in a dry skillet, add 0.4 oz cashew nuts and cook on medium heat for 4 minutes, stirring constantly. Turn off the heat. Transfer to a plate and set aside.
2
Blanch the spinach: bring a pot of water to a boil. Add 0.4 oz spinach and blanch for 1 minute. Remove spinach from the pot. Rinse under cold running water until no longer hot. Drain and squeeze well to remove any excess moisture. Set aside.
3
Make pesto sauce: in the bowl of a food processor, combine spinach, 0.7 oz fresh basil leaves, 2 tbsp olive oil, 1/8 tsp salt, 1 tsp garlic, 2 tbsp grated parmesan cheese, and cashew nuts. Blend until almost smooth. Set aside.
4
Cook the pasta: bring a pot of water to a boil. Once boiling, add 3 oz dry rotini pasta and cook according to packet instructions (ours took 8 minutes.) Drain and set aside.
5
Season and sear the shrimp: in a skillet, heat 1/2 tbsp olive oil and 1/2 tbsp unsalted butter over medium-high heat. Add 3.5 oz raw shrimp, 1/4 tsp garlic powder, 1/4 tsp black pepper, 1/2 tsp paprika, 1/4 tsp thyme, 1/4 tsp thyme, and 0.5 oz onions. Sear the shrimp for 2 minutes per side. Once the shrimp turn pink around the edges, flip, add 1 tsp minced garlic, and cook for 1 more minute. Turn off the heat and transfer to a plate once cooked through.
6
Mix the salad: in a large mixing bowl, combine the shrimp, pasta, 2 oz cherry tomatoes, 1.2 oz red bell peppers, canned 1.2 oz black olives, and pesto sauce. Mix well to evenly coat everything with the sauce.
7
Serve: transfer the salad to a serving platter. Sprinkle the remaining 1 tbsp grated parmesan cheese on top and serve.
NUTRITION
Nutrition Facts
Pesto Pasta Salad
Amount Per Serving (1 serving)
Calories 241
Calories from Fat 126
% Daily Value*
* Percent Daily Values are based on a 2000 calorie diet.
Keywords: Healthy Pesto Pasta Salad Recipe, Pesto Pasta Salad, Pesto Pasta Salad Recipe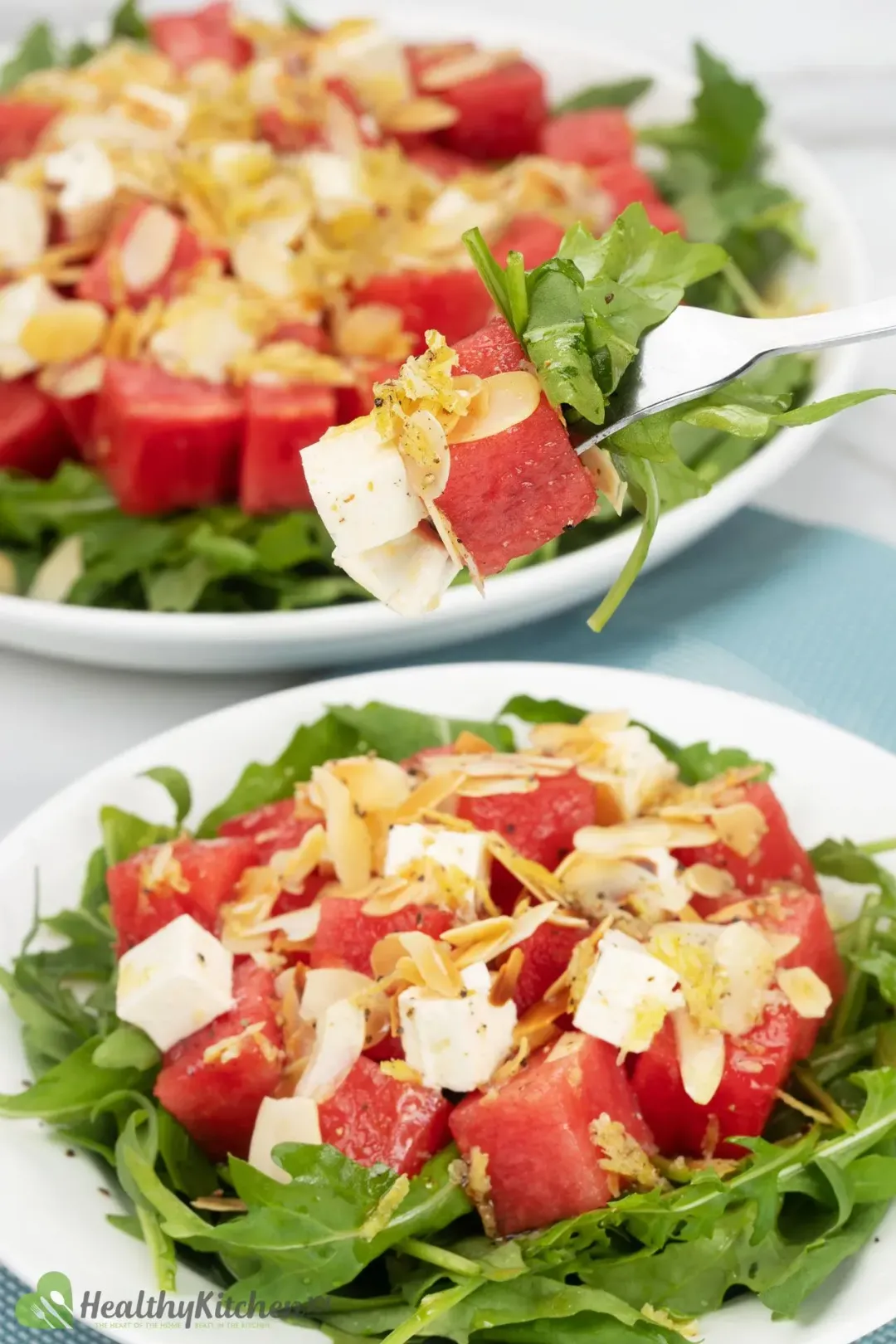 Previous Recipe
Healthy Watermelon Arugula Salad
Healthy Watermelon Arugula Salad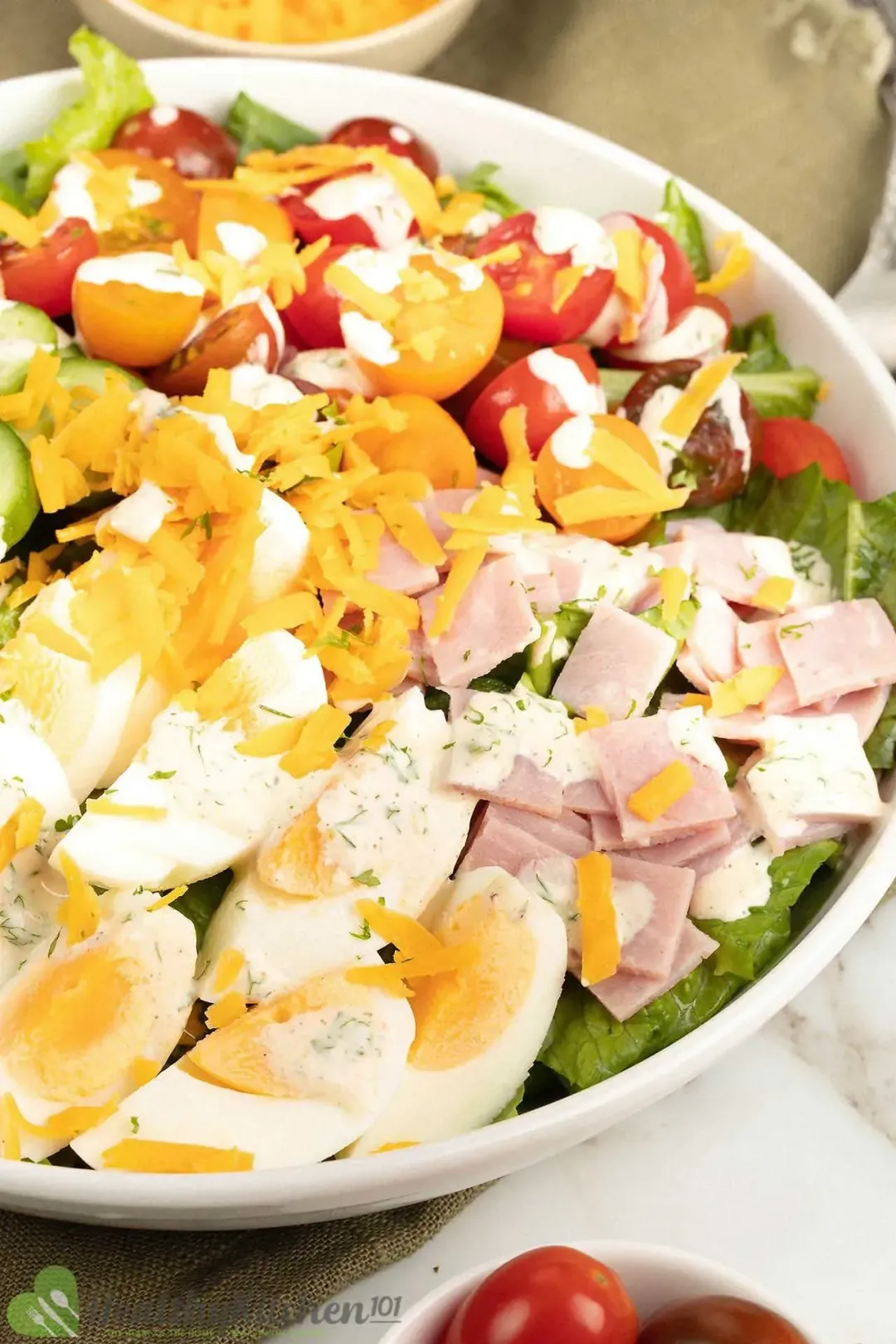 Chef Salad
Head Chef, Culinary Consultant
Tuyet Pham is an award-winning Saigonese chef who believes that joy is the secret ingredient to delicious food. At Healthy Recipes 101, Tuyet personally tests and simplifies every recipe, ensuring maximum flavor with minimal effort. With a background at prestigious French restaurants P'TI Saigon and Le Corto, Tuyet knows how to make every dish exceptional.
Writer, Author
Luna Regina is an accomplished writer and author who dedicates her career to empowering home cooks and making cooking effortless for everyone. She is the founder of HealthyKitchen101.com and HealthyRecipes101.com, where she works with her team to develop easy, nutritious recipes and help aspiring cooks choose the right kitchen appliances.
Nutrition Reviewer
Lizzie Streit is a Minneapolis-based dietitian and founder of It's a Veg World After All. She completed her MS in Human Nutrition from Drexel University, and is an expert in culinary nutrition, recipe development, and nutrition communications. Lizzie's philosophy is centered around making nutrition recommendations, and especially the advice to eat more vegetables, approachable and realistic. She is excited to be working with the team at Healthy Recipes 101 to ensure that their recipes are both nutritious and delicious.
Flavorful pesto pasta salad recipe.