Our seafood salad recipe could become your new obsession.
Do you crave seafood but don't know what to make? Try seafood salad, a classic salad bar item that, to us, doesn't get the attention it deserves.
Although it's a "salad," you may be pleasantly surprised to see the chunks of shrimp, chewy squid, and tender crab in there, all coated in a creamy, savory dressing. You'll also bite into juicy bits of celery, bell pepper, and tender peas, giving the salad a refreshing element.
The best part is that it will take you just 20 minutes to whip up 2 days' worth of no-fuss meal in a large salad bowl. Serve it with more veggies, slap it on a sandwich, or top your favorite pasta with it, whatever suits your taste!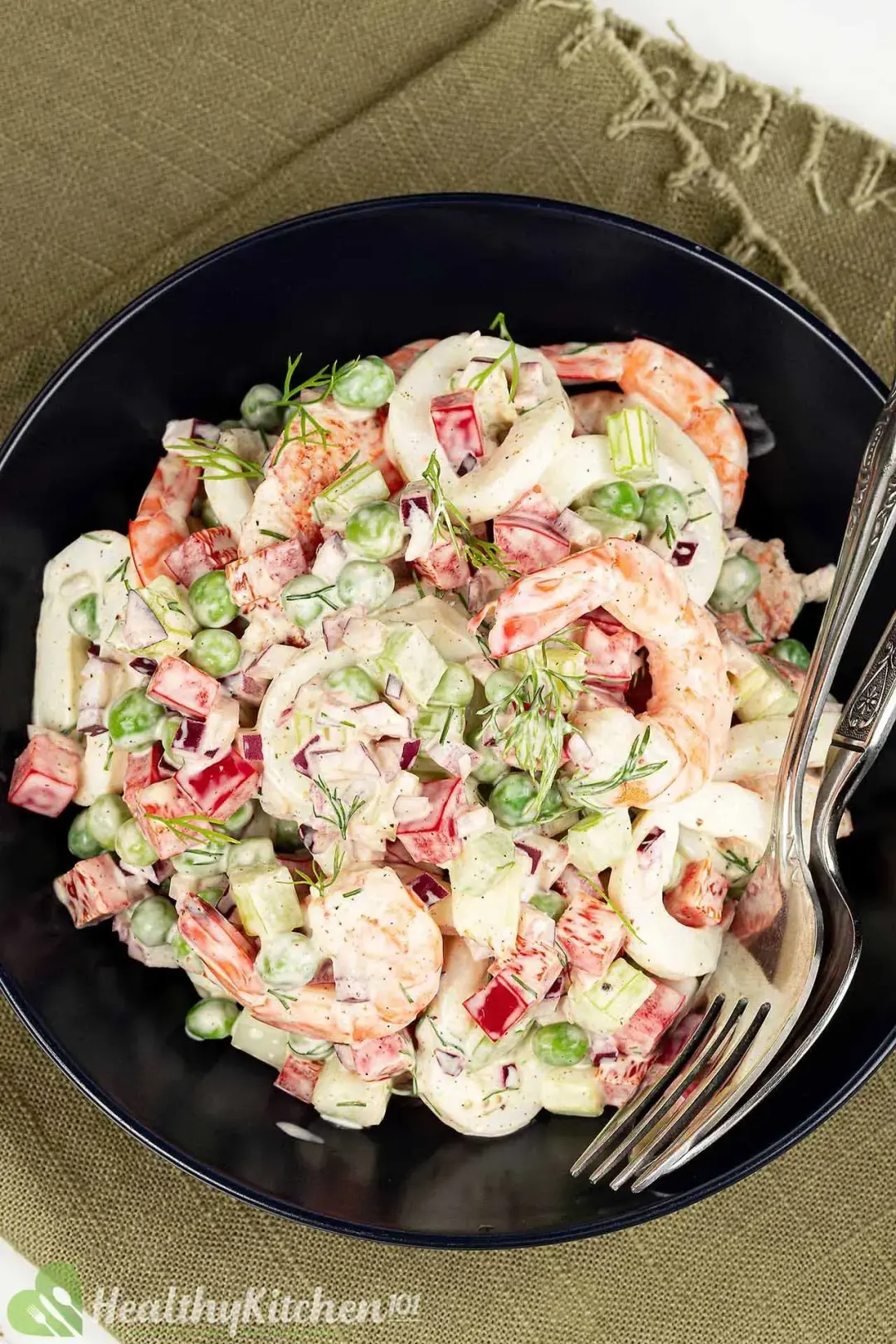 So, to skip ahead to the ingredient list and the detailed how-to section in an instant. Or, read on and learn more about:
How healthy seafood salad is;
The ingredients of the salad;
How to put the salad together;
What to serve with it.
Besides this seafood salad, we also have other salad recipes starring shrimp:
Is Seafood Salad Healthy?
"Seafood" and "salad" are often synonymous with healthy food, but it's hard to call "seafood salad" a healthy dish. Here's why:
While seafood salad is an excellent source of protein, it is coated in a mayonnaise dressing. Many recipes pack plenty of mayonnaise in a serving because it looks more appealing and tastes extra creamy, but this can be really unhealthy.
To come up with a healthy seafood salad that doesn't disappoint on taste, we played around with the ratio a bit. As a result, our seafood salad recipe has only 1.6 grams of saturated fat per serving, fitting comfortably within the USDA's guidelines.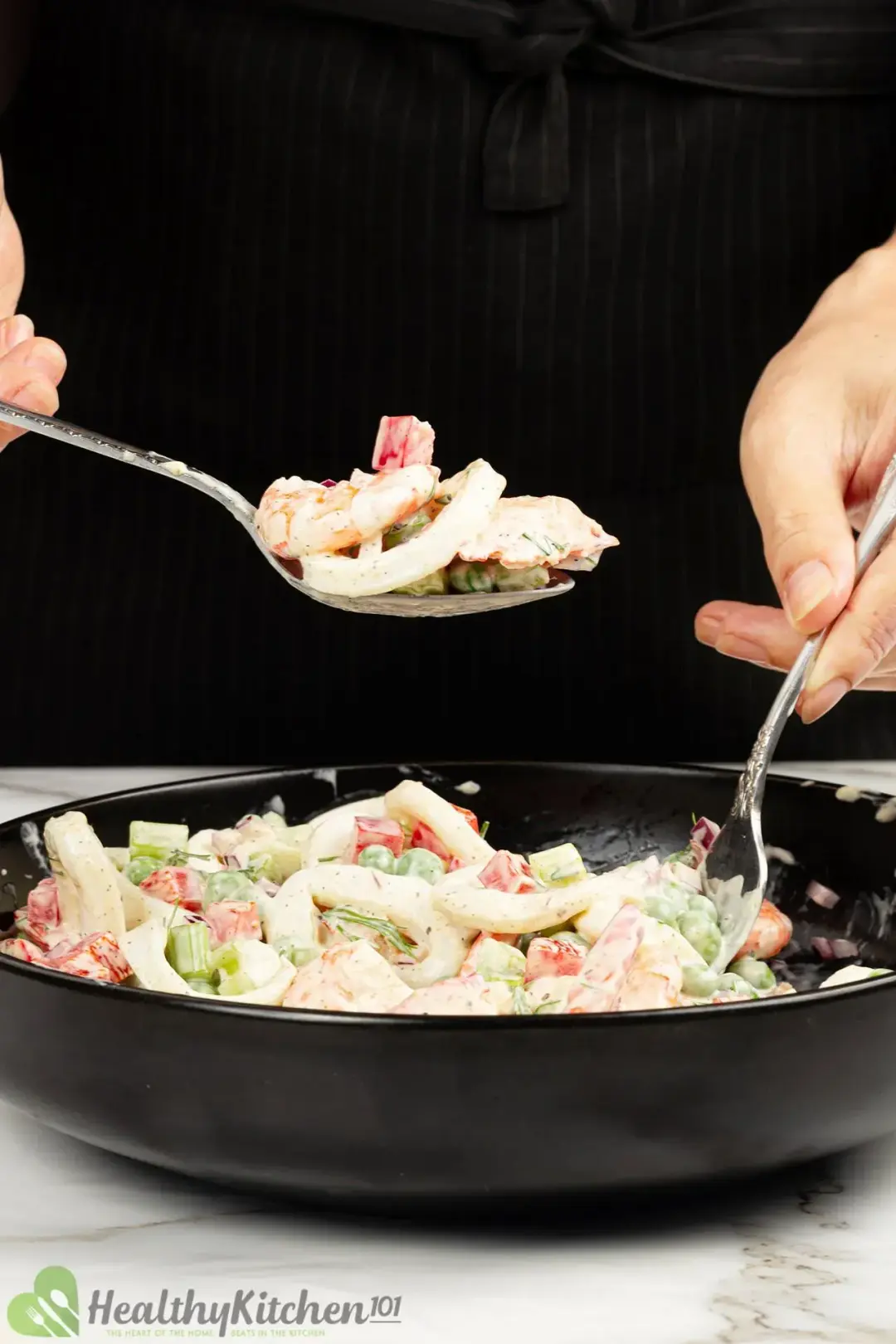 Seafood Salad Ingredients
Let's go through the checklist:
1. Seafood
Suitable types of seafood for this seafood salad recipe include shrimp, squid, scallop, and crab— those with a firm texture. We used shrimp, squid, and crab today.
Since we happen to be in a seaside area, we headed out to the market for the freshest ingredients. If you can't get fresh seafood, frozen shrimp, squid, and canned crabs are convenient options that shorten your food-prepping time.
If you want to include scallops or imitation crab, make sure to use only 2-3 types of seafood. Moderation is key.
2. Imitation Crab vs Crab Meat
It's important to note that imitation crab is NOT crab by any means. It's a type of fish cake with red colorants to mimic the look of cooked crab meat, which explains the chewier texture.
Unlike real crab, imitation crab is precooked and is ready to eat right from the package. If you want a no-cook seafood salad, pick out imitation crab, boiled shrimp, and boiled calamari in the frozen food aisle.
3. Herbs to boil the Seafood with
Seafood often comes with an unpleasant smell. We chose to boil ours along with several herbs and vegetables to infuse aromas into every bite while masking the nasty smell.
There are many herb and vegetable options, but our chefs' favorites are celery, onions, bay leaves, and dill. They are the classic ones that are easy to find, yet work well for any seafood.
4. Vegetables
A.k.a, the "salad" part of seafood salad. We're using crisp veggies like celery and bell peppers to give the dish a fresh crunch, plus peas, because they're our favorite.
Seafood Salad Dressing
For the dressing, we went for classic mayonnaise with a squeeze of lemon and a spoonful of mustard. It should be creamy, tangy, and have a bit of a kick.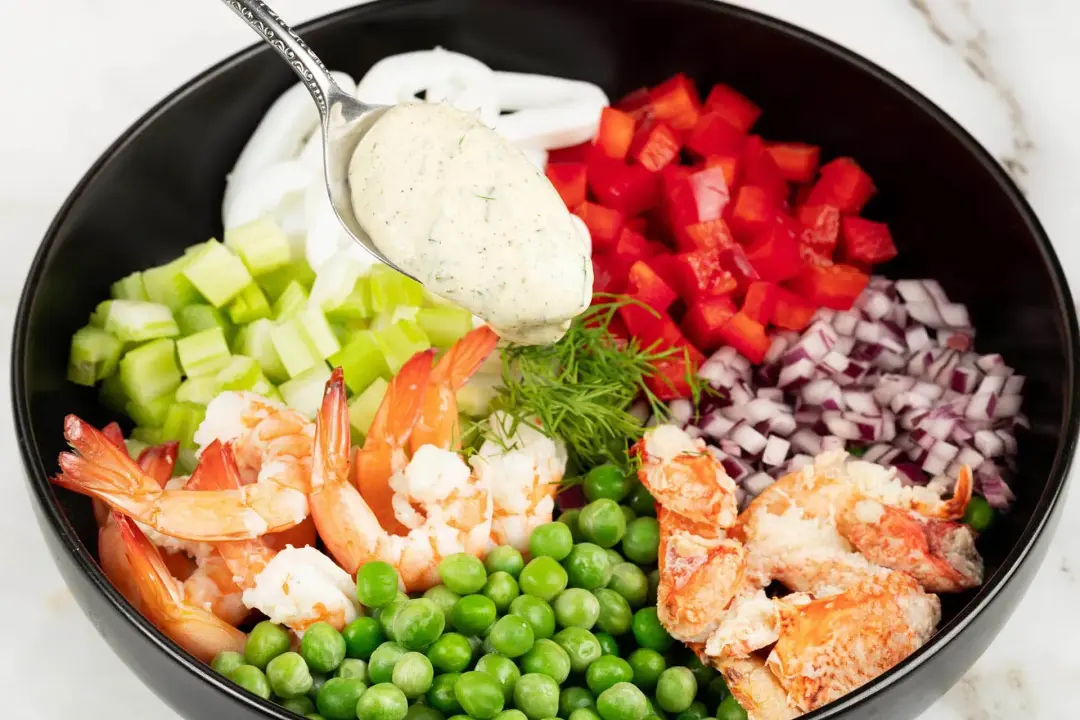 If you want your dressing to have a little heat, add half a teaspoon of paprika. Then don't forget to season it with salt and pepper for the final touch.
How to Make Seafood Salad
Here is a brief overview of our seafood salad recipe: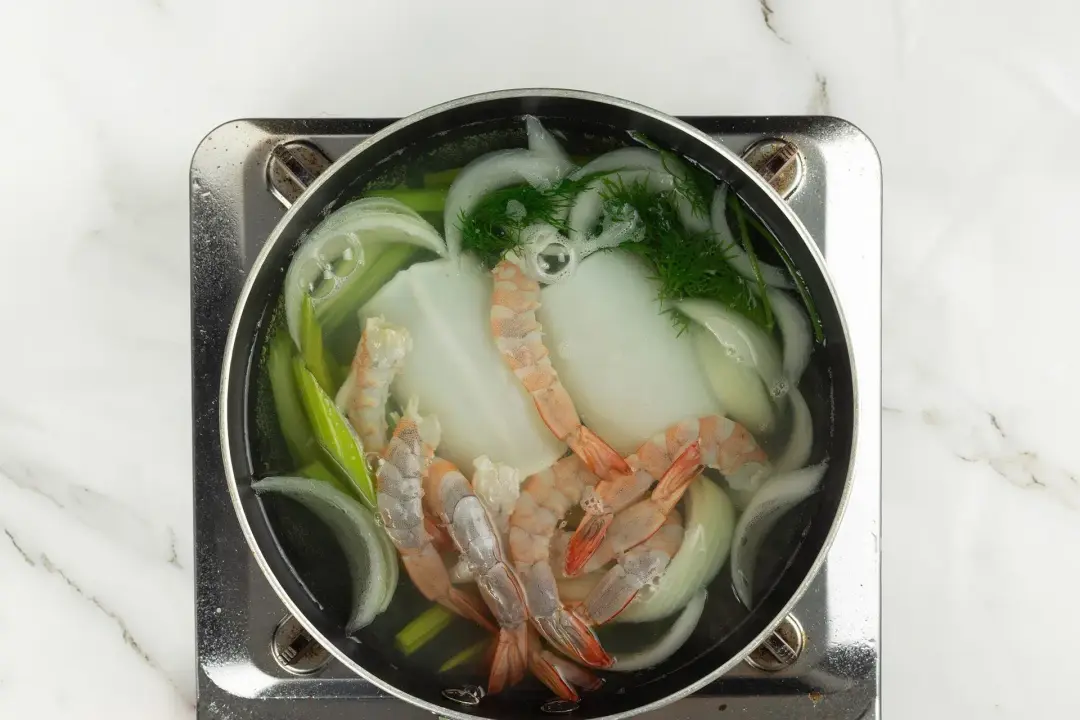 Boil shrimp and squid with herbs and vegetables; Shock in ice water;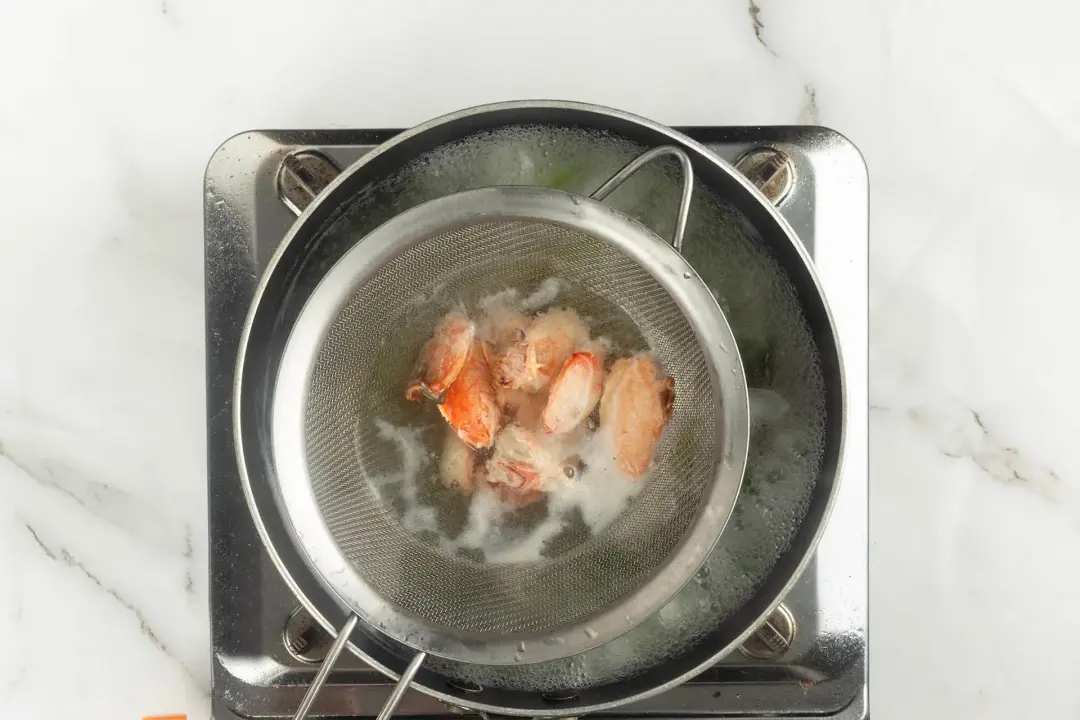 Drain and blanch the crab meat;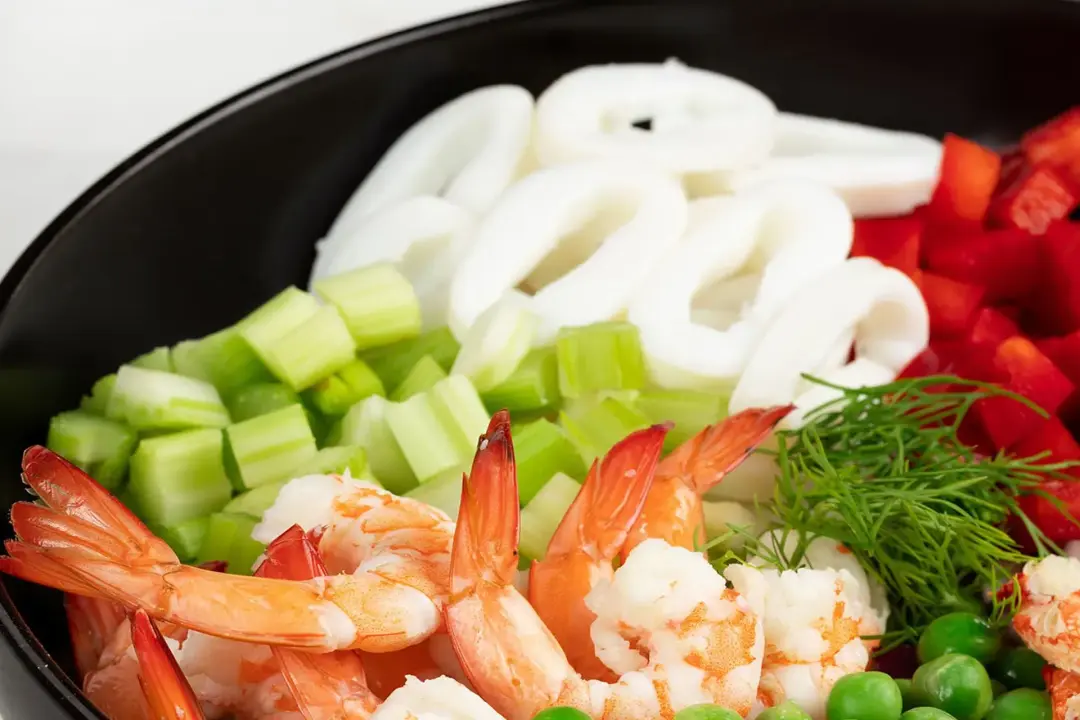 Slice the squid;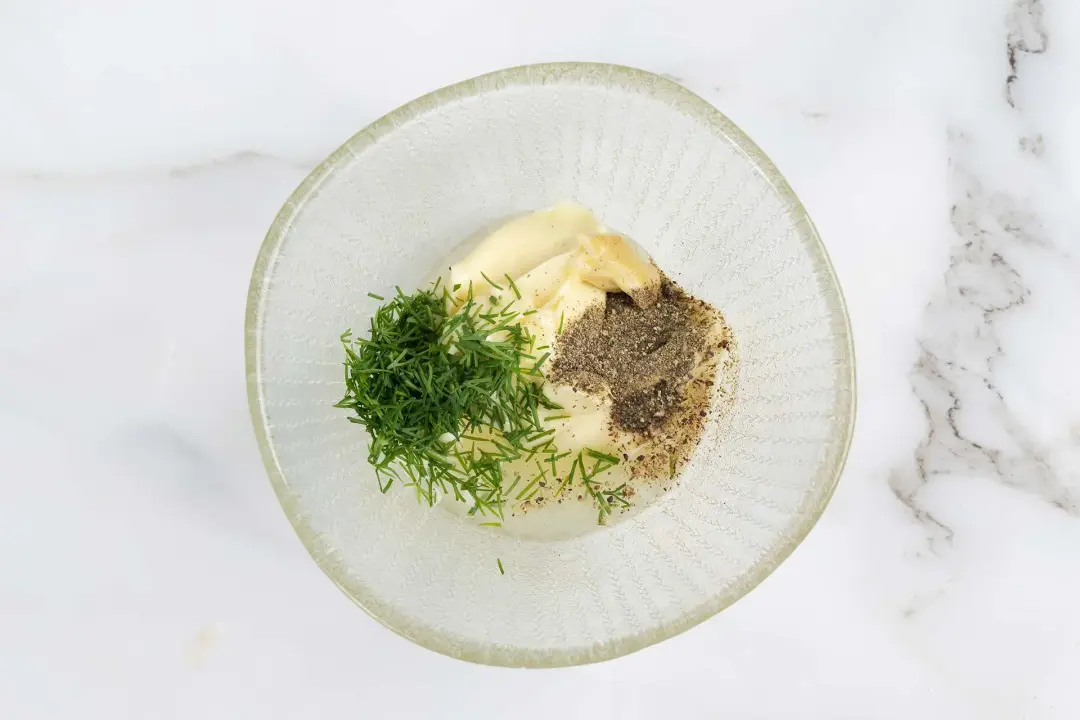 Make the dressing;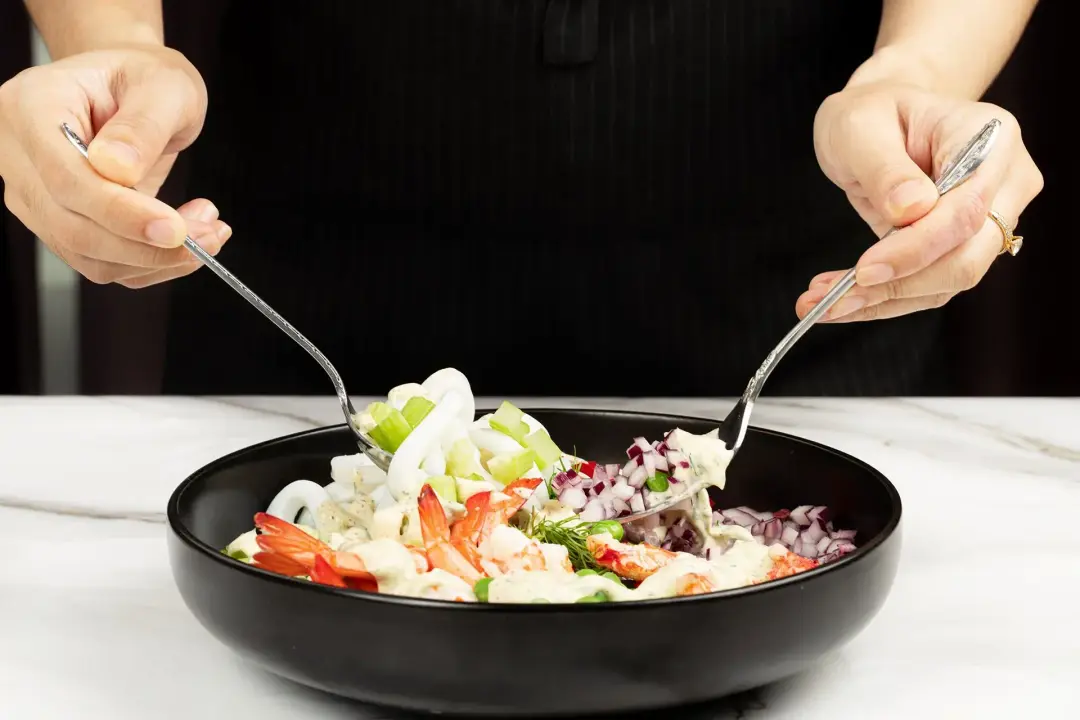 Combine the ingredients in a large salad bowl and serve.
Tips for Making Seafood Salad
Boiling the squid before slicing it helps it retain moisture and makes the squid juicier. Plus, it's easier to slice squid when it's cooked than when it's raw.
Shocking squid and shrimp in an ice bath right after boiling gives them a firm texture. You'll get a pleasant crunch when you bite into them.
What Goes with Seafood Salad
Seafood salad is amazing on its own, but you can make it even better. Serve it with lettuce so people can make little lettuce rolls, or eat it with bread or pasta for an easy meal:
1. Seafood Salad Sandwich
A sandwich is the best lunch option: it's convenient, quick to make, and there are no dishes, spoons, or forks to clean afterwards. Store your salad covered in the fridge, and you'll have many convenient meals for days to come.
If it's an office fridge, you may want to clear it with your coworkers first — it is seafood after all!
For optimal nutrition, choose whole wheat bread instead of white bread. Also, sneak in a handful of arugula or lettuce for extra fiber and micronutrients.
2. Seafood Salad Pasta
A seafood sandwich for lunch and seafood pasta for dinner! Sounds good? You can either put it on spaghetti or mix it with al dente fusilli/macaroni for an awesome dinner.
If you feel like adding some parmesan on top for extra creaminess, go ahead. This salad's saturated fat content is quite low, so a little bit of cheese won't hurt.
How to Store Seafood Salad
Cooked seafood in general, according to the FDA, can be stored for 3-4 days at a temperature of 40°F or lower. Therefore, it's ideal to make four servings, cover it, and base your meals around it for the next 3-4 days.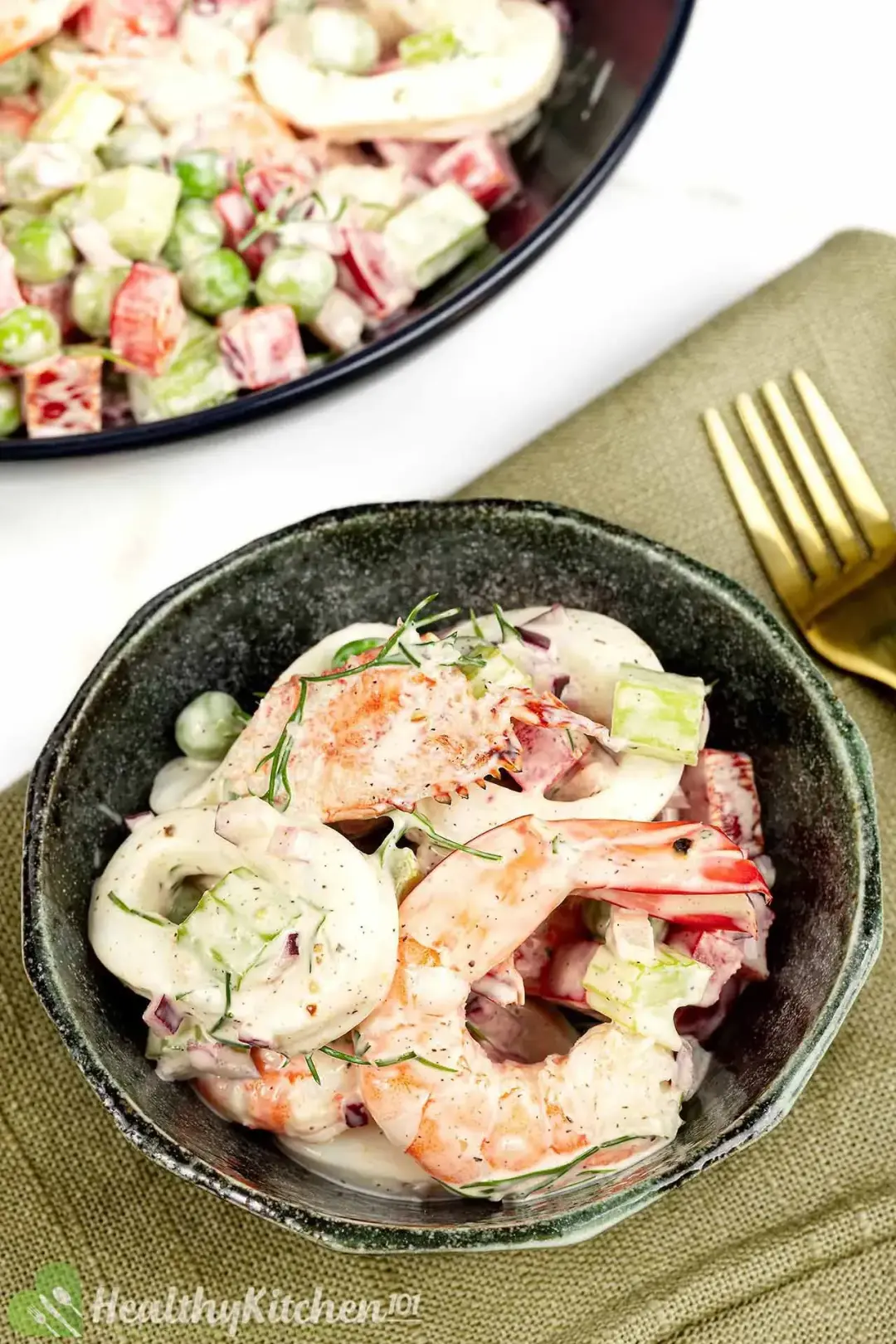 Although cooked seafood can technically be stored in the freezer, we advise you not to freeze seafood salad. Mayonnaise does not thaw well, and cooked seafood loses its pleasant texture when frozen and re-thawed.
If you want the salad on Friday but only have time to prep on Sunday, here's what you need to do:
Cut the vegetables into little pieces;
Slice the squid into bite-sized rings;
Store sliced squid and whole shrimp in the freezer;
Mix the sauce and store it along with cut vegetables in the fridge;
When the time comes, heat a pot of water and cook the squid and whole shrimp in it. Open the crab can, drain it well, and blanch it. Then toss it with the squid, shrimp, vegetables, and dressing.
The whole process should take around 10 minutes, and you'll have delicious, freshly-prepared salad.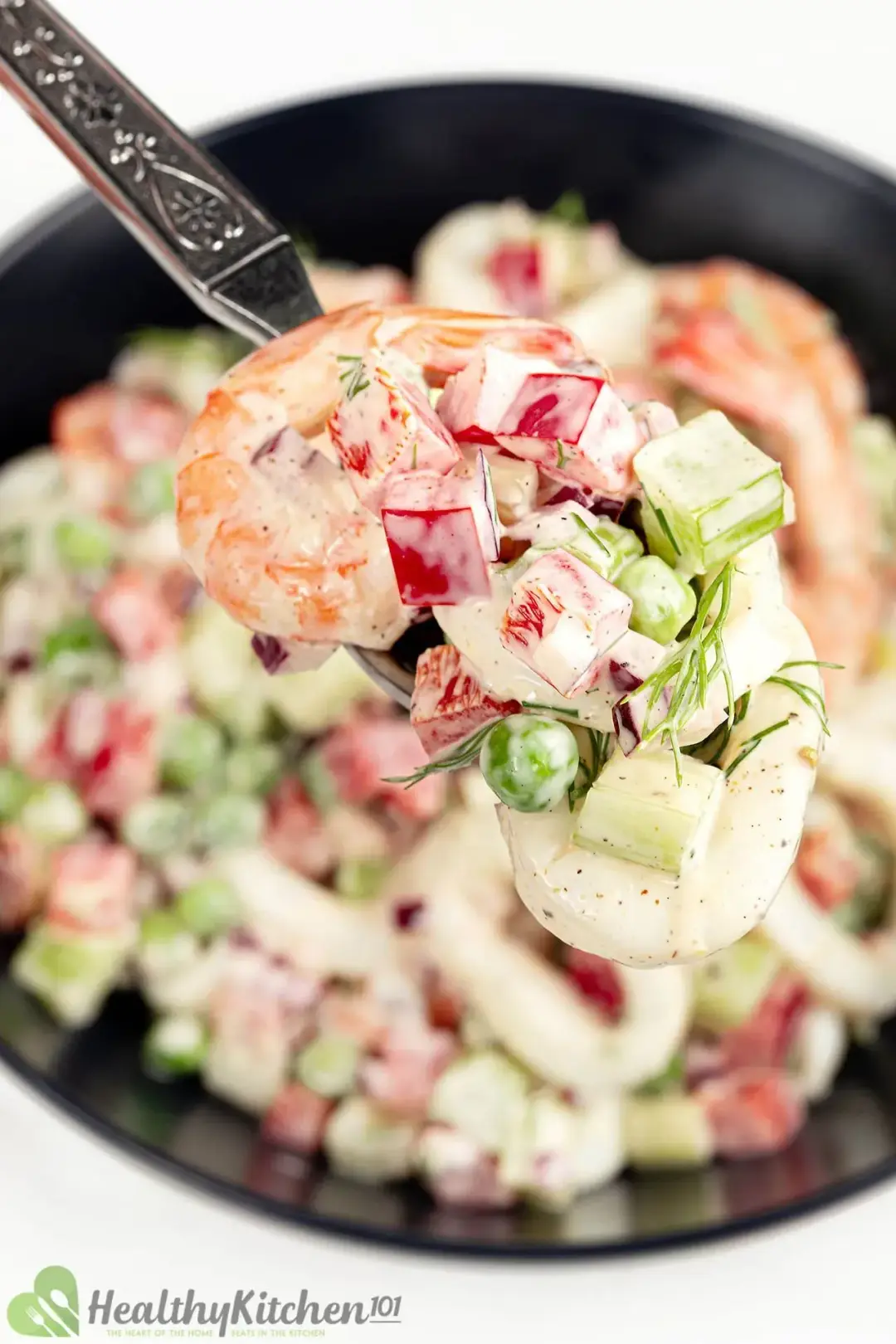 Seafood Salad Recipe
This seafood salad recipe makes a delicious classic in 20 minutes or less. Make a large amount and save some for tomorrow's meals!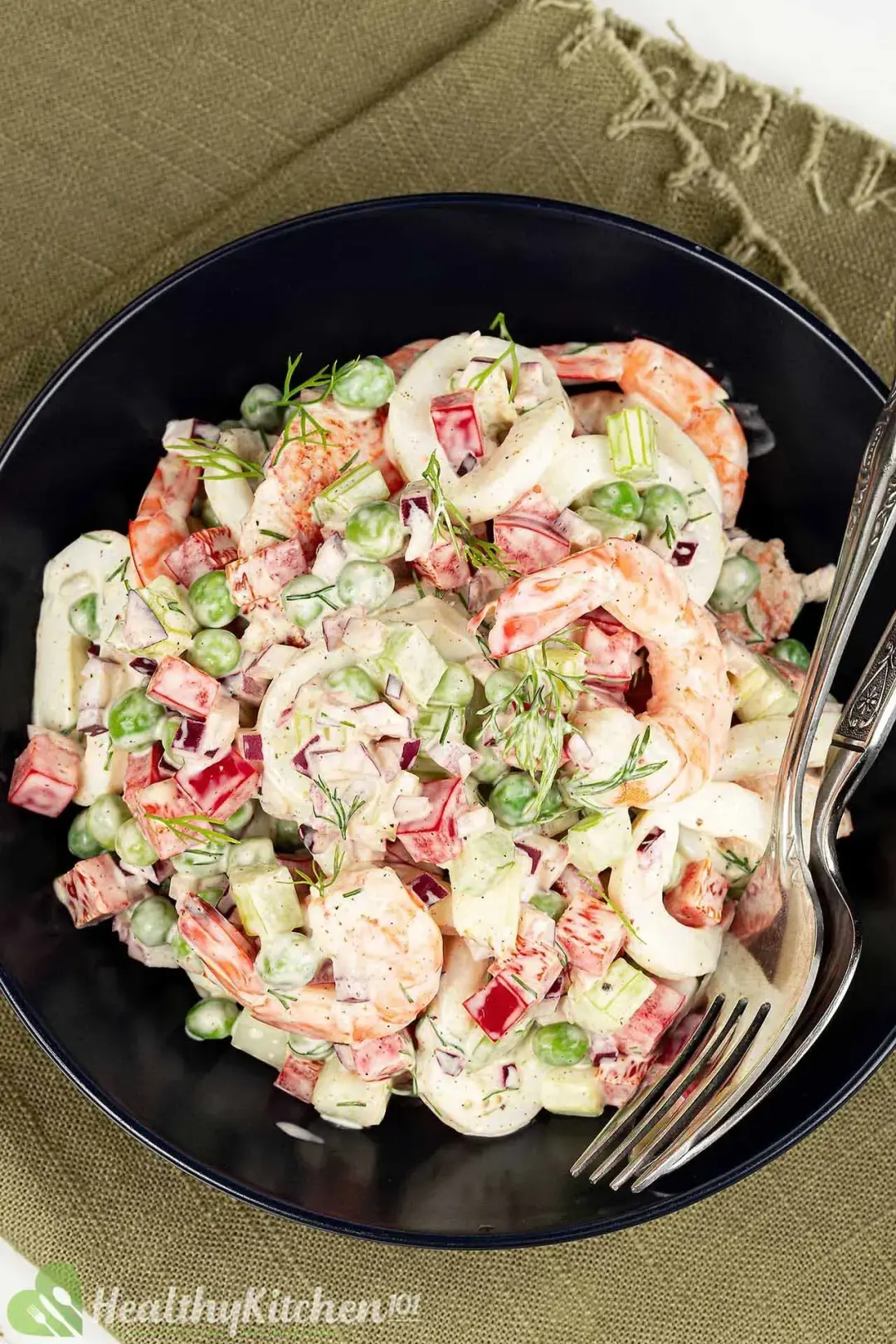 cook TIME

15 mins

prep TIME

5 mins

total TIME

20 mins
COURSE

Side Dish

CUISINE

Global

SERVINGS

servings

CALORIES

197 kcal
INGREDIENTS
4 oz

celery (half whole, half finely chopped)

2 oz

onions (roughly diced)

0.3 oz

dill (about 1-2 sprigs)

1

bay leaf

6 oz

raw shrimp (medium-sized, should yield 3 oz peeled shrimp)

4 oz

squid (whole)

1 oz

canned crab meat

2 tsp

lemon juice

0.5 tsp

dill (chopped)

0.3 tsp

ground black pepper

0.3 cup

Japanese mayonnaise

0.3 tsp

traditional Dijon mustard

1 oz

red onion (minced)

2 oz

red bell pepper (finely chopped)

3 oz

green peas (thawed)
INSTRUCTIONS
1
Boil shrimp and squid with herbs and vegetables: bring a pot of water to a boil. Add 2 oz of whole celery, 2 oz of onion, dill sprigs, and 1 bay leaf. Cook for 2 minutes. Then add peeled shrimp and 4 oz squid to cook for 2 more minutes. Prepare an ice bath while cooking. Scoop out the squid and shrimp (don't drain) and place them into the ice bath.
2
Drain and blanch the crab meat: drain the crab with a strainer. Place the strainer into the boiling water for 30 seconds and take it out. Discard the water and place the crab into a large salad bowl. You can also blanch the peas at this stage if you want softer peas. (Optional)
3
Slice the squid: cut whole squid into rings and place them along with the shrimp into the salad bowl.
4
Make the dressing: in a small sauce bowl, mix 2 tsp lemon juice, 1/2 tsp chopped dill, 1/4 tsp ground black pepper, 1/4 cup Japanese mayonnaise, and 1/4 tsp mustard. Mix well.
5
Combine the ingredients: add 1 oz minced red onion, 2 oz finely-chopped bell pepper, 2 oz finely-chopped celery, and 3 oz green peas into the bowl with your seafood. Add the dressing, toss well, and serve or refrigerate.
NUTRITION
Nutrition Facts
Seafood Salad Recipe
Amount Per Serving (1 serving)
Calories 197
Calories from FDA
% Daily Value*
* Percent Daily Values are based on a 2000 calorie diet.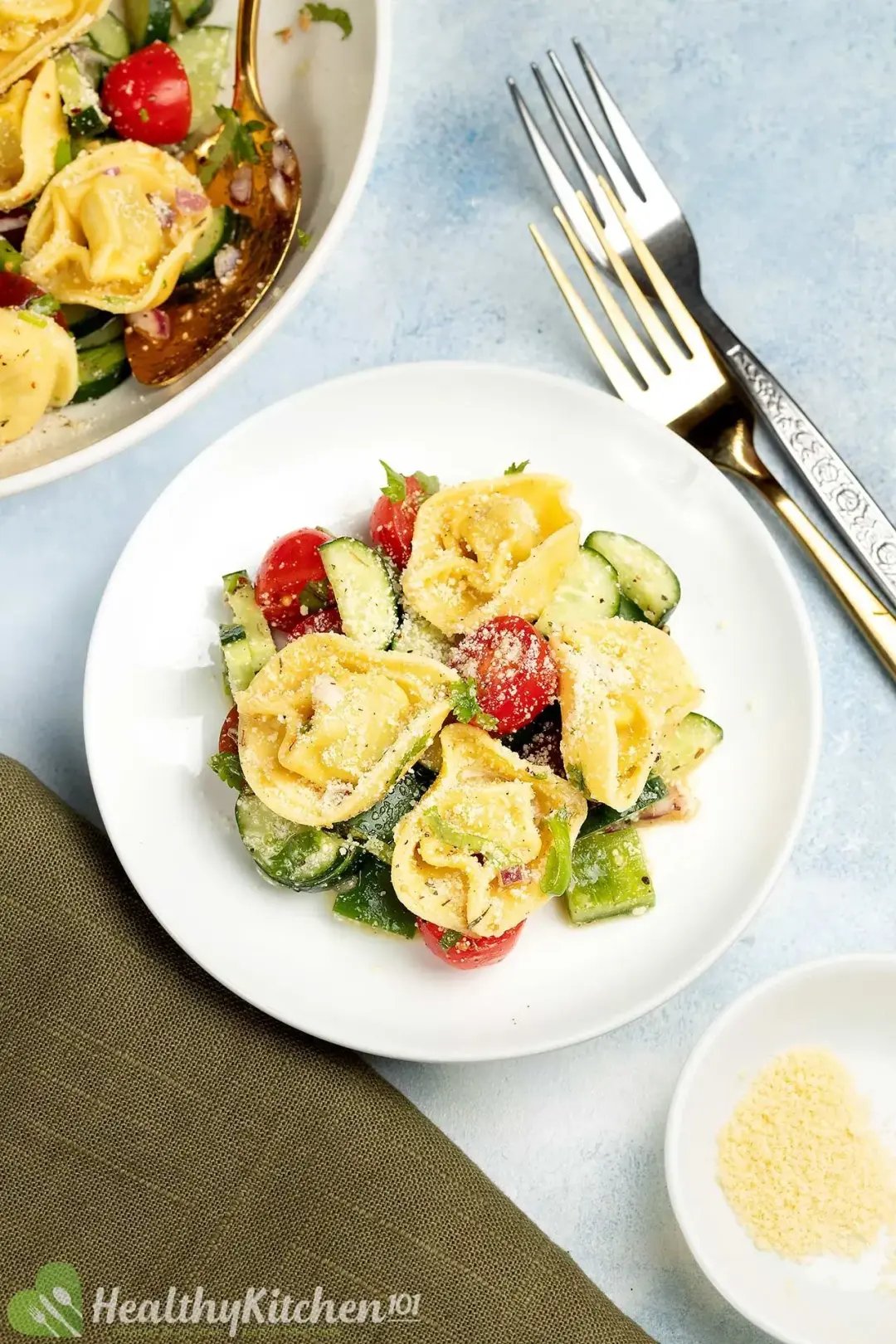 Previous Recipe
Tortellini Salad
Tortellini Salad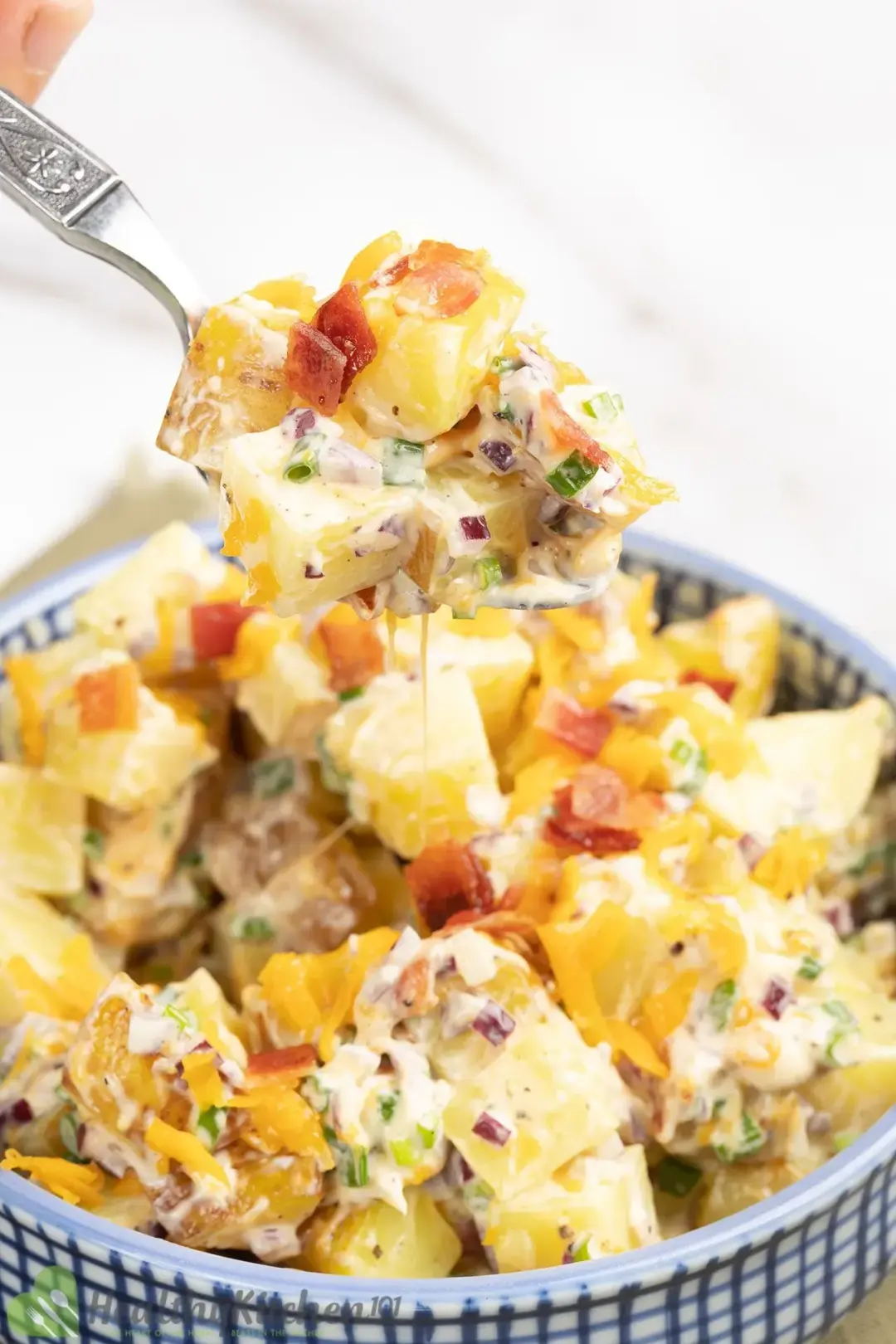 Next Recipe
Loaded Potato Salad
Loaded Potato Salad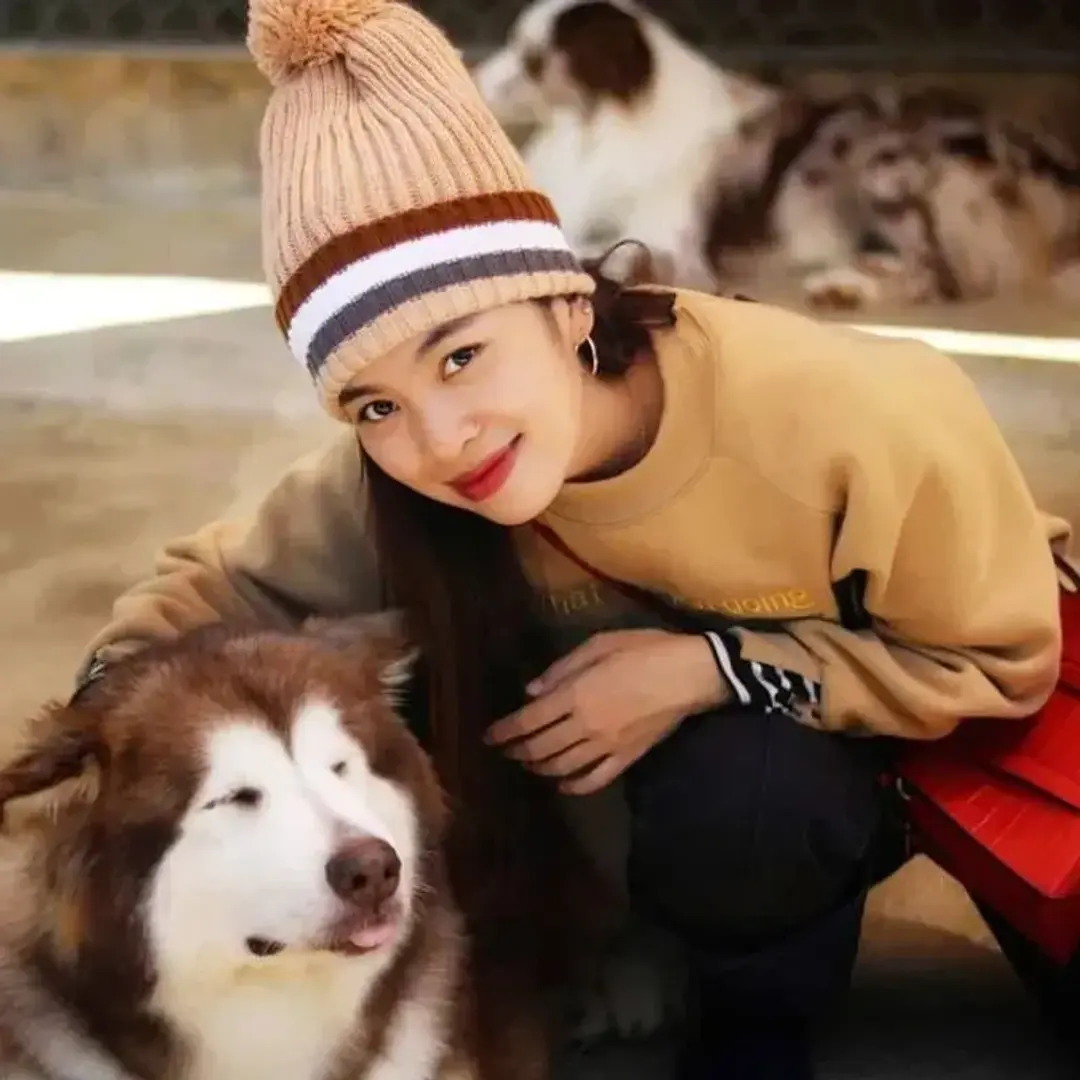 Professional Chef
Tuyet Pham is an award-winning Saigonese chef who believes that joy is the secret ingredient to delicious food. At Healthy Recipes 101, Tuyet personally tests and simplifies every recipe, ensuring maximum flavor with minimal effort. With a background at prestigious French restaurants P'TI Saigon and Le Corto, Tuyet knows how to make every dish exceptional.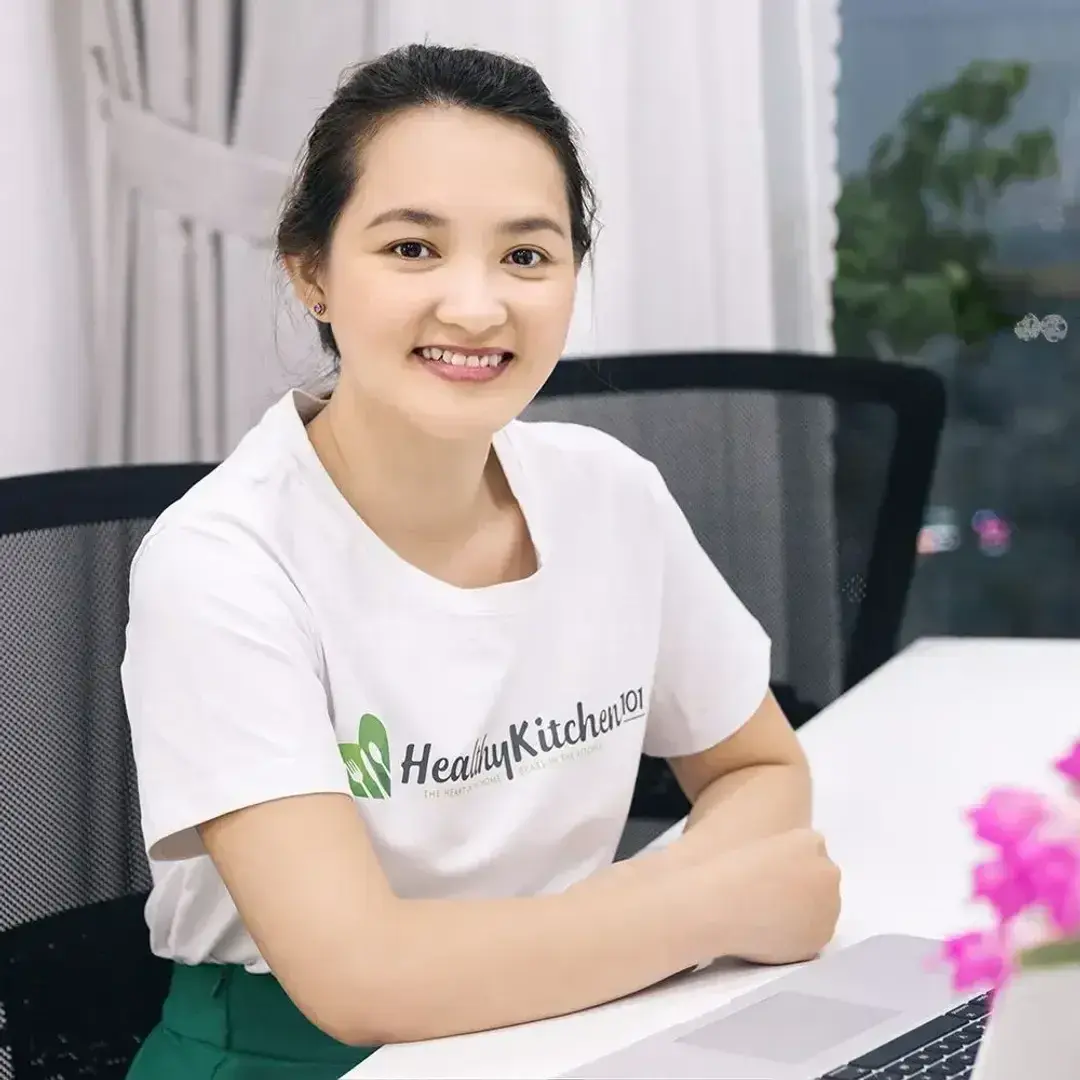 Founder
Luna Regina is an accomplished writer and author who dedicates her career to empowering home cooks and making cooking effortless for everyone. She is the founder of HealthyKitchen101.com and HealthyRecipes101.com, where she works with her team to develop easy, nutritious recipes and help aspiring cooks choose the right kitchen appliances.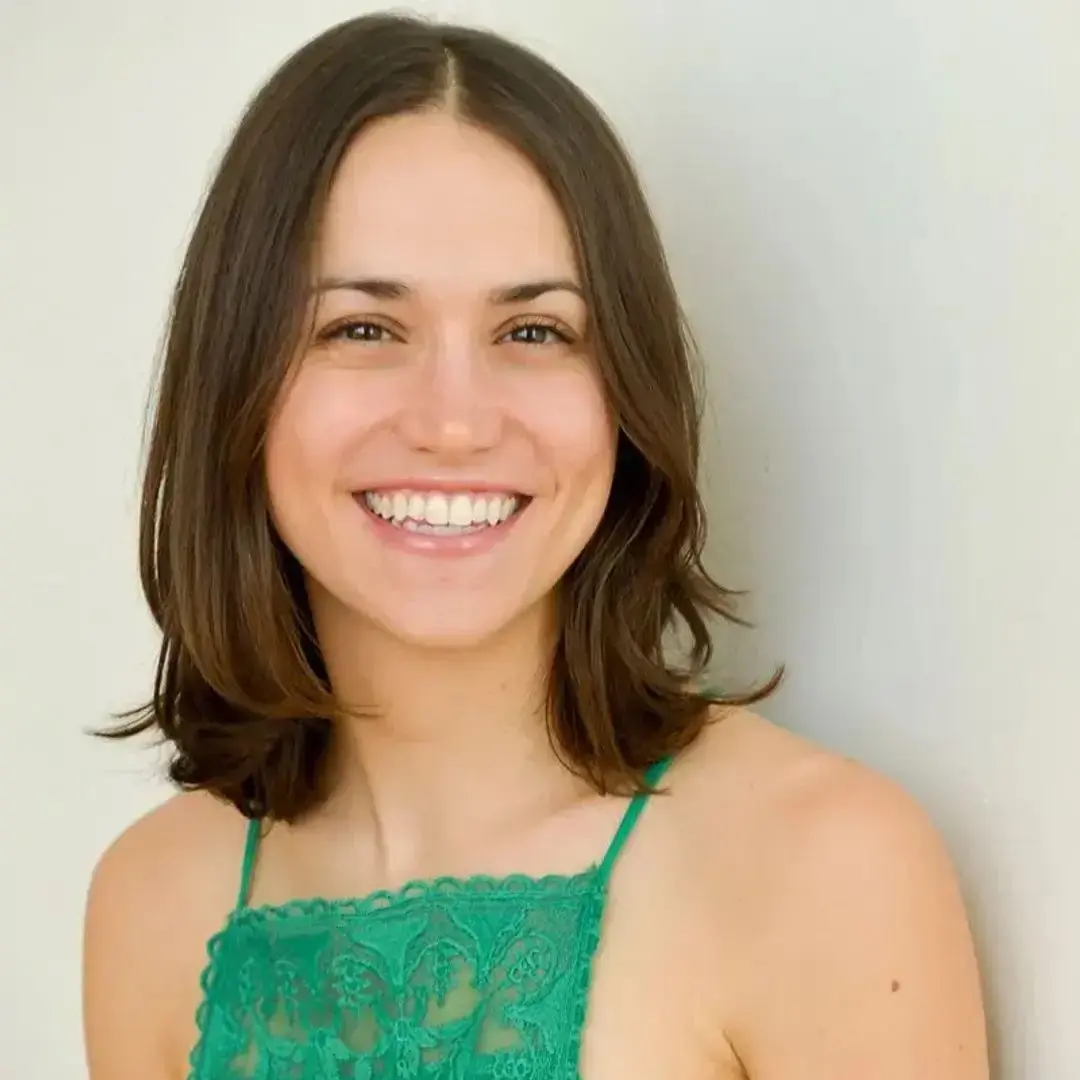 Nutrition Reviewer
Lizzie is a Minneapolis-based dietitian and founder of It's a Veg World After All. She completed her MS in Human Nutrition from Drexel University, and is an expert in culinary nutrition, recipe development, and nutrition communications.
Comments/ Reviews