If you find yourself craving a hearty salad, this shrimp salad recipe is sure to get your taste buds dancing.
Offering you a variety of interesting tastes, textures, and colors, this beautiful plate delivers maximum flavor and delight. And a bonus: any leftovers can be stored in the refrigerator and become a quick lunch for the next day.
Is Our Shrimp Salad Healthy?
Far from being a common food, the ingredients chosen for this recipe might surprise you with how brilliant they are. They taste good and go miles when it comes to health benefits.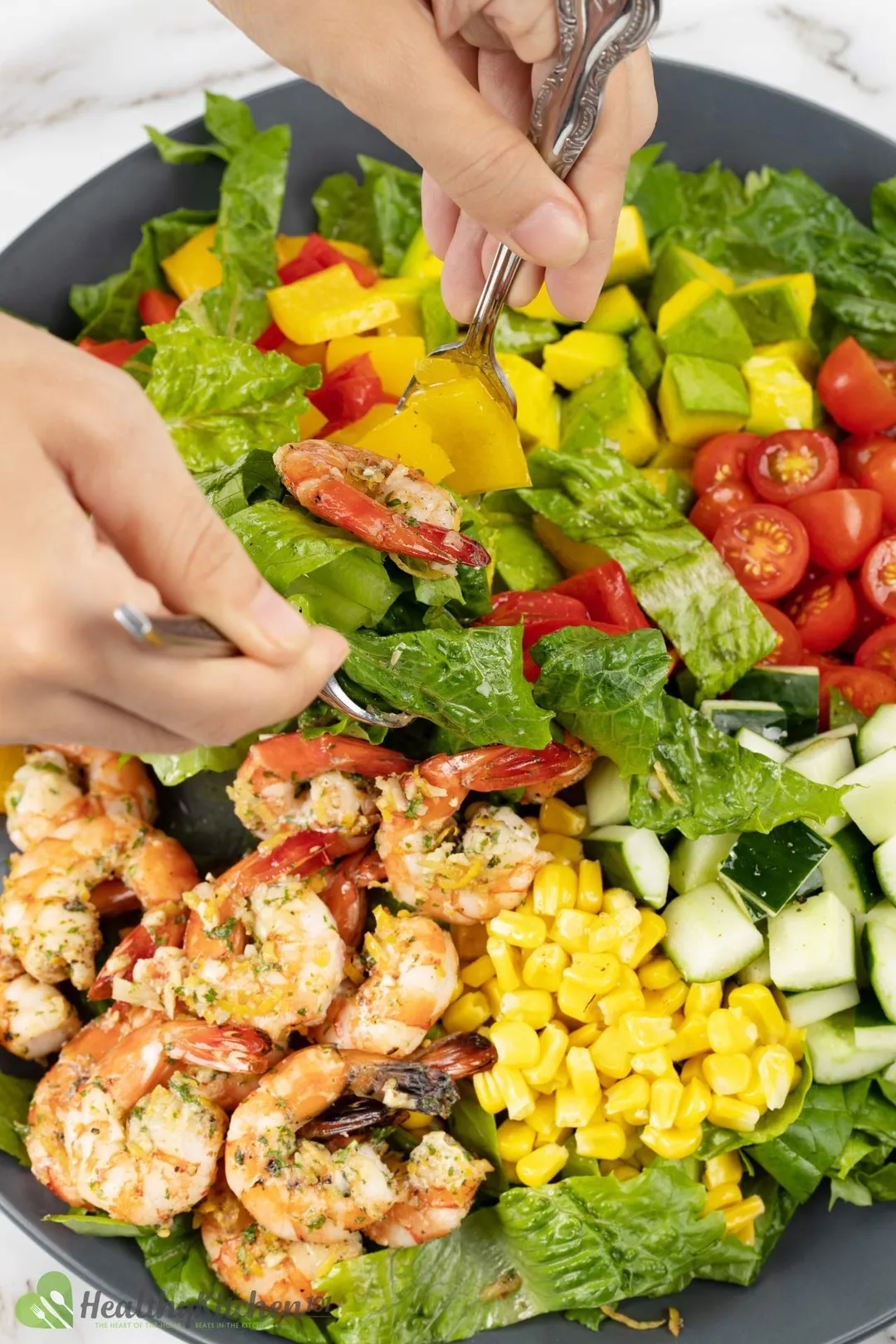 1. Shrimp
According to the USDA: a medium-sized shrimp provides a remarkable amount of vitamins A, D, E, fat-soluble vitamins, iron, and calcium.
The benefits of shrimp are countless, including its ability to help improve bones, the brain and the immune system. Protein and various vitamins, such as calcium and magnesium, found in shrimp can help in the fight against bone degeneration.
Shrimp also contains omega-3 fatty acids that can result in protective health effects like reducing the risk of stroke and diabetes. It's hard to beat shrimp when it comes to healthy eating!
2. Avocado
Avocado is relatively rich in fiber- about 7% by weight. High-fiber foods can keep you full longer which contributes to weight loss. Fiber can also slow the absorption of sugar and has the ability to diminish blood sugar spikes.
The monounsaturated fatty acids in avocado actually have beneficial effects, too. It is said they help reduce inflammation and protect against age-related cognitive decline.
Avocados also contain potassium which helps maintain blood pressure at a healthy level.
Ingredients for This Shrimp Salad
With the combination of fresh ingredients, dressed with olive oil, lemon and salt, this shrimp salad recipe needs nothing else. But that doesn't mean you can't tinker with the formula if you fancy a little bit of something else.
And sometimes, you might even end up with a new recipe that rivals the original. Here are some possible ingredients that won't overpower the delicate flavor of the shrimp, but will work together in perfect harmony: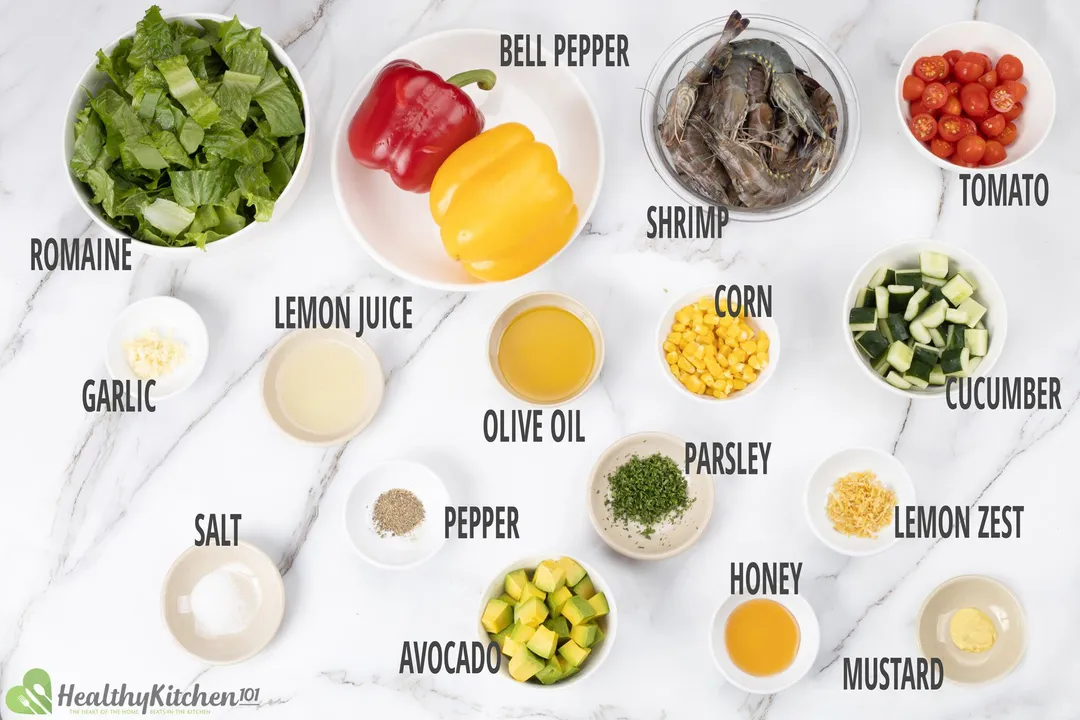 Bacon: adds a savory note and the crunchiness you would love to have in any salad.
Beans: any light beans like white navy beans or cannellini will work with this recipe.
Citrus Fruit: a little acidity can improve any seafood dish. For us, orange and grapefruit does that perfectly in this shrimp salad recipe.
Red onion: red onion adds great bright color and an interesting aromatic hint in the dish. If you only have white or yellow onion at home, either will do a great job as well.
Herb: fresh herbs like basil or parsley brighten up the dressing and add herby freshness, adding color and flavor to the dish.
How to Cook Shrimp for This Salad
Most shrimp in the supermarket has been previously peeled and frozen. It can be convenient if you're cooking them immediately, but shrimp still in the shell gives you better flavor.
You can either cook shrimp with the shell or not. If you want to peel off the shell and prep them at home, follow the quick instruction below.
1. Peel and Devein
We start peeling the shrimp by pulling off the legs, and then the shell can easily slip off. Depending on the recipe and personal preference, you can leave the shell on the tail or remove it.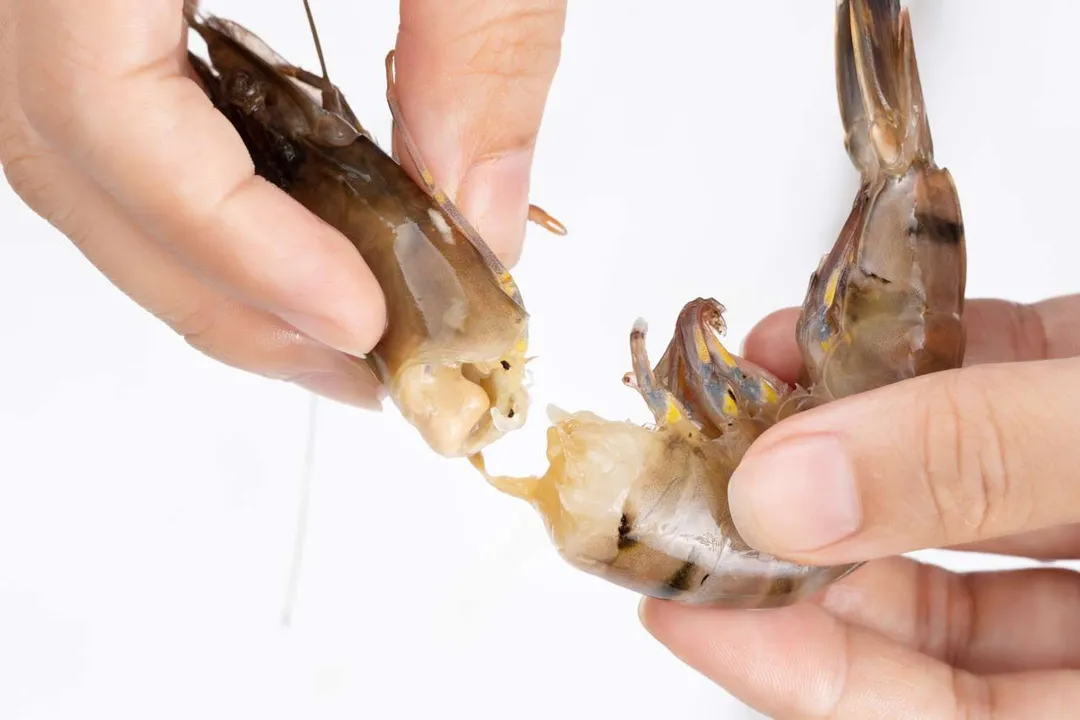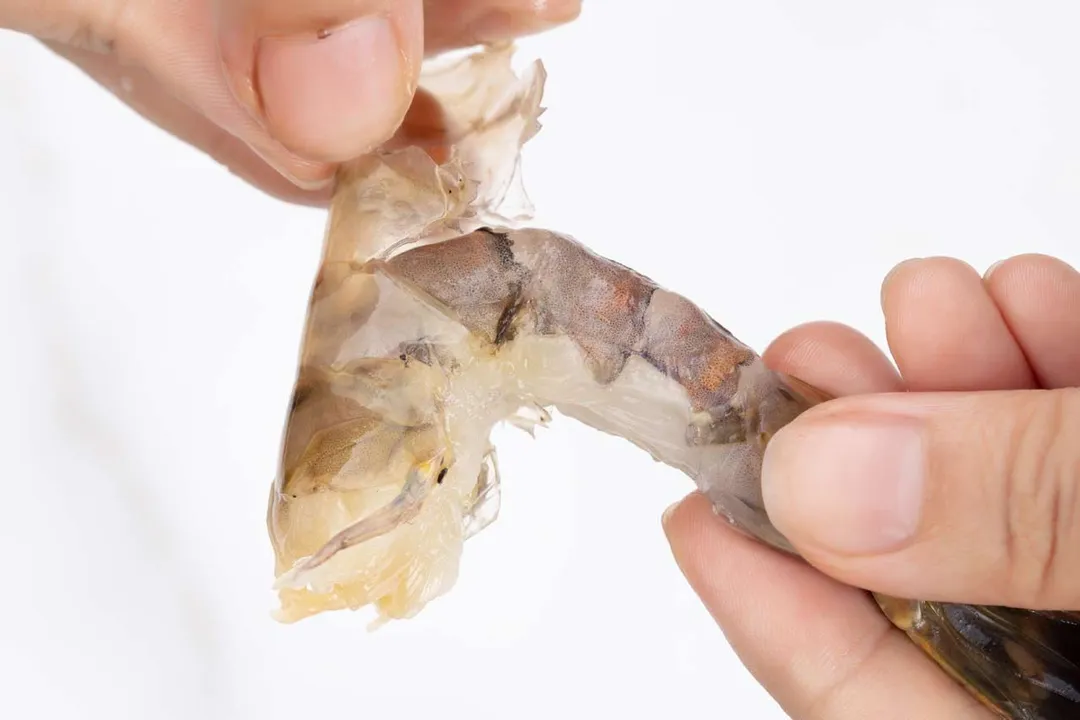 Shrimp have a dark vein running along the back. You need to remove this before cooking, otherwise your dish could get an unpleasant sandy taste.
To devein shrimp, use a small knife and make a shallow cut down along the back of the shrimp. Then lift out the vein, or rinse it away under the running water. Alternatively, you can refer to the following method illustrated in the image below.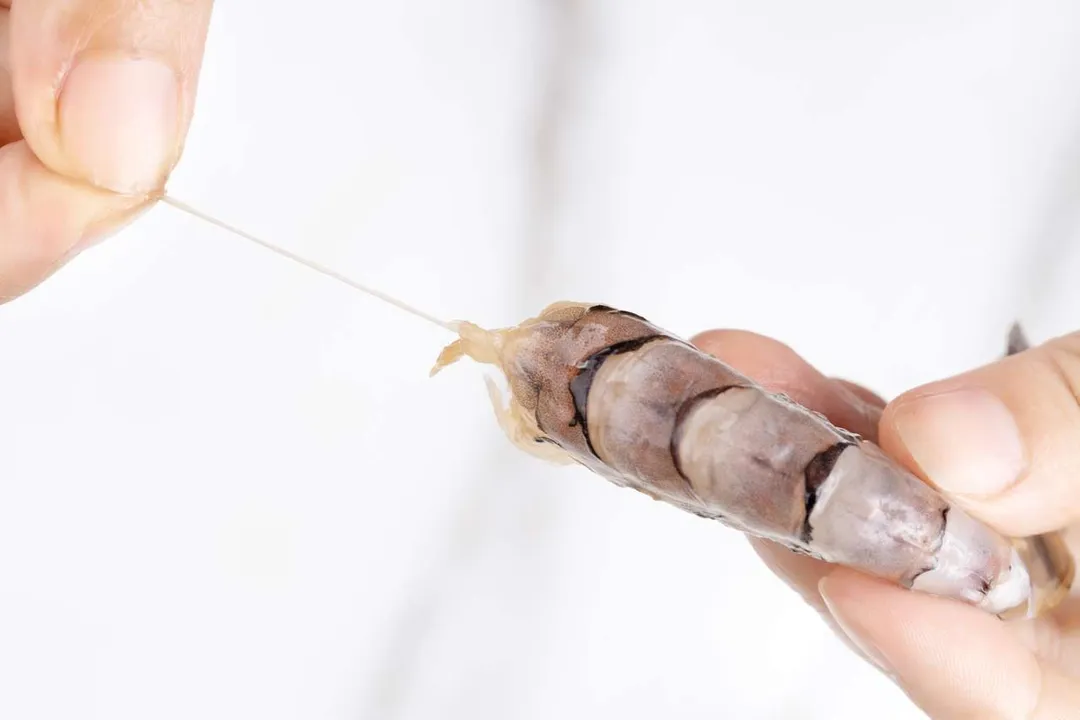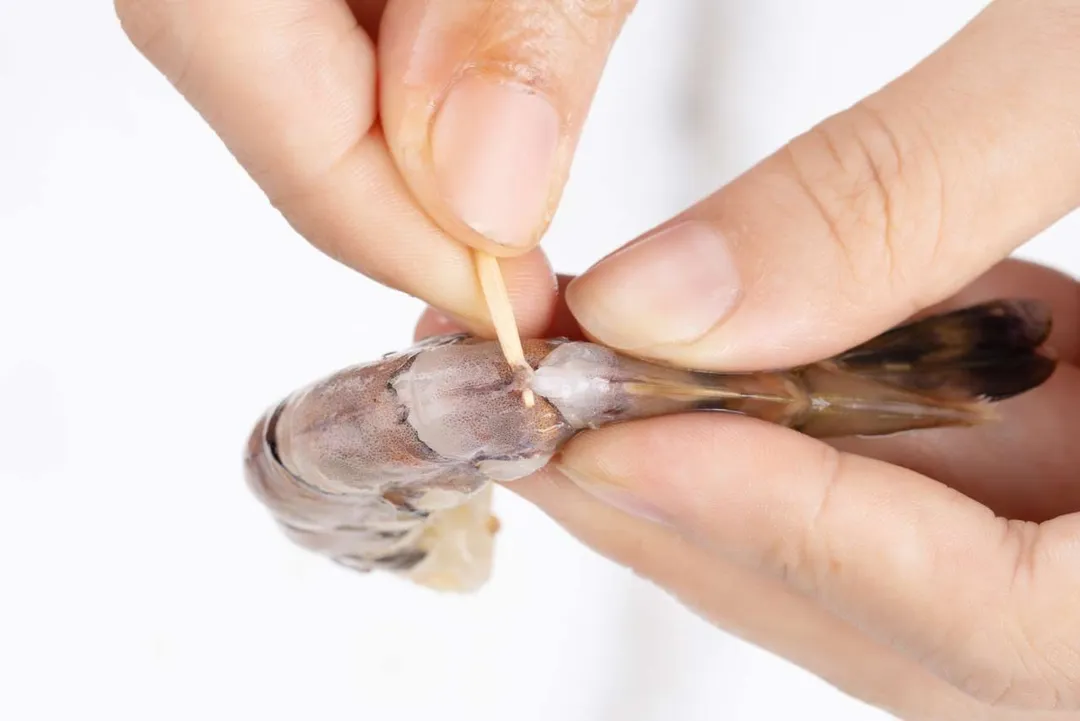 2. Seasoning
Let the shrimp marinate for at least 15 minutes in the seasoning. It doesn't take a long time for the magic to work, but those 15 minutes+ give the shrimp a chance to soak up all the flavor.
3. Cook
One of the easiest ways to cook shrimp is in the oven. Simply throw all your seasoned shrimp onto a baking sheet and bake for 5-7 minutes until the shrimp is cooked through.
Some people like to cook it a little bit longer to get a deep color on the shrimp, but you can choose what you'd like to do. This method is forgiving, customizable, and can be used for any salad that contains shrimp. 
Check out our Thai mango salad if you fancy an Asian shrimp salad to eat!
Easy Shrimp Salad Dressing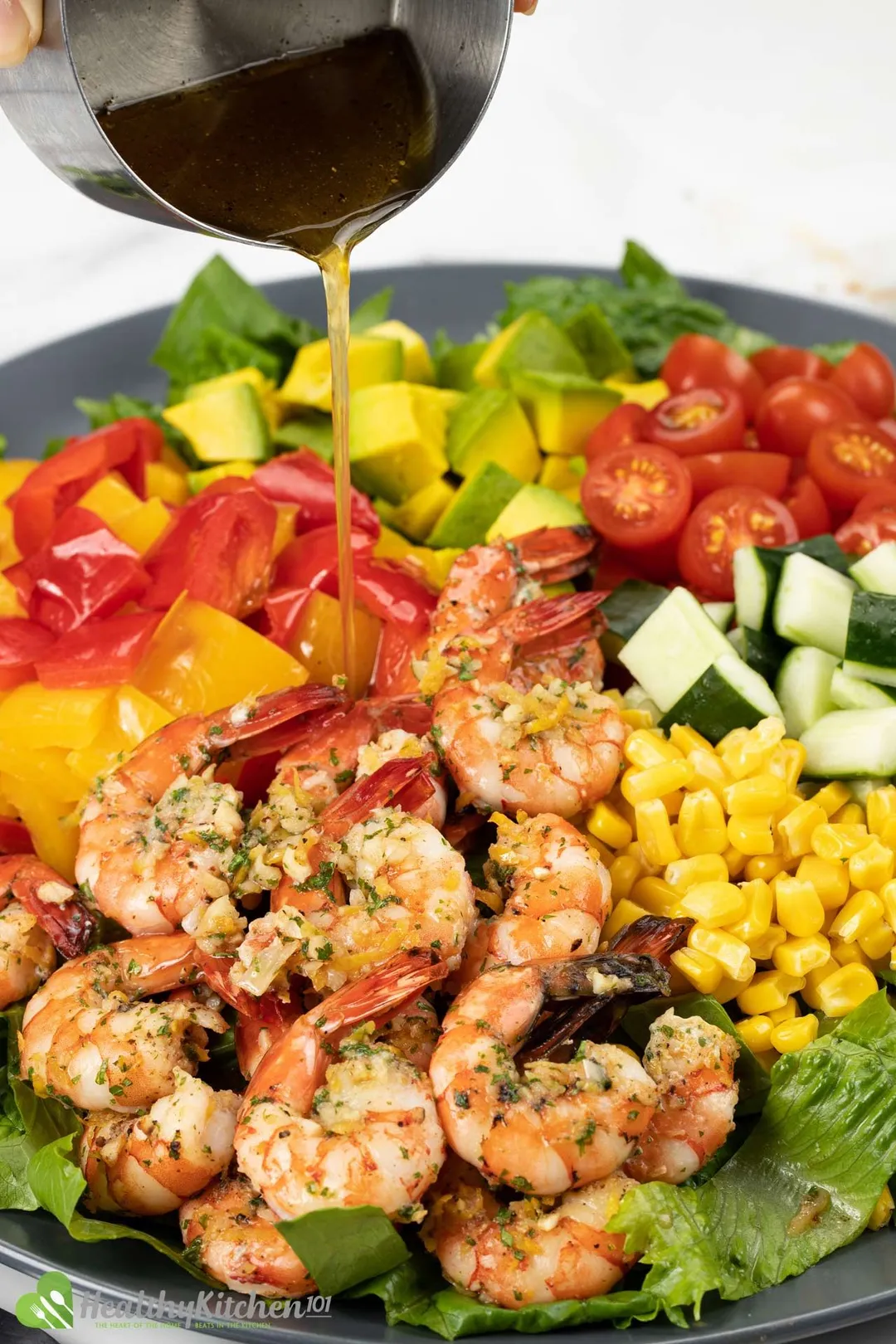 1. Mayonnaise Dressing
A creamy dressing like mayonnaise goes well with the warmth from the mustard and sweetness of the shrimp.
You need just enough mayonnaise to hold the salad together, so be careful not to use too much of it. We all want shrimp to be the star of the dish.
2. Avocado Dressing
Imagine smoky grilled shrimp served over greens, then drizzled with savoury avocado dressing. Serve this recipe to your friends, it will be a huge hit at any party.
3. Greek Yogurt Dressing
Greek yogurt can stand in for mayonnaise. We sometimes add a tablespoon of mayo for richness, but the majority of creaminess is from the Greek yogurt.
4. Buffalo Dressing
The spicy kicks from the buffalo sauce accentuate the natural sweetness of shrimp and vegetables. It gives this salad a perfect complement of flavor in every bite.
What to Serve With Shrimp Salad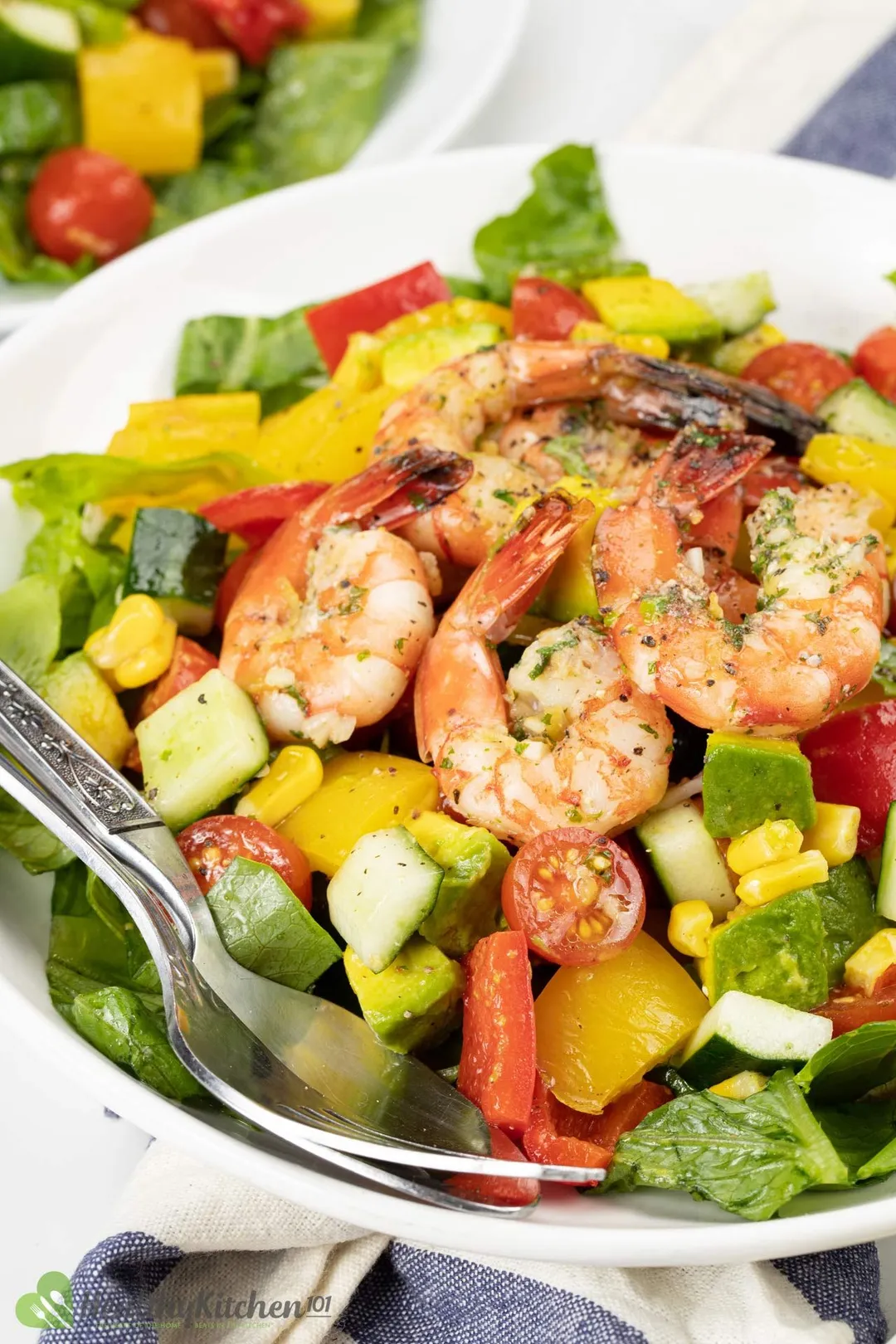 1. Pasta
Pasta is an important part of Italian cuisine. For anyone who has an eye for a balanced meal, a salad with plenty of vegetables is the perfect companion to your pasta.
2. Sandwich
This shrimp salad recipe is custom-made to go well with sandwiches and croissants. In addition to complementing ingredients in the salad, there's a whole other satisfying feeling from the crisp and buttery textures these breads provide.
3. Buns
We particularly recommend any type of soft buns for this shrimp salad recipe. Remember to toast the buns before serving to ensure a nice crunch, and help prevent the dressing from fully soaking into the bread.
Looking for another effort way to enjoy shrimp? Check out this list of Air Fryer Shrimp Recipes.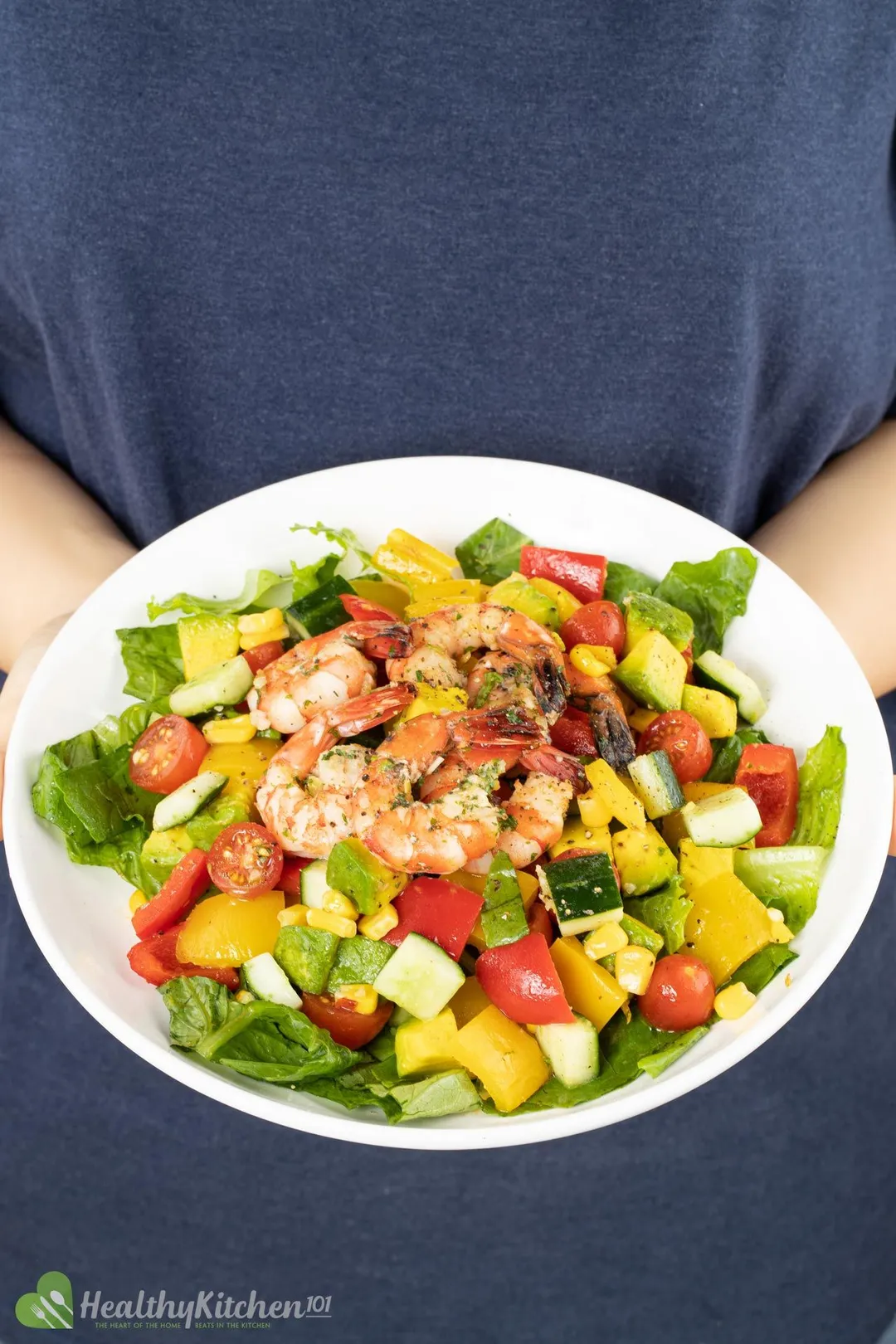 Having Shrimp for Dinner Tonight? Try These Ones!
For more shrimp salad recipes, check out our full list of Shrimp Salad Recipes.
Healthy Shrimp Salad
This healthy shrimp salad recipe is a guaranteed crowd pleaser. Savory seared shrimp marinated in spices, with creamy avocado and crunchy lettuce - a delicious yet easy side dish recipe.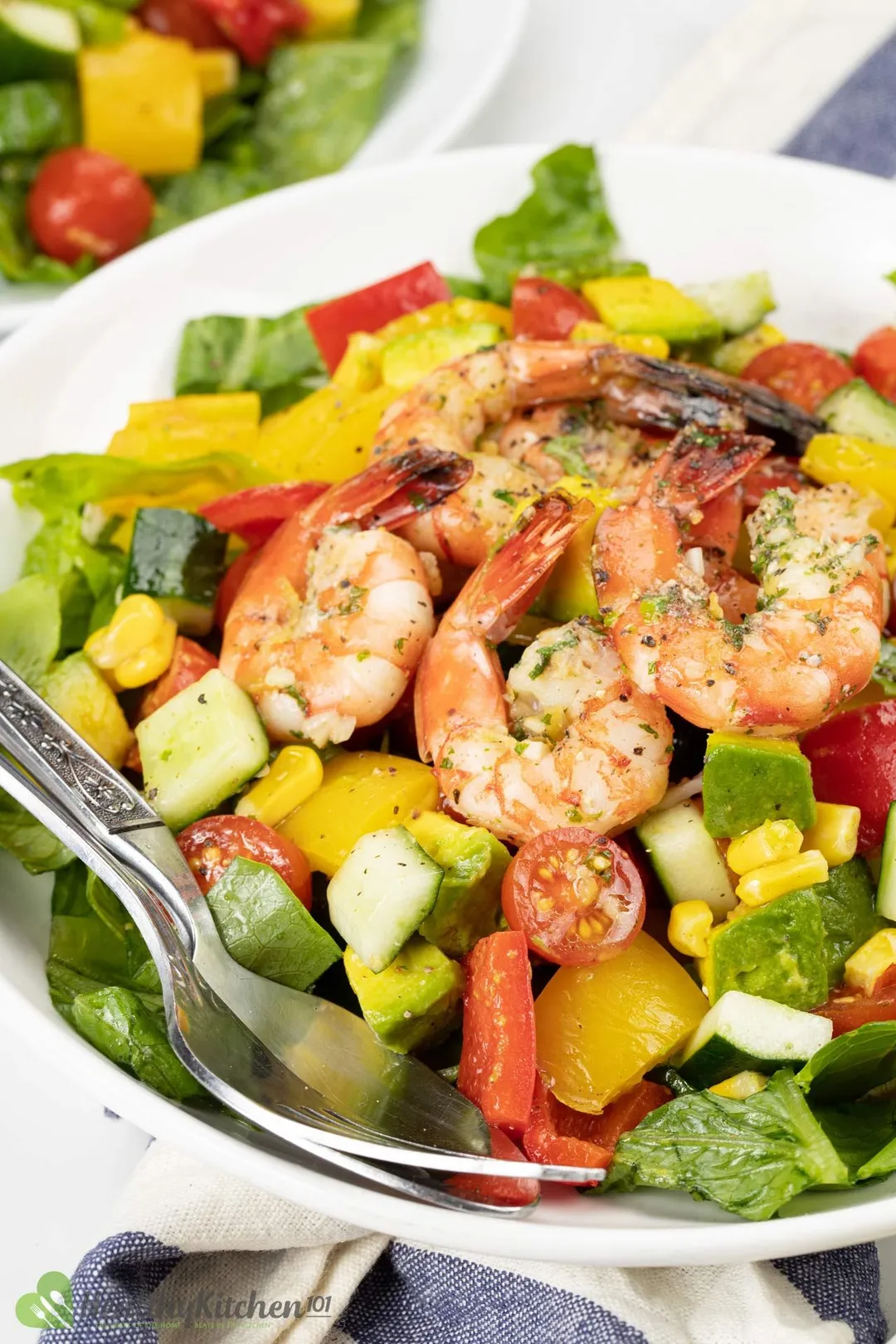 cook TIME

30 mins

prep TIME

20 mins

total TIME

50 mins
COURSE

Appetizer, Side Dish

CUISINE

American

SERVINGS

CALORIES

236 kcal
INGREDIENTS
4 oz

European cucumber

(chopped)

4 oz

cherry tomatoes

(halved)

1/4 tsp

ground pepper

(divided)

1 tbsp

fresh parsley

(chopped)

1/2 tsp

traditional Dijon mustard
INSTRUCTIONS
1
Peel and devein 10 oz shrimp.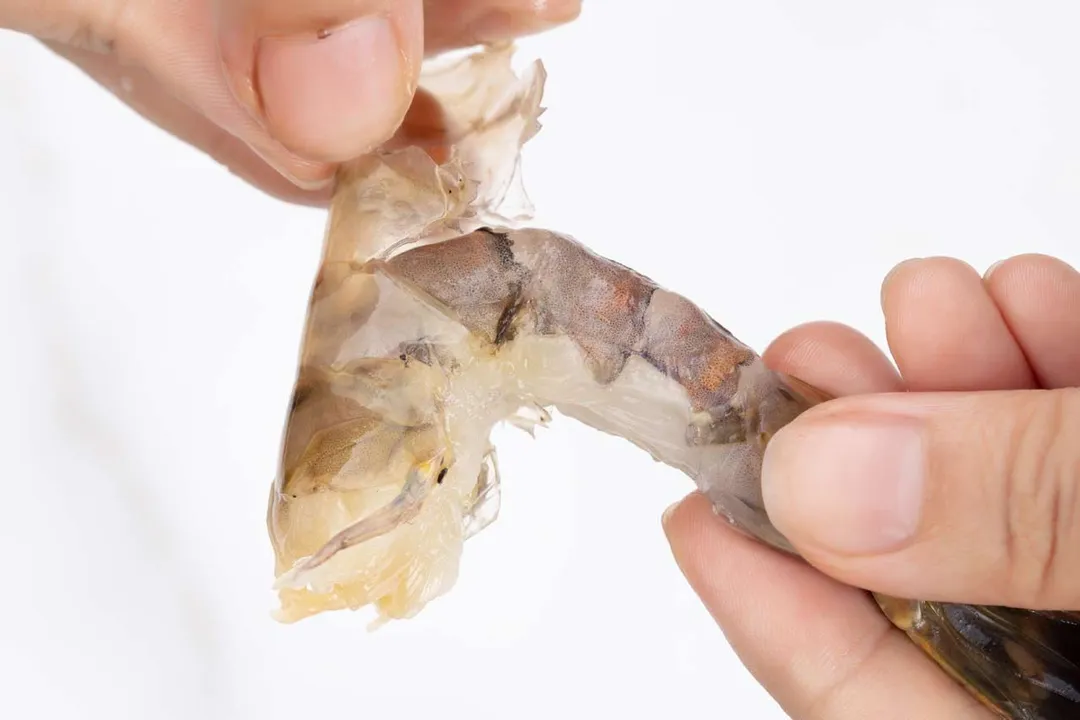 2
Add 1 tsp parsley, 1 tsp garlic, 1/2 tsp lemon zest, 1/8 tsp salt, and 1/8 tsp pepper to a small bowl and stir. Add shrimp and let marinate for 10 minutes.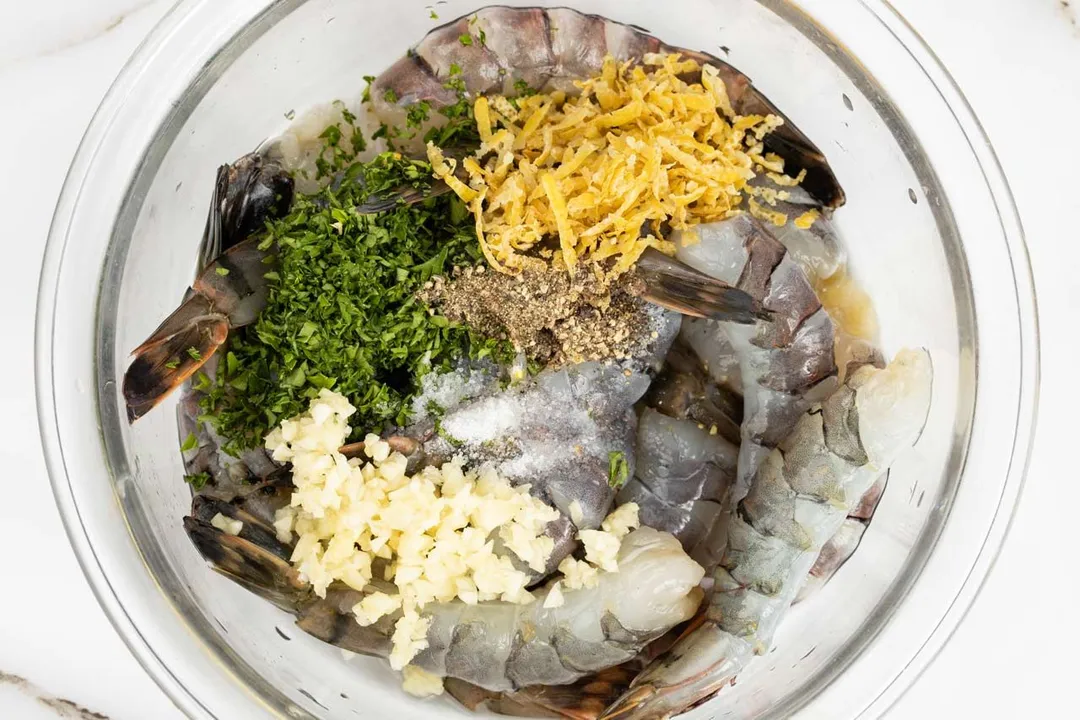 3
Preheat the oven to 400°F. Roast 6 oz bell peppers orange for 15-20 minutes. Once done, move the cooked peppers to a plate. Then put the shrimp on the same baking sheet used and roast for about 3 minutes on each side.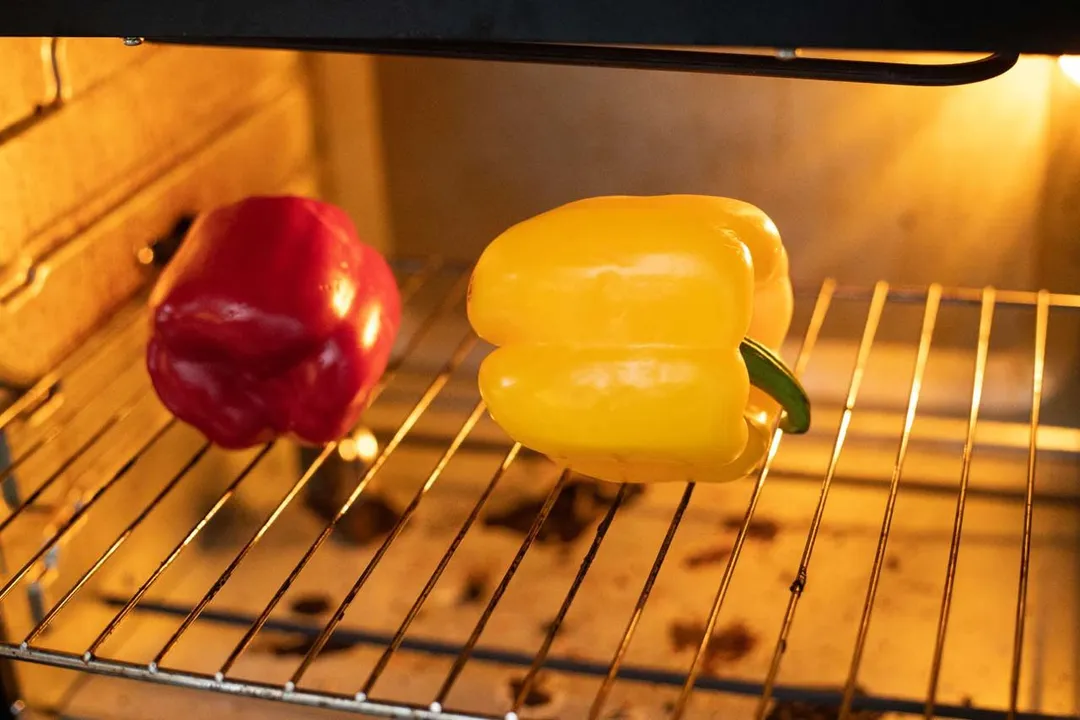 4
Then put the shrimp on the same baking sheet used and roast for about 3 minutes on each side.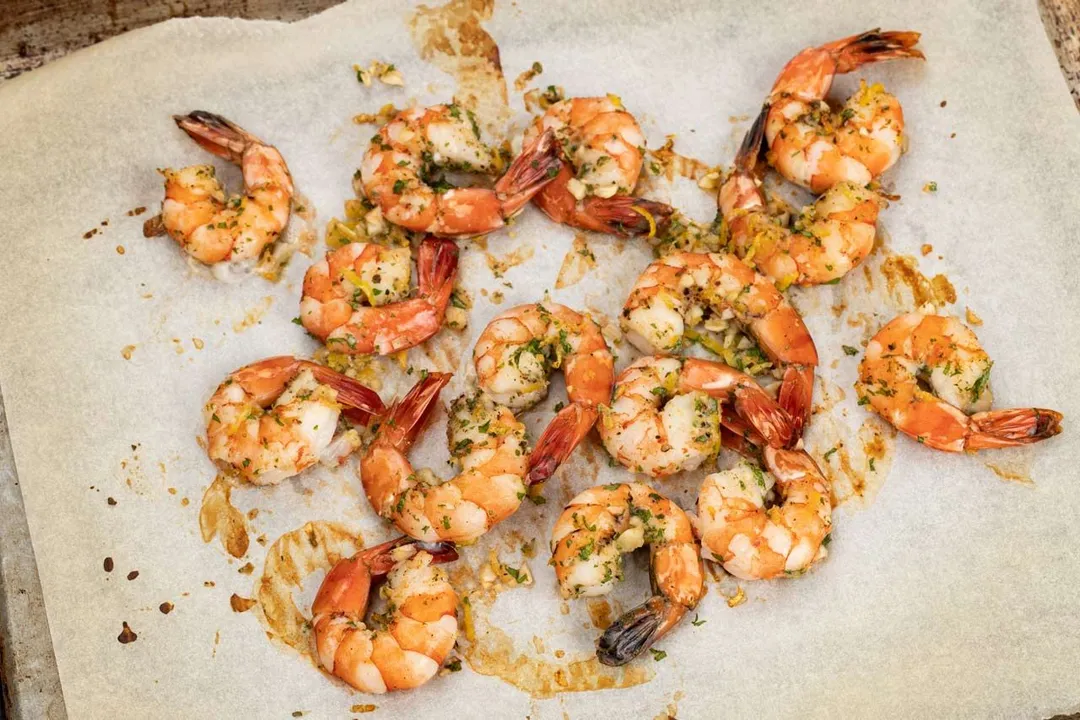 5
Cut the roasted bell peppers into 1-inch pieces and save for assembly.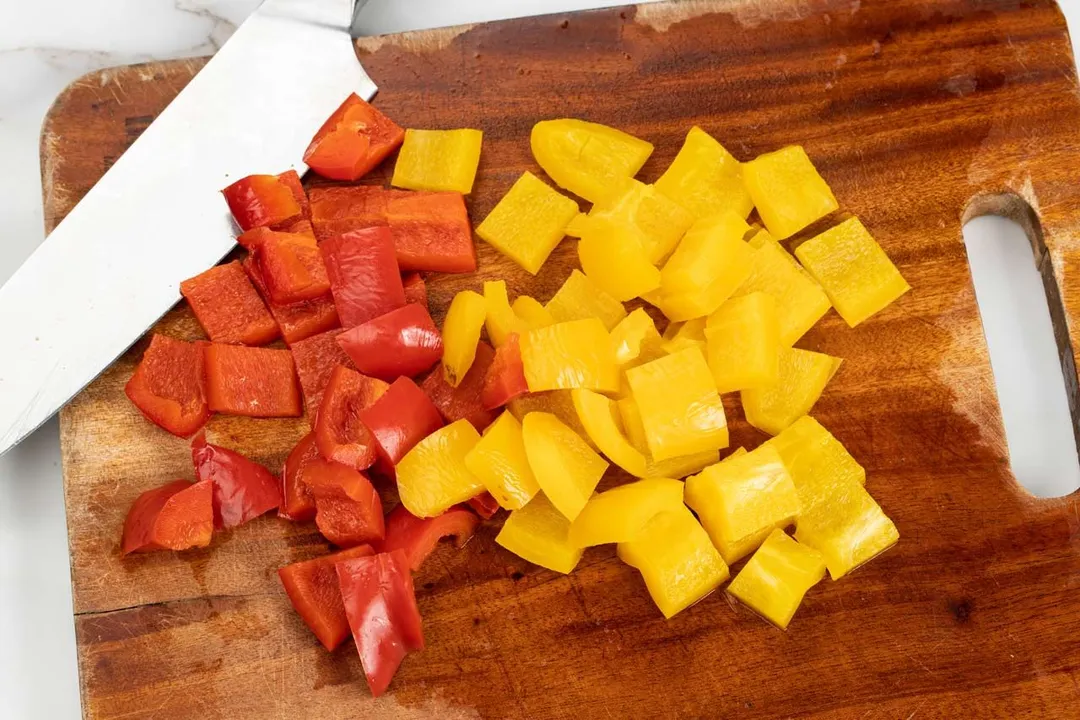 6
In a small bowl, whisk together 1/8 tsp remaining salt, 1/8 remaining tsp pepper, 2 1/2 tbsp olive oil, 1/2 tsp mustard, 12/ tbsp honey, and 2 tbsp lemon juice.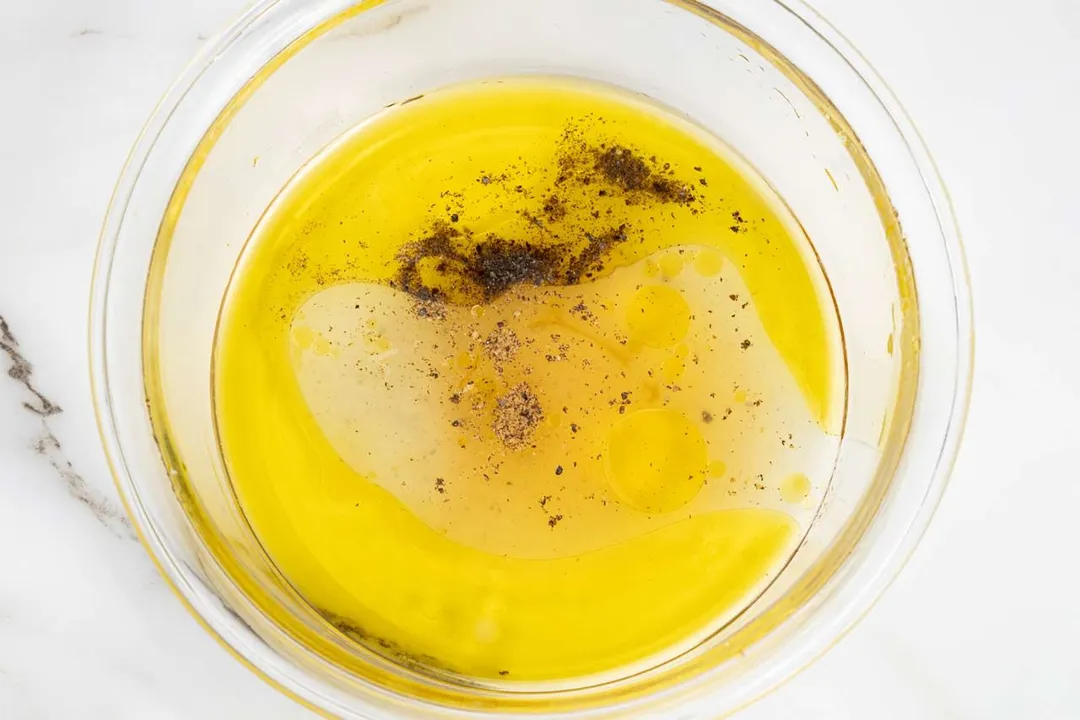 7
In a large salad bowl, combine 4 oz cucumber, 4 oz tomatoes, 4 oz romaine lettuce, 6 oz roasted bell peppers, 4 oz avocado, 2 oz corn, and shrimp. Toss well with the dressing. Serve immediately.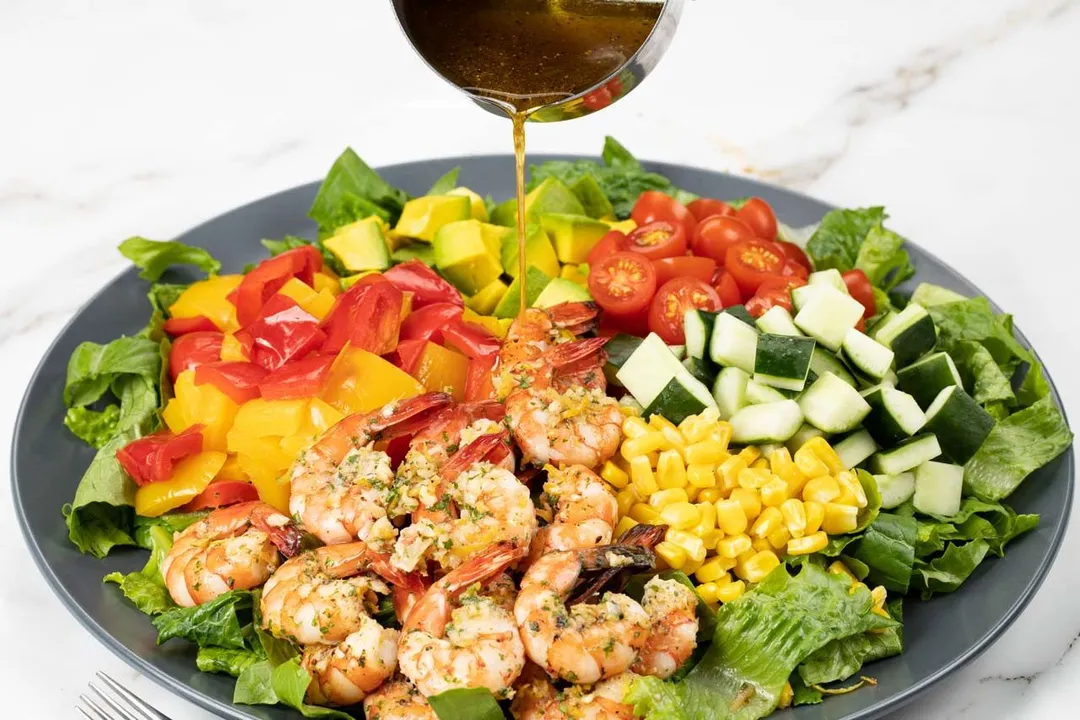 Shrimp salad is often served slightly chilled, but it's fine to keep the dish at room temperature too (just don't leave it out for more than 2 hours).
Once drizzled with the dressing, the salad should be served right away to maintain the crispness of the lettuce.
NUTRITION
Nutrition Facts
Healthy Shrimp Salad
Amount Per Serving (1 serving)
Calories 236
Calories from Fat 126
% Daily Value*
* Percent Daily Values are based on a 2000 calorie diet.
Keywords: shrimp salad, shrimp salad recipe, how to make shrimp salad, how to cook shrimp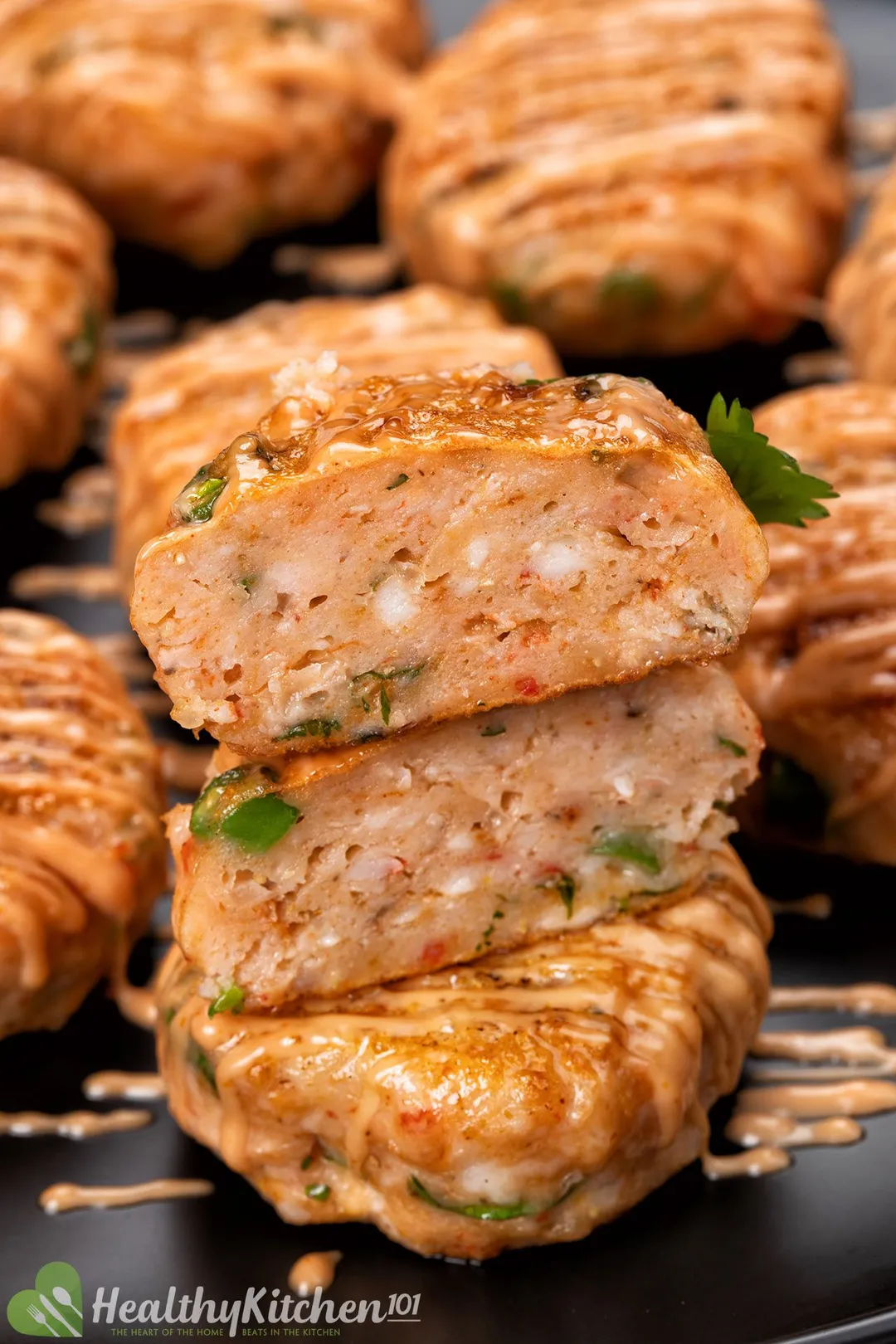 Previous Recipe
Shrimp Cakes
Shrimp Cakes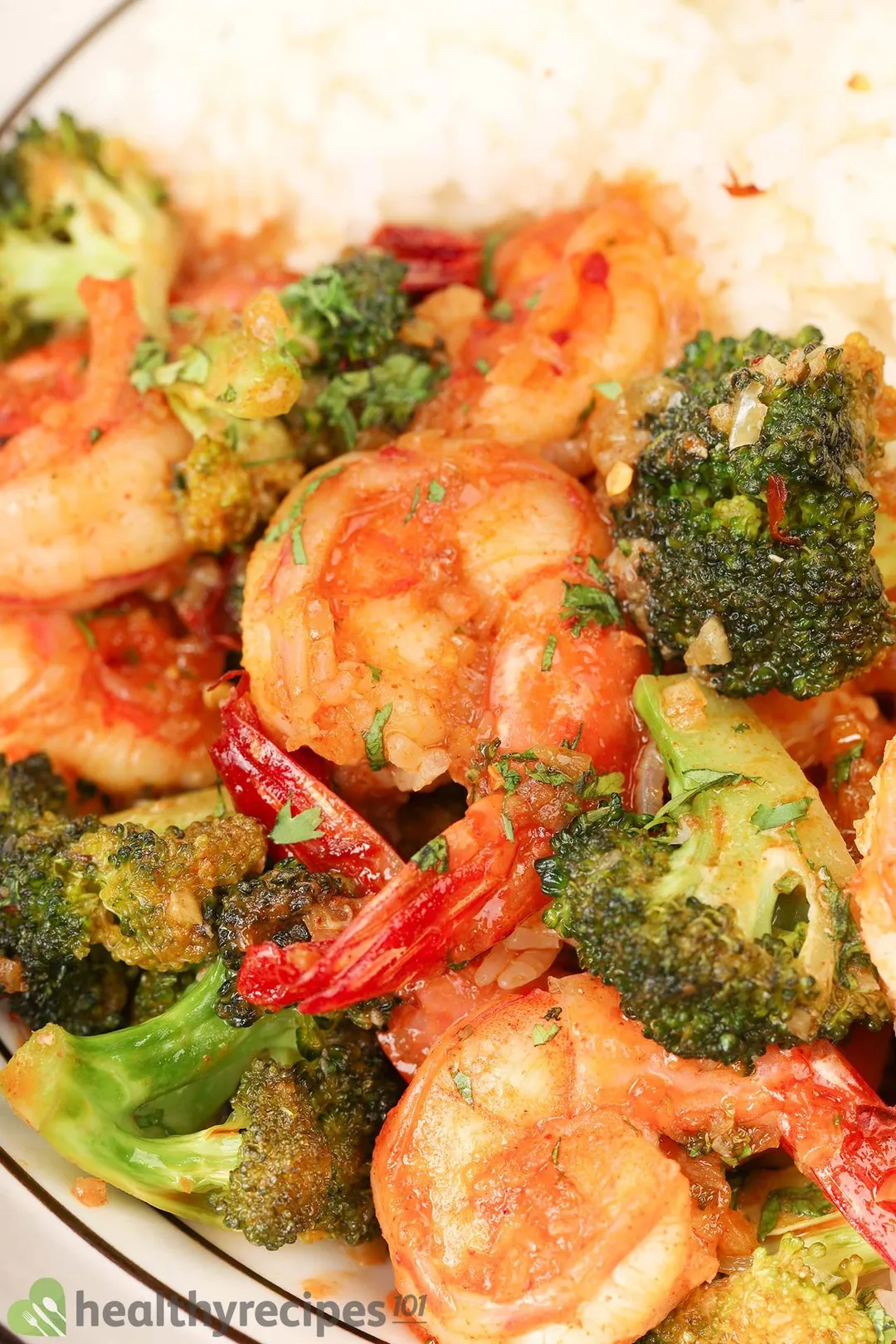 Next Recipe
Honey Garlic Butter Shrimp
Honey Garlic Butter Shrimp
Head Chef, Culinary Consultant
Tuyet Pham is an award-winning Saigonese chef who believes that joy is the secret ingredient to delicious food. At Healthy Recipes 101, Tuyet personally tests and simplifies every recipe, ensuring maximum flavor with minimal effort. With a background at prestigious French restaurants P'TI Saigon and Le Corto, Tuyet knows how to make every dish exceptional.
Writer, Author
Luna Regina is an accomplished writer and author who dedicates her career to empowering home cooks and making cooking effortless for everyone. She is the founder of HealthyKitchen101.com and HealthyRecipes101.com, where she works with her team to develop easy, nutritious recipes and help aspiring cooks choose the right kitchen appliances.
Nutrition Reviewer
Lizzie Streit is a Minneapolis-based dietitian and founder of It's a Veg World After All. She completed her MS in Human Nutrition from Drexel University, and is an expert in culinary nutrition, recipe development, and nutrition communications. Lizzie's philosophy is centered around making nutrition recommendations, and especially the advice to eat more vegetables, approachable and realistic. She is excited to be working with the team at Healthy Recipes 101 to ensure that their recipes are both nutritious and delicious.
A fresh and light salad that is perfect for a quick lunch or dinner

Easy to make and was very tasty!