Bring a simple yet tasteful Japanese twist to your meal with our seaweed salad recipe. This dish features various types of seaweed, avocados, and a few other vegetables, completed with a dressing that's full of harmonious Asian flavors.
It's a party of unique flavors and textures that captivate the taste buds from the first taste to the last, creating an eating experience that's unlike any other. 
Is Seaweed Salad Healthy?
With seaweed as the main ingredient, this recipe is a great source of iodine and amino acid tyrosine. These are micronutrients that are essential for the production of the thyroid hormone and may help prevent hypothyroidism, a disease caused by hormone deficiency. 
Additionally, this seaweed is loaded with other veggies and fruit like carrots, cucumbers, and avocados. They contain dietary fiber, vitamins, minerals, antioxidants and other nutrients that significantly enhance the nutritional value of this dish. 
We firmly believe that a nutritious dish requires more than just healthy ingredients. It's also important to measure your portions and make sure they are moderate. Our recipe only uses 2.5 g saturated fat and 252.4 mg sodium, both of which take up less than 11% of the daily intake limit suggested by our guidelines.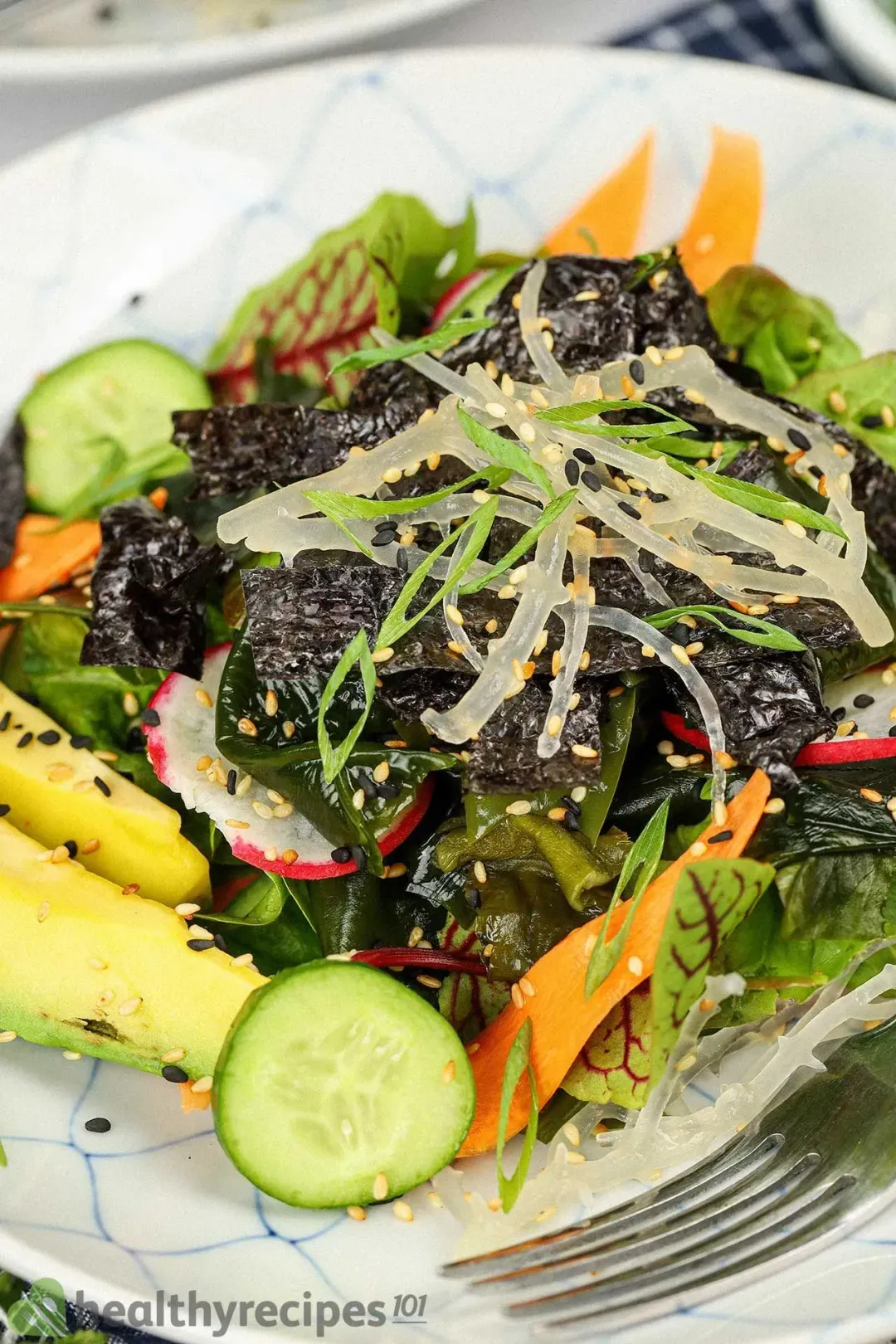 Ingredients for Seaweed Salad
This salad is inspired by Japanese dishes, so the ingredients are mostly Asian staples with the addition of some familiar veggies. 
1. For the Salad
We use seaweed varieties that you may already be familiar with like nori – the dried sheet that's often used to make sushi, and wakame – which can often be found in miso soup. The only type which may be foreign is Irish moss, which you can swap out for kombu or dulse if you can't find it in stores. 
The seaweeds mostly carry a subtly salty taste with varying undertones, some are sweet while others are more distinctive and briny. Texture-wise, wakame is soft and a bit glossy, while nori and Irish moss are more on the crispy and crunchy side. 
This well-loved fruit brings its unique sweetness and buttery smoothness to the salad. It may look out of place at first, but you'll be surprised by how well it contrasts the seaweed's brininess. 
When you're shopping, pick out avocados with bright green flesh that are soft when squeezed but not too squishy. For preparation, we pitted, peeled, and cut the avocado into ¼ – ½ inch slices. However, you can cut it into whichever length or thickness that you prefer. 
Cucumbers, carrots, lettuce, and radish are chosen to add some extra crunch and a mild sweetness to this salad. Make sure you thoroughly pat them dry after washing to avoid making the salad slimy.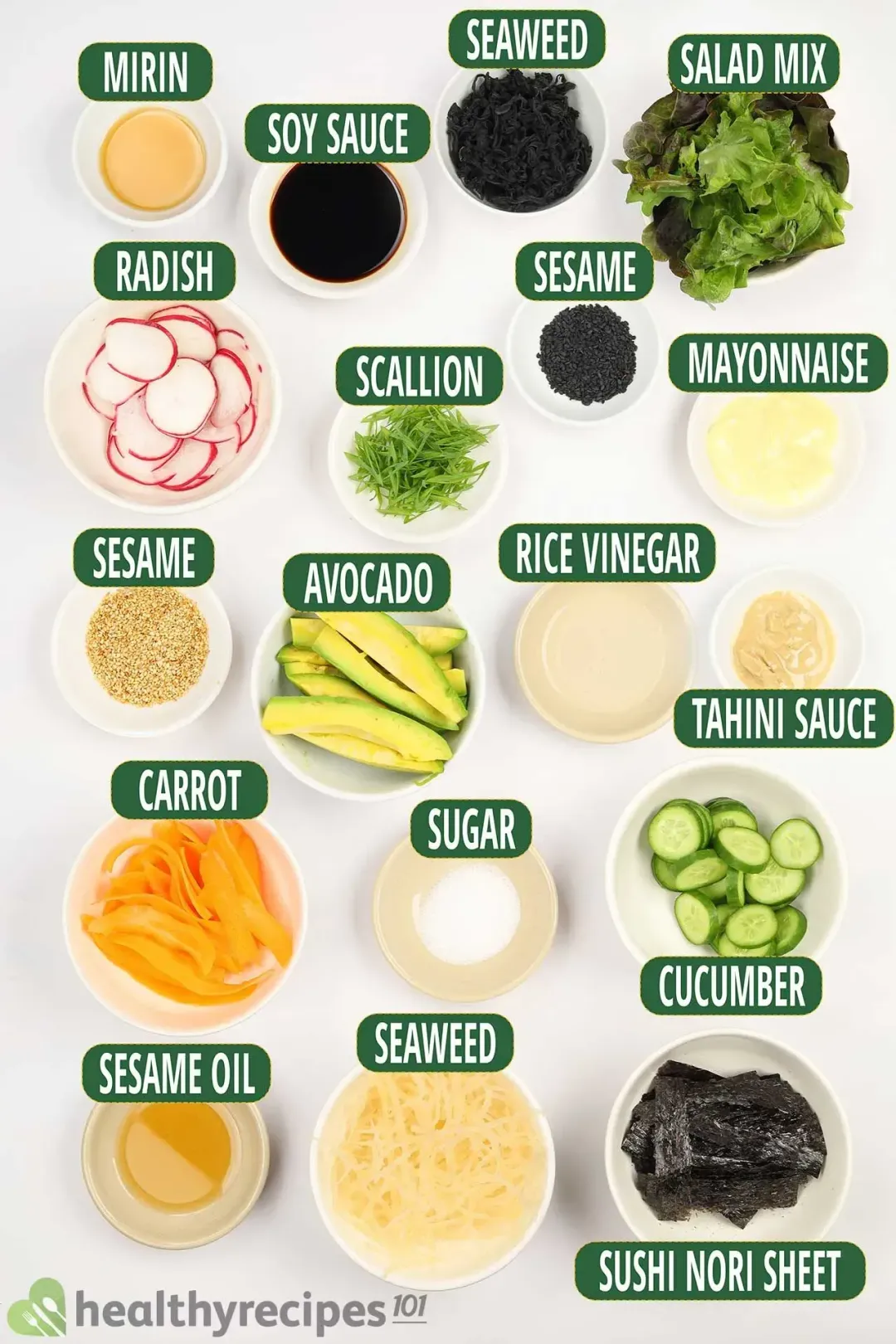 2. For the Dressing
To create an authentic taste, we decided to use sauces that are frequently used in Japanese recipes. Soy sauce is a staple that almost always makes an appearance. We also used Kewpie mayonnaise – a Japanese mayonnaise made from egg yolks and mirin – a distinctively sweet rice wine. 
Japanese dishes sometimes use sesame paste, which can be substituted with tahini as they are both made from sesame seeds with a similar creamy consistency. However, tahini is considered lighter, which is more suitable for this salad's refreshing nature. 
Similar to the sauces, we also went for Asian staple oil and vinegar. Sesame oil enhances the light nutty taste that the tahini sauce brings while rice vinegar helps to subtly sweeten the overall dish. 
Since there's already a wide selection of sauces and oils, we decided to keep it simple with the spices. Sugar and white sesame are used to infuse the dressing with a gentle mixture of sweet and earthy notes.
3. For the Garnishing
Staying true to the Japanese inspirations, scallions and sesame seeds are used for garnishing. Small sprinkles of these ingredients are enough to add a tasteful crunchiness that gives this dish an exciting finishing touch.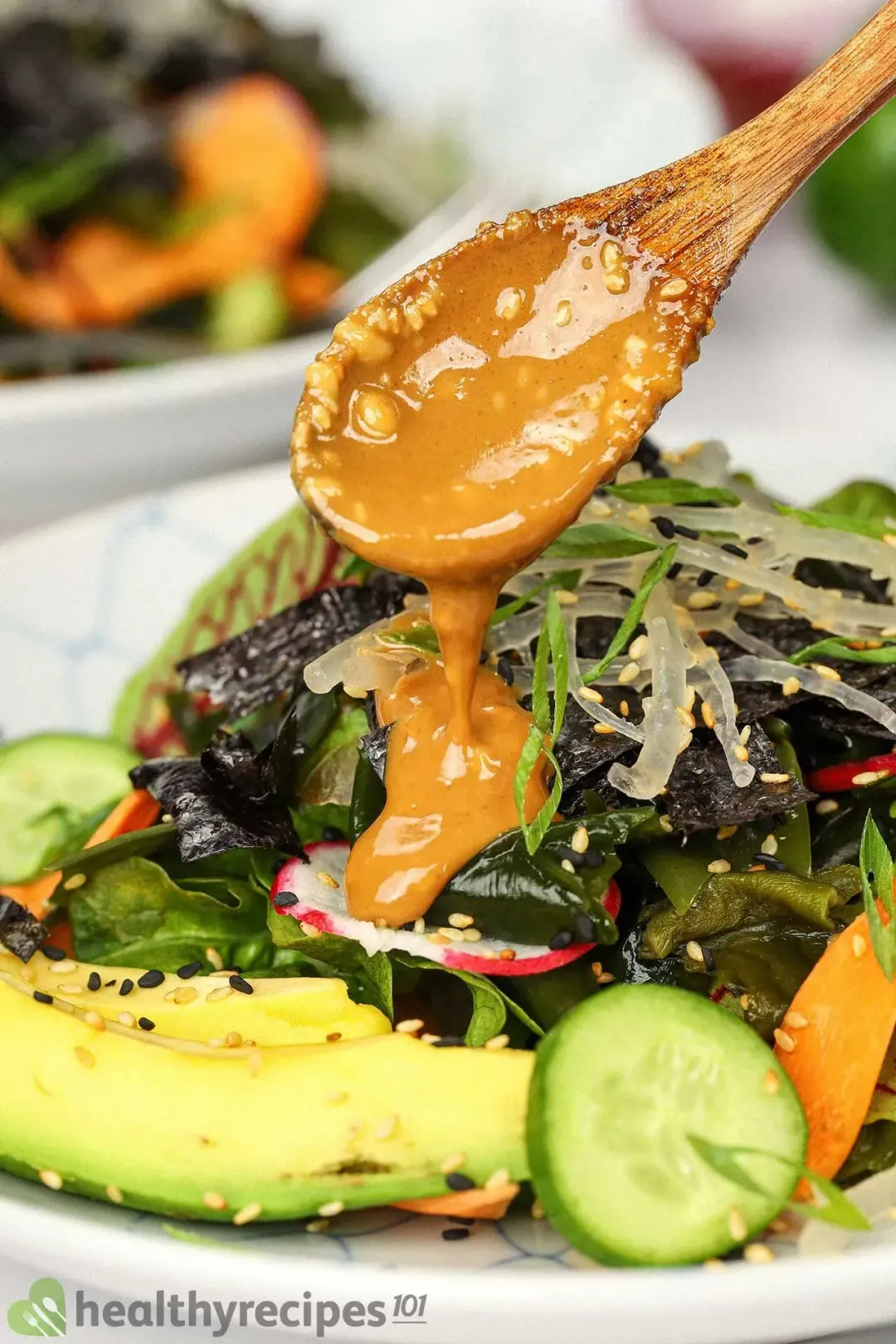 What to Serve With Seaweed Salad
This seaweed salad is quite versatile and can be eaten as many different parts of a meal. Here are our suggestions for ways to eat this salad:
This salad can be eaten on its own as a delicious appetizer to start the meal. It makes a great first impression and whets your appetite for the dishes to come. 
As a side, this salad can be paired with a great variety of dishes. In Asian meals, you can serve it with sushi, Korean BBQ meat, fried noodles, stews, and many more. It also goes quite well in Japanese fusion meals where the food is seasoned with teriyaki sauce, miso, or other condiments. 
If you have any leftovers, turn them into a unique topping for dishes like poke bowls, bento, and fish tacos, or even just a steamy bowl of rice will also do the trick. 
How to Store Seaweed Salad
This seaweed salad should last for up to two days when kept in an airtight container in the fridge. That's shorter than regular salads because the seaweeds quickly become slimy and unpleasant to eat, especially when drenched in the dressing. Nori seaweed, in particular, doesn't taste as good when it's soggy, so you should eat it right when the dish is served and add again for the next serving.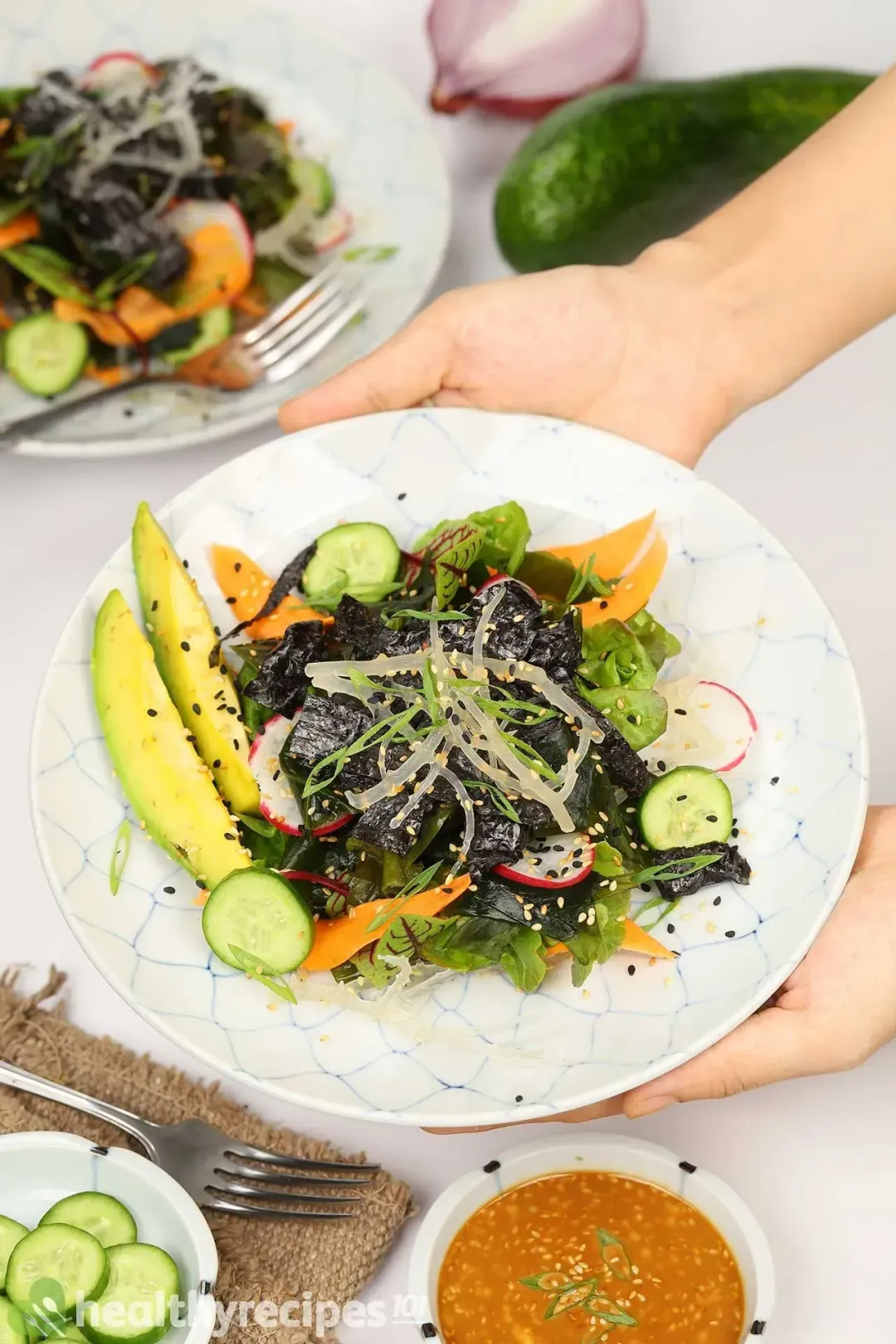 FAQs
1. Is This Seaweed Salad Vegan?
Yes, this dish is entirely vegan because it doesn't use any animal or dairy products. Seaweed is a type of algae, which is considered a marine plant. The other ingredients in this salad are vegetables, fruits, and condiments made from various nuts and grains. 
2. Where Can I Find the Asian Ingredients?
You can find the seaweed and Asian condiments at Asian markets, Asian specialty stores, the Asian section of the supermarket, or Whole Foods. If these places aren't available near you, check out Amazon or other online retailers. 
3. How to Keep the Seaweed From Being Slimy?
The first thing is to make sure the dried seaweed you buy is crispy and not crumbly or spongey, with no white spots or signs of moisture. Each type of seaweed may require a different rehydration method, so make sure you read the instructions thoroughly. Oversoaking or using the wrong water temperature can result in the seaweed becoming slimy and soggy.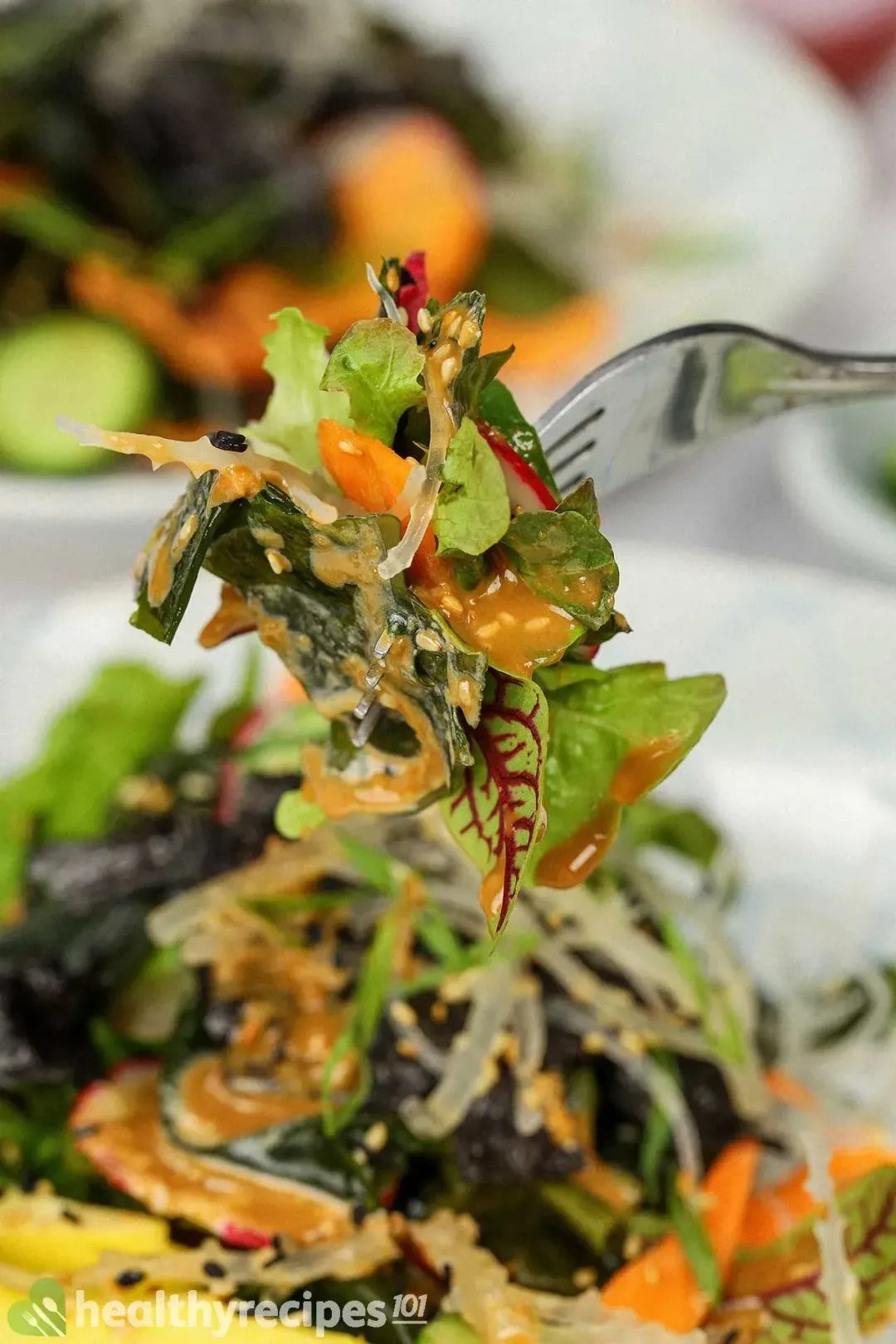 How to Make Seaweed Salad
Our seaweed salad recipe features various types of seaweed, avocados, and a few vegetables, completed with a dressing that's full of harmonious Asian flavors. If you're looking for a refreshing way to eat salad, give this dish a try.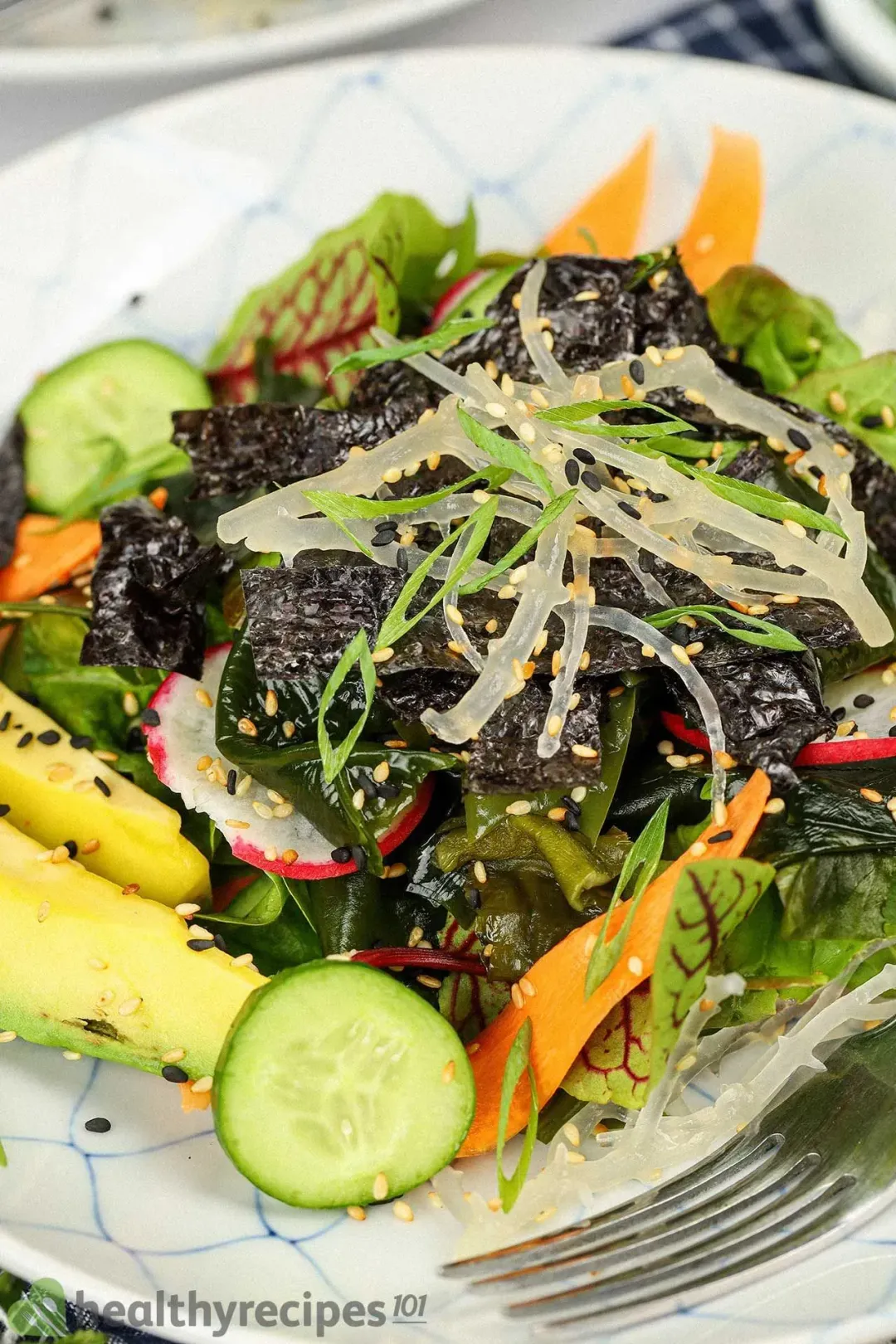 cook TIME

10 mins

prep TIME

10 mins

total TIME

20 mins
COURSE

Side Dish

CUISINE

Japanese

SERVINGS

CALORIES

200 kcal
INGREDIENTS
0.5 oz

wakame dried seaweed

4 oz

avocados

(peeled, sliced)

1 oz

carrot

(vertically sliced)

2 1/2 tsp

reduced sodium soy sauce

2 tbsp

Japanese mayonnaise

1/2 tbsp

roasted black sesame seeds

1 tbsp

roasted white sesame seeds

2 tbsp

scallions

(diagonally chopped)
INSTRUCTIONS
1
Soak 0.5 oz wakame dried seaweed in hot water for around 10 minutes until softened.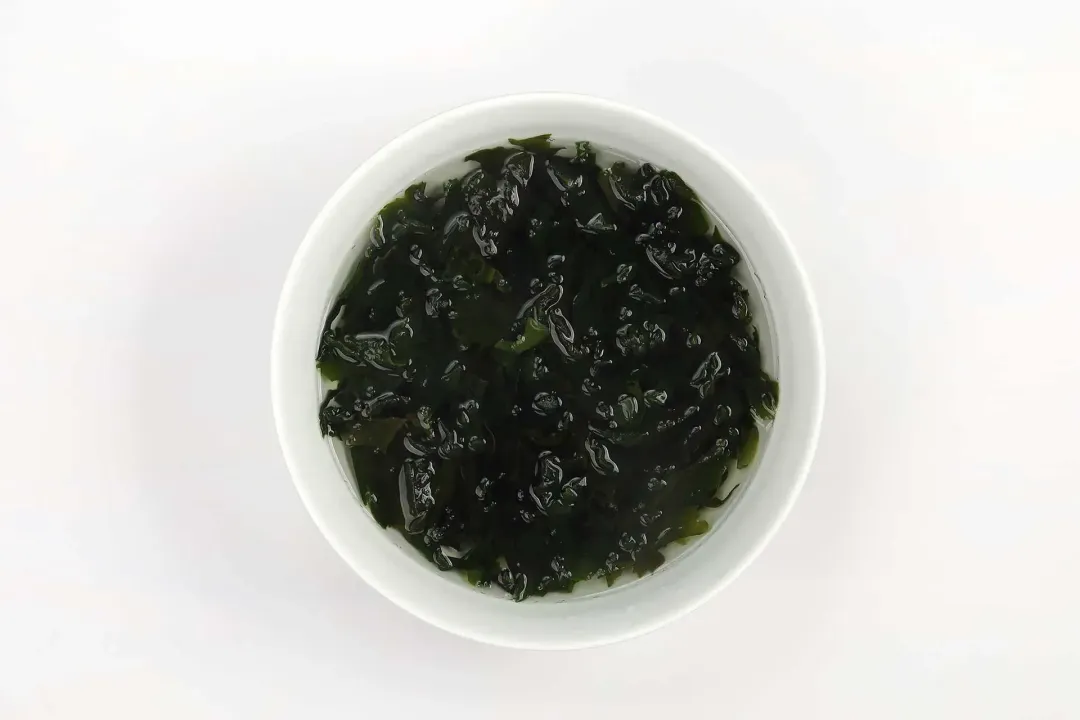 2
In the meantime, bring water to a boil then add 2 oz Irish moss seaweed to soak for 1 minute. Remove when the strands take shape but are still slightly bendy with a translucent white or pale-yellow color. Thoroughly wash then transfer onto a clean plate.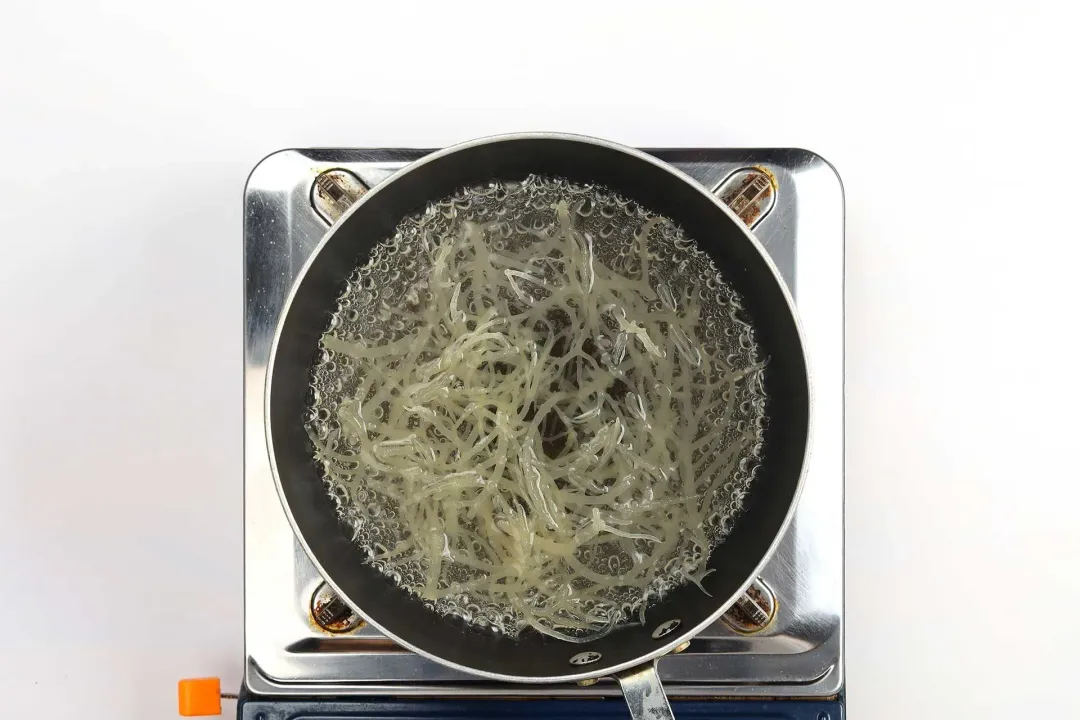 3
Make the dressing by mixing 1 tbsp sesame oil, 1 tsp sugar, 1/2 tbsp white sesame seeds, 1 tbsp cooking mirin, 1 tbsp rice vinegar, 1/2 tbsp tahini sauce, 2 1/2 tsp reduced sodium soy sauce, and 2 tbsp mayonnaise until combined.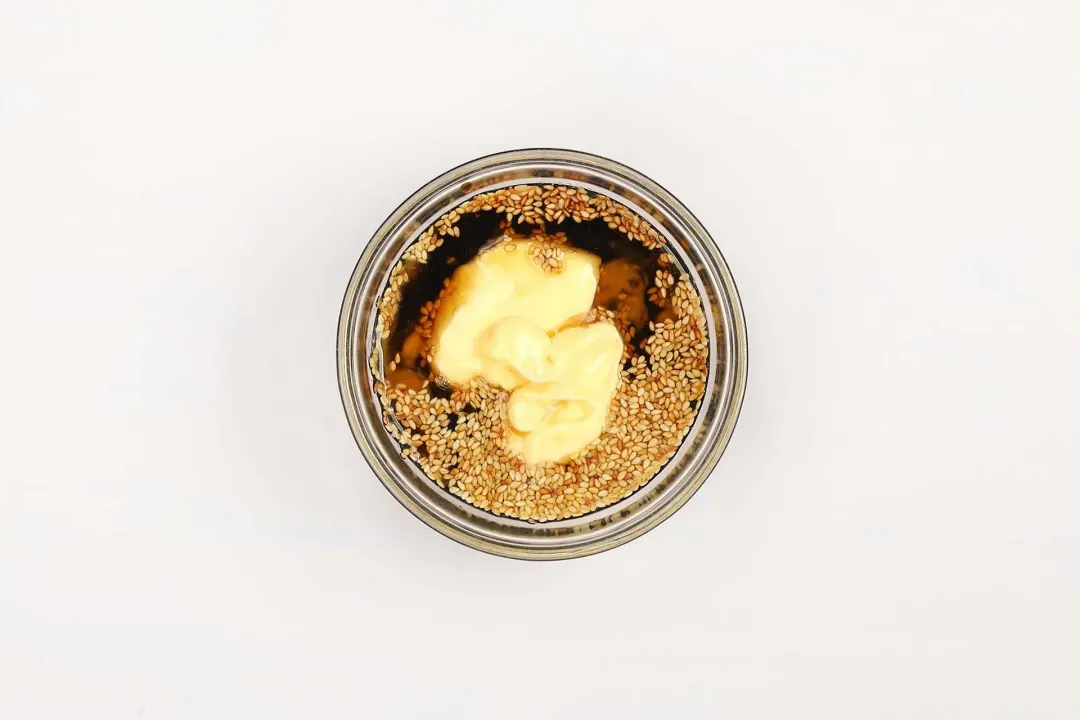 4
Lay 1 oz salad mix, 2 oz cucumbers, 1 oz carrot, 4 oz avocados, 1 oz radish, wakame seaweed, Irish moss seaweed, and 0.14 oz seaweed sheets onto a plate and drizzle the dressing over top. Garnish with 1/2 tbsp black sesame seeds, 1/2 tbsp white sesame seeds, and 2 tbsp scallions. Serve immediately.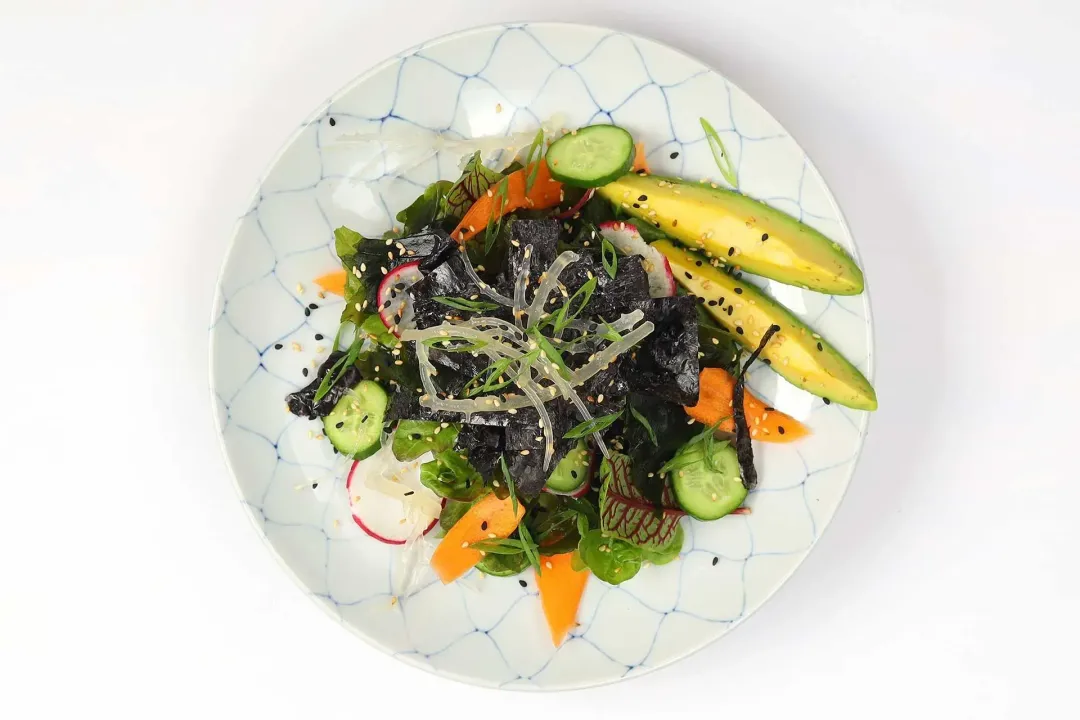 NUTRITION
Nutrition Facts
How to Make Seaweed Salad
Amount Per Serving (1 serving)
Calories 200
Calories from Fat 135
% Daily Value*
* Percent Daily Values are based on a 2000 calorie diet.
Keywords: how to make seaweed salad, seaweed salad, seaweed salad recipe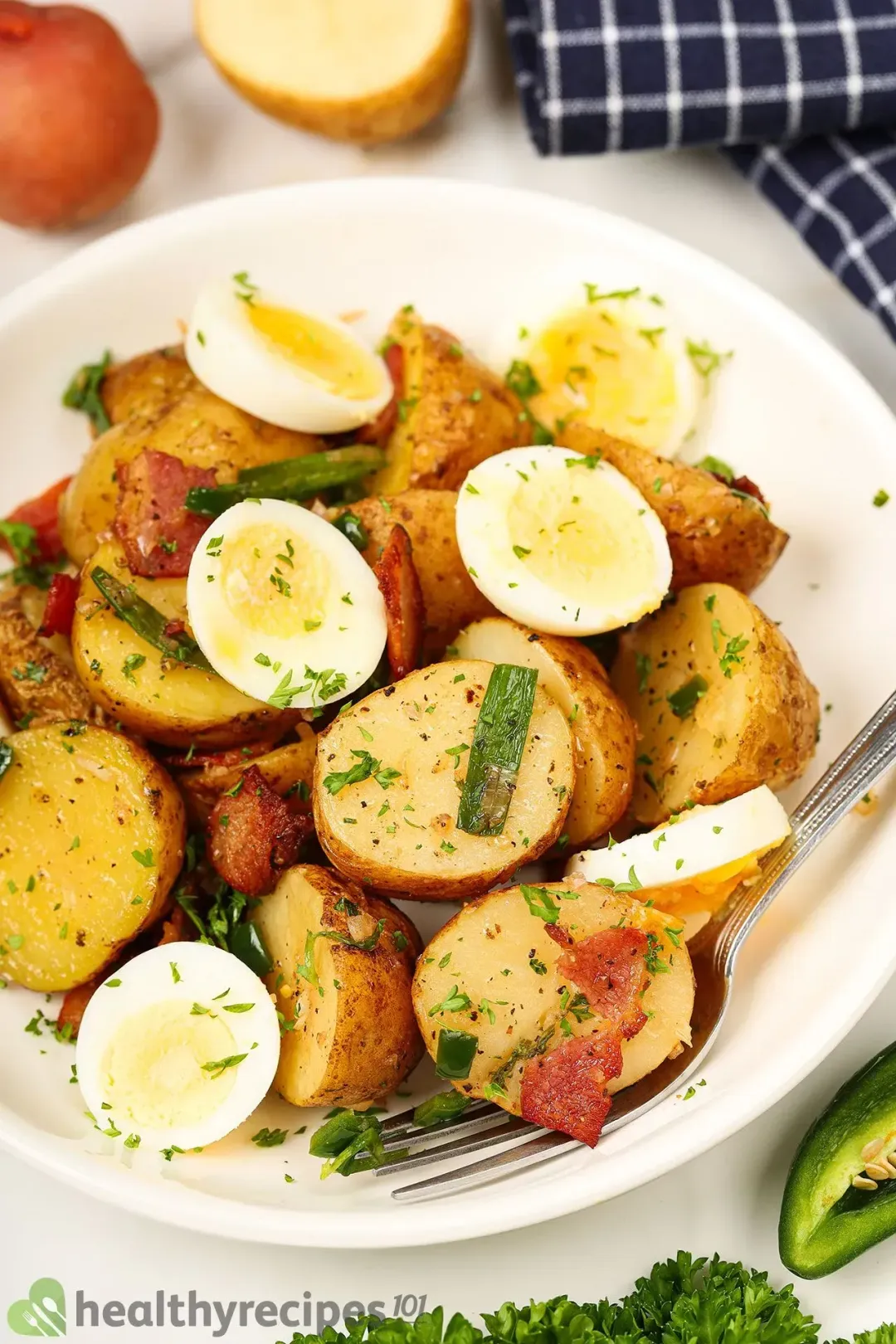 Previous Recipe
Warm Potato Salad
Warm Potato Salad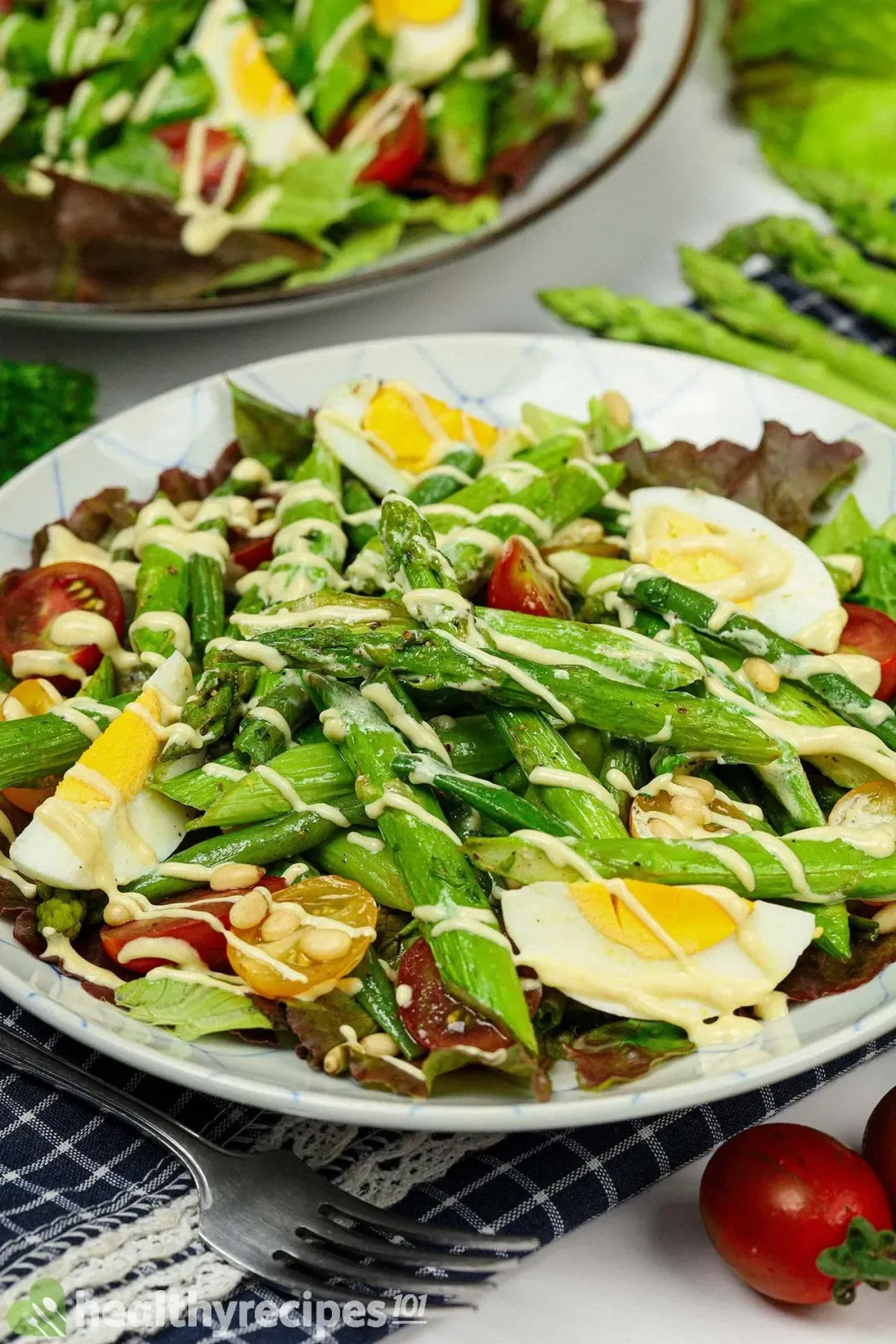 Next Recipe
Asparagus Salad
Asparagus Salad
Head Chef, Culinary Consultant
Tuyet Pham is an award-winning Saigonese chef who believes that joy is the secret ingredient to delicious food. At Healthy Recipes 101, Tuyet personally tests and simplifies every recipe, ensuring maximum flavor with minimal effort. With a background at prestigious French restaurants P'TI Saigon and Le Corto, Tuyet knows how to make every dish exceptional.
Writer, Author
Luna Regina is an accomplished writer and author who dedicates her career to empowering home cooks and making cooking effortless for everyone. She is the founder of HealthyKitchen101.com and HealthyRecipes101.com, where she works with her team to develop easy, nutritious recipes and help aspiring cooks choose the right kitchen appliances.
Nutrition Reviewer
Natalie Butler is a registered dietitian nutritionist with a passion to help others live their best life through food, fitness, safer beauty and a healthy lifestyle. She has expertise with a variety of diets and diseases and believes that there is no one-size-fits-all approach for health.
Seaweed Salad sounds like an interesting and nutritious recipe- I can't wait to try it out!