Our simple albondigas soup recipe calls for a tomato-based broth, an abundance of chopped vegetables, and meatballs. The handmade meatballs give the dish a holiday vibe, while the substantial tomato broth lends a tortilla soup flavor.
Fresh vegetables contribute color, texture, and flavor. As a result, our albondigas soup is packed with nutrients and goodness, making it a satisfying and delicious supper. 
The idea of preparing this traditional Mexican meatball soup may seem intimidating, but it's actually quite simple. Let's scroll down for the details!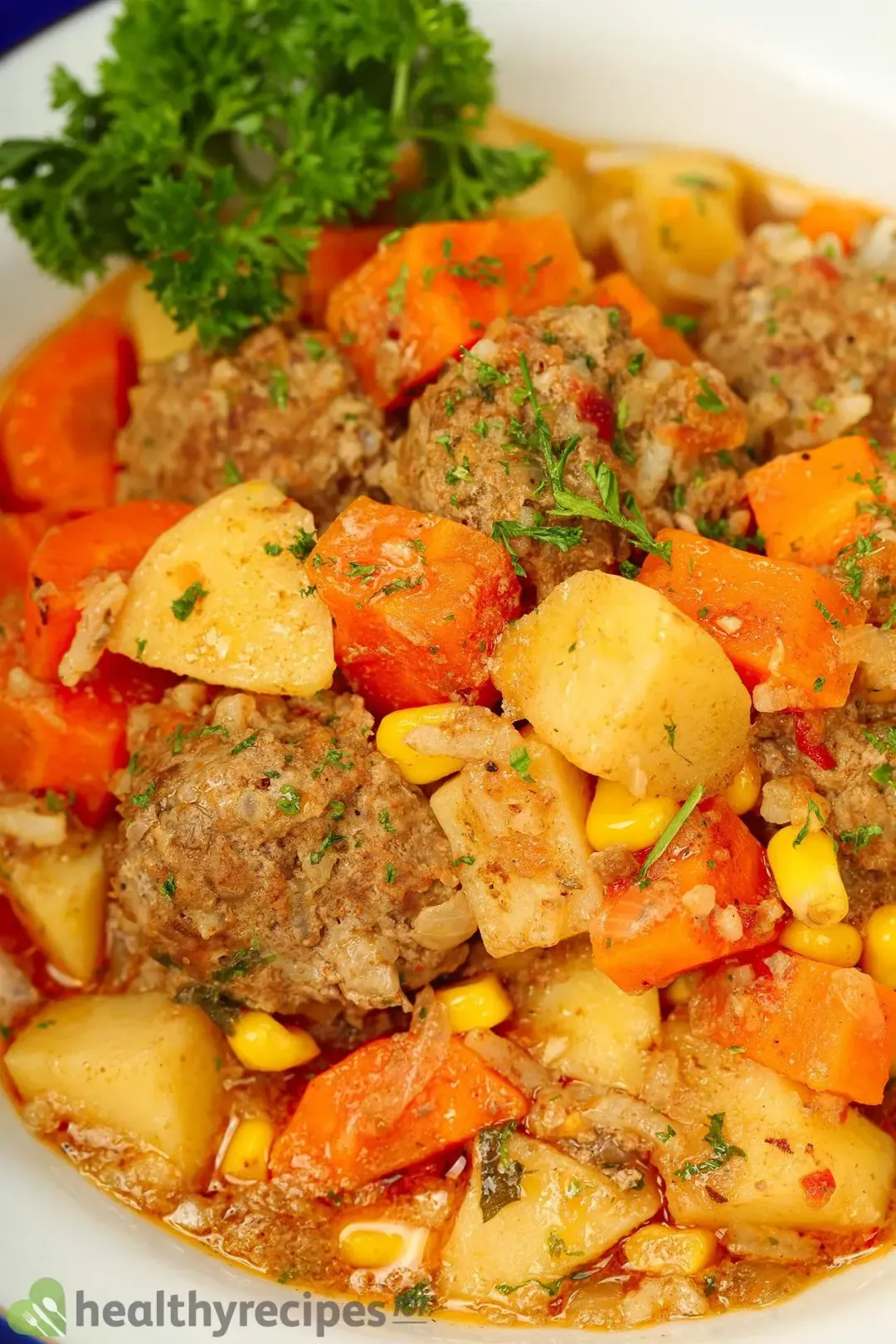 Ingredients for Albondigas Soup
A typical albondigas soup has two basic parts: the meatballs and the soup base.
The meatballs (albondigas) are the most essential component because they contribute to the soup's uniqueness. You'll need:
Ground Beef: To prevent the soup from being too greasy, we recommend lean ground beef. You may, however, use any type of your preferred ground meat, such as lean ground turkey or ground pork.
Rice: In contrast to many meatball recipes that call for breadcrumbs, these albondigas are made with long-grain uncooked rice. Note that other types of rice may require a longer or shorter boiling time than the one in this recipe.
Herbs: What makes the flavor of this albondigas soup distinctive is the chopped cilantro. It gives the meatballs a zesty flavor and a refreshing coolness to bring everything together.
Egg: A large egg that has been lightly beaten lends a slight richness and binds the meatball mixture together.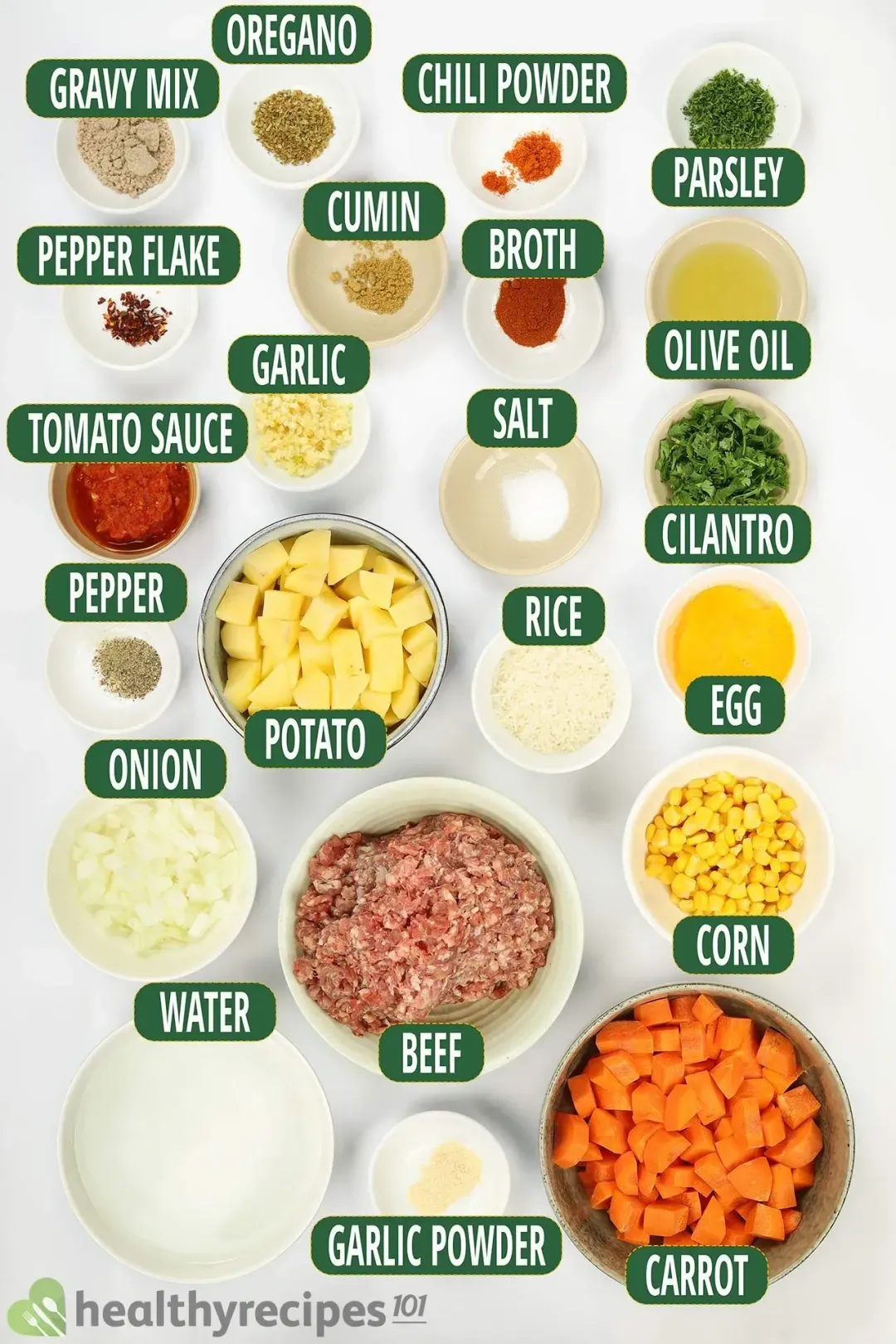 As for the soup base, we prepared homemade tomato sauce and caramelized onions to make the broth. If you don't have time to make the tomato sauce, don't worry, unsalted canned tomatoes will achieve the same result.
In addition to homemade tomato sauce and caramelized onions, the base contains potatoes, carrots, and onions. Plus, you can add vegetables based on what you have on hand and what is in season.
Is This Mexican Meatball Soup Recipe Healthy?
Yes, it is.
Our albondigas soup requires lean ground beef and plenty of fresh veggies. It can keep you full and nourished with its robust flavor and remarkable nutritional profile. Our chefs keep a strict eye on the amount of seasoning to ensure it stays within recommended health limits.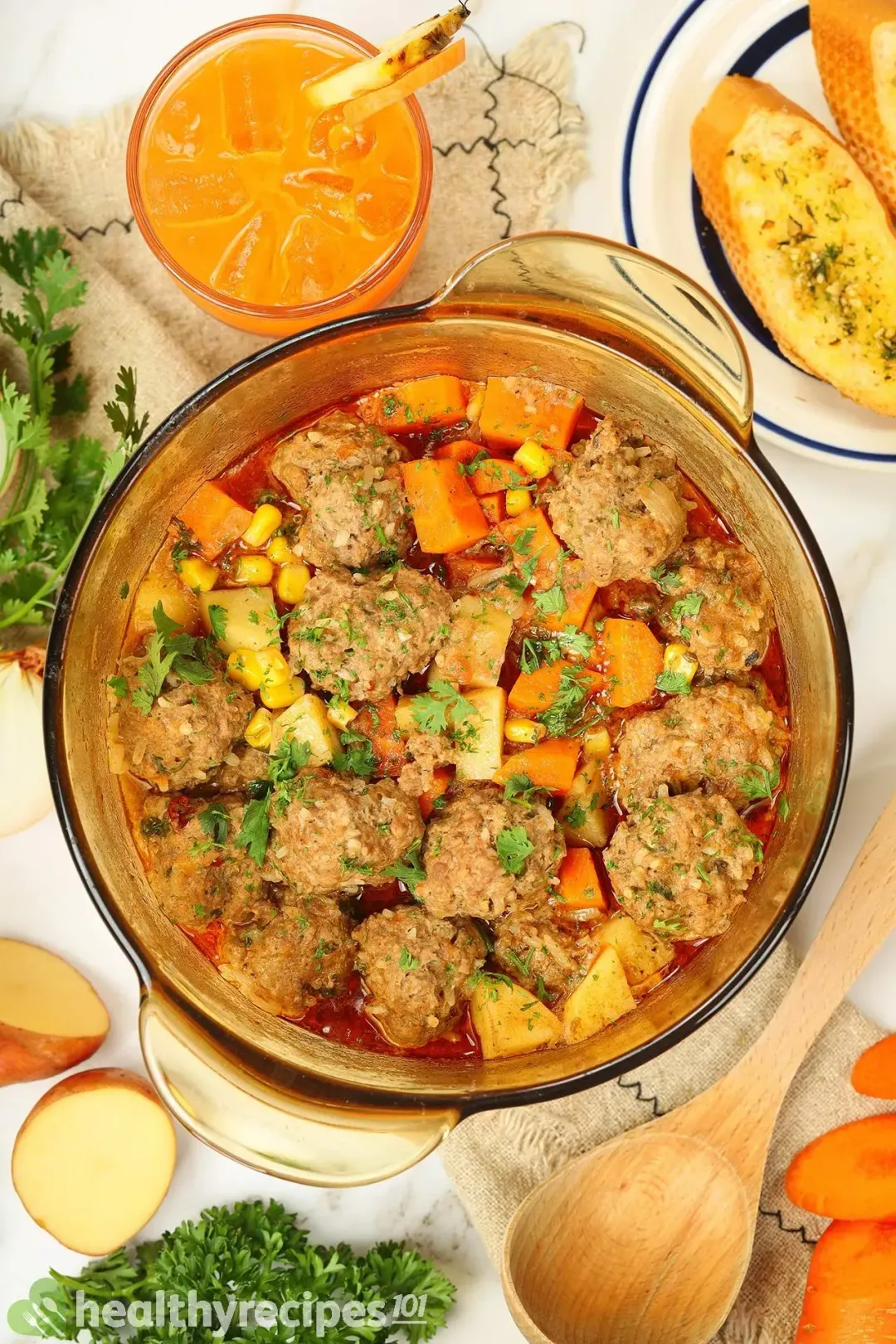 To be specific, each serving contributes roughly 500 calories and 27 grams of protein to your meal. In addition, it has an abundance of micronutrients such as vitamins A and C, iron, potassium, zinc, and many more.
What to Eat With Albondigas Soup
Albondigas soup is delicious on its own, but with a simple side dish that complements the soup and adds contrast, the experience will become even more satisfying.
Traditional garlic bread goes well with any type of soup. Its deliciously crunchy crust is perfect to dip in the hot, savory broth.
Salad is another simple side dish that goes surprisingly well with albondigas soup. It's light, fresh, and makes a mouth-watering appetizer.
Storing and Reheating the Leftovers
Transfer the leftovers to an airtight jar and store in the refrigerator for 4-5 days. If freezing, allow the soup to cool completely in the refrigerator before transferring it to freezer-safe containers and placing in the freezer. Also, leave a tiny area for the liquid to expand as it freezes.
Frozen soup should be defrosted overnight in the refrigerator, so be sure to plan your albondigas soup meal a day ahead. Transfer to a pot and heat until thoroughly cooked.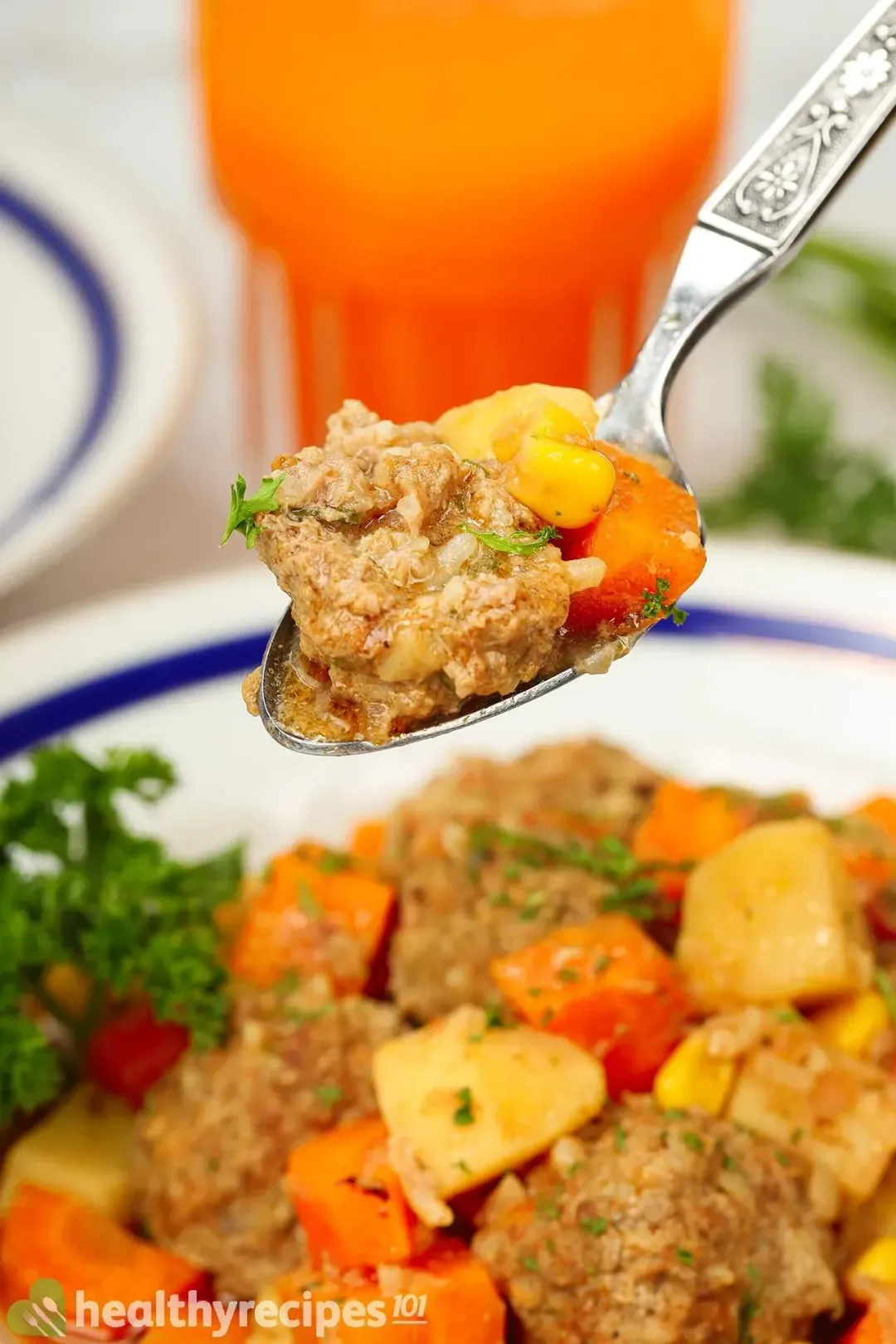 How to Make Albondigas Soup
This traditional Mexican albondigas soup recipe contains simple and nutritious vegetables, fresh herbs, and chewy meatballs (albondigas).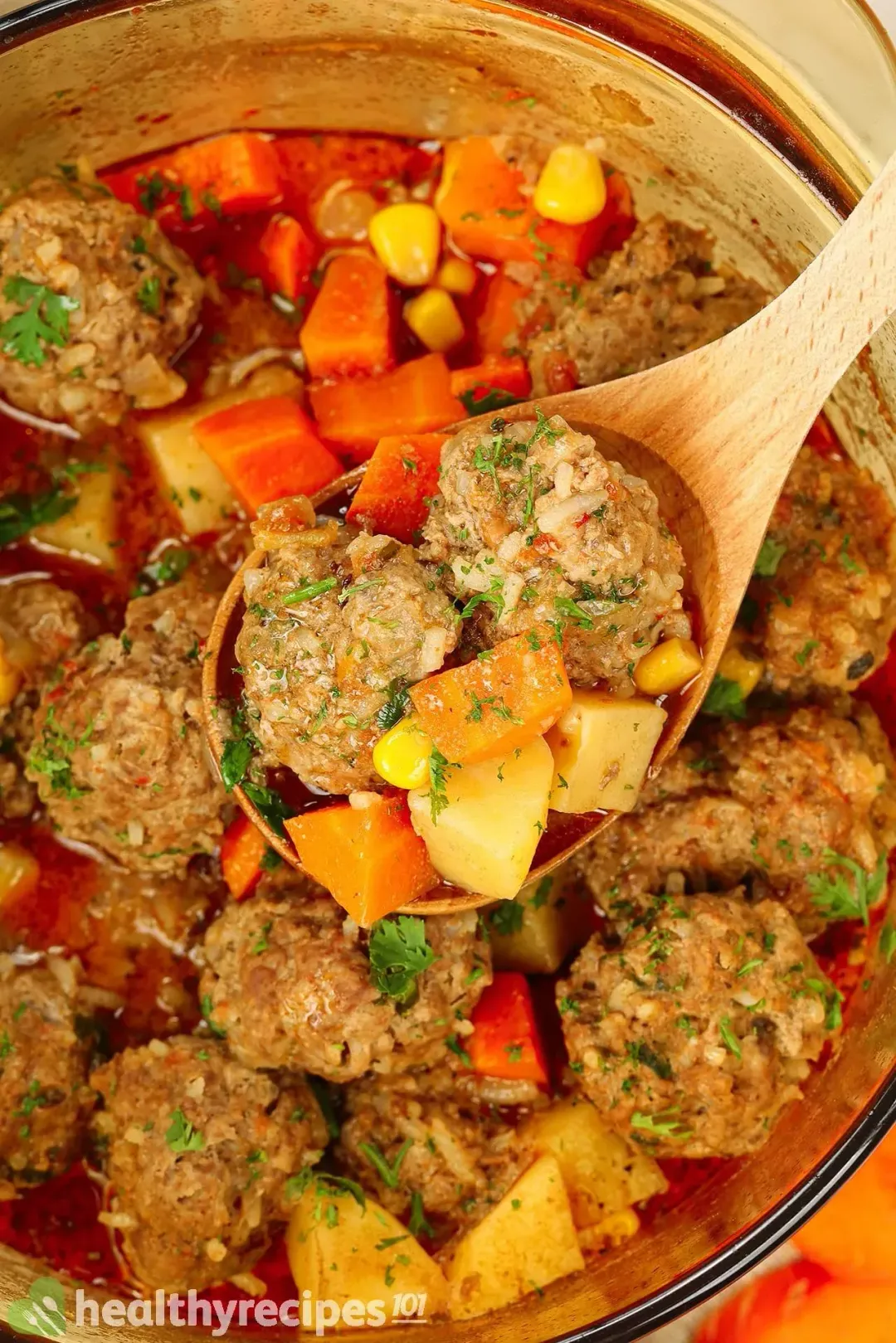 cook TIME

30 mins

prep TIME

10 mins

total TIME

40 mins
COURSE

Main Course

CUISINE

Mexican

SERVINGS

CALORIES

507 kcal
INGREDIENTS
16 oz

85% lean ground beef

1/4 cup

cilantro

(chopped)

1/4 cup

uncooked long-grain rice

1/4 cup

homemade tomato sauce

2 tbsp

parsley

(finely chopped)
INSTRUCTIONS
Prep:
1
Cut the carrots: Peel them and roughly chop them into 1 to 2-inch pieces.
2
Cut the potatoes: Peel the potatoes and slice into 2-inch thick slices. Next, cut each of these slices into 2-inch thick matchsticks. Reduce the matchsticks to 2-inch cubes.
3
Chop the onion: Cut away the onion's top and bottom and dice them into small pieces.
4
Mince the garlic: Peel the cloves and mince the garlic into fine, small pieces.
5
Chop the cilantro: Cut off the woody stem and chop the leaves to your liking.
6
Chop the parsley: Discard the bottom, leafless section of the stems and finely chop the parsley leaves.
Cook:
1
Prepare the meatballs: In a bowl, mix 16 oz ground beef with 1 medium egg, 1/4 cup cilantro, 1/4 tsp salt, and 1/4 cup long-grain regular rice. Mix until everything is well combined.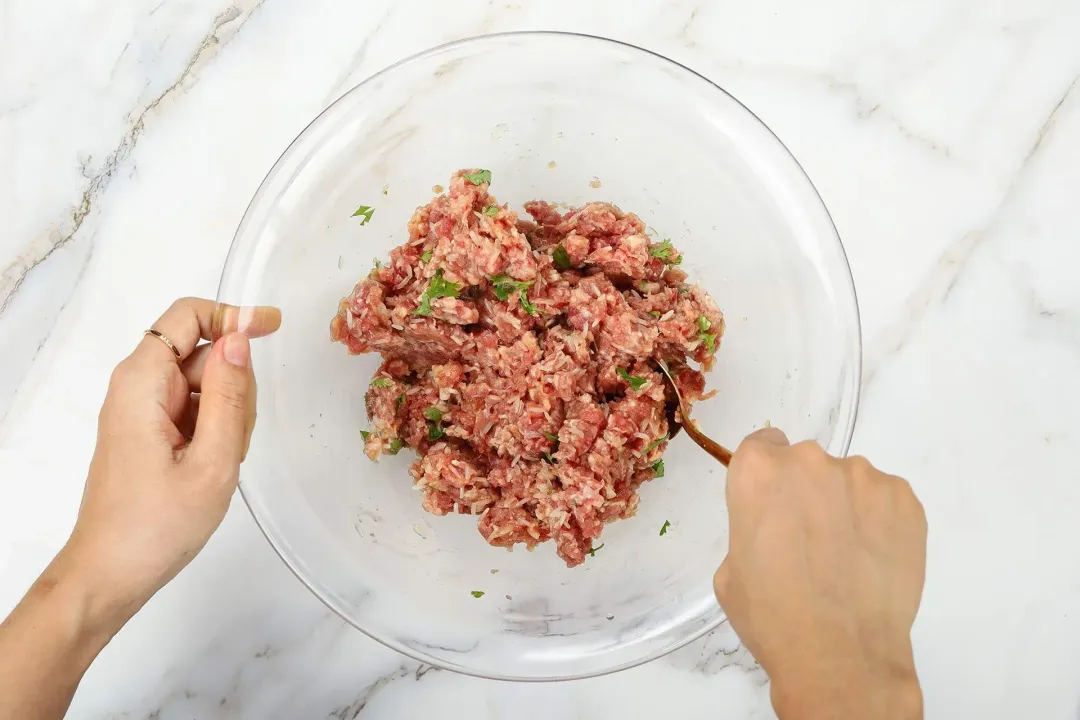 2
Shape the meatballs: To shape the meatballs, roll approximately 1 tablespoon between the palms of your hands into a nice round ball. Then transfer it to a large plate. Repeat with the remaining meatballs.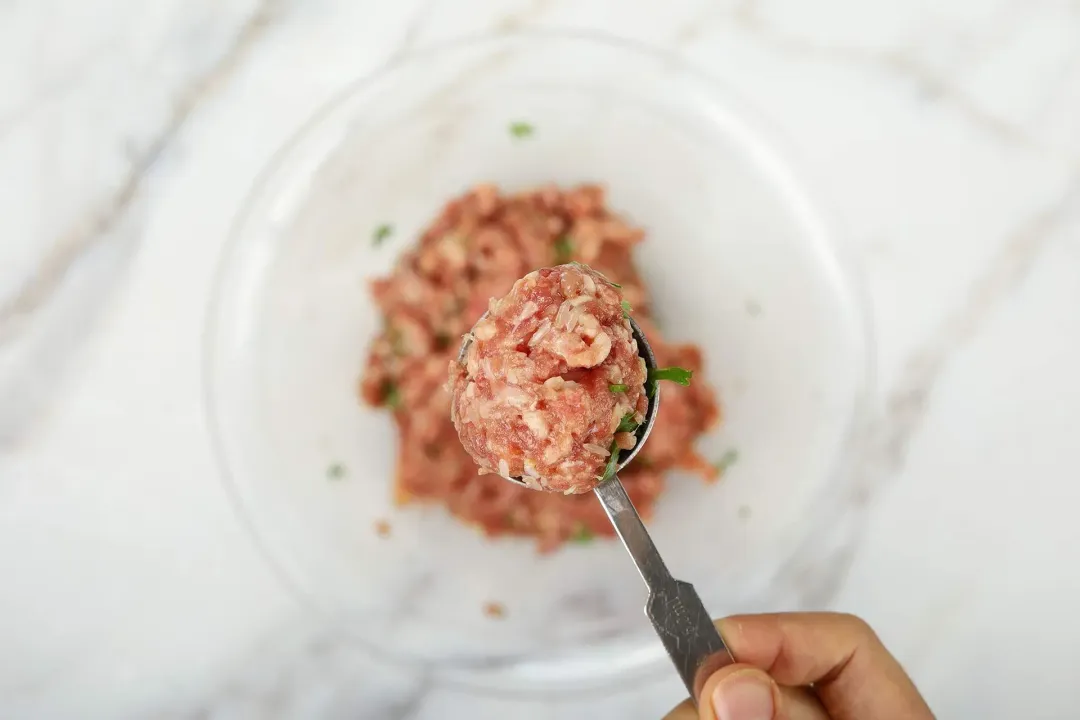 3
Sauté the spices: Heat a large pot over medium heat, add 2 tbsp olive oil, 2 tbsp garlic, and 2 oz onion. Stir and cook for 2 minutes or until fragrant.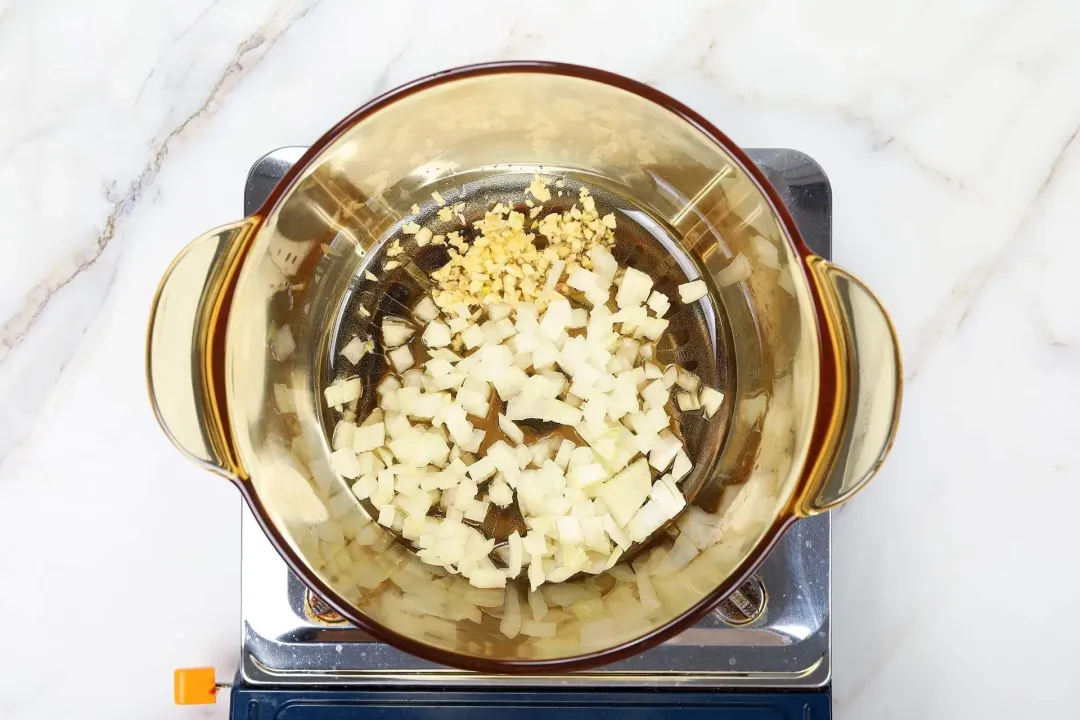 4
Add the vegetables: Stir in 12 oz carrots and 10 oz potatoes and cook for an extra 2 minutes.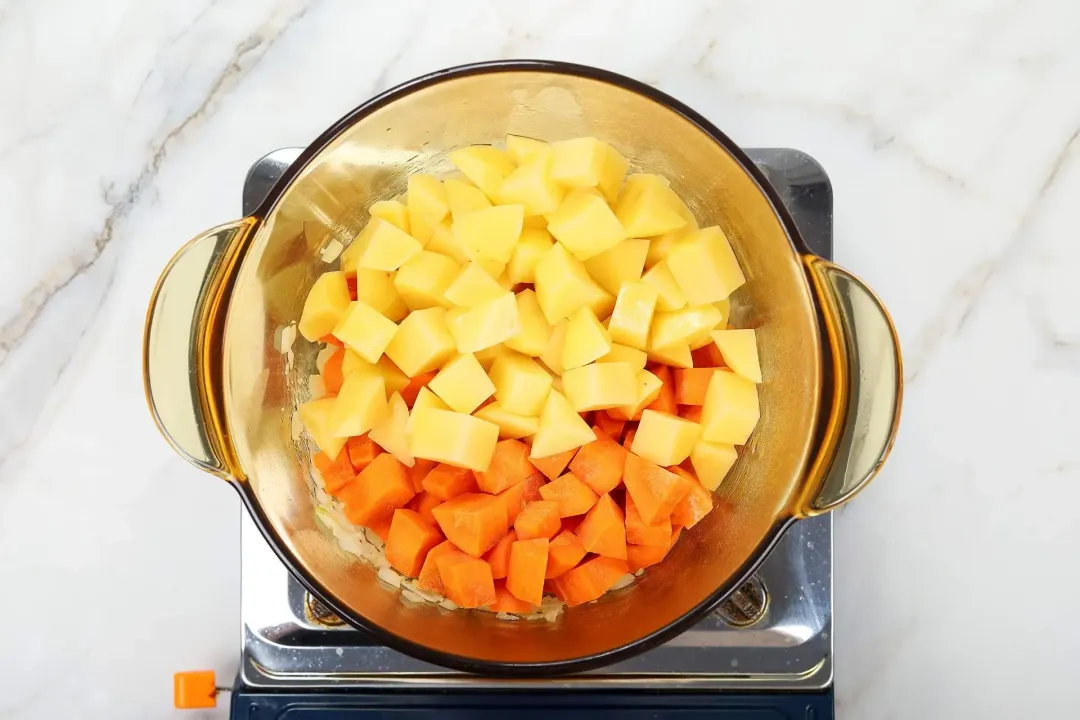 5
Stir in the seasonings: Add 1/4 tsp salt, 1/4 tsp cumin, 1/2 tsp oregano, 1/2 tsp garlic powder, 1/2 tsp pepper, 1/4 tsp chili powder, 1/4 cup tomato sauce, and 1 tbsp gravy mix to the pot and stir to combine. Cook for an additional 2 minutes.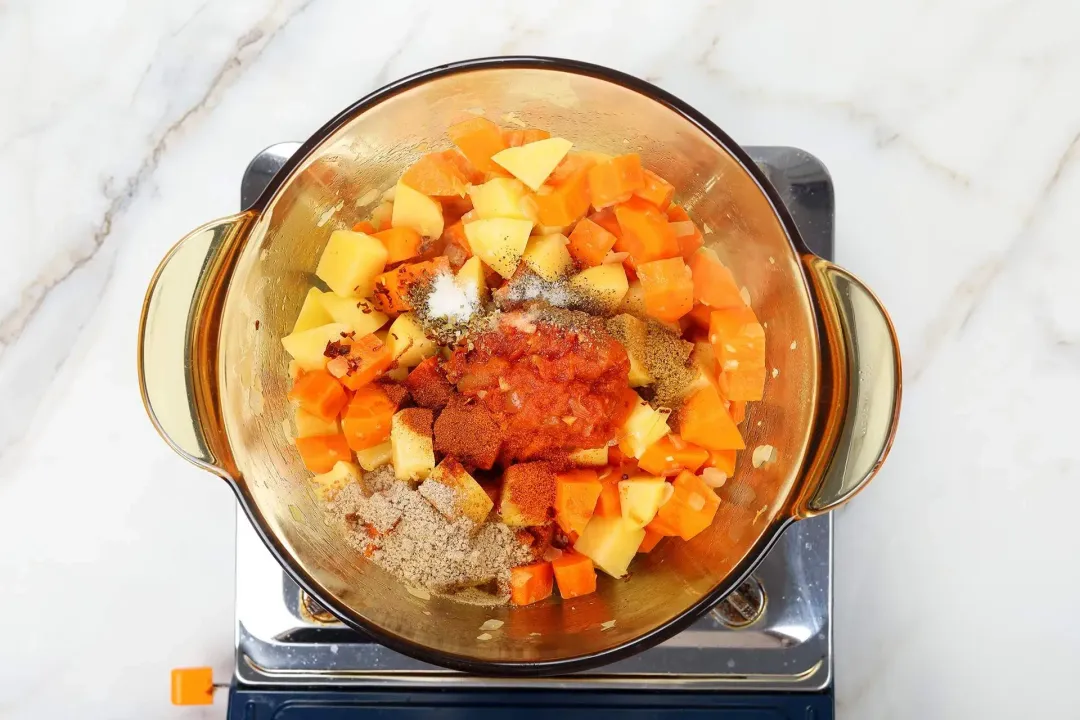 6
Pour in the water: Add 2 cups water to the pot and bring it to a boil.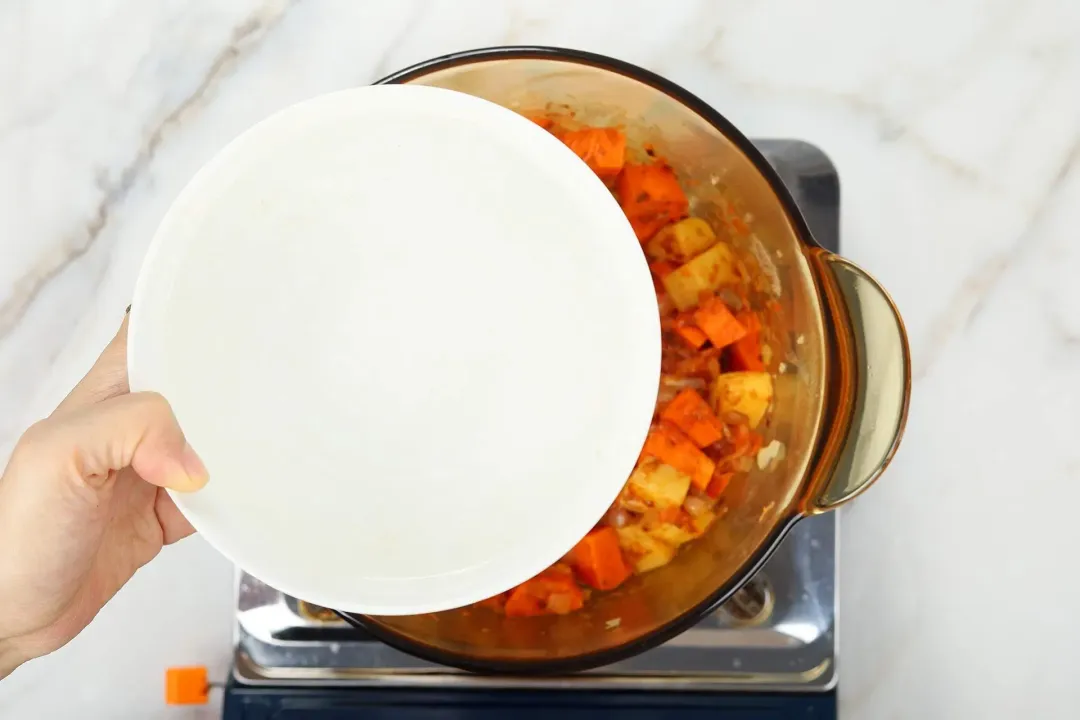 7
Cook the meatballs: Drop the meatballs into the soup. Reduce the heat to simmer for 20 minutes.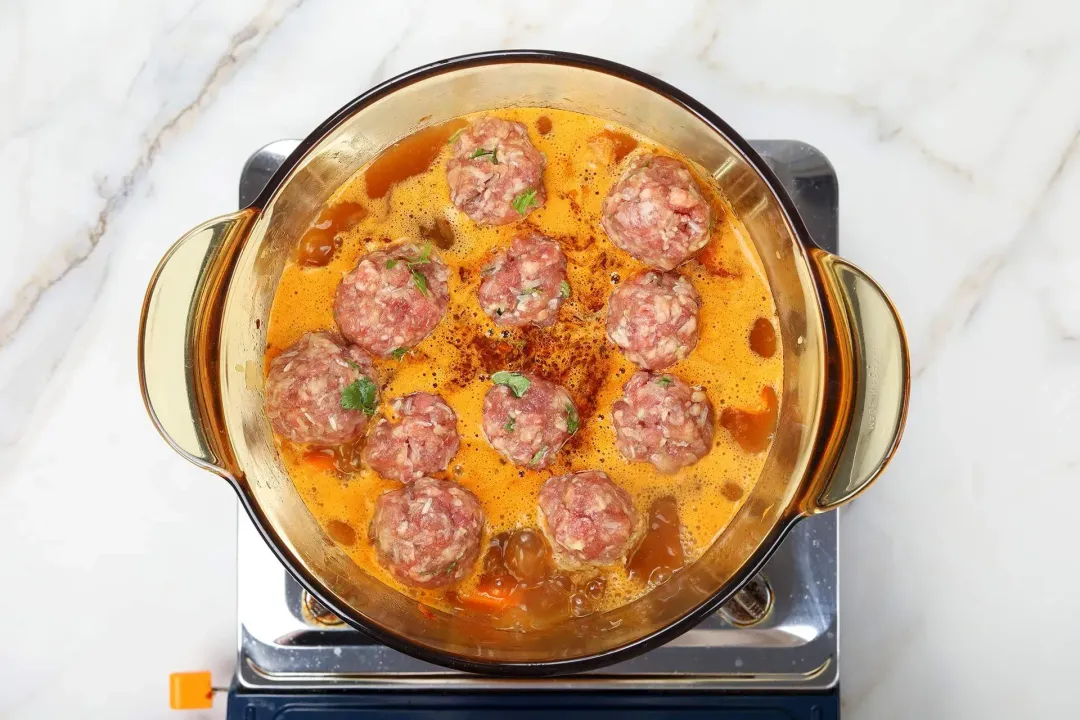 8
Add the corn: Stir in 2 oz corn and continue to simmer for 2 minutes.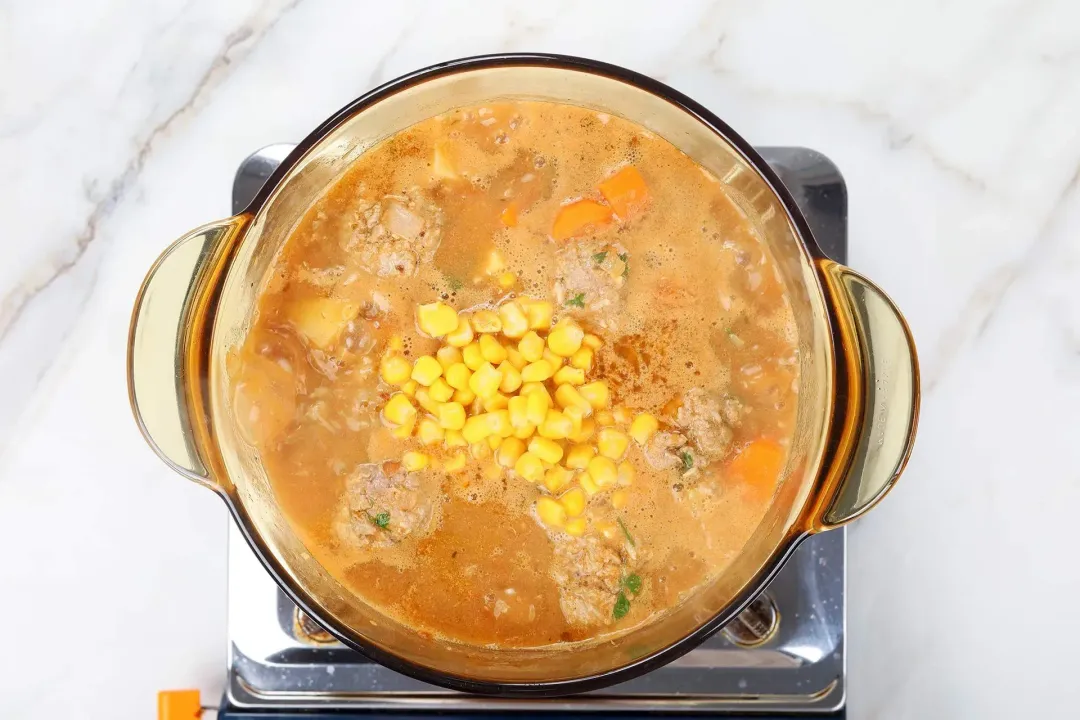 9
Serve: Take off the heat and transfer the soup to serving bowls. Sprinkle with 1/4 tsp pepper flakes and 2 tbsp chopped parsley. Serve the soup hot.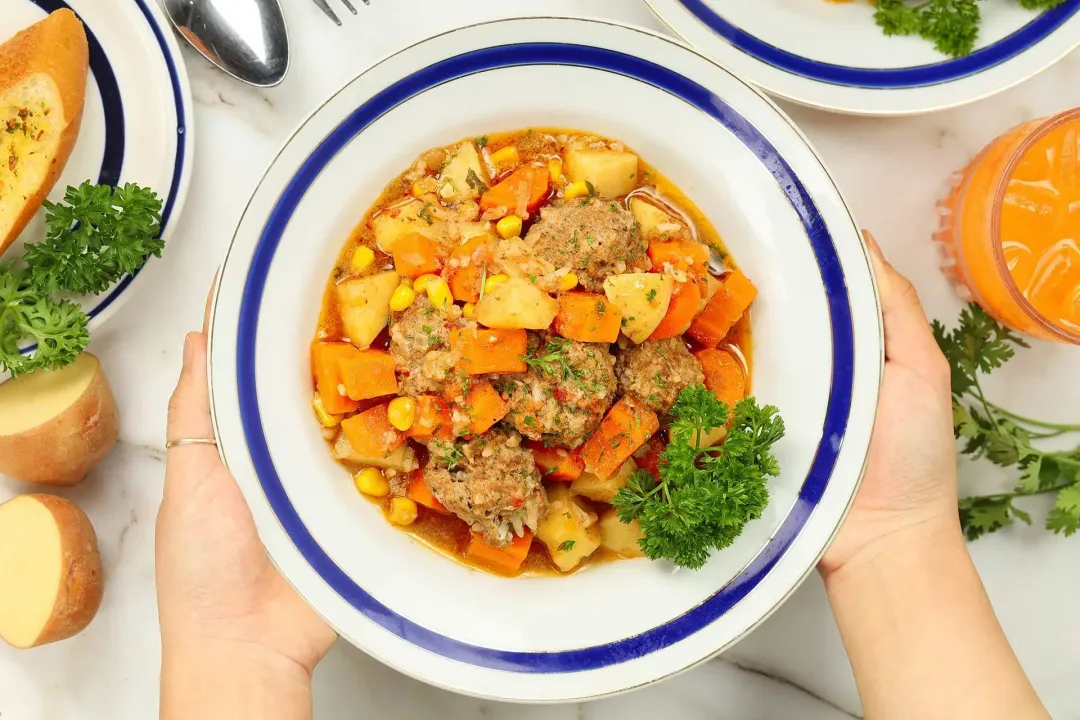 NUTRITION
Nutrition Facts
How to Make Albondigas Soup
Amount Per Serving (1 serving)
Calories 507
Calories from Fat 245
% Daily Value*
* Percent Daily Values are based on a 2000 calorie diet.
Keywords: albondigas soup, albondigas soup recipe, how to make albondigas soup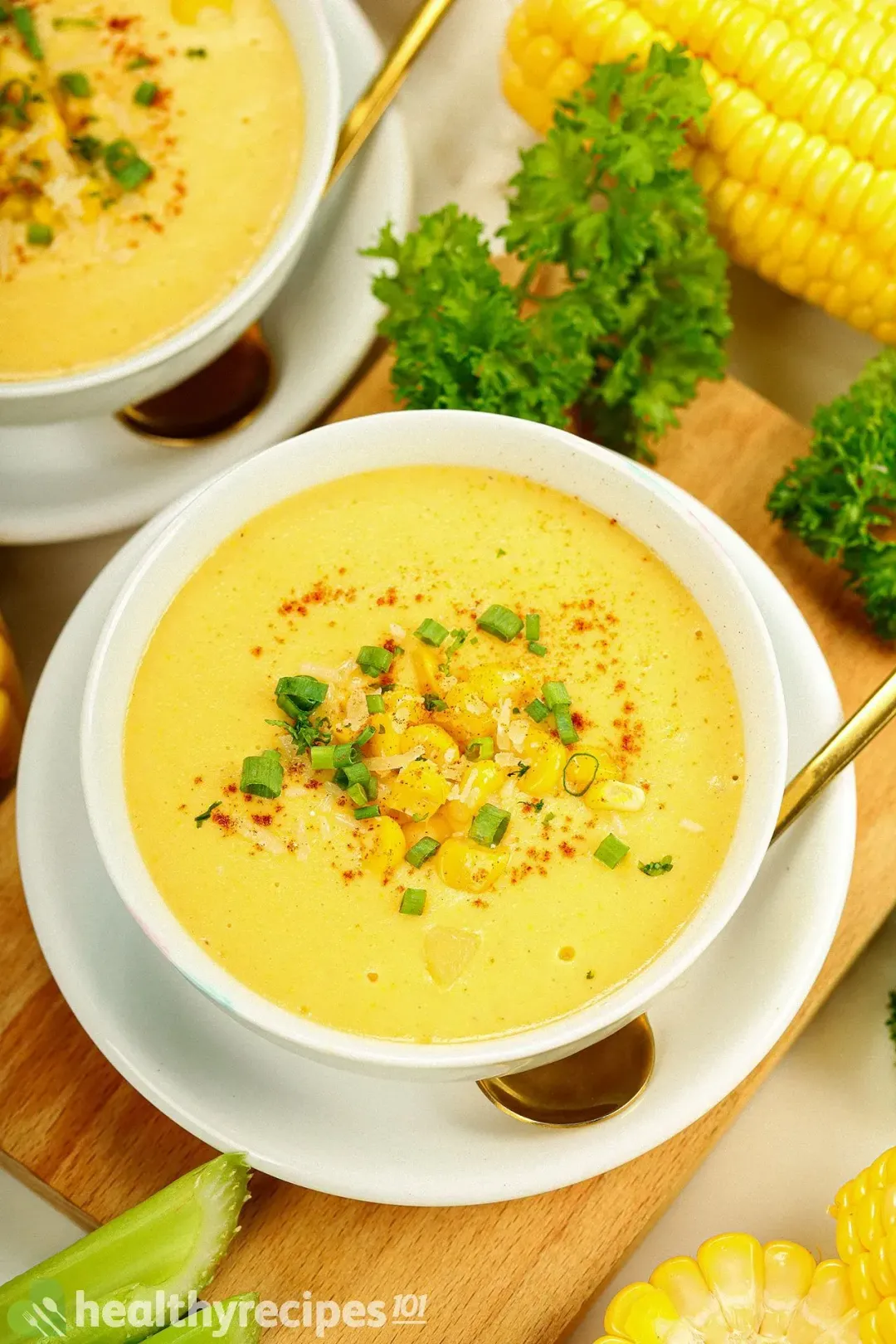 Corn Soup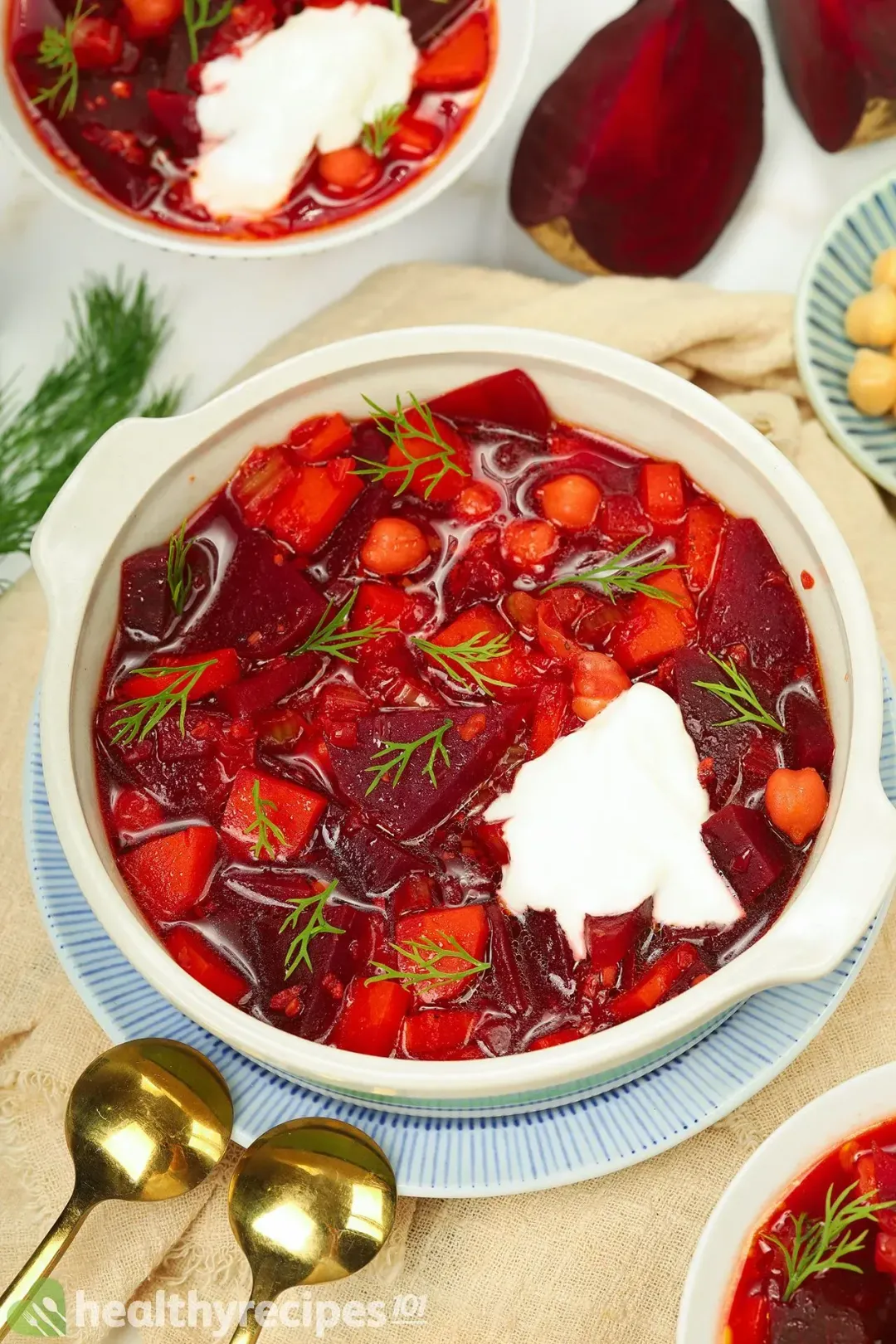 Next Recipe
Beet Soup (Borscht)
Beet Soup (Borscht)
Head Chef, Culinary Consultant
Tuyet Pham is an award-winning Saigonese chef who believes that joy is the secret ingredient to delicious food. At Healthy Recipes 101, Tuyet personally tests and simplifies every recipe, ensuring maximum flavor with minimal effort. With a background at prestigious French restaurants P'TI Saigon and Le Corto, Tuyet knows how to make every dish exceptional.
Writer, Author
Luna Regina is an accomplished writer and author who dedicates her career to empowering home cooks and making cooking effortless for everyone. She is the founder of HealthyKitchen101.com and HealthyRecipes101.com, where she works with her team to develop easy, nutritious recipes and help aspiring cooks choose the right kitchen appliances.
Nutrition Reviewer
Natalie Butler is a registered dietitian nutritionist with a passion to help others live their best life through food, fitness, safer beauty and a healthy lifestyle. She has expertise with a variety of diets and diseases and believes that there is no one-size-fits-all approach for health.
Simple and easy... especially when all ingredients are prepped.