Today's hot and sour soup recipe will make your evenings super cozy.
Any soup is comforting in itself, but today's is especially so. The heat is just enough to keep the body warm; the tofu cubes are silky and soft; and the scent is therapeutic. It's savory, lightly sour, and really addictive.

How Healthy Is Hot and Sour Soup?
The soup uses lean chicken breast, which is a great supply of protein with the eggs and tofu further increasing the soup's protein yield.
With all ingredients combined—chicken, tofu, eggs, carrot, and mushroom, this soup is packed with micronutrients.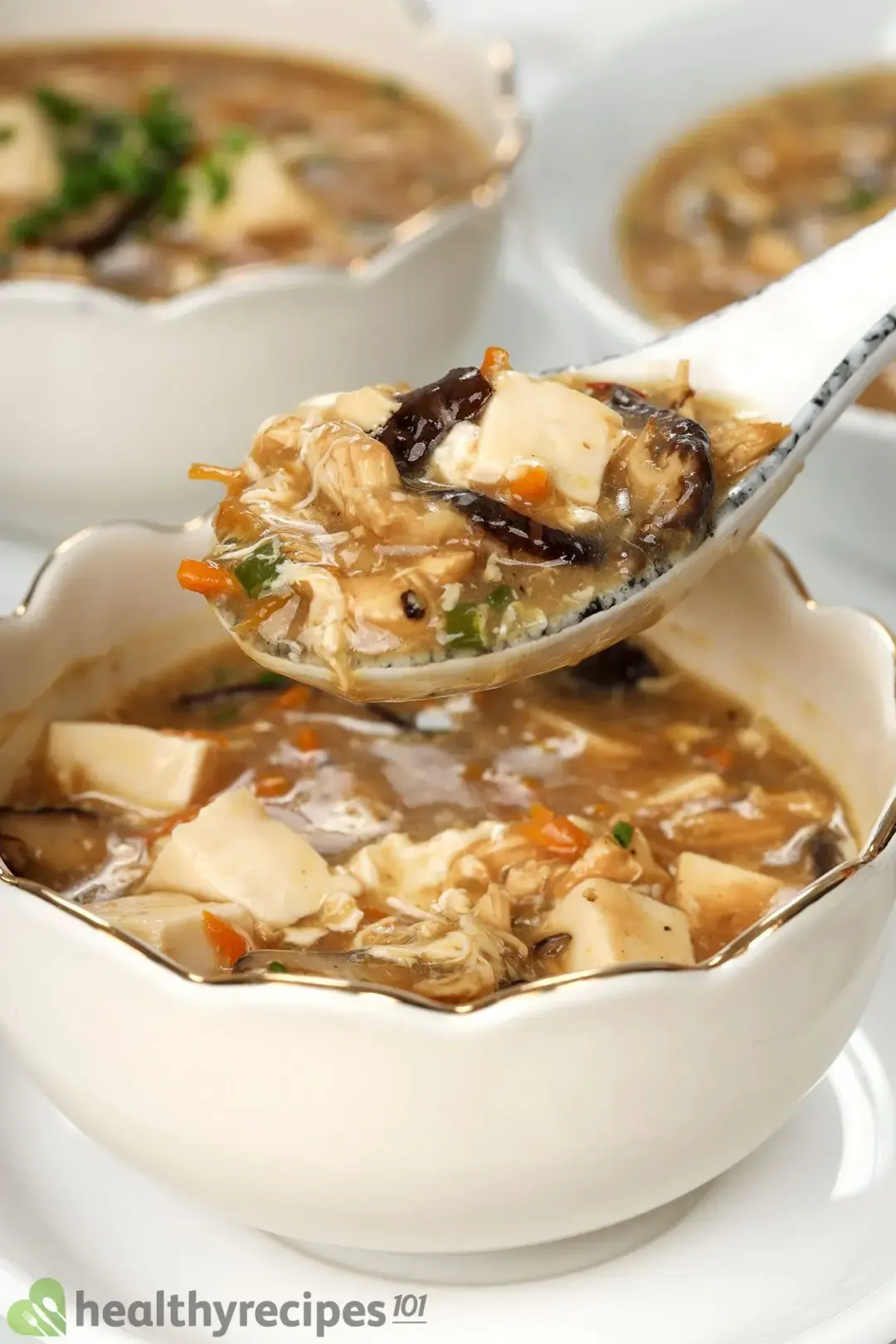 By default, the soup is already low in calories and saturated fats, so we only had to pay attention to the salt. Our aim was not only to lower the sodium content but also to keep the flavor on point.
Once that's done, it now yields 295 mg sodium, which is within healthy limits.
What Is Hot and Sour Soup?
This Chinese staple may have different varieties, but all of them are similarly seasoned: with pepper and vinegar. Red vinegar is the classic choice, giving the soup tanginess and a rustic aroma.
Cooked with it are some of these ingredients: meat (often chicken), tofu, wood ear, bamboo shoots, etc.; all is then thickened with cornstarch. However, to make the soup more accessible, we opt for ingredients that you're likely to find anywhere: chicken, tofu, button mushrooms, and carrots. We also use white vinegar instead of red.
Once everything has come together, a beaten egg is stirred into the soup, creating cloud-like streaks that are as light in texture as they look. At this point, the soup looks very much like an egg-drop soup.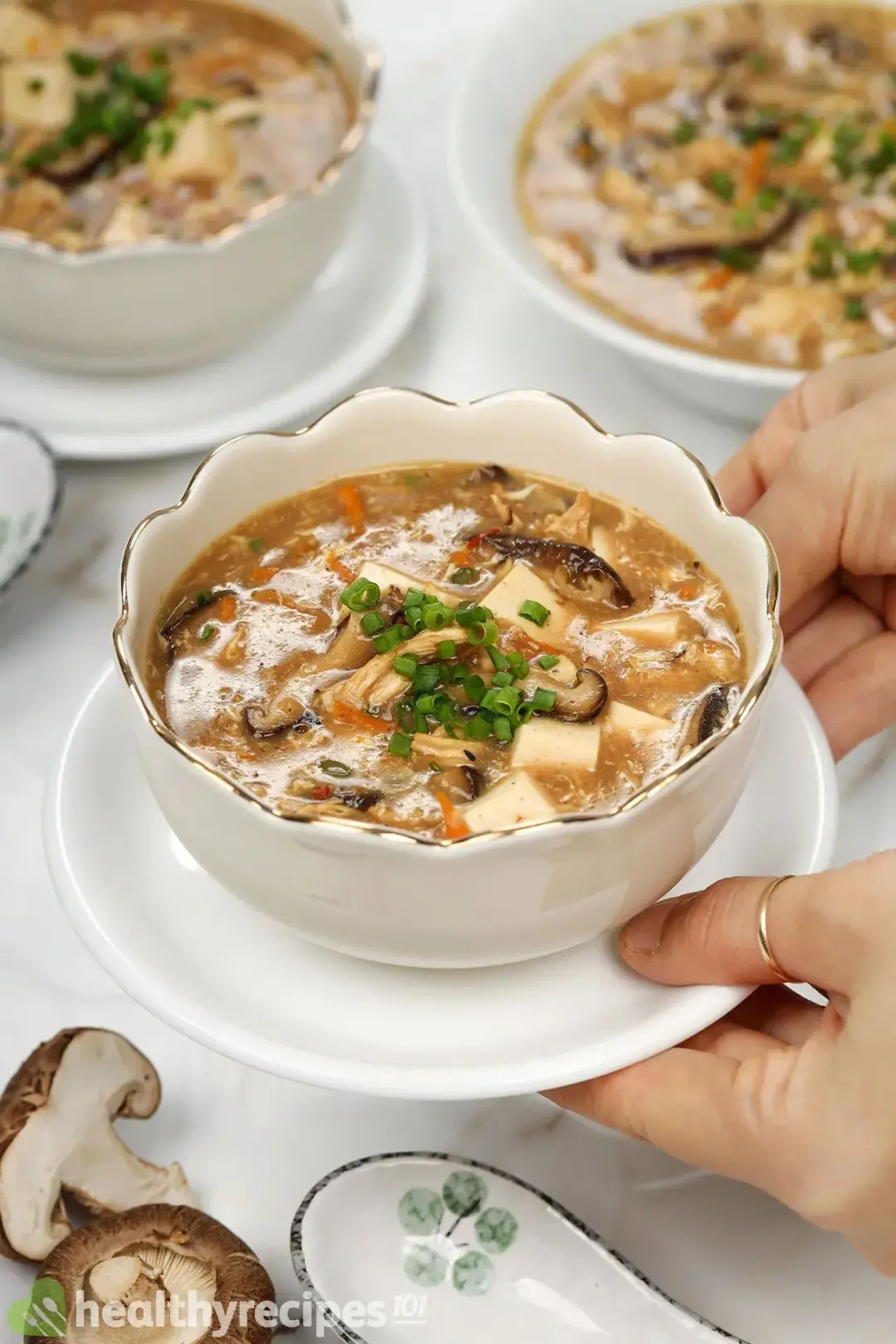 1. The Difference Between Hot and Sour Soup and Egg Drop Soup
Egg drop soup is neither spicy nor tangy—like hot and sour soup. It's expected to be gentler on the palate and mildly sweet.
2. Is Hot and Sour Soup Vegetarian?
Originally, it isn't, but there are versions that call for tofu skin instead of meat. Tofu skin is chewy and fun, a nice addition to any vegan soups.
To make our hot and sour soup recipe vegetarian, use tofu skin and replace the chicken broth with vegetable broth.

Ingredients for This Soup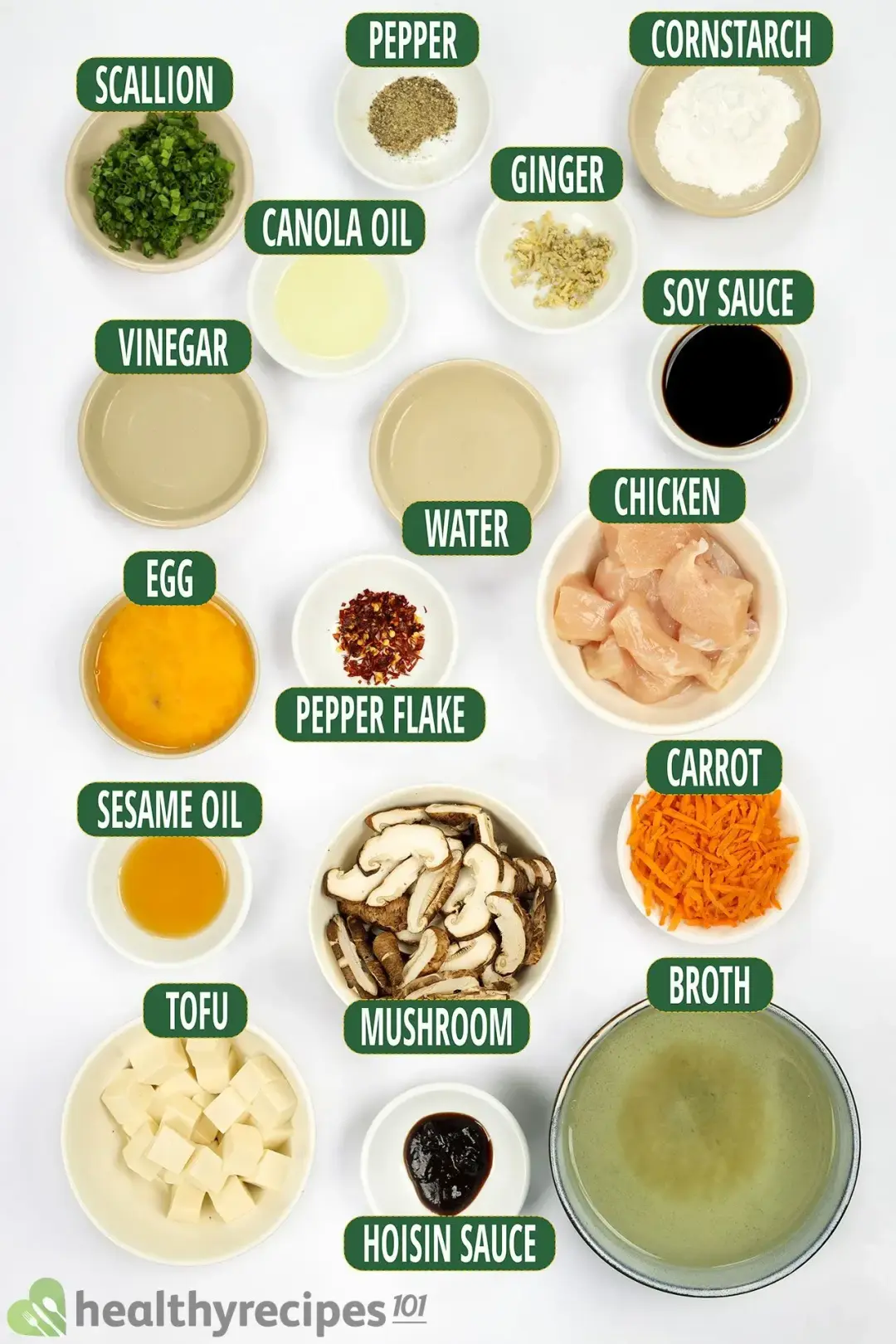 Chicken: skinless and boneless chicken breasts. You can use rotisserie chicken and bone-in cuts as well.
Tofu: soft tofu, not firm tofu. The silky soft texture of soft tofu is more suitable for this soup.
Veg: sliced button mushrooms and shredded carrots. We shredded our carrots with a mandoline.
Seasoning: ginger, soy sauce, hoisin sauce, vinegar, pepper, and sesame oil. For the 'hot' element we used pepper flakes, but you can go for cayenne, tabasco, or any spicy condiment you fancy.
Broth: chicken broth or vegetable broth, but must be unsalted.
Thickener: cornstarch. We mixed our cornstarch with water before adding it to the soup to avoid lumps.
Egg: one beaten egg.
Herbs: scallions. If possible, use cilantro too—its aroma complements the soup nicely.
Storage and Reheating
The soup should keep for 4 days in the fridge or 3 months in the freezer.
To freeze, divide the soup into portions and keep each portion in a separate Ziploc bag; it'll make the soup easier to remove. To refrigerate, however, keep the soup in whatever container you feel convenient but make sure to seal it tightly.
To reheat, add the soup to a pot and simmer over low heat until bubbling.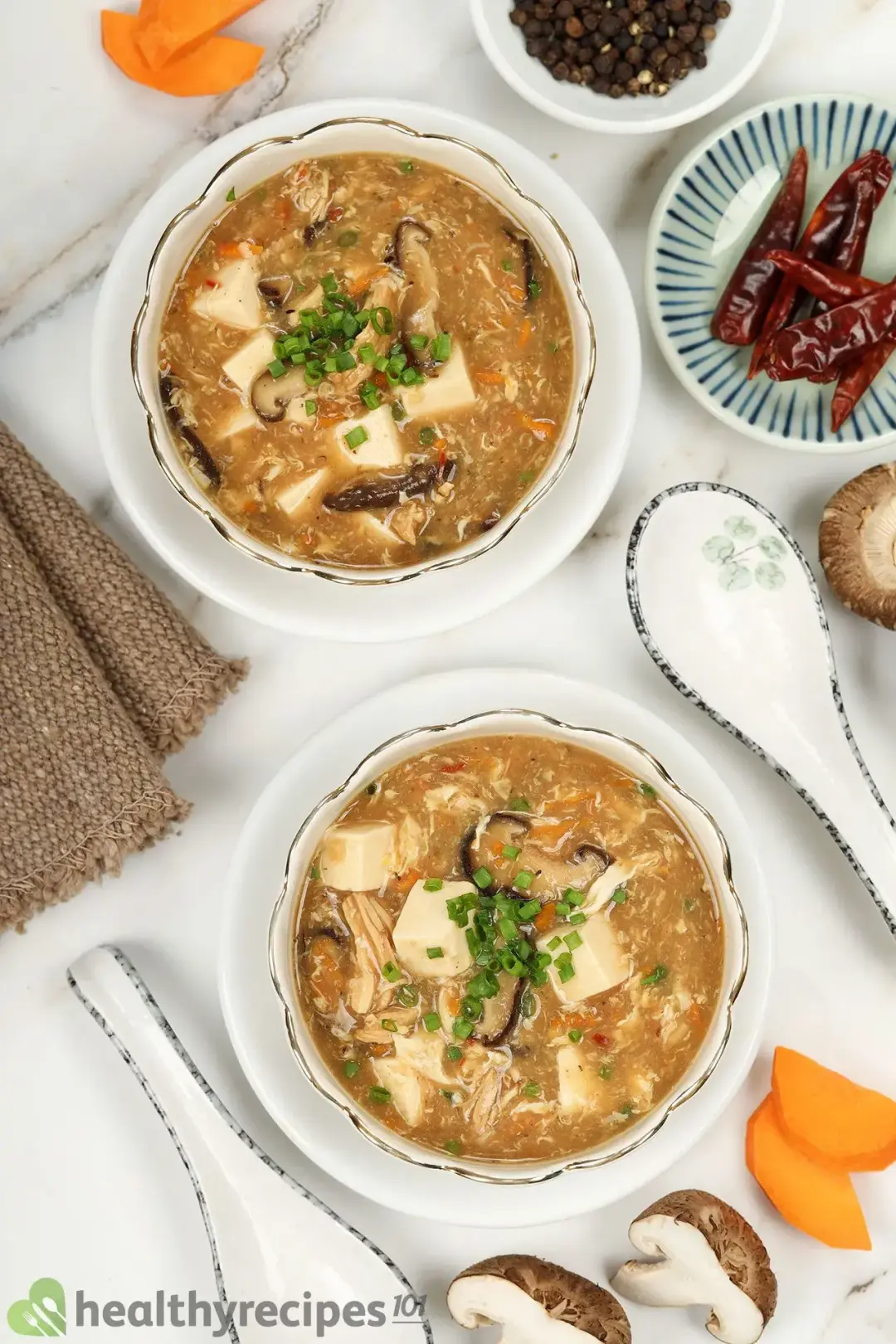 How to Make Hot and Sour Soup
This hot and sour soup recipe takes 15 minutes to simmer and is made from easy-to-find ingredients. It's good for your soul and your health.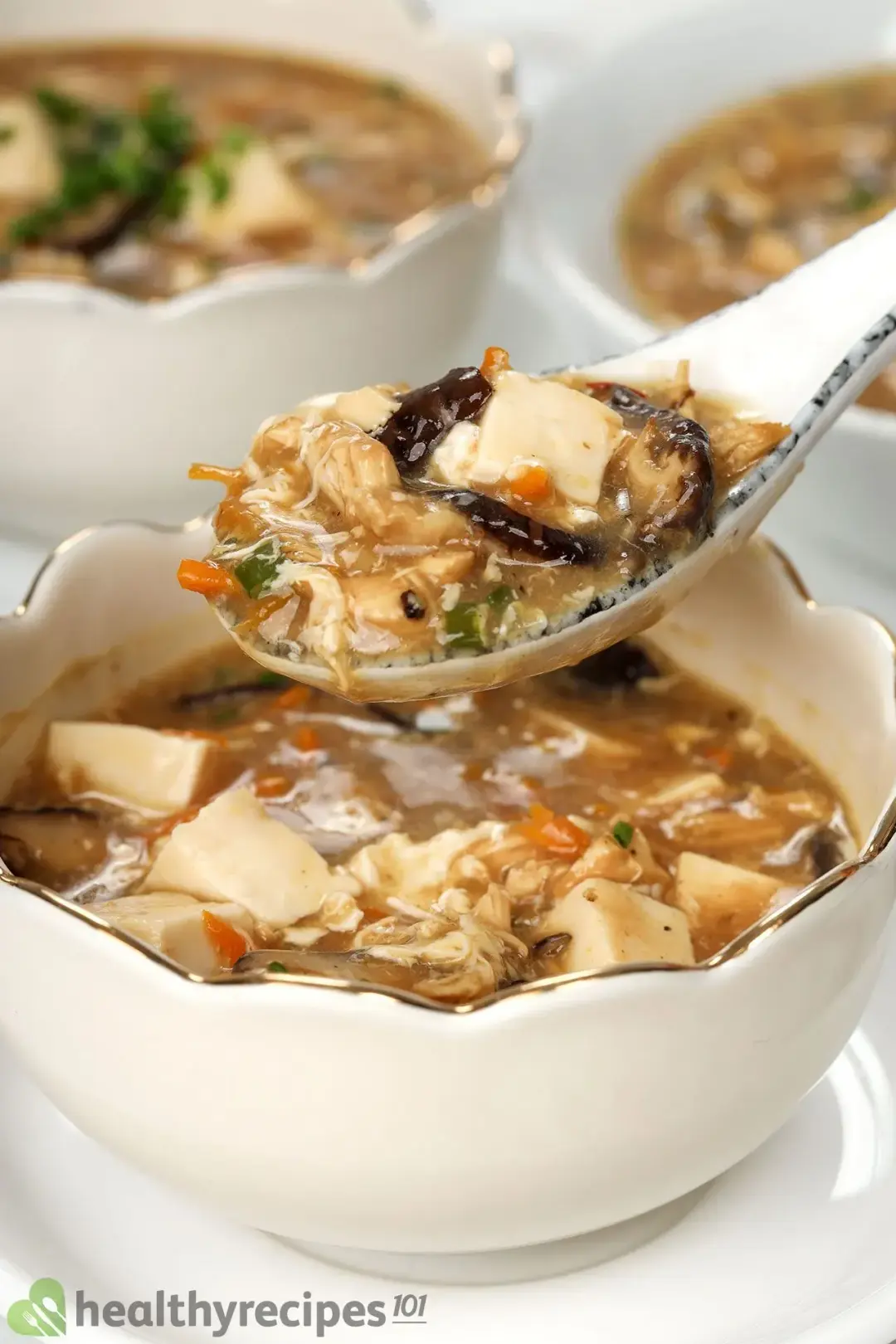 cook TIME

27 mins

prep TIME

8 mins

total TIME

35 mins
COURSE

Appetizer, Side Dish

CUISINE

Global

SERVINGS

servings

CALORIES

179 kcal
INGREDIENTS
1 tsp

ginger chopped

1 oz

carrot shredded

2 oz

shiitake mushrooms sliced

3 oz

soft tofu cut into 1/2" cubes

6 oz

skinless boneless chicken breast cut into chunks

1 tbsp

canola oil

1 tbsp

sesame oil

1.5 cup

unsalted chicken broth

2 tbsp

white vinegar

1.5 tbsp

reduced sodium soy sauce

0.5 tsp

hoisin sauce

0.5 tsp

red pepper flakes

0.3 tsp

ground black pepper

2 tbsp

cornstarch

2 tbsp

water

2 tbsp

scallion chopped

1

medium egg
INSTRUCTIONS
Prep:
1
Chop the onion: Break a knob off a ginger root and use a spoon to scrape the skin off. Once it's peeled, slice it as thinly as possible, cut the slices into strips, and cut the strips into tiny cubes. Measure out about 1 tsp.
2
Shred the carrot: Stand a grater on a cutting board with one hand. Hold a carrot in the other hand, and run the carrot against the grater, twisting while grating to keep the shreds as short as possible. Measure out 1 oz.
3
Slice the mushrooms: Measure 2 oz shiitake mushrooms and cut them into 1/8" slices.
4
Cube the tofu: Remove the tofu block from the package. Drain, rinse, and cut it into 1/4" cubes. Measure out 3 oz and refrigerate the rest in an air-tight container for up to 4 days.
5
Cut the chicken breast: cut a 6-oz chicken breast into 4 chunks.
Cook:
1
Sauté the ginger: Heat 1 tbsp canola oil in a pot over medium heat for 30 seconds. Stir in 1 tsp chopped ginger for about 30 seconds.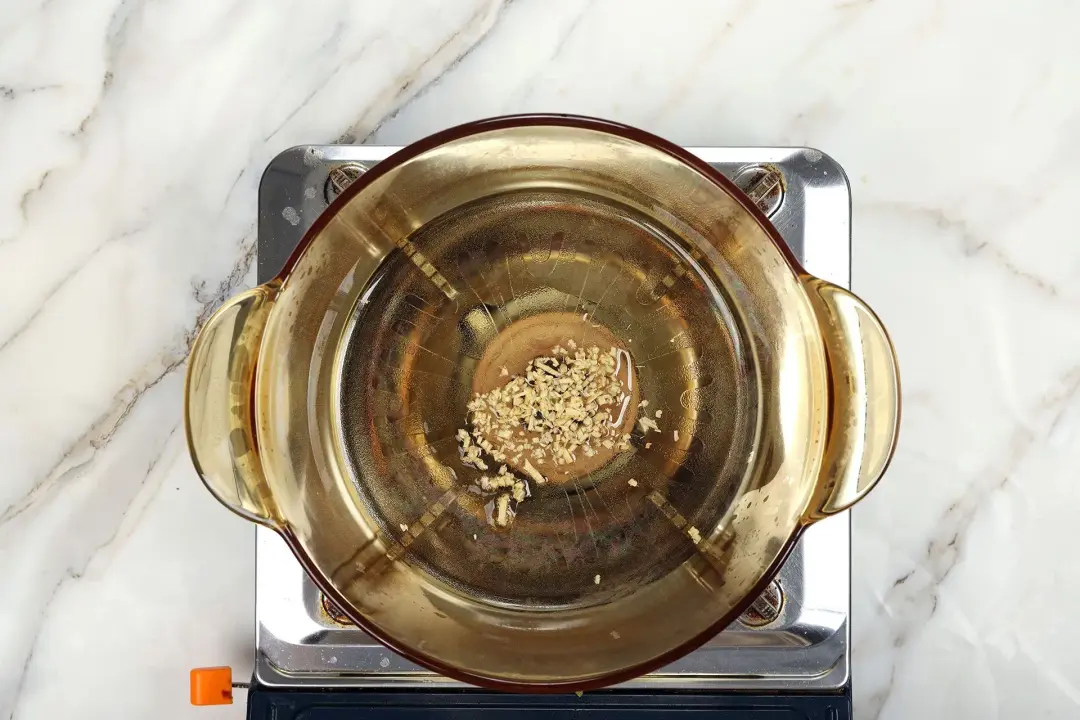 2
Add the mushrooms: Add 2 oz shiitake mushrooms and stir to cook for 3 minutes.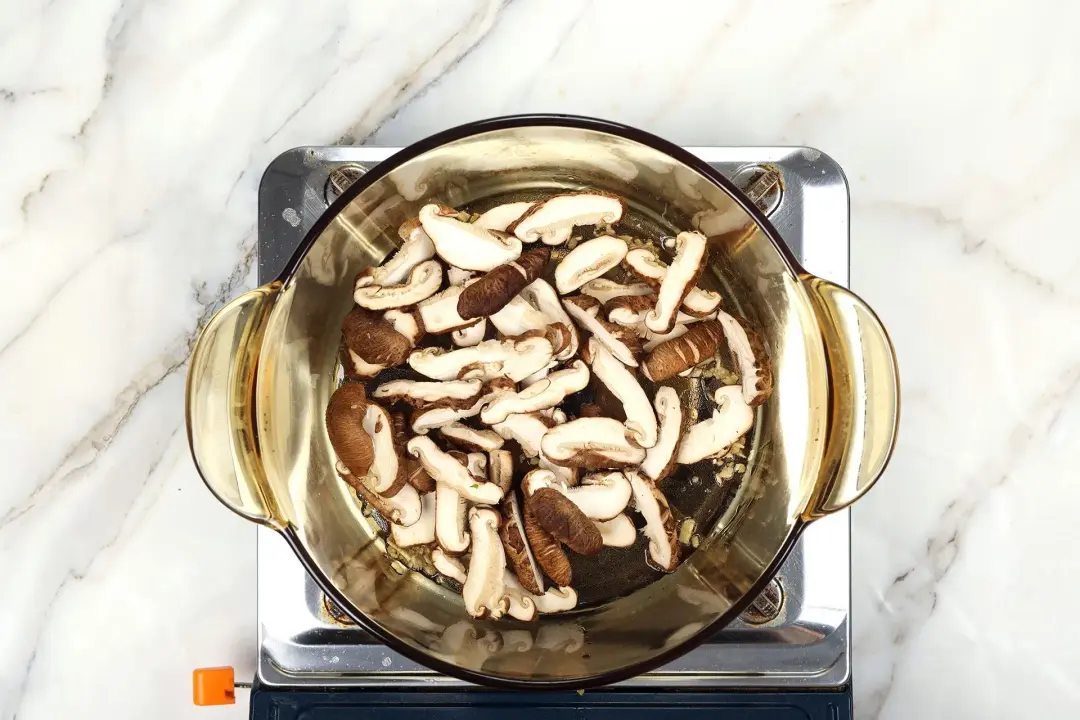 3
Add the broth: Pour in 1 1/2 cup chicken broth.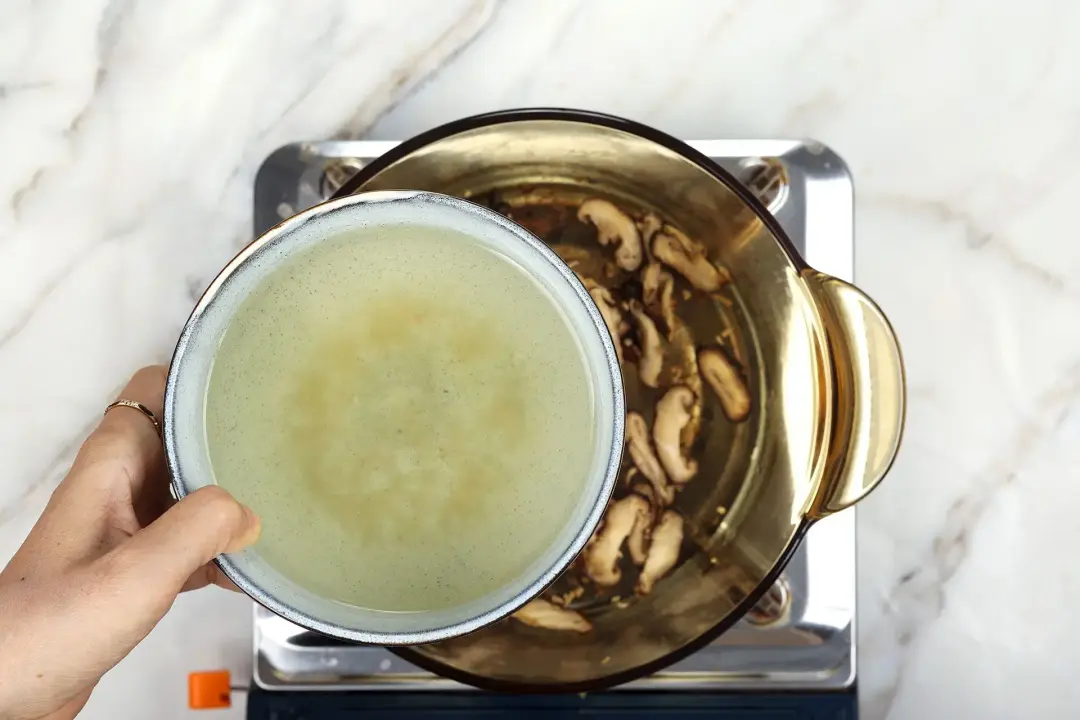 4
Add the chicken, carrot, and seasonings: Add 6 oz chicken breast, 1 oz shredded carrot, 2 tbsp white vinegar, 1 1/2 tbsp low-sodium soy sauce, 1/2 tsp hoisin sauce, 1/2 tsp red pepper flakes, and 1/4 tsp ground black pepper.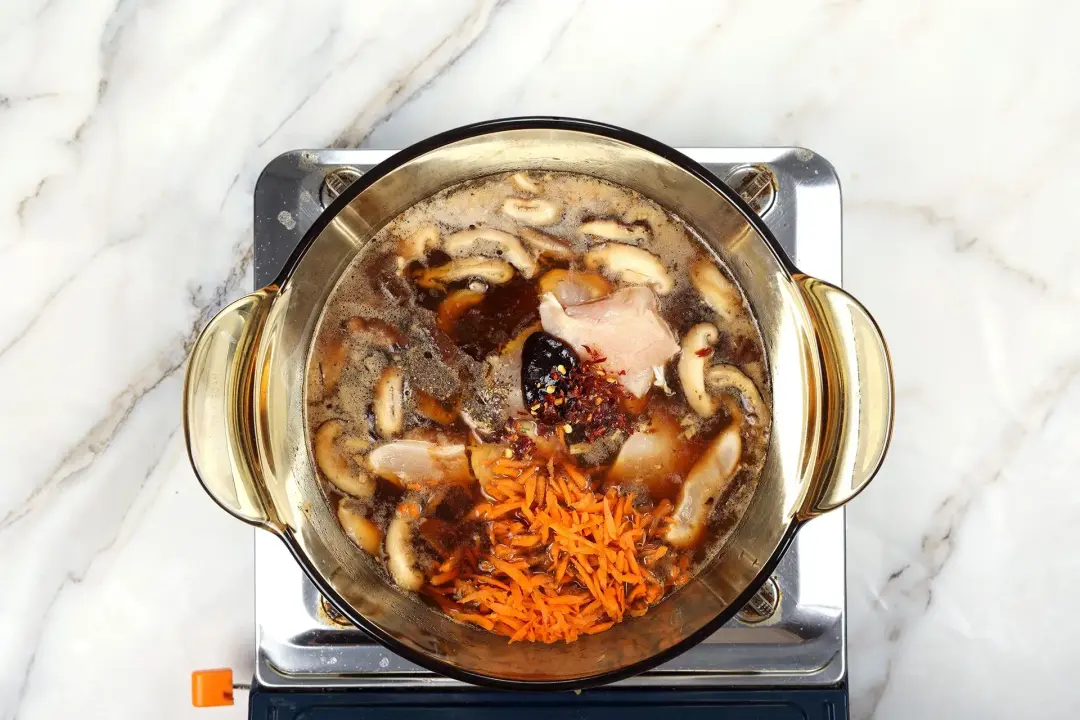 5
Simmer the soup: Simmer on medium heat for about 15 minutes.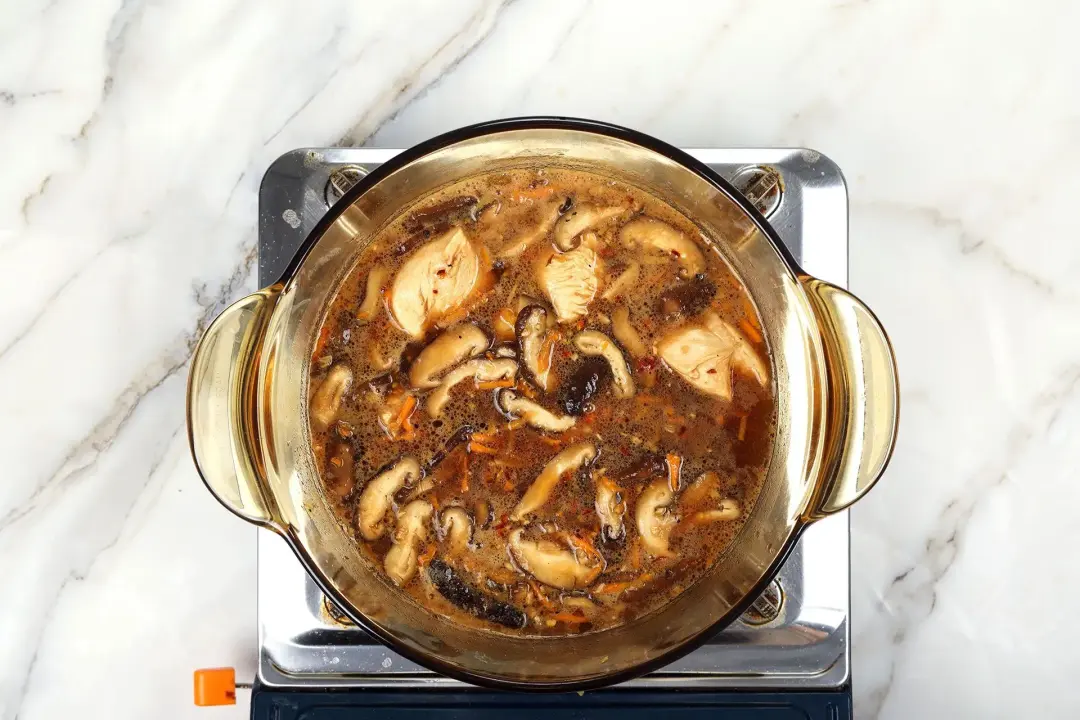 6
Shred the chicken: Turn off the heat. Fish out the chicken cubes and shred them with two forks.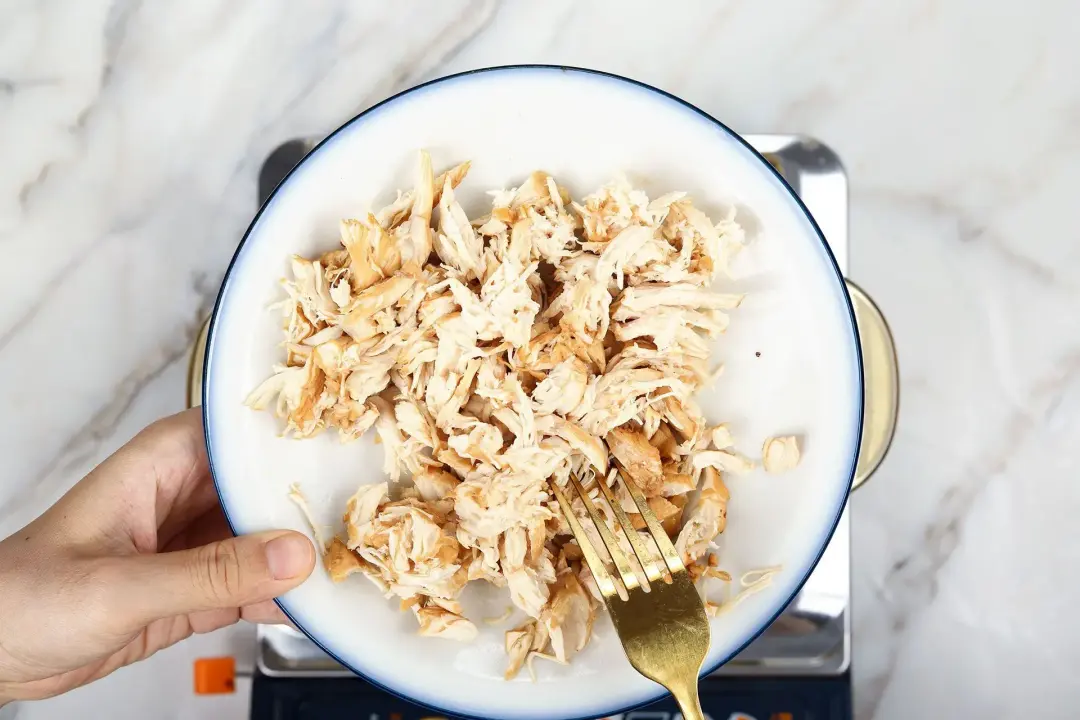 7
Add the chicken back along with tofu: Add the chicken back to the pot along with 3 oz soft tofu. Turn the heat back on medium.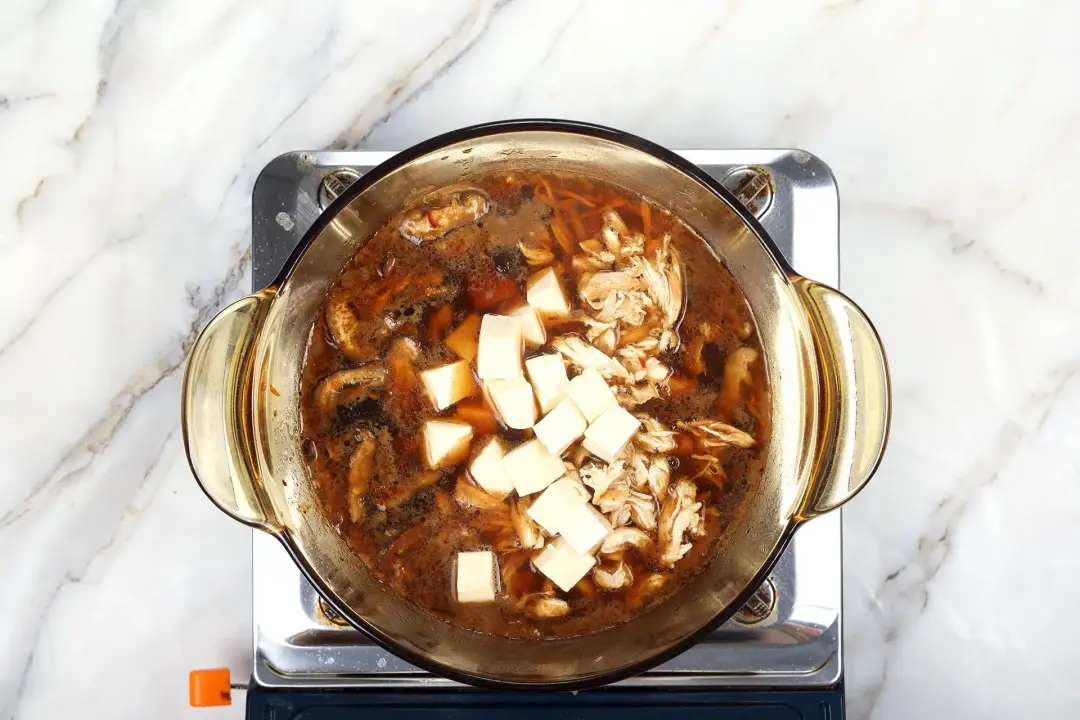 8
Thicken the soup: Stir together 2 tbsp water and 2 tbsp cornstarch in a bowl. When the soup bubbles, add the mixture to the soup and gently stir until thickened.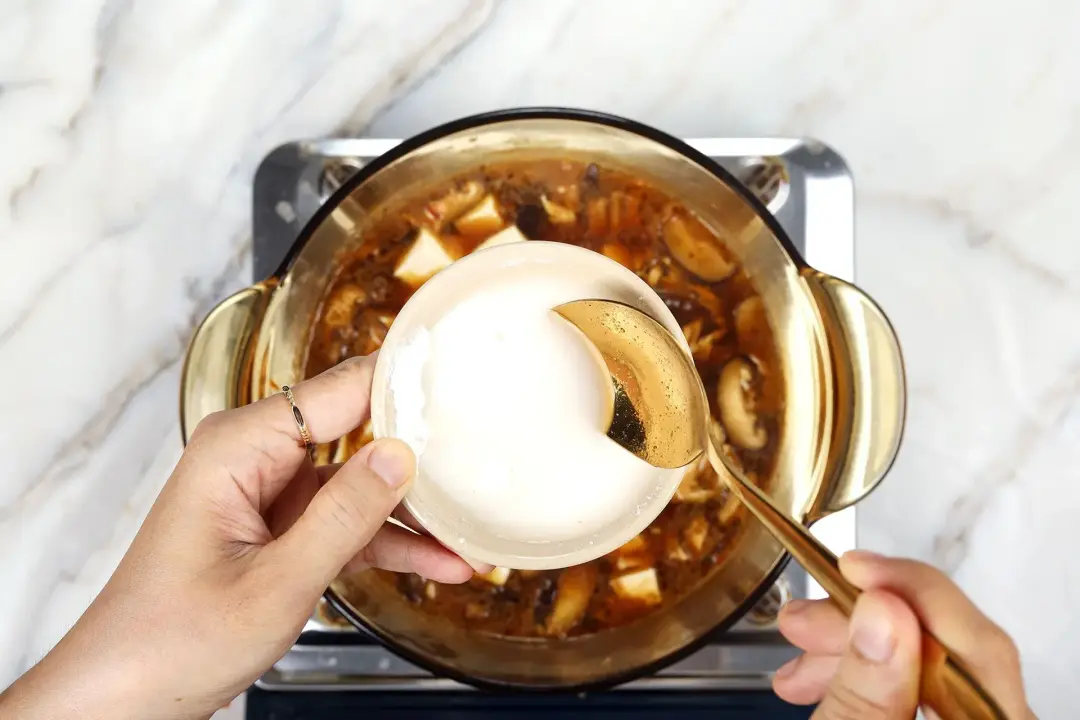 9
Stir in the egg: Crack an egg into a bowl and beat it. Stir the soup with one hand, gently, and slowly pour in the egg to create streaks. Just as the egg cooks, turn off the heat.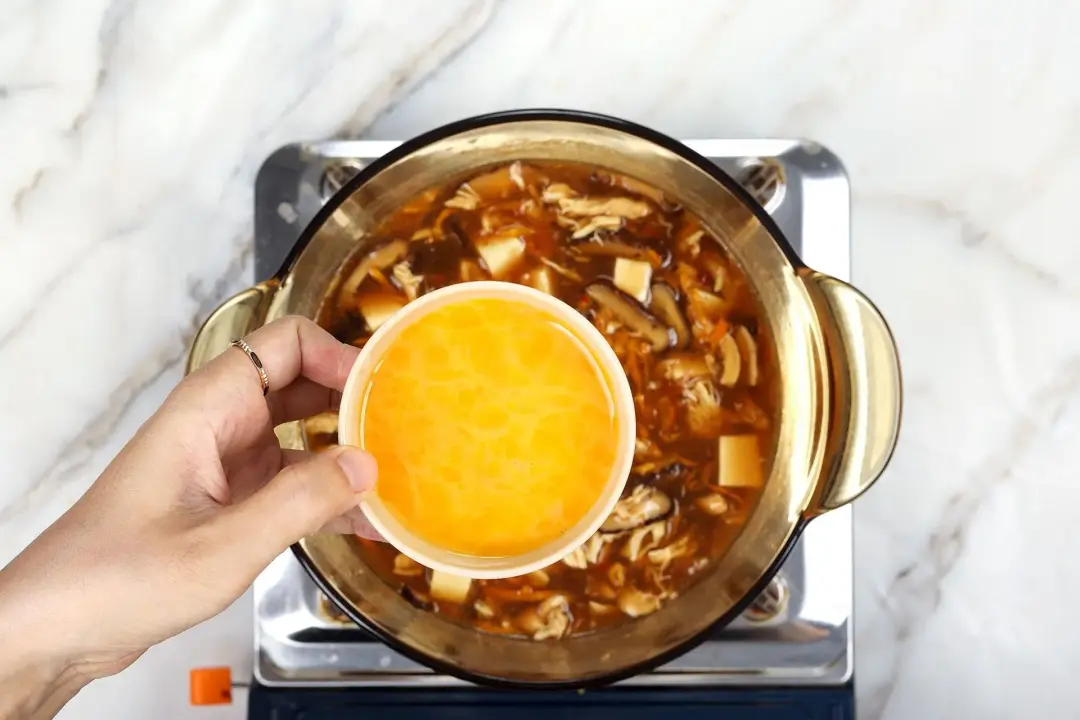 10
Serve the soup: Ladle the soup into serving bowls and sprinkle 2 tbsp chopped scallion on top.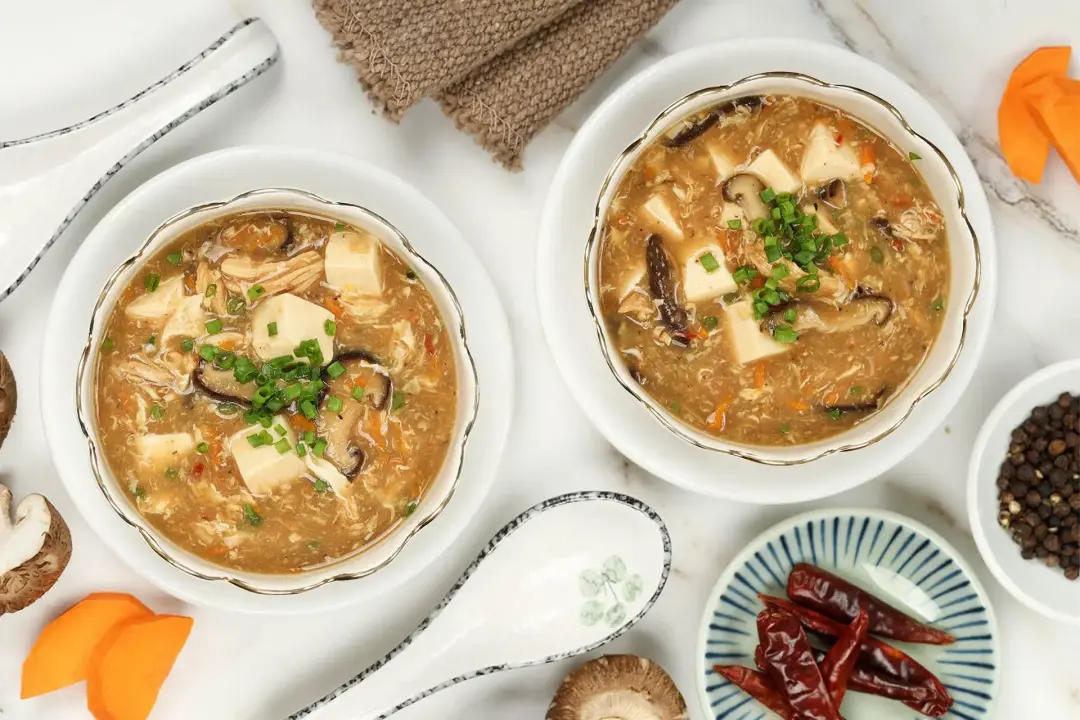 NUTRITION
Nutrition Facts
How to Make Hot and Sour Soup
Amount Per Serving (1 serving)
Calories 179
Calories from FDA
% Daily Value*
* Percent Daily Values are based on a 2000 calorie diet.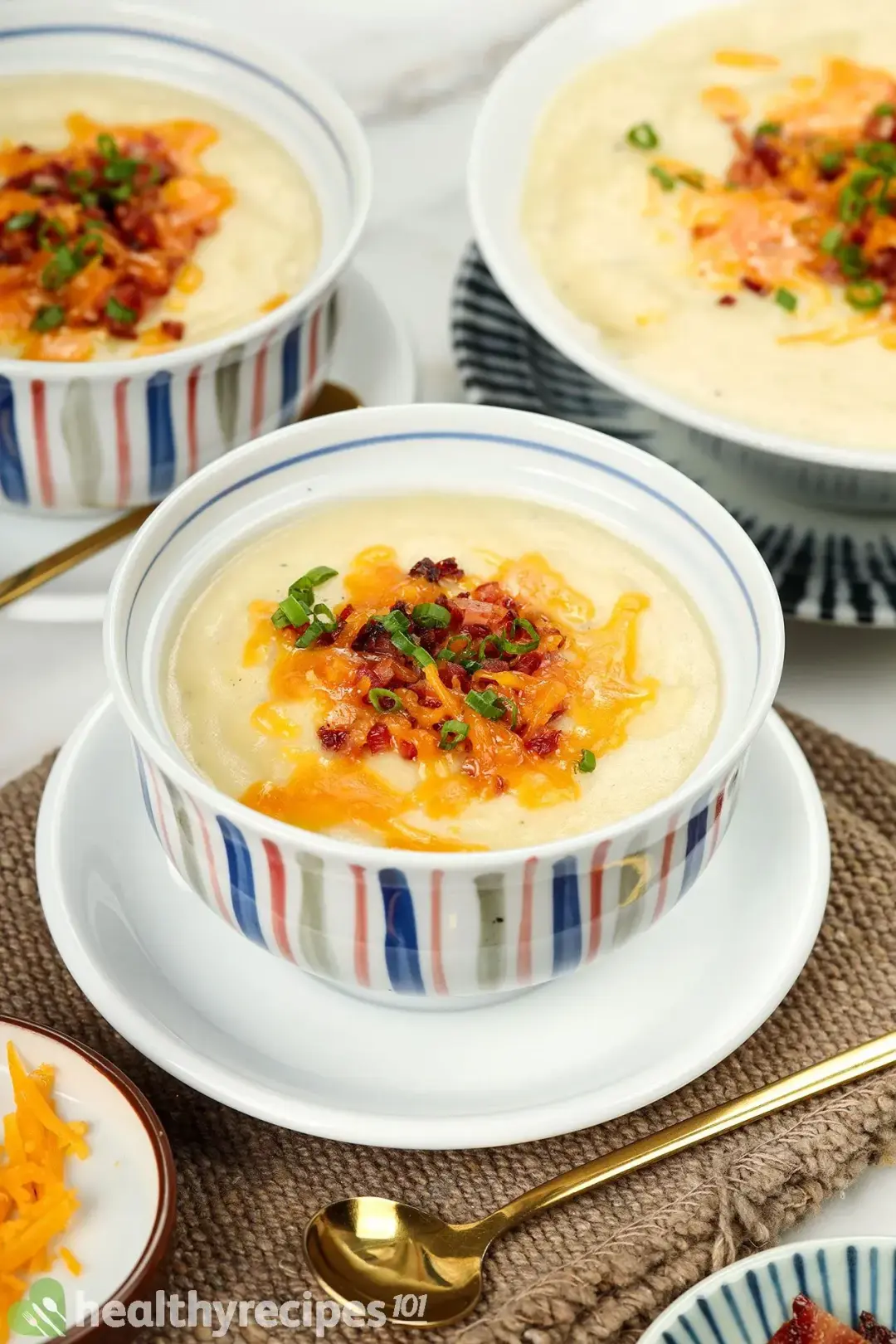 Previous Recipe
Potato Bacon Soup
Potato Bacon Soup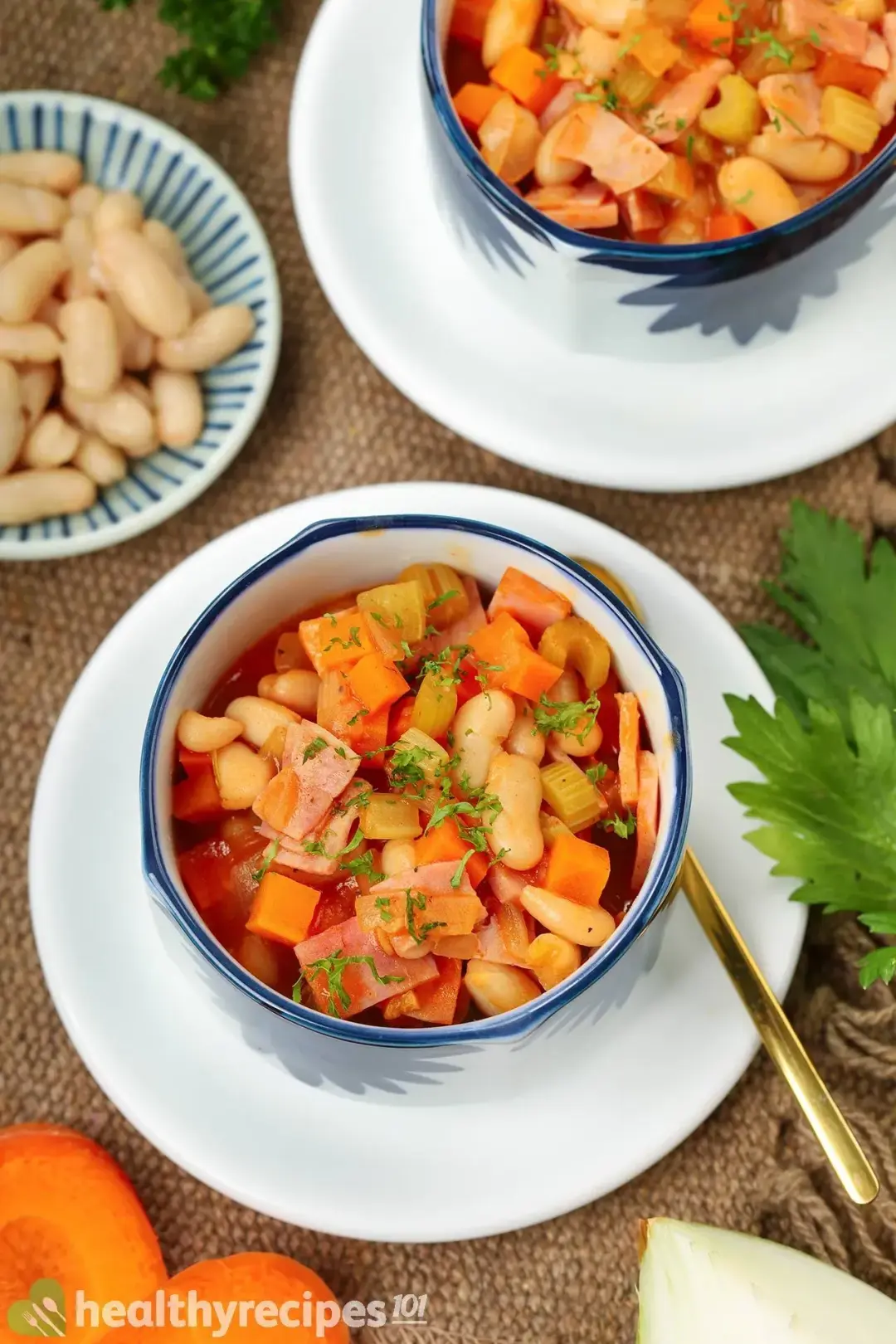 Next Recipe
Ham and Bean Soup
Ham and Bean Soup
Luna Regina
A writer and entrepreneur, Luna's day doesn't start at the computer keyboard, but in the kitchen.
Half of her working hours are spent on mixing ingredients for her recipes. The other half involve working with the tech team to research and test the tools and appliances that promise to make kitchen work effortless and mess-free. From a kitchen knife or water filter to the Instant Pot, if it can help save time and effort for the home cook, Luna and her team are on it.
Luna's extracurricular pastimes include camping, travel, and photography.