What we make with today's potato bacon soup recipe is both healthy and tasty.

How Healthy Is Our Potato Bacon Soup Recipe?
Bacon is considered unhealthy food. Hence, we crafted this recipe paying close attention to it so it's still your hearty potato bacon soup sans the elevated risks of a heart attack. 
In the end, we were happy with the results, the soup providing: 202 calories, 3.8 g saturated fats, and 293 mg sodium, coming in a filling portion. It's also creamy, savory, and has a strong smell of bacon and cheese.
As a side dish, this soup would make a healthy meal with something rich in protein, healthy fats, and fiber, like a chicken salad sandwich.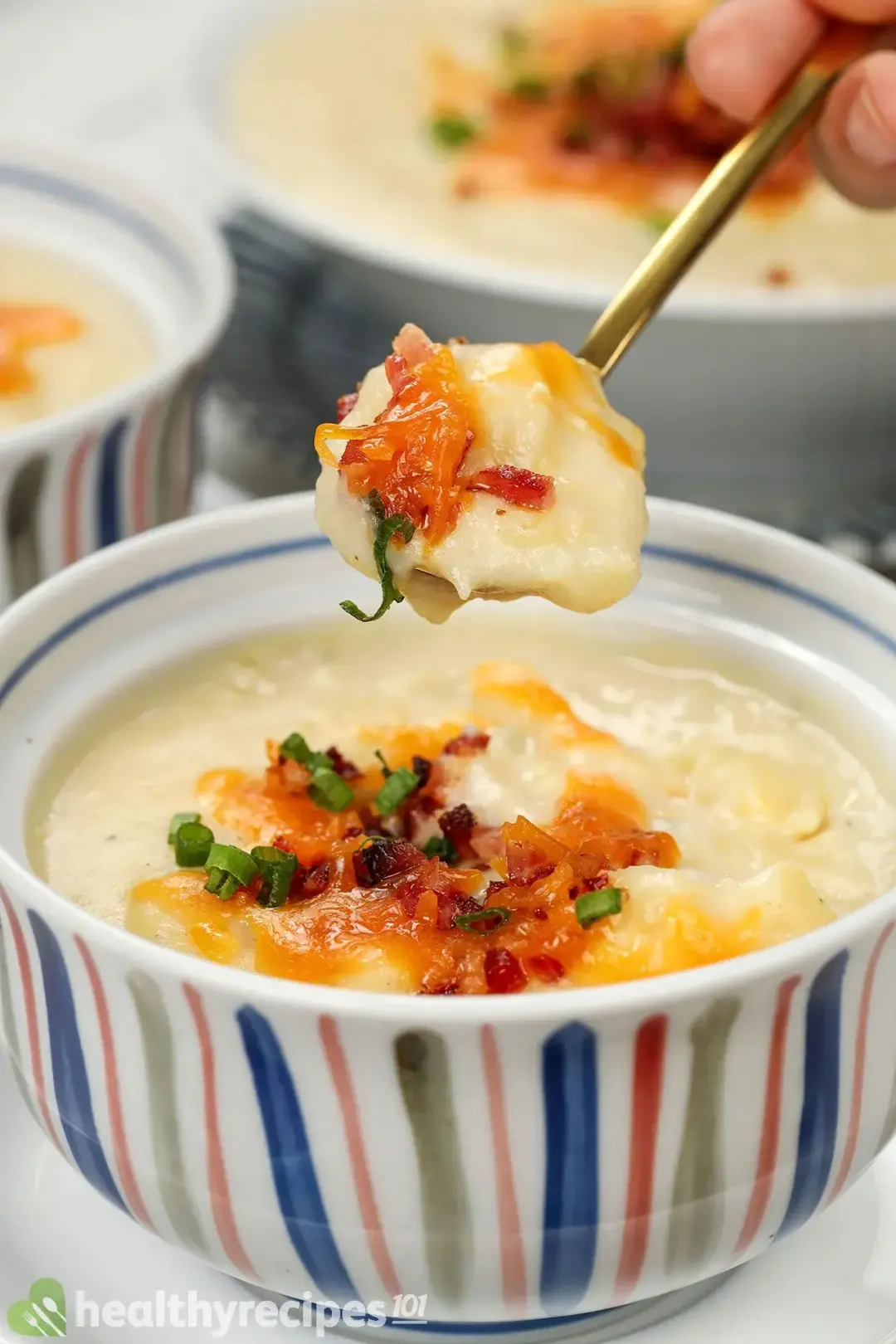 Ingredients for This Potato Bacon Soup Recipe
Potatoes: peeled and cut into small cubes. To speed up the cooking process, you can put them in a bowl, cover it with plastic wrap, and microwave on medium for 10 minutes and it should be tender enough to subtract 10 minutes from the total simmering time.
Bacon: pan-fried and crushed into bits. We used our air fryer instead and collected the fat for later use.
Cheese: good old shredded cheddar, to top the soup along with bacon.
Milk and Cream: to enrich the soup. The two are replaceable with half-and-half (details in the recipe card).
Broth: chicken broth, vegetable broth, or any other mild-flavored broth—beef or seafood broths add unnecessary bold flavors.
Seasonings: salt and pepper. Some paprika or cayenne to top the soup would be great as well.
Aromatics: garlic, onion, celery, and scallion. Celery is a vegetable, but in such a small amount, we consider it an aromatic.
The how-to is detailed in the recipe card with step-by-step instructions from prepping to cooking alongside illustrations.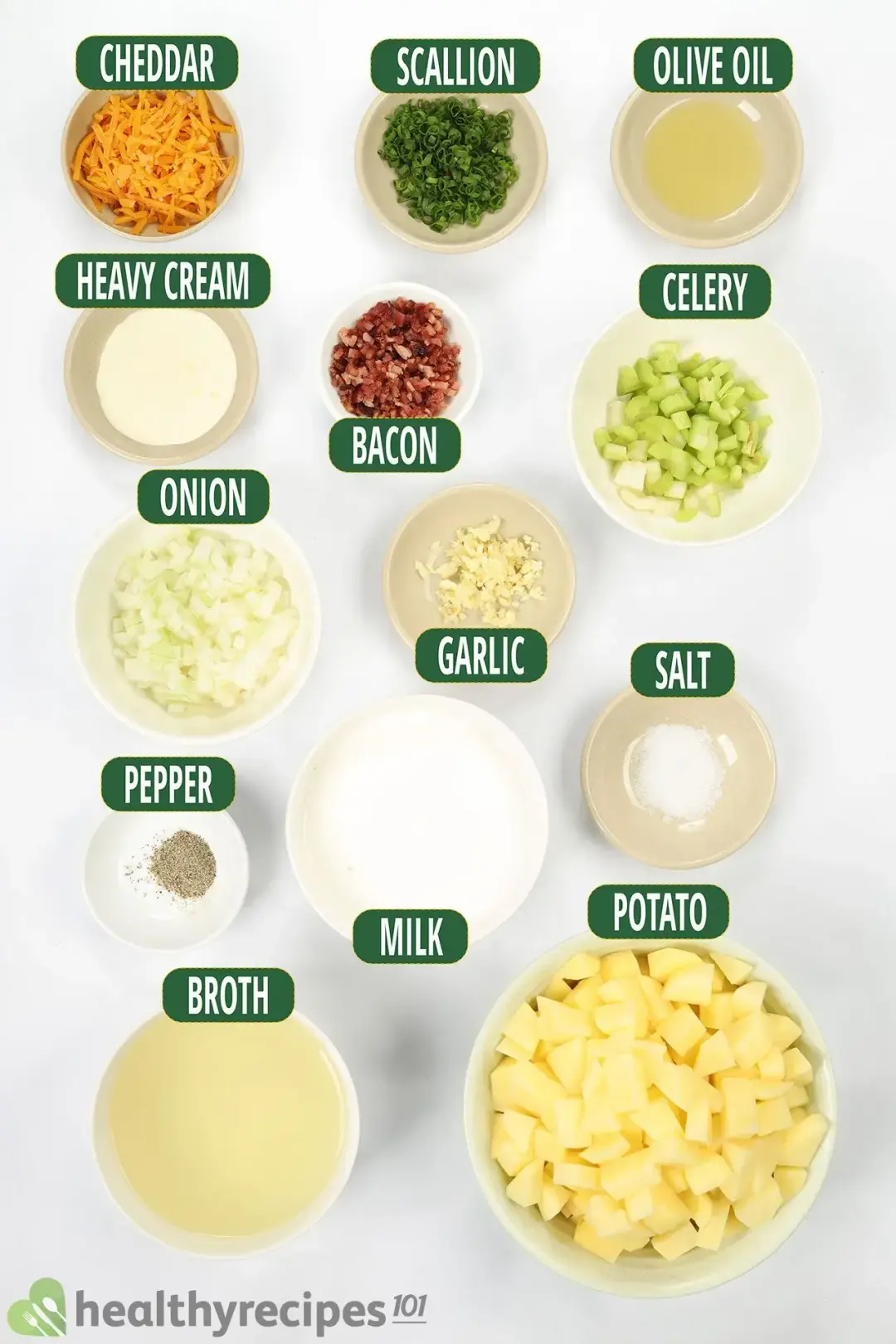 1. Can You Cook Raw Bacon in Soup?
Cooking raw bacon in soups turns out fatty, flimsy, and flavorless meat. It's considered a crime to some people, and of course, for good reason.
The beauty of bacon lies both in itself and in the way it's cooked. Each strip of meat comes with a good protein-fat ratio so, when seared or air-fried, the meat turns beautifully golden and crisp. It's not just the crispiness; it's also about the nutty, smoky depth of flavor developed only when it's cooked this way.
Plus, pan-frying bacon leaves behind plenty of fats that you can use for sautéing the aromatics and cooking the vegetables.
2. Things to Add to the Soup
Potato soup goes great with many ingredients. In fact, it has many different varieties.
Our leek and potato soup recipe is an example. Even without meat it has an amazing taste and aroma complexion.
Ham can be used to replace bacon, and that's also how our ham and potato soup was created. If you like ham more than bacon, we suggest you give the recipe a try.
If you're into sweet corn, stir in a handful of drained canned corn. Several sweet, juicy bites also make the soup more comforting.
Storing and Reheating
Once the soup has cooled down to room temperature, transfer it to a moderate container and refrigerate within 4 days. To freeze, portion the soup into several Ziploc bags, each holding 1 serving, and keep them in the freezer for up to 3 months.
To reheat, add the soup to a pot and simmer on low until bubbling.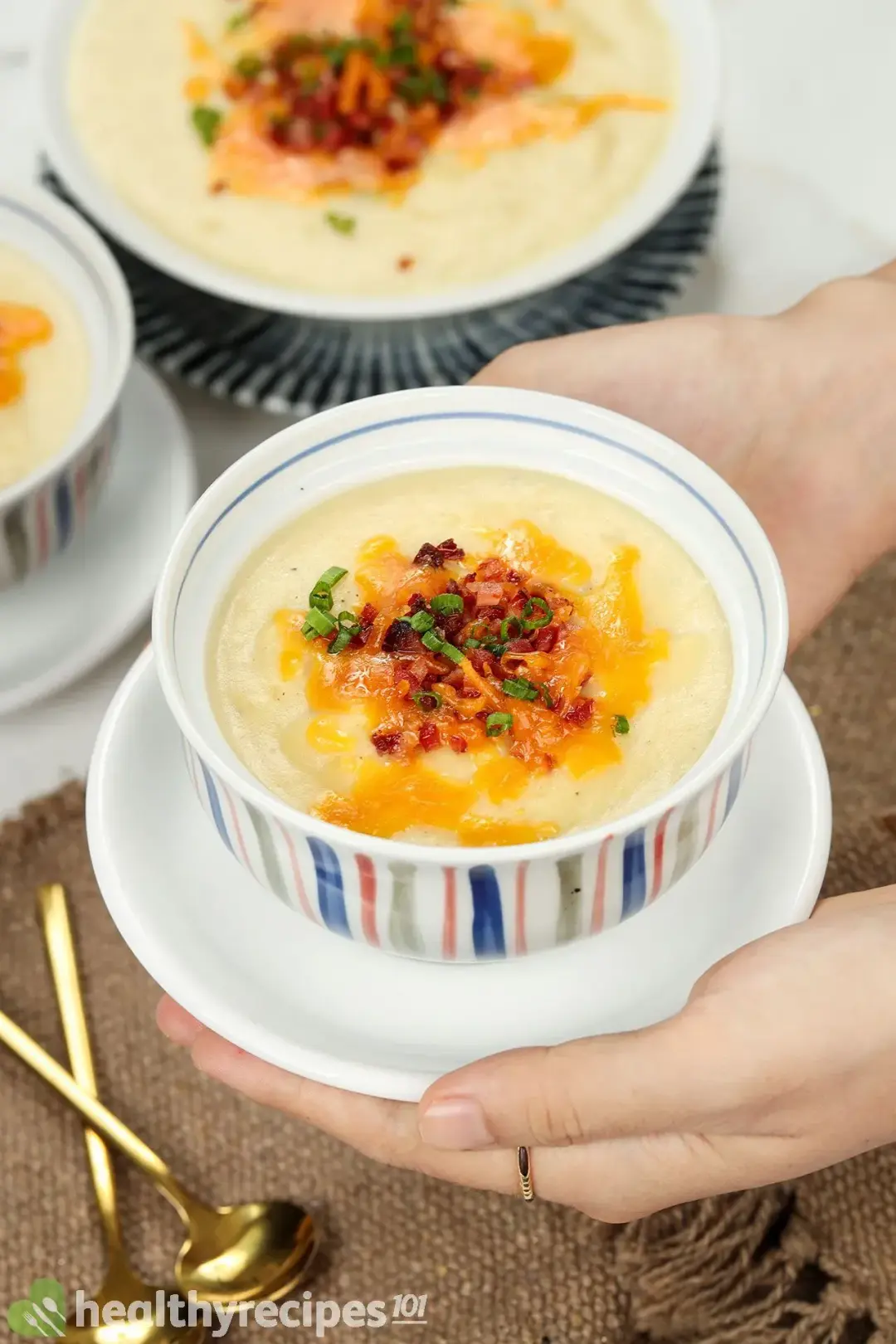 How to Make Potato Bacon Soup
Bacon and cheese aren't exactly healthy foods, but what we make with this potato bacon soup recipe is both delicious and healthy.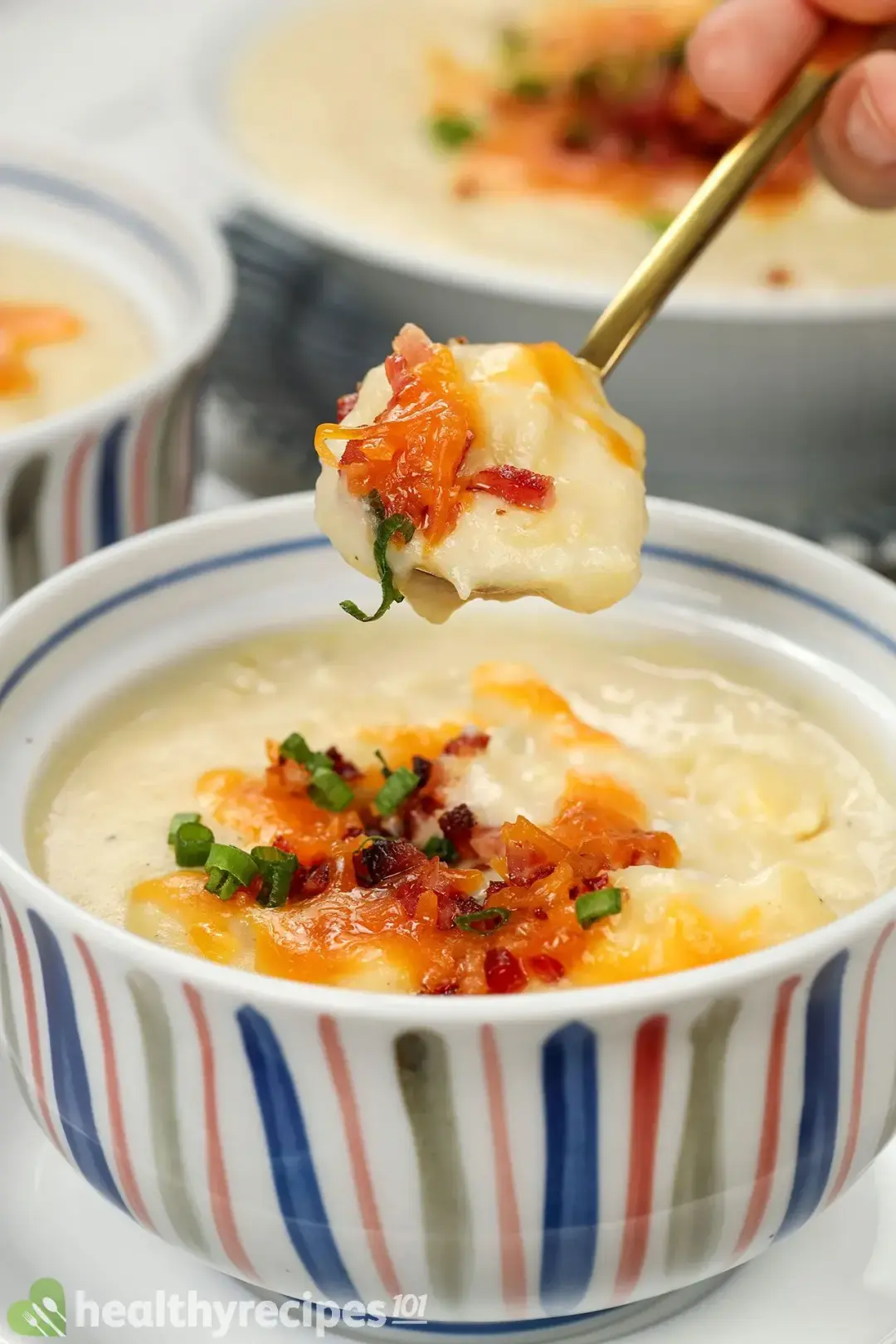 cook TIME

27 mins

prep TIME

8 mins

total TIME

35 mins
COURSE

Appetizer, Side Dish

CUISINE

Global

SERVINGS

servings

CALORIES

202 kcal
INGREDIENTS
0.5 tbsp

garlic finely chopped

2 oz

onion chopped

1 oz

celery chopped

18 oz

potatoes peeled and cubed

0.5 oz

cheddar cheese shredded

0.5 oz

pan-fried bacon chopped

2 tbsp

scallion chopped

0.5 tbsp

olive oil

1 cup

unsalted chicken broth (1 1/2 cup if using half and half instead of milk and cream)

1 cup

whole milk or 3/4 cup half and half

0.3 tsp

ground black pepper

0.3 tsp

salt

1.5 tbsp

heavy cream skipped if using half and half
INSTRUCTIONS
Prep:
1
Chop the garlic: Slice the roots off 2 garlic cloves, press them down with a knife, and peel away. Chop them finely and measure out about 1/2 tbsp garlic.
2
Chop the onion: Slice an onion in half, put one half away in the fridge, and peel the other half. Chop that half and measure out 2 oz.
3
Chop the celery: Slice the leaves off a celery stalk and put it away. Half the stalk lengthwise, and chop both halves. Measure out 1 oz celery.
4
Cut the potatoes: Peel 18 oz potatoes with a peeler, cut them into quarters, then half each quarter. Select the pieces that are larger than the rest and half them once again.
5
Shred the cheese: Shred some cheddar cheese with a grater and measure out 0.5 oz.
6
Prepare the bacon: Pan-fry some bacon (both sides) on medium heat until golden brown, and put the bacon fat away for later use. Slice the bacon lengthwise into 4-5 thin strips, chop the strips finely, and measure out 0.5 oz.
7
Chop the scallions: Finely chop some scallions and measure out 2 tbsp.
Cook:
1
Cook the aromatics: Heat 1/2 tbsp oil in a pot over medium heat. Add 1/2 tbsp garlic and 2 oz chopped onion to the pot, and stir for about 1 minute.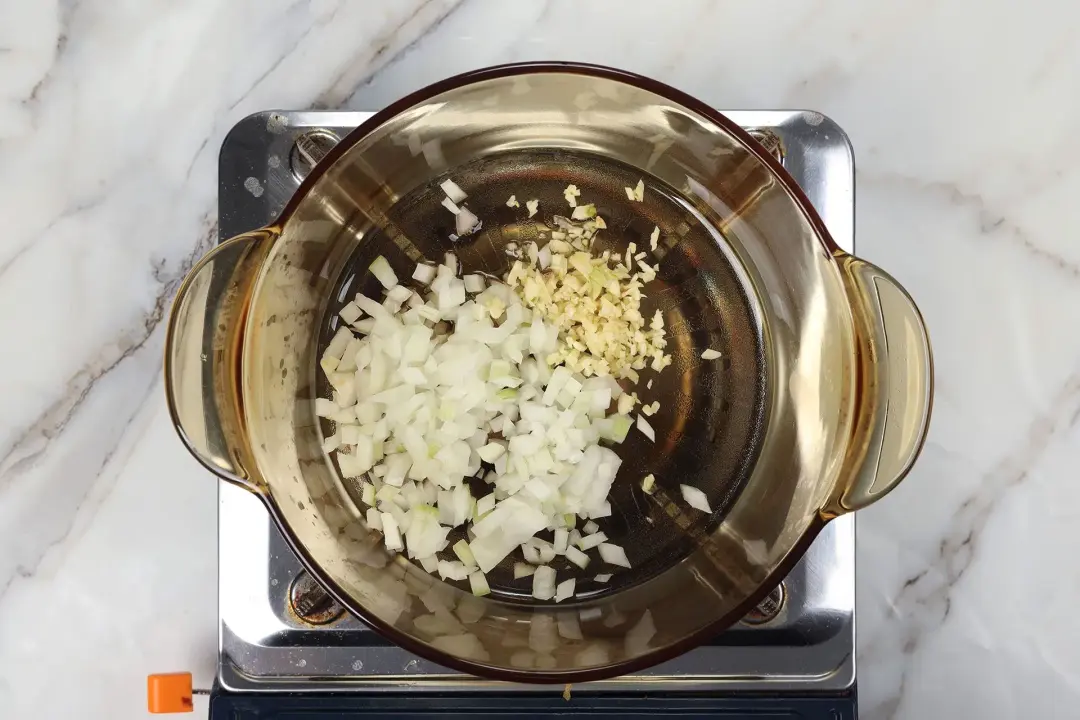 2
Add vegetables and seasonings: Add to the pot 18 oz potatoes, 1 oz celery, 1/4 tsp pepper, and 1/4 tsp salt. Stir to cook for about 2 minutes.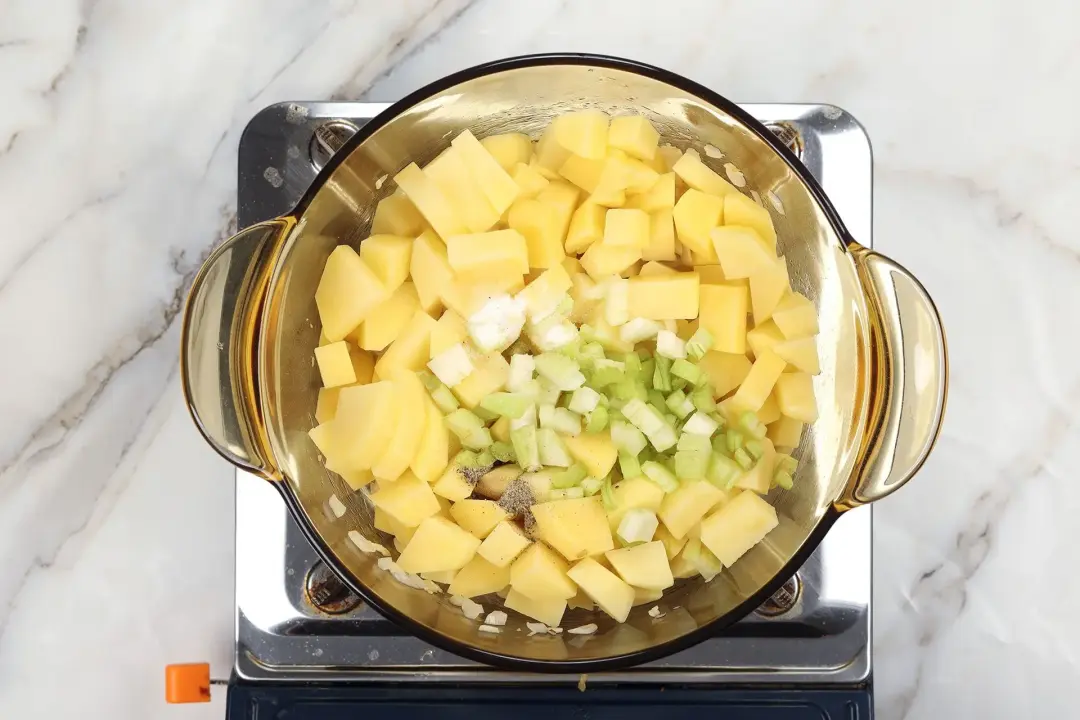 3
Add the liquids: Pour in 1 cup chicken broth and 1 cup whole milk. If using half and half instead of whole milk, use 3/4 cup instead of 1 cup, skip the cream, and use 1 1/2 cup chicken broth instead of 1 cup.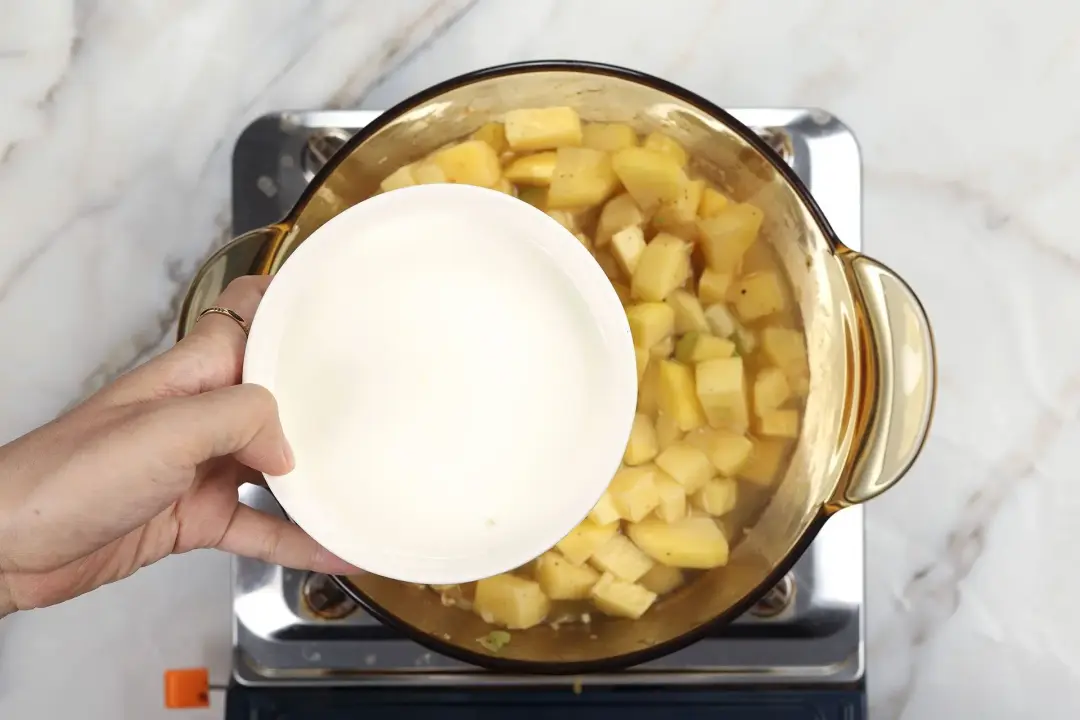 4
Simmer the soup: Simmer everything on medium heat for 20 minutes.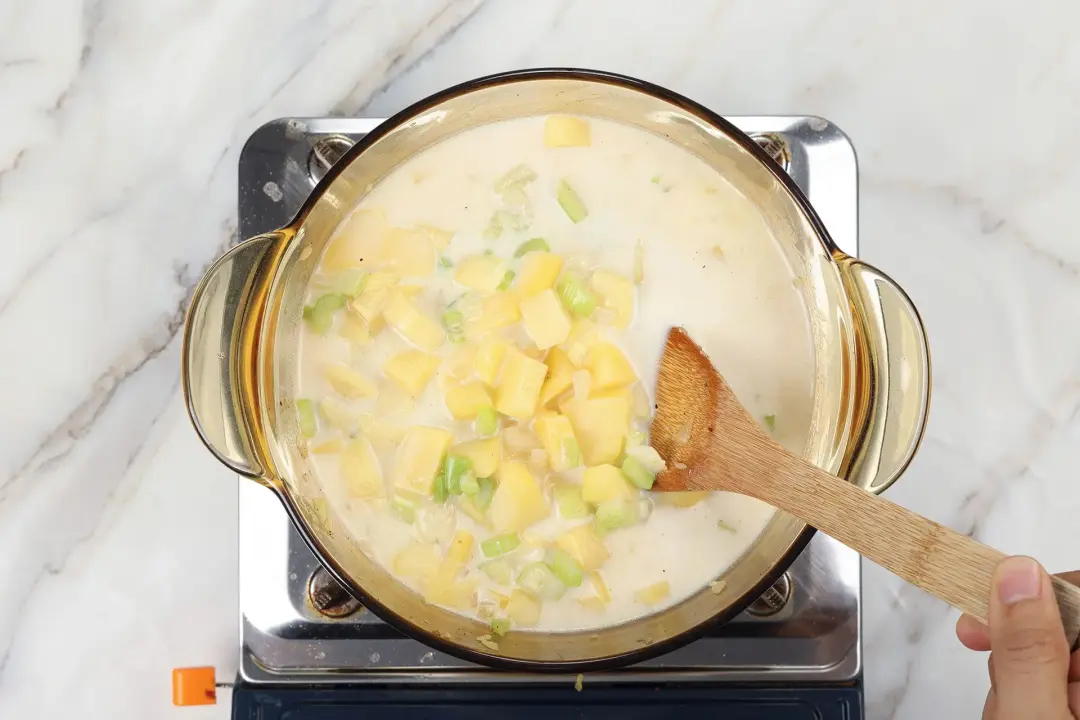 5
Add the cream: Stir in 1 1/2 tbsp heavy cream. Again, skip heavy cream if you're using half and half.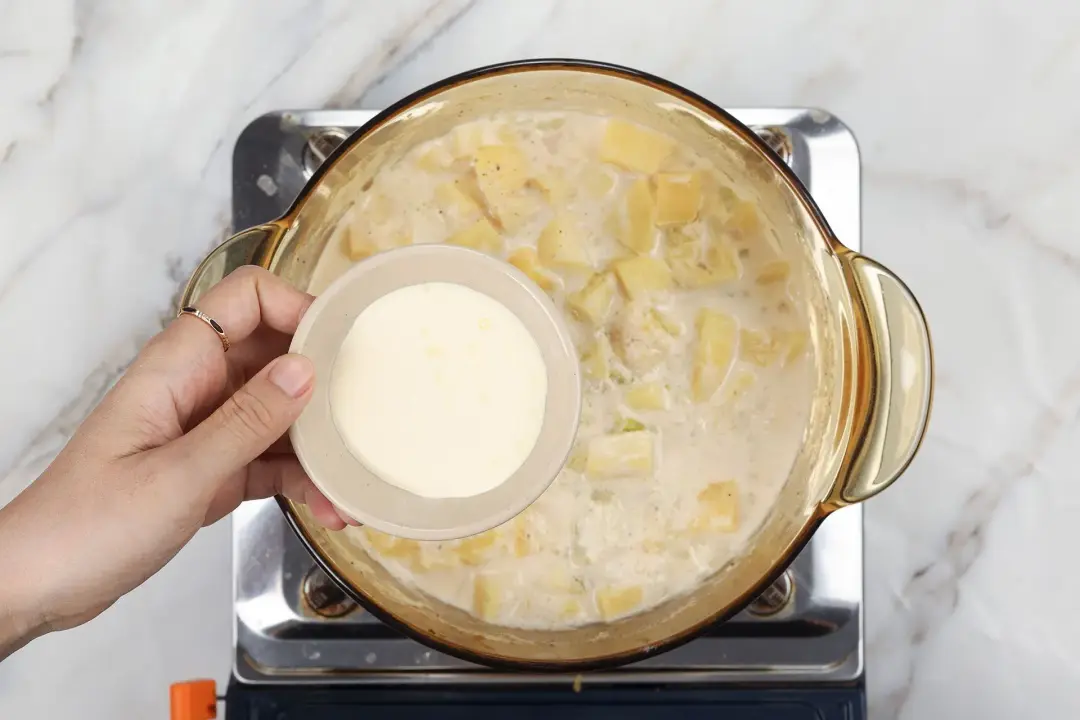 6
Blend the soup: Blend the soup with an immersion blender until smooth. You can also use a regular blender but make sure to work with the soup in 2-3 batches to avoid spillage.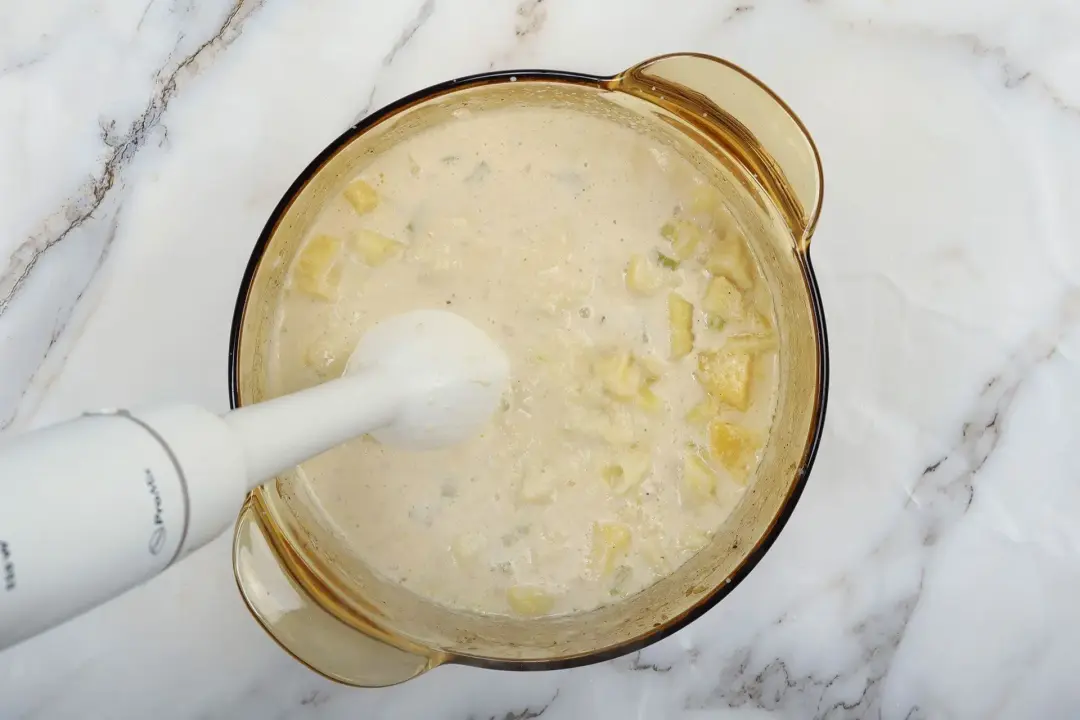 7
Serve the soup: Ladle the soup into four serving bowls. Sprinkle on top 2 tbsp chopped scallion, 0.5 oz shredded cheddar cheese, and 0.5 oz chopped bacon.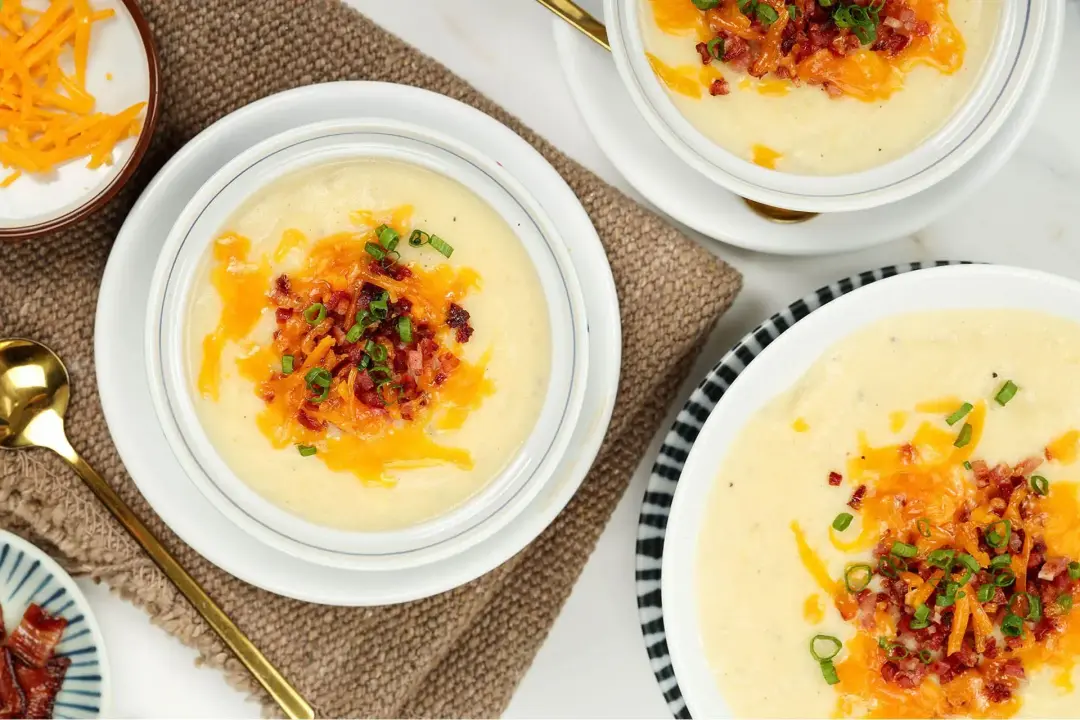 NUTRITION
Nutrition Facts
How to Make Potato Bacon Soup
Amount Per Serving (1 serving)
Calories 202
Calories from FDA
% Daily Value*
* Percent Daily Values are based on a 2000 calorie diet.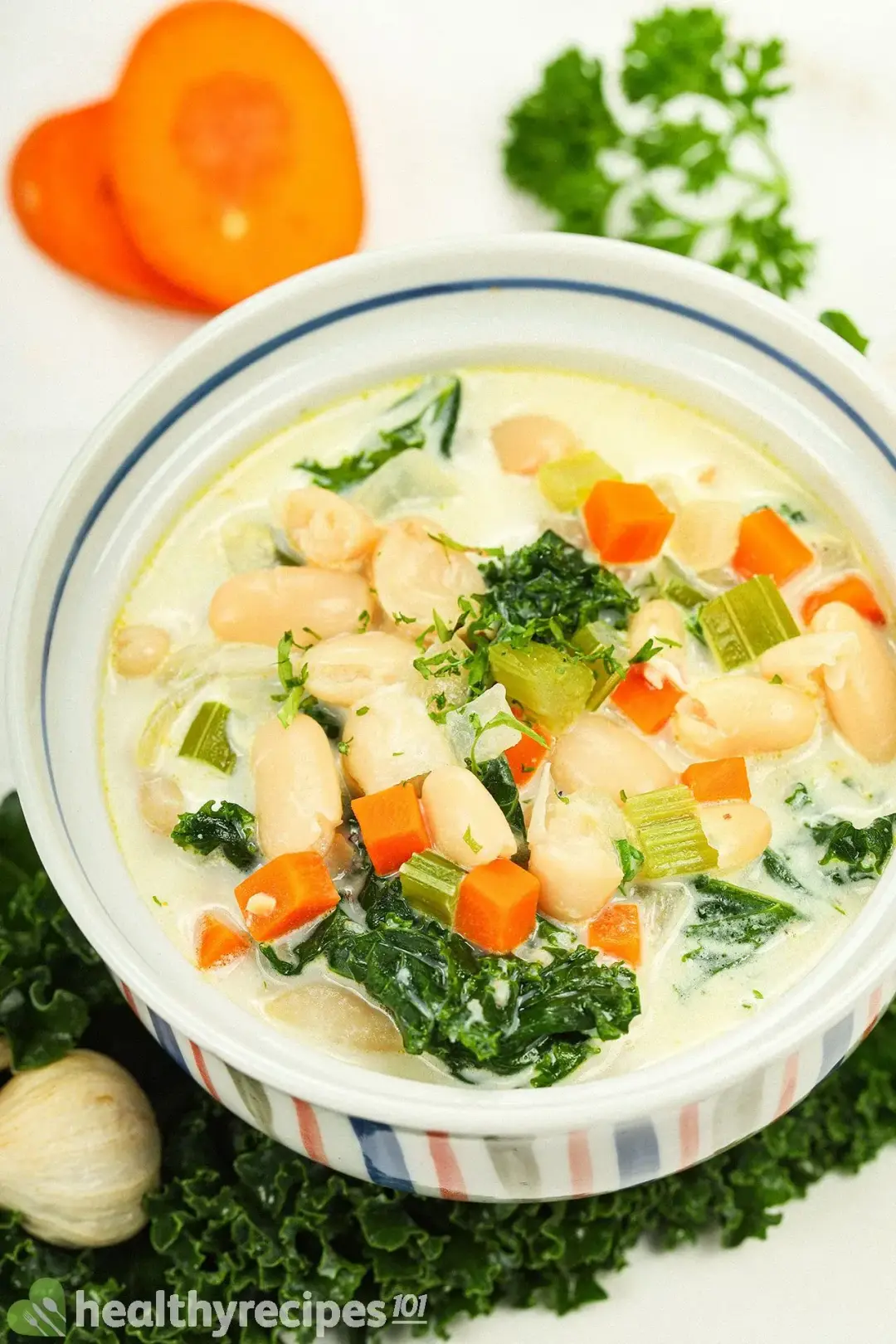 Previous Recipe
White Bean and Kale Soup
White Bean and Kale Soup
Next Recipe
Hot and Sour Soup
Hot and Sour Soup
Luna Regina
A writer and entrepreneur, Luna's day doesn't start at the computer keyboard, but in the kitchen.
Half of her working hours are spent on mixing ingredients for her recipes. The other half involve working with the tech team to research and test the tools and appliances that promise to make kitchen work effortless and mess-free. From a kitchen knife or water filter to the Instant Pot, if it can help save time and effort for the home cook, Luna and her team are on it.
Luna's extracurricular pastimes include camping, travel, and photography.