With today's ham and bean soup recipe, your meal prep will be a breeze.
We love to cook, but prepping vegetables like carrots can be a nightmare. They roll around; they're tough to slice through. So much attention needs to be paid to such a simple recipe, takeouts suddenly begin to make more sense.
It doesn't have to be like that, for in today's recipe, we use frozen cubed carrots. You can also get frozen onion, celery, and garlic already chopped up too. It just makes so much sense for busy days.
How Good Is the Soup Exactly?
The pork flavor is complemented by lighter, hearty flavors from the vegetables. The broth has a mild savoriness and tanginess from tomato paste, which also lends it a stunning color. It's kept simple with salt and pepper as the only seasonings, making it an ideal side to pair with whatever main dish you have for the day.
Nonetheless, it tastes so good to us that it feels like a main dish on its own.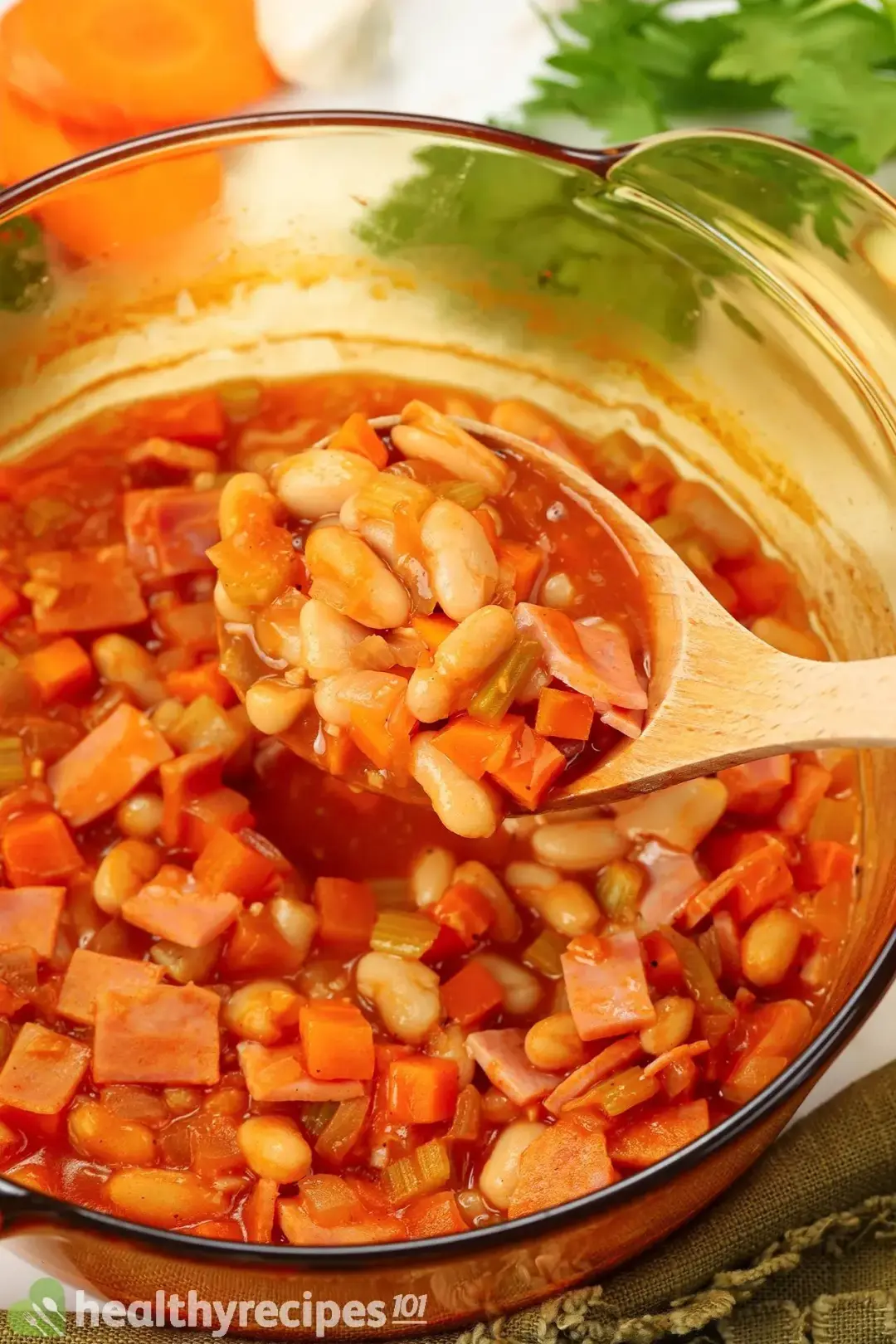 Is Ham and Bean Soup Healthy?
With lots of vegetables and beans in it, this soup is indeed nutritious:
Vitamin A, calcium, iron, etc. from carrots.
Vitamin B6, iron, magnesium, etc. from kidney beans.
Without dairy products, the soup is low in saturated fats. The 130 calories in each serving come mostly from nutrient-dense ingredients.
We used 2 oz of ham per 4 servings; all of it thinly sliced to find its way into every spoonful. This way, the sodium level is kept at 292 mg per serving, a fitting amount for a side dish.
Ingredients for Our Ham and Bean Soup Recipe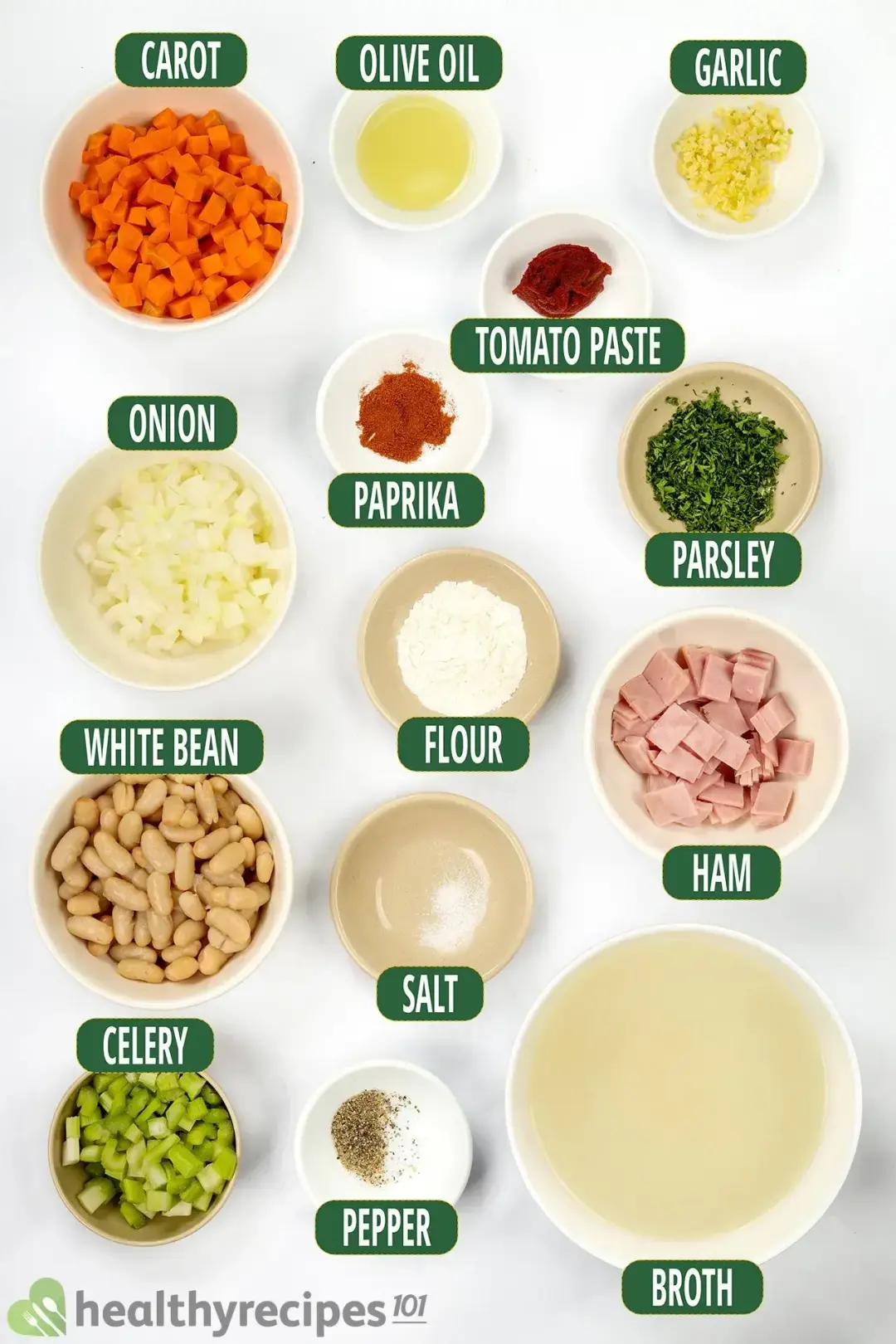 Ham: we use SPAM, but the kind that's lower in sodium rather than the typical one. Link for purchase is in the recipe card.
Aromatics and vegetables: garlic, onion, carrot, onion, celery, and parsley. We call for more carrot than onion and celery, but it shouldn't be a problem should you decide to go for the frozen veg mix.
White beans: drained canned beans. You can use fresh beans, but they require at least 2 hours to soak and another 1 hour to boil.
Seasonings: tomato paste, salt, pepper, and paprika.
Stock: chicken stock. You can also use vegetable stock or pork bone stock.
Thickener: all-purpose flour.
What Else Can You Add to This Soup?
This soup also welcomes additions.
Leafy greens like spinach, kale, cabbage, or napa cabbage add nice textures to the soup and not a lot of calories. They also come with additional nutrients and fiber.
Starchy vegetables like potatoes add healthy carbs and calories to the soup, should your diet require a higher amount of calories.
For even more proteins, leftover chicken or pork are ideal fixings. Dry and tough cuts like chicken breasts or pork shoulders will be revitalized.
Storing and Reheating
This soup keeps well in the fridge for up to 4 days, or in the freezer for up to 3 months.
To freeze, divide the soup into portions and put each portion into a separate Ziploc bag. To reheat, loosen the soup by rinsing the bag underwater for a few seconds, then heat the soup over medium heat until bubbling.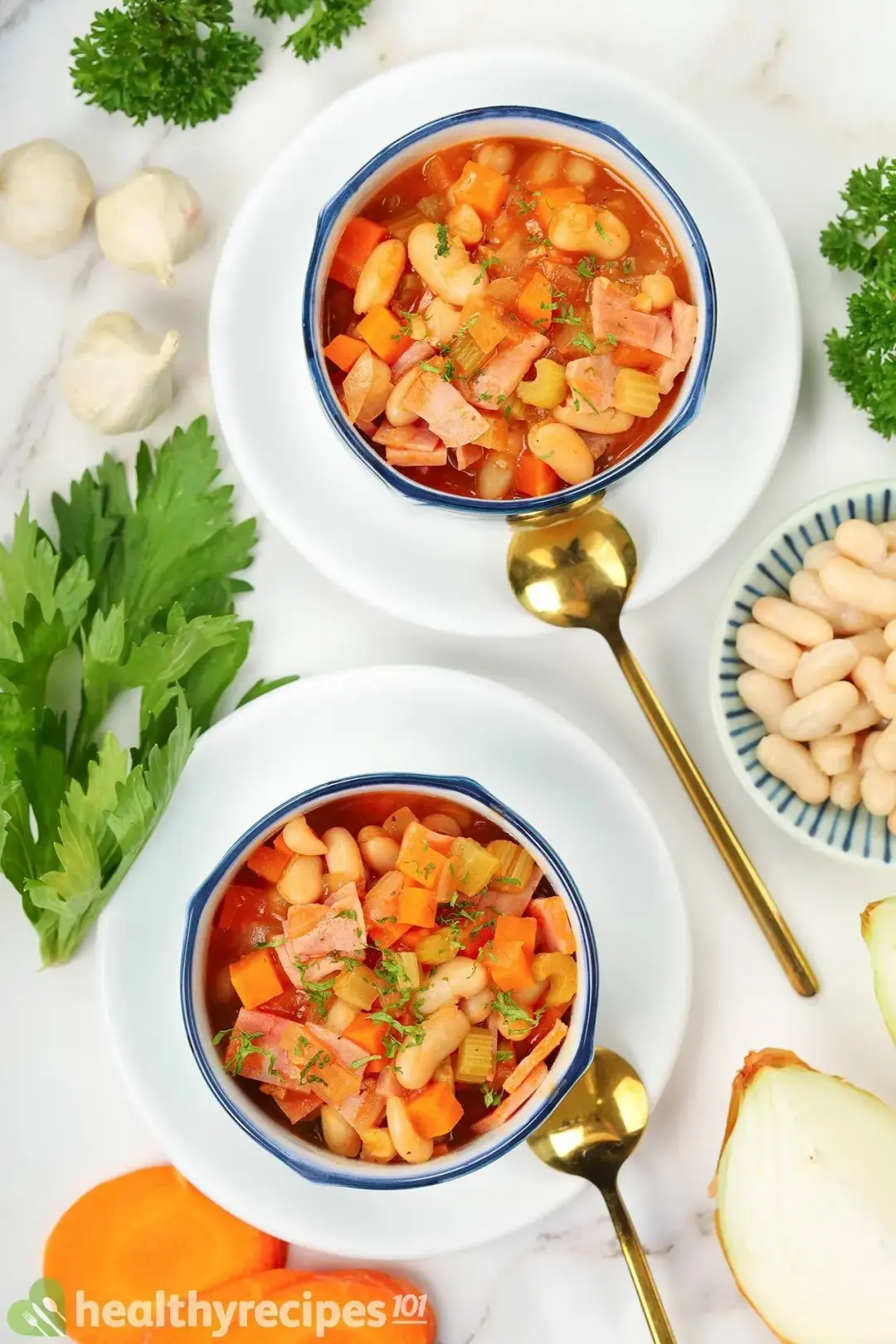 How to Make Ham and Bean Soup
This ham and bean soup recipe takes just a few minutes to prepare and makes a hearty, simple soup. It's perfect to serve on any occasion.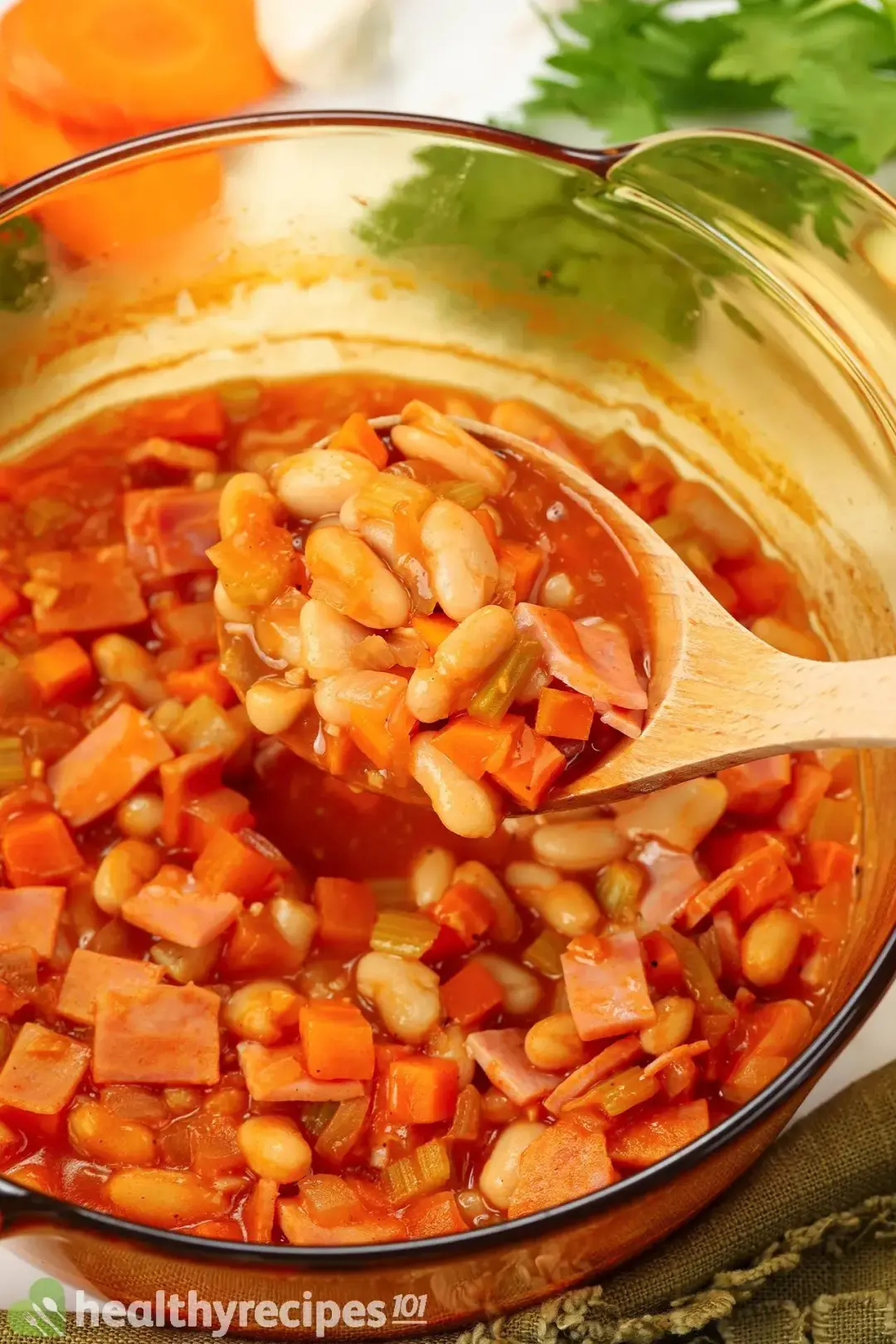 cook TIME

27 mins

prep TIME

8 mins

total TIME

35 mins
COURSE

Appetizer, Side Dish

CUISINE

Global

SERVINGS

servings

CALORIES

130 kcal
INGREDIENTS
1 tbsp

garlic finely chopped

2 oz

onion chopped

2 oz

celery chopped

4 oz

carrot chopped

2 tbsp

parsley finely chopped

6 oz

low-sodium canned white bean drained and rinsed

2 oz

ham cut into 1/4" x 1/4" slices

1 tbsp

olive oil

1 tbsp

Hunt's tomato paste

0.5 tsp

paprika

0.3 tsp

ground black pepper

0.1 tsp

salt

1 tbsp

all-purpose flour

2.3 cups

unsalted chicken broth
INSTRUCTIONS
Prep:
1
Chop the garlic: slice away the root of 3 cloves of garlic, press them down with the side of a knife, and remove the peel. Chop them finely then measure out about 1 tbsp.
2
Chop the onion: Slice an onion in half, put one half away in the fridge, and peel the other half. Chop that half and measure out 2 oz.
3
Chop the celery: Slice the leaves off a celery stalk and put it away. Half the stalk lengthwise, and chop both halves. Measure out 2 oz celery.
4
Chop the carrot: Peel and cut out a carrot segment that weighs 4 oz. Cut it into 1/8" slices, then into fingers, and finally into cubes. You can also use frozen carrots.
5
Chop the parsley: Chop 4-5 parsley branches and measure out 2 tbsp.
6
Drain the white beans: Open a can of white beans, drain all, rinse, then measure out 6 oz. Put the rest back in the can, add fresh water, and refrigerate.
7
Cut the ham: Cut the ham into 1/4" slices and measure out 2 oz. Cut it into fingers, then the fingers into thin slices.
Cook:
1
Stir-fry the aromatics: Heat 1 tbsp olive oil in a non-stick pot over medium heat for 1 minute. Add 1 tbsp garlic and 2 tbsp onion and sauté for 30 seconds. If using packaged vegetables with onion, celery, and carrot, leave the onion for the next step.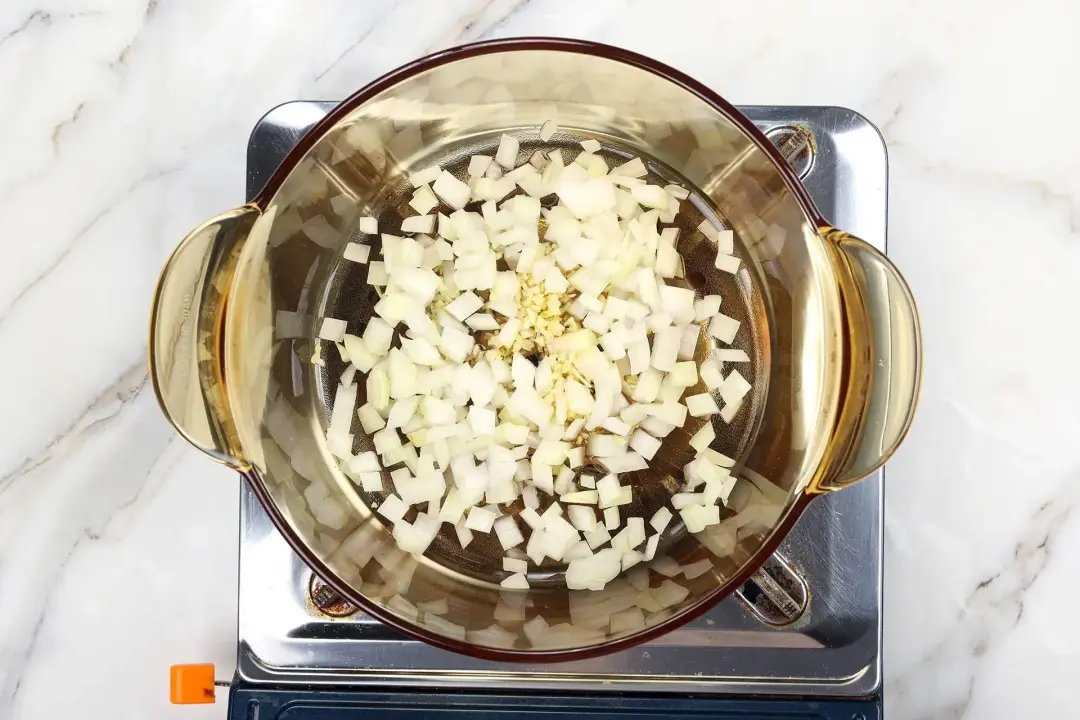 2
Add the veg and seasonings: Add 2 oz celery and 4 oz carrot (along with 2 oz onion if using a 3-in-1 veg pack). Add 1 tbsp tomato paste, 1/2 tsp paprika, 1/4 tsp pepper, and 1/8 tsp salt, and stir to cook for 2 minutes.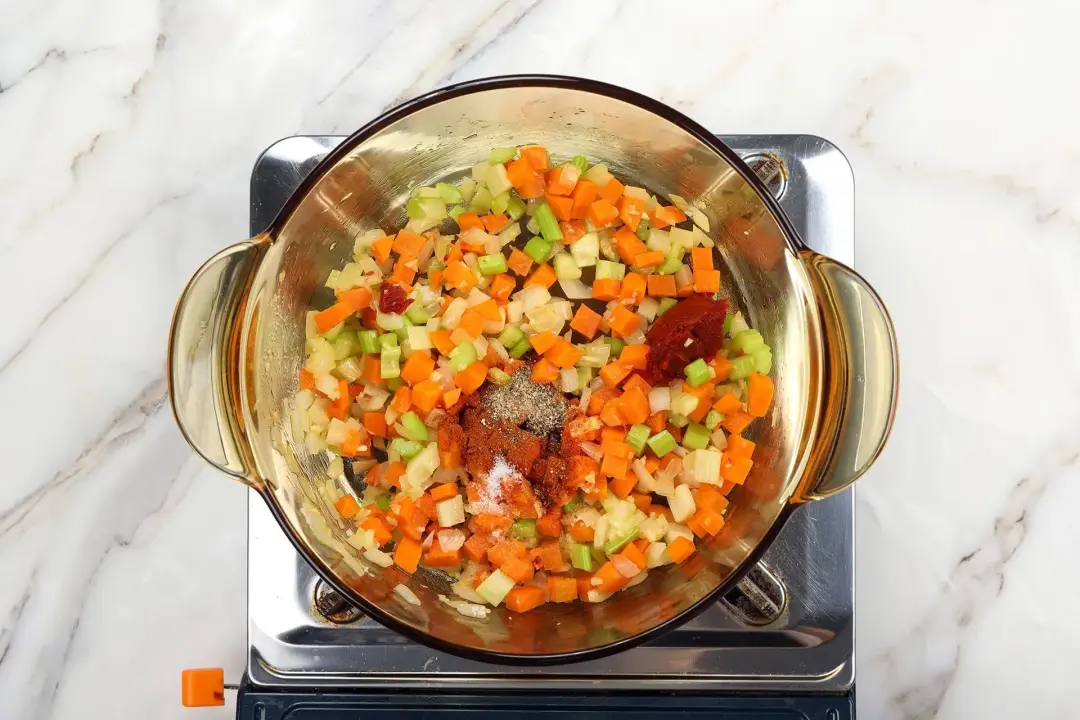 3
Add flour: Stir in 1 tbsp all-purpose flour and stir to cook for about 1 minute.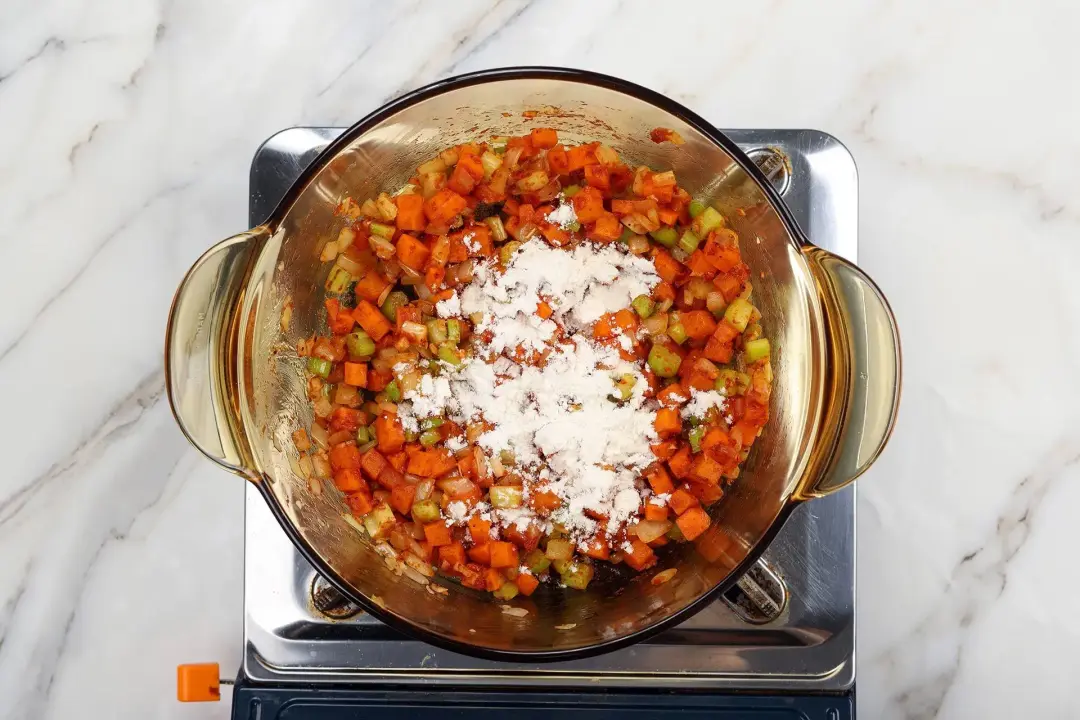 4
Add broth and simmer: Pour in 2 1/4 cups unsalted chicken broth and cook on medium heat for 20 minutes.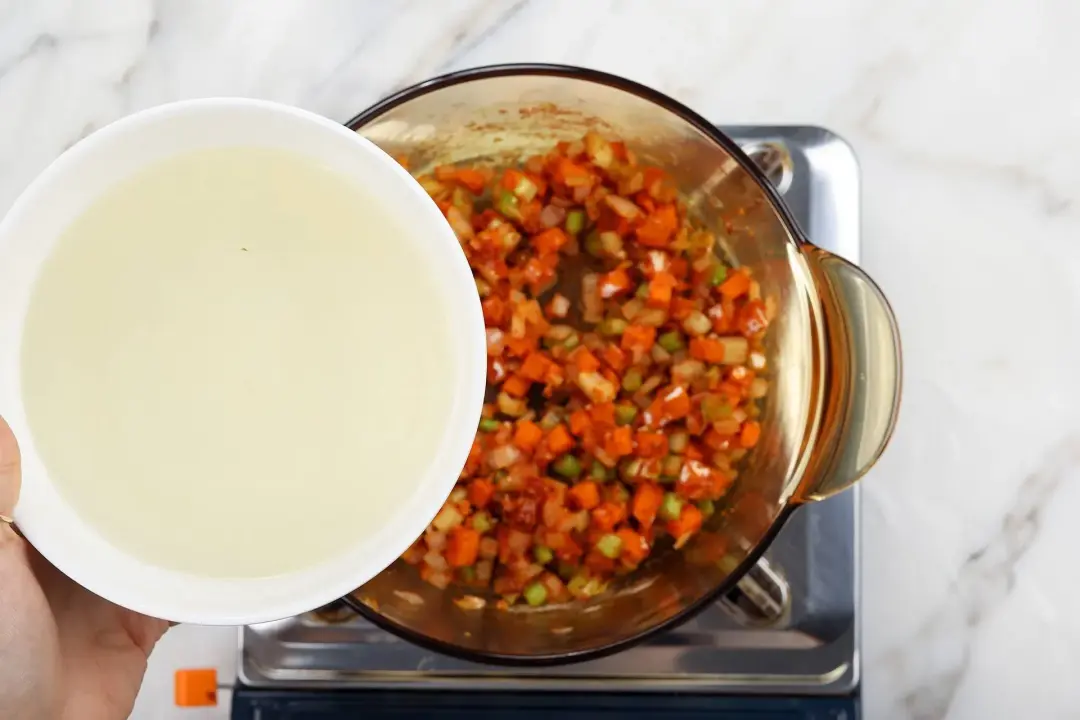 5
Add beans and SPAM: Add 6 oz canned white beans and 2 oz sliced SPAM. Stir and let simmer for 2 more minutes.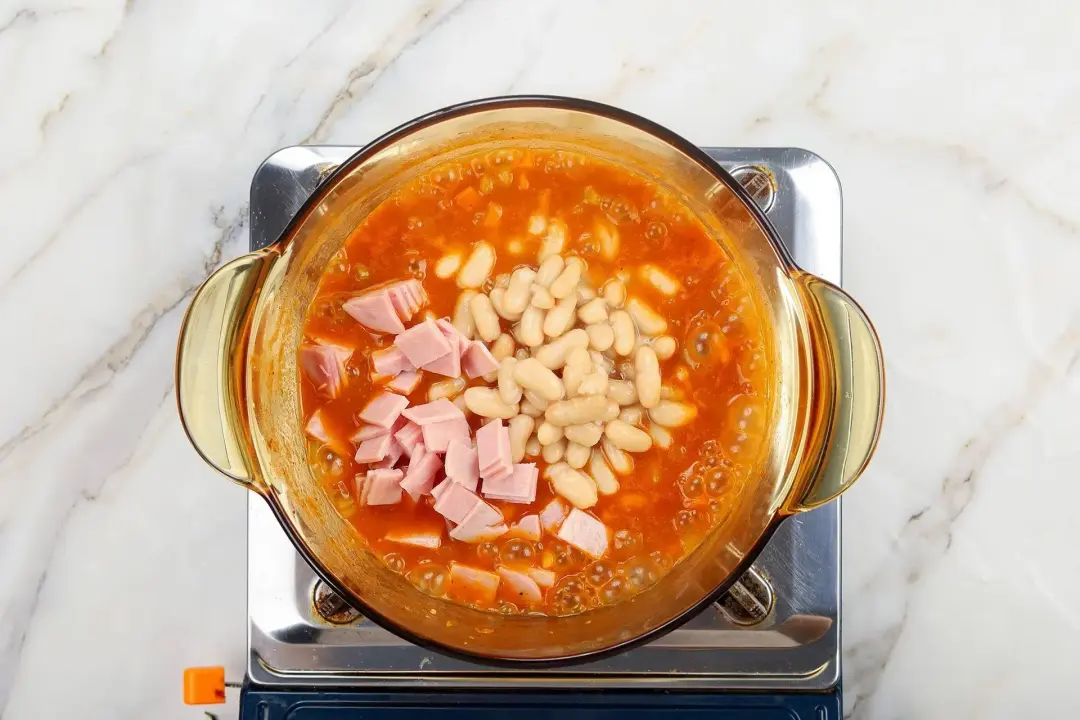 6
Serve: Ladle into serving bowls and sprinkle with 2 tbsp parsley.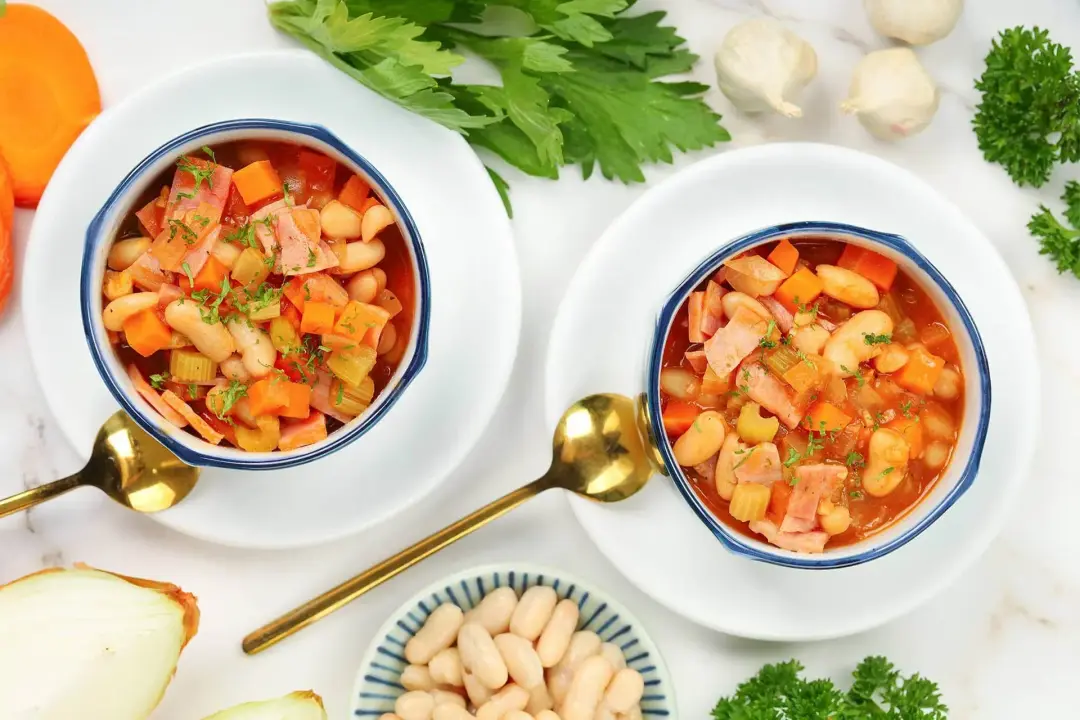 NUTRITION
Nutrition Facts
How to Make Ham and Bean Soup
Amount Per Serving (1 serving)
Calories 130
Calories from FDA
% Daily Value*
* Percent Daily Values are based on a 2000 calorie diet.
Previous Recipe
Hot and Sour Soup
Hot and Sour Soup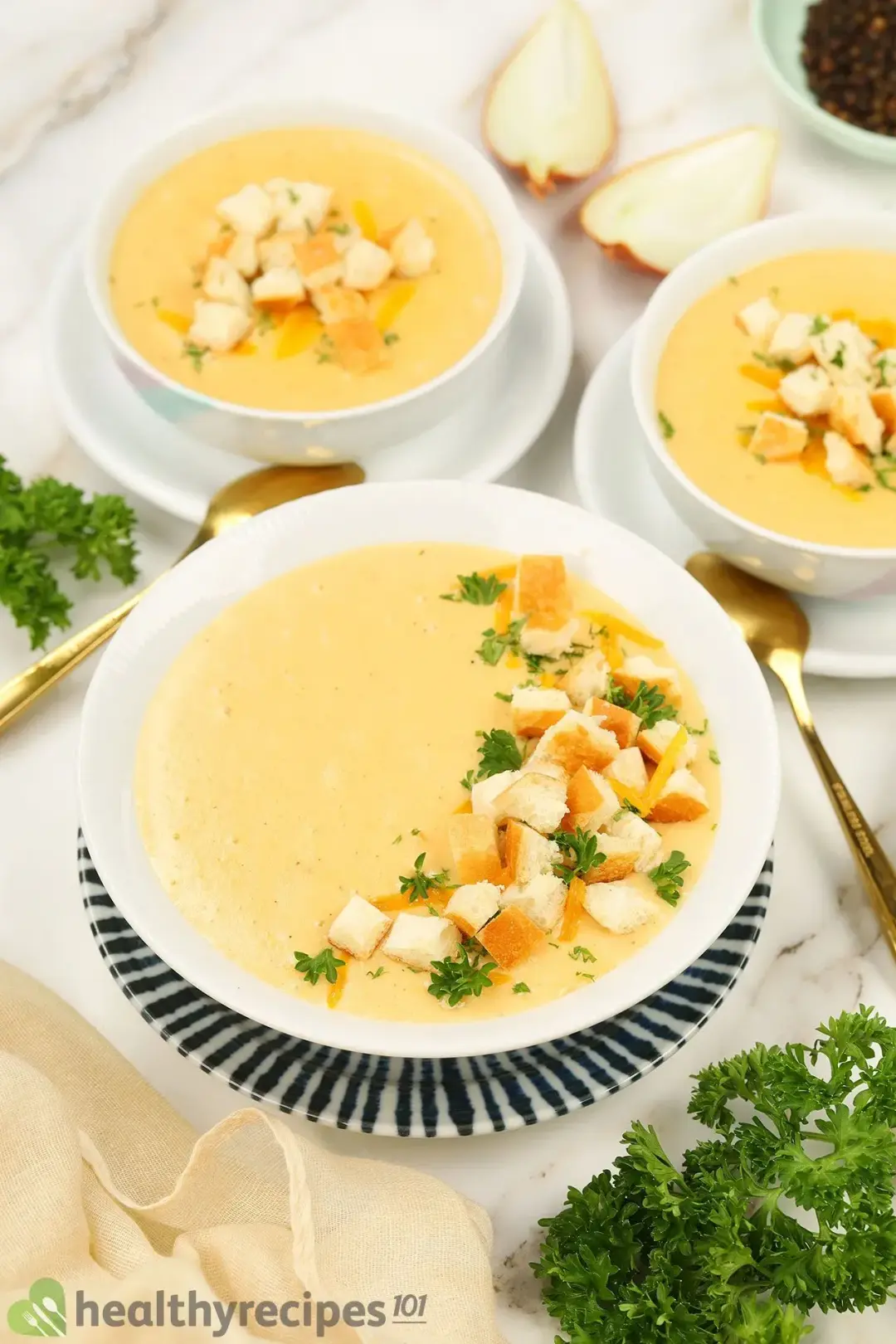 Next Recipe
Cheesy Potato Soup
Cheesy Potato Soup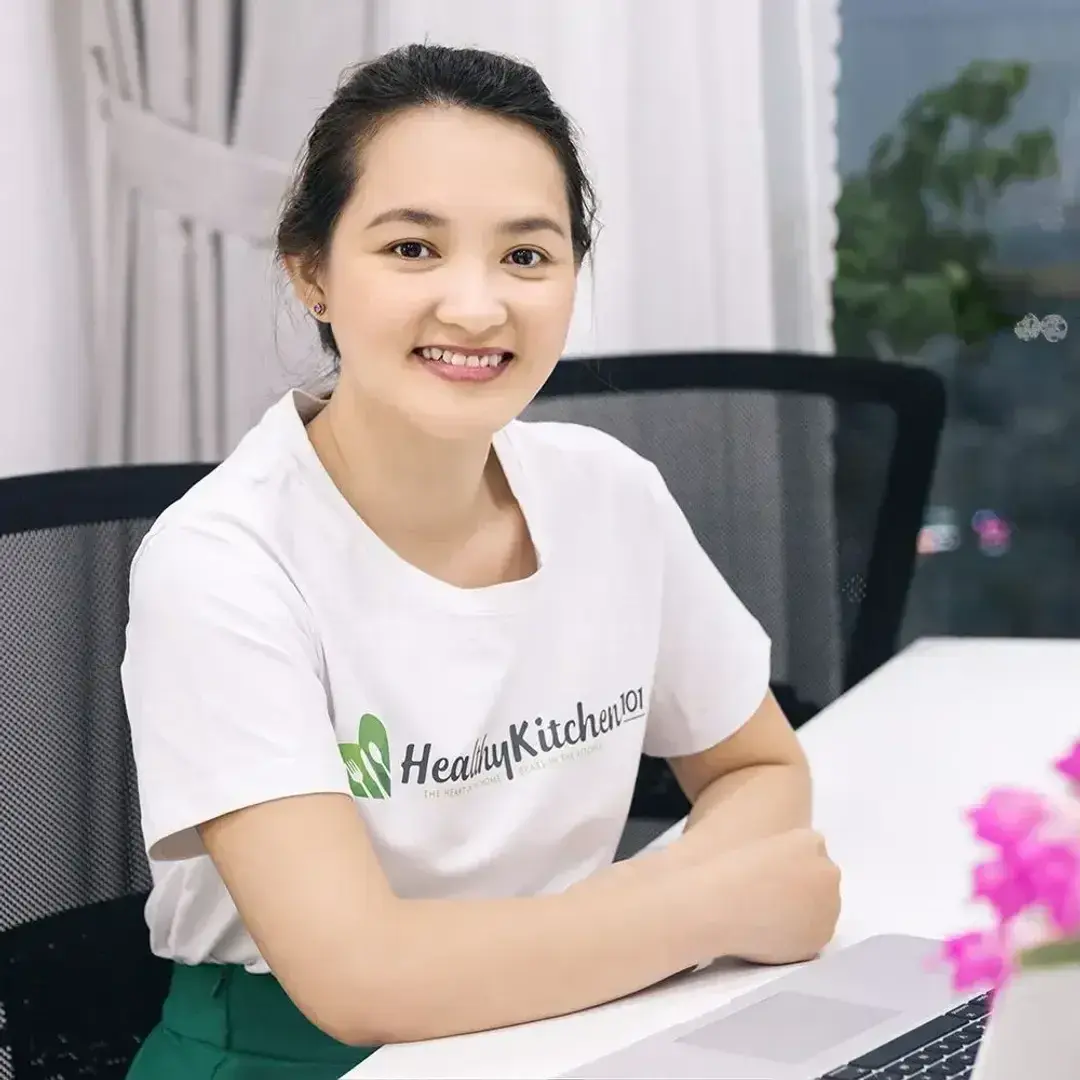 Luna Regina
Luna is the founder and chief recipe developer of Healthy Recipes 101. Apart from cooking, she also loves reading, programming, exploring the outdoors, and collecting useless facts about everything.