If you're looking for an easy, healthy appetizer, look no further than this tomato soup recipe.
It's literally the easiest food to make: stir some ingredients in a pot, add the liquids, let it simmer, and blend it up. All you will have to clean are a spoon, a pot, and a blender, and while it's simmering, you can deal with other tasks or maybe prep the ingredients for the next dish.
Best of all, 'easy' isn't why this soup is popular. We're sautéing aromatics together with celery and carrot to develop all sorts of flavors before adding tomatoes, seasonings, and broth. Once coming together, the tangy, savory soup is then swirled with a touch of cream, adding richness to offset the acidity.
All can be made in the comfort of your own home, and the ingredients are most likely already sitting in your pantry.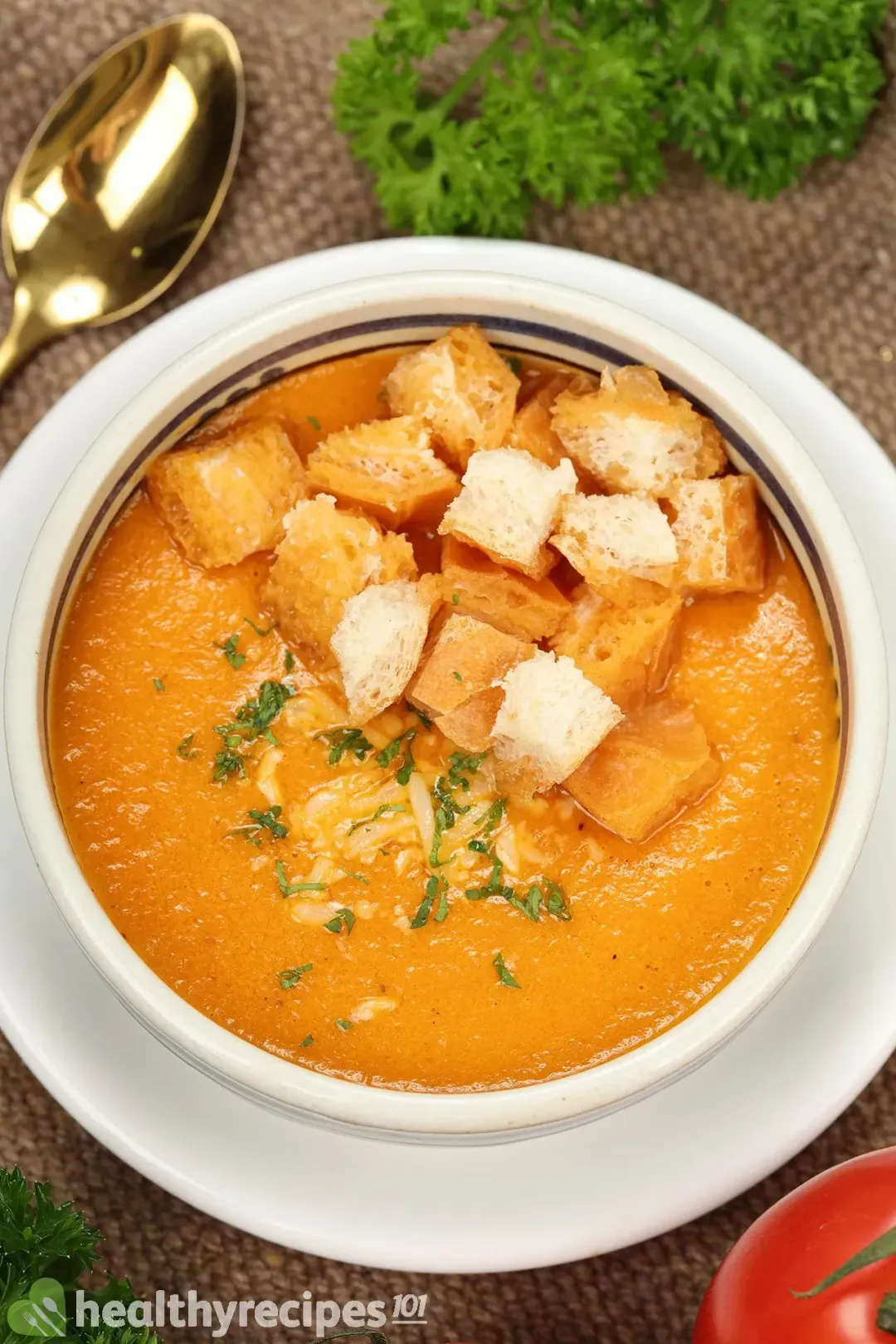 Ingredients for This Soup
We're using peeled tomatoes, garlic, onion, carrot, celery, tomato paste, broth, seasonings, parmesan, bread for croutons, and cream.
When it comes to soups, choosing stock is important. We want something savory but gentle, like chicken or vegetable stocks. Beef or seafood stocks are too strong and will outshine the tomatoes' flavor.
The classic recipe doesn't call for carrot and celery, but we think they are necessary. The touch of sweetness mellows out the tartness, and the pungent flavor from celery just adds that 'je ne sais quoi' to the soup.
To achieve the smooth soup texture, we eliminate anything that's fibrous. This includes peeling the tomato skin, and using only the crunchy top part of the celery:
To peel the tomatoes, we scored a cross on the bottom of each tomato and blanched them for 5 minutes before shocking them in ice water. The sudden temperature change shrinks the cooked skin and makes it peel more easily.
Celery stalks are white and gradually change to green at the top. Remove the white part and save it for stock-making instead.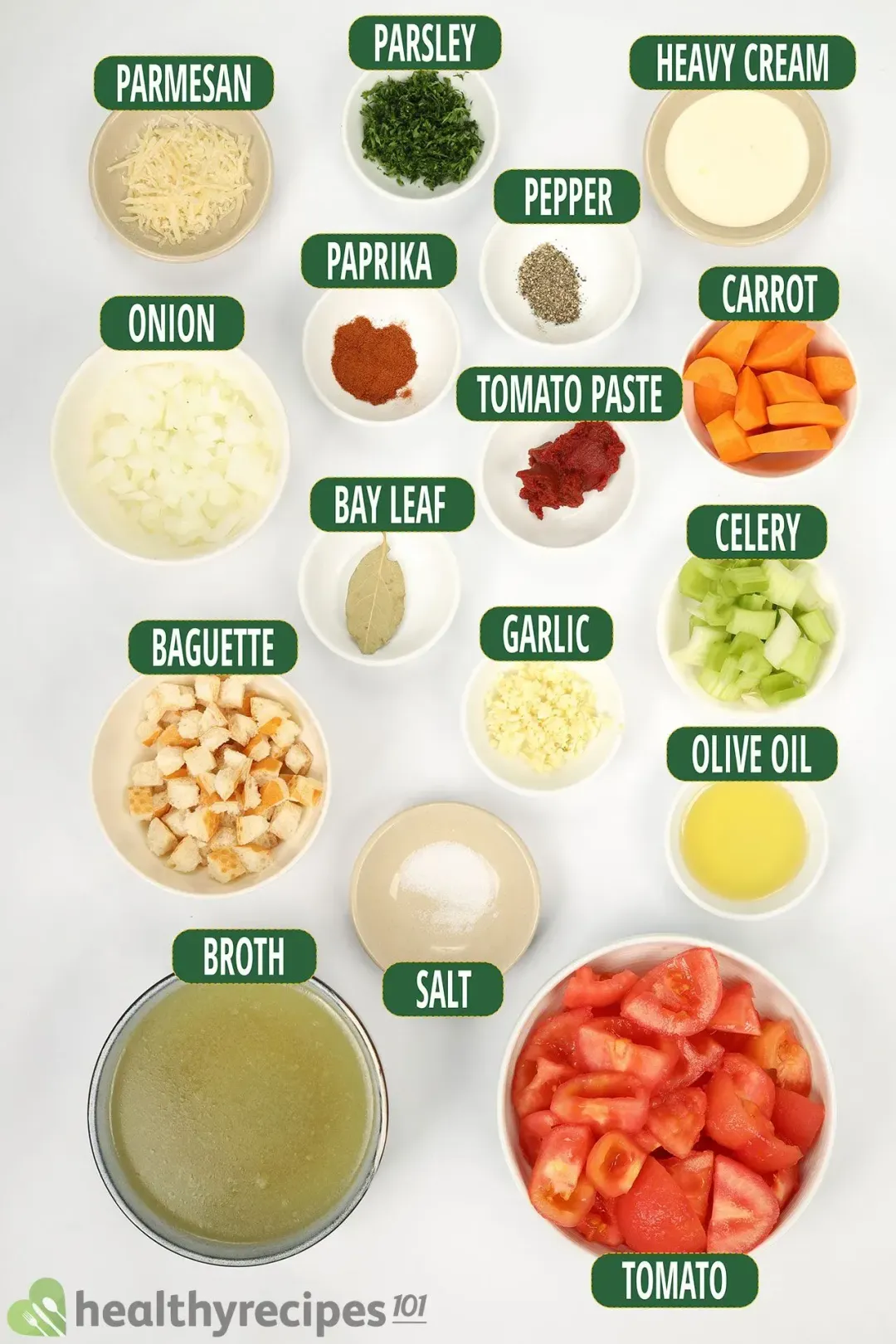 1. Substitute for Tomato Paste
Tomato paste is simply dehydrated tomato purée. This means that the amount of flavor in a single teaspoon of tomato paste is equivalent to that of several tomatoes, minus the liquid.
Hence, if you run out of this crucial ingredient, you can make it at home:
Blanch and peel tomatoes as we've mentioned before.
Half and remove the seeds.
Blend the tomatoes finely, then reduce them over medium heat. Scrape the bottom continuously with a silicone (or heat-proof) spatula until it reaches a paste consistency.
The dehydration process can take up to 30 minutes depending on how much you're making, pretty time-consuming in our opinion. We suggest this method only if you find taking another trip to the grocery store more bothersome.
2. How Do You Thicken Tomato Soup?
Tomato soups don't need additional thickeners. However, you can always add a cornstarch slurry (1 part cornstarch, 1 part water) so it reaches the consistency you desire.
Is Tomato Soup Healthy?
A classic tomato soup is served with just a dash of cream, so its saturated fat content falls within a healthy range. Seasoned moderately and with a low sodium content, this soup naturally fits our definition of a healthy recipe.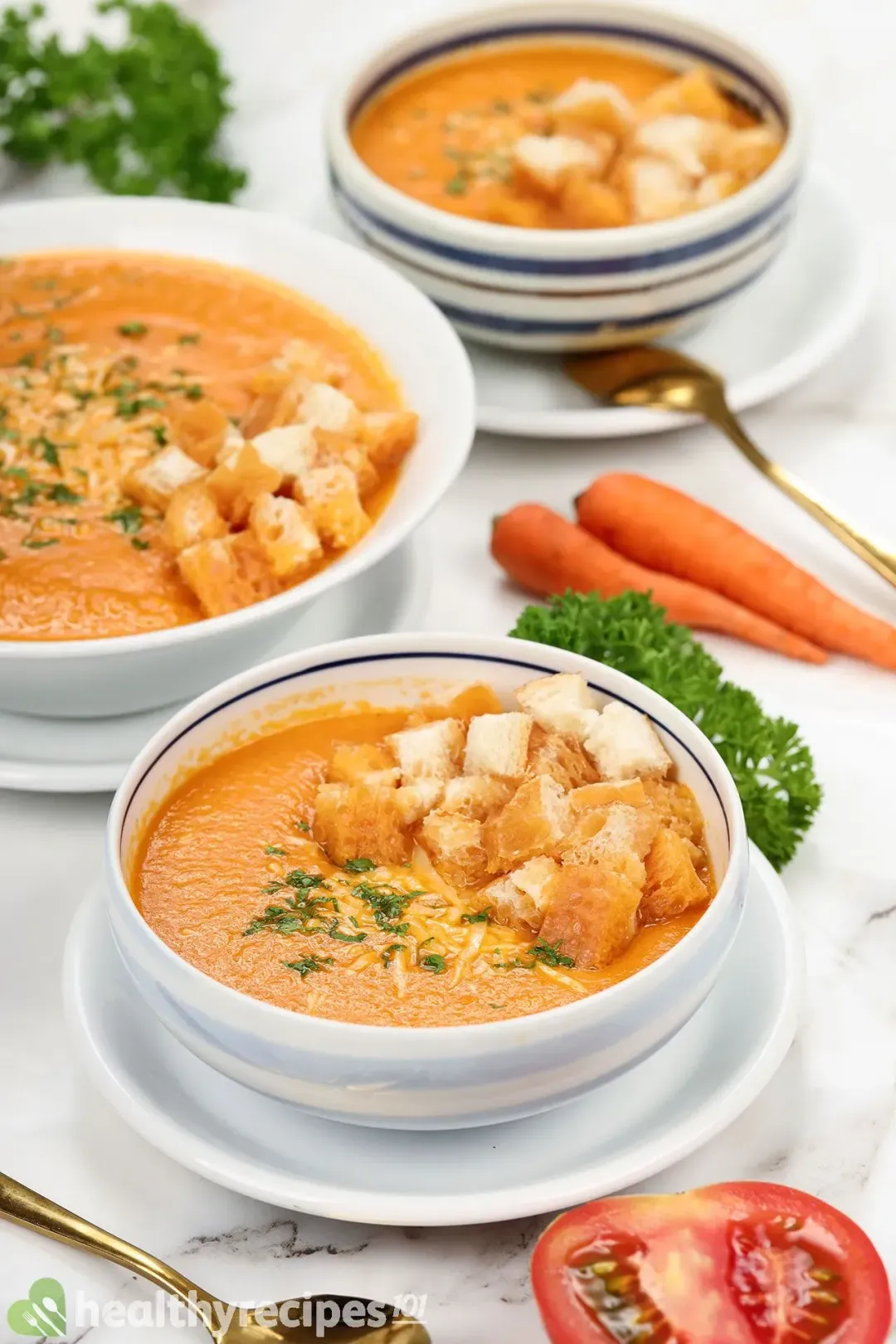 Micronutrient-wise, this soup contains vitamin C, vitamin A, some B vitamins, vitamin E, magnesium, copper, potassium, calcium, etc. All these nutrients come from tomato, celery, carrot, and dairy products.
Because this is only an appetizer, it's necessary to serve it with a main dish for a satisfying, healthy meal. If you're aiming for a diet balanced in macros, the main dish should be meat, fish, or a source of plant-based protein cooked with rice, pasta, or bread and drizzled with healthy fats.
Here are a few of our ideas.
What to Serve With Tomato Soup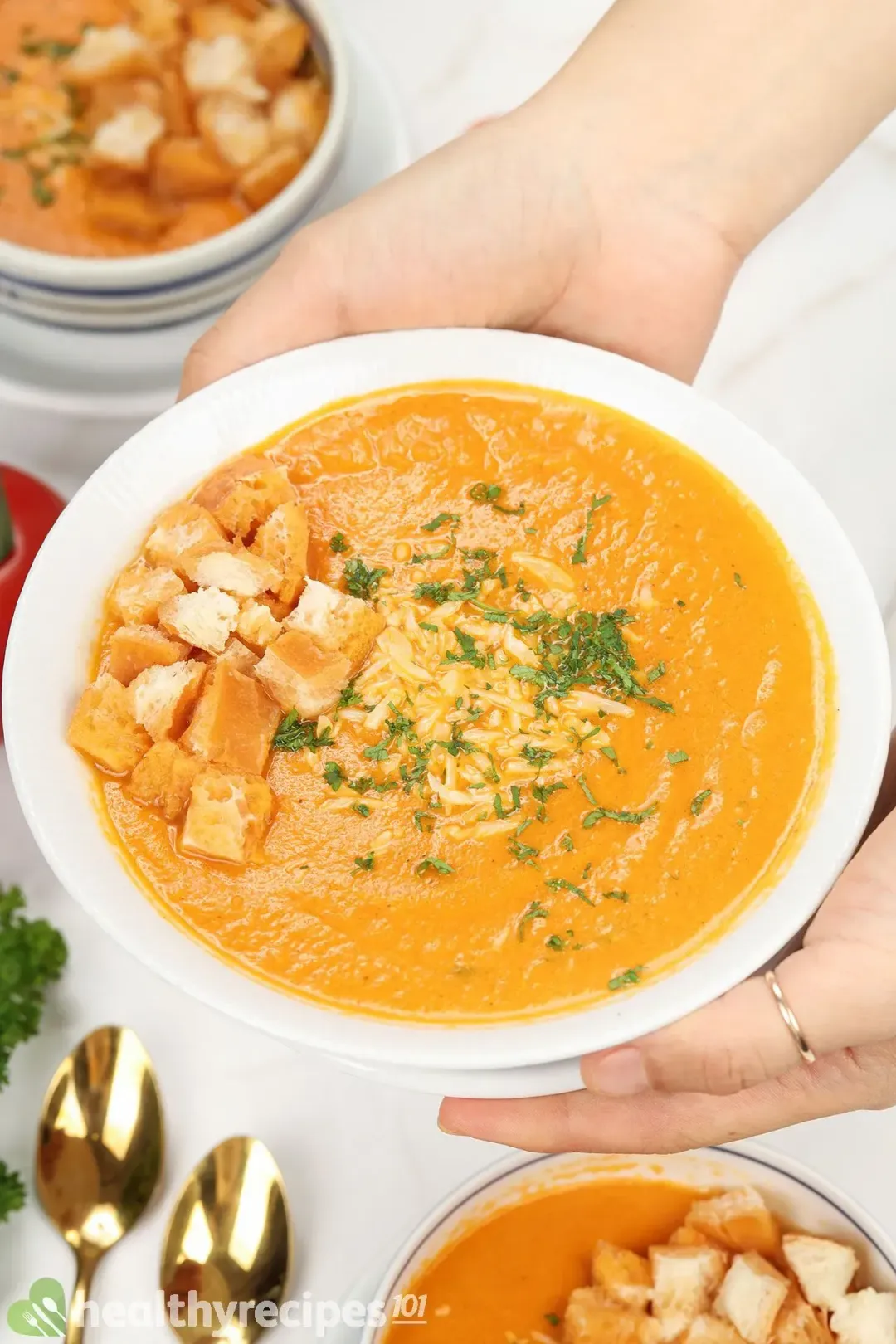 We're aware that tomato soup and grilled cheese sandwiches are the ultimate comfort food combo, but it is also rich in saturated fats. You can, however, enjoy this combo, if you don't consume lots of saturated fats during the rest of the day.
As an appetizer, tomato soup prepares the palate for intense flavors. Something with loads of spices and aromatics like chicken biryani would be perfect, despite the difference in cuisine.
Being savory and pretty flavorful on its own, it may side well with something rich and creamy like chicken alfredo. Like grilled cheese sandwiches, we recommend that you pair this meal with dishes that are low in saturated fats.
Storing and Reheating Tomato Soup
If you're not going to serve the soup right away, we suggest not adding the cream as it can curdle if left to sit. Regardless of this, stored in airtight containers, it will keep for a maximum of 4 days in the fridge.
If you're making loads to save for later, we suggest placing servings in Ziploc bags and stacking them in the freezer. They will last for up to 3 months and, similar to when stored in the fridge, can be easily reheated in a pot.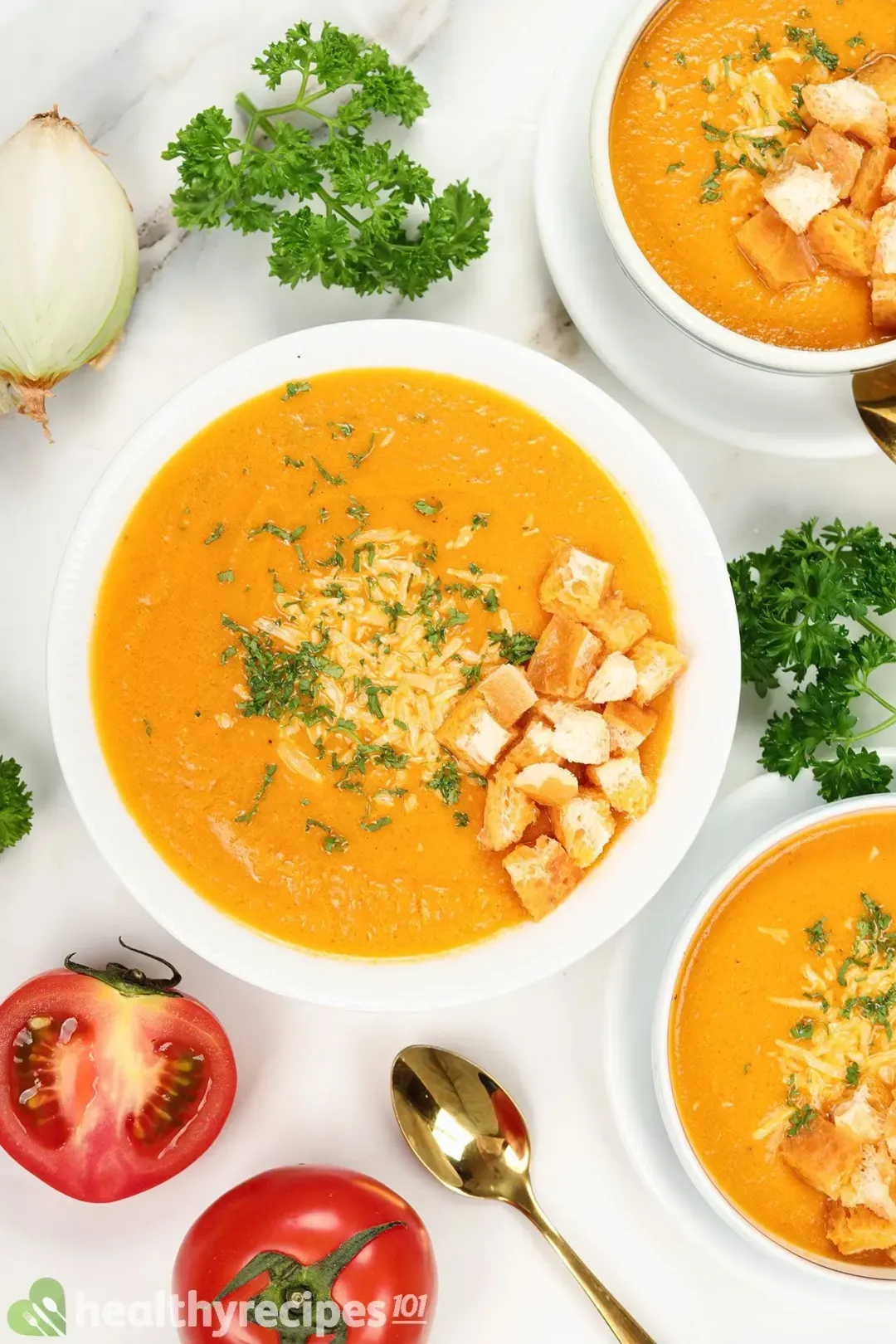 How to Make Tomato Soup
This tomato soup recipe is a versatile appetizer or side for many dishes. It's made from pantry ingredients and doesn't take long to make.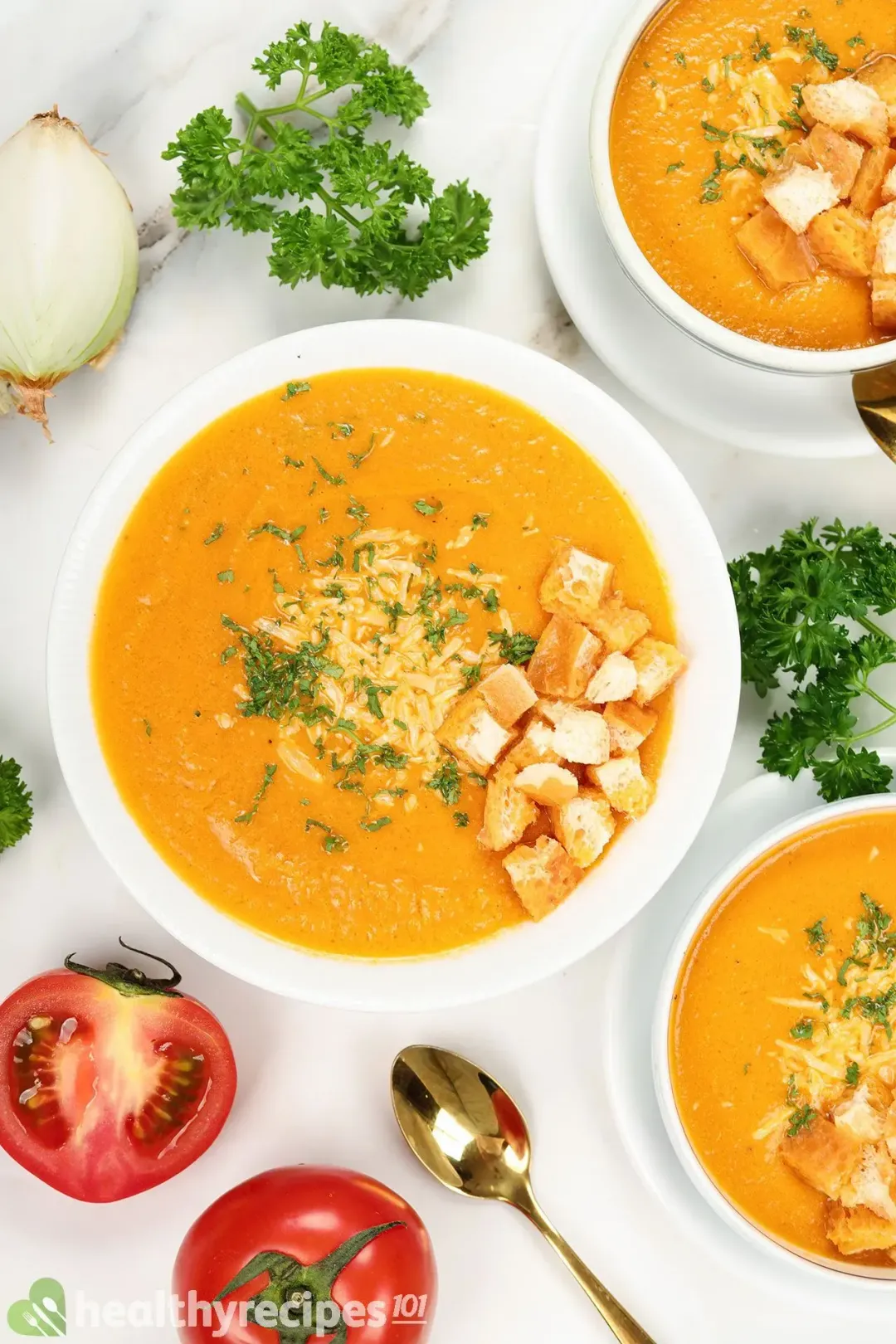 cook TIME

17 mins

prep TIME

13 mins

total TIME

30 mins
COURSE

Appetizer, Side Dish

CUISINE

Global

SERVINGS

CALORIES

154 kcal
INGREDIENTS
12 oz

tomato

(seeds removed and cut into wedges)

2 oz

carrot

(roll and cut)

1 tbsp

Hunt's tomato paste

1/4 tsp

ground black pepper

2 cup

unsalted chicken broth

1 oz

French baguette

(cut into small cubes)

0.25 oz

shredded parmesan cheese
INSTRUCTIONS
Prep:
1
Peel and mince the garlic: cut to remove the root part of each garlic clove and mash them down with a knife to remove the peel with ease. Mince the peeled cloves.
2
Chop the onion: half the onion lengthwise and peel the skin. Make vertical slices 1/4" apart from each other towards the root, but leave about 1/4" so they're still intact. Turn the half 90 degrees, and grip the root. From the bottom, make horizontal cuts 1/4" apart from each other into the onion, also leaving 1/4" to keep everything intact. Slice the onion to have even cubes.
3
Cut the tomato into wedges: half the tomato lengthwise, slice to remove the stem, and scoop the seeds out.
4
Roll and cut the carrot: start from the bottom of a peeled carrot, make a diagonal cut through the end to have a 1/2" piece. Turn the carrot so the flat side faces up, and make the same cut to have a piece similar in size to the previous one. Keep rolling and cutting until you end up with even chunks.
Cook:
1
Heat 2 tbsp olive oil in a pot over medium heat. Saute 1 tbsp garlic and 2 oz onion for 1 minute.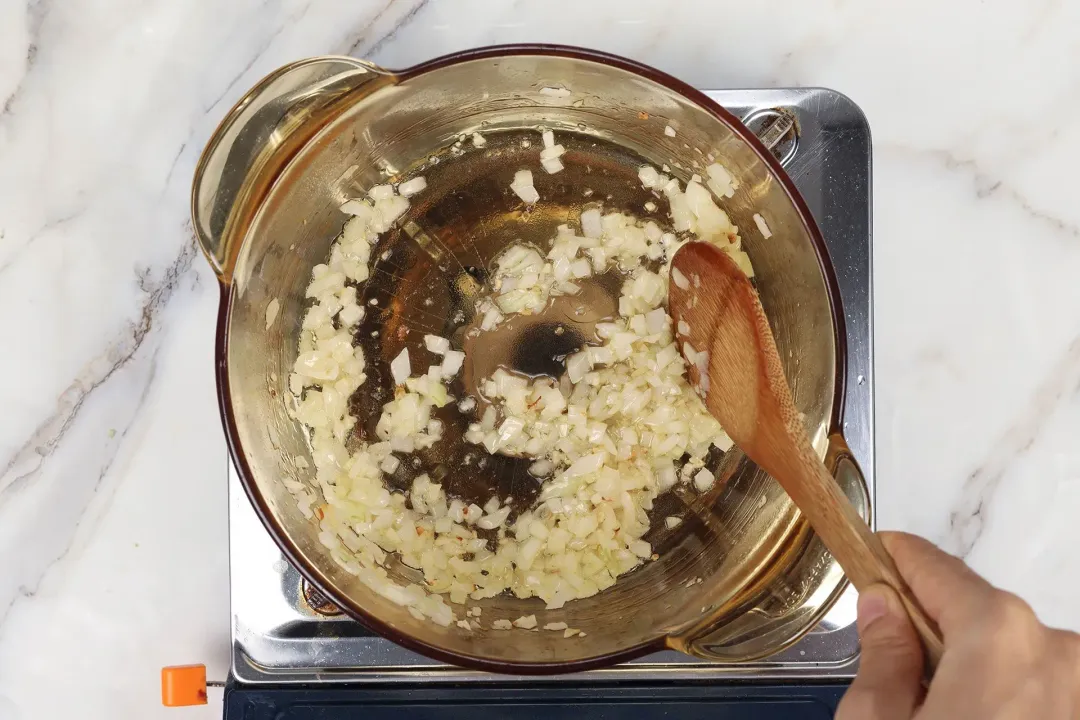 2
Add 2 oz carrot and 2 oz celery, and saute for 4 minutes.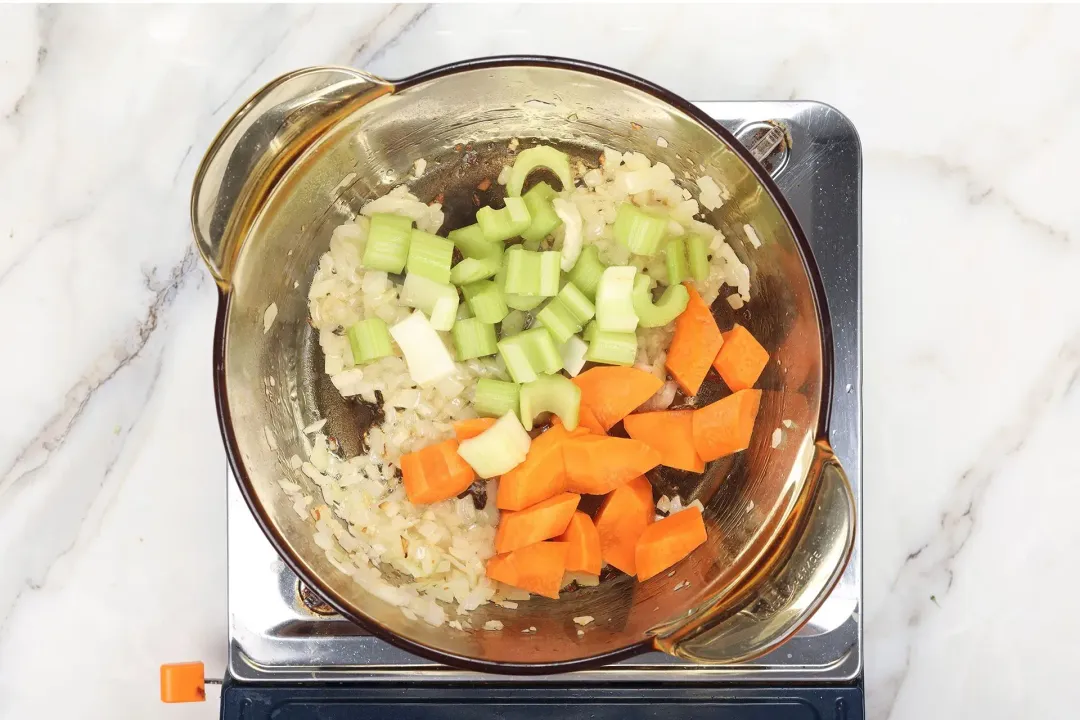 3
Add 1 tbsp tomato paste and stir until it melts and coats everything evenly.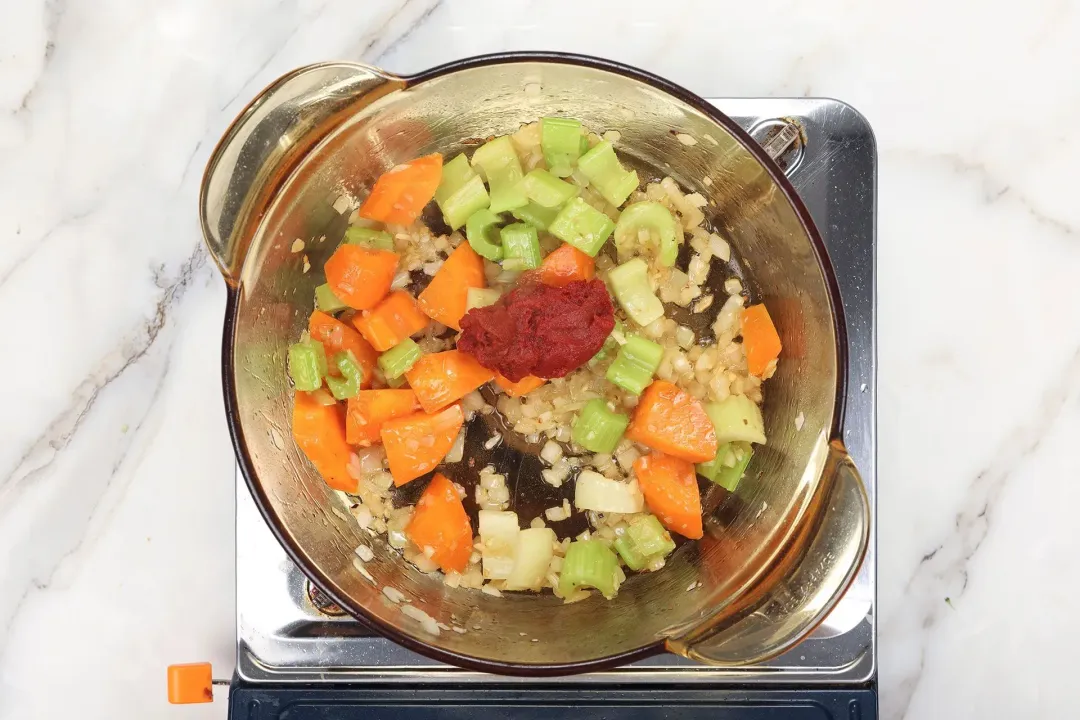 4
Add 12 oz tomato, 1/4 tsp salt, 1/4 tsp ground black pepper, and 1/2 tsp paprika. Stir to cook until soften, about 2 minutes.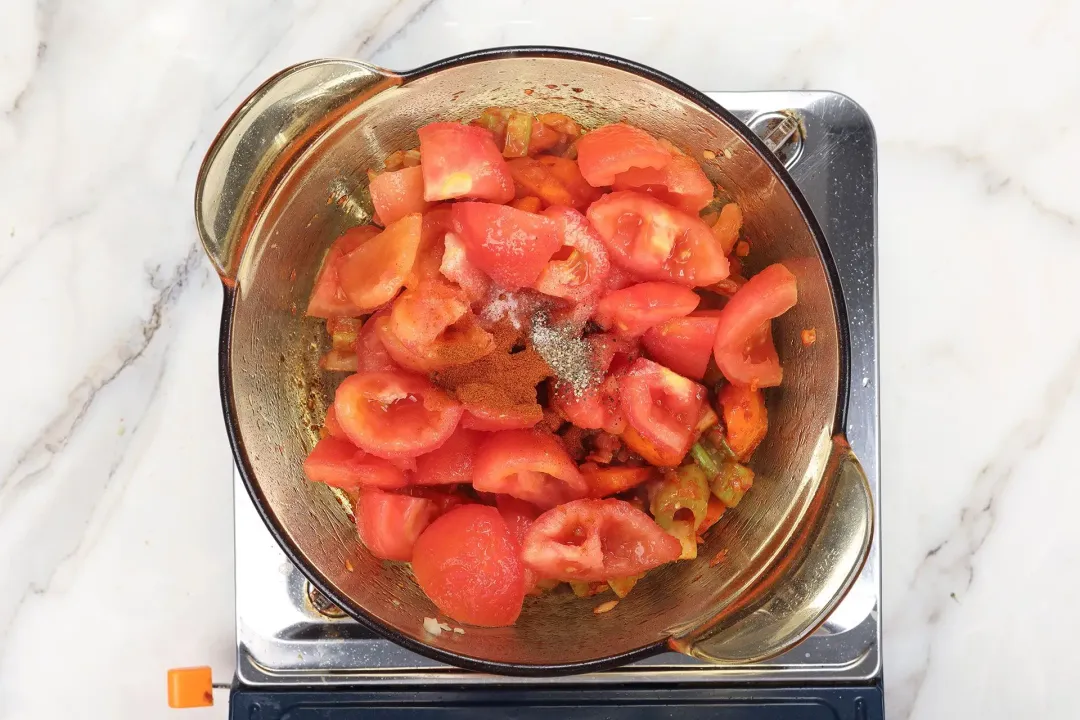 5
Add 2 cup unsalted chicken broth, 1 bay leaf, and simmer on medium heat for 10 minutes.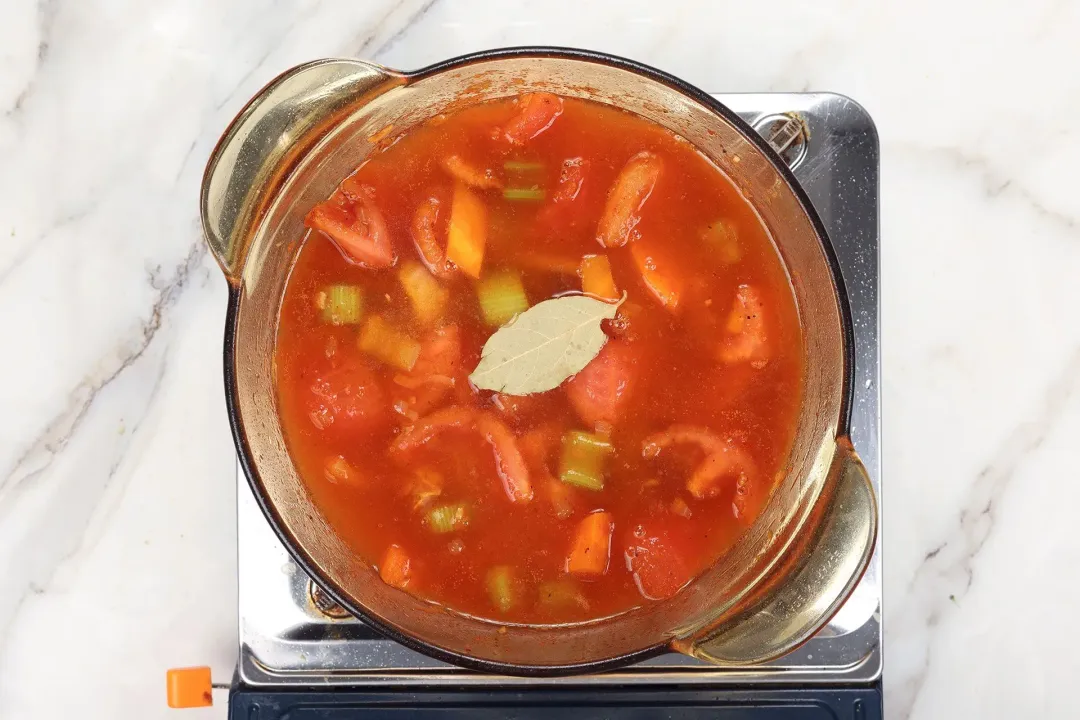 6
Remove the bay leaf, then stir in 2 tbsp heavy cream. Turn off the heat.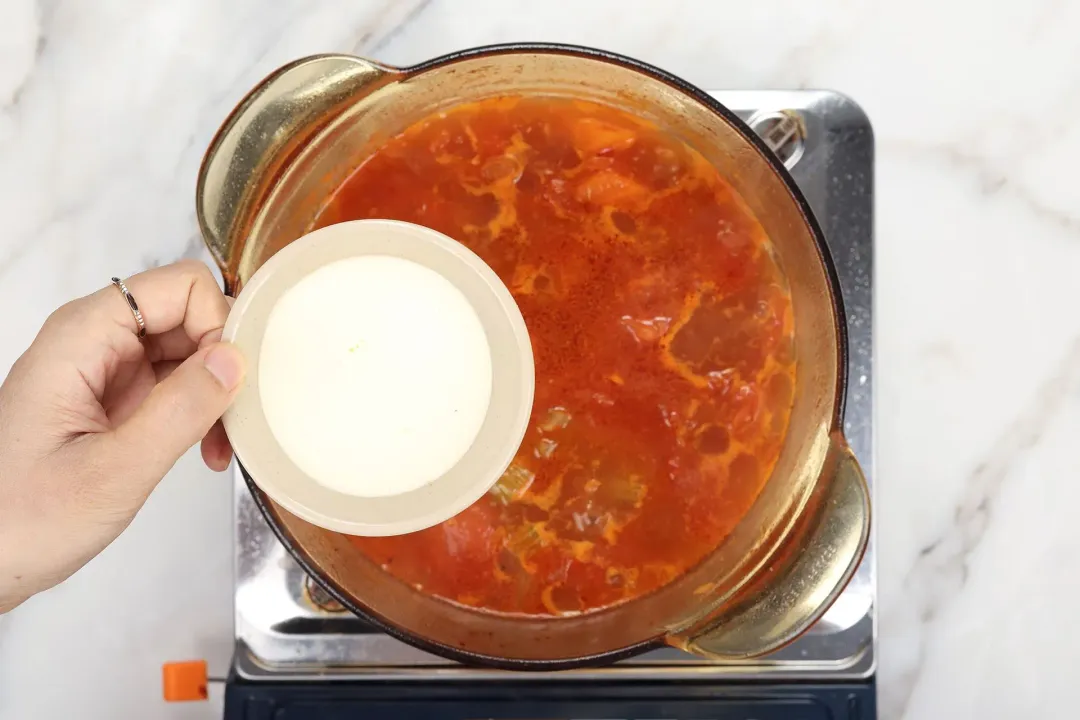 7
Blend with an immersion blender until smooth.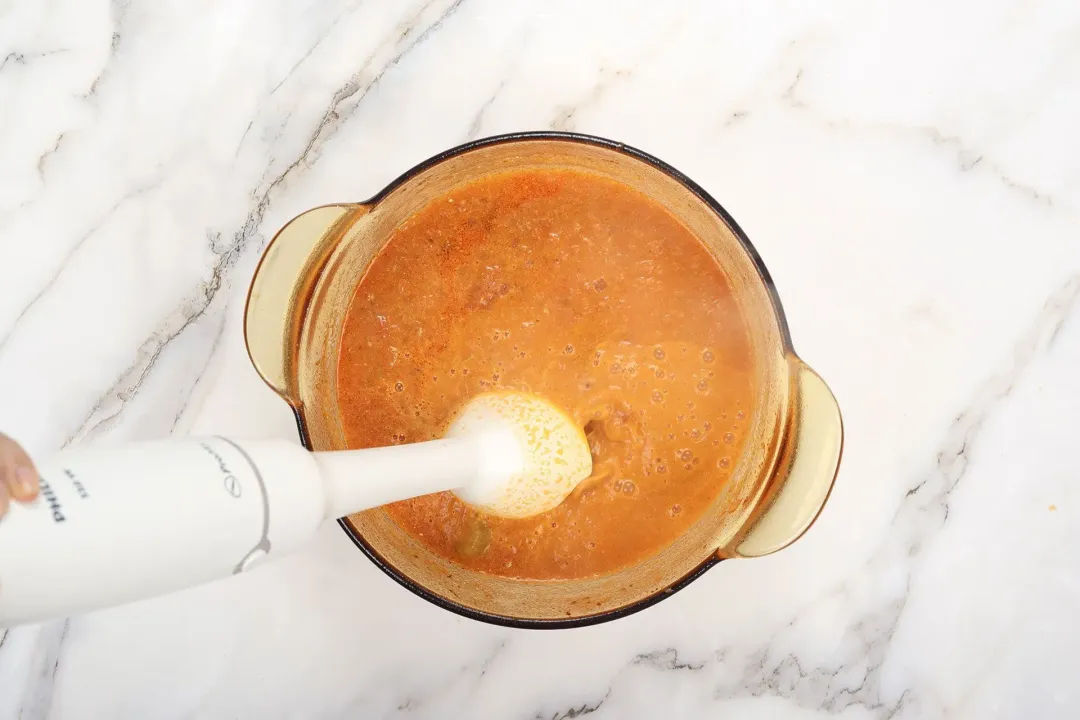 8
Air-fry 1 oz French baguette (cut into cubes) at 400°F for 3 minutes.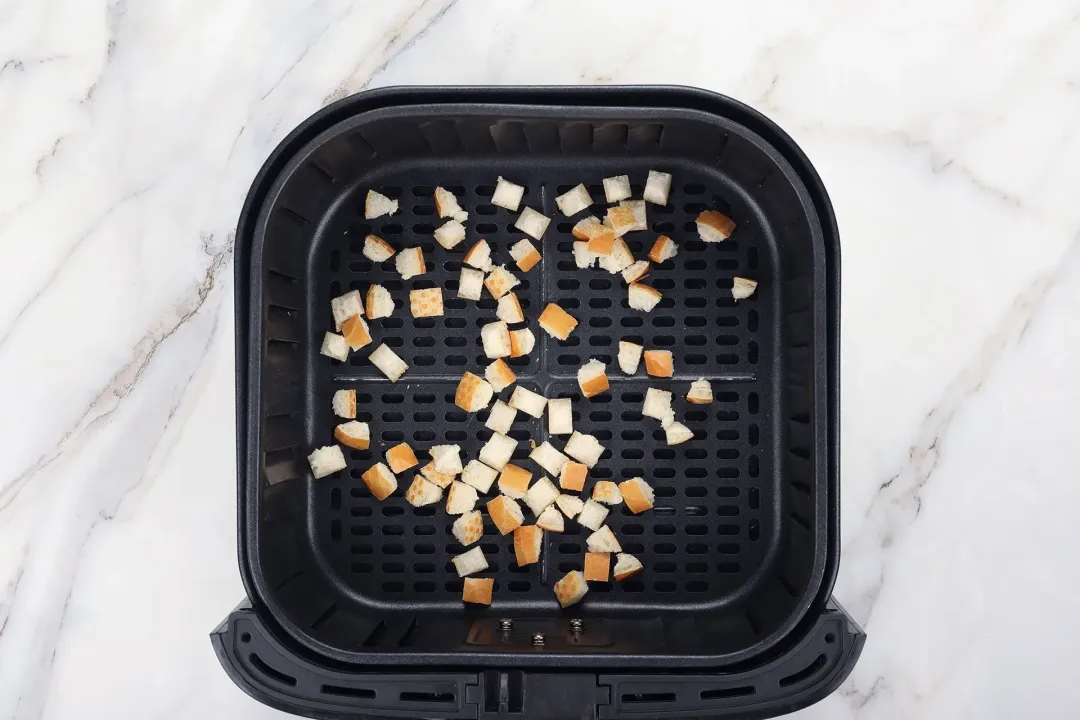 9
Ladle the soup into serving bowls and top them with freshly baked croutons, shredded parmesan, and parsley.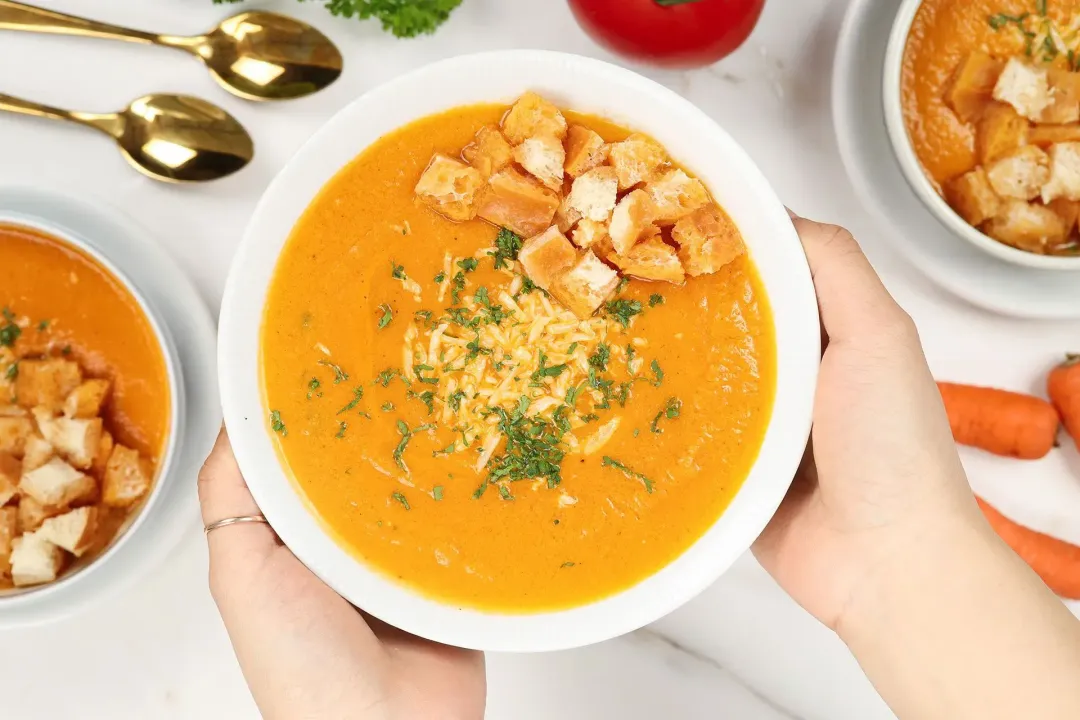 NUTRITION
Nutrition Facts
How to Make Tomato Soup
Amount Per Serving (1 serving)
Calories 154
Calories from Fat 95
% Daily Value*
* Percent Daily Values are based on a 2000 calorie diet.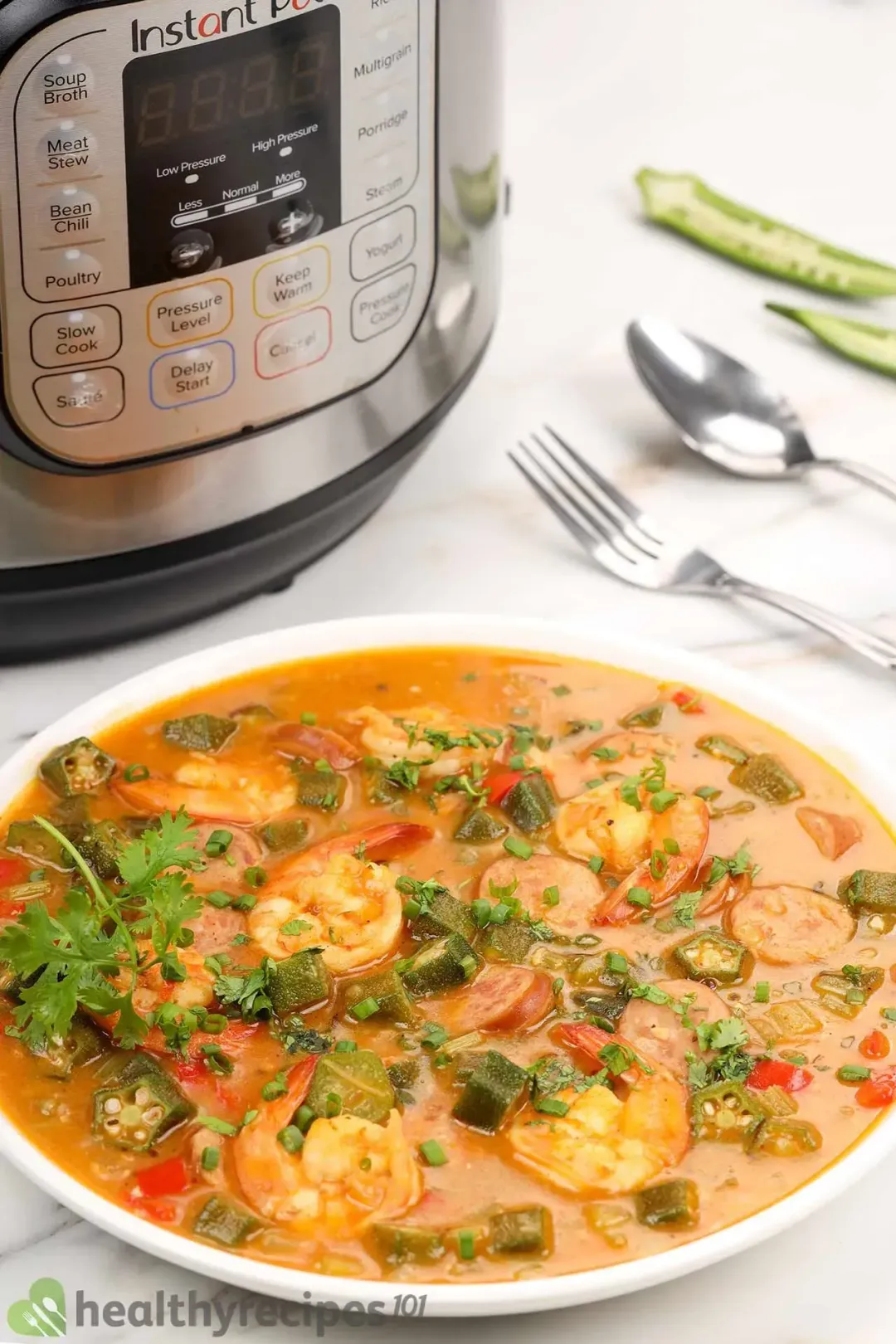 Previous Recipe
Instant Pot Gumbo
Instant Pot Gumbo
Head Chef, Culinary Consultant
Tuyet Pham is an award-winning Saigonese chef who believes that joy is the secret ingredient to delicious food. At Healthy Recipes 101, Tuyet personally tests and simplifies every recipe, ensuring maximum flavor with minimal effort. With a background at prestigious French restaurants P'TI Saigon and Le Corto, Tuyet knows how to make every dish exceptional.
Writer, Author
Luna Regina is an accomplished writer and author who dedicates her career to empowering home cooks and making cooking effortless for everyone. She is the founder of HealthyKitchen101.com and HealthyRecipes101.com, where she works with her team to develop easy, nutritious recipes and help aspiring cooks choose the right kitchen appliances.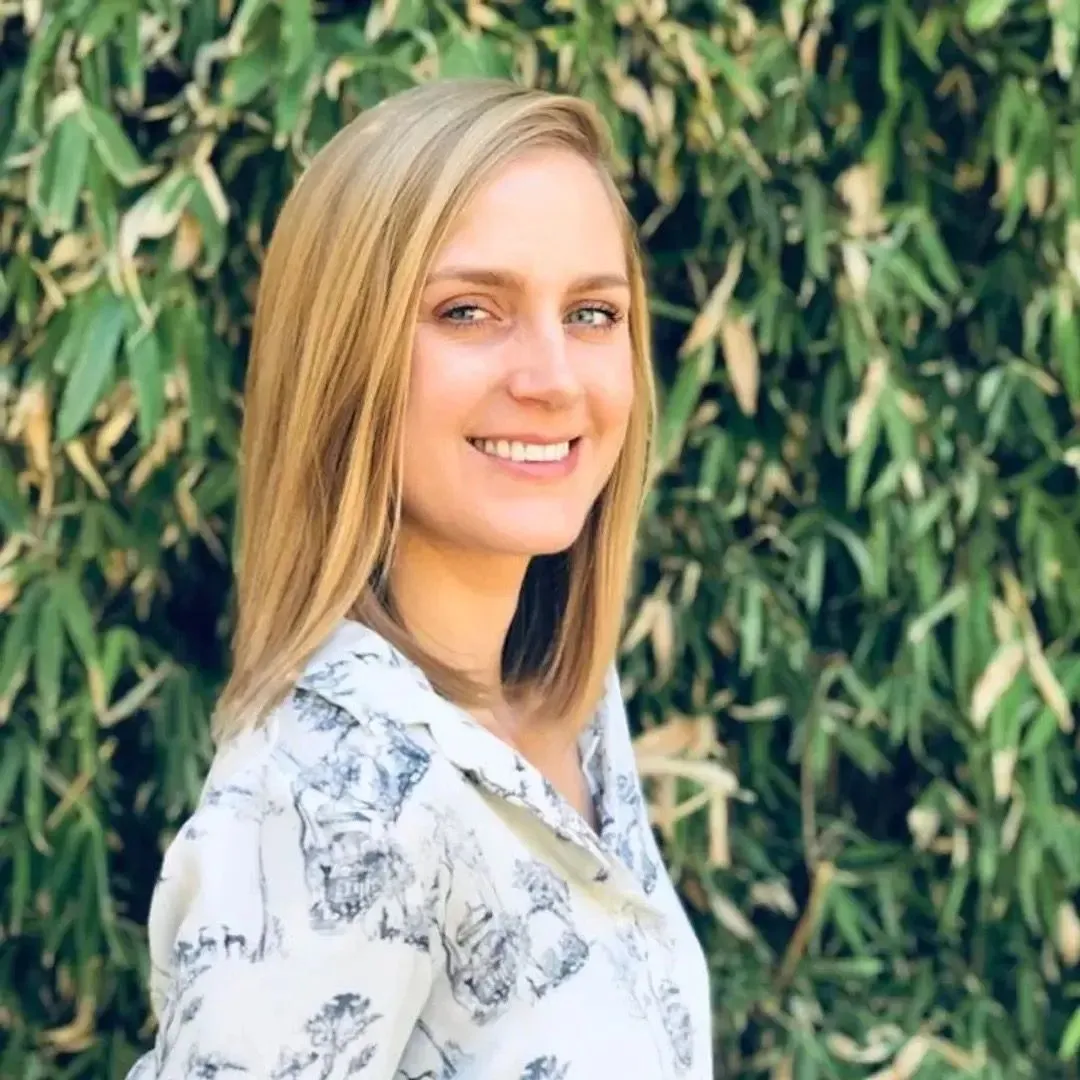 Nutrition Reviewer
Emily Rogers is a California-based Registered Dietitian Nutritionist who specializes in Public Health Dietetics. She has had an eclectic career working as a health educator, nutrition counselor, recipe developer, clinical dietitian and outpatient dietitian. Emily is currently a full-time Public Health Nutritionist with the County of Orange where she teaches Nutrition Education and Community Nutrition courses.
Easy to follow, simple ingredients like canned tomatoes, garlic, and vegetable broth to create a rich and flavorful soup that's sure to satisfy.