Today's healthy tortellini salad recipe with Italian dressing is a great summer side dish with fresh ingredients. It's the perfect dish for National Tortellini Day (February 13).
Apart from cooking the pasta, this dish requires no cooking whatsoever. All you have to do is chop some vegetables, make a dressing, mix, and your salad is ready.
What Is Tortellini?
Tortellini are pasta-based, stuffed dumplings originated in the Emilia-Romagna region of Italy. These ring-shaped pasta can be filled with meat, egg, cheese, or many other various fillings.
Commercialized tortellini can be found in the frozen section of almost every supermarket in the US. You can also find freshly made tortellini in pasta shops or order online.
Tortellini vs Tortelloni: What's the Difference?
Similar to tortellini, tortelloni is also a type of ring-shaped, stuffed pasta. They may sound and look similar to one another, but there are a few things that tell them apart:
The suffixes -ini (small) and -oni (big) in their names indicate their size as tortelloni is often twice as big.
Another difference is their fillings. While tortellini is often stuffed with rich, cheesy, meaty fillings, tortelloni is filled with leafy vegetables, pumpkin pulp or purée.
Is This Tortellini Salad Recipe Healthy?
Yes, this tortellini salad recipe is healthy. Here's why: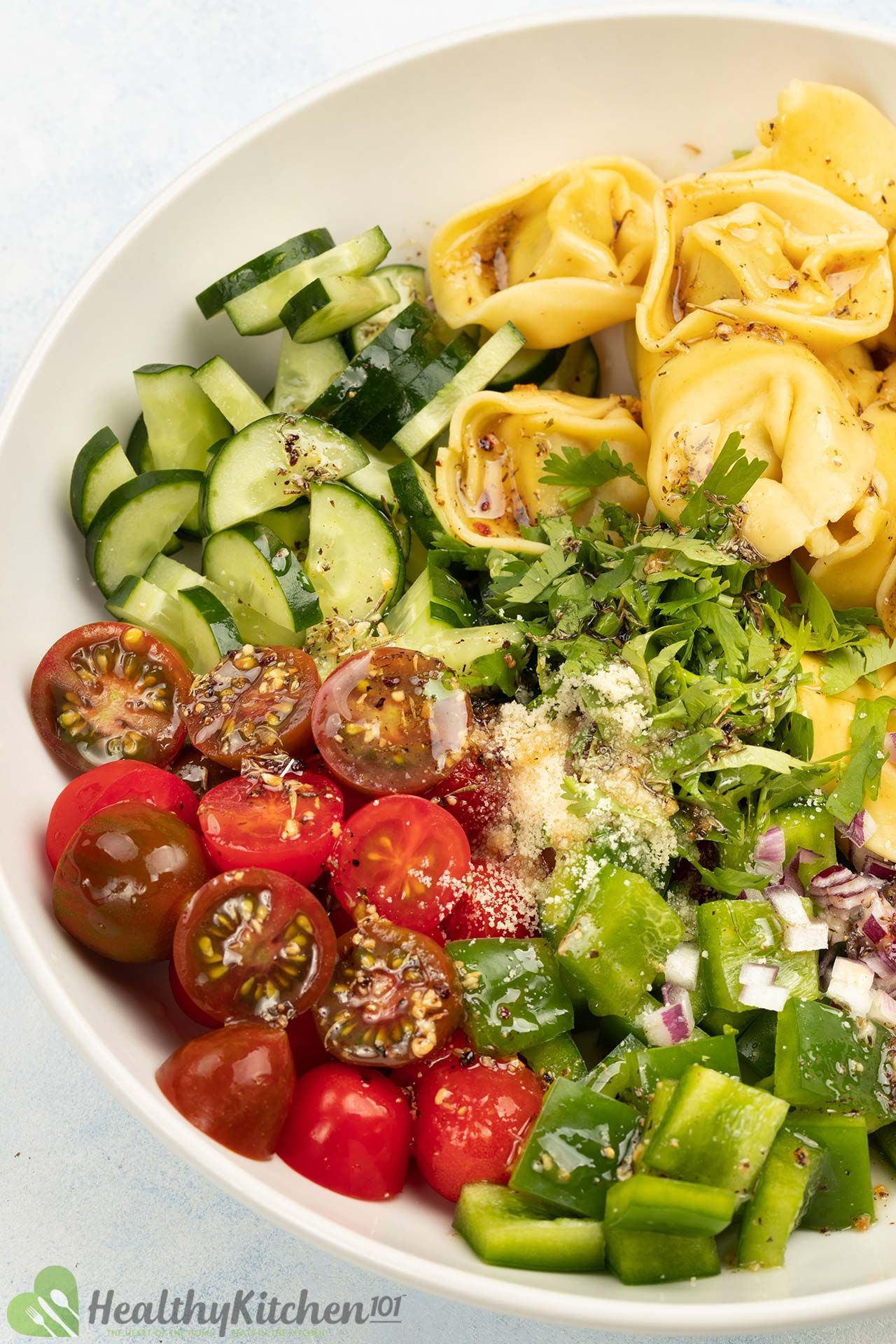 Like many of our other recipes, this salad also adheres to our healthy eating guidelines. We assured the amounts of sugar, saturated fat, sodium, and calories are all within healthy limits.
For instance, this recipe contains only 165 calories and 2g of saturated fat per serving.
We also want to ensure this salad is well-seasoned without exceeding the sodium limits. That is why we used a minimal amount of salt and Parmesan cheese.
How to Cook Frozen Tortellini
As mentioned, tortellini is often sold in frozen packets. Here is how we prepared it for our salad:
Thaw the pasta completely: We left it out on the counter to thaw for a couple of hours.
Cook the pasta: Read the packet instructions to see how long you need to boil it.
Rinse the pasta: This helps stop the cooking process and gives the tortellini a chewy texture.
Now that your pasta is ready, time to make the dressing.
Dressing for Tortellini Salad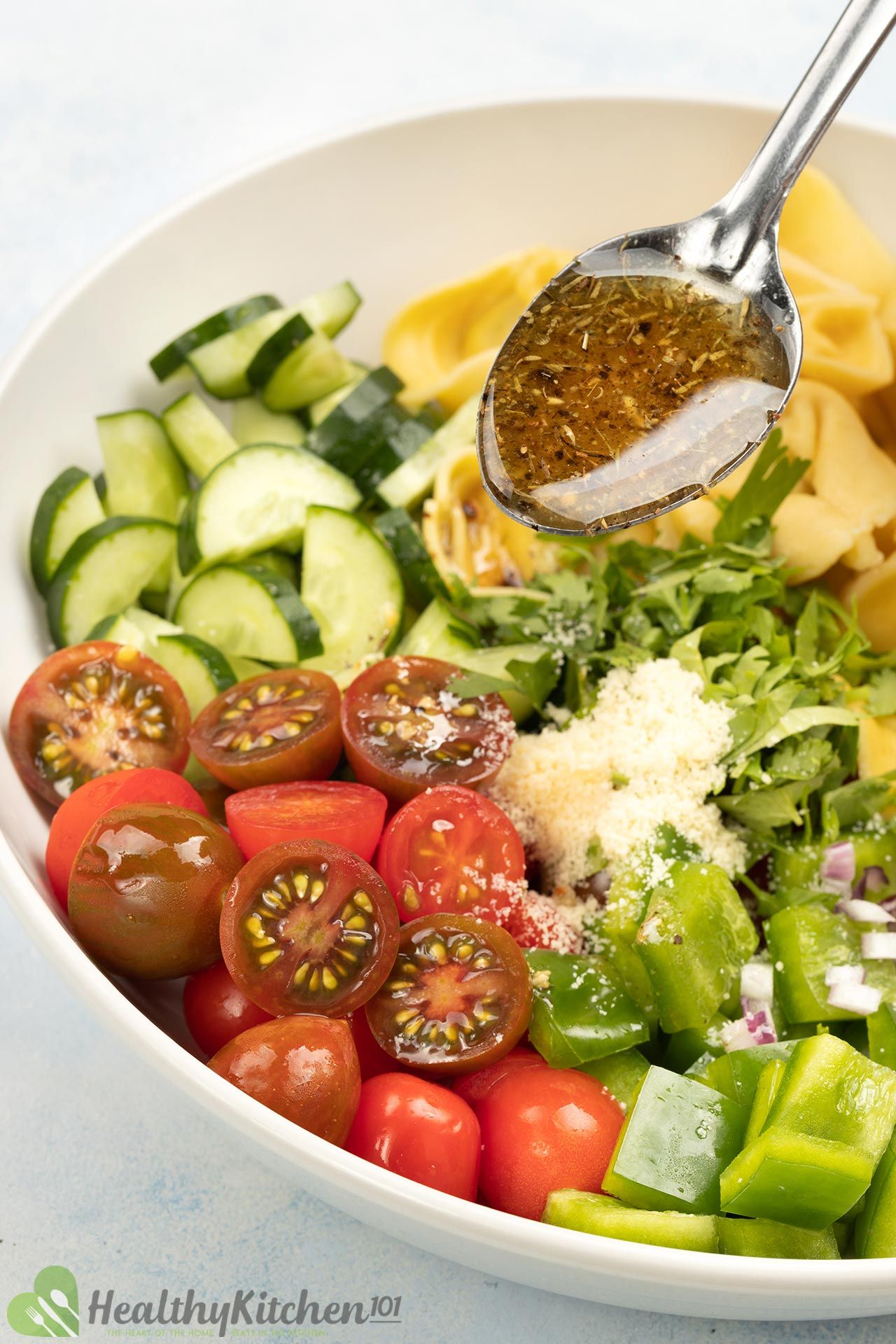 We're making an Italian-inspired, sweet and sour vinaigrette for our salad. Here are the ingredients:
Olive oil: For salads, we recommend using the best extra-virgin olive oil you can afford. Trust us, it will be worth every penny.
Dried herbs: We're using store-bought Italian seasoning with extra dried basil, but you can mix your own using oregano, thyme, rosemary, etc.
Lemon juice: Adds acidity and helps emulsify the sauce. If you want to, you can also utilize lemon zest and add it to your dressing.
Dijon mustard: It may be rather sharp and pungent on its own, but it will make your dressing taste phenomenal.
Honey: Since this vinaigrette is quite acidic, you need a touch of sweet honey to balance the flavors.
And salt and freshly ground black pepper for seasoning.
How to Make Tortellini Salad with Italian Dressing
Here is a brief guide to our tortellini salad recipe with step-by-step photos: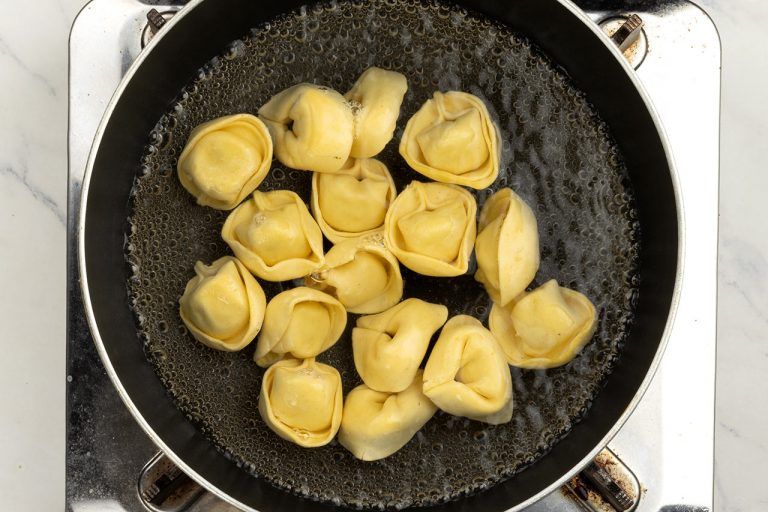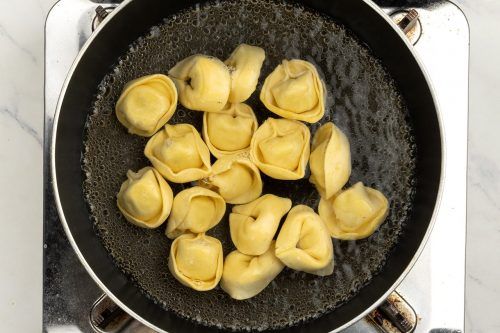 Cook the tortellini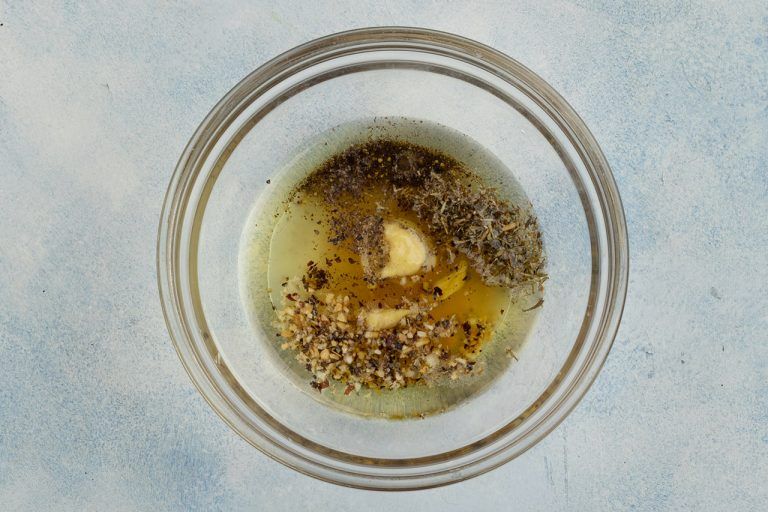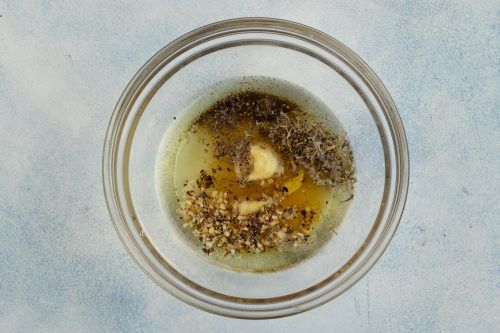 Make the Italian dressing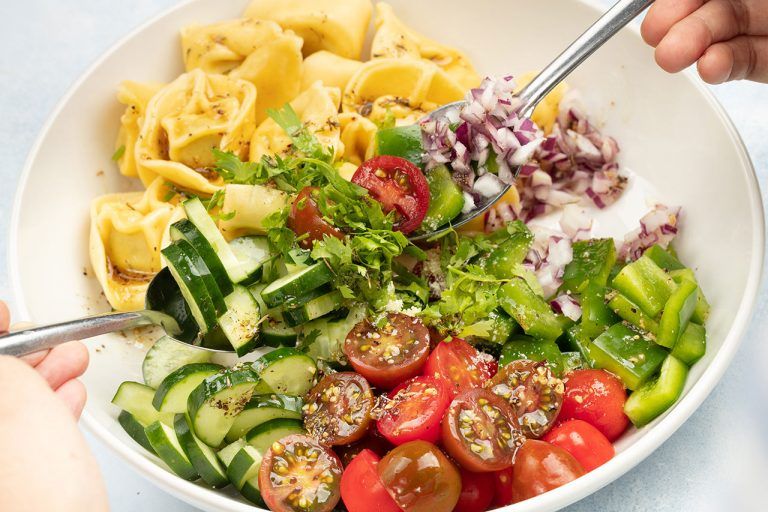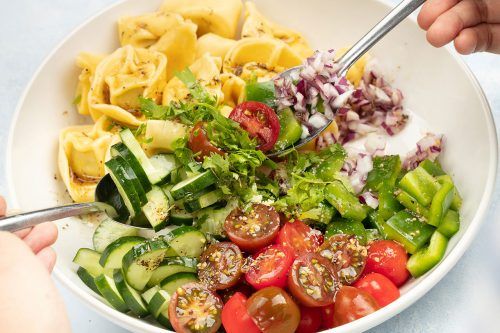 Mix the salad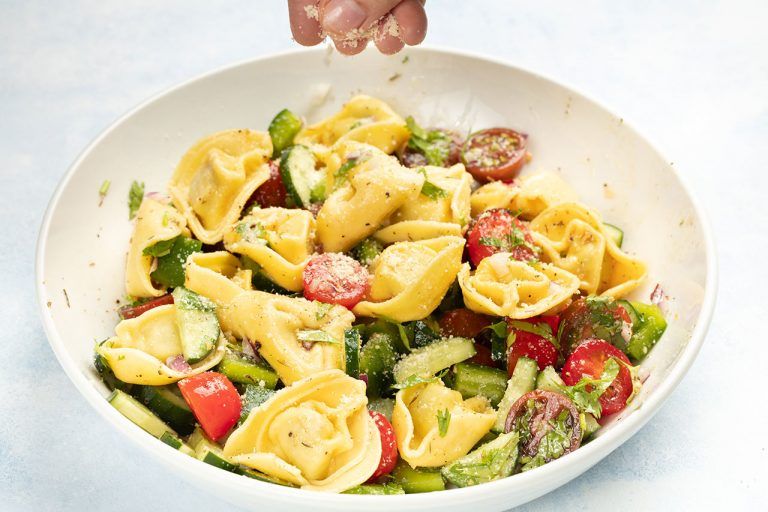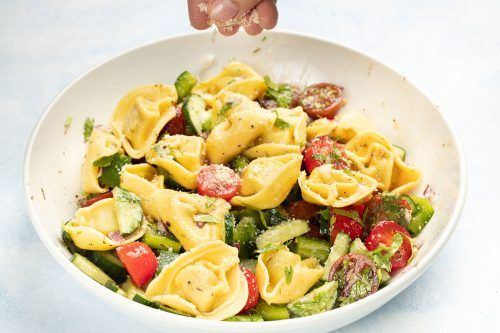 Serve
Full ingredient measurements and detailed instructions are available below.
What Else Goes Well in Tortellini Salad?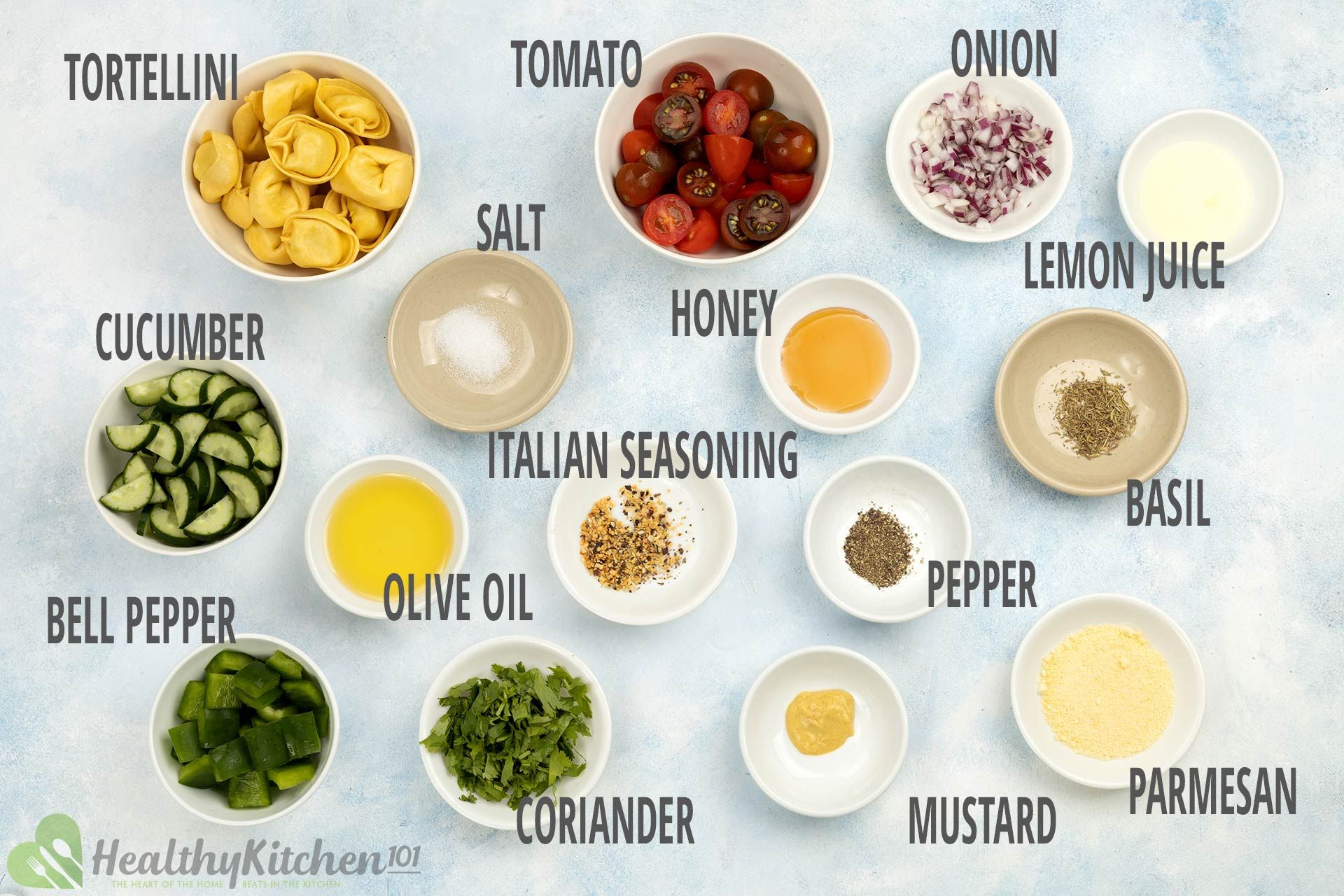 Here are a few ways to tweak this tortellini salad recipe to your liking:
1. Chicken
Chicken is one of the most versatile ingredients that fit effortlessly into any salad, regardless of how it is cooked. If you have any leftover chicken, add it to your salad to give your dish a boost of protein.
2. Shrimp
Similar to chicken, adding cooked shrimp can make your salad more wholesome with a hefty amount of protein.
If you don't know how to prepare your shrimp, we suggest seasoning it lightly with salt and pepper. Sauté quickly in butter and it's ready to go into the salad.
3. Spinach
What we love about spinach is that it is low calories and requires minimal preparation. All you have to do is rinse, drain, and pat it dry before mixing it with other vegetables.
We highly recommend using baby spinach as it has a tender and more enjoyable texture when eaten raw.
4. Artichoke
Fresh artichokes may put you off with their exotic and seemingly inedible appearance, but they're actually tasty. And, you can easily find ready-to-use, canned artichoke hearts in your local supermarkets.
You just need to drain them before adding into your dish. They have a mildly sweet flavor which will go well with almost any salad dressing.
How Long Does Tortellini Salad Last?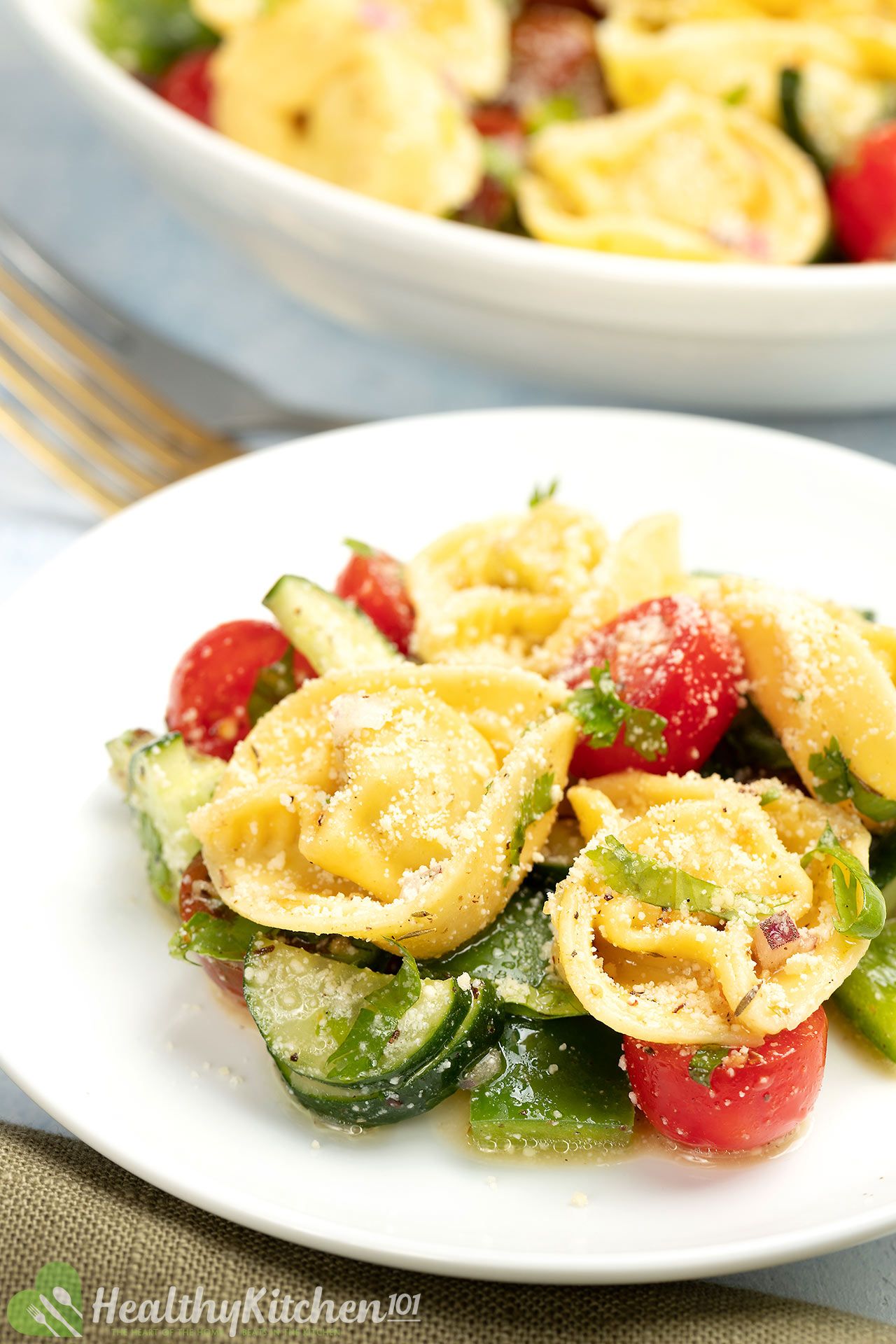 Our tortellini salad can last up to 5 days in the fridge if you store it in an airtight container.
That being said, refrigerated pasta tends to harden and have an unpleasant texture to chew. So, it would be best to finish this pasta salad within 24 hours.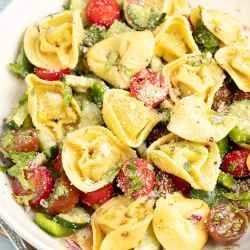 Tortellini Salad Recipe
This simple, Italian-inspired, summer tortellini salad recipe requires nothing but a few simple ingredients and minutes to make. Let's start cooking.
Ingredients
4

oz

tortellini

thawed, we used spinach & ricotta-stuffed

1 1/2

tbsp

olive oil

1/2

tsp

Italian seasoning

2

tsp

lemon juice

1/2

tbsp

honey

1/4

tsp

dried basil

1/4

tsp

traditional Dijon mustard

1/4

tsp

salt

1/4

tsp

ground black pepper

2

oz

green bell pepper

chopped

4

oz

cherry tomato

cut in half, we used multi-colored

1

oz

red onion

finely diced

0.5

oz

coriander

roughly chopped

3

oz

cucumber

sliced

0.25

oz

grated Parmesan cheese
Instructions
Cook the tortellini: Bring a large pot of water to a boil. Once boiling, add the pasta and cook according to package instructions (ours took 7 minutes). Drain and rinse under cold water to stop the cooking process. Drain well and leave to cool.

Make the dressing: In a small bowl, combine olive oil, Italian seasoning, lemon juice, honey, basil, Dijon mustard, salt, and pepper. Mix well and set aside.

Mix the salad: In a large bowl, combine all the ingredients except for the Parmesan cheese. Drizzle the dressing and toss to coat evenly.

Serve: You can eat it right away or put it in the fridge for 10 minutes to let it cool before serving. Garnish with a sprinkle of Parmesan cheese and enjoy.
Nutrition
Nutrition Facts
Tortellini Salad Recipe
Amount Per Serving (1 serving)
Calories 157
Calories from Fat 72
% Daily Value*
Fat 8g12%
Cholesterol 11mg4%
Sodium 312mg14%
Potassium 200mg6%
Carbohydrates 19g6%
Protein 4g8%
Vitamin A 463IU9%
Vitamin C 21mg25%
Calcium 66mg7%
Iron 1mg6%
* Percent Daily Values are based on a 2000 calorie diet.