This twice-baked cauliflower recipe may be the best way to sneak some more cauliflower into your diet.
We all know we should be eating more vegetables, but they can be quite tasteless. Fortunately, today's recipe allows us to turn those bland cauliflowers into delicious food that we can enjoy.
Our twice-baked cauliflower is quick and easy to make. You can have it on your daily menu or serve it at small gatherings and wow your guests.
Is Twice-Baked Cauliflower Healthy?
Yes, our twice-baked cauliflower recipe is healthy.
The main ingredient of this dish is cauliflower, a great source of nutrients, including fiber, vitamin C, K, potassium, to name a few. One serving of our recipe contains about 9% of your recommended daily dietary fiber intake.
Our twice-baked cauliflower may be rich and creamy, but the amount of saturated fat is relatively low (under 4g). In fact, the number of calories and sodium per serving is also kept within recommended limits.
Want to know how we set the numbers for recommended daily calorie, saturated fat, and sodium intake? Check out our healthy eating guidelines.
For those who love healthy cauliflower recipes, check out our healthy loaded cauliflower casserole, this cauliflower version of mac and cheese, and a 25-minute dish using easy-to-buy ingredients. They're just as nutritious, tasty, and easy to make.
Main Ingredients
Here's a list of what you need for today's twice-baked cauliflower recipe: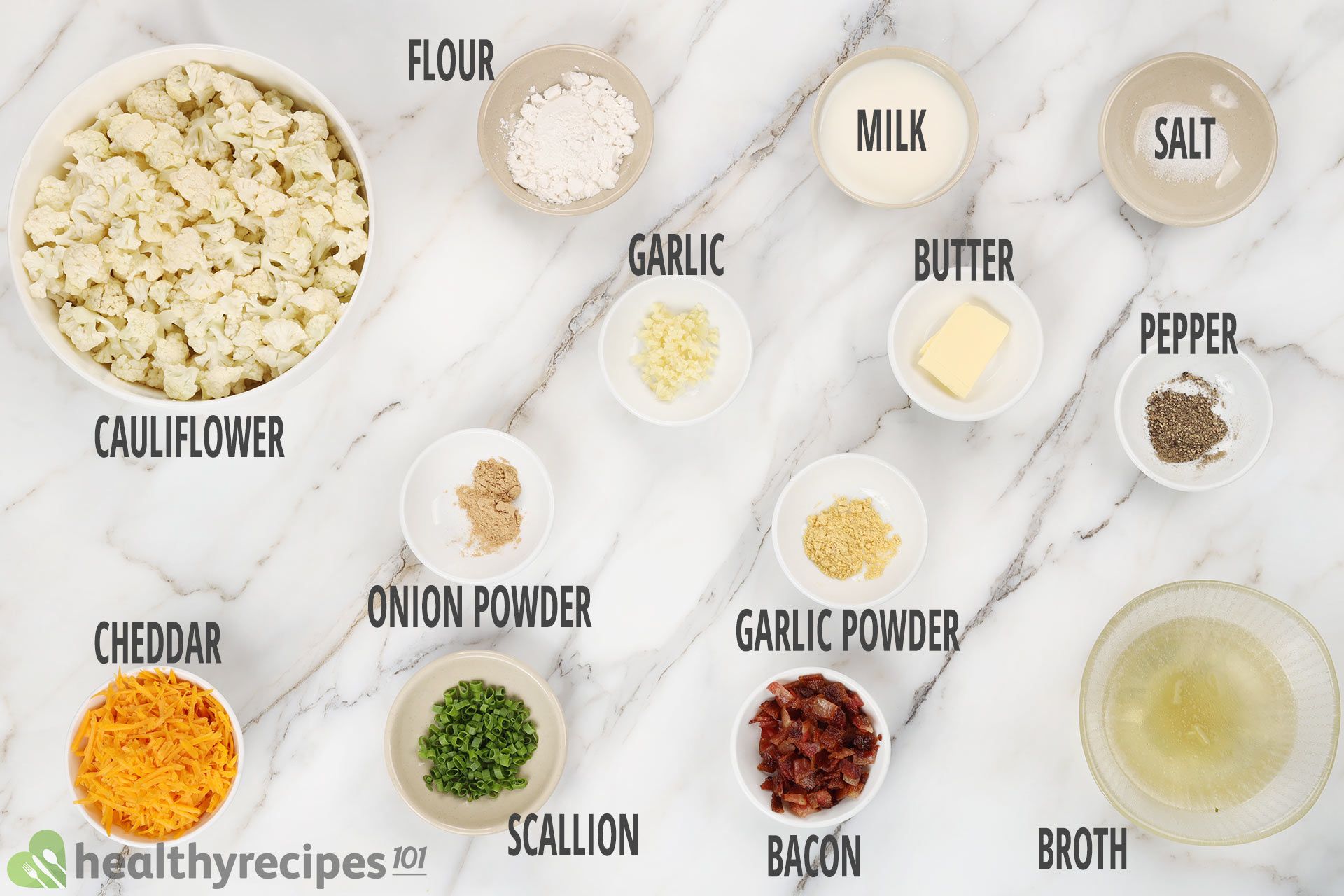 Cauliflower: We're using fresh cauliflower for today's recipe, but feel free to substitute it with frozen ones if you have any. If you do, allow them to thaw before cooking.
Bechamel sauce: This is a type of white sauce that we're going to mix with the cauliflower to give the dish a creamy texture.
Bacon: We pan-seared the bacon to make it crispy and render the fat out, thus reducing fat consumption.
Cheddar cheese: Along with the bacon, this topping will be sprinkled on your twice-baked cauliflower. Once cooked, the cheese will become a melted, savory crust.
Seasonings: We're using salt, freshly cracked black pepper, onion powder, garlic powder, and raw garlic — our favorite spice mix. If you want spiciness, use paprika or cayenne pepper.
Herbs: Scallion has a slightly sweet and pungent taste that can go well with creamy, cheesy food. If you're not a fan of it, thyme, oregano, or marjoram are the best alternatives for you to choose from.
Ways to Prepare Cauliflower
There are several ways to prepare cauliflower for today's recipe. Here is what we've done: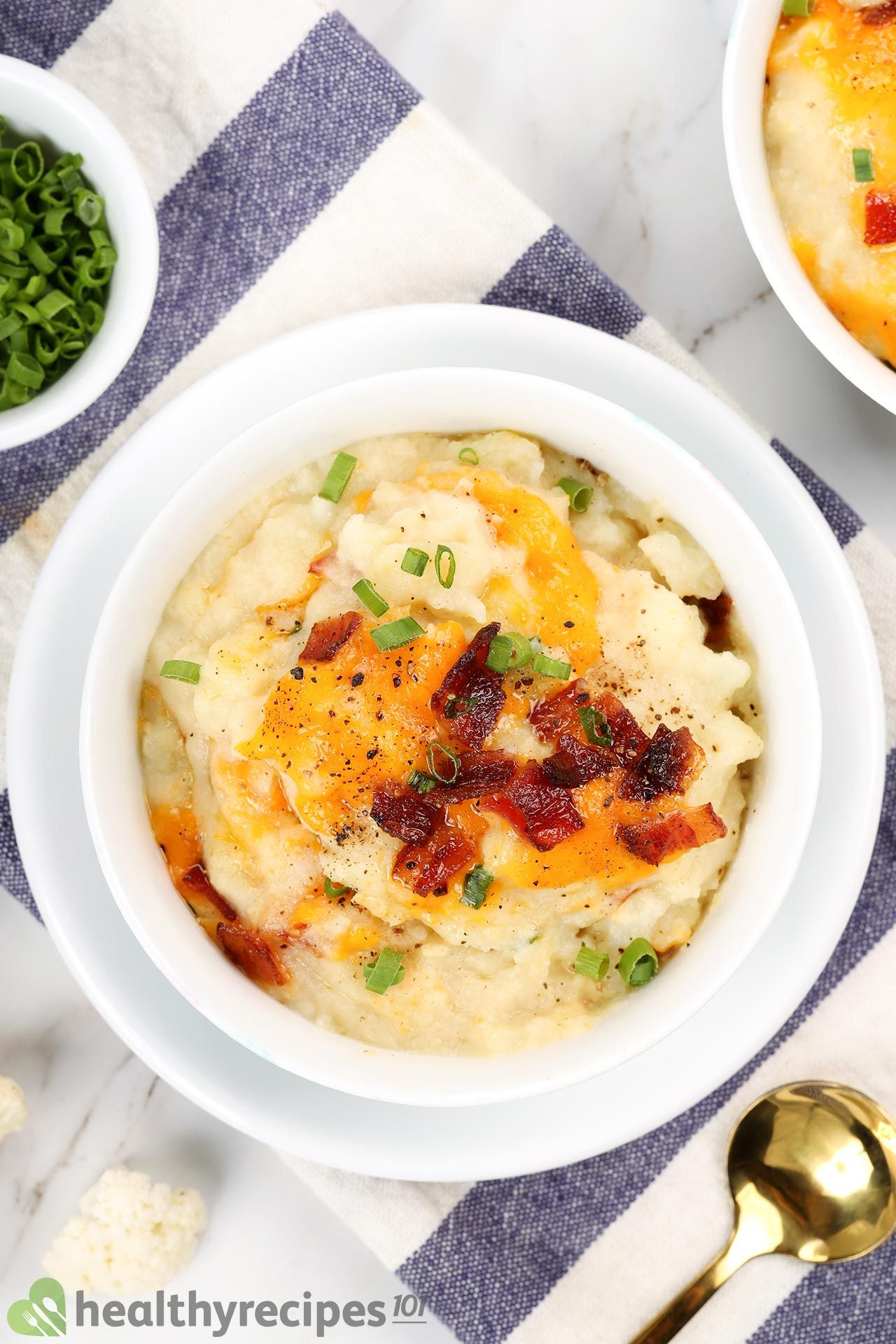 Remove the leafy parts and rinse the cauliflower to wash off any dirt.
Cut the cauliflower into small florets so that they can cook quickly.
Steam the cauliflower until tender and blend until smooth.
We wouldn't recommend boiling the cauliflower as it actually increases its moisture. Once blended, it will be rather watery and gives your twice-baked cauliflower a runny texture.
How to Make Twice-Baked Cauliflower
Here is a summary of our twice-baked cauliflower recipe: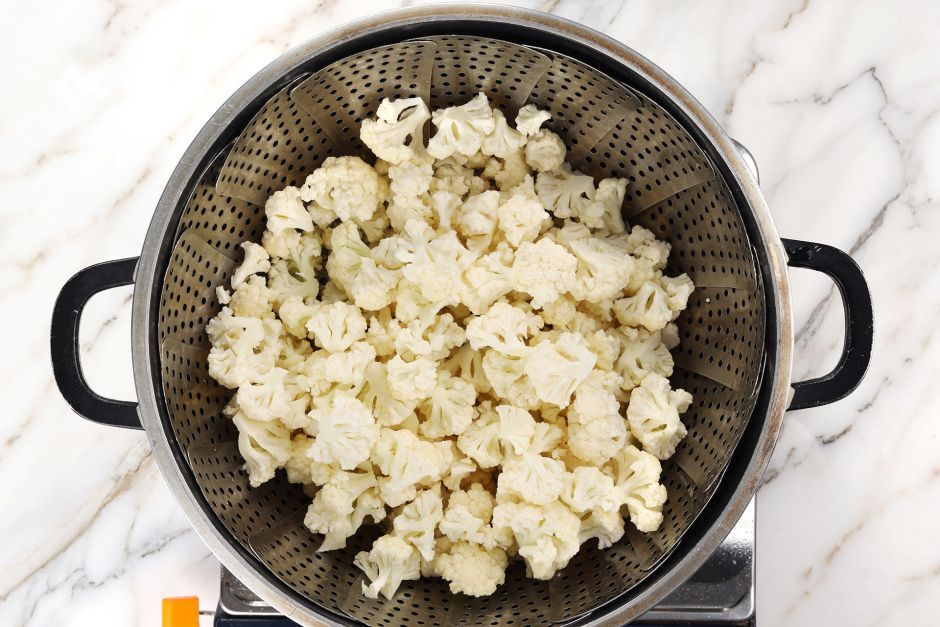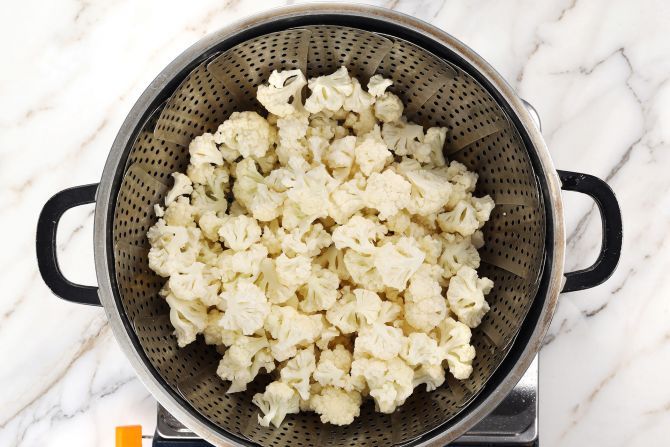 Cook the cauliflower.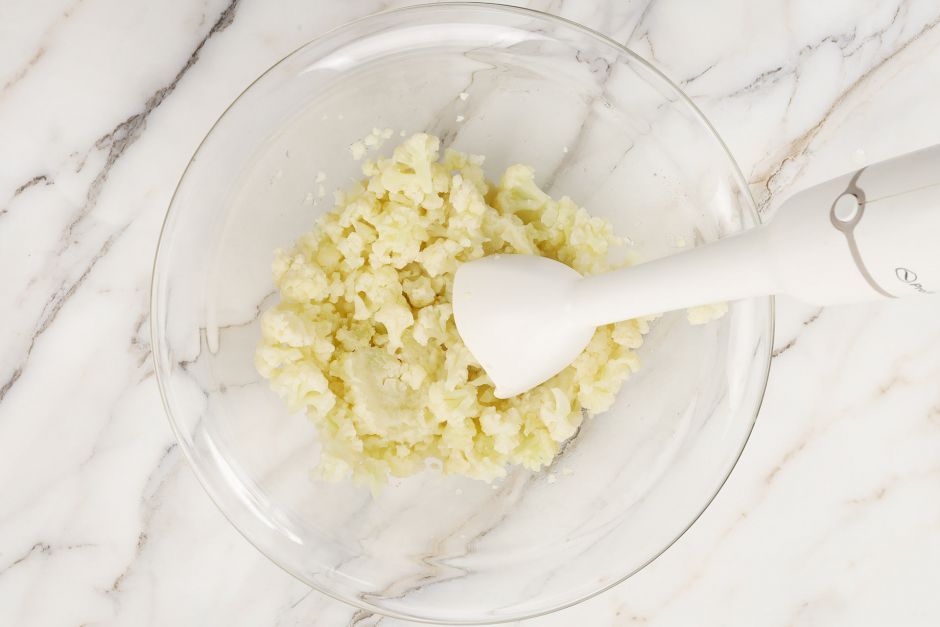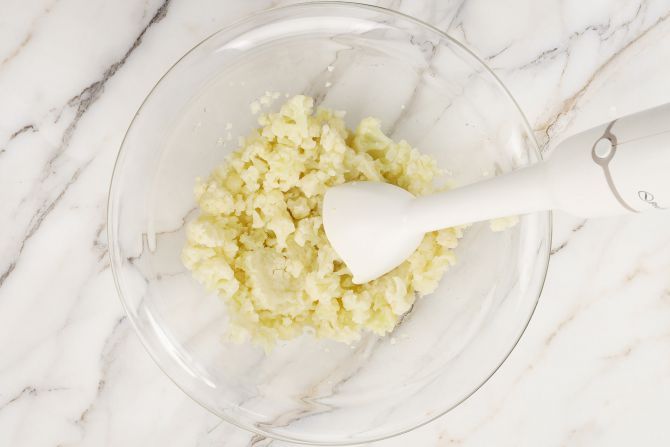 Pulverize the cauliflower.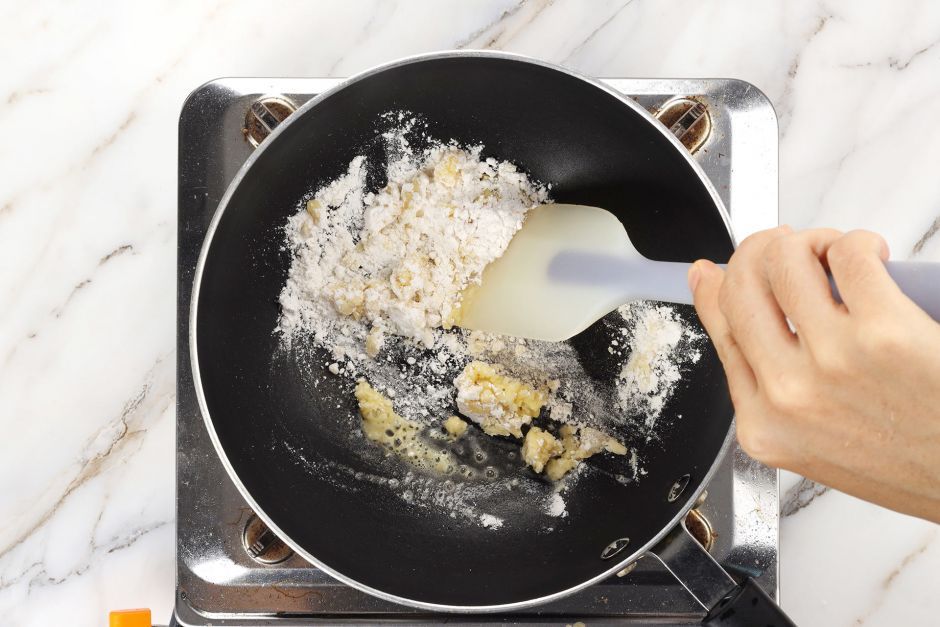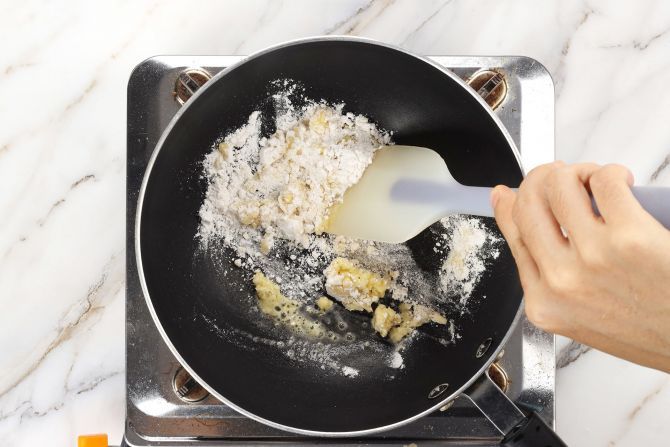 Make a roux.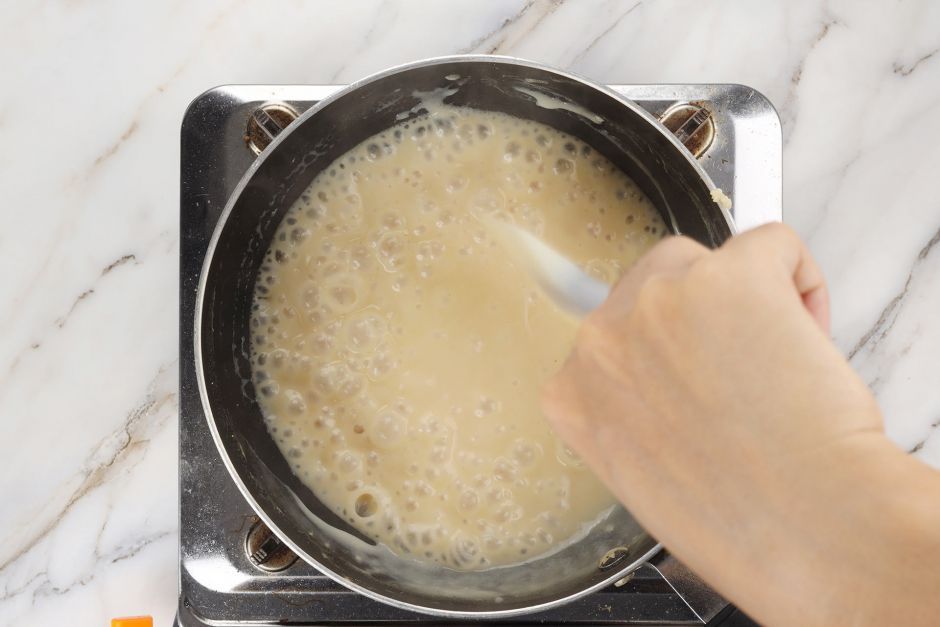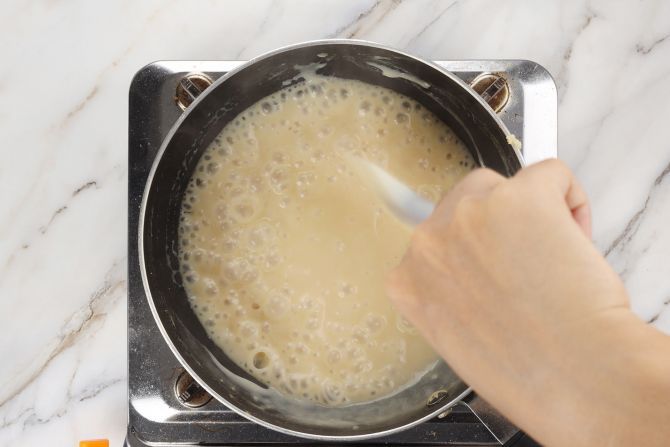 Make the bechamel sauce.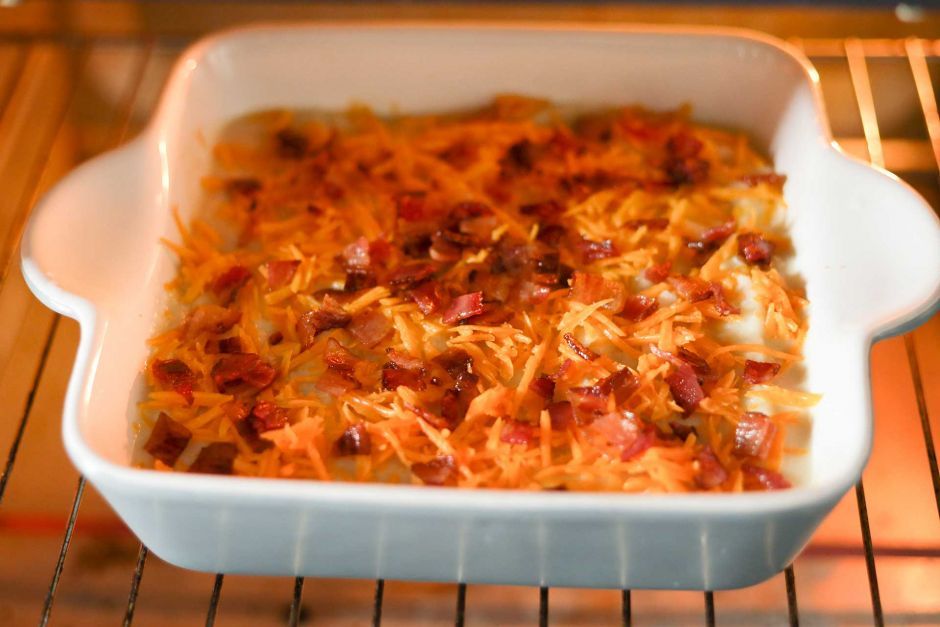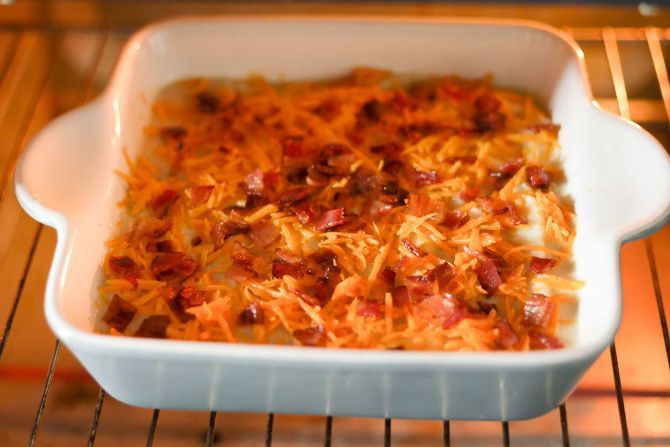 Bake the cauliflower.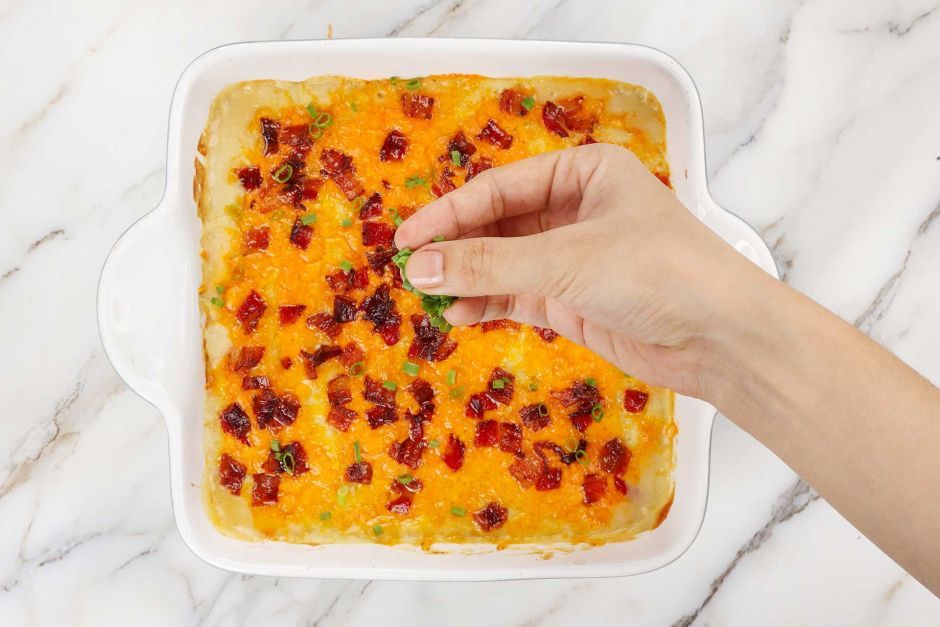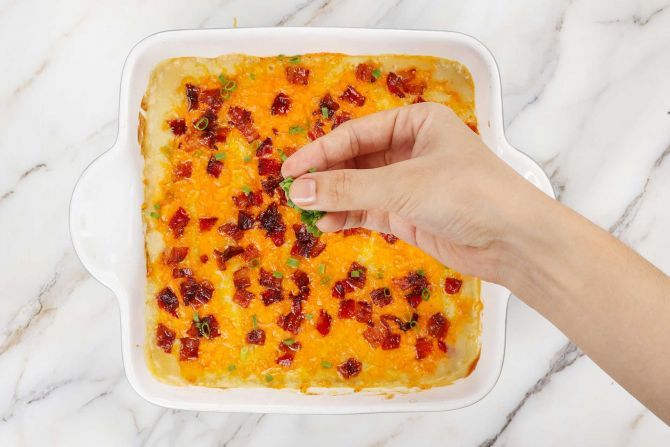 Garnish and serve.
Full ingredient measurements and detailed instructions are available in the recipe section below.
Jump to Recipe
To have perfectly casserole recipes every time, check out our healthy and delicious casserole roundup.
How to Store and Reheat Twice-Baked Cauliflower
Leftover twice-baked cauliflower should be left to cool before being put in an airtight container. Store it in the refrigerator, and it will last up to 7 days.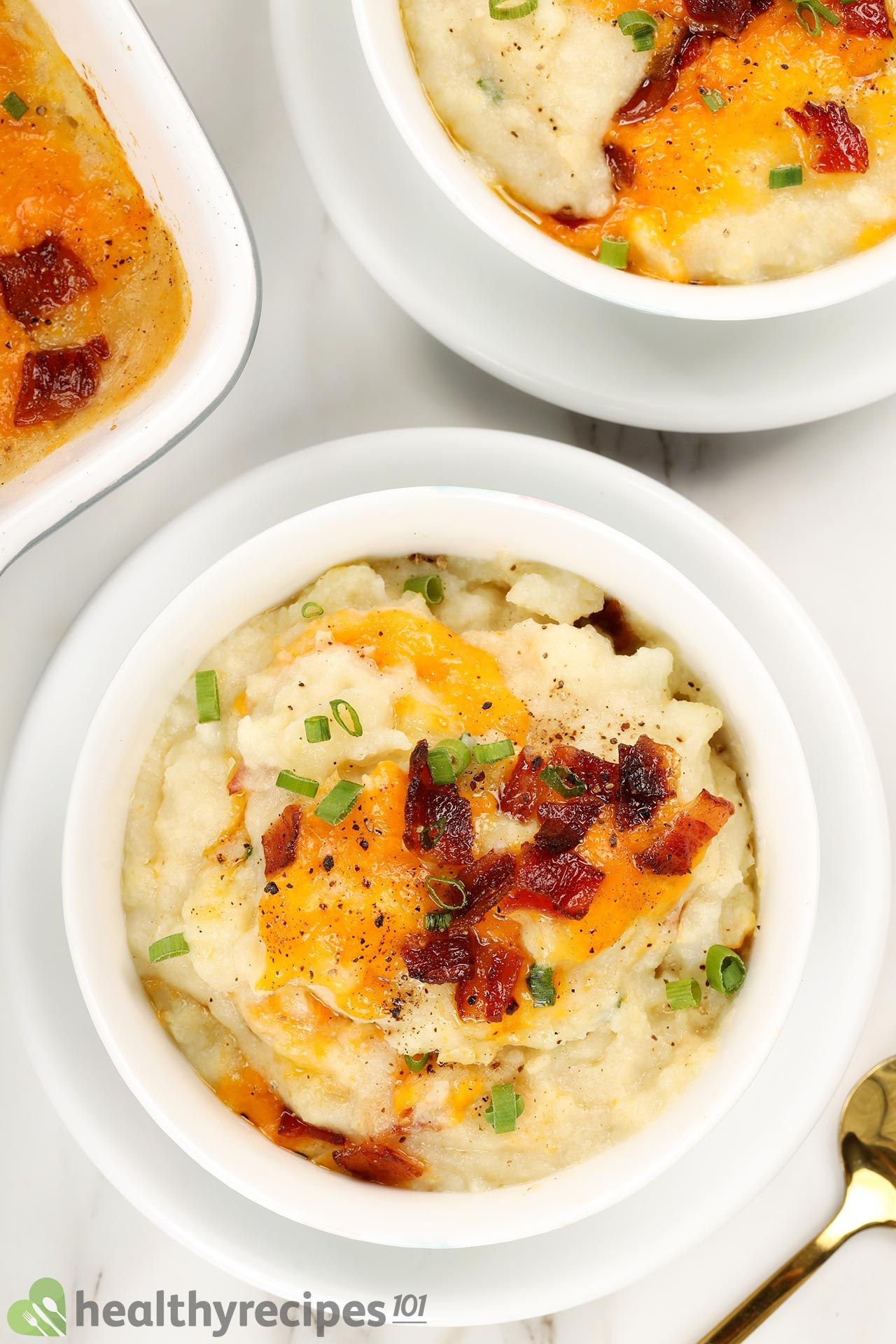 If you want to prolong its shelf life, freeze it, and it can last for a month. When you want to eat it, take it out of the freezer and let it thaw before reheating.
To reheat the twice-baked cauliflower, transfer it to a microwave-safe container and microwave for 2 minutes.
Recipes Similar to This Cauliflower Recipe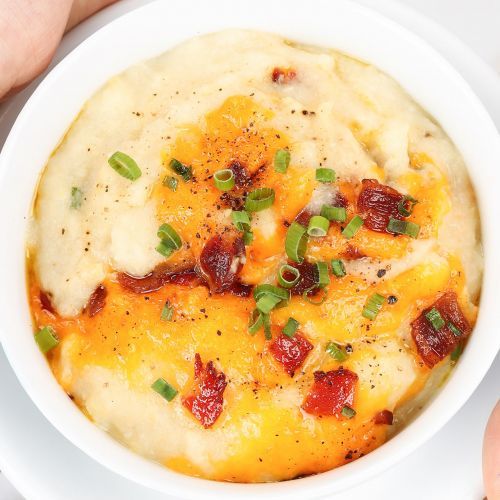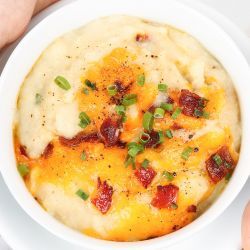 Twice-Baked Cauliflower Recipe
This twice-baked cauliflower recipe offers you a healthy, comforting side dish packed with flavor and fiber. Let's see how it's made.
Ingredients
16

oz

cauliflower

cut into florets or chopped

1/2

tbsp

unsalted butter

1

tsp

garlic

minced

2

tbsp

all-purpose flour

1

cup

unsalted chicken broth

1/4

cup

whole milk

1/4

tsp

salt

1/2

tsp

garlic powder

1/2

tsp

onion powder

1.5

oz

cheddar cheese

shredded

0.25

oz

bacon

pan-seared, chopped

2

tbsp

scallions

chopped

1/2

tsp

black pepper
Instructions
Cook the cauliflower: Before you start, preheat the oven to 425°F. Add about 1 inch of water to a large pot. Place a steamer basket in the pot and bring to a boil. Add 16 oz cauliflower florets and steam for 15 minutes, covered with a lid.

Pulverize the cauliflower: Once cooked, transfer the cauliflower to a bowl and blend with an immersion blender. (If you don't have one, use a regular blender or food processor).

Make a roux: In a small saucepan over medium-low heat, add 1/2 tbsp unsalted butter and 1 tsp minced garlic. Stir constantly for 30 seconds or until fragrant. Add 2 tbsp all-purpose flour and stir to mix it evenly with the melted butter.

Make the bechamel sauce: Add 1 cup unsalted chicken broth, 1/4 cup whole milk, 1/4 tsp salt, 1/2 tsp garlic powder, and 1/2 tsp onion powder. Turn the heat up to high and whisk constantly until the sauce boils. Continue to whisk and cook for another 2 minutes to thicken the sauce before turning off the heat.

Bake the cauliflower: Add the cauliflower purée to the bechamel sauce. Mix evenly before transferring the mixture to a small, rectangular baking dish. Smooth out the top and sprinkle with 1.5 oz shredded cheddar cheese and 0.25 oz chopped bacon. Transfer the baking dish to the oven and bake for 10 minutes.

Garnish and serve: Once baked, remove from the oven and sprinkle with 2 tbsp chopped scallions and 1/2 tsp black pepper. Allow to cool a bit before serving.
Nutrition
Nutrition Facts
Twice-Baked Cauliflower Recipe
Amount Per Serving (1 serving)
Calories 123
Calories from Fat 63
% Daily Value*
Fat 7g11%
Cholesterol 18mg6%
Sodium 297mg13%
Potassium 420mg12%
Carbohydrates 11g4%
Protein 7g14%
Vitamin A 56IU1%
Vitamin C 56mg68%
Calcium 127mg13%
Iron 1mg6%
* Percent Daily Values are based on a 2000 calorie diet.