In today's antipasto salad recipe, we combined proteins, veggies, fruits, and a homemade light lemon olive oil all together on the same plate. The dish offers a wide range of flavors and textures: crunchy, soft, savory, tangy, and sweet, making it a great hit on your table.
Plus, it can be made ahead of time for a stress-free and time-saving win this National Salami Day (September 7).
What Is Antipasto?
Antipasto is a traditional Italian salad that is served as the first course of the meal. A typical antipasto salad often contains slices of meats, various fresh vegetables, olives, and cheese tossed in an olive oil – vinegar dressing.
Our antipasto salad is quite similar to the classic Italian version as it has all the expected flavors and textures.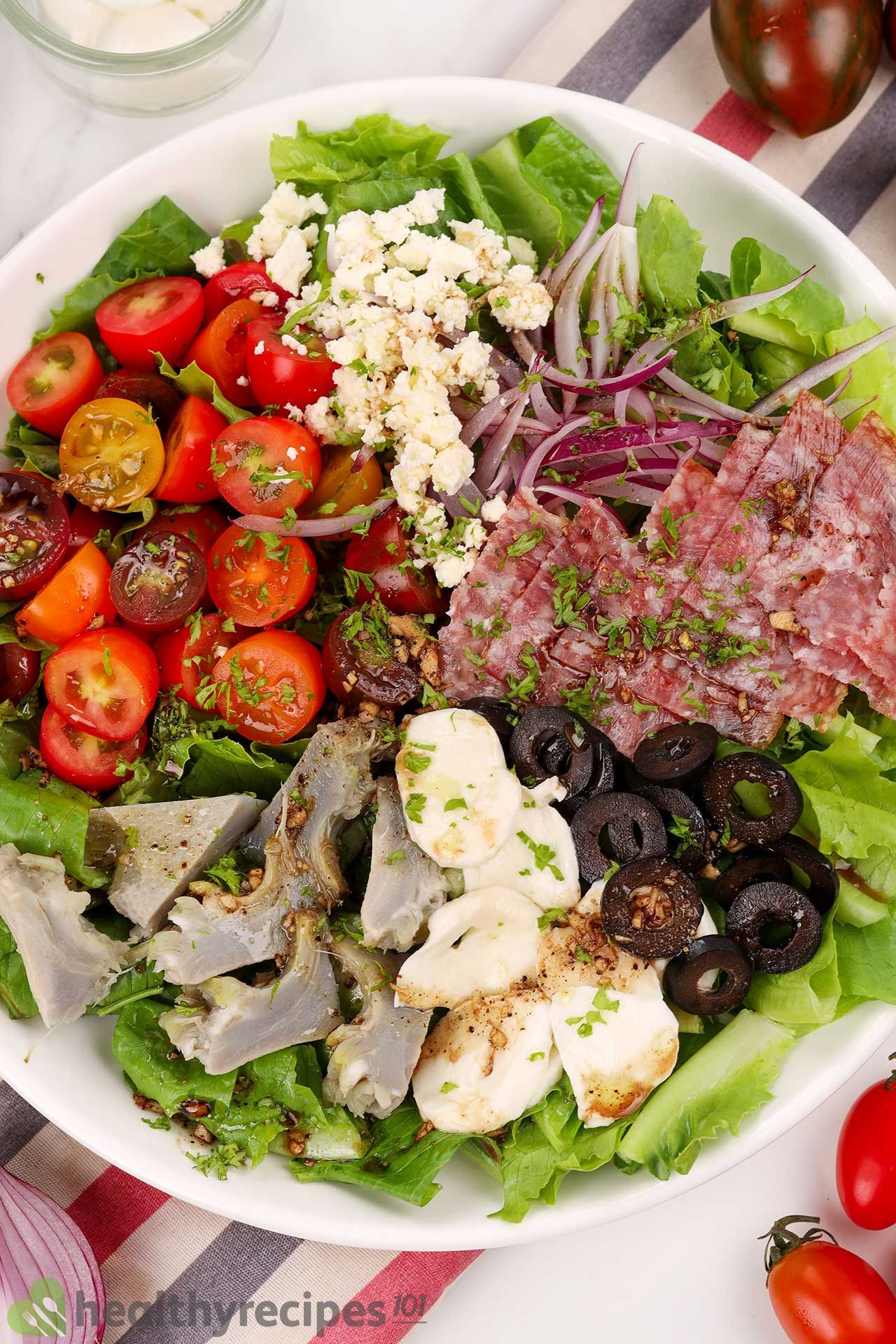 Antipasto Salad Ingredients
Antipasto is straightforward to make, ideal for summertime as you don't even have to turn on the stove. The ingredients list might look long, but they don't take much time or effort to prep.
Romaine Lettuce: We chopped romaine into 4-inch pieces to make the base of flavor. You can also use half romaine and half iceberg lettuce for a lovely crunch.
Salami: Salami can be either diced into thin slices or cubes for this salad. If you don't have salami on hand, other Italian cured meats also work beautifully in this recipe.
Olive: Olives are one of the key ingredients in Italian cuisine, giving a tangy and zesty flavor that adults and children will love.
Tomatoes: Cherry tomatoes are sweeter than other types, so aim for this variety if you can. You'll be amazed by how it brightens up the whole salad bowl.
Red onions: Onion is quite essential for antipasto. If it's too strong for you, add sliced red onions to a bowl of ice water for 10 minutes, and drain well before using them. This helps to mild the taste while still retaining the excellent crunchiness of the veggie.
Artichokes: Boiling artichokes is a delicious way to add more taste and texture to your antipasto.
Cheese: Fresh mozzarella is buttery and melt-in-your-mouth, making the salad even more desirable. Of course, you can twist it into regular mozzarella, but the texture won't be quite the same. Try different cheeses to your liking and see how this antipasto changes with more or fewer variations.
The recipe is wonderfully customizable, so feel free to add or swap in any of your favorite ingredients that you have at home.
Antipasto Salad Dressing
The best dressing for antipasto salad is the classic olive oil – vinegar dressing. The good news is that this fresh dressing can be made in minutes using pantry ingredients.
This easy Italian dressing is a balanced blend of olive oil, pepper, salt, honey, spices, and the best part — balsamic. The vinegar elevates the salad to a whole new level of deliciousness because, after all, it's essential to have a surprisingly zesty note, holding all the hearty elements in the dish harmoniously.
You can also make the dressing in advance. It can be kept refrigerated for up to 2 weeks.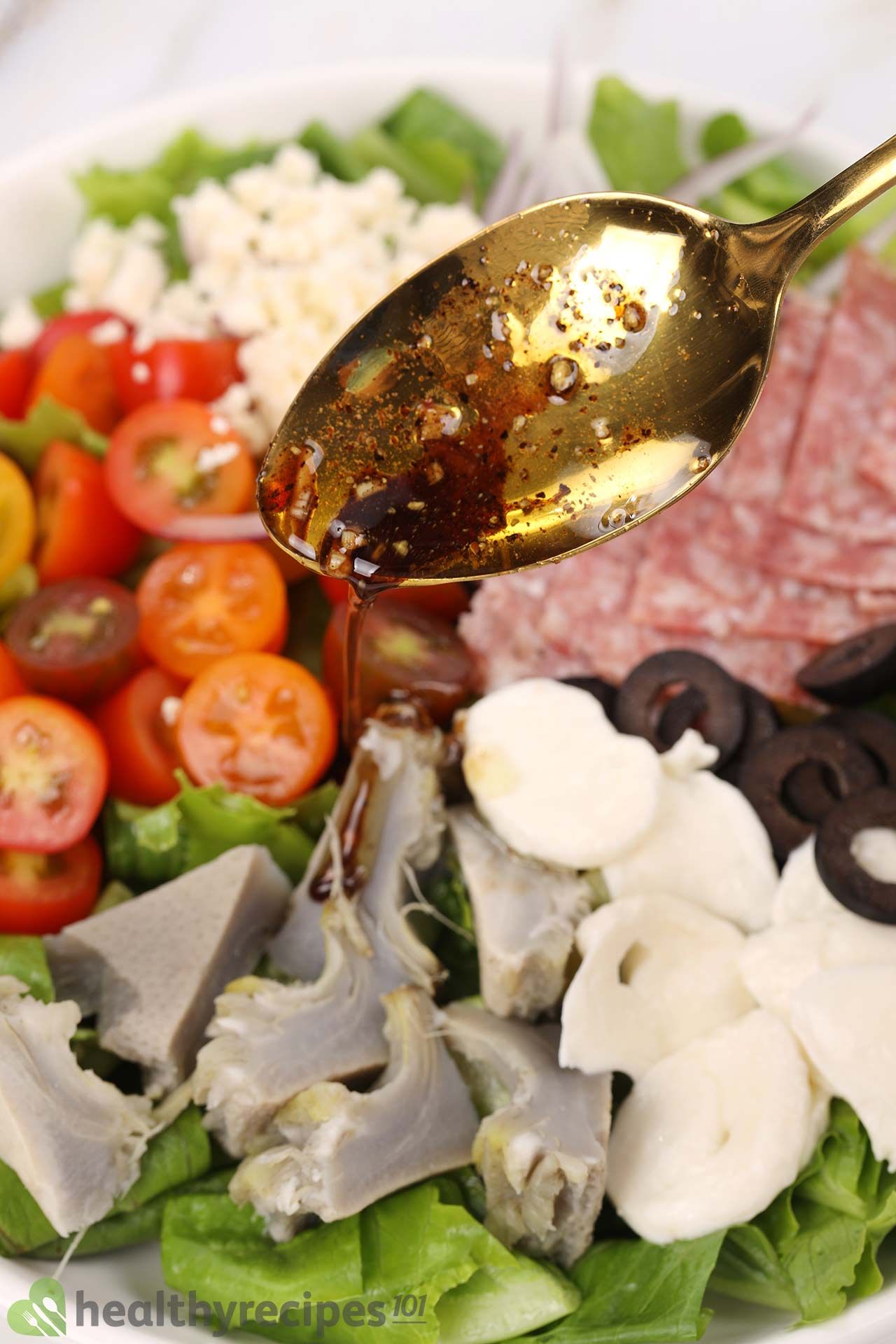 Is Antipasto Salad Healthy?
Filled with fresh vegetables, protein, and healthy fat, yes, our antipasto recipe is a healthy salad.
Nutritionally, each serving of this antipasto salad contains 154 calories, 3,3 g of saturated fat, and 282 mg of sodium. These amounts are all within the healthy limit of the current USDA's Dietary Guideline without compromising the dish's deliciousness. 
How to Make Antipasto Salad
The process of making antipasto salad is straightforward. You only need to make the dressing and combine everything in a salad bowl.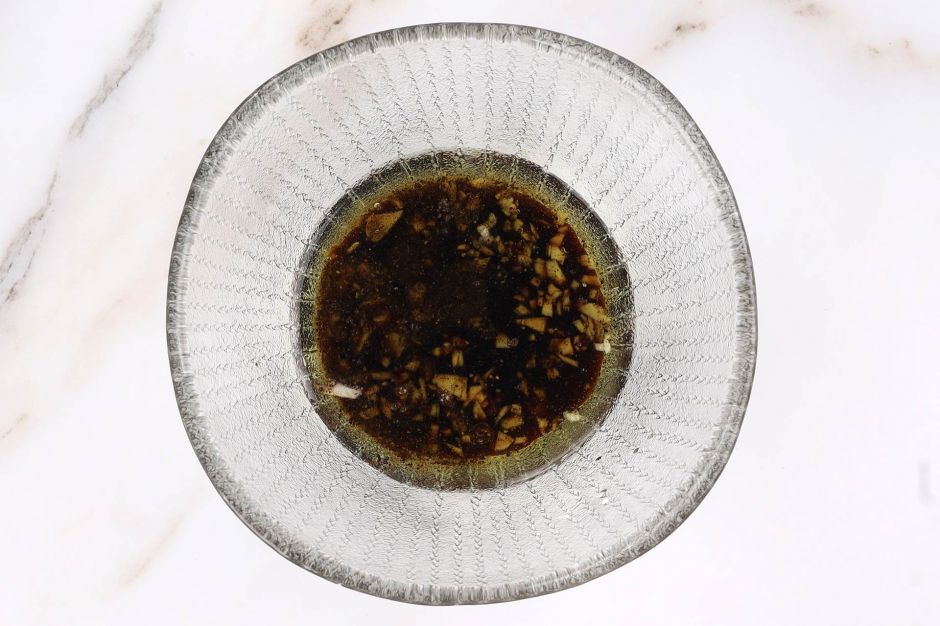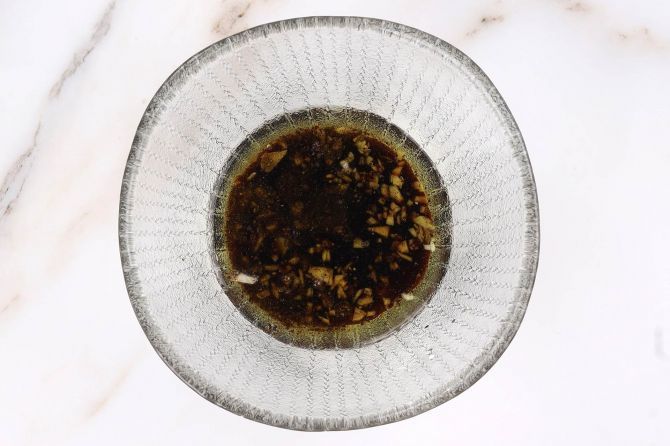 Make the dressing.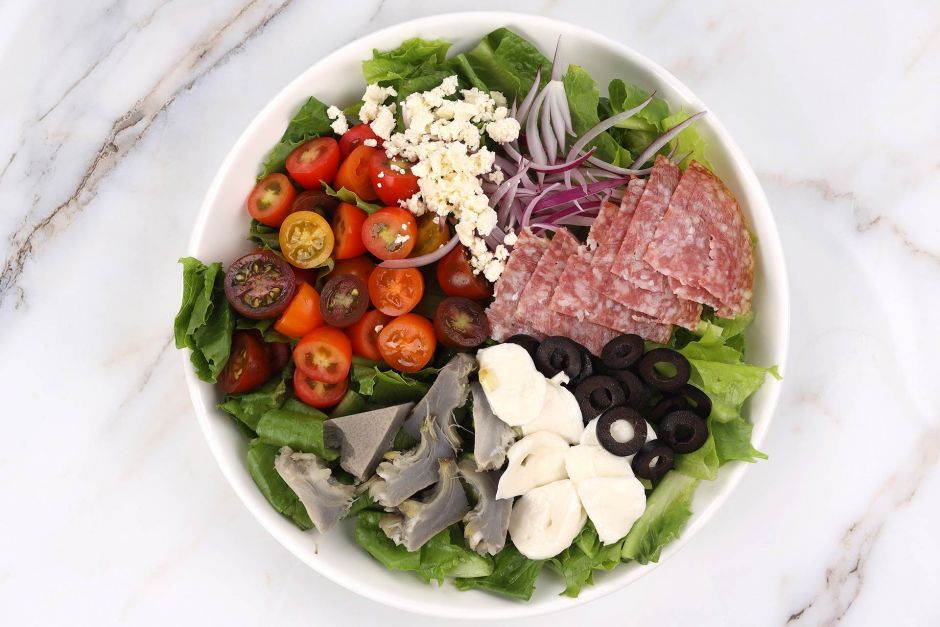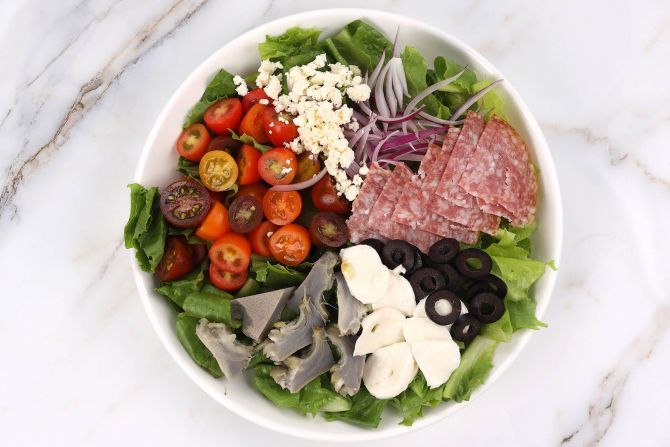 Assemble the salad.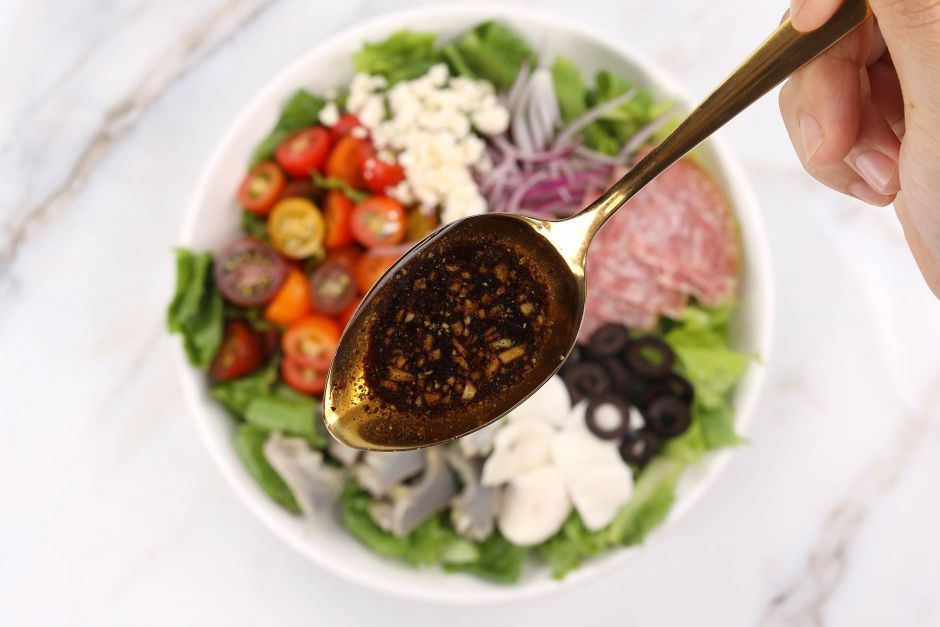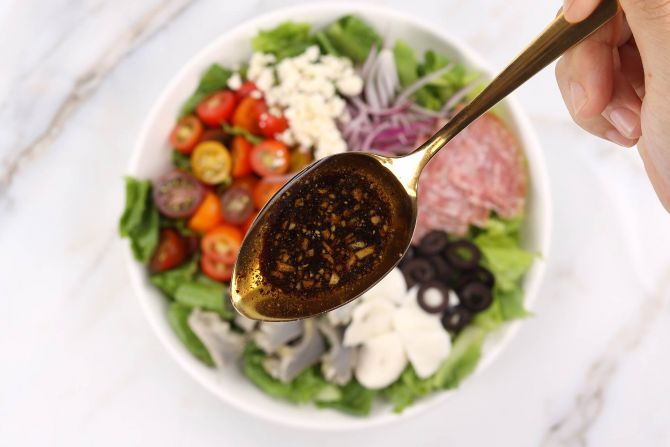 Pour the dressing over the salad.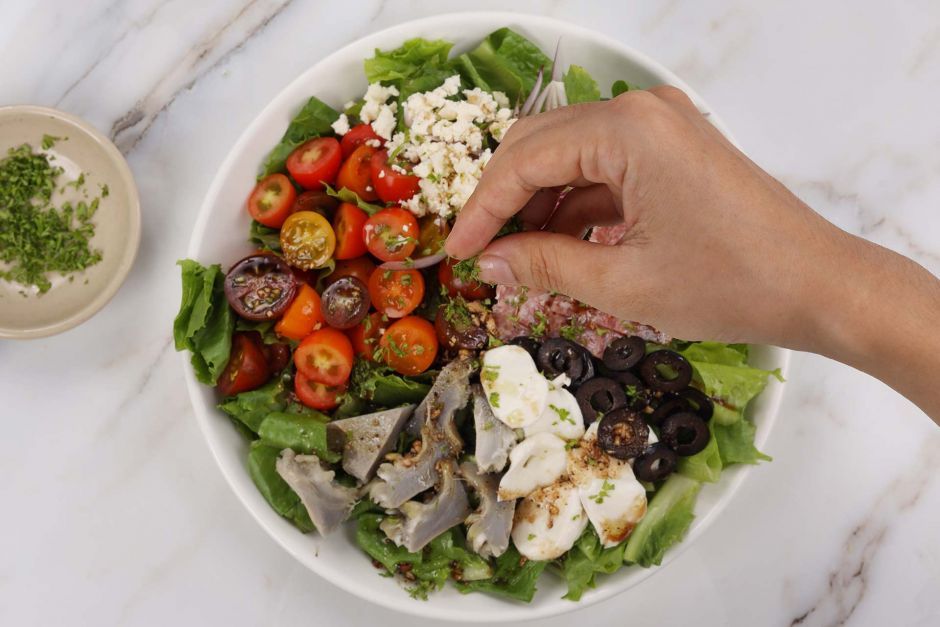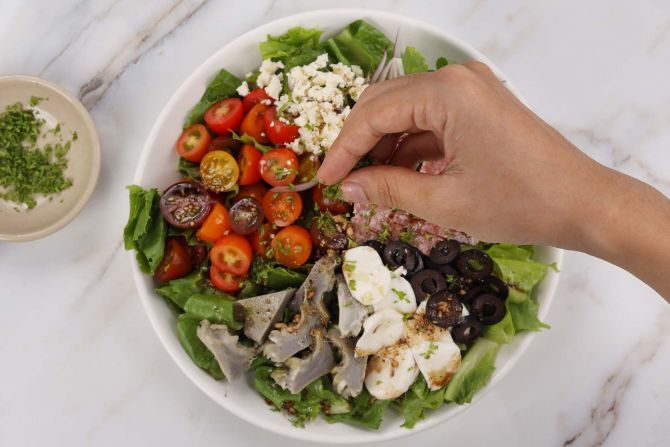 Garnish and serve.
For detailed instructions, refer to the recipe card at the bottom of this article.
How Long Does Antipasto Last?
We prefer to have this salad freshly after making it to fully enjoy the crunchiness of the vegetables and fruits. If you want to save the leftovers, do not toss the salad and dressing because the vegetables will turn soft and wilted.
Store all the ingredients together in an airtight container and leave the dressing off until ready to go. This way, you can keep the salad in the refrigerator for up to 2 – 4 days.
As the salad contains raw veggies, we do not recommend storing it in the freezer as it will not last well..
What to Eat With Antipasto
There is no right or wrong way to eat antipasto salad, giving you the freedom to incorporate it into your meal however you please.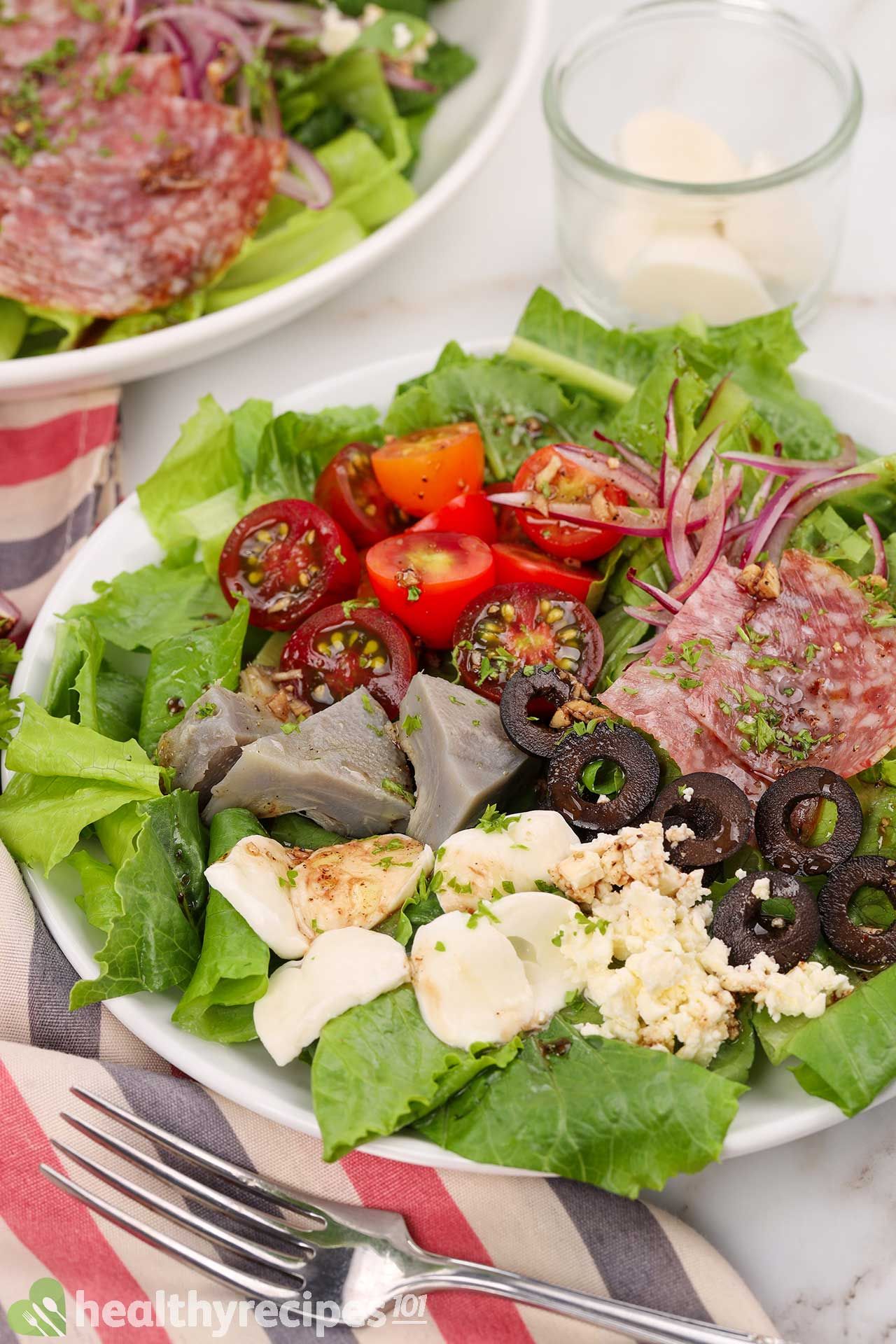 We love to serve it as a light main course, a hearty appetizer, or as a side dish. If you prefer to have antipasto as a side dish, it can be nicely paired with grilled chicken, pizza, Italian sausages, or flatbread for a wholesome eating experience.
More Delicious Salad Ideas!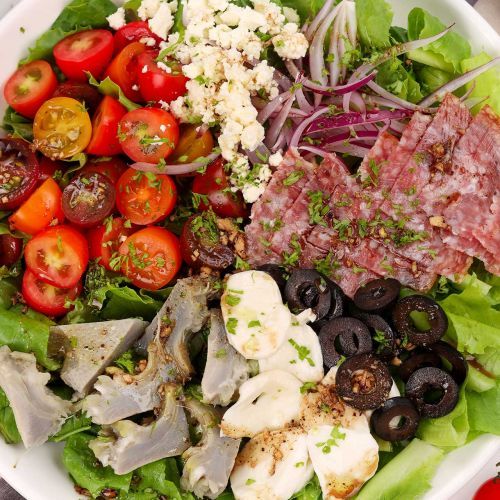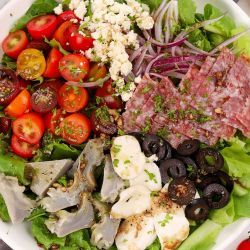 Antipasto Salad Recipe
This antipasto salad recipe turns simple pantry ingredients into a hearty, satisfying, and nutritious side dish in only 20 minutes.
Ingredients
1 1/2

tbsp

olive oil

1

tbsp

balsamic vinegar

1

tsp

honey

1

tsp

garlic

chopped

1/4

tsp

ground pepper

1/4

tsp

salt

4

oz

romaine lettuce

4

oz

cherry tomatoes

halved

0.5

oz

black olive

4

oz

boiled artichokes

0.5

oz

red onion

diced

0.5

oz

feta cheese

0.5

oz

salami

1

tbsp

parsley

chopped
Instructions
Make the dressing: Whisk together 1 1/2 tbsp olive oil, 1 tbsp balsamic vinegar, 1 tsp honey, 1 tsp garlic, 1/4 tsp ground pepper and 1/4 tsp salt in a small bowl until well combined.

Place 4 oz romaine lettuce on a salad plate. Then layer 4 oz cherry tomatoes, 0.5 oz black olive, 0.5 oz red onion, 4 oz boiled artichokes, 0.5 oz salami, 1 oz fresh mozzarella cheese, and 0.5 oz feta cheese on the bed of lettuce.

Pour the dressing over the salad.

Sprinkle with 1 tbsp parsley and serve.
Nutrition
Nutrition Facts
Antipasto Salad Recipe
Amount Per Serving (1 serving)
Calories 130
Calories from Fat 81
% Daily Value*
Fat 9g14%
Cholesterol 9mg3%
Sodium 318mg14%
Potassium 236mg7%
Carbohydrates 9g3%
Protein 4g8%
Vitamin A 2708IU54%
Vitamin C 12mg15%
Calcium 44mg4%
Iron 1mg6%
* Percent Daily Values are based on a 2000 calorie diet.