This broccoli soup recipe is one of the best ways to sneak more veggies into your diet.
To me, the smell and taste of steamed/boiled broccoli just kindles joy. It's a little earthy, fresh, wholesome, and simply heart-warming. On those days when I don't feel like cooking much, a bowl of cooked rice with steamed broccoli and soy sauce dip is our go-to. It's not the most healthy meal, but it's definitely on my comfort food list and offers a variety of nutrients.
In today's recipe, we beef up broccoli with potatoes, bacon, cheese, cream, and broth, in short, tons of flavors, and blend it all to make a rich, decadent bowl of soup.
Our Broccoli Soup's Health Benefits
Made with quite a handful of ingredients, our broccoli soup adds an assortment of nutrients to the meal:
Broccoli contains vitamin C, vitamin K1, iron, and many more micronutrients. It may not be the greatest source of fiber, but we'd say 2.6 g per 100 g is decent enough.
Potatoes add complex carbohydrates and micronutrients such as vitamin C, vitamin B6, potassium, manganese, magnesium, phosphorus, etc.
Milk, cream, and cheese are high in vitamin B12 and calcium and have small amounts of other minerals.
Bacon may not be considered a healthy food, but it does provide the soup with some protein.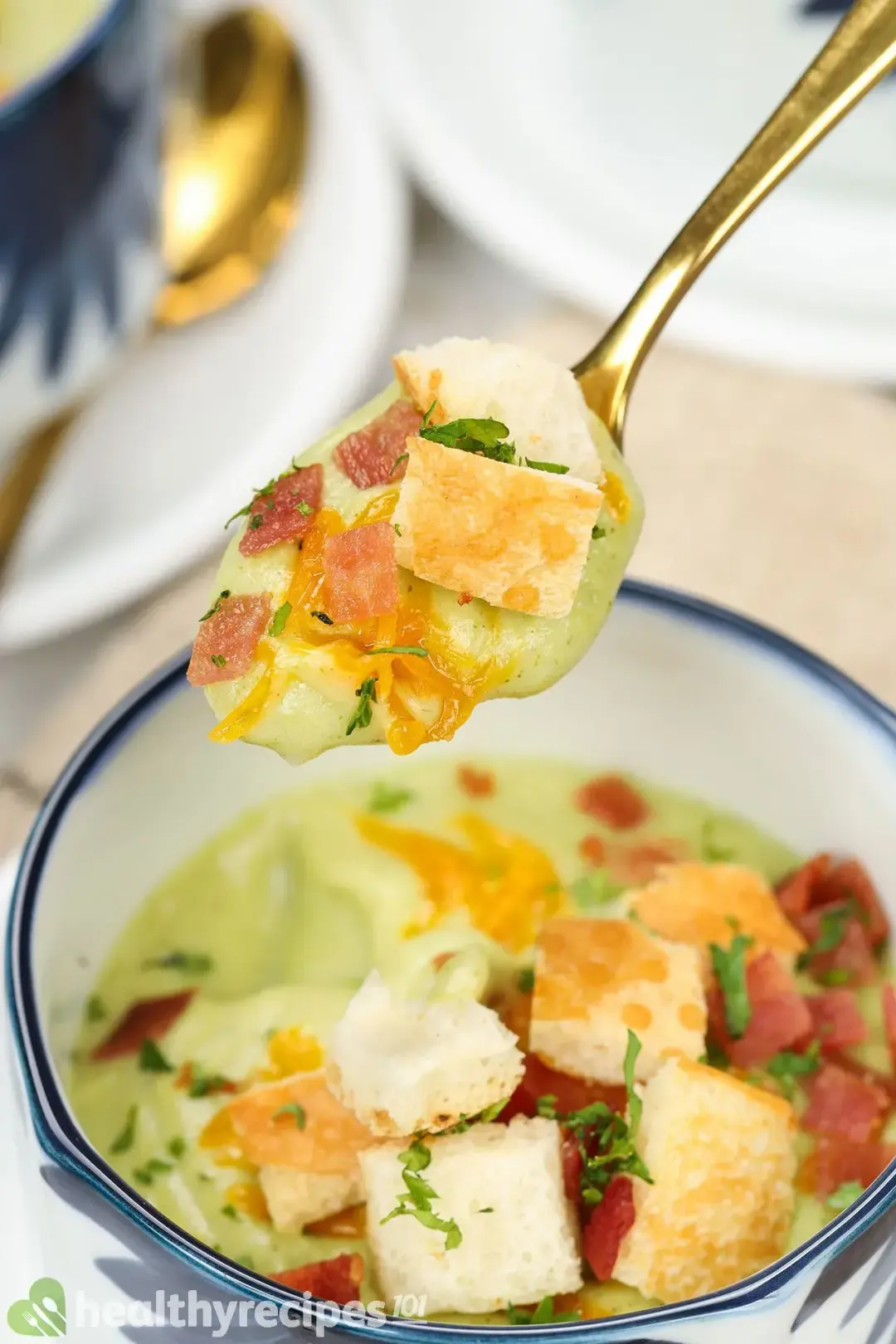 Our soup contains salt, bacon, milk, cream, and cheese. These ingredients are either high in saturated fat or sodium, or both, and they are among the things we are recommended to consume less of.
However, since we know how much of these ingredients is reasonable for one serving, we managed to keep the figures at:
181 calories per serving,
4 g saturated fats per serving,
300 mg sodium per serving.
This soup can serve as an appetizer or as a side with cooked meats. We're thinking lemon butter salmon or chicken piccata with extra capers, something tangy or sour to balance out the richness.

Ingredients for Our Soup
For this broccoli soup recipe, you'll need broccoli, bacon that's baked and torn into pieces, crunchy croutons, potatoes, grated cheddar, cream, broth, and a few other ingredients.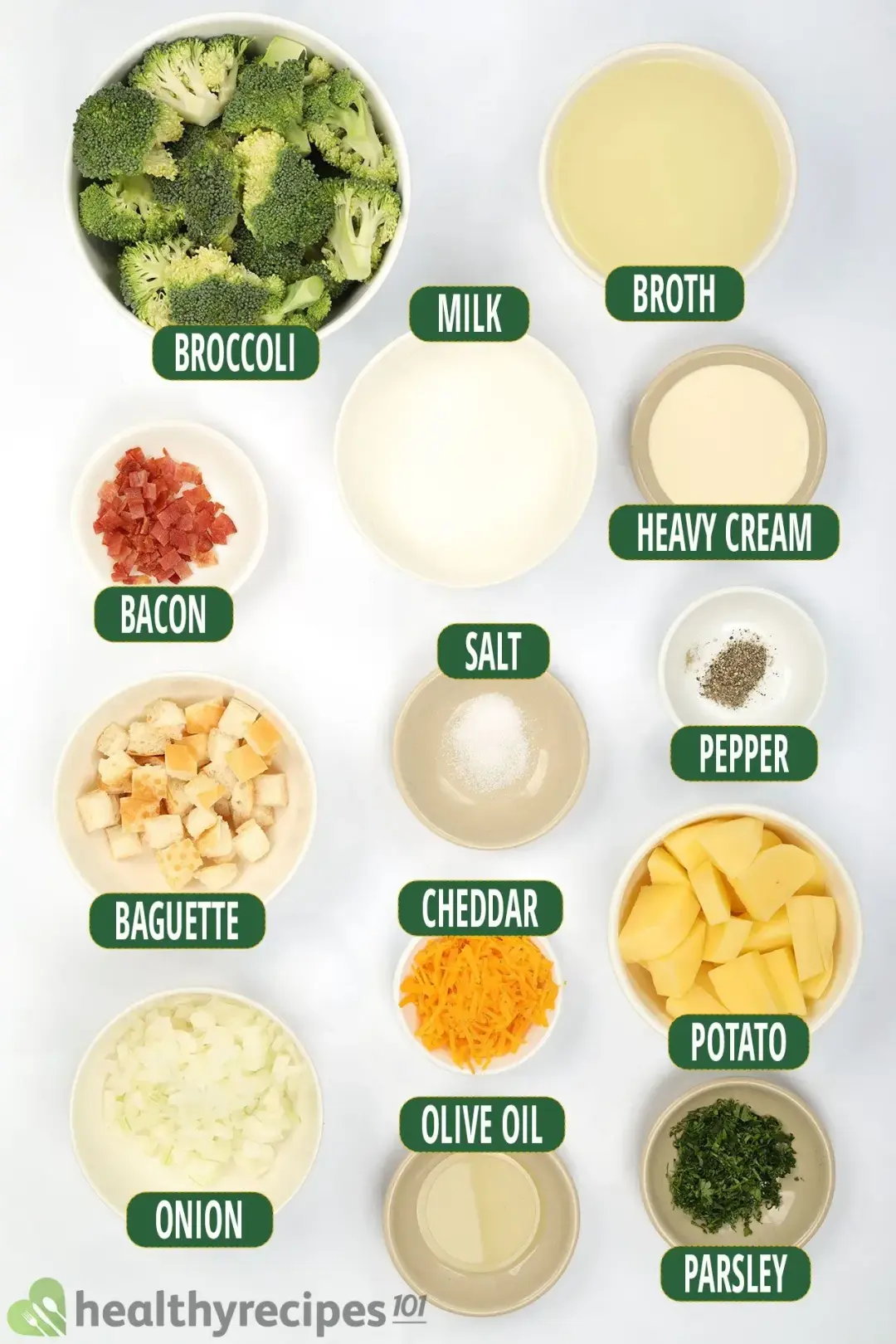 You can use a branded chicken broth for convenience, but if you're up to it, making your own broth is also very simple. Boil together celery, carrots, and onions with roasted chicken carcass, and you'll have a delicious broth in just 30 minutes.
You can prepare the croutons while your soup is simmering. We cooked ours at 350°F for 3 minutes in the air fryer. You can also cook the bacon in the same manner but in a pan to collect the bacon fat for later use.
How to Prepare Broccoli for Soups
First off, cut into where the hard base starts to separate from the florets, then submerge the head in a solution of salted water. The head has a natural wax coat that prevents water from getting in, so running the head under tap water isn't going to remove dirt or bacteria on the inside.
You can soak the hard base, too. Both need about 5 minutes.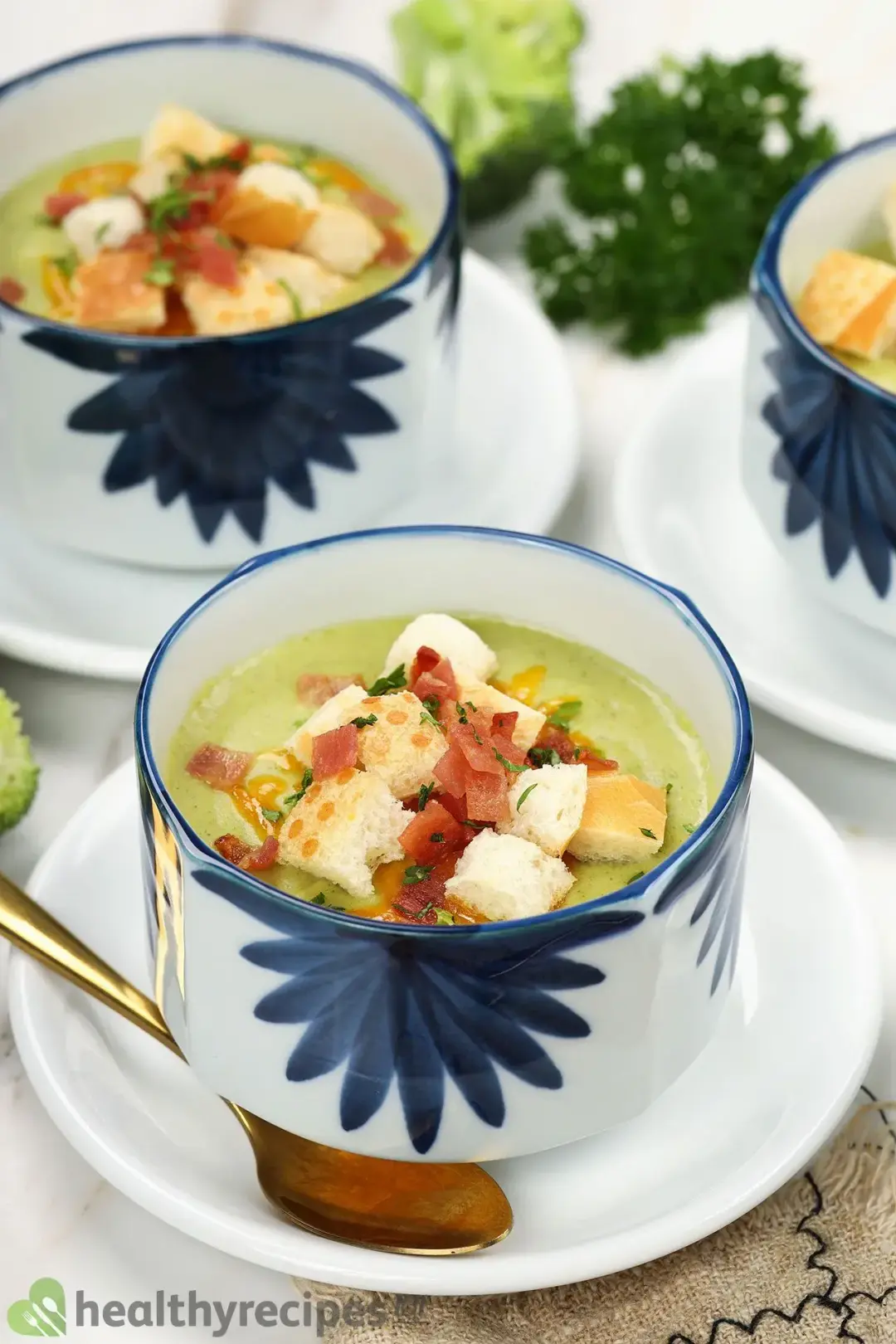 Although we're going to blend everything anyway, it's better to cut the broccoli into small pieces (and the potatoes) so it cooks more quickly. Keeping the florets large also makes it difficult for you to stir, especially if the pot you're using isn't large enough.
So once the broccoli's cleaned, cut into the base of each floret then cut anything larger than the rest in half. For the base, shave it to remove the fibrous outer layer, then slice it into thin discs.

How to Make the Broccoli Soup
Here's how we made our broccoli soup: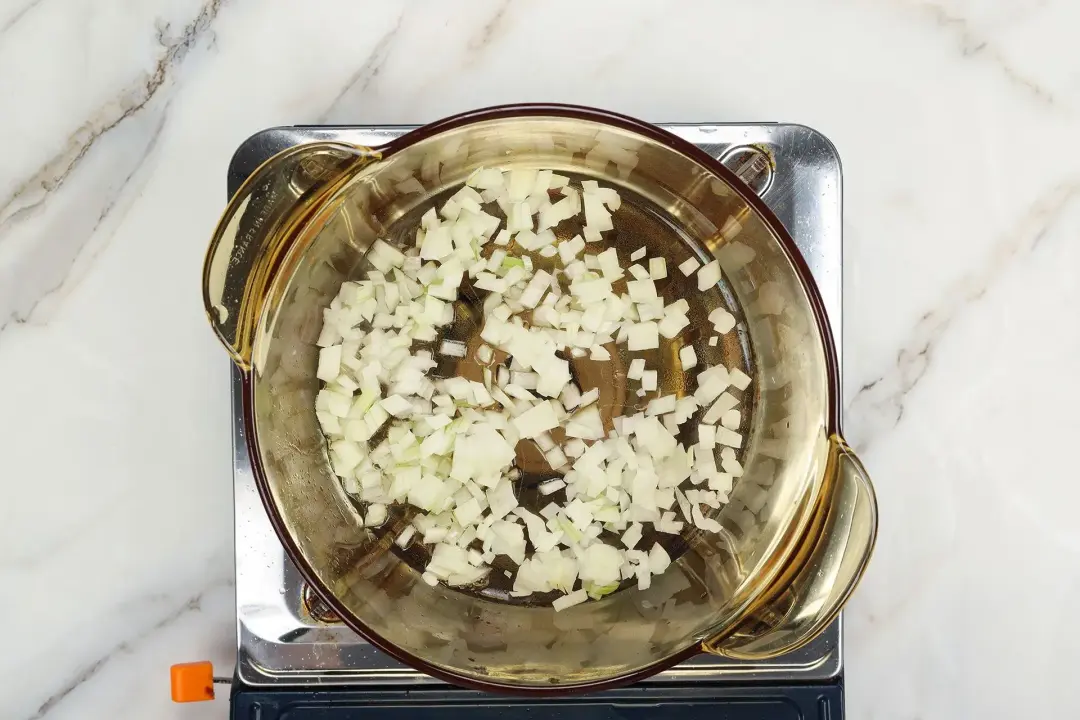 Heat oil in the pot. Add the onions, stir-fry for about 30 seconds.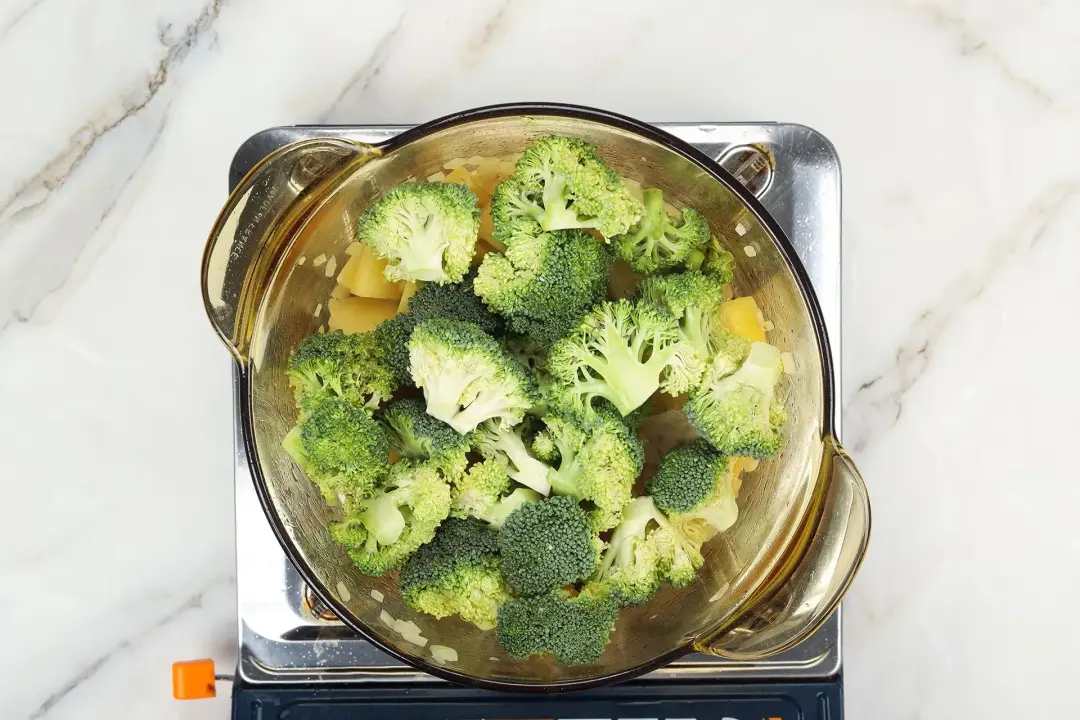 Add the broccoli and potatoes. Stir-fry both for about 2 minutes.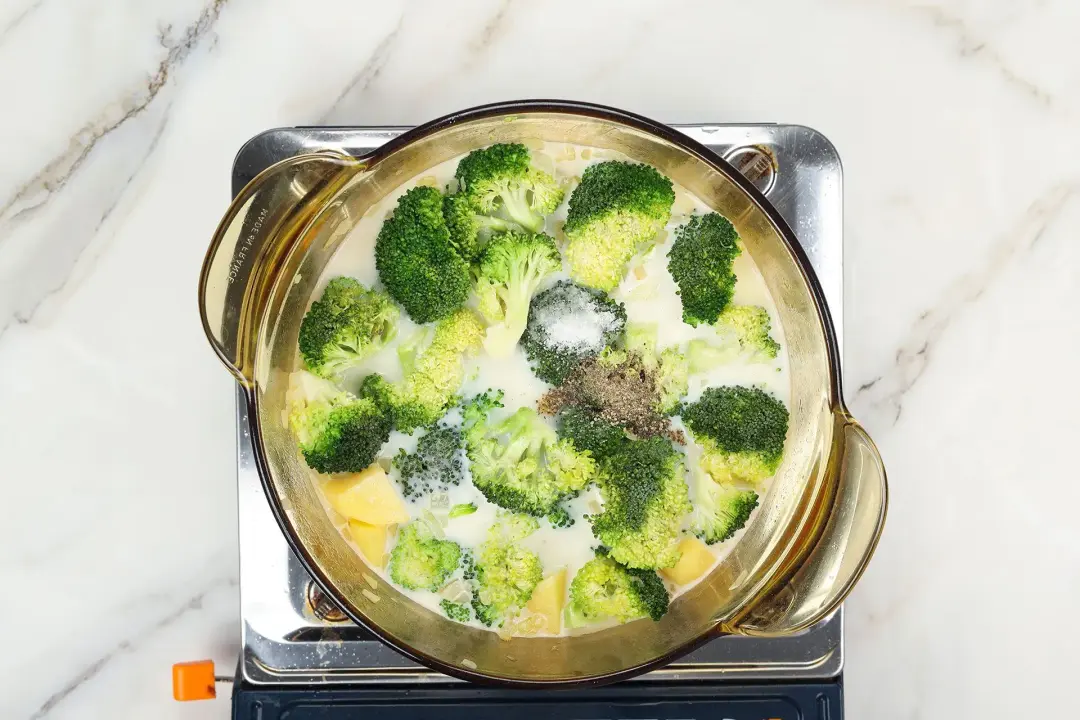 Pour in chicken broth, milk, and seasonings. Simmer on low for 20 minutes.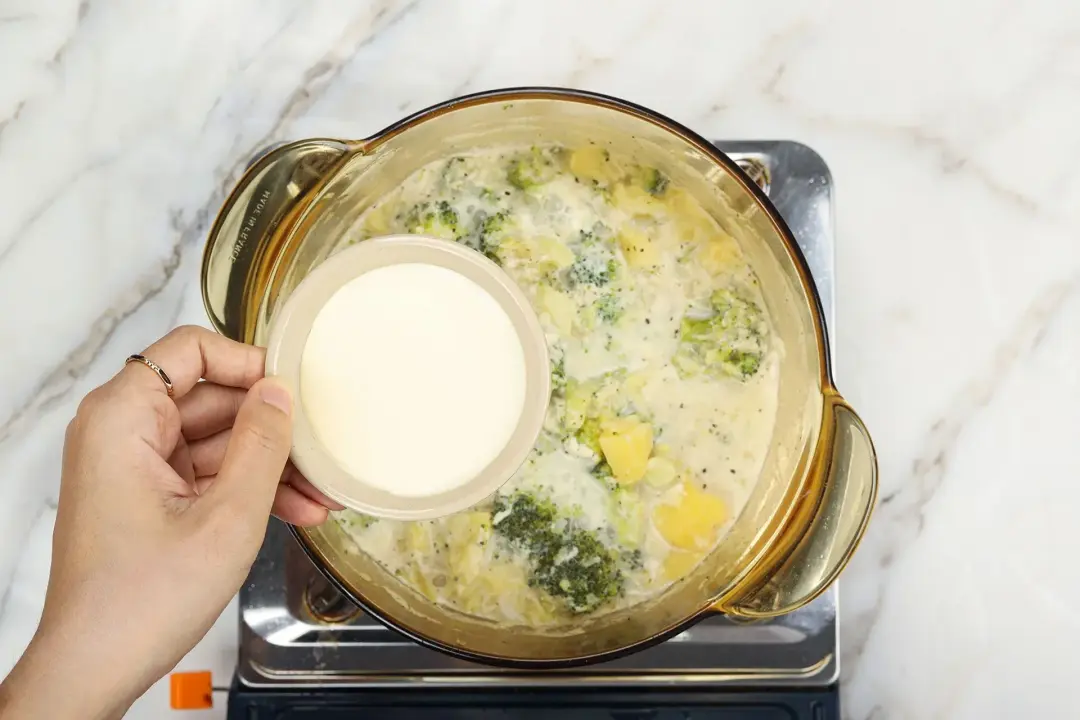 Add cream and stir.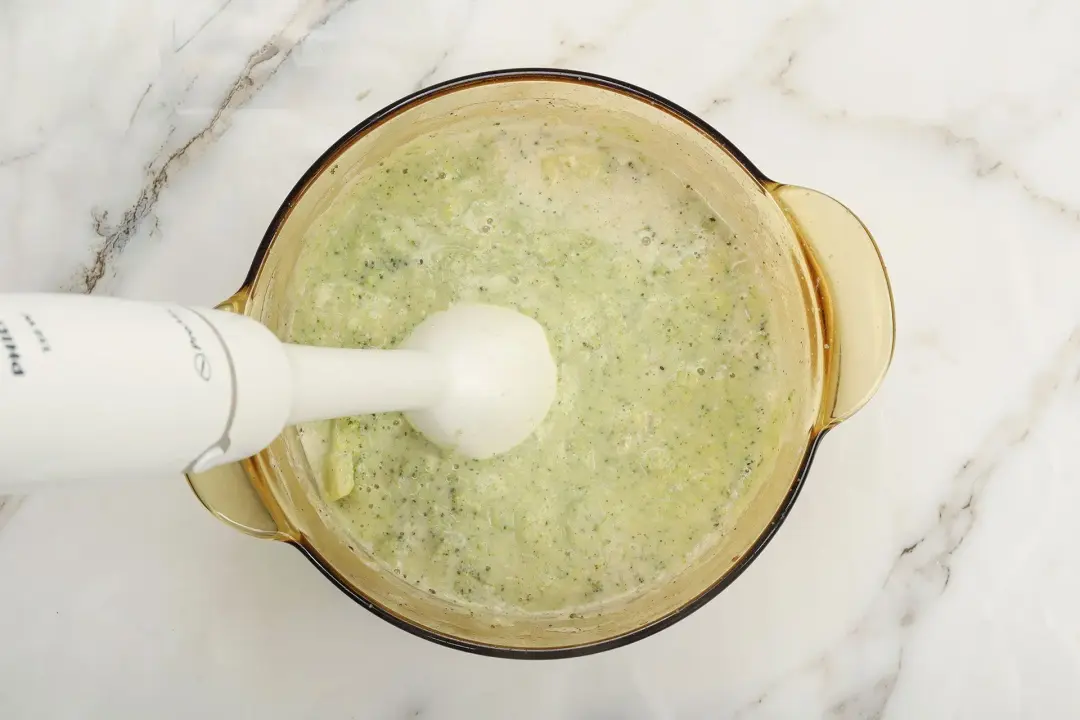 Blend everything together.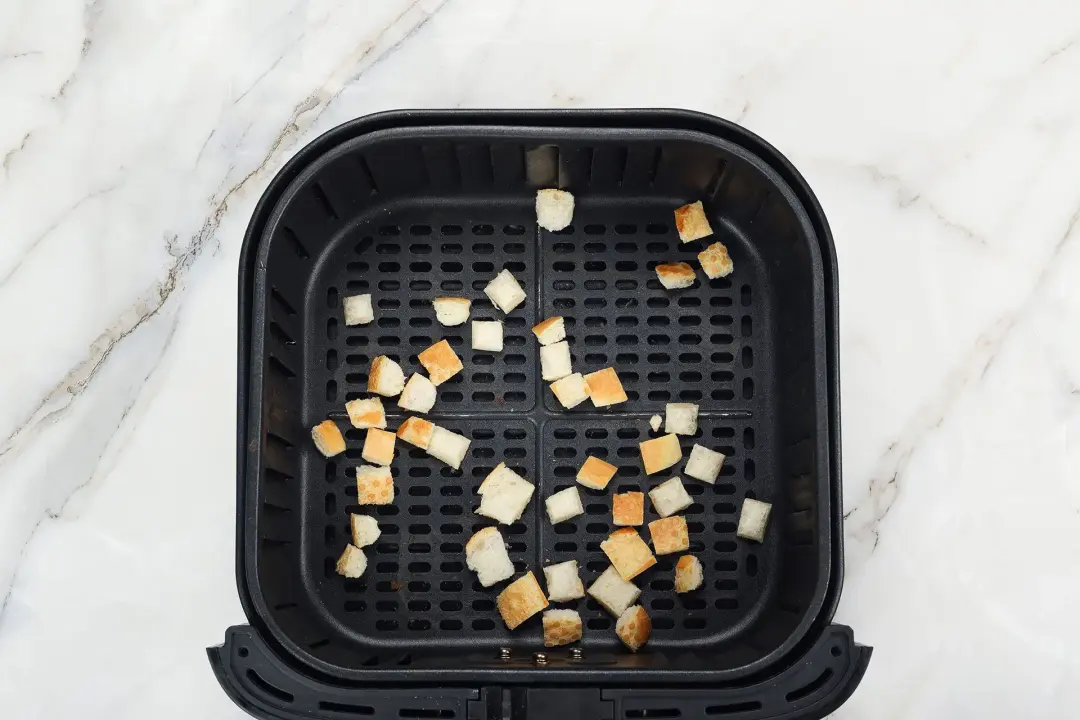 Air-fry the bread cubes at 350°F for 3 minutes to make croutons.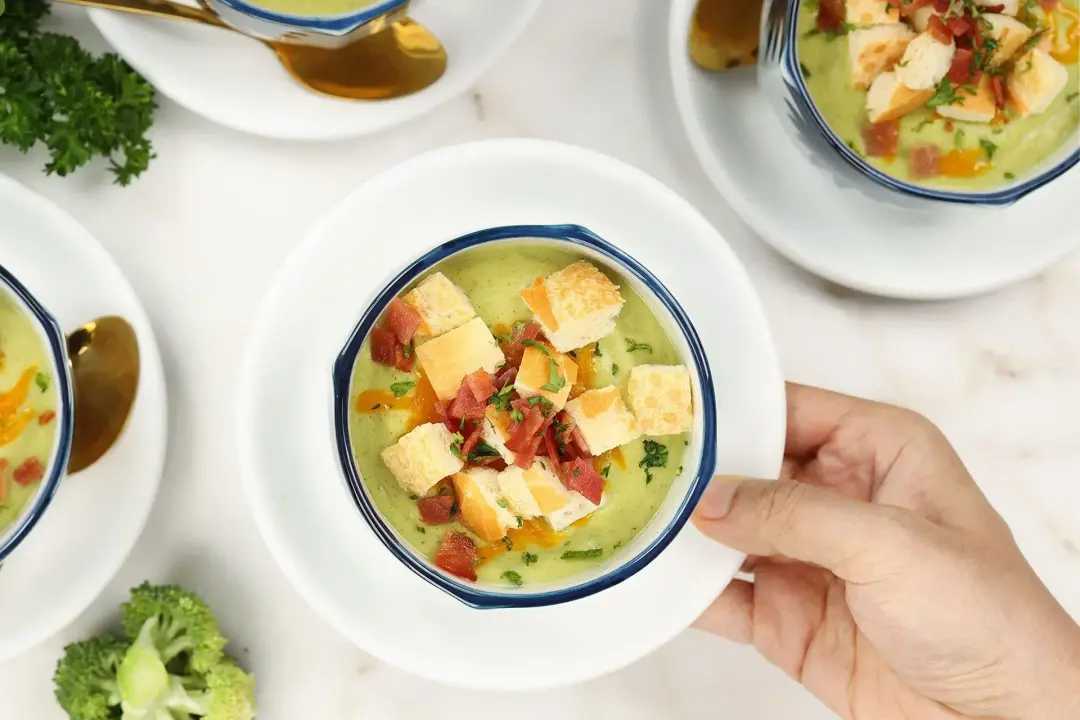 Serve the soup with bacon, croutons, cheese, and parsley.
More details are available at the bottom, in our 'Broccoli Soup Recipe' card.
Storing and Reheating Broccoli Soup
Divide the leftover soup into serving-size portions and plate them into Ziploc bags. Store the bags in the fridge for 4 days or the freezer for about 3 months. Keep the toppings in the fridge.
Heat the soup in a pot or put it in a bowl, cover the bowl with plastic wrap, and microwave on medium power for 3 minutes. For the toppings, croutons and bacon, air-fry them at 450°F for 5 minutes or bake them at 450°F for 10 minutes right before serving.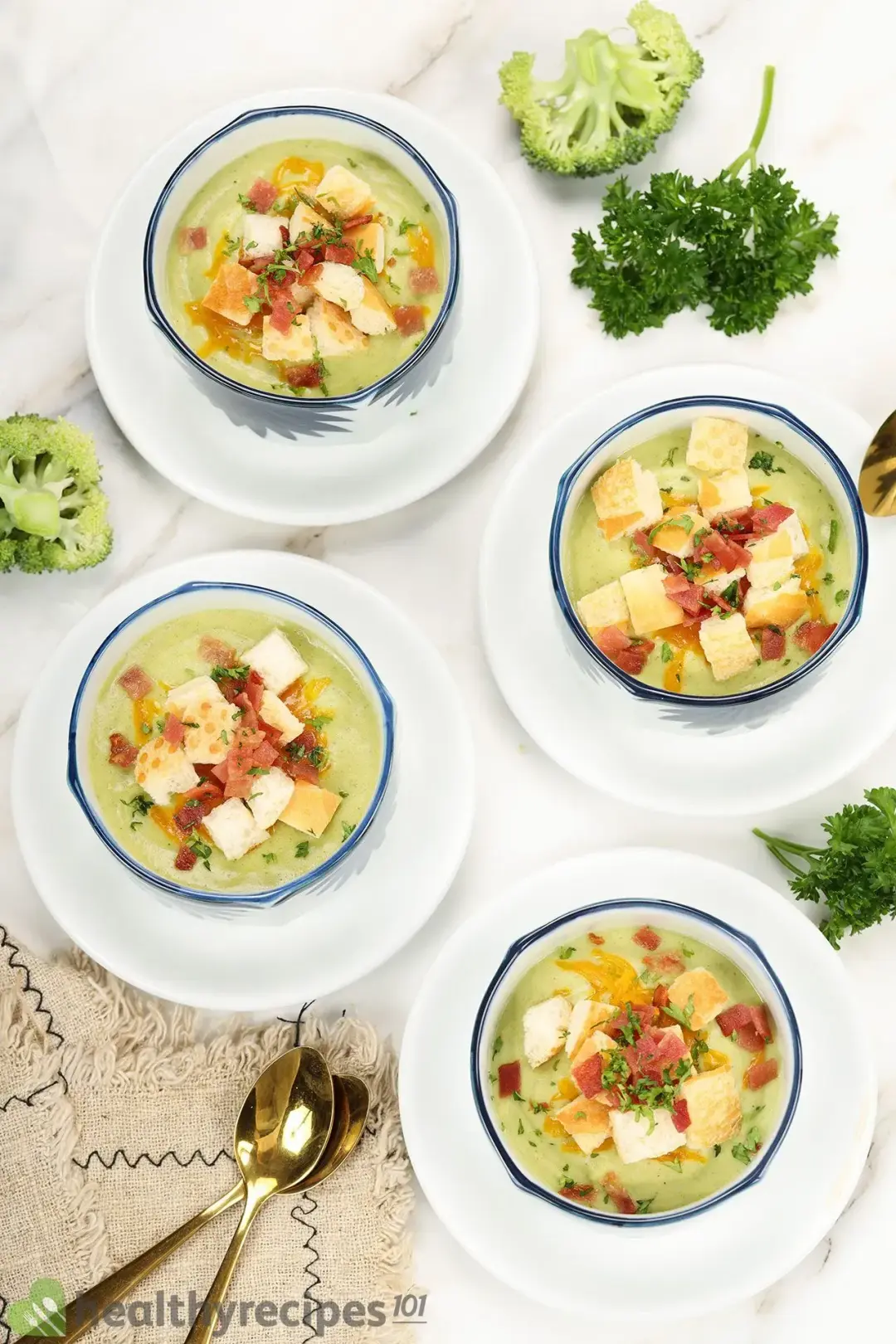 Broccoli Soup Recipe
This broccoli soup recipe may take half an hour, but 20 minutes of those are hands-free. Let it simmer in the back while you get on with other tasks.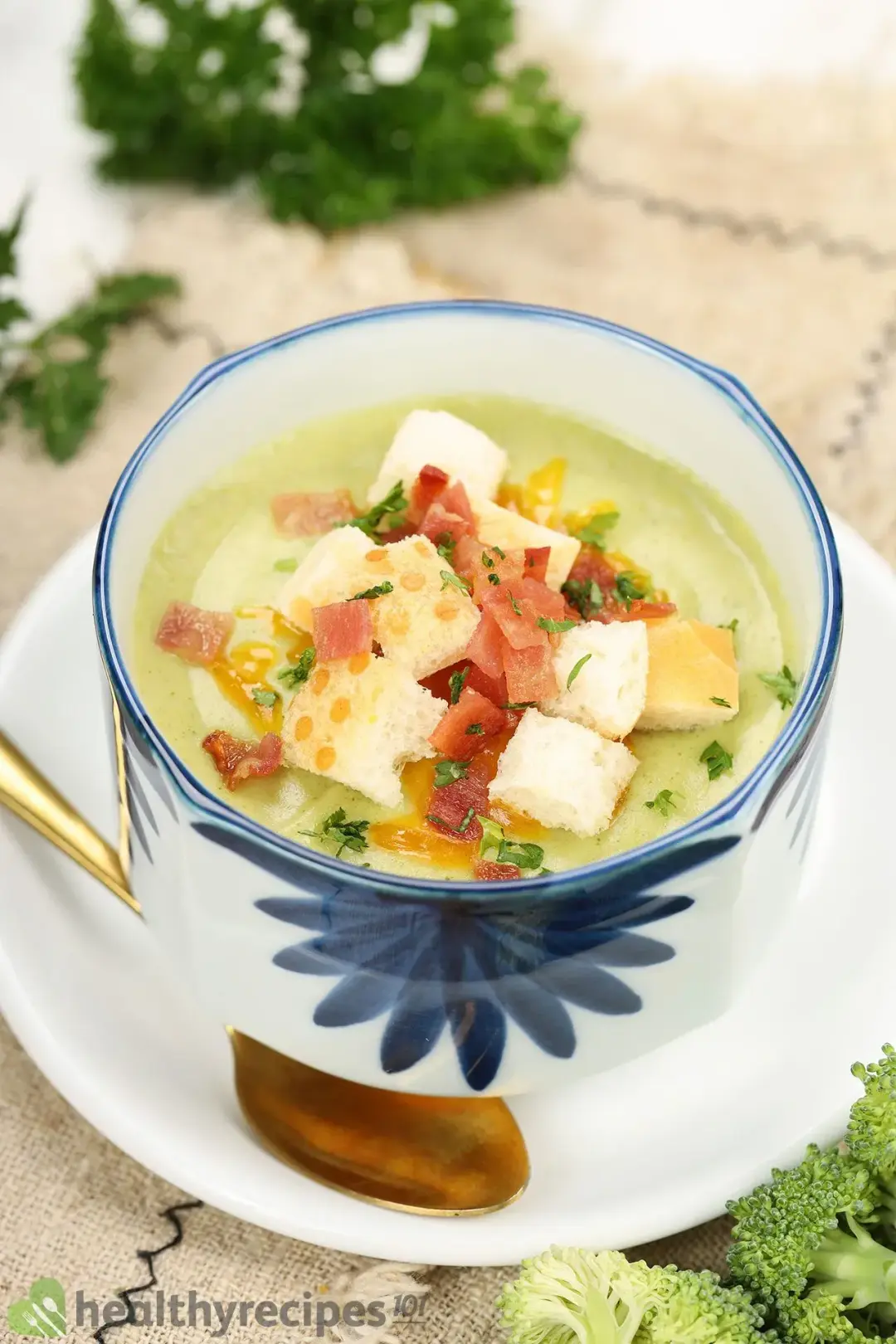 cook TIME

23 mins

prep TIME

7 mins

total TIME

30 mins
COURSE

Main Course

CUISINE

American

SERVINGS

servings

CALORIES

181 kcal
INGREDIENTS
1 tbsp

olive oil

2 oz

onions finely chopped

8 oz

broccoli cut into small florets and washed

6 oz

potatoes peeled, quartered, and sliced

1 cup

unsalted chicken broth

0.3 tsp

salt

0.3 tsp

ground black pepper

0.8 cup

whole milk

2 tbsp

heavy cream

0.5 oz

cheddar shredded

1 oz

French baguette cut into 1" cubes

0.3 oz

bacon pan-fried, baked, or air-fried, then crumbled

2 tbsp

parsley finely chopped
INSTRUCTIONS
1
Heat 1 tbsp olive oil in a non-stick skillet over medium heat.
3
Stir for about 30 seconds or until they become translucent.
4
Add 8 oz broccoli and 6 oz potatoes.
5
Stir to cook for about 2 minutes.
6
Pour in 1 cup chicken broth, 3/4 cup whole milk, and season it with 1/4 tsp salt and 1/4 tsp pepper.
7
Simmer for 20 minutes on medium heat.
8
Stir in 2 tbsp heavy cream.
9
Blend everything together with an immersion blender. You can use your regular blender, but do it in 2 or 3 batches for safety reasons.
10
Place 1 oz bread into the air fryer and cook at 350°F for 3 minutes.
11
Ladle the soup into serving bowls. Divide the croutons, 0.25 oz bacon, and 2 tbsp parsley evenly into four parts, and top the bowls. Enjoy.
NUTRITION
Nutrition Facts
Broccoli Soup Recipe
Amount Per Serving (1 serving)
Calories 181
Calories from FDA
% Daily Value*
* Percent Daily Values are based on a 2000 calorie diet.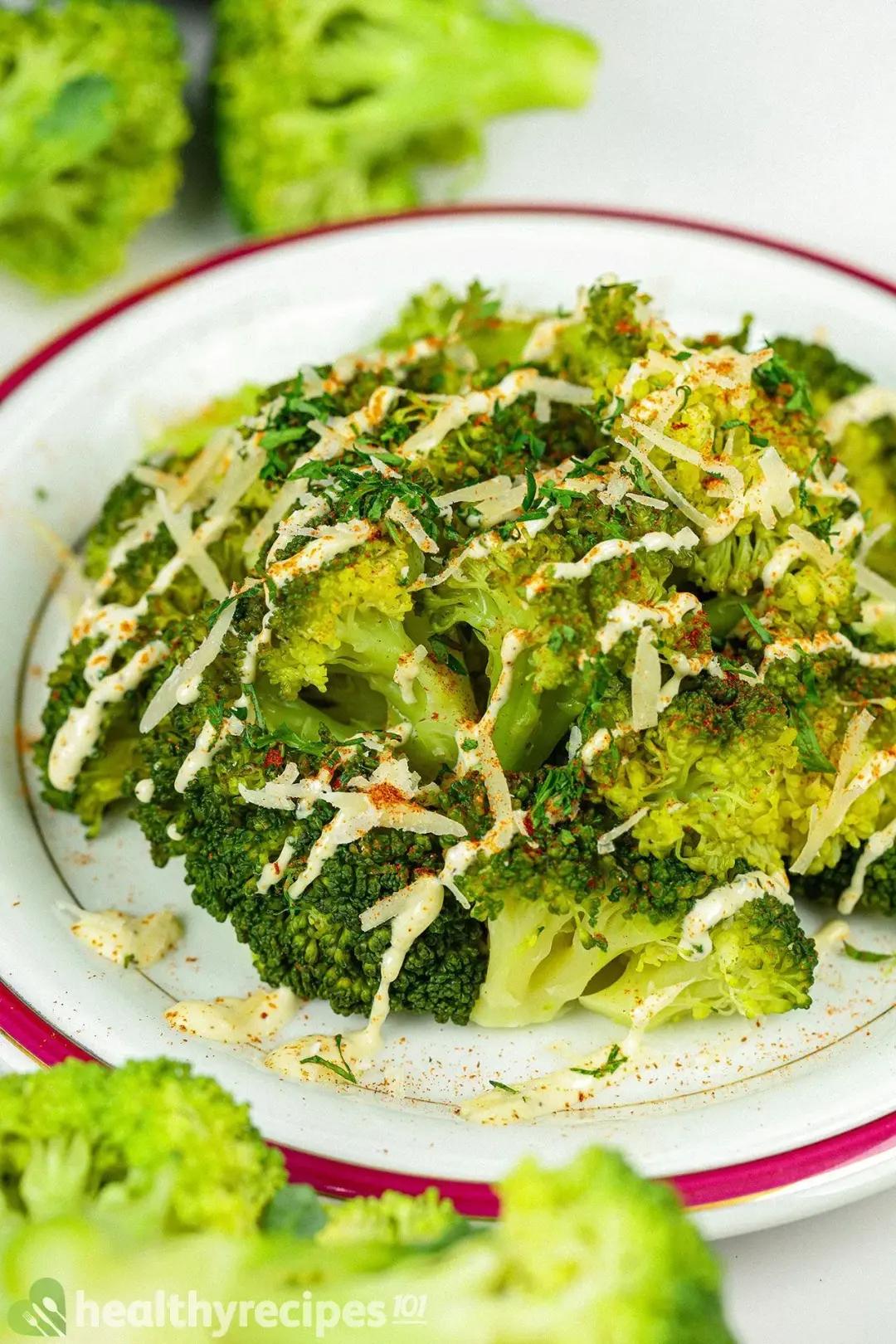 Previous Recipe
Steamed Broccoli
Steamed Broccoli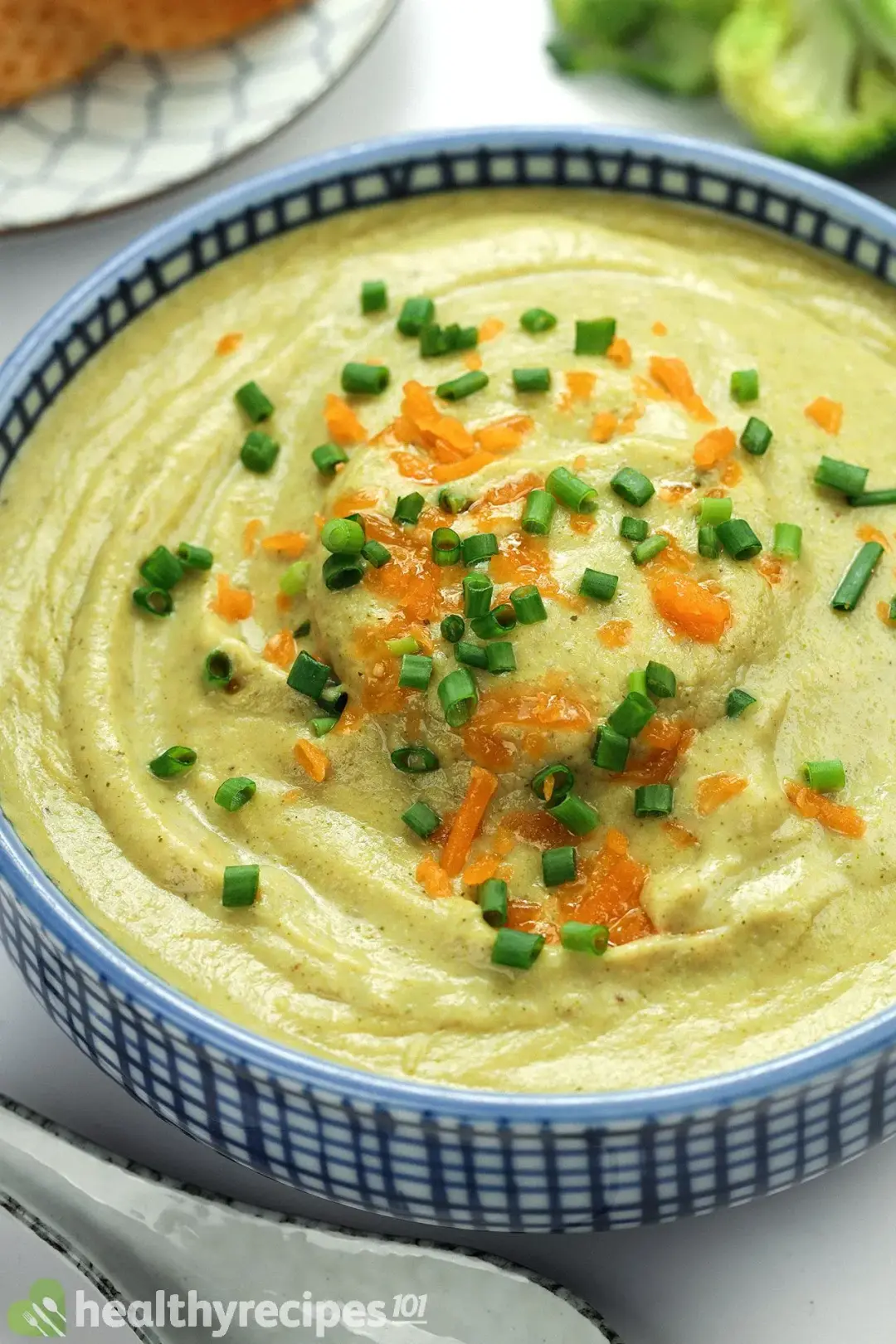 Next Recipe
Broccoli Cheese Soup
Broccoli Cheese Soup
Luna Regina
A writer and entrepreneur, Luna's day doesn't start at the computer keyboard, but in the kitchen.
Half of her working hours are spent on mixing ingredients for her recipes. The other half involve working with the tech team to research and test the tools and appliances that promise to make kitchen work effortless and mess-free. From a kitchen knife or water filter to the Instant Pot, if it can help save time and effort for the home cook, Luna and her team are on it.
Luna's extracurricular pastimes include camping, travel, and photography.