Our broccoli slaw recipe puts a twist on the classic and well-loved coleslaw. It still features essential ingredients like red cabbage and carrots but adds in green broccoli florets to bring an extra layer of earthy flavor. Combined with a sweet-tart apple and mayo-based dressing, it's a party of textures and tastes that effortlessly excites the palate. 
While bursting with flavor, this dish is also incredibly easy and simple. It can be put together in minutes and is best served cold, which makes it the perfect make-ahead for busy days. 
Is Broccoli Slaw Healthy?
Yes, with broccoli as the main ingredient, this slaw contains a great deal of nutrients. 
Broccoli is a good source of vitamin C, an essential nutrient that may help to prevent cardiovascular disease and improve the body's immune function. This vegetable also includes other antioxidants, minerals, and fiber, which could have potential health benefits to the skin, bone, and digestive system.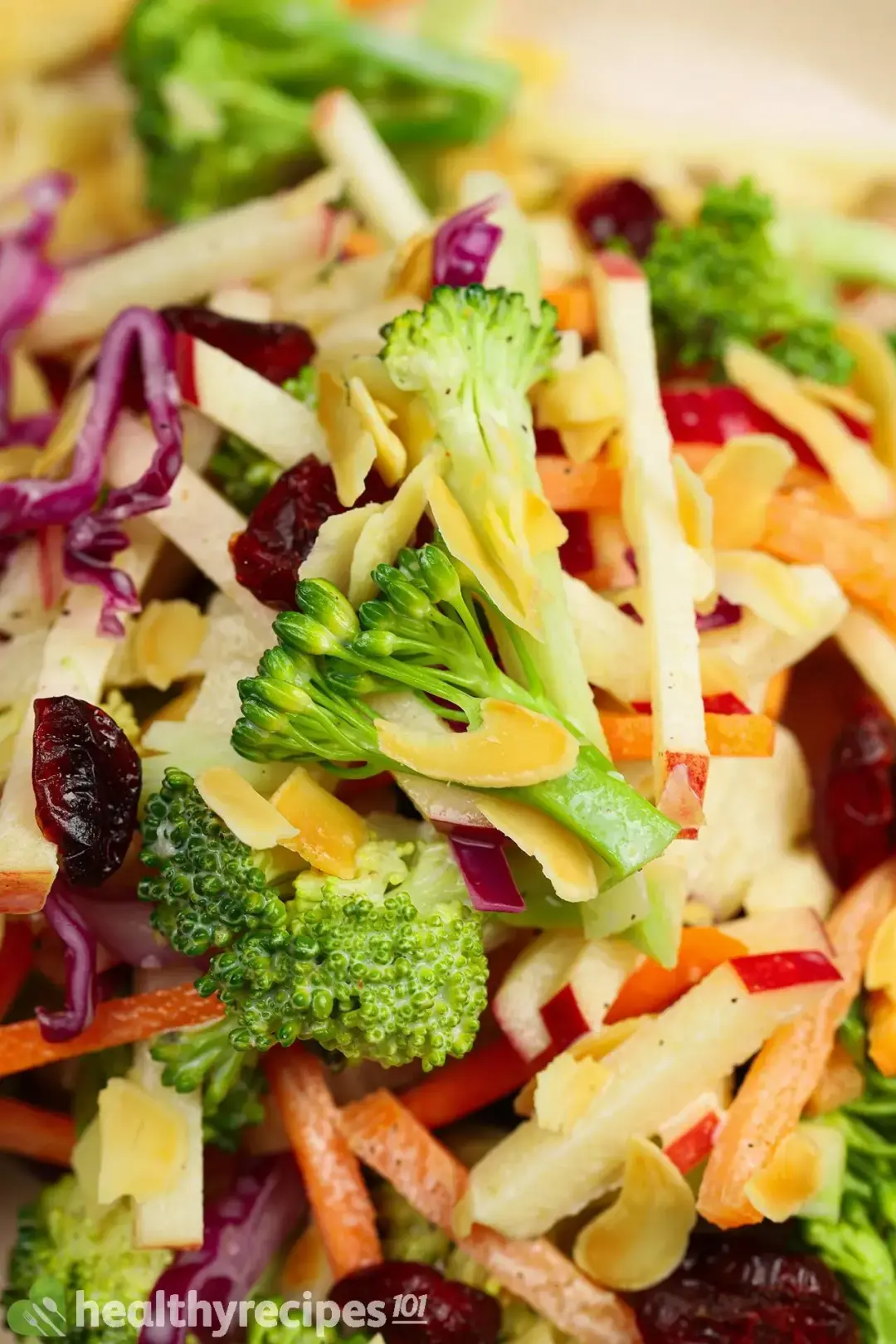 Additionally, our recipe features other fruits and vegetables like apples, red cabbage, and carrots. This gives the dish a decent amount of vitamin C but only 190 calories per serving. Along with moderation of the ingredients, we also managed to cut the sodium and saturated fat levels respectively to 11% and 12% of the daily intake limit.
Ingredients for This Slaw
This slaw features ingredients that come straight from your fridge and pantry, while the rest can easily be found at any local grocery store. The only slightly uncommon one is Kewpie Mayonnaise, which you can replace with regular mayo. 
When picking out broccoli, choose ones that are firm and tightly closed, with vibrant dark green hues. Avoid those with soft or limp stems and florets that are yellowing or browning.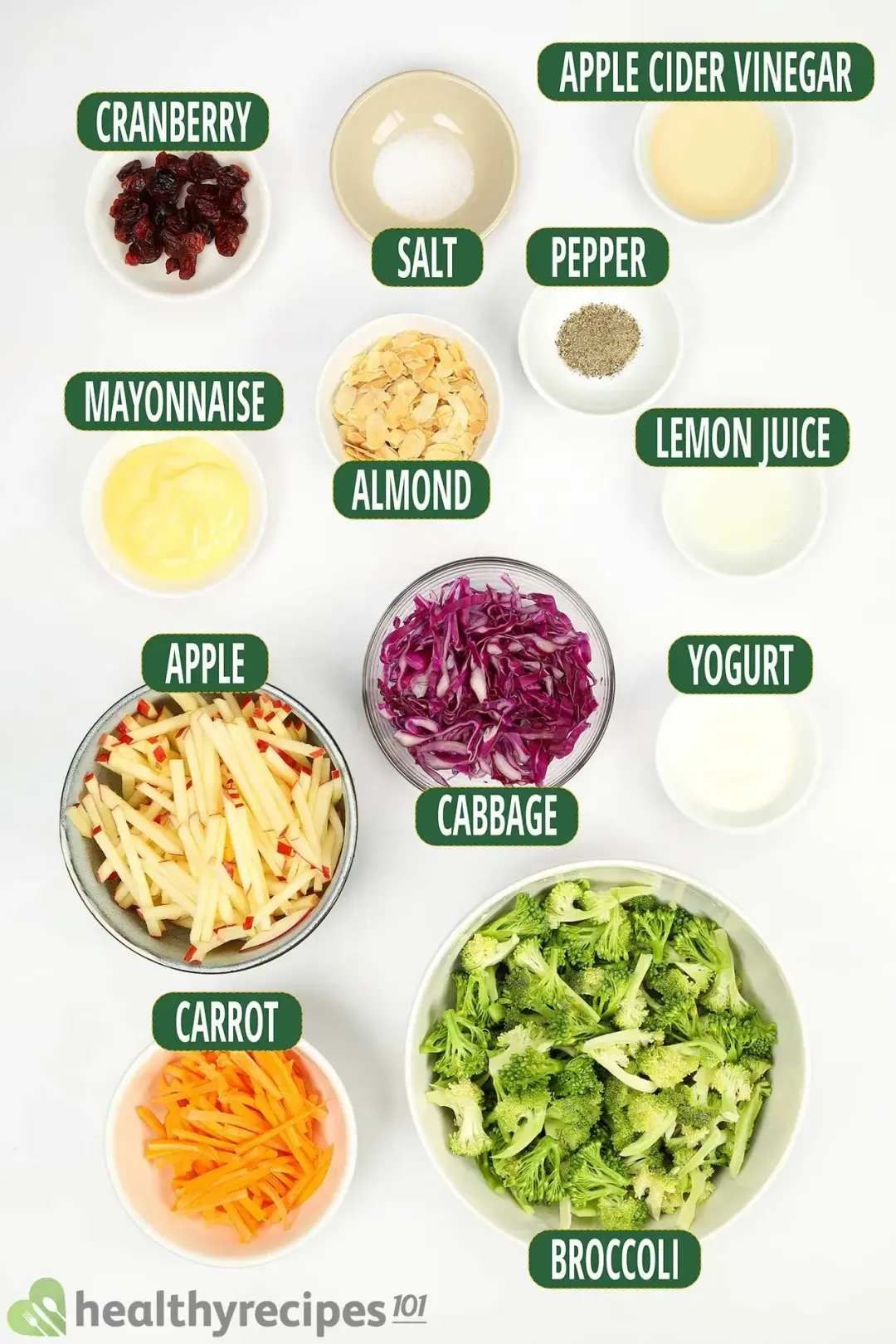 This fruit's sweet-tart taste stands out spectacularly in this dish. To ensure the most flavor, go for ones that are fully ripe or in their prime. The general signs to look for are firmness, relatively blemish-free skin, and vibrant colors. 
Carrots and red cabbage are essential ingredients in most slaw recipes. They not only brighten up the dish with gorgeous pops of colors but also bring a delightful crunchy texture that makes it fun to eat.
This vinegar enriches the dressing with its unique sour and tangy taste. When combined with the fresh apple, it gives the dish a distinct woodsy, fruity scent that's thoroughly enjoyable. 
Greek yogurt and Kewpie Mayonnaise are used to set the base for the dressing. They create the creamy consistency and sweet-tangy taste that's widely beloved in most slaw dishes. 
We kept it simple and went with a small amount of salt and pepper for this dish. A squeeze of lemon juice was also added to brighten up the flavors and tie everything together.
We used dried cranberries because they have a tarty sweetness that goes marvelously well with the apples. For a hint of crunchiness, we also added some sliced almonds. Replace them with sunflower seeds if you have a nut allergy.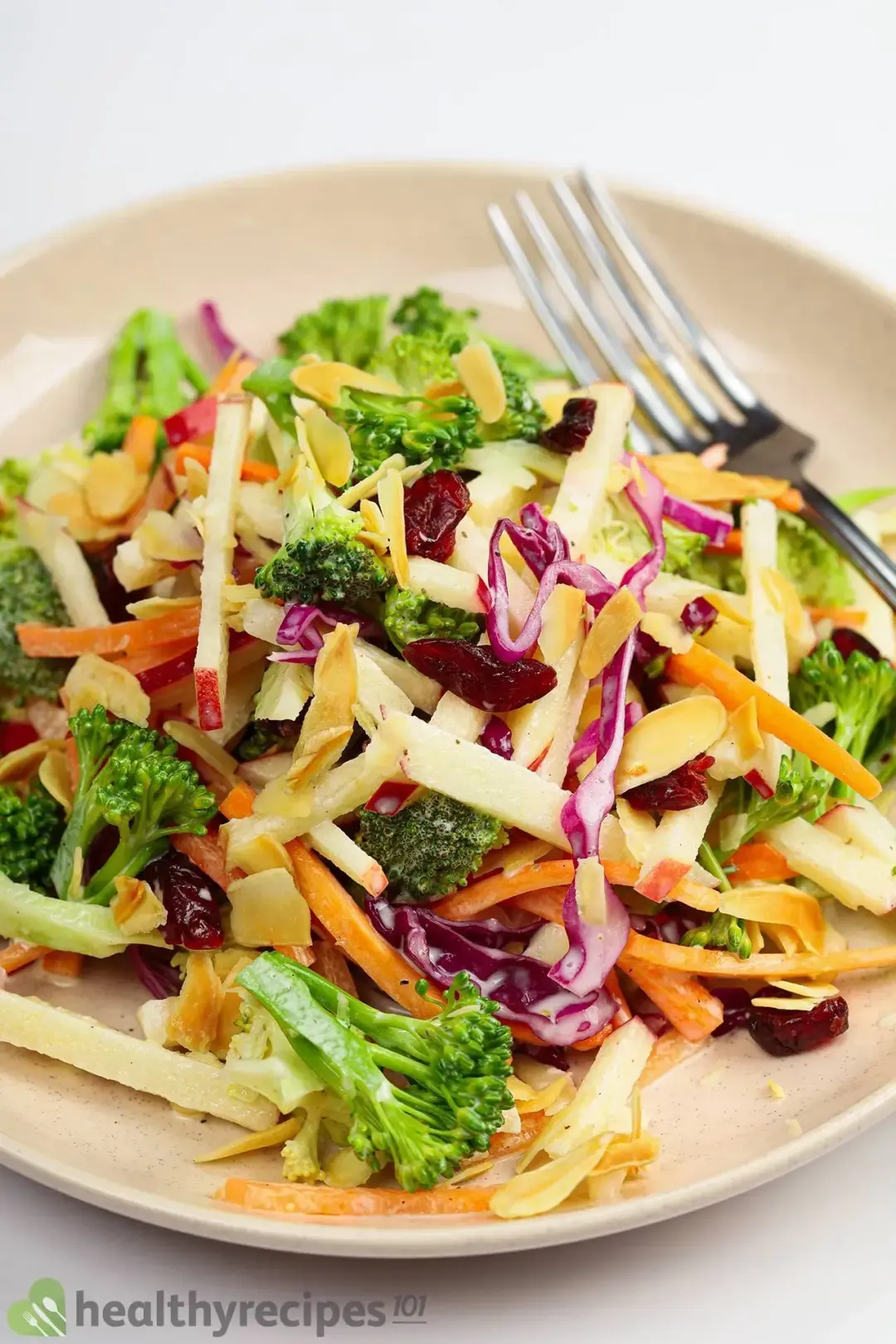 How to Serve Broccoli Slaw 
This dish is incredibly versatile and easy to pair with. Here are two most common ways to incorporate it into your daily meals:
This slaw's sweet and tangy taste creates an amazing contrast to the savory taste of grilled meat, which is why it's such a staple at cookouts and BBQs. You can also pair it with sautéed dishes to make a simple yet filling and flavorful meal.
This slaw's crunchiness and colorful appearance make it an ideal choice for toppings. It keeps well in the fridge and tastes great cold, so you should have no trouble adding the leftovers to tacos, burgers, sandwiches, etc. 
How to Store Broccoli Slaw
This slaw should last for up to three days when kept in an airtight container in the fridge, so you can make it ahead or save the leftovers for later. If possible, keep the dressing separated so the dish will taste better when you finally eat it.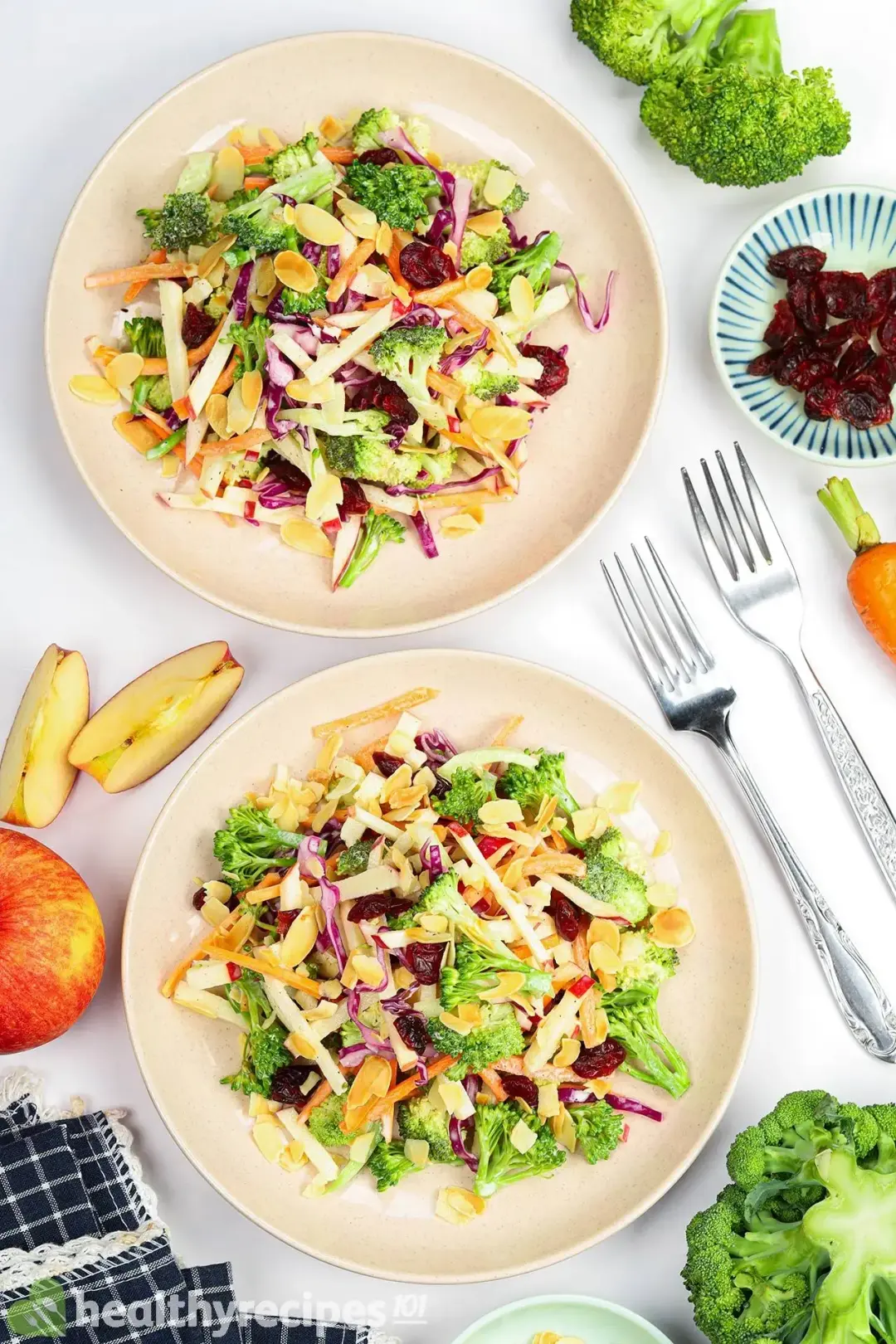 How to Make Broccoli Slaw
This broccoli slaw recipe creates an easy dish that bursts with fresh and exhilarating flavors, making it the perfect companion for all kinds of savory dishes.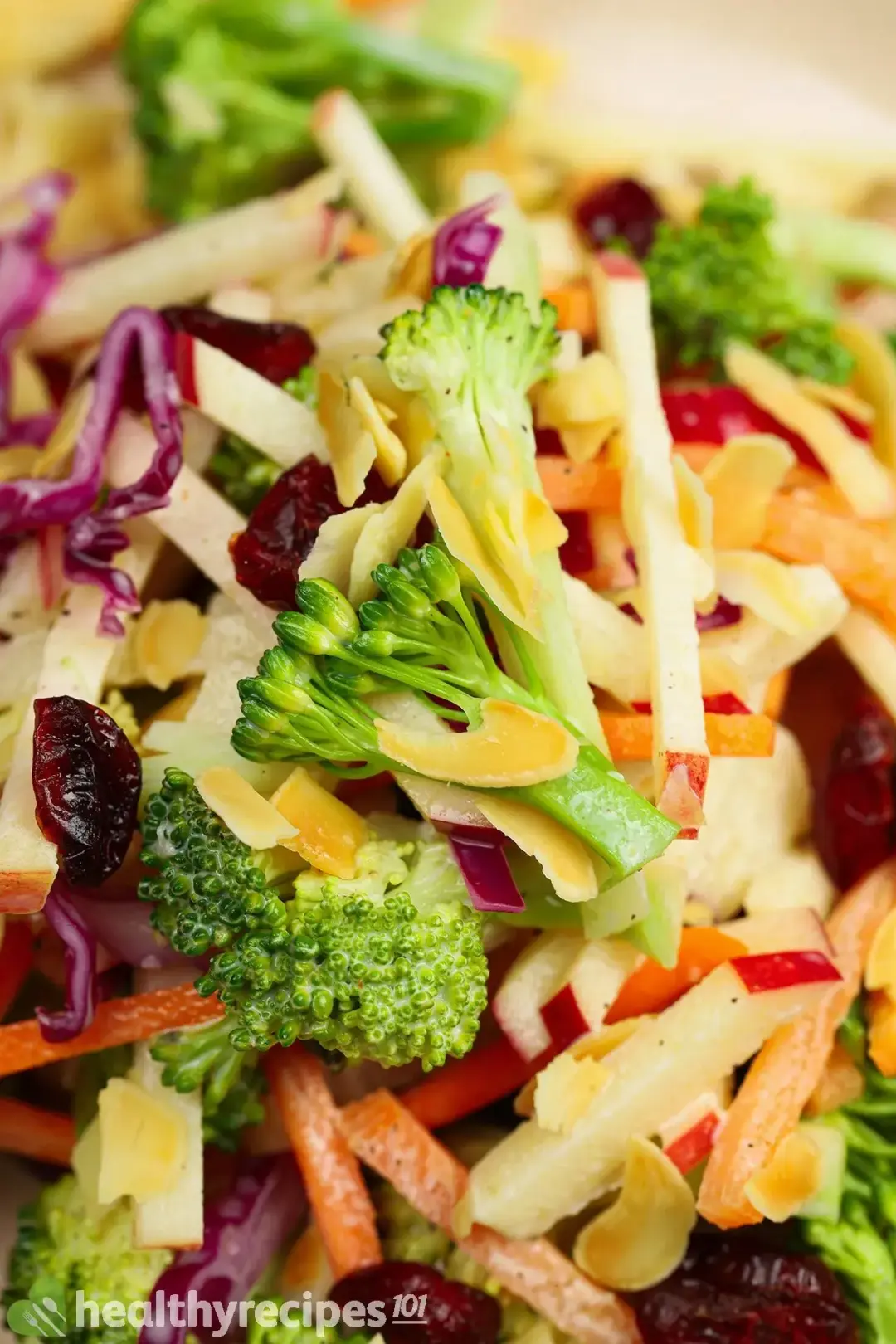 cook TIME

5 mins

prep TIME

10 mins

total TIME

15 mins
COURSE

Side Dish

CUISINE

American

SERVINGS

servings

CALORIES

190 kcal
INGREDIENTS
6 oz

broccoli sliced

2 oz

carrot julienned

1 oz

red cabbage julienned

6 oz

apples julienned

2 tbsp

apple cider vinegar

0.5 tbsp

lemon juice

1 tbsp

plain Greek yogurt

3 tbsp

Japanese Mayonnaise

0.3 tsp

salt

0.5 tsp

pepper

2 tbsp

parsley

1 oz

dried cranberries

1 oz

sliced almond
INSTRUCTIONS
Prep:
1
Slice the Broccoli: Use a chef's knife to trim off the large stem. Then, with a paring knife or your hand, remove the individual florets. This recipe calls for thin pieces, so continue slicing the florets lengthwise into halves or thirds.
2
Julienne the Carrots: Use a vegetable peeler to peel off the carrot skins. Next, use a chef's knife to slice off the tops and crosswise cut the carrots into 2 - 3 inch chunks. Thinly slice a side of each chunk, so they have a flat surface that prevents them from rolling.
3
Julienne the Red Cabbage: Use a chef's knife to cut the cabbage into quarters. Our recipe requires approximately one quarter, so you can wrap up the extra parts and store them in the fridge's crisper drawer.
4
Julienne the Apple: Hold the apple upright and slice it lengthwise around the core into several large pieces. Discard the piece with the core.
Cook:
1
Make the Dressing: In a small bowl, mix 2 tbsp apple cider vinegar, 1/2 tbsp lemon juice, 1 tbsp plain Greek yogurt, 3 tbsp mayonnaise, 1/4 tsp salt, and 1/2 tsp pepper until combined.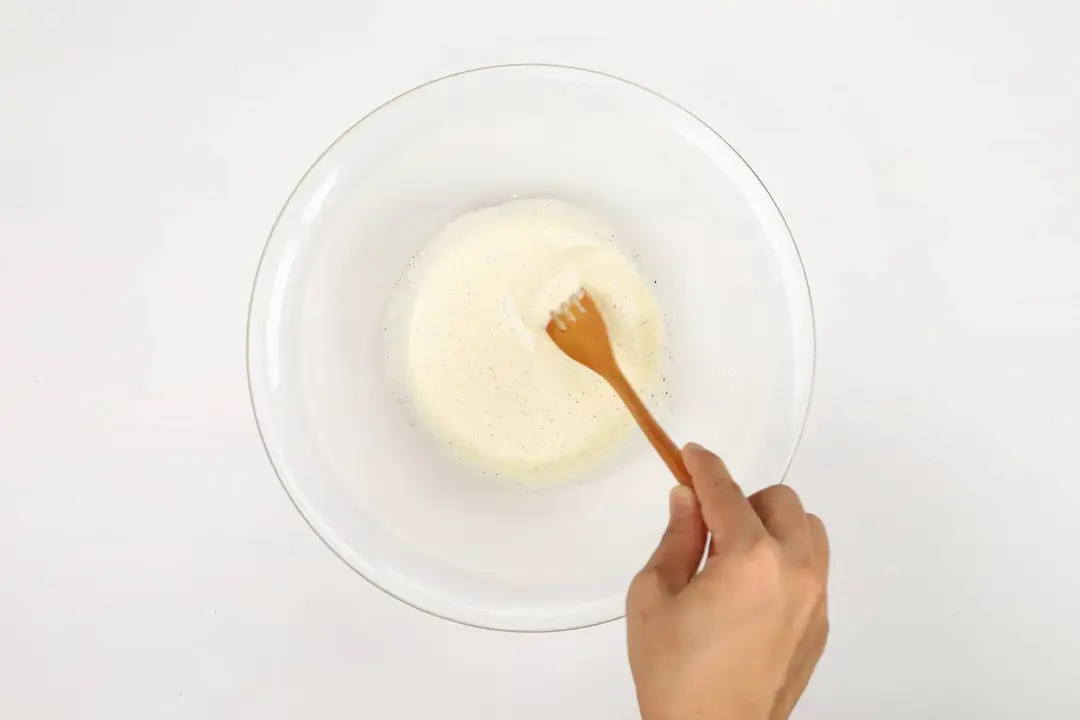 2
Gather the Ingredients: In a large bowl, add 6 oz broccoli, 2 oz carrot, 1 oz red cabbage, 6 oz apples, 1 oz dried cranberries, and 1 oz sliced almond.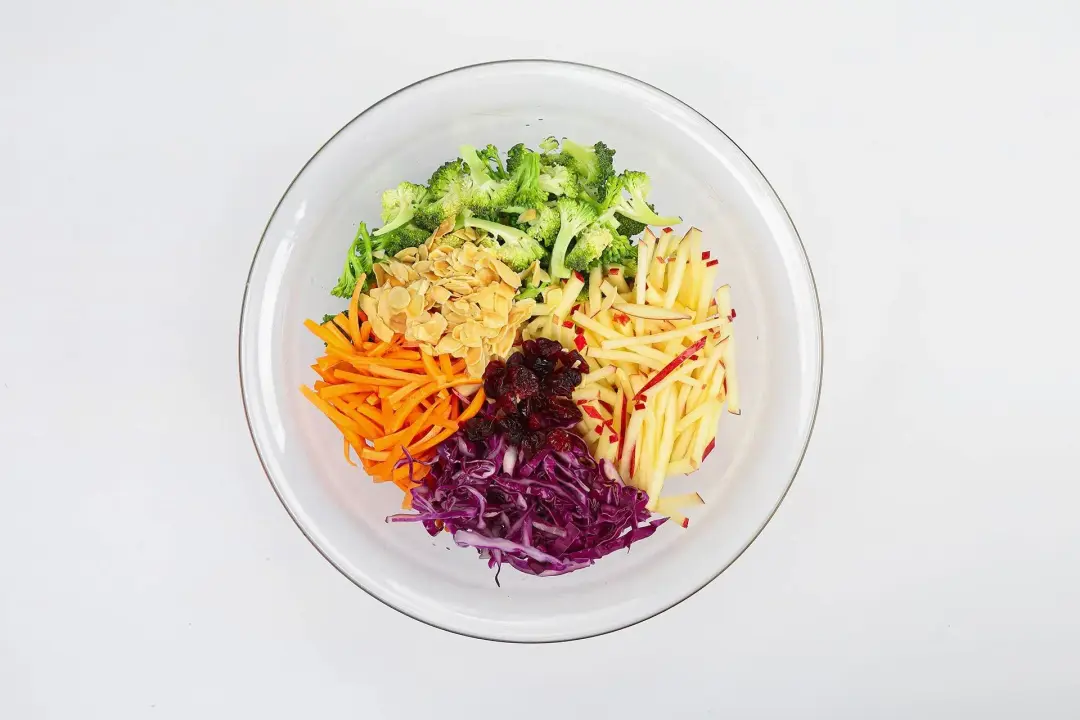 3
Toss the Slaw: Pour the dressing over the bowl of slaw and gently toss until everything is well-mixed. Leave it in the fridge for 30 minutes to let the flavors blend.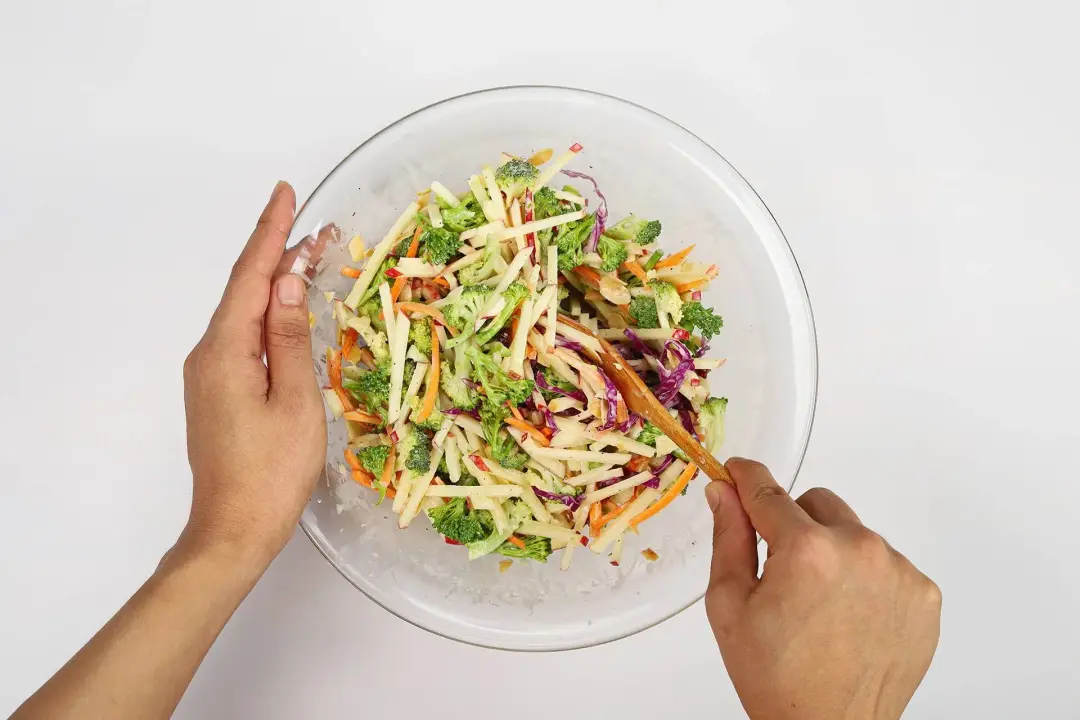 4
Serve the Slaw: Transfer the broccoli slaw onto a serving plate and enjoy.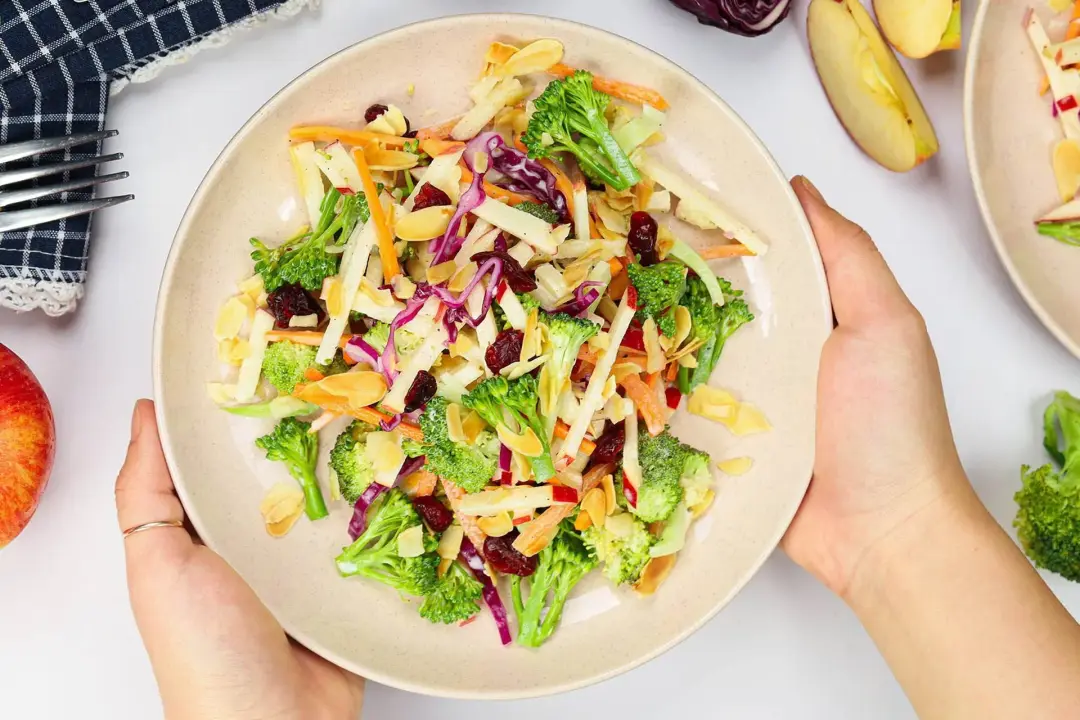 NUTRITION
Nutrition Facts
How to Make Broccoli Slaw
Amount Per Serving (1 serving)
Calories 190
Calories from FDA
% Daily Value*
* Percent Daily Values are based on a 2000 calorie diet.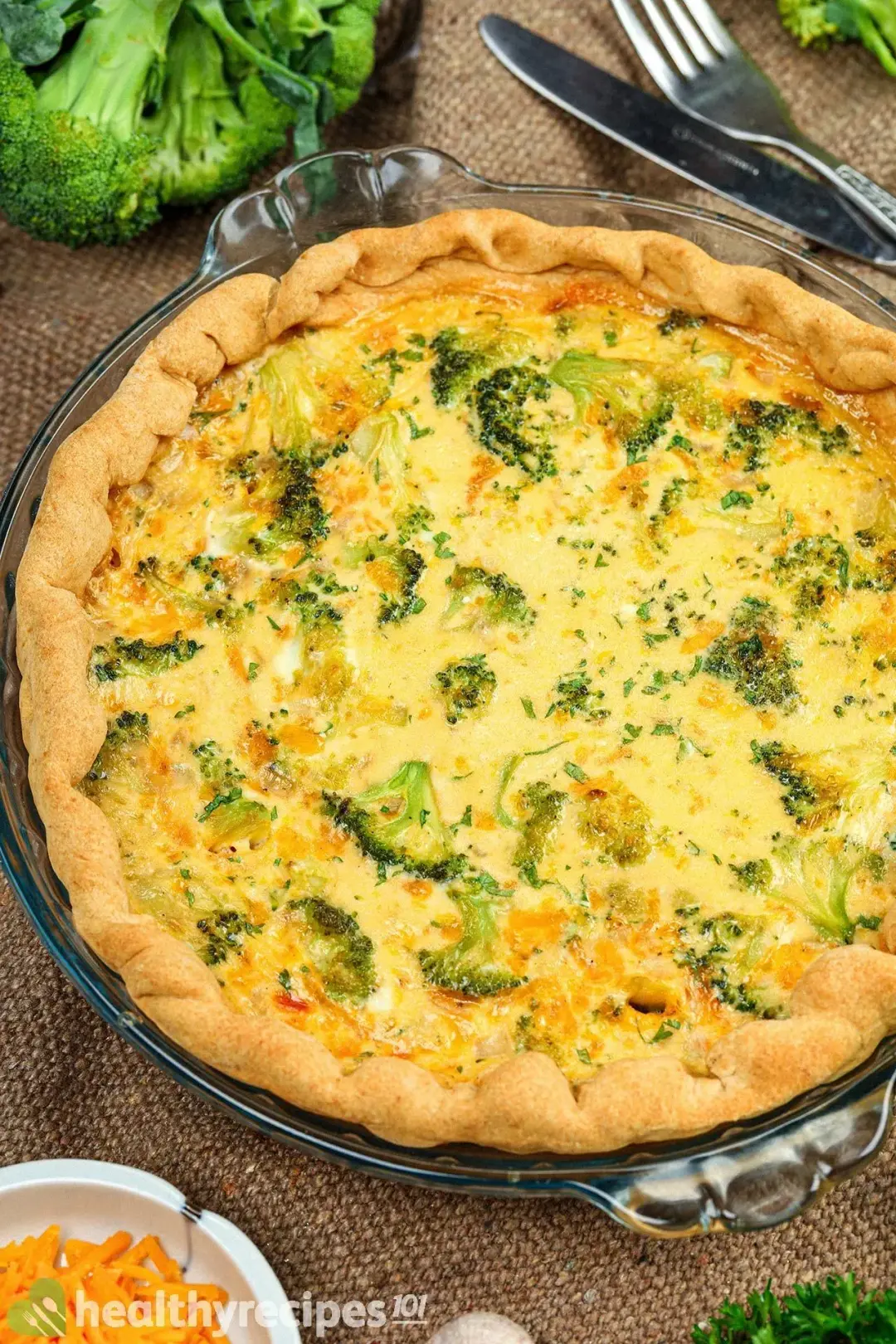 Previous Recipe
Broccoli Quiche
Broccoli Quiche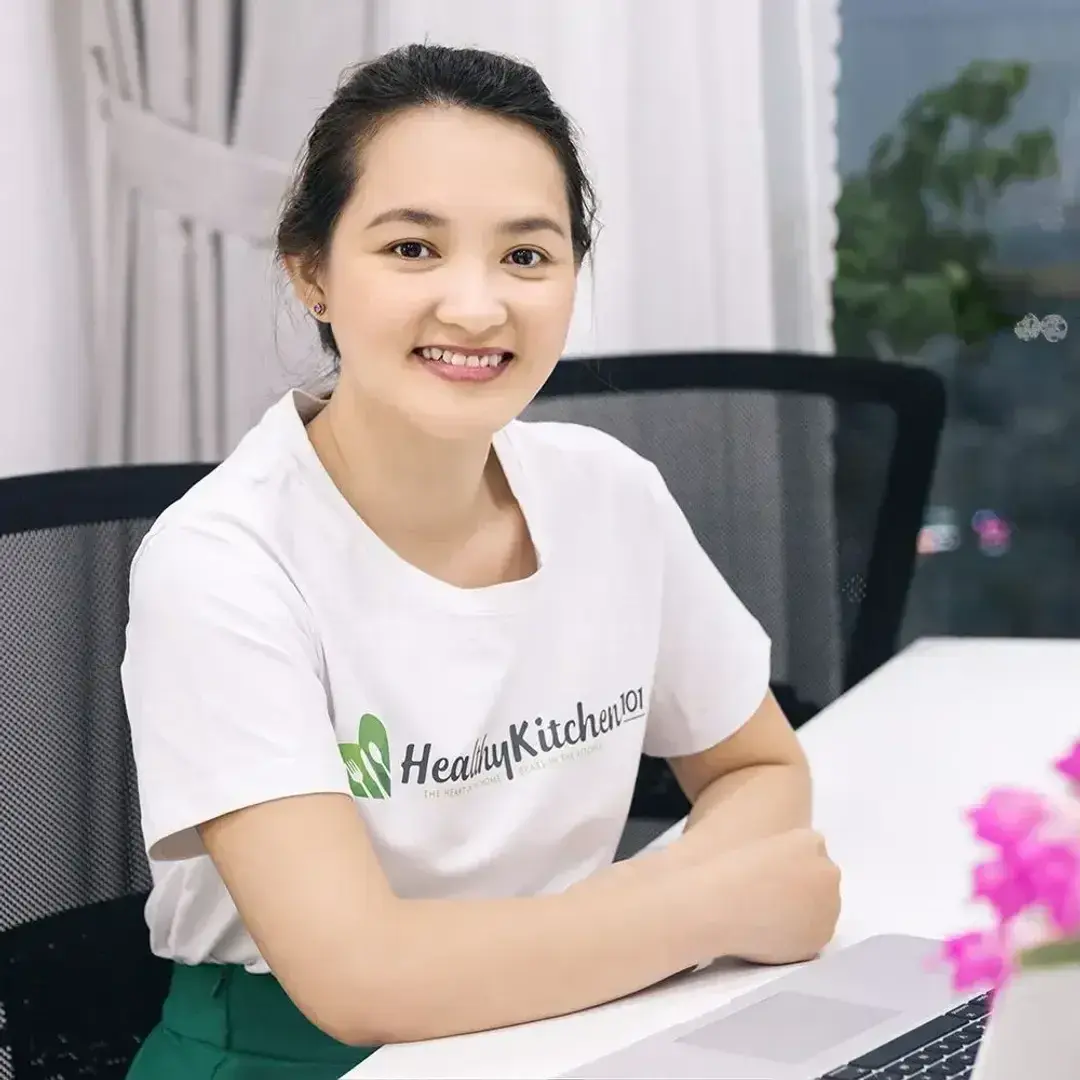 Luna Regina
Luna is the founder and chief recipe developer of Healthy Recipes 101. Apart from cooking, she also loves reading, programming, exploring the outdoors, and collecting useless facts about everything.