Today's broccoli cheese soup is a healthier and more tempting version of those cream broccoli recipes available online. We blend broccoli, potatoes, milk, and heavy cream in a pot until they reach the perfect consistency, and then add the cheese. The intense cheesy flavor, with just a hint of bitterness, makes this recipe an absolute hit with both adults and kids.
Let's find out more about this specialty!
Is Broccoli Cheese Soup Healthy?
Yes, our soup recipe can fit into a healthy diet, as it provides a significant amount of protein, vitamins, minerals, fiber, and a reasonable amount of carbs.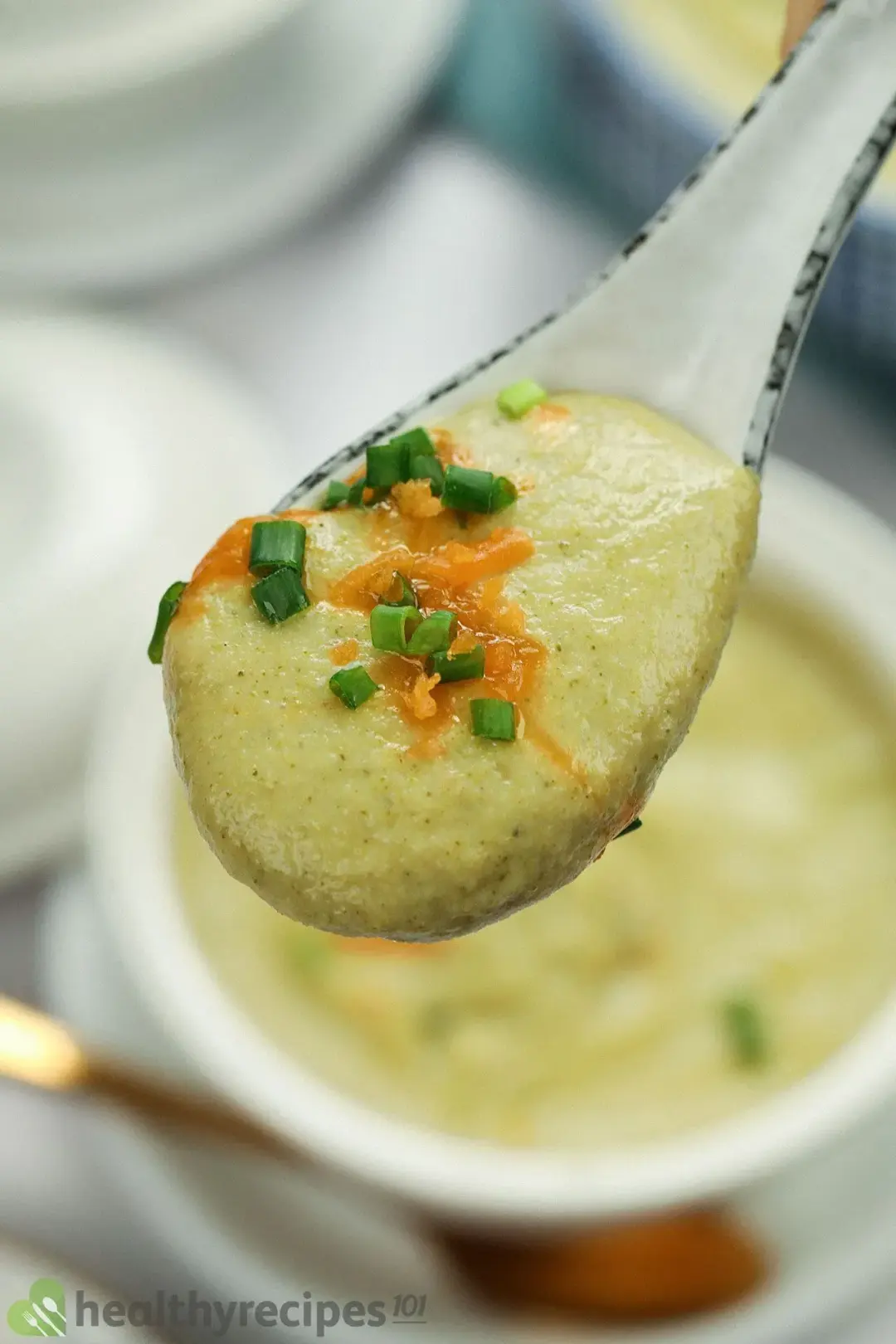 Broccoli, one of the main ingredients, is a rich source of vitamin C. Specifically, 3.5 oz of broccoli contains roughly 89.2 mg of vitamin C, which is higher than what is found in the same amount of orange (about 59.1 mg).
Tons of flavors and nutrients also come from potatoes, onions, scallions, dairy products, and spices. While dairy introduces more protein to your diet – supporting bone health and muscle growth – complex carbohydrates from potatoes help you stay full longer.
Overall, our broccoli soup contains only 152 calories, 292.1 mg of sodium, and 2.9 g of saturated fat, all of which strictly follow our nutrition guidelines.
Ingredients for Broccoli Cheese Soup
We keep our ingredient list quite straightforward: full of pantry staples. Here is what you'll need for this recipe.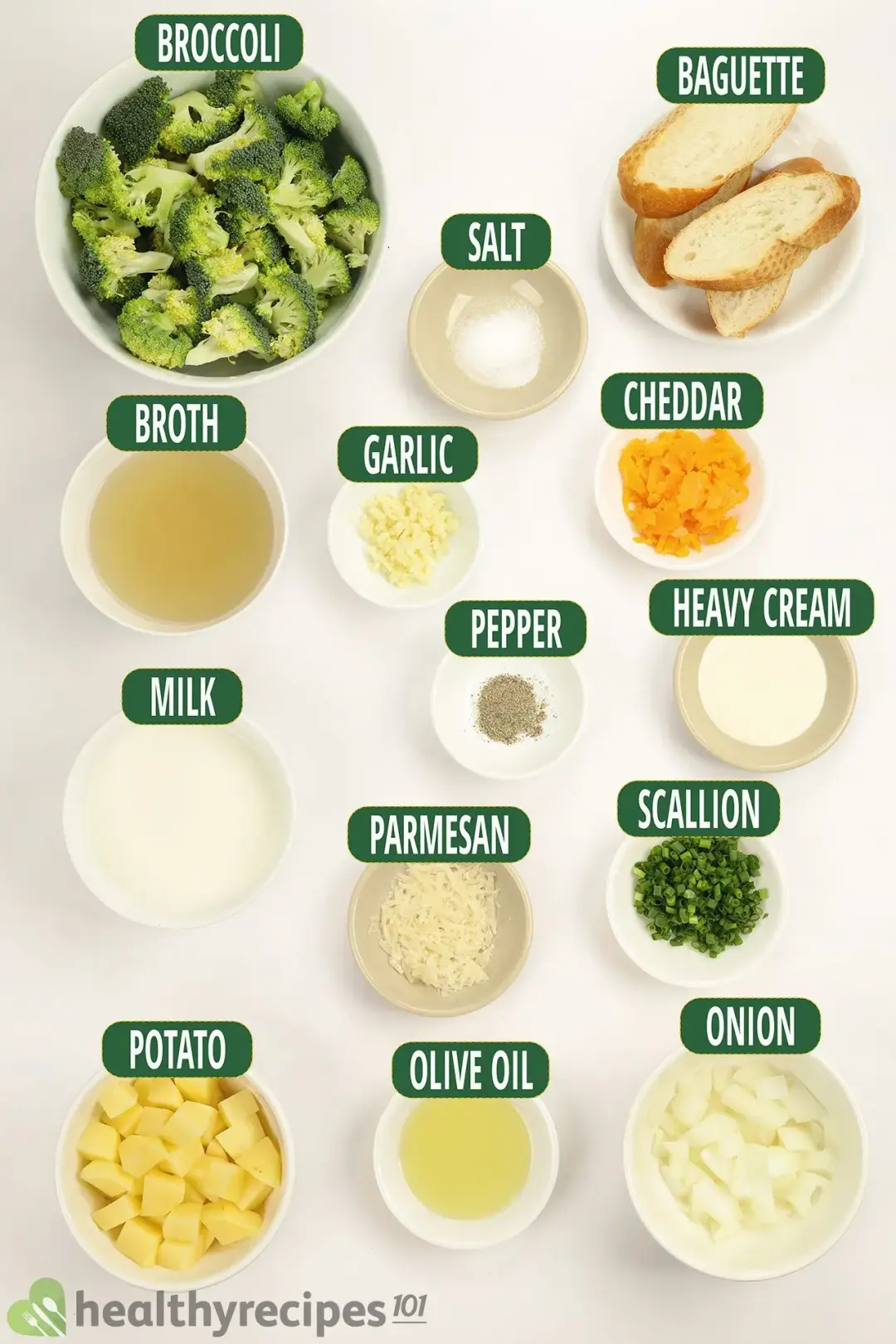 Broccoli: Our chefs opt for fresh broccoli florets to boost the earthiness of the soup. For this recipe, we vigorously blend the broccoli for a perfect, velvety texture. However, if you fancy a little crunchiness, you can go light-handed with the stick blender.
Potatoes: Potatoes are in charge of adding the filling and enhancing the consistency. For convenience, we aim for the regular variety, but if there's any russet potato in the store, don't hesitate to go for it. This option has a high starch content, which is great for mashing and adding to soups.
Onions: Sautéed onions act as a caramelized savory base for many soups and stews, adding greater depth to each spoonful.
Chicken broth: Instead of using plain water, we prefer unsalted chicken broth as it's more wholesome and flavorful.
Cheese: While cheddar helps sharpen the taste, parmesan lends a fruity and nutty note to the broccoli soup.
Milk and heavy cream: Dairy adds a layer of creamy, lusciousness to the soup. Moreover, this dish doesn't call for much heavy cream, as a tablespoon goes a long way.
Scallions: Some chopped scallions scattered on top of our hearty bowl of soup makes for a pleasing visual.
Baguette: It takes only 4 minutes of air-frying to turn stale bread into crispy deliciousness.
Tips to Make the Best Broccoli Cheese Soup
1. Frozen or Fresh Broccoli?
The main difference between fresh and frozen broccoli lies in the texture and color of the florets.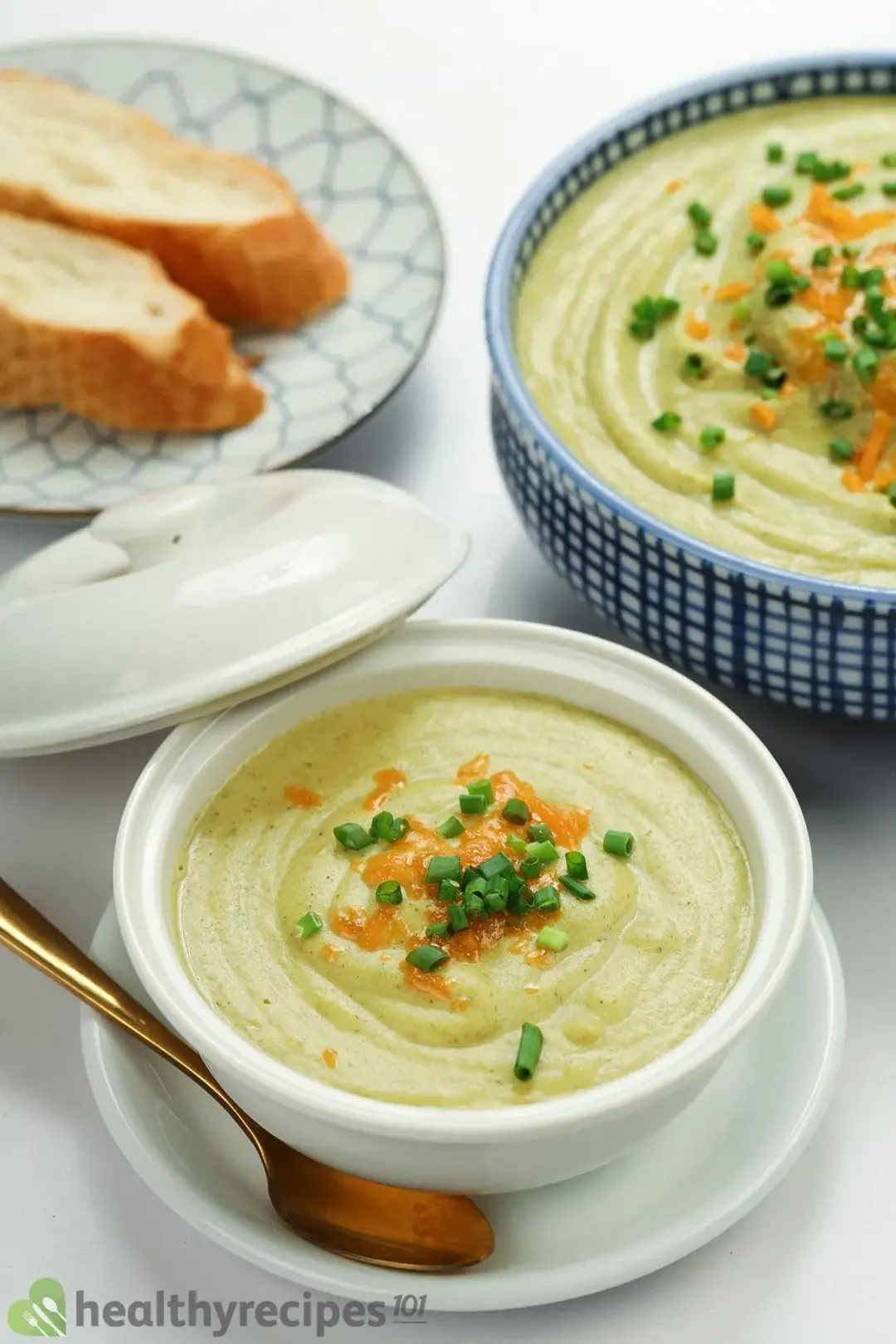 While fresh, hand-picked broccoli has a bright, uniform green color with a signature crunchiness, thawed broccoli is duller in color and softer in texture. In the worst-case scenario, the florets may turn brown due to freezer burn if they have not been packaged and frozen properly. Thus, our chefs prefer to use fresh broccoli to make this soup.
However, if you run out of fresh broccoli, you can still get away with using thawed broccoli.
2. Pre-shredded or Hand-shredded Cheese?
While pre-packed cheese is more convenient and time-saving, hand-shredded cheese has some surprising advantages.
Unlike pre-shredded cheese, which is coated with cornstarch to prevent clumping, the hand-shredded version is not. This makes it easier to melt.
Freshly shredded cheese imparts more flavor.
If you include a significant amount of cheese in your cooking, purchasing a block of cheese is more economical than buying a single package every time.
How to Make Broccoli Cheese Soup Thicker
Here are two tricks to help thicken your broccoli cheese soup using healthy options.
Add 3-5 more minutes to your cooking timer to allow the starch to thicken up.
Whisk together 1 tbsp of all-purpose flour and 3 tbsp of cold water. Once the flour dissolves in water, stir the mixture into the soup. Keep in mind that adding more flour may slightly affect the calorie count.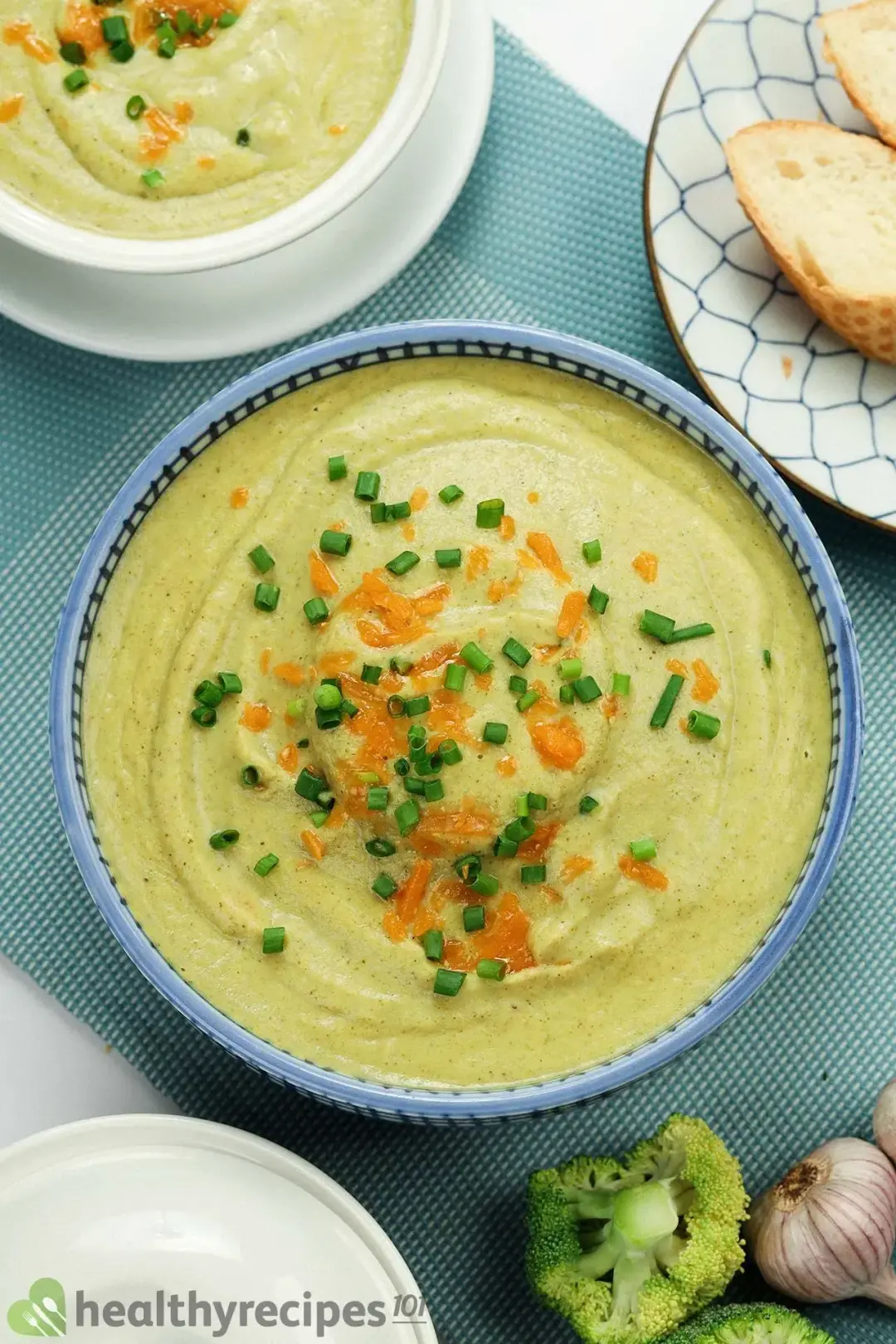 How to Make Broccoli Cheese Soup
Today's broccoli cheese soup recipe is brimming with flavors – herbaceous broccoli, buttery potatoes, creamy dairy, and savory seasonings.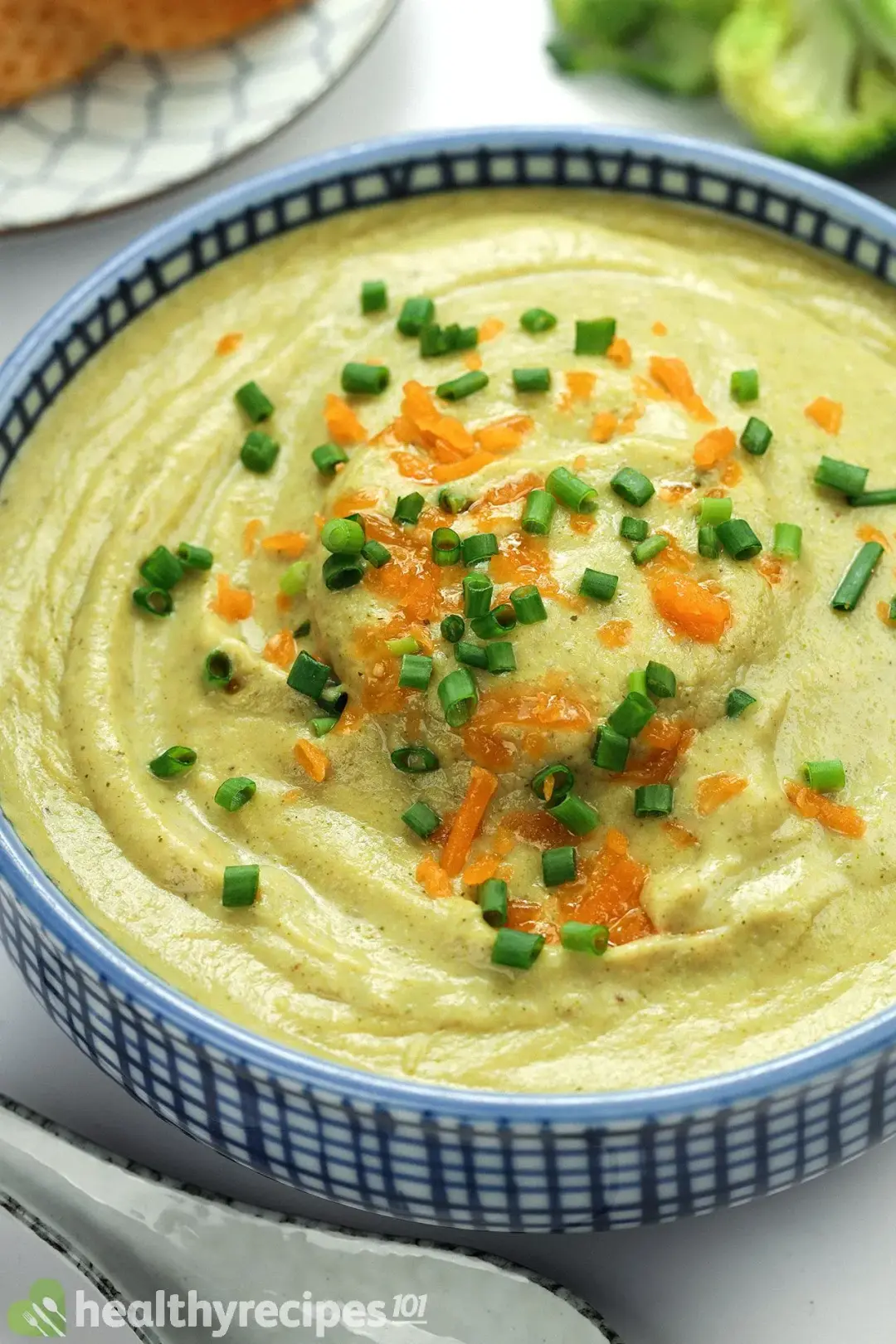 cook TIME

30 mins

prep TIME

5 mins

total TIME

35 mins
COURSE

Side Dish

CUISINE

Global

SERVINGS

servings

CALORIES

152 kcal
INGREDIENTS
8 oz

broccoli cut into florets

4 oz

potato peeled and cubed

2 oz

onions peeled and cut into smaller chunks

2 tbsp

scallions chopped

0.5 oz

cheddar cheese grated

0.3 oz

shredded parmesan cheese

1.5 cups

unsalted chicken broth

0.5 cup

whole milk

1 tbsp

heavy cream

1 tbsp

olive oil

0.5 tbsp

garlic minced

0.3 tsp

salt

0.3 tsp

pepper

1 oz

French baguette sliced
INSTRUCTIONS
PREP:
1
Cut the broccoli: Use a sharpened knife to separate the broccoli head from the main stem. Cut the head into smaller florets, then rinse them under running water. Drain the florets in a salad spinner.
2
Cut the potatoes: Clean the potatoes under the running faucet. Use a vegetable brush or your hands to gently scrub off the dirt on the outer skin. Peel off the skin using a peeler. Chop the potatoes into smaller cubes to the desired size.
3
Cut the onion: Slice off the two ends of the onion. Peel away the outer skin. Remove the core and start cutting it into smaller chunks.
4
Chop the scallions: Place the scallions on a cutting board. Use a sharp knife to remove the top part and the root end, then cut them into smaller chunks, about 1/4 to 1/2-inch.
5
Mince the garlic: Separate the garlic cloves from the bulb and trim off the tips. Peel away the skin. Mince the cloves well.
6
Slice the French baguette: Use a serrated knife to cut the baguette into 1-inch slices
COOK:
1
Reheat the baguette: Line your air fryer with parchment paper (optional). Arrange the baguette slices separately into the frying basket and air-fry at 340°F for 4 minutes. Remove and set them aside.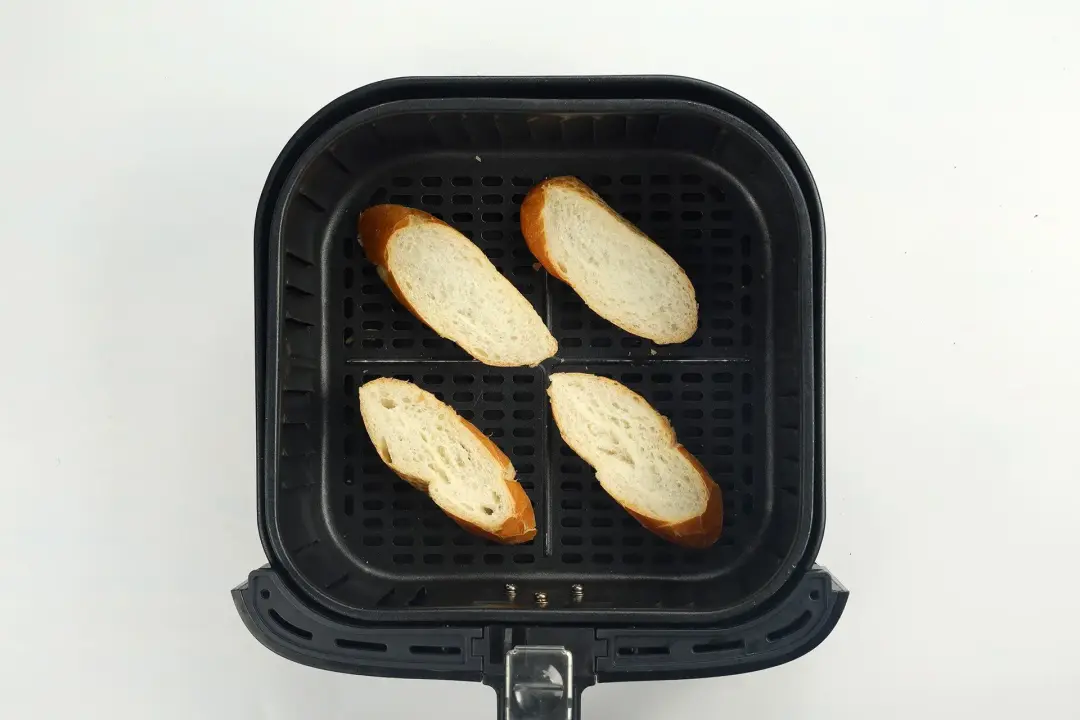 2
Sauté the onion: Place a large cooking pot over medium heat. Add 1 tbsp olive oil, 1/2 tbsp minced garlic, and 2 oz onions. Stir-fry until fragrant, about 2 minutes.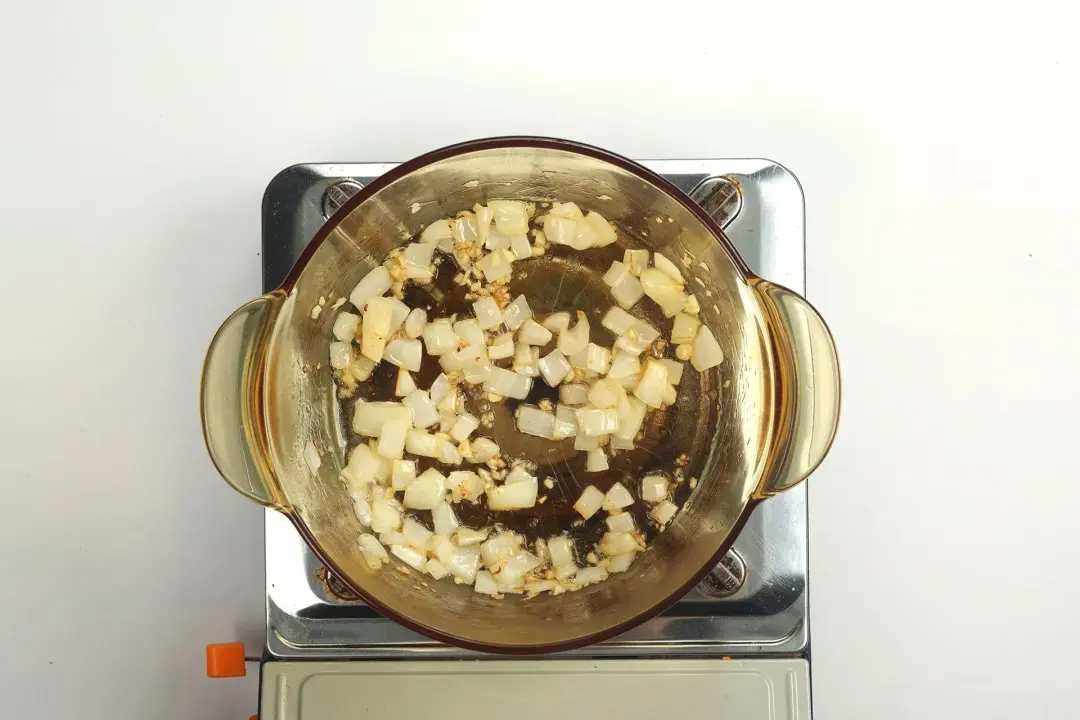 3
Cook the broccoli: In the same pot, add 8 oz broccoli and 4 oz potatoes. Cook for another 3 minutes.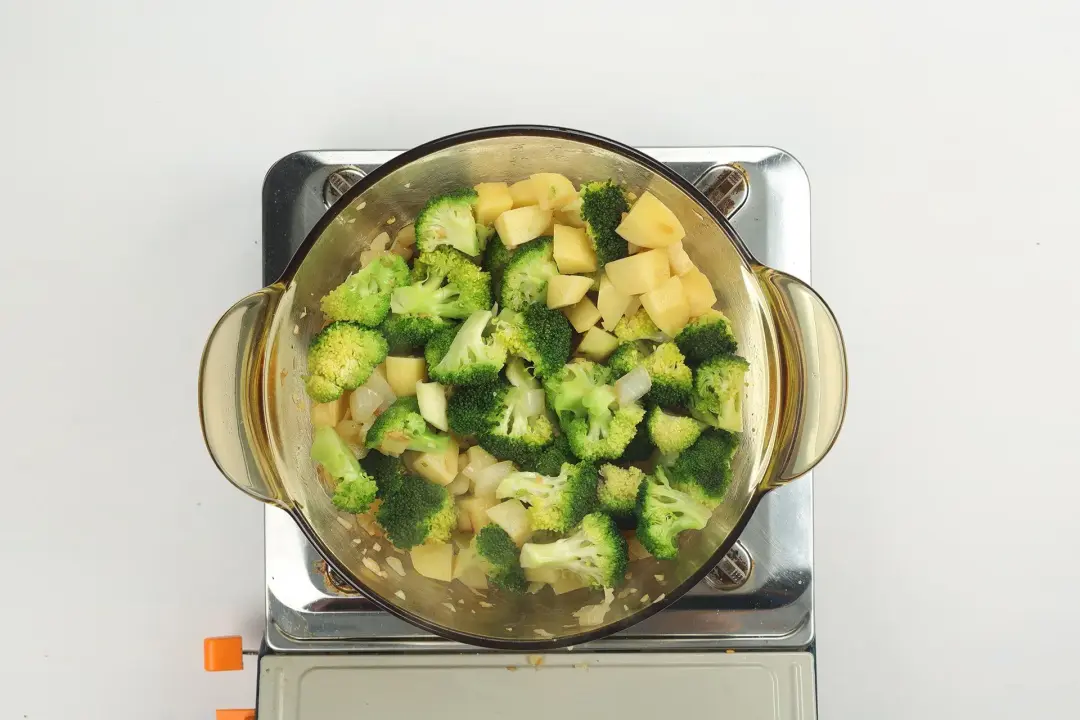 4
Combine other ingredients: Pour in 1 1/2 cups unsalted chicken broth, 1/2 cup whole milk, 1 tbsp heavy cream, 0.25 oz shredded parmesan cheese, 0.25 oz grated cheddar cheese, 1/4 tsp salt, and 1/4 tsp pepper. Bring the mixture to a boil, then lower the heat and let it simmer for another 20 minutes.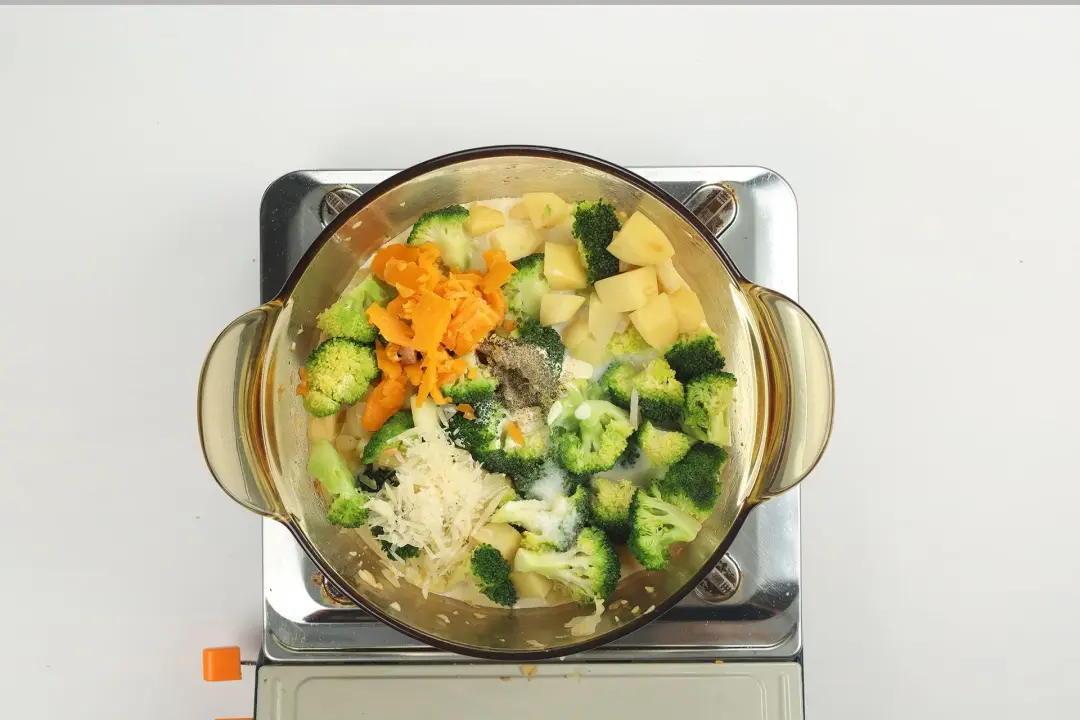 5
Blend the soup: Use a stick blender to blend all the ingredients until silky-smooth.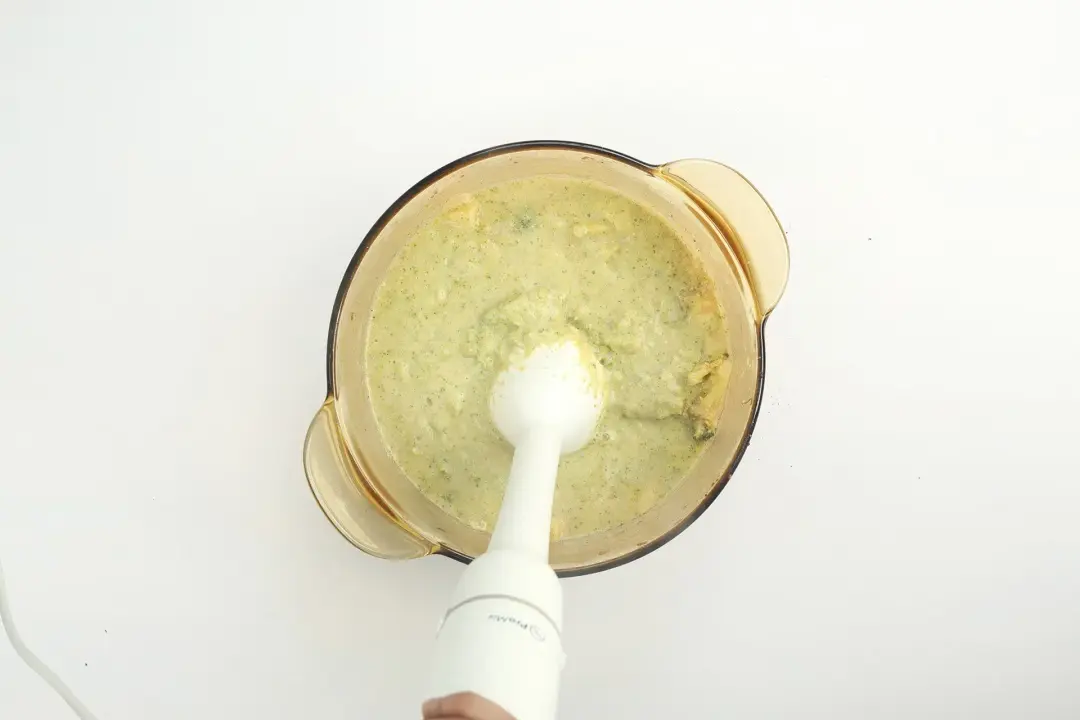 6
Garnish and enjoy: Transfer the soup to a serving bowl, and sprinkle some scallions and the remaining cheddar cheese. Serve with slices of baguette.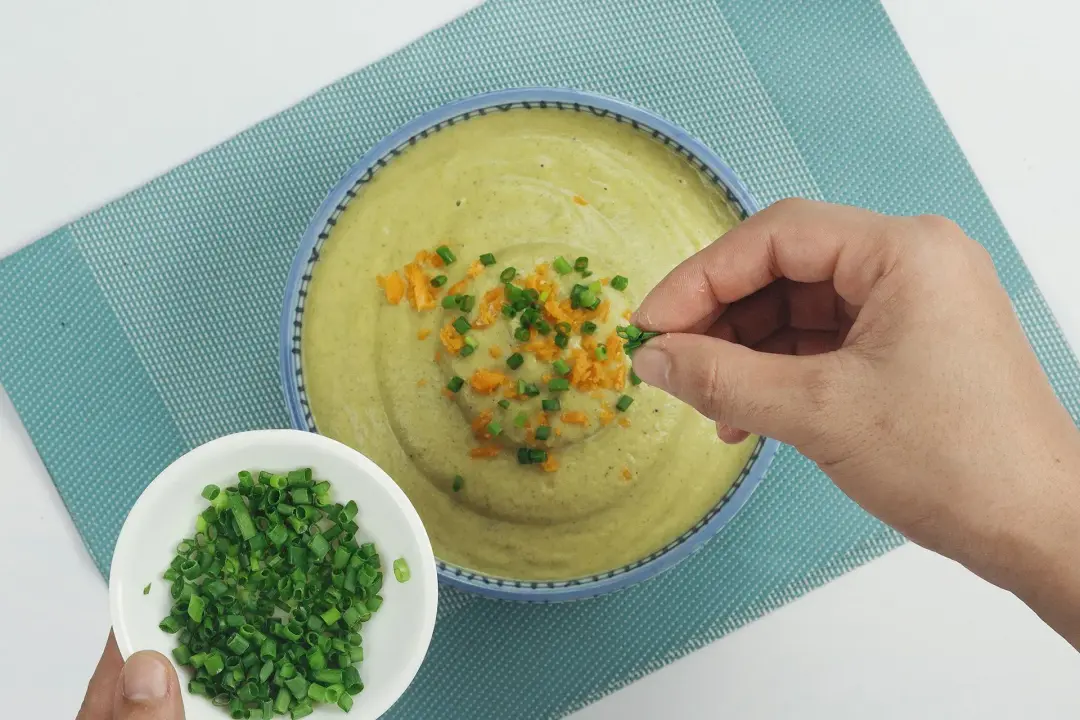 NUTRITION
Nutrition Facts
How to Make Broccoli Cheese Soup
Amount Per Serving (1 serving)
Calories 152
Calories from FDA
% Daily Value*
* Percent Daily Values are based on a 2000 calorie diet.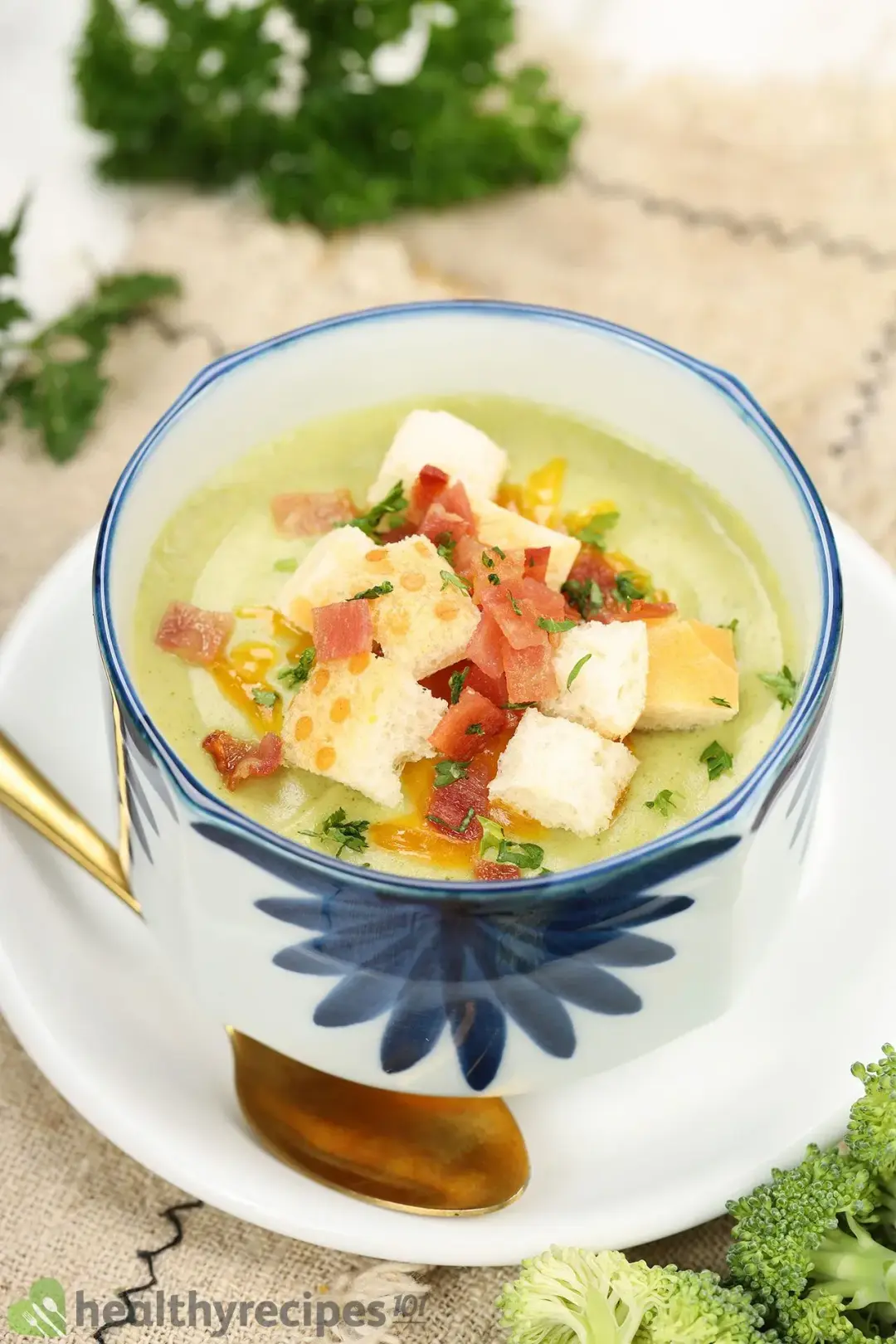 Previous Recipe
Broccoli Soup
Broccoli Soup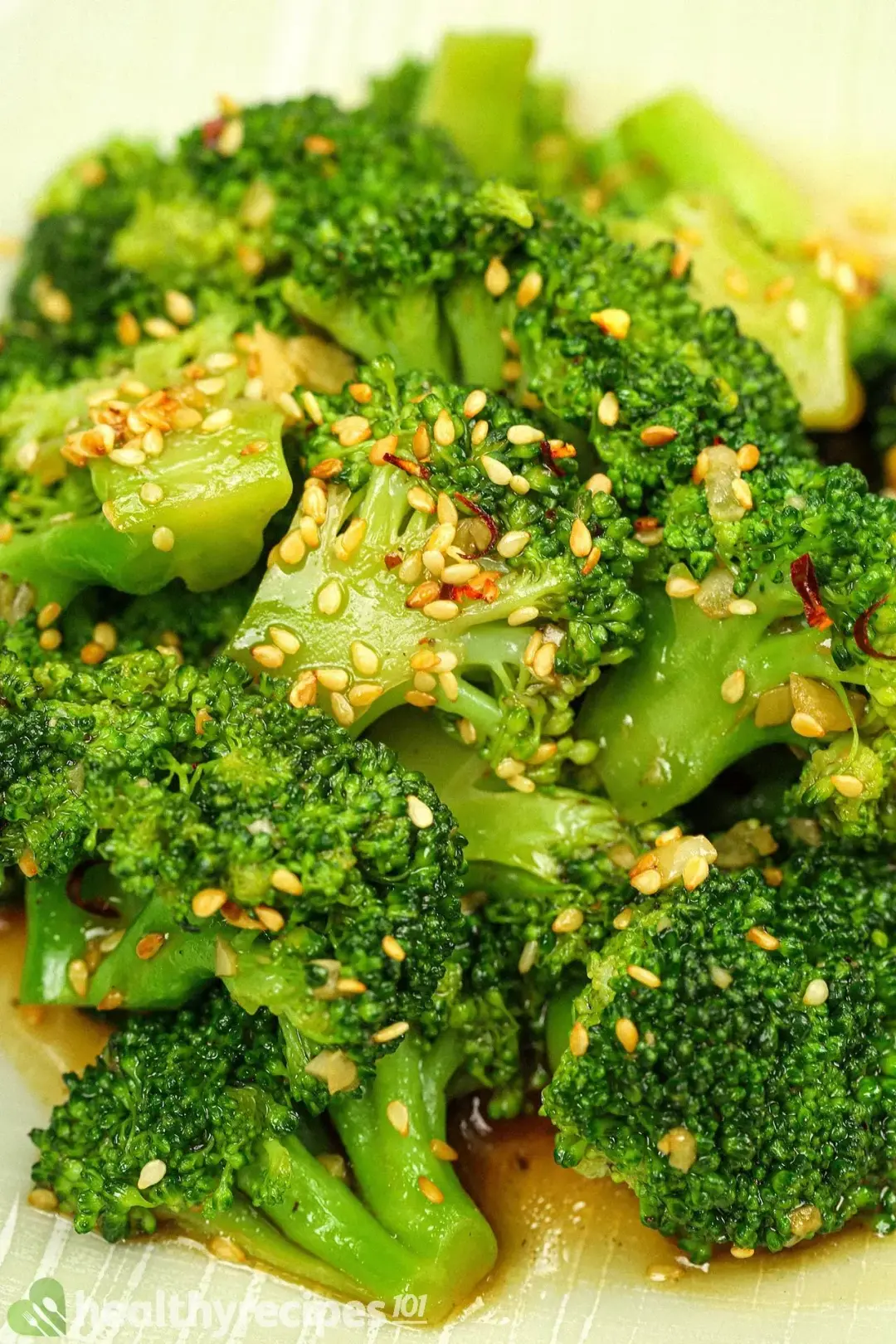 Next Recipe
Asian-style Broccoli
Asian-style Broccoli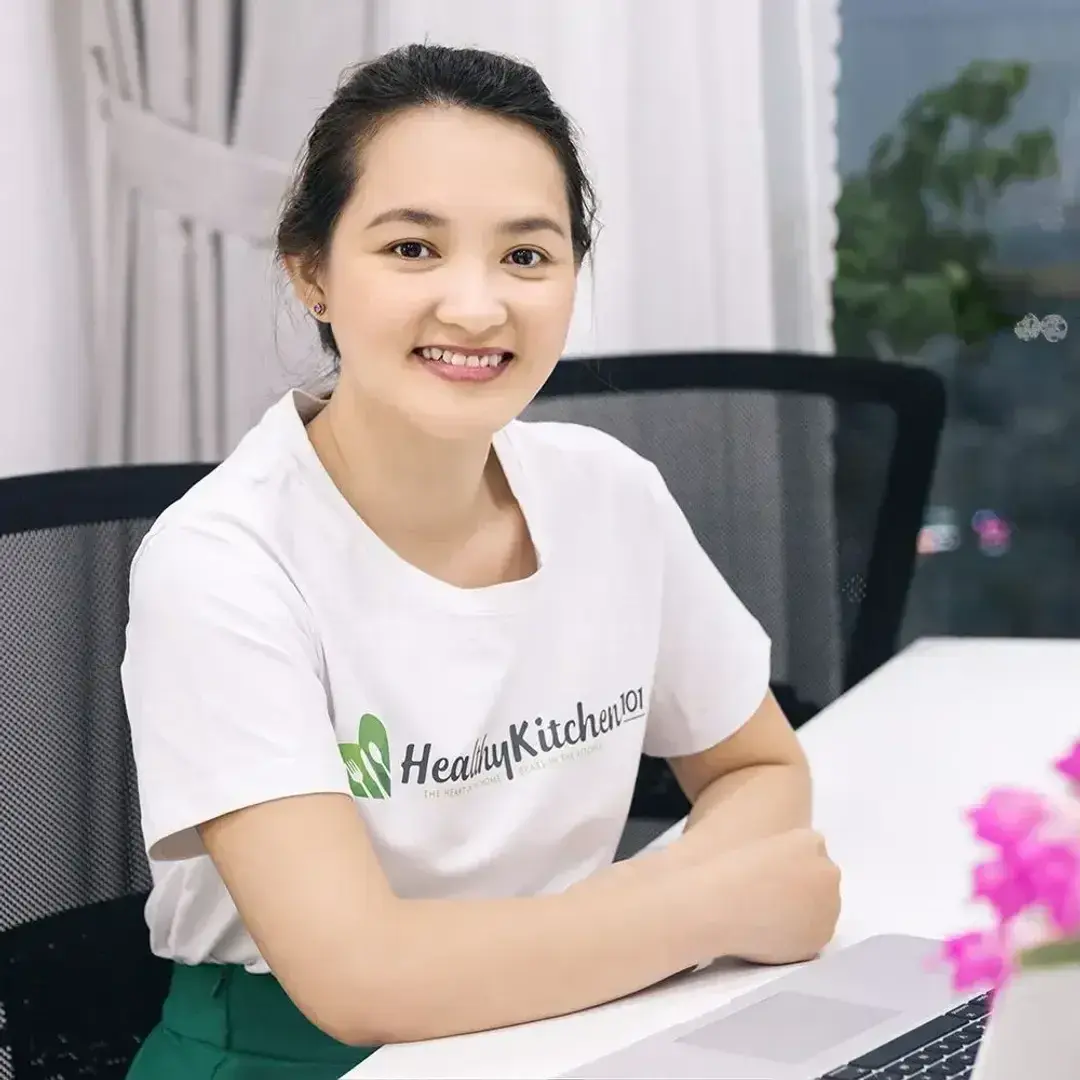 Luna Regina
Luna is the founder and chief recipe developer of Healthy Recipes 101. Apart from cooking, she also loves reading, programming, exploring the outdoors, and collecting useless facts about everything.