The season of goodwill comes along with warm wishes and homemade desserts galore. Today's heart-warming sweet potato pie recipe with peppery ginger and cinnamon will melt away all your troubles.
Sweet Potato Pie vs Pumpkin Pie
Side by side, sweet potato pie and pumpkin pie are quite similar in their appearance. Both have a beautiful golden brown outer crust and below that both give off a gorgeous warm-colored hue with nutmeg, ginger, and cinnamon included in their fillings.
Despite those similarities, the flavors and textures of these two pies do possess their own uniqueness. Sweet potato pie has a rich natural sweetness while pumpkin pie is more subtle and light in flavor. Sweet potato pie has an airy feel to it, whereas pumpkin pie is thicker and denser in texture.
Unfortunately, because sweet potatoes have come to be regarded as unhealthy, this pie doesn't receive as much attention as it deserves.
But not this time.
In today's recipe, our chefs will give you a healthy take on the classic sweet potato pie.
Is Sweet Potato Pie Healthy?
Absolutely yes.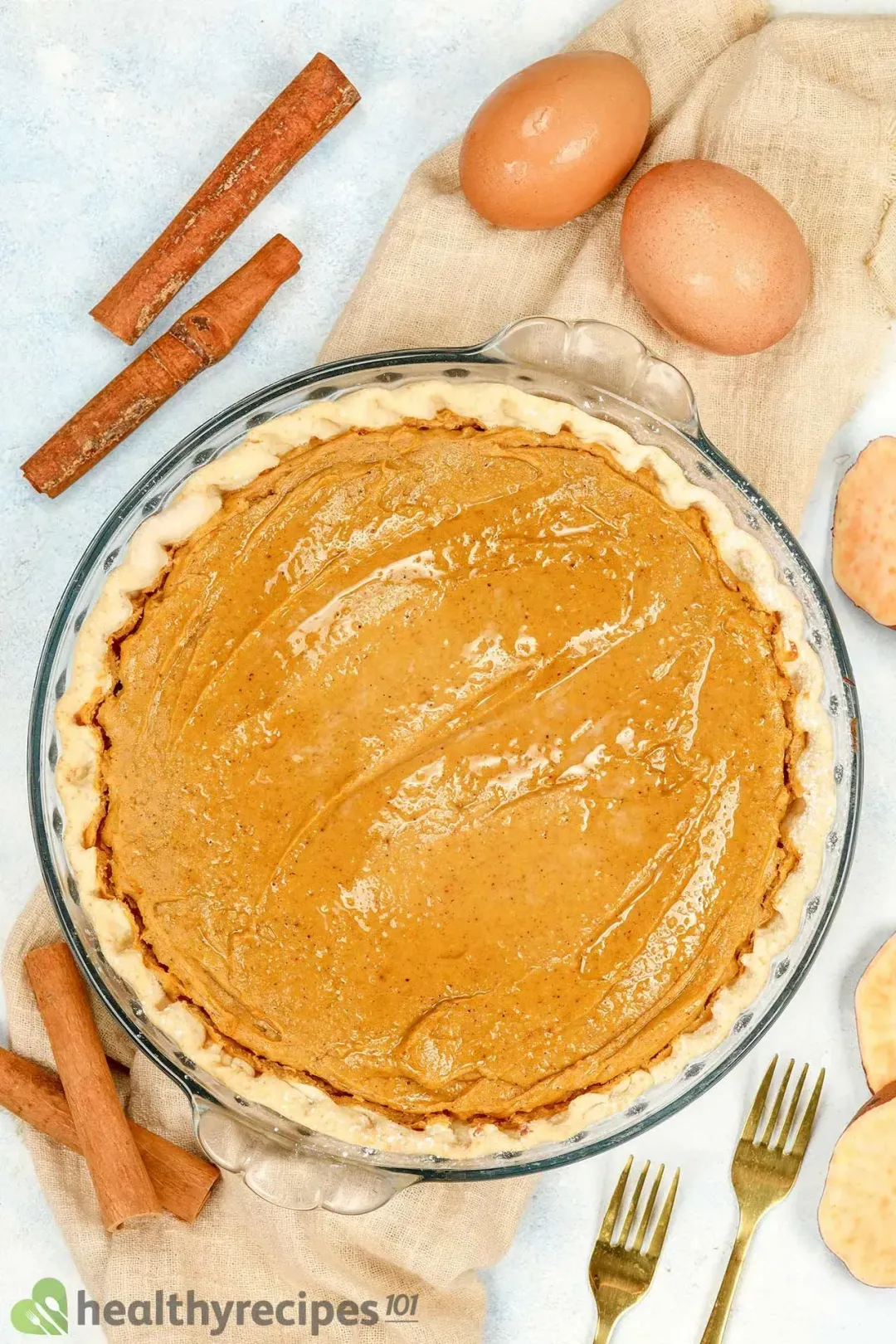 Contrary to those negative assumptions, sweet potato is a nutritious member of the morning glory family. Being rich in complex carbohydrates and vitamin A, at 20.1 g and 14185 IU per 100g, respectively, this humble potato is recognized as a superfood. Complex carbohydrates are known to support the control of blood sugars, while vitamin A benefits our eyesight and immune system.
For all the nutrients it offers, one slice of sweet potato pie (1/12 pie) contains only 159 calories and 3 g of saturated fat, making this pie one of the healthiest Thanksgiving dessert options.
Ingredients for Sweet Potato Pie
The required ingredients are pantry-ready and easy to buy at your local grocery store: flour, butter, and eggs for the homemade crust; sweet potato puree, cream, and spices for the filling.
Let's get to know more about the ingredients, shall we?
1. The Pie Crust
For convenience, especially if you're feeling swamped with a big Thanksgiving dinner, you can opt for store-bought dough.
However, our chefs still recommend making your own pie crust at home as the flavor and versatility of store-bought crust is not comparable to a homemade one. The homemade crust has a more intense taste and flaky texture, whereas store-bought leans more towards the crumbly side. Moreover, the homemade version is much healthier as it contains no hydrogenated fat, preservatives, and food dye.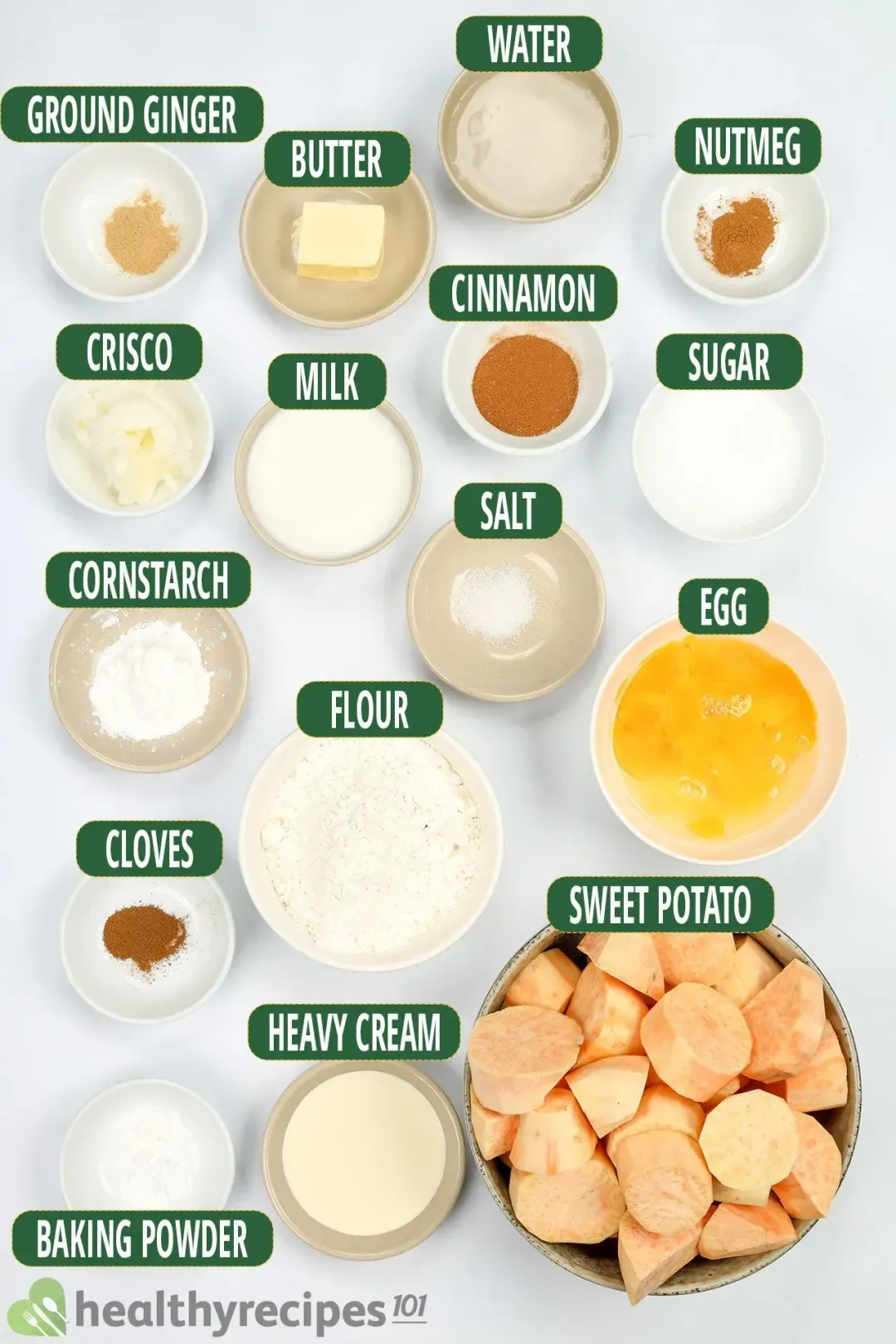 Though it takes approximately 45 minutes for the crust to complete (15 minutes combining ingredients, and 30 minutes resting the dough), the time and effort will be worthwhile.
2. The Filling
Our chefs keep the filling's ingredients straightforward: sweet potato puree, a moderate amount of sugar, and added spices (cinnamon, nutmeg, cloves, and ground ginger).
3. Other ingredients
Ice water: Ice water prevents the fat from melting during the dough-kneading process, which results in a greater chance of flakiness.
Egg: Egg not only helps with the pie's silky consistency but also increases the richness of flavor.
Heavy cream: Heavy cream does a phenomenal job of boosting the creaminess of our sweet potato pie.
Instead of heavy cream, you can use other forms of dairy such as regular milk, sweetened condensed milk, or even a dairy substitute such as coconut milk. Just keep in mind substitution will bring a slight change to the flavor and texture.
4. Can I Use Canned Sweet Potatoes for This Recipe
Yes, you can.
However, bear in mind that canned sweet potatoes may contain more added sugar and preservatives, which we want to limit as much as possible.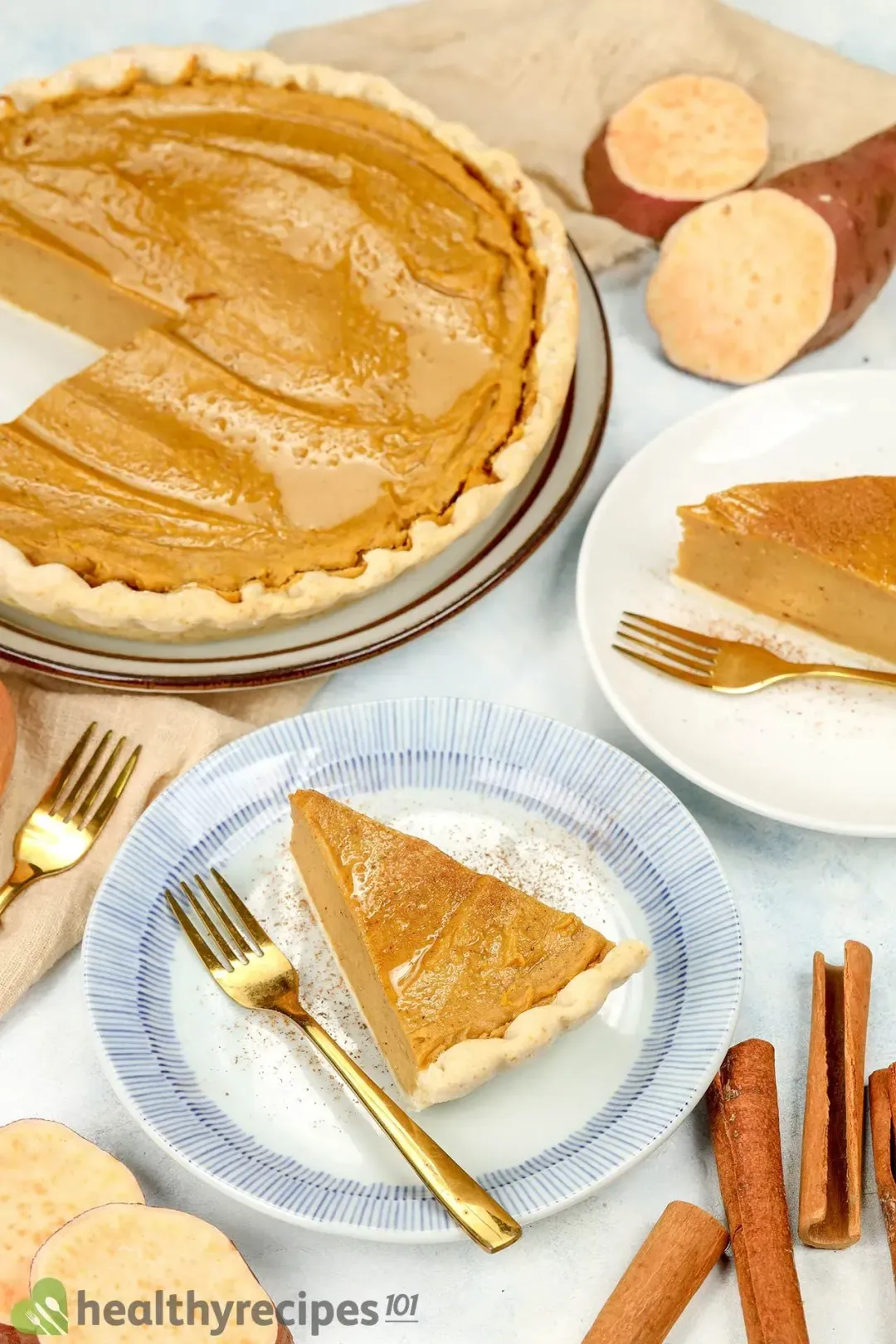 To avoid this, we suggest taking the time and effort to make your own sweet potato puree at home for an authentic experience.
5. How to Choose Sweet Potatoes
Here are some criteria for the best hand-picked sweet potato:
Choose Jewel and Garnet sweet potatoes over white or purple varieties for extra moisture.
Select small or medium-size ones for a more pronounced taste.
Opt for those with smooth skin and no bruising or cracks.
How to Serve Sweet Potato Pie
While some people are fond of a warm slice of sweet potato pie, others believe it's best served cold.
A warm sweet potato pie that's been allowed to cool a little on the counter will have a more noticeable scent from the ginger and cinnamon while one that's been let sit in the fridge overnight will have a gentle sweetness to it.   
How to Store Leftovers 
You can either place the leftovers in an airtight container and store them in the fridge for up to 4 days or freeze them in a freezer-safe container for up to three months.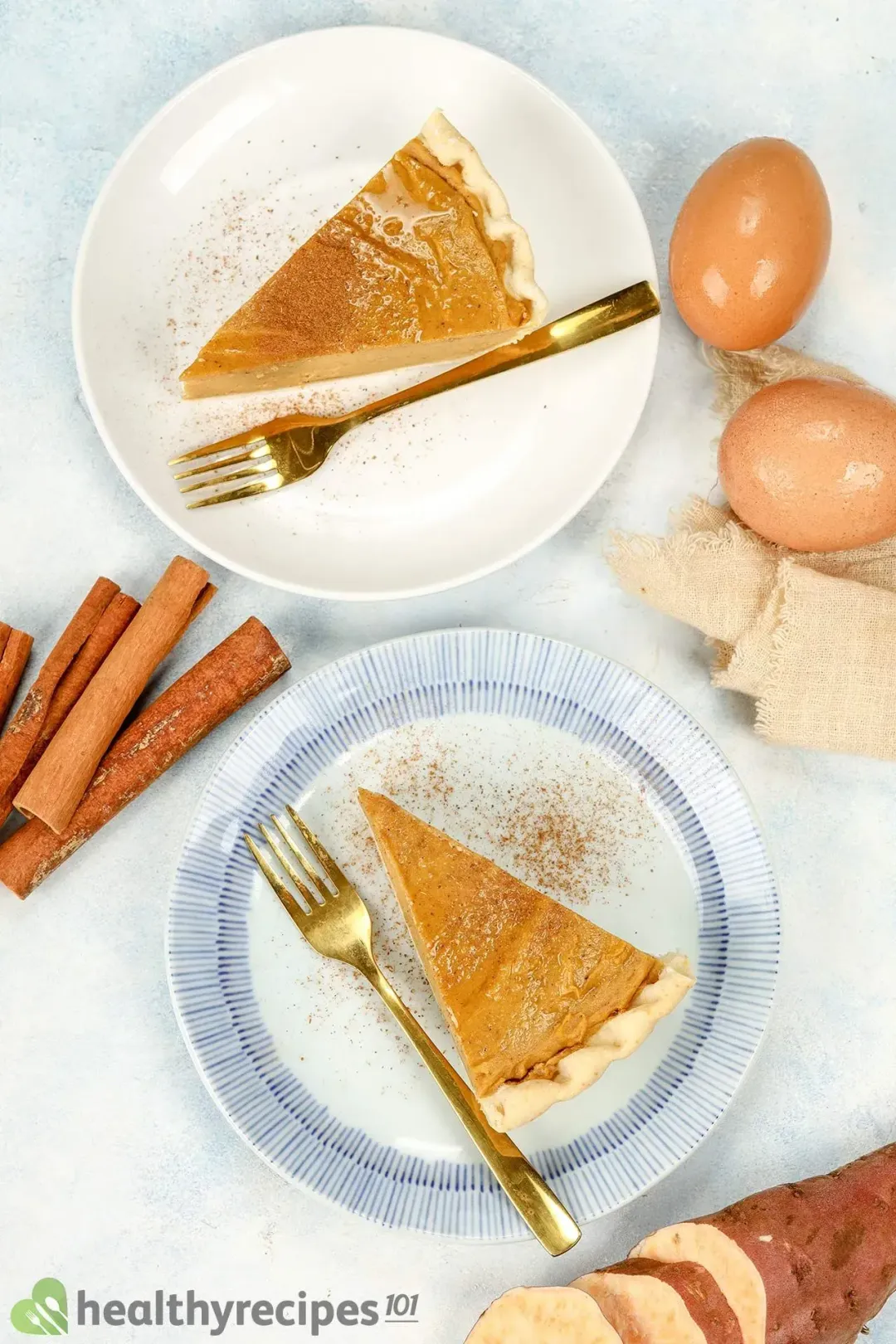 Satisfy Your Sweet Tooth With These Desserts
How to Make Sweet Potato Pie
Today's heart-warming sweet potato pie recipe with peppery ginger and cinnamon will melt all your troubles away.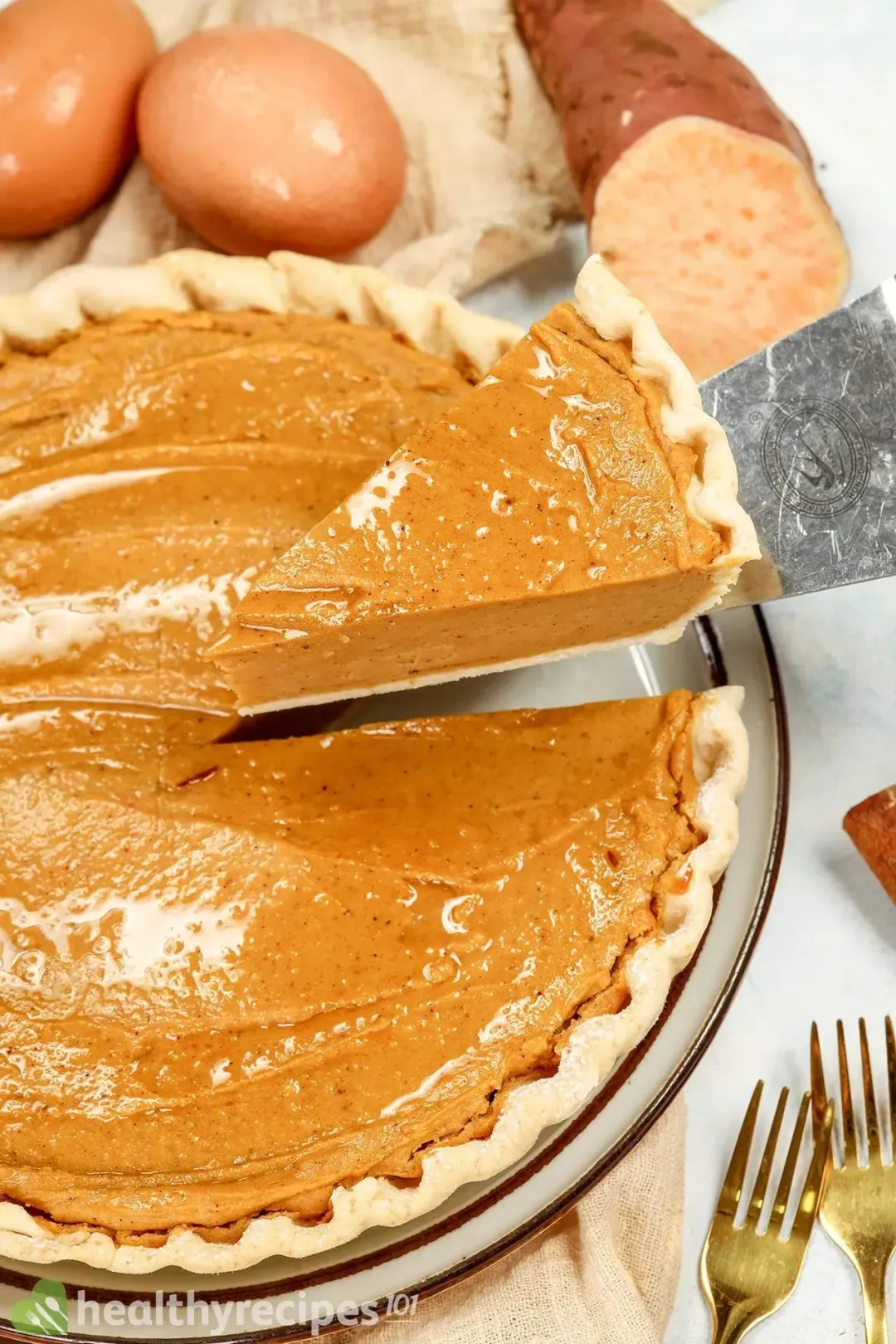 cook TIME

1 hr 15 mins

prep TIME

5 mins

total TIME

9 hr 20 mins

INACTIVE TIME

8 hr
COURSE

Dessert

CUISINE

American

SERVINGS

CALORIES

159 kcal
INGREDIENTS
25 oz

sweet potato

(cubed)

3/4 cup

all-purpose flour

2 tbsp

vegetable shortening

1 tbsp

unsalted butter

(room temperature)
INSTRUCTIONS
1
Add 25 oz sweet potato chunks to a big bowl and steam them for 20 minutes or until fork-tender.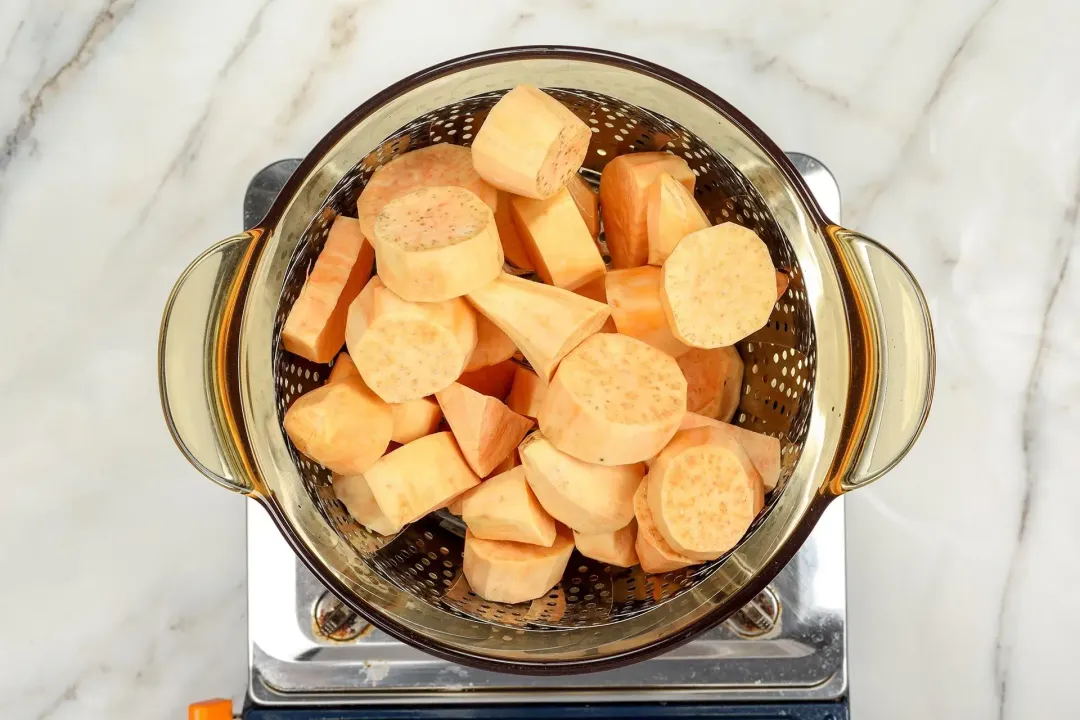 2
In the same bowl, add 3/4 cup of whole milk. Use a stick blender to blend the sweet potato chunks with milk until silky smooth. Set aside to cool.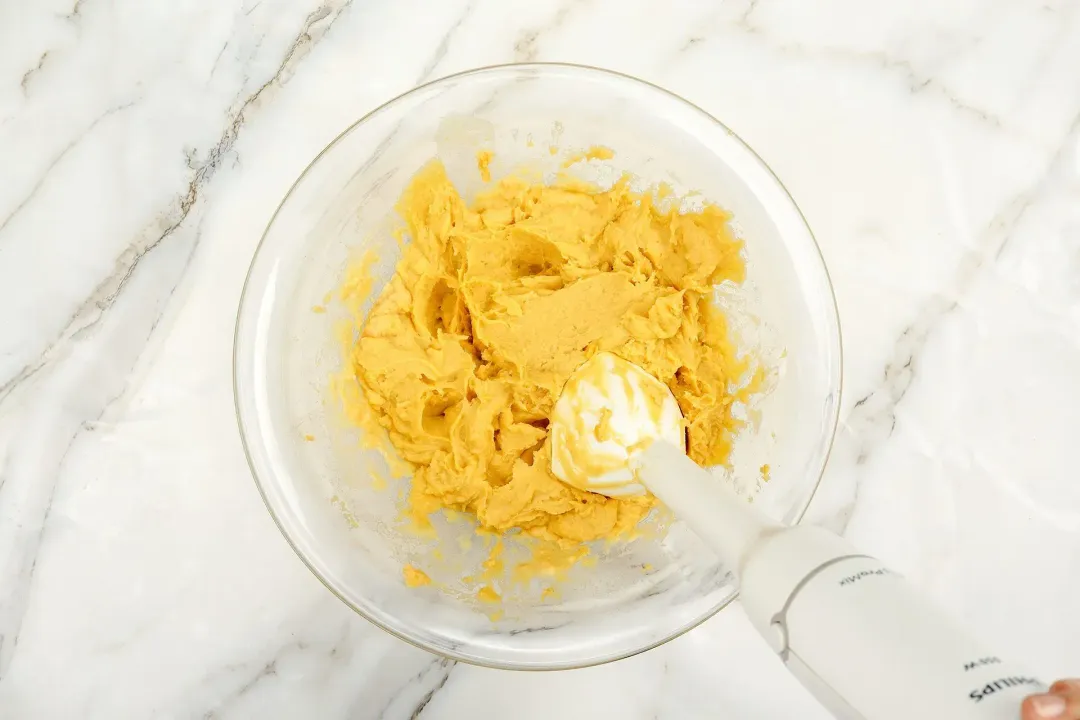 3
Prepare the crust: In another bowl, add 3/4 cup all-purpose flour, 2 tbsp vegetable shortening, 1 tbsp cornstarch, 1/4 tsp baking powder, and 1/4 cup ice water. Mix well. Knead the dough until finely cooperated. (The dough should be non-sticky)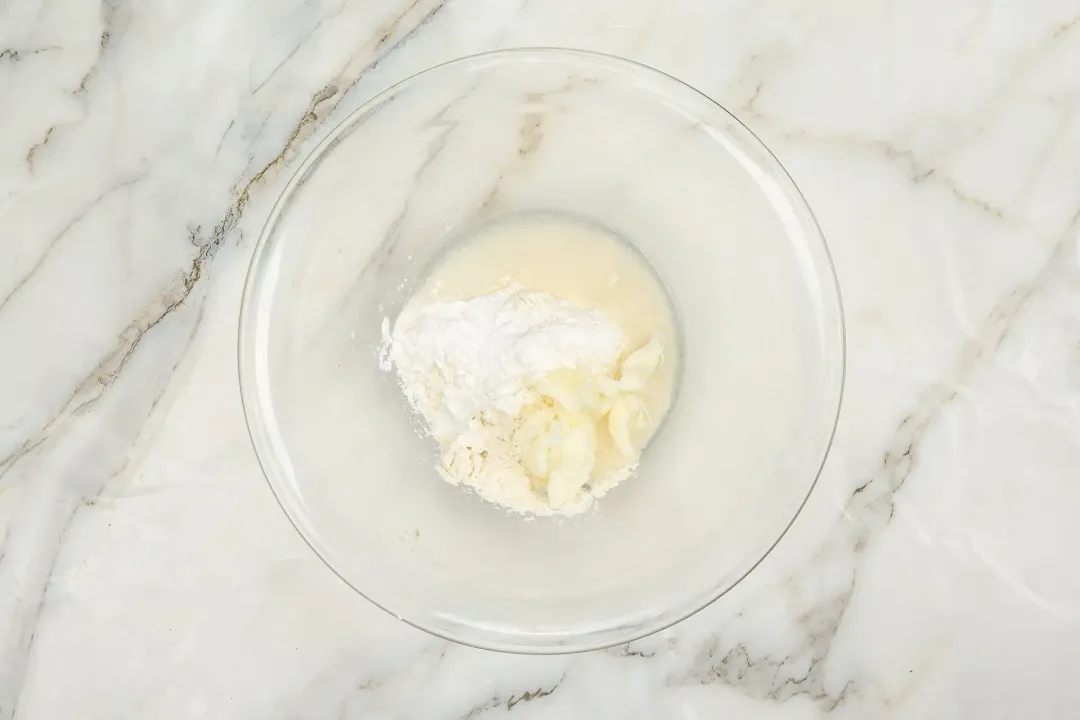 4
Roll the dough out (2 mm thin) into a circle large enough to cover your pie dish.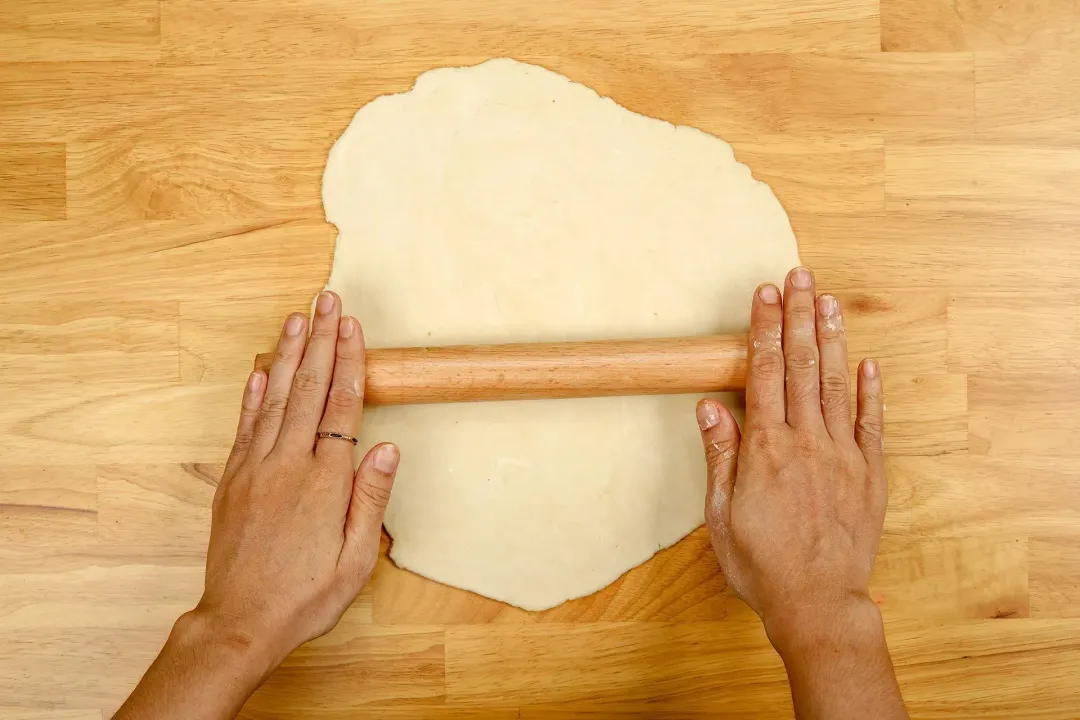 5
Transfer the sheet of dough onto the pie dish and gently press it down. With a fork, poke small holes at the bottom of the crust prior to baking to keep the pie from bubbling up.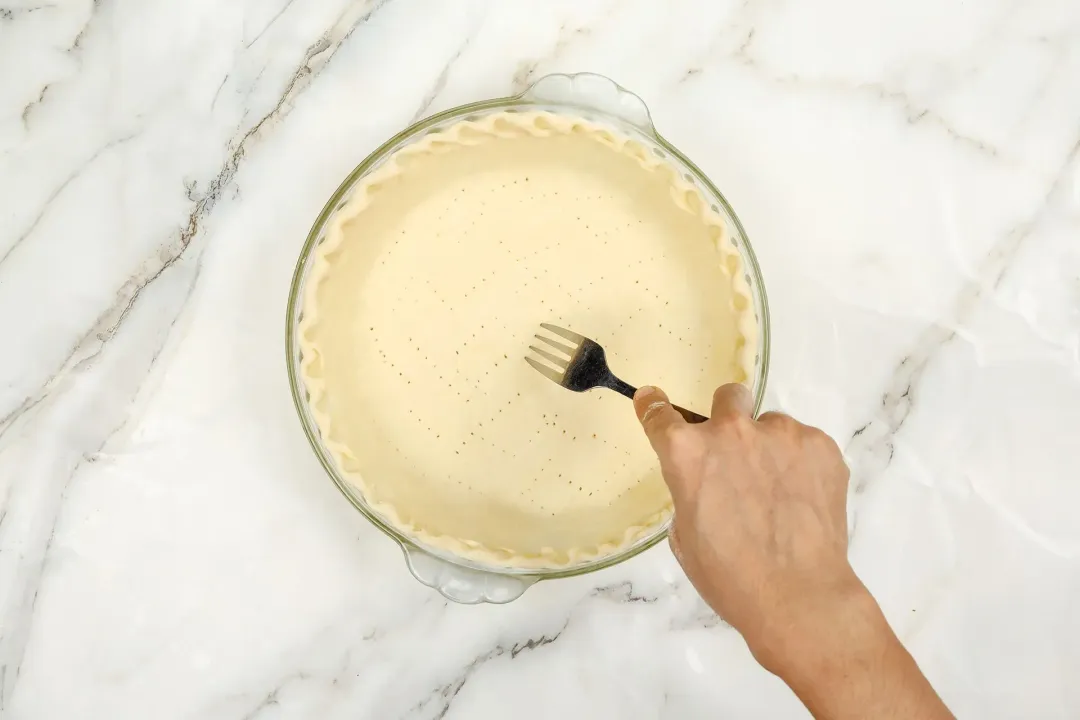 6
Preheat the oven to 350°F for 5 minutes. Bake the crust for 7 minutes.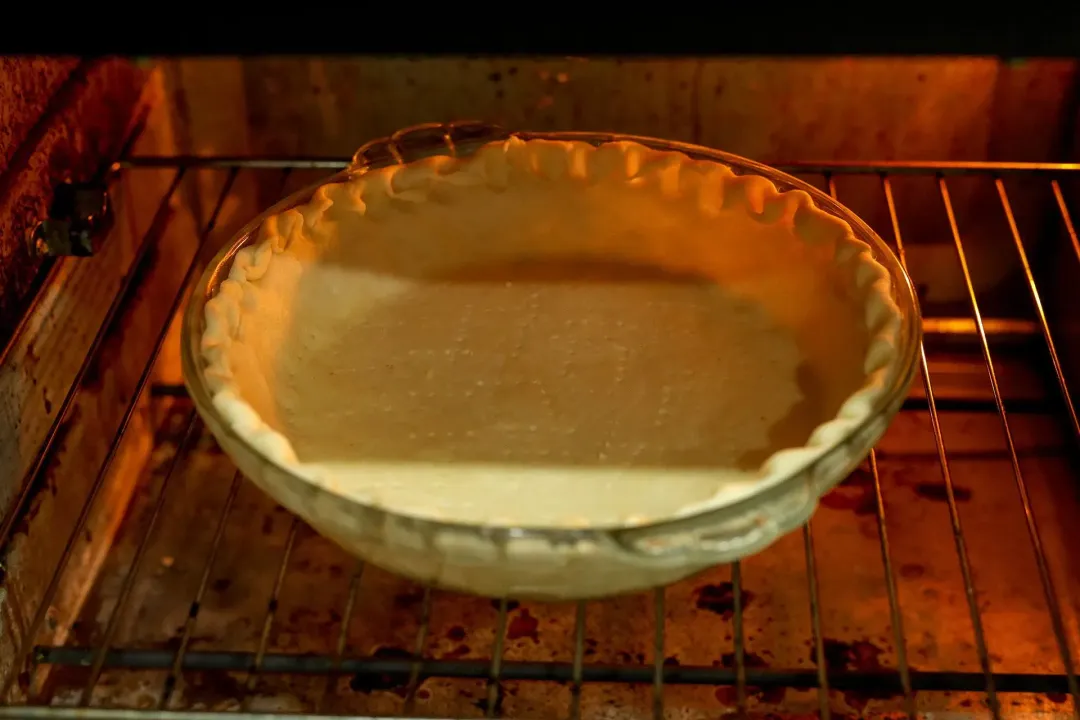 7
Prepare the filling: In a bowl, add 4 tbsp heavy cream, 1 tbsp unsalted butter, 1 medium egg, 2 large egg yolks, 1/4 tsp salt, 1 oz white sugar, 1/4 tsp ground ginger, 1 tsp cinnamon, 1/8 tsp nutmeg, and 1/8 tsp cloves. Vigorously whisk until all the ingredients blend.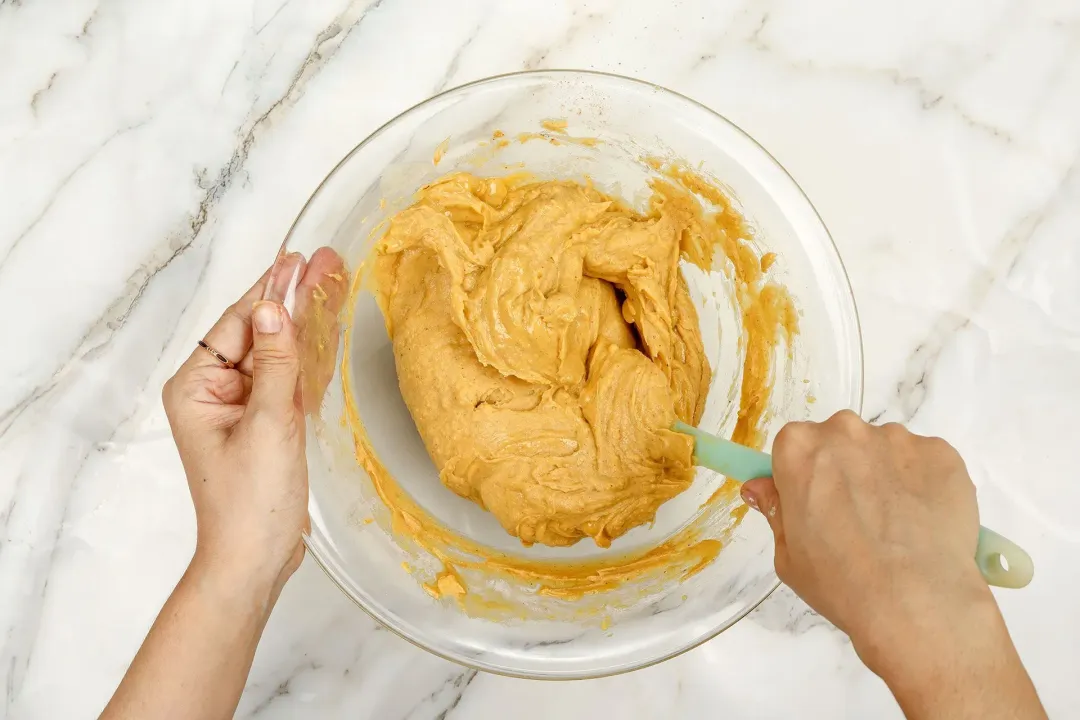 8
Take the crust out of the oven. Gently pour in the filling. Bake the pie at 350°F for 40 minutes.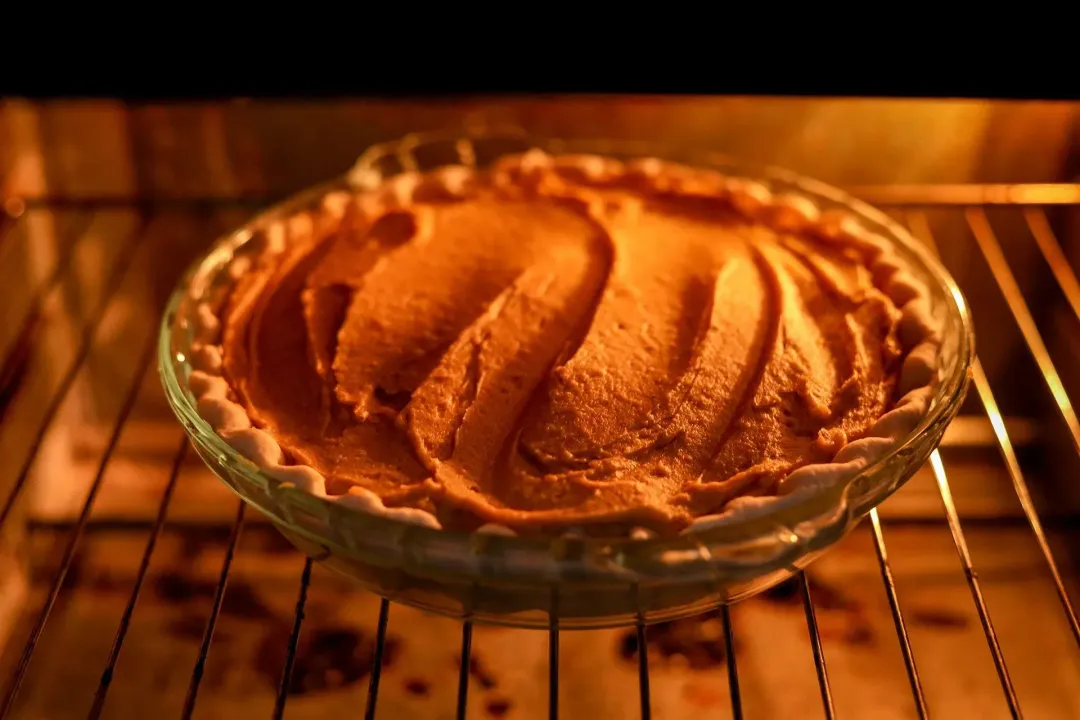 9
Remove the pie from the oven and let it cool down completely. Place it in the fridge for 8 hours or overnight.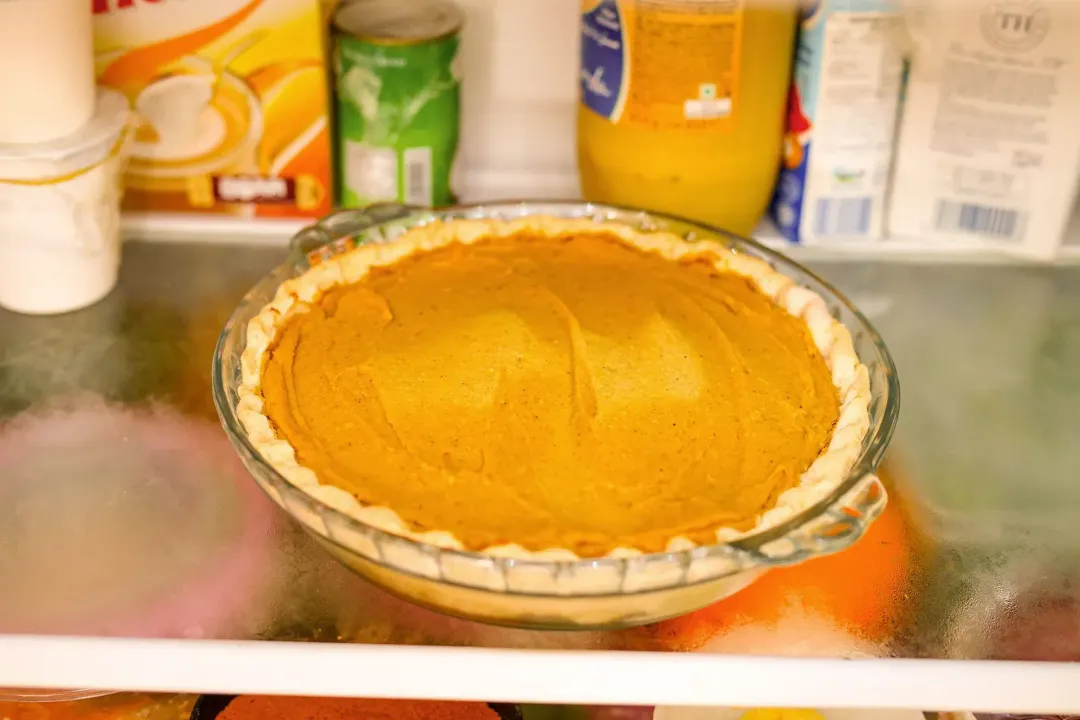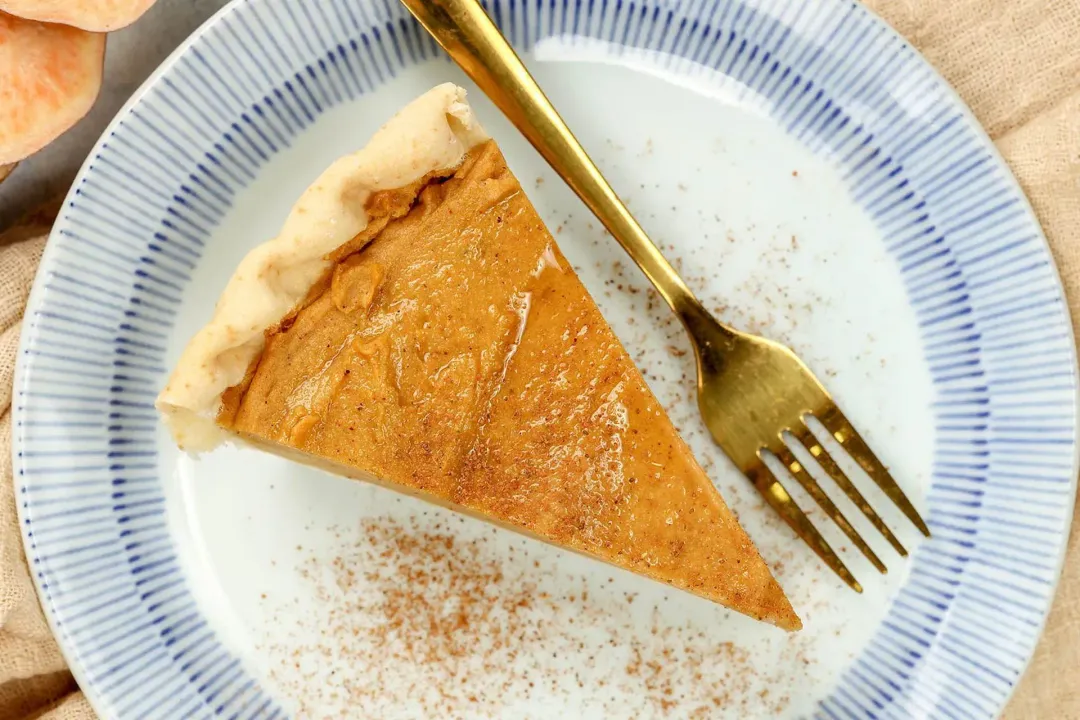 NUTRITION
Nutrition Facts
How to Make Sweet Potato Pie
Amount Per Serving (1 serving)
Calories 159
Calories from Fat 63
% Daily Value*
* Percent Daily Values are based on a 2000 calorie diet.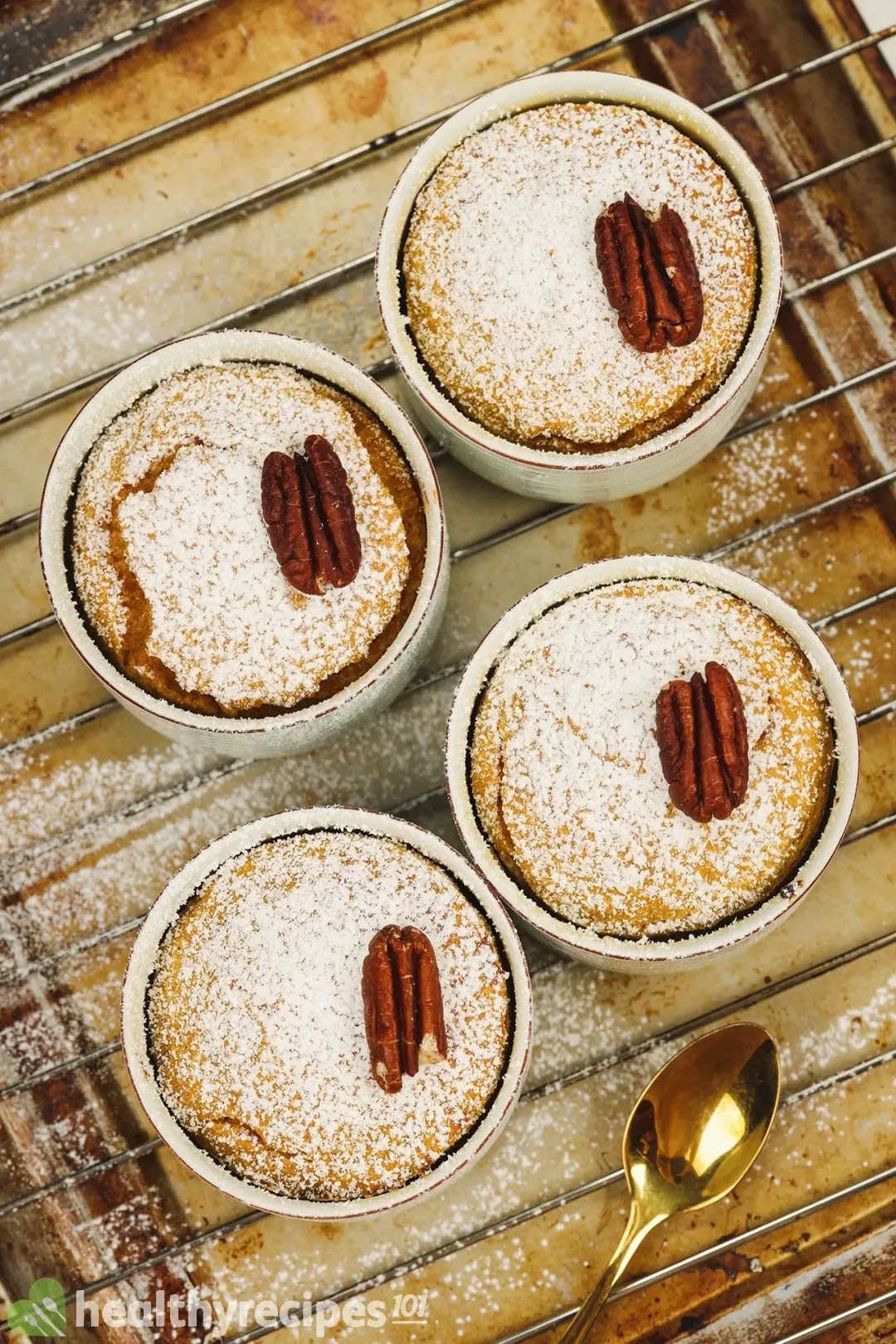 Previous Recipe
Sweet Potato Souffle
Sweet Potato Souffle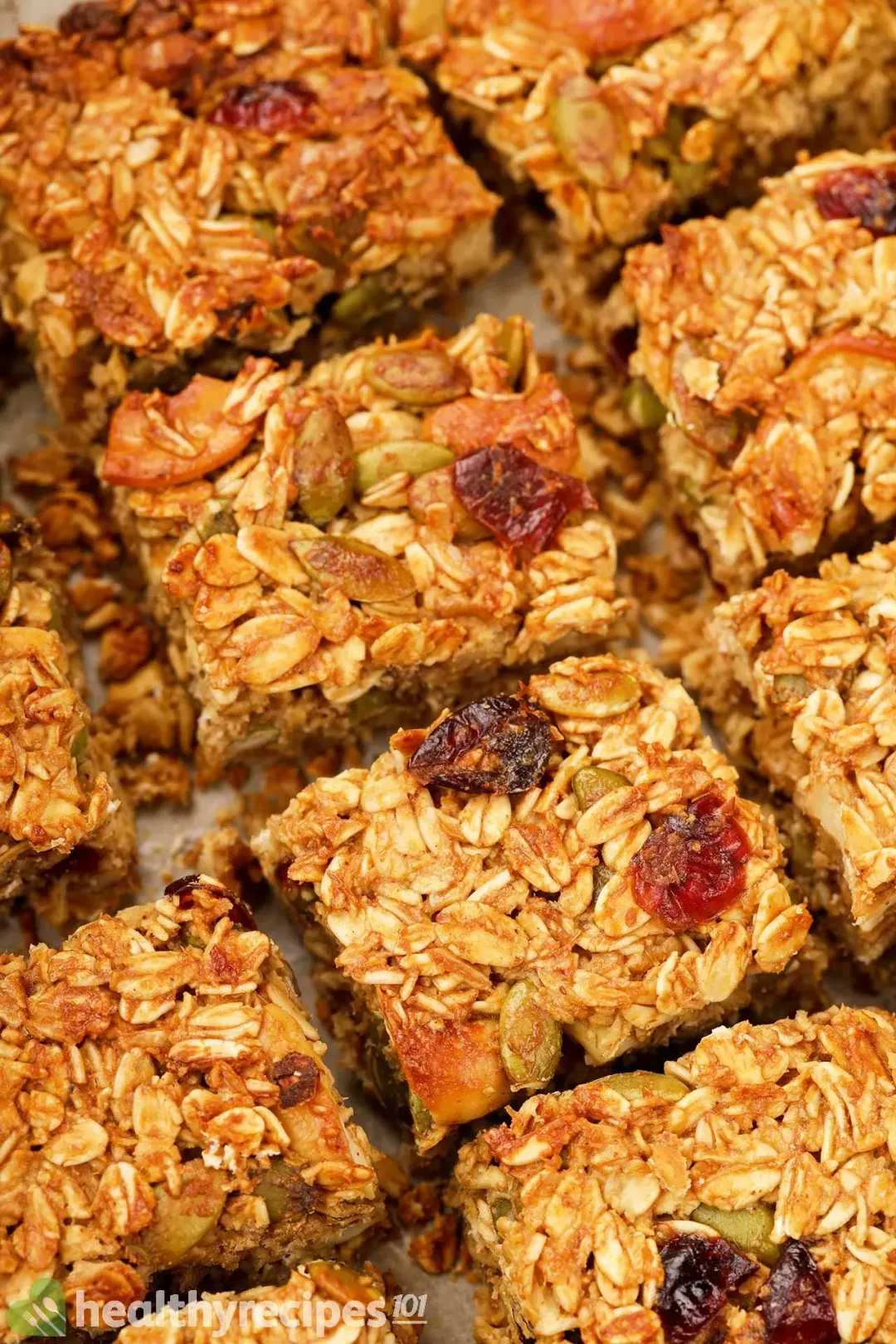 Oatmeal Bar
Head Chef, Culinary Consultant
Tuyet Pham is an award-winning Saigonese chef who believes that joy is the secret ingredient to delicious food. At Healthy Recipes 101, Tuyet personally tests and simplifies every recipe, ensuring maximum flavor with minimal effort. With a background at prestigious French restaurants P'TI Saigon and Le Corto, Tuyet knows how to make every dish exceptional.
Writer, Author
Luna Regina is an accomplished writer and author who dedicates her career to empowering home cooks and making cooking effortless for everyone. She is the founder of HealthyKitchen101.com and HealthyRecipes101.com, where she works with her team to develop easy, nutritious recipes and help aspiring cooks choose the right kitchen appliances.
Nutrition Reviewer
Natalie Butler is a registered dietitian nutritionist with a passion to help others live their best life through food, fitness, safer beauty and a healthy lifestyle. She has expertise with a variety of diets and diseases and believes that there is no one-size-fits-all approach for health.
Sweet potato pie is a delicious and healthy dessert option.