Today's oatmeal raisin cookies recipe has been reworked from the traditional to be healthy but still tasty enough to satisfy your cookie craving. 
Full of nutty oats and fruity raisins, these cookies are chewy in the center and crisp around the edge, and come with a hint of cinnamon and vanilla. You can switch it up and add chocolate chips or nuts for a different take on the classic. 
These oatmeal raisin cookies also pair perfectly with coffee or tea in the morning. They're a great snack on the go for National Oatmeal Cookie Day (April 30), National Cereal Day (March 7), and National Cookie Day (December 4).
What Is Oatmeal?
Oatmeal is a type of coarse grain made from the oat plant. It comes in several forms: ground groats, steel-cut, or rolled oats.
Though often served as a common breakfast cereal, oatmeal has a history going back thousands of years. Oats are native to ancient China (first thought to be used around 7000 B.C.), however, it seems the Greeks were the first to eat oatmeal as a porridge-like dish like we do today.
People from different cultures and cuisines have several ways to cook and enjoy oatmeal. In European countries like Germany, raw oats are soaked in milk until softened enough to eat. Later nuts and fruits can be added for a fulfilling and nutritious meal.
In America, the steel-cut variation needs to be cooked. These can be prepared by soaking the oats in a mixture of water, salt, and maple syrup overnight. 
Then the oats can be cooked the next morning, and other spices like cinnamon, nutmeg, or ginger added to maximize the flavor. When done, it's nice to serve the oats with milk or cream. Oats are incredibly versatile, so you can not only make it into a sweet treat but also a breakfast food—Overnight Oats with Yogurt—or various smoothies, such as Banana Oatmeal Smoothie or Peanut Butter Oatmeal Smoothie.
Let's look a bit more at the different types of oatmeal available in stores and supermarkets.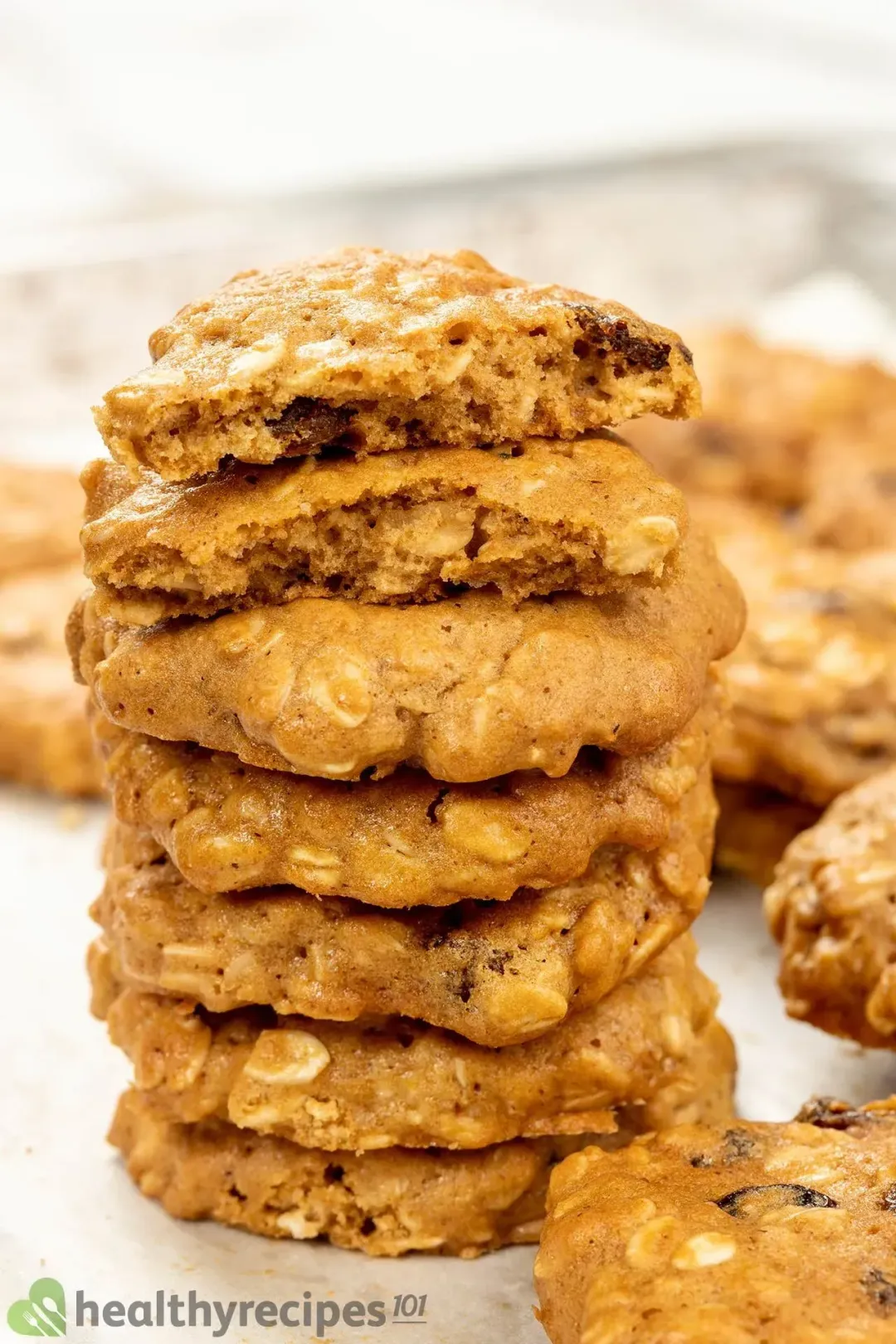 Types of Oatmeal for
1. Steel Cut Oats
These are raw groats that are cut into small pieces so that they still keep their firm texture. This type requires the longest time to cook but has the chewiest texture and retains its shape even after cooking.
Steel-cut oats are popular for porridge, savory congee, or in a stuffed dish for a nice added texture.
2. Old Fashioned Oats
Old fashioned oats or rolled oats look like tiny round, flat discs. To process them, oat groats are steamed and flattened by huge rollers. 
Rolled oats absorb water quickly so that they cook faster than steel-cut oats. Furthermore, this type holds its shape well during cooking, making them commonly used in cookies, muffins, and granola bars.
3. Instant Oats
Also called quick oats, these are chopped into small pieces before being steamed, dried, and smashed into thin flakes. This process reduces the cooking time to around 3 minutes. While they cook quicker, quick oats also have less of a hearty texture and nutty flavor than other forms.
The various oat varieties have different processing methods which lead to a difference in cooking time, texture, and flavor. However, all forms are made from whole grain, so they have one thing in common— the nutritional benefits.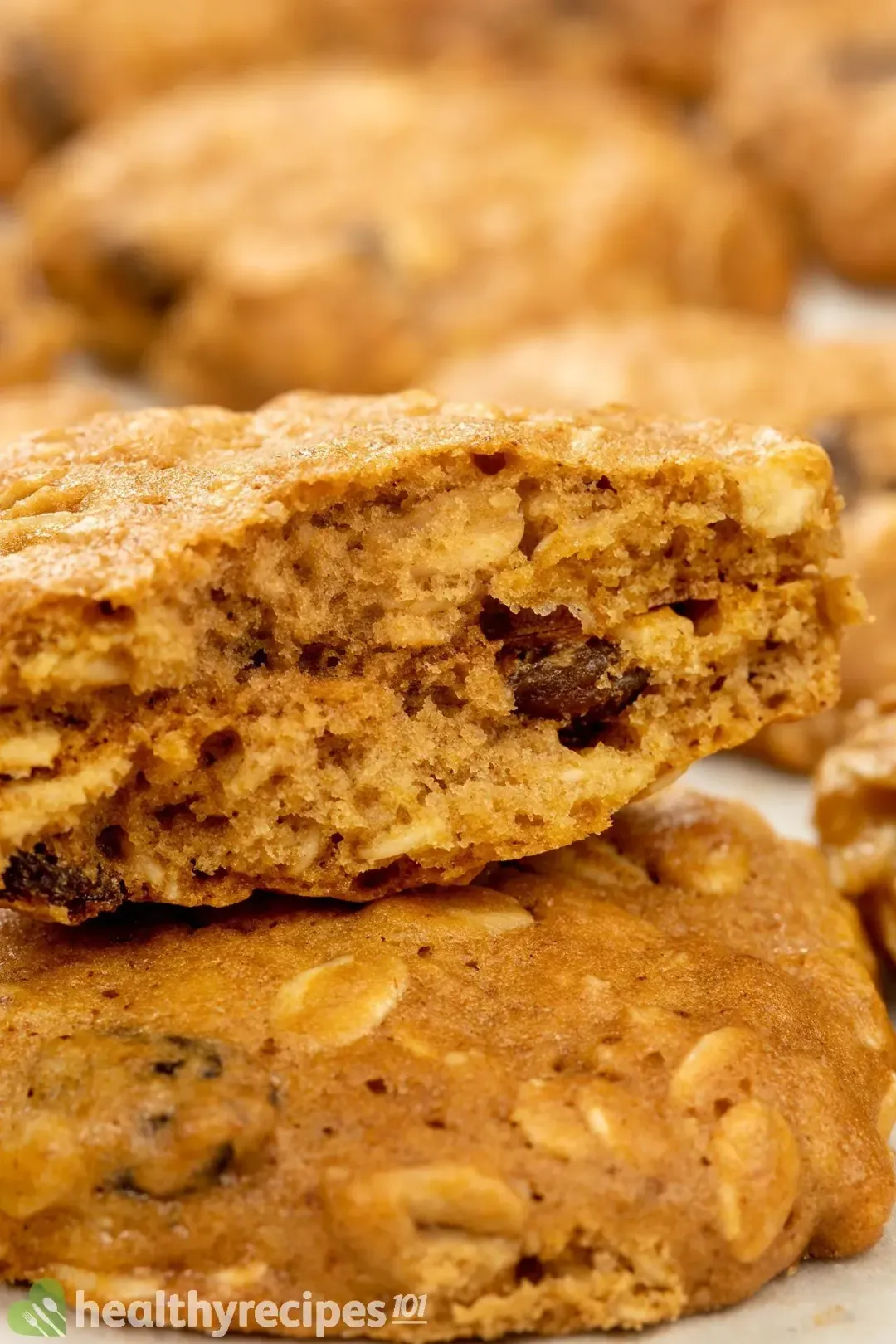 Are Oatmeal Raisin Cookies Healthy?
Compared to other types of cookies like chocolate cookies or butter cookies, our oatmeal raisin cookies are healthier.
Lower in calories: a 2-inch oatmeal raisin cookie contains less than 80 calories. To do that we reduce the amount of sugar and butter as much as we can. Our cookies end up containing only 5.3 grams of added sugar per cookie.
More fiber: with oatmeal and raisins as the main ingredients, each oatmeal raisin cookie provides 1.3 grams of fiber, versus zero grams of fiber in sugar cookies. If you want to improve the fiber content, add more raisins or try whole-grain flour instead of all-purpose flour.
Healthy addition: We use raisins in the recipe not only for their fruity flavor but also to give our cookies a healthier source of sugar. Apart from raisins, other ingredients can be added to the nutrition of your oatmeal cookies too, such as chia seeds and chocolate. Chia seeds add omega-3 while dark chocolate can add some antioxidants which may fight against heart diseases. 
While cookies aren't as healthy as raw food like vegetables or fruits, these oatmeal raisin cookies still give more nutritional benefits than other cookies, especially when you make them from scratch and choose the ingredients wisely. 
Ingredients for Oatmeal Raisin Cookies
This oatmeal raisin cookies recipe contains 4 main elements that can affect the flavor and texture of the cookies:
1. Oats
There are a variety of choices when it comes to choosing oats. Steel-cut or quick oats are quite nice for making a healthy and hearty breakfast, but for cookies, there is only one option: the old-fashioned type.
These flat-rolled oats retain their shape well during baking, provide a good amount of fiber, and make your cookies even chewier.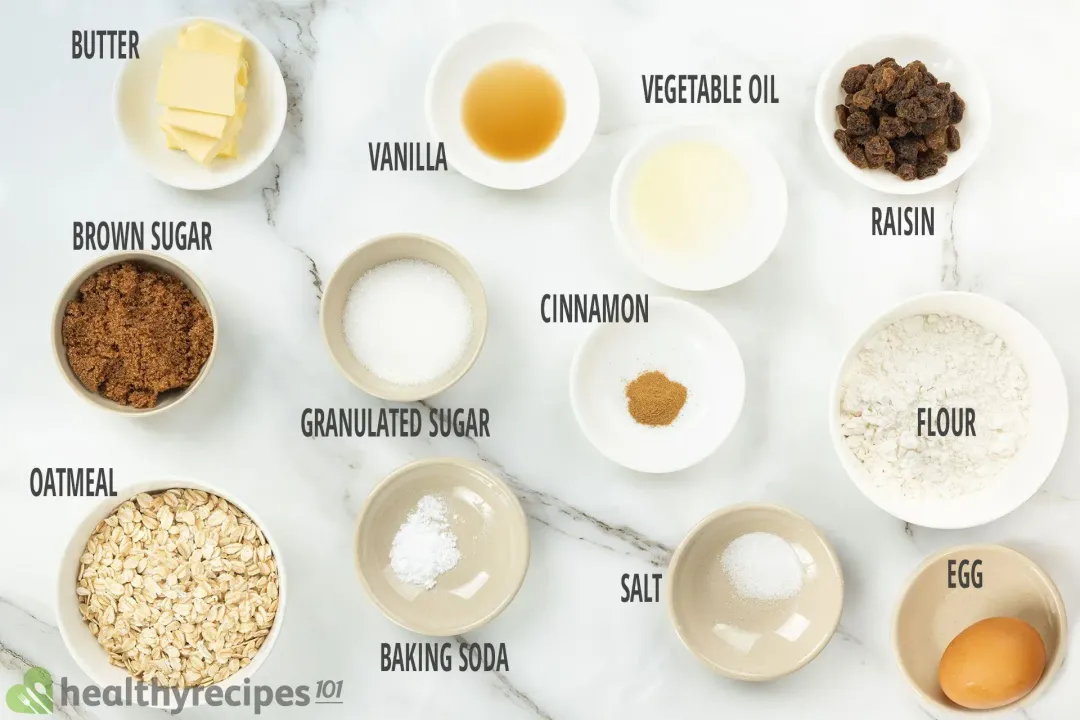 2. Flour
Bleached or unbleached all-purpose flour will work in this recipe. You can try whole wheat flour for a more nutritious content.
3. Sugar
Aside from their obvious trait of sweetening, white sugar turns oatmeal cookies crisp and thin while brown sugar helps with the chewy texture. The combination of the two is used to attain the perfect texture- crispy on the outside and chewy on the inside.
4. Raisins
Dried fruits such as cranberries or grapes are the most common types of raisins used in cookies. A freshly opened pack gives the best results in baking, we don't recommend using tough and dry ones.
Soft and Chewy Oatmeal Raisin Cookies
When it comes to cookies, everyone has their secrets. We'd love to share with you our tried-and-true tips:
Don't over mix the batter: over mixing usually makes your cookies end up tough and dry. We recommend mixing all the ingredients by hand with a rubber spatula until well combined. 
Chill the dough: some minutes chilling in the refrigerator makes a huge difference in both the flavor and texture of cookies. This allows the cookies to hold their shape better when baking.
Slightly under-bake: bake your cookies until the edges are beginning to have a slight brown color while the center is still soft. When removing them from the oven, those cookies need to cool completely at room temperature where they will finish baking. Over-baked cookies lose their delicious, creamy flavor and chewy texture.
For more delicious cookies recipes, check out our healthy dessert roundup.
How Long Do Oatmeal Raisin Cookies Last?
At room temperature in an airtight container, oatmeal raisin cookies stay fresh with the best quality for about 2 days. In case you don't finish all the cookies fresh after baking, there are different ways to store them.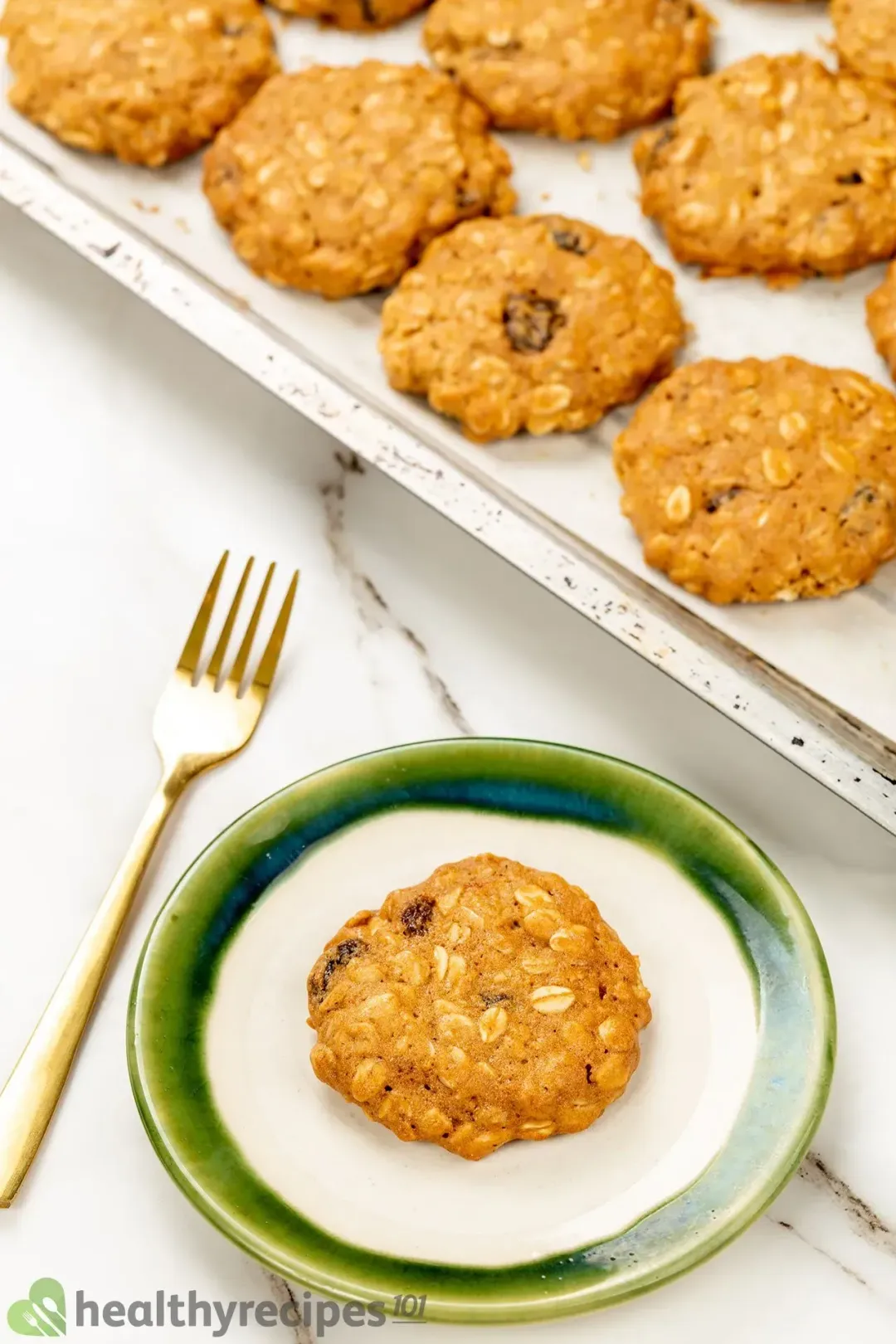 Place the oatmeal cookies in sealable plastic bags or airtight containers, and keep them in the refrigerator. This way these cookies can last up to a month.
To maximize the shelf life of the cookies, keep them in an airtight container and place them in the freezer for several months. When ready to use, rebake them in the oven.
If you are in the mood for some other types of cookies, our pumpkin cookies, carrot cake cookies, or peanut butter cookies are also great options.
Oatmeal Raisin Cookies
This oatmeal raisin cookies recipe is an easy and healthy twist on the classic version. These chewy, nutty-tasty, delicious treats can satisfy any cookie-lover.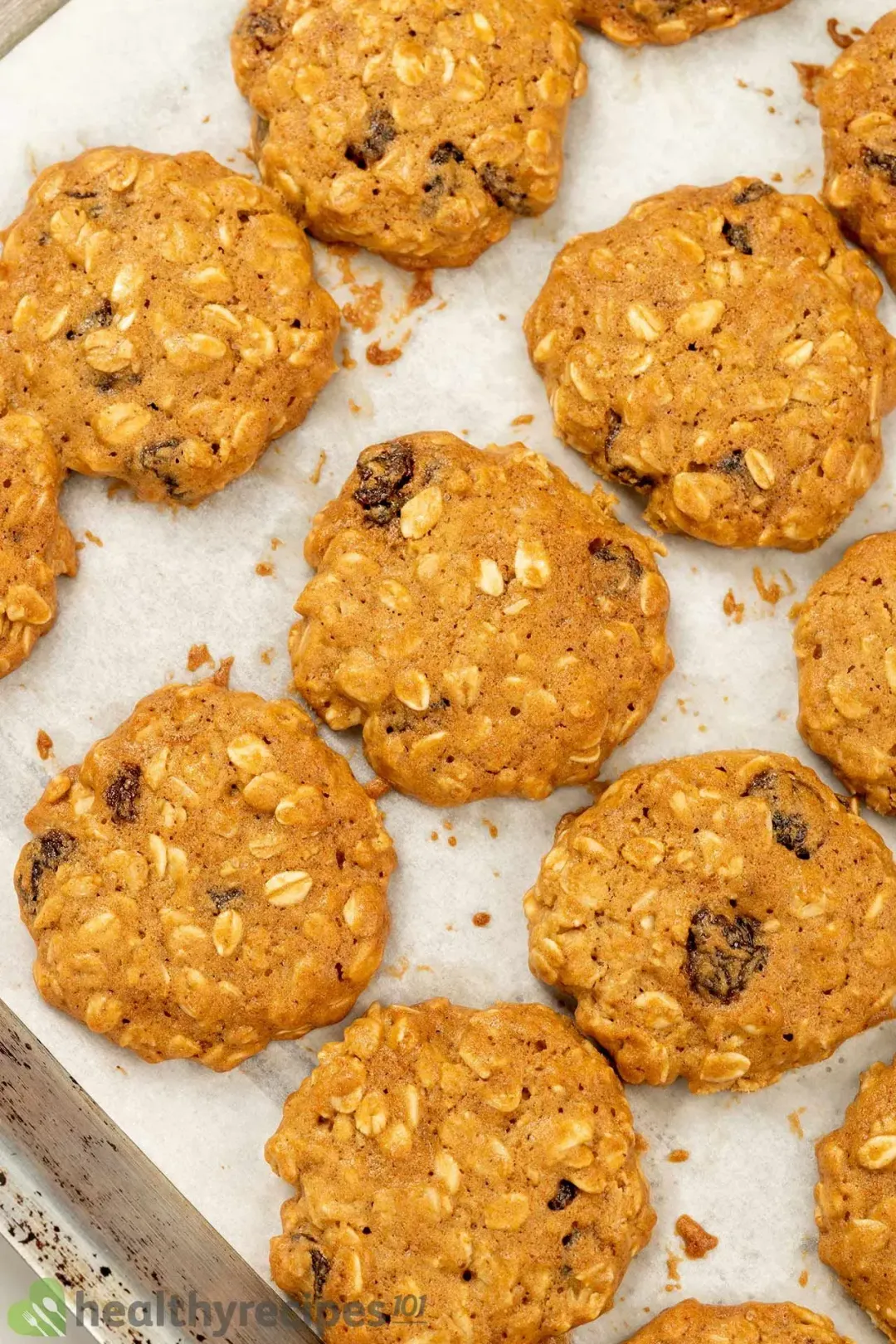 cook TIME

12 mins

prep TIME

10 mins

total TIME

22 mins
COURSE

Dessert

CUISINE

American

SERVINGS

CALORIES

77 kcal
INGREDIENTS
1/2 cup

all-purpose flour

4 oz

old-fashioned rolled oats
INSTRUCTIONS
1
Preheat the oven to 375°F. Line a baking sheet with parchment paper.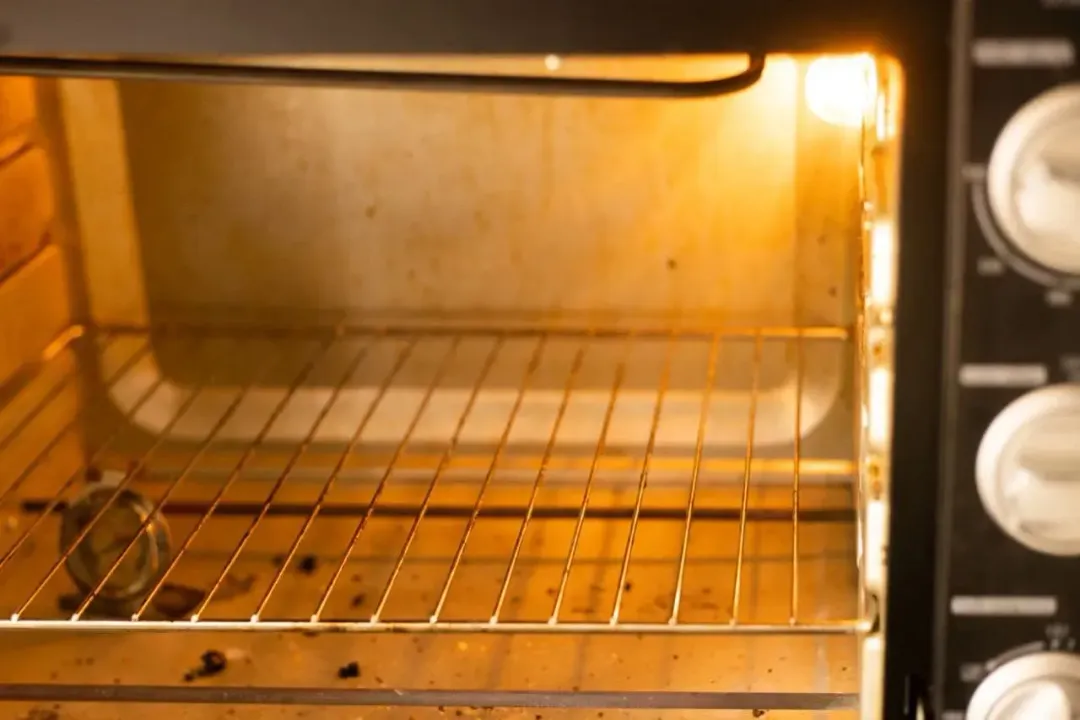 2
In a large bowl, whisk together 1/2 cup all-purpose flour, 1/4 tsp salt, and 1/4 tsp baking soda. Set aside.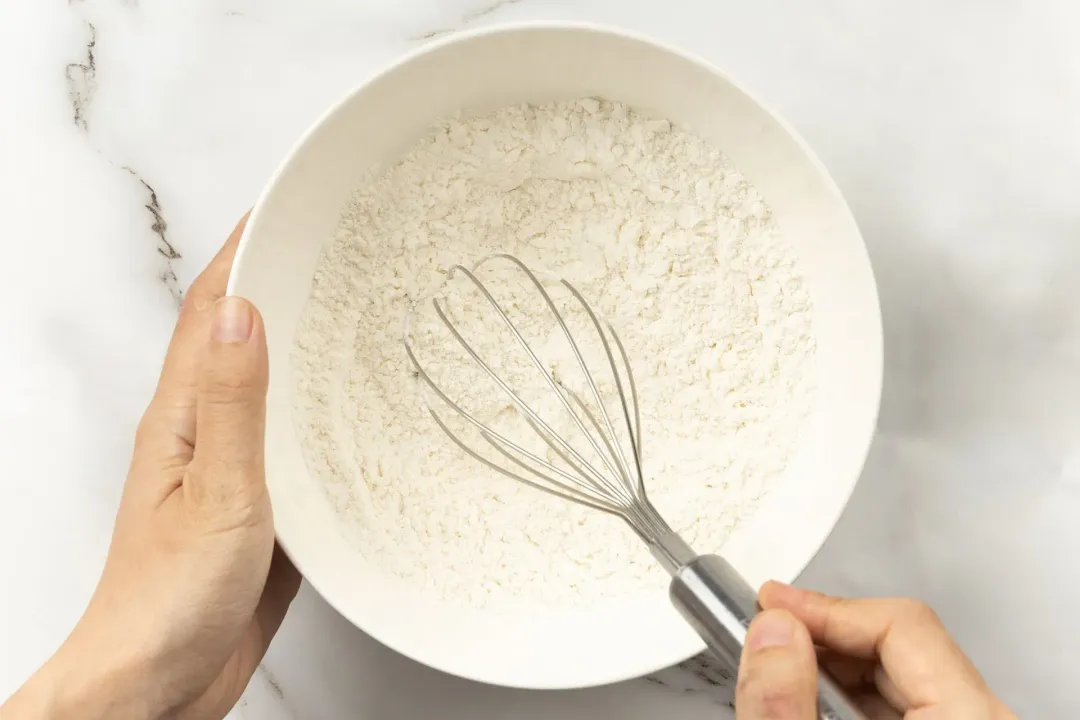 3
Melt 3 tbsp unsalted butter in a skillet over medium heat, swirling the pan occasionally. Continue to cook until the liquid is golden brown and has a nutty aroma, 1 to 2 minutes. Immediately transfer the butter to a large bowl.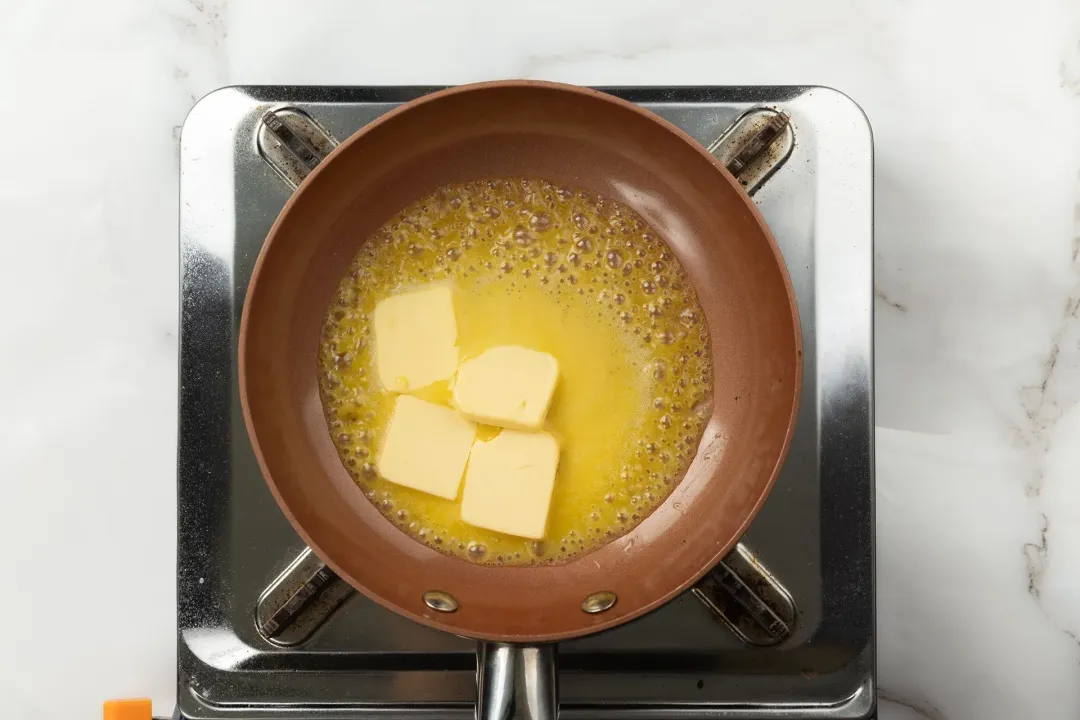 4
In the same bowl, stir in 1 tbsp vegetable oil, 1/4 cup brown sugar, and 1/8 cup granulated sugar. Whisk until well combined.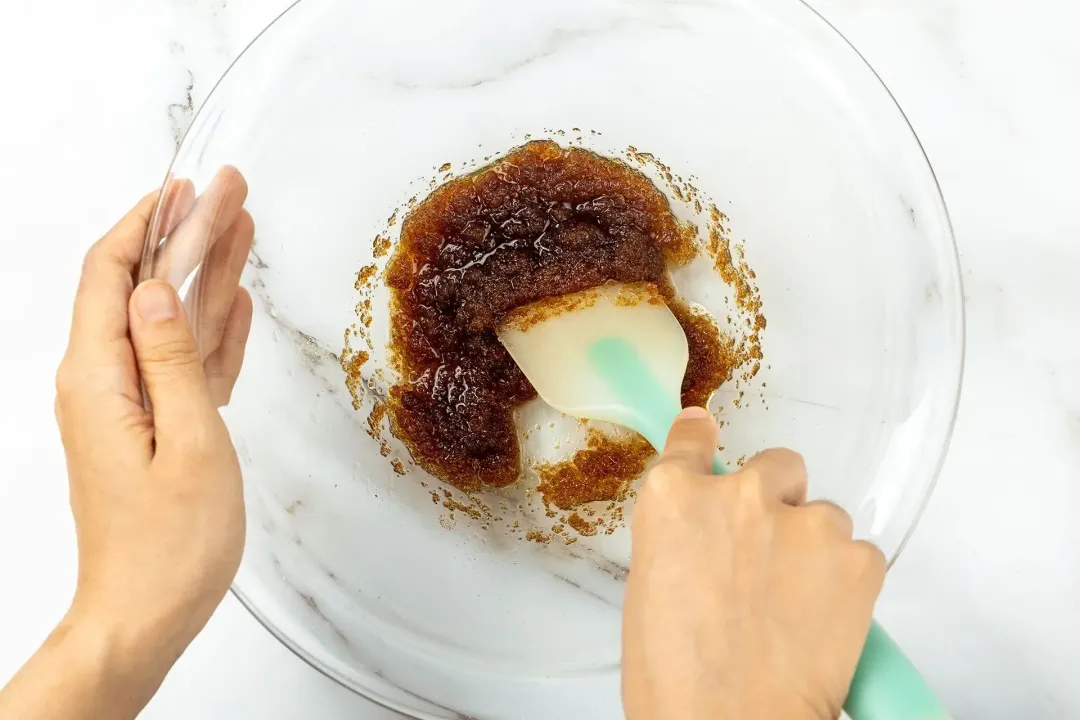 5
Add 1 egg, 1/2 tsp vanilla extract, and 1/8 tsp ground cinnamon, use a spatula to whisk until the mixture is smooth. Stir in the flour mixture until fully incorporated, about 1 minute. Then add 4 oz old-fashioned rolled oats and 1/4 cup raisins, and mix until combined. The mixture should be a little stiff.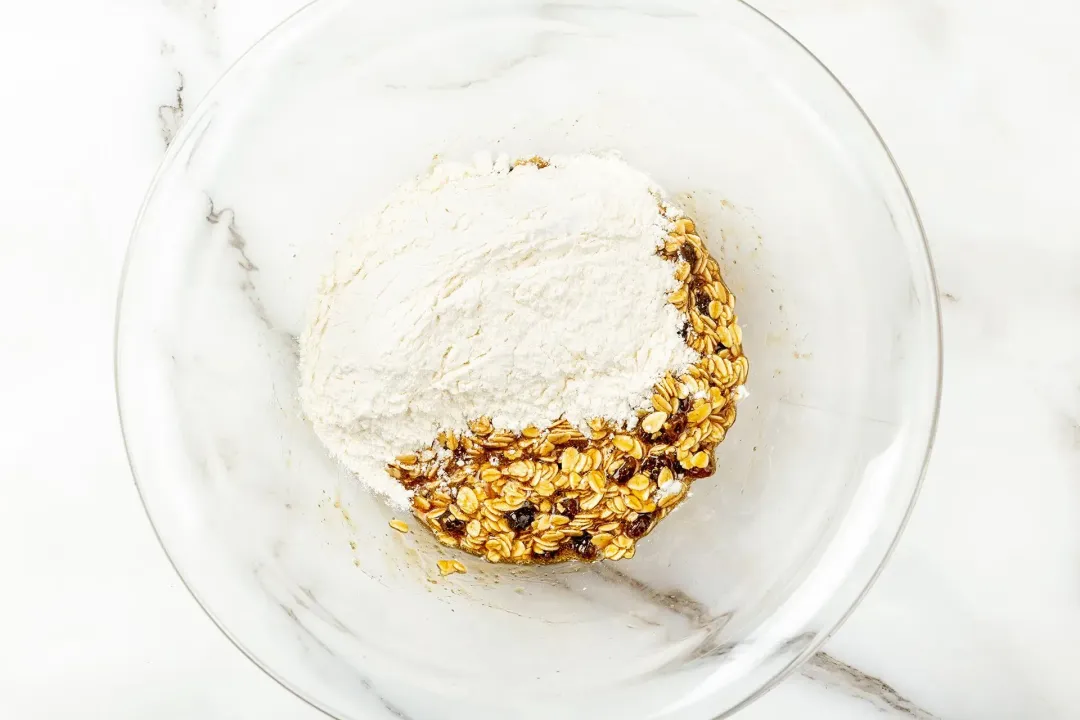 6
Divide dough into 20 portions, each about 1 tablespoon. Arrange dough balls on the prepared baking sheet. Use your hands to press the dough balls into 2-inch disks. Let the dough balls chill in the refrigerator for at least 5 minutes before baking.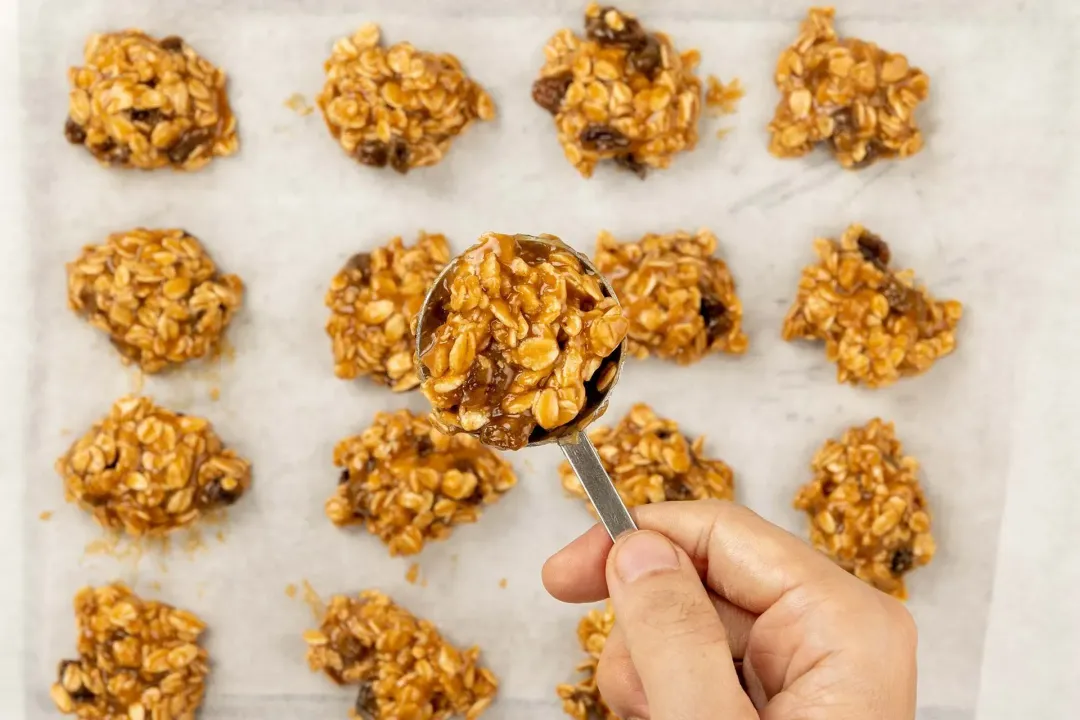 7
Bake for 8-10 minutes or until cookie edges are set and lightly browned while the center is still soft. Let the cookies cool on the sheet for 5 minutes. Then transfer them to a dish and let cool completely.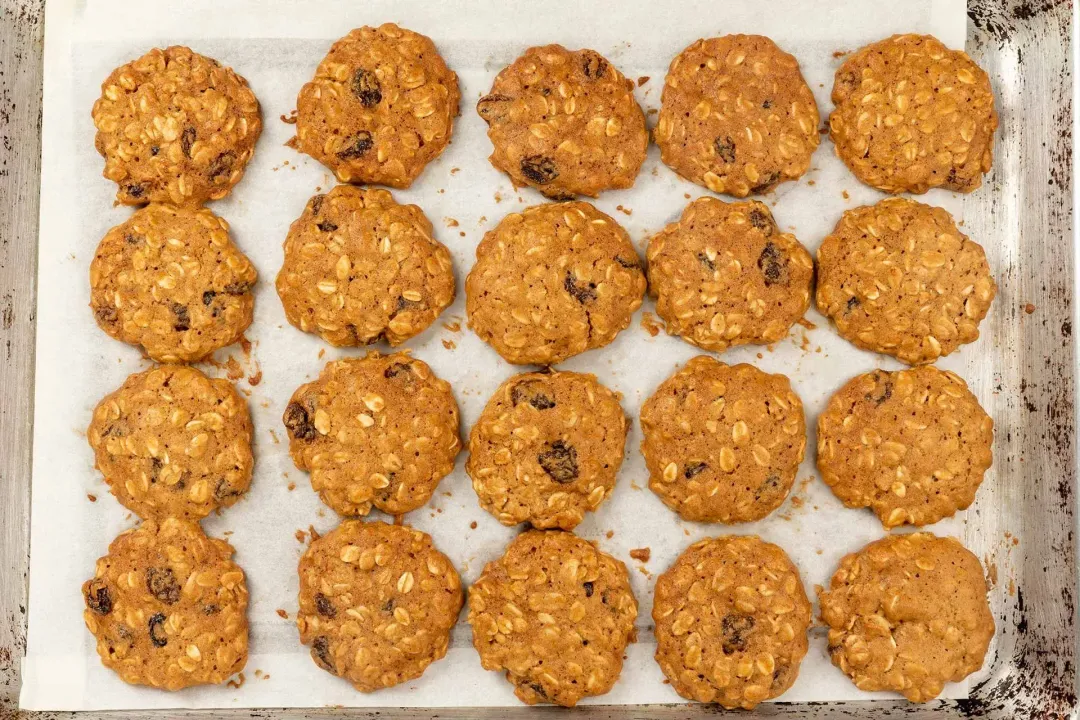 8
Serve: Take the cookies out of the oven and let them cool on the sheet for 5 minutes. Then transfer them to a dish and let cool completely.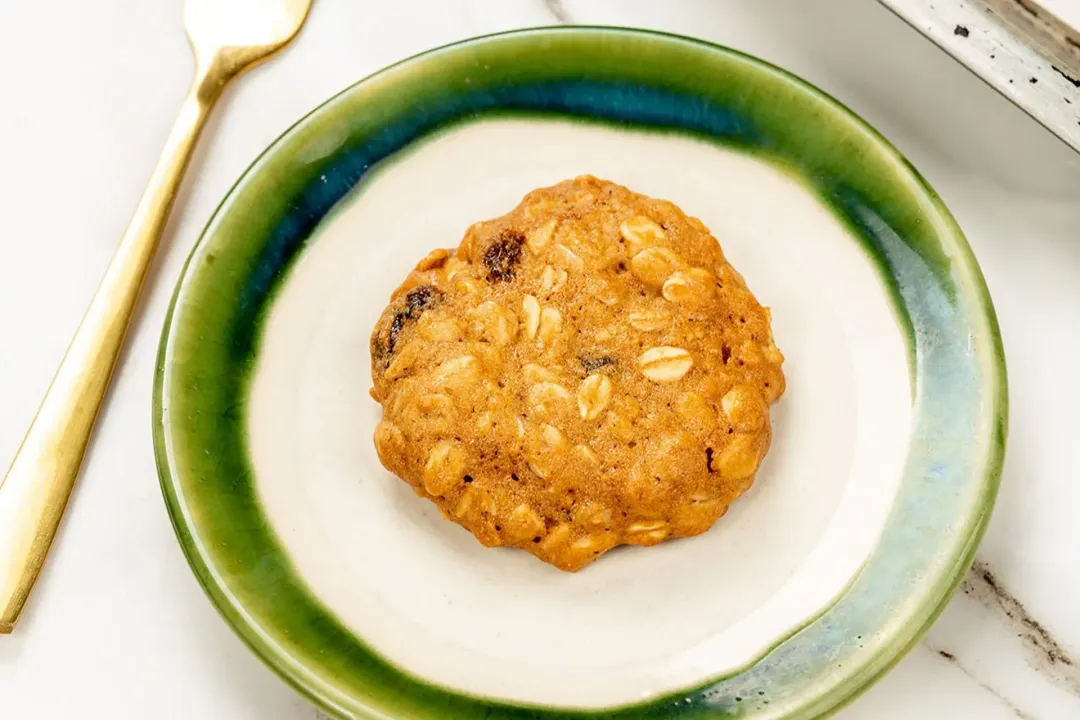 NUTRITION
Nutrition Facts
Oatmeal Raisin Cookies
Amount Per Serving (1 serving)
Calories 77
Calories from Fat 27
% Daily Value*
* Percent Daily Values are based on a 2000 calorie diet.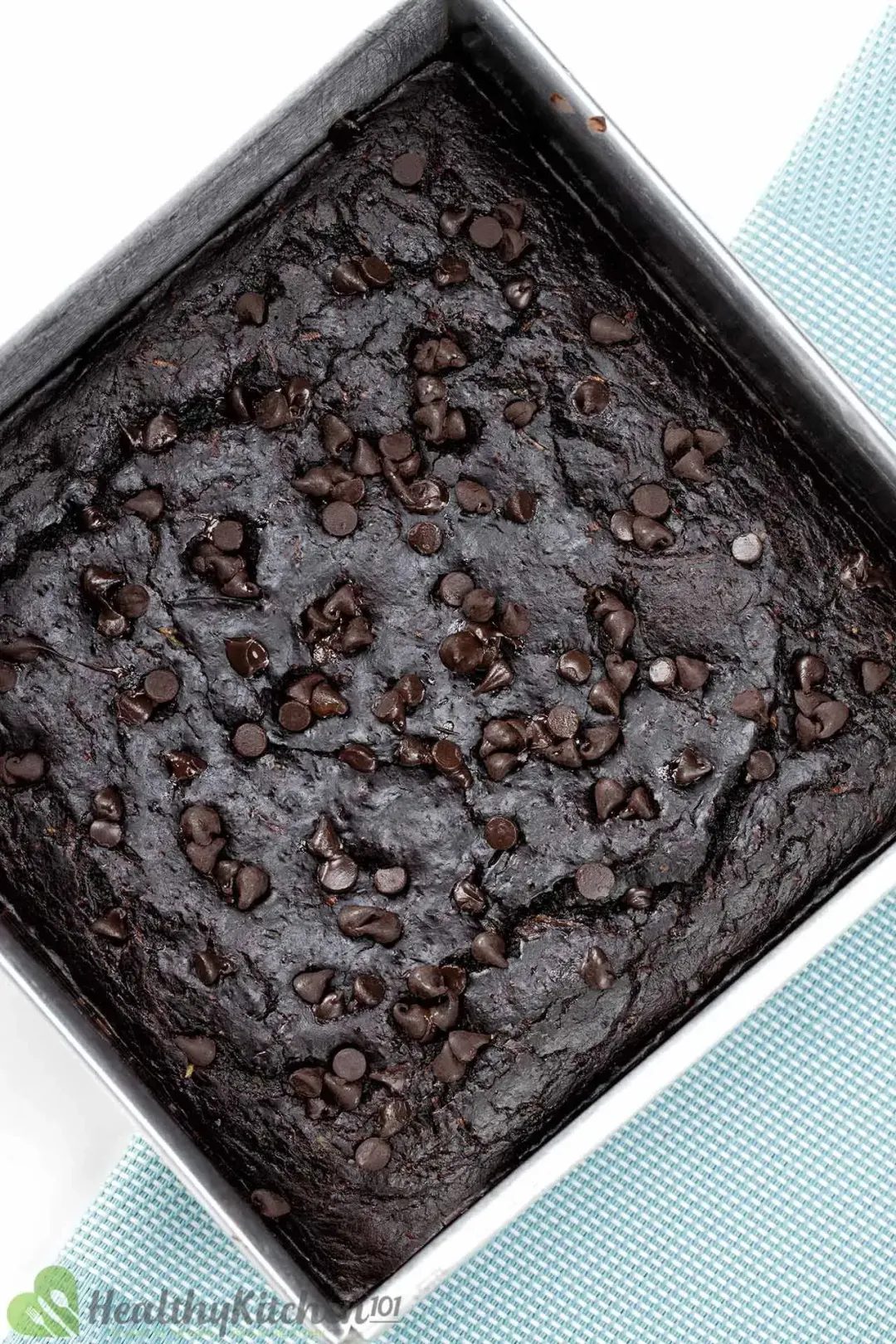 Previous Recipe
Zucchini Brownies
Zucchini Brownies
Head Chef, Culinary Consultant
Tuyet Pham is an award-winning Saigonese chef who believes that joy is the secret ingredient to delicious food. At Healthy Recipes 101, Tuyet personally tests and simplifies every recipe, ensuring maximum flavor with minimal effort. With a background at prestigious French restaurants P'TI Saigon and Le Corto, Tuyet knows how to make every dish exceptional.
Writer, Author
Luna Regina is an accomplished writer and author who dedicates her career to empowering home cooks and making cooking effortless for everyone. She is the founder of HealthyKitchen101.com and HealthyRecipes101.com, where she works with her team to develop easy, nutritious recipes and help aspiring cooks choose the right kitchen appliances.
Nutrition Reviewer
Lizzie Streit is a Minneapolis-based dietitian and founder of It's a Veg World After All. She completed her MS in Human Nutrition from Drexel University, and is an expert in culinary nutrition, recipe development, and nutrition communications. Lizzie's philosophy is centered around making nutrition recommendations, and especially the advice to eat more vegetables, approachable and realistic. She is excited to be working with the team at Healthy Recipes 101 to ensure that their recipes are both nutritious and delicious.
Oatmeal cookies are a delicious and healthier alternative to traditional cookies, perfect for a sweet treat without the guilt.

I like this recipe - delicious and healthy cookies.