If you're looking for a classic, crumbly dessert for Thanksgiving, you clearly need a healthy pumpkin pie recipe. For many families in America, there is nothing more iconic and traditional at Thanksgiving than pie.
This pumpkin pie recipe combines all the sweet and spicy fall flavors: pumpkin, clove, cinnamon, nutmeg, and ginger. Warming your heart and stomach all at once! You can also serve it on National Pumpkin Pie Day (December 25), National Pie Day (January 23), Pumpkin Pie Day (December 25), and Homemade Pie Day (August 1st).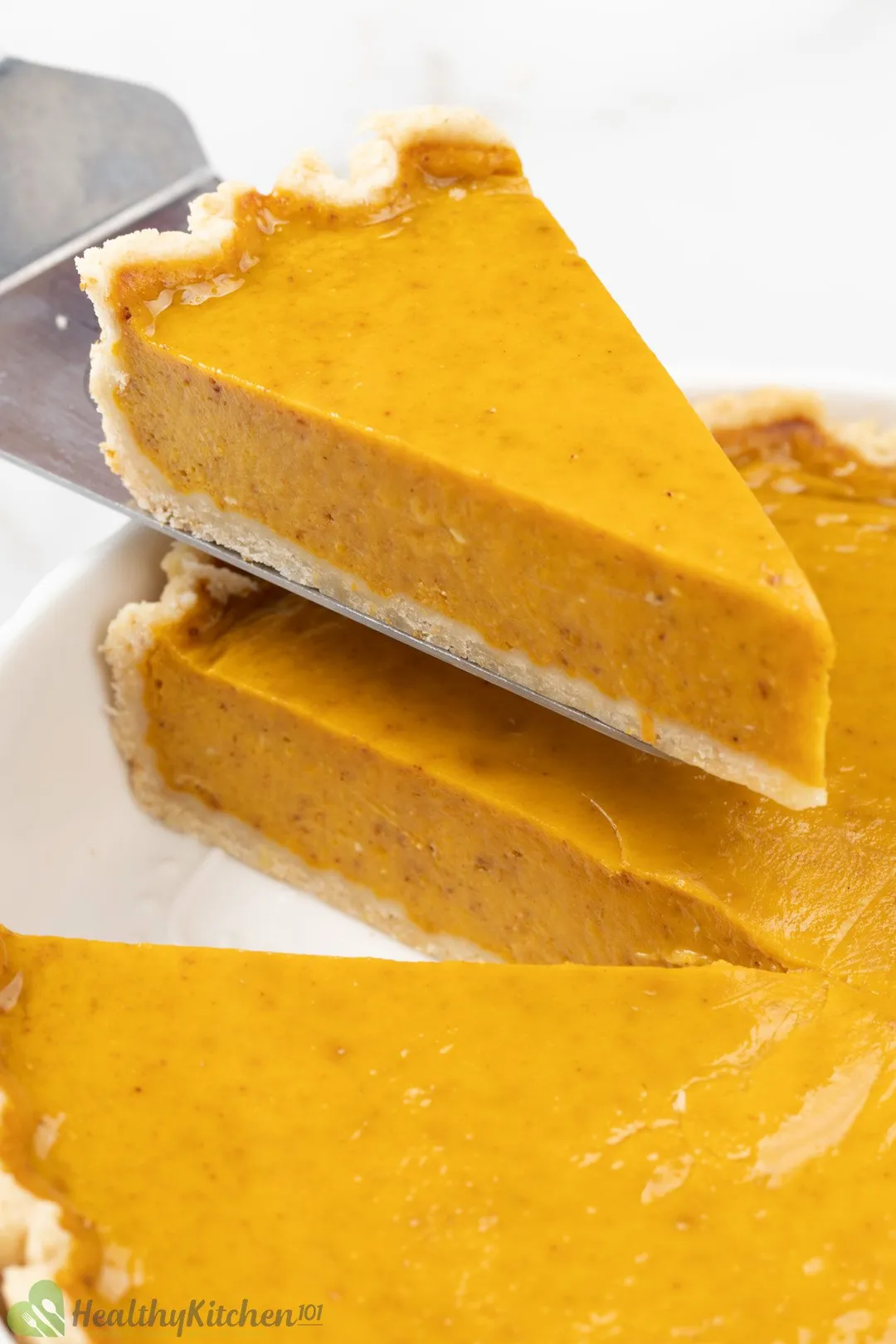 Is Our Pumpkin Pie Healthy?
Pumpkin is impressively high in vitamin A and also contains other micronutrients and fiber. One slice of pumpkin pie (1/12 pie) only contains about 150 calories and 4 grams of saturated fat, which makes it one of the healthiest pies available at Thanksgiving. 
How healthful pumpkin pie is depends on the amount of sugar and butter you use. Many recipes call for concentrated milk, cream cheese or canned pumpkin to enhance the richness of the pie, but they often contain a high amount of sugar. 
To lower calories and fat, and create a healthier version, we suggest using homemade pumpkin puree and maple syrup instead. The result should be a fabulous pie with crunchy-edges and creamy-filling. 
What is in Pumpkin Pie Spice?
This might be the first question that jumps into your mind while reading any pumpkin pie recipe. Pumpkin pie spice is a mixture of cinnamon, ginger, nutmeg, and cloves (yes, it doesn't contain any pumpkin!). 
This special spice mixture is called "pumpkin spice" because it was initially used in cakes and pies that have pumpkin. In the 1960's, McCormick began to make a blend of all those spices and sold it under the name "pumpkin pie spice" and "pumpkin pie". 
Over time, pumpkin spice has become so popular that you can even find it in numerous recipes that do not contain pumpkin ingredients.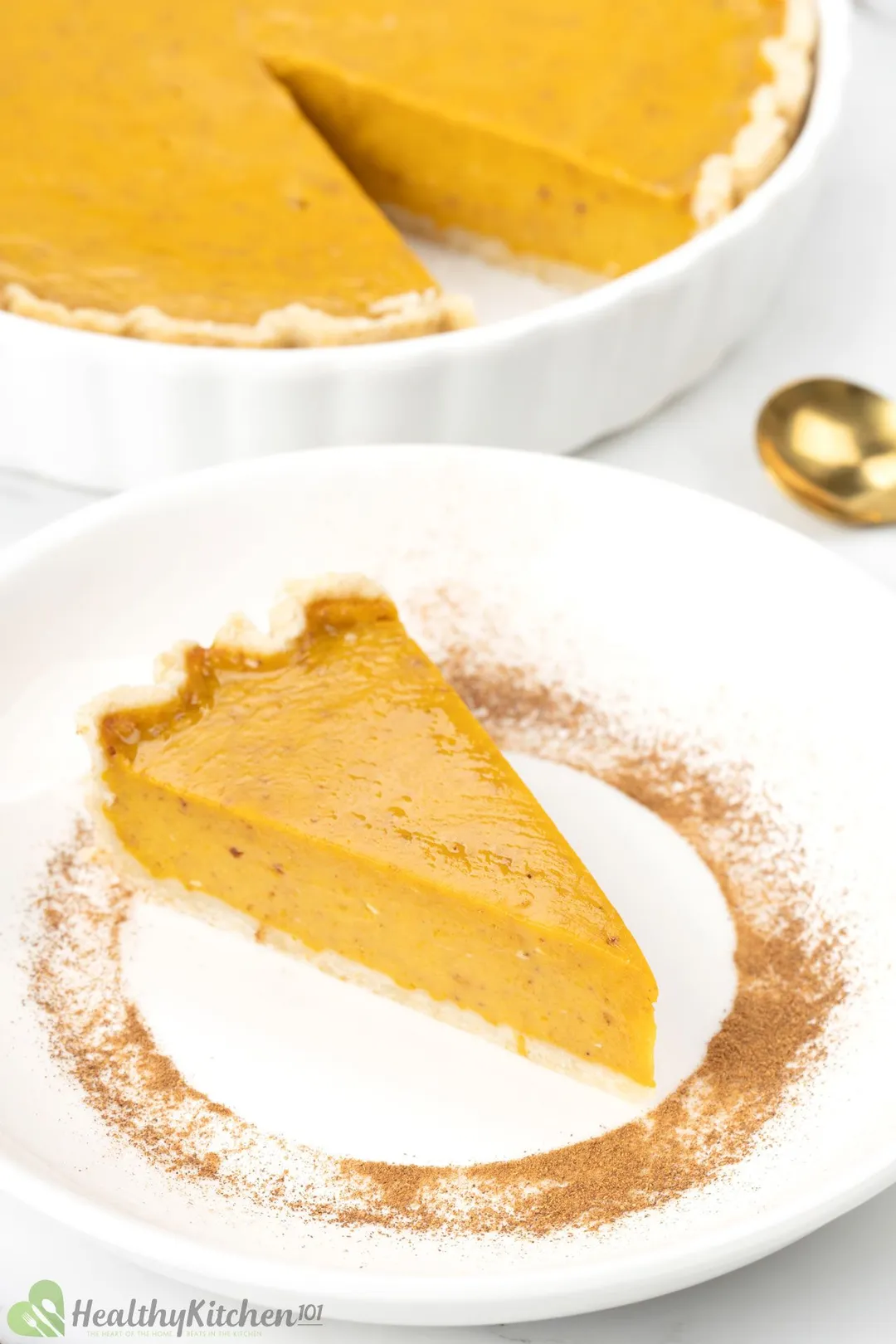 How To Make Pumpkin Pie
1. Filling
Before you jump in any pumpkin pie recipe, it's important to know the difference between canned pumpkin and pumpkin pie filling. Using the wrong type may lead to a disappointing bake, so we're here to help you.
Canned pumpkin is a mixed puree of pumpkin and sometimes other kinds of winter squash. It is often unsweetened, has no added spices, and can be used in pumpkin pie, bread, or milkshakes. 
Pumpkin pie filling contains pumpkin puree with sugar and added spices such as cinnamon, nutmeg, cloves, and ginger. Using store-bought pumpkin filling can save yourself some time and energy. All you need to do is add eggs and heavy cream. 
While pumpkin filling is sometimes a great substitute for a lazy baker, we believe nothing can beat the homemade version. The store-bought filling tastes sweeter than the homemade. This makes it nearly impossible to adjust the recipe since the filling is already sweetened and flavored. 
When it comes to baking , we think you should use either canned or homemade pumpkin puree. They are fresh, healthy, and you can control the amount of sugar that goes in. 
2. Other Ingredients
Eggs: eggs help set up the texture of pumpkin pie filling. They also enhance the rich and creamy flavor of the pie.
Heavy Cream: pumpkin pie filling should be silky and lusciously smooth and heavy cream does a great job!
Beside heavy cream, there are some other options like regular milk, sweetened condensed milk, or evaporated milk. We use heavy cream (and sometimes a touch of milk) to keep the filling just right; not too sweet yet still rich enough.
Maple Syrup: you can use regular sugar instead of maple syrup. We personally prefer maple syrup to enhance the mild pumpkin flavor.
Spices: cinnamon, ginger, cloves, and nutmeg make this pumpkin pie recipe burst with flavor. You can easily adjust the amount of each spice to fit your preference.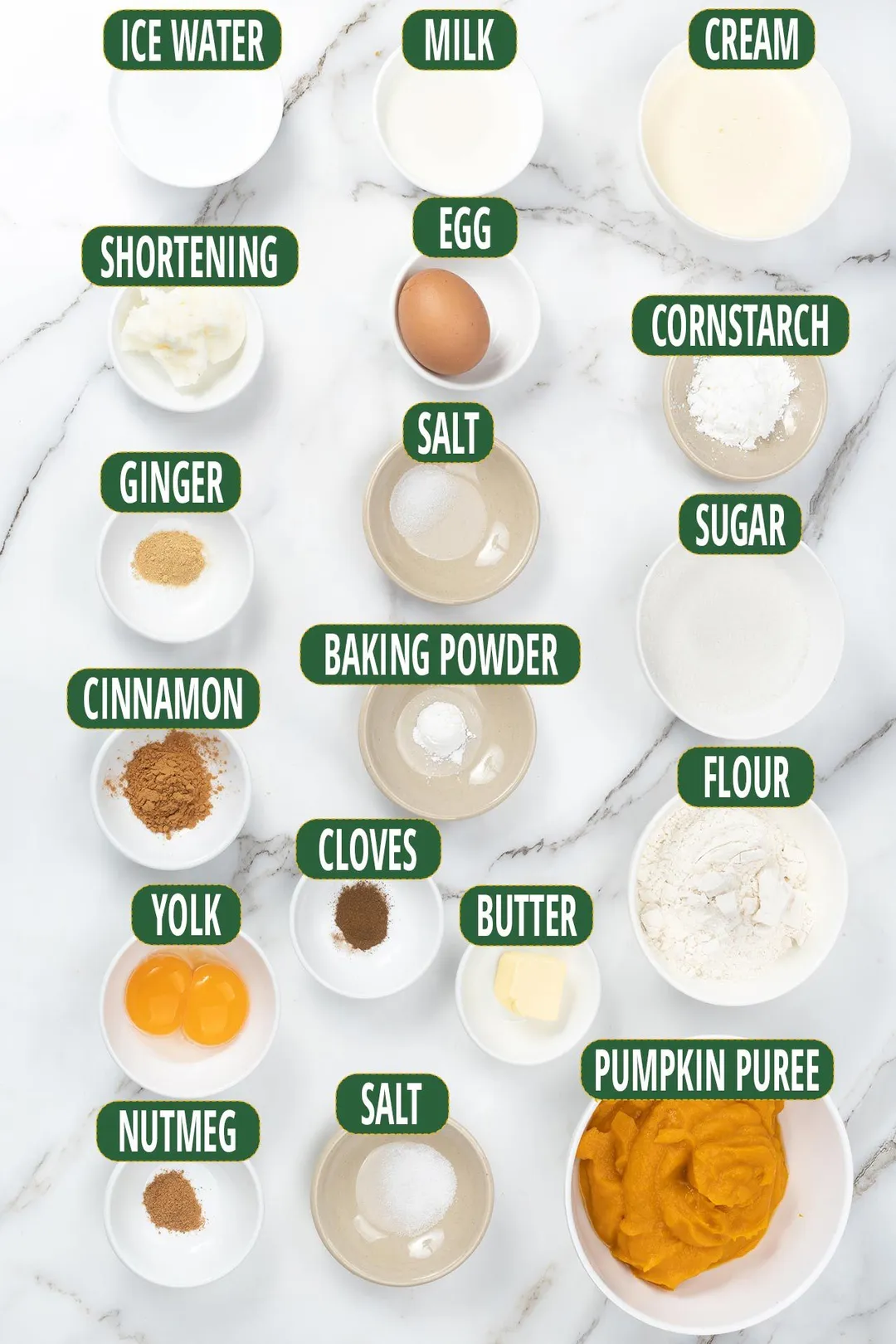 3. My Secret Ingredient
You may not have heard about this tip before, but we add a little ground pepper to the filling. This little addition turns your regular pumpkin pie into an extra special one.
And the reason for this trick? Fresh ground pepper helps to preserve and accentuate the spiciness of basic pumpkin spice. 
If you are worried about heat, don't add too much! A pinch is enough to make your guests longing for another slice of this mouthwatering version. 
4. How to Avoid Cracks
Cracks on the surface usually happen either when the pie is over-baked or has been cooled too quickly. 
The best way to prevent small cracks on your pumpkin pie is to not over bake it. We often bake the pie at 425°F for the first 10 to 15 minutes. This step helps settle the edge of the pie.
Then we reduce the heat to 350°F and bake for a further 25 to 30 minutes. A tip here is that you should remove the pie while the center is still a little wobbly. When the pumpkin pie gets cooler, the residual heat will continue to cook the pie and the center will firm up.
If your pie ends up with some small cracks, don't worry! You can easily cover them with whipped cream. And cracks or no cracks, this pumpkin pie tastes amazing anyway.
To have perfectly dessert every time, check out our healthy dessert roundup.
How Long to Bake Pumpkin Pie?
A perfect pumpkin pie recipe must have a creamy filling over a flaky crust and be sweet, but not too sweet. It may sound simple, but there are potential pitfalls in the baking process. Luckily, there are also ways to overcome or avoid them altogether!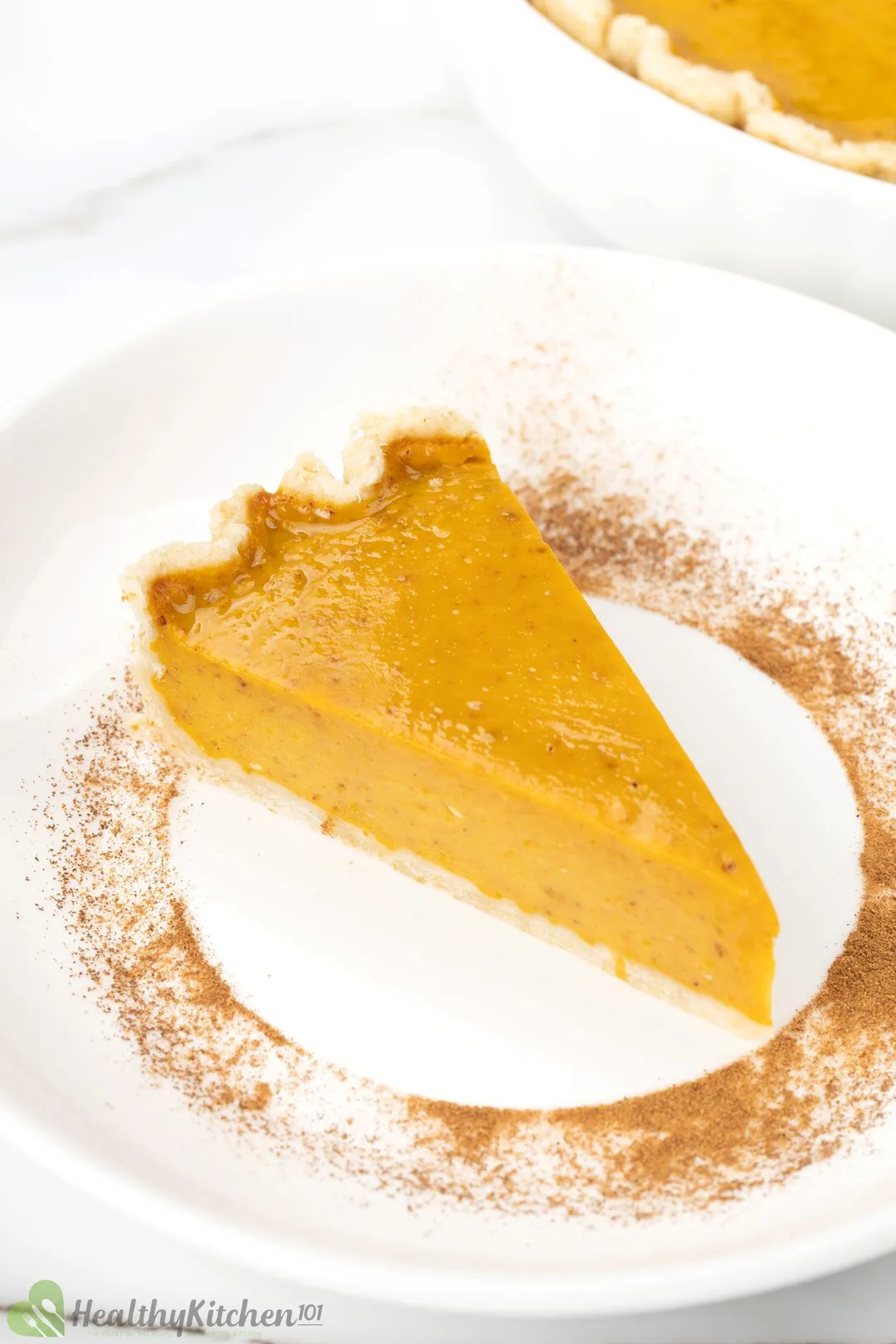 Pies need to be baked for quite a long time, usually around 45-60 minutes. It can be hard to know if the pie is done, so you may end up getting anxious and pulling it from the oven too early. 
How to Tell If Pumpkin Pie Is Done?
An easy way to know that is to use a toothpick (or knife) to push into the center of the pie; it should come out clean. Your pie should also be allowed to cool down in the oven gradually. 
Once it's thoroughly cooled, you will see that the edge is set and the filling looks firm.
Does Pumpkin Pie Need to Be Refrigerated?
Pumpkin pie contains eggs and heavy cream, which are high in protein and moisture content. This is a perfect place for harmful bacteria to grow rapidly, even at room temperature. To protect your pie from becoming unsafe to eat, store it in the refrigerator after cooling at room temperature.
How Long Does This Recipe Last?
Homemade pumpkin pie recipe should be cooled down to room temperature once you get it out of the oven. Then if you want to keep the pie for later eating, store it in the refrigerator for about 3-4 days. 
Although the pie can last deliciously after four days, for the best texture and flavor, we recommend serving it within two days.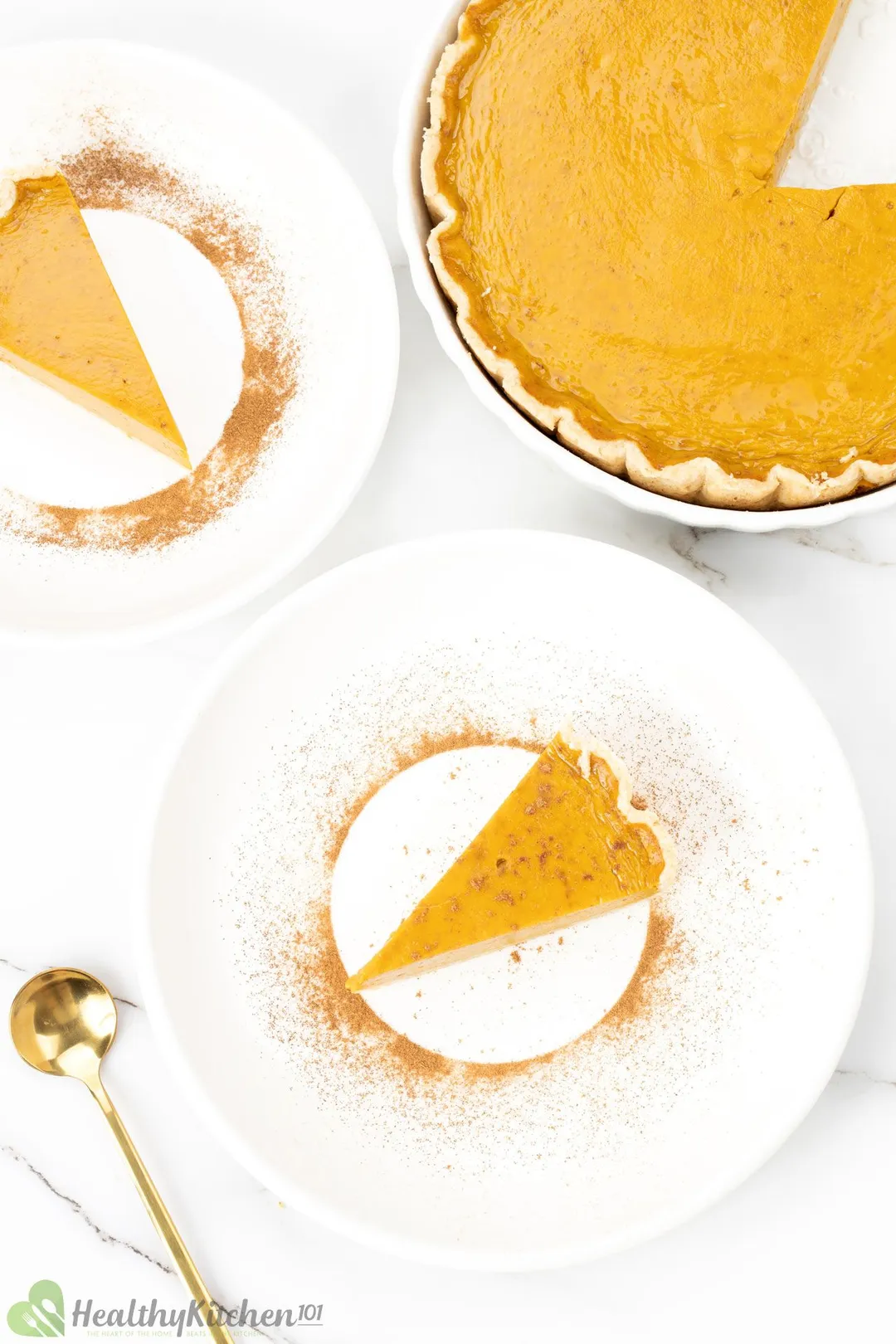 Can You Freeze Pumpkin Pie?
Despite the high fat content from egg, butter, and heavy cream, pumpkin pie is still perfect for freezing. Whether you want to freeze the whole pie or just a slice, follow these instructions for the best results. 
Cool the pie completely: your pie must be cooled completely before you freeze it. If not, the excess moisture will still be trapped below the plastic wrap, which affects the texture of your crust. 
Double layers: wrap the pie tightly with plastic wrap. Then, add another layer of aluminum foil for extra protection. Place it on a freezer shelf, and the pie should be good to stay for a month. 
Thaw: pumpkin pie requires at least 12 hours to thaw in the refrigerator. 
We don't recommend thawing it at the room temperature since it may cause condensation on the pie. That moisture will absorb into the pie crust, making it mushy and less attractive. 
Should Pumpkin Pie be Served Warm or Cold?
Some insist on their pie being served cold while others believe warm pie is the best way to go. Actually, you can eat pumpkin pie either warm or cold, and it is tasty both ways. 
If you would like warm pumpkin pie, you can serve it shortly after baking. However, for the best set texture, it helps to refrigerate it for at least 6 hours and then rewarm at 300°F for 15 minutes. This is also a good option if you would like to make your pie in advance.
If pumpkin pie is served cold or at room temperature, it has a firmer texture and cooler filling. But do not worry, the filling still has the creamy and smooth texture you expect.
The bottom line is, how you serve pumpkin pie depends on the weather (and what you fancy)!
If it's a winter night, a warm pumpkin pie or some crunchy pumpkin cookies with a cup of hot chocolate is a lovely idea. However, what is better than a cool slice of pumpkin pie or cheesecake with whipped cream on a sunny fall day.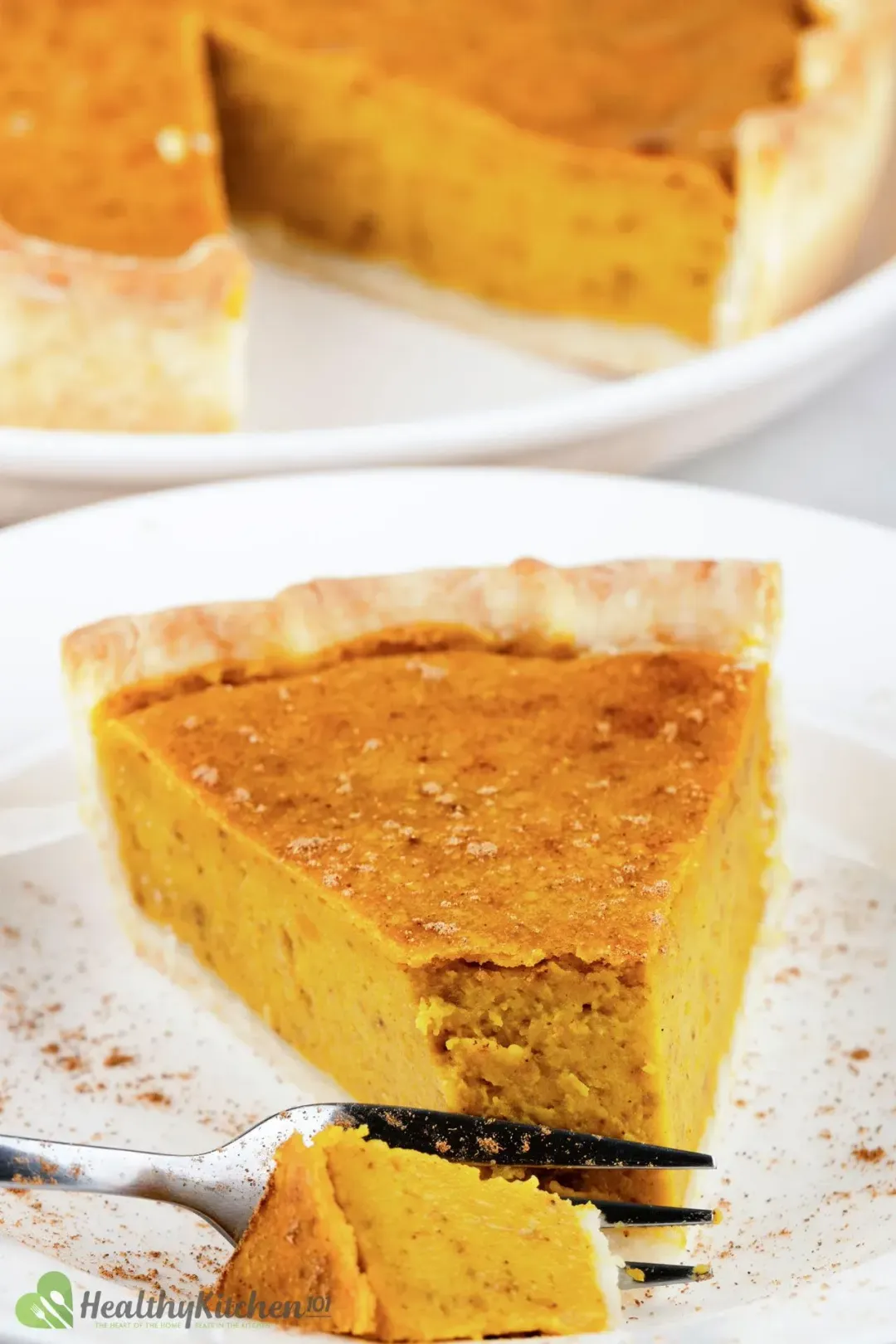 More Fantastic Desserts to Try
Healthy Pumpkin Pie
There is nothing better to complete your Thanksgiving meal than a slice of pie. This healthy pumpkin pie recipe brings a luscious combination of rich pumpkin, cinnamon aroma, and creamy whipped cream topping. As easy (and healthy) as pie!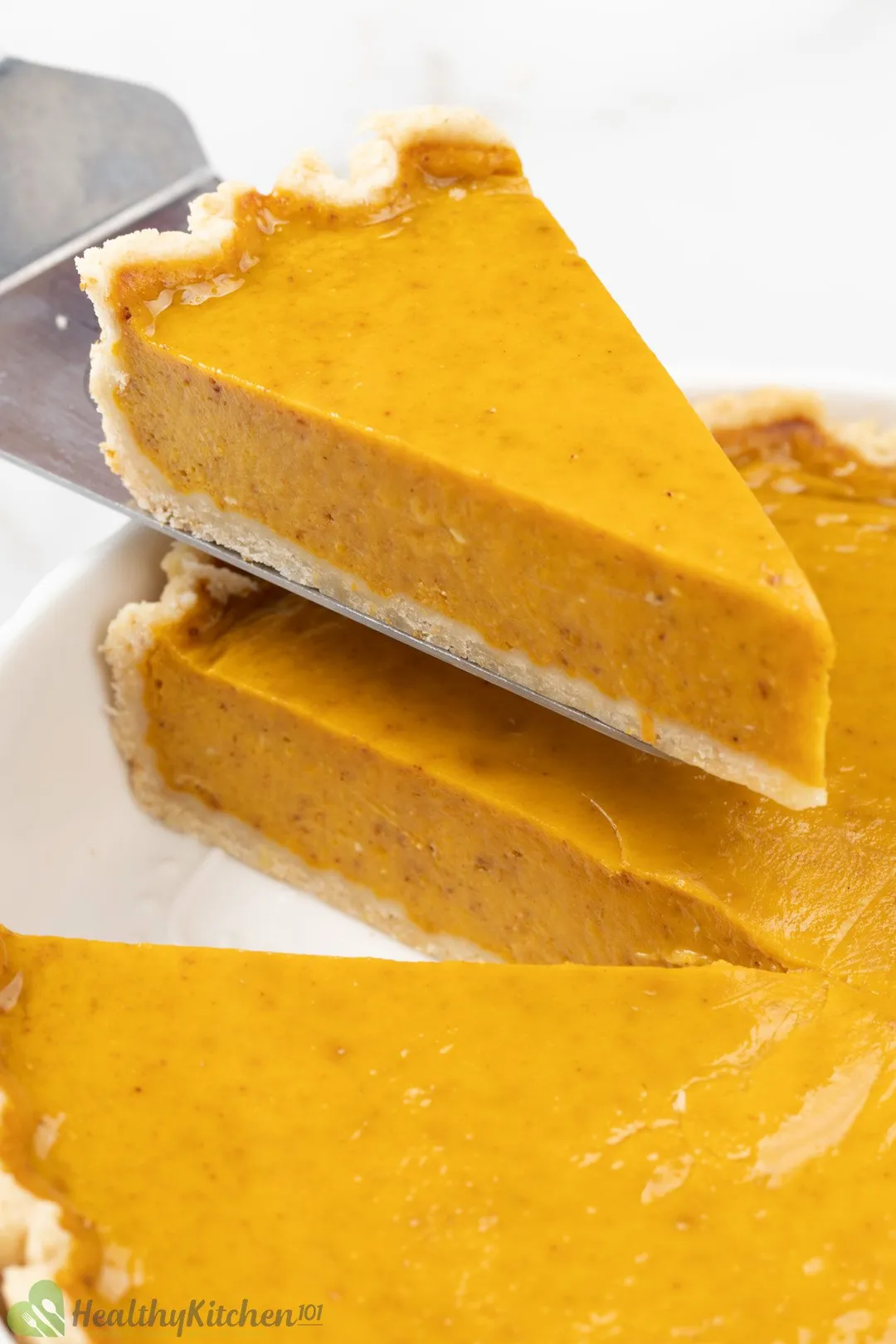 cook TIME

45 mins

prep TIME

30 mins

total TIME

3 hr 15 mins

INACTIVE TIME

2 hr
COURSE

Dessert

CUISINE

American

SERVINGS

CALORIES

150 kcal
INGREDIENTS
Crust:

3/4 cup

all-purpose flour

2 tbsp

vegetable shortening

Filling:

15 oz

pumpkin puree

(2 cups)
INSTRUCTIONS
Prepare pie crust
1
Mix ingredients: in a bowl, whisk 3/4 cup flour, 3 oz sugar, 1/8 tsp kosher salt, 2 tbsp shortening, 2/3 tsp baking powder, and 1 tbsp butter. Then add 1/4 cup ice water, one tablespoon at a time and gently mix them until well combined. Make sure that the dough doesn't become too sticky.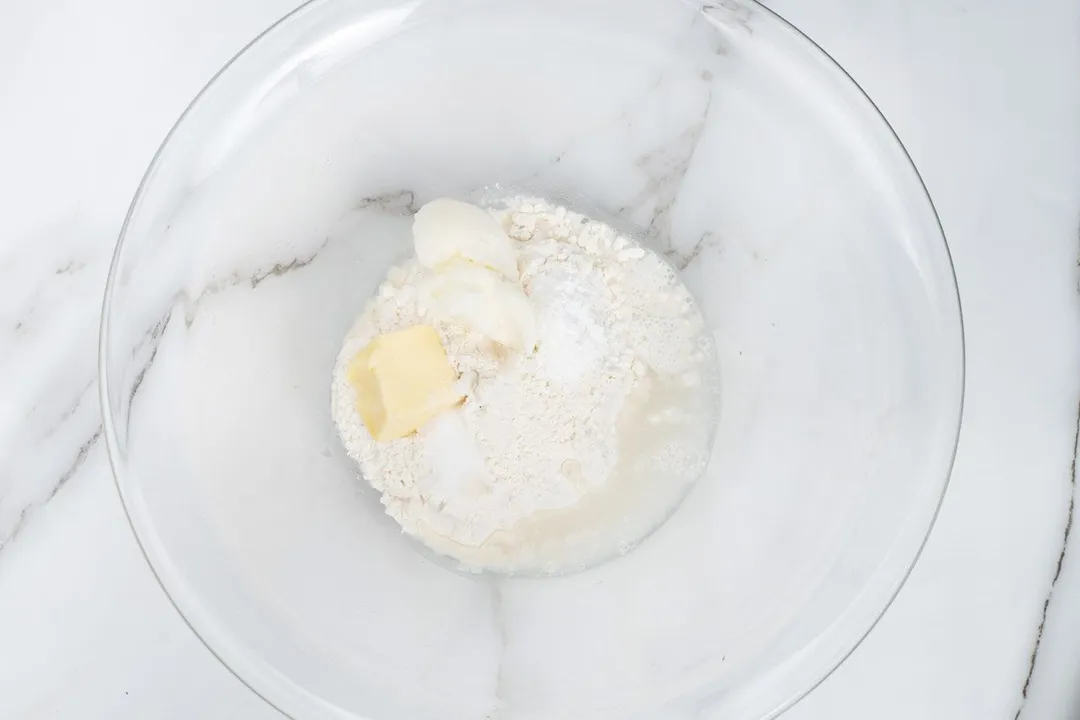 2
Shape the dough: shape the dough into a disc and wrap it in plastic wrap. Keep it in the refrigerator for at least 30 minutes (or up to 2 hours) before rolling.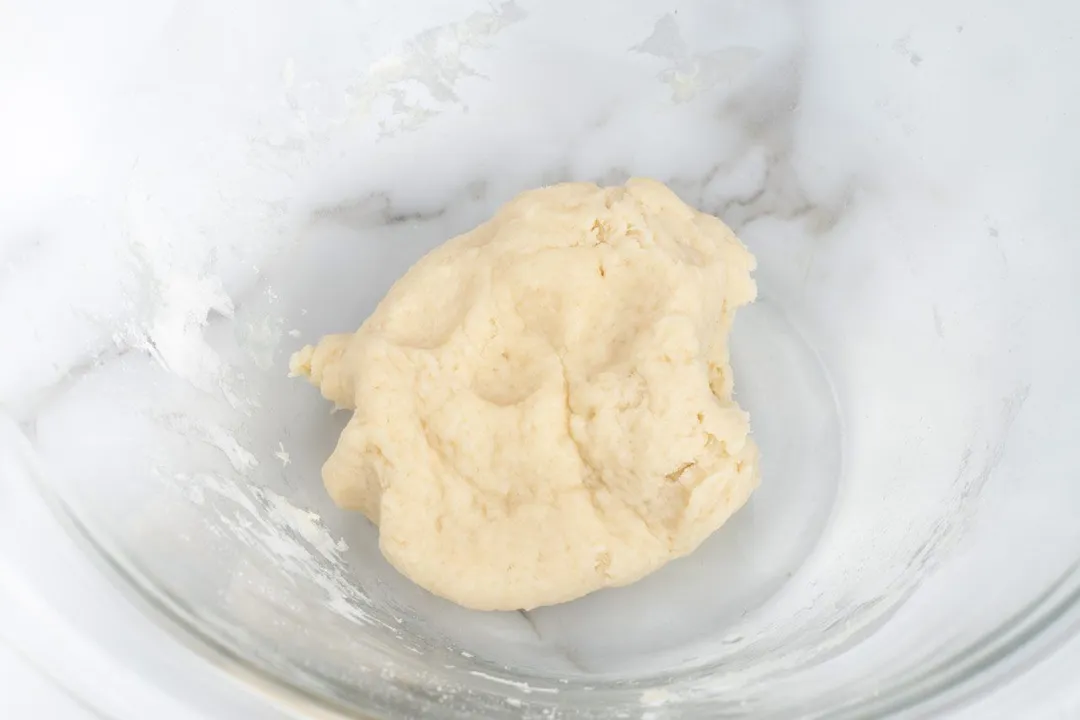 3
Roll the dough: take the dough out of the refrigerator and let it sit for 5 minutes. Add a little flour underneath the dough to prevent it from sticking. Roll the dough out into a circle large enough to cover your pie plate.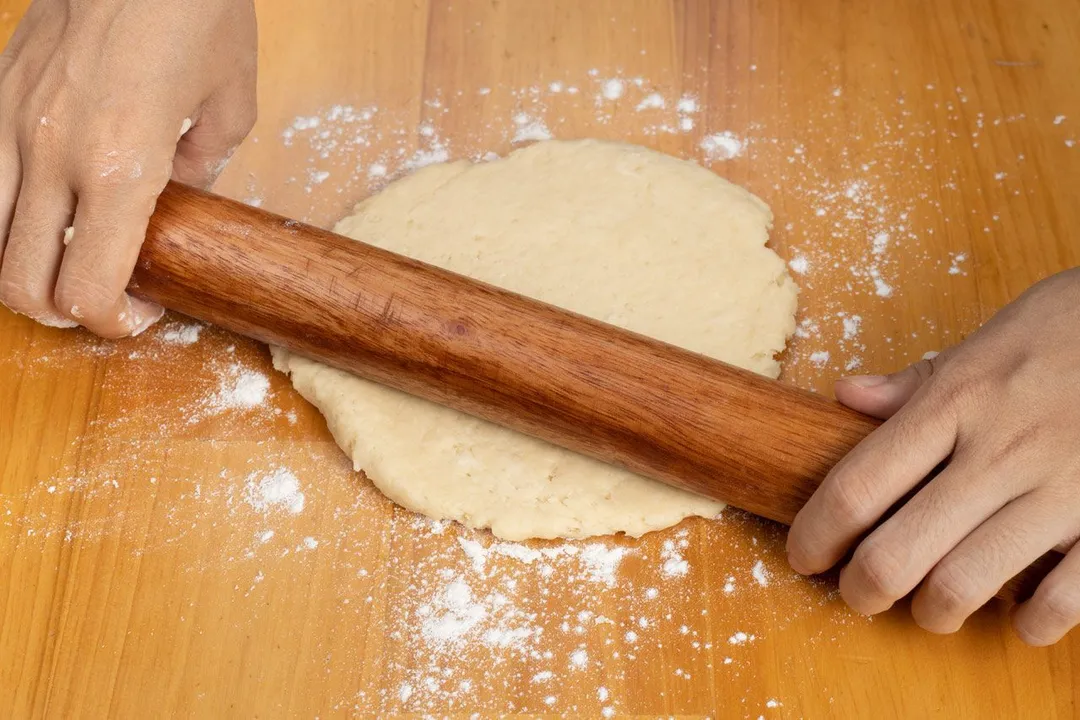 4
Roll it in the pie dish and gently press the dough down, so it lines the bottom and sides of the pie dish. Use a fork to poke holes all over the center of the round. Put the pie crust into the refrigerator again. Preheat the oven to 425°F.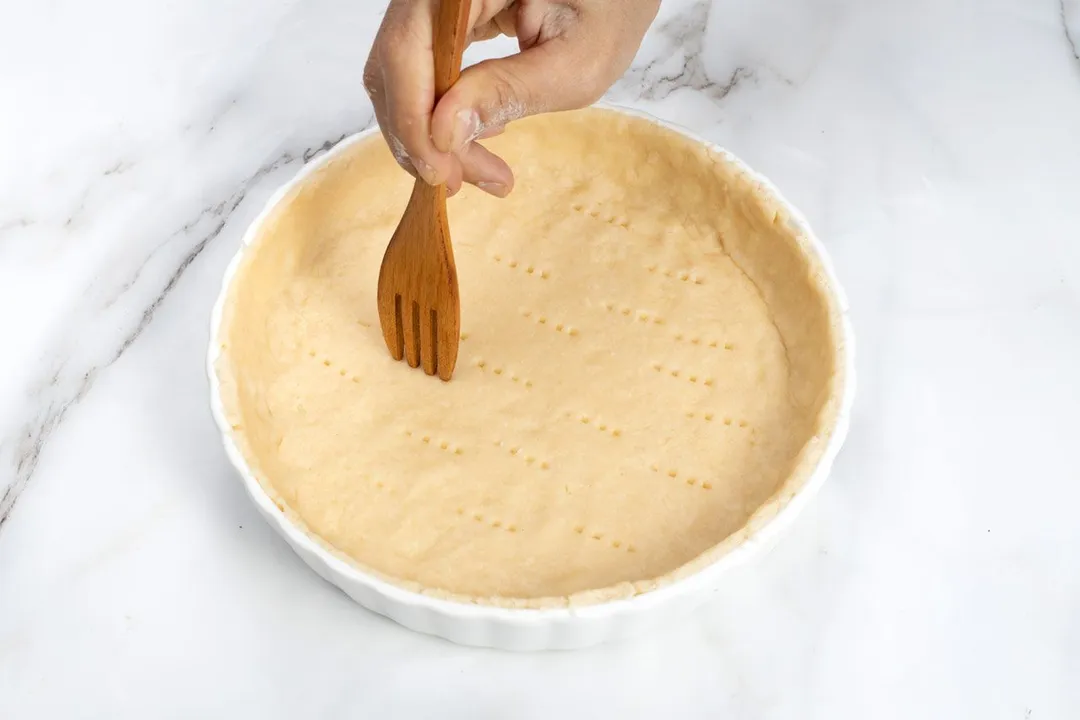 Prepare pie filling
1
Combine ingredients: in a large bowl, combine 15 oz pumpkin puree, 1 eggs, 2 egg yolks, 1/4 cup milk, 1/2 cup heavy cream, 1 tbsp cornstarch, 1/4 tsp salt, 1/4 tsp ground ginger, 1/8 tsp nutmeg, 1/8 tsp ground cloves and 1 tsp cinnamon. Vigorously whisk until all the ingredients blend.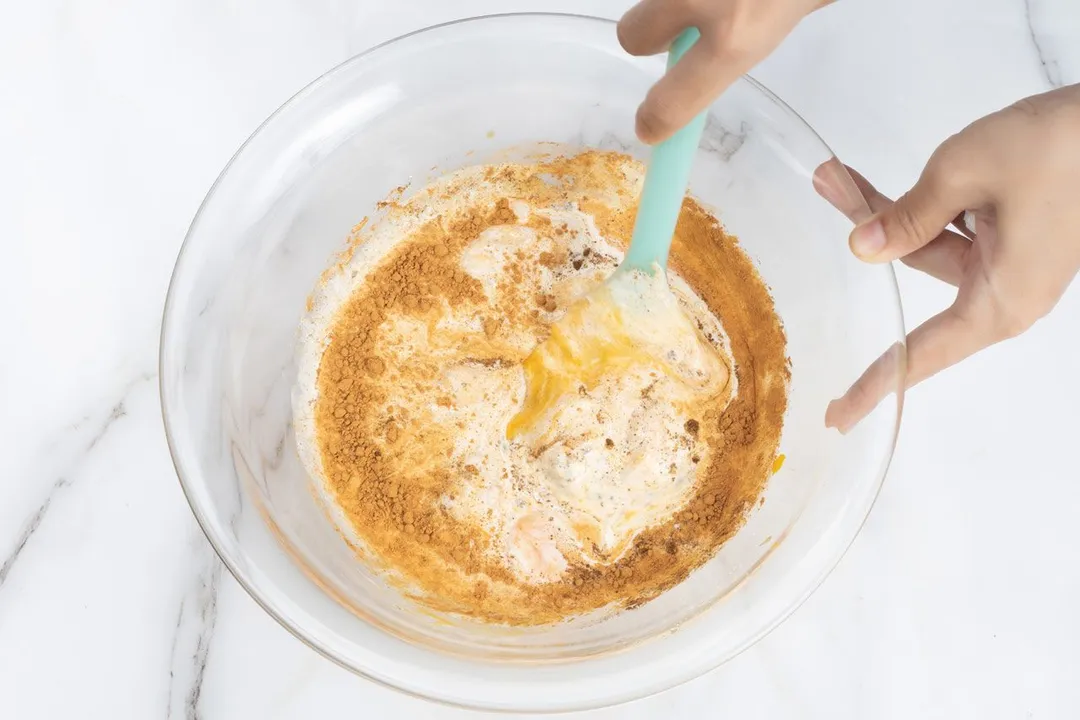 2
Pour the pumpkin pie filling into the pie crust. Bake at 425°F for 15 minutes. Then lower the temperature to 350°F and bake for 25-30 minutes. Check for doneness.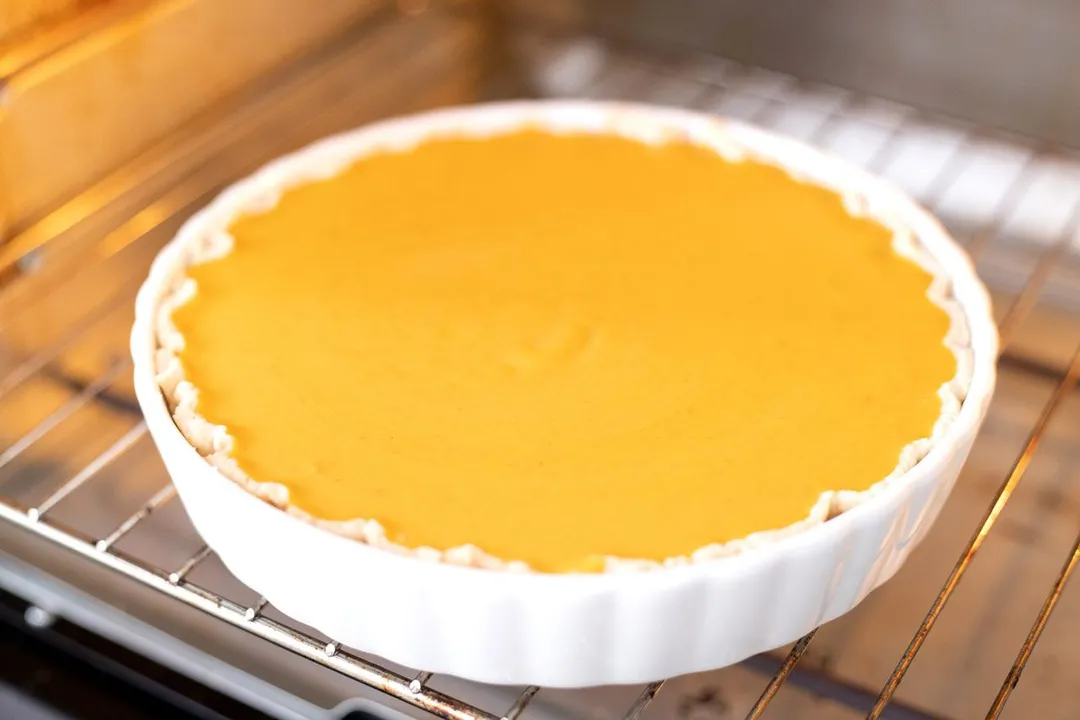 3
Allow it to cool: remove the pie from the oven and let it cool completely. Enjoy!
Optional: Serve with heavy cream, whipped aquafaba, or ice cream.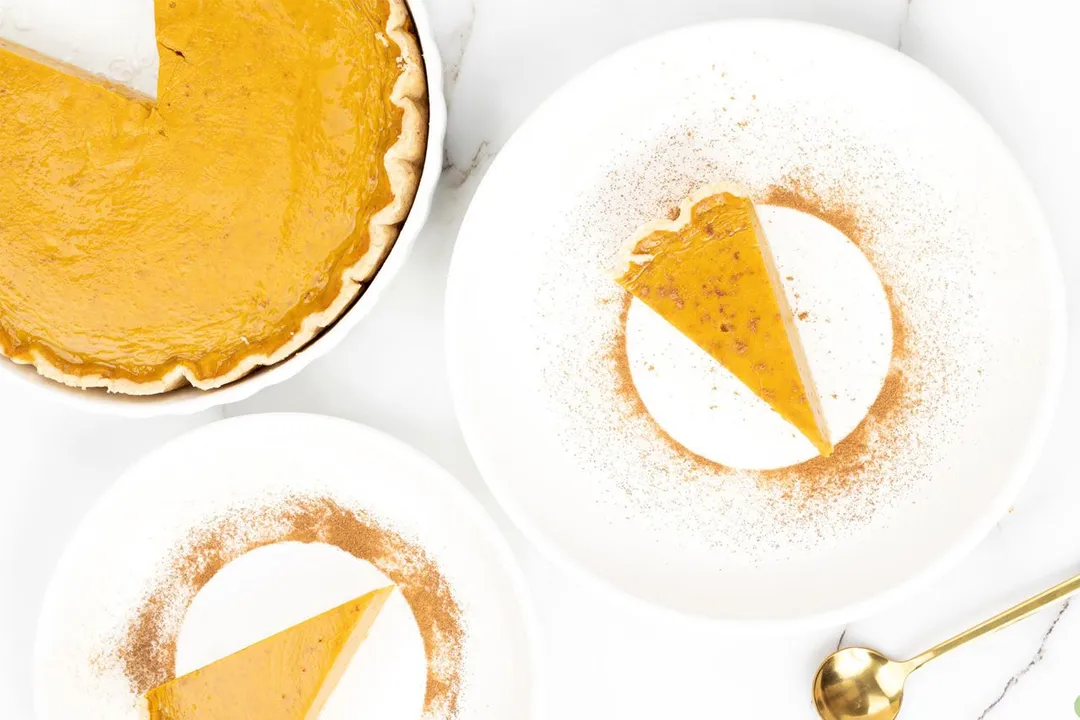 NUTRITION
Nutrition Facts
Healthy Pumpkin Pie
Amount Per Serving (1 serving)
Calories 150
Calories from Fat 72
% Daily Value*
* Percent Daily Values are based on a 2000 calorie diet.
Keywords: How To Make Pumpkin Pie, Pumpkin Pie Recipe, Pumpkin Recipe, healthy pumpkin pie, How to Blind Bake a Pie Crust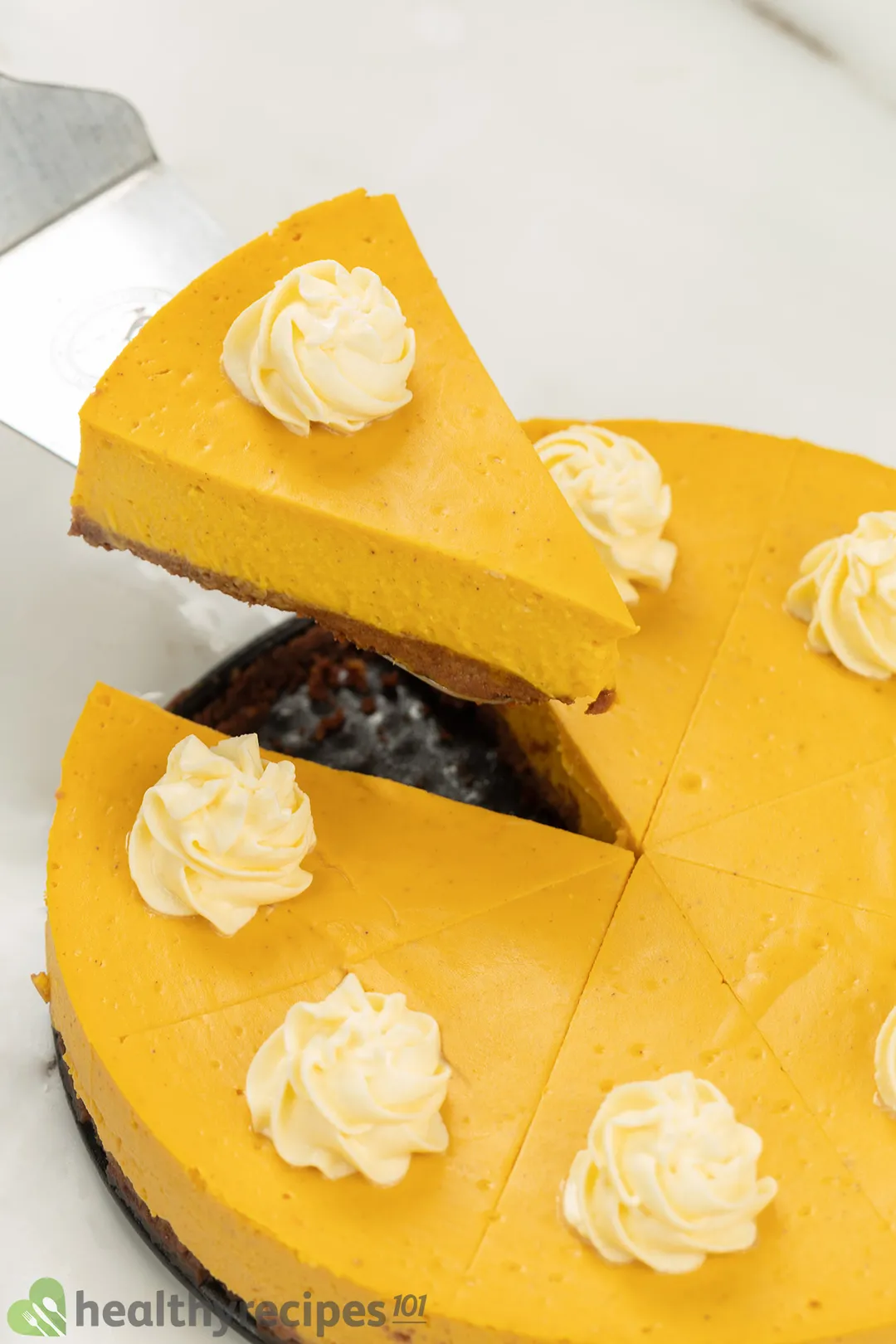 Previous Recipe
Pumpkin Cheesecake
Pumpkin Cheesecake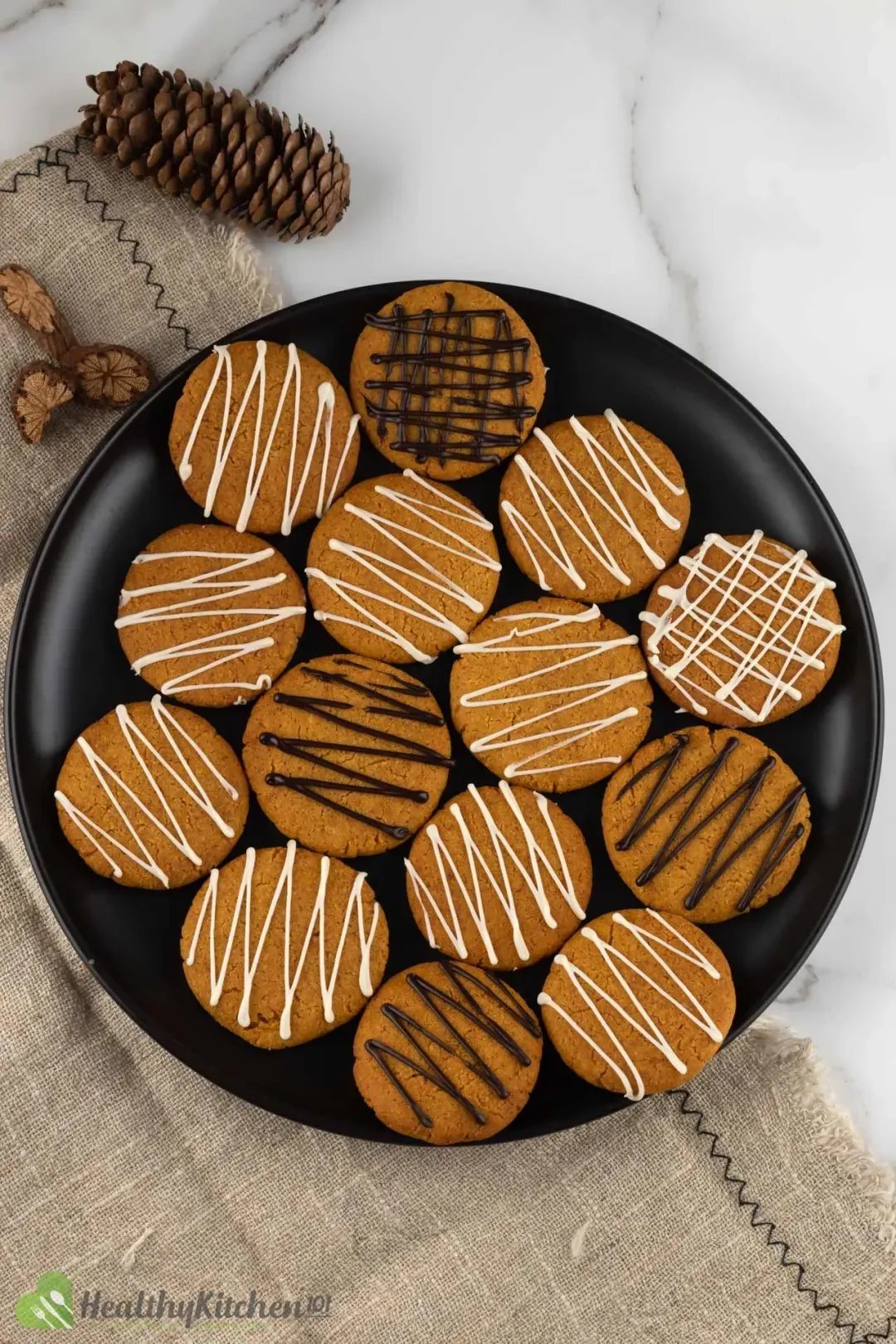 Next Recipe
Healthy Pumpkin Cookies
Healthy Pumpkin Cookies
Head Chef, Culinary Consultant
Tuyet Pham is an award-winning Saigonese chef who believes that joy is the secret ingredient to delicious food. At Healthy Recipes 101, Tuyet personally tests and simplifies every recipe, ensuring maximum flavor with minimal effort. With a background at prestigious French restaurants P'TI Saigon and Le Corto, Tuyet knows how to make every dish exceptional.
Writer, Author
Luna Regina is an accomplished writer and author who dedicates her career to empowering home cooks and making cooking effortless for everyone. She is the founder of HealthyKitchen101.com and HealthyRecipes101.com, where she works with her team to develop easy, nutritious recipes and help aspiring cooks choose the right kitchen appliances.
Nutrition Reviewer
Lizzie Streit is a Minneapolis-based dietitian and founder of It's a Veg World After All. She completed her MS in Human Nutrition from Drexel University, and is an expert in culinary nutrition, recipe development, and nutrition communications. Lizzie's philosophy is centered around making nutrition recommendations, and especially the advice to eat more vegetables, approachable and realistic. She is excited to be working with the team at Healthy Recipes 101 to ensure that their recipes are both nutritious and delicious.
a classic dessert that's perfect for fall.