Making this sweet potato souffle recipe was a big challenge for us.
A quick search will return you recipes that use high amounts of sugar not just to sweeten the dessert, but also to top the dessert. We're not talking a light dusting of sweetener either—we're talking brown sugar mixed with butter, used in a visibly thick layer.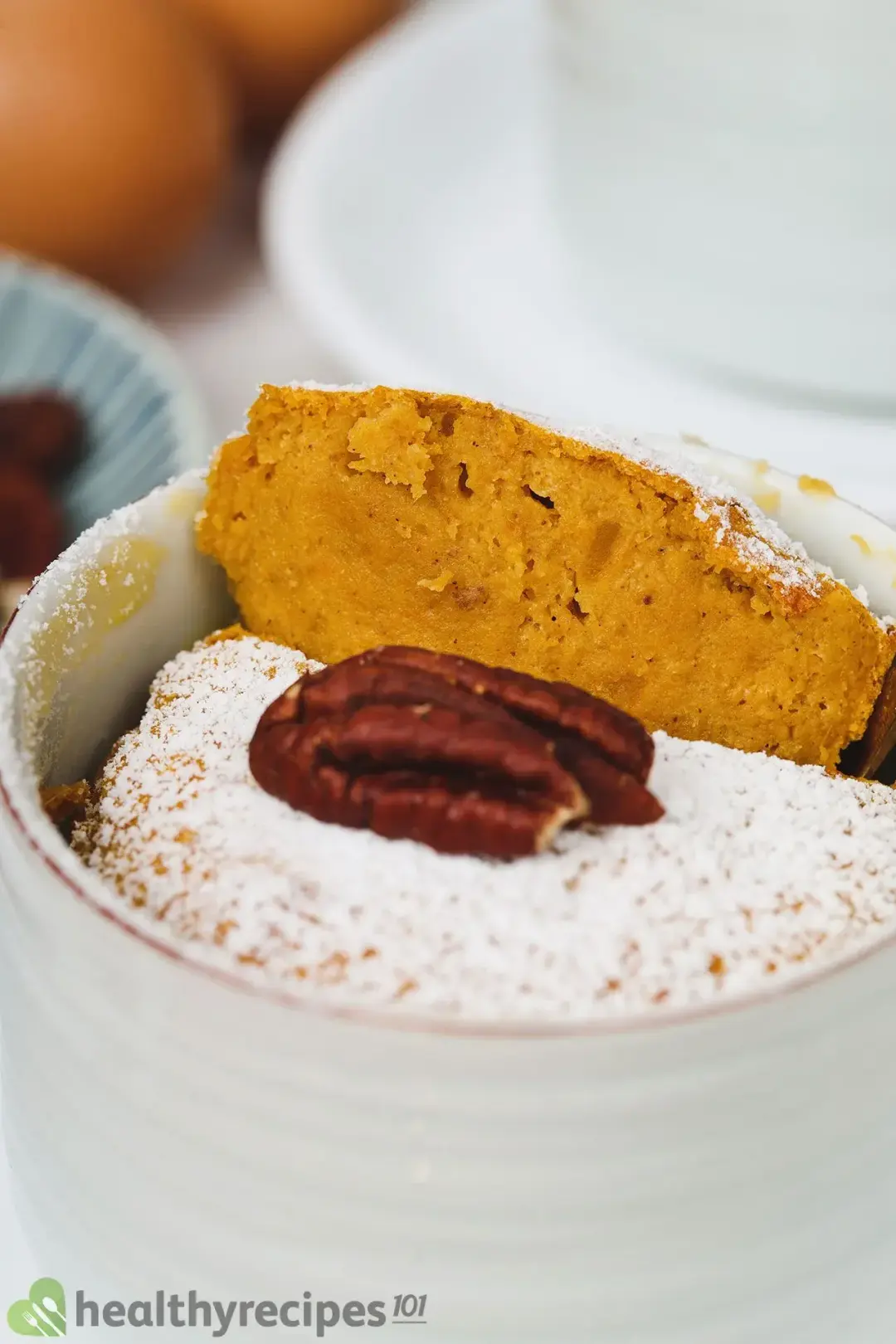 For sure it's authentic, but since it's also anything but healthy, it doesn't belong on our healthy recipes site.
How Healthy is this Sweet Potato Souffle Recipe?
What we're sharing today, rather, is a sweet tooth pleaser that's not too much of anything. The ingredients were carefully considered so that the added sugar content, saturated fat content, and calorie content don't exceed our allowed limits. The dish is also taste-tested by all of our team members to make sure what you get, although not authentic, is perfectly enjoyable.
In short, today's sweet dessert is light, tasty, and can definitely be a part of a good for your healthy diet.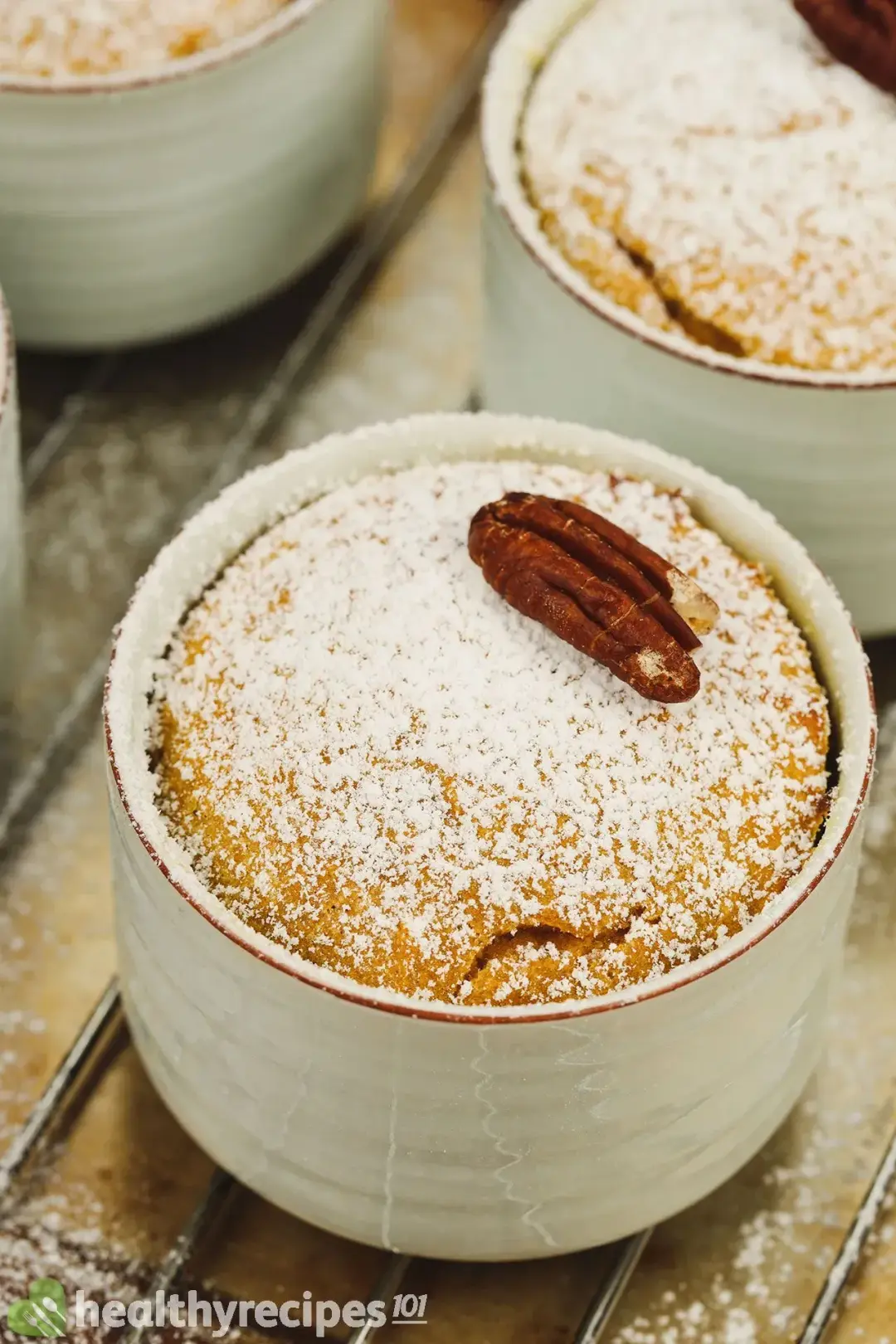 What's the Difference Between a Sweet Potato Casserole and a Sweet Potato Souffle?
The key difference between these two will only be given away with a spoonful: the souffle is lighter in texture. All souffles are intentionally made so, using leavening agents like whipped egg whites or baking powder folded into the filling. Nowadays, when people hear the word 'souffle', they expect something sweet and light.
With leavening agents, souffles tend to increase in volume, so they're often baked in ramekins. These cylindrical baking dishes allow the dessert to expand upward, creating the iconic crack at the top that chefs eventually powder up with sweeteners. That is unless the dessert hasn't been buried in brown sugar.
Ingredients for This Recipe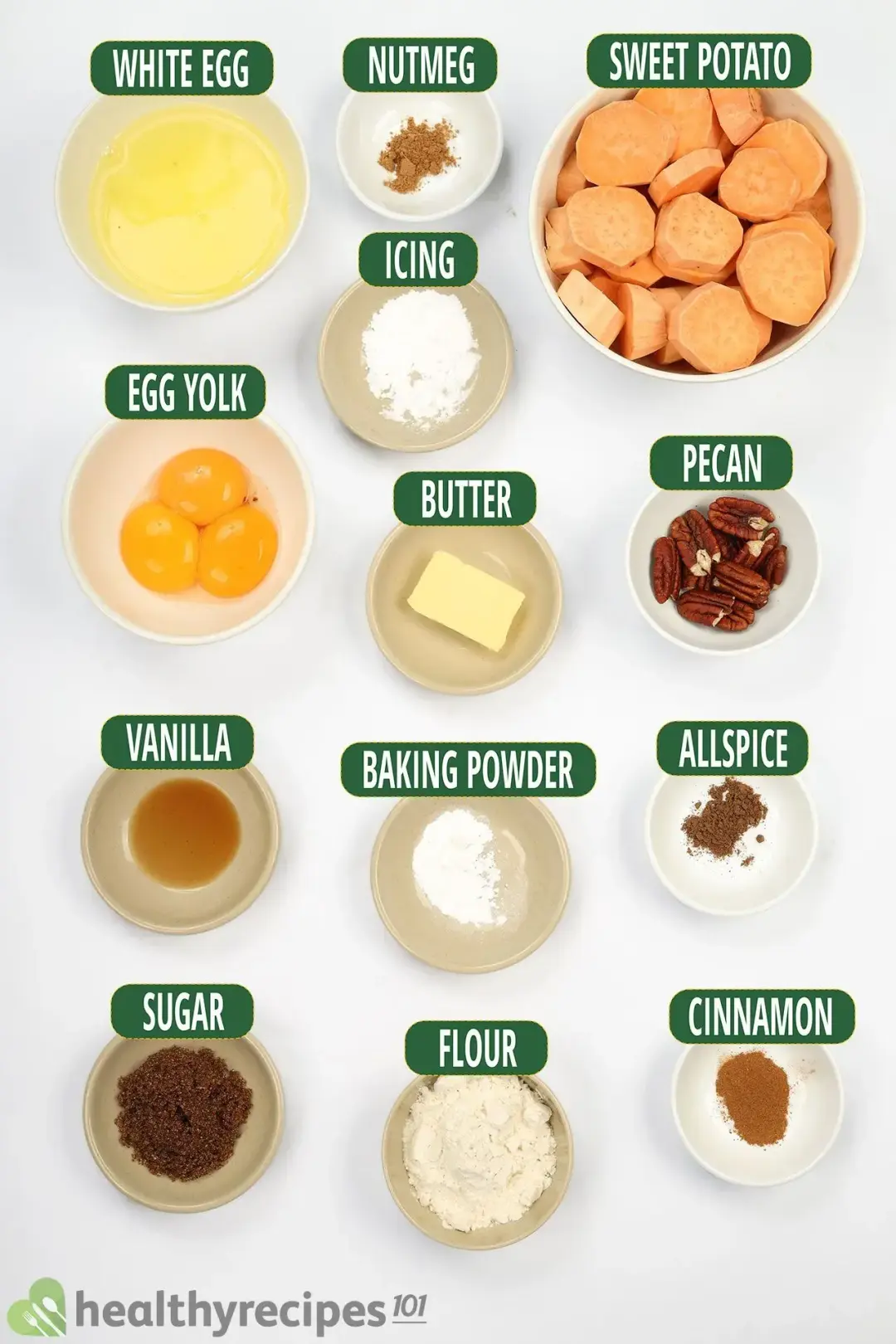 Sweet potatoes: sliced and steamed until soft. We don't recommend baking because the moisture provided by the steam is the key to making the dessert silky smooth.
Seasonings and spices: brown sugar, allspice, nutmeg, cinnamon, and vanilla. We use some confectioners' sugar, or powdered sugar, to dust the top at the end.
Leaveners: whipped egg whites and baking powder. The yolks are not discarded but mashed along with the steamed potatoes and spices.
Flour: to add a light stretchy texture, but not too much. It is not substitutable with gluten-free flours.
Butter: to enrich the filling, along with the yolks.
Pecans: whole or chopped, used to top each ramekin.
Cooking (and prepping) instructions are listed in the 'sweet potato souffle recipe' card at the bottom.
Can You Make Sweet Potato Souffle Ahead of Time?
Yes, you can. This dessert can be made the night before, let cool, refrigerated, and served within the next 4 days. We found that it's tastier when served chilled.
How to Store The Leftovers
Cover each leftover ramekin with plastic wrap and refrigerate for up to 4 days. This dessert shouldn't be kept in the freezer.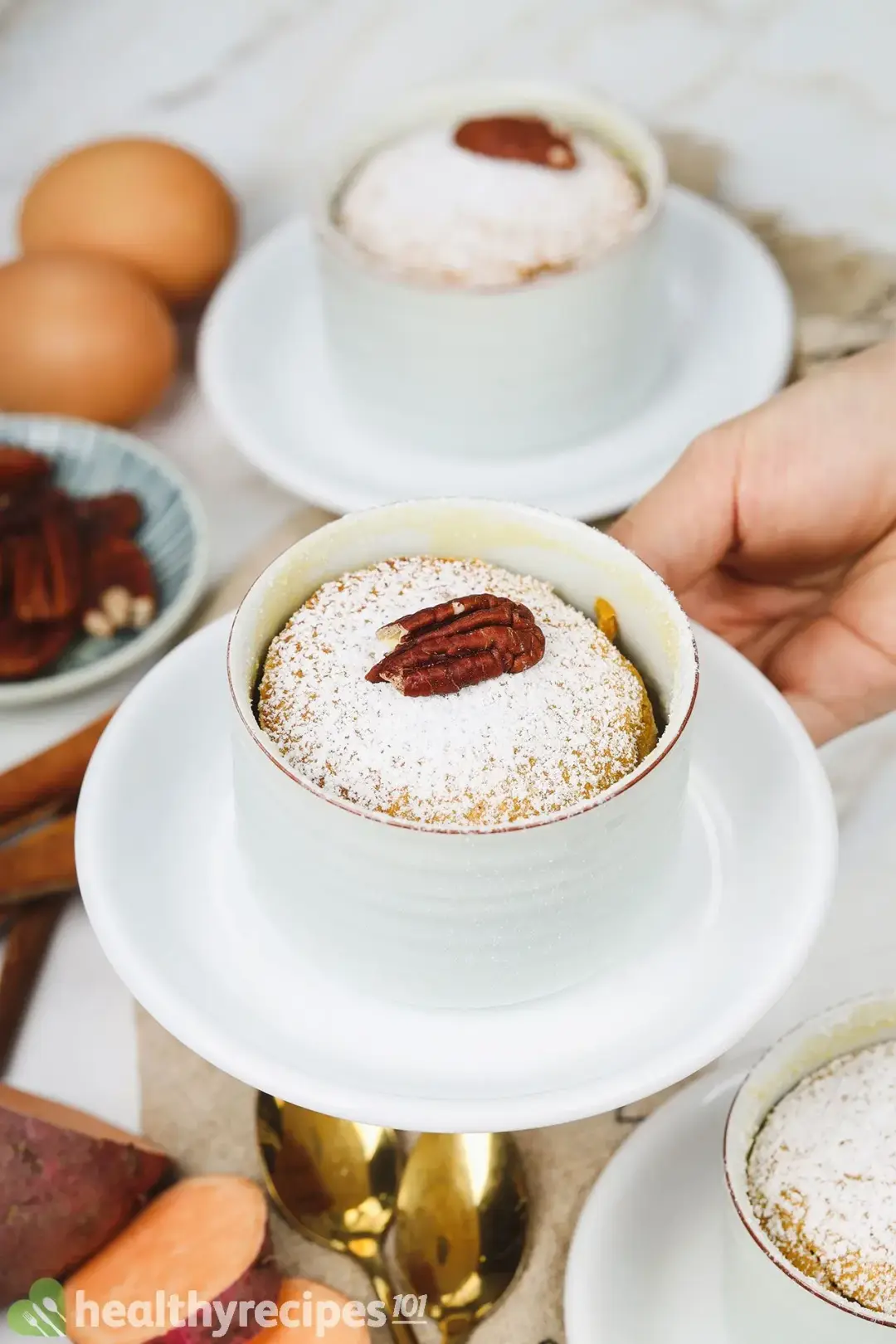 How to Make Sweet Potato Souffle
Today's sweet potato souffle recipe makes a sweet tooth pleaser that's not too sweet, too fatty, nor too calorie-dense. It's pretty healthy.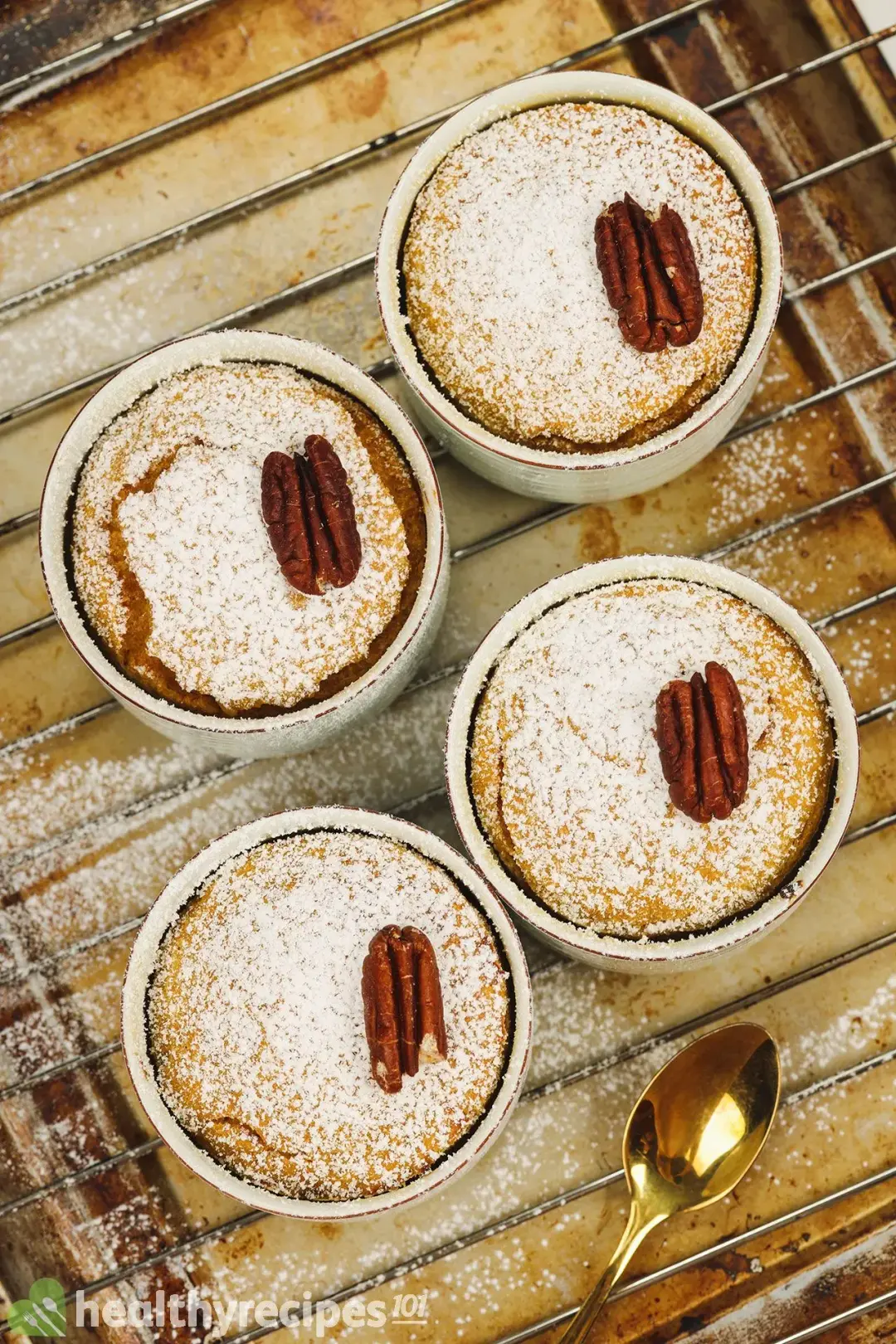 cook TIME

25 mins

prep TIME

5 mins

total TIME

30 mins
COURSE

Dessert

CUISINE

Global

SERVINGS

servings

CALORIES

240 kcal
INGREDIENTS
14 oz

sweet potatoes sliced

3

large egg yolks

3

large egg whites

0.5 oz

pecans chopped or whole

0.3 cup

all-purpose flour

0.3 tsp

low-sodium baking powder

0.3 tsp

cinnamon

0.3 tsp

nutmeg

0.3 tsp

all-spice seasoning

0.3 tsp

vanilla extract

2 tbsp

brown sugar unpacked

1 tbsp

unsalted butter

1 tsp

confectioner sugar (powder sugar, icing)
INSTRUCTIONS
Prep:
1
Peel and slice the sweet potatoes: peel and cut 14 oz into 1/2" thick slices.
2
Crack 3 large eggs and separate the yolks.
3
Chop 0.5 oz pecans (optional).
Cook:
1
Steam the sweet potatoes: Steam 14 oz sliced sweet potatoes for 15 minutes.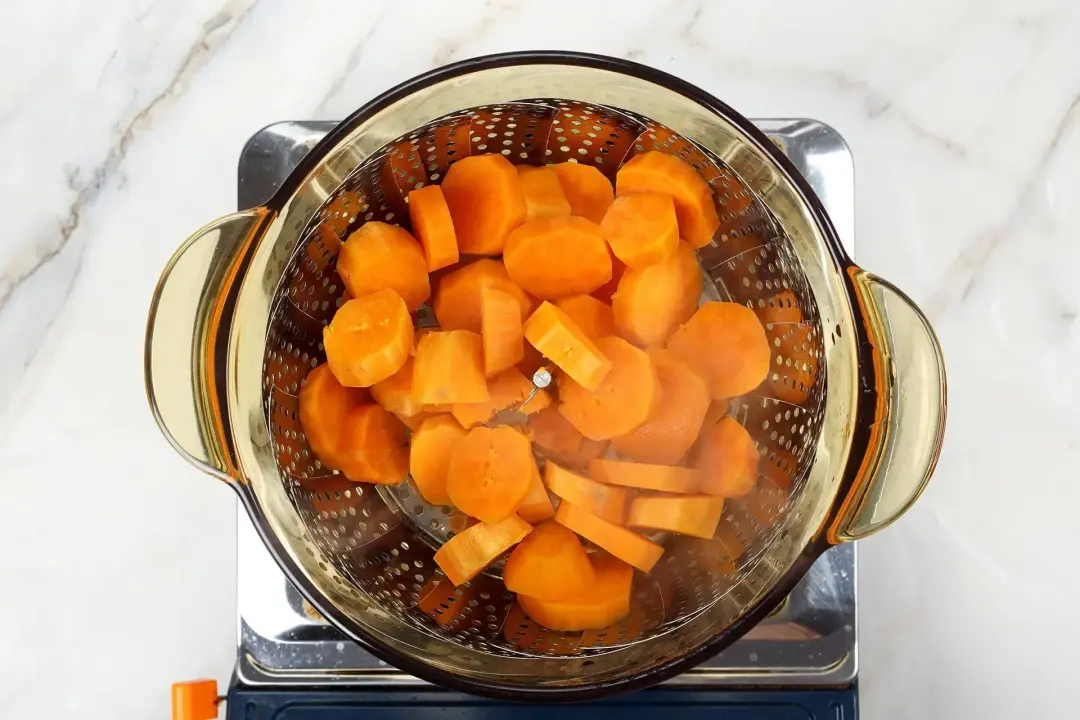 2
Blend the sweet potatoes: Blend the steamed potato into a fine purée.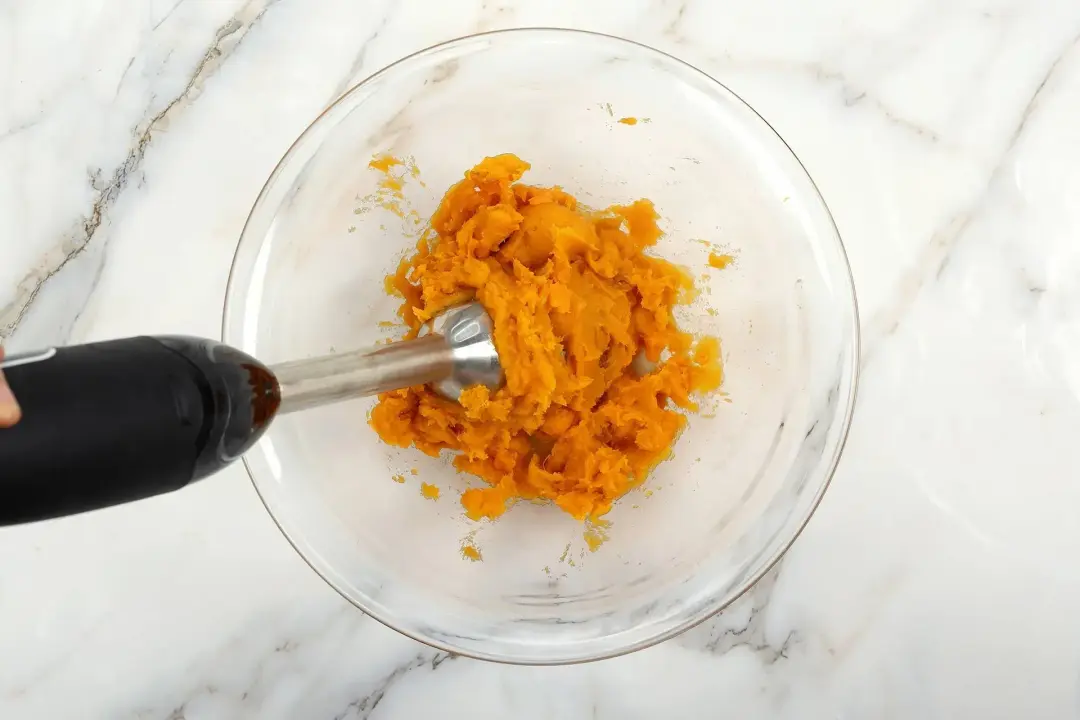 3
Season the mixture: Whisk the purée with 3 large egg yolks, 1/4 cup all-purpose flour, 1/4 tsp baking powder, 1/4 tsp cinnamon, 1/4 tsp nutmeg, 1/4 tsp all-spice seasoning, and 1/4 tsp vanilla extract. Set aside.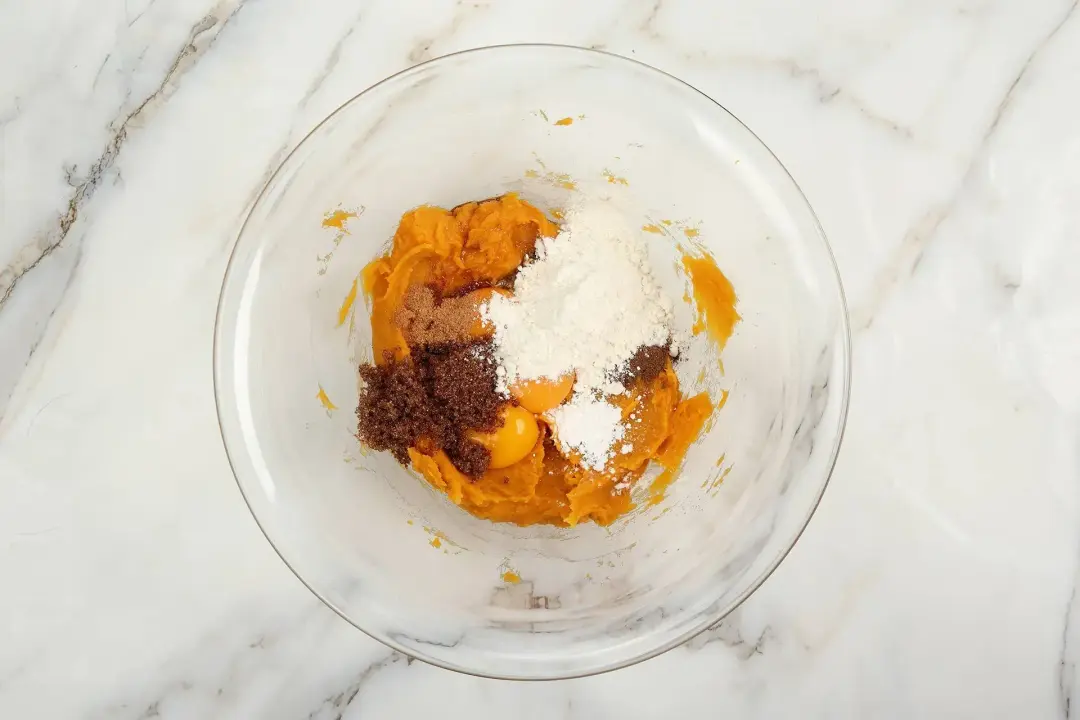 4
Butter and flour the ramekins: Butter the inside of 4 ramekins. Dust the inside with some flour so that the dessert will have a crunchy outer layer once baked.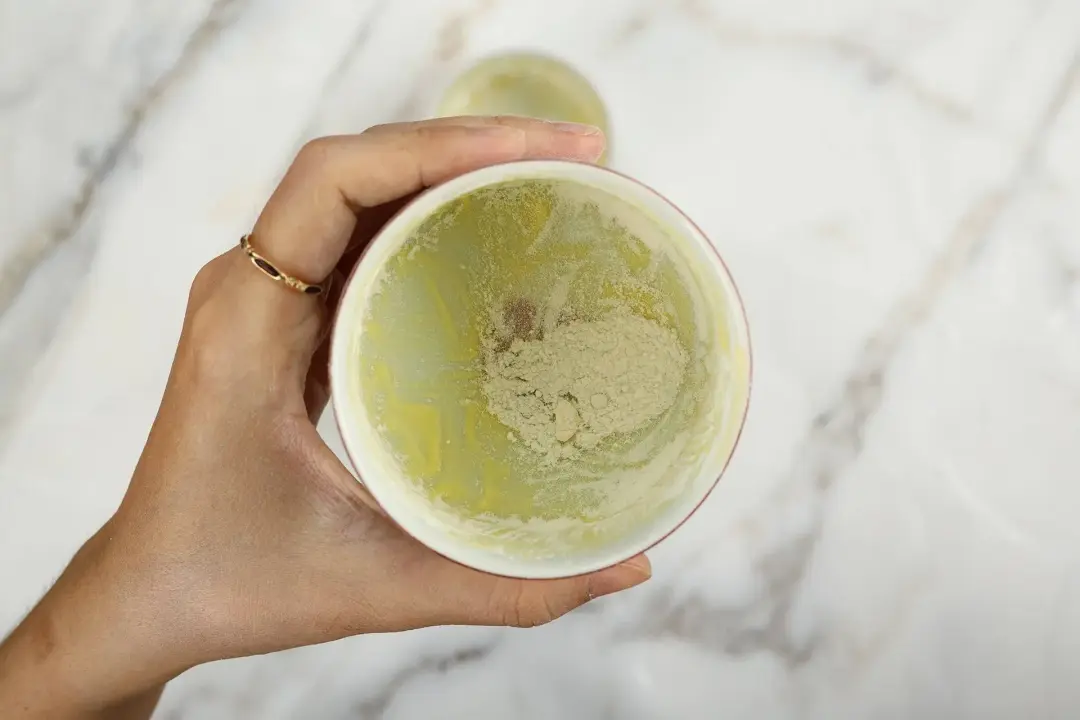 5
Whip the egg whites: In a bowl, beat 3 large egg whites with an electric mixer (or by hand) until stiff peaks form.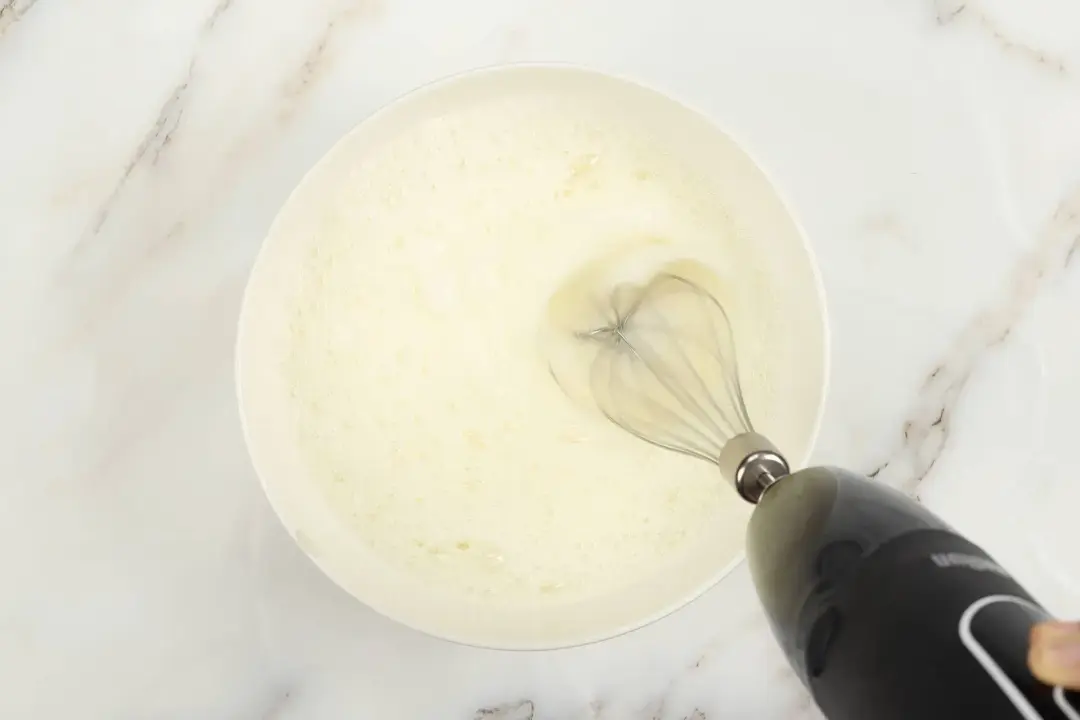 6
Fold the egg whites into the sweet potato mixture: Fold half of the egg whites in with the sweet potato mixture to lighten its density. Then, fold in the remaining egg whites, in this manner: use a spatula to lift the mixture up from the bottom, and turn it over so they combine; repeat until the mixture is relatively smooth. Don't whisk.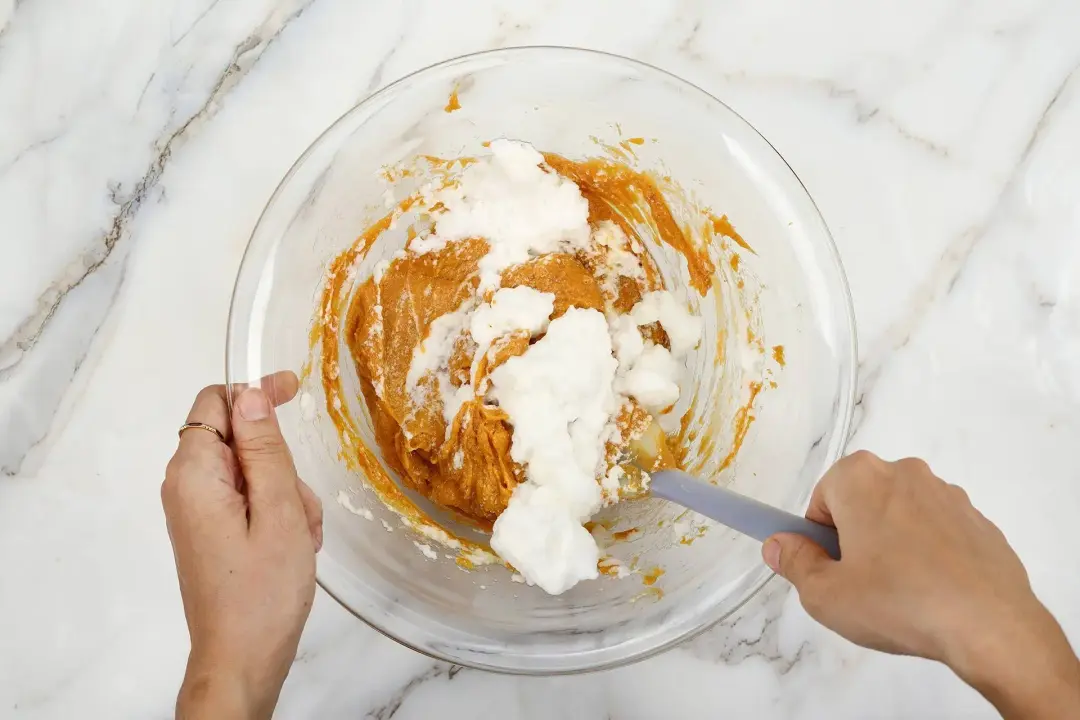 7
Add the mixture to the ramekins and bake: Divide the mixture into the prepared ramekins. Place the ramekins on the middle rack, and bake for 12 minutes at 450 Fahrenheit.
8
Garnish and serve: Add 1 tsp confectioners' sugar to a fine sieve, and use it to dust the top of each ramekin. About 3 taps are enough. Decorate each ramekin with pecans, whole or chopped. Enjoy.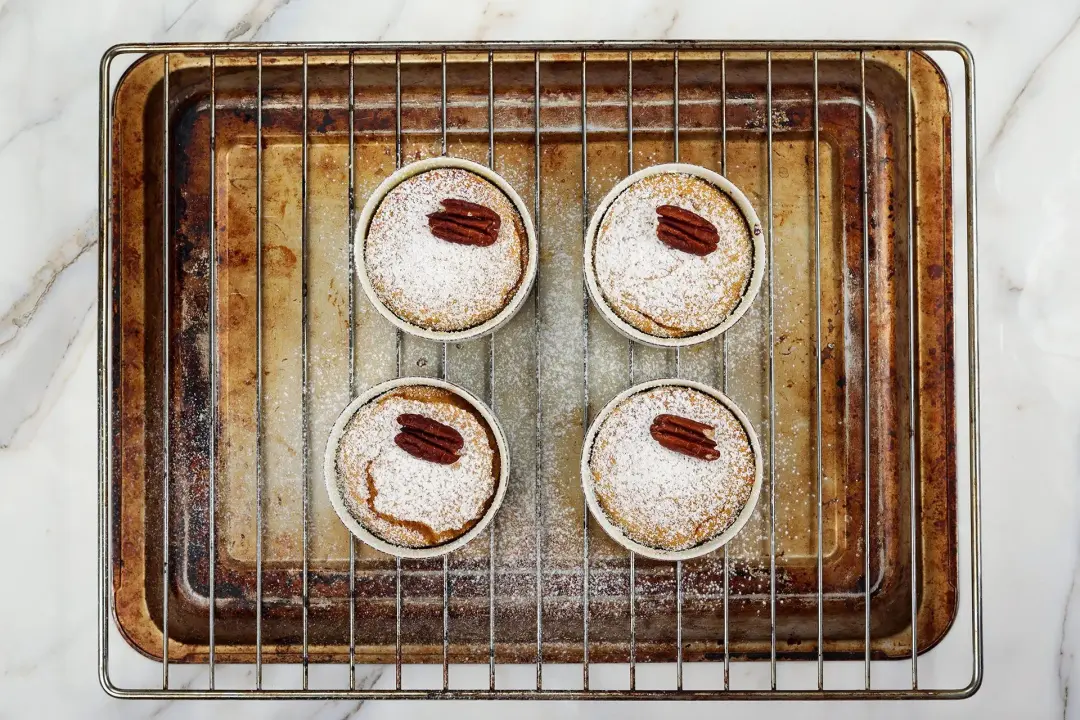 NUTRITION
Nutrition Facts
How to Make Sweet Potato Souffle
Amount Per Serving (1 serving)
Calories 240
Calories from FDA
% Daily Value*
* Percent Daily Values are based on a 2000 calorie diet.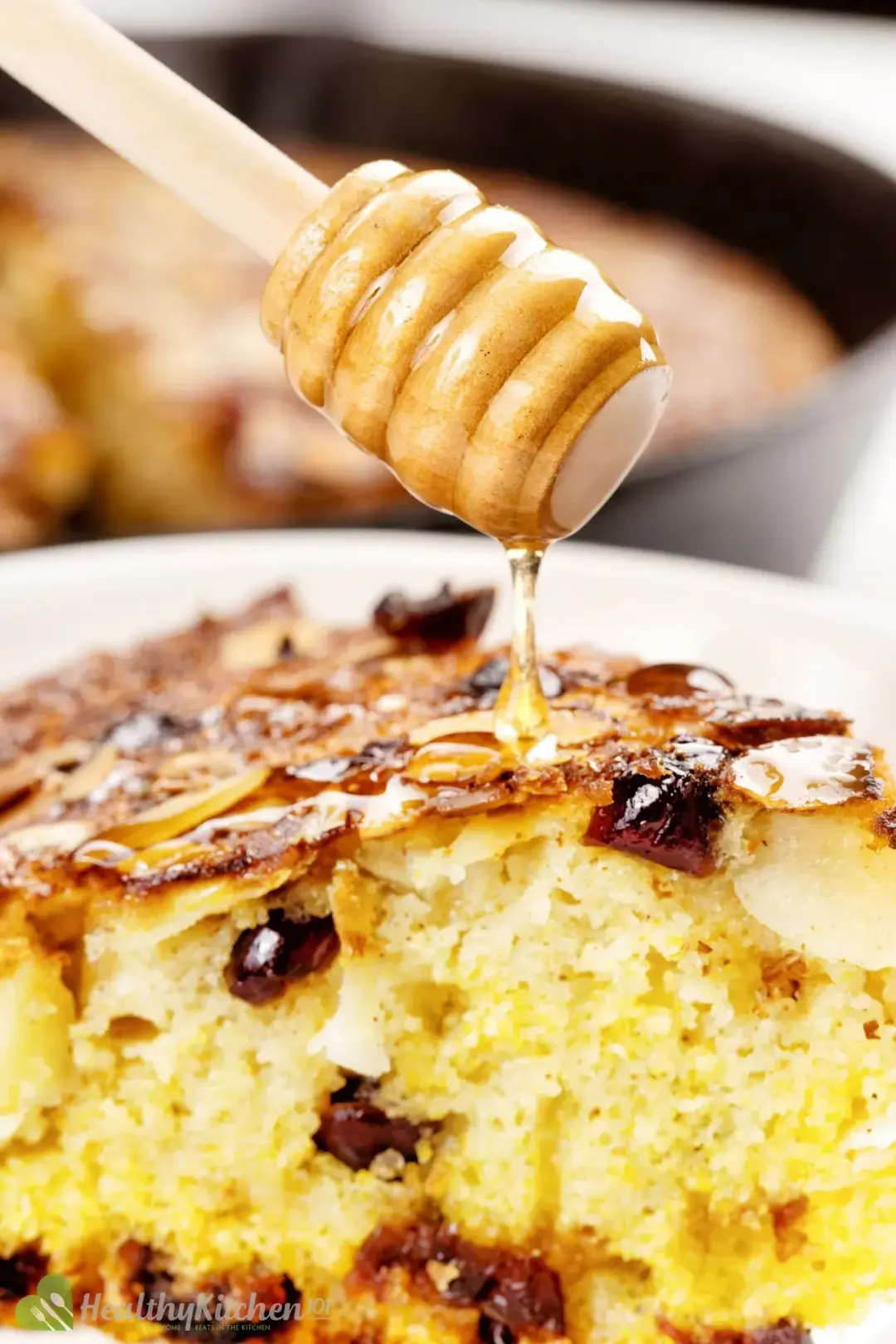 Previous Recipe
Southern Cornbread
Southern Cornbread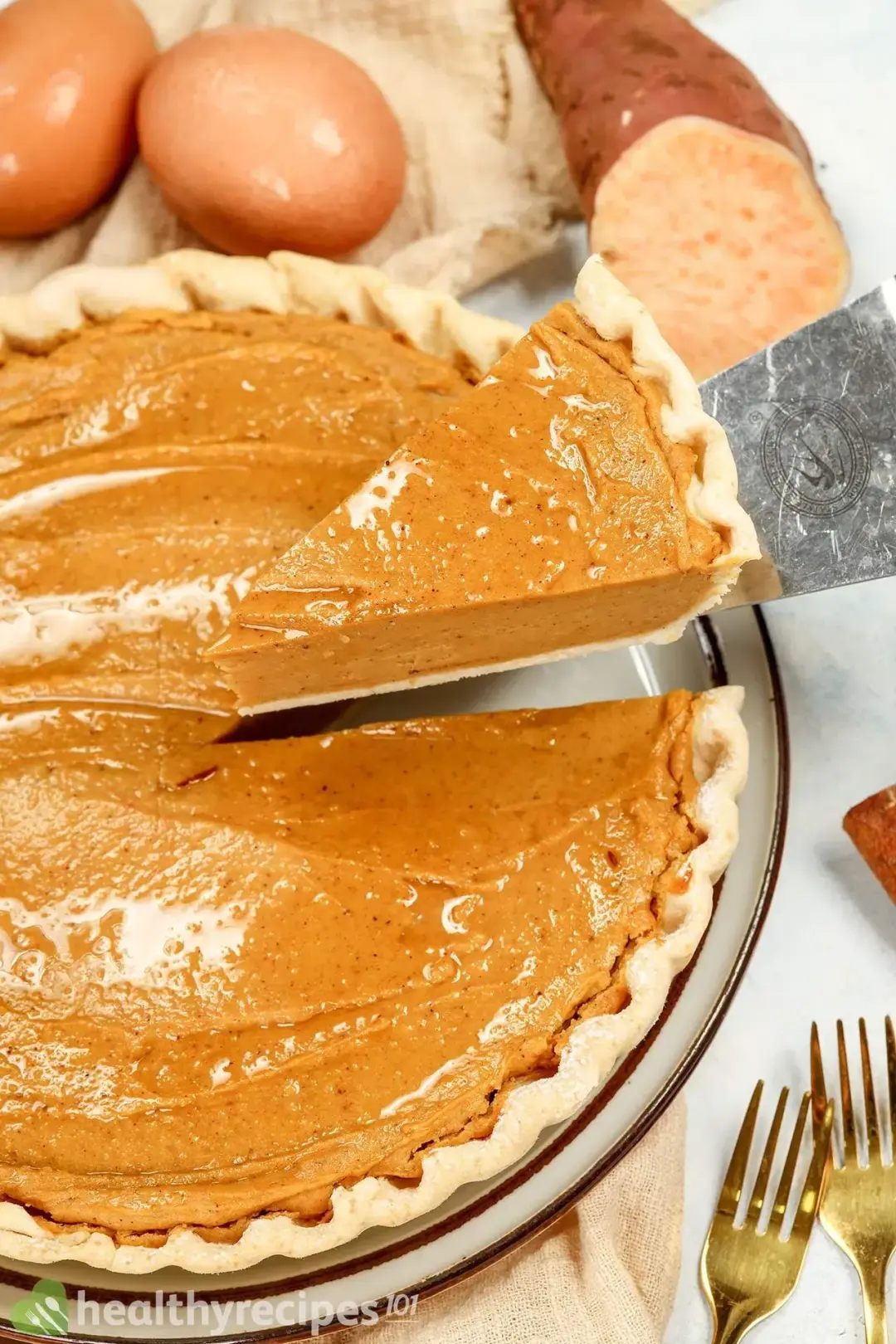 Next Recipe
Sweet Potato Pie
Sweet Potato Pie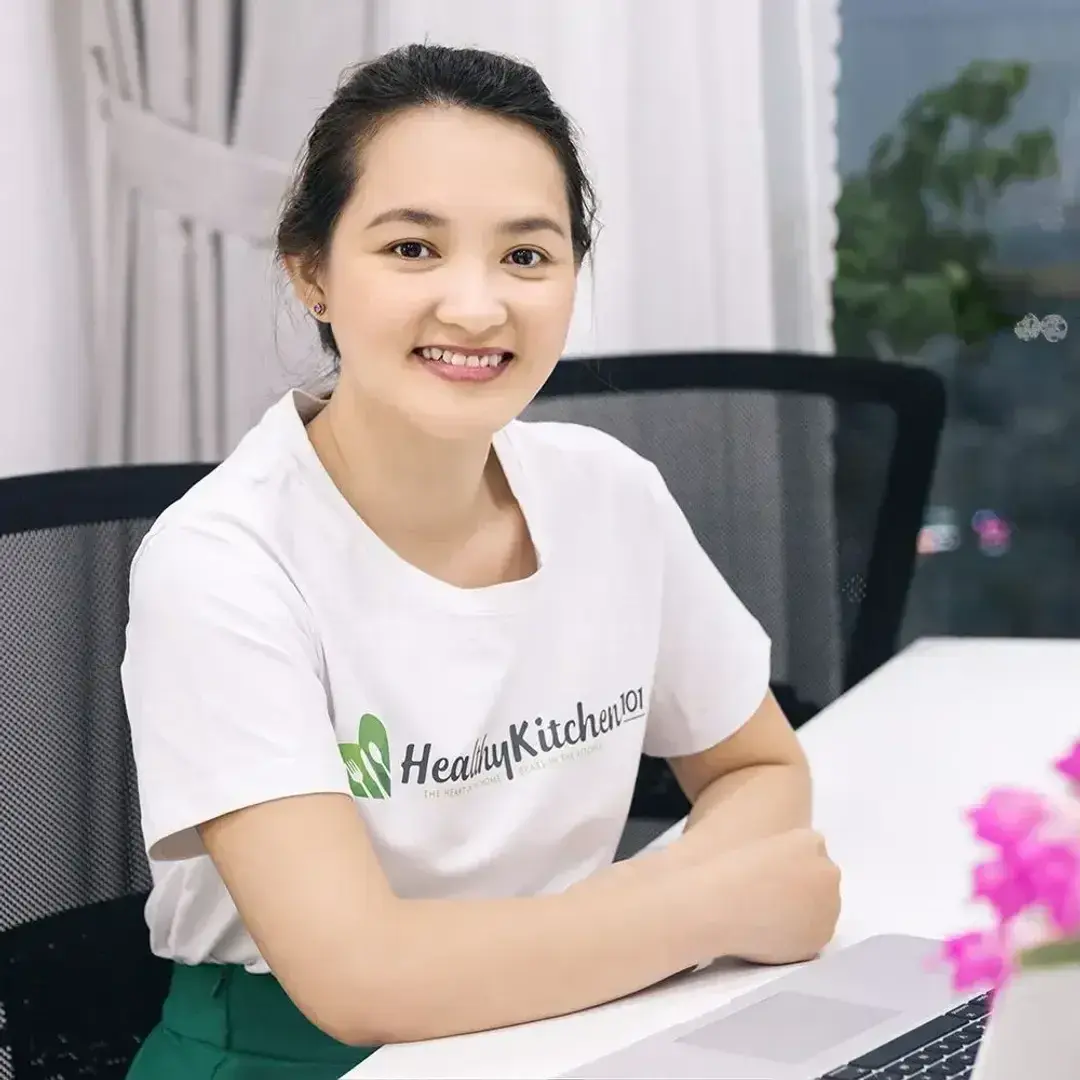 Luna Regina
Luna is the founder and chief recipe developer of Healthy Recipes 101. Apart from cooking, she also loves reading, programming, exploring the outdoors, and collecting useless facts about everything.