Today we bring you a healthy pumpkin cheesecake recipe.
Yes! A healthy, yet rich, decadent, and tasty cheesecake.
We bet it's going to make jaws drop at the Thanksgiving dinner table this year! It's also an excellent dessert for National Pumpkin Cheesecake Day (October 21), National Graham Cracker Day (July 5) and National Cheesecake Day (July 30).
Is This Pumpkin Cheesecake Recipe Healthy?
Yes, it is! Cheesecake is not something that usually comes to mind when you think of healthy foods, so how is it healthy?
Pumpkin is the biggest contributor in making this recipe healthy.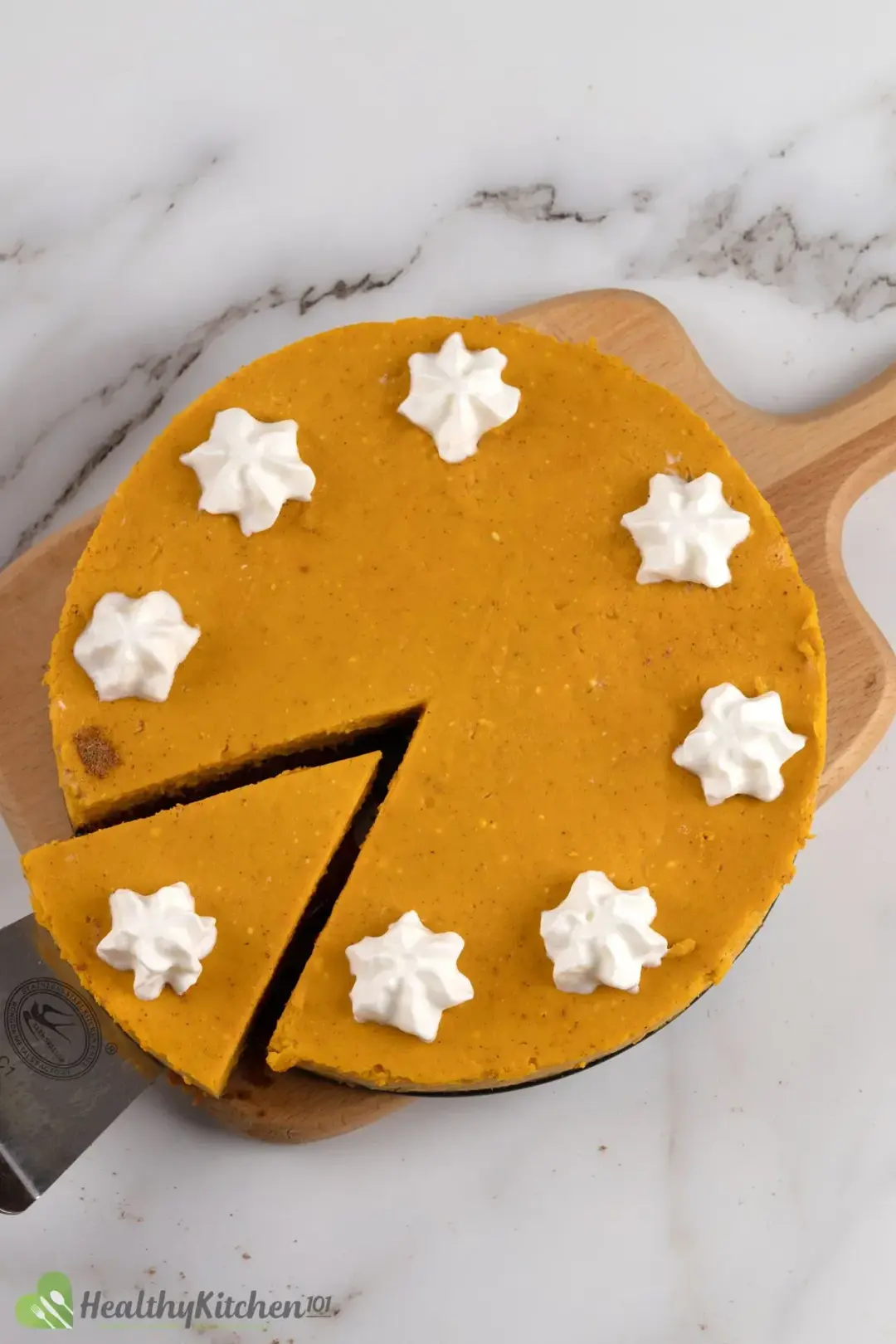 This low-calorie seasonal squash is high in fiber, vitamins, and minerals while also having medicinal properties. If you're trying to sneak more fiber into your diet, we suggest adding more pumpkin into your desserts.
For this recipe, we take advantage of the sweet pumpkin flavor to cut down on as much sweetener as possible. This helps limit the amount of sugar intake as well.
That being said, there are still 2 tablespoons of brown sugar in this recipe. This makes up about 27 grams of added sugar in total.
This may seem like a lot. But it's actually not.
According to the USDA's Dietary Guidelines, your sugar daily added sugar intake should be less than 10% of calories from added sugar. This means less than 50 grams of added sugar per day.
And since we divide the cake into 8 slices, there's less than 3.5 grams of added sugar per slice. This makes the cake relatively low in added sugar.
Is This a Low-Carb Pumpkin Cheesecake Recipe?
A slice of our pumpkin cheesecake contains less than 15 grams of carbohydrates. This is relatively low-carb for a dessert.
So how is our pumpkin cheesecake low-carb?
Simple. It's because we cut down on sugar.
Sugar is a type of carbohydrate. And since most desserts are filled with sugar, they're also full of carbs.
So the best way to make a low-carb dessert is to cut down on the sugar.
We also make our cheesecake thinner than the 2 or 3-inch deep cheesecakes that you find in bakeries.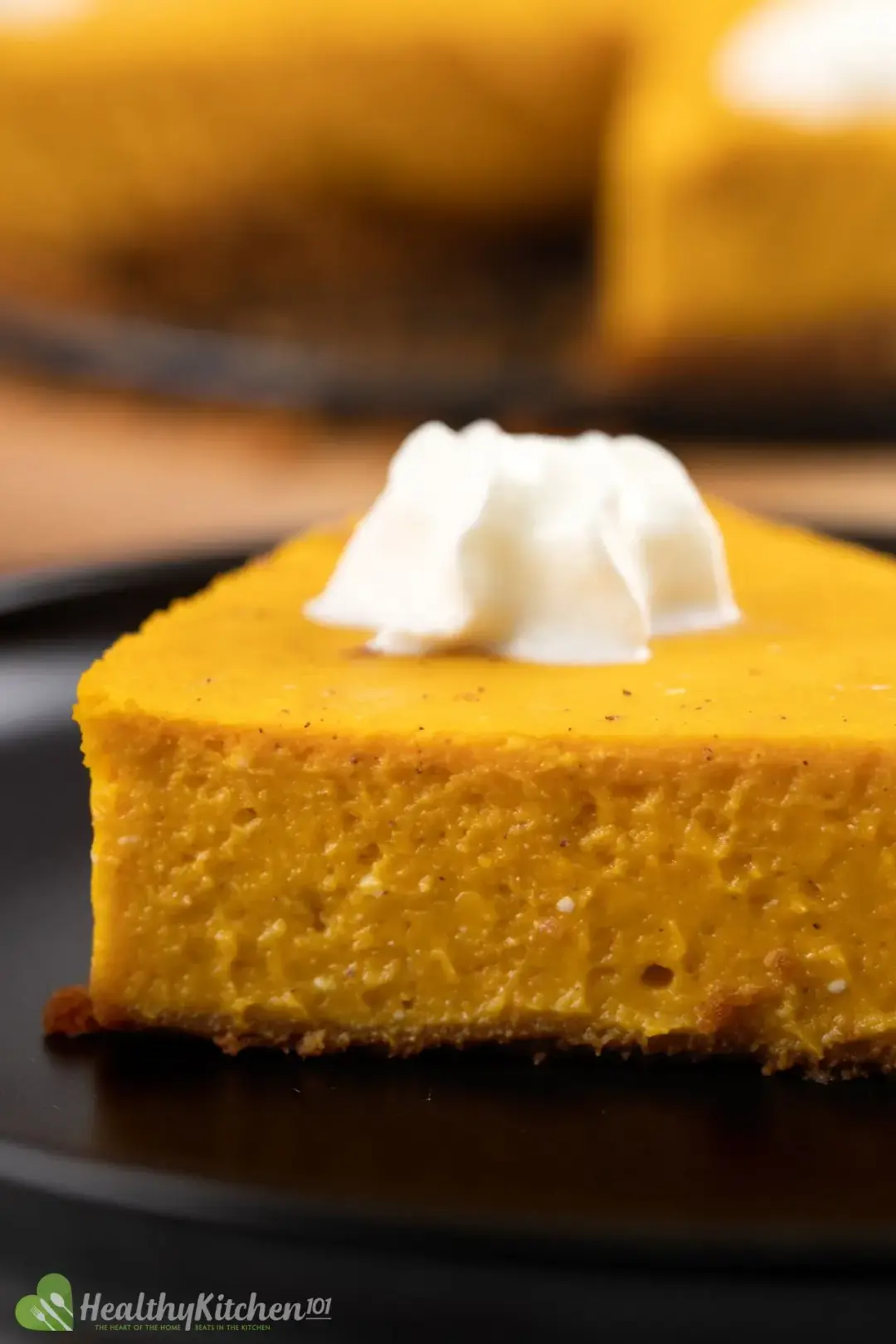 We figure for such a rich and dense cake like this, it's best to have a smaller slice. That way you can savor every bite of our healthy pumpkin cheesecake, guilt-free.
What Goes Well with Pumpkins
Pumpkin is such a versatile fruit. It pairs well with almost anything to make a fantastic sweet or savory dish.
However, we are making a dessert today. So let's see what ingredients pair well with pumpkin to make the best sweet treat.
Cream cheese: of course, we cannot leave out one of the main ingredients for today's recipe. The slightly tangy, rich, soft cheese just goes perfectly with the sweet pumpkin puree.
Lemon or lime: if you want to elevate your cheesecake recipe, add fresh lime or lemon juice and zest. The fresh citrus taste cuts through the rich cheese— balancing the flavor and intensifying the tanginess.
Pumpkin pie spices: a pumpkin spice blend often contains ginger, clove, cinnamon, and nutmeg. It adds warmth and interest to the flavor.
Garam masala: this Indian spice blend usually consists of ground cumin, nutmeg, coriander, cinnamon, star anise, cardamon, and clove. This warm spice blend is suitable for both sweet and savory dishes.
Cayenne pepper: this secret ingredient will give your pumpkin desserts more depth of flavor and warmth. Remember that only a tiny pinch is enough.
Chocolate: like pumpkin, chocolate goes well with almost anything, so naturally they go well together too!
Pumpkin Cheesecake Recipe: Ingredients
Let's see what makes our healthy pumpkin cheesecake recipe.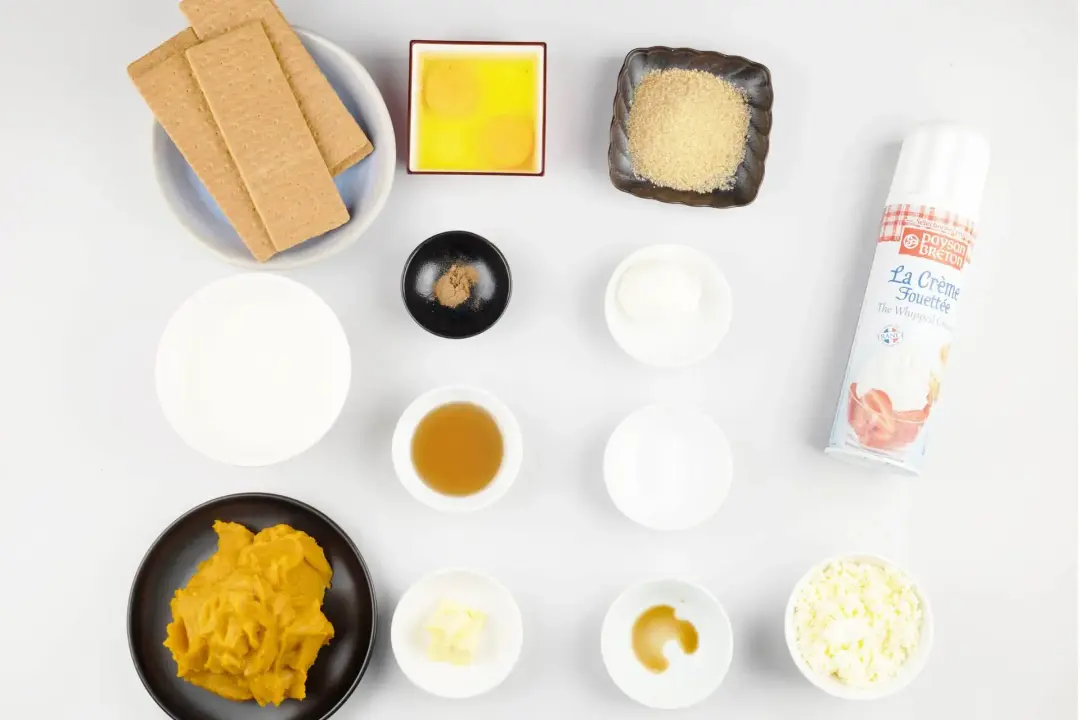 For the Crust
For today's recipe, we're going to make a simple crust. It only requires 3 ingredients:
Unsalted butter: don't use salted butter as it can increase your sodium intake.
Vegetable shortening: this is a vegan-friendly ingredient. And it's low in saturated fat too.
Graham crackers: or your favorite type of plain crackers.
For the Filling
Although we don't use too many ingredients, they work well to create the flavor of a tasty cheesecake:
Dairy: we use cream cheese and plain Greek yogurt.
Brown sugar: you can also use white granulated sugar or other sweetening alternatives.
Pumpkin puree: you can either make your own pumpkin puree or use a canned product. Make sure it's unsweetened puree.
Eggs: they make your cheesecake richer and help it set.
Vanilla extract: this gives the cheesecake that signature sweet dessert flavor.
Pumpkin pie spice: you can also use other spices to customize the cheesecake to your taste.
Salt: although it's a dessert, you still need a tiny pinch of salt. It helps balance out the sweetness.
Toppings
Although toppings may add a few extra calories, they sure can make your desserts more appealing. Here are a few options for you:
Whipped cream: we recommend using canned whipped cream as it's more time-efficient than making your own. Try to look for sugar-free whipped cream if you can
Maple syrup: drizzle some maple syrup over a slice of cheesecake to make it sweeter and visually more appealing.
Chocolate: if you're feeling creative, you can decorate your pumpkin desserts with melted dark chocolate.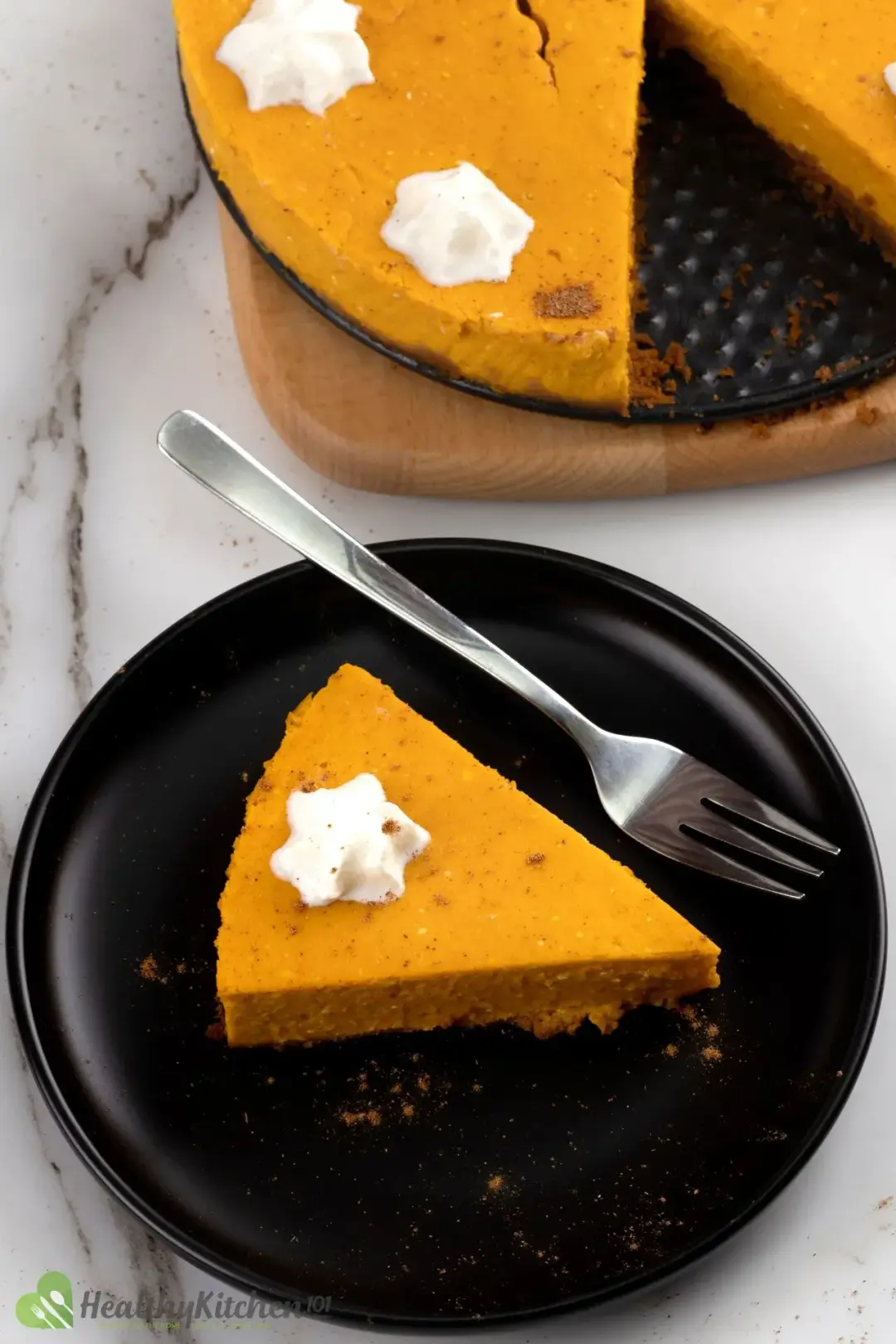 How to Make Easy Pumpkin Cheesecake
The two main steps in making a pumpkin cheesecake are first, making the crust, and then, making the filling.
1. How to Make the Crust
This crust is simple to make; it doesn't require any kneading at all. Here's how you make the crust:
Melt butter and vegetable shortening.
Blend graham cracker into fine crumbs. If you don't have a blender or food processor, a ziploc bag and rolling pin can produce the same result.
Mix the melted fat into the crumbs. You can do it in a blender or by hand using a fork.
Turn these crumbs into the cake pan. Press them down to form the base of the cheesecake.
Freeze the cheesecake base to help it set before baking.
2. How to Make Pumpkin Filling
You will need a food processor, a hand blender, or a whisk to mix the filling ingredients.
Start by beating the cream cheese with sugar.
Once your cream cheese is smooth, add pumpkin puree and mix it in.
Add in the eggs, one at a time. If you put all the eggs in, it may cause the batter to curdle.
Finally, add vanilla extract before turning the batter into the pan.
Tips for the Best Pumpkin Cheesecake Recipe
1. Prevent Cracking
A common problem with cheesecakes is they tend to crack. Why does this happen?
This is often because your cheesecake is too airy. When you overmix the batter, it has too many air bubbles, causing it to rise and crack on top.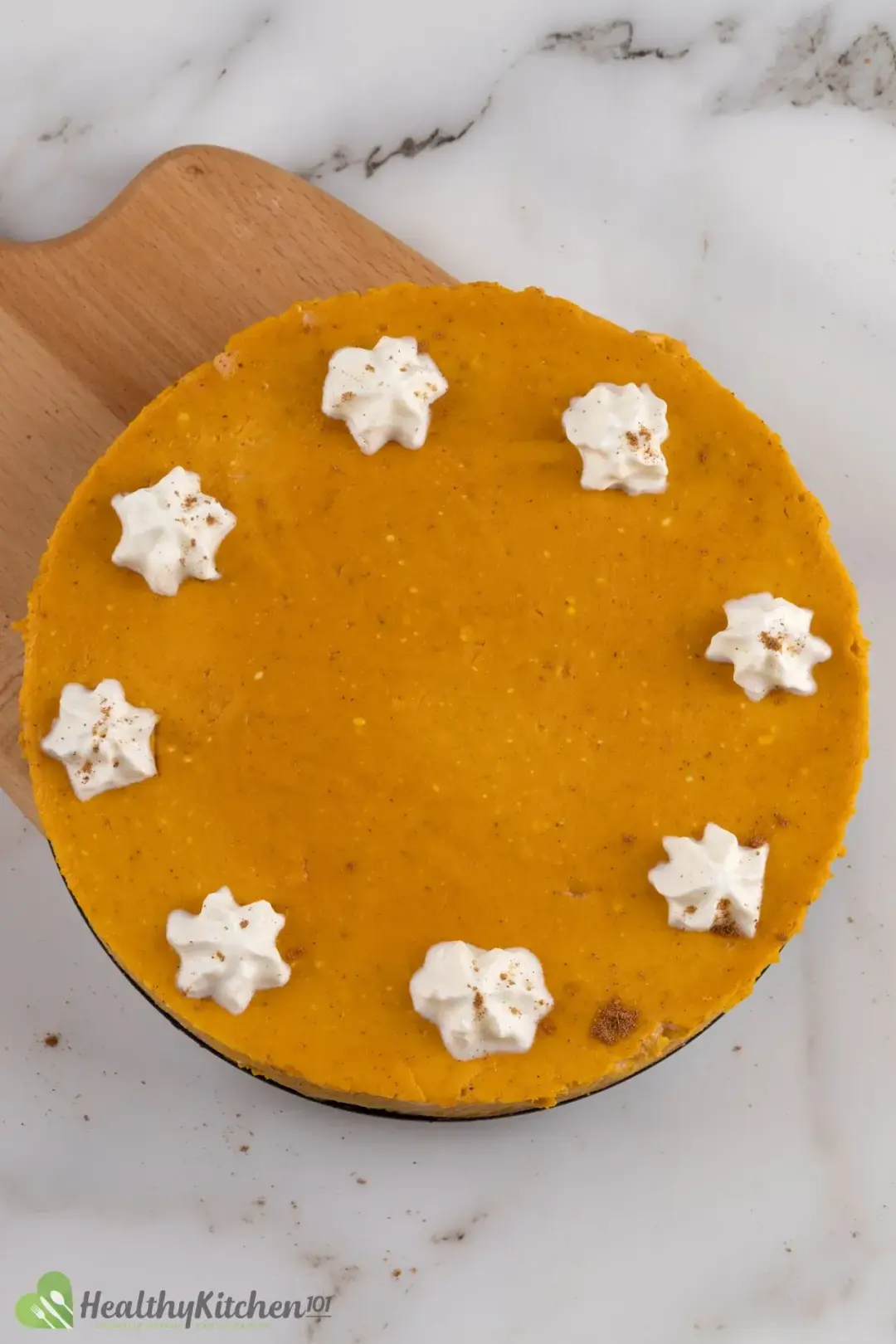 Overbaking or baking at too high a temperature can also make the cheesecake crack.
So how do you prevent your cheesecake from cracking? We have a few ideas:
Use room-temperature, softened cream cheese: it's easier to mix into the batter. That way you can avoid overmixing the batter too.
Don't overmix the batter: pay attention when you're mixing the batter. You want to mix until the ingredients are just blended together.
Make a water bath: fill a baking tray halfway with warm water. This will help the cheesecake cook evenly without rising too much.
Wrap the bottom of your springform pan: a layer of aluminum foil keeps the water from getting into the cake.
Use an oven thermometer: this will enable you to read the temperature correctly. This can help you avoid baking at too high a temperature.
Bake the cheesecake until barely set: the middle of the cheesecake should be slightly jiggly when you move it. If you cook it even longer, you may risk making it dry, causing it to crack.
2. How to Fix a Cracked Cheesecake
If you accidentally crack your cheesecake, there are a few ways to improve its appearance:
Try to patch it: dip an offset spatula into warm water and wipe it dry. Use the spatula to carefully scrape the surface of cheesecake and fill in the cracks.
Cover the cracks: hide it under a layer of toppings like whipped cream, meringue, or melted chocolate. It'll add a few more calories, but makes your cheesecake more beautiful.
3. How to Slice a Cheesecake
Having a hard time cutting a beautiful, neat slice of cheesecake? Here's a few tips to make it easier for you:
Dip the knife into warm water first and wipe it dry with a kitchen towel before cutting. The warmed knife will help cut smoothly into the cake.
Wipe the crumbs off the knife after every cut with a kitchen towel. This will help you get a clean cut of cake every time.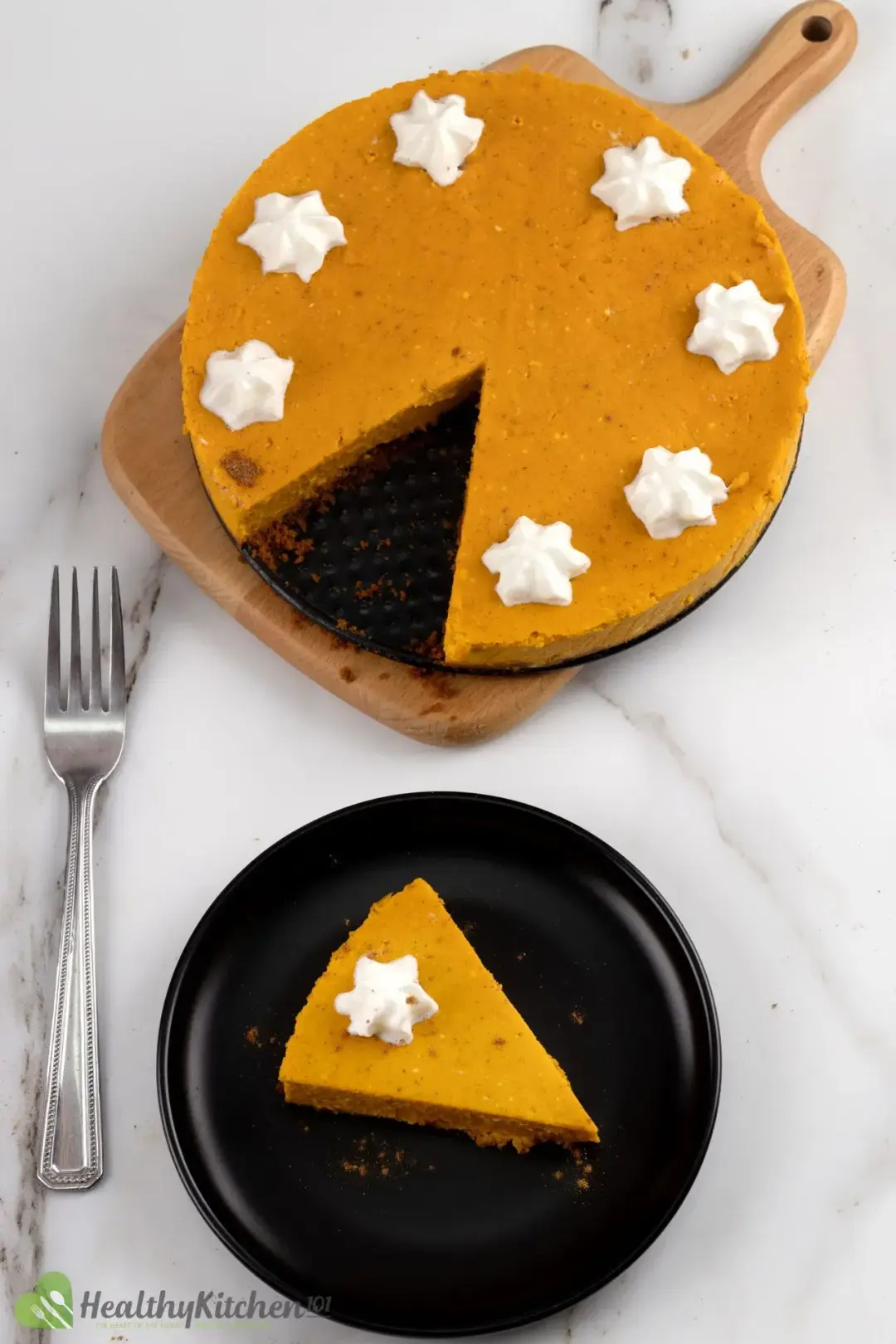 Is This Pumpkin Cheesecake Recipe Vegan?
Unfortunately, this recipe is not vegan.
However, you can customize our recipe and make it vegan. Here's how you do it:
Look for vegan crackers: regular graham crackers are often not vegan.
Use coconut oil: this can replace butter when making the crust.
Non-dairy cream cheese alternatives: you can look for vegan cream cheese. Or, you can try blending nut butter or tofu with lemon juice to mimic the cream cheese taste and texture.
Use vegan yogurt: look for oat yogurt, soy yogurt, almond yogurt, or other plant-based yogurts at the supermarket.
Leave out the eggs: without the eggs, you'll be making a no-bake cheesecake. Use agar agar to help your cake set and hold its shape.
Make sure your toppings are vegan: if you use canned whipped cream, be sure it's non-dairy. You could try sweetened aquafaba too.
If you're looking for other healthy dessert recipes like this one, we have a fantastic pumpkin pie recipe. It too is healthy, delicious and comforting.
For now, let's make pumpkin cheesecake!
Pumpkin Cheesecake Recipe
If you're looking for something to wow everyone at Thanksgiving dinner, this pumpkin cheesecake recipe is the one for you. And unlike most holiday food, this one is actually healthy!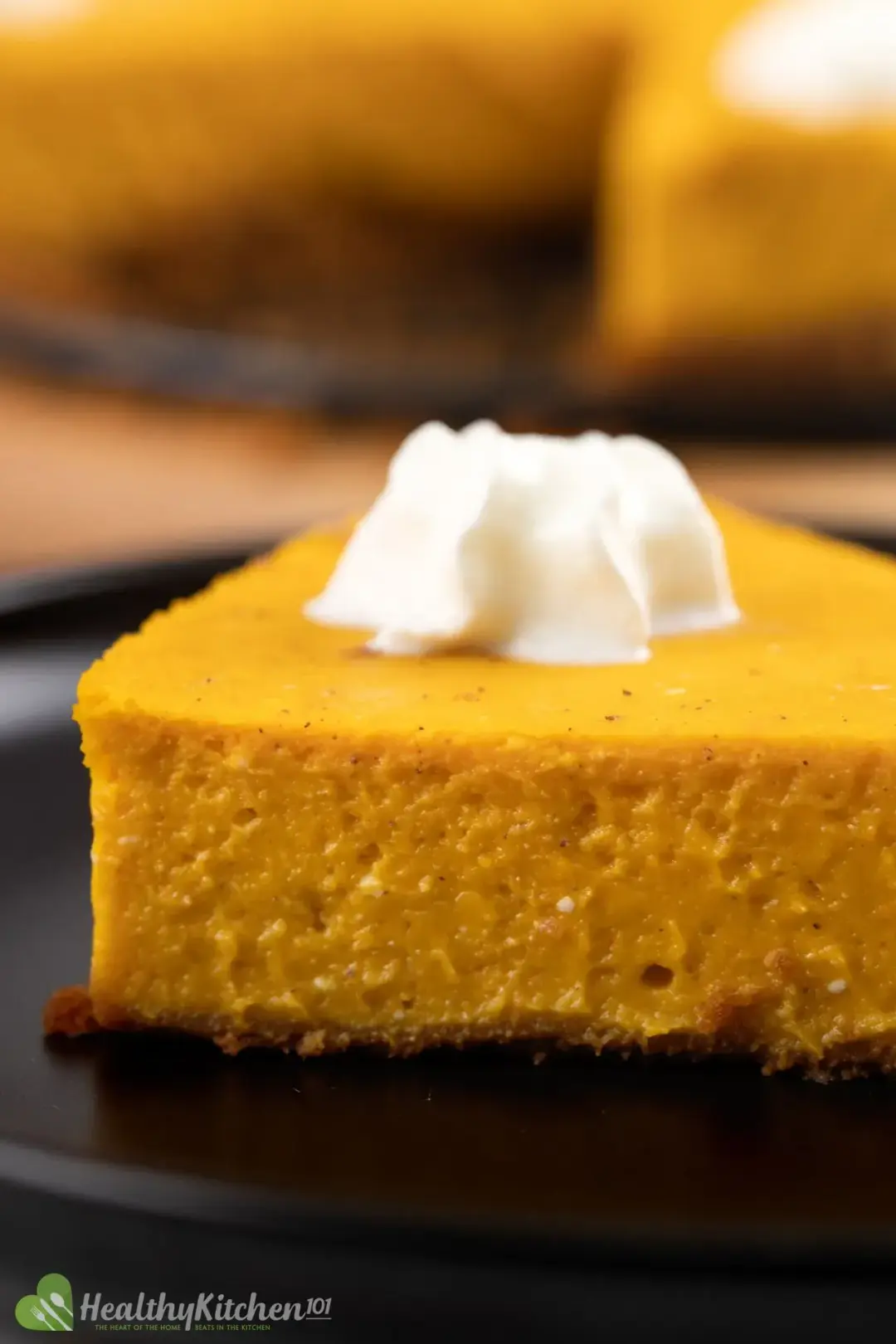 cook TIME

50 mins

prep TIME

10 mins

total TIME

1 hr
COURSE

Dessert

CUISINE

American

SERVINGS

servings

CALORIES

159 kcal
INGREDIENTS
1 tbsp

unsalted butter

1.5 tbsp

vegetable shortening

2.5 oz

graham crackers

2.5 oz

cream cheese softened

2 tbsp

brown sugar

0.1 tsp

salt

13 oz

pumpkin puree unsweetened

3 oz

plain Greek yogurt

2

medium eggs

0.3 tsp

vanilla extract

0.3 tsp

pumpkin pie spice

8 tsp

pressurized whipped cream
INSTRUCTIONS
1
Preheat the oven to 350°F.
2
Line the bottom of a 7-inch springform pan with parchment paper. Grease the sides with cooking spray (optional).
3
In a small bowl, add unsalted butter and vegetable shortening. Microwave for 30 seconds or until melted.
4
In the bowl of a food processor, combine graham crackers and blend into crumbs (you can do this by hand, it just takes a lot more effort!)
5
Gradually add the melted butter mixture while blending, to incorporate. Transfer to the prepared springform pan.
6
Using the bottom of a cup, press the crumbs down evenly to form the base of the cheesecake. Put the pan in the freezer for 5 minutes.
7
Meanwhile, combine softened cream cheese, sugar, and salt in a large mixing bowl. Using a whisk or a hand mixer, beat the ingredients for 2 minutes or until light and fluffy.
8
Add pumpkin puree and yogurt to the bowl; continue to mix for another minute.
9
Add in the eggs, one at a time, and mix until fully incorporated.
10
Add vanilla extract and pumpkin pie spice and beat for a few seconds. Transfer the mixture to the chilled springform pan.
11
Place the cake pan on a deep baking tray. Put the tray on the oven shelf and fill it halfway with hot water.
12
Bake for 50 minutes or until the center of the cake is just set.
13
Take the cheesecake out of the oven and let it cool for 1 hour. Refrigerate the cake (still in the springform pan) for at least 4 hours before serving, or overnight for best results.
14
Remove the cake from the pan. Decorate with whipped cream by squeezing 8 teaspoon-sized dollops of cream directly on the cake.
NUTRITION
Nutrition Facts
Pumpkin Cheesecake Recipe
Amount Per Serving (1 serving)
Calories 159
Calories from FDA
% Daily Value*
* Percent Daily Values are based on a 2000 calorie diet.
Note:
If you ever have a hard time cutting a beautiful, clean piece of cheesecake, here's a few tips to make it easier for you:
Dip the knife into warm water first. Wipe it dry with a kitchen towel before cutting. The warmed knife will help cut smoothly into the cake.
Wipe the crumbs off the knife after every cut with a kitchen towel. This will help you get a clean slice of cake every time.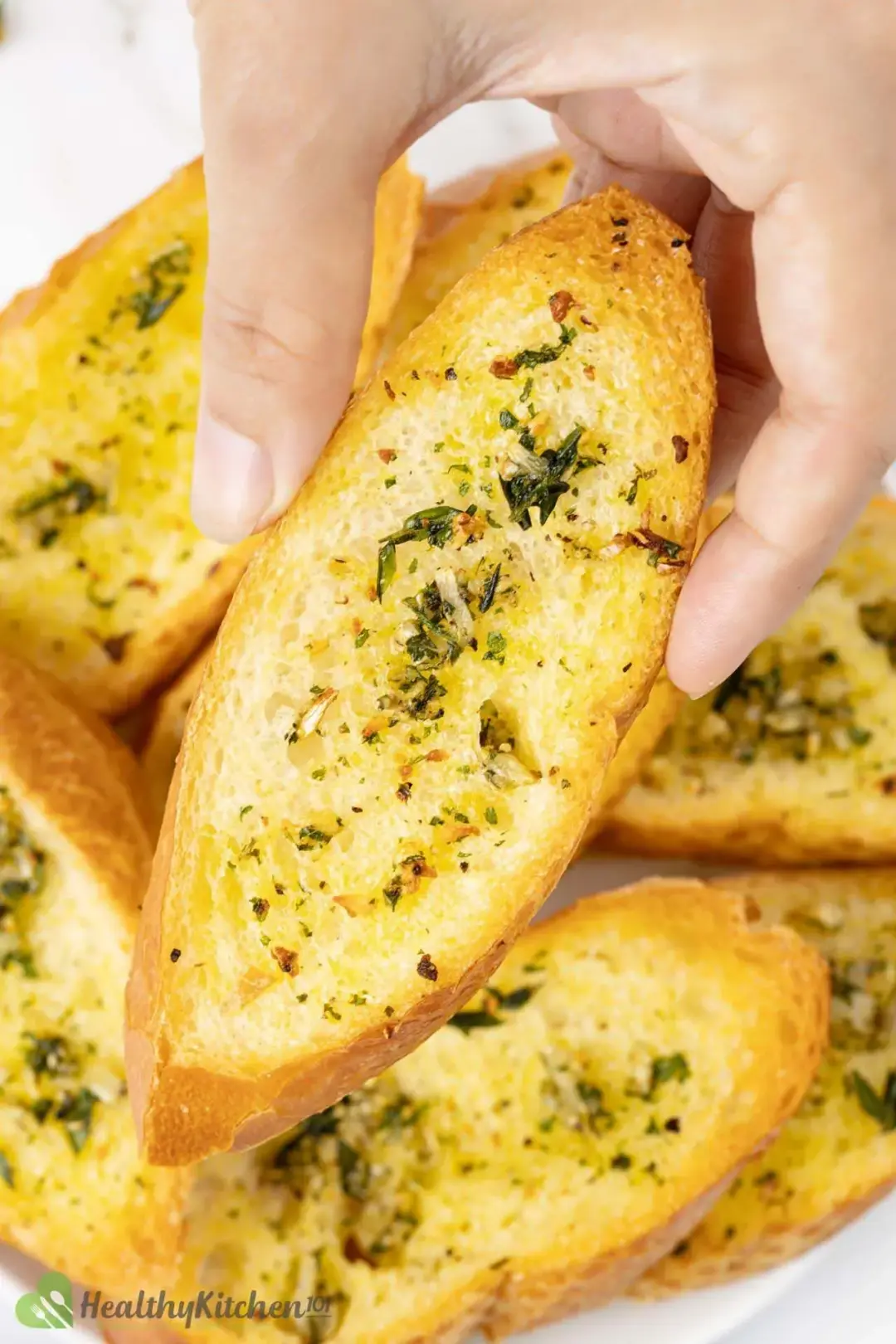 Previous Recipe
Garlic Bread
Garlic Bread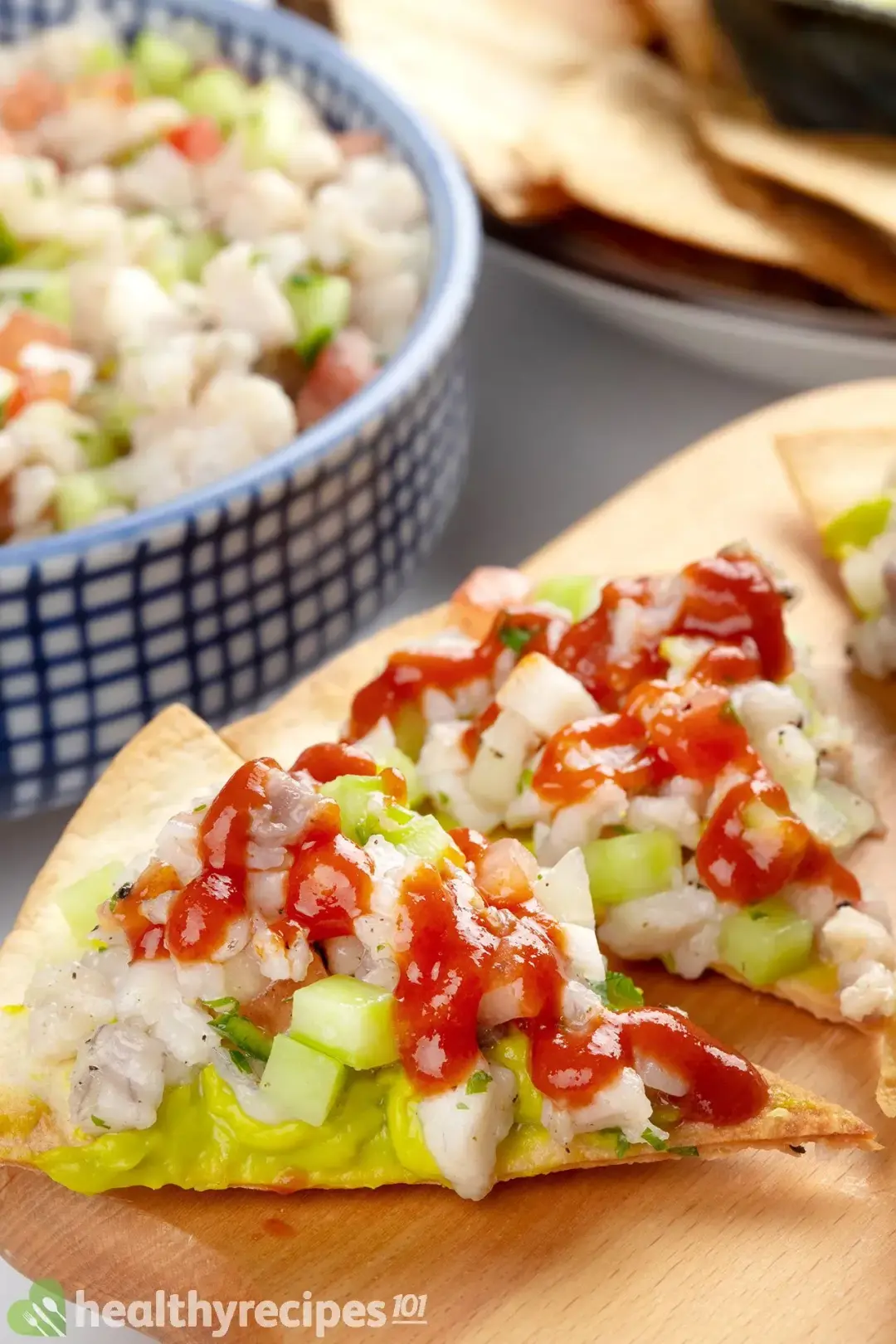 Next Recipe
Healthy Ceviche
Healthy Ceviche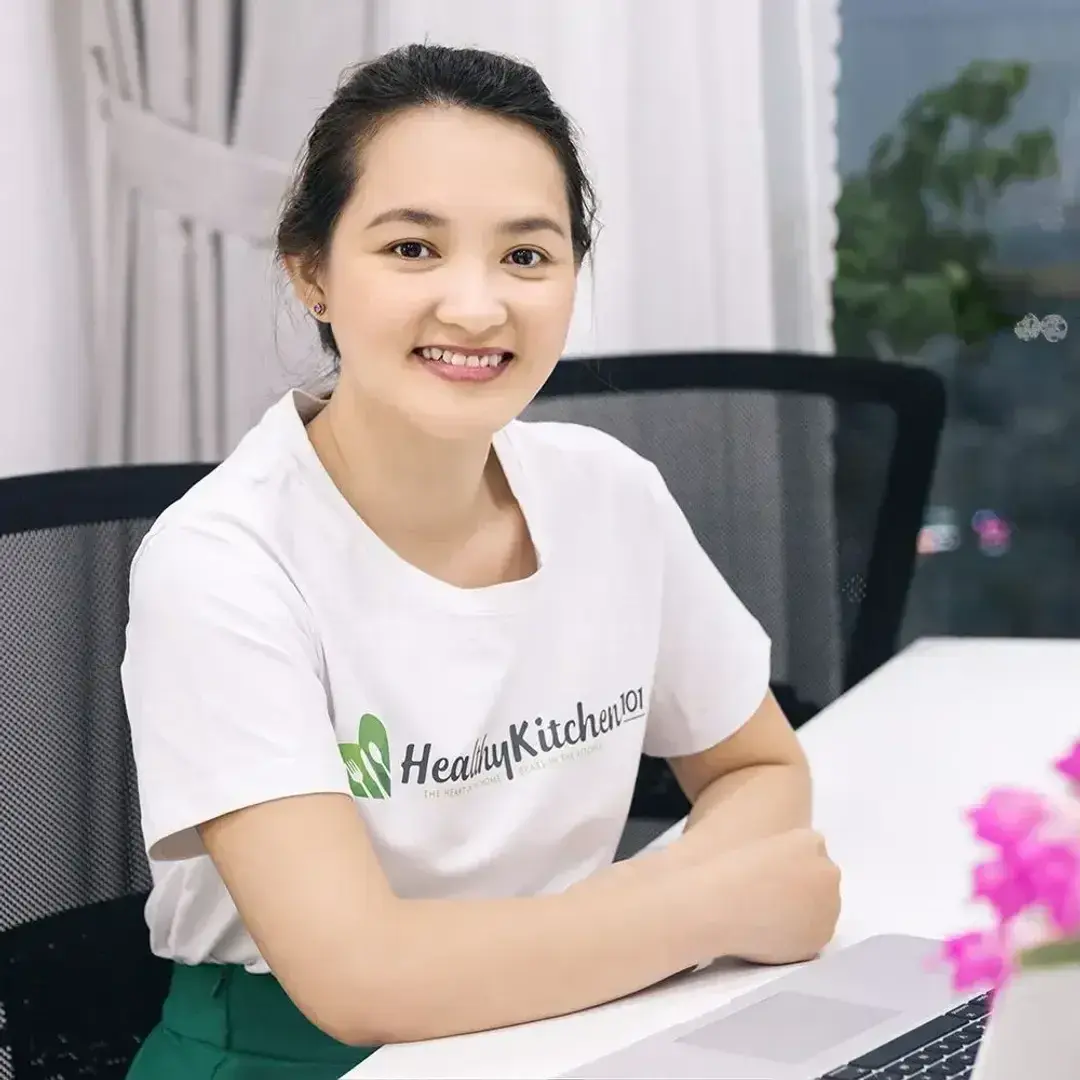 Luna Regina
Luna is the founder and chief recipe developer of Healthy Recipes 101. Apart from cooking, she also loves reading, programming, exploring the outdoors, and collecting useless facts about everything.