This bread pudding recipe is a great choice for those looking for a hassle-free weekend breakfast.
This recipe takes the bare minimum of effort to prepare. You only have to mix all the wet ingredients together, add these to the bread, and bake.
But first, here are some interesting facts about this satisfying, sweet treat.
What Is Bread Pudding?
In many countries, bread pudding is served as a sweet dessert and has historically been a good way to use up old bread.
The recipe often contains a mixture of egg, milk, heavy cream, butter, and sugar. Soak stale bread in this mixture, let it absorb the liquid so that it becomes soft and flavorful.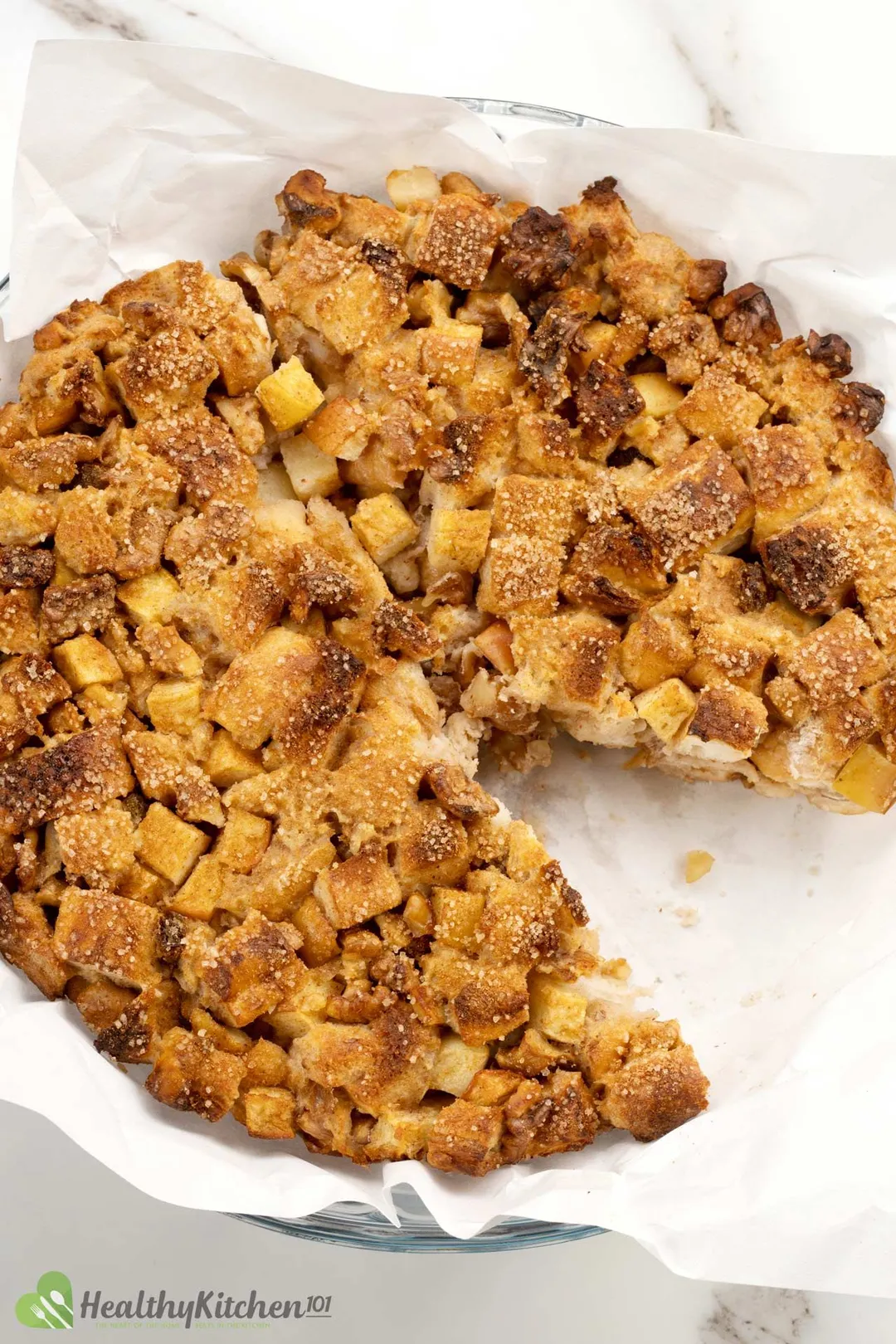 Adding raisins, chopped nuts, and spices, such as cinnamon and nutmeg can give your bread pudding a difference in textures and complex flavor profile.
You can also make savory bread pudding using only egg, milk, heavy cream, butter, and salt. Toppings such as ham, cheese, or caramelized onions are great additions to the pudding, making it delicious, satisfying, and wholesome.
Although bread pudding is most often served as a sweet dessert, we decide to turn it into a breakfast or brunch option here. This adaptation is perfect for the weekend, as it requires hardly any effort to make and can satisfy your sweet tooth as well.
Is This Bread Pudding Recipe Healthy?
As mentioned, bread pudding contains mainly bread, dairy products, and sweetener. This means that it is full of calories, carbohydrates, saturated fats, and added sugars.
That being said, there are ways to make it a bit healthier than it sounds:
Limit the amount of added sugar: We cut down on sugar as much as we can. Our pudding has enough sugar to be sweet and delicious without exceeding your recommended added sugar intake.
Pay attention to sodium: Although this recipe doesn't have any salt, there is still sodium in the bread. It would be best to keep the sodium level to a minimum and leave out the salt.
Add fresh fruits: We only use apples in this recipe, but you can use other types of fresh fruits. Try adding strawberries, blueberries, raspberries, or peach to add flavor, fiber, and micronutrients to your bread pudding recipe.
Add nuts: Nuts are a great source of fiber and protein. Both can slow down the otherwise sudden rise of blood sugar levels when having sweets for breakfast.
Calories in Bread Pudding
There are 456 calories in one serving of our bread pudding recipe. This is just enough calories for breakfast and leaves room to sneak in a glass of juice as well.
According to our healthy eating guidelines, a female adult can eat up to 600 calories for breakfast. A male adult, on the other hand, can eat up to 700 calories.
With a slice of bread pudding and a glass of refreshing juice, you'll have energy to function properly the whole day.
For more low-calorie and healthy sweet treats that are still undeniably delicious, check out our Sweet Potato Souffle Recipe, Sweet Potato Pie Recipe, Carrot Cake Cookies Recipe, and Whole Wheat Blueberry Banana Bread Recipe.
Best Types of Bread for Bread Pudding
There is no "best type of bread" for a bread pudding because everyone has their own preference. However, we can suggest a few types of bread that are widely available and perfect for today's recipe:
French baguette: with its natural crispy crust and chewy, lightly dense texture, a leftover baguette is perfect for bread pudding.
Whole wheat/sourdough/rye/multigrain bread: these types of bread are dense and packed with fiber and micronutrients. Using them in your bread pudding can be a great way to sneak more fiber into your diet.
You can use any type of bread you want. However, we wouldn't recommend using regular white bread in a bread pudding recipe.
When soaked and baked, white bread will create a soft, spongy bread pudding and won't have the lovely thick, crunchy crust that makes this recipe a winner.
Bread Pudding Ingredients
Here's a list of all the ingredients for today's bread pudding recipe.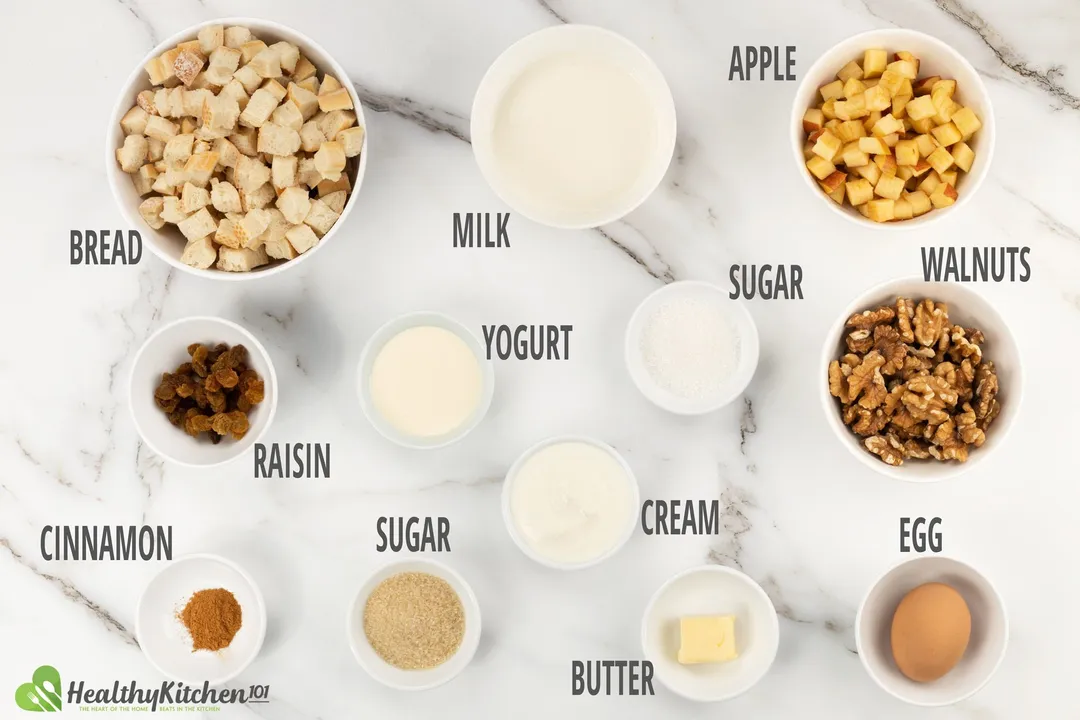 For the pudding mixture, you will need:
Whole egg
Plain Greek yogurt
Whole milk
Cinnamon powder
White sugar
Baguette (or other types of) bread
Fresh apples
Raisins
Walnuts
For the caramel sauce, you will need:
Unsalted butter
Heavy cream
Brown sugar
If you want to customize the recipe to your preference, below are some additional ingredients you can use:
1. Apple and Other Fruits
We suggest fresh gala apples, but you can use whatever fresh fruits you have on hand. This includes fresh berries, peach, or banana; whatever is in season give them a try!
2. Raisins and Other Dried Fruits
Other than raisins, there are many other types of dried fruits that go well with bread pudding. Dates, prunes, currants, or apricots can be great alternatives to try.
3. Milk and Dairy Products
For those who are lactose intolerant, you can use dairy-free milk, yogurt, and heavy cream. We recommend using nut milk, cashew cream, and a squeeze of lemon to mimic that tangy yogurt taste.
It will not taste the same, but it's much lighter, extra nutty, and may relieve your stomach problems.
4. How Long to Bake Bread Pudding
Our bread pudding takes 30 minutes to bake in a 350°F oven. However, cooking time may vary slightly depending on different ovens.
You may need to use an oven thermometer to read the temperature correctly. If you don't have one, a good rule of thumb for baking bread pudding is to cook it slowly.
Set your oven to 350°F and bake until the pudding is golden brown and has a crunchy crust on top. The baking process usually takes 30 minutes to 45 minutes; make sure to bake until it is firm but not dry.
Sauces for Bread Pudding
Did you know that there's more than one sauce that can pair perfectly with bread pudding? Here are a few honorable mentions:
1. Caramel Sauce
You can never go wrong with a classic homemade caramel sauce. It's rich, sweet, and decadent— simply perfect with a slice of warm bread pudding.
If you've never made caramel sauce at home, no worries. We will guide you through the simple process.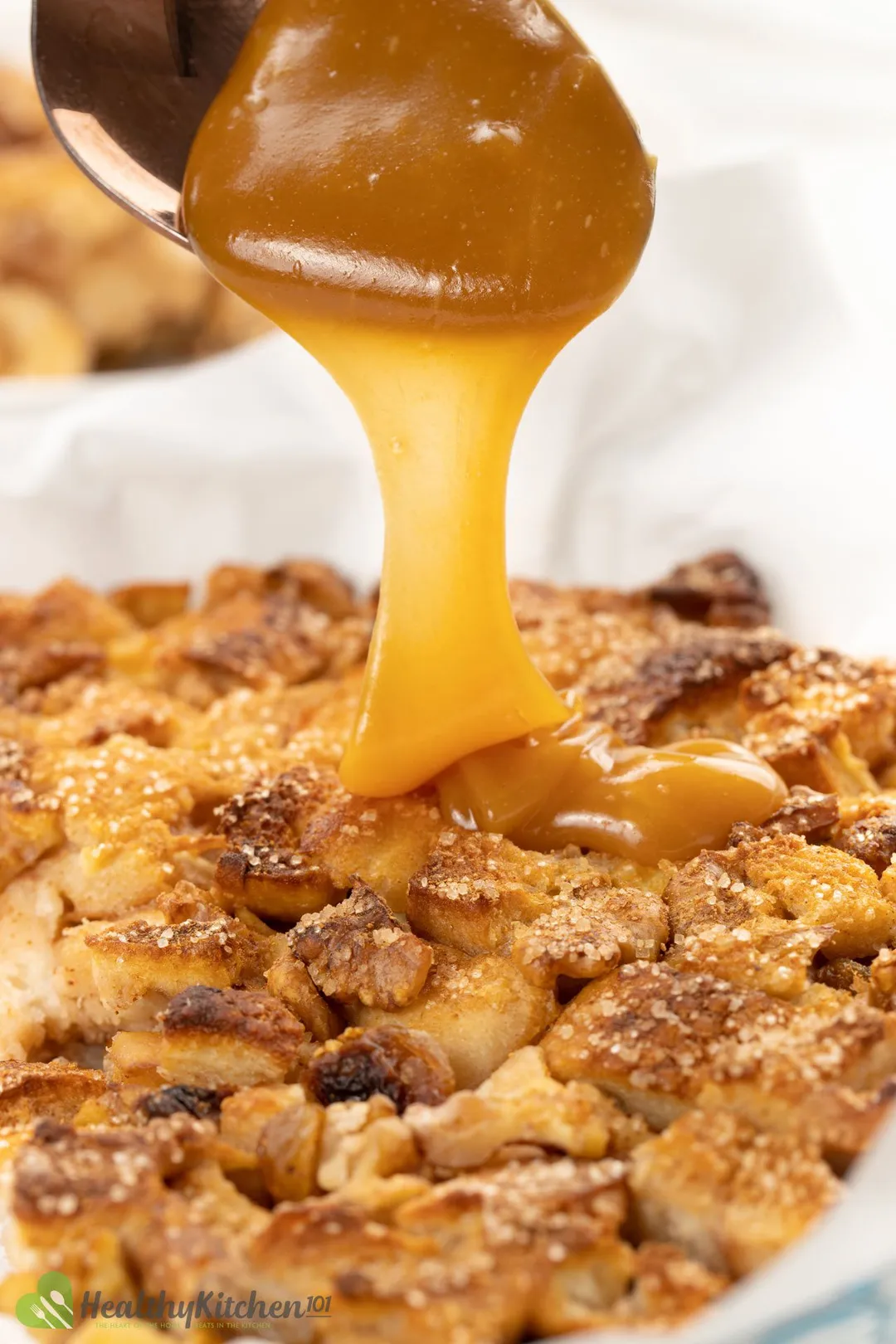 2. Whiskey/Rum/Bourbon Sauce
Adding alcohol to the classic caramel sauce can change the bread pudding flavor and make it richer and a bit more decadent. You can choose either whiskey, dark rum, or bourbon, and it'll enhance your caramel sauce nicely.
Keep in mind that 0.5 to 1 fl oz of alcohol is enough for a 4-serving caramel sauce recipe.
Cook your caramel sauce as instructed. Once finished, add the alcohol and stir vigorously to incorporate; you may need to use a whisk to emulsify the ingredients smoothly.
3. Vanilla Sauce
This sweet, off-white sauce is like a cousin to the classic caramel sauce. They both contain sugar, heavy cream, and unsalted butter.
The only differences between the two sauces are the addition of some high-quality vanilla and a bit of sugar.
For the caramel sauce, you may want to use brown sugar to get that dark, rich tawny color. However, we want to give the vanilla sauce a milky color, so granulated white sugar is the best option.
Cook your sugar in butter until just dissolved. Don't cook it any further. Otherwise, you'll caramelize the sugar and change the color of the sauce.
If you're using vanilla seeds, add them into the sauce along with some heavy cream and stir it all together. For those who wish to use vanilla extract or essence, add it into the sauce after you've mixed in the heavy cream.
4. Lemon Sauce
Unlike the sauces mentioned above, the lemon sauce is not caramel-based. It has a fresh, tangy, sweet flavor and pairs nicely with bread pudding.
The ingredients for a lemon sauce are granulated sugar, cornstarch, water, unsalted butter, grated lemon zest, and its juice.
All these sauces contain lots of added sugar and saturated fat from heavy cream and butter. You should eat them in moderation to avoid over-consumption of added sugar and saturated fat and the calories associated with both.
What Else Goes Well with Bread Pudding?
If you're looking for ideas to kick this bread pudding up a notch, we have a few suggestions.
1. Chocolate
This decadent cacao product goes well with almost any sweet treat, and bread pudding is no exception.
Dark or semi-sweet chocolate chips are the best options. All you need to do is mix them in with the bread pudding and put it into the oven.
The chocolate will melt into pudding, forming delectable knucks and crannies of chocolatey goodness— giving you an incredible gastronomical experience in every bite.
2. Pecans
If you're not a big fan of walnuts, try pecans instead. They're rich like walnuts but are slightly more buttery and not crunchy.
Pecans also don't have that slight bitterness that walnuts sometimes leave behind.
3. Ice Cream
Warm bread pudding and ice cream is an indulgent, satisfying food combination. When the ice cream melts and seeps into the pudding, it creates a whole new flavor profile and makes the perfect dessert.
You can pick your favorite ice cream flavor or go with the classic vanilla ice cream. But no matter what type of ice cream you choose, be sure to calculate and monitor your calorie intake.
Meal Plan with Bread Pudding Recipe
Bread pudding is a dessert, so it is usually served after the main course at dinner. You may not need to pair it with any side dish.
However, we figure bread pudding could make a perfect breakfast for times when you wake up with a sweet tooth.
That being said, the pudding wouldn't make a nutritious meal on its own. And it isn't enough to fill you up completely.
You'll need a drink to wash it down and provide you with more nutrients. Therefore, we suggest serving this bread pudding with a glass of icy pomegranate blueberry juice.
This refreshing, sweet, and sour beverage goes well with almost anything. It's also packed with micronutrients, especially vitamin C.
Vitamin C plays an important role in boosting the immune system. This antioxidant may help prevent various health conditions, including cancer and cardiovascular disease.
Also, a refreshing juice is a great way to start your day on a strong and healthy note.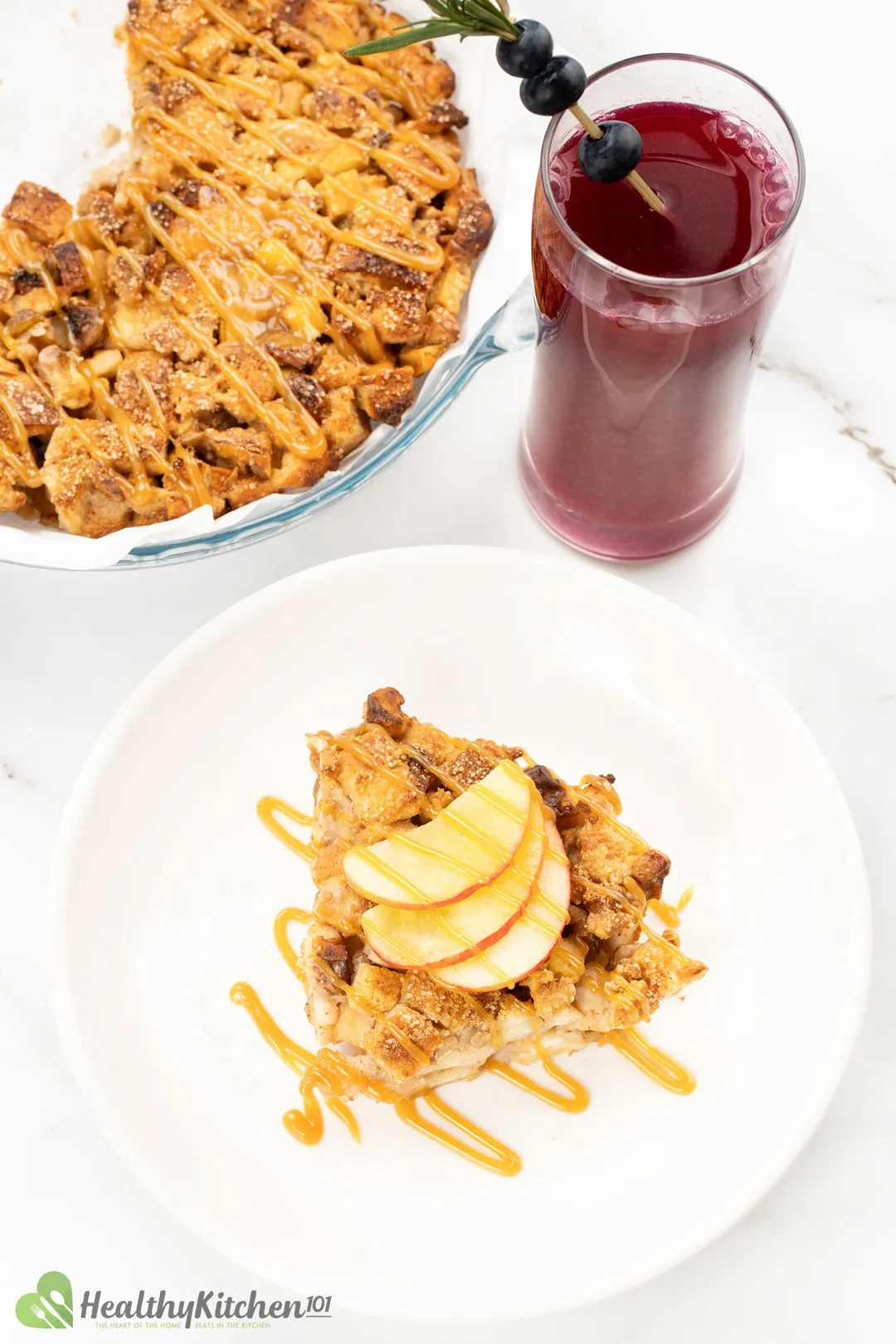 How to Store Bread Pudding
There are two ways to store bread pudding.
You can just put the whole baking dish in the fridge. Cover the surface of the pudding with plastic wrap to prevent it from drying out.
If your fridge doesn't have enough space, divide the pudding into one-serving portions and put them into airtight containers. That way, you can easily stack the containers on top of each other in the fridge to save room.
The second method is convenient for those who want to grab a quick bite on the go. Also, this makes it easier for you to reheat the bread pudding later as well.
Can You Freeze Bread Pudding?
Yes, you can. Bread pudding freezes well and can last up to 1 month in the freezer.
Here's how to freeze bread pudding:
Allow your bread pudding to cool completely before putting it in the freezer. Cut it into serving portions and put it in freezer-safe containers— either an airtight container or a Ziploc bag is fine.
Using an airtight container to store your food will prevent the food from getting freezer burned.
Freezing each portion in separate containers also allows the pudding to freeze faster. It will be easier for you to take out single portions and thaw for eating later.
We also recommend freezing the caramel sauce separately. Put it in a freezer-safe jar, and it'll keep well in the freezer for two months.
Both frozen bread pudding and caramel sauce can defrost completely in the fridge overnight.
Bread Pudding
This bread pudding recipe doesn't require much effort to make. All you have to do is mix the ingredients and put it in the oven to bake.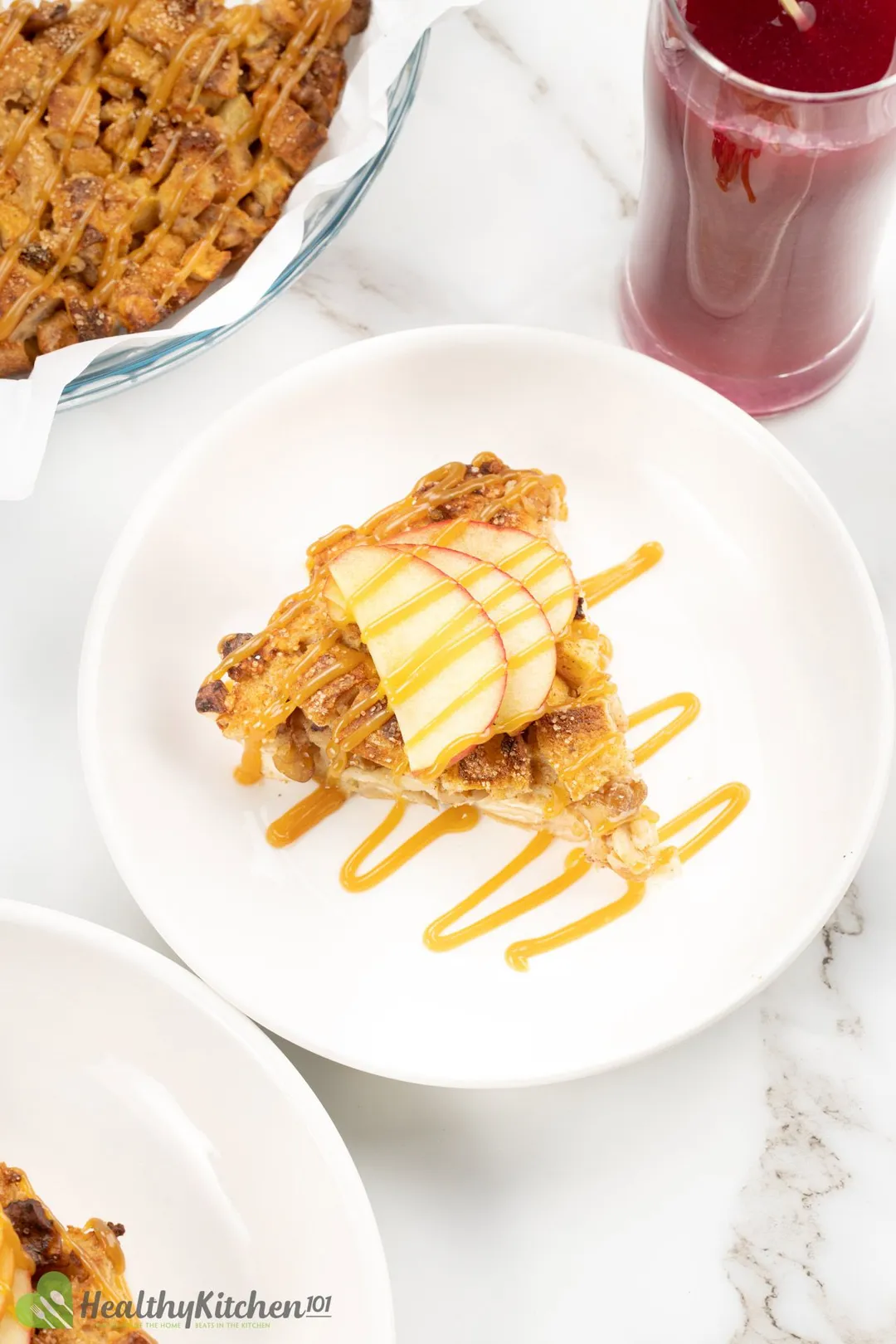 cook TIME

30 mins

prep TIME

10 mins

total TIME

45 mins

INACTIVE TIME

5 mins
COURSE

Breakfast

CUISINE

American

SERVINGS

CALORIES

445 kcal
INGREDIENTS
6 oz

baguette bread

(cut into 1-inch cubes)

3/4 tbsp

unsalted butter

(softened)

3.1 oz

walnuts

(roughly chopped)

3 tbsp

plain Greek yogurt

1/2 tsp

cinnamon powder

(divided)

4 tsp

white sugar

(divided)
INSTRUCTIONS
Cook:
1
Preheat the oven to 350°F.
2
In a large bowl, toss together 6 oz baguette bread, 4 oz apples, 3 oz raisins, and 3.1 oz walnuts. Set aside.
3
In another bowl, add egg, 3 tbsp plain Greek yogurt, 1/2 cup whole milk, 3 tsp white sugar, and 1/4 tsp cinnamon powder. Whisk to combine.
4
Add the milk mixture to the bread and fold with a spatula to soak the liquid evenly.
5
Put the entire mixture into the baking dish. Pat it down gently with a spatula for a roughly even surface.
6
In a small bowl, mix the remaining 1 tsp white sugar and 1/4 tsp cinnamon powder. Sprinkle this cinnamon sugar on the top of the bread pudding.
7
Bake for 30 minutes or until golden brown.
8
Meanwhile, make the caramel sauce: in a small saucepan, melt 3/4 tbsp unsalted butter and 1 1/2 tbsp brown sugar over low heat for 5 minutes. Once the sugar is completely dissolved, add heavy cream, turn off the heat, and stir vigorously with a whisk. Allow the sauce to cool before use.
9
Once the timer rings, remove the bread pudding from the oven and allow it to cool for at least 5 minutes. Drizzle the sauce over the pudding and serve.
Optional: garnish with a few thin slices of apples on top of the bread pudding to make it more aesthetically pleasing.
NUTRITION
Nutrition Facts
Bread Pudding
Amount Per Serving (1 serving)
Calories 445
Calories from Fat 202
% Daily Value*
Polyunsaturated Fat 10.8g
* Percent Daily Values are based on a 2000 calorie diet.
Keywords: Bread Pudding Recipe, how to make Bread Pudding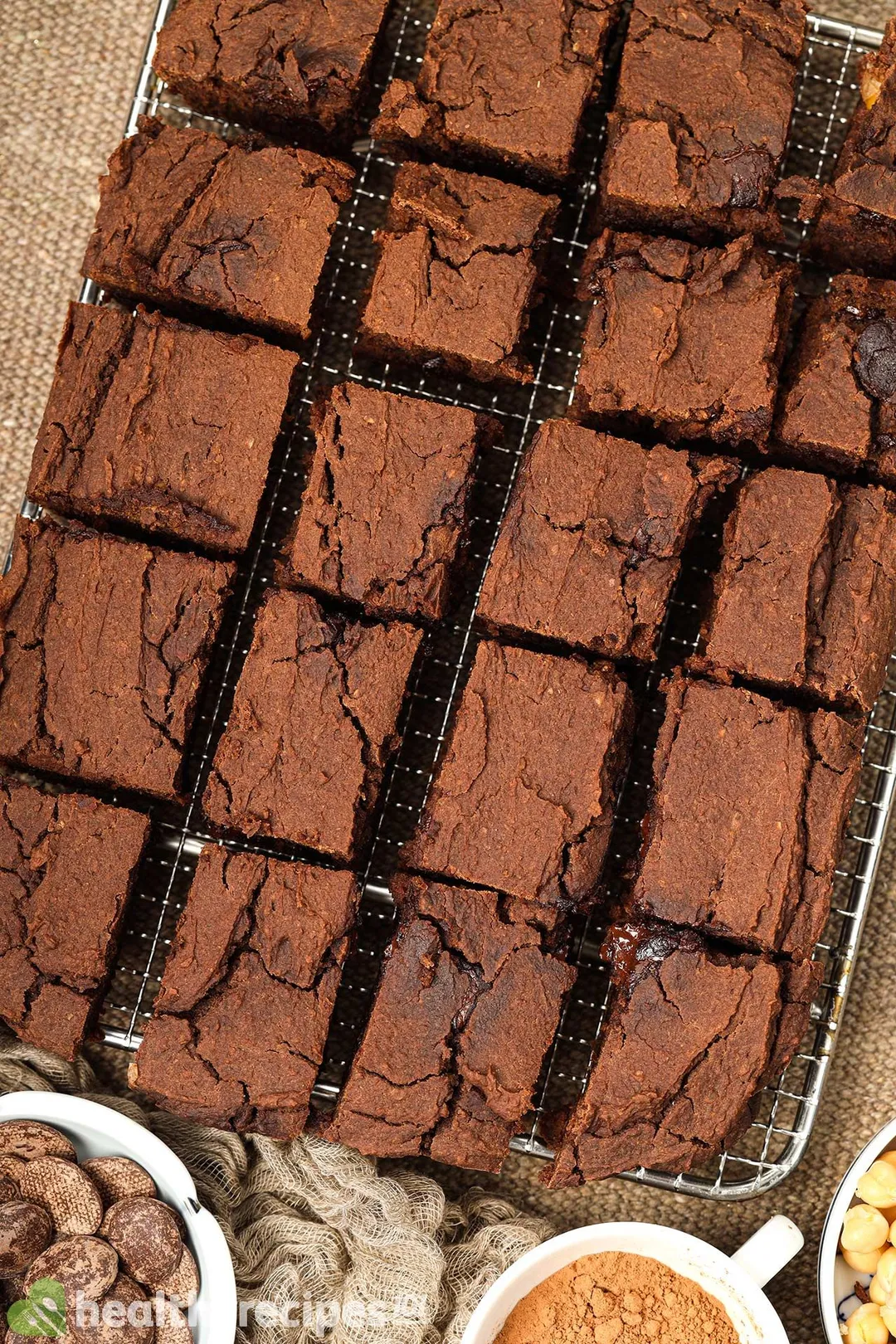 Previous Recipe
Chickpea Brownies
Chickpea Brownies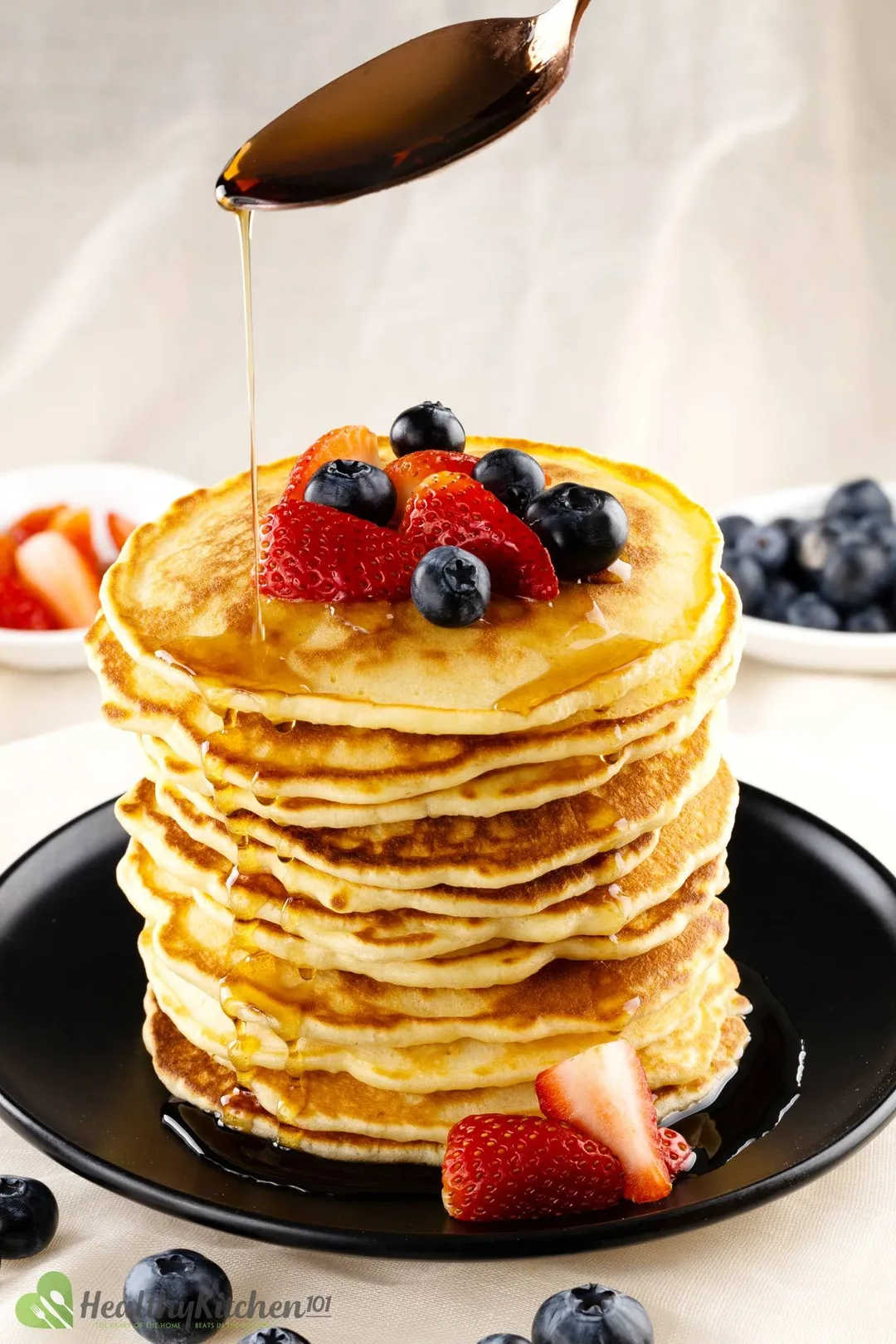 Pancake
Head Chef, Culinary Consultant
Tuyet Pham is an award-winning Saigonese chef who believes that joy is the secret ingredient to delicious food. At Healthy Recipes 101, Tuyet personally tests and simplifies every recipe, ensuring maximum flavor with minimal effort. With a background at prestigious French restaurants P'TI Saigon and Le Corto, Tuyet knows how to make every dish exceptional.
Writer, Author
Luna Regina is an accomplished writer and author who dedicates her career to empowering home cooks and making cooking effortless for everyone. She is the founder of HealthyKitchen101.com and HealthyRecipes101.com, where she works with her team to develop easy, nutritious recipes and help aspiring cooks choose the right kitchen appliances.
Nutrition Reviewer
Lizzie Streit is a Minneapolis-based dietitian and founder of It's a Veg World After All. She completed her MS in Human Nutrition from Drexel University, and is an expert in culinary nutrition, recipe development, and nutrition communications. Lizzie's philosophy is centered around making nutrition recommendations, and especially the advice to eat more vegetables, approachable and realistic. She is excited to be working with the team at Healthy Recipes 101 to ensure that their recipes are both nutritious and delicious.
I just made this bread pudding - it's so creamy and full of warm flavors! It reminds me of fall but is delicious all year round!