This Chinese chicken salad recipe features a plethora of crunchy veggies, tender strips of chicken, and crispy fried noodles.
All that goodness is tossed together in an herby, tangy dressing to create terrific flavors. It can also keep well for days— a marvelous choice for busy bees who wish to maintain their clean eating between schedules.
What Is Chinese Chicken Salad?
Chinese chicken salad is a salad comprised of chopped chicken, a veggie mix, and a hearty vinaigrette. All the ingredients are tossed together before serving.
The veggie mix in Chinese chicken salad usually calls for lettuce, cabbage, and a variety of nuts (almonds, cashews, peanuts, etc.). For the dressing, usually, you'll have vegetable oil, sesame oil, rice vinegar, mustard, and a dash of ginger whisked together.
In America, it can be served either as an entrée salad or a side dish. In most variations, people tend to enjoy Chinese chicken salad with ramen noodles, rice vermicelli, and wonton wrappers.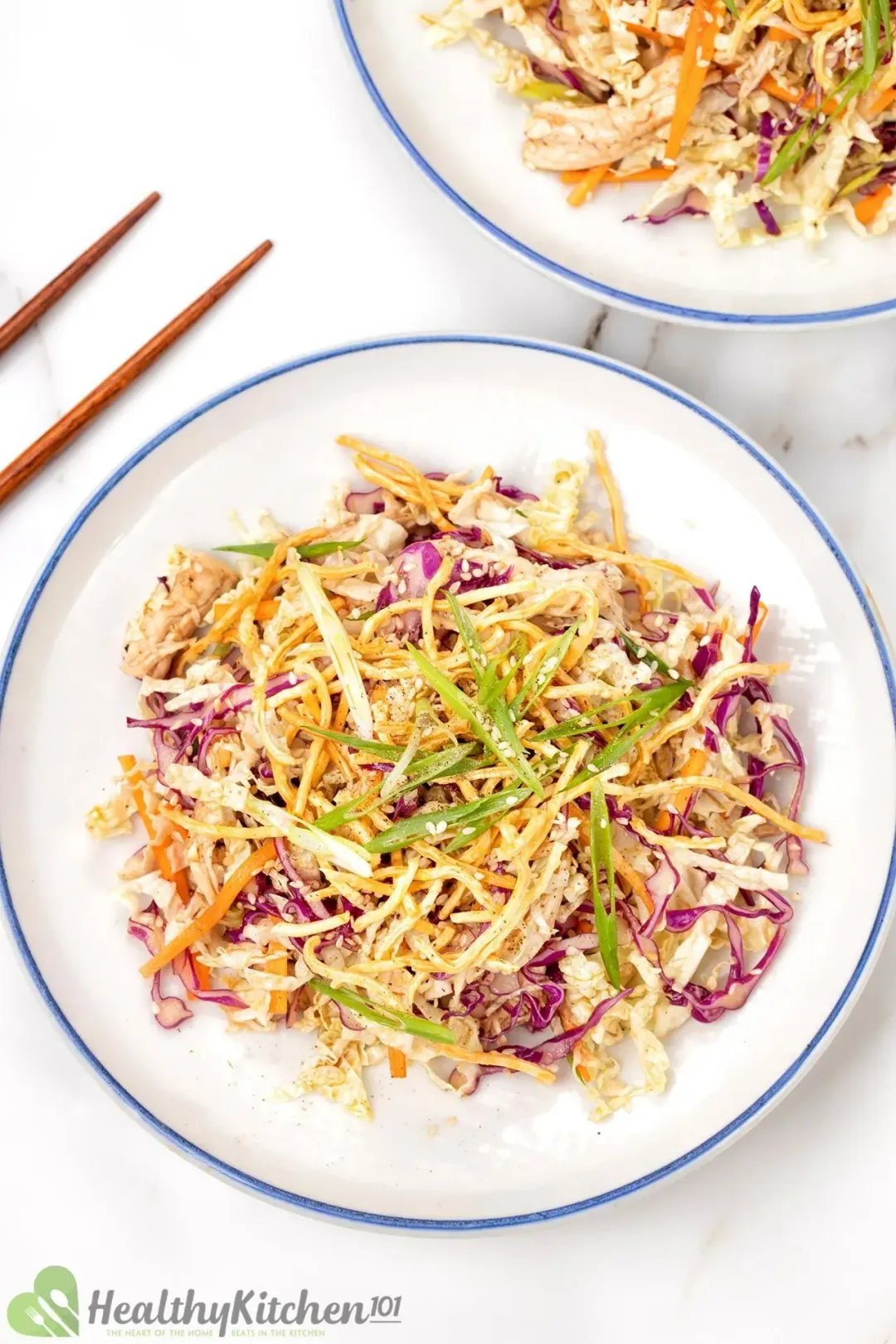 Is Chinese Chicken Salad Healthy?
Featuring a generous amount of leafy greens and stripped chicken breast, we can say with certainty that this salad is healthy.
Chinese chicken salad is also an excellent low-carb choice for Keto dieters. It delivers 250 calories and only 14 grams of carbohydrates per serving.
Our other healthy chicken salads include this Southern Chicken Salad recipe, Waldorf Chicken Salad recipe, and Chicken Pasta Salad recipe.
Main Ingredients
This Chinese chicken salad recipe features a rainbow of crunchy veggies and savory chicken as the main ingredients. It presents a surprisingly wholesome and nutritious protein salad.
1. Chicken
In this Chinese chicken salad, we use shredded chicken breast to keep the salad as low in fat as possible. But worry not— if you don't have time to prep, a leftover rotisserie chicken can also work wonderfully for this salad.
To boost the flavor, you can also marinate the chicken with the dressing before roasting or grilling it. Just a suggestion to take full advantage of the aromatic dressing!
2. Veggie Mix
We opted for Chinese cabbage (here's for its nutritional value) and red cabbage for this salad recipe. Together with carrots and scallions, they create a colorful veggie mix with diverse flavors and textures.
Cabbage is undoubtedly the must-have main ingredient in this salad. It's budget-friendly and delivers a crispy mouthfeel after getting all the flavors from both the chicken and the dressing.
When adding cabbage to salads, regardless of the type of cabbage you're using, it's important to shred it thinly. The finer and thinner the cabbage strips, the easier it will be for you to toss them.
You also have other options available to substitute in place of red cabbage. Namely, these are napa cabbage, iceberg lettuce, bok choy, and romaine lettuce.
Note that the texture is different for each of them. For example, in comparison with red cabbage, napa cabbage is fluffier, while iceberg lettuce is crispier and sturdier.
Romaine lettuce also has a coarse and super crispy texture, but it's significantly stronger in taste compared to the rest. If using vegetables that are bold or slightly bitter in taste, you might have to adjust the amount of vinaigrette.
To have perfectly salad every time, check out our healthy salad roundup.
Chinese Chicken Salad Dressing
In this Chinese chicken salad recipe, we make the dressing by combining soy sauce, canola oil, sugar, ginger, sesame oil, and rice vinegar. They're all common Asian ingredients that you can find easily at grocery stores.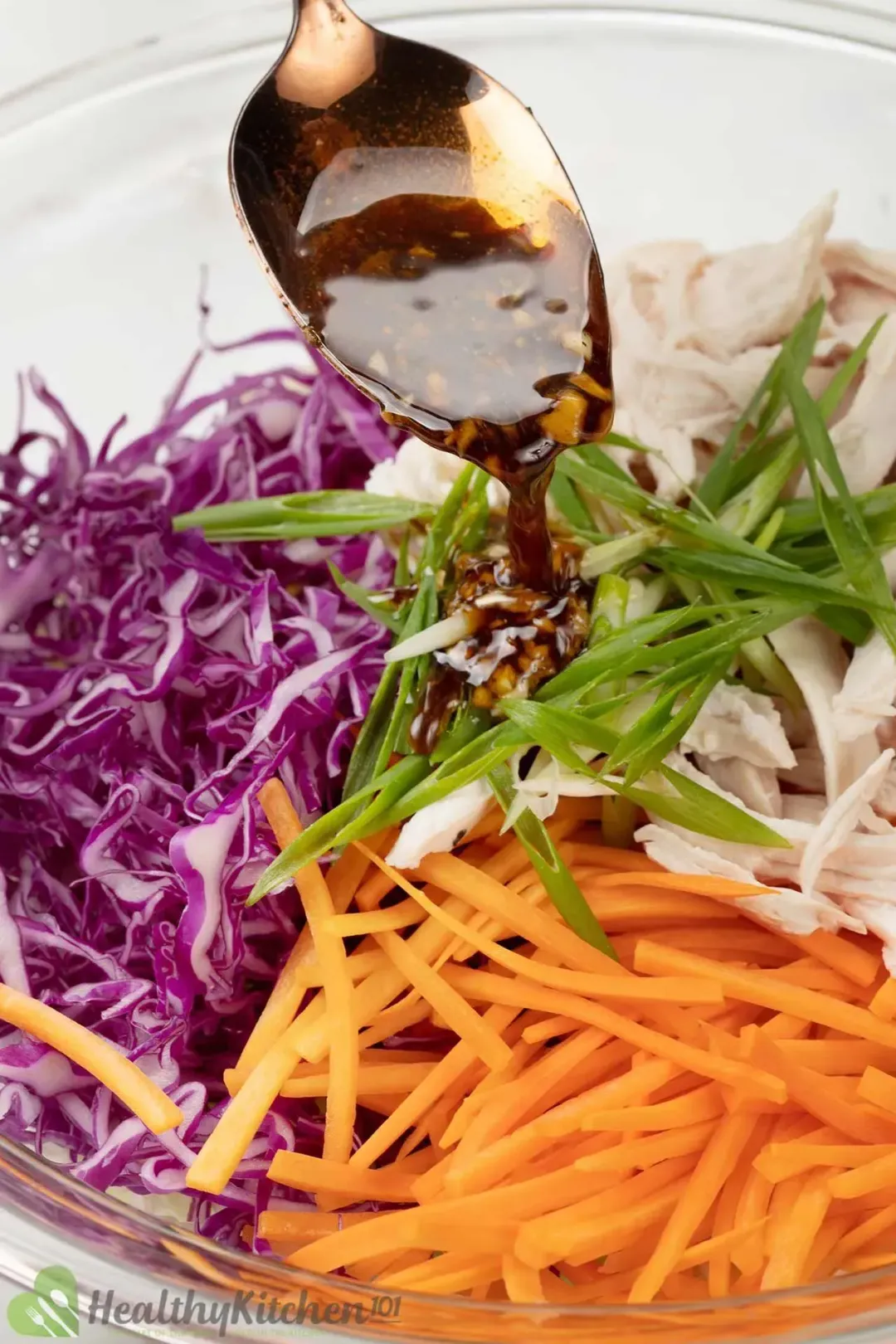 Canola oil is our choice for the dressing base thanks to its neutral taste. In the same style, grapeseed oil can also produce a similar result.
Rice vinegar can be used interchangeably with champagne vinegar or apple cider vinegar. Also, if you prefer it to be sweeter rather than salty, consider going for hoisin sauce instead of regular soy sauce.
This homemade salad dressing is sweet, tangy, and sour all at the same time. It can last up to a week in the fridge, so feel free to make a batch and save it for later use.
What to Serve with Chinese Chicken Salad
With this Chinese chicken salad, you have plenty of room to get creative. Feel free to use your preferred type of noodles!
You can also add more of your favorite nuts and fruits to the salad bowl, such as almonds or oranges. Or, you can stick to just cabbages (see our quick and tasty coleslaw salad.)
1. Egg Noodles
The main reason we chose egg noodles to serve in this Chinese chicken salad is because of their texture and flavor. These rich and thick egg noodles are the best choices when it comes to soaking up sauces.
Normally, egg noodles are easily recognized by their broad, thick, and flat threads and bright yellow color. Chow mein and lo mein are also varieties of egg noodles.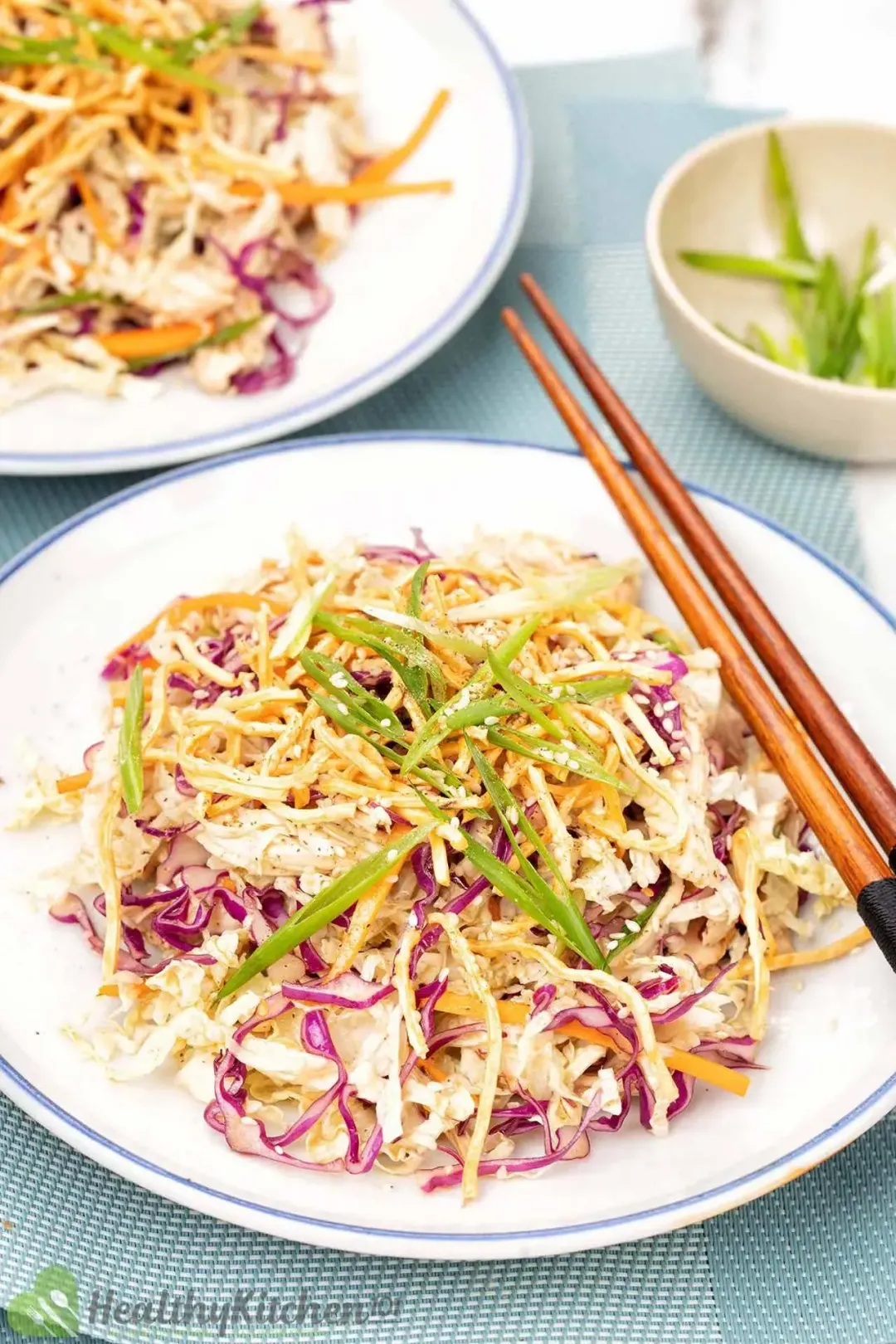 Egg noodles have double the amount of fat that goes into pasta, which takes roughly 20% of the dough. This is why it has a sturdier and firmer texture.
Besides salads, egg noodles are often seen in soups, casseroles, and dishes made with creamy sauces. 
2. Ramen
Ramen noodles, similar to egg noodles, also have a bright yellow color. However, they are differentiated by their round-shaped threads and aren't usually made from eggs.
Ramen noodles can be fried just like egg noodles. In the same vein, wonton wrappers can also be used for the same purpose.
More Chicken Salads to Satiate Your Palate
You can put Doritos, corn and beans to a regular chicken salad and out comes a deconstructed taco that's basically a treat. For the dressing, we blend together a lime vinaigrette with a twist of garlic and cilantro.
This avocado chicken salad is, too, beginner friendly. Everything is in bite-sized chunks: creamy avocado, beans, corn kernels, and chicken tossed in a simple but effective lime dressing.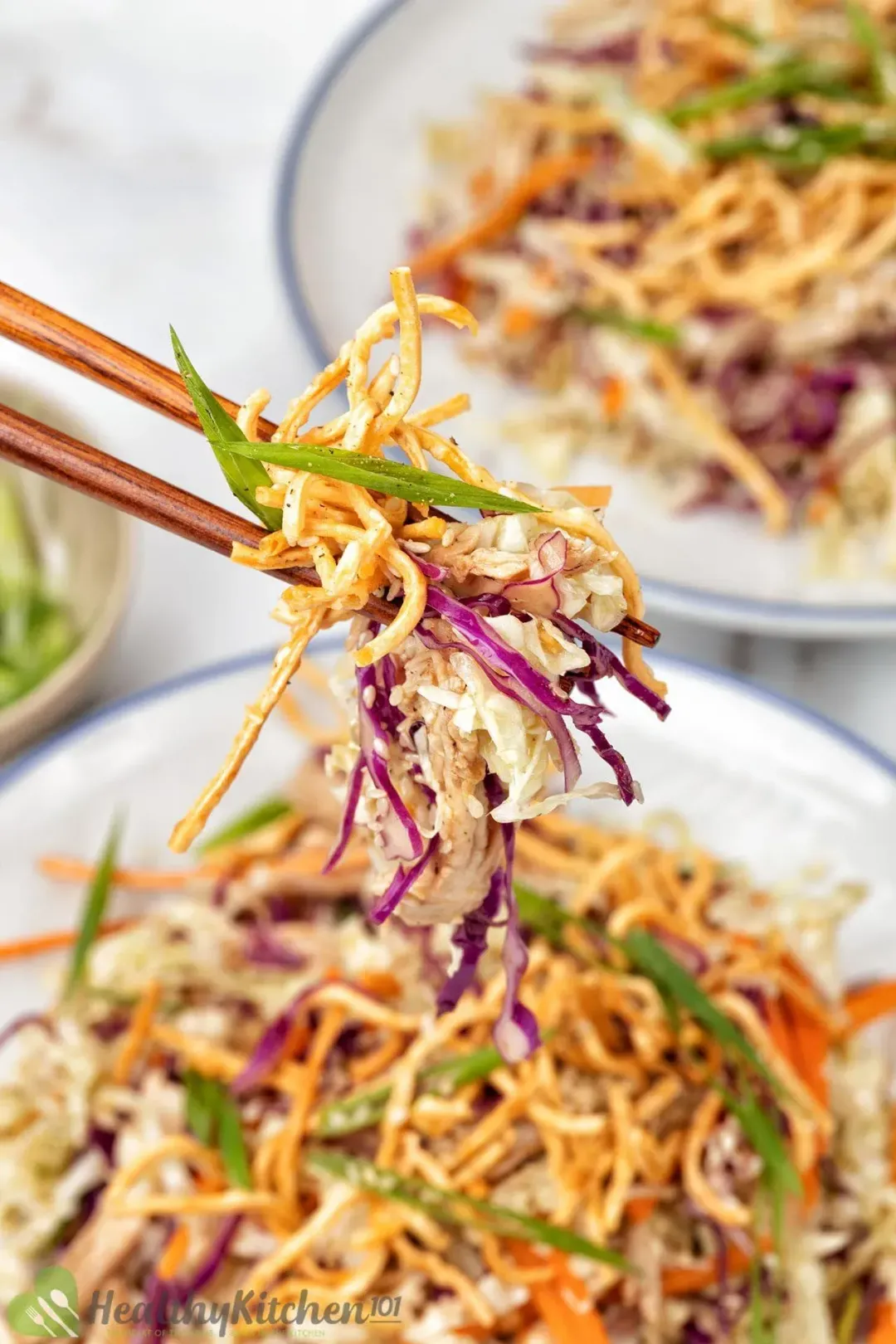 FAQ
1. How Many Calories Are in Chinese Chicken Salad?
You can get 249 calories from one serving of this Chinese chicken salad.
2. How Long Does Chinese Chicken Salad Last?
Chinese chicken salad can stay fresh and edible for up to 3 days in the fridge. Preservation in an airtight container is required.
3. Can You Freeze Chinese Chicken Salad?
Shredded chicken can be frozen separately before tossing together with the veggie mix and the dressing. However, leftover Chinese chicken salad can also be frozen.
Frozen Chinese chicken salad can be reheated easily in the microwave. However, be aware that its original flavor and texture might not be retained.
Chinese Chicken Salad
This Chinese chicken salad recipe introduces a nutritious salad that can easily keep you full in a wholesome way! With the rainbow veggie mix, the sweet, tangy, and sour dressing amps up the earthy flavors.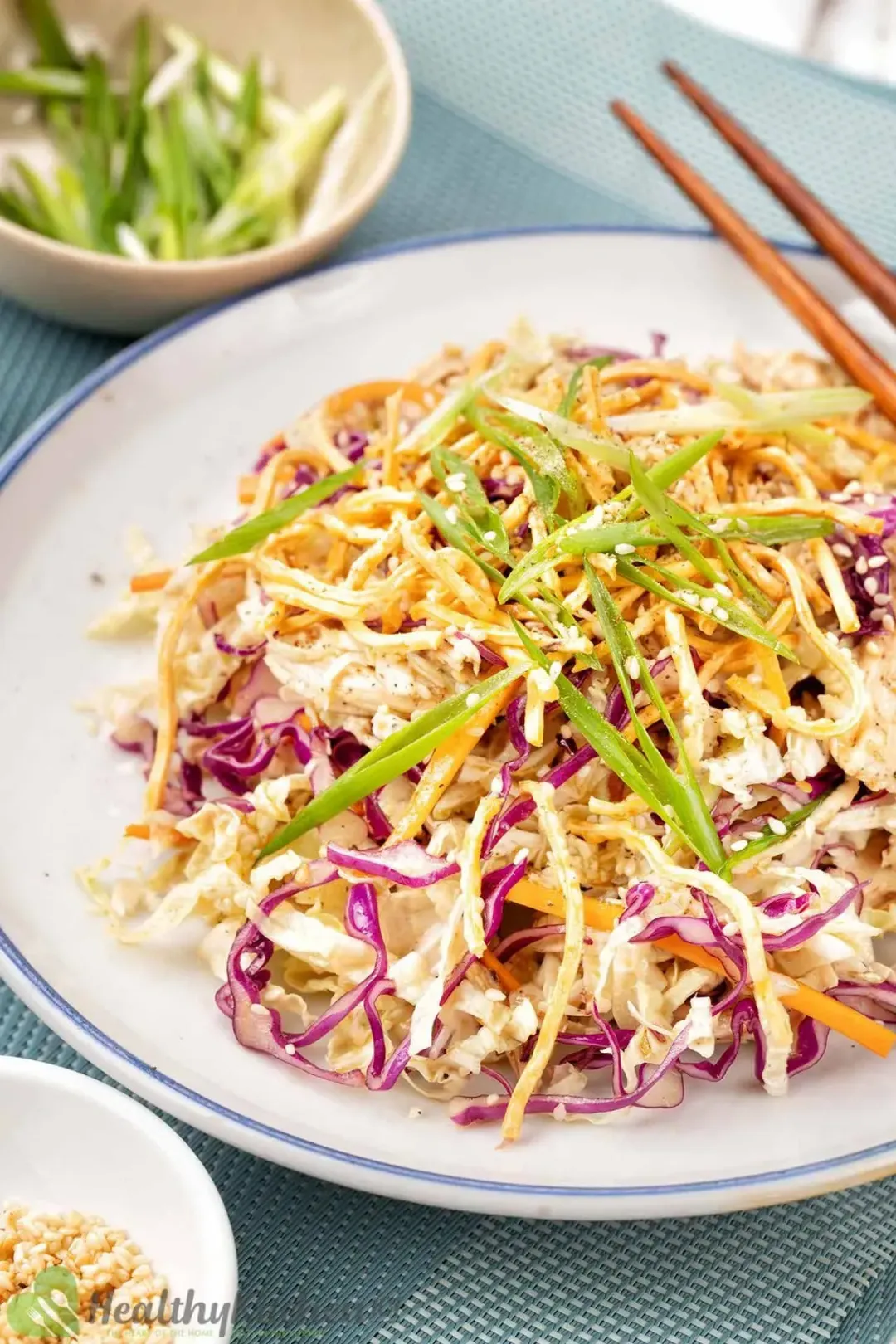 cook TIME

40 mins

prep TIME

10 mins

total TIME

50 mins
COURSE

Side Dish

CUISINE

Asian

SERVINGS

CALORIES

249 kcal
INGREDIENTS
8 oz

skinless boneless chicken breast

(shredded)

1/2 cup

scallions

(chopped, divided)

3/4 tbsp

reduced sodium soy sauce
INSTRUCTIONS
Prep
1
For Chinese cabbage and red cabbage: Slice their heads into quarters and core. You can use either a knife or a mandoline slicer to cut them into thin ribbons.
2
Julienne the carrots. Chop the scallions diagonally.
Cook
1
Boil the 8 oz whole-piece chicken breasts for 15 minutes. Chill.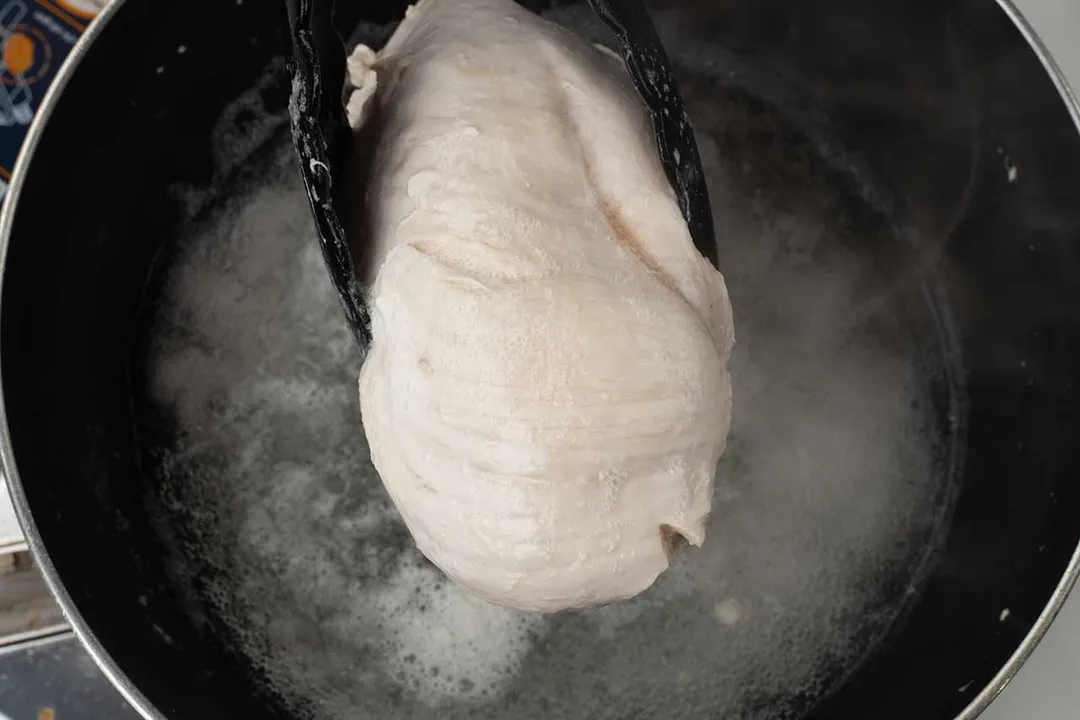 2
Use a fork (or hand) to pull the chicken breasts apart into thin strips.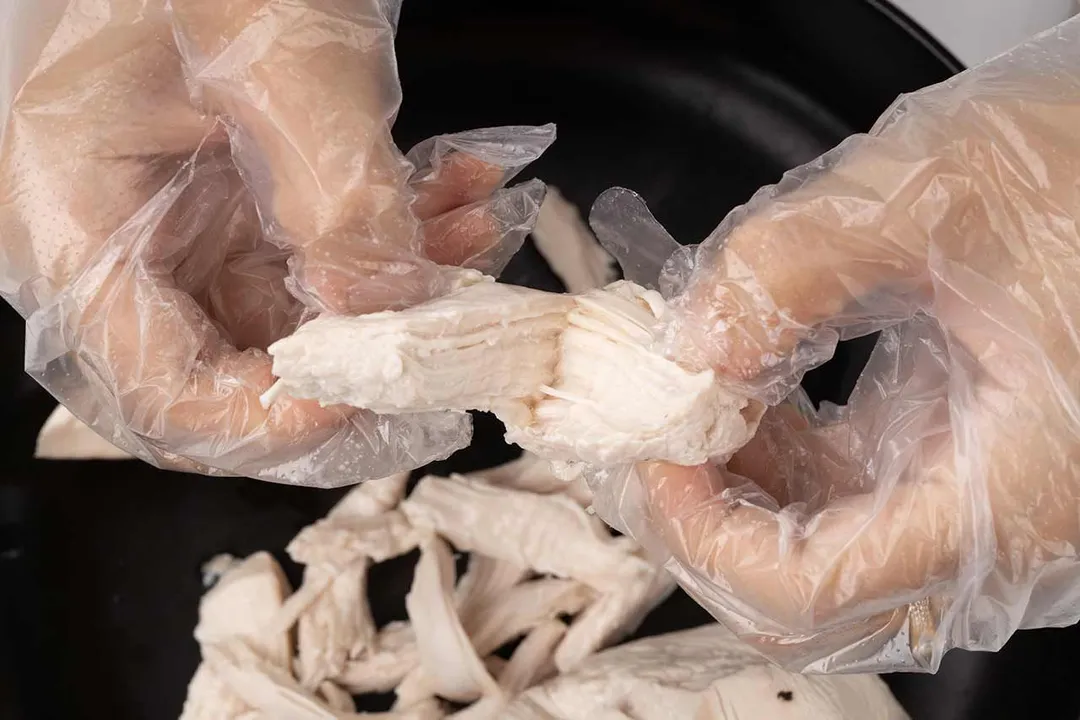 3
Make the sauce: Whisk together 3 tbsp rice vinegar, 1 tbsp sesame oil, 1 tsp sugar, 2 tsp ginger, 1/2 tsp ground black pepper, 1 tsp garlic, 3/4 tbsp soy sauce, and 1/4 tsp salt.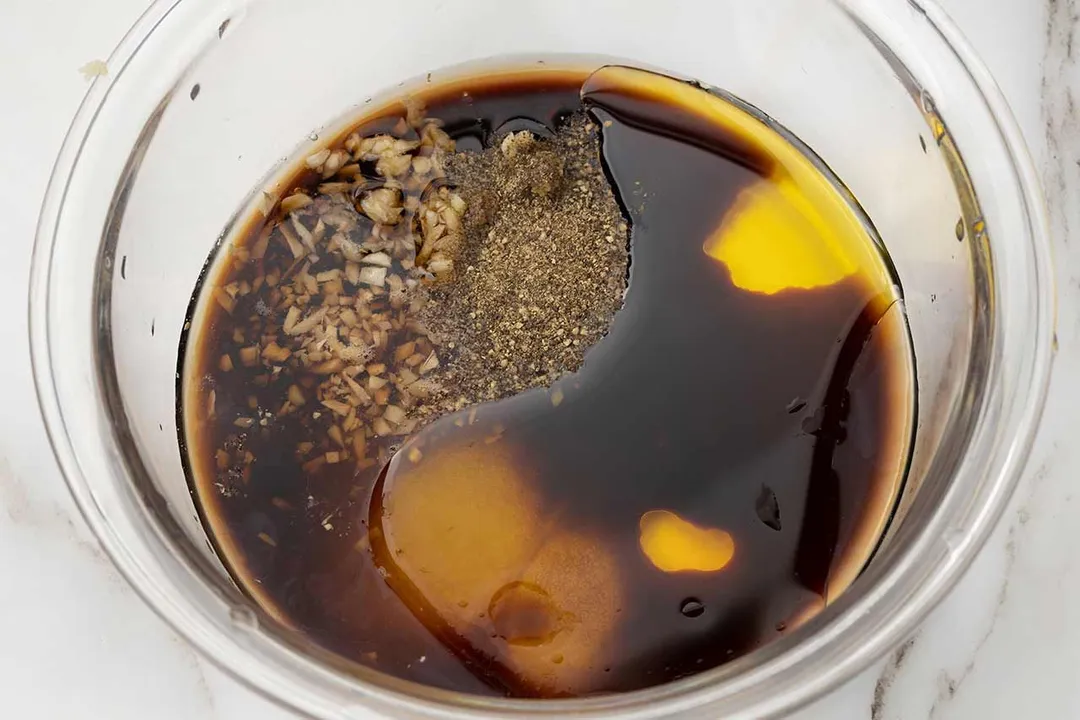 4
Deep-fry 1.5 oz egg noodles until crisp. Drain excess oil.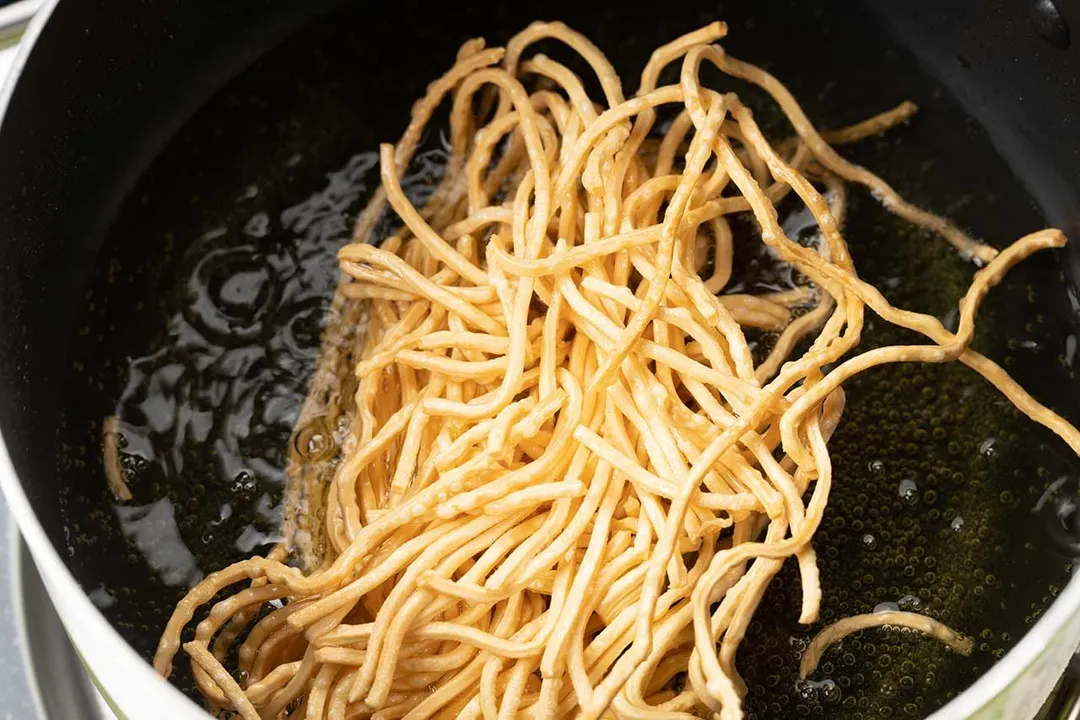 5
Combine 8 oz Chinese cabbage, 2 oz red cabbage, 2 oz carrots, shredded chicken, and half of the scallions (1/4 cup) in a bowl. Toss them together with the sauce.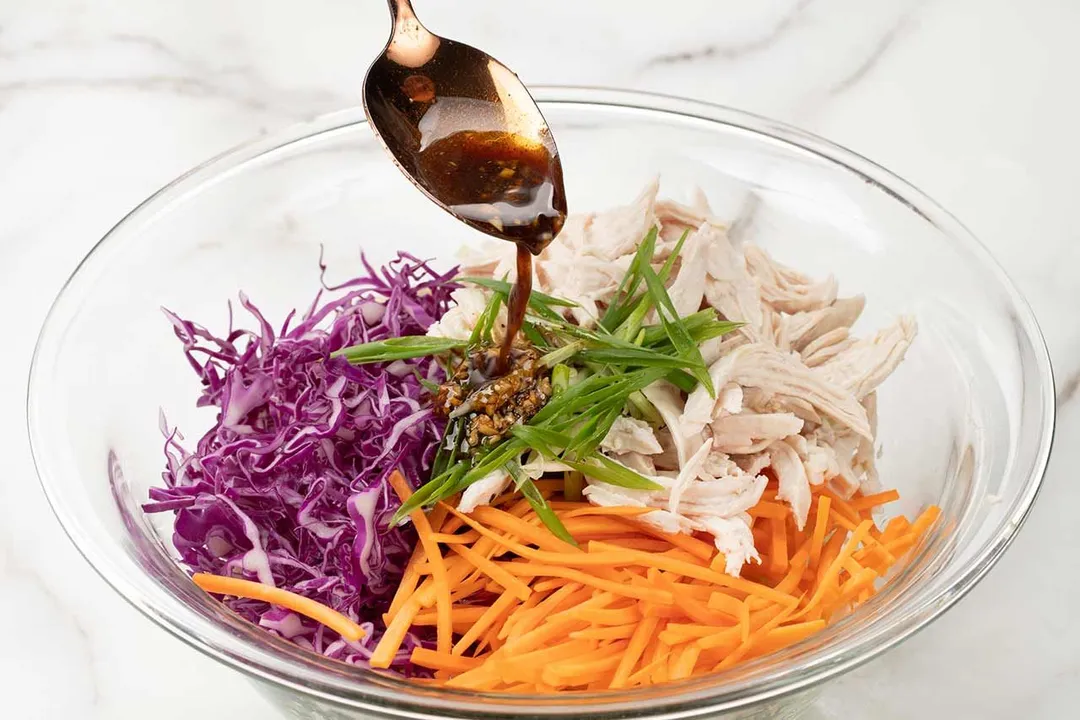 6
Divide the salad into serving plates. Put the crispy fried noodles on top. Sprinkle 1 tbsp sesame seeds and the remaining scallions (1/4 cup).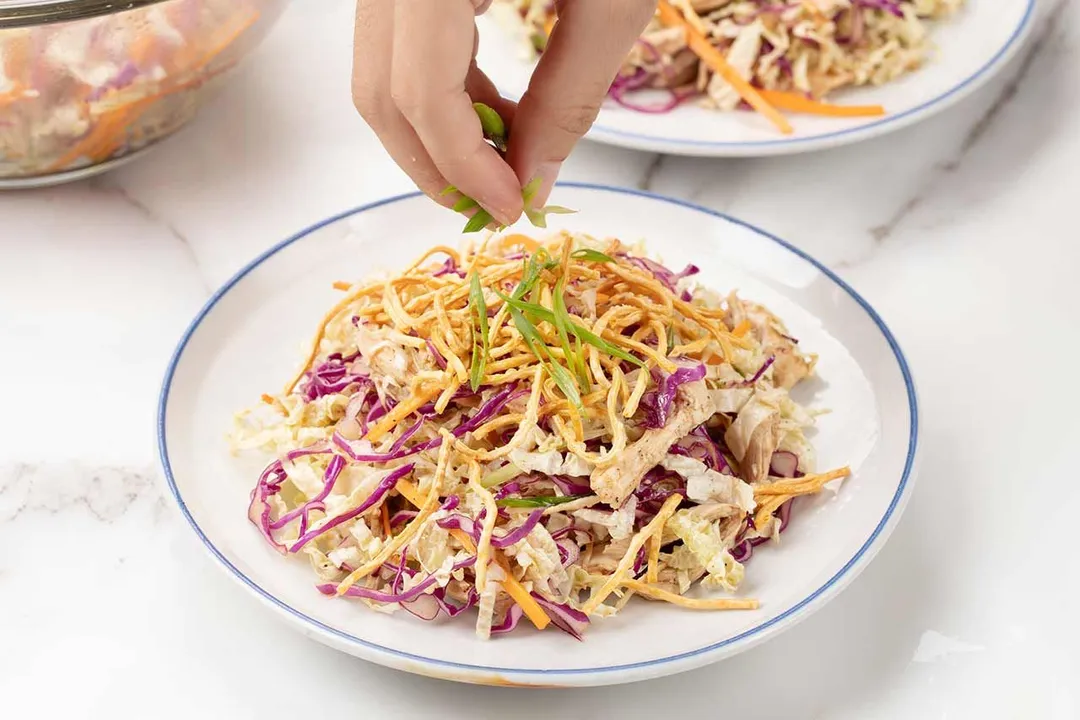 (*) Only part of this ingredient will end up in the final product, and we have calculated nutritional values based on that amount. The whole amount is needed for the coating and cooking process, but what actually ends up being consumed is 1 tsp of canola oil.
NUTRITION
Nutrition Facts
Chinese Chicken Salad
Amount Per Serving (1 serving)
Calories 249
Calories from Fat 126
% Daily Value*
* Percent Daily Values are based on a 2000 calorie diet.
Keywords: chinese chicken salad, chinese chicken salad dressing, chinese chicken salad recipe, how to make chinese chicken salad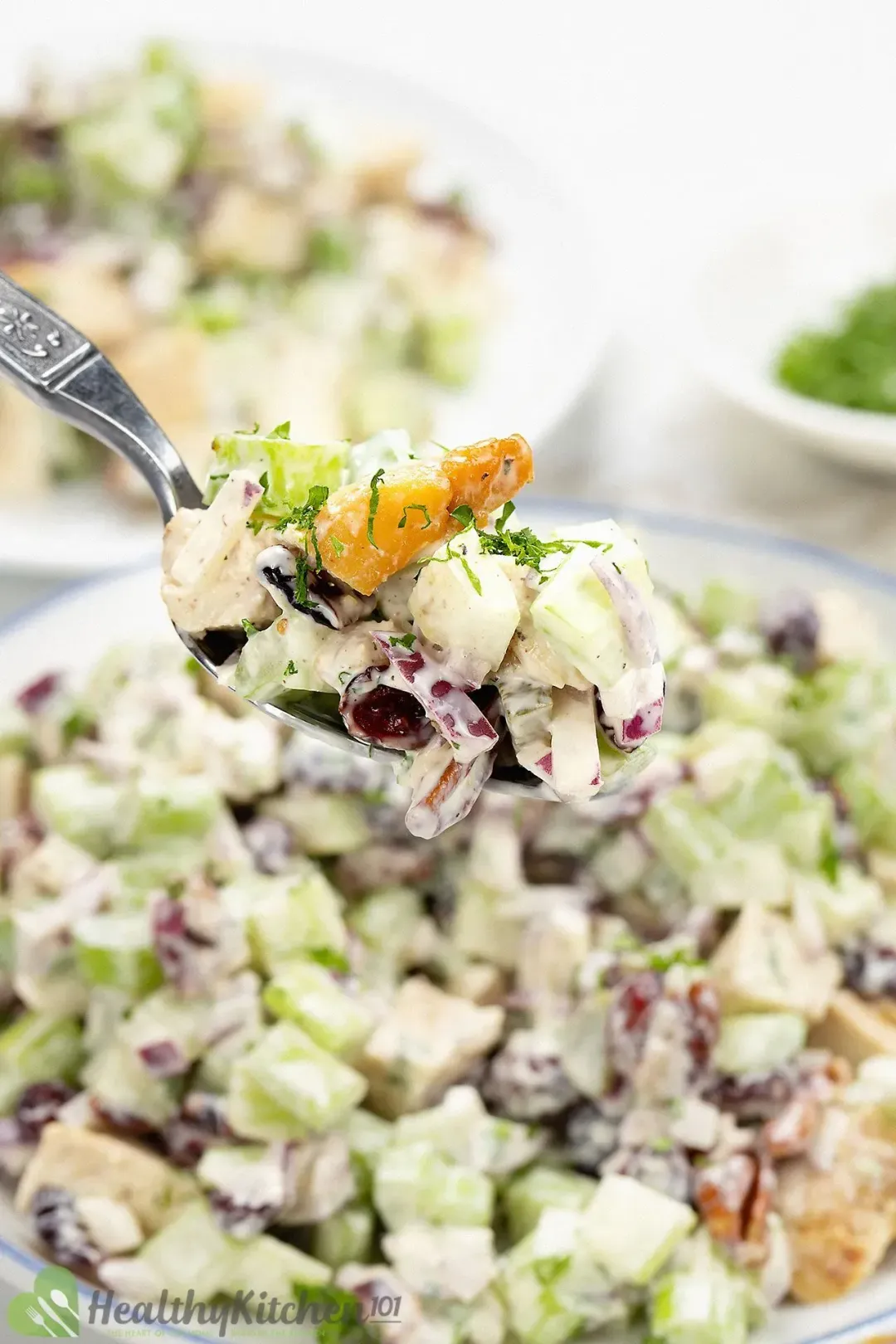 Previous Recipe
Southern Chicken Salad
Southern Chicken Salad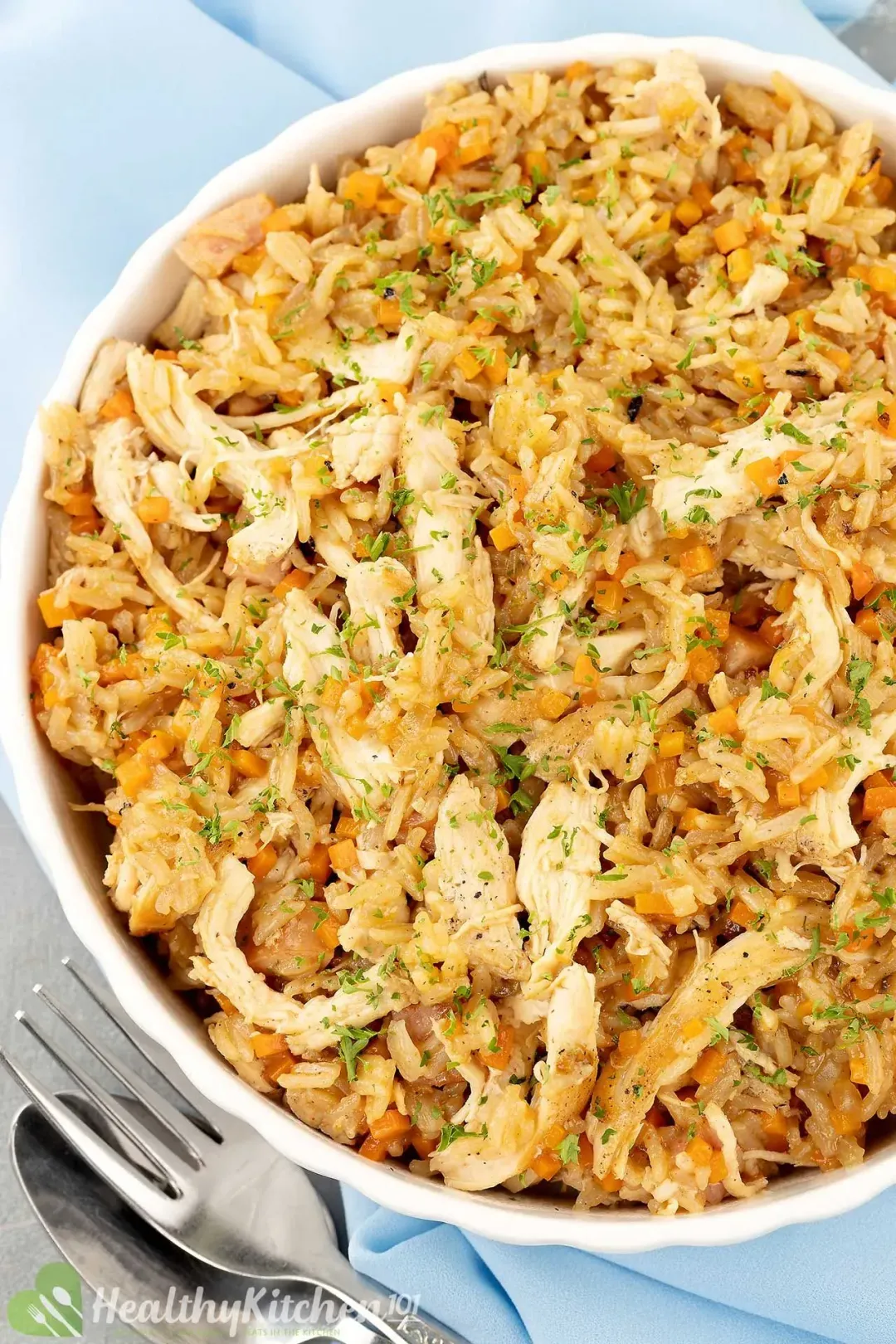 Chicken Bog
Head Chef, Culinary Consultant
Tuyet Pham is an award-winning Saigonese chef who believes that joy is the secret ingredient to delicious food. At Healthy Recipes 101, Tuyet personally tests and simplifies every recipe, ensuring maximum flavor with minimal effort. With a background at prestigious French restaurants P'TI Saigon and Le Corto, Tuyet knows how to make every dish exceptional.
Writer, Author
Luna Regina is an accomplished writer and author who dedicates her career to empowering home cooks and making cooking effortless for everyone. She is the founder of HealthyKitchen101.com and HealthyRecipes101.com, where she works with her team to develop easy, nutritious recipes and help aspiring cooks choose the right kitchen appliances.
Nutrition Reviewer
Lizzie Streit is a Minneapolis-based dietitian and founder of It's a Veg World After All. She completed her MS in Human Nutrition from Drexel University, and is an expert in culinary nutrition, recipe development, and nutrition communications. Lizzie's philosophy is centered around making nutrition recommendations, and especially the advice to eat more vegetables, approachable and realistic. She is excited to be working with the team at Healthy Recipes 101 to ensure that their recipes are both nutritious and delicious.
Hi Carla,
It means 0.75 tbsp Less Sodium Soy Sauce

Is the canola oil for frying the noodles?

Hi, Alice! Yes, use the 1 cup of canola oil to deep-fry the egg noodles.

Made this chicken salad for lunch today and it was delicious! The crunchy cabbage, tender chicken, and creamy dressing all blended together in a flavorful dish that's hard to resist.