Lasagna is one of Italian cuisine's most popular creations, and we're bringing you our version with this spaghetti lasagna.
We make one little change from the original dish, which is replacing lasagna sheets with spaghetti. Other than that, we go back to basics with the remaining ingredients: ground beef, tomato sauce, and white sauce.
If you are looking for an authentic Italian main course that is fitting for any meal, give this recipe a try.
Is Spaghetti Lasagna Healthy?
Despite containing high-calorie ingredients like milk and cheese, this lasagna can be part of a healthy diet.
This dish contains 502 calories and 7.7 g of saturated fat in each serving—a reasonable number for a main course. Also, there is 557 mg sodium, which is within the limits of our nutrition guidelines.
Thanks to beef, cheese, and milk, there are also 23.1 g of protein per serving.
Overall, spaghetti lasagna can be a viable option on your everyday menu and an excellent not-so-guilty pleasure.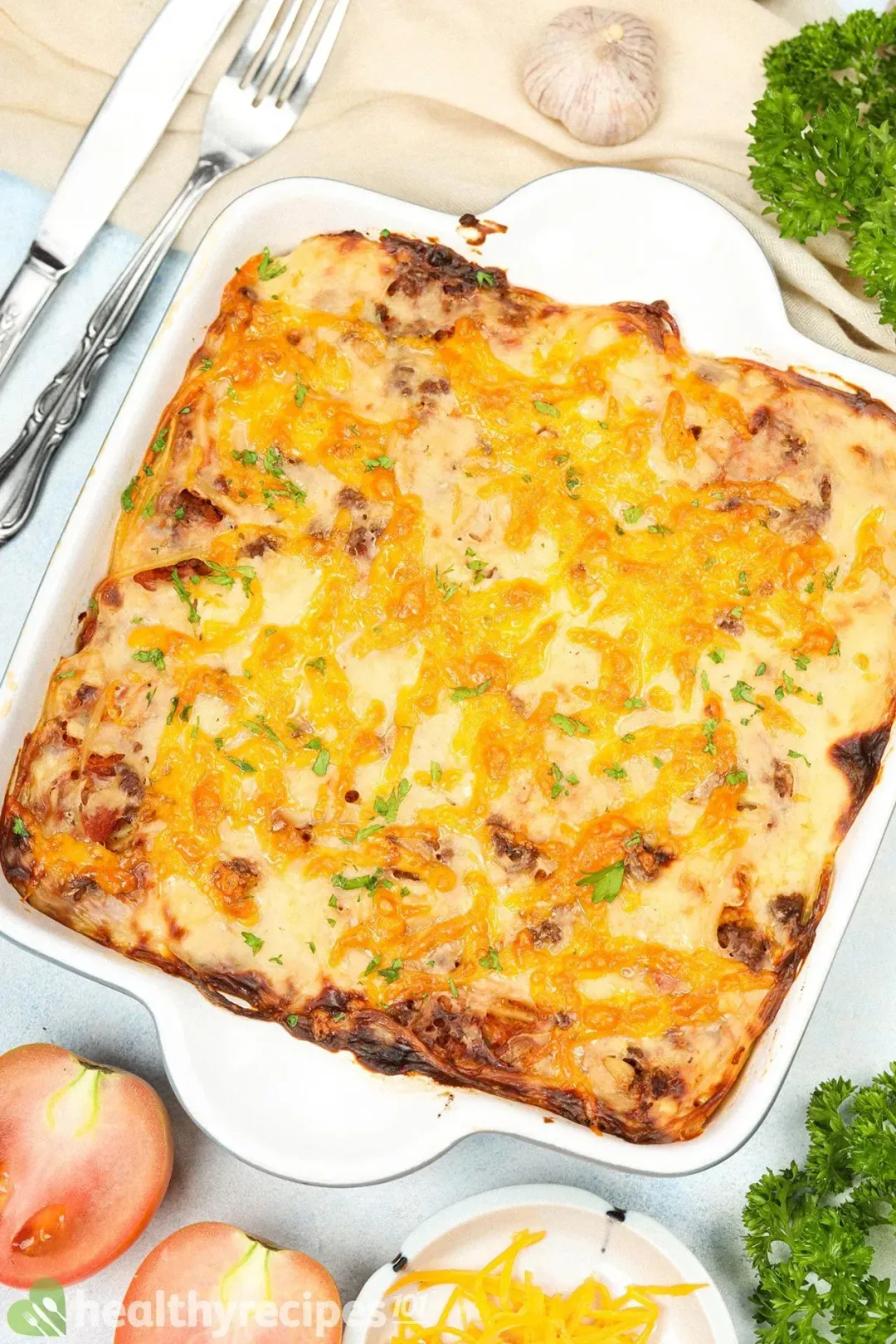 Ingredients for Spaghetti Lasagna
Spaghetti: Spaghetti is the center of attention in this recipe because it is the only ingredient that separates our lasagna from the others. It is a more common pasta than lasagna sheets but it requires you to mix an egg with the cooked spaghetti to help it bind together.
Beef: Ground beef and pasta are the iconic dynamic duo, so we cannot leave them out of this recipe. Beef is cooked alongside tomato sauce, reuniting the perfect match in terms of flavors. Also, we season the beef with tomato paste, salt, pepper, and flour.
Sauce: We use a simple and creamy white sauce to complement the beef and pasta.  The base of the sauce is a roux made from butter, flour, and garlic. Milk and chicken broth are then added for flavor and creaminess. Chicken broth has a light flavor that goes perfectly with the richness of the milk.
Other: Lasagna is not a lasagna without cheese, so we add some grated cheddar cheese on top of the dish. Melted cheddar cheese is a popular choice thanks to its versatility. We finish up the dish by sprinkling some parsley on top.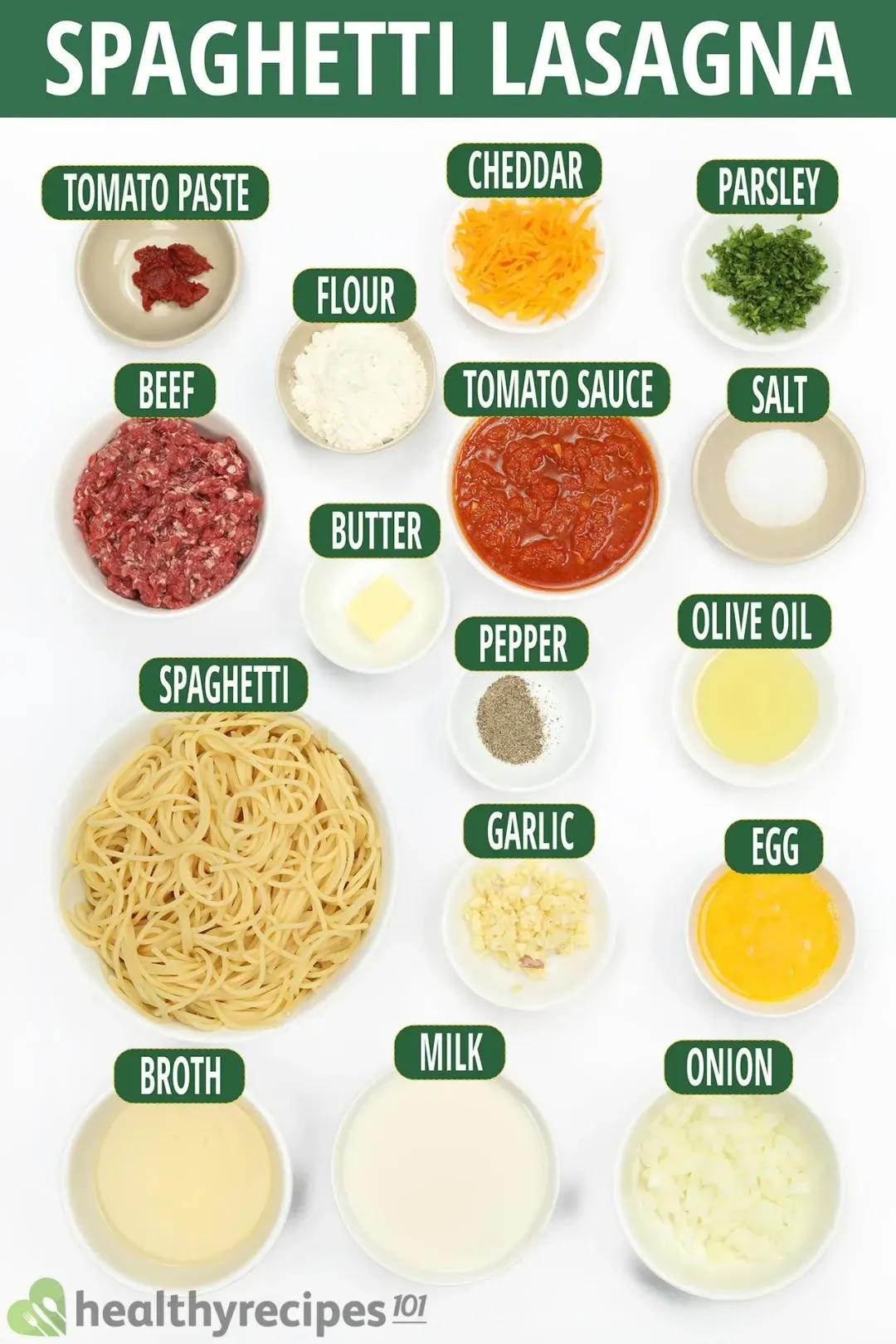 How to Store and Reheat Leftovers
Lasagna is a hefty meal, so you will likely have some leftovers. Worry not, there are many ways to store this dish.
You can cut it into separate portions or store the entire thing in the baking dish. Either way, make sure that you transfer it to airtight containers or cover it carefully with aluminum foil.
It should last for 3 to 5 days in the fridge and up to 3 months in the freezer.
If you have time, reheat the lasagna in the oven. Preheat it to 350 °F and bake for 30 minutes or until warm. For convenience, you can use the microwave and cook in 90-second increments.
Make sure to add a bit of liquid and cover the lasagna with foil to prevent drying.
Side Dishes for Spaghetti Lasagna
You may have noticed that there are no vegetables in this recipe aside from parsley. So here we have our favorite salads packed with leafy greens and other fresh vegetables for you to serve with this lasagna.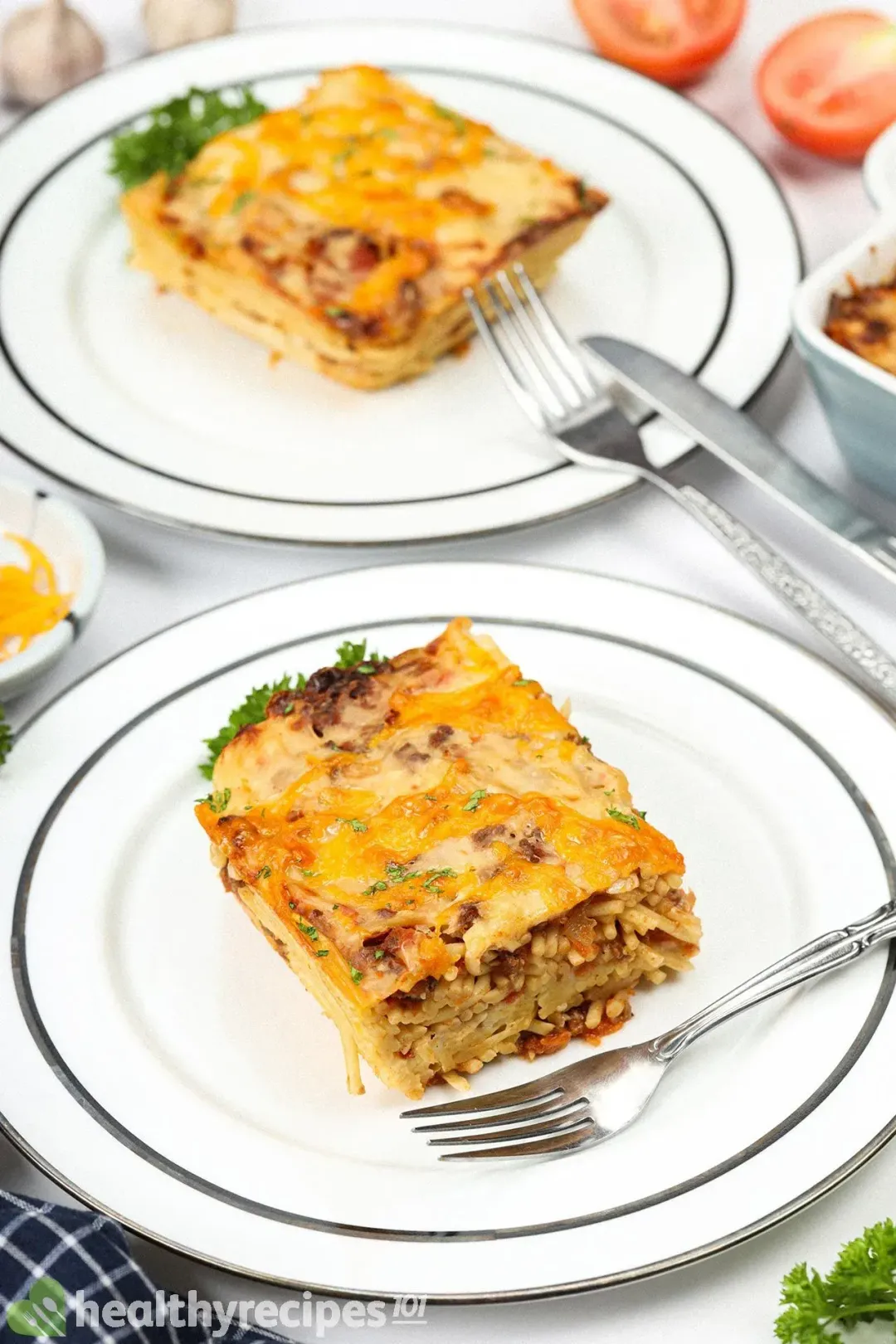 FAQ
1. How Many Layers Should a Lasagna Have?
There are no particular rules on how many layers a lasagna must have, but generally, most lasagnas have 3 to 4 layers. Also, you need to have at least 2 layers as lasagna is a multi-layered baked dish.
On the other hand, there is no limit on how many layers you can stack. However, the bigger the lasagna, the easier it will fall apart.
2. Why Do You Put Eggs in Baked Spaghetti?
The eggs seem insignificant in this recipe but they play an important role. We mix the whisked egg with spaghetti to help it bind together.
Unlike lasagna sheets, spaghetti is made up of separate strands and the eggs help them bind together to make a firm lasagna.
How to Make Spaghetti Lasagna
This spaghetti lasagna recipe has everything that makes a hearty comfort meal: baked pasta, a creamy sauce, and melted cheese.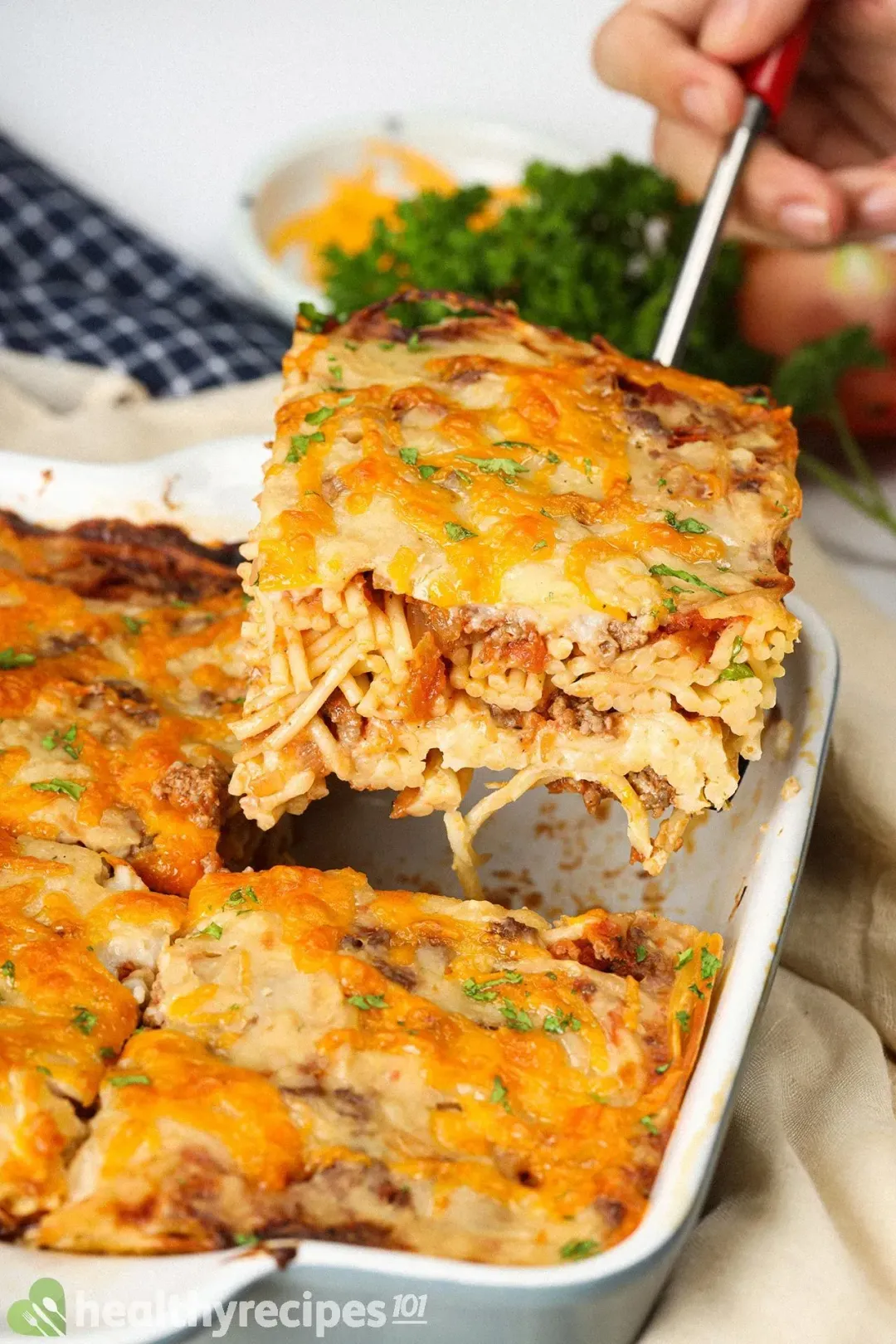 cook TIME

48 mins

prep TIME

12 mins

total TIME

1 hr
COURSE

Main Course

CUISINE

Italian

SERVINGS

CALORIES

502 kcal
INGREDIENTS
14 oz

cooked spaghetti

(from 7 oz uncooked)

8 oz

85% lean ground beef

1 tbsp

Hunt's tomato paste

1 cup

homemade tomato sauce

1

small egg

(cracked and whisked)

1/2 cup

unsalted chicken broth

0.5 oz

cheddar cheese

(grated)

2 tbsp

parsley

(finely chopped)
INSTRUCTIONS
Prep:
1
Boil the spaghetti: Bring a pot of water to a boil. Add the spaghetti and let it cook for 1 minute less than the package instructions. Take a bite of the pasta and see if it's al dente (tender but still a bit chewy). Drain the pasta and set it aside.
2
Mince the garlic: Slice off the root part of the cloves. Bash the cloves with your knife and peel away the skin. Use your knife or garlic mincer to mince the garlic.
3
Chop the onion: Cut the onion in half and peel away the skin. Make vertical cuts 1/4 inch away from each other and the root. Turn the onion and make identical horizontal cuts to make a crosshatch pattern. Chop into even cubes.
4
Grate the cheese: Press the cheese block firmly towards the grater and push it downwards. Repeat the movement until you get enough cheese.
5
Prepare the egg: Crack the egg into a separate bowl and whisk thoroughly.
6
Chop the parsley: Bunch the parsley into a small mound and chop finely.
Cook:
1
Caramelize the garlic and onion: Place a pan over medium heat until hot. Add 1 tbsp olive oil, 1 tbsp garlic, and 2 oz onion. Stir for 1 minute to caramelize.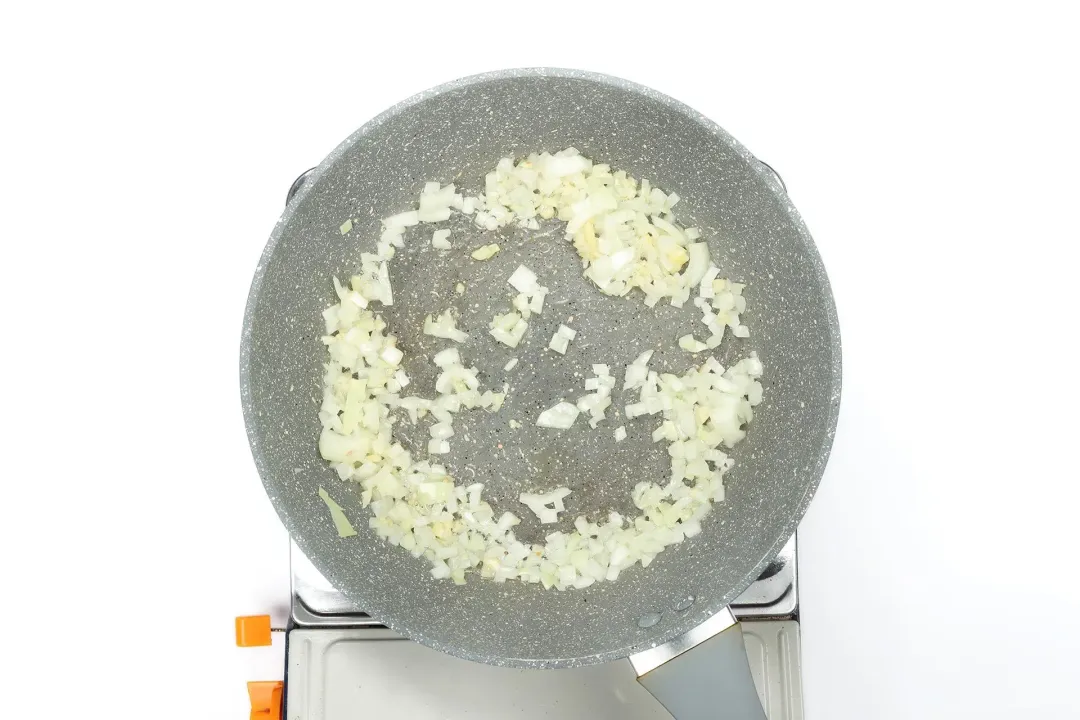 2
Cook the beef: Add 8 oz ground beef and stir for 3 minutes.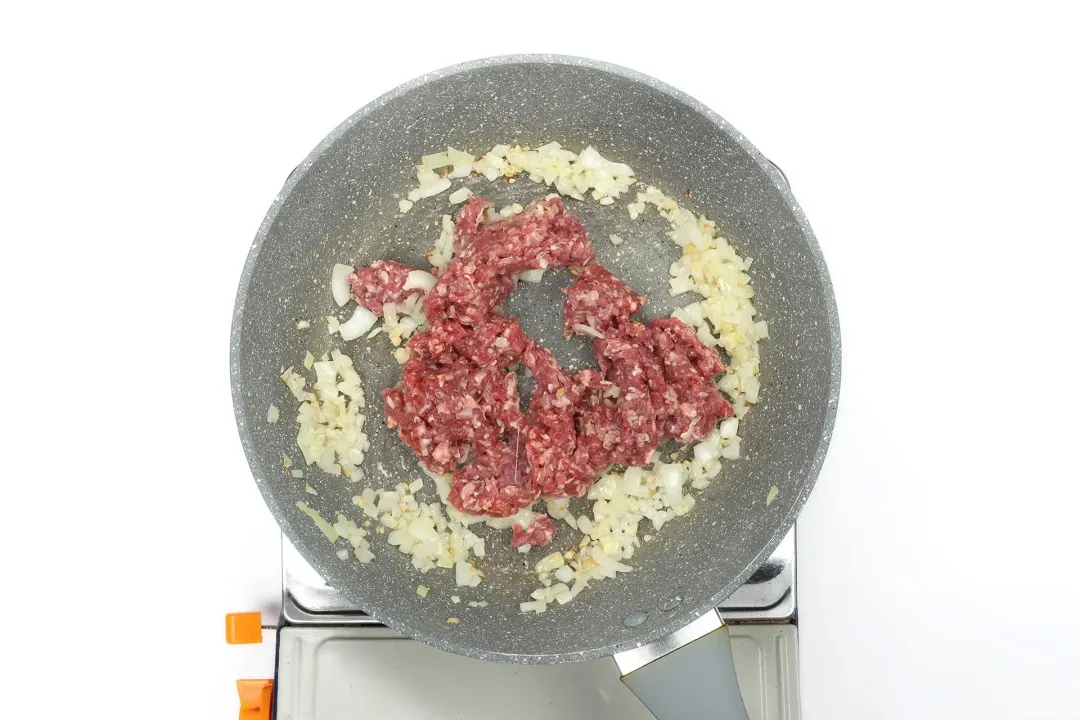 3
Season the beef: Add 1 tbsp tomato paste, 1/2 tsp pepper, 1/4 tsp salt, and 1/2 tbsp all-purpose flour to the beef. Mix thoroughly for 30 seconds.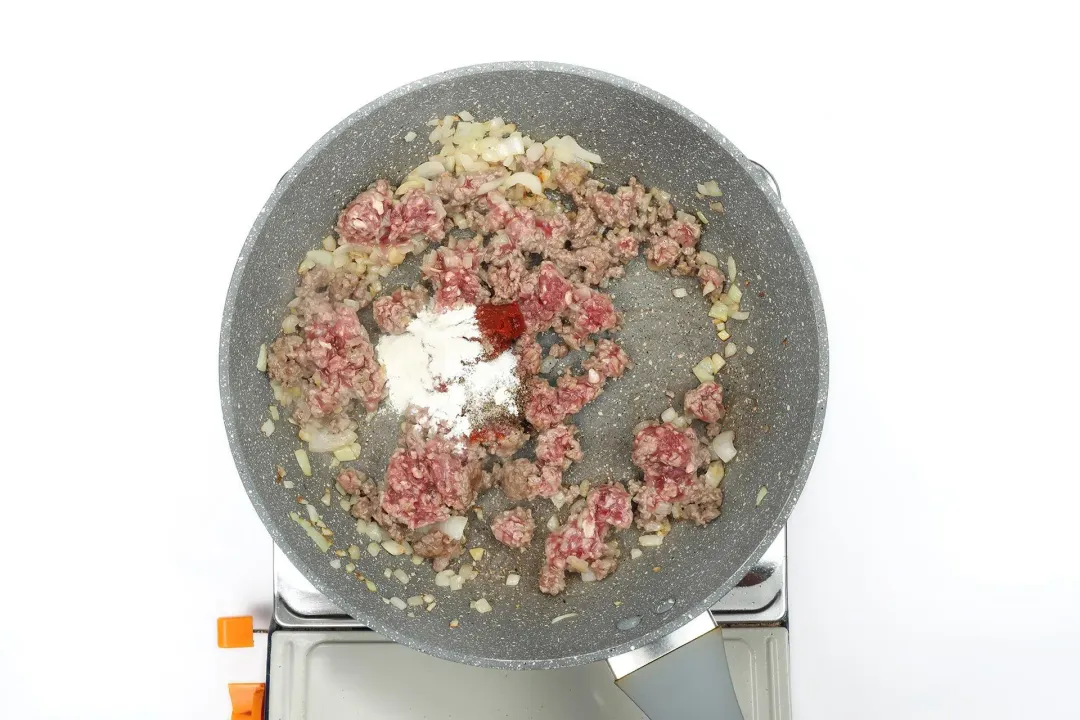 4
Pour in the sauce: Add 1 cup of homemade tomato sauce and stir for 2 minutes. Turn off the heat and set it aside.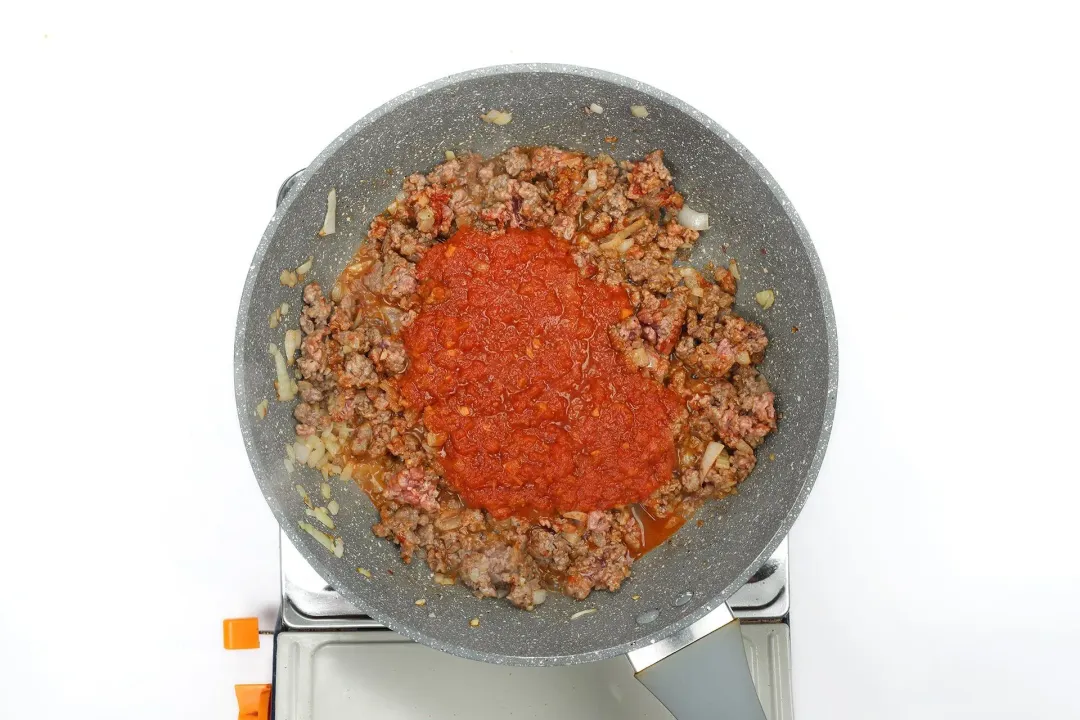 5
Start the white sauce: Prepare another hot pan. Add 1/2 tbsp unsalted butter and 1 tbsp garlic. Stir for 30 seconds until caramelized.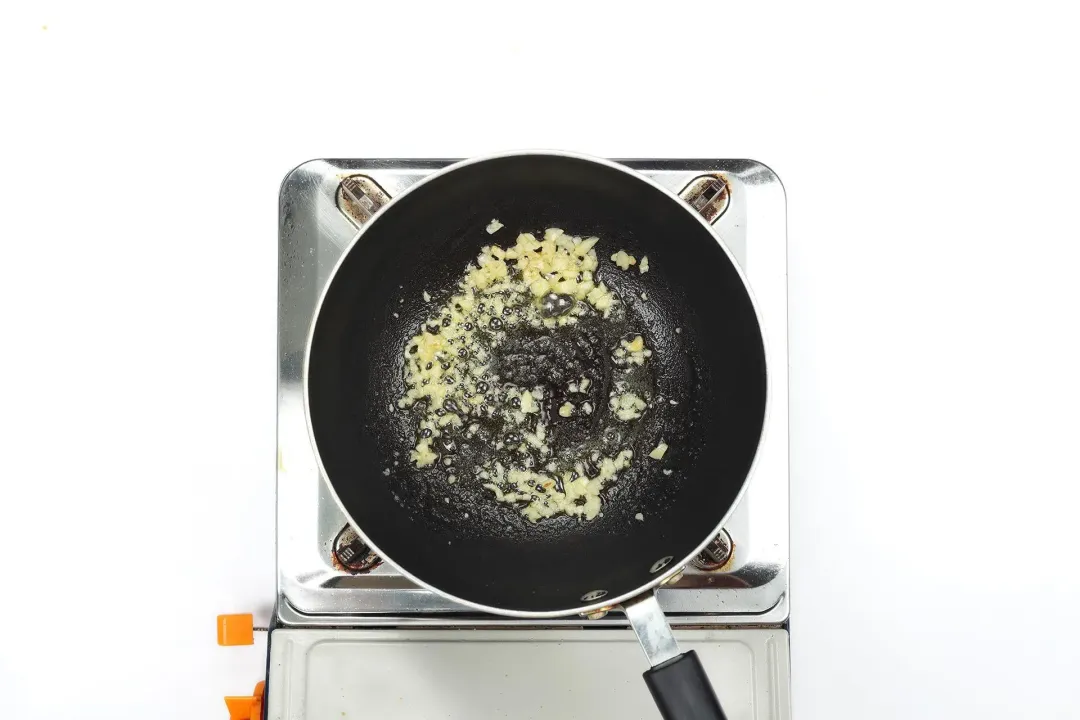 6
Make a roux: Add 2 1/2 tbsp all-purpose flour to the mixture and stir for 1 minute to prevent the flour from clumping.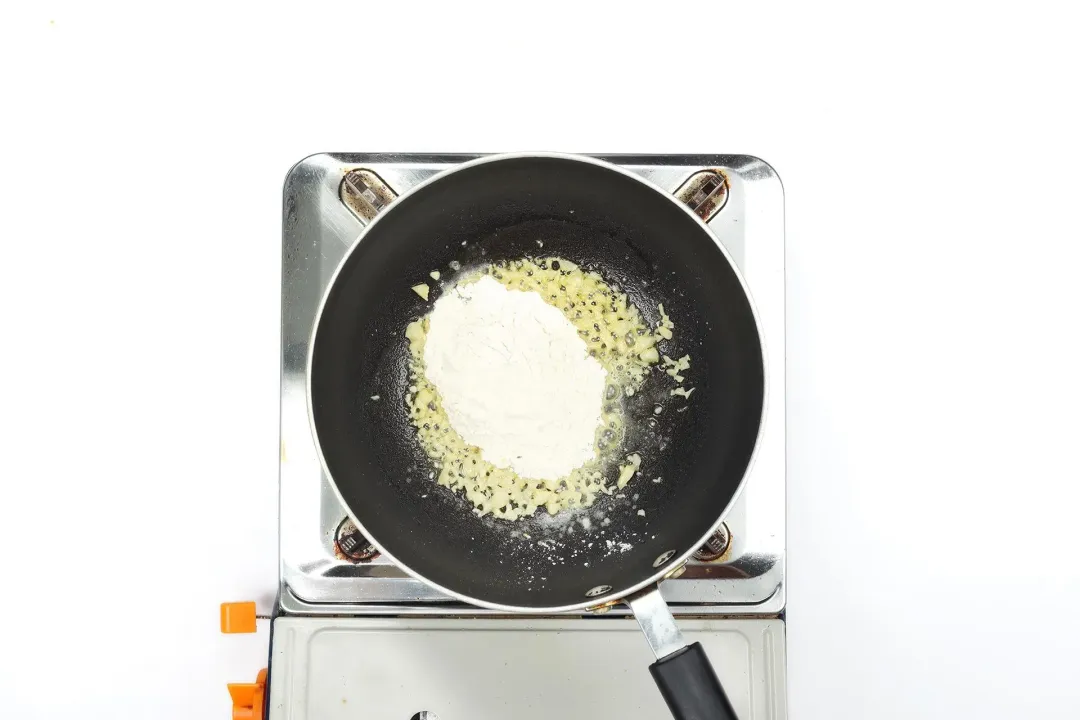 7
Add the liquids and seasoning: Add 1 cup milk, 1/2 cup chicken broth, and 1/2 tsp salt to the roux. Cook for 7 minutes until thickened.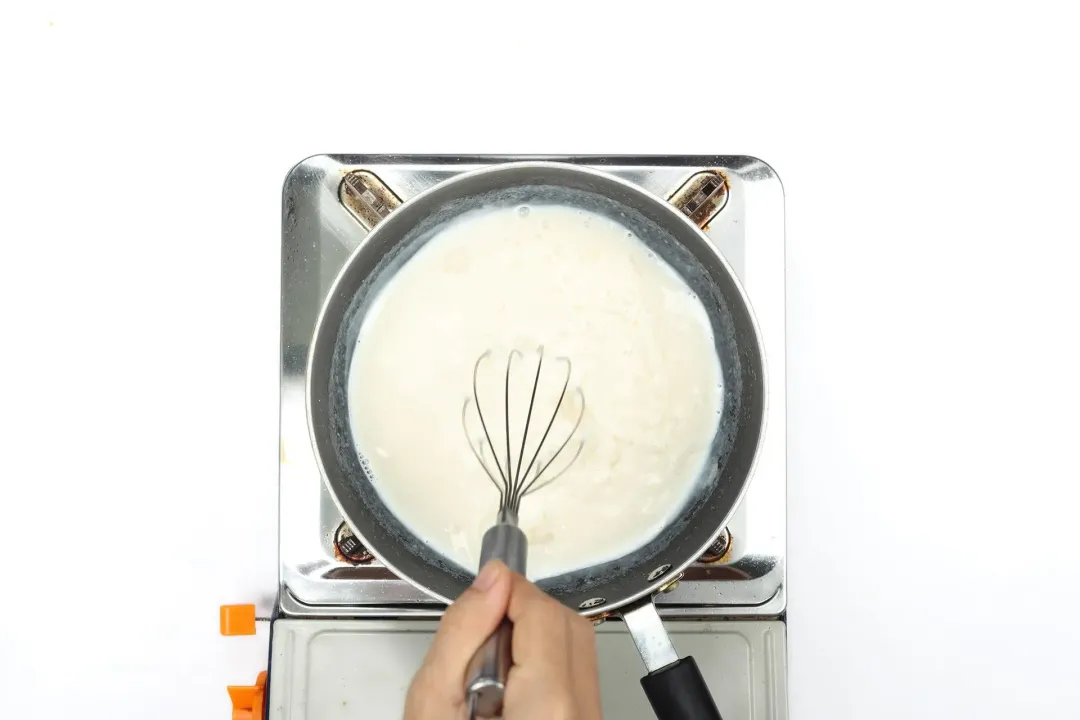 8
Assemble the lasagna: Mix 14 oz cooked spaghetti with 1 small whisked egg. Put the lasagna layers together in a baking tray with our recommended order (beef mixture, pasta, white sauce, beef, pasta, beef, white sauce) or your own. Make sure that the top layer is white sauce.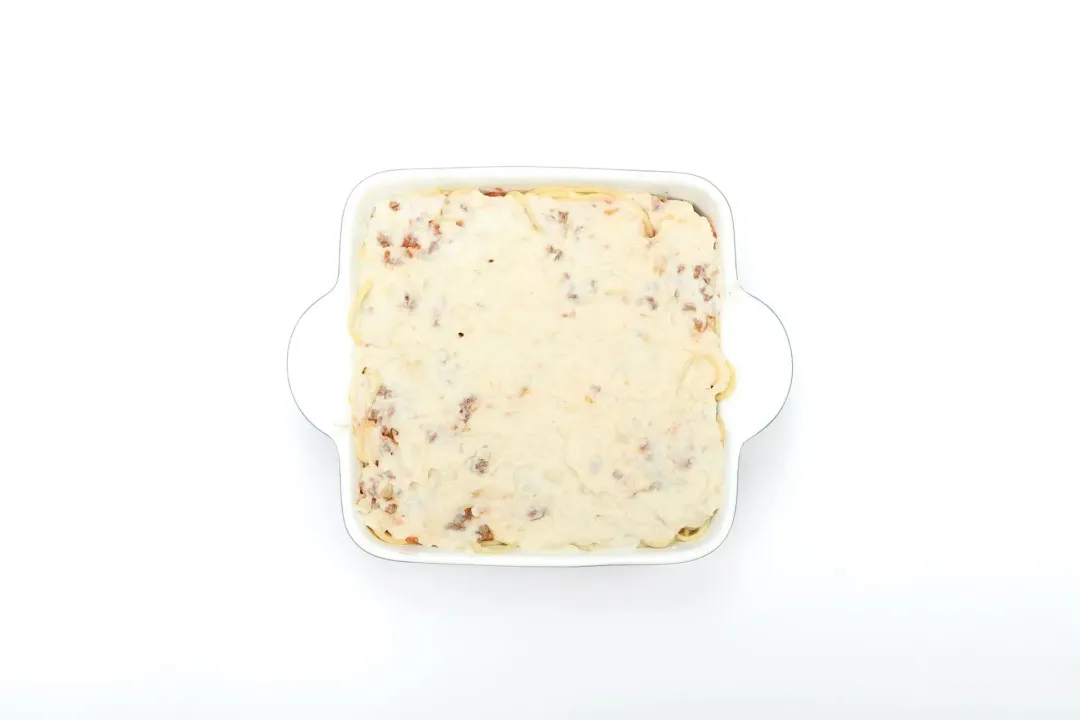 9
Bake the lasagna: Bake for 20 minutes at 425 °F. Remove from the oven when done.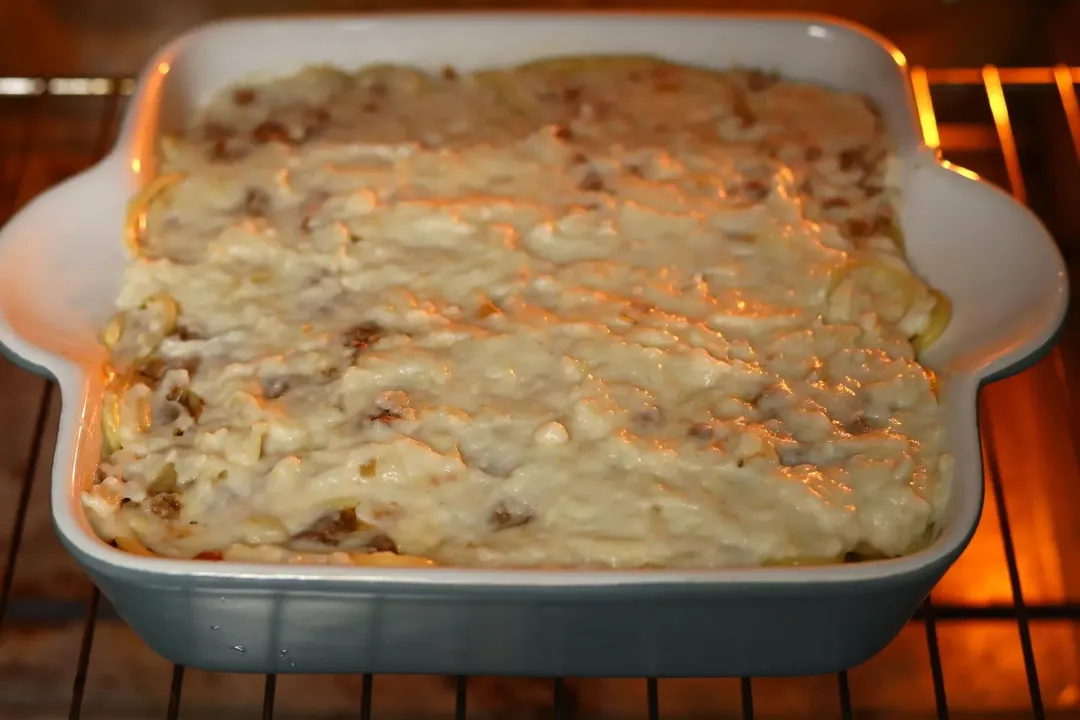 10
Add and melt the cheese: Sprinkle 0.5 oz grated cheddar cheese on top. Then bake for another 5 minutes at 480 °F. Remove when done.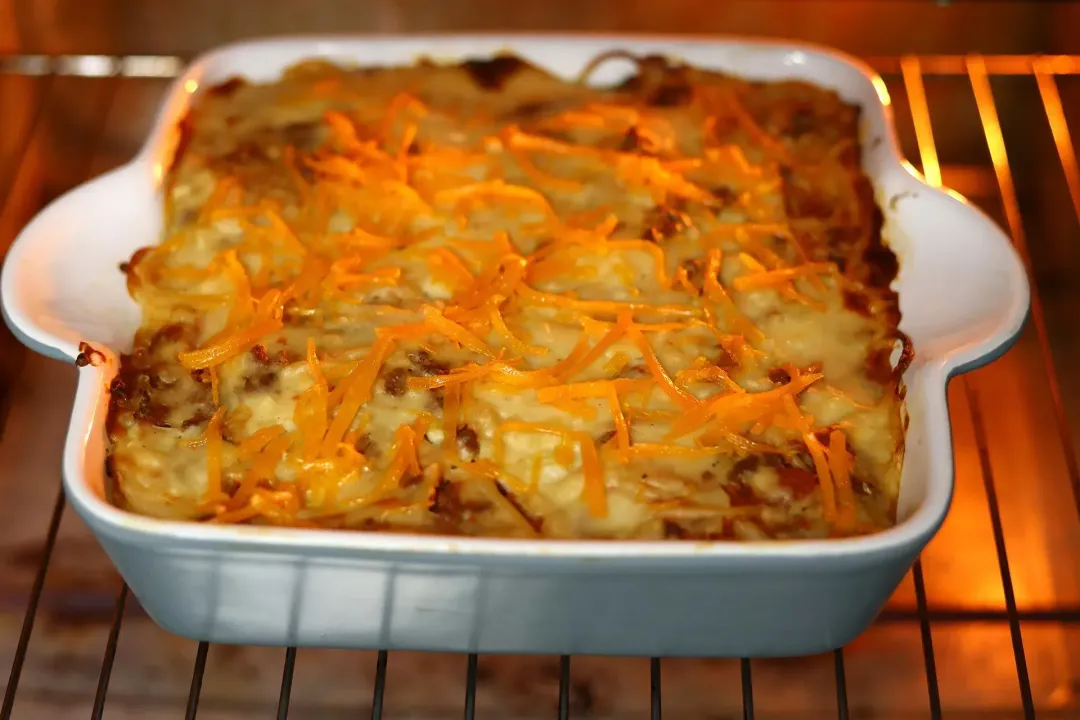 11
Garnish and serve: Sprinkle 2 tbsp parsley on top of the lasagna. Cut into portions to serve.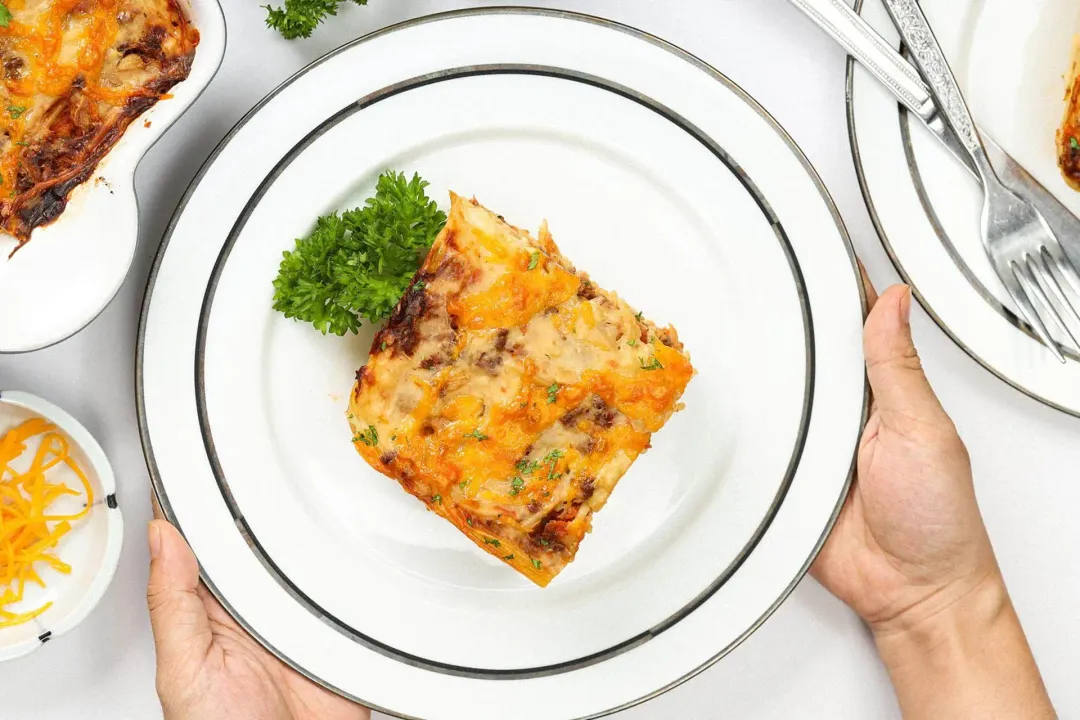 NUTRITION
Nutrition Facts
How to Make Spaghetti Lasagna
Amount Per Serving (1 serving)
Calories 502
Calories from FDA
% Daily Value*
* Percent Daily Values are based on a 2000 calorie diet.
Keywords: how to make spaghetti lasagna, spaghetti lasagna, spaghetti lasagna recipe
Next Recipe
Vegan Spaghetti
Vegan Spaghetti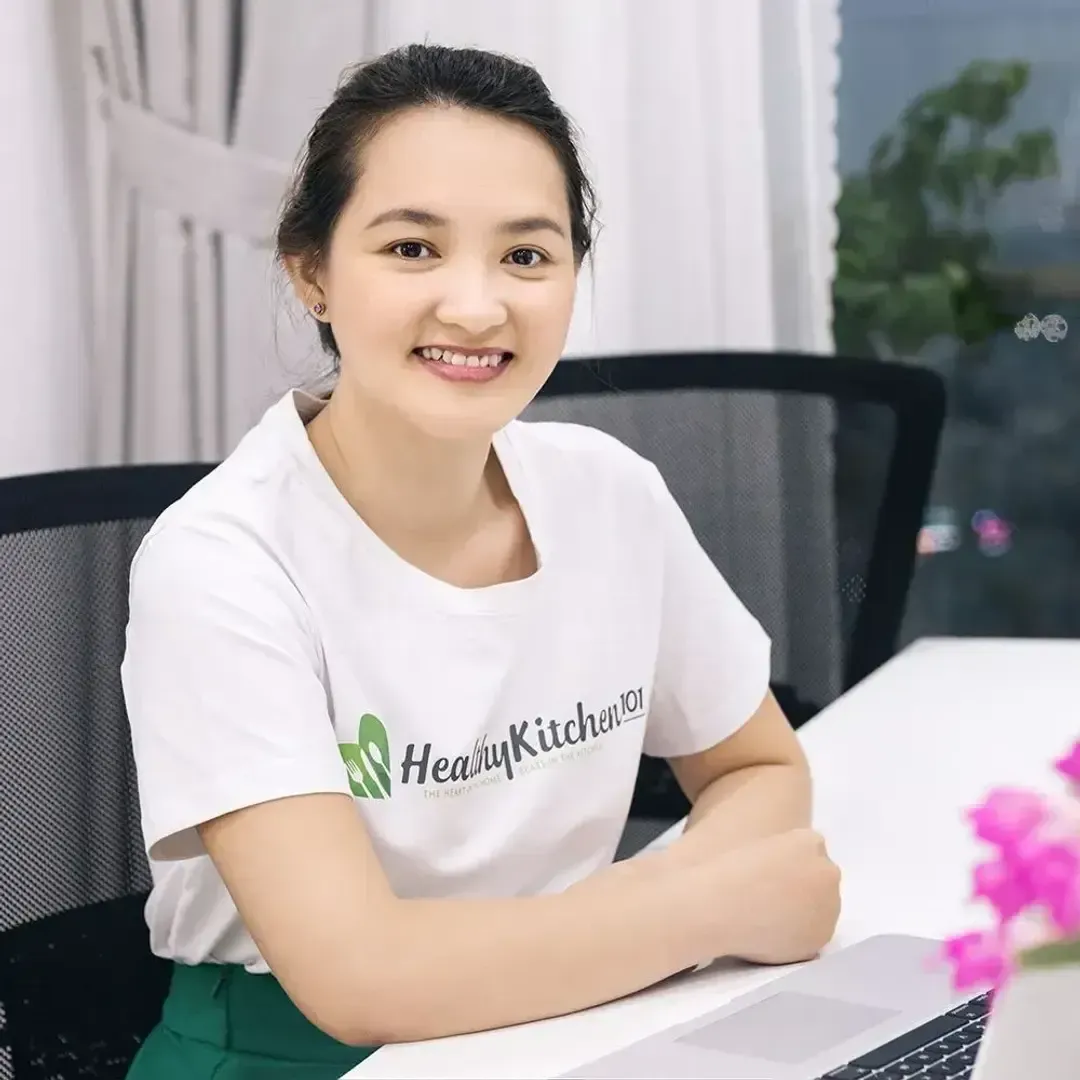 Writer, Author
Luna Regina is an accomplished writer and author who dedicates her career to empowering home cooks and making cooking effortless for everyone. She is the founder of HealthyKitchen101.com and HealthyRecipes101.com, where she works with her team to develop easy, nutritious recipes and help aspiring cooks choose the right kitchen appliances.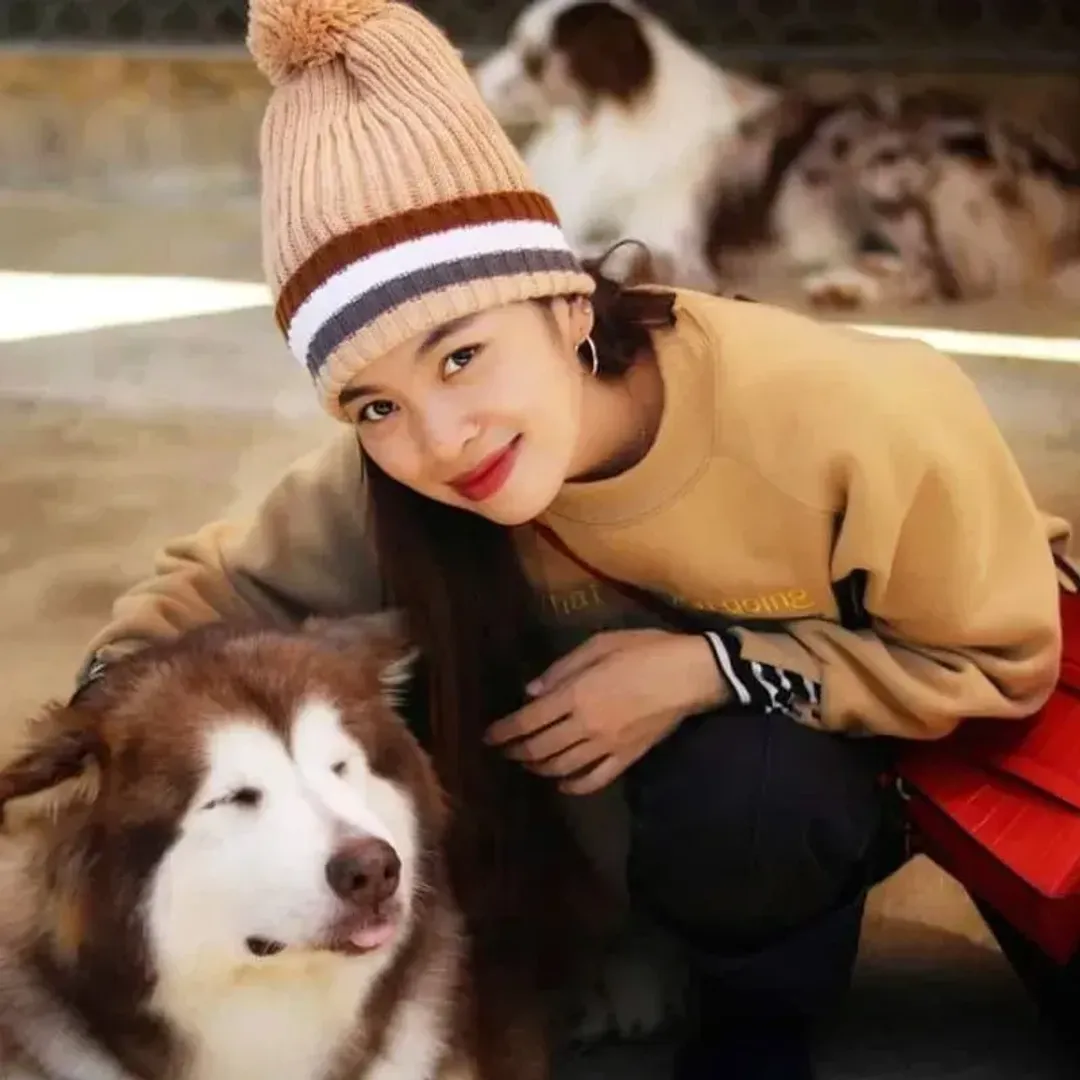 Chef, Culinary Consultant
Tuyet Pham is an award-winning Saigonese chef who believes that joy is the secret ingredient to delicious food. At Healthy Recipes 101, Tuyet personally tests and simplifies every recipe, ensuring maximum flavor with minimal effort. With a background at prestigious French restaurants P'TI Saigon and Le Corto, Tuyet knows how to make every dish exceptional.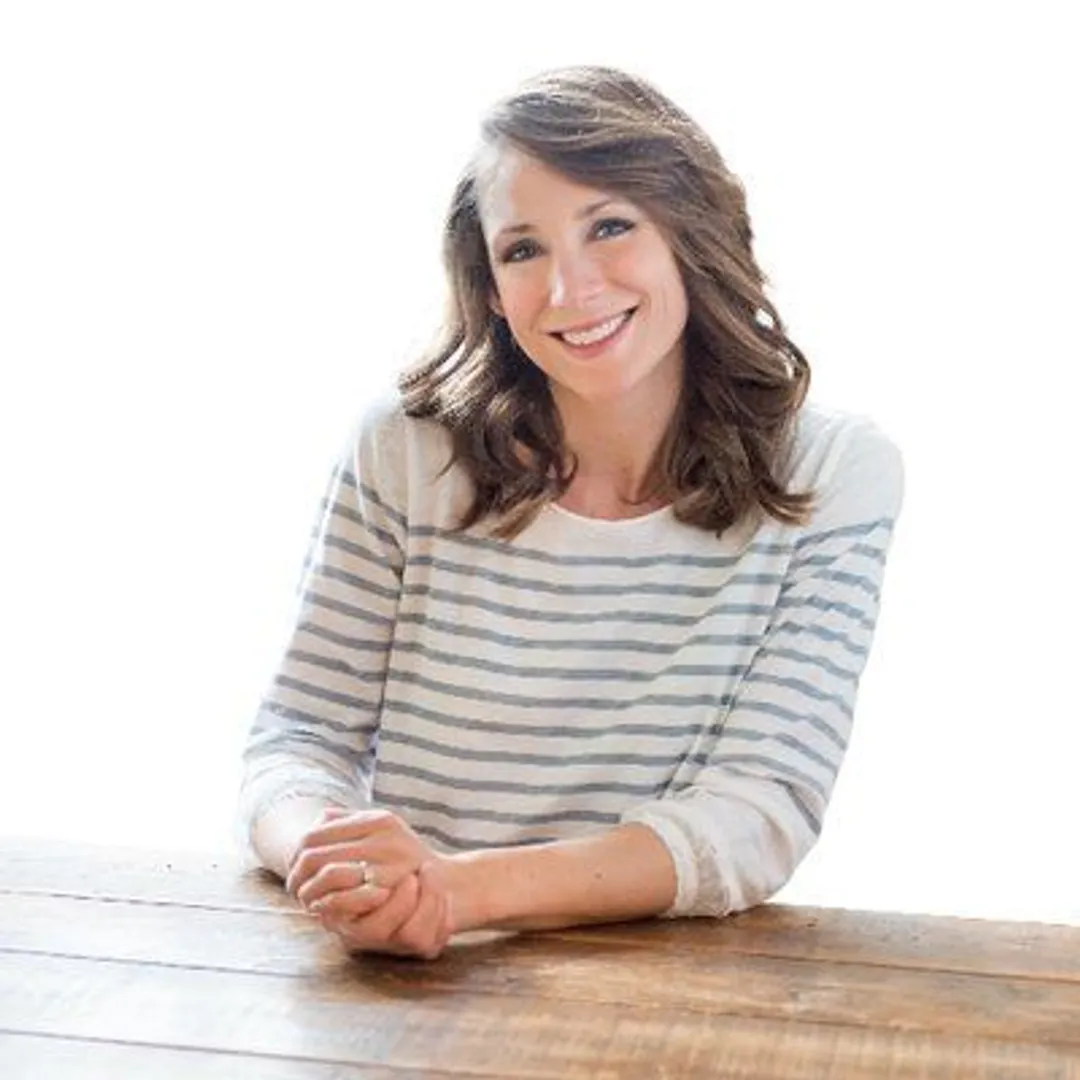 Nutrition Reviewer
Natalie is a registered dietitian nutritionist with a passion to help others live their best life through food, fitness, safer beauty and a healthy lifestyle. She has expertise with a variety of diets and diseases and believes that there is no one-size-fits-all approach for health.
Comments/ Reviews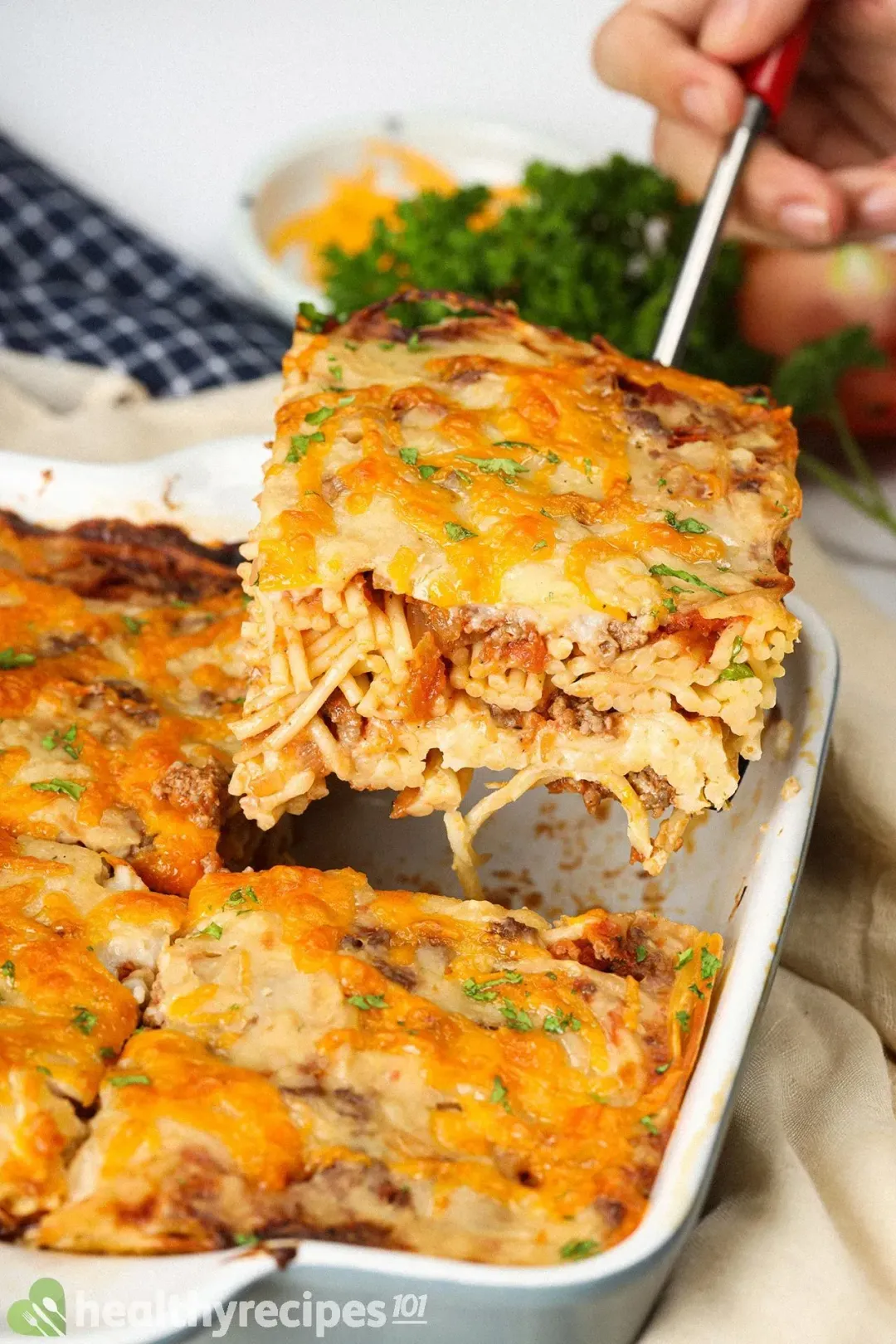 Rodney71

April 24, 2023 at 9:34 AM

This recipe is a unique twist on traditional lasagna, perfect for a cozy night in with family or friends.