Today's creamy seafood pasta recipe has a short list of ingredients and a simple stir fry technique but tastes like it could be served in a restaurant. It's incredibly delicious and ideal for National Pasta Day (October 17).
The pasta is tossed with your choice of seafood in a delicious creamy alfredo sauce making a tasty and elegant dish. Plus, you can make the sauce while the pasta is cooking on the stove so that the entire meal is ready in just 20 minutes.
Is Creamy Seafood Pasta Healthy?
Yes, our creamy seafood pasta is healthy.
For starters, unlike other recipes online, we keep a strict eye on the amount of added salt and cream. Each serving ends up containing only 565 mg of sodium and 8.5 g of saturated fat, which is relatively low for a portion of creamy pasta.
Plus, by combining seafood like mussels and shrimps, our pasta recipe provides 29.4 g of protein per serving. That is up to 59% of the recommended daily intake, making the dish a great source of protein.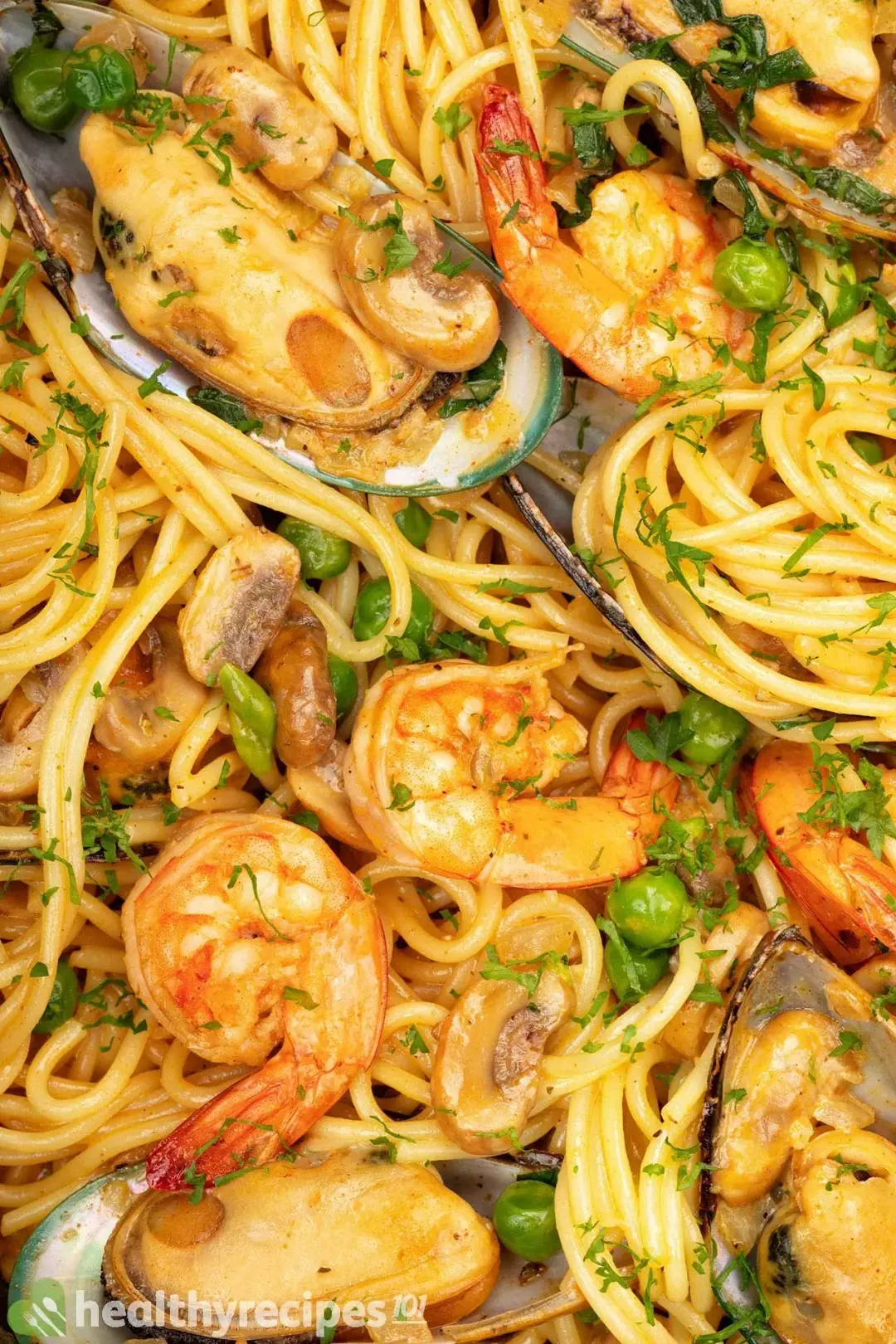 Main Ingredients for Creamy Seafood Pasta
Seafood: We went with a combination of shrimp and mussels, but you should know that any type of seafood can be added to your pan. However, using fish can be quite tricky since it often breaks up into tiny pieces during tossing. If you're really into fish, you should sear it in advance and add it to the plate just before serving.
Vegetables: Always use fresh veggies for the best taste and nutrient content.
Herbs: Paprika and oregano give the dish more dimension, but please feel free to add any of your favorite herbs that you think would work.
Pasta: We used spaghetti since it is likely to be the pasta that everyone has in their pantry. 
Dairy: Milk and heavy cream are essential to make an ultra-rich and dreamy alfredo sauce.
Cheese: We love to go for a big block of cheese from the local store and then grate it freshly while cooking. This way, it will melt more evenly into the sauce.
Seasoning and Spices: Of course, salt and pepper comprise the basic seasoning for seafood, while the paprika and oregano add more layers of flavor.
Lemon Juice: A splash of fresh lemon juice is the key secret ingredient in this creamy seafood pasta. Its brightness and acidity bring out the best flavors of the seafood, to balance out the richness and flavor of the whole dish.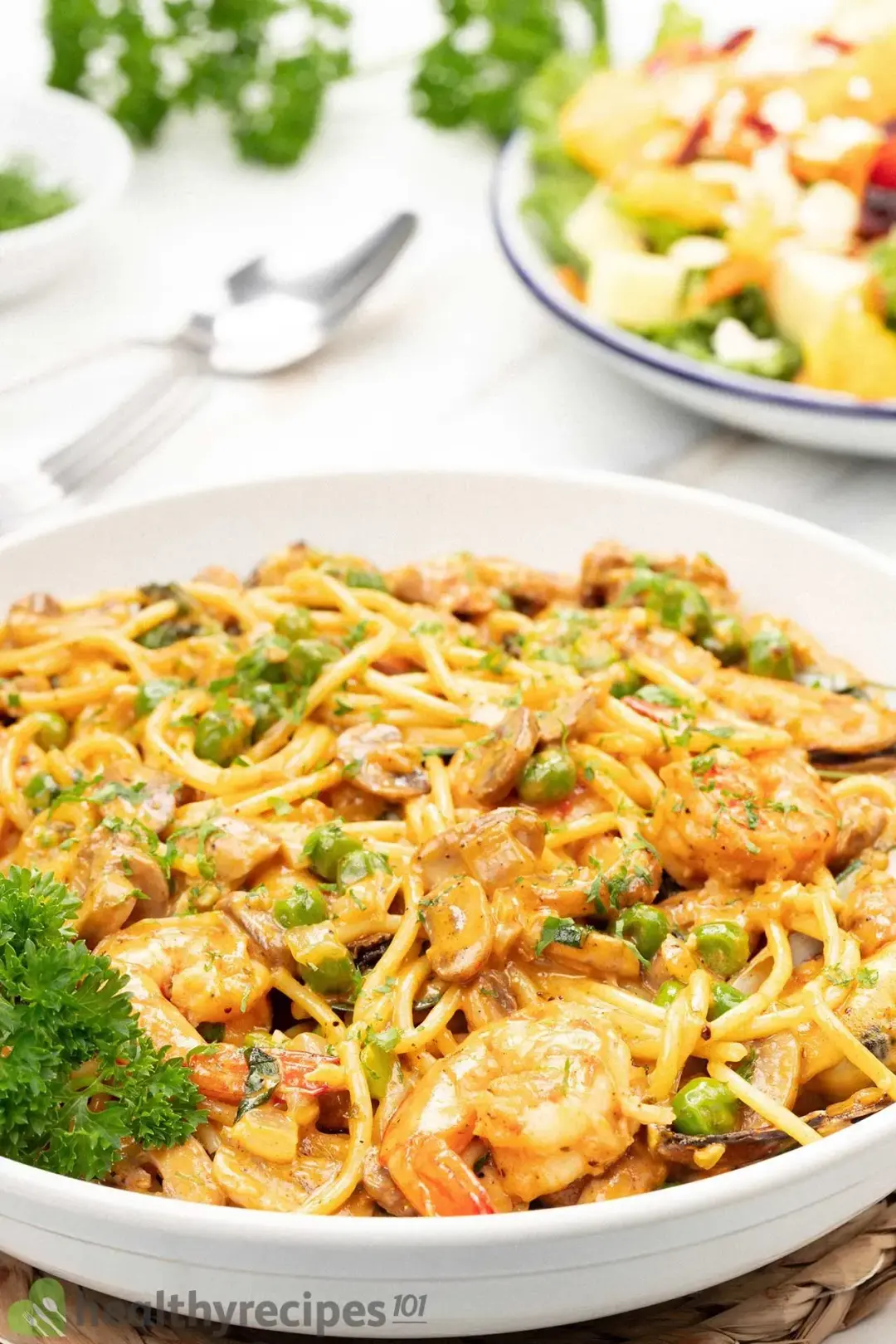 Seafood Pasta Sauce
The classic Italian alfredo sauce, with garlic-infused flavors, is heavenly rich and goes great with protein like chicken and seafood. Plus, it can be made from scratch with simple ingredients that you may already have in the pantry, such as: dairy, spices, herbs, and seasoning.
Our American-Italian version is a little more indulgent and complex. We added a hint of oregano to give the sauce an extra boost of flavor and reduced the amount of heavy cream from the original recipe to be creamy but not overly heavy.
Finally, a dash of freshly-grated parmesan cheese completes all the deliciousness that you would expect from alfredo sauce. Our homemade sauce tastes much better than anything that you can buy in a jar.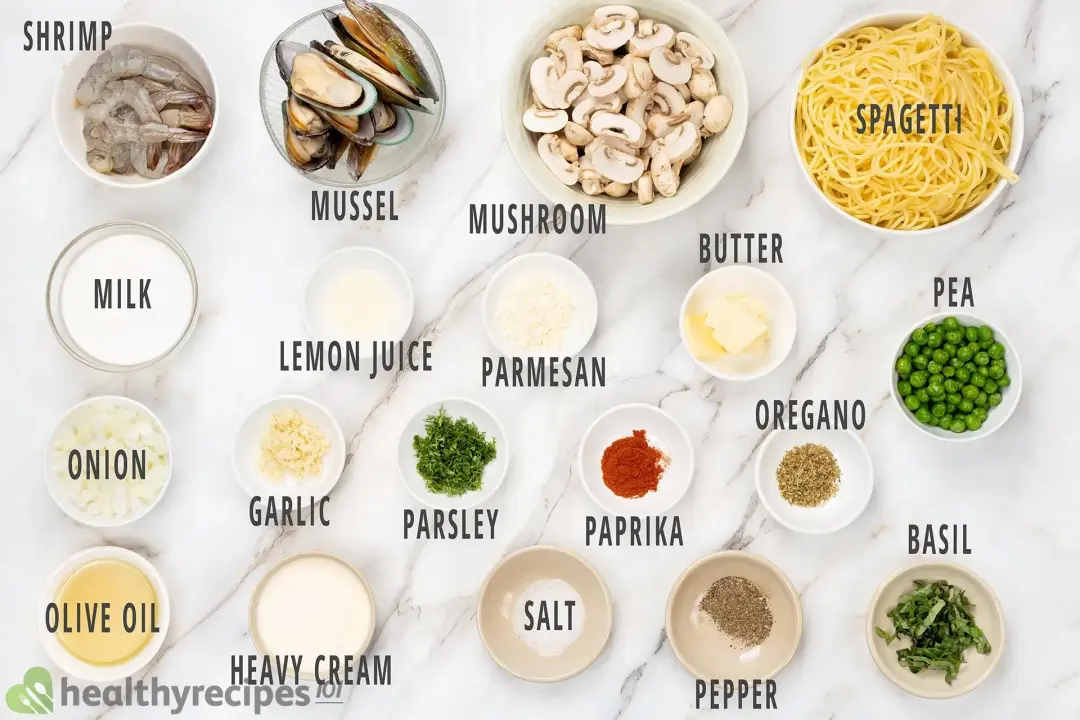 How to Make Creamy Seafood Pasta
Instead of ordering in, you can have a quick gourmet dinner on the table in a blink of an eye. The end result is a rich and elegant dish, simple for a weeknight dinner and decadent enough to impress your weekend guests.
Here is how we made the dish: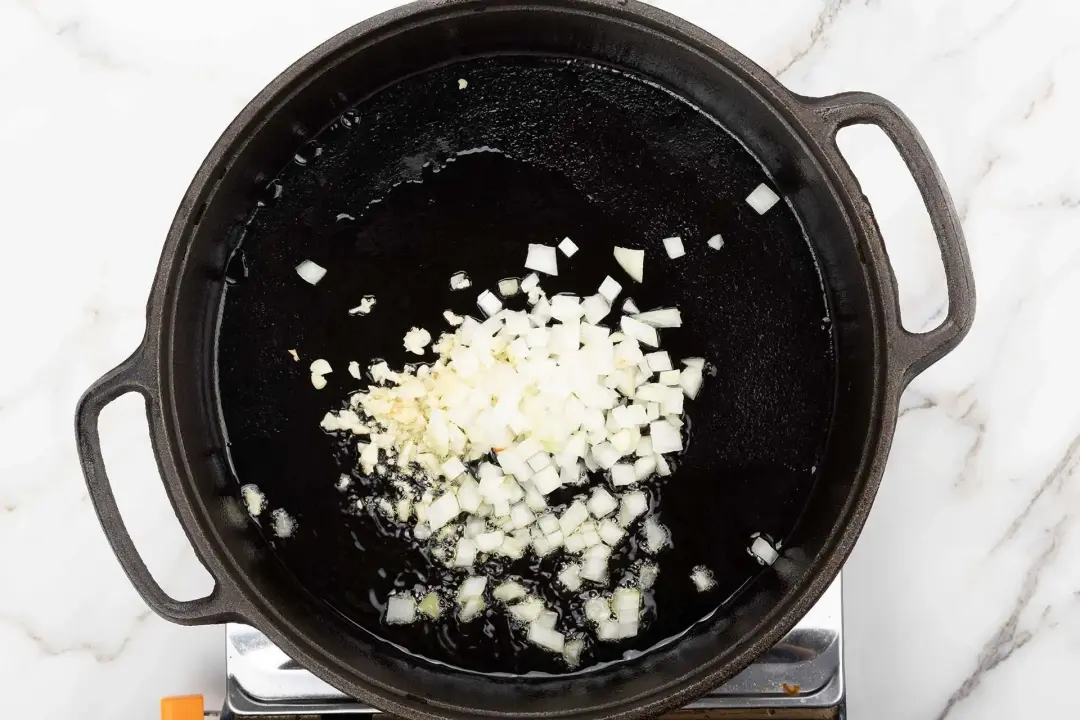 Sauté the garlic and onion.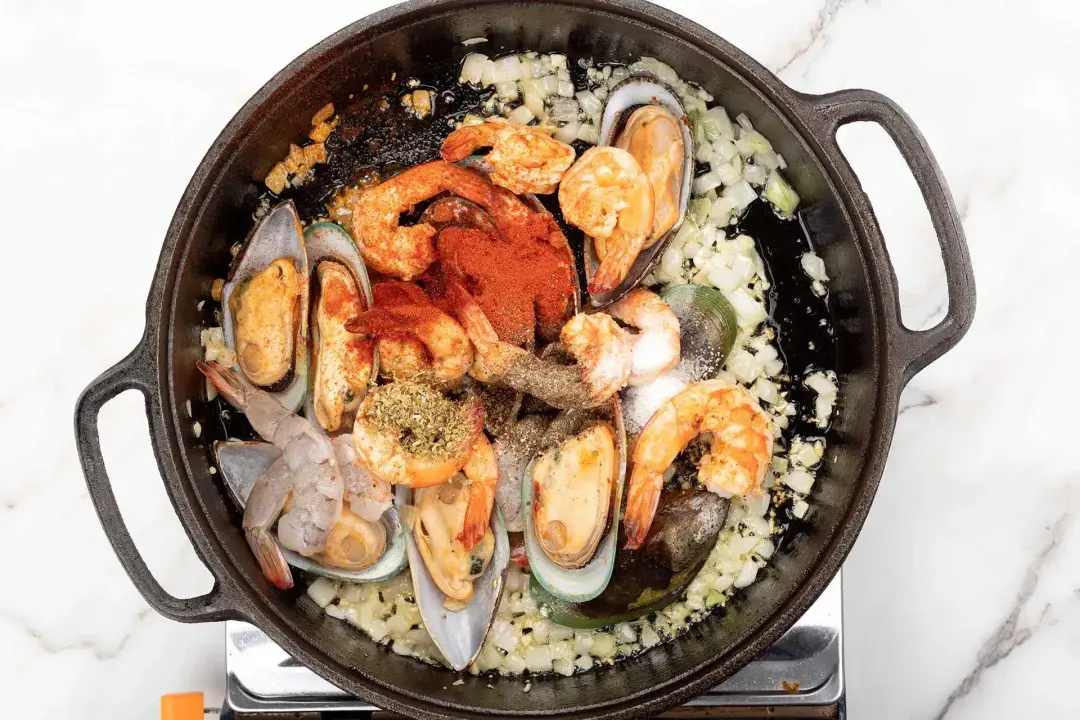 Stir fry the seafood.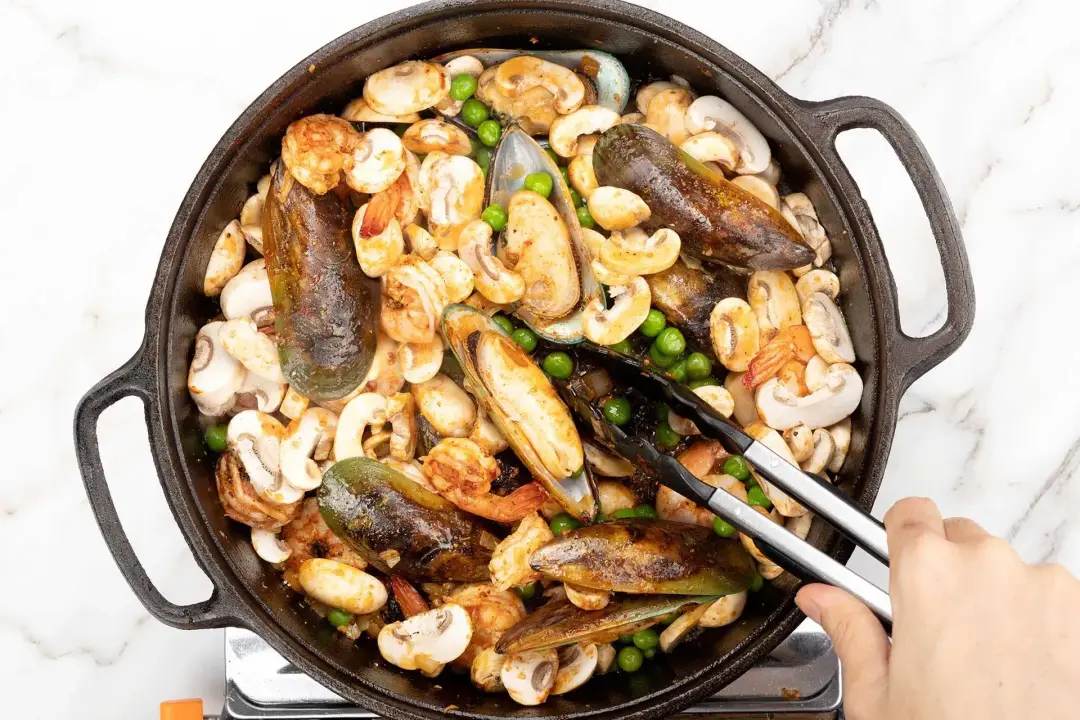 Add the vegetables.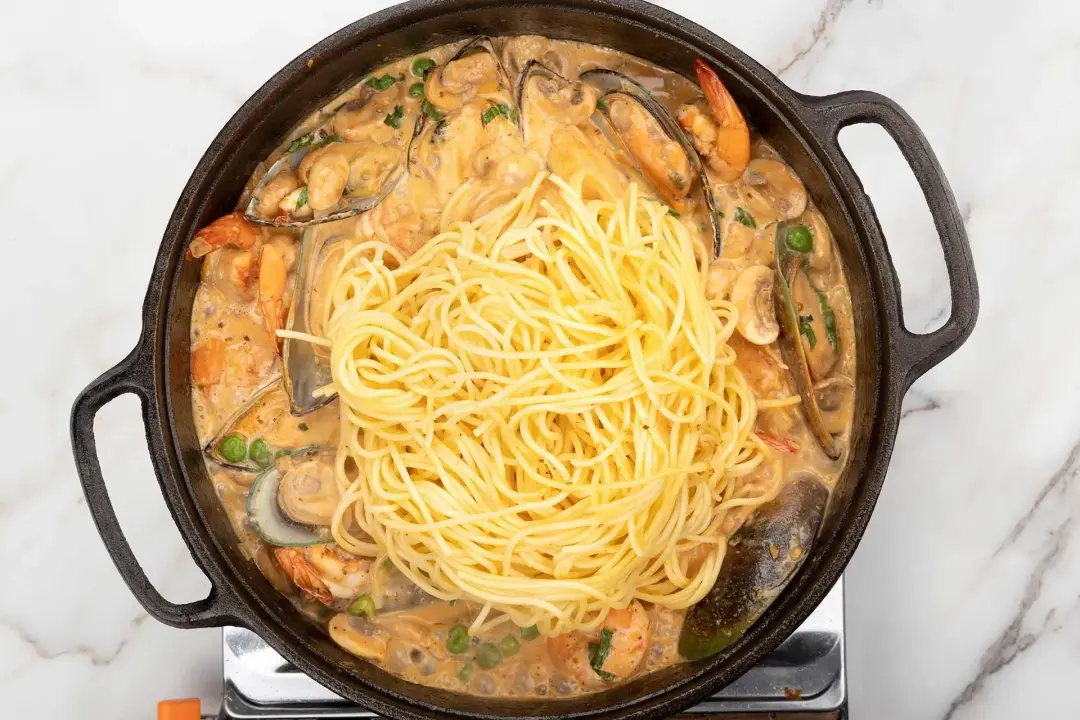 Pour in the cream and pasta.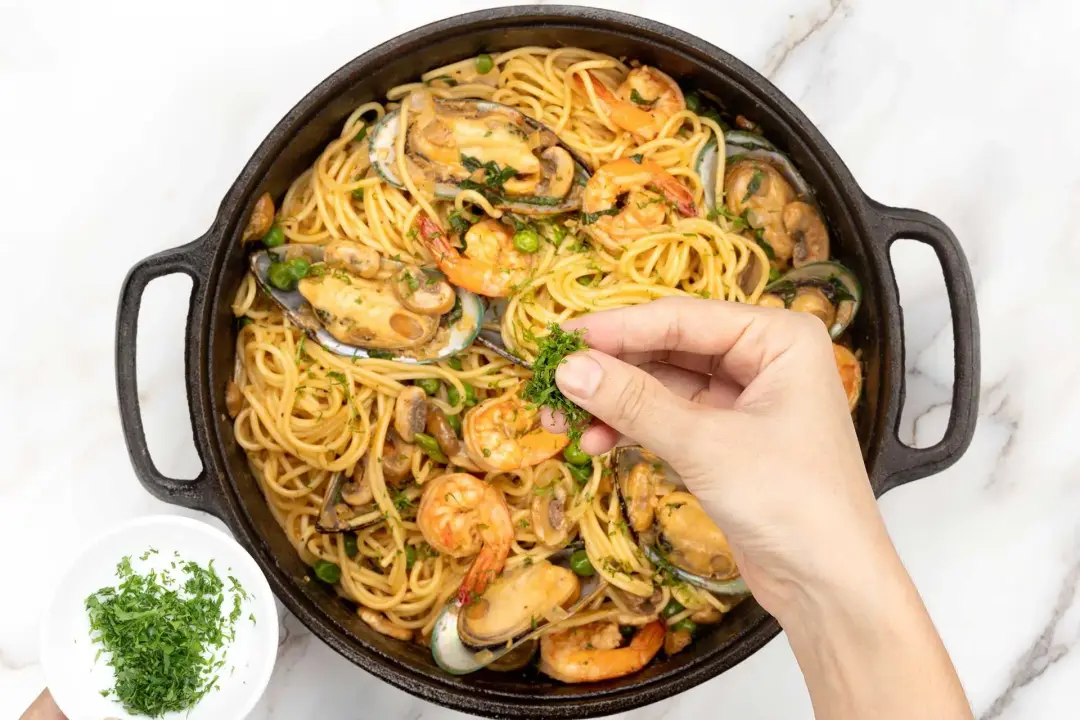 Decor and serve.
Can I Use Frozen Seafood for This Recipe?
With today's advanced technology, freezing seafood right after it's caught means it's just as good as when fresh. Thus, frozen seafood is considered an excellent option as a high-quality lean protein.
However, with a cream-based sauce like in this recipe, we don't encourage you to cook raw seafood from frozen. If cooked from frozen, the food will release excess liquid from the ice glaze which will liquify the sauce and ruin the dish's consistency.
For the best quality, thaw the frozen seafood in the refrigerator the night before. Another way is to thaw the food under running water. Note that you also should keep the seafood in a leak-proof bag to prevent bacteria from being introduced into the ingredients.
How to Store and Reheat Leftover
Containing dairy, the creamy seafood pasta should be kept in an airtight container and placed in the refrigerator for up to 2 – 3 days. If you want to maximize the shelf life, freeze the dish. It will stay fresh for up to 3 months in the freezer.
This pasta seafood cream sauce will still taste delicious the next day. To reheat the dish, add a splash of milk or chicken broth and reheat slowly over low heat on the stove until hot.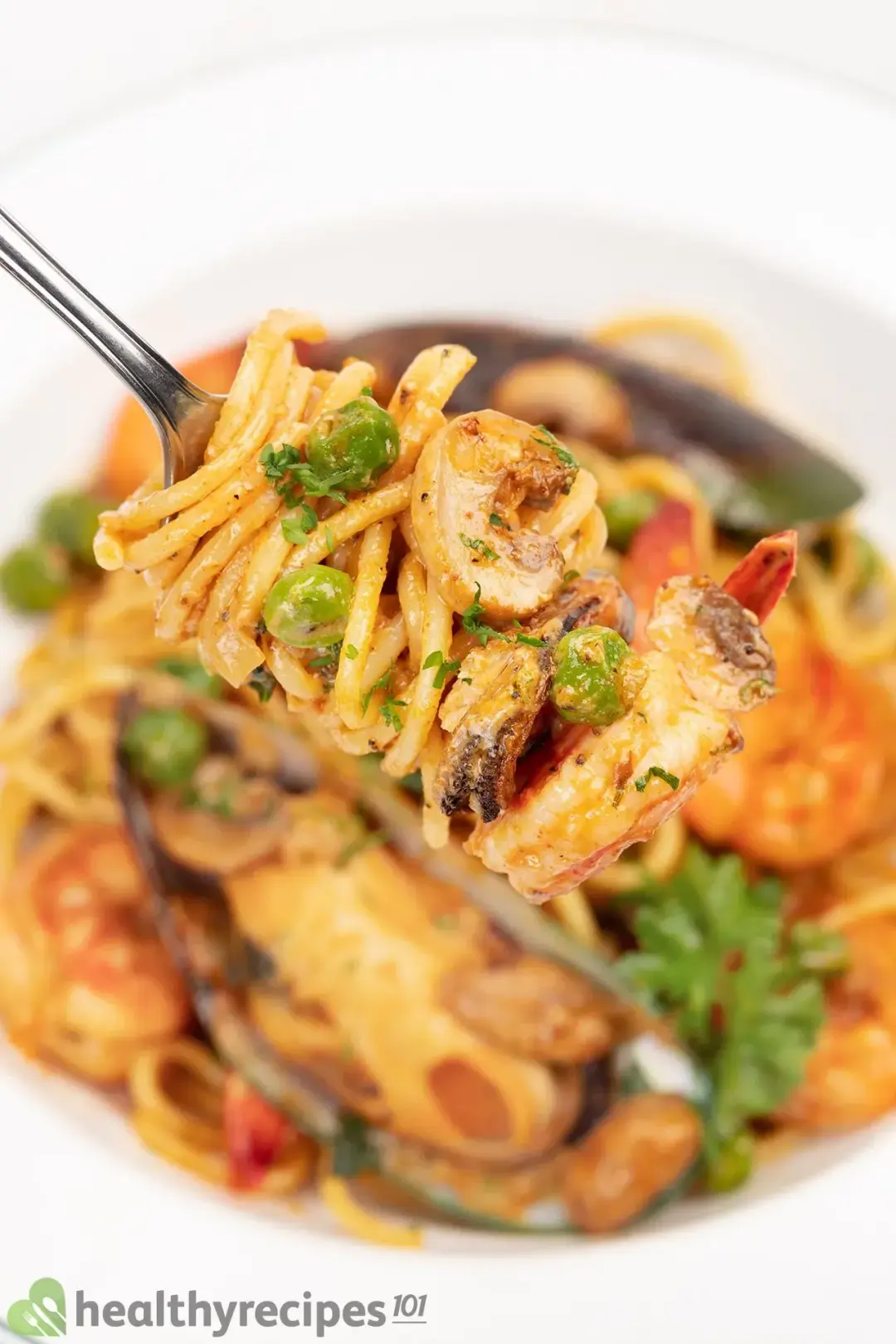 Avoid simmering your pasta because reheating creamy food over high heat will cause the cream to separate and the butter liquify. The sauce will end up too watery and less tasty. 
What to Serve With Creamy Seafood Pasta
Our seafood pasta gets its rich and elegant flavor from the blend of cream, garlic, herbs, and lemon juice. Although the dish can be paired with classic garlic bread or pumpkin soup for a hearty meal, we prefer a vegetable side to complement the seafood-based main course.
Kale Salad: A simple tossed salad like a kale salad works well as a side dish for seafood pasta. The slight bitterness of the kale and freshness of the fruits cut through the richness of the alfredo sauce, while the nuts' crunchiness offers a surprising textural contrast.
Lime and Watermelon Juice: A simple juice with only two main ingredients, this lime and watermelon drink is pleasantly refreshing and an appealing choice to complete the meal.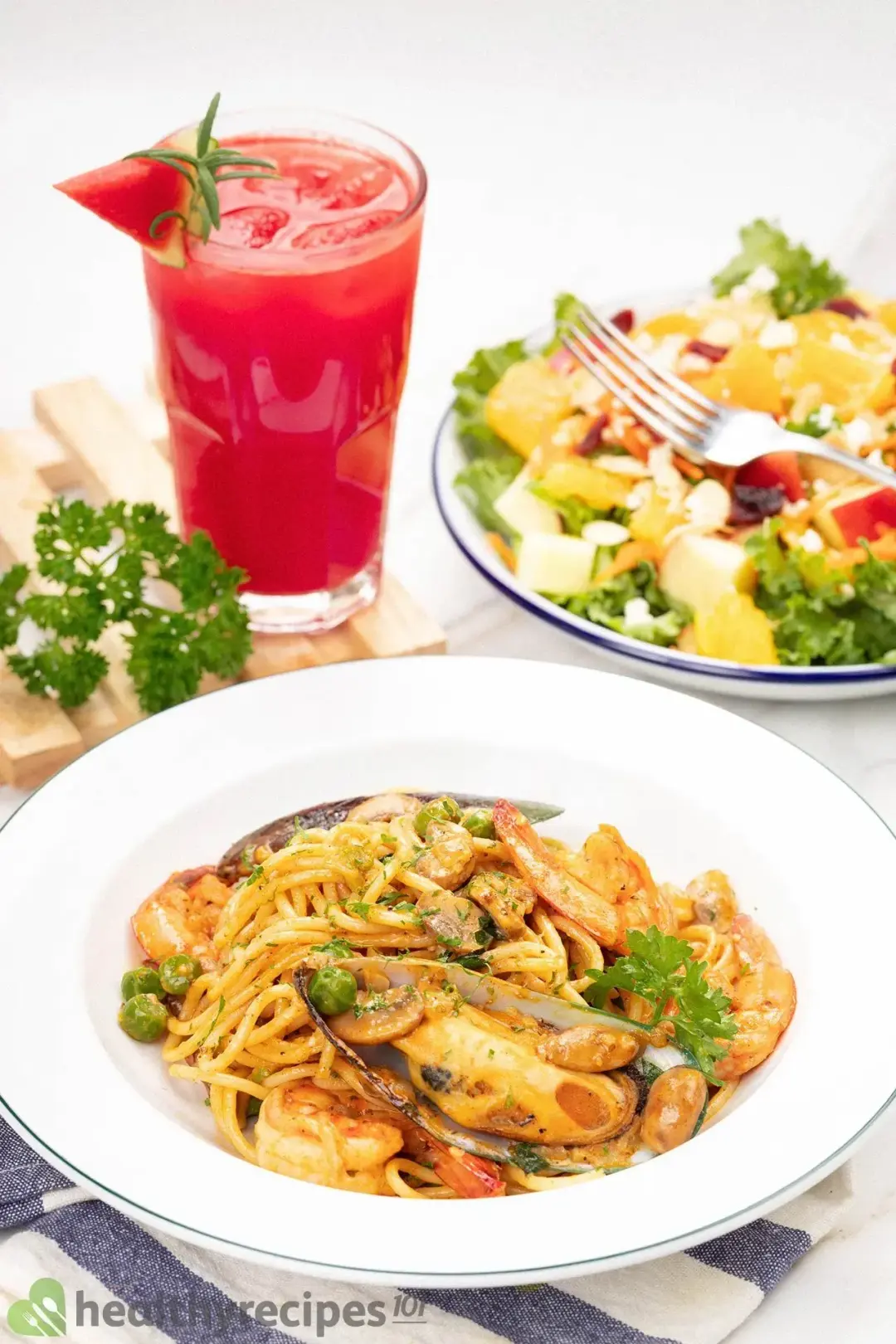 But Wait, There's More!
There are so many ways to whip up delicious meals with pasta that it'd be a shame not to learn a few more. We have lots of ideas you may love:
Creamy Seafood Pasta Recipe
This creamy seafood pasta recipe will remind you of a restaurant-quality dish with juicy shrimp, tender mussel, and rich alfredo sauce.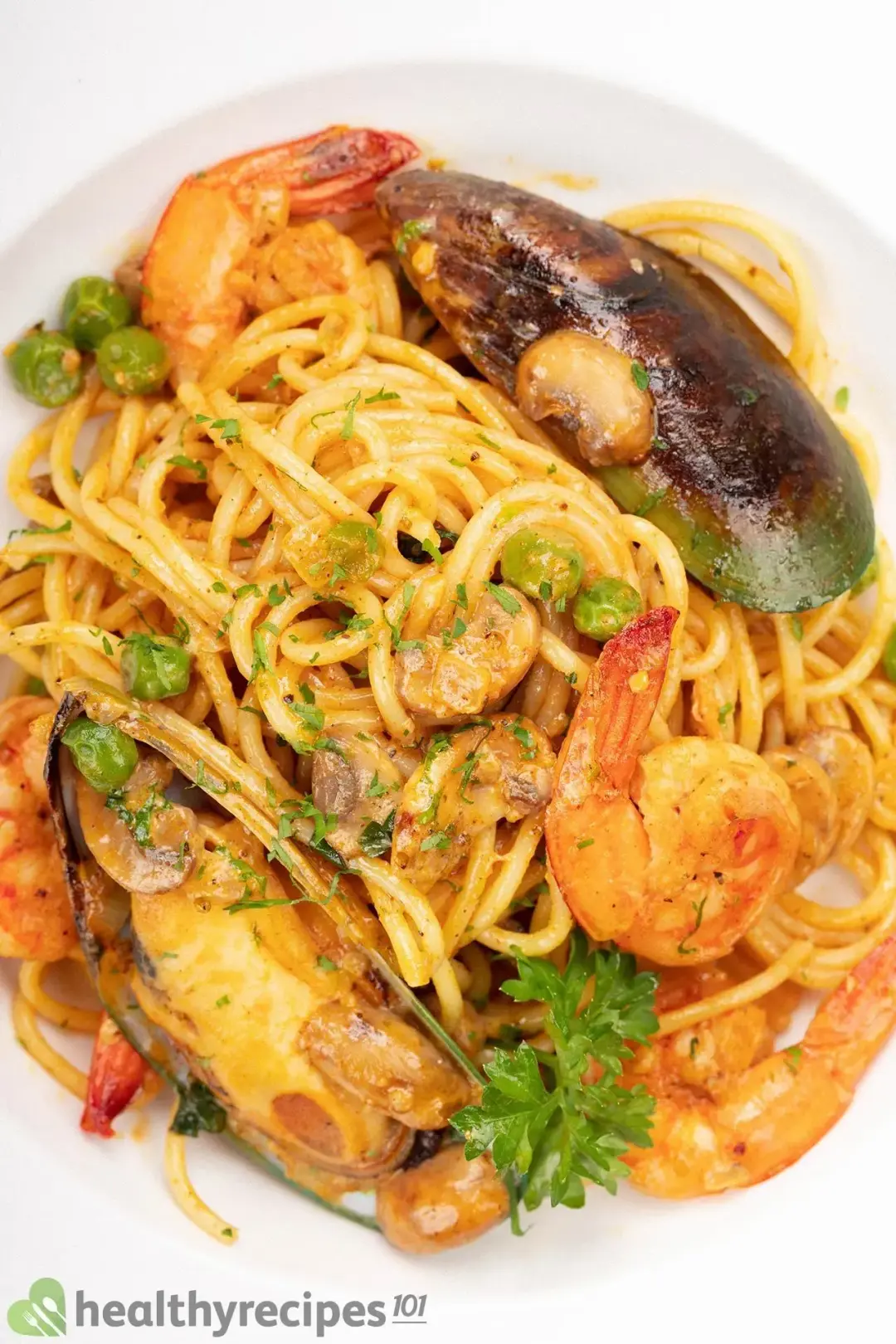 cook TIME

10 mins

prep TIME

10 mins

total TIME

20 mins
COURSE

Dinner, Lunch, Main Course

CUISINE

American

SERVINGS

servings

CALORIES

487 kcal
INGREDIENTS
2 tbsp

olive oil

1 tbsp

garlic chopped

2 oz

onion chopped

10 oz

raw shrimp 6 oz peeled shrimp

6 oz

mussel

0.5 tsp

salt

0.5 tsp

ground pepper

1 tsp

paprika

1 tsp

oregano

6 oz

white mushrooms sliced

2 oz

green pea

2.5 tbsp

unsalted butter

0.5 cup

milk

0.3 cup

heavy cream

0.3 oz

grated parmesan

14 oz

cooked spaghetti

1 tbsp

basil

1 tsp

lemon juice

2 tbsp

parsley
INSTRUCTIONS
1
Place a nonstick pan over medium-high heat. Once the pan is hot, add 2 tbsp olive oil, 1 tbsp garlic, and 2 oz onion to the pan. Cook until fragrant, about 1 minute.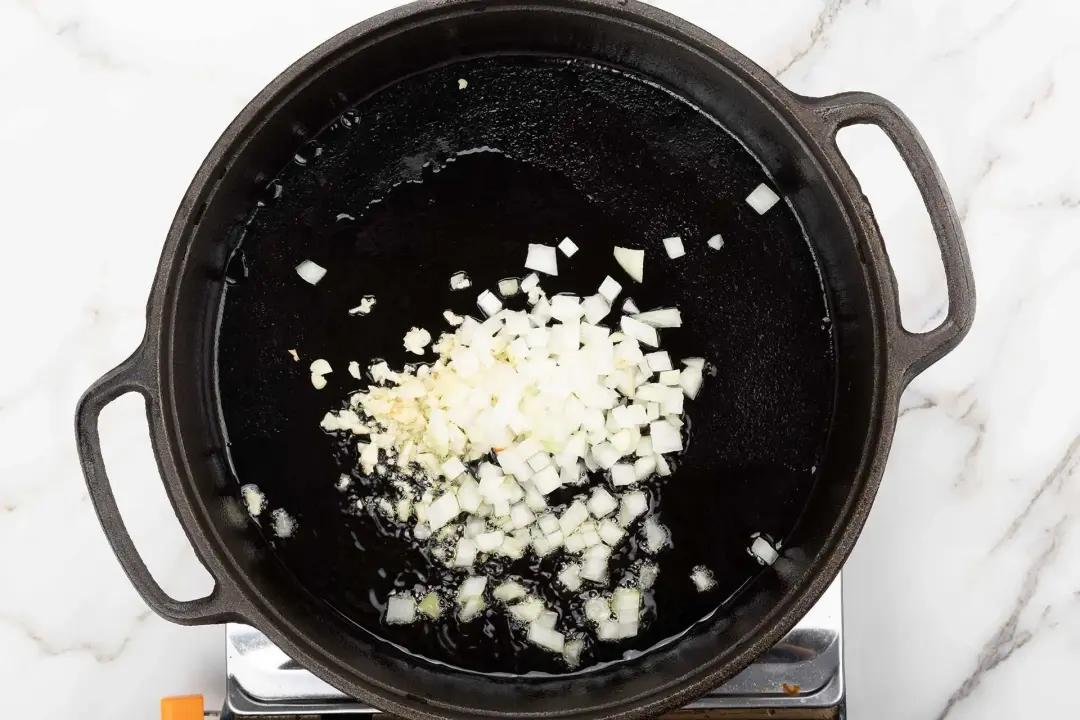 2
In the same pan, add 6 oz peeled shrimp, 6 oz mussel, 1/2 tsp salt, and 1/2 tsp ground pepper, 1 tsp paprika, and 1 tsp oregano. Stirring often in 2 minutes.
3
Add 6 oz mushroom, 2 oz green peas, and 2 1/2 tbsp butter to the pan. Stir fry for another minute.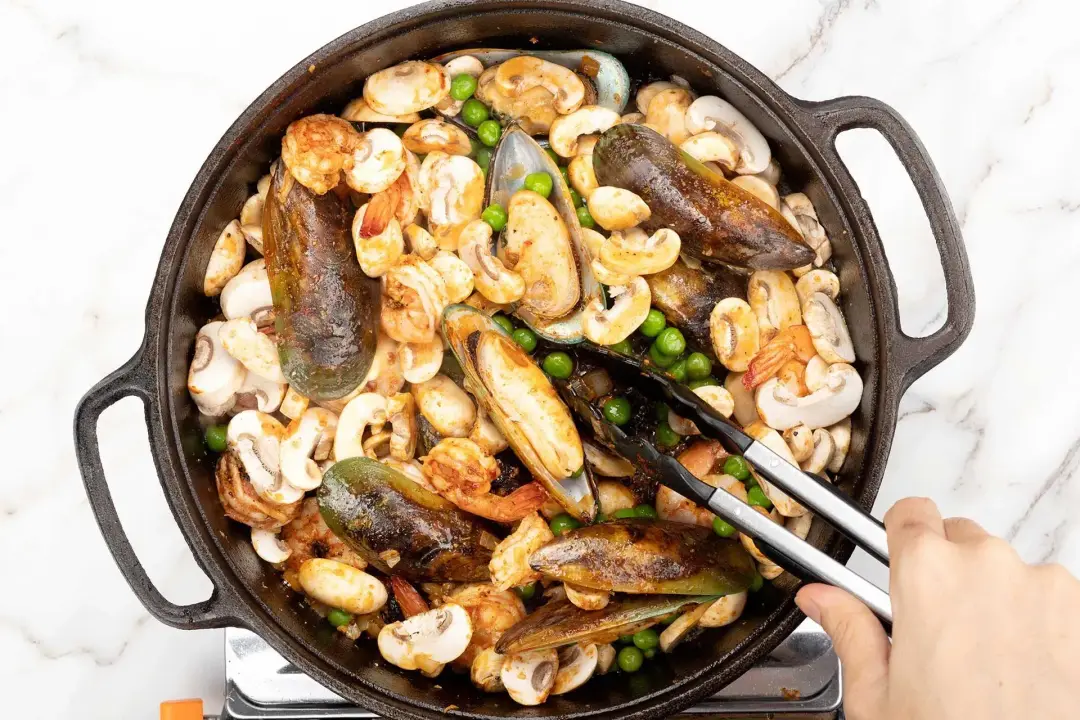 4
Pour in 1/2 cup milk, 1/4 cup heavy cream, 0.25 oz parmesan, and 1 tsp lemon juice. Stir until creamy and smooth, about 2 minutes. Stir in 14 oz cooked spaghetti and 1 tbsp basil and toss in 1 minute until the noodles are well coated in sauce.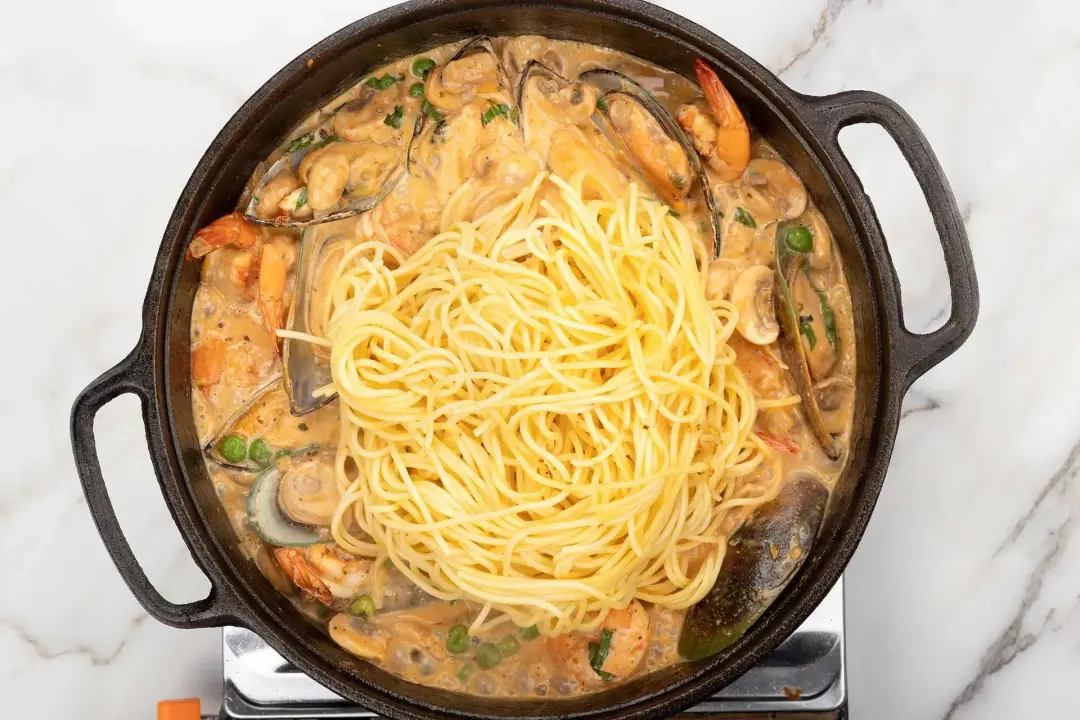 5
Garnish with parsley. Serve hot.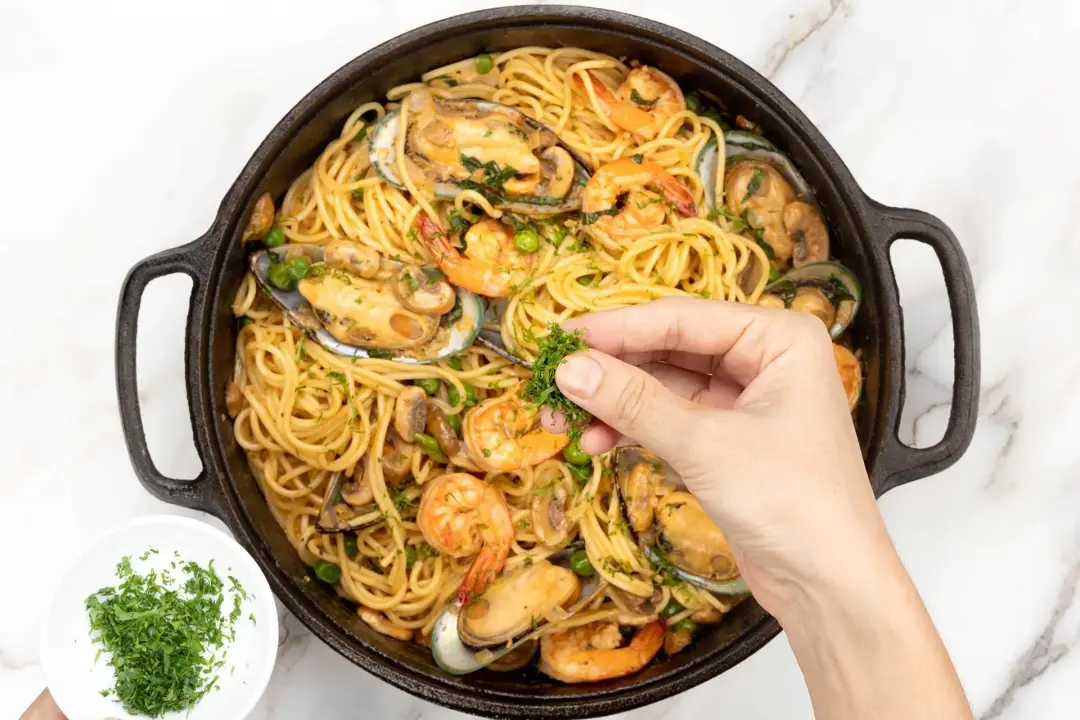 NUTRITION
Nutrition Facts
Creamy Seafood Pasta Recipe
Amount Per Serving (1 serving)
Calories 487
Calories from FDA
% Daily Value*
* Percent Daily Values are based on a 2000 calorie diet.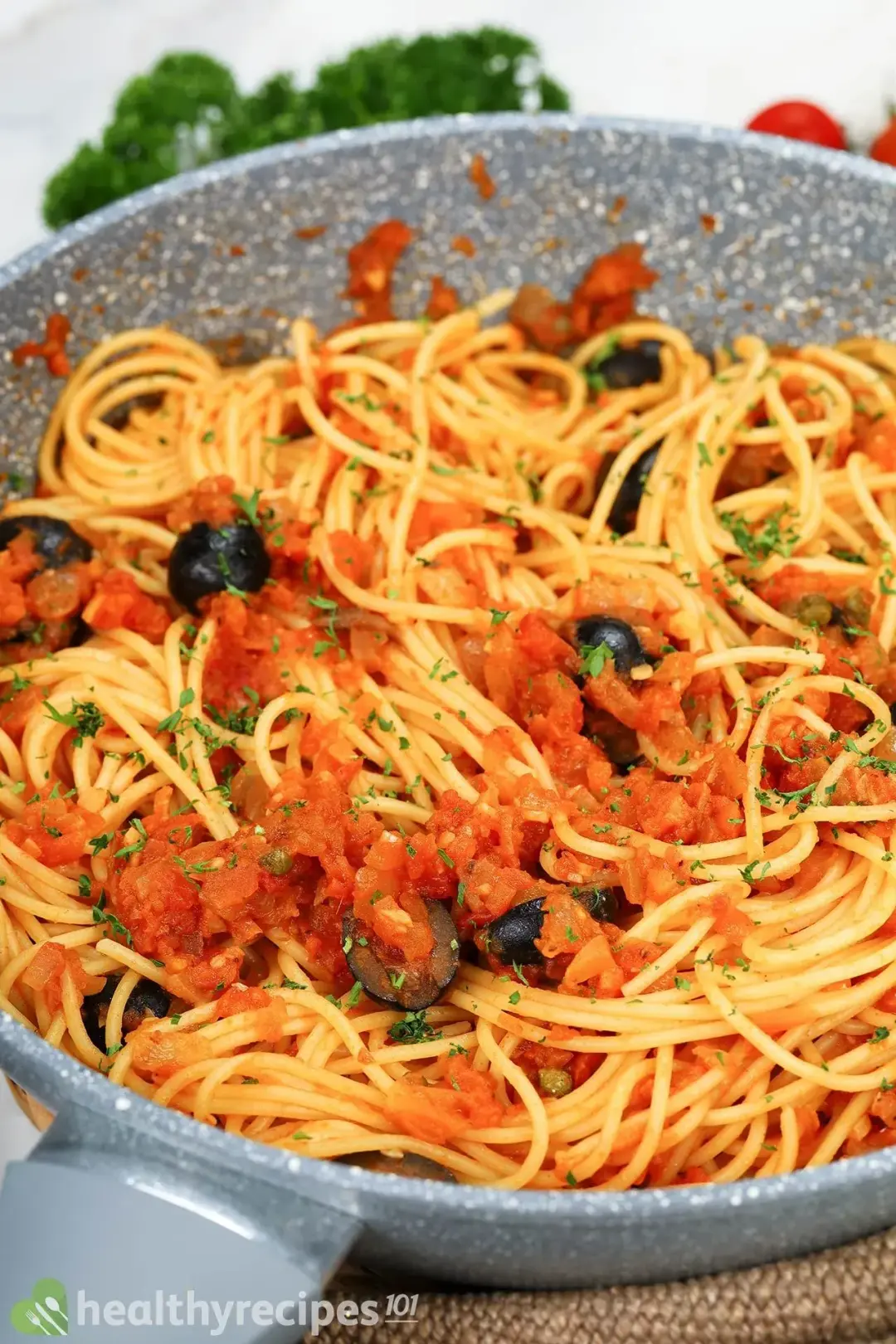 Previous Recipe
Pasta Puttanesca
Pasta Puttanesca
Next Recipe
Sweet Potato Gnocchi
Sweet Potato Gnocchi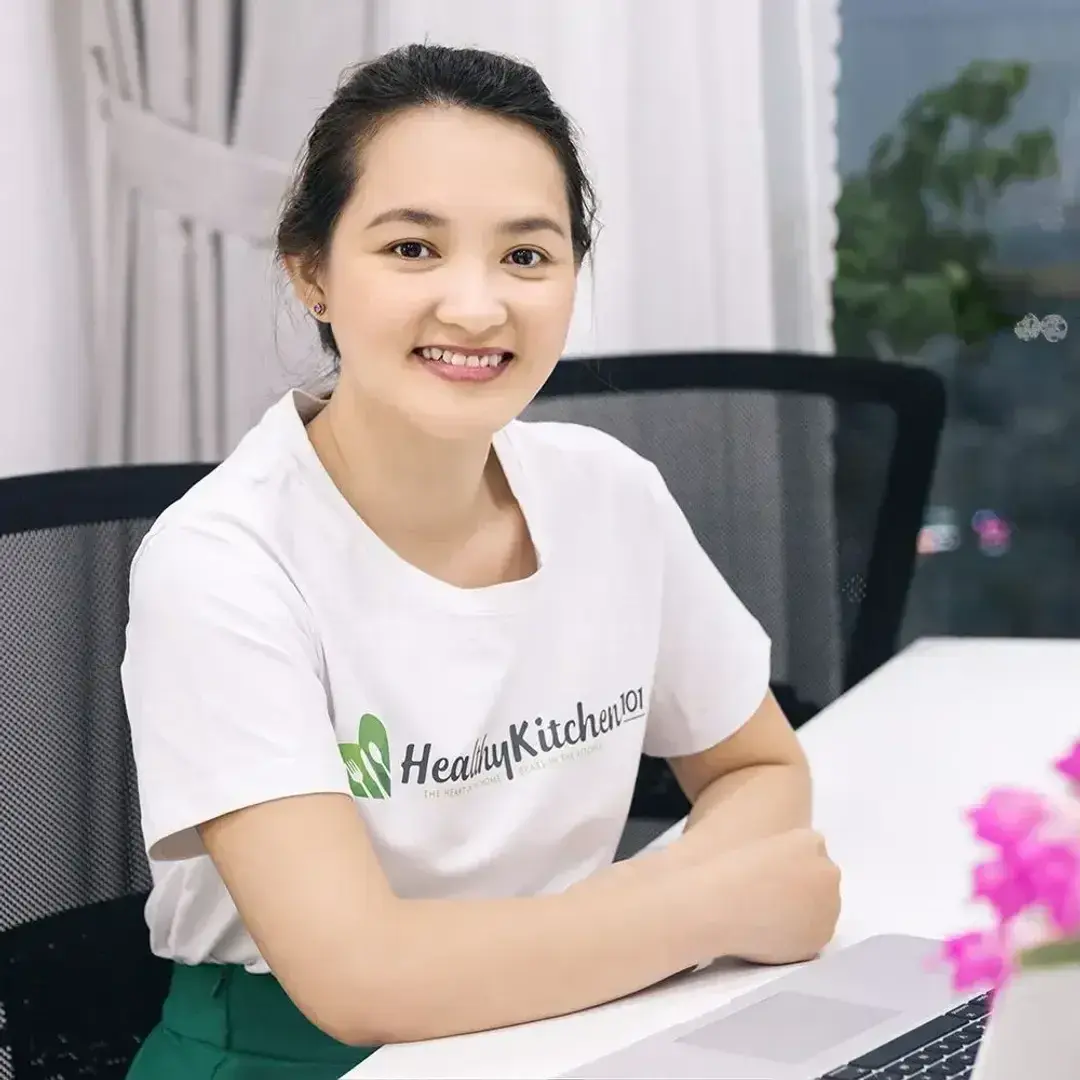 Luna Regina
Luna is the founder and chief recipe developer of Healthy Recipes 101. Apart from cooking, she also loves reading, programming, exploring the outdoors, and collecting useless facts about everything.