If there's a classic three bean salad recipe to keep in your repertoire, this may be it. It combines green beans, kidney beans, chickpeas, celery, onion, and a lemon-mustard dressing to create a tasty dish.
The best part is it's a rich source of fiber and protein — all while being vegetarian. Call that "the meat" of this article if you like.
Also, you can't go wrong with this salad. It's little more than three of your favorite legumes and a lovely sauce to go with them — it doesn't get any easier than that.
Is This Three Bean Salad Recipe Healthy?
Yes, this three bean salad is healthy. It provides you with loads of essential nutrients in each spoonful.
The nourishment lies mainly in the beans, which are notorious for packing fiber.
In addition to regulating bowel movements, a diet rich in fiber may improve heart health. The more you chew on these tasty little morsels, the better your chances of avoiding cardiovascular disease.
Check this classic southern pea salad recipe for another nutritious legume dish.
Ingredients
This salad champions three main ingredients:
Green Beans: Also known as lima or snap beans, green beans deliver a crunchy texture that adds character to any dish. This makes them an excellent side dish component; see this classic green beans recipe for Thanksgiving to get more ideas on incorporating them into your meals.
Kidney Beans: These are colored and shaped just like kidneys and make the salad more filling.
Chickpeas: You may also know these as garbanzo beans. Chickpeas are popular for their versatility, and in this dish, they add a buttery texture and a slightly nutty flavor.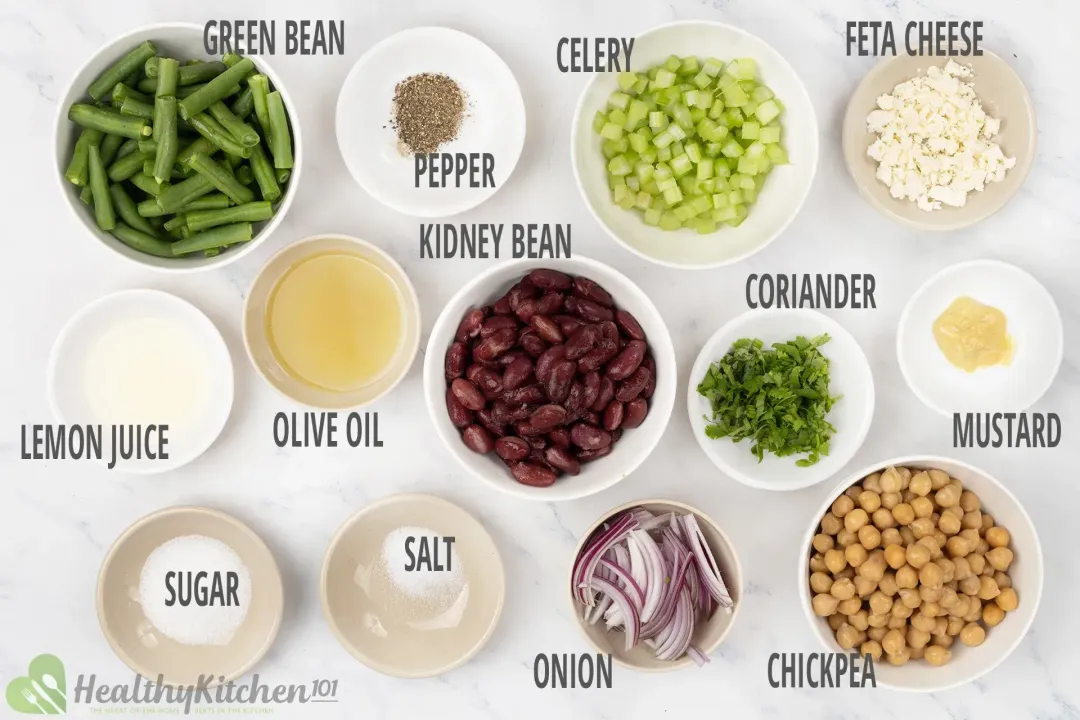 Other important ingredients go into the sauce — the two main ones being lemon juice and mustard. These emphasize the bitter, tangy aspect that gives a kick to the dressing.
You only need small amounts of celery and red onion as they can be pretty bitter.
We love feta cheese and coriander for garnishing this salad. Though they differ entirely in taste and texture, they really drive home those lovely citrus notes.
Can I Use Different Types of Beans for This Recipe?
Absolutely!
You can put your own legume twist on this three bean salad recipe. Wax beans, black beans, or peas are excellent substitutes to try.
Three Bean Salad Dressing
The dressing for this salad is pretty simple. Lemon juice, salt, pepper, sugar, olive oil, and mustard are all you need to make a quick sauce.
Whisk together the ingredients to create a smooth, piquant dressing ready to pour onto the salad.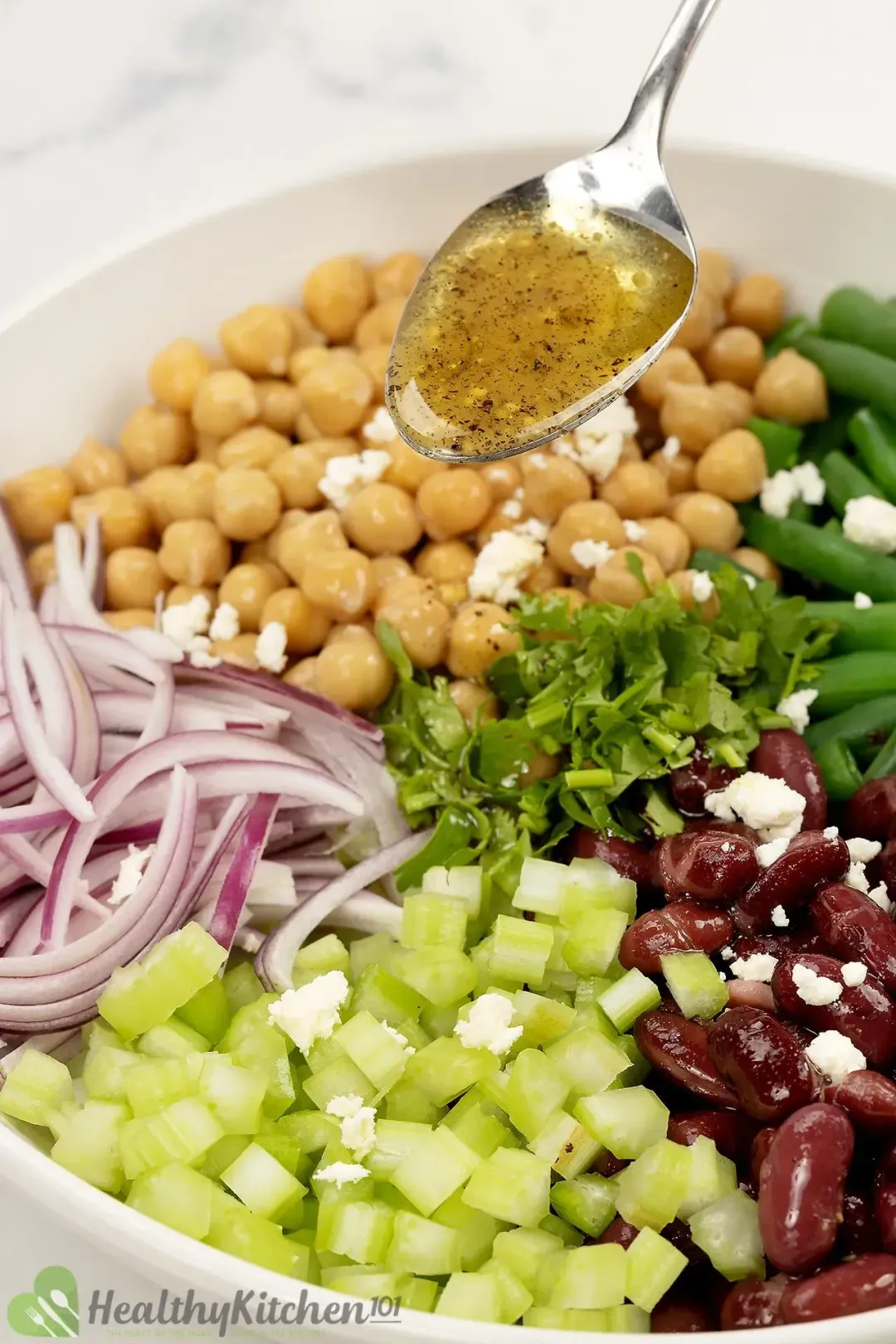 You can adjust the recipe as you like. Cut back on the sugar if the sauce is too sweet for your liking, or add more mustard to taste.
We only recommend that you keep in as many ingredients as you can. As you'll soon taste, each element is truly crucial to this lip-smacking dressing!
Preparation Tips
Rinse canned beans: Both kidney and garbanzo beans in this recipe are packed in thick liquids that are best rinsed off before use.
If you're using canned beans, place them in a colander and rinse under cold running water for a fresher salad.
Use an ice bath after blanching: Immediately transfer cooked green beans into a bowl of ice water to stop the cooking process; this also helps them retain their bright green color.
Use a sharp knife: This is the key to slicing onions easily. It may also reduce your chances of teary eyes while cutting the onions.
If your knife skills aren't quite up to par, use a mandoline to help you finish the task. Be sure to apply pressure to get evenly sliced onions.
Can You Freeze Bean Salad?
Yes, you can. Once frozen, the bean salad can last up to one month in the freezer.
We recommend that you keep it in a freezer-safe container to minimize the risk of freezer burn.
If you are looking for another healthy bean salad, don't hesitate to check out our chickpea salad recipe and give it a try at the next cook-out.
How Long Does Three Bean Salad Last?
Our salad can last up to 5 days in the fridge if you store it in an airtight container. Lemon juice is also a preservative, so it helps keep the salad fresh for a longer period.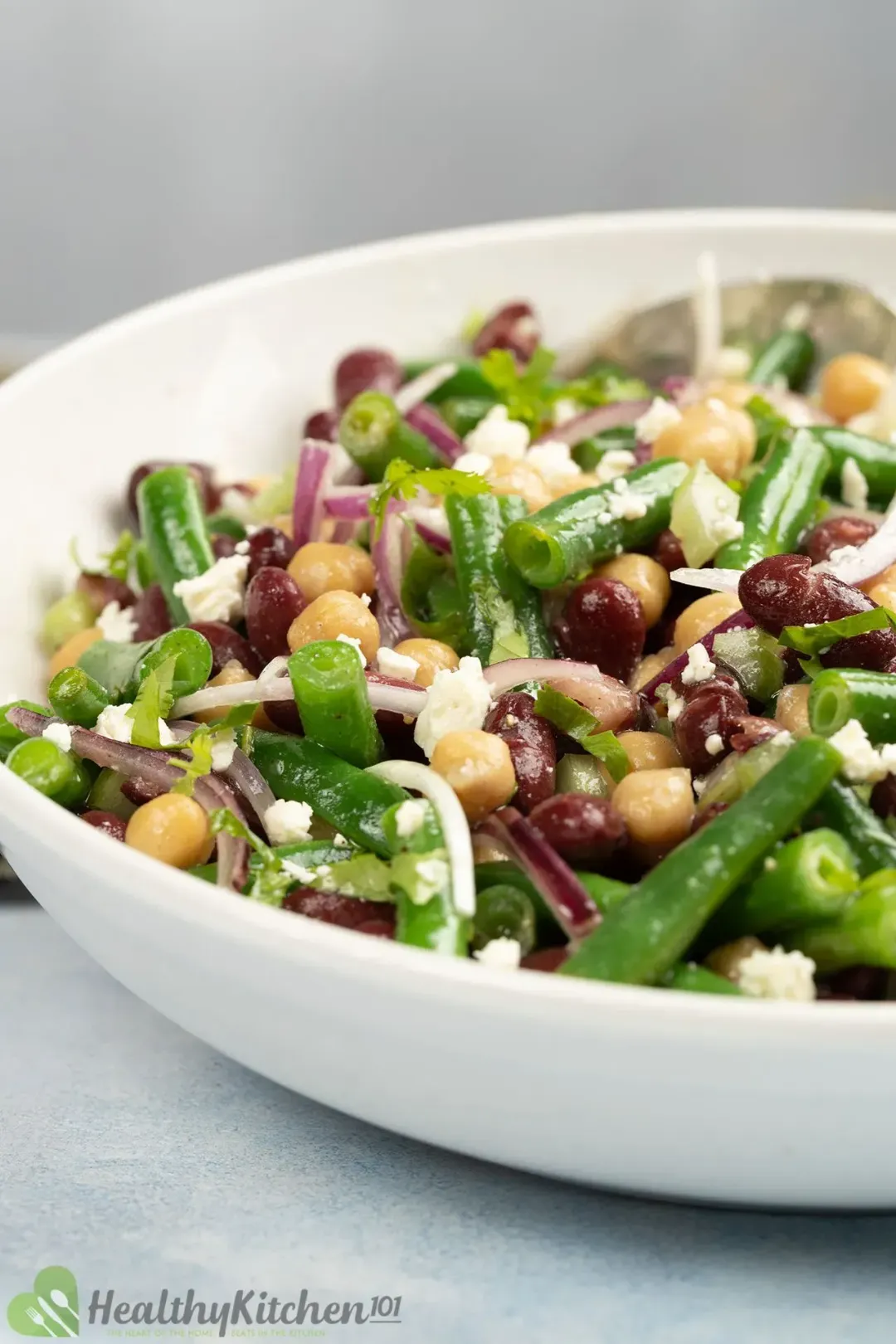 If you'd like to work more healthy salads into your week, try meal prepping. Divide this salad into serving portions and transfer it into storage containers (like Tupperware) before freezing.
After that, simply thaw the salad to enjoy a wholesome, nutritious dish in just minutes!
How to Serve Three Bean Salad
Like revenge, this salad is best enjoyed cold.
Once you've finished prepping, use plastic wrap to cover the bowl of salad. Quickly pop it into the fridge for 30 minutes, or until chilled, before serving.
Of course, you can also serve this salad at room temperature, as we did when we were testing the recipe out. There's every chance you'll enjoy it, as the flavors and textures, in and of themselves, offer a splendid treat.
For a wider selection of salad dishes, don't miss out this collection on the 44+ healthy salad recipes that we've carefully sorted out for you!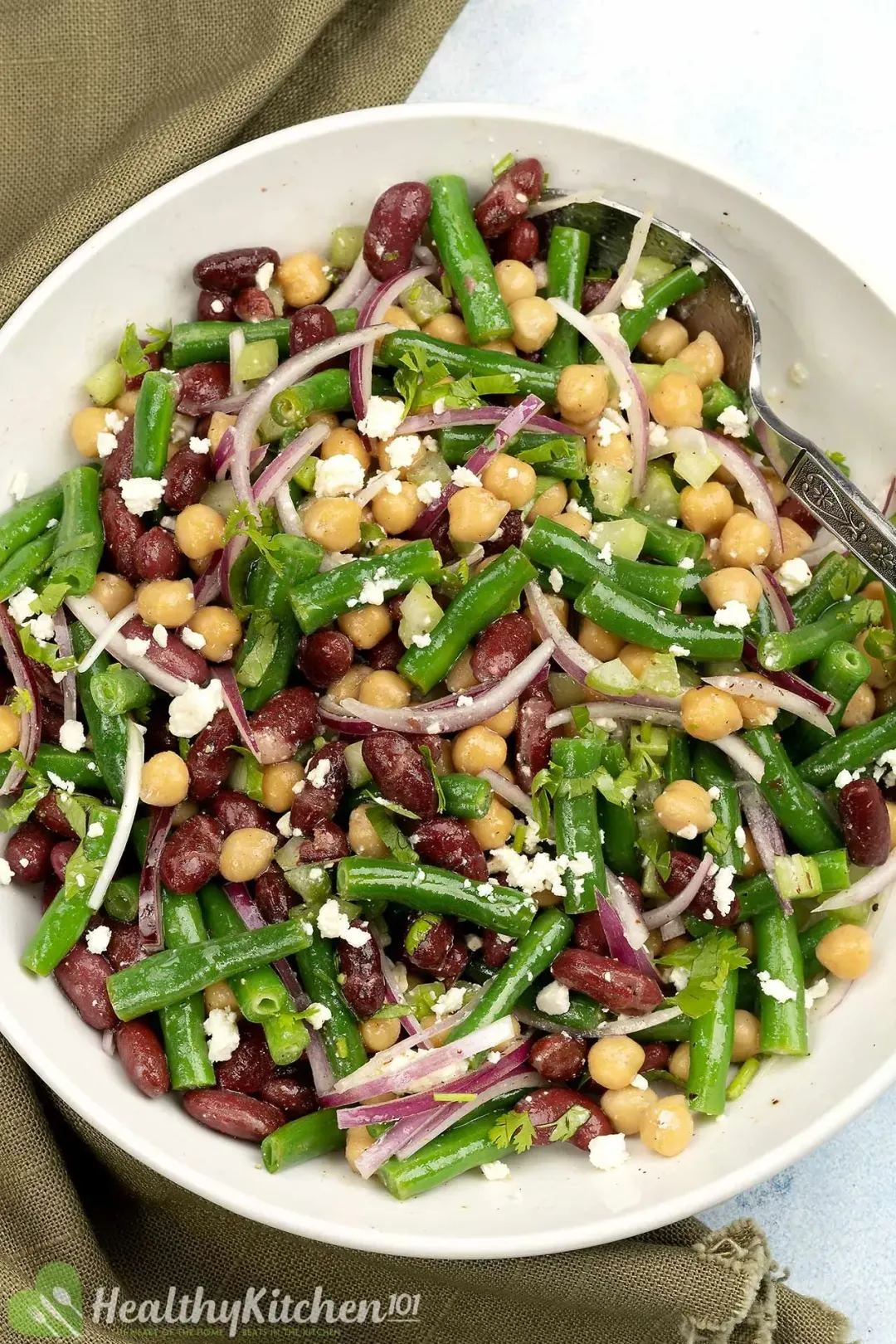 Classic Three Bean Salad
This three bean salad is a breeze to make. Toss with a lemon-mustard dressing, serve it as a side, or double the servings to create a main dish!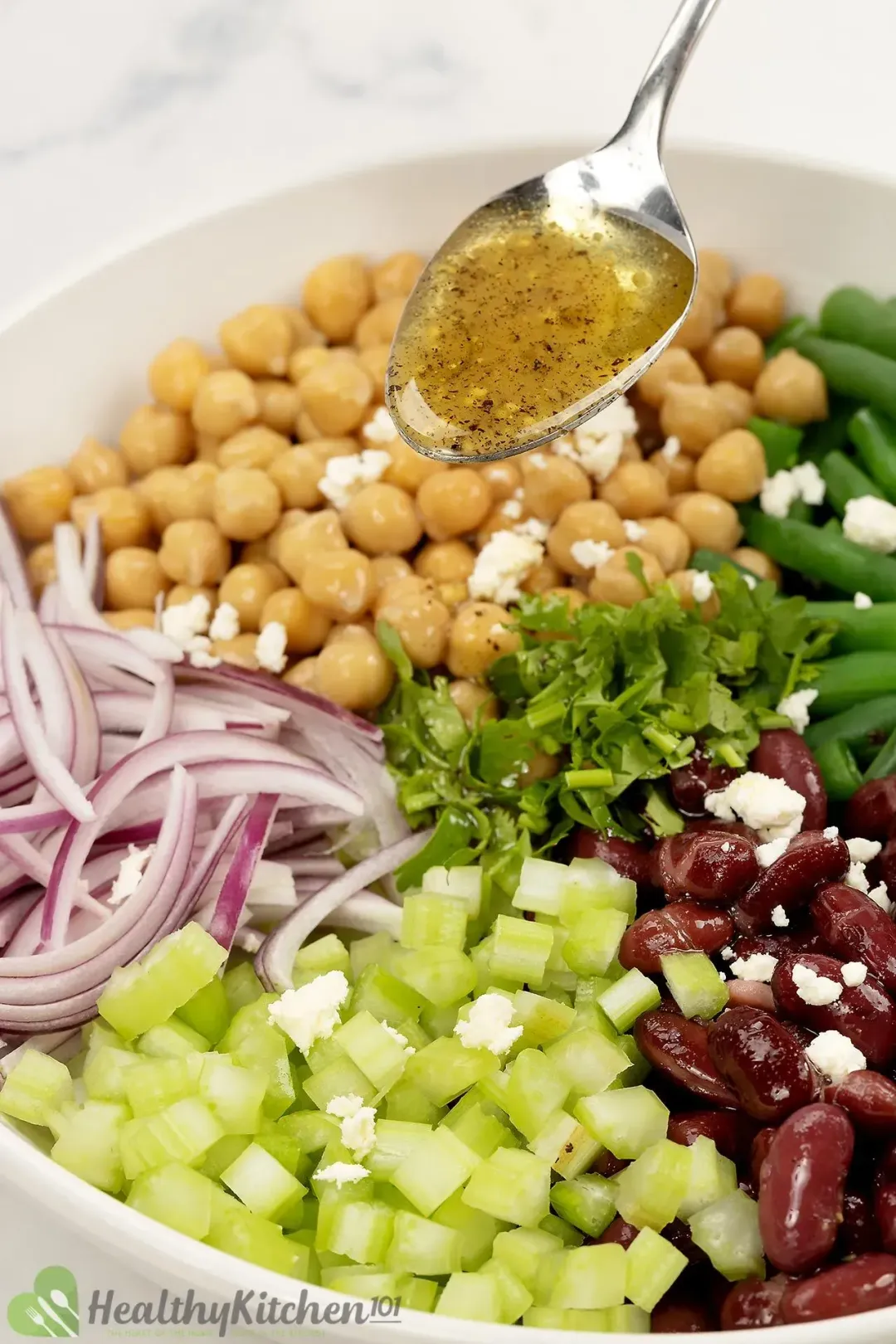 cook TIME

7 mins

prep TIME

10 mins

total TIME

17 mins
COURSE

Side Dish

CUISINE

Mexican

SERVINGS

CALORIES

160 kcal
INGREDIENTS
4 oz

green beans

(trimmed and quartered)

6 oz

unsalted dark red kidney beans

0.5 oz

feta cheese

(crumbled)

1/2 tsp

traditional Dijon mustard
INSTRUCTIONS
1
Fill a medium-sized pot with water and bring to a boil. Add 4 oz green beans and boil for 2 minutes. Remove the green beans and toss them in a bowl of ice water so they cool quickly.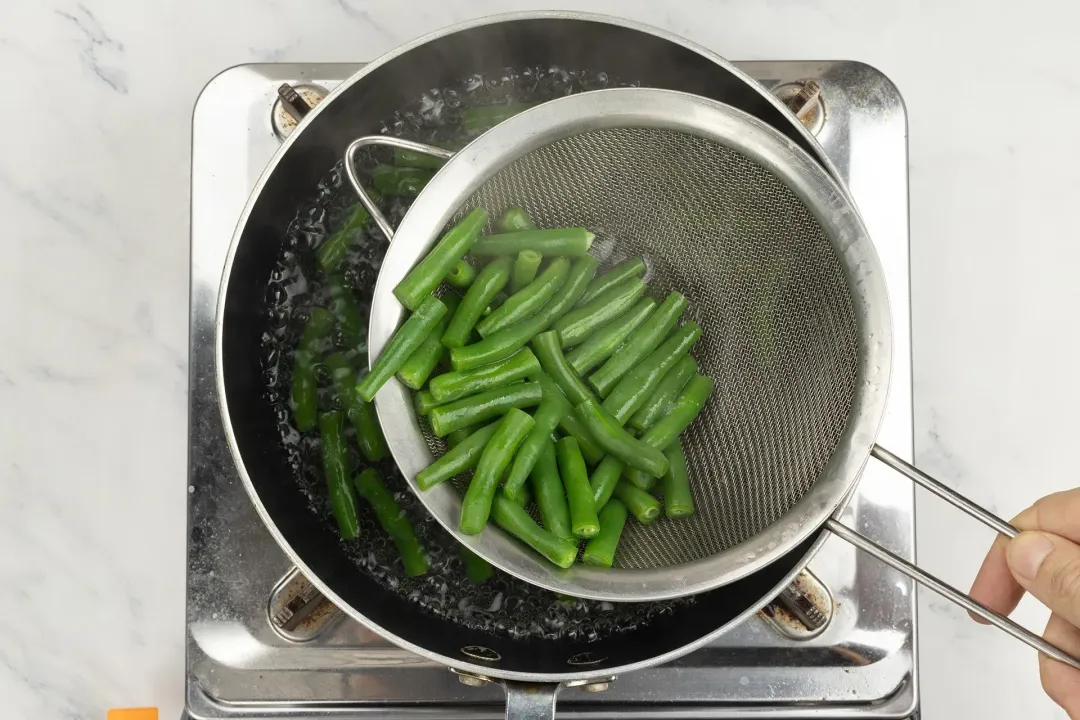 2
Mix sauce: In a small bowl, add 1 1/2 tbsp lemon juice, 1/4 tsp salt, 1/4 tsp pepper, 1 tsp sugar, 2 tbsp olive oil, and 1/2 tsp mustard. Mix well.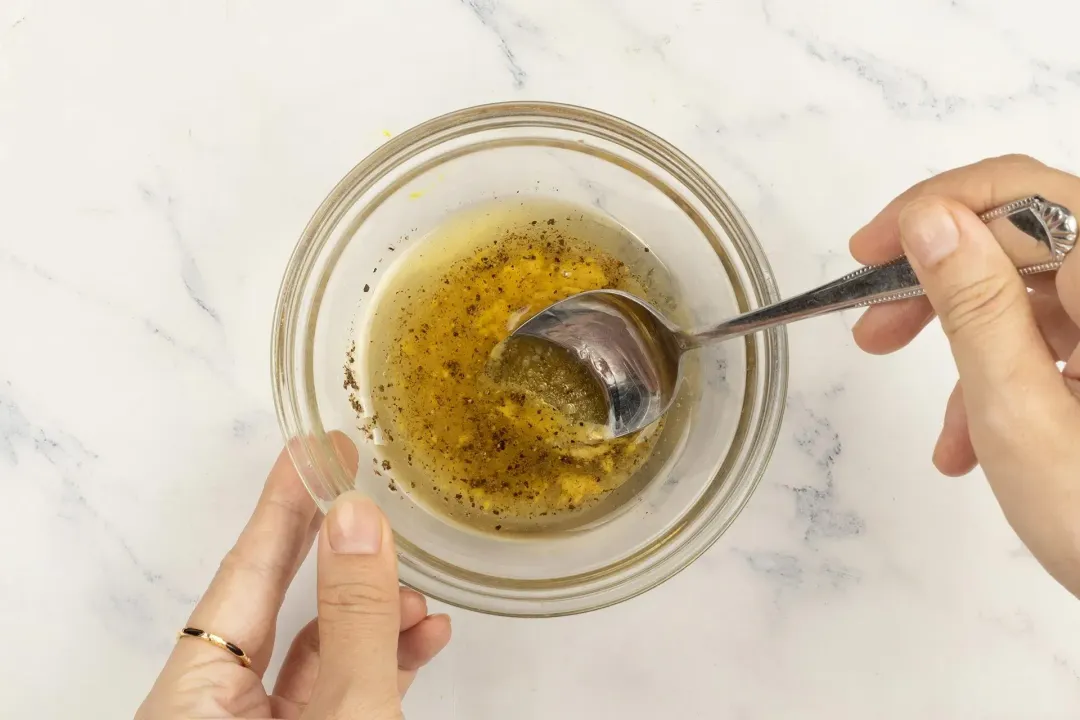 3
Add the cooked green beans, 2 oz celery, 1 oz onion, 6 oz kidney beans, 6 oz chickpeas, 0.5 oz feta cheese, and 2 tbsp coriander in a bigger bowl. Add the sauce and mix to evenly coat ingredients.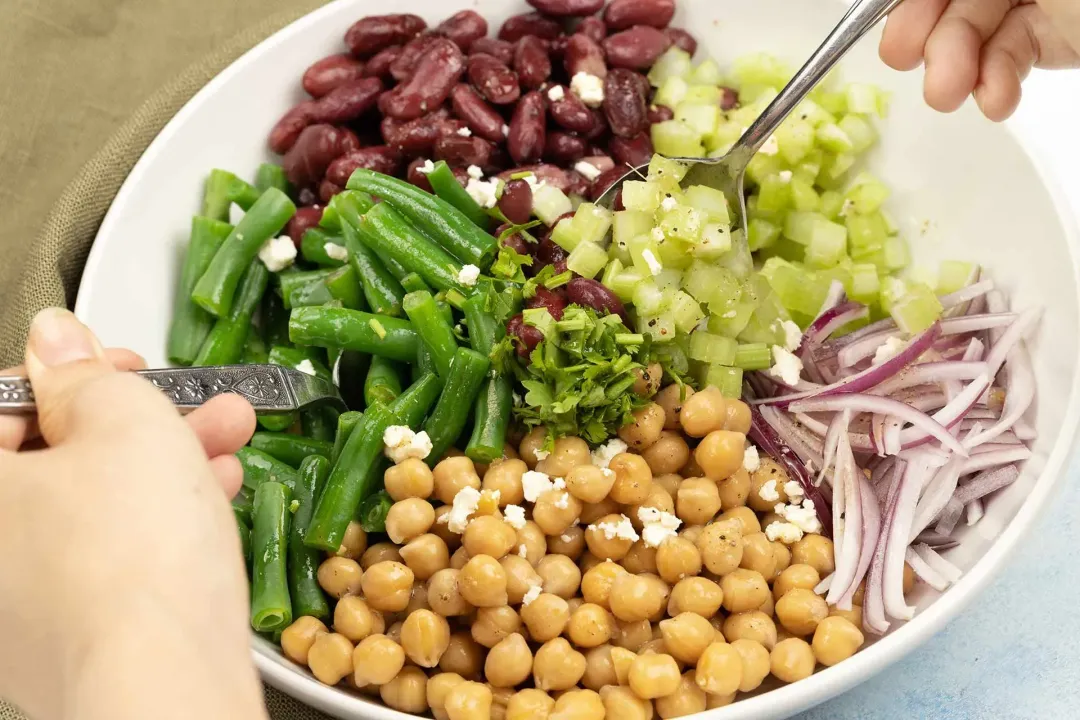 4
Serve. (This salad tastes better served cold, so you can chill it for 30 minutes before serving if desired.)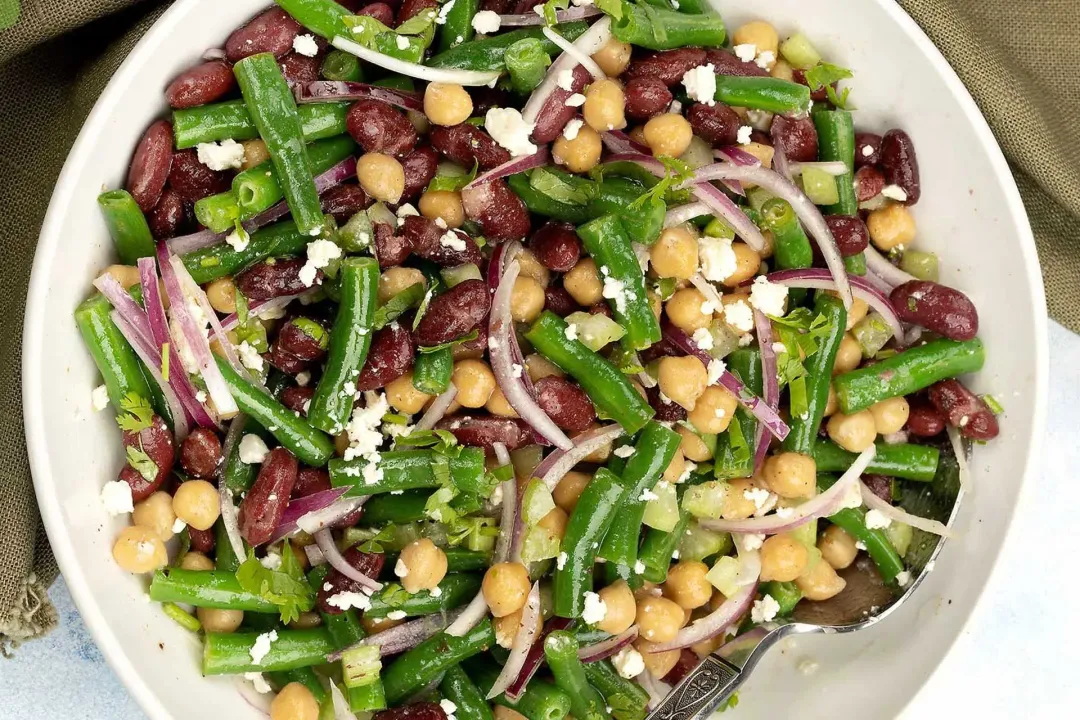 NUTRITION
Nutrition Facts
Classic Three Bean Salad
Amount Per Serving (1 serving)
Calories 160
Calories from Fat 72
% Daily Value*
* Percent Daily Values are based on a 2000 calorie diet.
Keywords: Classic Three Bean Salad Recipe, Three Bean Salad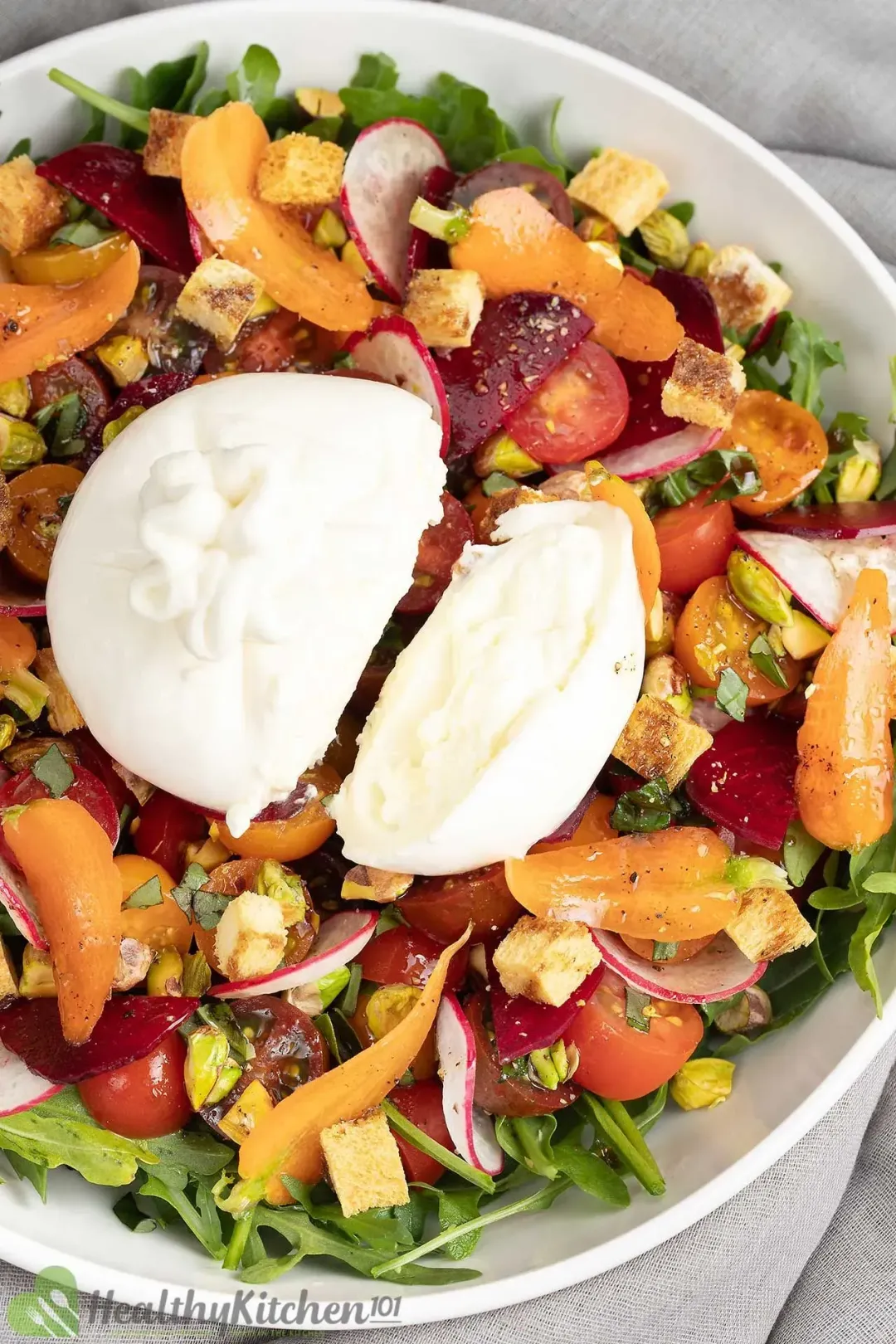 Previous Recipe
Burrata Salad
Burrata Salad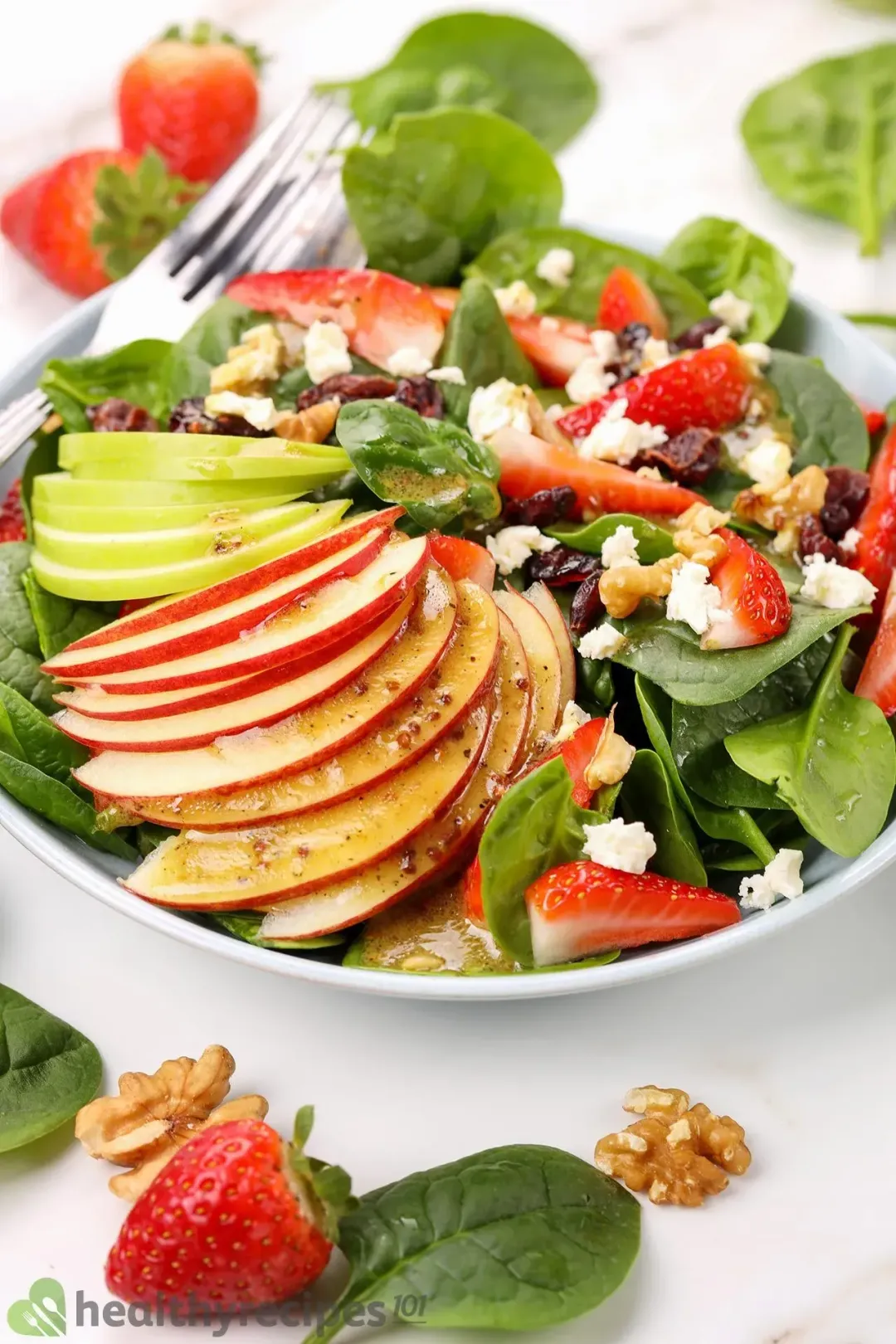 Spinach Salad
This three bean salad was absolutely delicious! The combination of green beans, kidney beans, and garbanzo beans was nutritious and full of great flavor. One of the best salads I've ever made!