Who doesn't love a protein-loaded salad that is easy to make and tastes absolutely divine? Our lentil salad includes lentils, tuna, eggs, cucumbers, cherry tomatoes, and crumbled feta cheese. These ingredients are prepped to perfection and tossed in a classic honey mustard dressing. It's healthy, hearty, and worth trying.
Is Lentil Salad Healthy?
Yes, this salad is as healthy as it is tasty. Its impressive nutrition profile with tons of protein, vitamins, minerals, and fiber has won the heart of many dieters.
In today's recipe, lentils and tuna are the crucial protein sources. One serving of this salad contains approximately 15 g protein from lentils and 1.5 g protein from tuna. Plus, lentils per se are a rich source of dietary fiber, which helps support gut health and reduce inflammation.
Cherry tomatoes, cucumbers, onions, eggs, and feta cheese are also combined to make up the rest of our salad. They offer complex flavors, textures, and nutrients to the dish.
We have portioned this salad so that it contains only 252 calories, 285 mg sodium, and 2.7 g saturated fat per serving.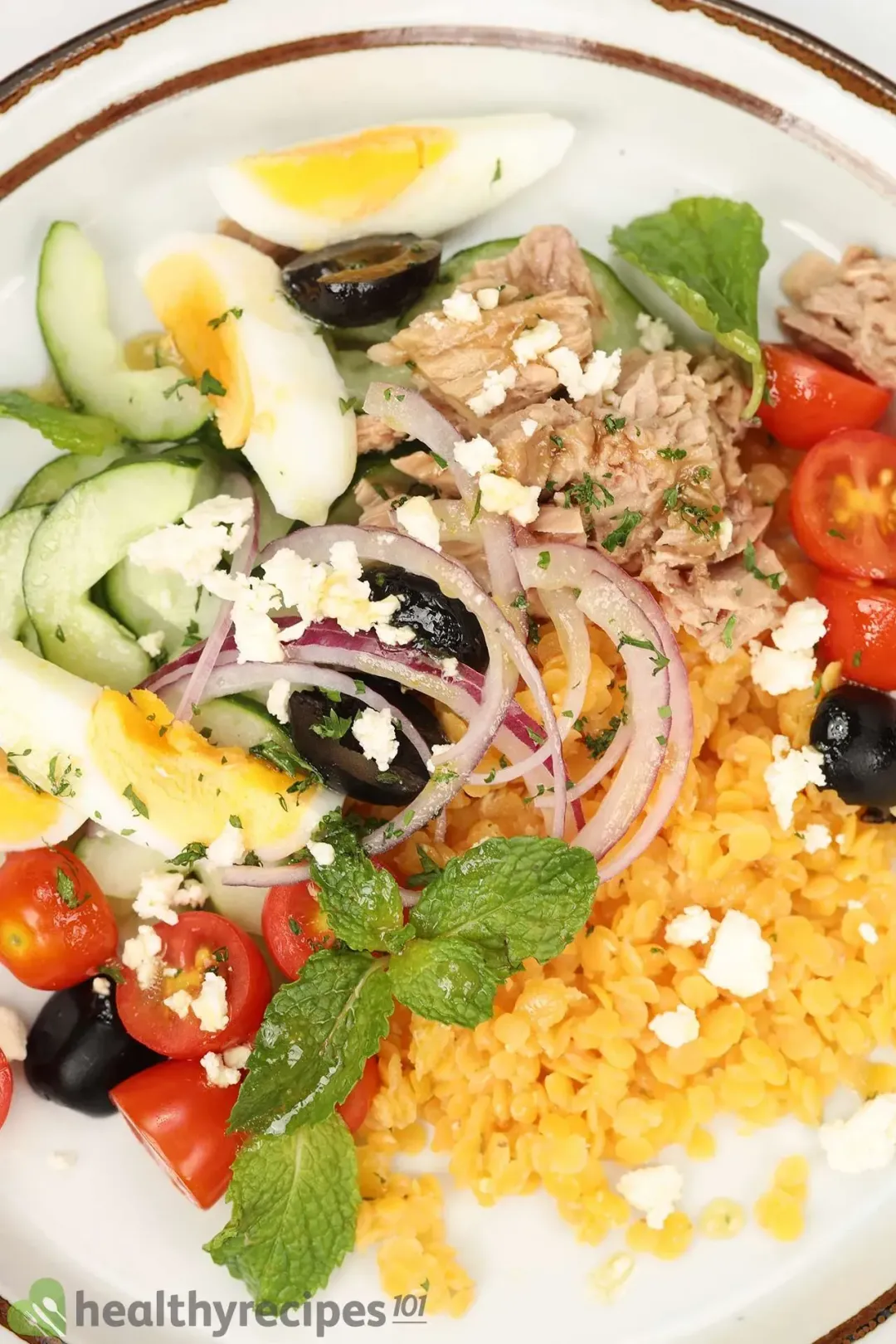 Ingredients for Lentil Salad
A made-from-scratch lentil salad is pretty simple, as it only requires some basic ingredients. Everything you need—from tuna and vegetables to spices and herbs—can be purchased at any grocery store.
Lentils: This legume is a staple for adding fillings to salads, stews, and soups. Unlike beans, fresh lentils are convenient and inexpensive to cook, as they don't need to be soaked overnight. Our chefs opt for yellow lentils with a mild creamy flavor and earthy undertones.
Canned tuna: The signature flaky texture and slightly fishy taste are our favorites. Canned tuna gives a subtle salty note to the salad, making it more versatile, even for the picky fish eaters.
Egg: Together with feta cheese, hard-boiled eggs act as a perfect topping for our salad. They lend a rich and luscious flavor to the dish while leaving no sloppy mouthfeel.
Cherry tomatoes and cucumbers: The crunchiness of tomatoes and cucumbers adds texture to our dish. Also, these vegetables possess a pleasing aftertaste that works well with mustard dressing.
Olive: Olive gives off unique Mediterranean vibes with bold and bright flavors.
Onion: We love adding slices of red onion for its distinct smell and taste. However, if you are not a big fan of pungent onions, feel free to skip them.
Dressing: Whisk together olive oil, Dijon mustard, honey, vinegar, lemon juice, and chopped parsley. You'll end up with a classic, fantastic dressing to pair with any green salad.
Garnish: A pop of green from parsley and mint is all it takes to complete the fresh look of our lentil salad.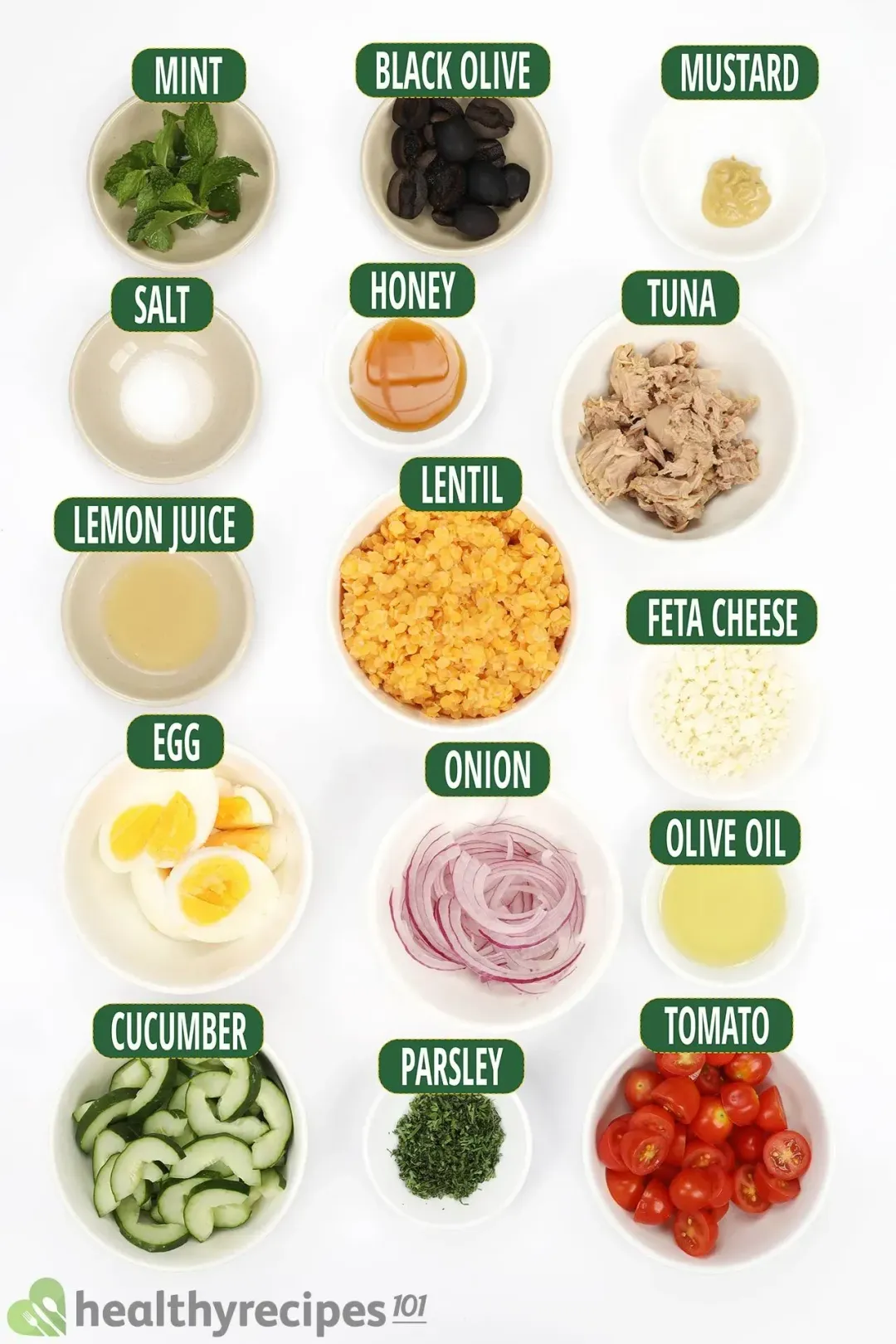 Types of Lentils You Can Use
Lentils come in five different varieties, all of which work wonders in salads.
Brown lentils: This is the most common variety you can find at the grocery store. It has a brown to black color and a nutty flavor.
Green lentils: The color ranges from pale green to slate green, with hints of blue and black. Green lentils have a more peppery taste compared to brown lentils.
Red and yellow lentils: Yellow lentils are widely used in Indian culinary arts. They lean on a sweeter and nuttier side, which works well in soups, stews, or curries.
Black lentils: When cooked, they look very similar to caviar—tiny, shiny, and pitch black.
Puy lentils: Puy lentils are grown in a specific central region of France—Le Puy. They have a dark, bluish-slate green hue and rich, peppery flavor. Even after they are cooked, Puy lentils retain their texture better than other varieties.
How to Prepare the Ingredients
For home cooks who want their salad to stay fresh longer, knowing how to prepare the ingredients is a must.
1. Prepare Lentils
Though lentils don't require any extra soaking, doing so will help reduce the cooking time by half.
Rinse the lentils in a colander under running water. While rinsing, make sure to pick out any debris or shriveled lentils.
Bring a small pot of water to a boil. Reduce the heat, and pour in the lentils. Cook them until soft, but not mushy. Since the cooking time varies depending on the variant, remember to check the instructions on the package.
Drain the water from the lentils and set them aside to cool.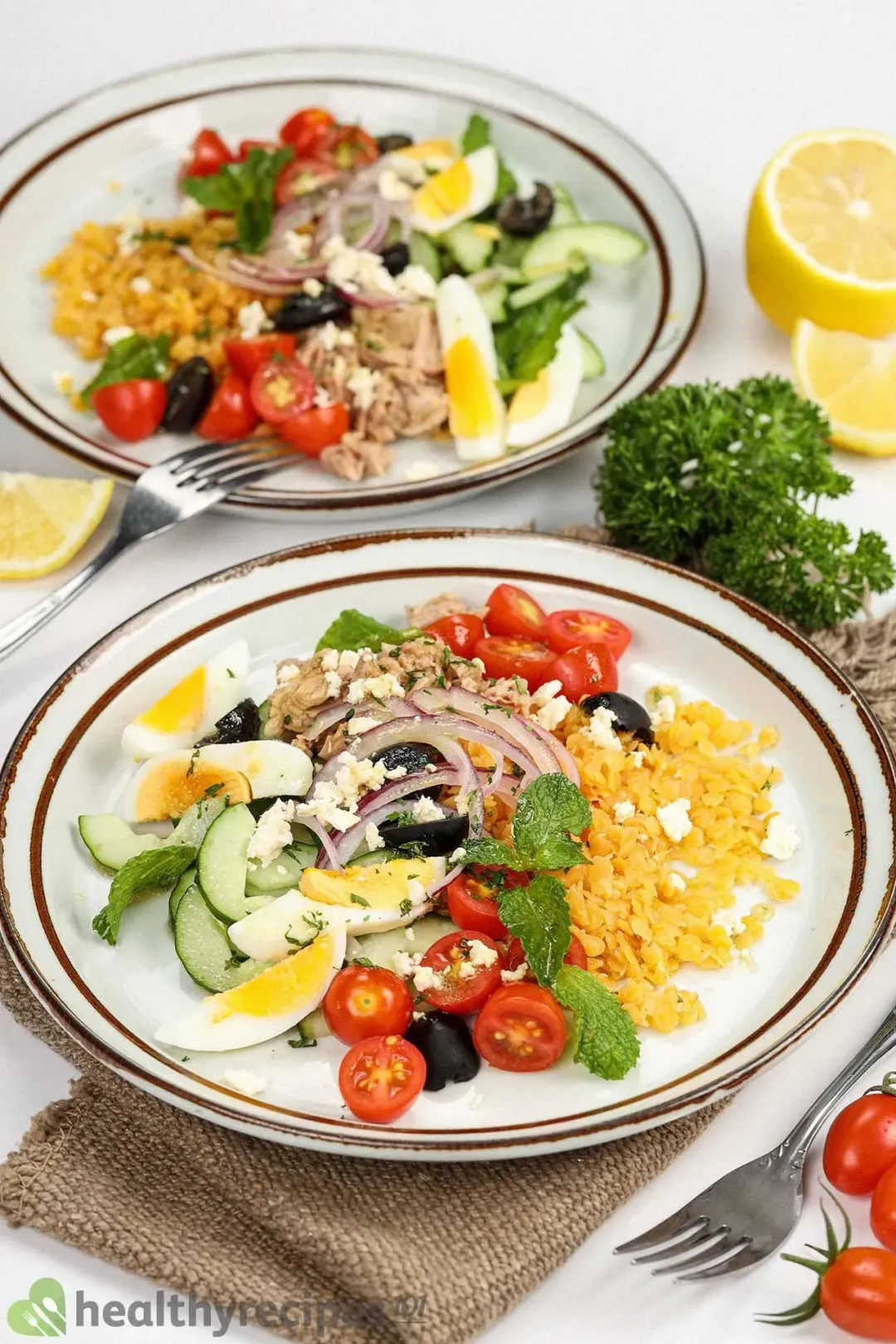 2. Prepare Other Vegetables
Run the vegetables under the faucet and dry them with a paper towel or a clean cloth.
For the cherry tomatoes, slice them in halves, using a sharpened knife.
For the cucumber, use the same knife to trim the ends and cut them in halves, lengthwise. Next, use a spoon to scoop out the seeds. Discard seeds. Continue to cut those halves widthwise, from the bottom to the top, to create desirable sizes.
For the onion, first remove the outer peel. Next, slice them into halves, lengthwise. Last, remove the core part and start slicing the remaining layers into strips.
What to Serve Lentil Salad With
Our lentil salad is one of the most universal side dishes that you can make for a quick breakfast, a light-hearted lunch, or a wholesome dinner gathering. If you are looking for some accompaniments, here are some great suggestions:
Pastries: Lentil salad served on top of crispy garlic bread makes for an effortless breakfast.
Soup: For lunch, there's nothing comfier than a steamy soup paired with a lentil salad. Check out our easy soup recipes for some inspiration.
Meat and fish: Serving this salad with grilled chicken, beef stroganoff, or salmon will make a heart-warming dinner.
How to Store Leftovers
You can enjoy the lentil salad right after it has been tossed. If you end up with some leftovers, place them in an airtight container, label the date, and store them in the fridge. They should last 3-4 days. Make sure to give it a nice toss before serving, as the dressing settles at the bottom of the container during storage.
How to Make Lentil Salad
Today's salad recipe includes yellow lentils, fresh vegetables, canned tuna, spices, and herbs tossed evenly in a tangy mustard dressing. It's make-ahead friendly and tastes amazing.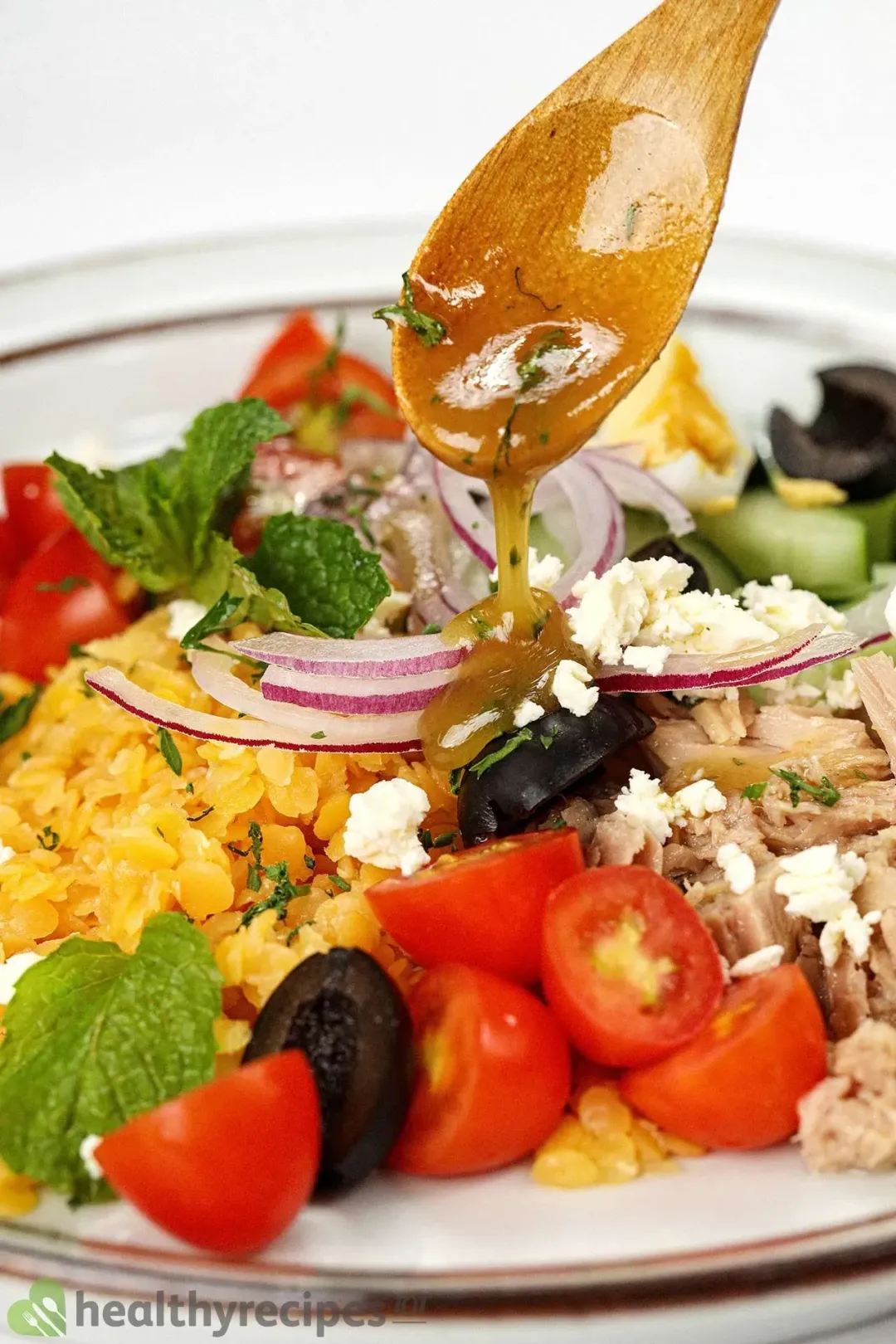 prep TIME

15 mins

total TIME

15 mins
COURSE

Side Dish

CUISINE

American

SERVINGS

CALORIES

252 kcal
INGREDIENTS
1 1/4 cups

cooked lentils

(from 1 cup raw lentils)

3 oz

low sodium canned light tuna

2

large eggs

(hard-boiled)

4 oz

cherry tomatoes

(halved)

4 oz

cucumber

(seeds removed, sliced)

1 oz

onion

(sliced into strips)

1 oz

black olives

(halved)

0.25 oz

Feta cheese

(crumbled)

1/2 tsp

traditional Dijon mustard

1/2 tbsp

apple cider vinegar
INSTRUCTIONS
1
Make the dressing: Vigorously whisk together 2 tbsp olive oil, 1/2 tsp traditional Dijon mustard, 1 tsp lemon juice, 1/2 tbsp apple cider vinegar, 1/2 tbsp honey, 1 tbsp chopped parsley, and 1/4 tsp salt.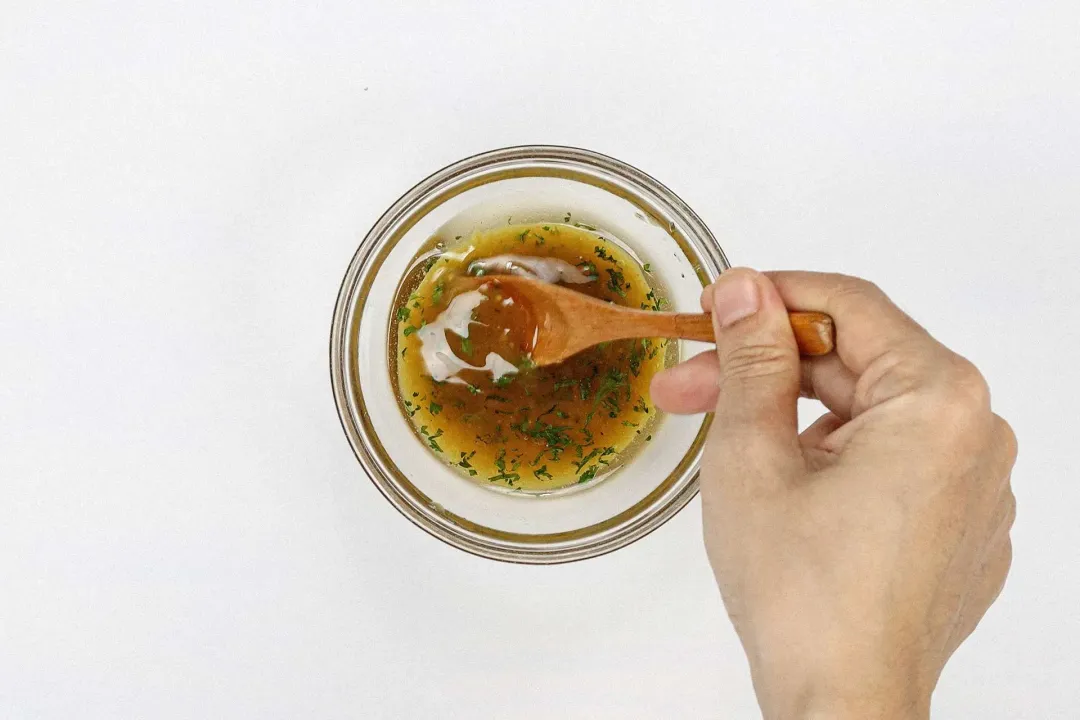 2
Arrange 1 1/4 cups cooked lentils, 3 oz low sodium canned light tuna, 2 hard-boiled eggs, 4 oz cherry tomatoes, 4 oz cucumber, 1 oz onion, 1 oz black olives, and 0.25 oz crumbled Feta cheese on a plate.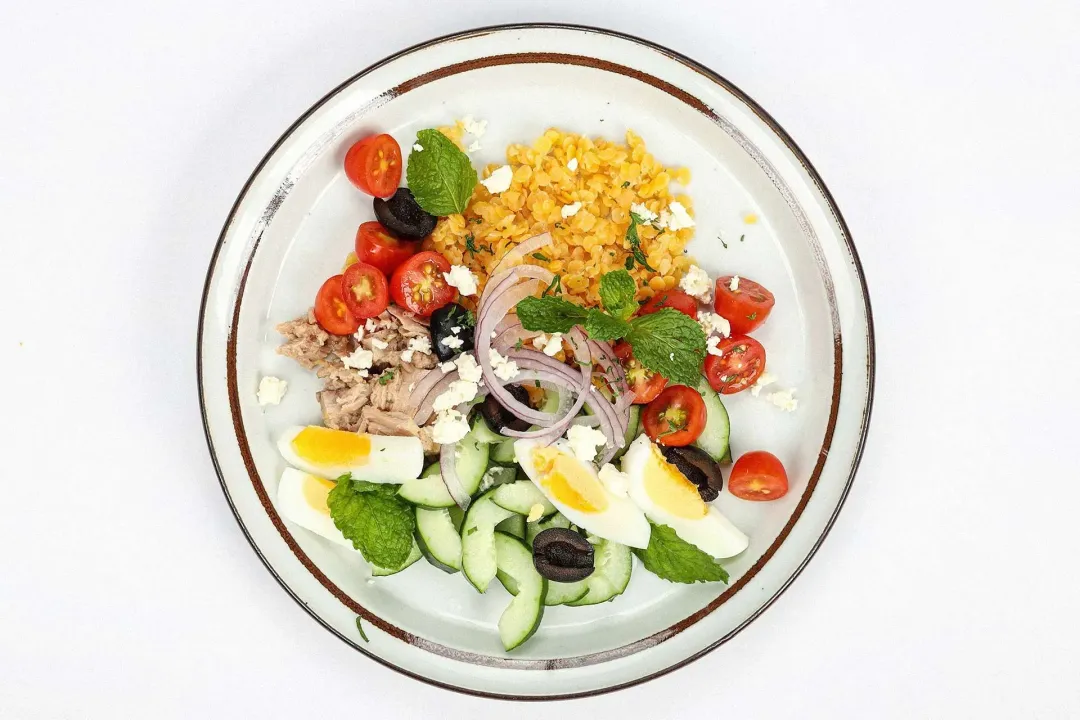 3
Drizzle the dressing over the salad. Toss well.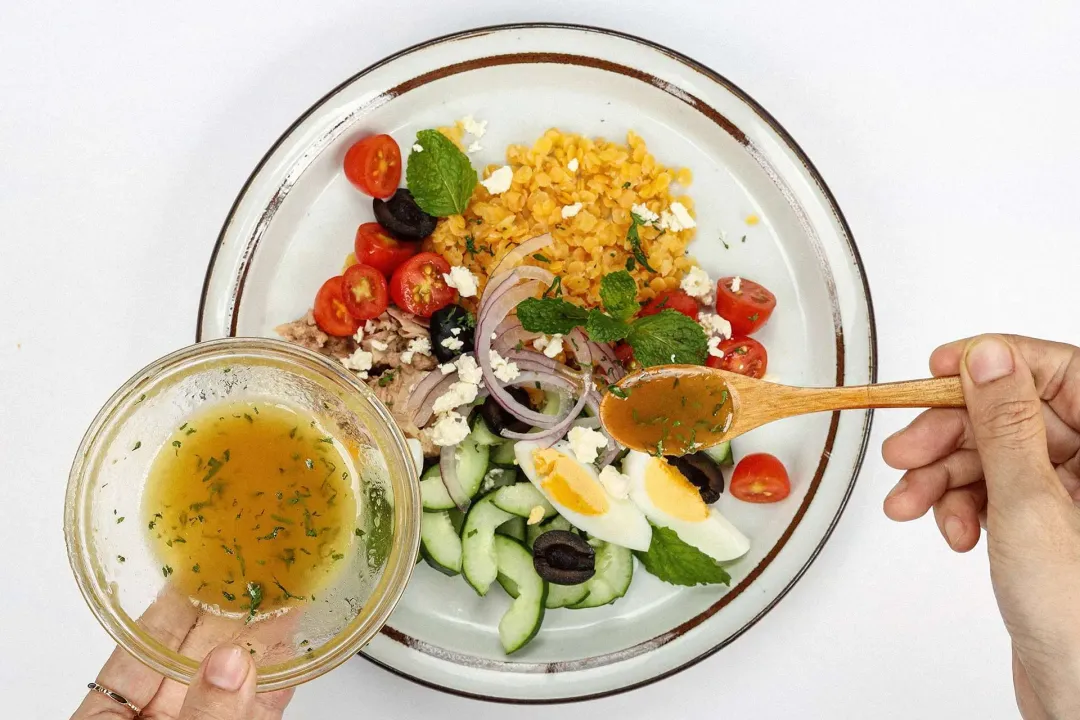 4
Garnish with the remaining parsley and fresh mint. Enjoy.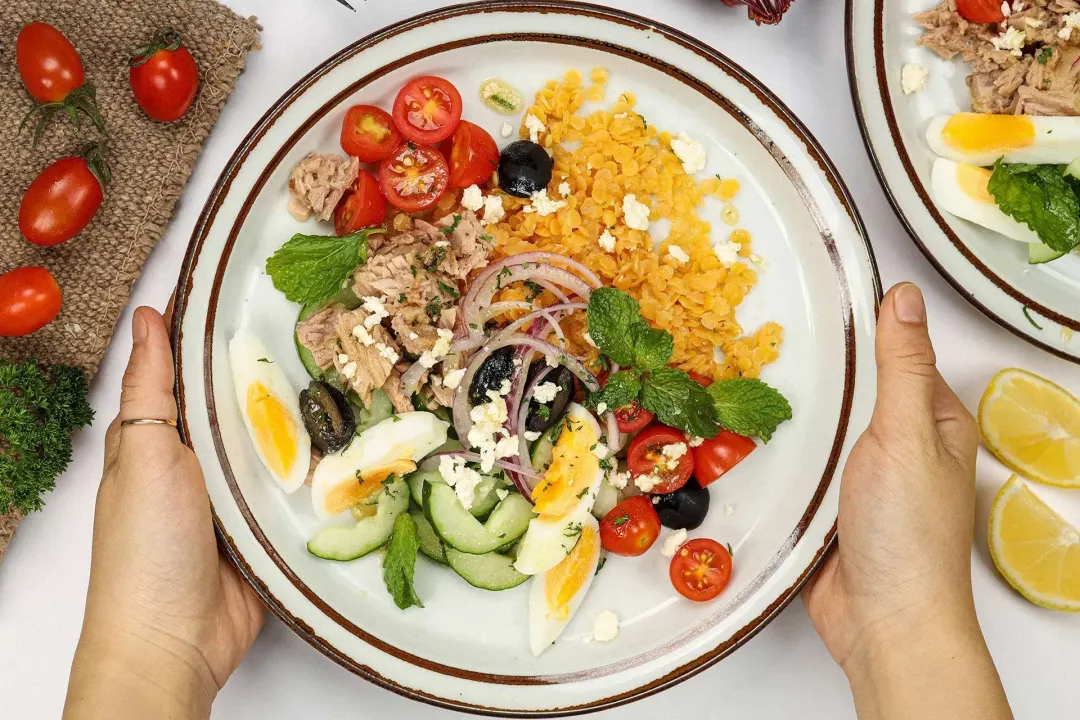 NUTRITION
Nutrition Facts
How to Make Lentil Salad
Amount Per Serving (1 serving)
Calories 252
Calories from Fat 126
% Daily Value*
* Percent Daily Values are based on a 2000 calorie diet.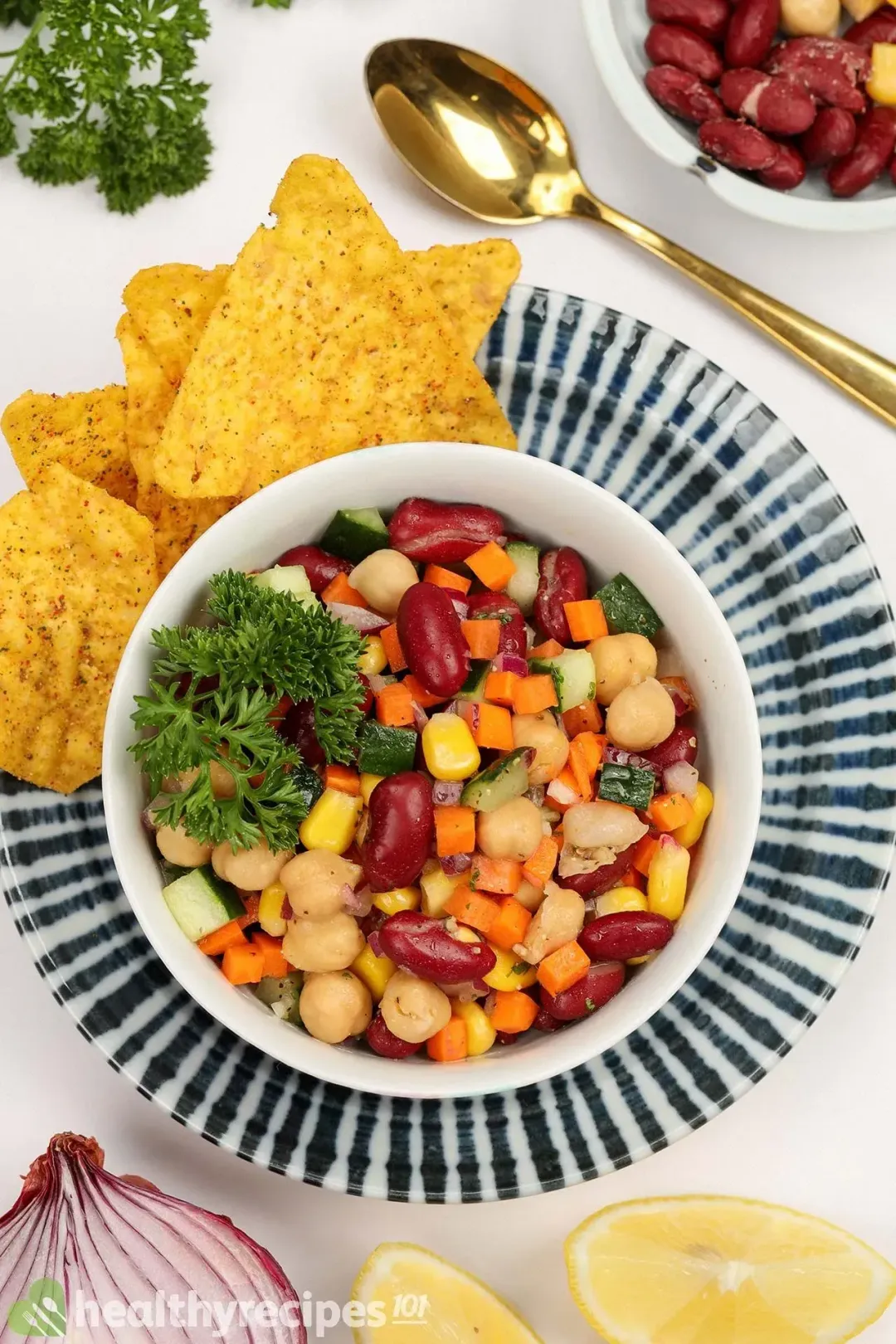 Previous Recipe
Kidney Bean Salad
Kidney Bean Salad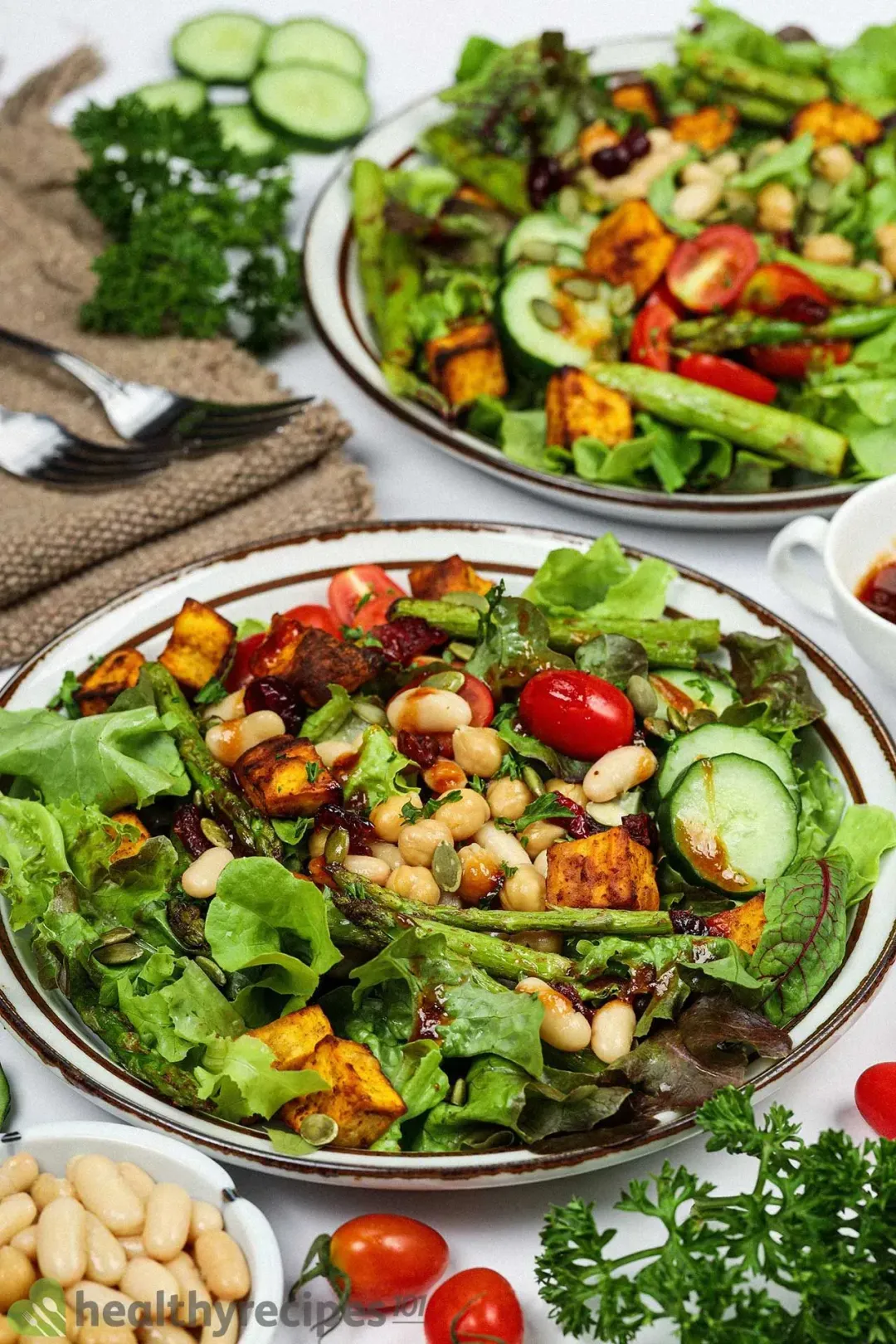 Vegan Salad
Head Chef, Culinary Consultant
Tuyet Pham is an award-winning Saigonese chef who believes that joy is the secret ingredient to delicious food. At Healthy Recipes 101, Tuyet personally tests and simplifies every recipe, ensuring maximum flavor with minimal effort. With a background at prestigious French restaurants P'TI Saigon and Le Corto, Tuyet knows how to make every dish exceptional.
Writer, Author
Luna Regina is an accomplished writer and author who dedicates her career to empowering home cooks and making cooking effortless for everyone. She is the founder of HealthyKitchen101.com and HealthyRecipes101.com, where she works with her team to develop easy, nutritious recipes and help aspiring cooks choose the right kitchen appliances.
Nutrition Reviewer
Natalie Butler is a registered dietitian nutritionist with a passion to help others live their best life through food, fitness, safer beauty and a healthy lifestyle. She has expertise with a variety of diets and diseases and believes that there is no one-size-fits-all approach for health.
Delicious and nutritious lentil salad. Yum!