Today's garlic bread recipe is just what you need for a last-minute side dish or an answer to National Garlic Bread Day (April 6) or National Garlic Day (April 19). It can be done in 10 minutes with some simple available ingredients in your pantry.
This bread is replete with scrumptious garlic flavor, and happily complements everything else on the menu. Today we'll show you how to make it, and share some helpful tips to master this classic, delicious bread once and for all.
Is Garlic Bread Healthy?
Garlic bread contains baguette bread, butter, and seasonings, making it full of calories, carbohydrates, saturated fat, and sodium. However, there are several ways we can make it a bit healthier:
Limit the butter: Butter is the key element that impacts the level of saturated fat in the recipe. We cut down the fat to ½ tablespoon for each serving— 4 slices of bread. This ratio ensures the bread is still creamy and tasty while not exceeding your recommended daily fat intake.
Omit the salt: our recipe doesn't contain added salt, however, there is still a small quantity of sodium in the bread. Consuming too much sodium for a long time increases the risks of some serious conditions such as high blood pressure or stomach cancer.
Increase the fiber: An easy way to improve the fiber content in your this recipe is to use whole wheat bread instead of the regular white. Just remember that whole wheat bread comes with whole grains, resulting in a coarser texture.
If you prefer the texture of white bread, there are a few different types to choose from.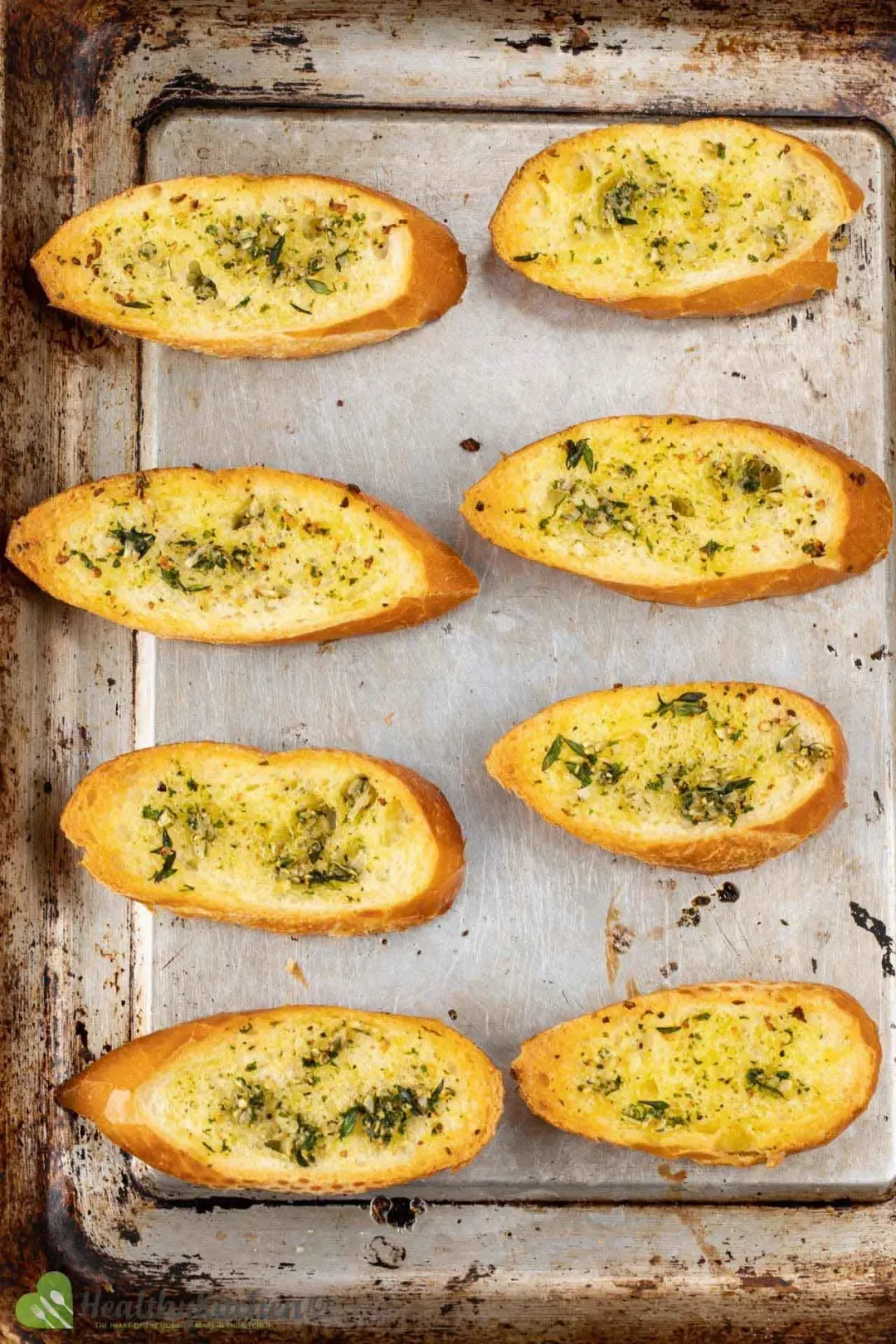 Best Bread for Garlic Bread
Garlic bread can be made using any type of bread. The choice really comes down to your personal preference and expectation.
1. French Bread
French bread— aka baguette—is a long, thin loaf of bread that is made from lean dough. This type, with a crisp exterior and soft interior, is our favorite type of garlic bread, which we also used in this Italian tomato bruschetta recipe.
2. Sliced Bread
Sliced bread is a loaf of bread that has been sliced with a machine for convenience. In terms of taste, there is no big difference between using French bread or white sliced bread for this recipe.
However, French bread tends to be more crispy than sliced bread. If you're having a hard time finding French bread, the regular white sliced bread can be a nice alternative.
3. Italian Bread
Italian bread, or focaccia, is a flat oven-baked bread that has a similar texture to pizza. Since focaccia is pretty thick, it offers a tender center with cake-like sponginess.
Garlic bread, made from this Italian bread, promises a crispy texture on the outside, but with a fluffy center. You may not have space but if you're looking for a more nutritious type of bread with the same white bread taste you can try oatmeal bread.
If you're lucky enough to have a decent bakery around, they may have better loaves of white/oatmeal bread without the preservatives that store-bought bread contains.
You can always make a great piece of garlic bread using any form of bread, however, avoid flavored breads since they don't always go well with garlic. It's also important to note that the density of bread will result in different textures.
Garlic Bread Ingredients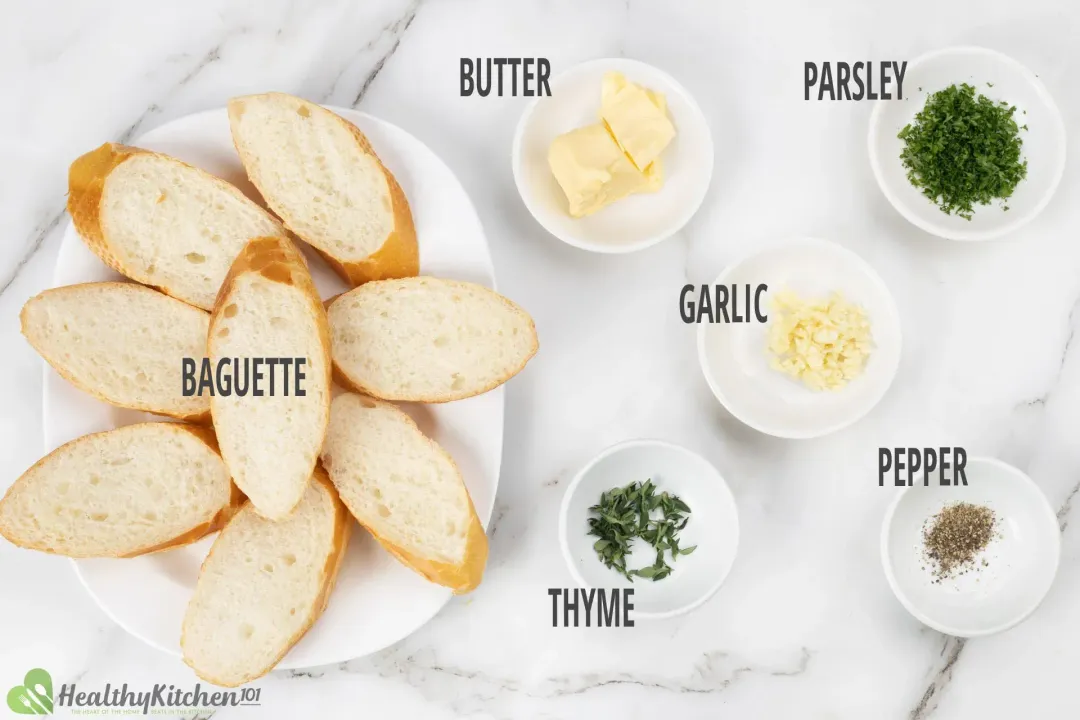 The ingredients of garlic bread are simple. Here is everything you need:
Bread: French bread or Italian loaf are our favorite types of bread. They are a little crusty on the outside and have a nice soft center that can hold the butter well during baking.
Butter: For the best results, the butter should be softened at room temperature before using. A quick tip to help with that is to cut the butter into small cubes, this size allows the butter to soften faster than the whole stick. We also use unsalted butter to limit the sodium level. Apart from that, unsalted butter allows you to control the saltiness of the finished product more easily.
Garlic: The amount of garlic in this recipe can be increased or decreased depending on how garlicky you like it. Just chop them finely (or use a garlic press) so that you don't bite into a big chunk of garlic. Prepping garlic is not a taxing job, but in case you want to buy some time (or not have the smell of garlic on your fingers all night), minced or crushed garlic can be easily found at the supermarket.
Herbs: For a more aromatic and full-flavored garlic bread, finish off your bread with a touch of fresh parsley and thyme. If you use fresh herbs instead of dried, double the suggested amount.
Pepper: The best garlic bread is one that is seasoned well in a balanced manner. We add a generous pinch of ground pepper to the butter mixture before slathering it on the bread. This way you ensure an even spread of seasoning in each slice.
Soft or Toasty Garlic Bread Recipe
There are several ways to make your garlic bread depending on how you want to enjoy it; soft or toasty. These methods are slightly different:
Toasty garlic bread: To create a crispy exterior, cut the bread into 1-inch slices, spread with butter and garlic. Then bake them open-faced in the oven until crunchy with the bread developing irresistible golden edges.
Soft garlic bread: Cut the bread almost all the way through, once done the loaf should look like an accordion. Then slather the butter mixture between slices. Wrap the bread in foil before baking it in the oven. The foil wrapper will help to keep the bread soft while infusing the garlic and herb flavor in each slice.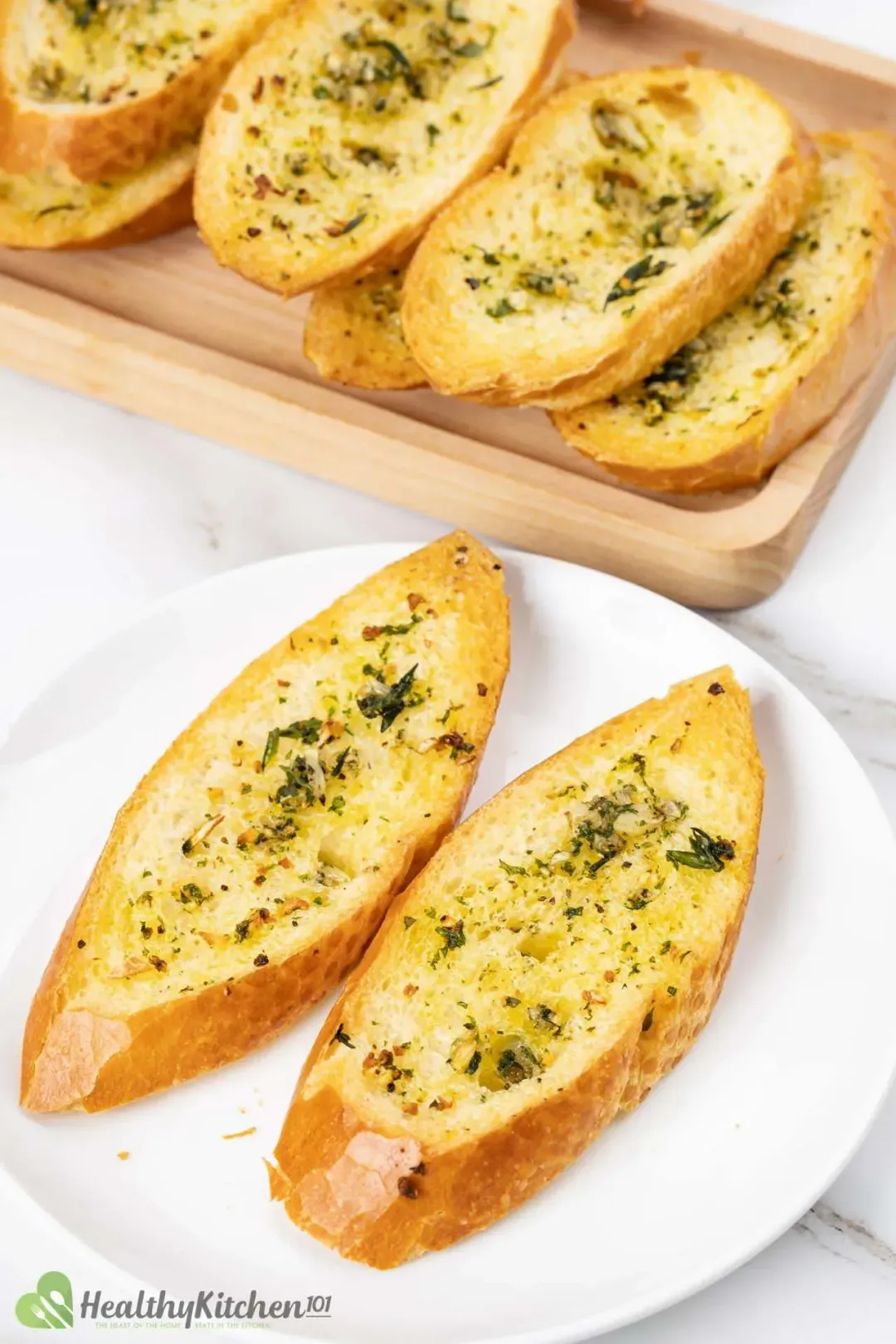 Tips for the Best Garlic Bread
Prep garlic: Garlic has the strongest aroma in its raw form. For that reason, many people like to cook it in some way, which mellows the flavor considerably.  For this recipe, fresh garlic is stir-fried in hot butter until fragrant, resulting in a creamy texture with a gorgeous nutty taste.
The herbs: You can combine some additional herbs in the recipe to complement the flavor experience. Parsley is the most common option since it garnishes the dish with that familiar vibrant green color while bringing a pop of freshness.
What to Serve with Garlic Bread
This delicious and easy-to-make bread can turn any meal into a special occasion. Part of the reason comes from the way it naturally complements any dishes on the table.
1. Pasta
In a hearty Italian style dinner, garlic bread is served with pasta, tomato-infused meatballs, and a green salad. This class meal offers a fulfilling and well-balanced combo consisting of protein, carbs, and green vegetables.
2. Soup
This recipe is a classic accompaniment to any hearty soup. The crunchy texture offers a nice contrast to silky soup, giving a satisfying experience.If you are in the mood for a soup to pair with this recipe, check out our pumpkin soup and split pea soup. They are both easy to make and delicious to satisfy even the pickiest soup lovers.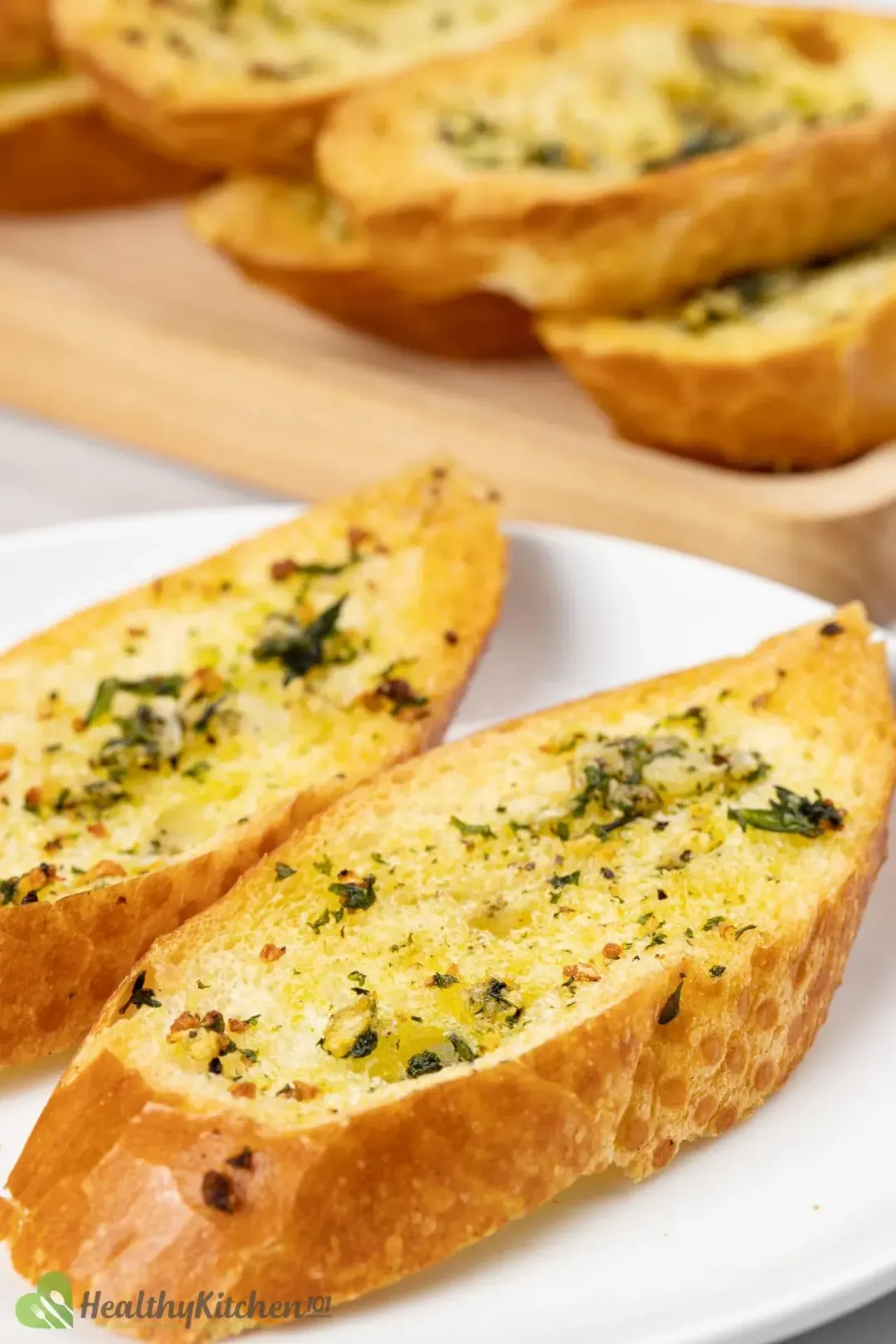 Other Amazing Appetizers/Side Dishes to Try Out
It's never redundant to have a couple of appetizer/side dish recipes up your sleeves. Here are a few that we think you'll love just as much as this garlic bread:
FAQ
1. How Long Do You Cook Garlic Bread?
For 1- to 2-inch bread slices, we place them on the middle rack and bake at 400°F for about 5 minutes. If your bread is a different thickness, adjust the cooking time a bit for the best result.
2. How Long Does Garlic Bread Last?
Since our homemade garlic bread doesn't contain any preservatives, it is best to consume it within the first 12 hours after baking. If you don't finish your bread, store it in the refrigerator for up to 4 days.
Bread remains moist in the refrigerator if stored properly. To do so, place your bread in a zip-lock bag or airtight container which can reduce air exposure. This way the bread can stay fresh for up to 3-4 days.
3. Can You Freeze Garlic Bread?
Yes, and the method is simple. Start by cooling your garlic bread at room temperature, then wrap it in foil by putting two butter-side slices together. Then place them in a freezer bag. 
When it's time to reheat, take the garlic bread out of the freezer to thaw completely. Place the foil-wrapped bread in the oven and bake until it's heated through. You can open the wrapper and bake for another 1-2 minutes for an even crispier texture.
Garlic Bread
This garlic bread recipe is for any occasion you need a last-minute, yet delicious side dish. Pair garlic bread with some pasta and salad for a hearty meal or simply have it as a light appetizer.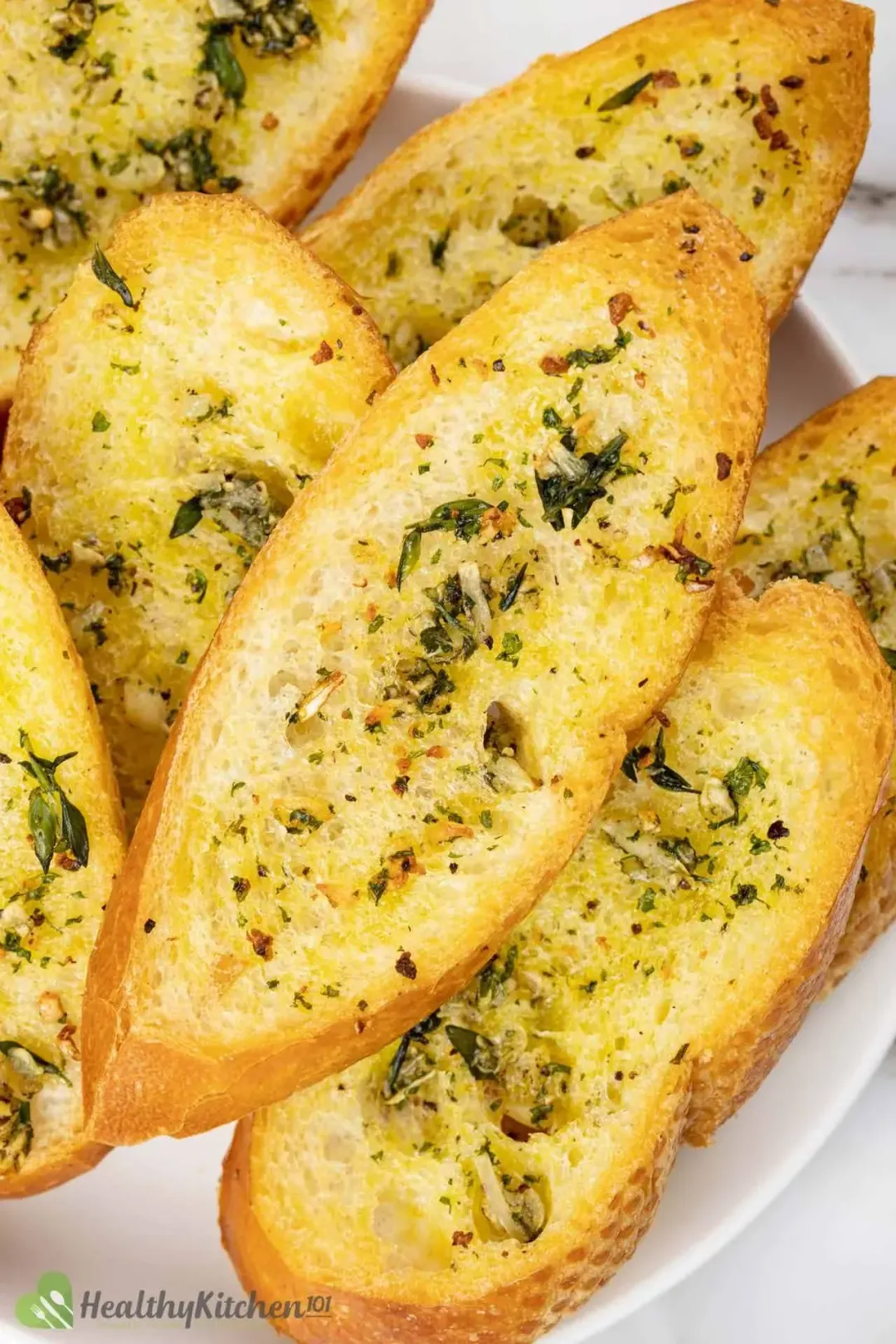 cook TIME

5 mins

prep TIME

5 mins

total TIME

10 mins
COURSE

Side Dish

CUISINE

Italian

SERVINGS

CALORIES

125 kcal
INGREDIENTS
4 oz

french baguette

(sliced)

1 tsp

fresh thyme

(chopped)
INSTRUCTIONS
1
Preheat the oven to 400°F.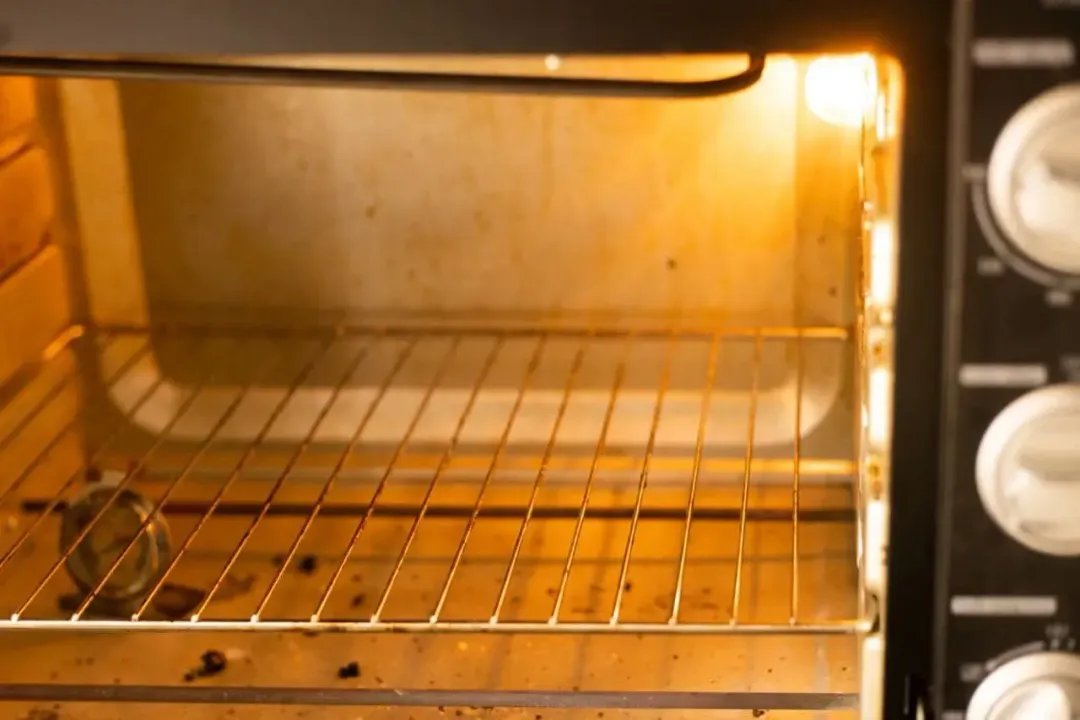 2
Heat 2 tbsp butter in a small saucepan over low-medium heat. Then add 1 tbsp garlic and stir fry until fragrant.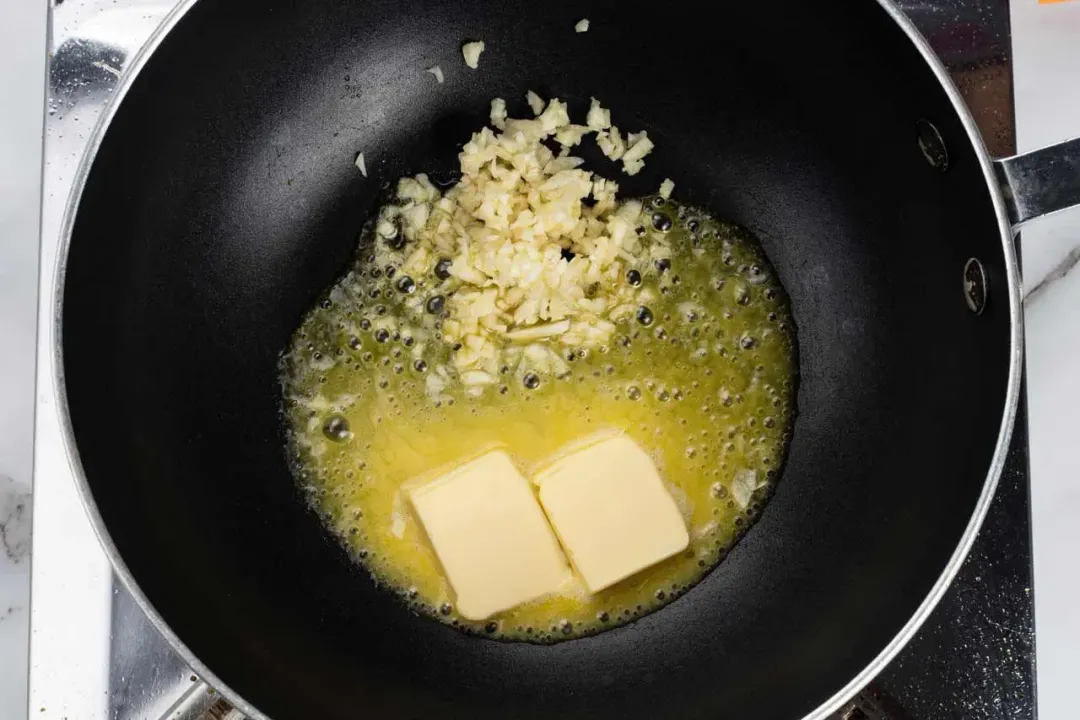 3
Add 1 tsp thyme, 1 tbsp parsley, 1/8 tsp pepper into the butter mixture. Then immediately remove the pan from heat.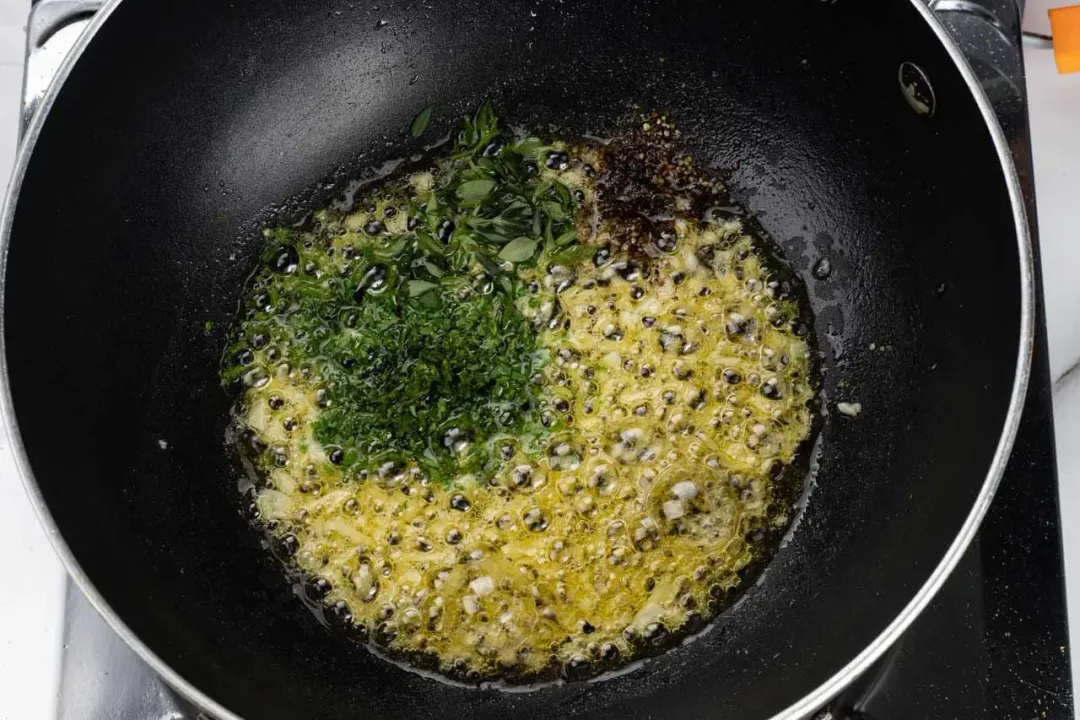 4
Use a silicone brush to generously brush the melted butter mixture on 4 oz bread slices. Place them on the baking sheet and put them in the preheated oven.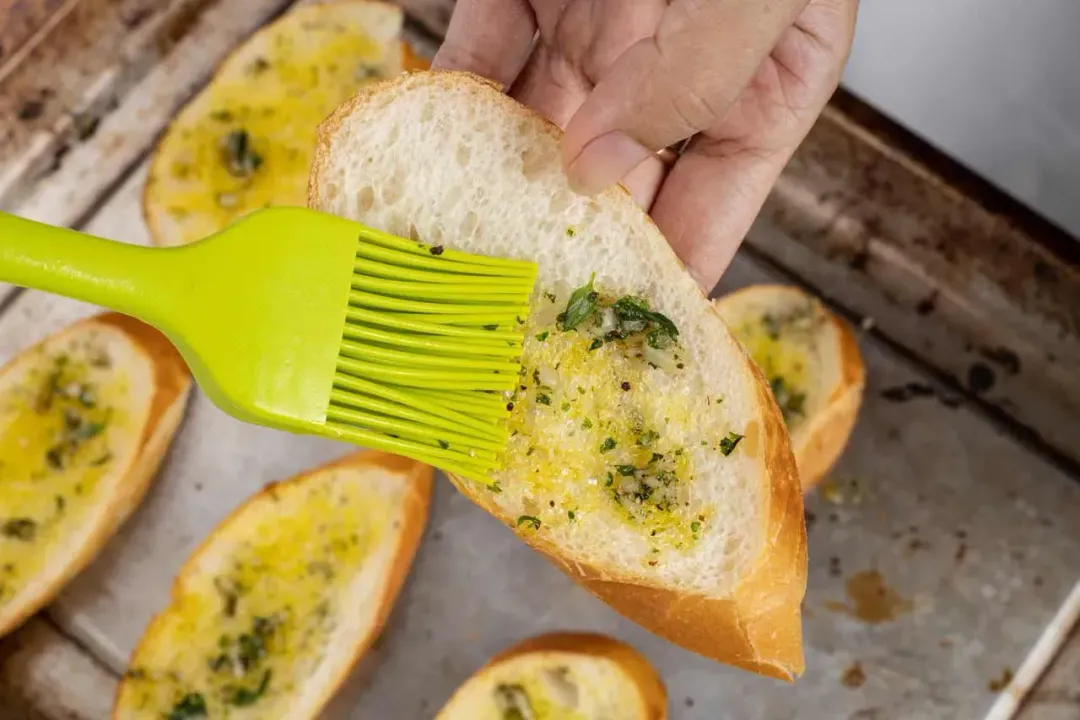 5
Bake for about 5 minutes for golden-edge and crunchy bread.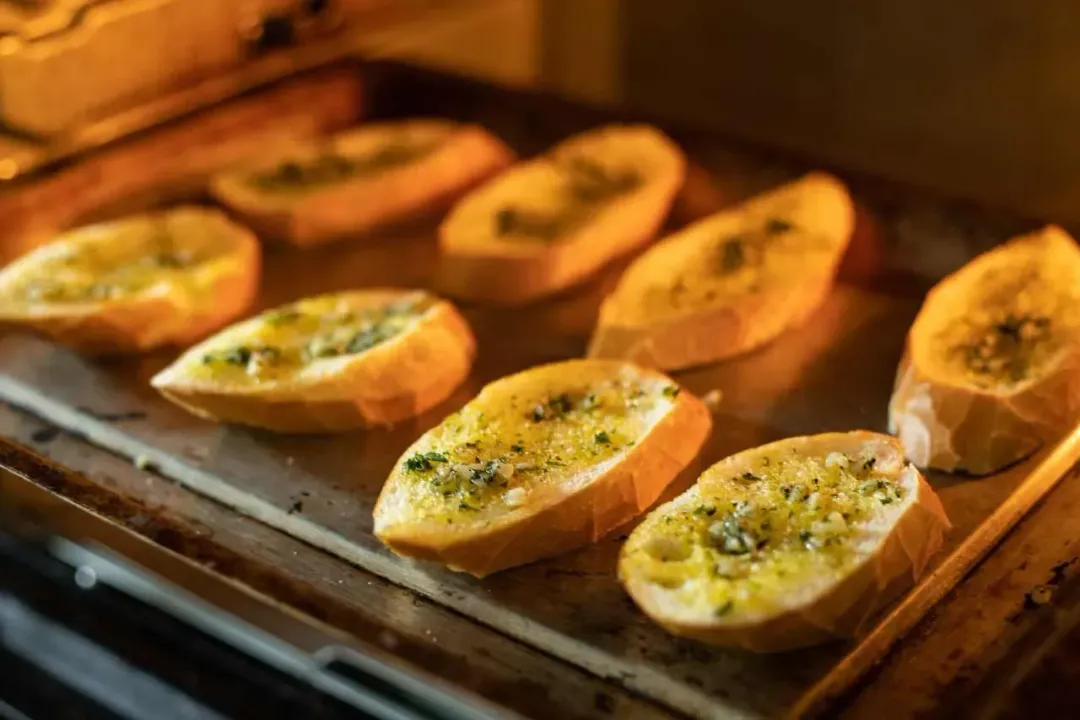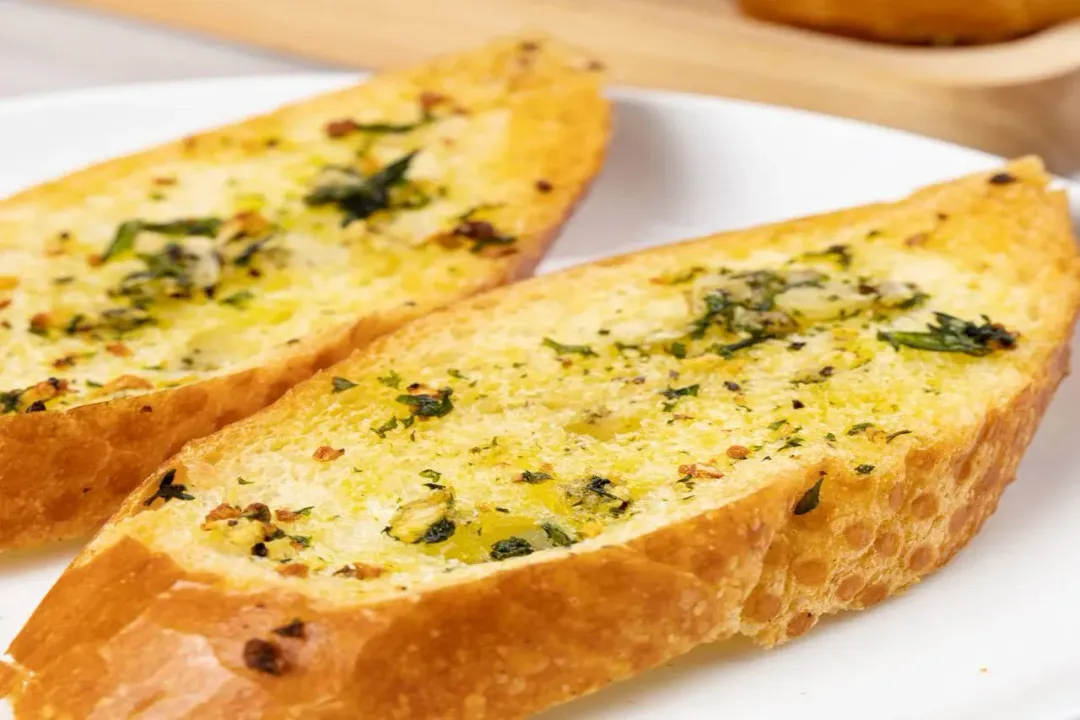 NUTRITION
Nutrition Facts
Garlic Bread
Amount Per Serving (1 serving)
Calories 125
Calories from Fat 54
% Daily Value*
* Percent Daily Values are based on a 2000 calorie diet.
Keywords: garlic bread, garlic bread recipe, homemade garlic bread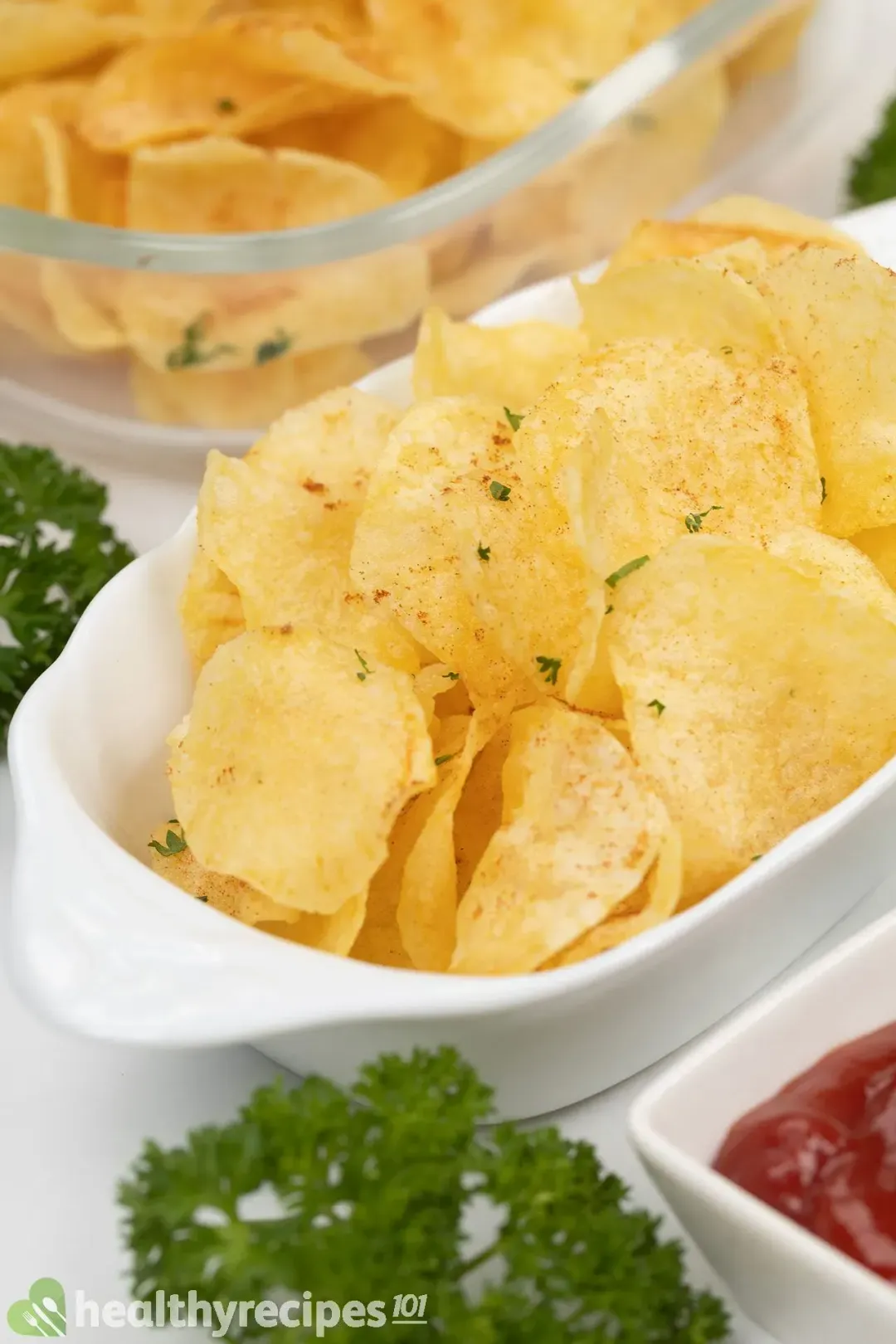 Previous Recipe
Potato Chips
Potato Chips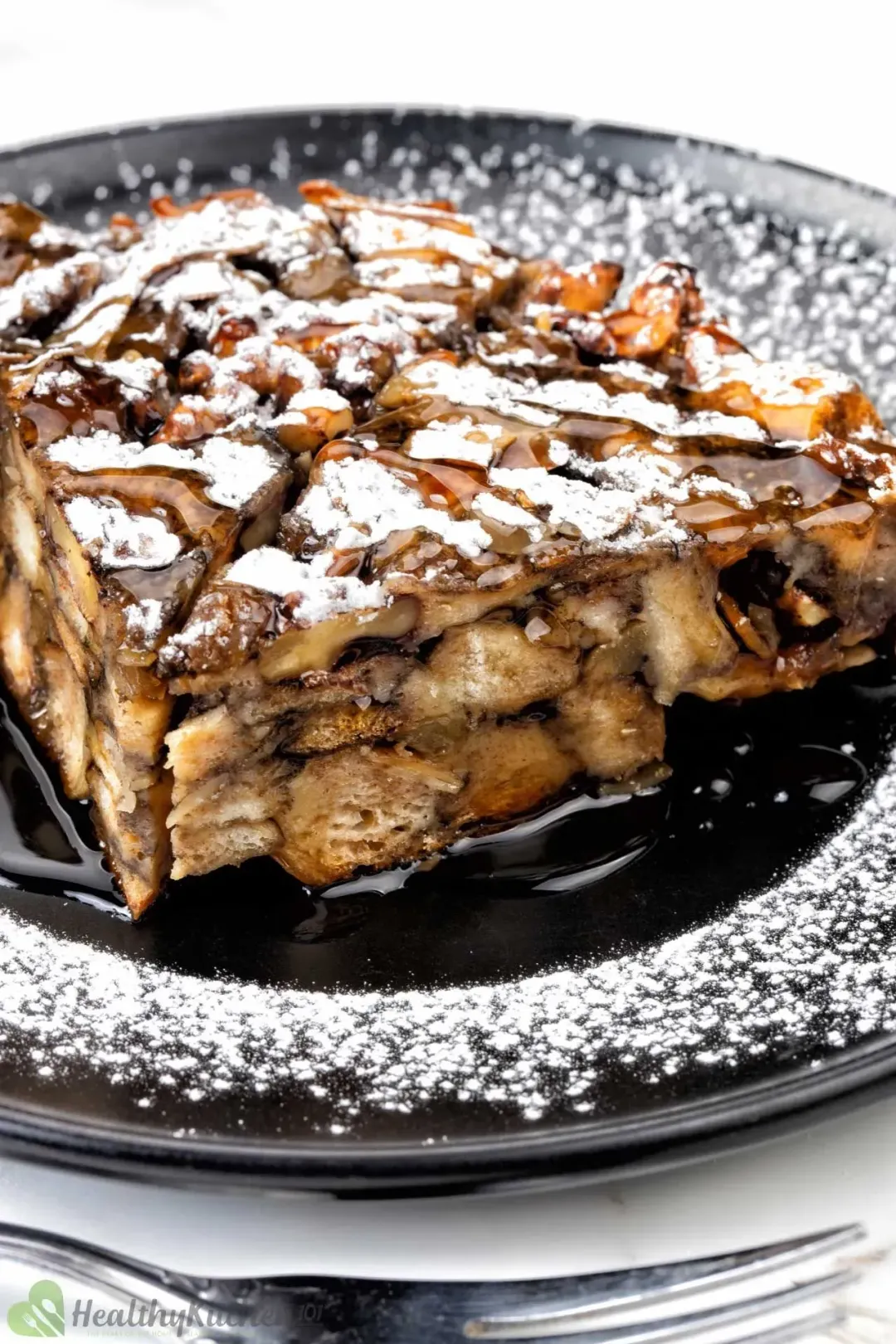 Next Recipe
French Toast Casserole
French Toast Casserole
Head Chef, Culinary Consultant
Tuyet Pham is an award-winning Saigonese chef who believes that joy is the secret ingredient to delicious food. At Healthy Recipes 101, Tuyet personally tests and simplifies every recipe, ensuring maximum flavor with minimal effort. With a background at prestigious French restaurants P'TI Saigon and Le Corto, Tuyet knows how to make every dish exceptional.
Writer, Author
Luna Regina is an accomplished writer and author who dedicates her career to empowering home cooks and making cooking effortless for everyone. She is the founder of HealthyKitchen101.com and HealthyRecipes101.com, where she works with her team to develop easy, nutritious recipes and help aspiring cooks choose the right kitchen appliances.
Nutrition Reviewer
Natalie Butler is a registered dietitian nutritionist with a passion to help others live their best life through food, fitness, safer beauty and a healthy lifestyle. She has expertise with a variety of diets and diseases and believes that there is no one-size-fits-all approach for health.
Garlic bread is a classic and this recipe is easy to follow.