Our chicken salad sandwich recipe makes a fantastic springtime dish. It's very healthy and very appetizing, even to picky eaters.
Our recipe comes with fresh veggies, succulent chicken and a hint of mayonnaise to make the dish creamy but still light. It's simple  and delicious with each bite tasting like a little bit of heaven!This chicken salad dish goes with literally everything. Breakfast? Covered. Snacks? Great. You can even make it into a delightful entrée.
Is Our Chicken Salad Sandwich Healthy?
Due to the wisely chosen ingredients in this recipe, we can say yes.
To increase the nutritional value, we use sprouted wheat bread instead of popular white bread, and also add a variety of vegetables and fruits. Our top two today are: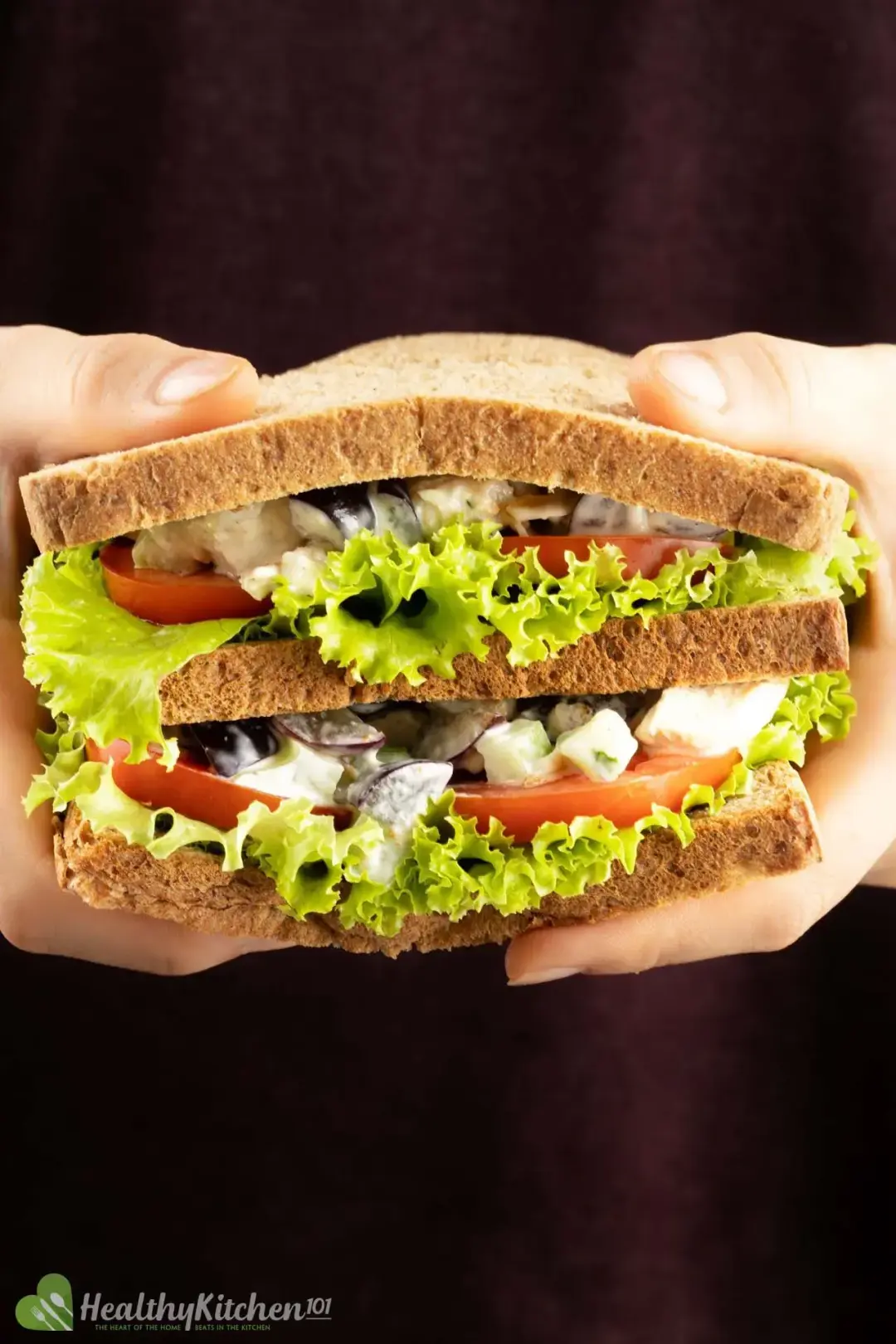 Grapes: Grapes are a fat-free food, low in calories but rich in vitamins. Like other plant-based foods, this fruit is a powerhouse of antioxidants – especially phytochemicals. 
Studies have revealed that these phytonutrients can help maintain heart health and help in preventing some chronic diseases such as cancer.
Celery: Celery is known for being low in calories, but its health benefits go far beyond usage as a diet food. 
High in insoluble fiber, celery helps support gut health and boost the immune system. This veggie also contains a dozen types of antioxidants which are proven to protect against cellular damage.
The amount of mayonnaise used is the biggest factor that affects the saturated fat content and calories in this chicken salad sandwich. Our advice is to keep an eye on the volume of mayo in your chicken salad to keep it healthy, but still delicious.
Chicken Salad Ingredients
Chicken salad sandwiches are a hit for summer meals not only because of their fruit and veg, but also their protein and carbs. The combination makes it a favorite for picnics and gatherings. 
Our recipe is simple, delicious, and easy to whip up. Let's start with some of the main ingredients: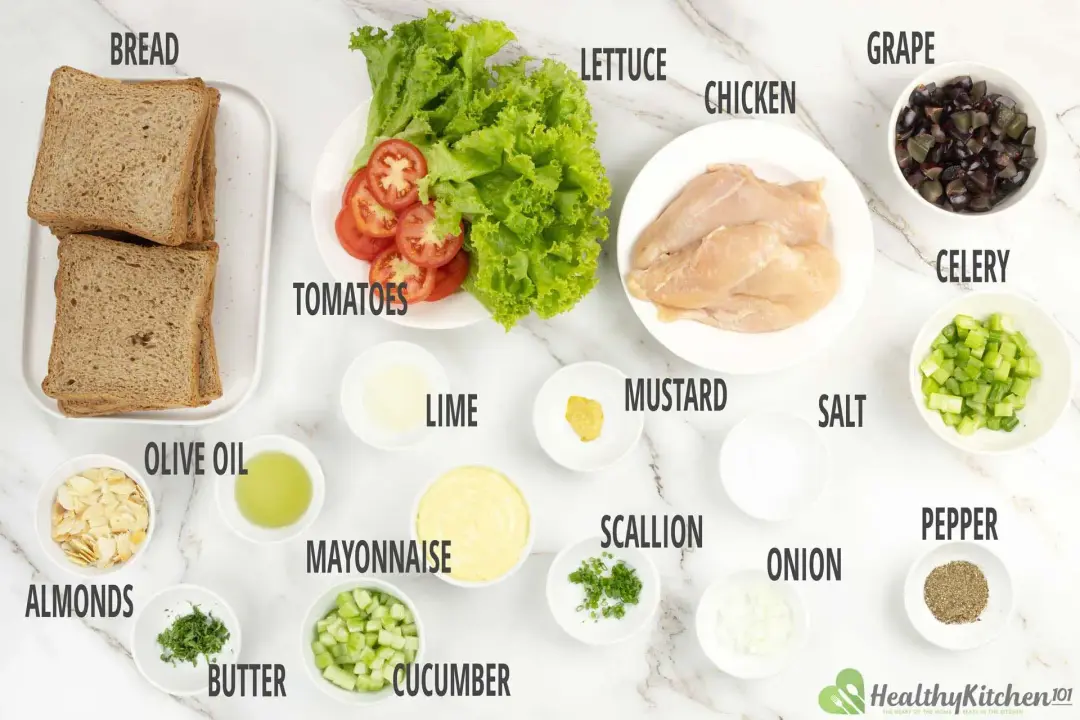 1. Chicken
Both chicken breast or chicken thigh work well in a chicken salad sandwich recipe. We like to start with searing the chicken in a skillet with olive oil. It's a simple technique to make your chicken tender inside and crispy outside.
2. Onion
Lime juice or vinegar in the dressing tones down the sharpness of raw onion. What remains is the natural sweet and crunchy texture that you will love. 
3. Celery
Celery gives a nice crunch and added variety to the salad. Chop the celery into small pieces so that it doesn't overwhelm the other ingredients in your salad bowl.
4. Grapes
A little sweetness from grapes turns this dish into a star. You might be worried about the balance of mayonnaise with sweet grapes, but this is actually a heavenly combination. 
If you are not a fan of grapes, you can use other sweet fruits instead. 
While we chose this balanced combination of ingredients for our salad, you can easily add in or substitute different things to alter the flavor profile to your liking.
How to Make Chicken Salad Sandwich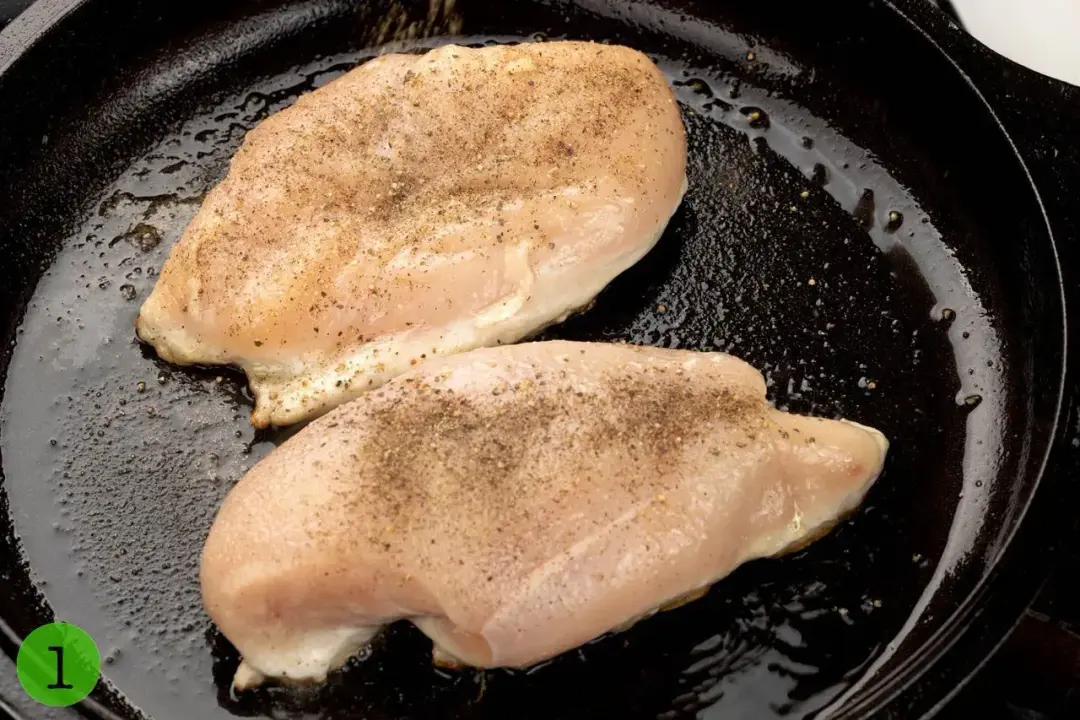 Cook the chicken: Arrange the chicken breasts in the pan to fry with olive oil. Slightly season with salt and black pepper.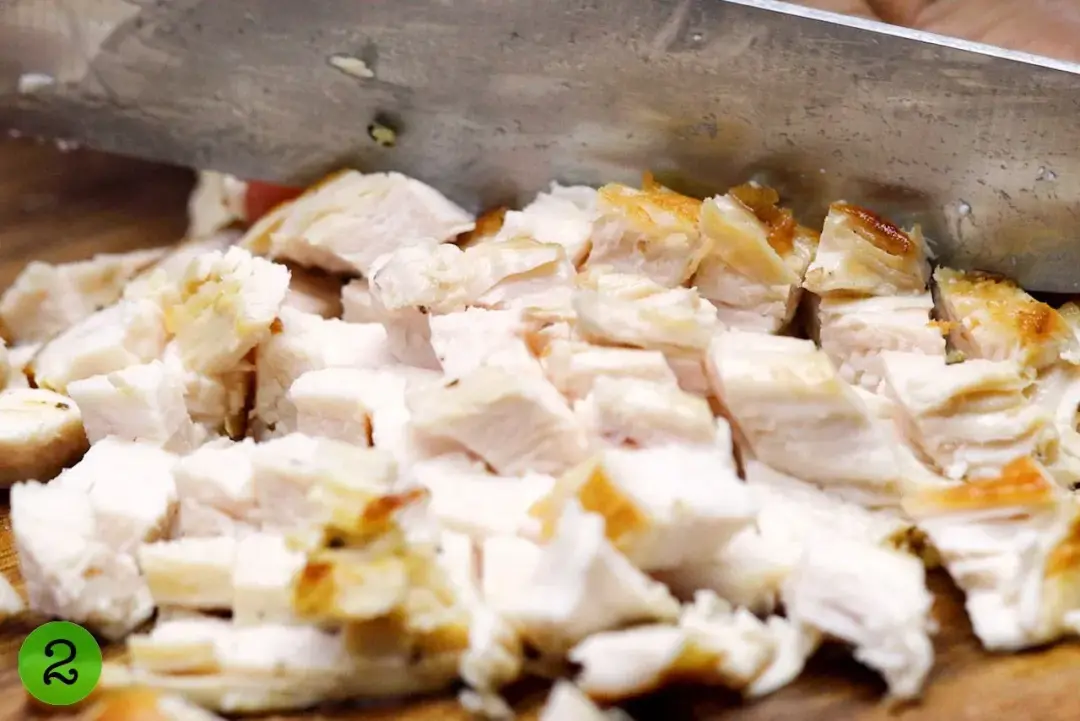 Cut the chicken: Once done, let them cool and cut into cubes.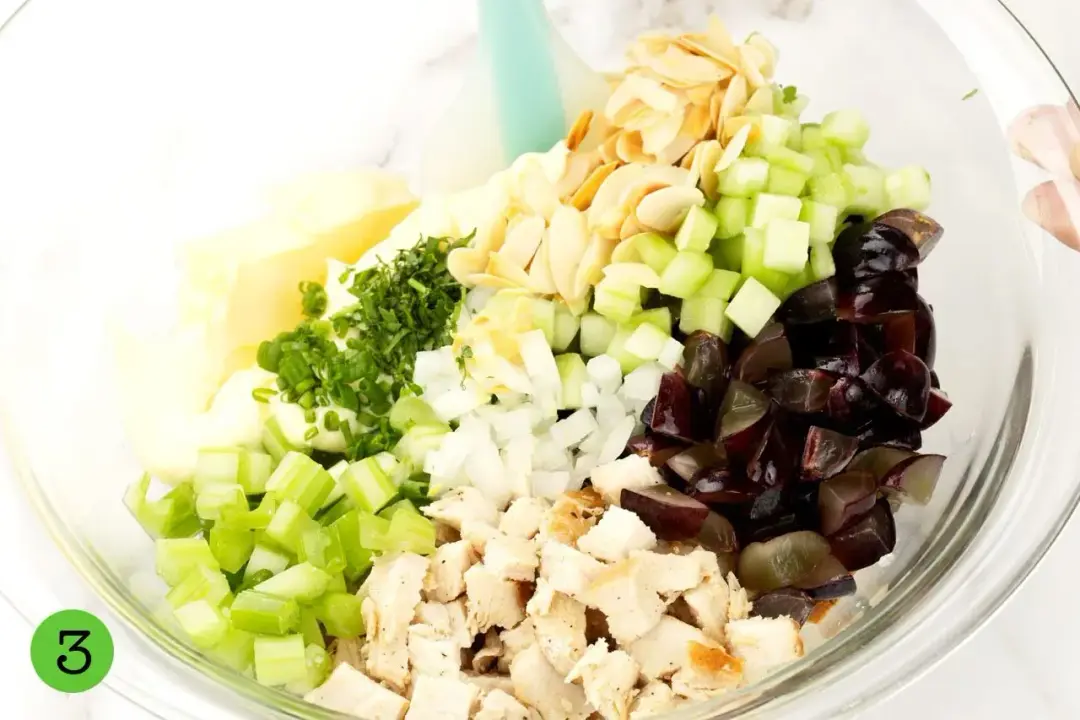 Mix all ingredients: In a big salad bowl, add all the ingredients together and toss well. Cover with plastic wrap and refrigerate for at least one hour.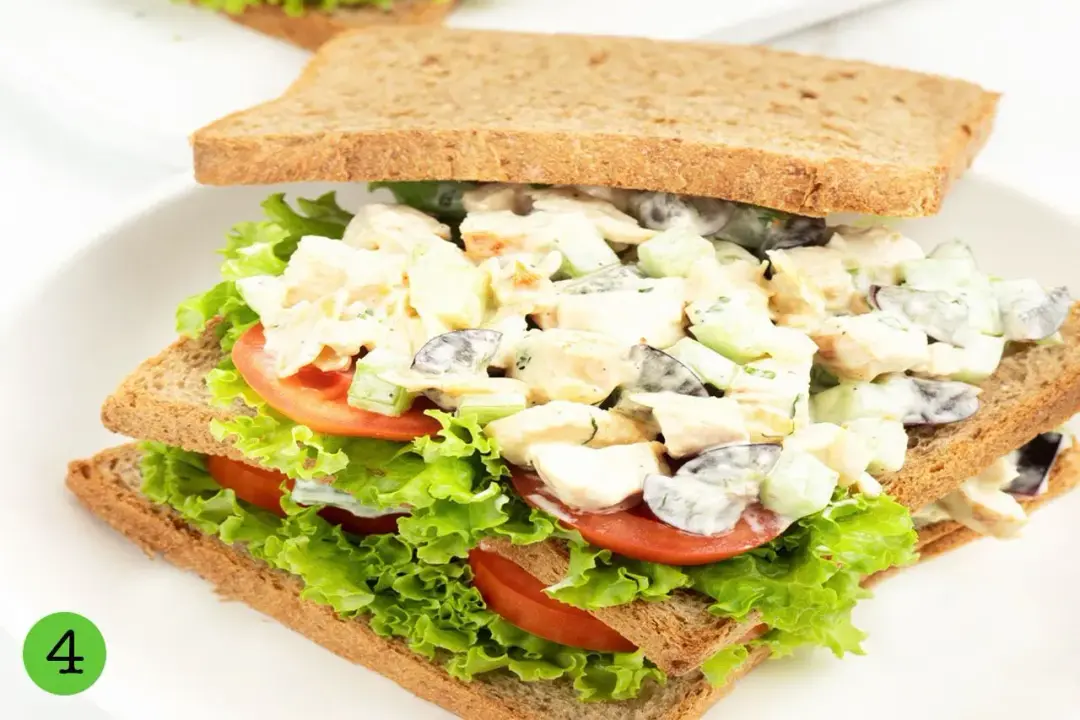 Serve: Serve between bread slices with lettuce and tomato.
Looking for a sweet alternative that's just as filling? Try our quick, satisfying breakfast sandwich with wheat bread.
Dressing for Chicken Salad
Chicken salad would not be the same without its dressing. The basic dressing for the chicken salad sandwich recipe is quite simple. A pinch of salt, pepper, and mustard are mixed with mayonnaise. Then just add a little lemon juice to liven up everything. 
What Can You Use Instead of Mayonnaise in Chicken Salad?
If you are not a big fan of mayonnaise, don't worry! There are other things you can use instead. Here are some substitute suggestions that can also lighten up the whole dish: 
Low-fat plain Greek yogurt: Having long been a top recommendation when it comes to hearty but healthy fermented dairy foods, Greek yogurt is not only calorie-light and protein-rich, but also super creamy and versatile.
Low-fat cottage cheese: Dissimilar to Greek yogurt, cottage cheese possesses a fair amount of saltiness in taste (much like mayonnaise), yet it's still light, healthy, and high in protein. Perfect for either salad dipping or dolloping.
Hummus: hummus is a fiber and protein-rich dip. It's wonderfully versatile, pairing well with veggies and meat, as well as going well with hot or cold treats.
For more chicken recipe ideas, have a look at our 50 healthy chicken recipes.
What Goes with Chicken Salad Sandwich?
There are a variety of ingredients you can use in this chicken salad sandwich recipe, such as tomatoes, onions, celery, grapes, green peas, mustard and bunches of herbs.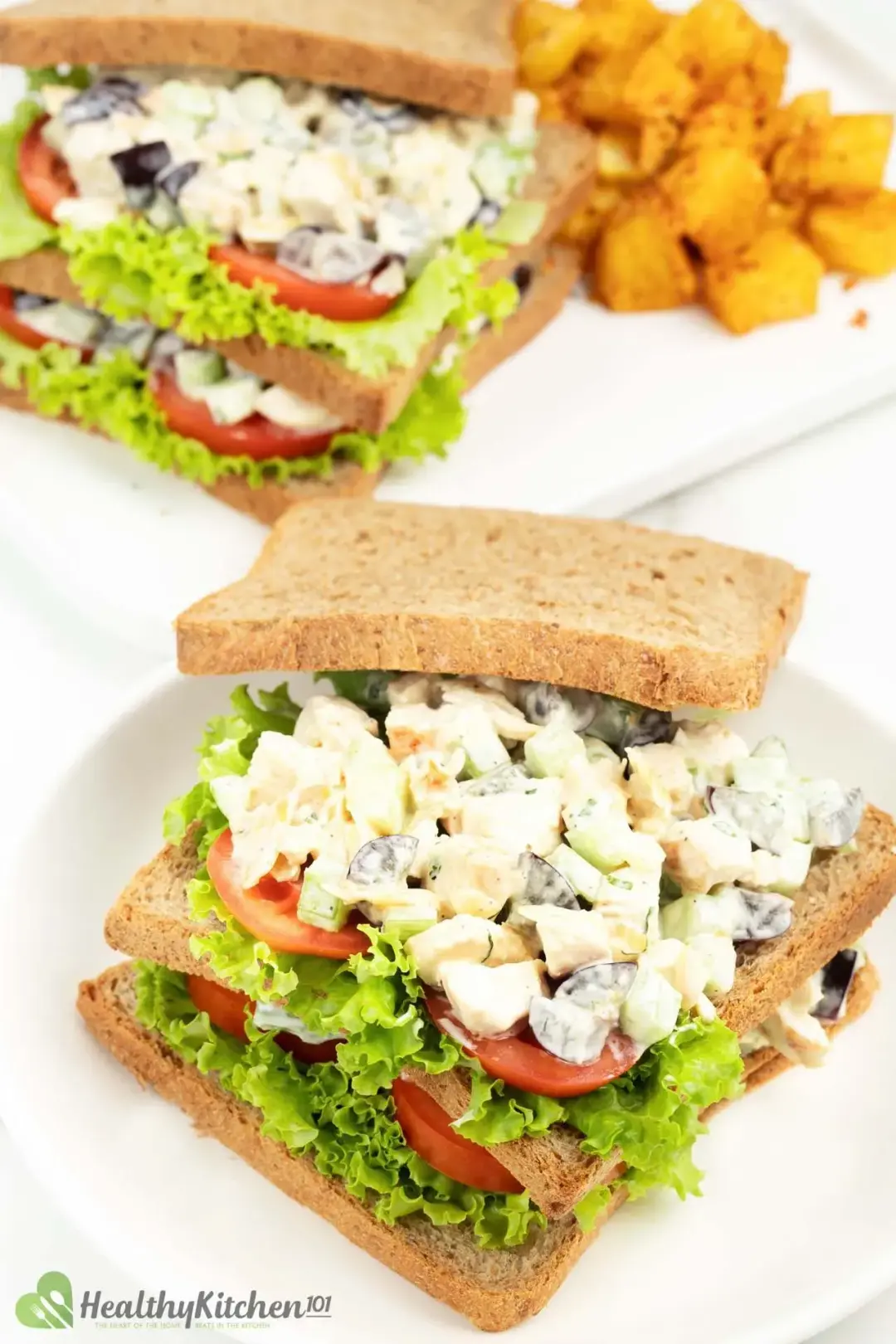 You don't have to limit yourself to the ones we've suggested in this recipe. As long as they're all fresh and clean, and in balanced amounts, then you're good to go.
1. Eggs
An essential ingredient to any southern chicken salad sandwich is chopped boiled eggs. They help make the salad thicker and even creamier. 
2. Cranberries
A pop of sweet – tart dried cranberries brighten up the savory chicken and the creamy dressing. If you don't have dried cranberries at home, don't worry, other raisins will work great in this recipe as well. 
3. Apple
Chicken salad sandwich recipes can be made a thousand different ways, and apples are one of our favorite potential additions to the dish. Crunchy apples make the salad extra juicy and tasty.
4. Avocado
Avocado is a simple fruit to cream up your salad bowl. Dice up your avocado and mix it with other ingredients.
You don't need to be too gentle while mixing up the ingredients. As you stir, the avocado will break down and then coat your chicken. Yummy!
5. Greek Yogurt
You can use Greek yogurt instead of a traditional mayonnaise base. It lightens the dressing and adds a pleasant tang note to the salad.
Calories in Chicken Salad Sandwich
We strive to create healthy meals and serve this chicken salad with whole-grain bread, over a bed of lettuce and tomatoes. This chicken salad sandwich recipe contains 507 calories in each serving.
That's enough to make the main dish, but we have lower-calorie options, like this Waldorf salad with chicken and this delicious summer salad, for a lighter meal.
Can You Freeze Chicken Salad?
A summer lunch is not complete without a bowl of chicken salad. It's healthy, filling, and is packed with nutritious vegetables.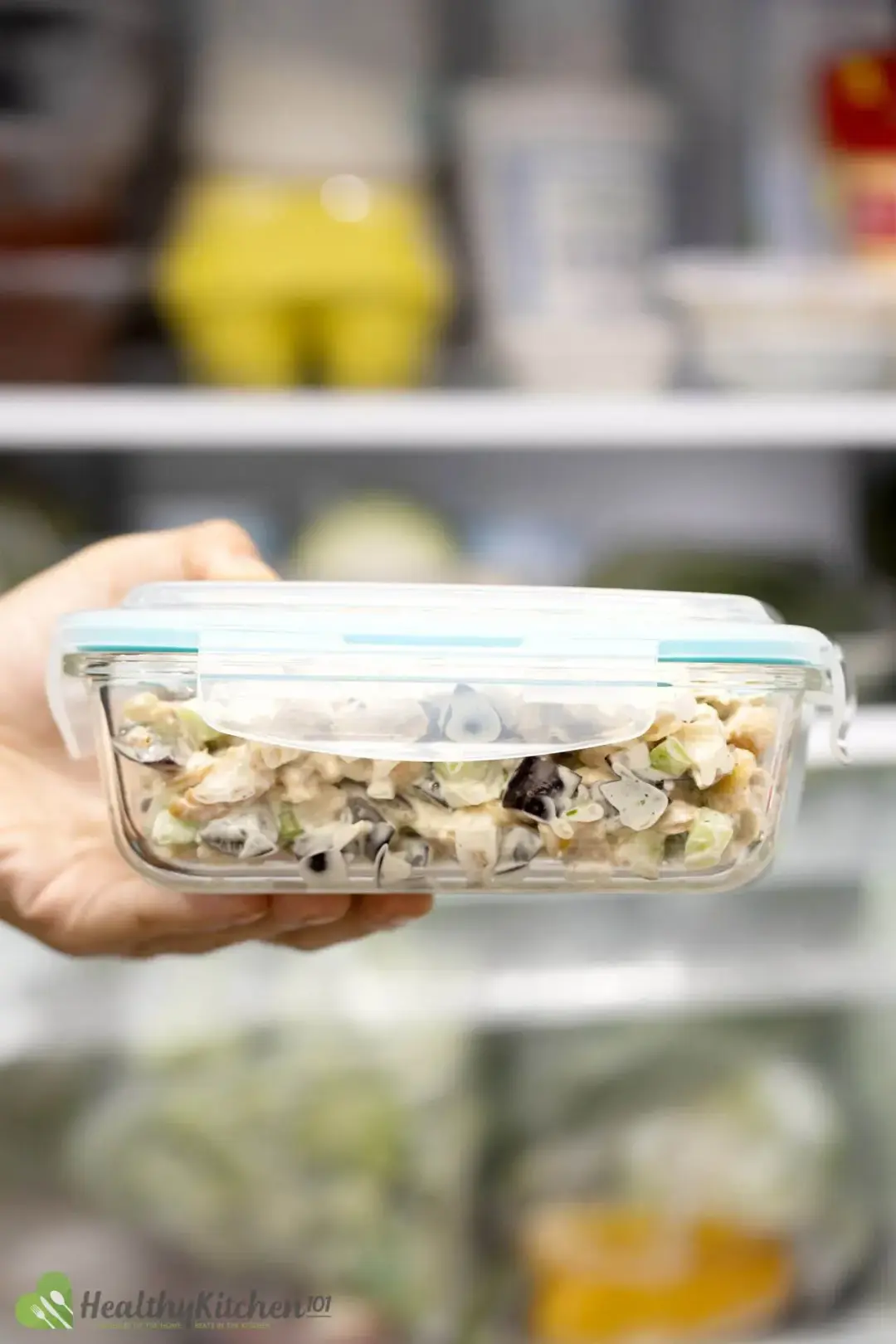 But can we freeze chicken salad and just reheat it whenever we want to use it? The answer is yes.
It's safe to store your chicken salad in the freezer for up to 2 months. And if you store it correctly, the dish can even last longer and taste almost like the freshly made kind.
Freezing chicken salad requires a bit of attention. Prepare some containers, and we're good to go!
You should pack ingredients individually in different bags. This way, you can keep them separate to avoid mixing flavors, and it's also easier to thaw them later.
To make the best chicken salad from frozen ingredients, avoid freezing the mayonnaise. Freezing can cause changes to flavor and appearance; your dressing might end up with an unappealing consistency.
How Long Does Chicken Salad Last?
Cooked chicken and mayonnaise can be kept in the fridge for about 3 days. However, it's always recommended to eat your food fresh, especially since the nutritional content of veggies and meat will degrade after 2 days.
To maximize the quality of chicken salad sandwiches, refrigerate them in an airtight container or plastic container.
Check out this Club Sandwich Recipe for more tasty sandwich meal.
What to Serve With Chicken Salad Sandwich?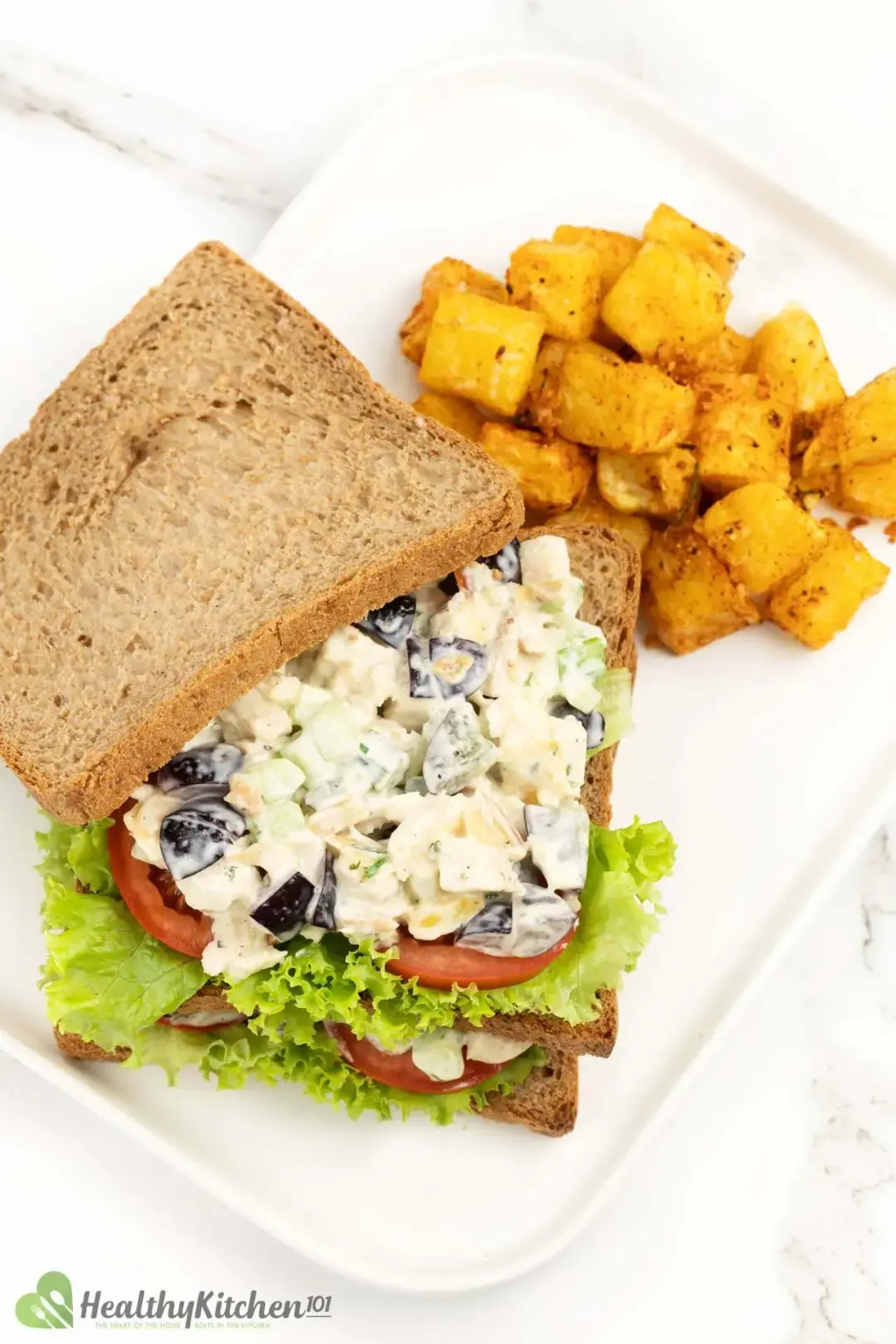 Although serving chicken salad on croissants for sandwiches has become the norm, we recommend having it on wheat bread with some home fries on the side to meet the recommended amount of calories for meals (not to mention, adding another veg).
More recipes to try: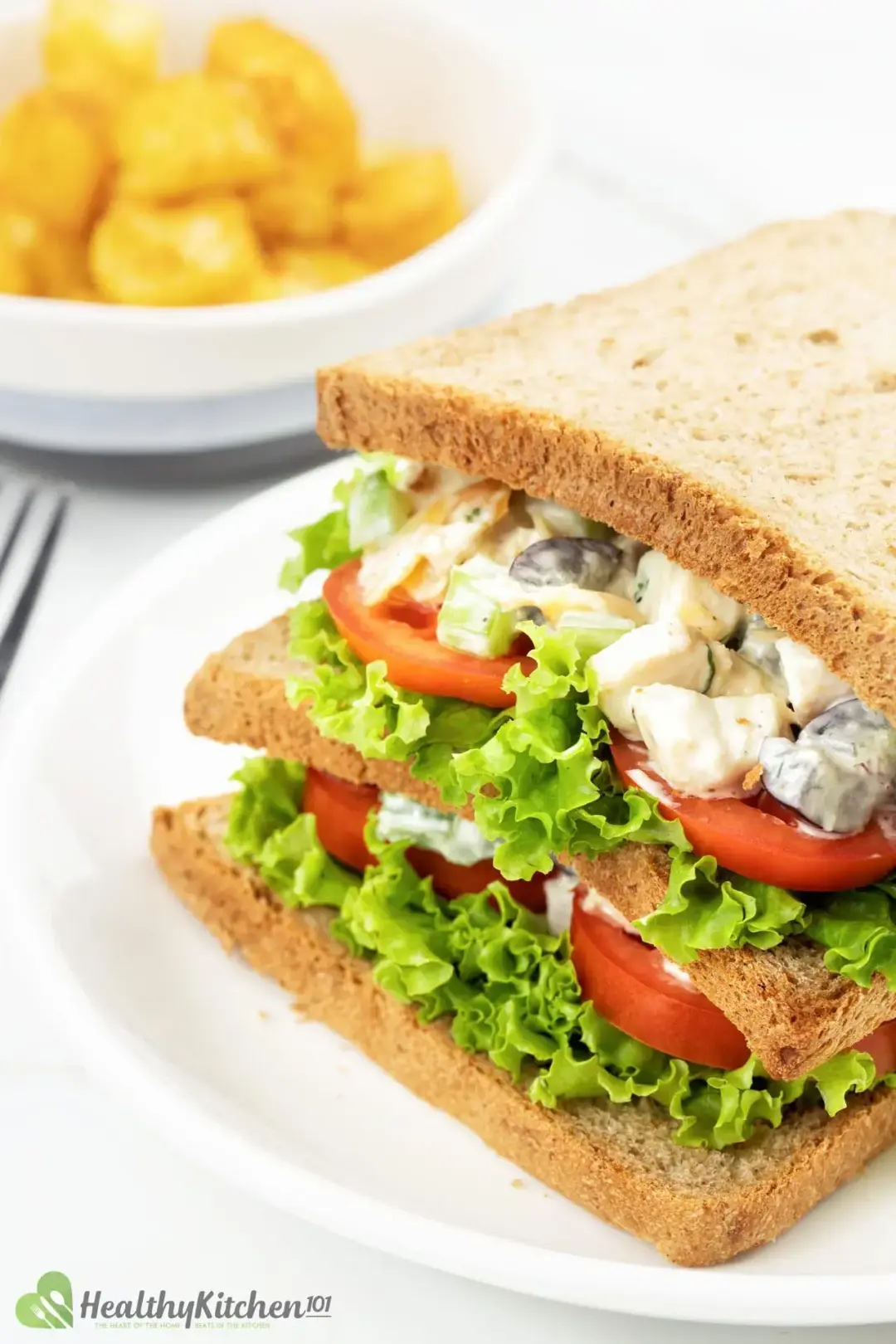 Chicken Salad Sandwich Recipe
Subtle and pleasant plant-food flavors, combined with the tender and well-seasoned taste of chicken, make this chicken salad sandwich amazing all by itself. And don't forget the lime juice! A drizzle of this juice will raise your dish by adding zesty freshness.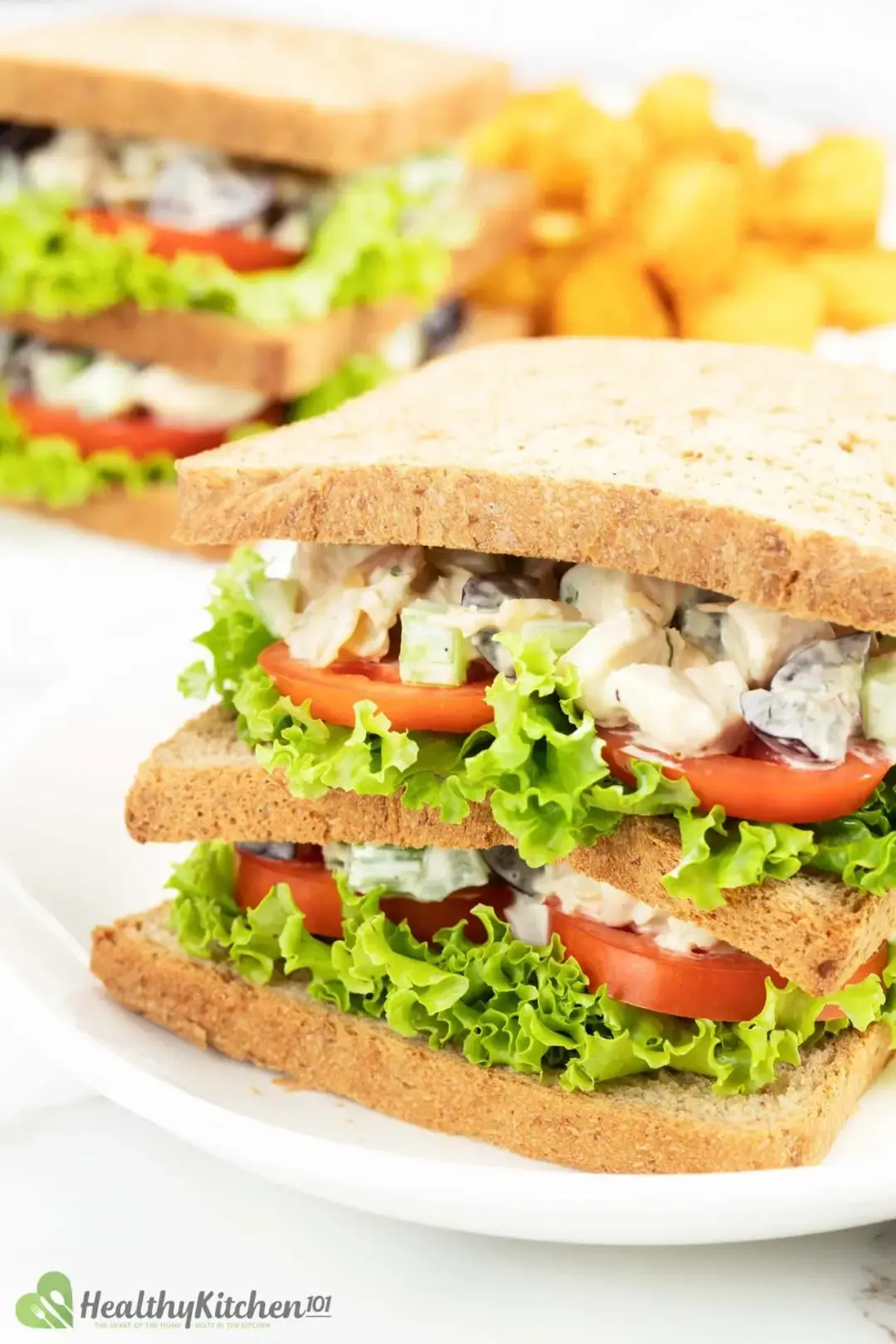 cook TIME

30 mins

prep TIME

15 mins

total TIME

1 hr 45 mins

INACTIVE TIME

1 hr
COURSE

Main Course

CUISINE

American

SERVINGS

servings

CALORIES

507 kcal
INGREDIENTS
12 oz

skinless boneless chicken breasts

1 cup

grapes (halved)

6 tbsp

Japanese mayonnaise

1 tbsp

olive oil

1 tsp

lime juice

0.5 tsp

traditional Dijon mustard

0.3 tsp

salt

2 oz

celery (diced)

1 tsp

cilantro

1 tsp

scallion

2 oz

cucumber (diced)

0.5 tsp

black pepper

1 tbsp

onion (diced)

1 oz

sliced almonds

4 oz

tomatoes (2 medium, sliced)

2 oz

lettuce (chopped)

12 slices

sprouted wheat bread
INSTRUCTIONS
1
Heat the olive oil in a cast iron pan on high heat. Arrange the chicken breasts in the pan to fry for about 15-20 minutes. Slightly season with salt and black pepper. Turn over halfway through to ensure even cooking on both sides. Once done, let them cool and cut into cubes.
2
In a bowl, add all the ingredients together and toss well. Cover with plastic wrap and refrigerate for at least one hour.
3
Finally, serve between bread slices with lettuce and tomato.
NUTRITION
Nutrition Facts
Chicken Salad Sandwich Recipe
Amount Per Serving (1 serving)
Calories 507
Calories from FDA
% Daily Value*
* Percent Daily Values are based on a 2000 calorie diet.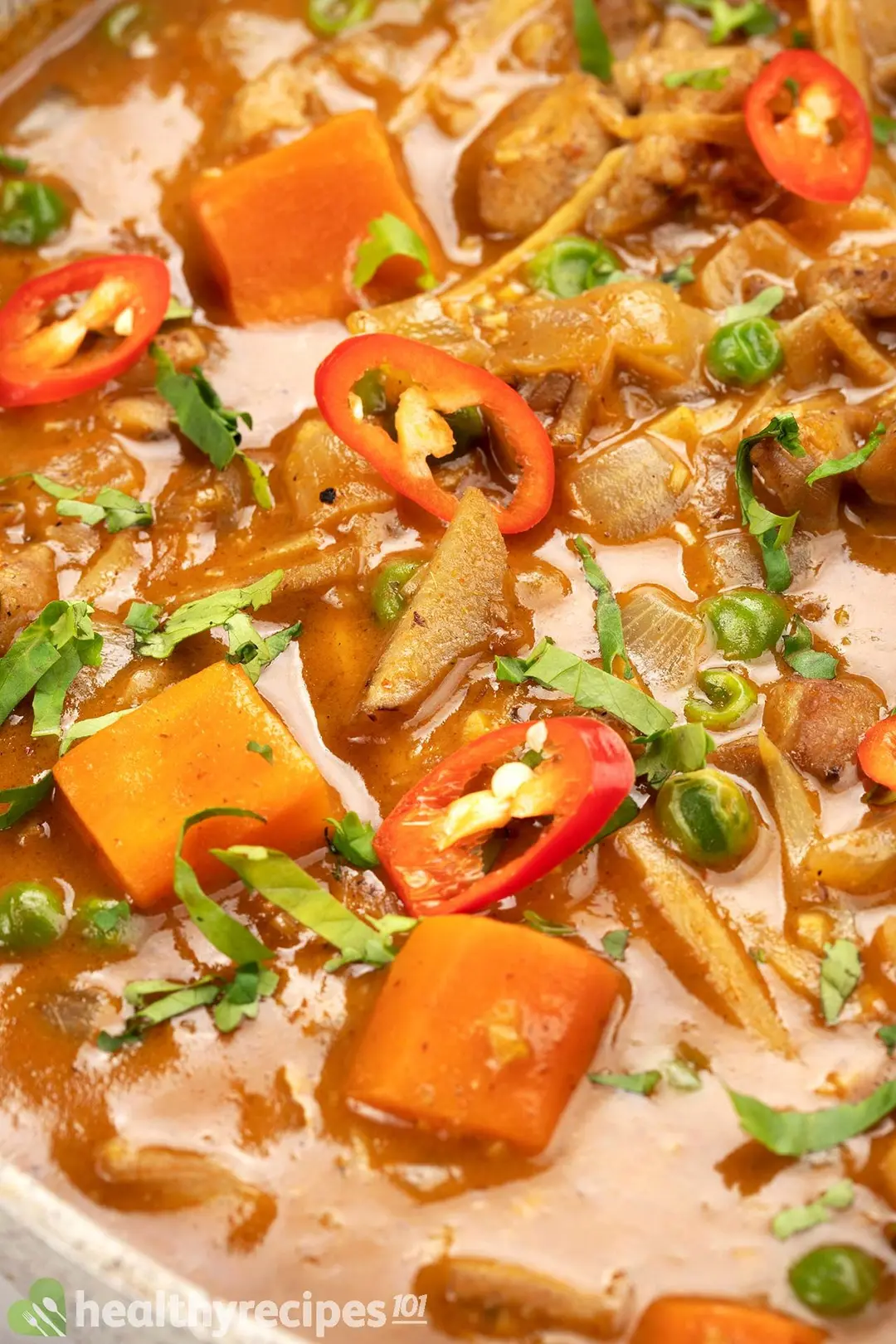 Previous Recipe
Thai Chicken Curry
Thai Chicken Curry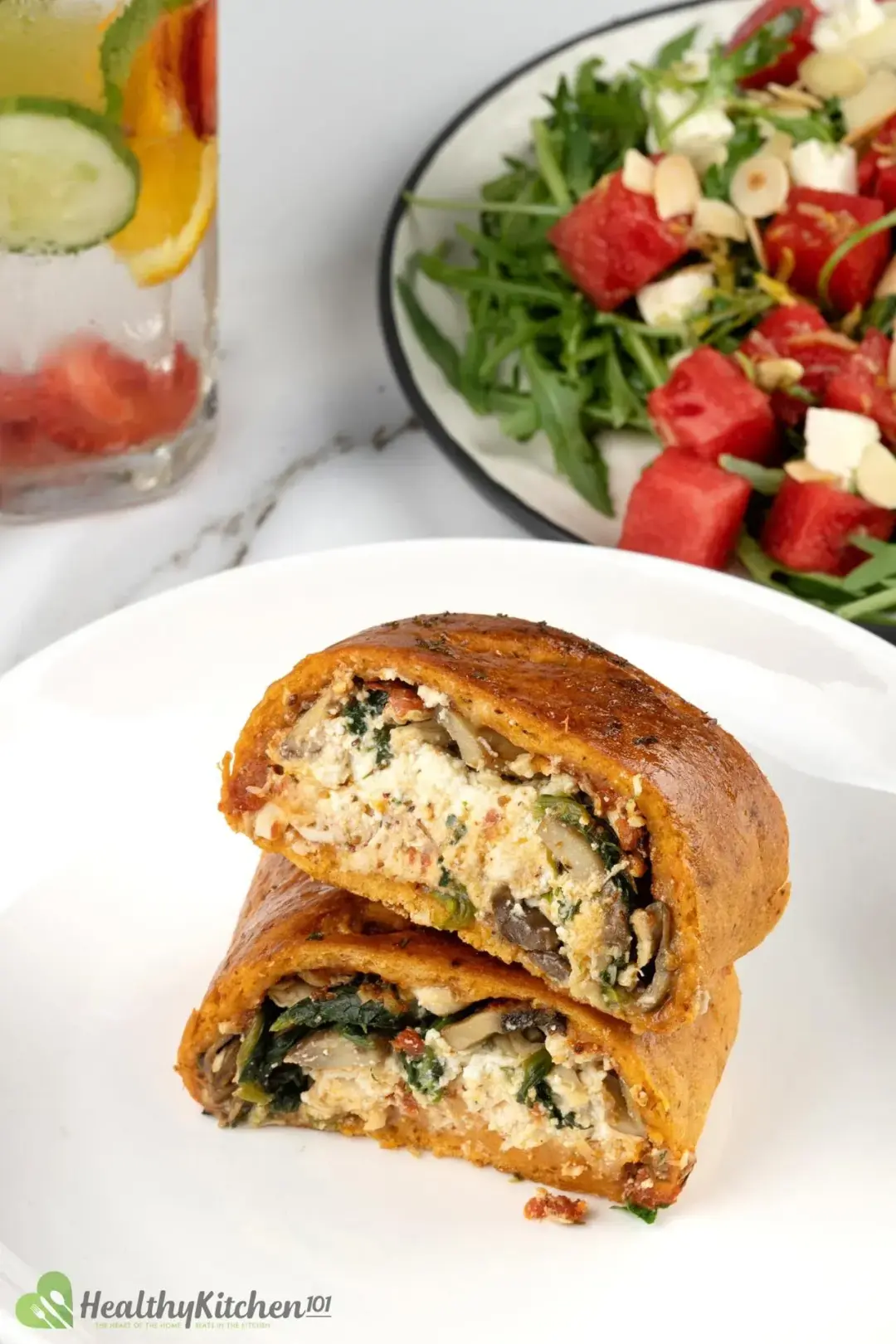 Stromboli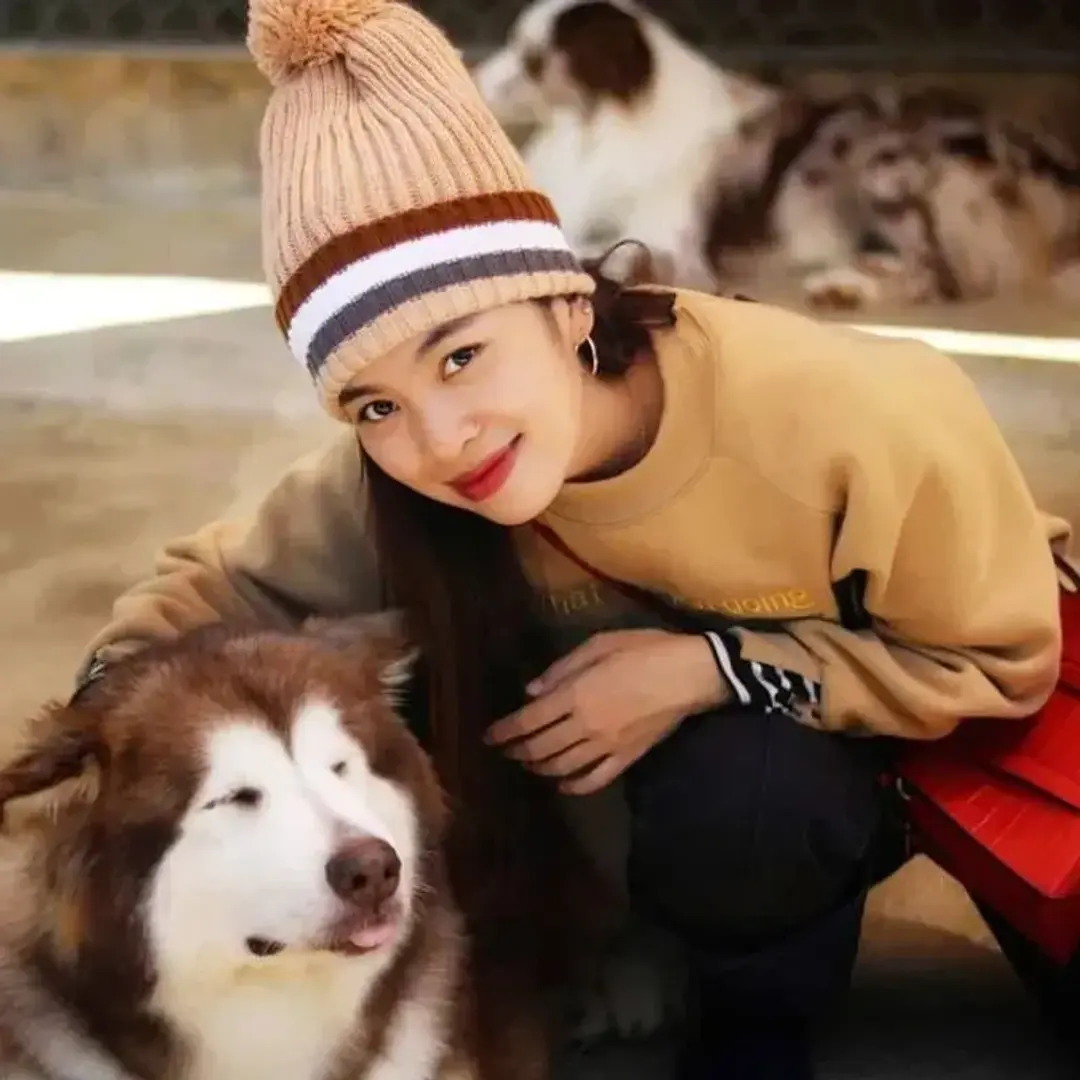 Chef, Culinary Consultant
Tuyet Pham is an award-winning Saigonese chef who believes that joy is the secret ingredient to delicious food. At Healthy Recipes 101, Tuyet personally tests and simplifies every recipe, ensuring maximum flavor with minimal effort. With a background at prestigious French restaurants P'TI Saigon and Le Corto, Tuyet knows how to make every dish exceptional.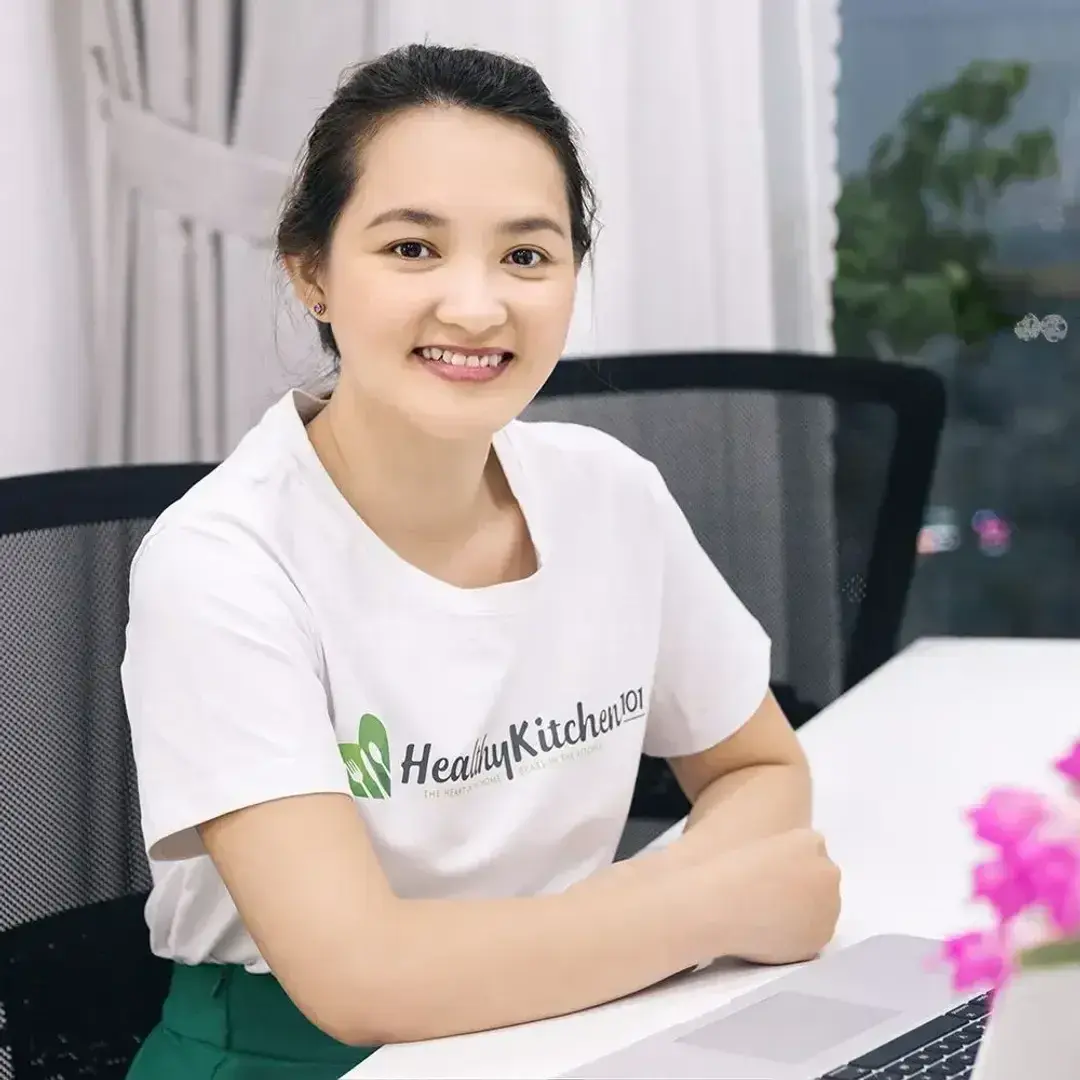 Writer, Author
Luna Regina is an accomplished writer and author who dedicates her career to empowering home cooks and making cooking effortless for everyone. She is the founder of HealthyKitchen101.com and HealthyRecipes101.com, where she works with her team to develop easy, nutritious recipes and help aspiring cooks choose the right kitchen appliances.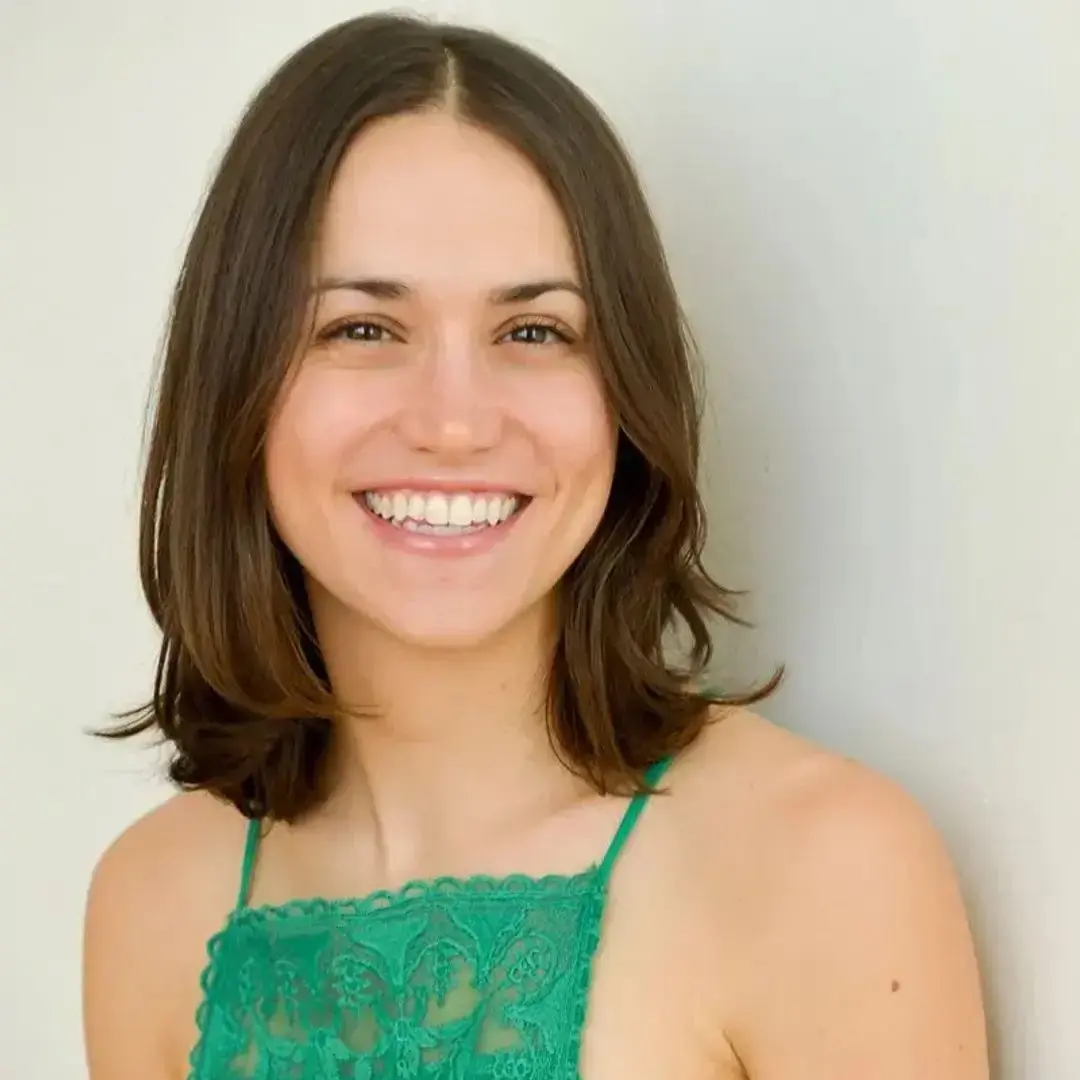 Nutrition Reviewer
Lizzie is a Minneapolis-based dietitian and founder of It's a Veg World After All. She completed her MS in Human Nutrition from Drexel University, and is an expert in culinary nutrition, recipe development, and nutrition communications.
Comments/ Reviews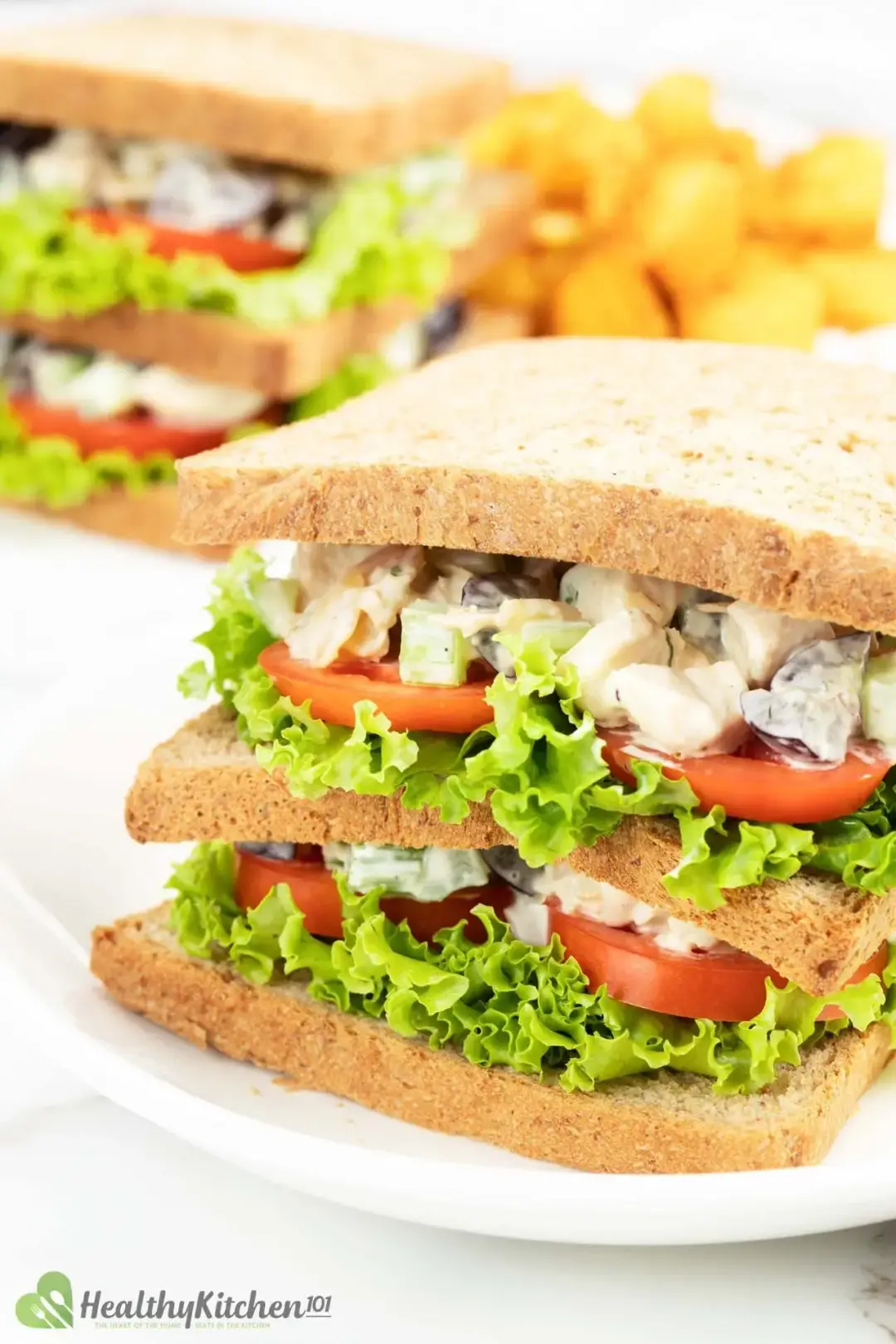 Chicken Salad Sandwich Recipe