Our roasted broccoli recipe is a healthy roast that can fill you with warming flavors this fall. The mix of golden butternut squash, caramelized carrots, and charred broccoli makes a delicious, nutrient-rich dish.
Read on to learn how to make your broccoli better and what makes this roasted broccoli dish is healthy.
Is Roasted Broccoli Healthy?
Broccoli is replete with health benefits. In this recipe, we've combined it with other vegetables and seasonings for added flavor and nutrition.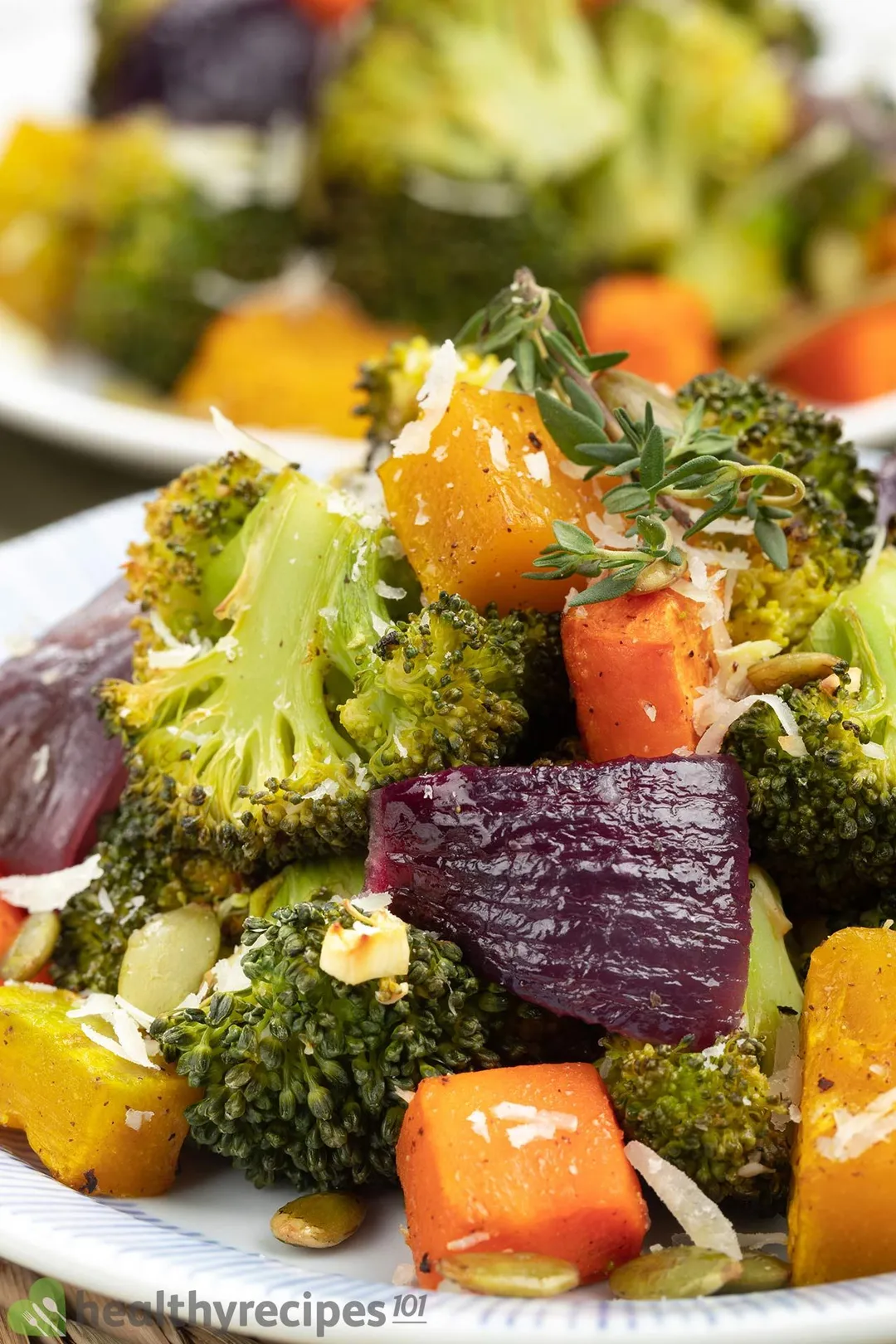 Some of the most significant benefits are:
1. Vitamin C
This roasted broccoli recipe is vitamin-rich. The broccoli alone serves a sufficient dose of daily vitamin C intake, naturally supporting the immune system.
2. For Eye Health
Similarly, the other vegetables add to the nutritional goodness.
The vibrant color of butternut squash and carrots is owed to the beta-carotene. This nutrient converts into vitamin A to improve eye health and cell differentiation.
3. For Heart Health
In the same way, pumpkin seeds are a great source of macronutrients. One ounce provides half the adequate intake (AI) of omega-6 fatty acids and a moderate amount of magnesium, zinc, and antioxidants.
All these contribute to an increase in 'good' cholesterol levels to help reduce the risk of heart disease. So they're not only healthy but are also a texture-varied way to finish off this dish.
Cauliflower vs Broccoli
There's no question as to whether cauliflower or broccoli are healthy. The only real debate is whether one is healthier than the other.
A quick look at their nutrition profiles reveals how they share the attributes of being high in fiber and low in calories. So if you're wondering which is preferable for your weight loss diet, the answer is either one will do.
When it comes to differences, there's no mistaking the two: broccoli is green and cauliflower is white. Broccoli also contains more vitamins C and K than cauliflower.
On the other hand, cauliflower contains from 3 to 4% more vitamin B6 and pantothenic acid. So nutritionally, broccoli takes the lead.
But there's also the matter of taste, with some preferring the milder flavor of cauliflower.
Types of Broccoli
There are over 27 different types of broccoli, including bright green romanesco and purple sprouting broccoli. The most popular kind is green (Calabrese) broccoli.
This thick-clustered variety is probably the one you think of when visualizing broccoli. It's readily available at the store, and what people know as standard broccoli.
You may have come across a more leafy green variety known as Chinese broccoli. It has longer stems and can be slightly bitter, but you can use it whenever a recipe calls for Calabrese broccoli in the ingredients, including ours.
How to Cut Broccoli
To cut broccoli, look for where the stem separates into several stalks and chop. The goal is to end up with separate florets that look like little trees.
You can then further cut the florets in half lengthwise for quicker roasting.
How to Roast Broccoli in the Oven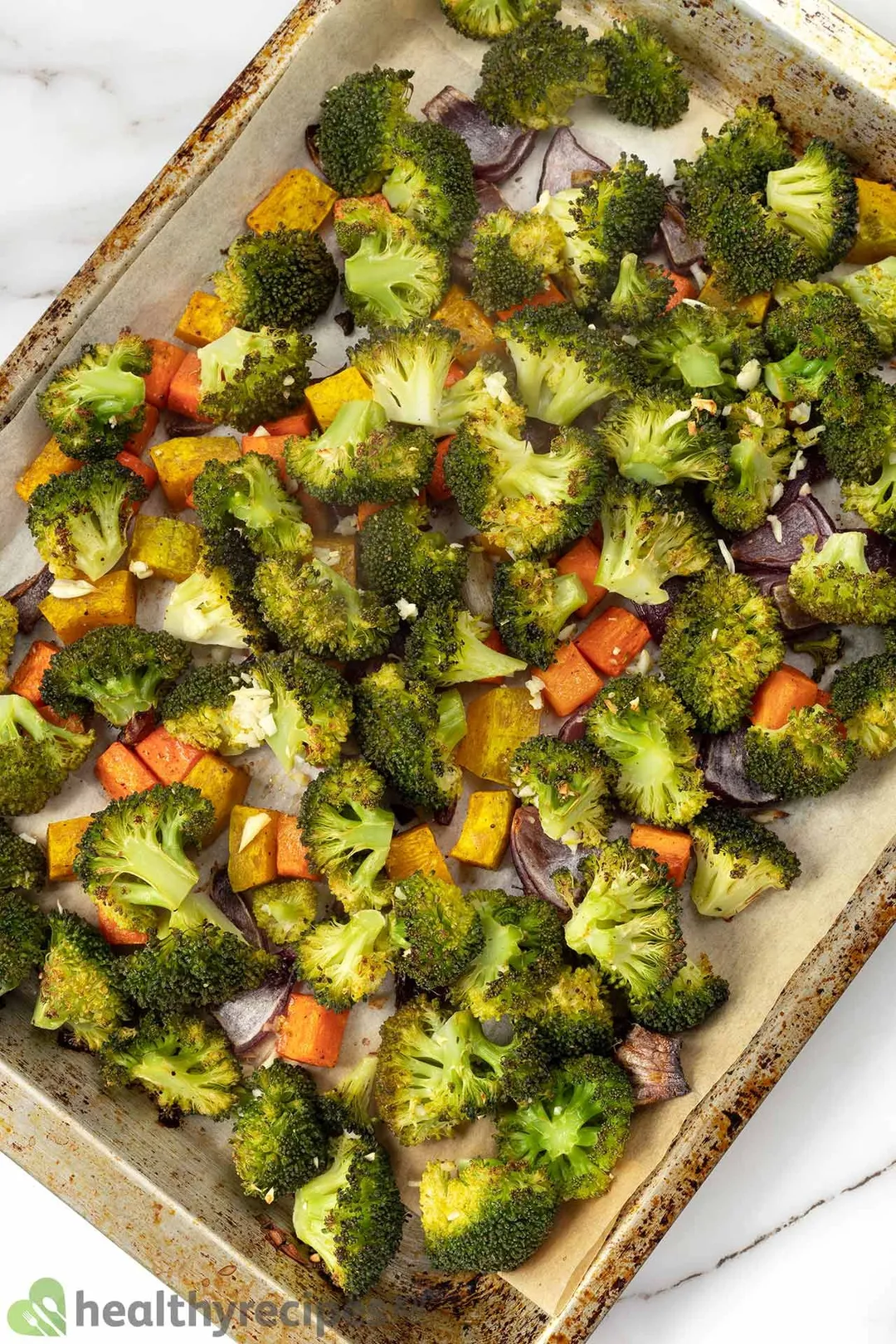 After cutting the broccoli, toss it together with any seasonings of your choice until the florets are fully coated. Transfer them onto a lined sheet pan and roast the broccoli for 30 minutes before removing it from the oven.
Check the broccoli florets half-way through roasting, flipping them over to prevent the seasoning from burning.
Seasoning for Roasted Broccoli
Although this roasted broccoli recipe contains plenty of different vegetables, we've kept the seasoning minimal with thyme, salt, and pepper. Simple seasoning really helps to enhance the natural flavors of the vegetables rather than overpowering them.
Below are more helpful ways to improve flavor when roasting vegetables.
Tips on How to Roast Broccoli and Vegetables
Start by using a metal sheet pan with sides less than 1 inch deep. That, plus avoiding stacking the vegetables on top of each other, allows steam to escape to produce a crispy outcome.
Then, cut your vegetables into equal sizes and evenly coat them with seasoning and oil. This results in evenly roasted pieces of food as well as a neat presentation for your dish.
Next, set the temperature of your oven to between 425-450°F to achieve a crispy, caramel char without burning the broccoli. And keep an eye on the veggies throughout the cooking process, flipping them over halfway through to evenly roast.
Roasted Broccoli Ingredients
1. Garlic
Garlic brings a distinct aroma to any dish. In this roasted broccoli recipe, roasting the garlic helps break down the pungent allicin present to release a sweeter essence that flavors the vegetables.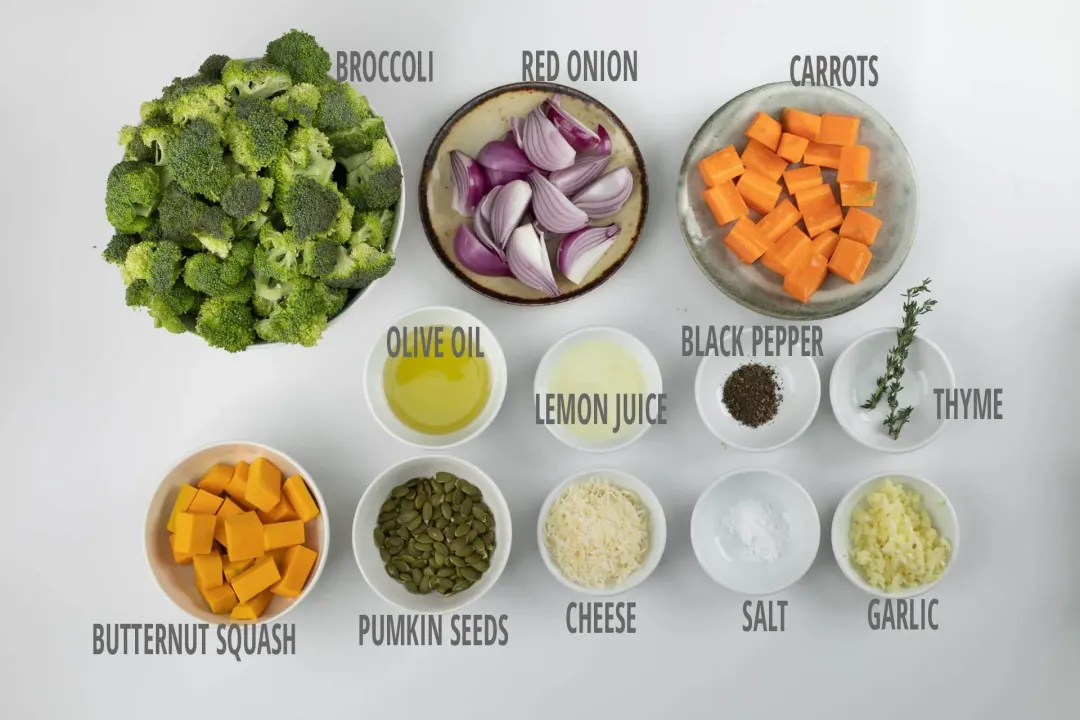 Though 4 cloves might seem like a lot, don't worry about it being too much in this recipe.
2. Lemon
Similar to garlic, lemon juice has a dominant flavor. But in small amounts, it adds freshness and can offer relief amidst other flavors.
Use it sparingly, as we've done in this recipe, to elevate the mild taste of vegetables.
3. Parmesan
Parmesan's dry, nutty texture works excellently in this dish to maintain the crisp, charred texture of the vegetables.
If you don't have parmesan, hard cheeses like pecorino work best as a substitute. But remember to monitor the saltiness of the dish as some cheeses contain higher amounts of sodium.
4. Olive Oil
Combining olive oil with garlic and broccoli is a foolproof formula for achieving a simple yet aromatic dish. Just be sure to add it in an equal or lesser amount than this recipe calls for to maintain the crispiness of the broccoli.
What Goes Well With Roasted Broccoli?
You can have roasted broccoli plain or paired with a refined main dish. It works well alongside a protein-packed dish to give a satisfying fullness without being too heavy.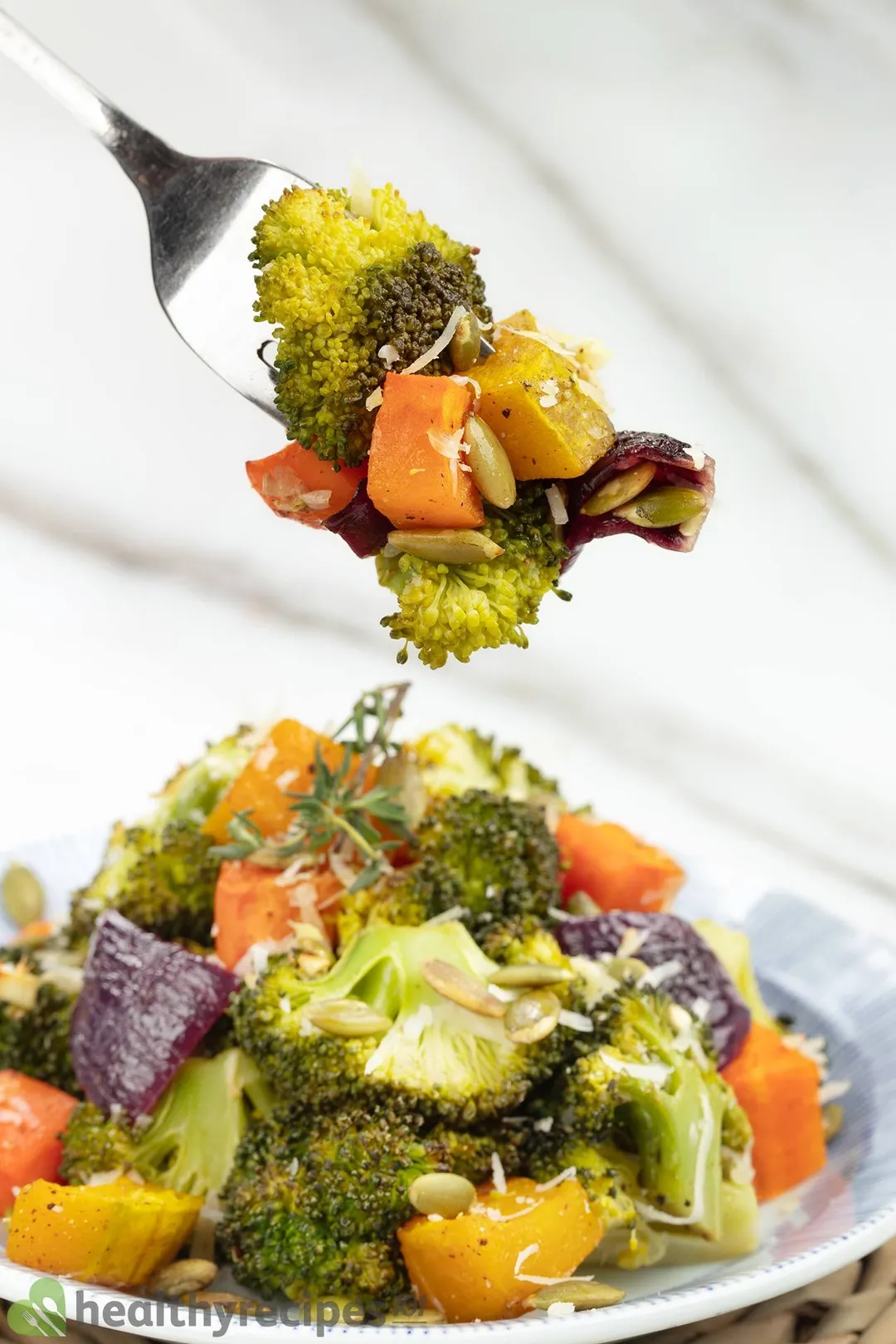 Here are a couple of other dishes we believe go well with roasted broccoli:
1. Grilled Chicken Breasts
If you trust yourself with multitasking, grill some chicken while the vegetables are roasting. The moist chicken will offer a firm, meaty texture that delicately complements the mild taste of the tender roast-vegetables.
2. Baked Salmon
Salmon is rich in flavor and adds a full taste to any dish. Its mildness accompanies the nutty broccoli to create a savory balance of fresh and caramelized flavors.
More Quick & Easy Broccoli Ideas: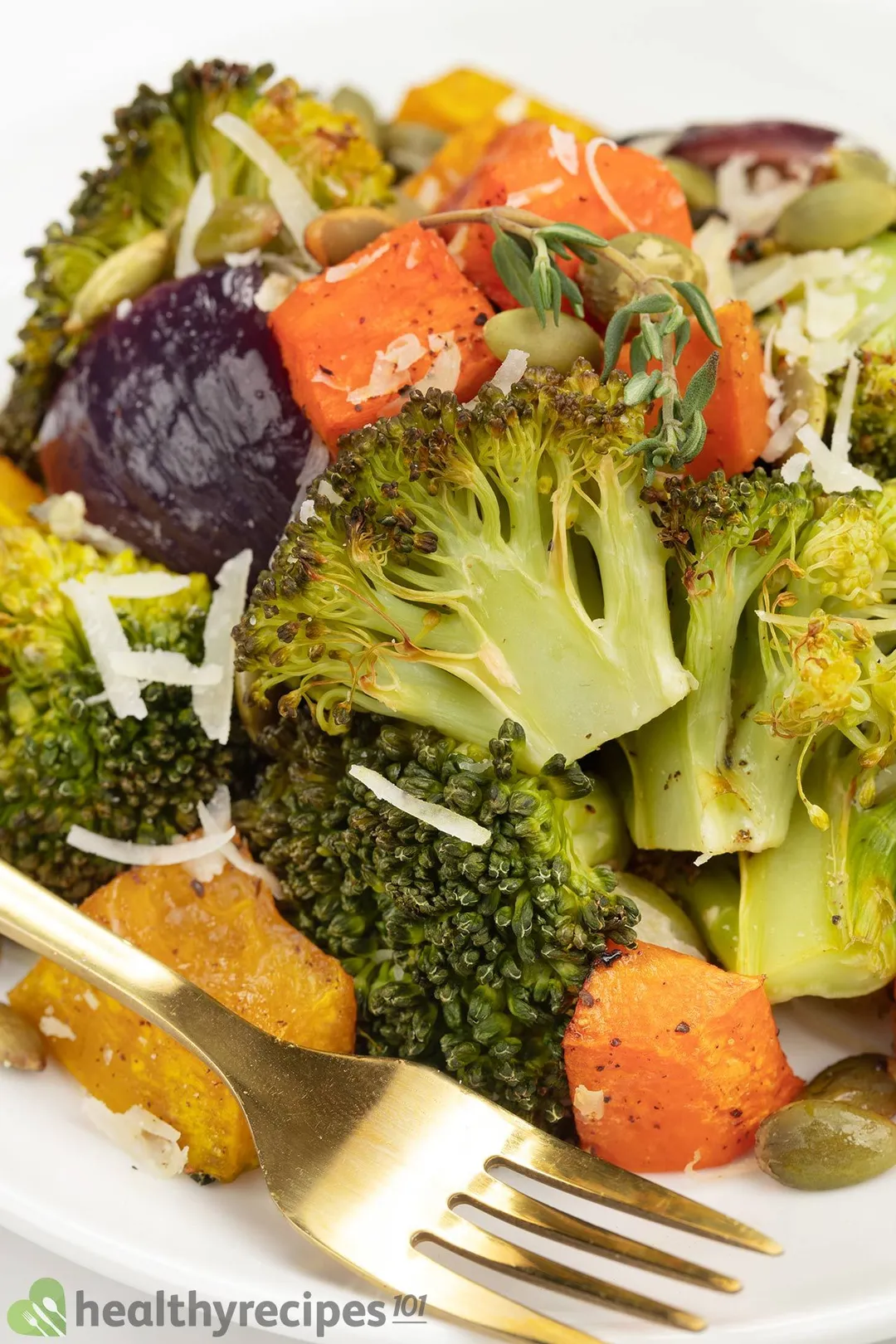 FAQ
1. Can You Freeze Roasted Broccoli?
Yes, just like other home-cooked veggies, you can freeze your roasted broccoli. To store, let the veggies cool completely and then transfer them into an airtight, freezer-safe container, such as a glass Pyrex container.
Though flexible packaging, like Ziploc bags, might be more convenient for saving space.
2. How Long Does Roasted Broccoli Last?
You can store roasted broccoli for up to 12 months in the freezer. This means you can prepare it ahead of time and defrost in the refrigerator before using.
For short term storage, you can keep roasted broccoli in the refrigerator for up to two days.
Both storage methods are great for saving time, but not so great when it comes to nutrients and flavor. So taste your roasted broccoli before serving it to make sure you're not serving a dish that lacks zest.
3. How Many Calories Are There in Roasted Broccoli?
Our roasted broccoli contains 227 calories per serving, making it a great choice for a side dish. The added bonus is that protein and healthy fats make up most of the calories.
You can go for hours feeling more full than if you had had a 300-calorie beverage stuffed with sugar and carbs. It also makes this dish excellent for low-carb and low-calorie vegetarian diets that require minimum time and effort.
Roasted Broccoli
This roasted broccoli requires you to roast until the butternut squash is fork-tender and broccoli florets are crispy brown. Top with pumpkin seeds, sprinkle parmesan cheese and enjoy!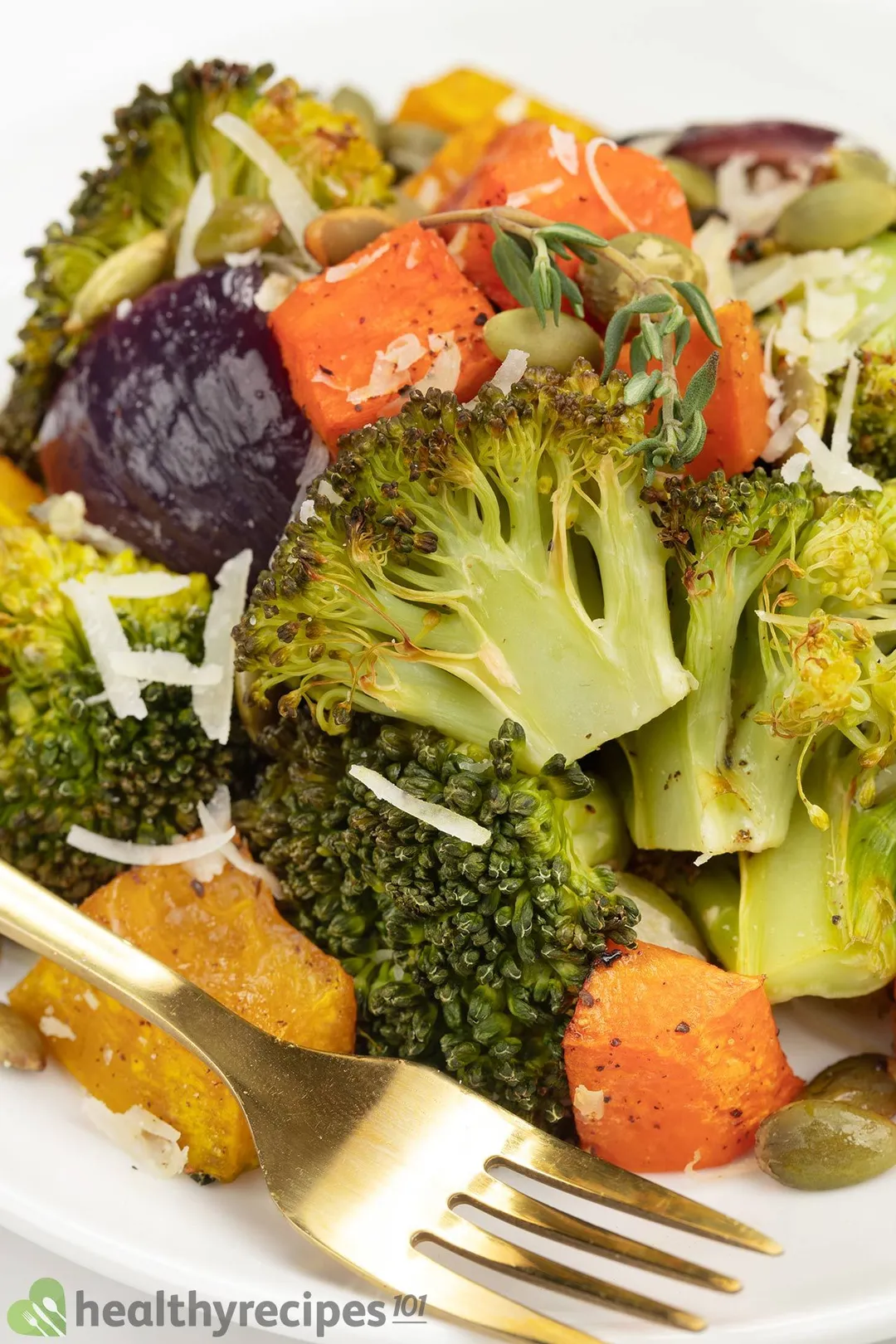 cook TIME

35 mins

prep TIME

7 mins

total TIME

42 mins
COURSE

Dinner, Lunch

CUISINE

American

SERVINGS

CALORIES

228 kcal
INGREDIENTS
4 oz

butternut squash

(cubed)

1.5 oz

pumpkin seeds

(toasted)

0.5 oz

grated parmesan cheese

2 tbsp

lemon juice

(fresh)

1 tsp

ground black pepper

1

sprig fresh thyme

(optional)
INSTRUCTIONS
1
Preheat oven to 450°F and line a sheet pan with parchment paper.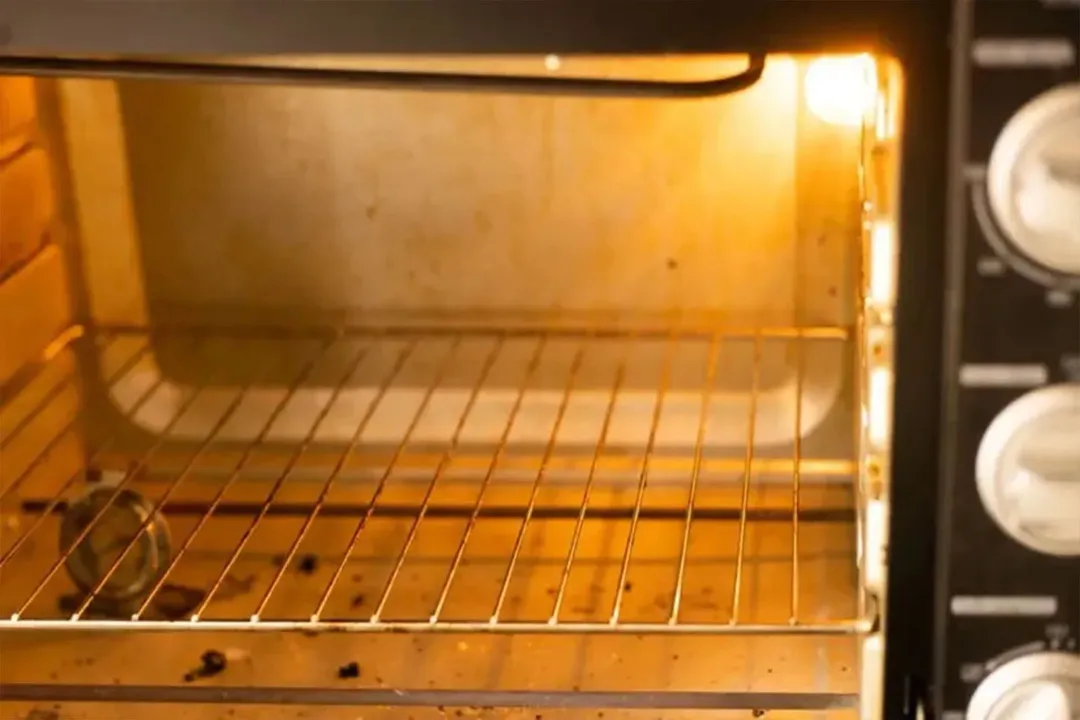 2
Whisk 2 tbsp olive oil, 1 tsp pepper, and 1/4 tsp salt in a bowl and divide the mixture into 2 separate medium-sized bowls.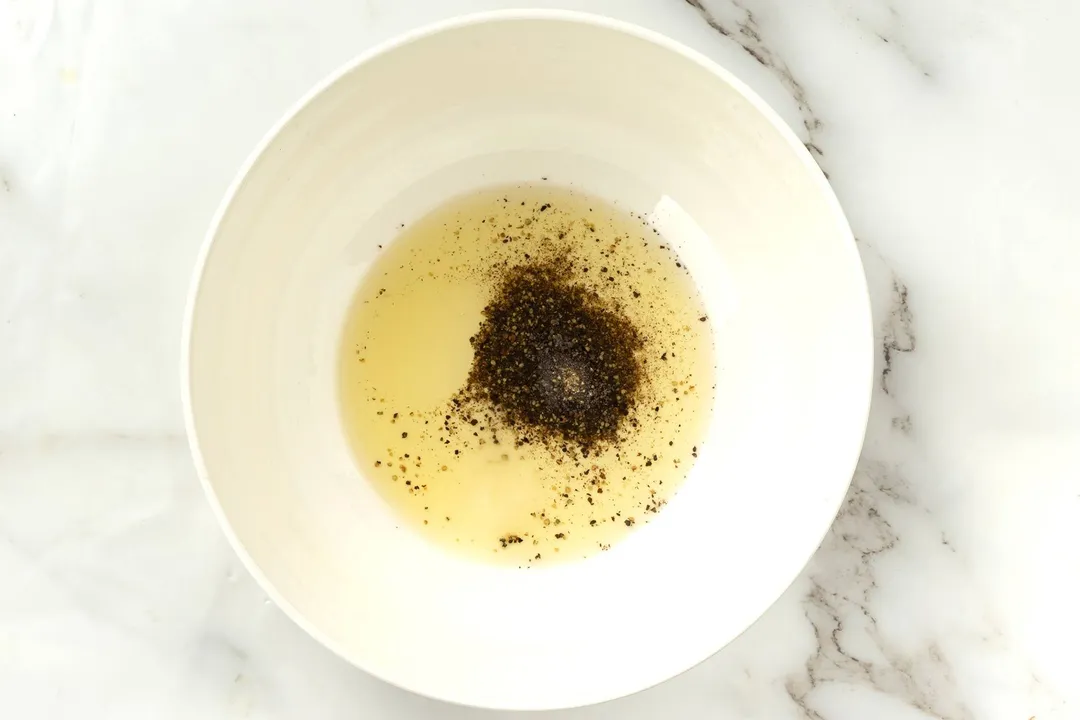 3
In the first bowl, add the 20 oz broccoli florets.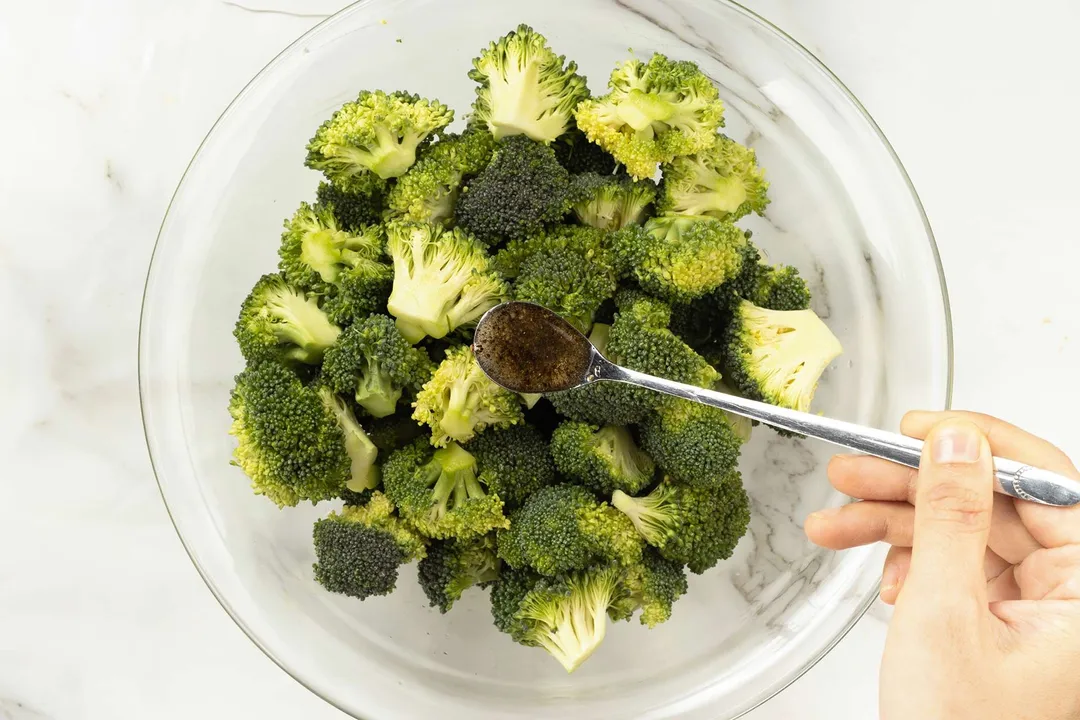 4
In the second bowl, add the remaining vegetables: 4 oz butternut squash, 4 oz cubed carrots, 4 oz red onion.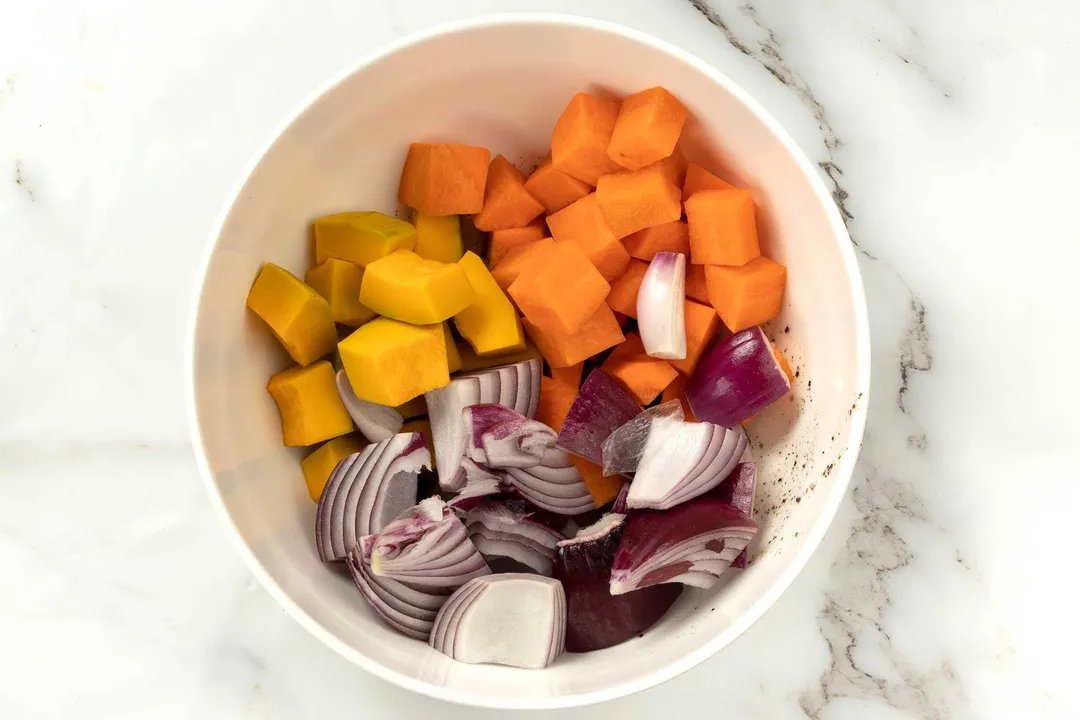 5
Add 2 minced cloves garlic and 2 tbsp lemon juice to the broccoli bowl. Toss each bowl until fully coated with seasonings.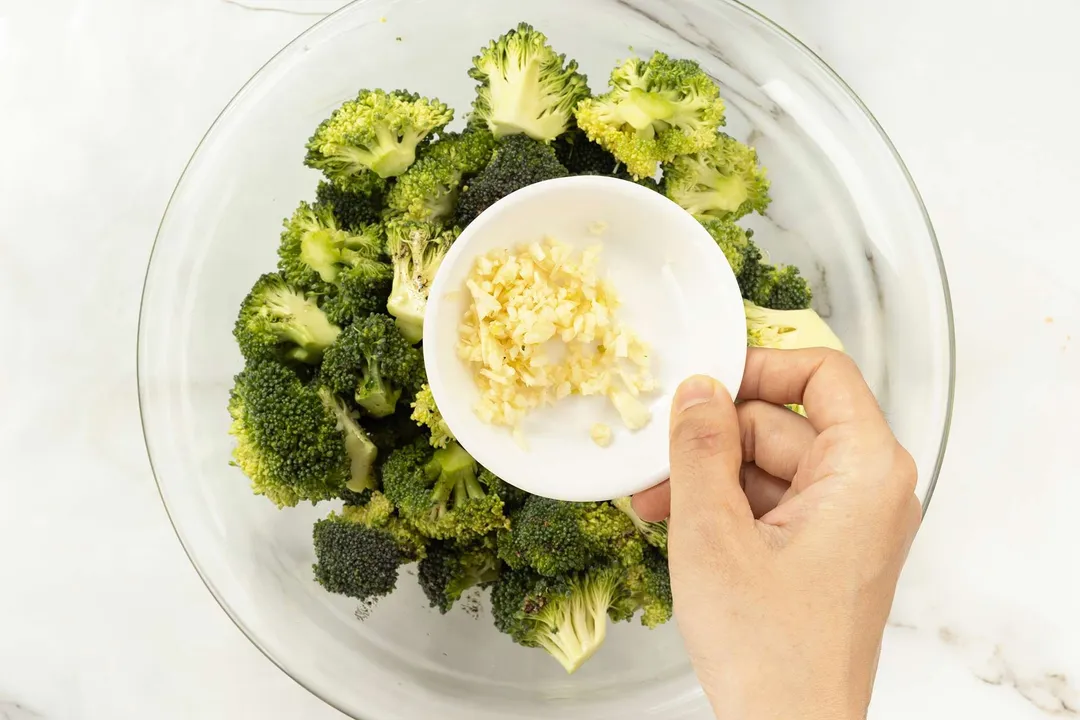 6
Lay the seasoned vegetables out on the sheet pan in a single layer. Don't add the broccoli yet.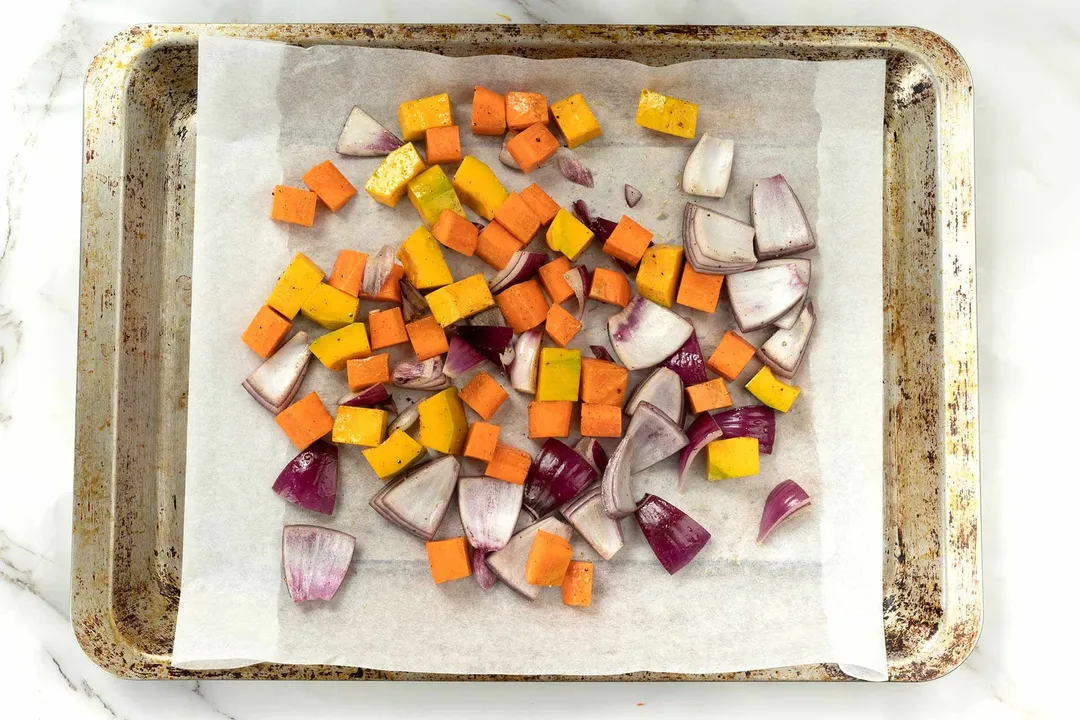 7
Roast for 15 minutes, turn the vegetables over then add the broccoli to the sheet pan. Continue roasting for a further 20 minutes, flipping the broccoli halfway through.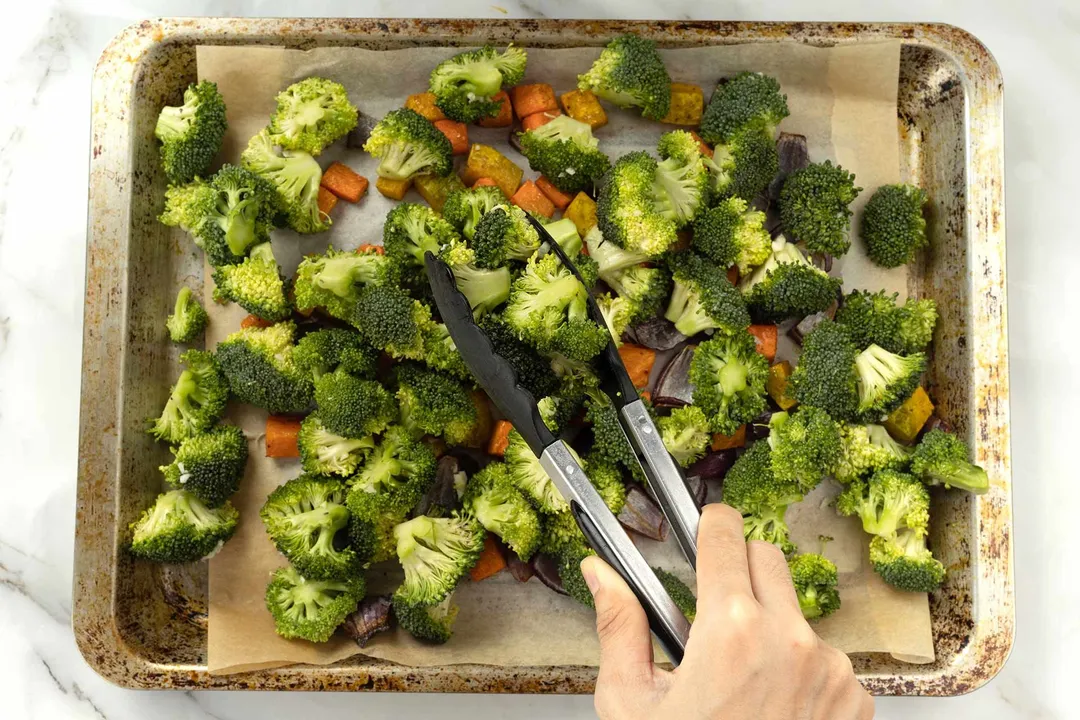 8
Remove from the oven. Use a fork to check the tenderness of the butternut squash— you want it to be fork-tender. The broccoli should be a nutty brown color.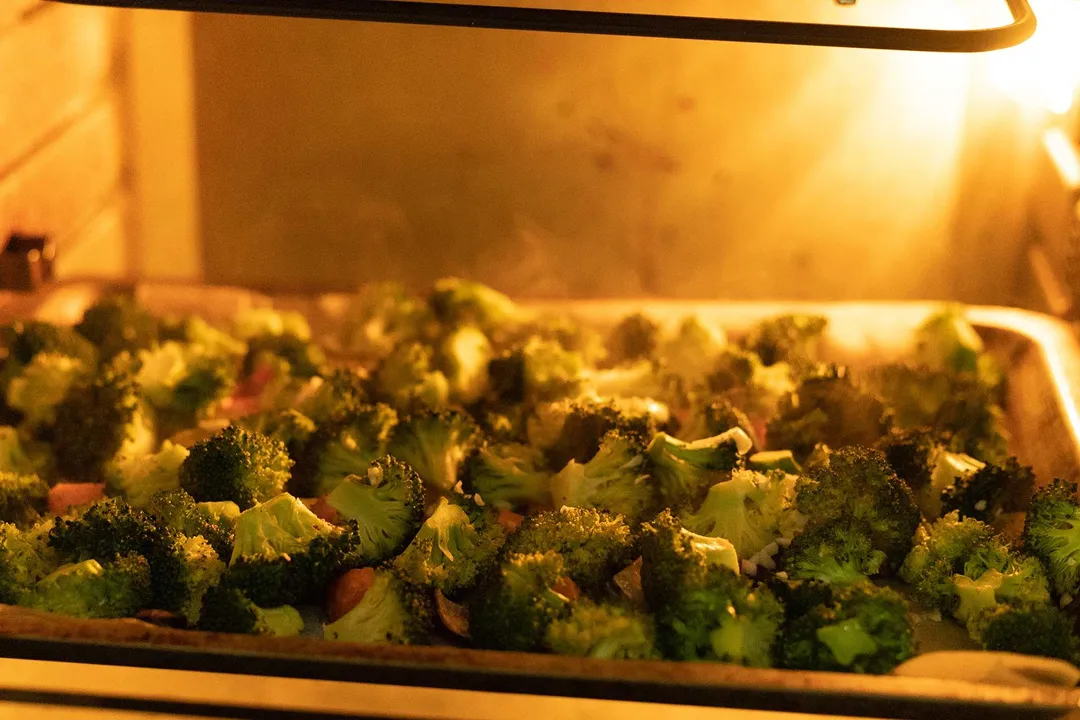 9
Immediately sprinkle 0.5 oz parmesan cheese over the vegetables and then 1.5 oz pumpkin seeds to top it off. Garnish with fresh thyme.
(*) Only some of the oil is absorbed during the cooking process and we have calculated nutritional values based on the amount in the final product. The total amount consumed is 2 tablespoons of olive oil.
NUTRITION
Nutrition Facts
Roasted Broccoli
Amount Per Serving (1 serving)
Calories 228
Calories from Fat 126
% Daily Value*
* Percent Daily Values are based on a 2000 calorie diet.
Keywords: How to make Roasted Broccoli Recipe, Roasted Broccoli, Roasted Broccoli Recipe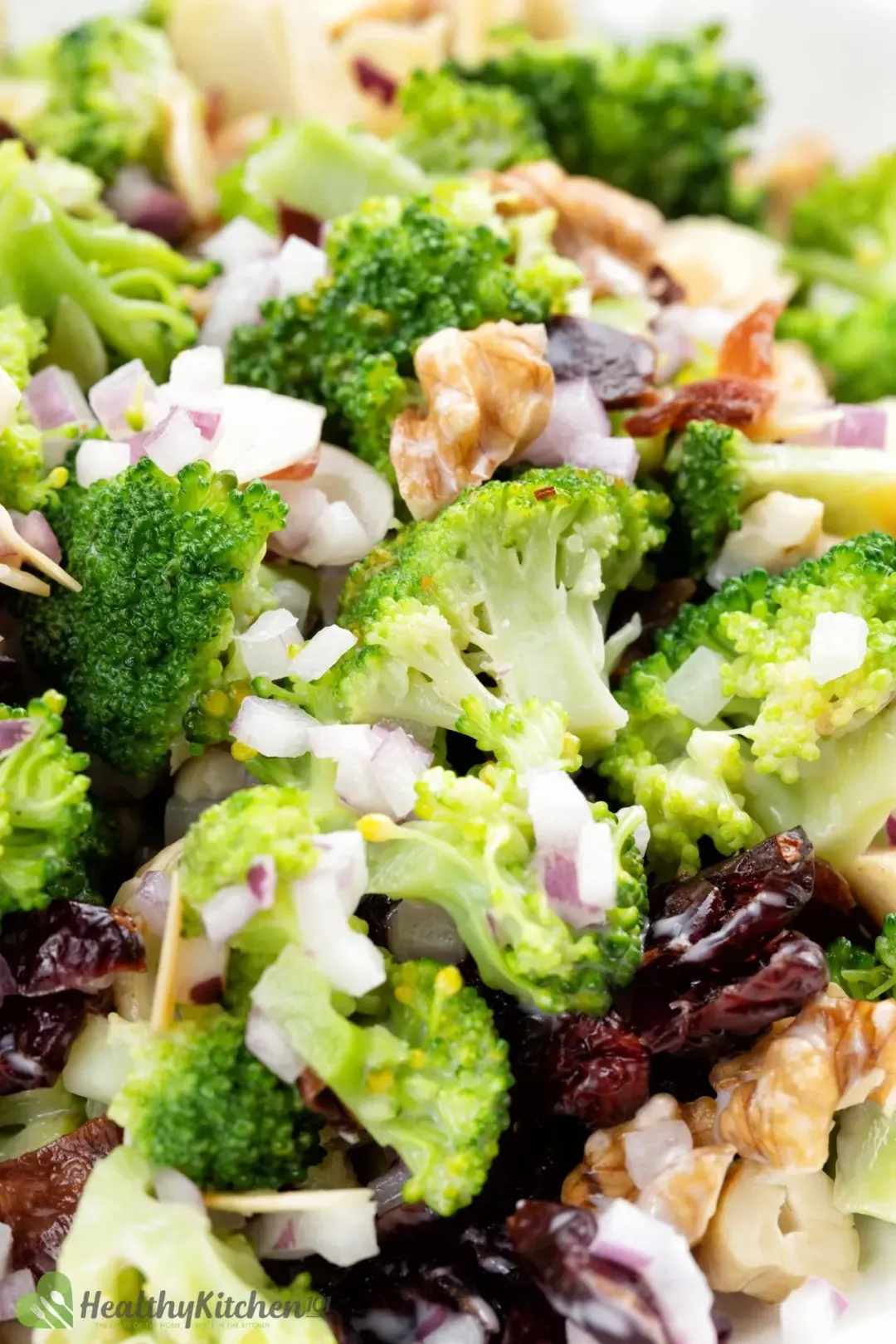 Previous Recipe
Healthy Broccoli Salad
Healthy Broccoli Salad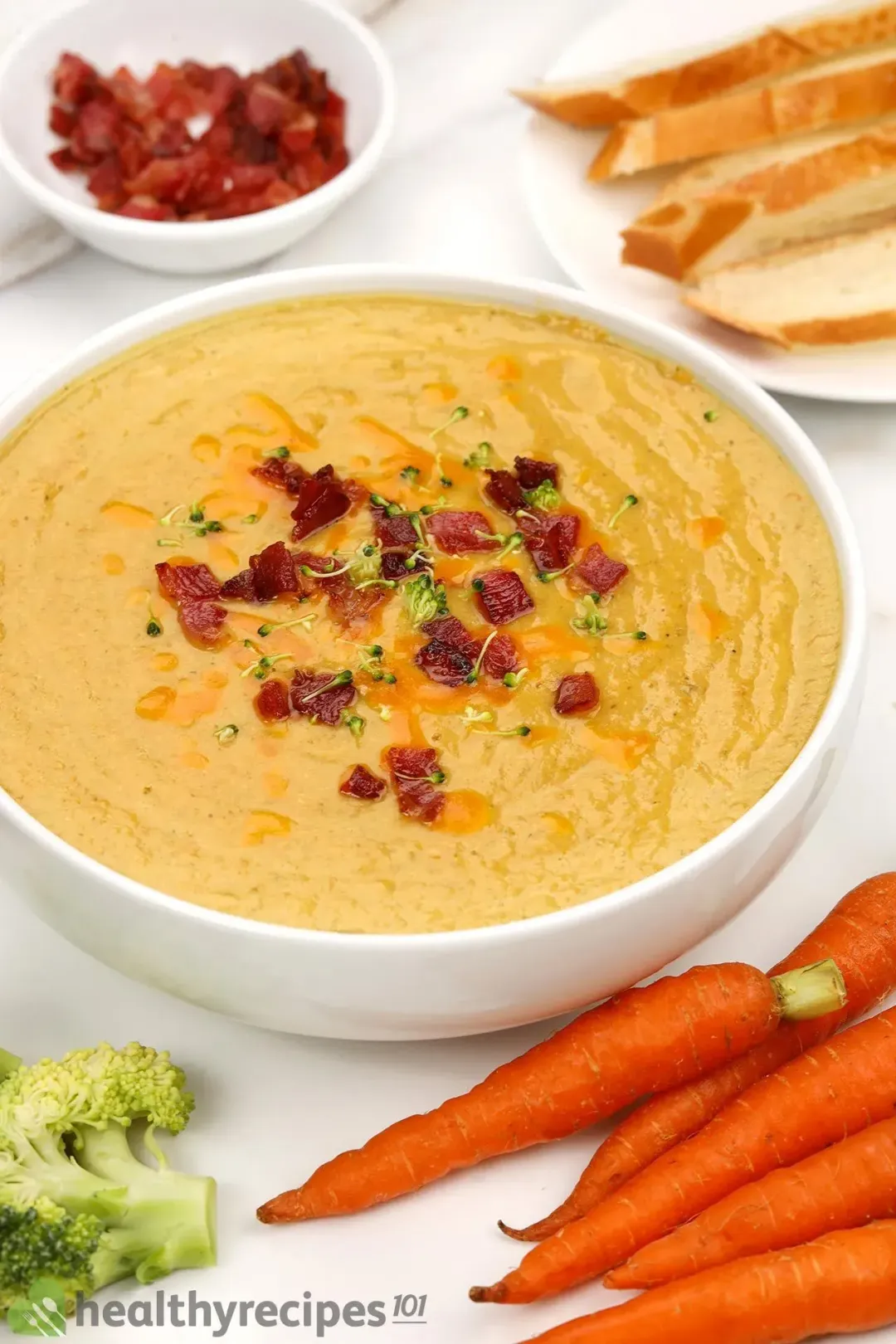 Next Recipe
Instant Pot Broccoli Cheddar Soup
Instant Pot Broccoli Cheddar Soup
Broccoli is our new favorite veggie. We will love this recipe for sure.