In this Chinese-style beef and broccoli recipe we show you how to make an easy, delicious meal from scratch. You only need a skillet to cook it which makes clean up afterwards quick too!
Is Beef and Broccoli Healthy?
Yes, our beef and broccoli recipe is healthy. Here's why:
High in protein: Our beef and broccoli recipe contains nearly 35 grams of protein per serving (nearly 70% of your recommended daily intake). If you're trying to add more protein to your diet, this recipe is perfect for you.
Low in saturated fat: This dish contains only 6 grams per serving. To know how much saturated fat you should consume in a meal, read our healthy eating guidelines.
Low in sugar: Although we do use brown sugar in this recipe, there's only 4 grams per serving. To learn more about your recommended daily added sugar intake, check out this article.
Benefits of broccoli: This crunchy cruciferous vegetable is low in calories and fat but high in fiber, vitamins, and minerals. It's packed with vitamin C and many antioxidants that can bring positive health benefits.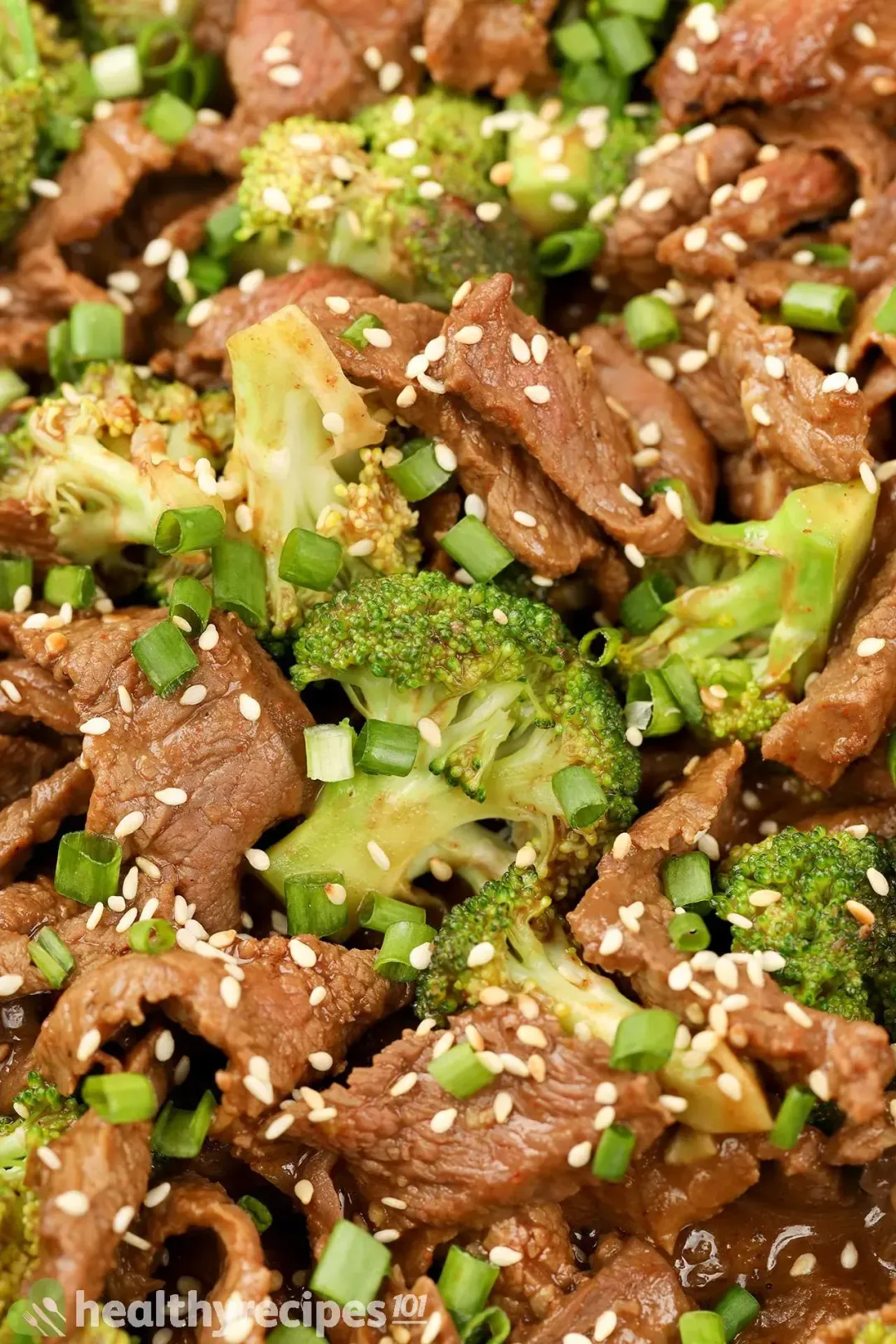 What Kind of Beef Is Best for Stir-Fry?
Any tender beef cuts are great to use for today's beef and broccoli recipe. Here are some of our recommendations:
Flank steak: This is what we use in our recipe. This cut is often preferred in Chinese stir-fry as it's tender, fairly lean, flavorful, and affordable.
Tri-tip: This cut is pretty similar to flank steak as it's also tender and lean. When you're cutting tri-tip, make sure you slice against the grain so that it's easier to chew.
Sirloin: This particular cut is quite lean, but a bit tougher than flank steak or tri-tip. It's best to tenderize and marinate this beef-cut to help make it tender and delicious.
Striploin: This one is fattier than the other three, which is also why it's more tender. Striploin often comes with a thick layer of fat running along the steak that you can easily trim off.
If you're still uncertain about your beef cuts, you can always ask your butcher and they should be able to help you.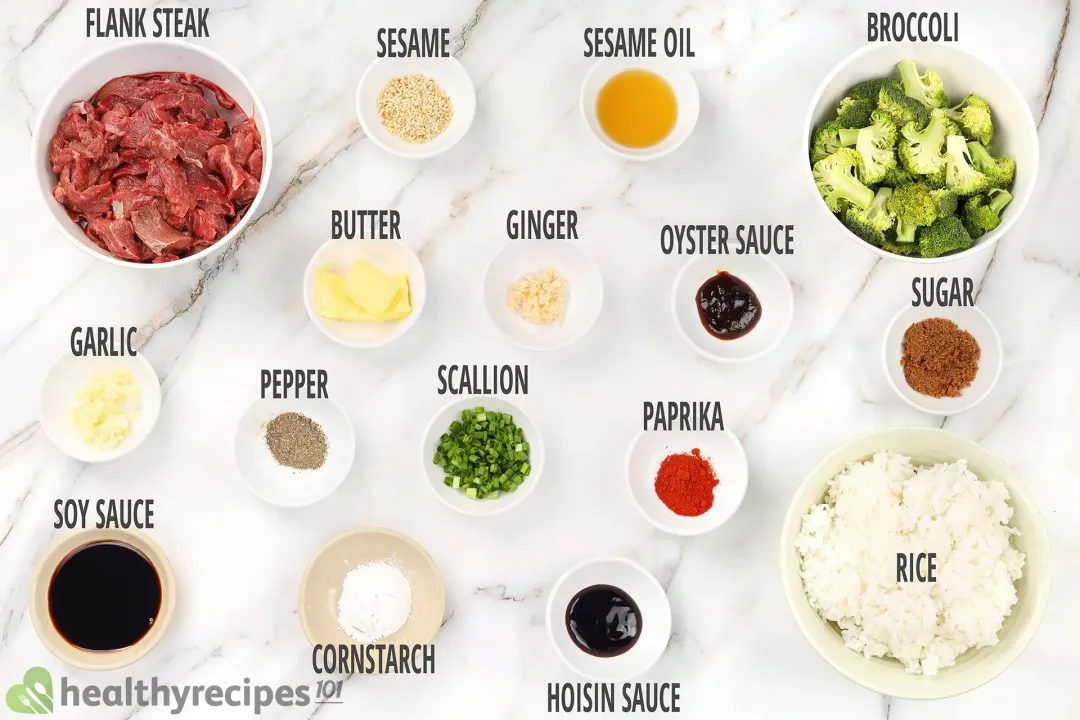 Can I Use Frozen Broccoli for This Recipe?
Yes, you can.
One perk of using frozen broccoli is that it's already prepared and cut into florets. However, thawing it at room temperature may make the broccoli lose its crunch.
It's best to steam the frozen broccoli for 3 to 5 minutes, depending on the size, to warm it up. After that, your broccoli is ready to go into the stir-fry.
What Other Vegetables Go Well With This Recipe?
Although we're only using broccoli, you can use other vegetables to customize the recipe to your preference. Here are the top crunchy veggies that would go well in a stir-fried dish:
Carrots: These crunchy root vegetables have an amazing crunchy texture and sweet flavor that will go well in any savory stir-fry. In addition, the vibrant orange color of carrots makes your dish look fresh and more appetizing.
Baby corn: Unlike mature corn, you can eat whole baby corn without having to remove the cob. They have a sweet, nutty flavor and a crunchy texture that is perfect for stir-fry dishes.
Bell peppers: These capsicums have a sweet taste and herby, grassy aroma that will make your stir-fried beef more flavorful.
There are four common types of bell peppers that you can find in grocery stores: orange, red, yellow, and green. Here's a quick guide on how to pick a bell pepper that suits your taste:
While they are all delicious and crunchy, the red ones are generally the sweetest. Yellow and orange bell peppers have a similar flavor profile, but orange ones tend to be slightly more tangy.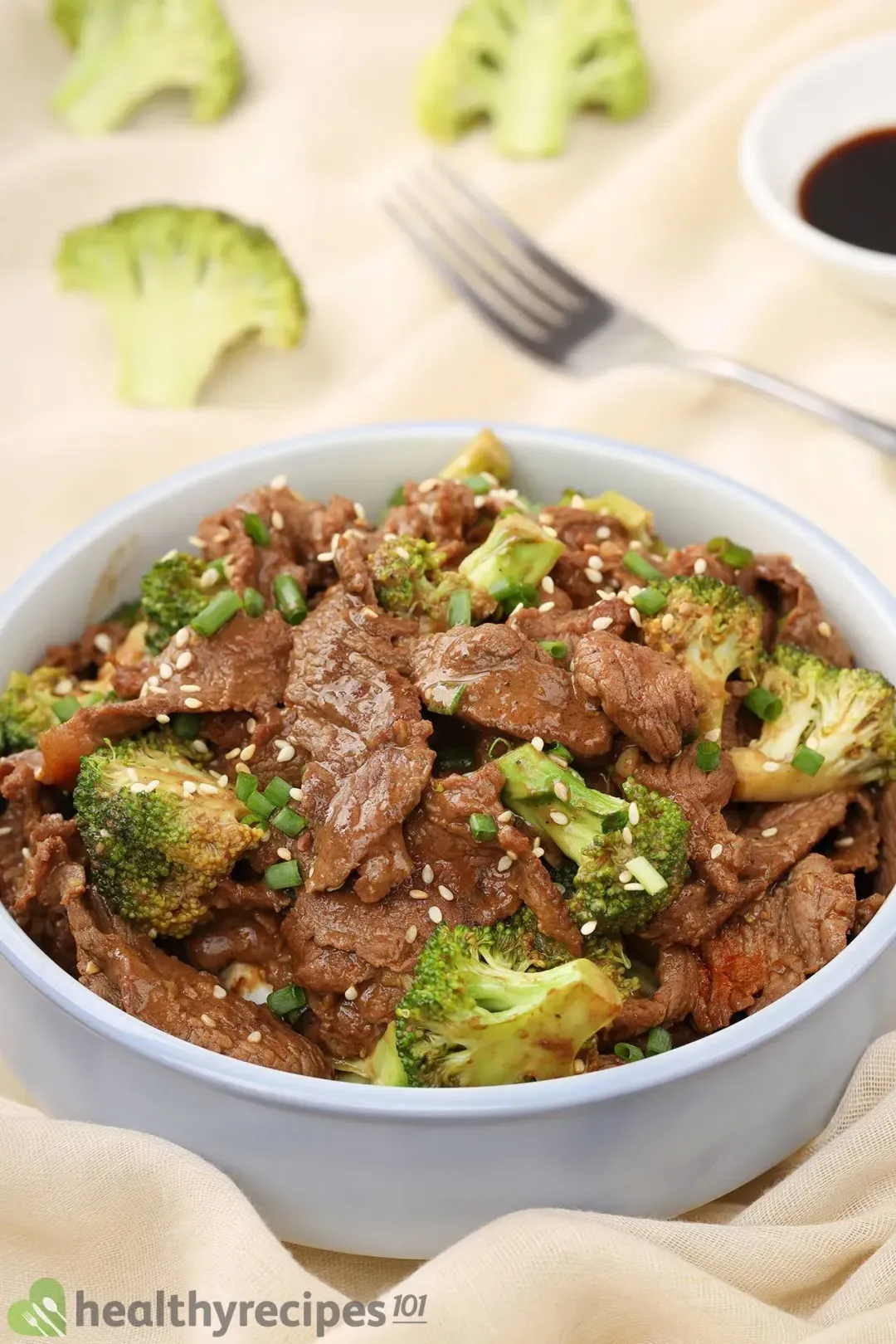 Green bell peppers have the strongest grassy aroma which may be too intense for some people, but is perfect for stir-fry dishes.
If you are looking for another healthy beef and broccoli, don't hesitate to check out our Ground Beef and Broccoli Recipe and give it a try at the next cook-out.
Tips for Making the Best Beef and Broccoli
Here are few tips to help you make the best beef and broccoli:
Tenderize the beef: Gently pound the beef with a meat mallet tenderizer or poke it lightly with a fork. This will help the beef absorb more of the seasonings.
Blanch the broccoli: To retain the fresh color of the broccoli, blanch it in boiling water for 30 seconds and transfer it to an ice bath. Drain and pat it dry with a paper towel to remove excess water before you stir-fry it.
Have your ingredients ready: This dish takes less than 10 minutes to cook so it's best to lay out all the ingredients. That way you can easily turn to get the next item you need and add it to the skillet.
These additional steps may take a little more time to prepare, but they will help you cook an amazing meal with greater ease.
How to Store and Reheat Beef and Broccoli Stir-Fry
Stir-fried meat is quite delicate as it's thinly sliced. We highly recommend storing this beef and broccoli in an airtight container to prevent the beef from drying out.
We also recommend reheating this dish in the microwave for 1 to 2 minutes. It may seem tempting to refry it in a pan, but you'll risk overcooking the beef and it'll become tough.
What to Serve With Beef and Broccoli Stir-Fry
Since today's theme is Chinese cuisine, we've decided to serve our beef with a side of winter melon meatball soup. We also recommend adding a glass of orange pineapple juice for added freshness and to make sure you feel full and consume enough calories.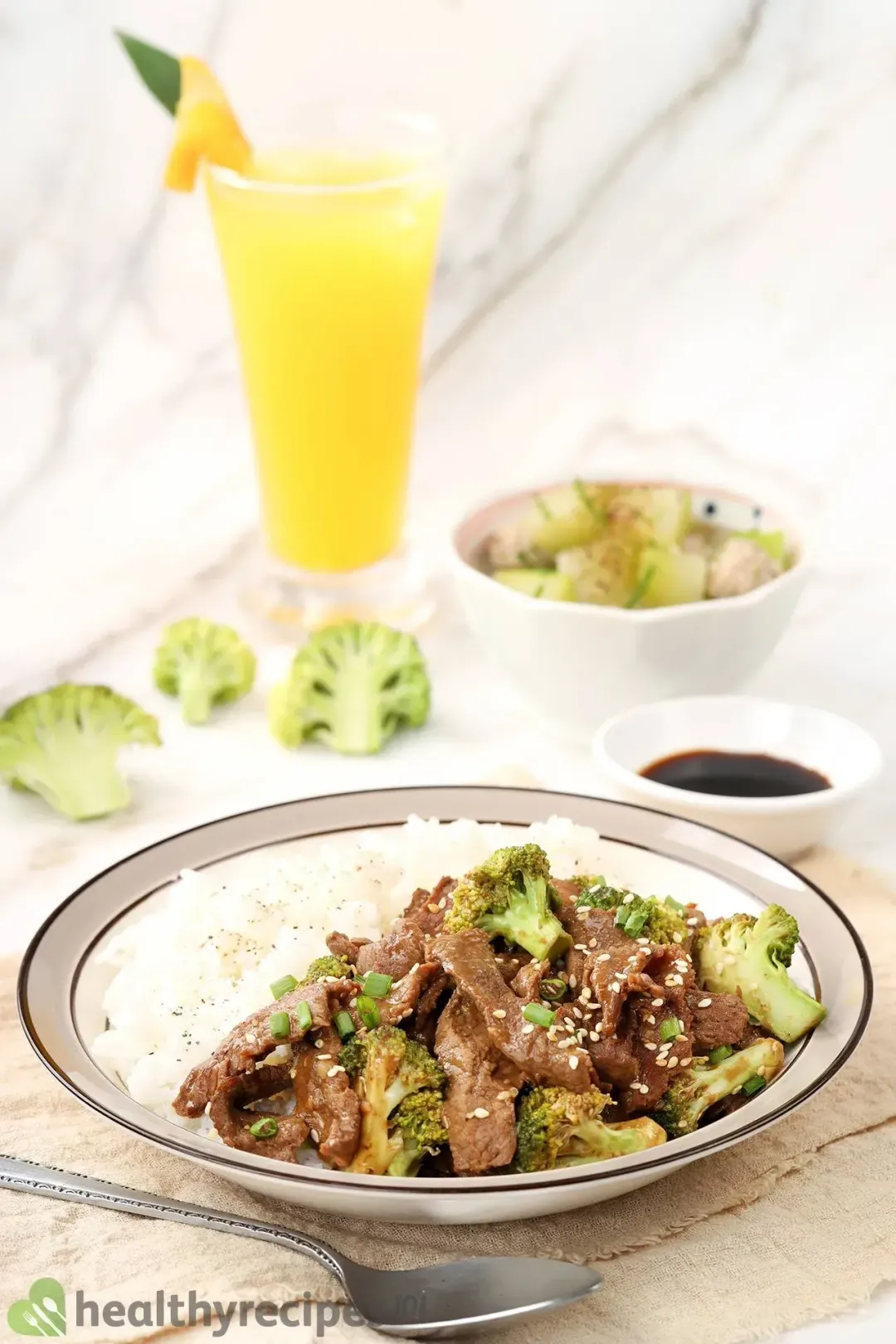 Here's the combined nutrition facts of today's meal: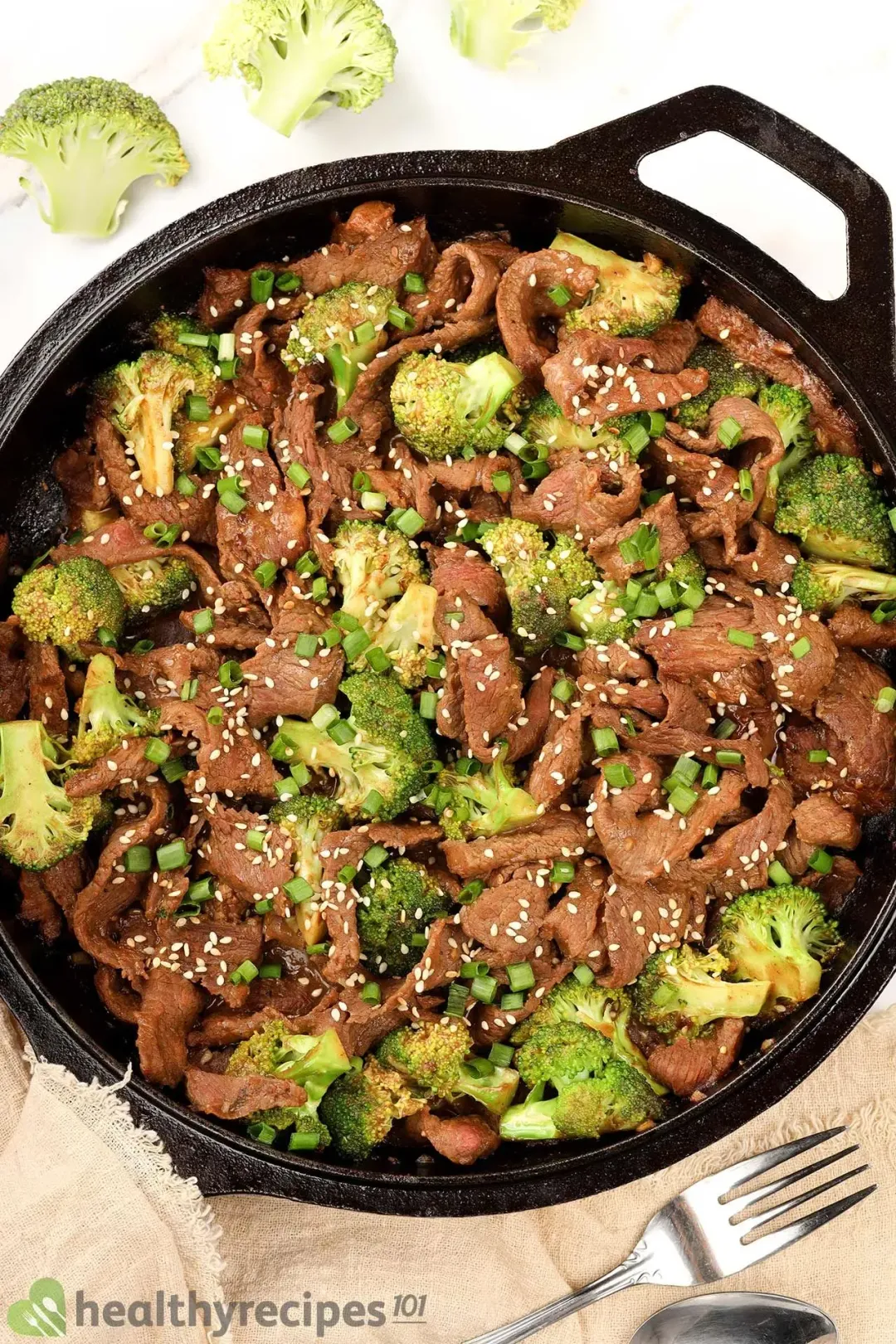 Upgrade Your Dinner Game with These Delicious Beef Over Rice Ideas
Add some zest to your dinner with our Orange Beef recipe, featuring tender strips of beef coated in a tangy orange sauce. This dish is both sweet and savory, making it the perfect addition to any mealtime rotation.
Ground Beef and Cabbage is a hearty and nutritious meal that is perfect for cold weather. This recipe from Healthy Recipes 101 combines ground beef with cabbage, carrots, and other vegetables to create a comforting dish that can be enjoyed any time of the year.
If you're a fan of hearty beef and rice dishes, our roundup is sure to satisfy your cravings.
Beef and Broccoli
With this healthy, Chinese-inspired beef and broccoli recipe, you will have a delicious meal in less than 20 minutes. Let's begin!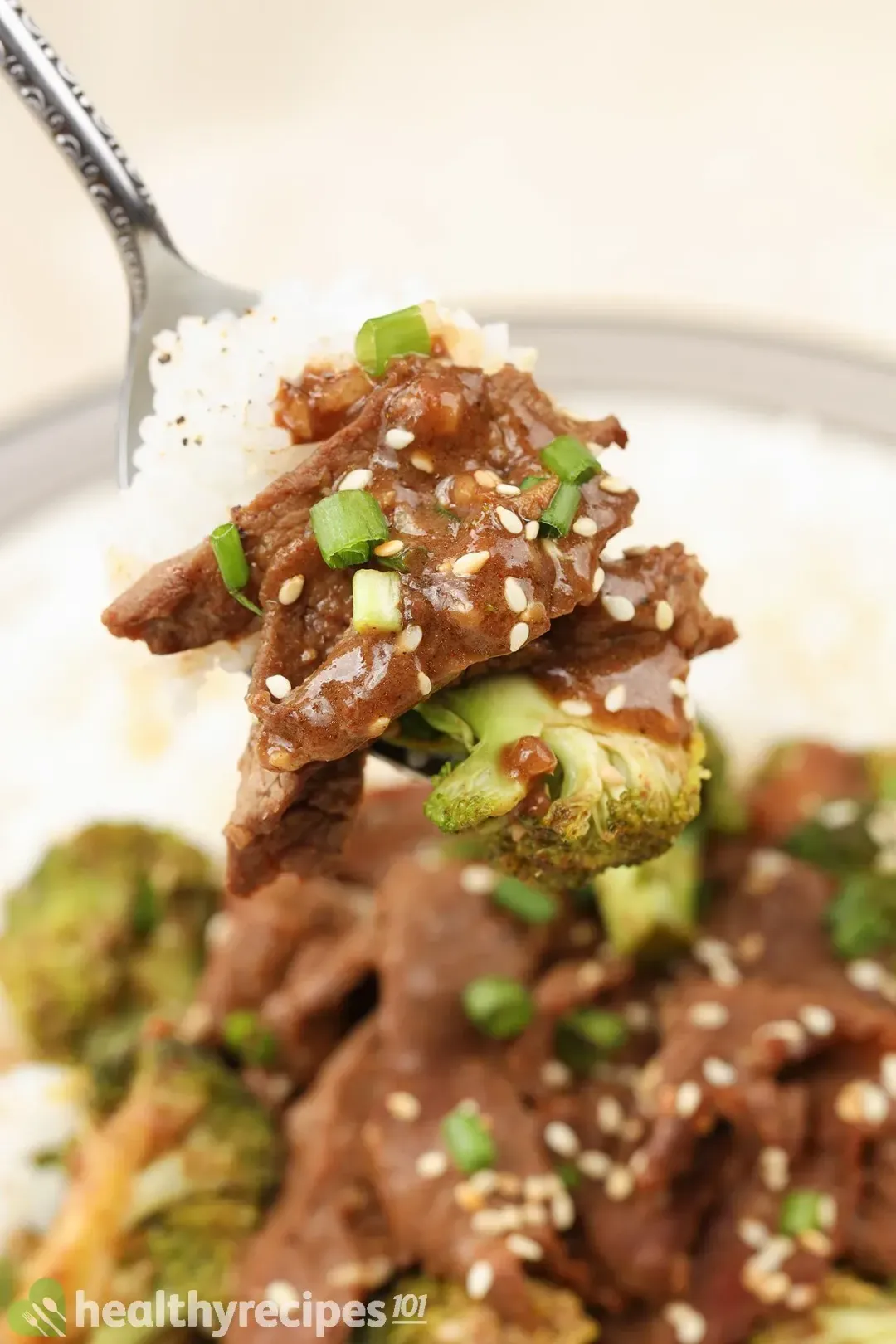 cook TIME

8 mins

prep TIME

10 mins

total TIME

18 mins
COURSE

Main Course

CUISINE

Chinese

SERVINGS

CALORIES

499 kcal
INGREDIENTS
18 oz

flank steak

(thinly sliced)

6 oz

broccoli

(cut into florets)

1 1/2 tbsp

unsalted butter

(divided)

2 tbsp

reduced-sodium soy sauce

2 tbsp

scallions

(finely chopped)

3 1/2 cups

cooked medium-grain rice
INSTRUCTIONS
1
Marinate the beef: In a large mixing bowl, combine 18 oz sliced flank steak, 1 tsp cornstarch, 1/2 tsp black pepper, 2 tsp brown sugar, 2 tbsp reduced-sodium soy sauce, 1/2 tbsp oyster sauce, 1/2 tbsp sesame oil, 1 tsp hoisin sauce, and 1 tsp paprika. Mix well to marinate and set aside for 10 minutes.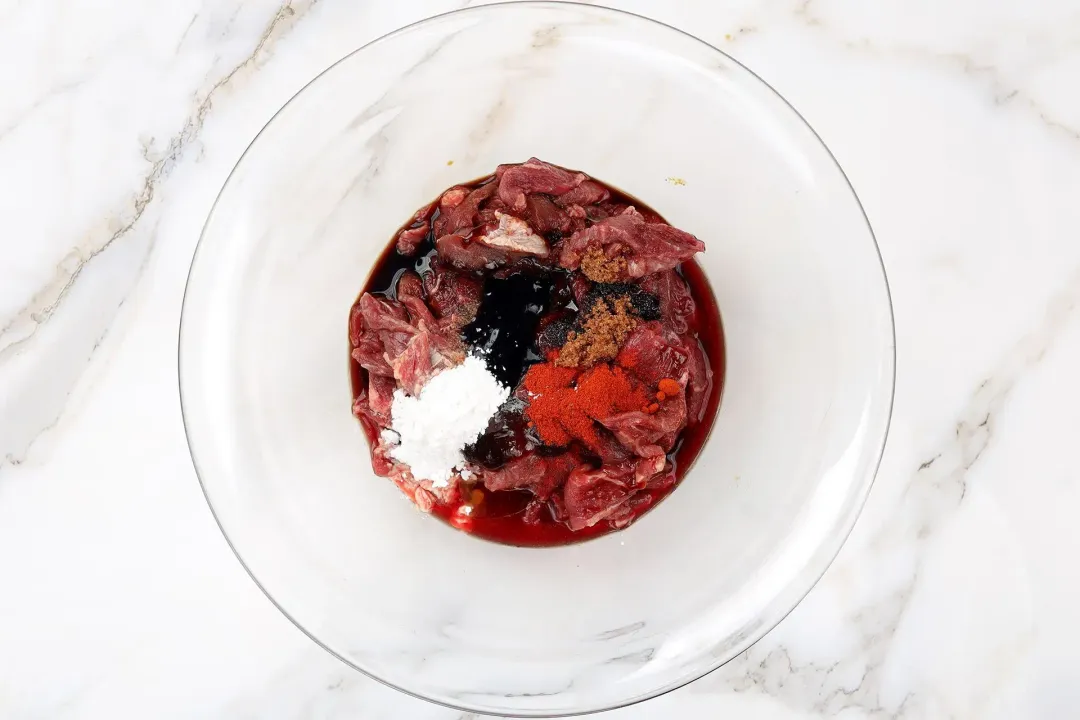 2
Parcook the broccoli: In a hot skillet over medium heat, add 3/4 tbsp unsalted butter and 6 oz broccoli florets. Cook and stir constantly for 2 minutes. Transfer the broccoli to a plate and set aside.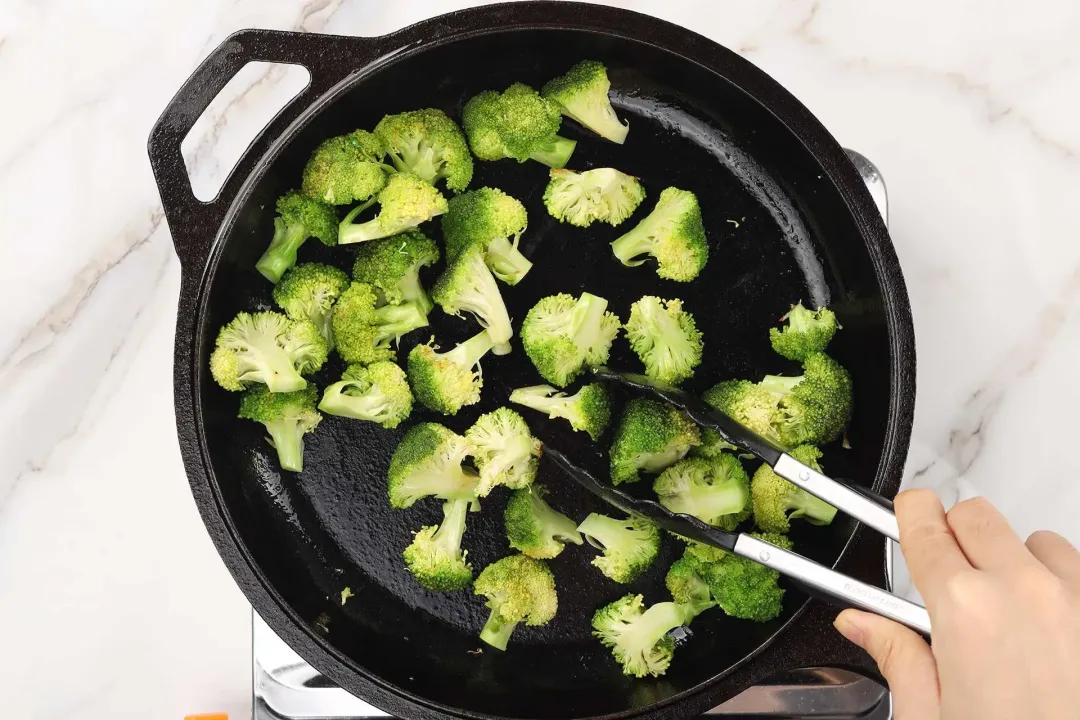 3
Cook the beef: In the same skillet, add the remaining 3/4 tbsp unsalted butter, 1 tsp minced garlic, and 1 tsp minced ginger. Stir for 30 seconds over medium heat. Add the marinated beef to the skillet and cook for 3 minutes, stirring constantly.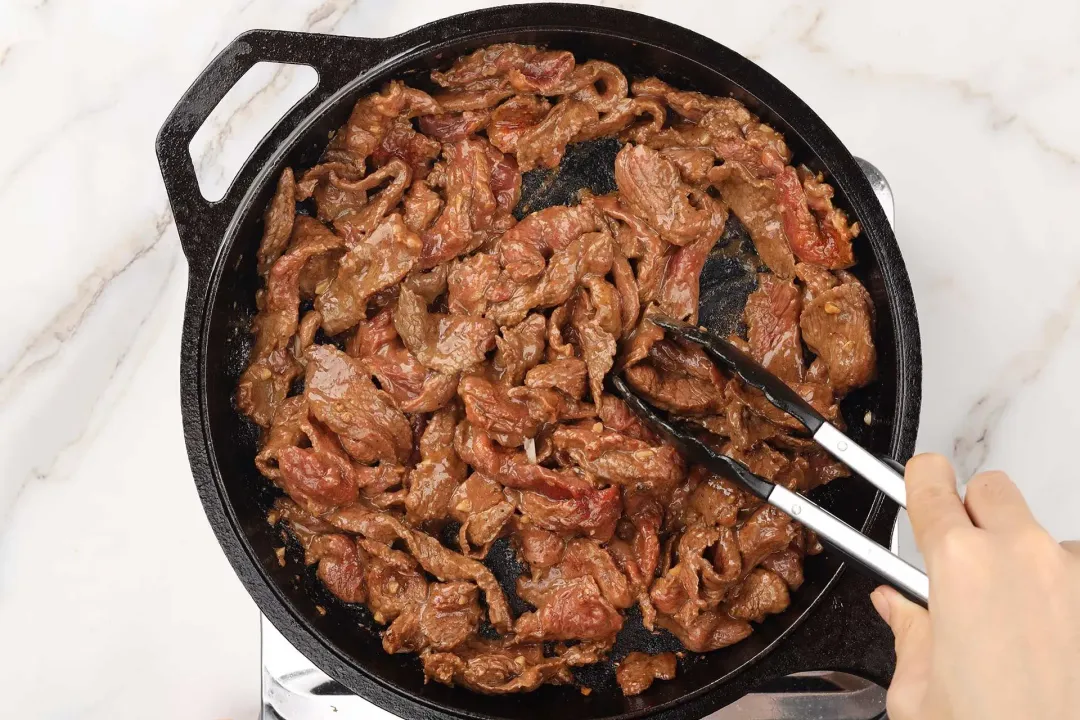 4
Finish cooking the broccoli: Add broccoli back into the skillet. Cook and stir constantly for another 3 minutes. Once the time is up, turn off the heat immediately.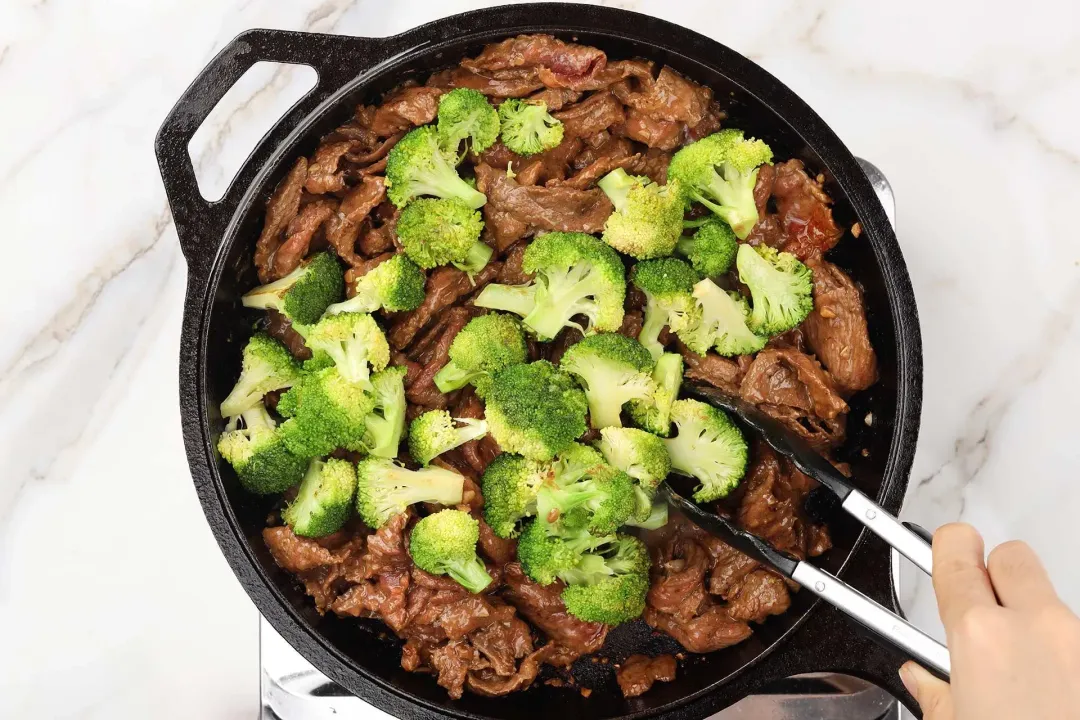 5
Garnish and serve: Sprinkle 2 tbsp chopped scallions and 1 tbsp sesame seeds on top of the beef. Serve with cooked medium-grain rice.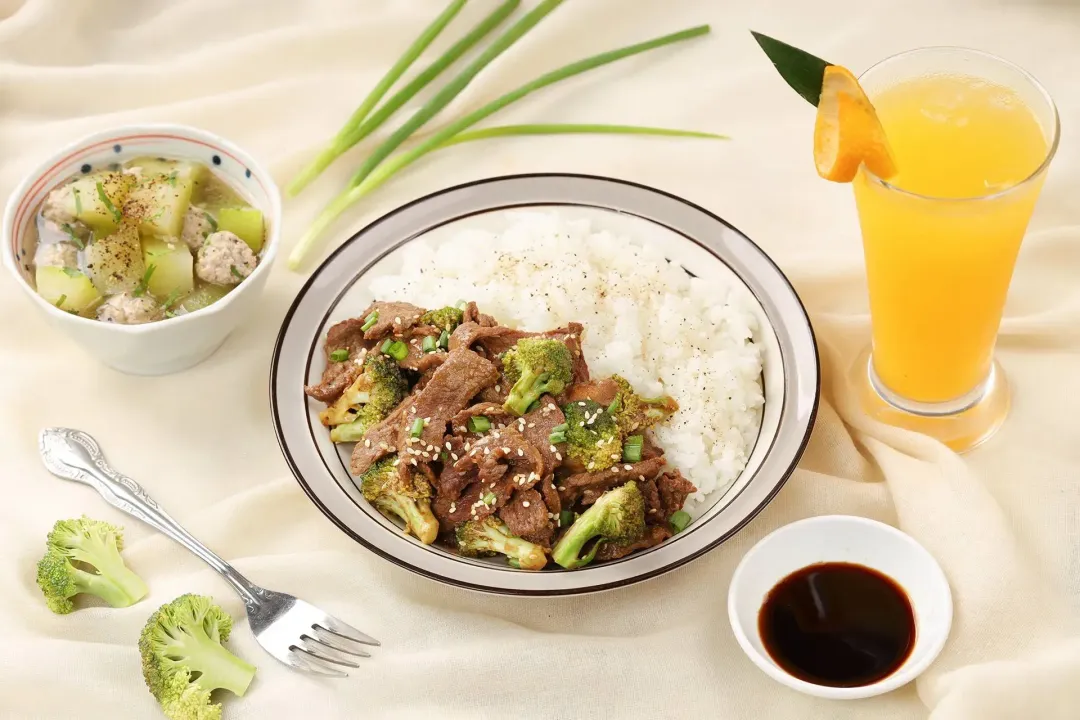 NUTRITION
Nutrition Facts
Beef and Broccoli
Amount Per Serving (1 serving)
Calories 499
Calories from Fat 126
% Daily Value*
* Percent Daily Values are based on a 2000 calorie diet.
Keywords: beef and broccoli, beef and broccoli recipe, how to make beef and broccoli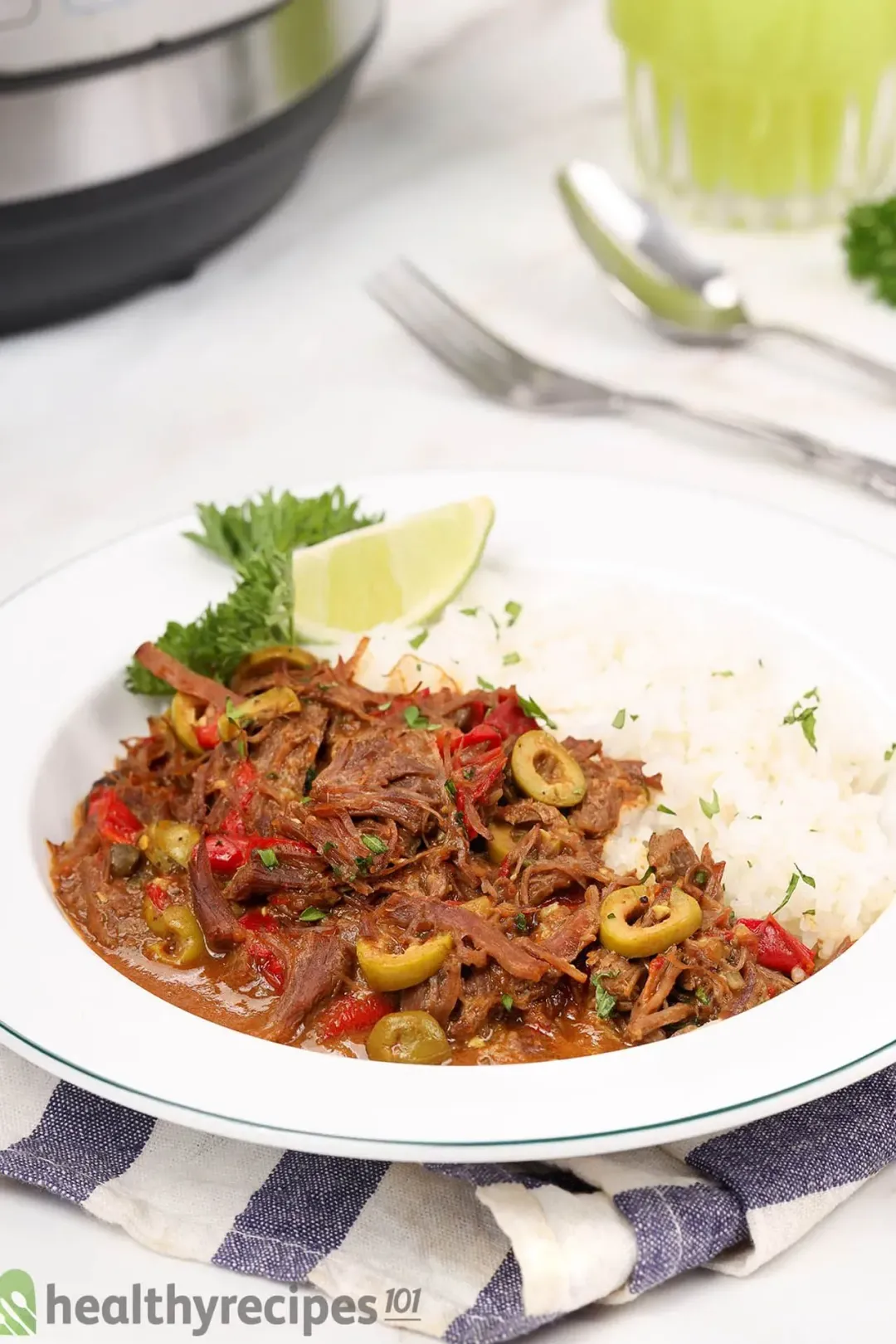 Previous Recipe
Instant Pot Ropa Vieja
Instant Pot Ropa Vieja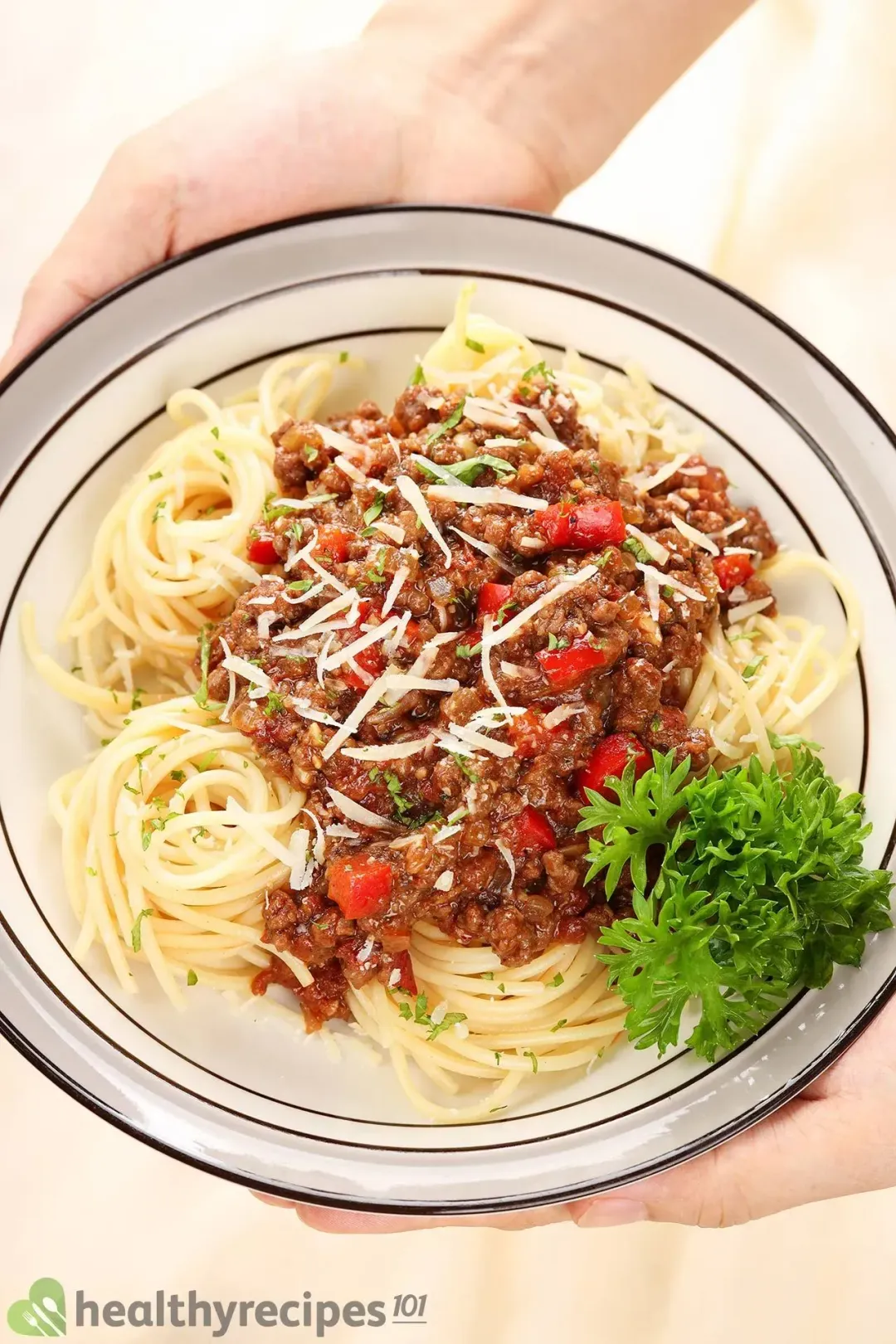 Next Recipe
Spaghetti Bolognese
Spaghetti Bolognese
Head Chef, Culinary Consultant
Tuyet Pham is an award-winning Saigonese chef who believes that joy is the secret ingredient to delicious food. At Healthy Recipes 101, Tuyet personally tests and simplifies every recipe, ensuring maximum flavor with minimal effort. With a background at prestigious French restaurants P'TI Saigon and Le Corto, Tuyet knows how to make every dish exceptional.
Writer, Author
Luna Regina is an accomplished writer and author who dedicates her career to empowering home cooks and making cooking effortless for everyone. She is the founder of HealthyKitchen101.com and HealthyRecipes101.com, where she works with her team to develop easy, nutritious recipes and help aspiring cooks choose the right kitchen appliances.
Nutrition Reviewer
Natalie Butler is a registered dietitian nutritionist with a passion to help others live their best life through food, fitness, safer beauty and a healthy lifestyle. She has expertise with a variety of diets and diseases and believes that there is no one-size-fits-all approach for health.
Perfect for a quick weeknight meal or for impressing guests at a dinner party. I can't wait to give it a try!