If you are in the mood for a big bowl of delicious nutrition-packed vegetables, this broccoli salad recipe is for you.
Broccoli salad is an ideal combination of all flavors: savory, sweet, and creamy. Blanched broccoli florets, bacon, and nuts of your choice make the dish sound phenomenal, but the real star is the creamy and tangy dressing. It's the perfect finishing touch for this salad, making it complete.
This summer – broccoli salad recipe – is a side dish you won't be able to get enough of!
Is Broccoli Salad Healthy?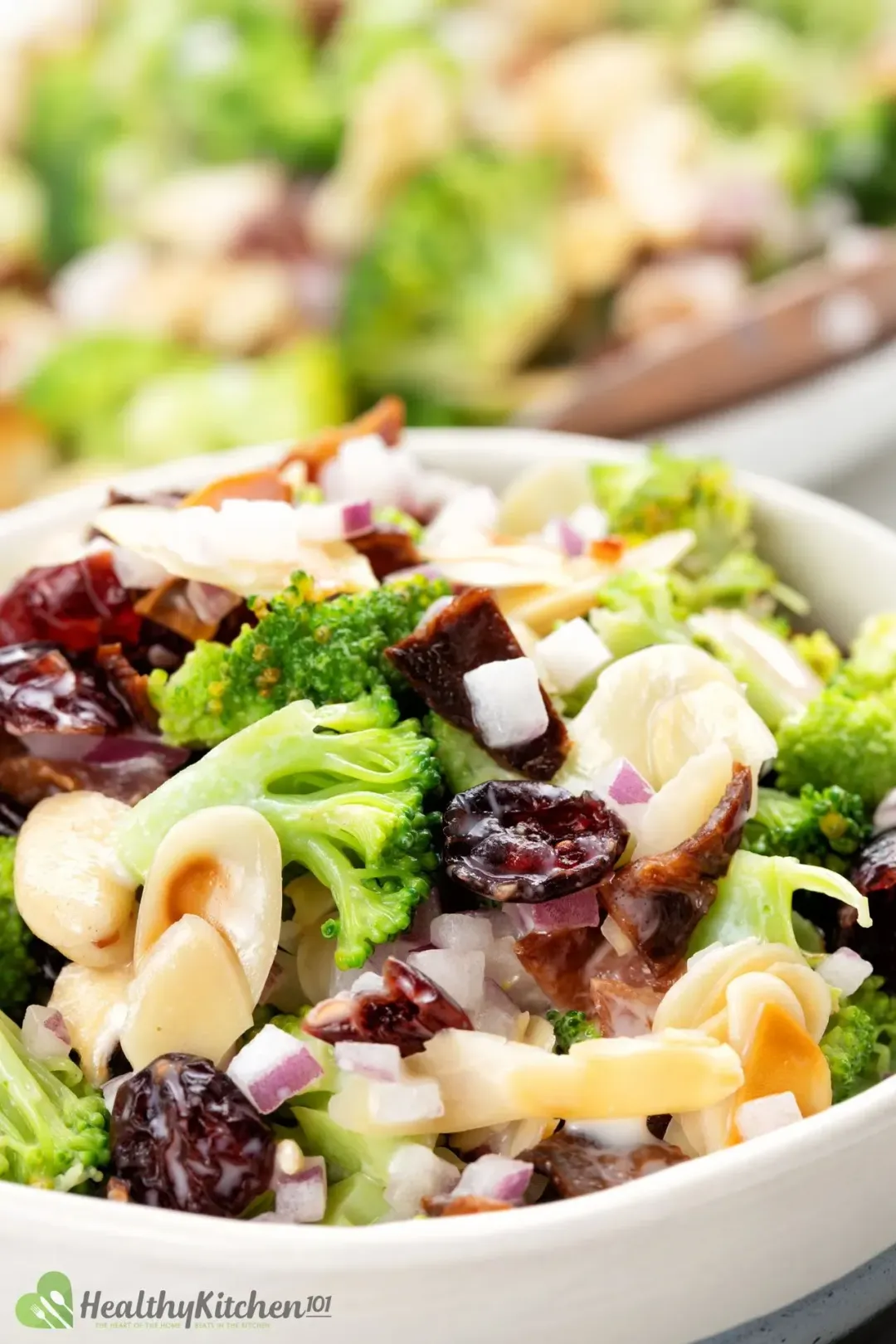 First, know your salad.
Broccoli, as well as other cruciferous crops, always earns the top spot in the hall of fame when it comes to powerhouse vegetables for having an impressive nutritional profile. This vegetable contains vitamins, minerals, fiber, carotenoids, many kinds of phytonutrients and a compound called sulforaphane.
Well, I won't bore you with a lengthy lecture on how exactly those nutrients affect our health, but I will give you a little glimpse. This magical vegetable may improve your resistance against cancer and inflammation, while protecting your heart, improving your bone health, and bettering your eyes, amongst other things.
Check out this Broccoli Cauliflower Salad Recipe for another healthy broccoli dish.
Ingredients
This summer salad recipe is one of our favorite side dishes since it can be made within 25 minutes and requires a handful of simple ingredients.
1. Broccoli
Some broccoli salad recipes call for raw broccoli florets, but blanched ones can do a great job, too. If you prefer one over the other, go ahead.
Bring a pot of water to a boil, and then blanch the broccoli in it for about 1 minute. Immediately transfer the florets to cold water, and drain them thoroughly before proceeding.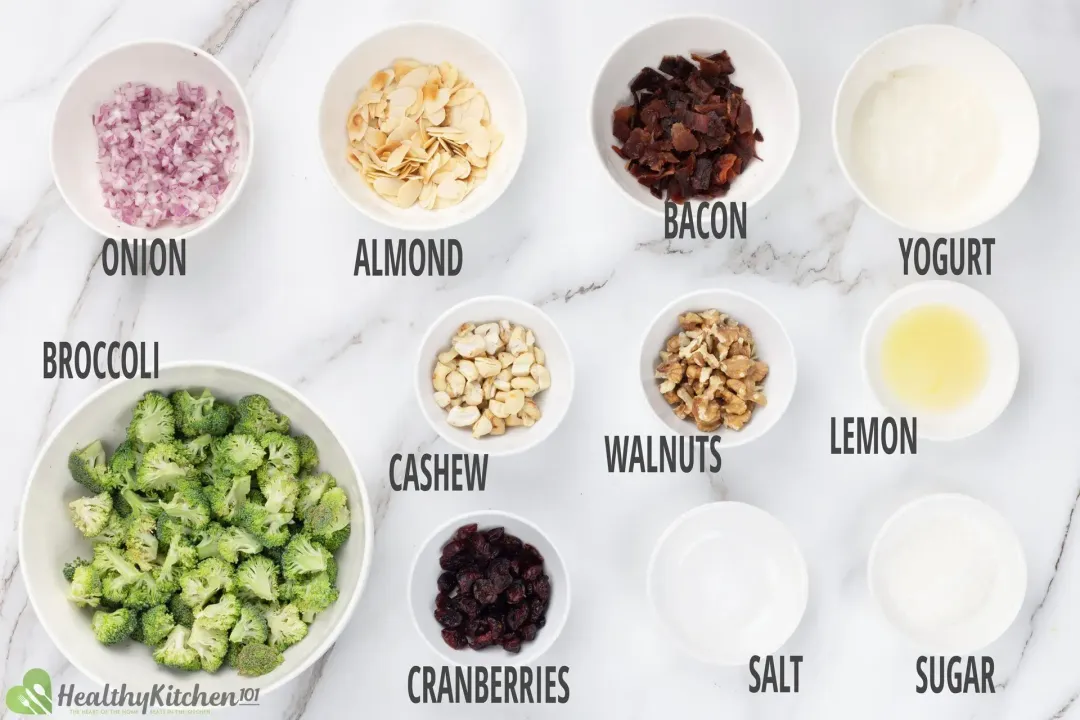 2. Bacon
We oven cook the bacon for easy chopping later, but you can fry it in a skillet. For a vegetarian-friendly version, you can omit bacon or replace with your protein of choice.
3. Raisins
With a slight hint of sweet and fruity flavor from the raisins, every ingredient complements each other beautifully in this broccoli salad recipe.
4. Cranberries
If you like the natural tangy flavor of cranberries, go for unsweetened dried ones. Other dried fruits like mango or pineapples would also be delicious in this salad.
5. Cashews
The best part of this broccoli salad recipe is the topping. We love the combination of cashews, almonds, and walnuts, but you can definitely use whichever nuts are your favorites.
6. Greek Yogurt
A lot of recipes call for mayonnaise for a creamy and hearty dressing. However, we chose Greek yogurt for a healthier fat profile, probiotics, and nice tang of flavor.
7. Red Onion
Some people are worried about the sharp flavor of onion. A tip is to chop them into really small pieces so you never get a whole mouthful of just onion, and add lemon juice to help with the balance.
If you want to include more salad in your diet, this easy and healthy salad roundup have a bunch of ideas.
How to Make Healthy Broccoli Salad Recipe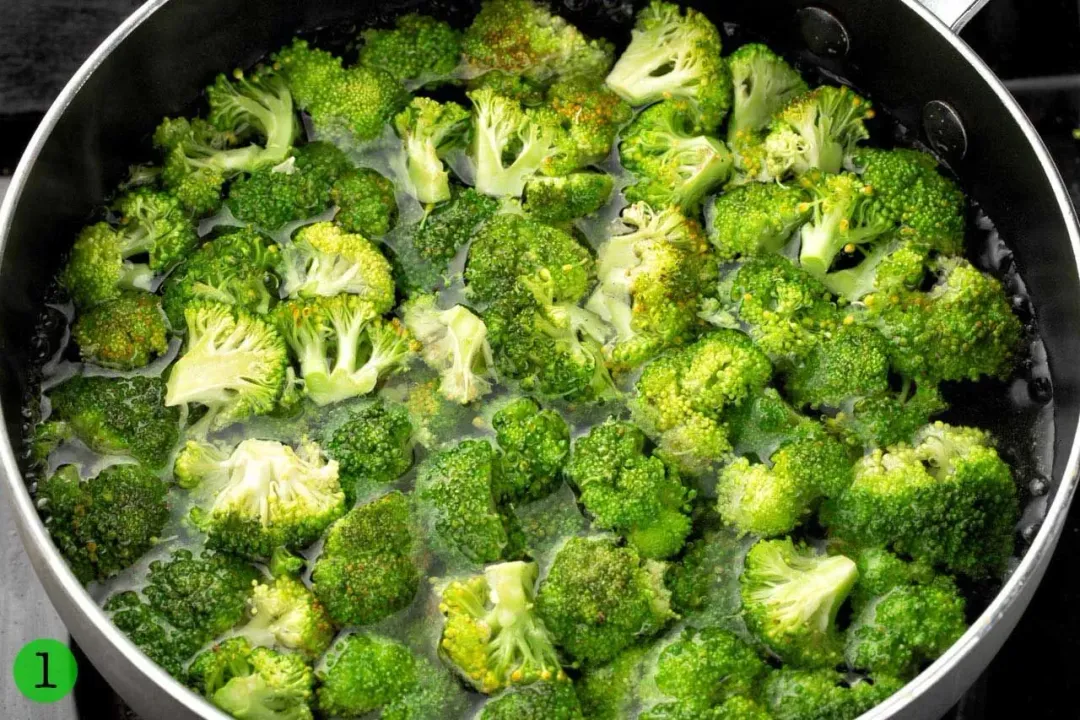 Blanch the broccoli: Bring a pot of water to the boil. While you wait, cut the broccoli into florets. Add them into the boiling water and cook for 1 minute.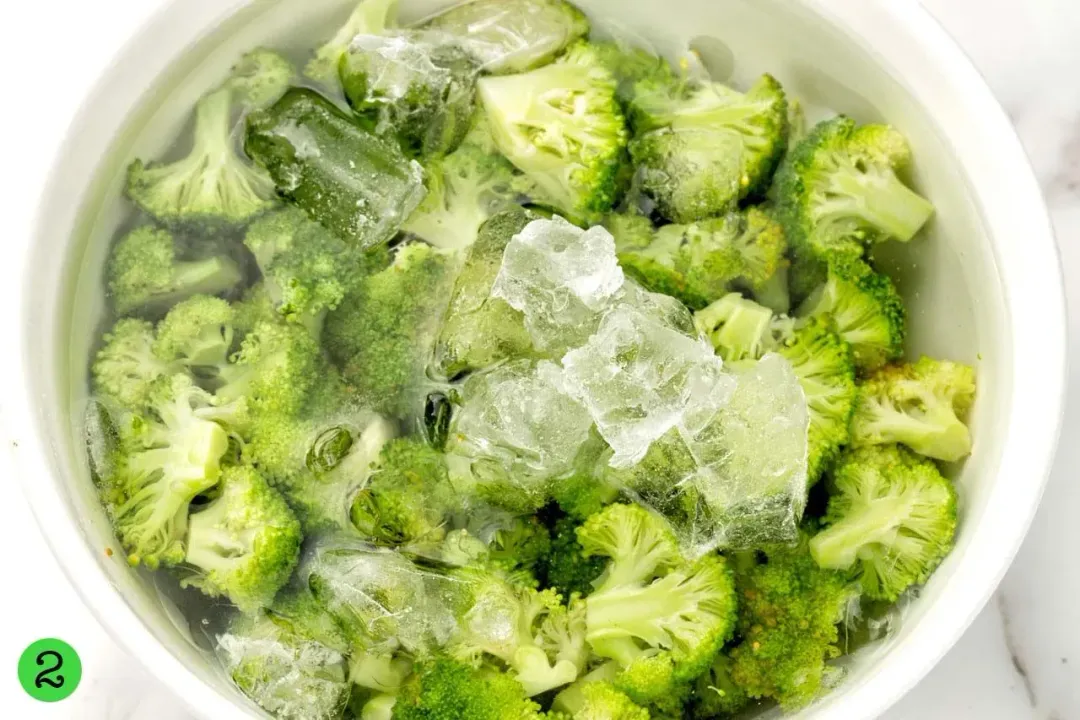 Drain the broccoli: Remove and immediately soak the broccoli florets in ice water until cool. Drain them well.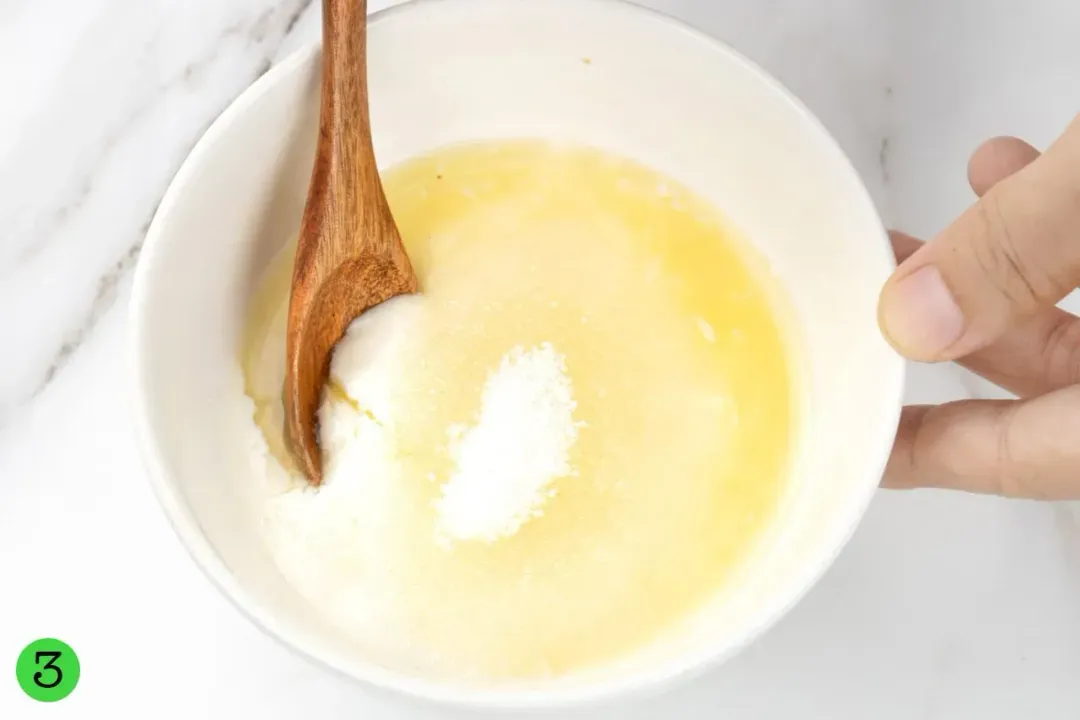 Make the dressing: In a small bowl, mix together the yogurt, sugar, and lemon juice. Stir well until smooth.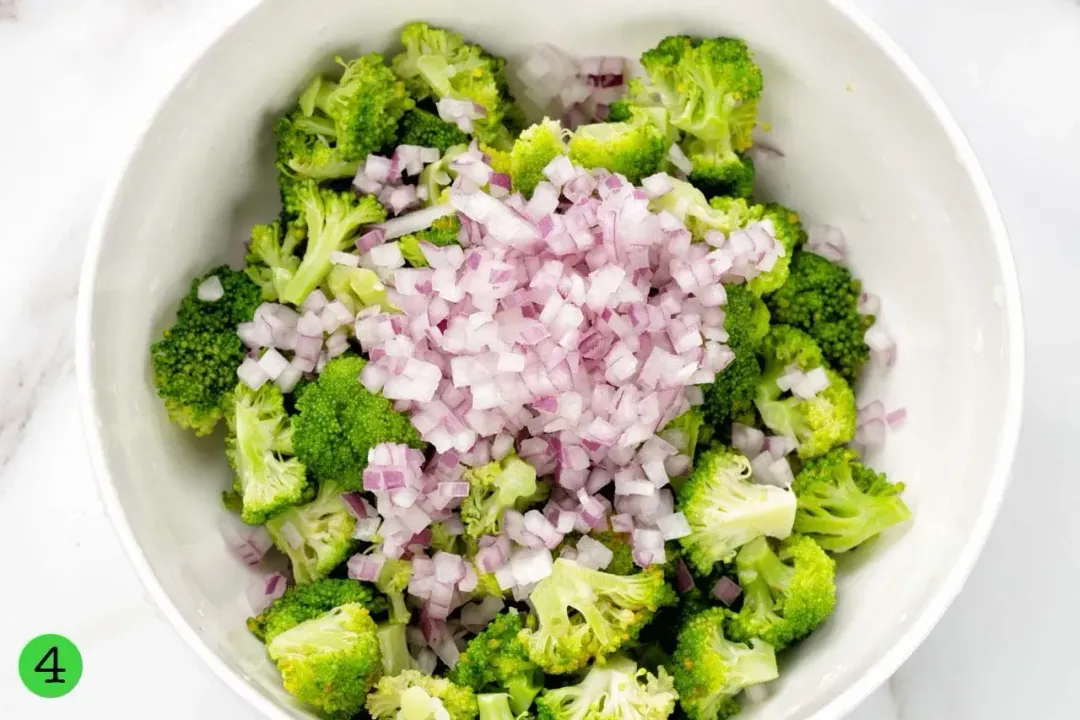 Mix everything together: Add all the salad ingredients into a large bowl and stir everything well. Next, drizzle the magnificent dressing over the salad and continue to stir well until the ingredients are fully coated.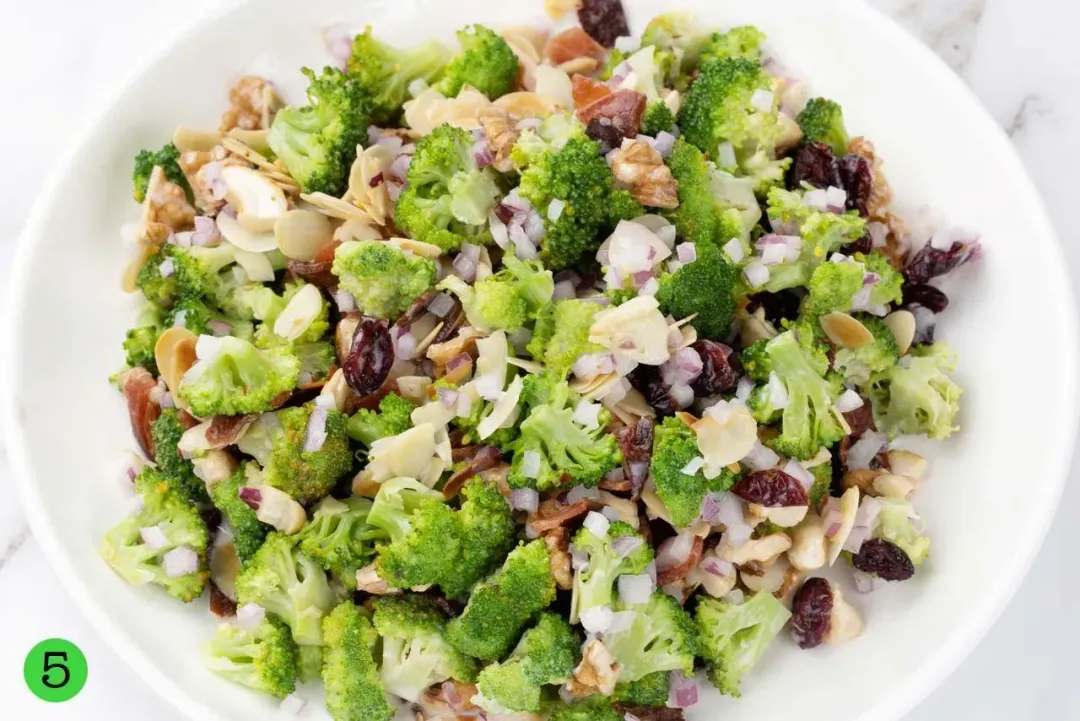 Serve: This marvelous combination can be served straight away, but we prefer to let it sit in the fridge for an hour for a better soaked-in flavor.
Dressing for Broccoli Salad
The dressing for this broccoli salad recipe is super easy to make: Greek yogurt, sugar, lemon juice, and salt. Pour over this awesomeness and toss everything together.
Greek yogurt: you can use mayonnaise instead, but just use enough to make the salad creamy, you don't want to only taste mayo.
Lemon juice: provides a pleasant tang and fresh citrus note to the dressing.
Sugar: we need a little sweetness to balance out the lemon juice.
Salt: let's finish the flavor with a touch of salt.
Tips for Making The Best Broccoli Salad
Make sure that you cut the broccoli florets small and each a similar size. This allows the broccoli to soften a little while marinating in the dressing.
Most of the time, broccoli salad is made using raw florets, but we prefer blanching it. Just one minute blanching the florets and immediately transferring them to a bowl of ice water will make a huge difference in the texture and flavor of the broccoli.
This "blanch and shock" method always makes vegetables more tender and palatable while still retaining nutrients and color.
If possible, the broccoli salad needs to sit at least an hour before serving. This amount of time helps the flavor develop and your salad to become even more delicious.
Add the nuts only just before serving. Otherwise, they will lose their pleasant crunchiness.
The best part of this salad is that the longer it sits, the better it will be. An hour is a good amount of time to help the flavors meld together. The broccoli will begin to absorb the dressing, becoming a bit tender but still crunchy.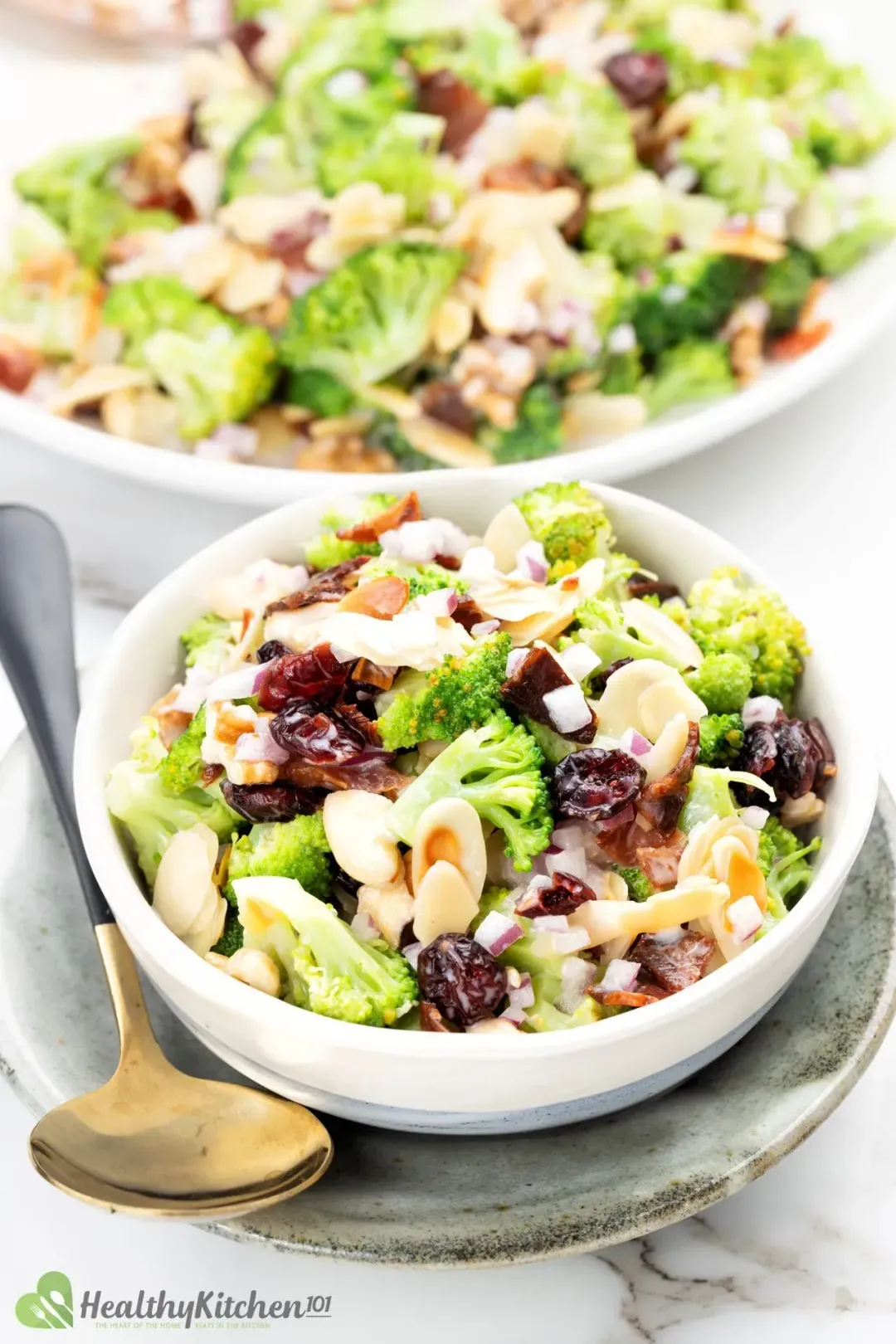 Cover your broccoli salad bowl with plastic wrap, and let it sit in the fridge for one to a few hours before serving.
What Goes with Broccoli Salad?
1. Cauliflower
Cauliflower is a unique twist on this classic recipe. And you can use both broccoli and cauliflower at the same time, too.
The more the merrier!
2. Pasta
Adding some carbs from rice, pasta, or quinoa creates a healthy and filling meal. It also can make you feel full for longer.
3. Apples
We sometimes use apples in this recipe for a sweet surprise, and it tastes like heaven each time.
4. Grapes
Fresh grapes provide a juiciness that you will love. Cut grapes in half and toss well to combine with the other ingredients so that every bite is accompanied with this fruity touch.
5. Cheese
Cheddar goes well with broccoli salad, but just remember not to use finely shredded cheese as it can get lost. The thicker the cheese is, the more you can taste it in each bite.
Another option is to cut the cheddar into small pieces.
How Many Calories Are in This Broccoli Salad Recipe?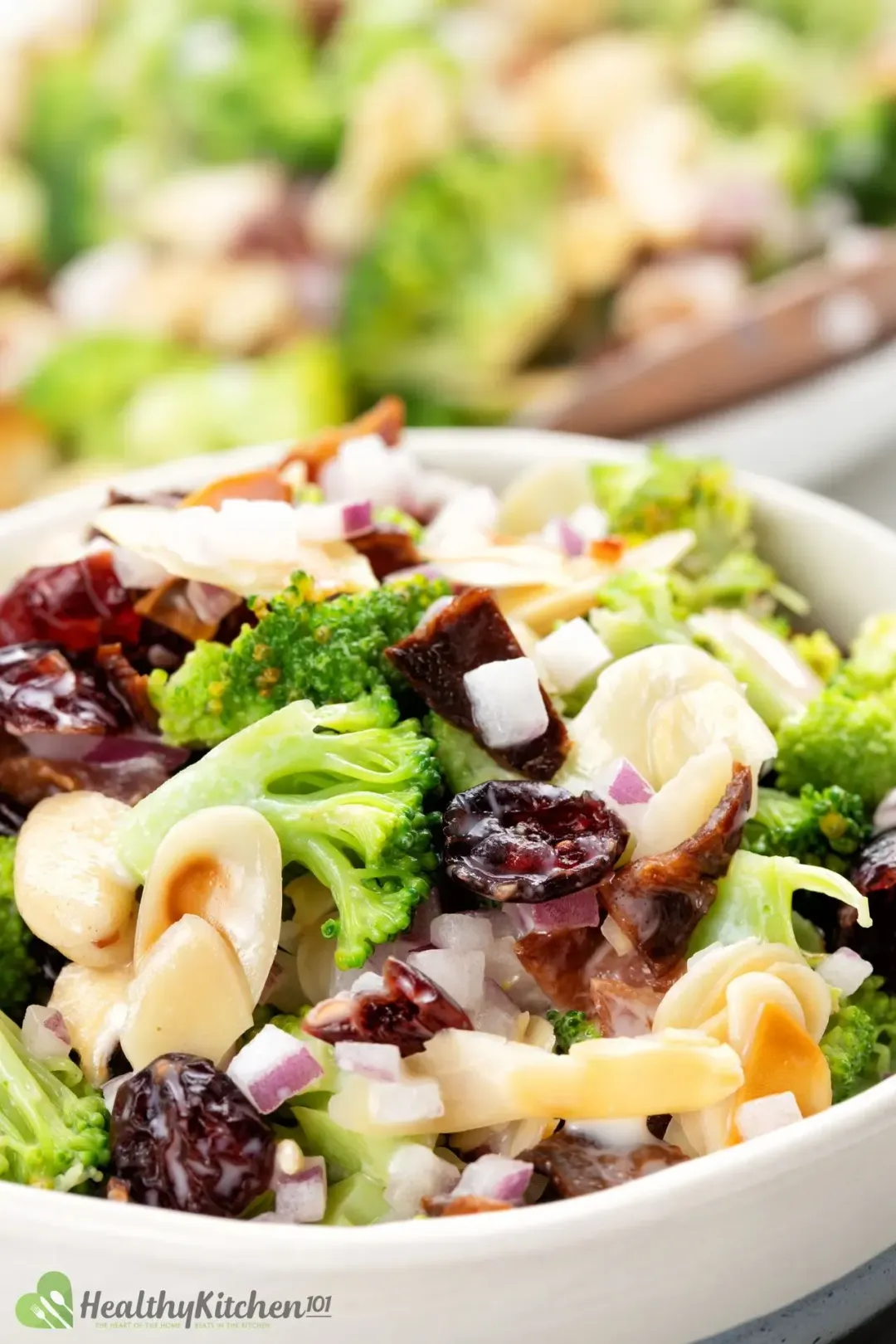 There are 243 calories in each serving of this broccoli salad recipe. The majority of the calories come from the nuts and bacon. 
How Long Does Broccoli Salad Last in the Fridge?
Broccoli salad will last for about 3 days in the fridge. The tip to keeping it fresh tasting is to store the veg and dressing separately in the fridge. Then mix them well before you serve it.
If you have leftover mixed salad, don't worry. Just cover the bowl with plastic wrap (or use the lid if it has one) and your salad can last for 1-2 days.
However, after a day, it can get a little soggy at the bottom of the bowl, and you'll need to mix it well before eating for the best flavor.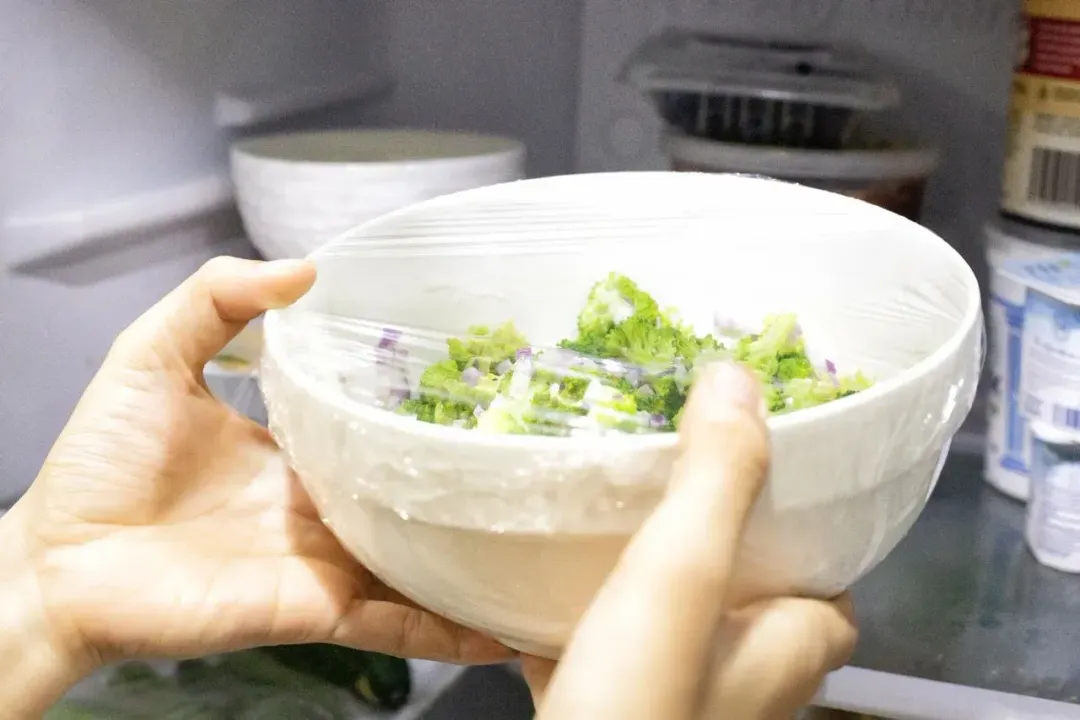 What To Serve with Broccoli Salad
This broccoli salad recipe can be served anytime; from a daily meal to a backyard BBQ, everything tastes amazing when paired with this fresh summer salad. It's crunchy, creamy, and is a great way to consume more greens.
It pairs well with almost any main dish, especially steak, chicken, and fish.If you are looking for other healthy summer salads, our shrimp salad recipe could be a nice option.
Need More Broccoli Recipe Inspiration?
Healthy Broccoli Salad Recipe
You can never go wrong with this healthy broccoli salad recipe on a warm day! Florets are blanched briefly to soften a bit while still preserving their crisp and fresh taste. Tossed with bacon, your favorite nuts and drizzled with dressing, this salad is simply irresistible!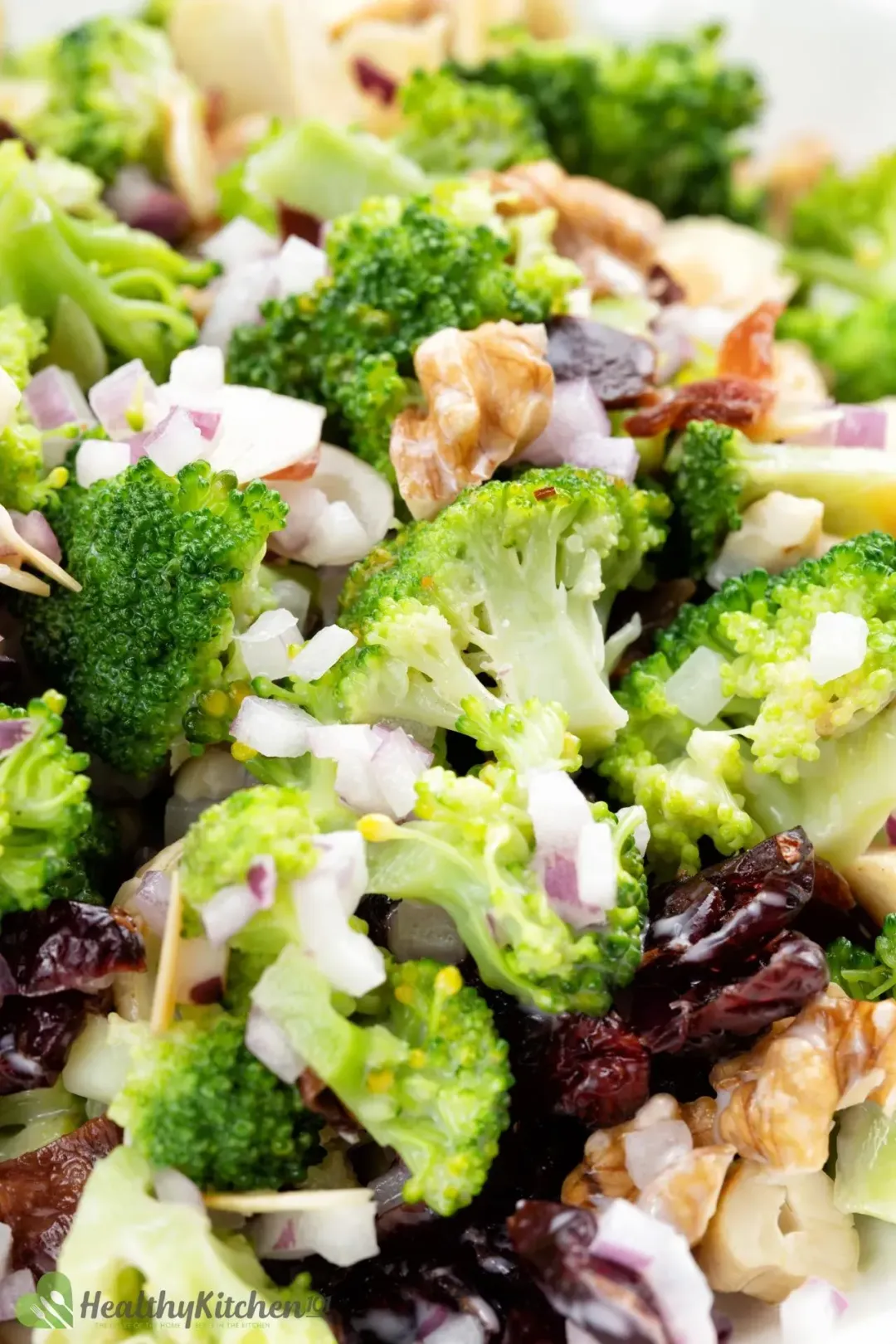 cook TIME

2 mins

prep TIME

20 mins

total TIME

22 mins
COURSE

Side Dish

CUISINE

American

SERVINGS

servings

CALORIES

243 kcal
INGREDIENTS
1 oz

baked bacon

(crumbled)

4 tbsp

plain Greek yogurt
INSTRUCTIONS
1
Bring a pot of water to the boil. While you wait, cut the broccoli into florets. Add them into the boiling water and cook for 1 minute.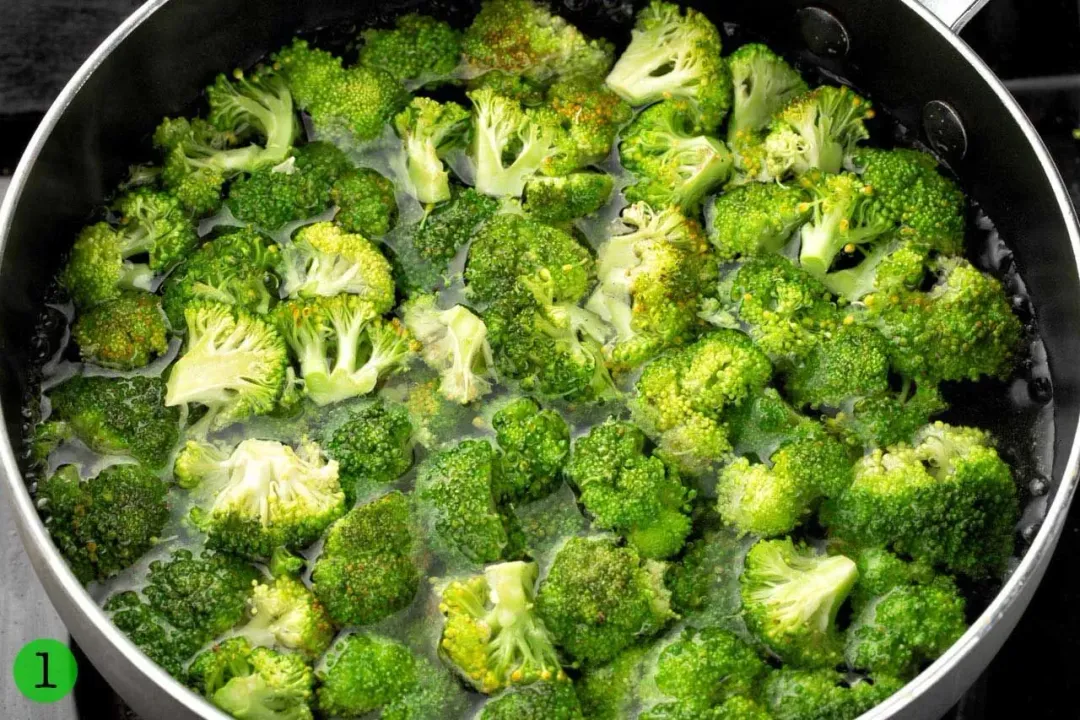 2
Remove and immediately soak the broccoli florets in the ice water until cool. Drain them well.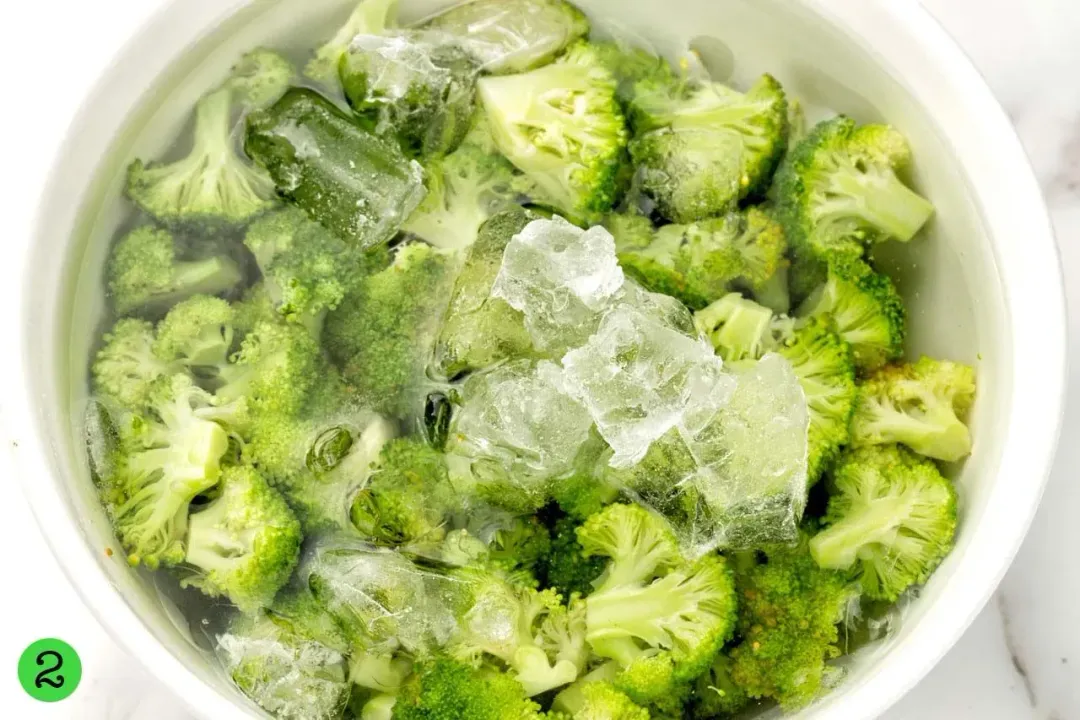 3
In a small bowl, mix together the yogurt, sugar, and lemon juice. Stir well until smooth.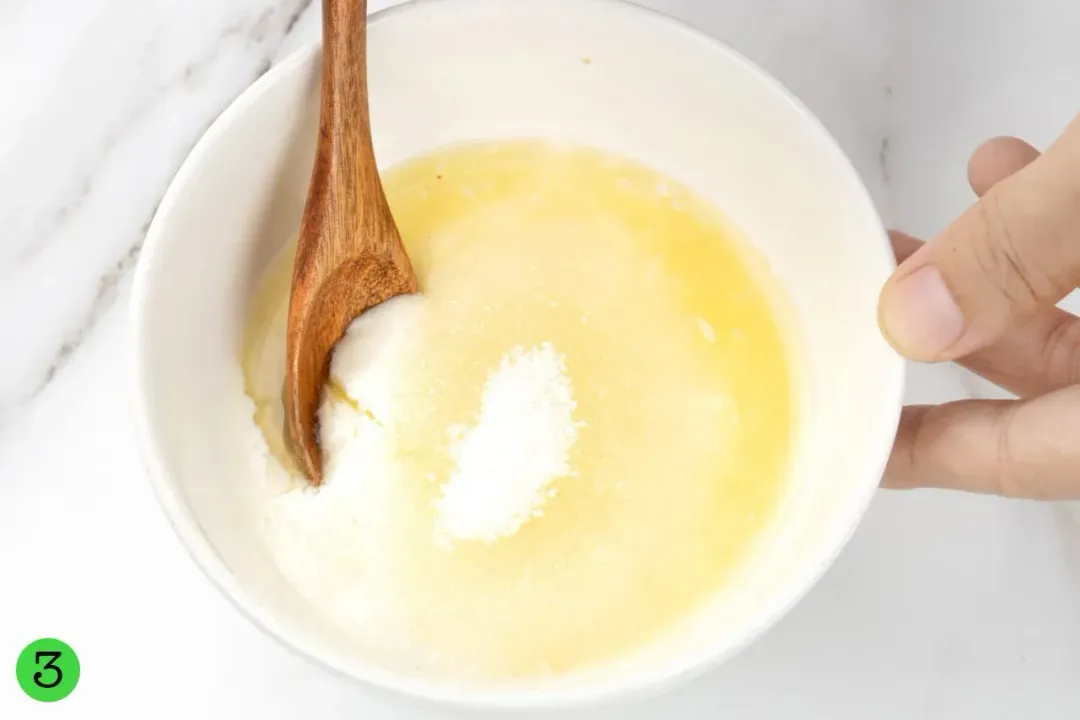 4
In a large bowl, add broccoli florets, red onion, bacon, raisins, and all the nuts. Drizzle the dressing over the broccoli combination and toss all the ingredients.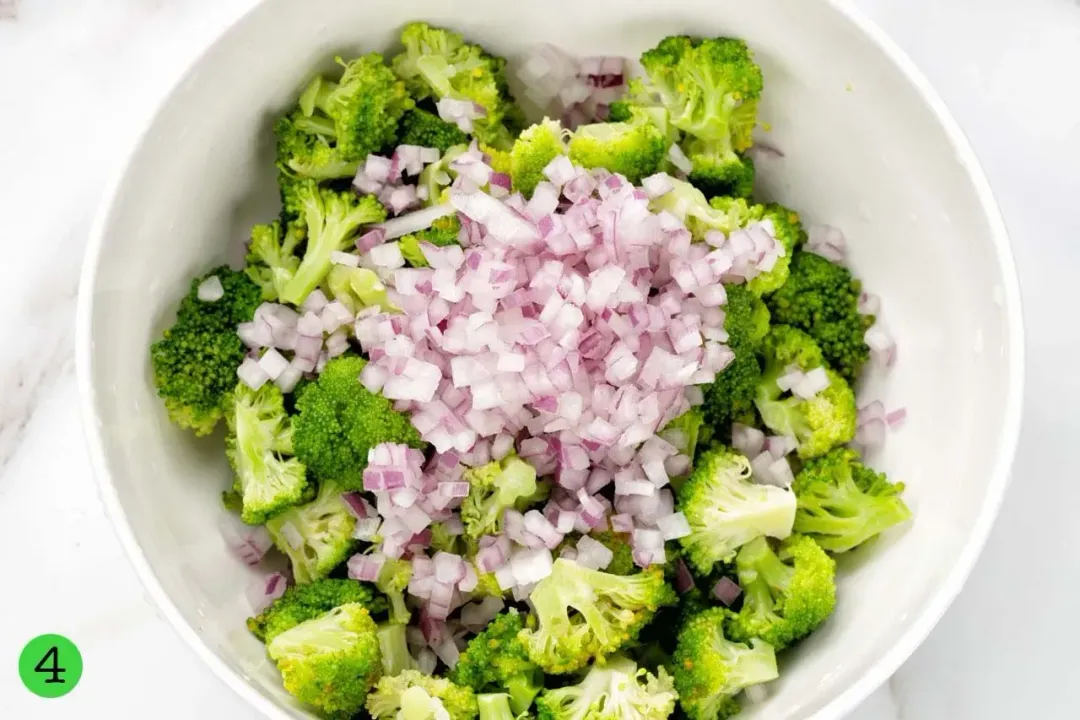 5
Let the salad cool (I like to let it sit in the fridge for an hour but this is not necessary) and serve.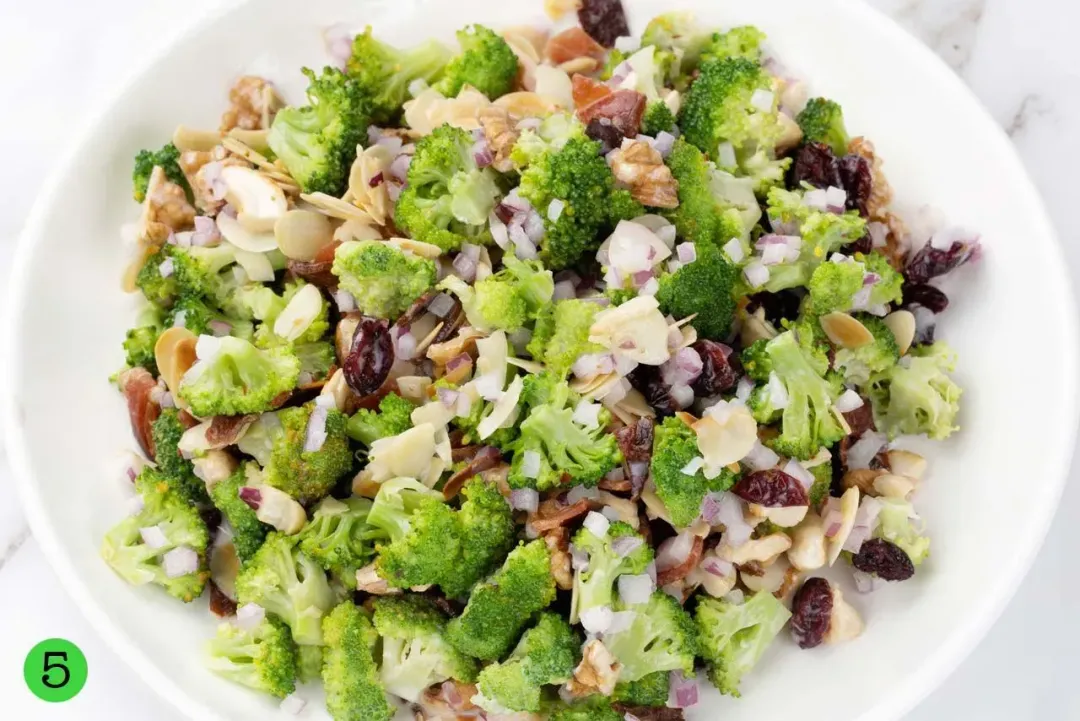 NUTRITION
Nutrition Facts
Healthy Broccoli Salad Recipe
Amount Per Serving (1 serving)
Calories 243
Calories from FDA
% Daily Value*
* Percent Daily Values are based on a 2000 calorie diet.
Keywords: best broccoli salad recipe, broccoli salad, broccoli salad recipe, brocolli salad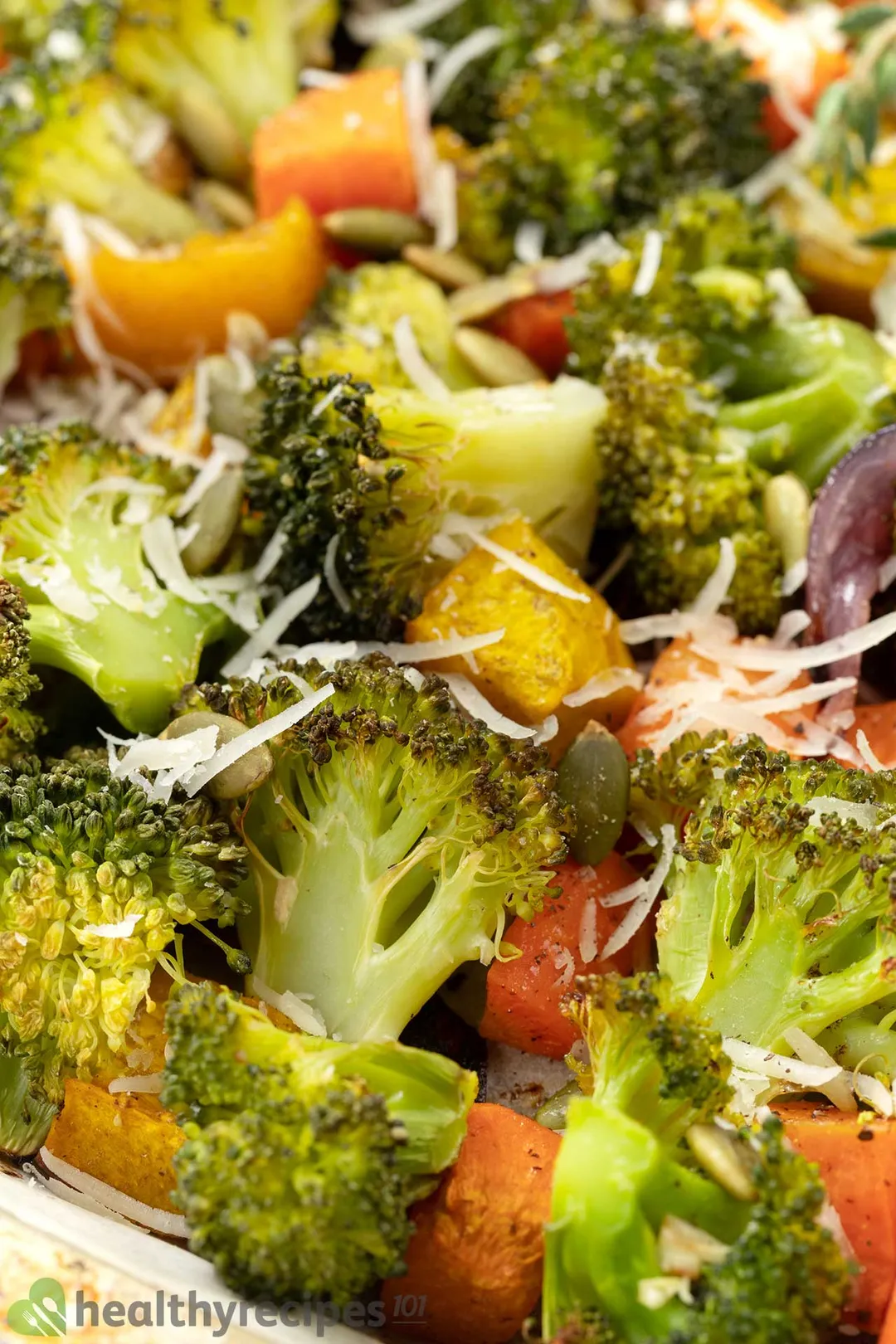 Next Recipe
Roasted Broccoli
Roasted Broccoli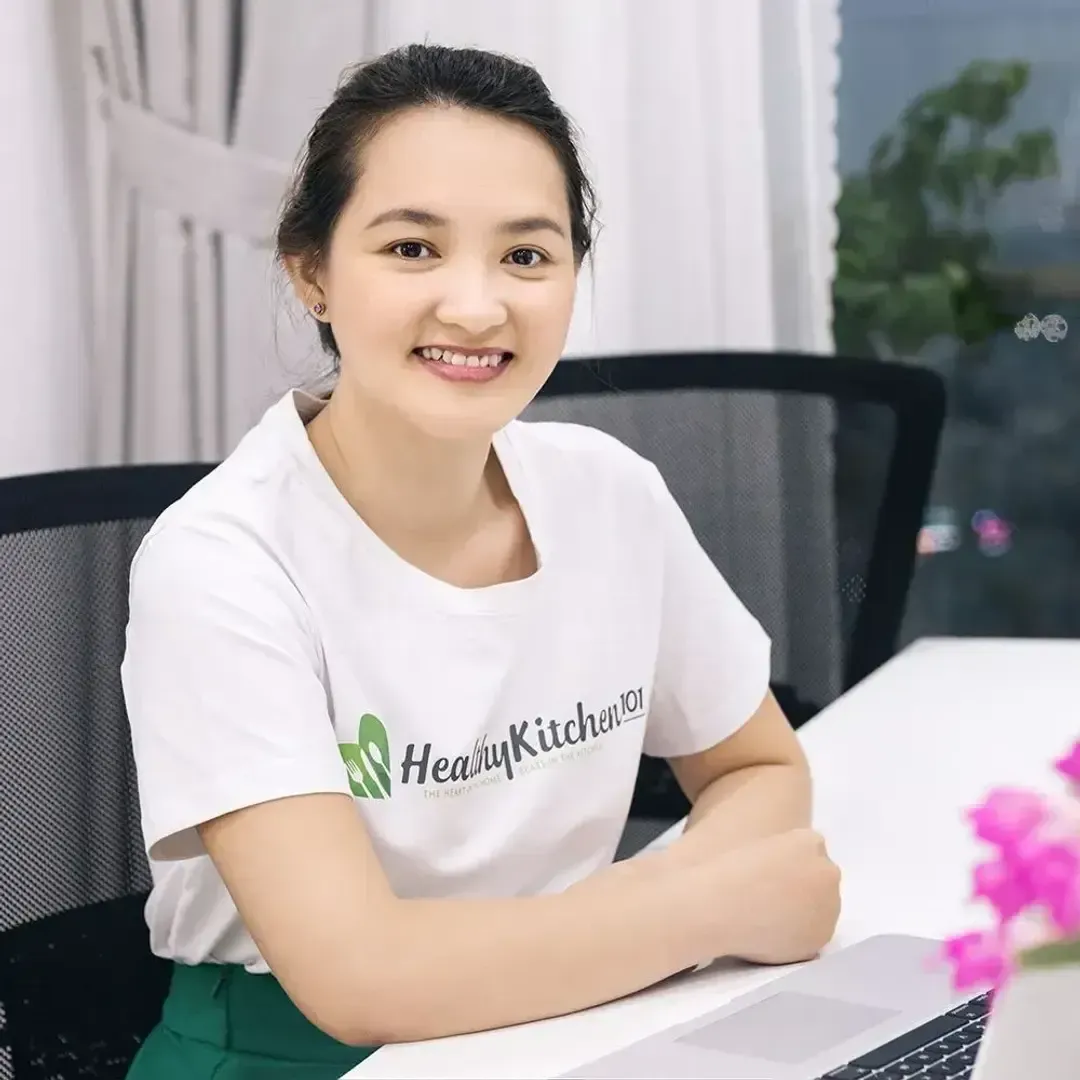 Writer, Author
Luna Regina is an accomplished writer and author who dedicates her career to empowering home cooks and making cooking effortless for everyone. She is the founder of HealthyKitchen101.com and HealthyRecipes101.com, where she works with her team to develop easy, nutritious recipes and help aspiring cooks choose the right kitchen appliances.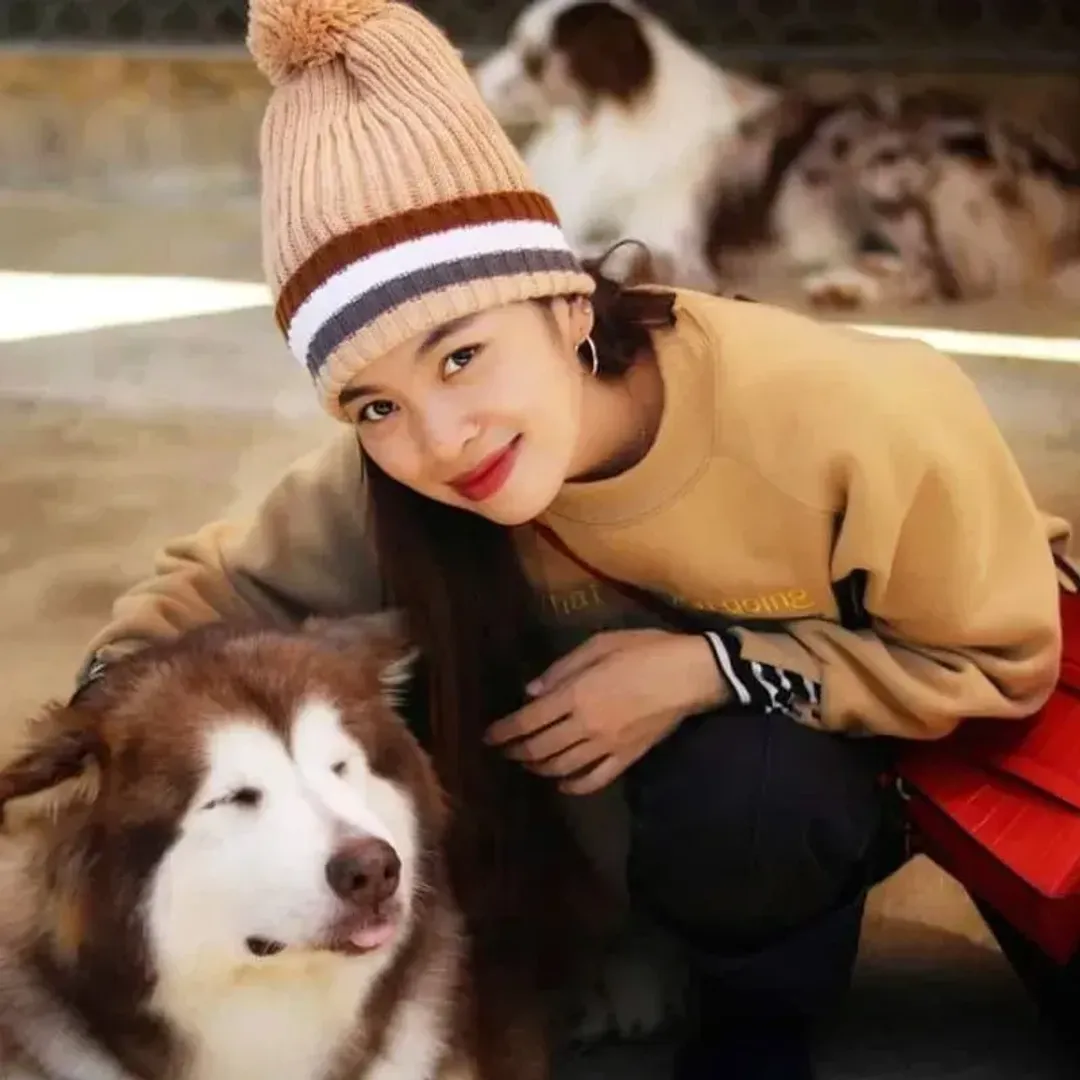 Chef, Culinary Consultant
Tuyet Pham is an award-winning Saigonese chef who believes that joy is the secret ingredient to delicious food. At Healthy Recipes 101, Tuyet personally tests and simplifies every recipe, ensuring maximum flavor with minimal effort. With a background at prestigious French restaurants P'TI Saigon and Le Corto, Tuyet knows how to make every dish exceptional.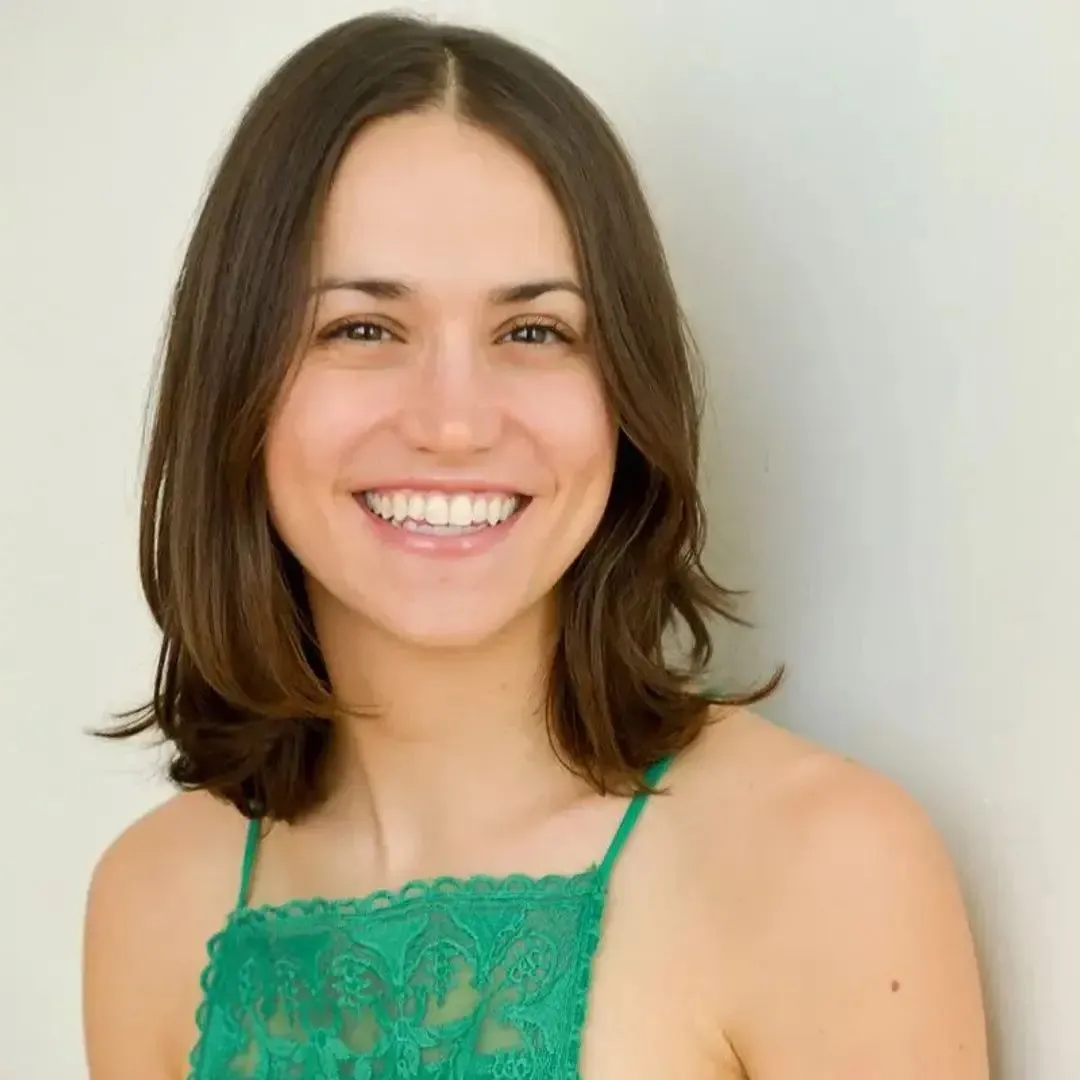 Nutrition Reviewer
Lizzie is a Minneapolis-based dietitian and founder of It's a Veg World After All. She completed her MS in Human Nutrition from Drexel University, and is an expert in culinary nutrition, recipe development, and nutrition communications.
Comments/ Reviews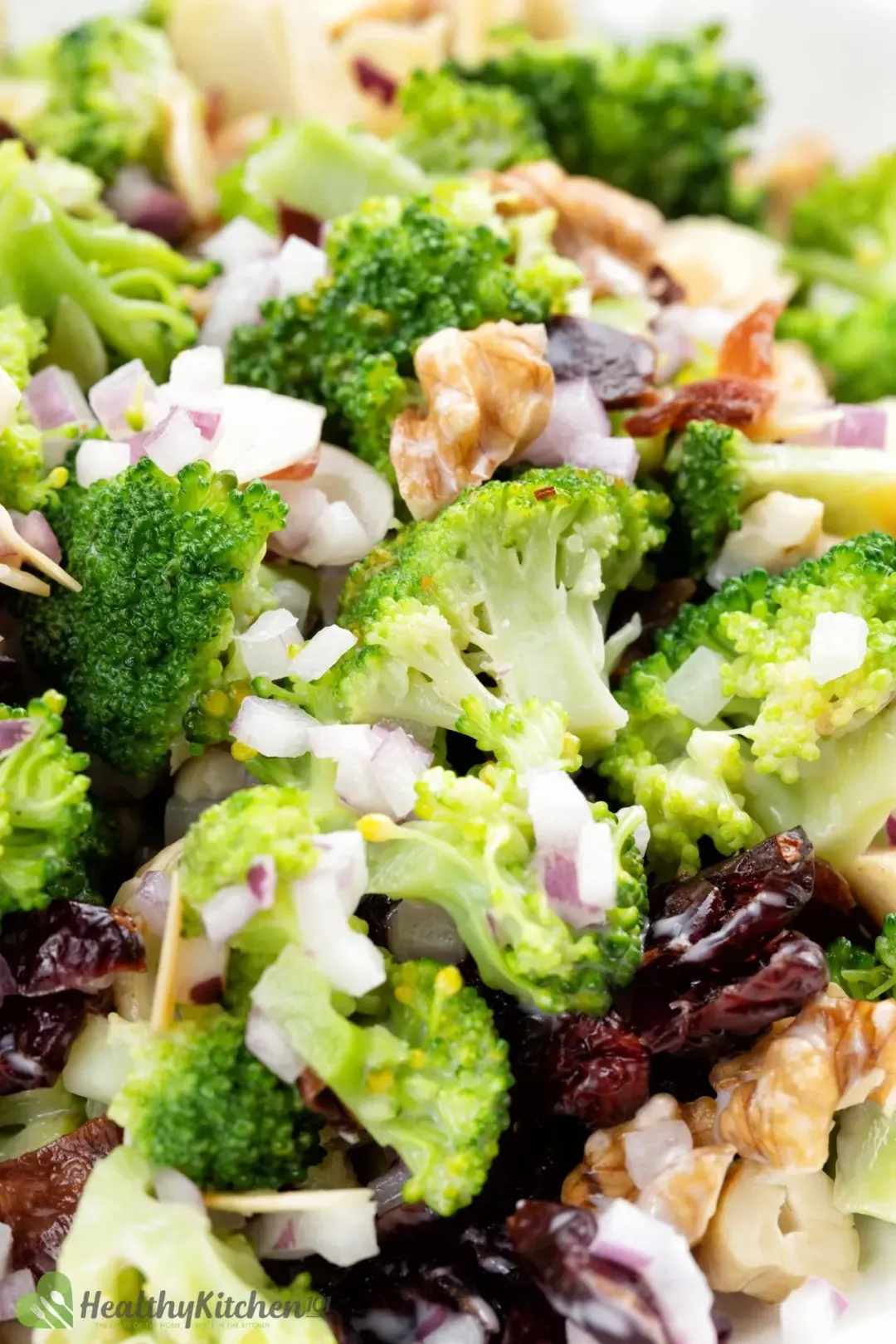 Karen McGough

February 16, 2020 at 9:53 PM

How much mayonnaise, sugar and vinegar? Do you still put in yogurt?

Jackie

March 21, 2020 at 11:45 AM

Can frozen florets be used?

Luna Regina

April 5, 2023 at 4:17 AM

Hi Jackie, We think freezing the salad has a high chance of compromising with the crunchy texture that makes the salad itself delicious. You can keep it in the fridge section, which should last for 4 days.

Luna Regina

April 24, 2020 at 11:02 PM

Hi Karen, you can find details on our website Healthykitchen101.com. And for the mayonnaise, we did use mayonnaise in the old recipe, but recently we've developed the new one and used Greek yogurt instead (to get a healthier broccoli salad version). Greek yogurt goes so well with other ingredients in this recipe, you can give it a try some time.