This mashed potatoes recipe makes a rich, velvety, yet healthy mash. This may seem impossible, but it isn't.
There's no secret to our healthy-but-creamy mash. It's all in the process, but we'll get to that later.
For now, we bet you're longing to know how this recipe is healthy, so let's find out.
Are Mashed Potatoes Healthy?
Mashed potatoes recipes are often considered unhealthy as they contain lots of saturated fat and salt.
Fortunately, our recipe is healthy, and here are the reasons why:
We measure our ingredients closely and calculate the nutritional values of the recipe. We also adjust the recipe so it adheres to our healthy eating guidelines.
The recipe contains the right amount of salt and saturated fat. Reducing your saturated fat and sodium intake can help improve your heart health.
It's packed with micronutrients and minerals, especially vitamin C, potassium, and iron. They're important for the human body as they help it function properly.
One serving of mashed potatoes contains nearly 10% of your recommended daily fiber intake as well. This means it can help keep you full for a long time.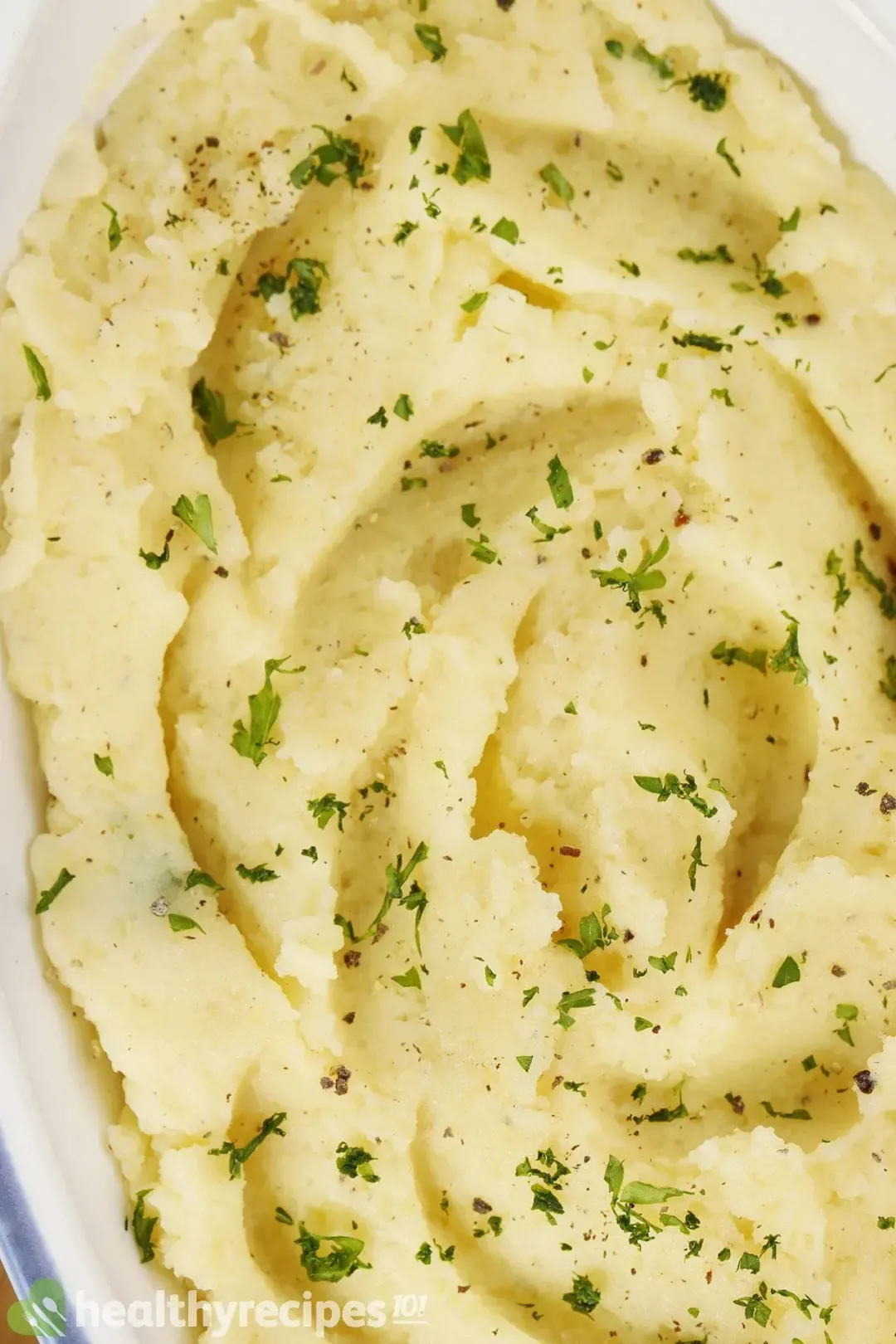 Now that we know this recipe is on the healthier side, you can enjoy it guilt-free!
1. Calories
There are 196 calories in one serving of our mashed potatoes. It may seem a lot, but it is just enough to fuel your body with energy and keep you functioning.
2. Carbs
One serving contains 32 grams of total carbohydrates. Though this is a lot of carbs, they mostly come from starch and fiber in the potatoes.
Natural carbs that come from fruits and vegetables like this are called simple or whole carbs. They are healthy and necessary, can aid your digestive system, and can be broken down into glucose to fuel your brain.
3. Protein
One serving contains 4 grams of protein, which isn't a lot. But these mashed potatoes are just a side dish that accompanies a main dish— that's where you'll get more protein.
Best Potatoes for Mashed Potatoes
For mashed potatoes, you want to choose a type of starchy potato to get a smooth, fluffy mash.
The best types of potatoes you can use for this recipe are Yukon Gold and russet. Let's look at why they are considered the best: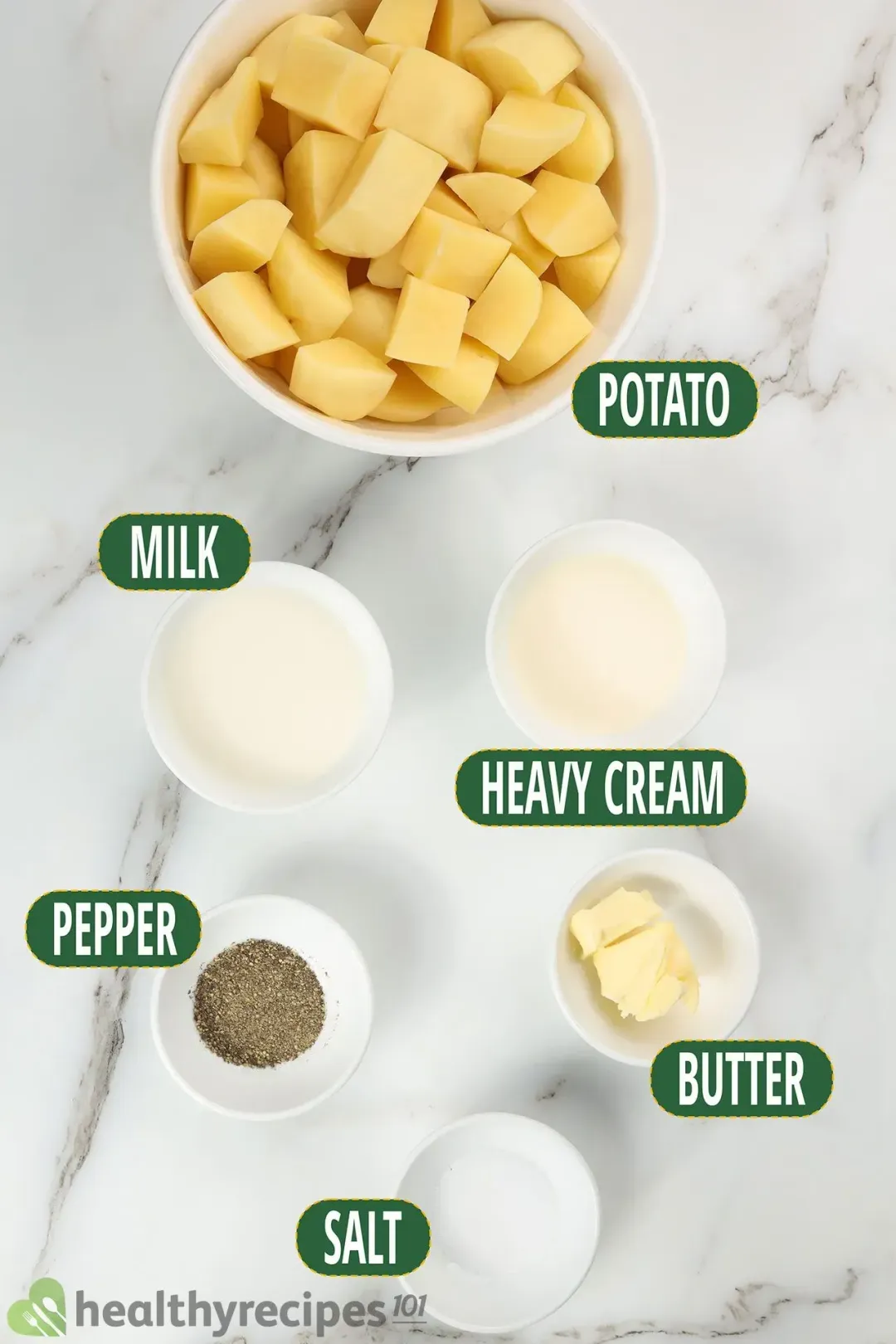 1. Yukon Gold
Yukon Gold potatoes have lightly sweet and buttery flesh. They also have a high starch content and slightly waxy texture.
Since they have an innate buttery flavor, they are the most suitable for mashing. They also have yellow flesh that gives the mash a beautiful, appetizing yellow hue.
2. Russet
Similar to Yukon Gold potatoes, russet potatoes are starchy as well. While russet potatoes are also good for mashing, they lack that natural sweetness that Yukon Golds have.
However, russet potatoes have an advantage as they are cheaper than Yukon Golds and always available. So you can still make a good mash with russet potatoes on a budget.
In the end, it's up to you to pick your favorite type of taters for your mashed potatoes. You can use either one of them, or use half Yukon Gold and half russet.
For today's recipe, we're going to use russet.
Tips for Making the Best Mashed Potatoes
Here are a few useful tips for today's recipe:
1. How Many Potatoes Do You Need for a Mashed Potatoes Recipe?
For today's recipe, we used 4 small russet potatoes which weighed 24 oz in total. Our recipe makes 4 servings of a fairly thick mash.
If you followed our recipe, but decided to reduce the number of potatoes, you might get a runny mash. But no worries, we'll share a tip to fix that in just a minute.
2. How Long Do You Boil The Potatoes for This Recipe?
We peeled and cut our potatoes into 1-inch chunks to help them cook evenly. They took 20 minutes to boil.
If you're not sure if your spuds are cooked, perform the fork test. If you can pierce through the potatoes with little to no effort, they are cooked.
3. How to Thicken Mashed Potatoes
Not many people like a runny, loose mash. To minimize the risk of getting runny mashed potatoes, you should drain the potatoes well before mashing them.
But in case you accidentally made it a little bit runny, here's how you can thicken it:
Cook the mash over low heat, stirring and scraping the bottom of the pan constantly with a spatula. This helps excess moisture evaporate and prevents the mash from burning on the bottom.
Add thickening agents such as instant potato flakes, flour, corn flour, or grated parmesan cheese. Cook on low heat and stir constantly so that the thickener is distributed evenly.
Cream cheese or parmesan cheese are great thickening agents. Simply heat up the mashed potatoes over low heat and stir in your desired cheese.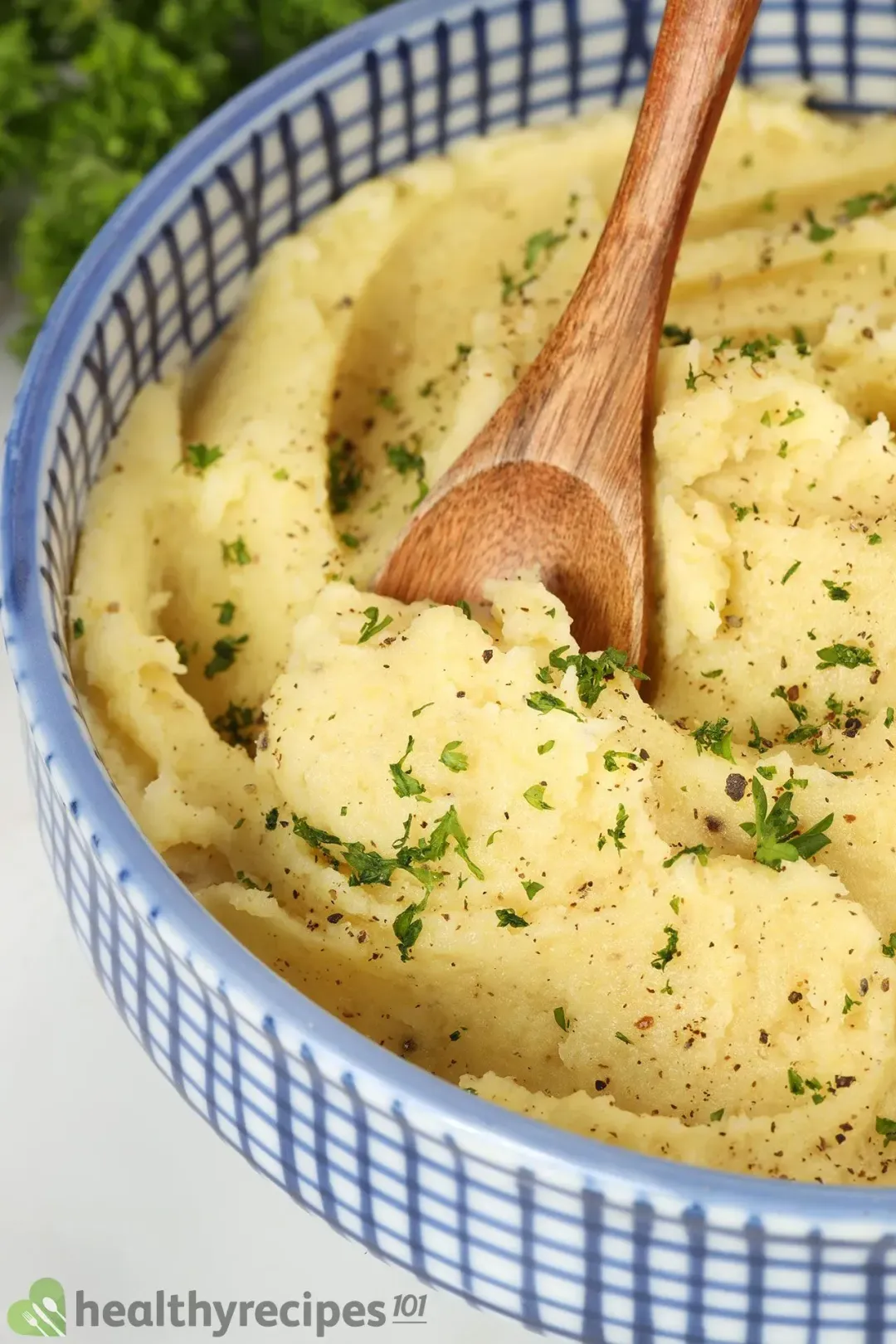 What to Do with Leftover Mashed Potatoes
We rarely have leftovers here at Healthy Kitchen 101. But in case you do, here are some ideas to use them all up:
1. Dumplings
Use leftover mashed potatoes to make dumplings and add them to your chicken soup. Since the mash is already seasoned, you just need to add enough flour to roll it into balls.
Eventually you will have a pot of delicious chicken and potato dumplings to comfort you.
2. Patties
Potato patties or potato cakes are a simple, yet delicious side dish. They can also make the highlight finger food for your next party.
To make potato patties, simply mix eggs, flour, parmesan cheese, and garlic powder with your leftover mashed potatoes. Form them into balls, pat them down flat, and bake or fry until golden brown.
3. Croquettes
Croquettes are like potato cakes, but better. They are crispier thanks to an extra coating of breadcrumbs that crisps up when fried.
The ingredients are similar to potato patties. The only differences are that croquettes are round, and you need breadcrumbs to coat the croquettes.
4. Bread
If you haven't had potato bread, it's time for you to try it. And when you do, you'll know that nothing tastes better than warm homemade potato bread.
It's similar to white bread, but softer, more buttery, and better than any other bread. It does take some effort, but all of your hard work will pay off.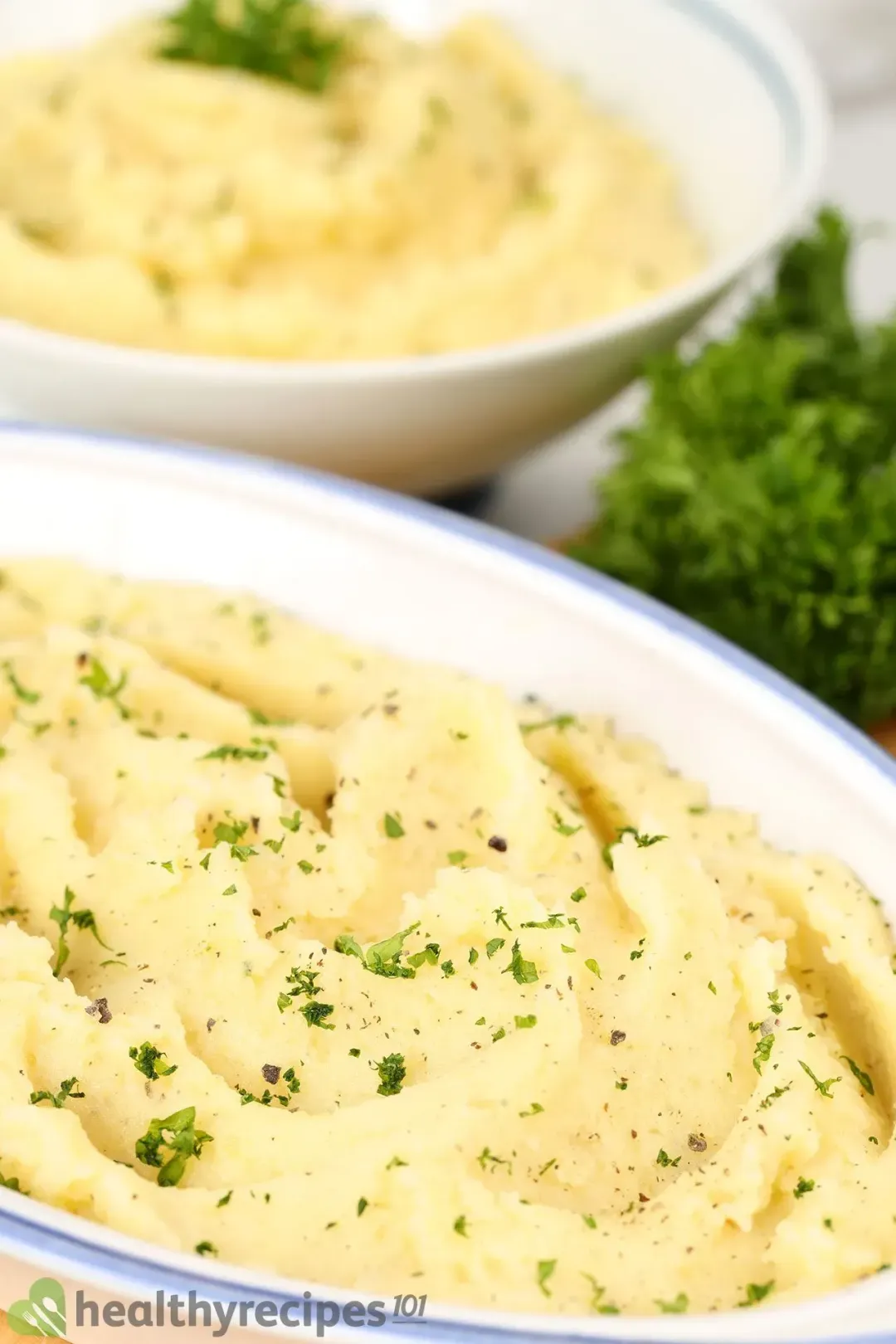 What Goes Well with Mashed Potatoes
There are a few things you can add to your mashed potatoes recipe to make it more flavorful:
Cayenne pepper: gives the mash a hint of warmth and spiciness. Keep in mind that this spice is super powerful so a little goes a long way.
Onion and garlic: you can use either raw onion and garlic, or dried powder. If you do use raw ingredients, grate them finely and cook in butter before adding to soften the pungent taste.
Herbs: rosemary, thyme, chives, parsley, or even scallions can be a great addition to elevate your mash.
Besides all these secret ingredients, here are some dairy options to add to your mashed potatoes recipe:
1. Cream Cheese
Cream cheese not only enhances the flavor profile of the mash, but also the texture. When adding cream cheese, your mash will have a smooth and slightly thicker texture, along with a tangy, savory flavor.
And as mentioned, it can help save a runny mash as well.
2. Heavy Cream
Some people may argue that you don't need heavy cream in mashed potatoes. The reasons could be that heavy cream is high in fat, or that there's already milk and butter in the recipe.
But heavy cream can add a nice, comforting, indulgent, buttery flavor that plain-old butter and milk can't. And since heavy cream is extra rich, you only need to use a little and can still eat healthy.
3. Sour Cream
Sour cream isn't a common ingredient to find in a mashed potatoes recipe. But give it a try and we bet you'll be hooked.
An addition of sour cream can make the mash slightly tangy, savory, rich, and creamy.
4. Buttermilk
Buttermilk has a similar flavor profile to sour cream. They're both tangy, savory, and rich— but this doesn't mean they taste the same.
Buttermilk is much milder than sour cream in terms of flavor. And since it can be as rich as heavy cream, you can replace both milk and heavy cream with buttermilk.
5. Almond Milk
Almond milk or any other type of nut milk is a great dairy-free alternative for those who are lactose intolerant. It can also be used to make a vegan recipe as well.
If you want to make it vegan, try using almond milk and vegan butter instead of regular dairy products. You can also try vegan, neutral flavor nut butter such as cashew butter for your vegan mash too.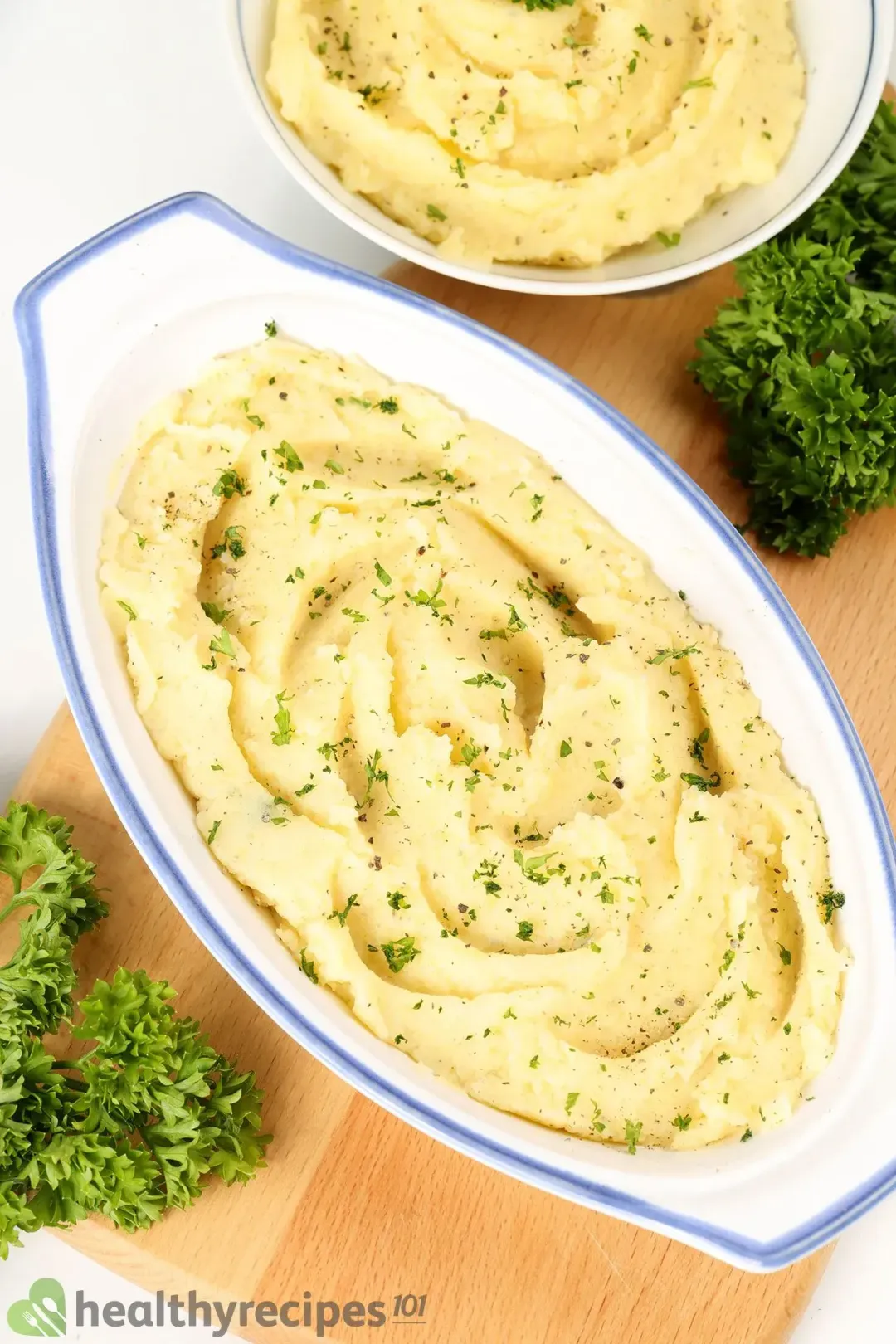 Can You Freeze Mashed Potatoes?
Technically you can freeze anything you want. So, yes, you can freeze mashed potatoes as well.
The best way to freeze mashed potatoes is to use a freezer ziploc bag. Be sure to let the mash cool completely before you put it into the ziploc bag.
How Long Do Mashed Potatoes Last?
You can keep leftover mash in the fridge, covered with cling film to prevent it from drying out. Or it can last for a week in an airtight container.
Be sure to leave your mashed potatoes to cool completely before refrigerating. Why do we need to let food cool down before putting it in the fridge?
If you put warm food in an airtight container, it releases steam and the steam is trapped inside the container. This creates moisture and an ideal environment for bacteria to grow and spoil food faster— and we don't want that.
So be sure to let food come to room temperature before refrigerating or freezing.
When properly stored, frozen mashed potatoes can last up to 2 months. However, to ensure food safety, we recommend using it up within 1 month.
How to Reheat Mashed Potatoes
There are many ways for you to reheat your leftover mash:
Microwave: simply transfer to a microwave-safe bowl, cover, and reheat. This is the fastest way to reheat it without having to use extra utensils— minimizing the cleaning.
Stove: put the leftovers in a saucepan. Cook on low heat, stirring occasionally, until warm or reaches 165°F.
Oven: transfer the mash to a baking dish and cover with aluminum foil. Bake until it reaches 165°F. You can jazz it up by adding grated cheese on the top. Then bake again for a few minutes to let the cheese melt.
A few things to keep in mind when reheating a mash:
A frozen mash should be thawed completely in the fridge first before attempting to reheat it.
Once reheated, it may have a slightly different consistency and flavor than the one you originally made. Therefore it is best to have a taste and decide if you need to make any adjustments.
You may need to add butter, milk, cheese, or salt to get that perfect mash again.
Reheated mashed potatoes, and leftovers alike, should be warmed up to at least 165°F. This is to remove any bacteria that may have formed during the storing process.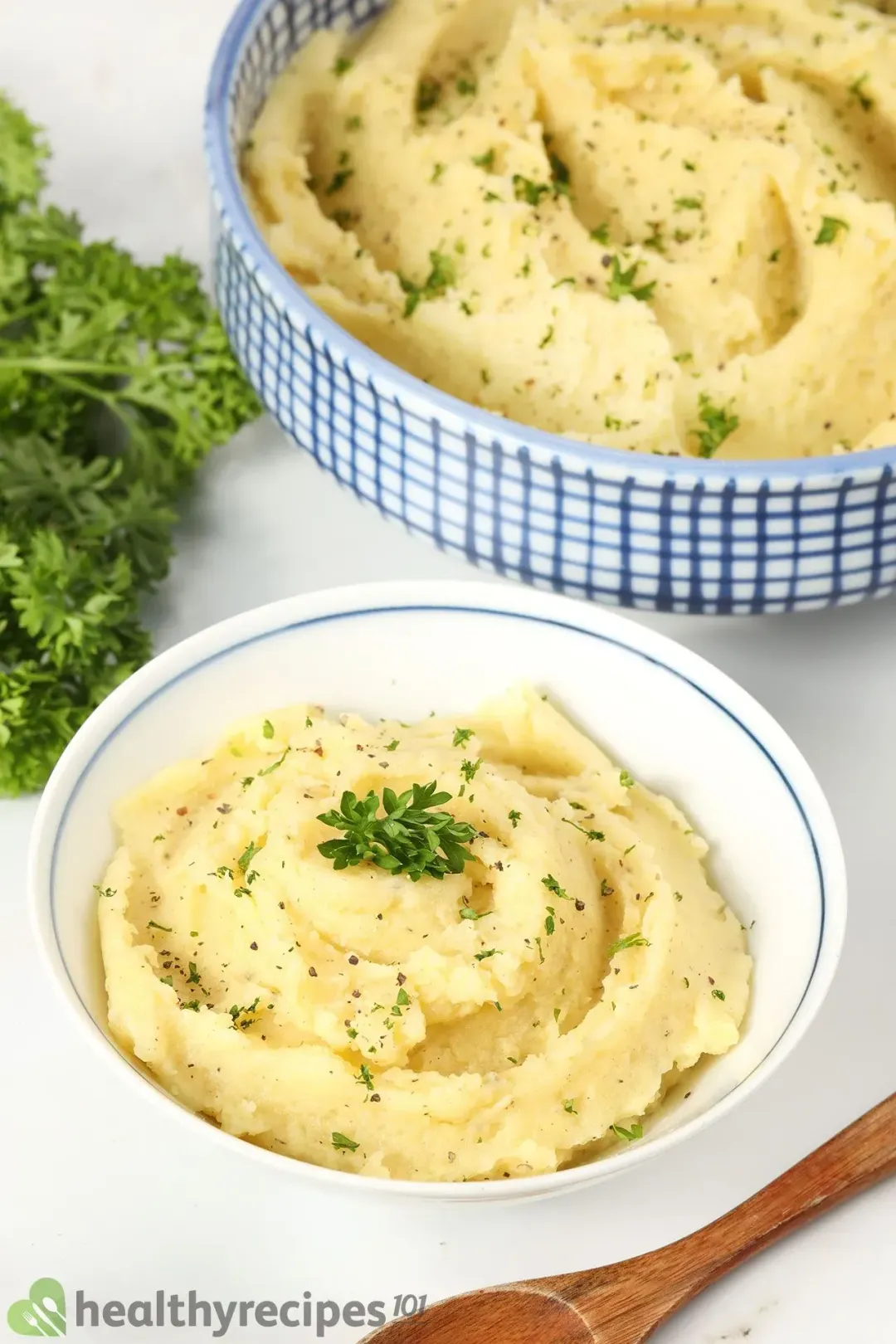 What to Serve with Mashed Potatoes
We can think of a few things that pair perfectly with our mash potatoes recipe:
1. Steak
Pan-seared meat always goes well with mashed potatoes. They make for a quick, simple, delicious meal— it's even perfect for a romantic dinner too.
Whether it's beef, pork, or even fish, you can choose your favorite protein. And then, all you have to do is sear it quickly over high heat.
Looking for a specific recipe to try out? Our Salmon Steak Recipe is an excellent choice.
2. Meatloaf
Meatloaf and mashed potatoes make one phenomenal classic combo. To be fair, we think meatloaf is super versatile and can go well with basically any side dish.
But there's something sensational about the combination of savory meatloaf and buttery mash that we can't put our finger on. And we certainly can't get enough of that sensational flavor.
3. Gravy
Gravy is the secret to elevating any meal. Whether you're having mashed potatoes with turkey, steak, or meatloaf, adding gravy can make it even better. Don't believe us? Test it out for yourself with this Salisbury Steak Recipe.
But no matter which main or side dish you're planning for your meal, make the mash first. It takes more time for the potatoes to boil, and you can always reheat the mash later if needed.
Craving More Potatoes? Give These a Try!
Healthy Mashed Potatoes
This mashed potatoes recipe is super easy to make. It features russet potatoes, heavy cream, milk, butter, salt and pepper, and fresh parsley.It's the perfect side dish that comes together in just 30 minutes!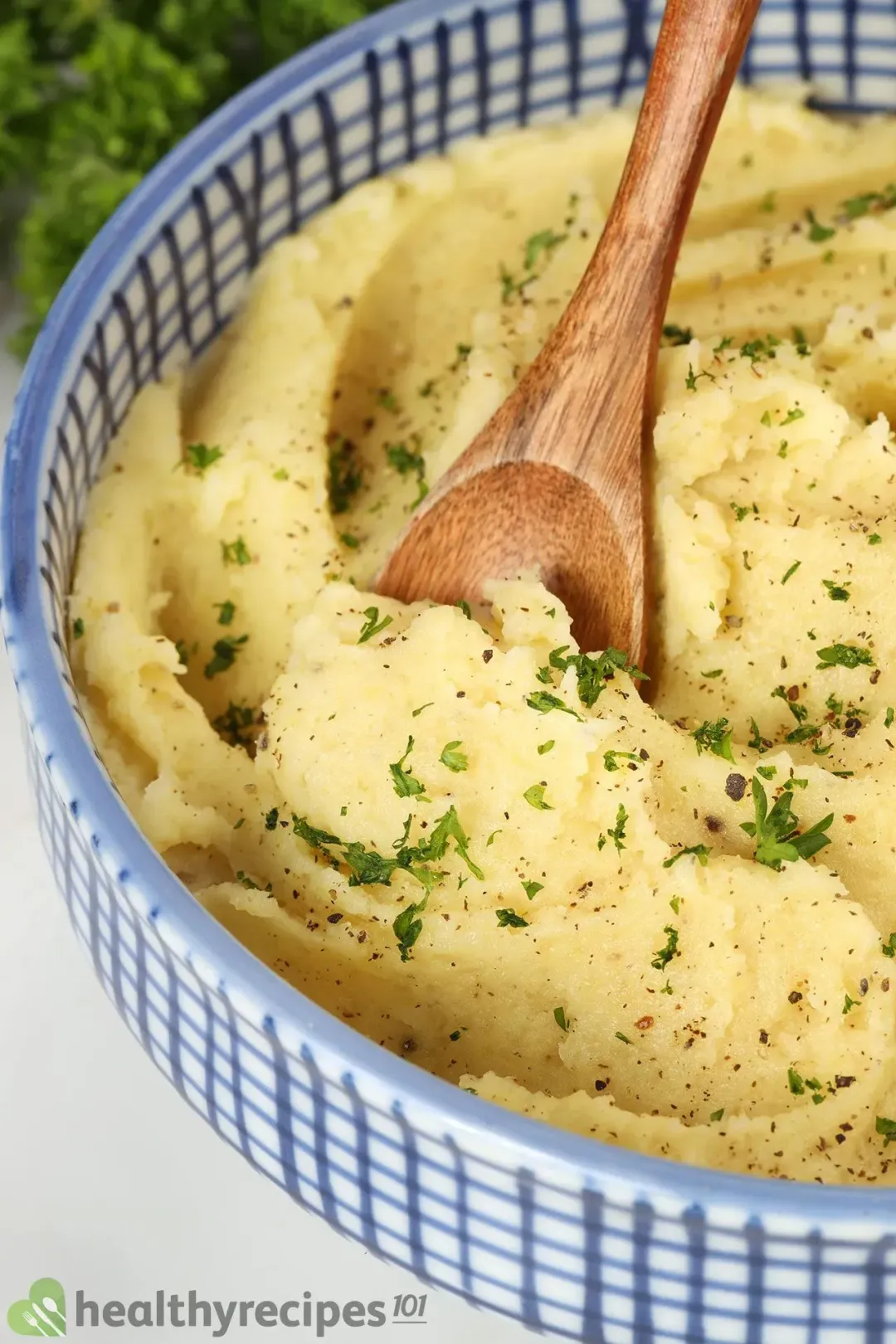 cook TIME

22 mins

prep TIME

8 mins

total TIME

30 mins
COURSE

Side Dish

CUISINE

American

SERVINGS

CALORIES

196 kcal
INGREDIENTS
24 oz

russet potatoes

(4 small, peeled and cut into 1-inch chunks)
INSTRUCTIONS
1
Place 24 oz potatoes in a large pot with enough water to cover and bring to a boil. Reduce heat to medium and cook partially covered for 20 minutes or until the potatoes are totally soft and can easily be pierced with a fork. Drain water completely.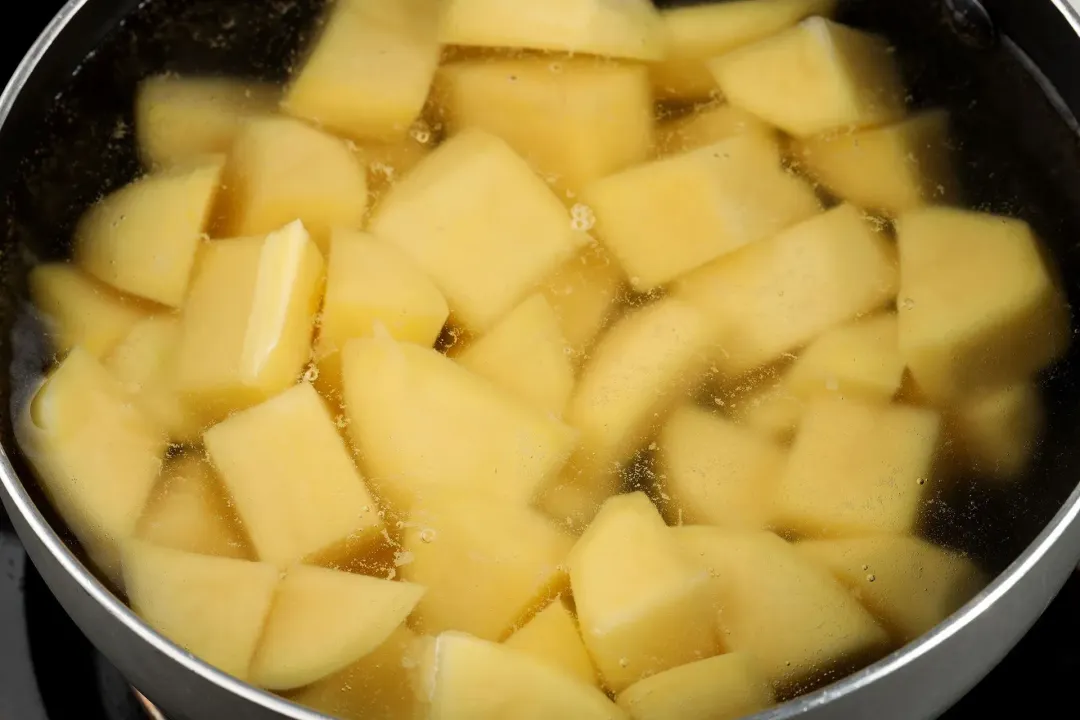 2
Mash potatoes with a masher or ricer until smooth (you can pass the mashed potatoes through a sieve to make it even smoother.)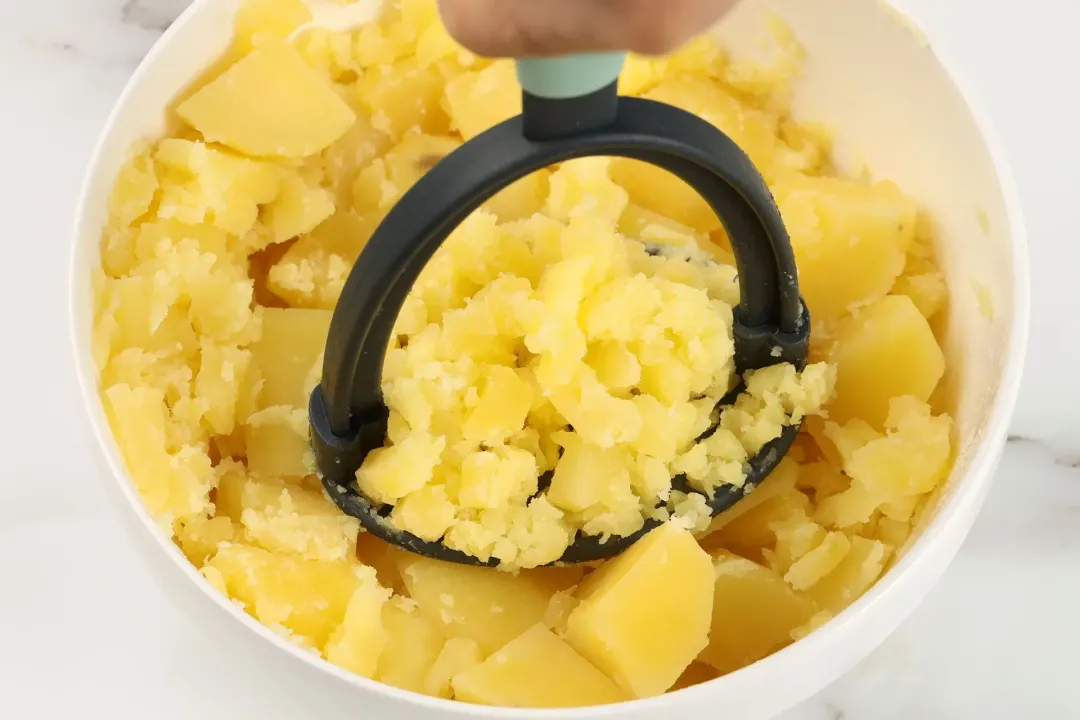 3
Return the mashed potatoes to the pot. Turn the heat on low. Add 1 tbsp butter, 1/4 cup milk, 2 tbsp heavy cream, 1/2 tbsp salt, and 1/2 tsp pepper. Stir constantly for about 2 minutes.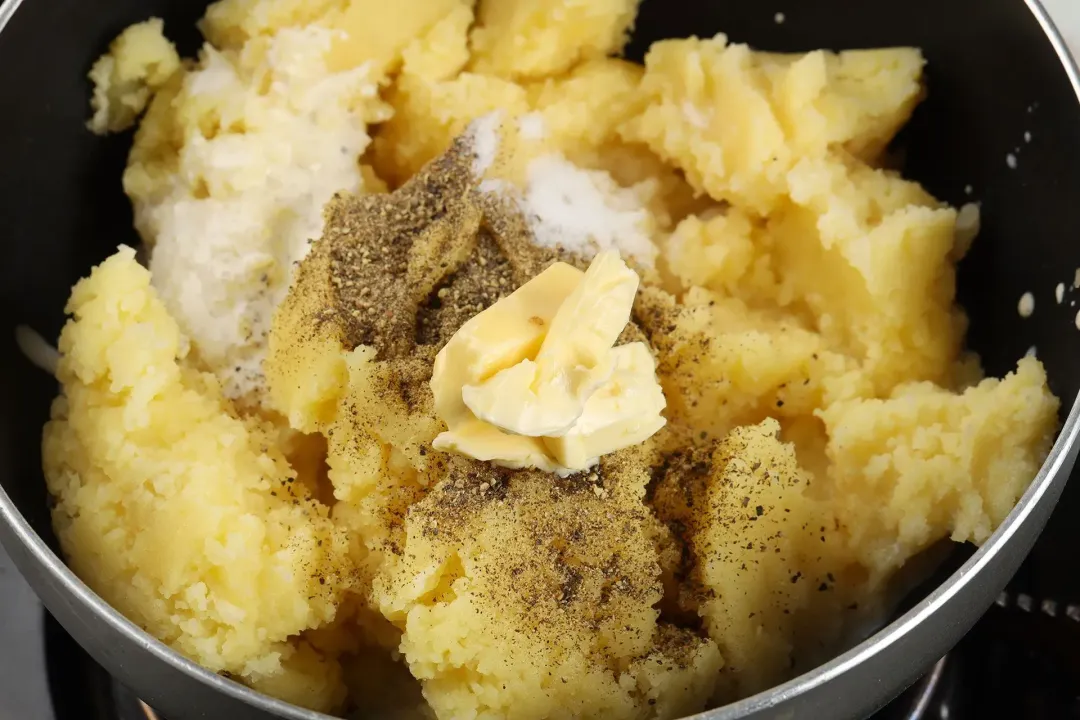 4
Turn off the heat. Transfer to a serving platter. Sprinkle with 1 tbsp chopped parsley and serve.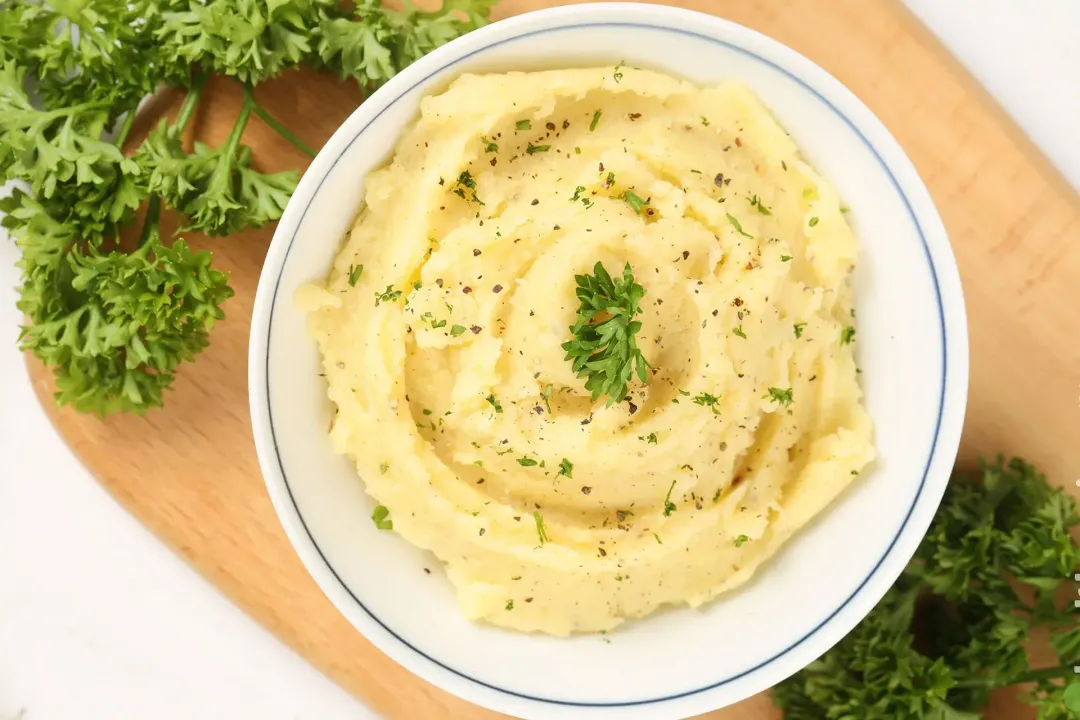 NUTRITION
Nutrition Facts
Healthy Mashed Potatoes
Amount Per Serving (1 serving)
Calories 196
Calories from Fat 54
% Daily Value*
* Percent Daily Values are based on a 2000 calorie diet.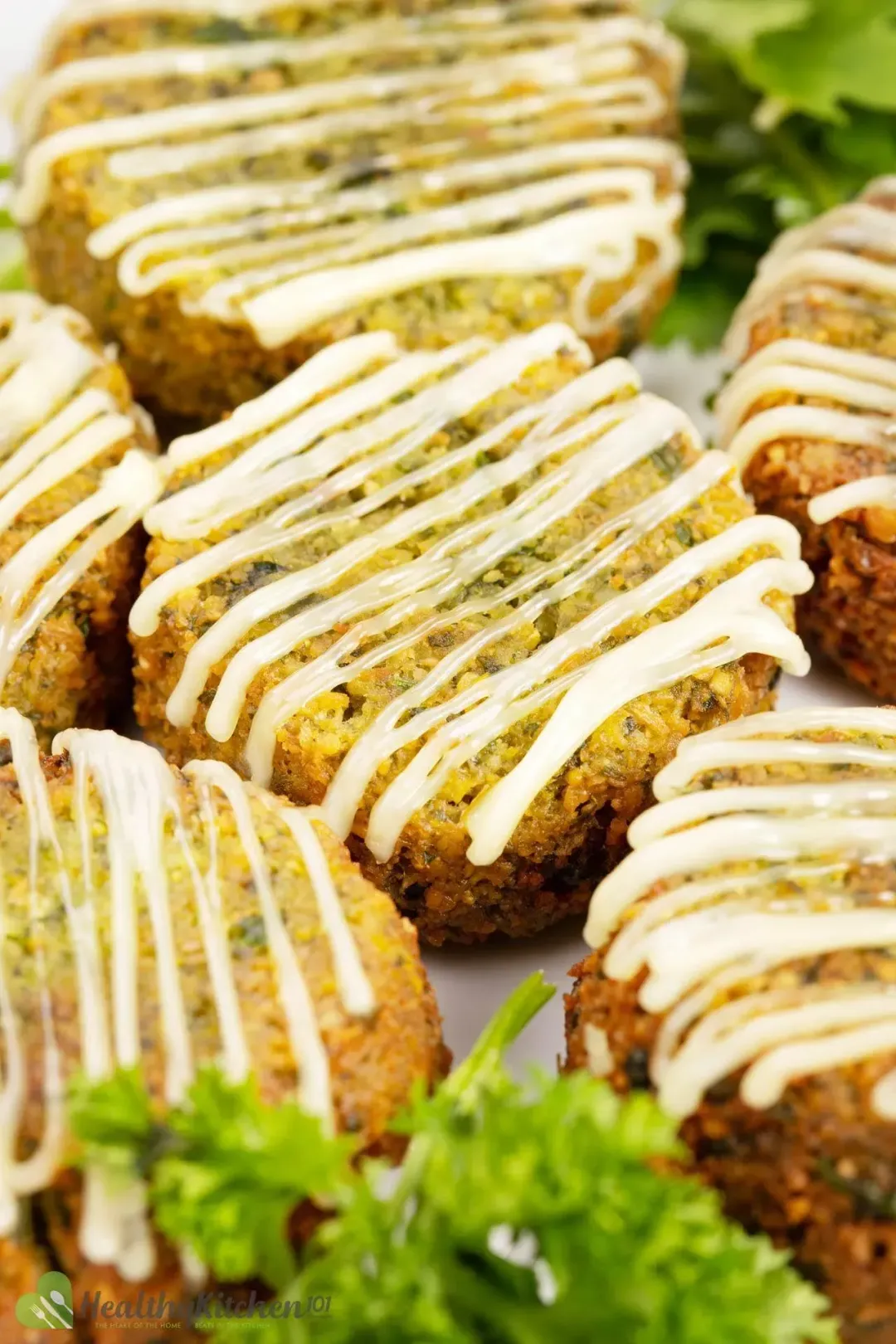 Falafel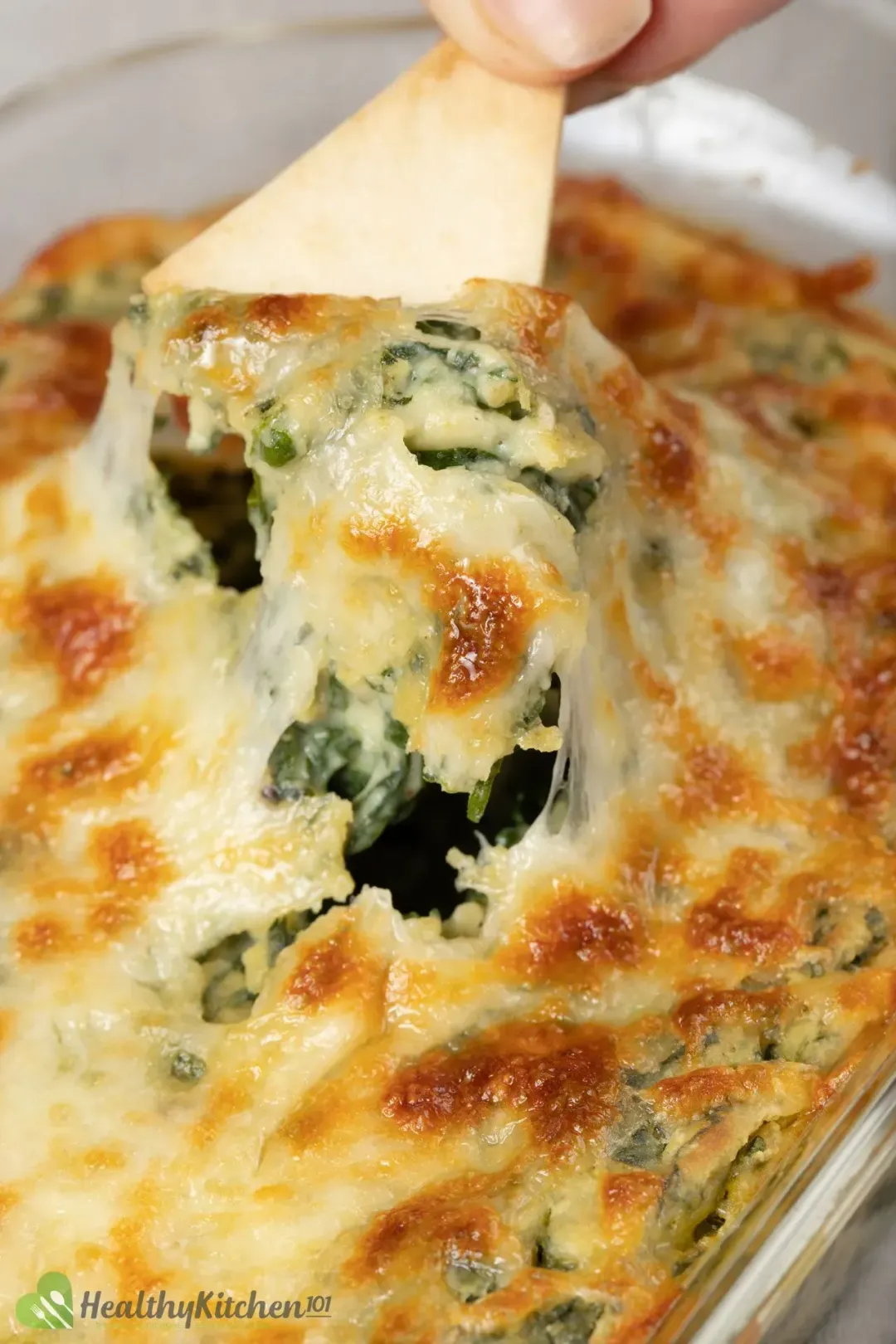 Next Recipe
Spinach Artichoke Dip
Spinach Artichoke Dip
Head Chef, Culinary Consultant
Tuyet Pham is an award-winning Saigonese chef who believes that joy is the secret ingredient to delicious food. At Healthy Recipes 101, Tuyet personally tests and simplifies every recipe, ensuring maximum flavor with minimal effort. With a background at prestigious French restaurants P'TI Saigon and Le Corto, Tuyet knows how to make every dish exceptional.
Writer, Author
Luna Regina is an accomplished writer and author who dedicates her career to empowering home cooks and making cooking effortless for everyone. She is the founder of HealthyKitchen101.com and HealthyRecipes101.com, where she works with her team to develop easy, nutritious recipes and help aspiring cooks choose the right kitchen appliances.
Nutrition Reviewer
Lizzie Streit is a Minneapolis-based dietitian and founder of It's a Veg World After All. She completed her MS in Human Nutrition from Drexel University, and is an expert in culinary nutrition, recipe development, and nutrition communications. Lizzie's philosophy is centered around making nutrition recommendations, and especially the advice to eat more vegetables, approachable and realistic. She is excited to be working with the team at Healthy Recipes 101 to ensure that their recipes are both nutritious and delicious.
I just made this delicious mashed potato recipe and they came out so good! Super creamy, fluffy and flavorful - definitely a must try!