Our pickled cauliflower recipe transforms healthy florets into crunchy, tantalizing companions for your meals.
If you've never tried pickling your own vegetables, you're in for a treat. They're easy to make, fun to eat, and go great with many foods like grilled meat, pasta, and more.
We know pickled foods are frowned upon for their bad nutritional profile. We kept that in mind and made sure this version fits your healthy diet like a charm. Here's how we did it:
How We Made This Recipe Healthier
Pickled foods, in most peoples' minds, are high in sodium and thus, unhealthy. That's not the whole story though — they're only problematic if the pickling solution of choice is salty brine. Our solution is vinegar-based, containing just a little bit of salt (and sugar) to balance the sharpness.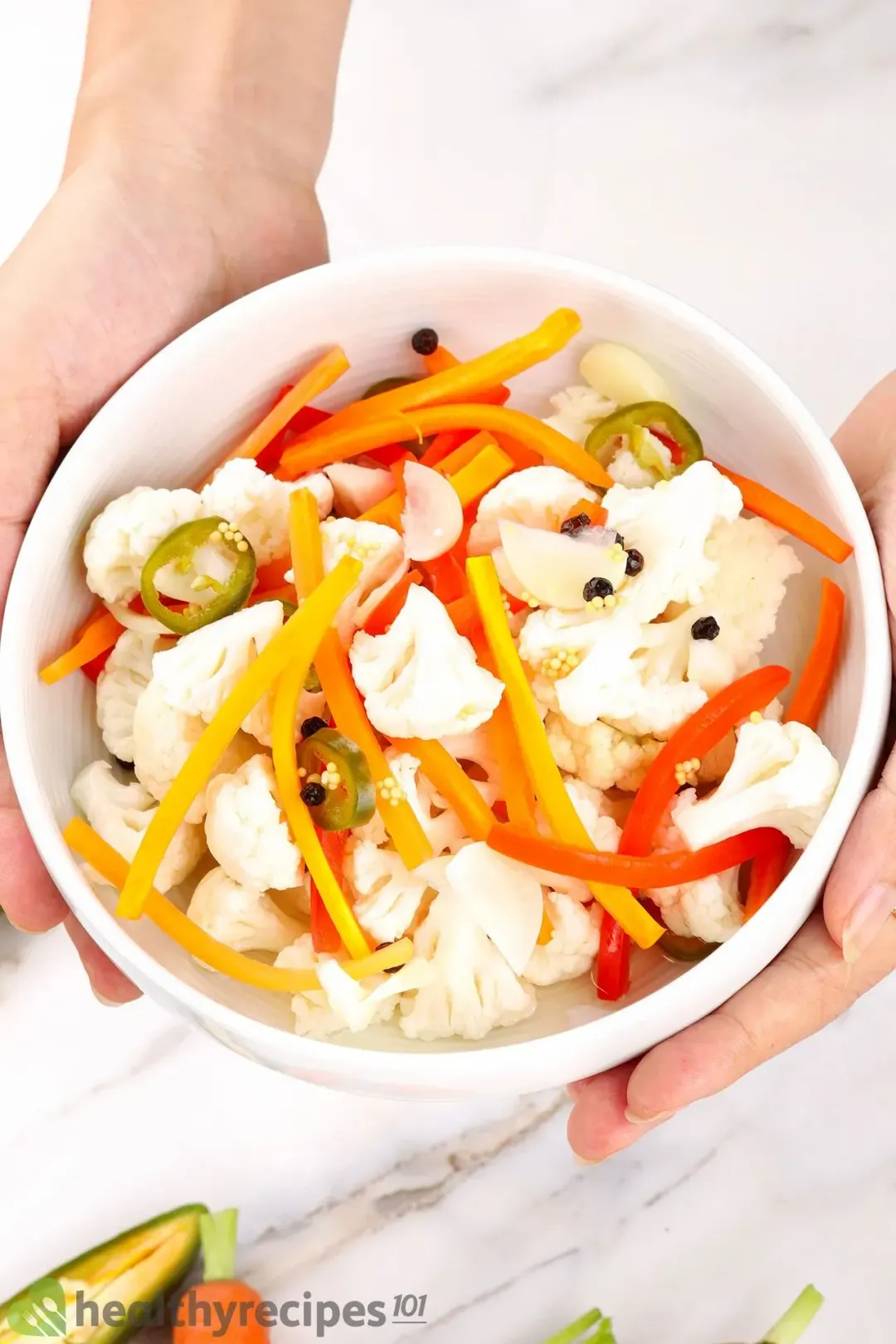 With only about 42 mg of sodium per serving, this version of pickled cauliflower makes it easier to moderate your sodium consumption. This amount translates to almost 2% of the daily allowance — quite insignificant compared to many versions.
For more healthy pickled foods, check out our Pickled Shrimp Recipe, Pickled Cabbage Recipe, and Pickled Eggs Recipe.
Main Ingredients
1. The Vegetables
Of course, the first thing on the ingredient list is cauliflower, either fresh from the store or chilled in your fridge. Do not use frozen cauliflower because its texture isn't good for pickling.
Cut the cauliflower into florets, measure out your desired amount, and clean them very well. To do it right, first, rinse off any dirt and debris and place them into a bowl. Fill it with water, mix in 1 tablespoon of salt, and allow everything to sit for 10 minutes.
For this recipe, you can add any vegetables that are crunchy and mild in flavor. Stronger classical pickling veggies like cucumbers, onions, or radishes are great for pickling but their bold flavors demand a slightly different recipe.
We decided to go with carrots and bell peppers as our added flavors, so we sliced some and added them into the cleaning solution bowl as well. You can never be too careful about cleaning your vegetables before pickling.
Once they're done, rinse all the veggies again with cold water and set them aside. The next step is to prepare the pickling solution.
2. The Pickling Solution
You'll find a variety of recipes for pickling solutions depending on the vegetable and the pickling method. Today's recipe makes use of a diluted solution of 1 part vinegar and 4 parts water with some sugar and salt to balance out the sharpness.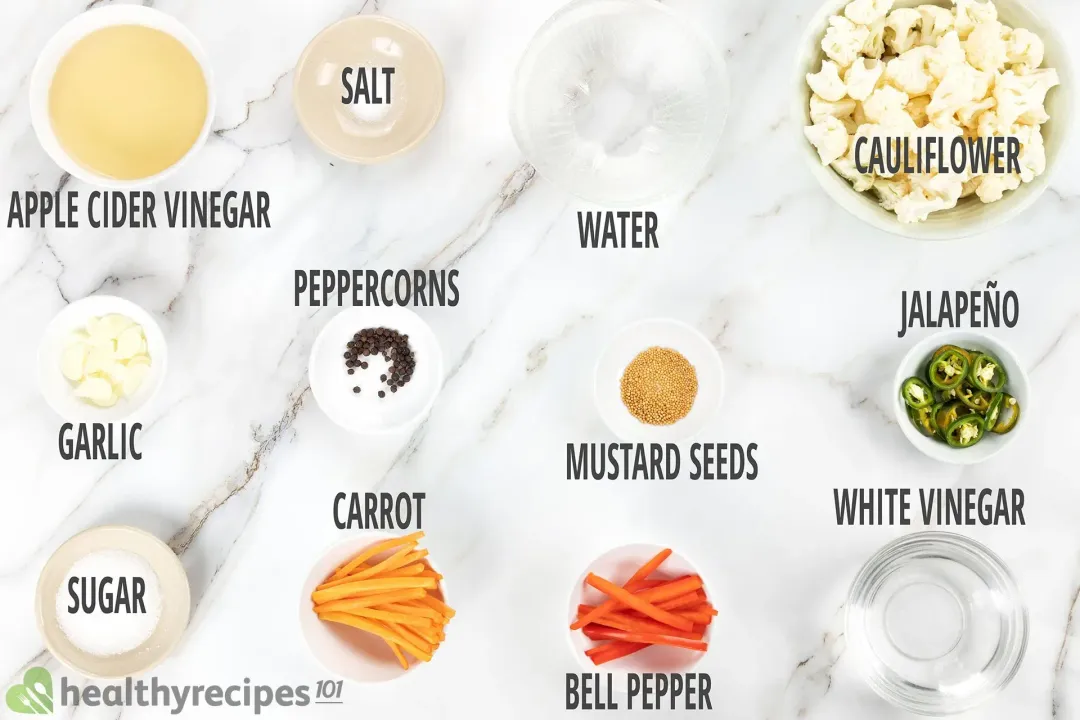 If you prefer something more concentrated in terms of flavor, our pickled cabbage recipe or pickled eggs might tickle your fancy.
We also added some sliced garlic, jalapeños (cleaned along with the veggies as well), whole black peppercorns, and mustard seeds to the pickling jars. These ingredients contribute complementing aromas to pickled vegetables and should not be skipped.
Which Vinegar Is Best for Pickling?
White vinegar is the popular choice as it has a mellow flavor that's appropriate for all kinds of vegetables. Bolder types like malt vinegar or cider vinegar are best reserved for vegetables with more robust flavors like onions and cabbages.
We love the aroma of apple cider vinegar, so we replaced half of the white vinegar with it. It also adds a beautiful golden color to the pickling solution.
Tips for Making
You don't need to boil the vinegar mixture, but if you want to, make sure to cool it down afterward. Otherwise, the vegetables will partially cook and lose that characteristic pickle crunch.
Make sure to sterilize your containers before pickling. This can be simply done by submerging them in boiling water for about 10 minutes.
You can also use food-grade plastic containers if you prefer. Avoid metal containers as they can react with the solution and potentially make the food unsafe.
For the best taste, allow the pickled vegetables to sit for 2-3 days in the refrigerator. The longer they steep, the more flavorful they become.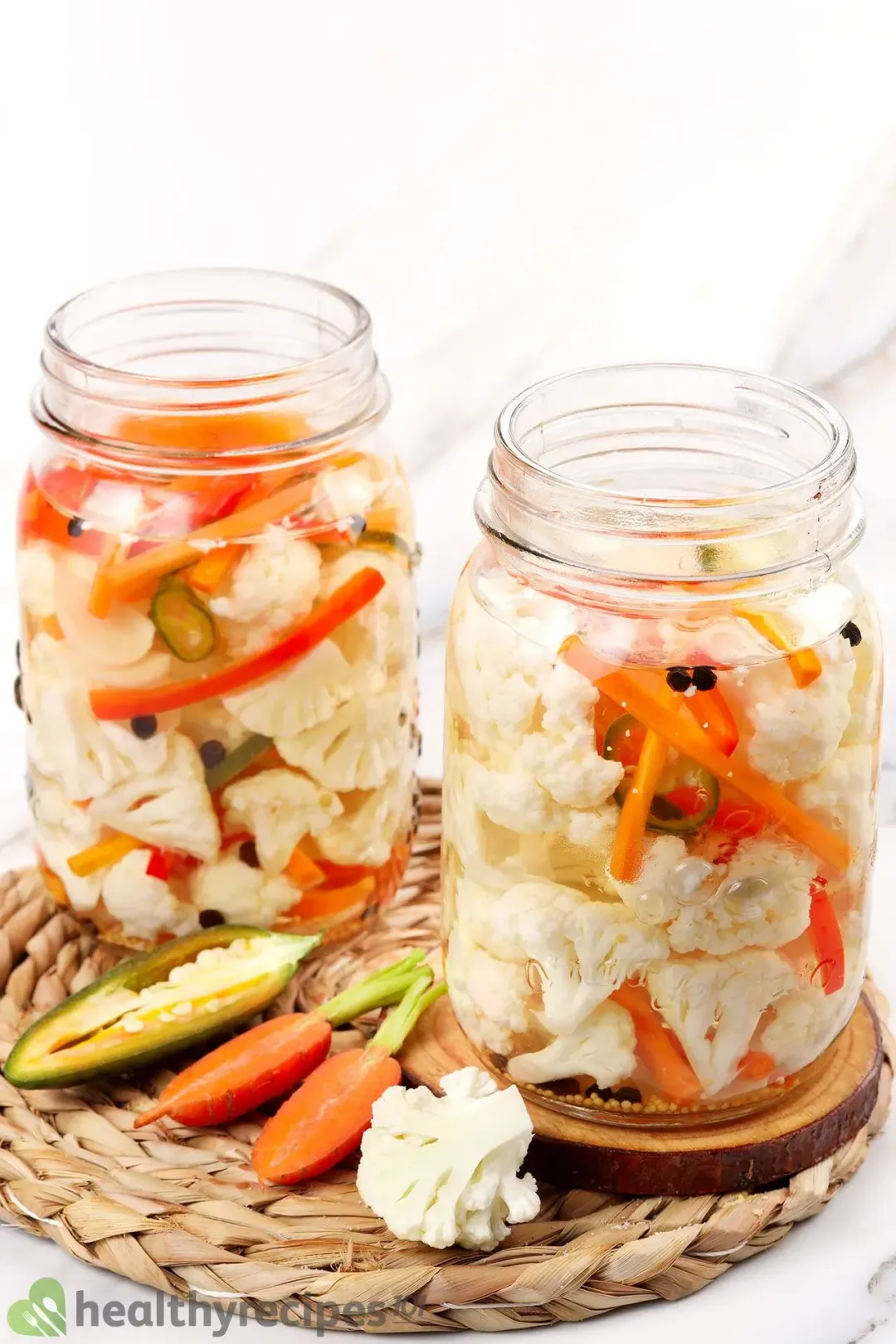 Can You Reuse Pickled Cauliflower Juice? 
Over time, the vegetables' moisture will leach out, diluting the pickling solution and making it less acidic and less effective at preserving food. Ours isn't particularly acidic, to begin with, so it's best to make a new batch each time.
How Long Does It Last in the Fridge?
The answer depends on the solution's acidity. Those with high acidity levels can prevent bacterial growth better and can keep vegetables for months.
Ours, on the other hand, turns out a tasty result within a single night but lasts no longer than 2 weeks in the fridge. But don't worry — with the right dishes, you'll finish the jar long before that.
What to Serve With
Crunchy and refreshing, pickled cauliflower florets can make heavy meals like grilled meat or fried chicken more enjoyable. They're like a ready-made salad.
They also make an ideal palate cleanser for pasta, especially those with rich cream sauces. The tanginess cuts through that richness like a charm.
You can serve them with sandwiches as well. Chicken sandwiches, burgers, sliders, etc. all benefit from a little pickled flavor. Grab your pickled cauliflower for anything that needs a crunchy, flavorful side.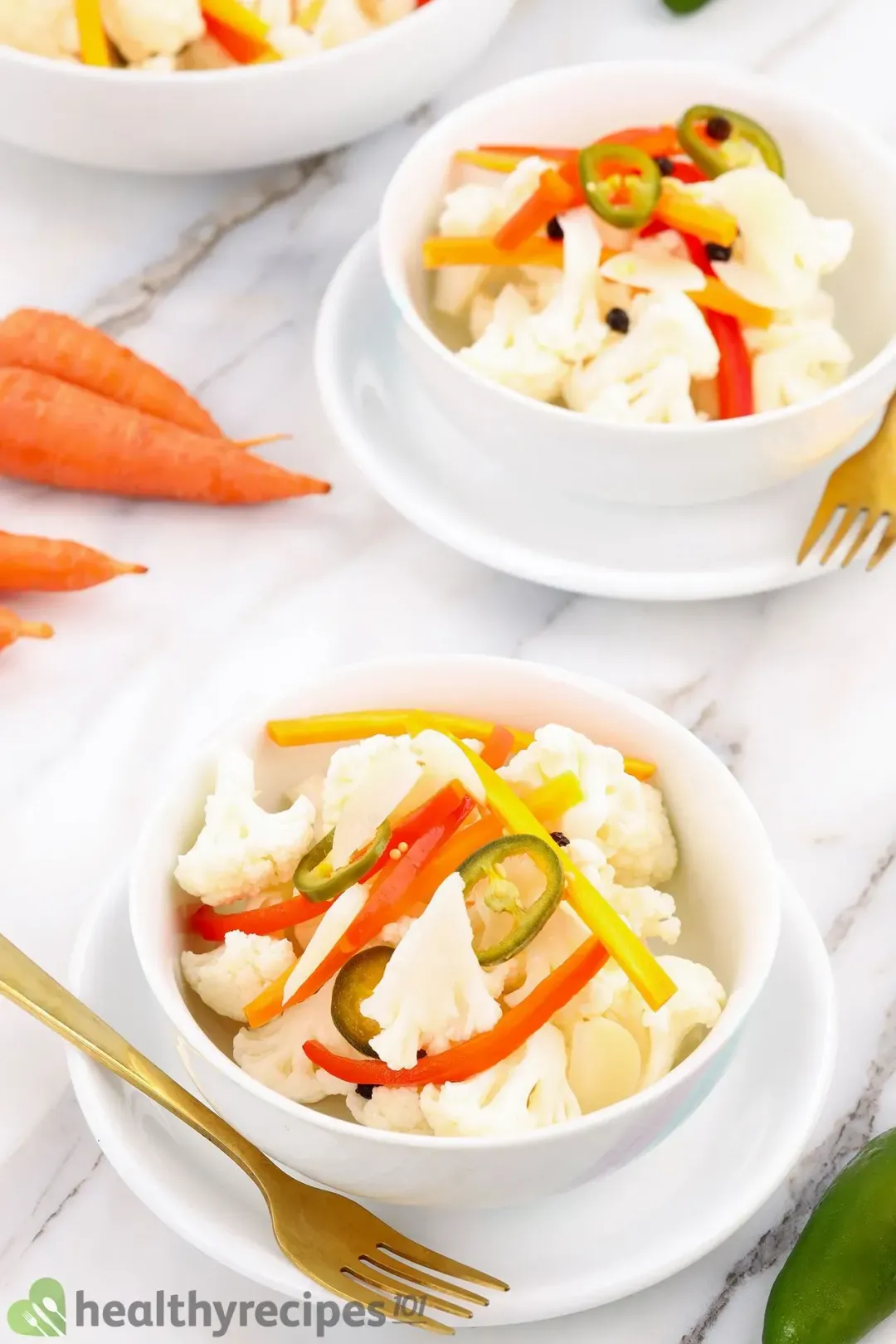 If you're a fan of Asian foods, try this pickled cauliflower with everything. They're especially good with Korean foods as they share similarities with the country's popular pickled radishes.
You May Also Like
Pickled Cauliflower
This pickled cauliflower recipe makes a quick side for any main dishes. It only keeps for 2 weeks but will probably disappear long before then.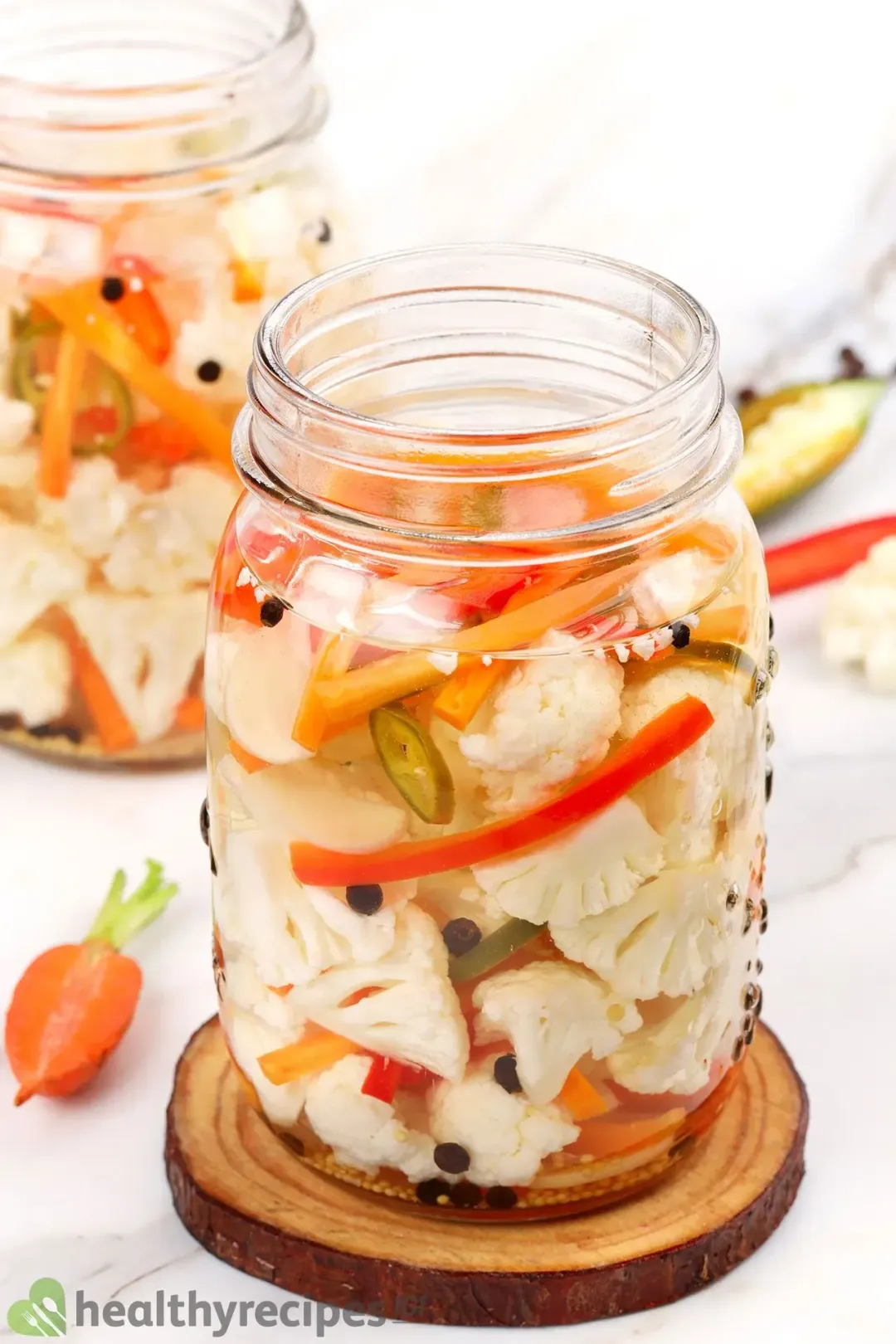 prep TIME

10 mins

total TIME

8 hr 10 mins

INACTIVE TIME

8 hr
COURSE

Side Dish

CUISINE

Global

SERVINGS

CALORIES

46 kcal
INGREDIENTS
10 oz

cauliflower

(washed and cut into florets)

1/4 cup

apple cider vinegar

1 oz

red bell peppers

(julienned)

0.5 oz

jalapeños

(sliced)

1/2 tsp

dry mustard seeds

1/2 tsp

black peppercorns
INSTRUCTIONS
1
In a bowl, combine 1/4 cup apple cider vinegar, 1/4 cup white vinegar, 1 tbsp sugar, and 1/4 tsp salt. Once the sugar and salt have dissolved, add to it 2 cups of water.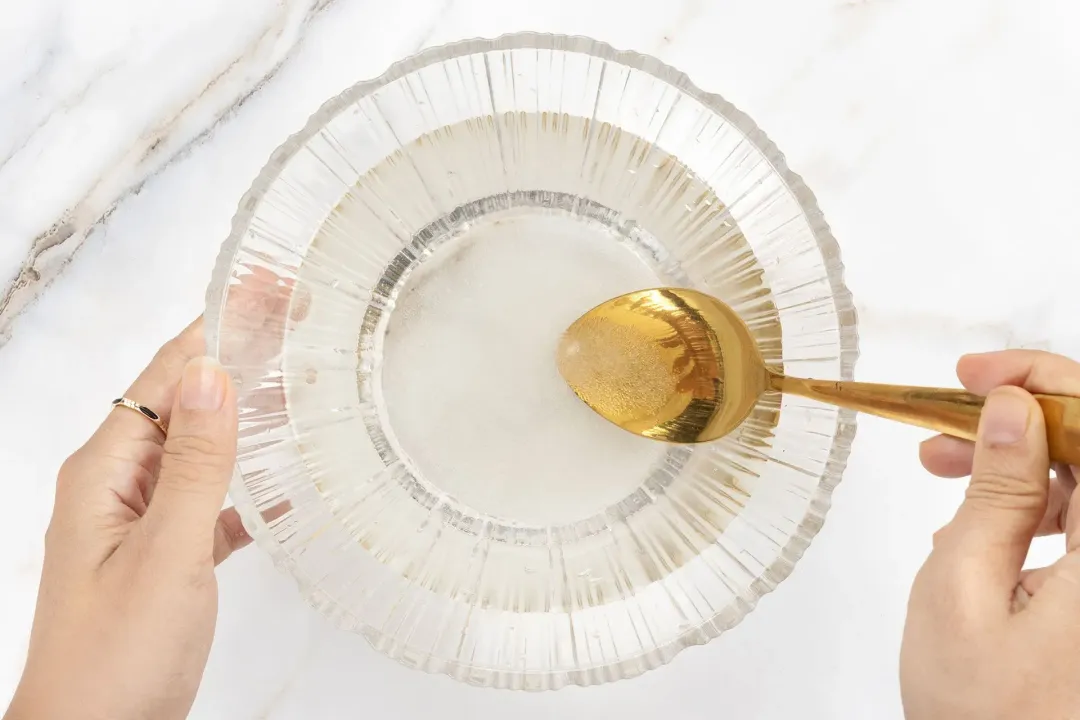 2
Arrange your washed vegetables (10 oz cauliflower, 1 oz carrots, 1 oz red bell peppers) into sterilized jar(s) along with sliced garlic (2 cloves), 0.5 oz sliced jalapenos, 1/2 tsp mustard seeds, and 1/2 tsp black peppercorns.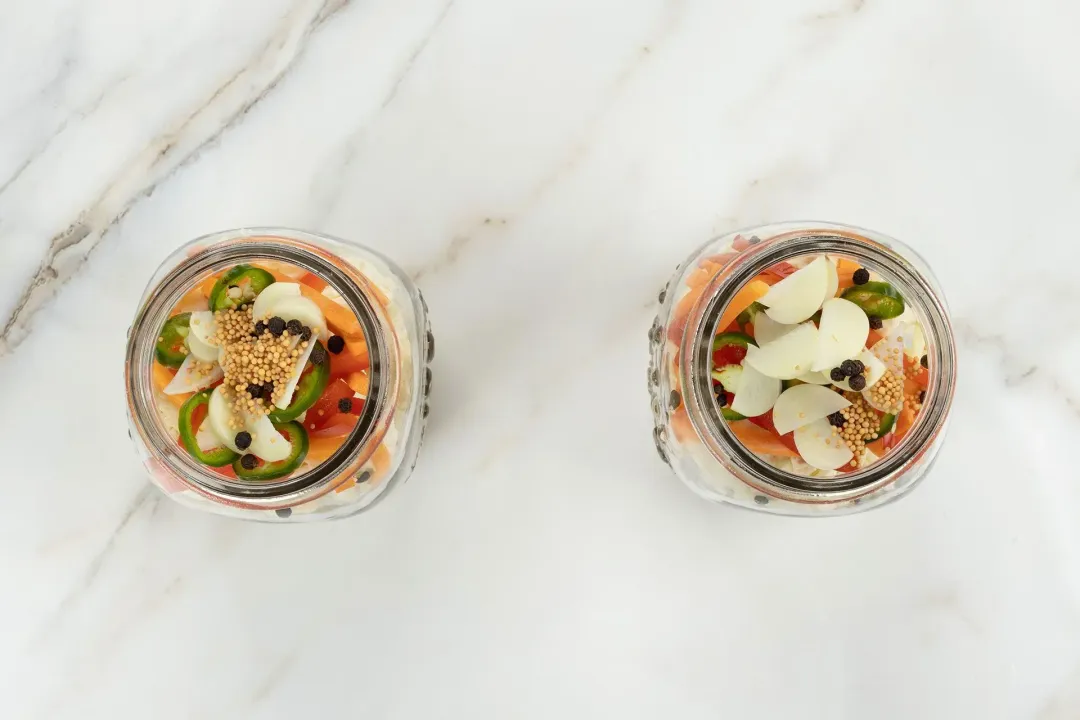 3
Gently ladle the pickling solution into the jar(s) and seal tightly.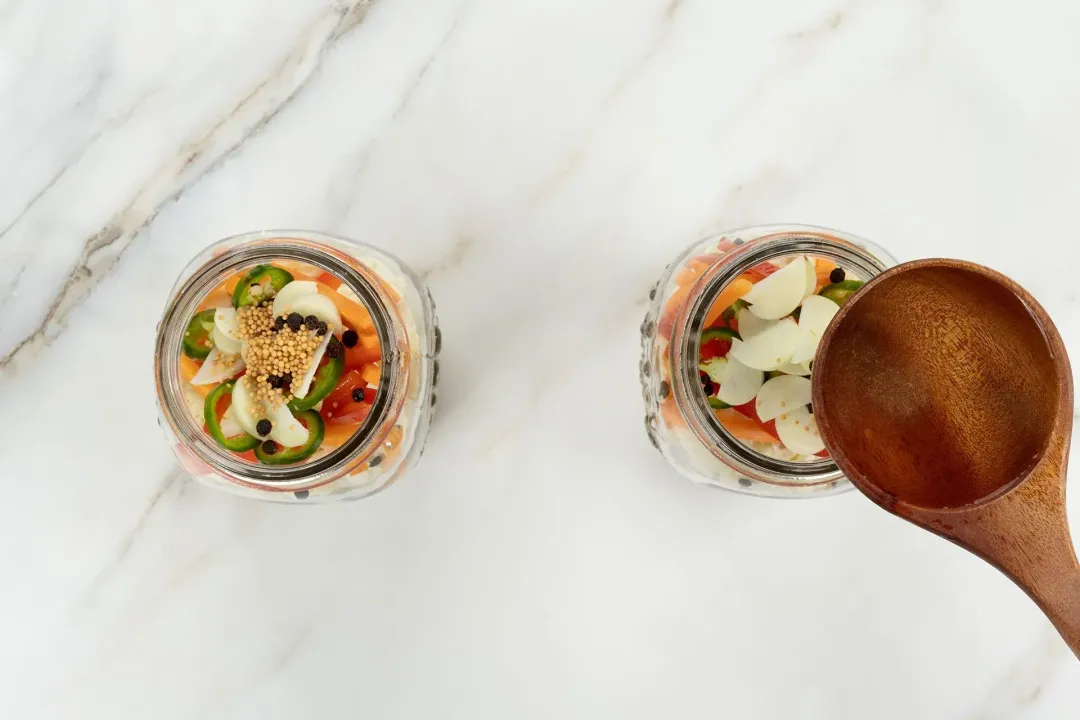 4
Leave to sit at room temperature overnight or for at least 8 hours.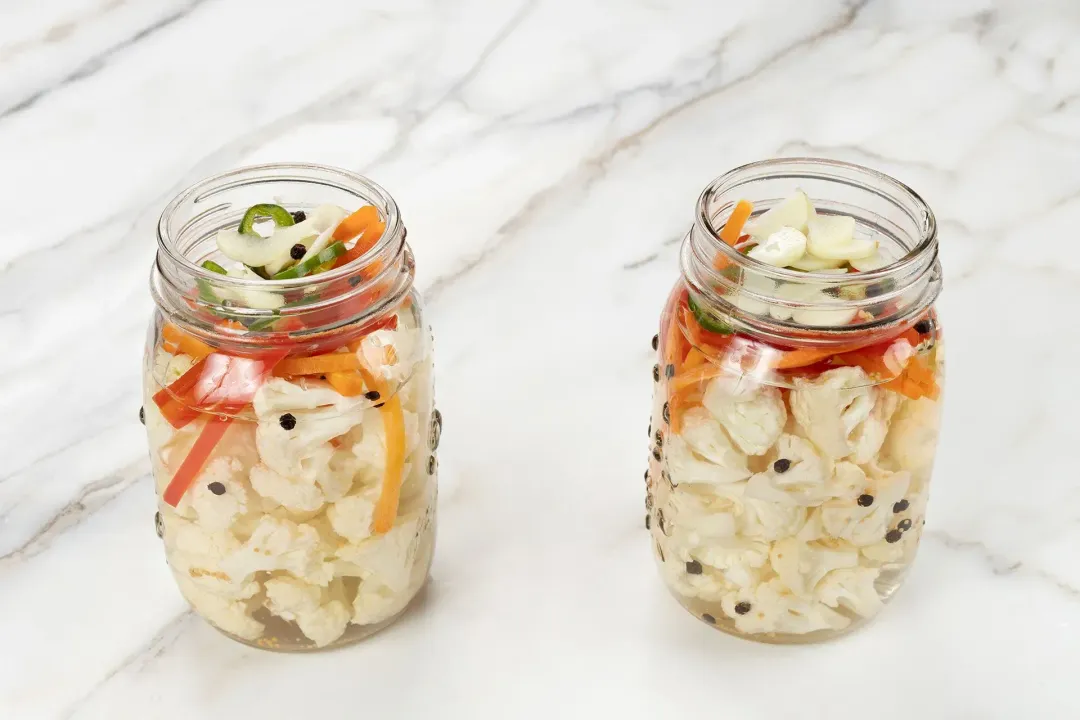 5
Refrigerate the jars. You can serve right away or wait for another 2-3 days for a better flavor.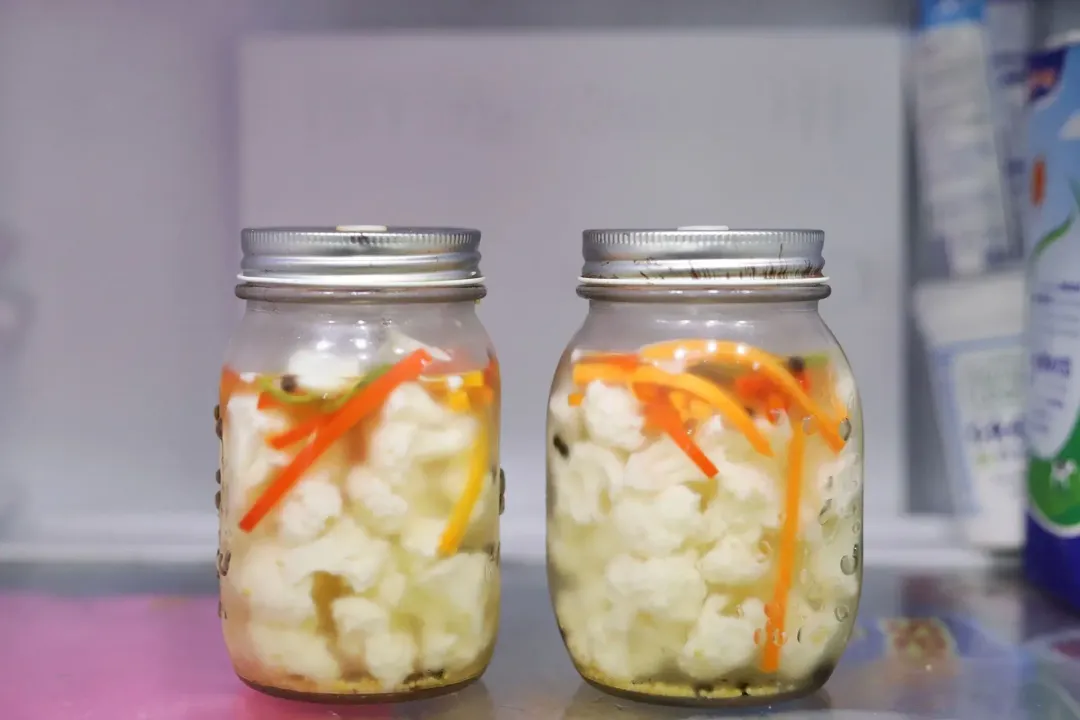 NUTRITION
Nutrition Facts
Pickled Cauliflower
Amount Per Serving (1 serving)
Calories 46
Calories from Fat 4
% Daily Value*
* Percent Daily Values are based on a 2000 calorie diet.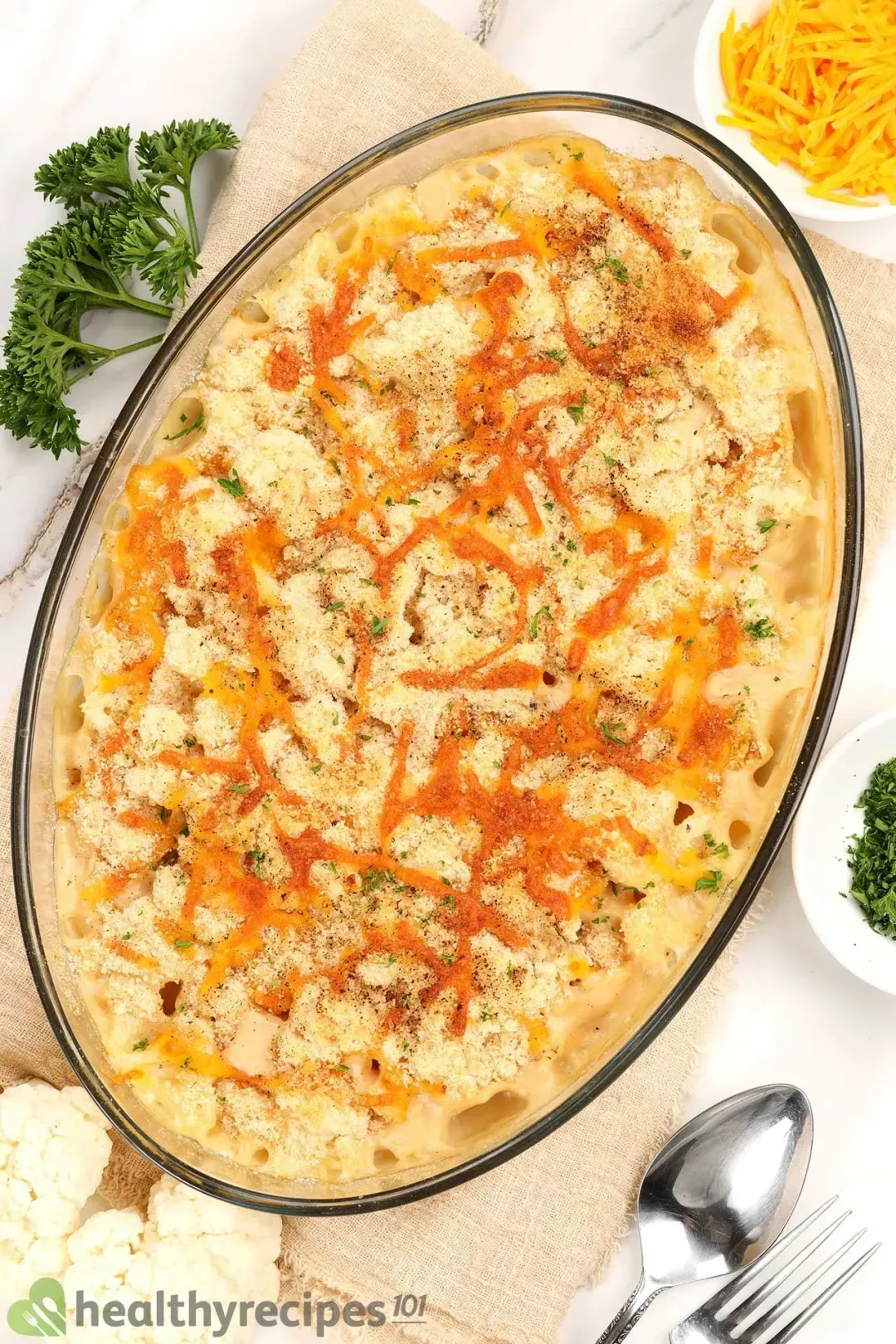 Previous Recipe
Cauliflower Mac and Cheese
Cauliflower Mac and Cheese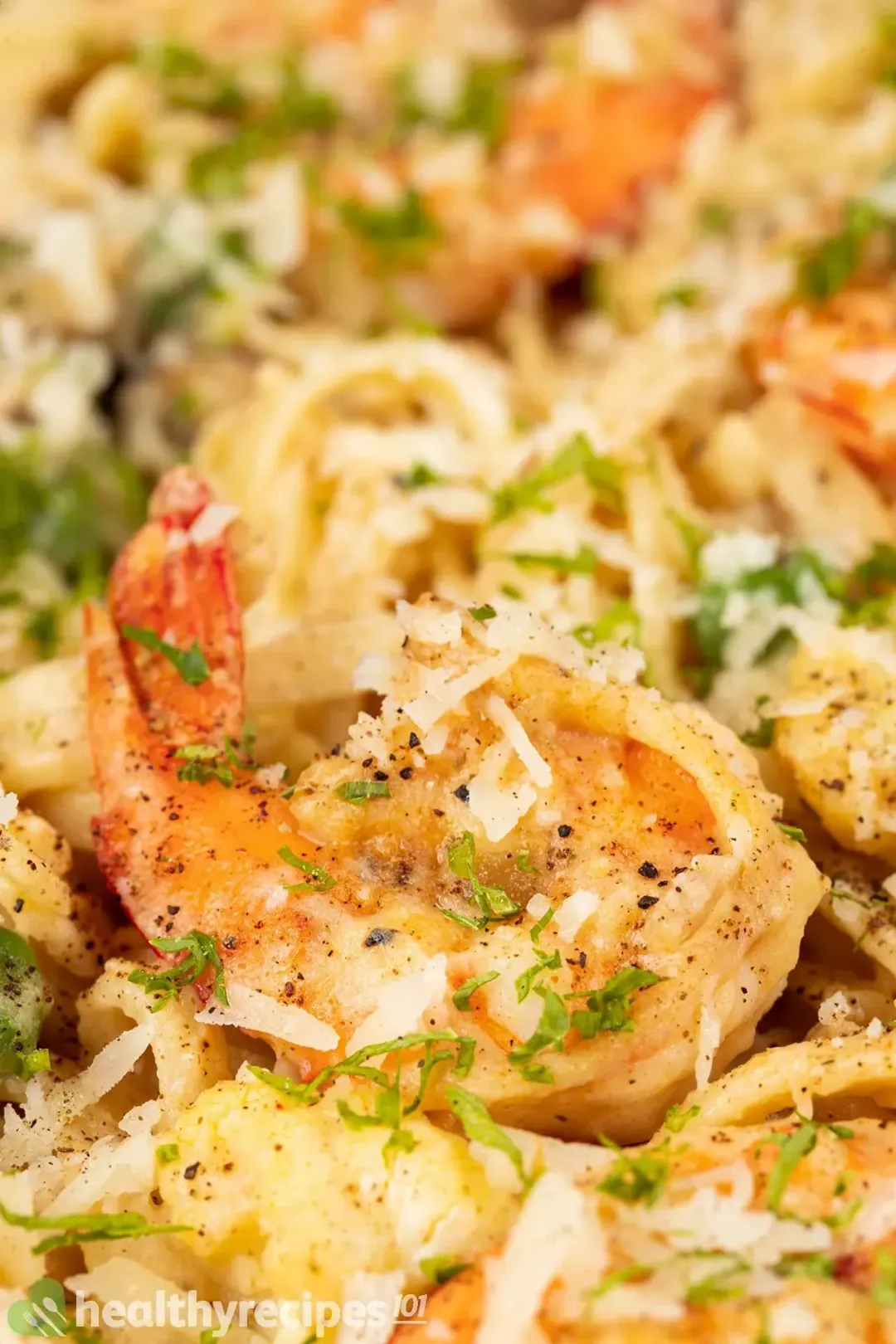 Next Recipe
Cauliflower Alfredo
Cauliflower Alfredo
Head Chef, Culinary Consultant
Tuyet Pham is an award-winning Saigonese chef who believes that joy is the secret ingredient to delicious food. At Healthy Recipes 101, Tuyet personally tests and simplifies every recipe, ensuring maximum flavor with minimal effort. With a background at prestigious French restaurants P'TI Saigon and Le Corto, Tuyet knows how to make every dish exceptional.
Writer, Author
Luna Regina is an accomplished writer and author who dedicates her career to empowering home cooks and making cooking effortless for everyone. She is the founder of HealthyKitchen101.com and HealthyRecipes101.com, where she works with her team to develop easy, nutritious recipes and help aspiring cooks choose the right kitchen appliances.
Nutrition Reviewer
Lizzie Streit is a Minneapolis-based dietitian and founder of It's a Veg World After All. She completed her MS in Human Nutrition from Drexel University, and is an expert in culinary nutrition, recipe development, and nutrition communications. Lizzie's philosophy is centered around making nutrition recommendations, and especially the advice to eat more vegetables, approachable and realistic. She is excited to be working with the team at Healthy Recipes 101 to ensure that their recipes are both nutritious and delicious.
tangy pickled cauliflower - a great way to enjoy this healthy vegetable!

No changes to the recipe. It was great!