Today's pickled shrimp recipe gives you an easy but delicious way to enjoy shrimp.
Our pickled shrimp helps you infuse this versatile crustacean with flavors from a variety of vegetables, spices, and herbs. All you need are some clean jars, your favorite pickling ingredients, and some shrimp.
Is Pickled Shrimp Healthy?
Yes, it is. We have carefully chosen and adjusted the ingredients in this recipe based on our nutrition guidelines.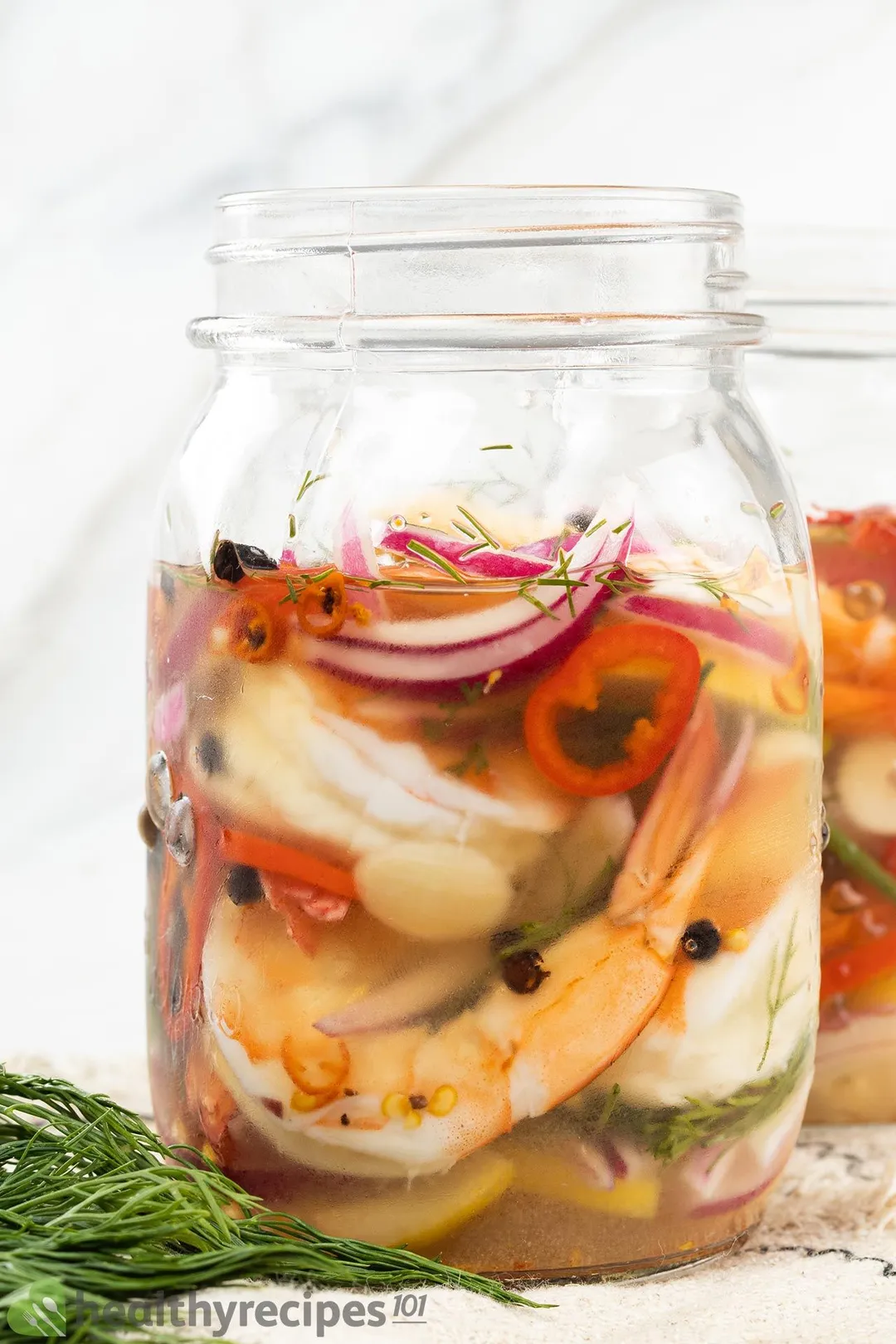 Each serving of pickled shrimp has 153 calories and only 0.1 g of saturated fat. As you can see in the ingredients list, there aren't any high-calorie or high-fat items.
Our pickled shrimp contains only 300.4 mg sodium because we only use 1/4 tsp of salt in the entire dish (shrimp accounts for the rest of the amount due to their inherent sodium.)
With shrimp as the main ingredient, this dish contains 26.3 g of protein. Not only a great source of protein, shrimp also provides you with astaxanthin, an antioxidant which promotes heart and brain health.
Pickling also comes with health benefits and has experienced an upturn of popularity in recent years. In order to start pickling food, you'll need some basic ingredients.
What Are the Basic Ingredients in Pickling?
Pickling involves creating an environment in which it is safe to preserve food, such as cauliflowers, cabbages, or even eggs, for a long time, and it requires you to have certain ingredients. Once you have the necessities, you can also add other elements to make your food more flavorful.
You need three ingredients for pickling food: vinegar, salt, and water.
There are no particular rules when it comes to water. Any water that is safe to drink is suitable for pickling. Distilled water is preferable since all impurities are removed from it.
Salt is mostly used as a preservative in the brine. It also adds a salty savoriness to the food. The most ideal option is pickling salt, as the name suggests. Remember to stir it when you mix the solution to help the salt dissolve and not clump.
Vinegar is the last member of this trio. Make sure that you use vinegar with a 5% acidity level, as it is this acidic component that prevents the growth of bacteria. 
The combination of these ingredients creates what is known as brine. This brine should contain equal parts of water and vinegar.
Sugar can help balance the taste of vinegar. You can omit it if you love the taste of vinegar or have cut added sugar from your diet.
Herbs and spices are the most customizable aspect of pickling and where you can have the most fun. You can use basic ones like peppercorns, chilies, or mustard seeds. Or you can experiment with less common ones like star anise or cinnamon.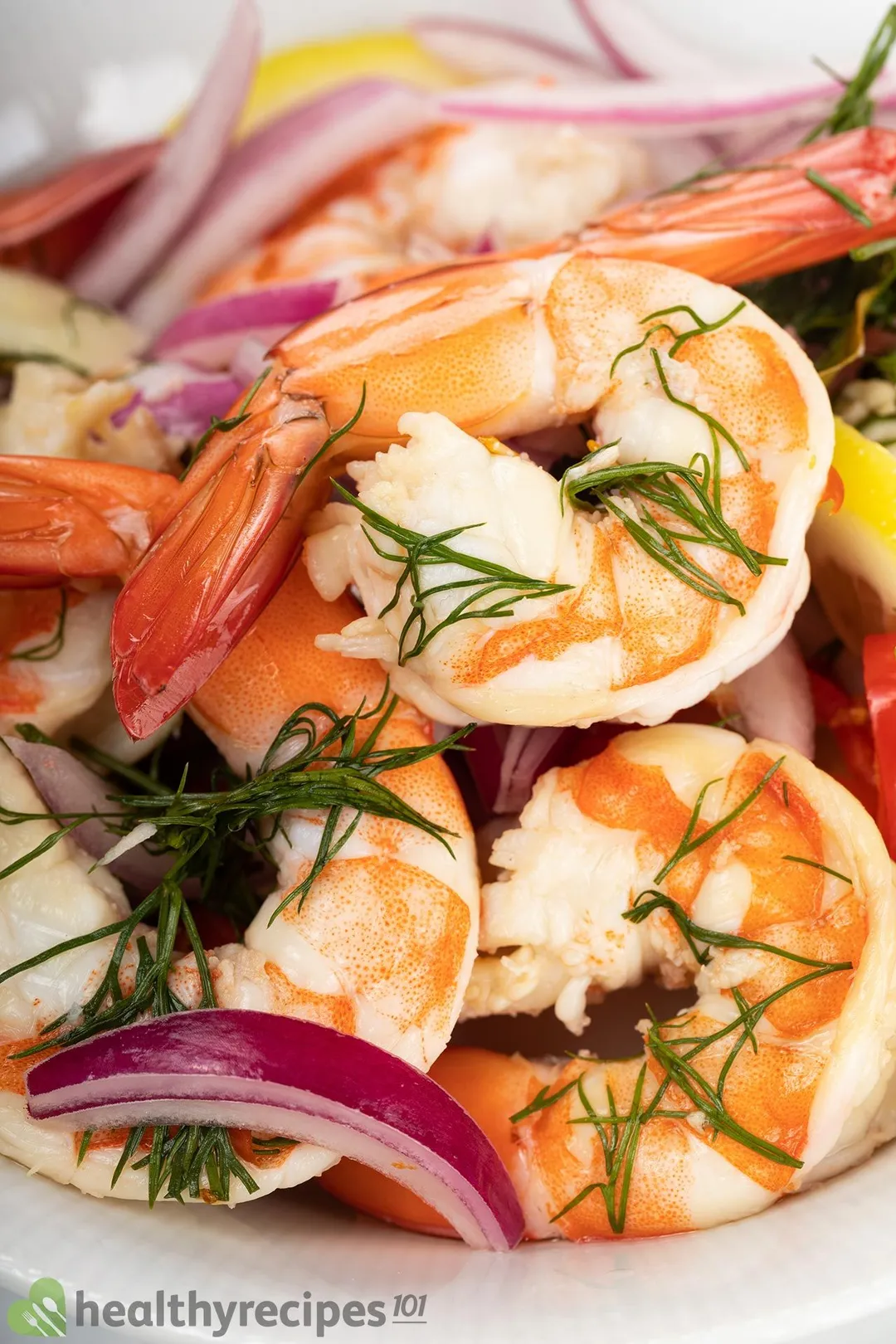 Best Vinegar for Pickling
Vinegar is a key ingredient but there's more than one option out there:
White vinegar: Easy to get and inexpensive. It also has a more neutral taste compared to other types of vinegar.
Rice vinegar: This is our choice, as its flavor is milder than white vinegar.
Cider vinegar: Cider vinegar adds a different dimension of flavor with the sour edge of fermented apple. It is also popular for its more well-known health benefits.
Wine vinegar: This is a fascinating choice, as its flavor will get better as time progresses.
No matter which type of vinegar you choose, ensure that the acidity level is at 5% if you want to use it for pickling.
Ingredients for Pickled Shrimp
Just as with other shrimp dishes, the most important thing to do is to clean the shrimp carefully. Peel and remove the heads, legs and sand tracts.
We briefly boil the shrimp with bay leaves to infuse them with a slightly minty and peppery taste. When you finish boiling, shock the shrimp in a bowl of iced water to help maintain the crunch.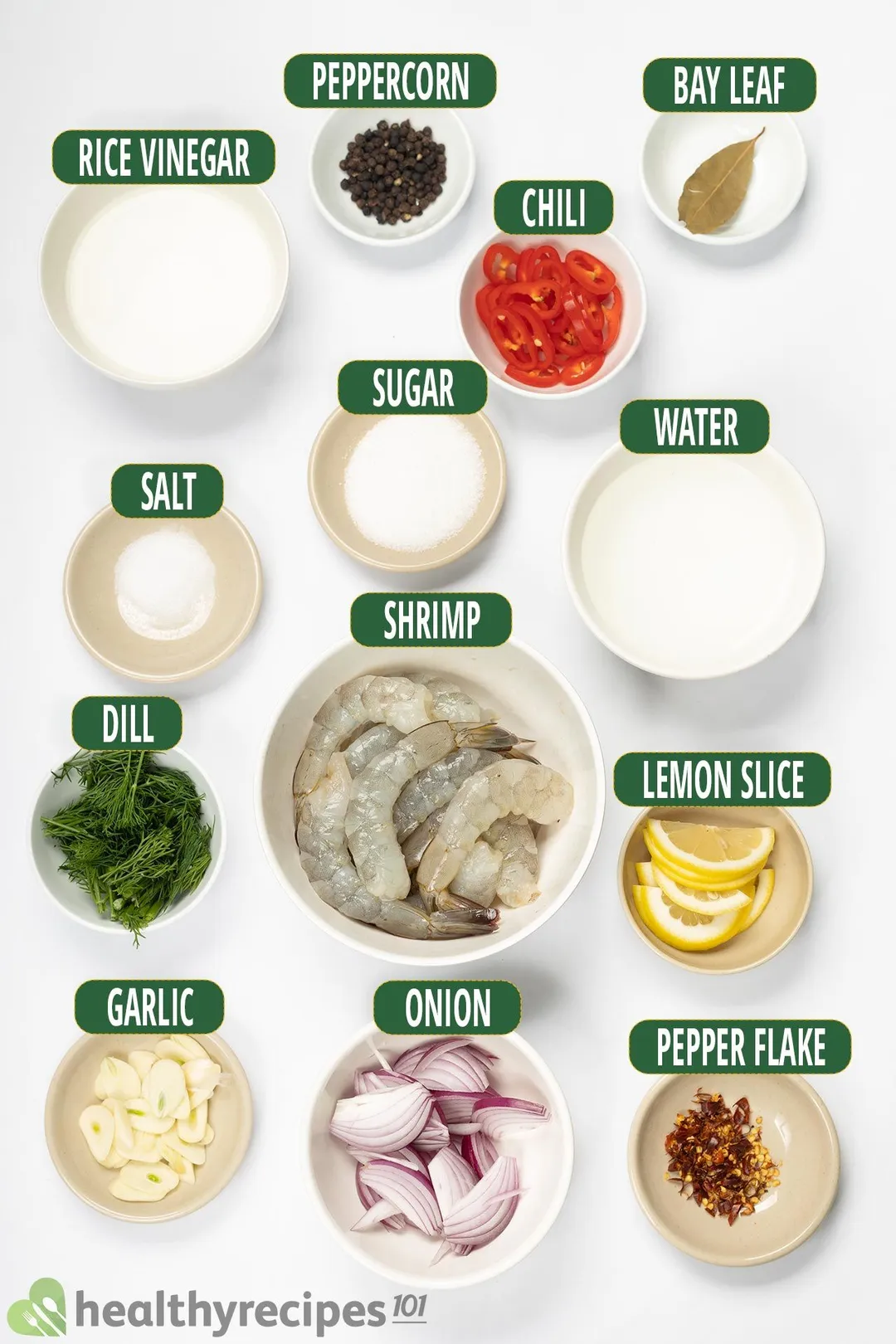 We try to incorporate all types of flavors into the brine. The crunchiness and potency of red onion and garlic play a supporting role to the shrimp.
Lemon may seem redundant since vinegar is already acidic, but lemon's sourness is fruitier and more vibrant than that of rice vinegar.
Dill has an herby, grassy, tangy taste with some notes of anise. We also add sliced chili, chili flakes, and black peppercorns to give warmth and spiciness.
As we said earlier, the brine consists of the trio: vinegar, salt, and water. In this recipe, we also add some sugar to balance out the vinegar.
How Long Does Pickled Shrimp Last?
After the initial pickling period, pickled shrimp should always be refrigerated, and only taken out when you're ready to serve it. This dish will maintain its best quality for a week.
But no worries if you keep it longer than that, it will still be safe to eat but the flavors will change gradually. The longer you keep the shrimp pickled, the more acidic it will get because of the vinegar.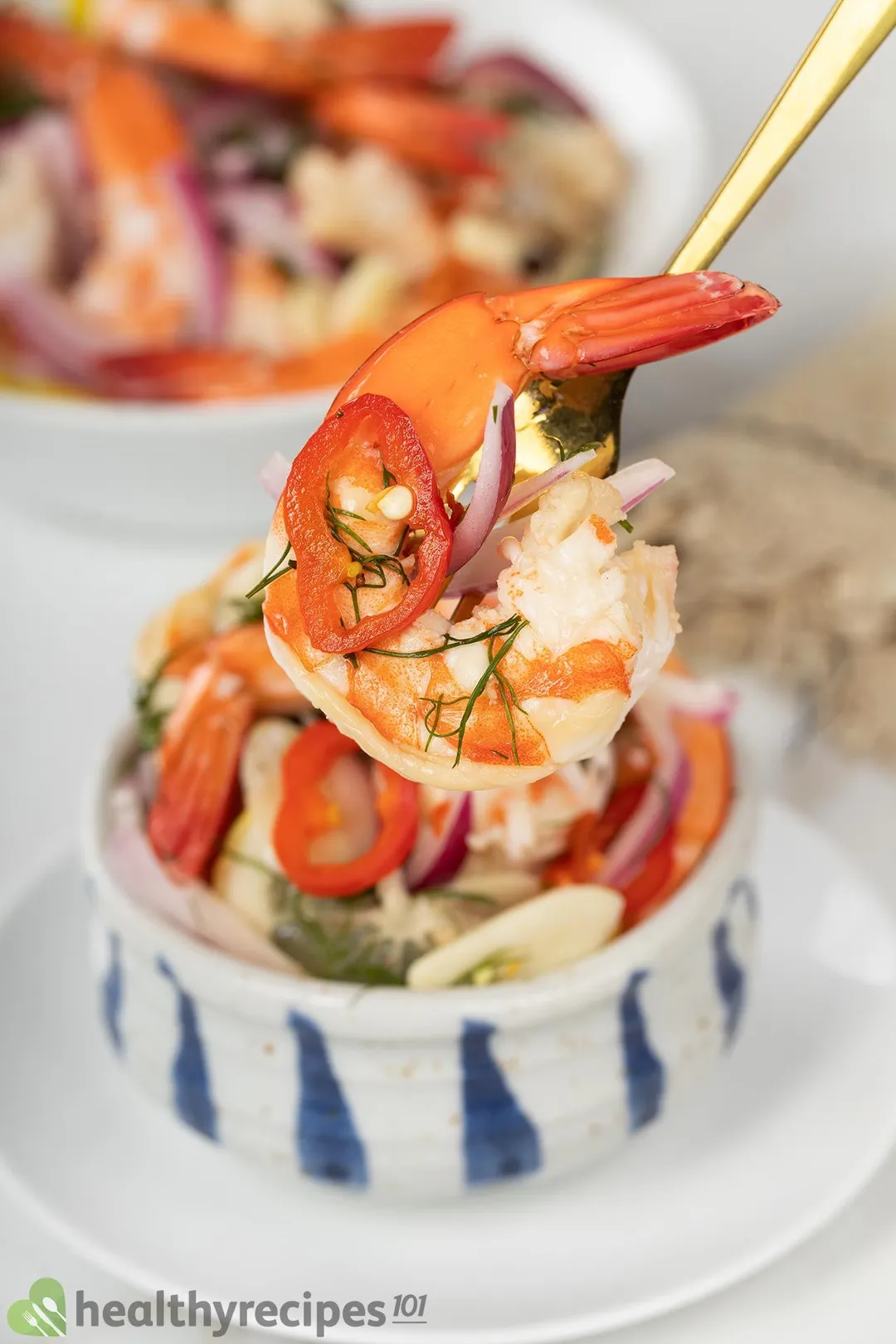 You May Also Like
How to Make Pickled Shrimp
Today's pickled shrimp recipe will revolutionize the way you flavor your shrimp without even breaking a sweat.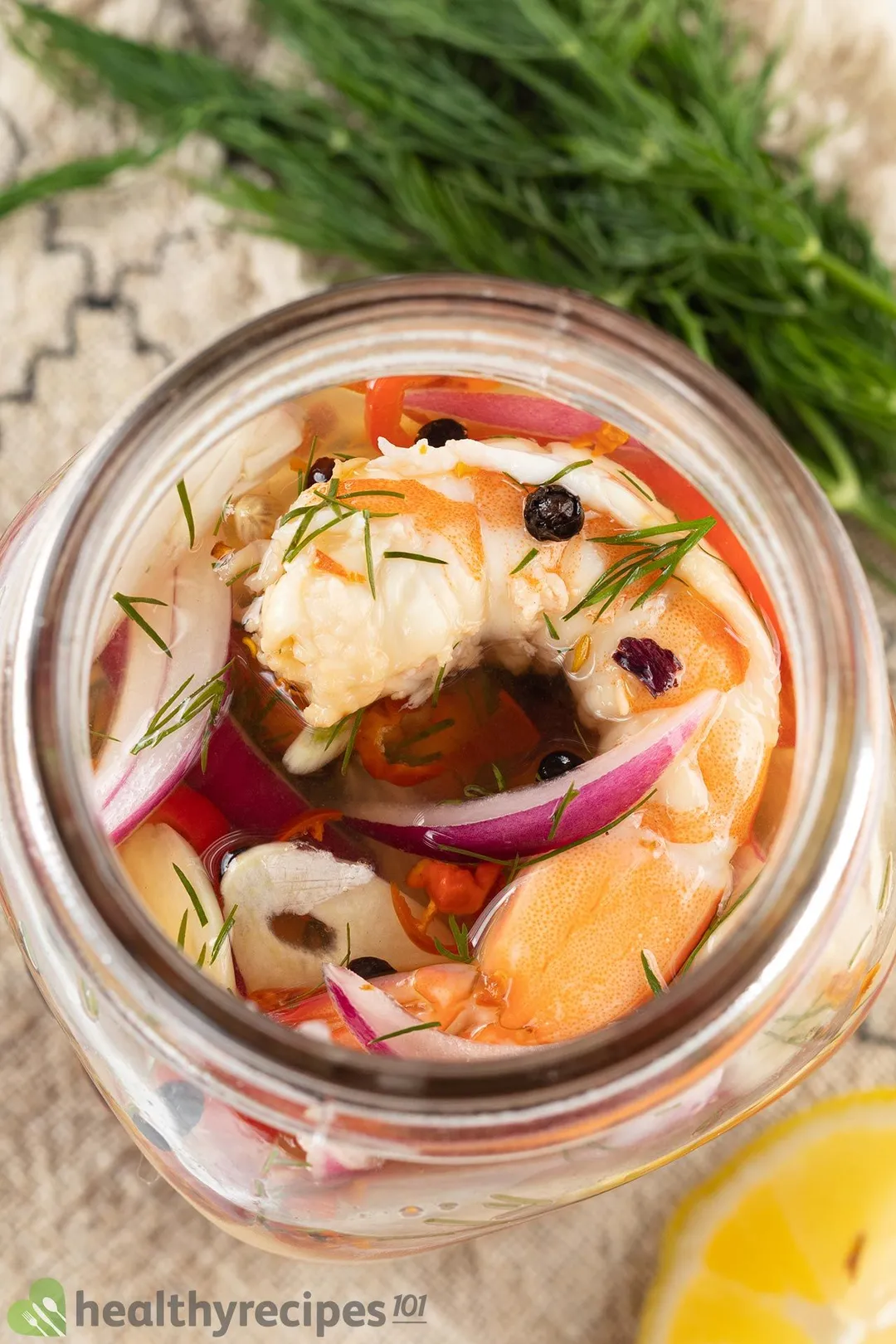 cook TIME

10 mins

prep TIME

7 mins

total TIME

12 hr 17 mins

INACTIVE TIME

12 hr
COURSE

Side Dish

CUISINE

Global

SERVINGS

CALORIES

153 kcal
INGREDIENTS
9 oz

peeled shrimp

(from 18 oz whole)
INSTRUCTIONS
1
Make the brine: Combine 1/2 cup water, 2 tbsp white sugar, 1/2 cup rice vinegar, and 1/4 tsp salt.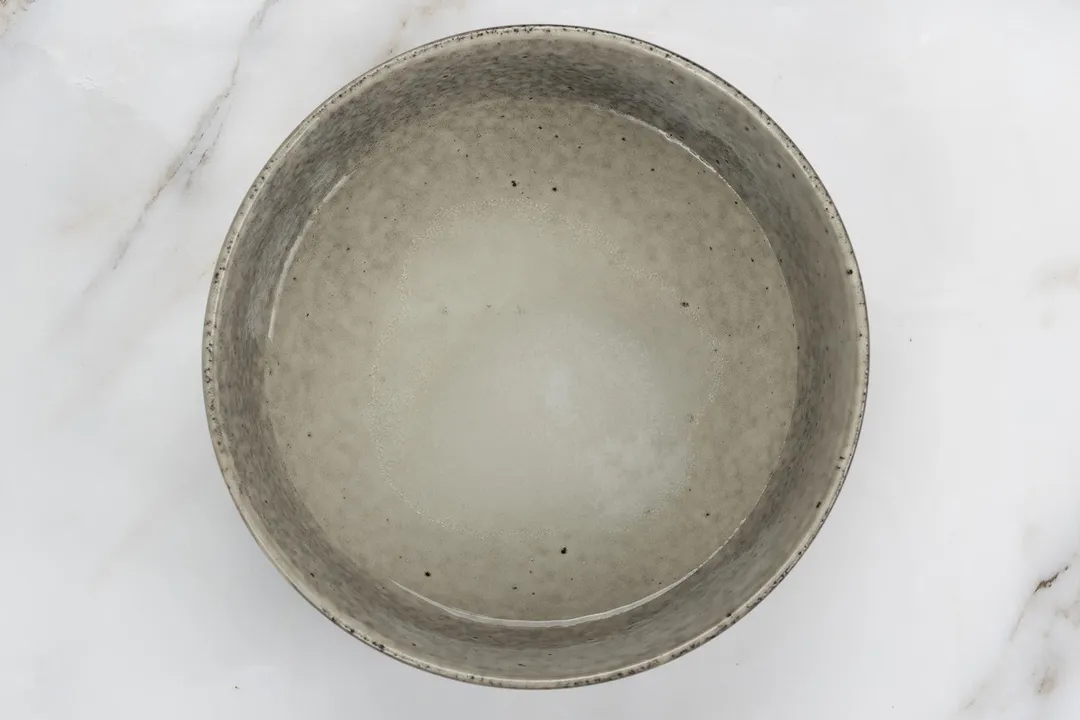 2
Bring a pot of water to a boil and add 9 oz shrimp with 2 bay leaves. Cook for 1 minute then shock them in an ice water bath.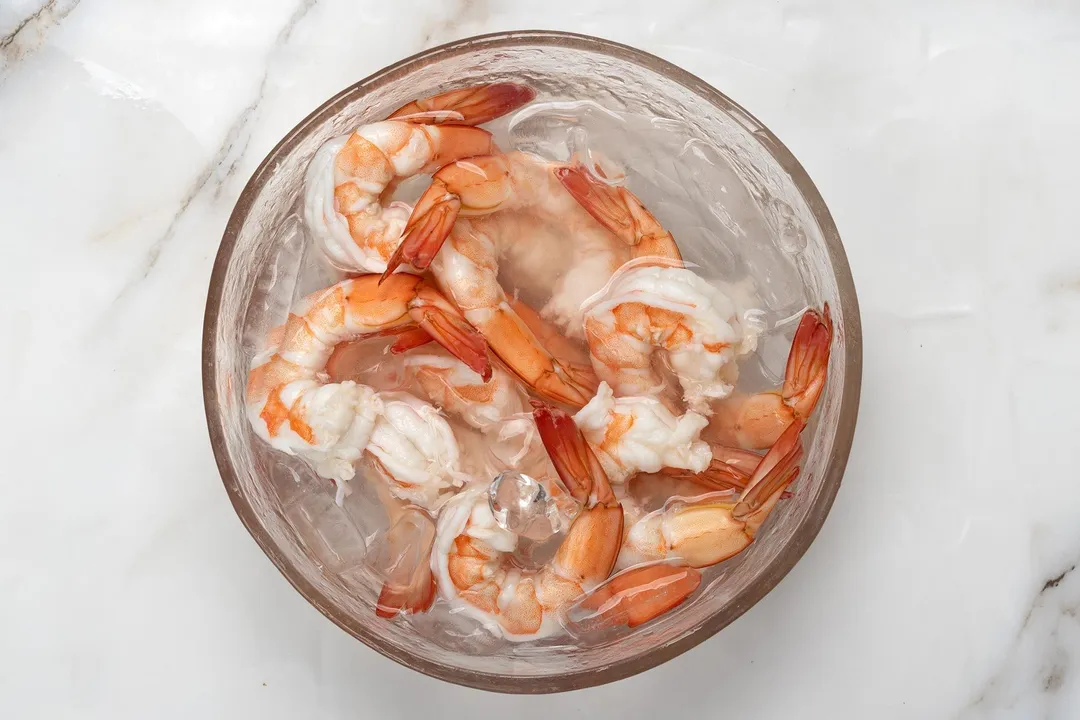 3
Add shrimp, 2 oz red onion, 2 tsp black peppercorns, 1 tsp red pepper flakes, 3 cloves of sliced garlic, 1/4 cup dill, 1 oz red chili, and 1 oz lemon into jars then pour in the brine.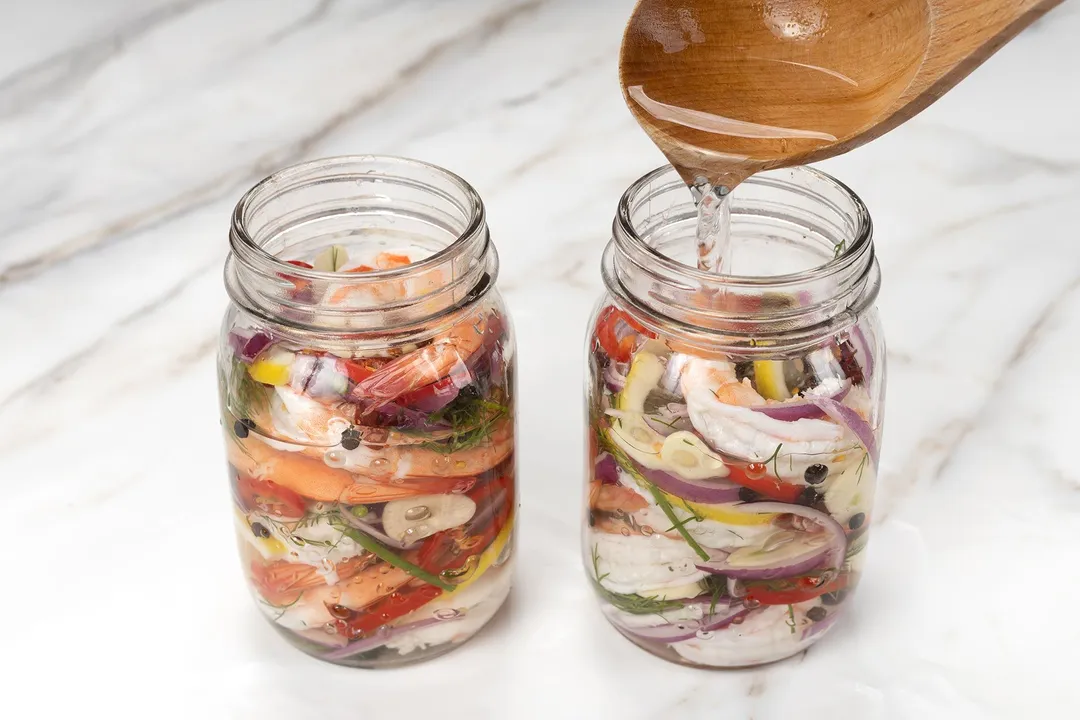 4
Put the lids on and leave the jars at room temperature for 4 hours, then refrigerate overnight.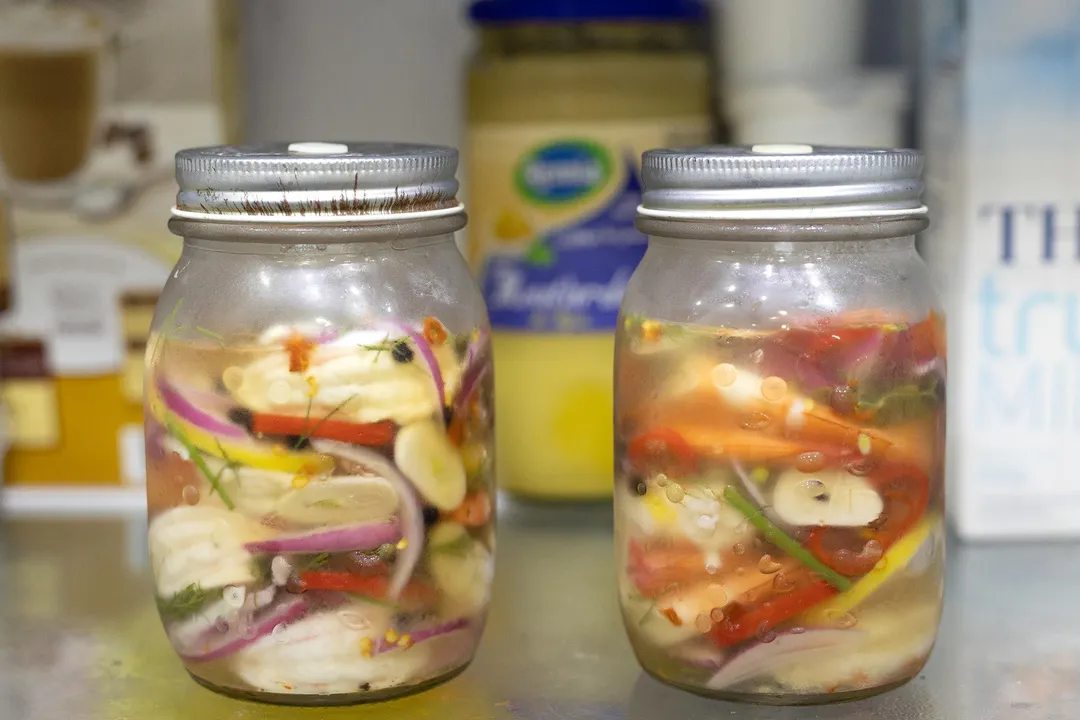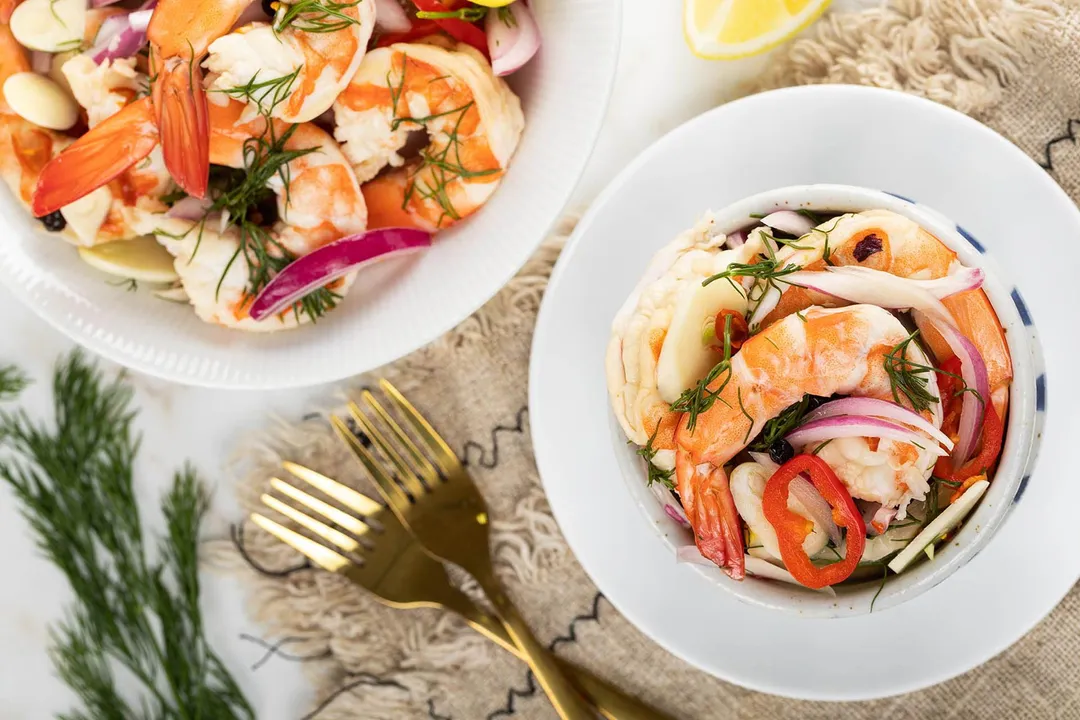 NUTRITION
Nutrition Facts
How to Make Pickled Shrimp
Amount Per Serving (1 serving)
Calories 153
Calories from Fat 8
% Daily Value*
* Percent Daily Values are based on a 2000 calorie diet.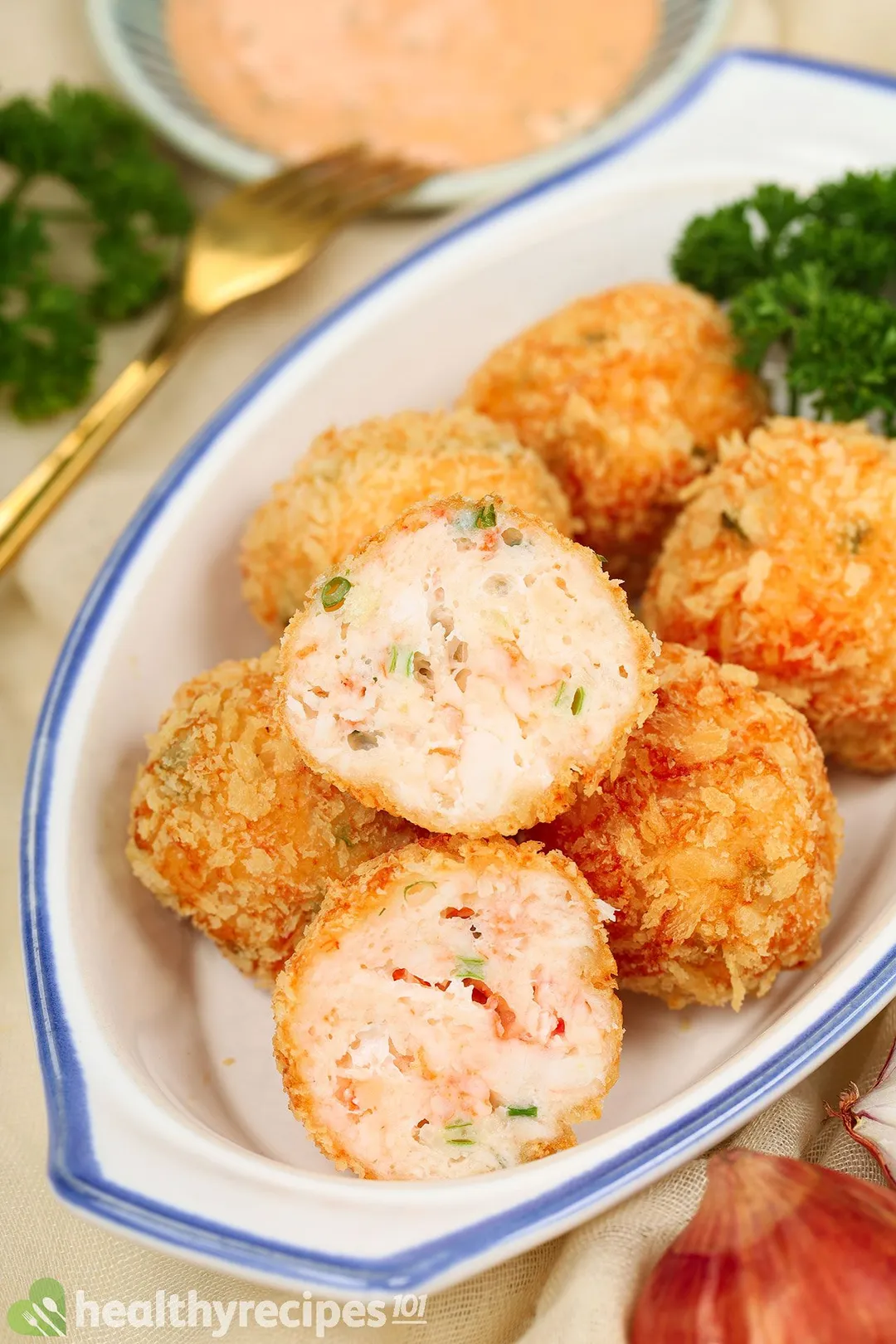 Previous Recipe
Shrimp Balls
Shrimp Balls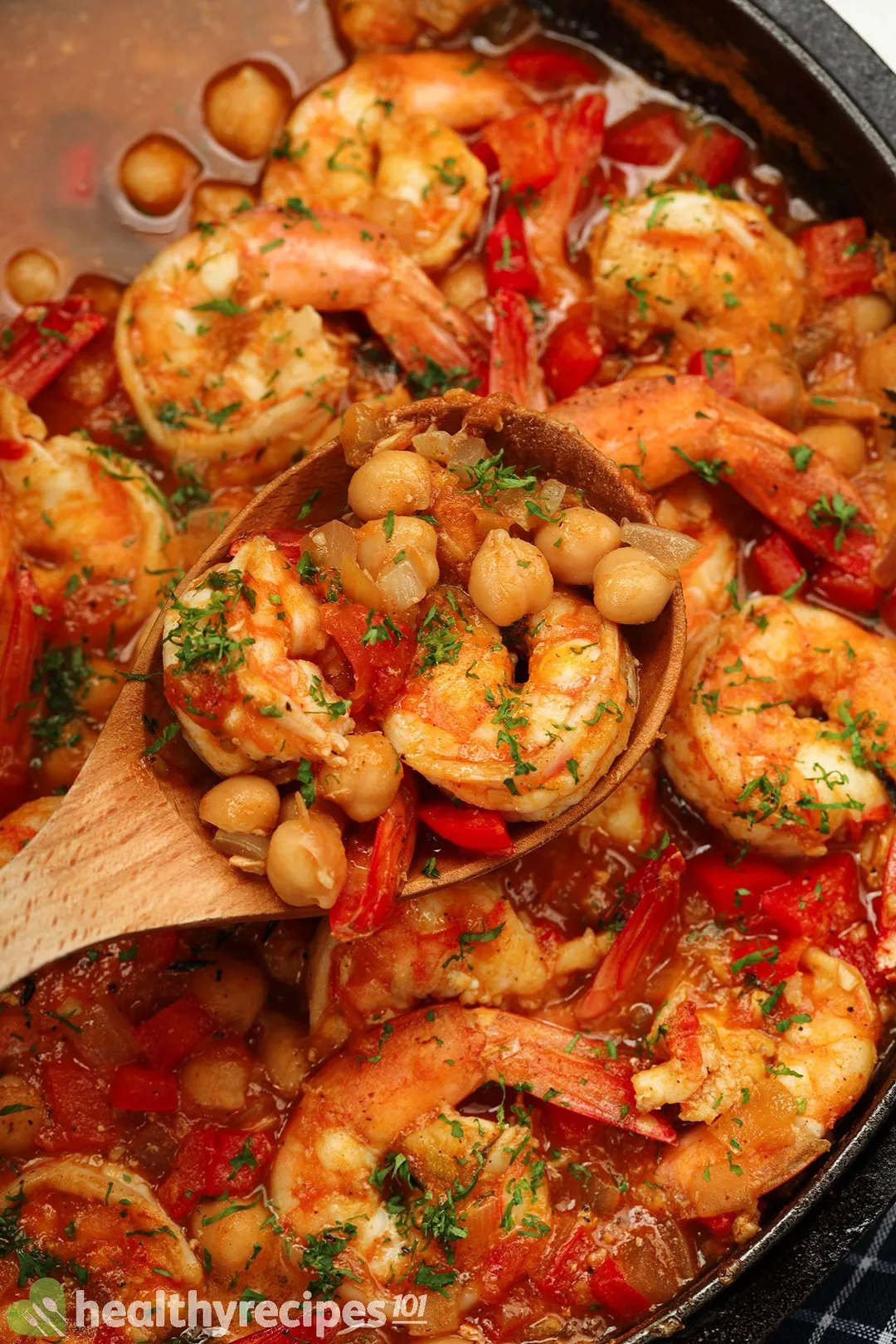 Shrimp Stew
Head Chef, Culinary Consultant
Tuyet Pham is an award-winning Saigonese chef who believes that joy is the secret ingredient to delicious food. At Healthy Recipes 101, Tuyet personally tests and simplifies every recipe, ensuring maximum flavor with minimal effort. With a background at prestigious French restaurants P'TI Saigon and Le Corto, Tuyet knows how to make every dish exceptional.
Writer, Author
Luna Regina is an accomplished writer and author who dedicates her career to empowering home cooks and making cooking effortless for everyone. She is the founder of HealthyKitchen101.com and HealthyRecipes101.com, where she works with her team to develop easy, nutritious recipes and help aspiring cooks choose the right kitchen appliances.
Nutrition Reviewer
Natalie Butler is a registered dietitian nutritionist with a passion to help others live their best life through food, fitness, safer beauty and a healthy lifestyle. She has expertise with a variety of diets and diseases and believes that there is no one-size-fits-all approach for health.
Made this per recipe. Too much vinegar, and the shrimp were tough and rubbery. No one ate it.

it's easy to make and can be stored in the fridge for a quick and tasty snack anytime.