Today, Healthy Recipes 101 offers you a simple pickled cabbage recipe for National Pickle Day (November 14). This is a basic guide on how to make preserved vegetables at home.
It's perfect for both beginners and advanced cooks. You can follow our recipe or be creative and tweak it to your liking.
Is Pickled Cabbage Healthy?
Yes, our pickled cabbage recipe is healthy. Here's why:
1. It Contains Less Sodium
Pickling is a traditional take on preserving vegetables, and it often involves a lot of salt. Our pickled cabbage yields a small amount of sodium (187 mg per serving), which makes it healthier than other versions.
This affects the flavor a little bit— less salty cabbage. Apart from this, it still has the funky aroma and the crisp texture of traditional pickled cabbage.
You can add a little bit of salt to the cabbage if you feel it's not salty enough. This will, however, increase your sodium intake, so we advise to do it moderately.
2. A Great Source of Fiber and Antioxidants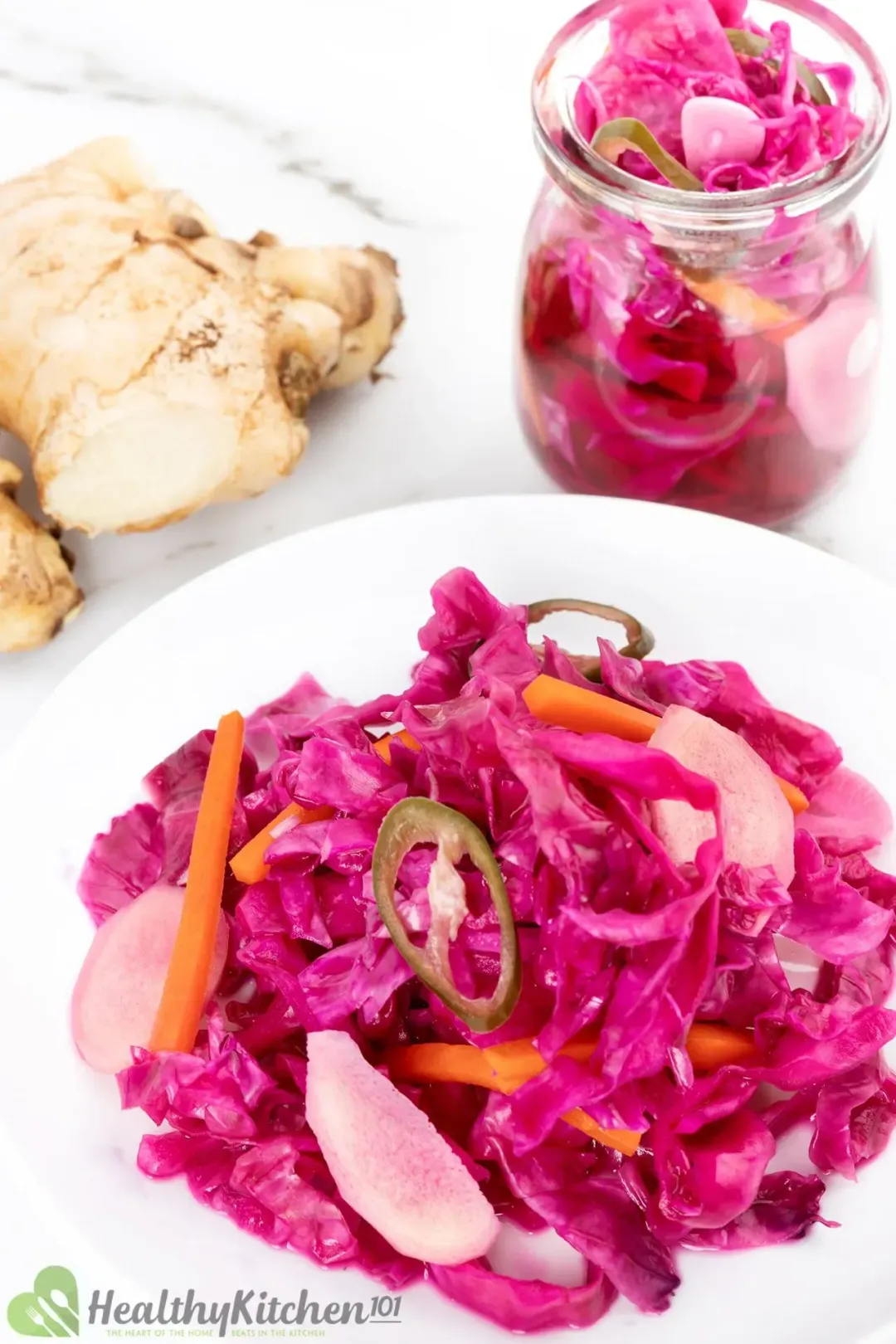 Red cabbage contains a large amount of fibers, which is good for our digestive system. It promotes frequent bowel movements, makes our stool bulky and improves the gut's microbiome.
Besides fibers, red cabbage also contains anthocyanins, an antioxidant.
Antioxidants are diverse and their functions vary from one to another. However, they all help boost your immune system and prevent diseases.
3. Calories in Pickled Cabbage
There are 98 calories in one serving of our pickled cabbage. It also contains no fat, making it a perfect fit for any low-calorie, low-fat diet.
Ingredients for Pickled Cabbage
Here are the main ingredients for our pickled cabbage recipe:
1. Red Cabbage
Red cabbage is our pick for today's recipe. However, you can use white cabbage, too, if the red variety is not available.
Other than cabbage, you can customize the recipe and add more vegetables if you'd like. We suggest similarly crunchy vegetables such as carrots, bell peppers, and celery.
The preparation is simple— all you need to do is thinly slice all the vegetables to the same size.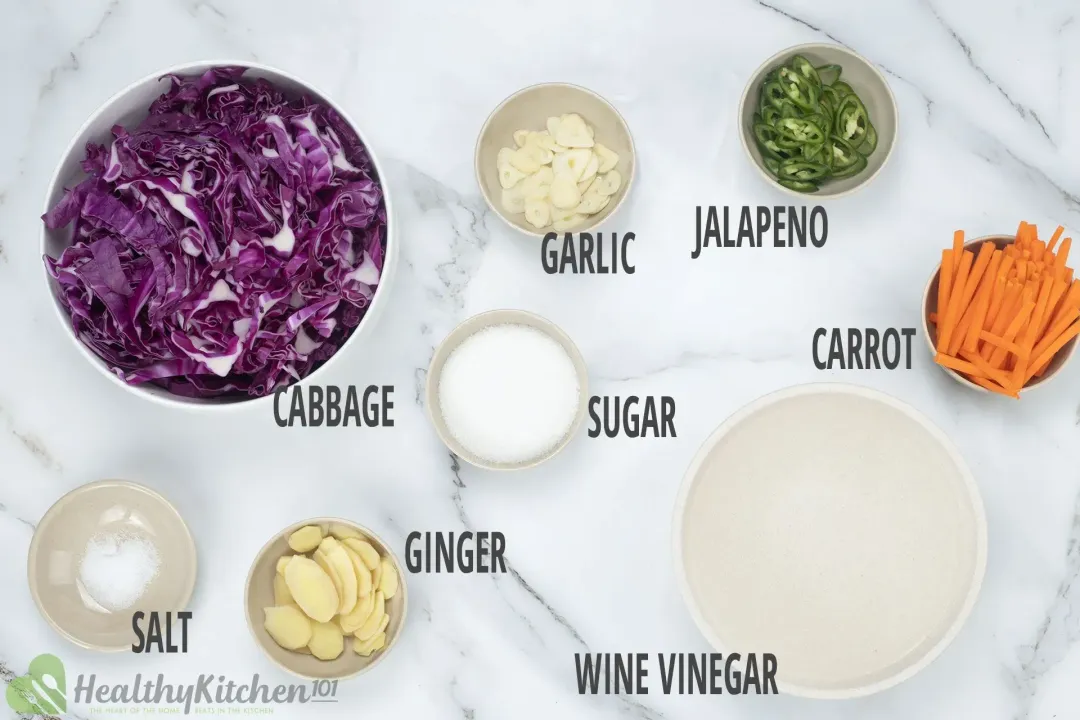 2. Vinegar
We use rice wine vinegar because it has a milder taste and smell with a hint of sweetness.
However, if it's not available at your local supermarket, you can always opt for other types of vinegar. Either apple cider, white wine vinegar, or anything you have on hand would work just fine.
3. Seasonings
For our recipe, we keep the seasonings to a bare minimum: salt and sugar. We also add ginger, garlic, and jalapeño to infuse flavor.
You can add other spices such as mustard seeds, caraway seeds, or fennel seeds as well.
If you're a fan of beautiful, purple, pickled food, check out our easy pickled eggs recipe and pickled cauliflower. The ingredients are basically the same— you can even make them both at the same time and store them for a long time.
How to Cut Cabbage
Place a head of cabbage on the cutting board so that it sits upright.
With a sharp knife, cut the cabbage into quarters vertically.
Lay a quarter of cabbage down on one side. Make a diagonal cut to remove the thick, white core in the bottom center of the cabbage.
Once the core is removed, continue to cut the cabbage into desired shapes. For this recipe, you'll need to slice it thinly into shreds.
What Do You Eat with Pickled Red Cabbage?
This tangy, crunchy, flavorful veggie side dish can pair with almost any food. Here are a few honorable mentions: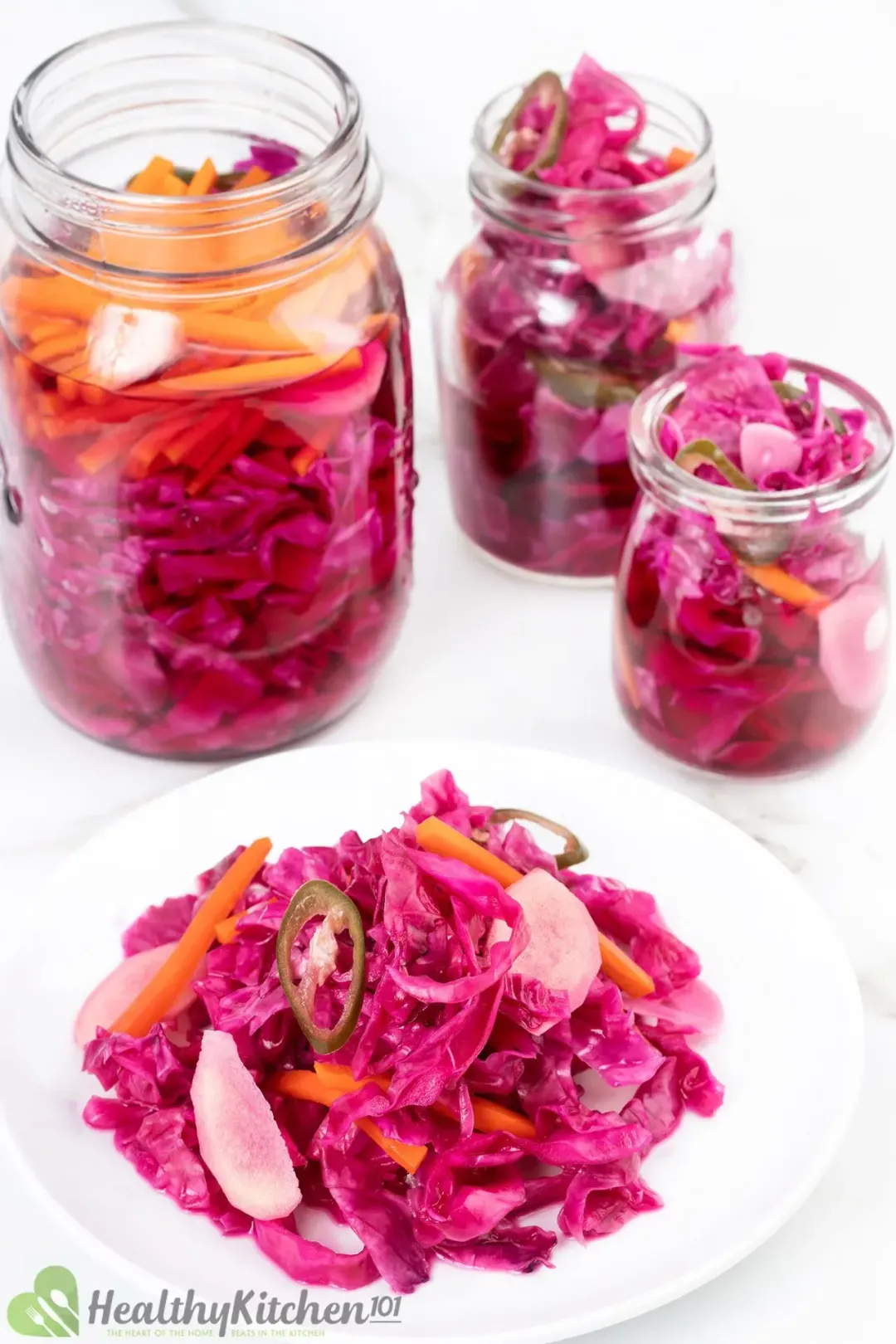 1. Meat and Fish
Whether it's chicken, beef, pork, meatloaf, salmon, shrimp, or crab, pick your favorite and add pickled cabbage. They will make an amazingly delicious and nutritious dish.
To cook your protein, we recommend pan-searing, grilling, baking, and slow-cooking. This compliments the flavor of the protein and pairs better with the veggies.
2. Sandwich/Burger
Cabbage is a great addition to sandwiches or burgers as it provides fiber and makes the dish fresher. But instead of plain old shredded cabbage, why don't you try our flavorful pickled cabbage?
Since our pickled cabbage is sweet, sour, tangy, and savory, it'll give your sandwich/burger a complex flavor profile.
3. Falafel
You may be surprised, but pickled cabbage pairs amazingly well with falafel. All you have to do is pack them inside a pita bread and enjoy.
Falafel tends to be dry and fatty— it's usually served with sauces such as yogurt, tzatziki, or tahini sauce. These tangy sauces balance out the dryness and fatty taste of the falafel.
However, since pickled cabbage is already tangy itself, you wouldn't need to add yogurt or any sauce. Serving pickled cabbage with falafel instead of yogurt can reduce your fat and calorie intake as well.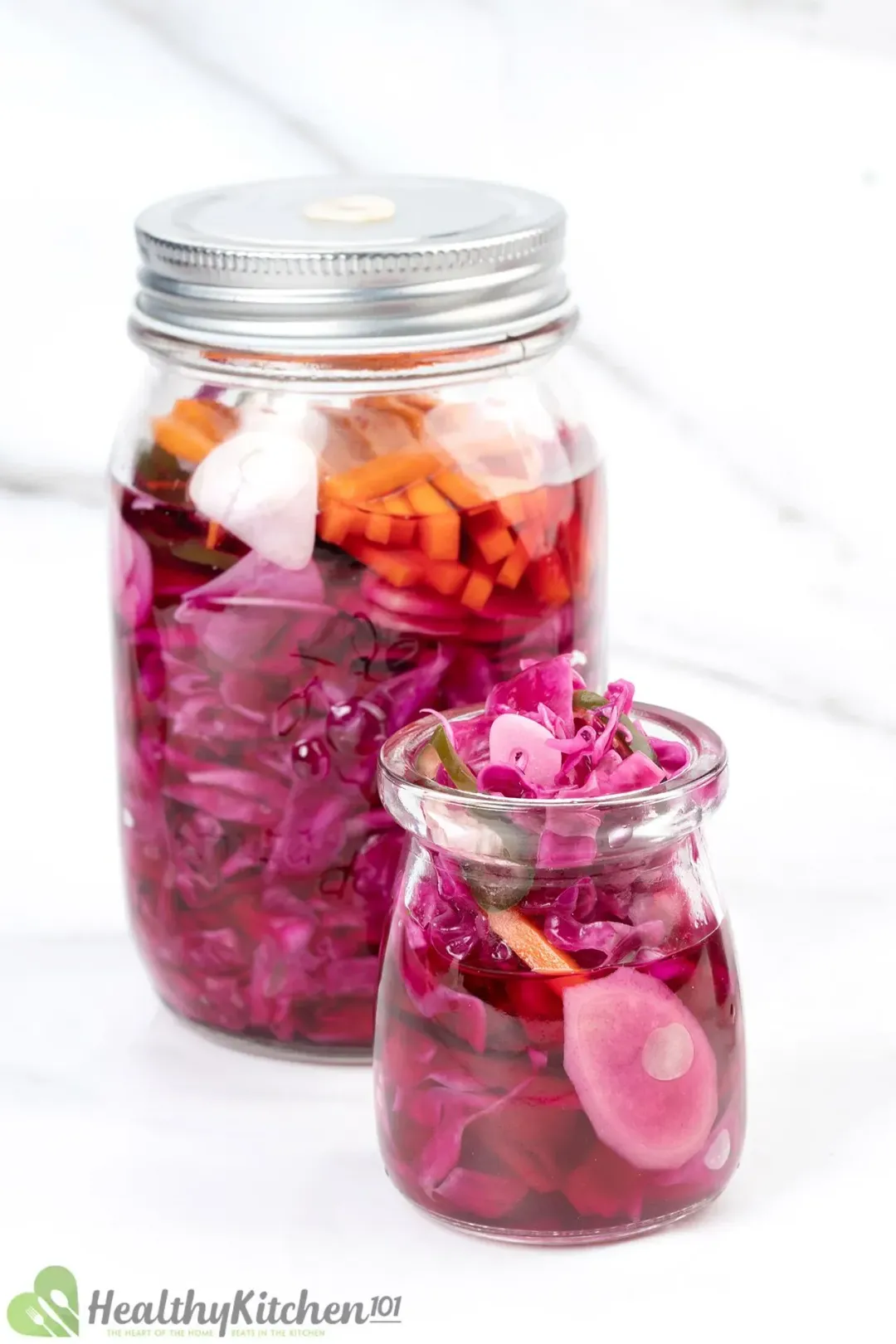 More Cabbage Recipes Right Here
FAQ
1. Can You Freeze Pickled Cabbage?
Yes, you can. Pickled cabbage freezes well and can last up to 2 months in the freezer.
If you've made it at home before, you probably noticed how its flavor changed due to storing time. The longer you keep it in the fridge, the more sour it gets.
Freezing pickled cabbage can seize the fermentation process and prevent it from getting unbearably sour. We suggest dividing cabbage into small freezer-safe containers so you can take one serving out and thaw with ease.
Frozen pickled cabbage can thaw slowly in the refrigerator overnight.
2. How Long Does It Last?
Pickled cabbage can last up to 3 weeks if you store it properly.
In order to preserve food safely, we recommend cleaning the containers thoroughly first. Our mason jars and lids are cleaned with soap and water, and then boiled to make them sterile.
At this point, you can either leave them to air-dry on a kitchen rack or put them in the oven. Baking the jars and lids will slowly make them dry and sterilize them even further.
Making the containers sterile helps prolong the shelf life of your homemade pickled cabbage. This method also works for storing relish, preserves, and nut butters.
Pickled Cabbage
This pickled cabbage recipe requires a few simple ingredients. We bet you have most of them in your refrigerator and pantry already.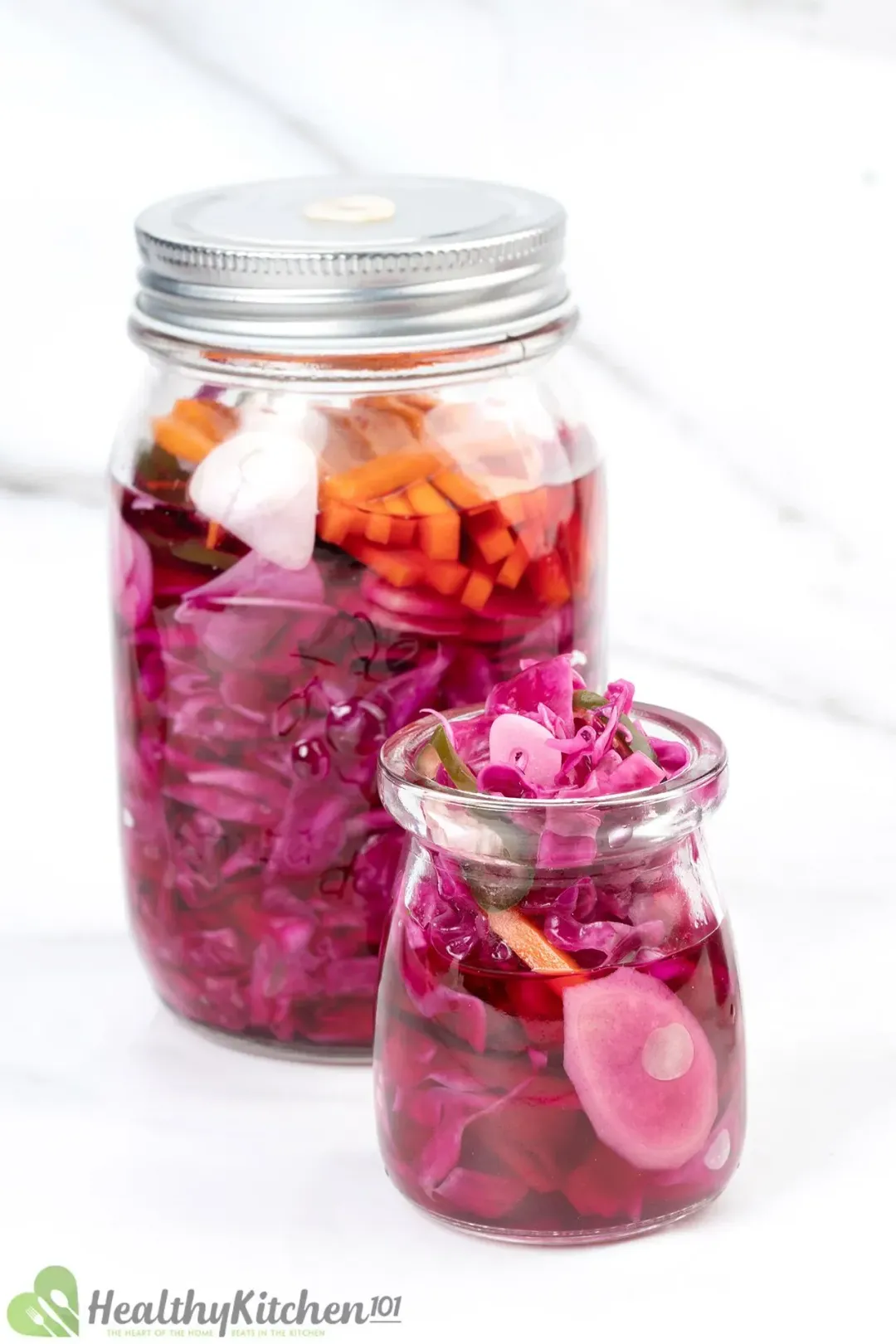 cook TIME

2 mins

prep TIME

5 mins

total TIME

8 hr 7 mins

INACTIVE TIME

8 hr
COURSE

Side Dish

CUISINE

Global

SERVINGS

CALORIES

98 kcal
INGREDIENTS
16 oz

red cabbage

(shredded)

1 1/2 cup

rice wine vinegar

2 oz

carrots

(peeled and cut into thin strips)

1 oz

ginger root

(about 1-inch knob, peeled and thinly sliced)

0.5 oz

jalapeño

(thinly sliced)

2

garlic cloves

(peeled and thinly sliced)
INSTRUCTIONS
1
Marinate the cabbage: In a large bowl, mix 16 oz shredded red cabbage and 1/4 tsp salt. Cover with plastic wrap and leave to rest on the countertop for 20 minutes.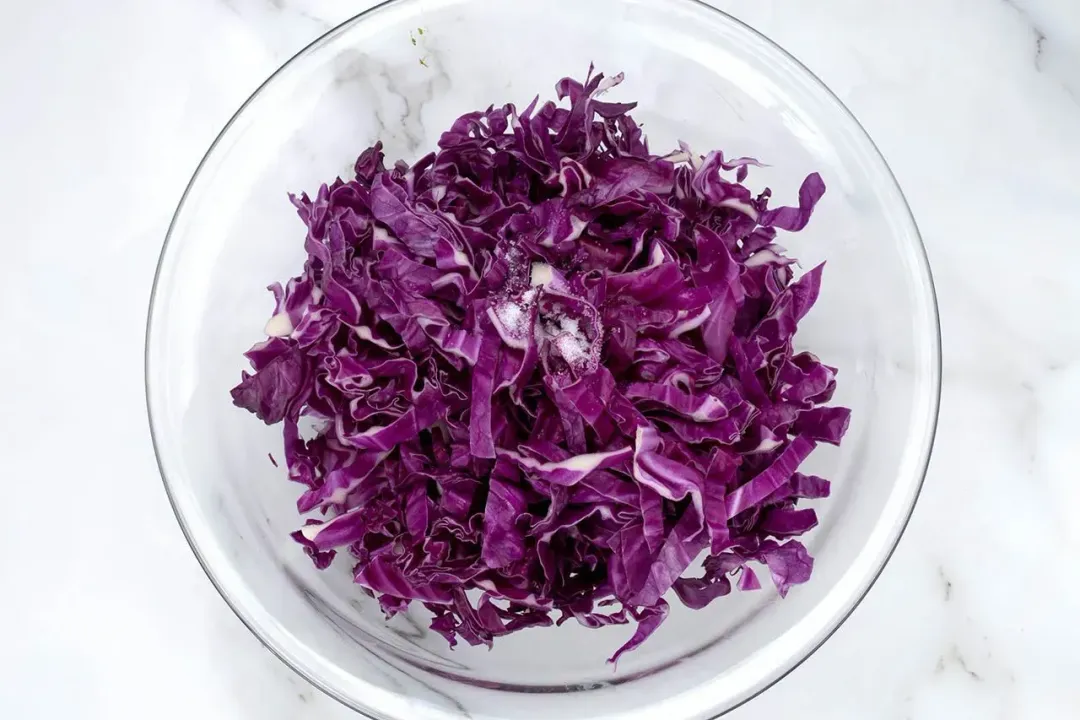 2
Make the brine: In the meantime, add 1 1/2 cup rice wine vinegar and 4 tbsp sugar to a small saucepan. Cook over medium-low heat for 2 minutes or until the sugar is dissolved. Avoid boiling the vinegar.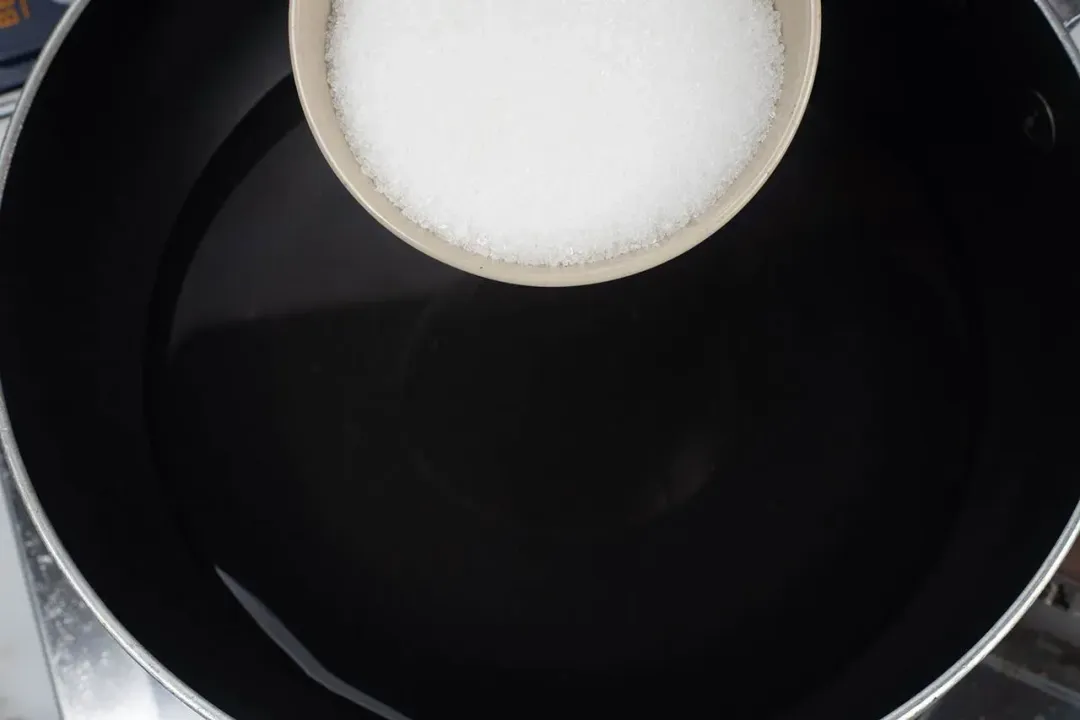 3
Pack all ingredients into a jar: In a clean mason jar, add red cabbage, 2 oz carrots, 0.5 oz jalapeño, 2 sliced garlic cloves, and 1 oz ginger. Fill the jar with the brine.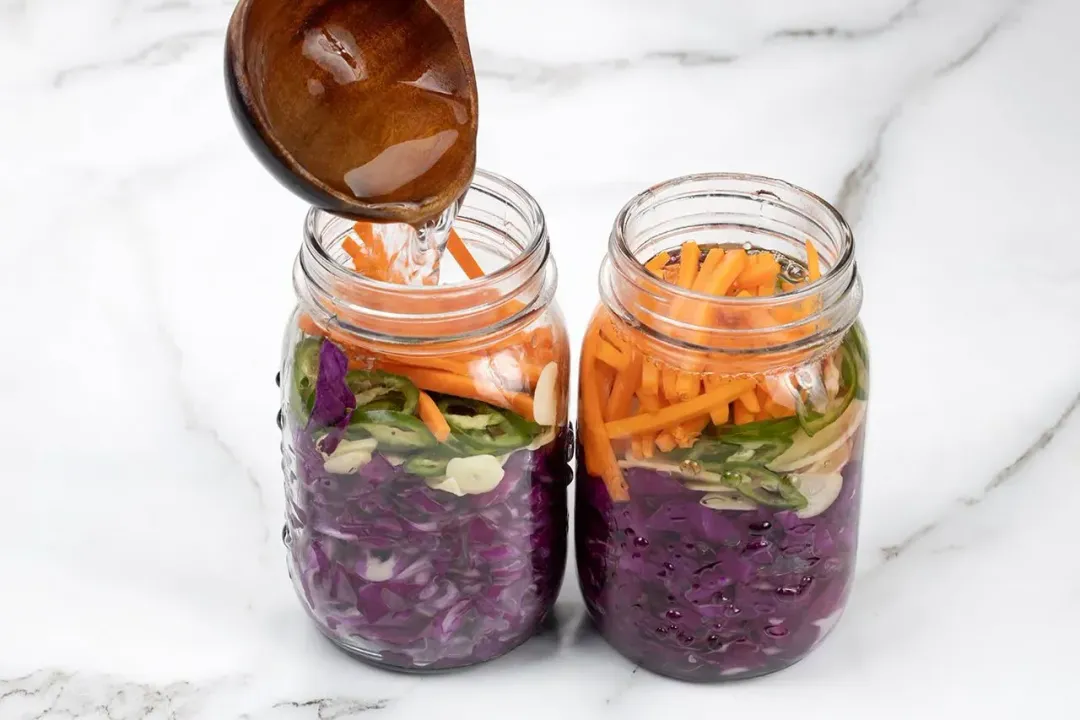 4
Refrigerate: Seal the lid and put the jar in the fridge for at least 8 hours.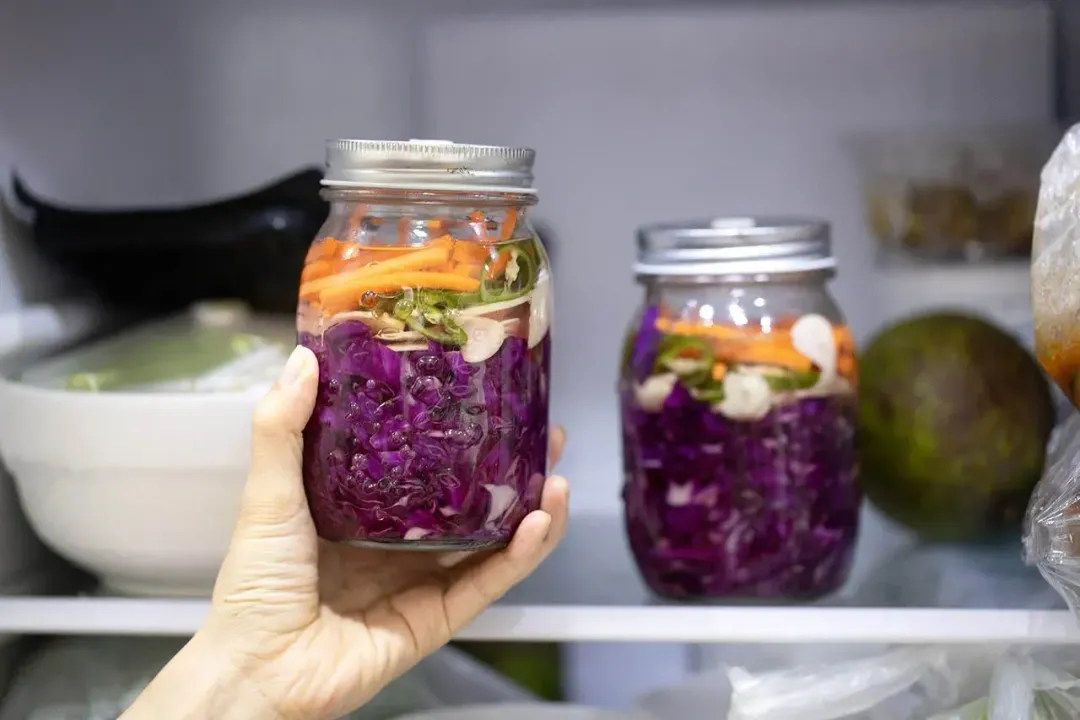 5
Serve: Remove from the fridge and serve along with meat, fish, or burgers. This jar of pickled cabbage makes 4 servings.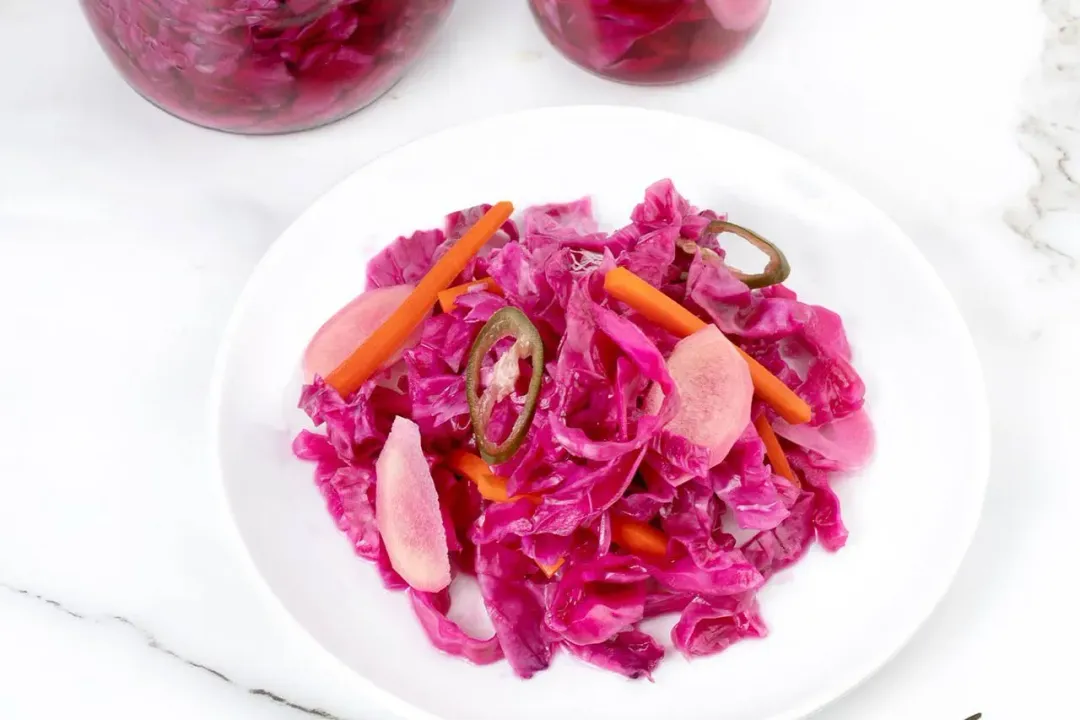 NUTRITION
Nutrition Facts
Pickled Cabbage
Amount Per Serving (1 serving)
Calories 98
% Daily Value*
* Percent Daily Values are based on a 2000 calorie diet.
Keywords: Pickled Cabbage, Pickled Cabbage Recipe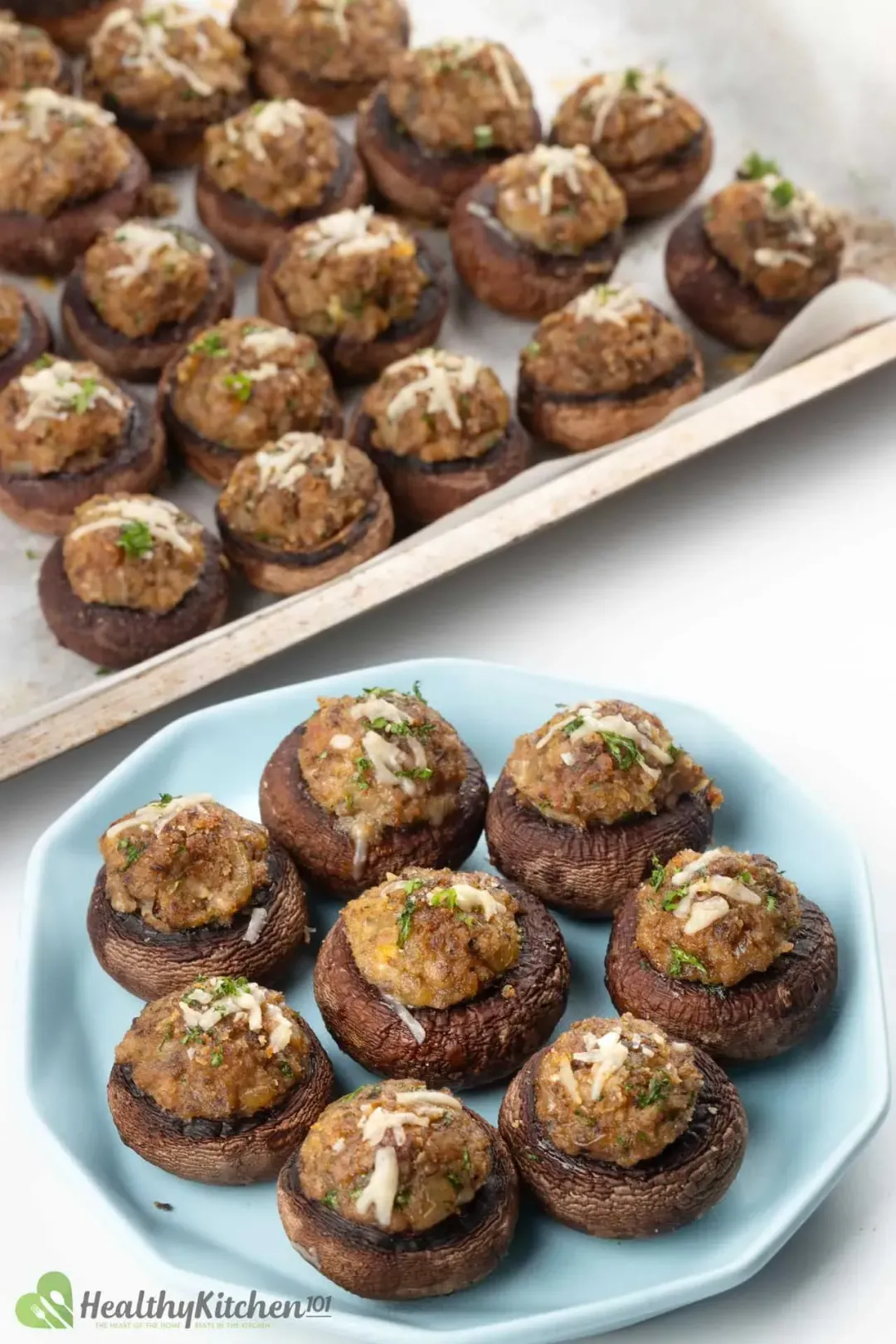 Previous Recipe
Stuffed Mushrooms
Stuffed Mushrooms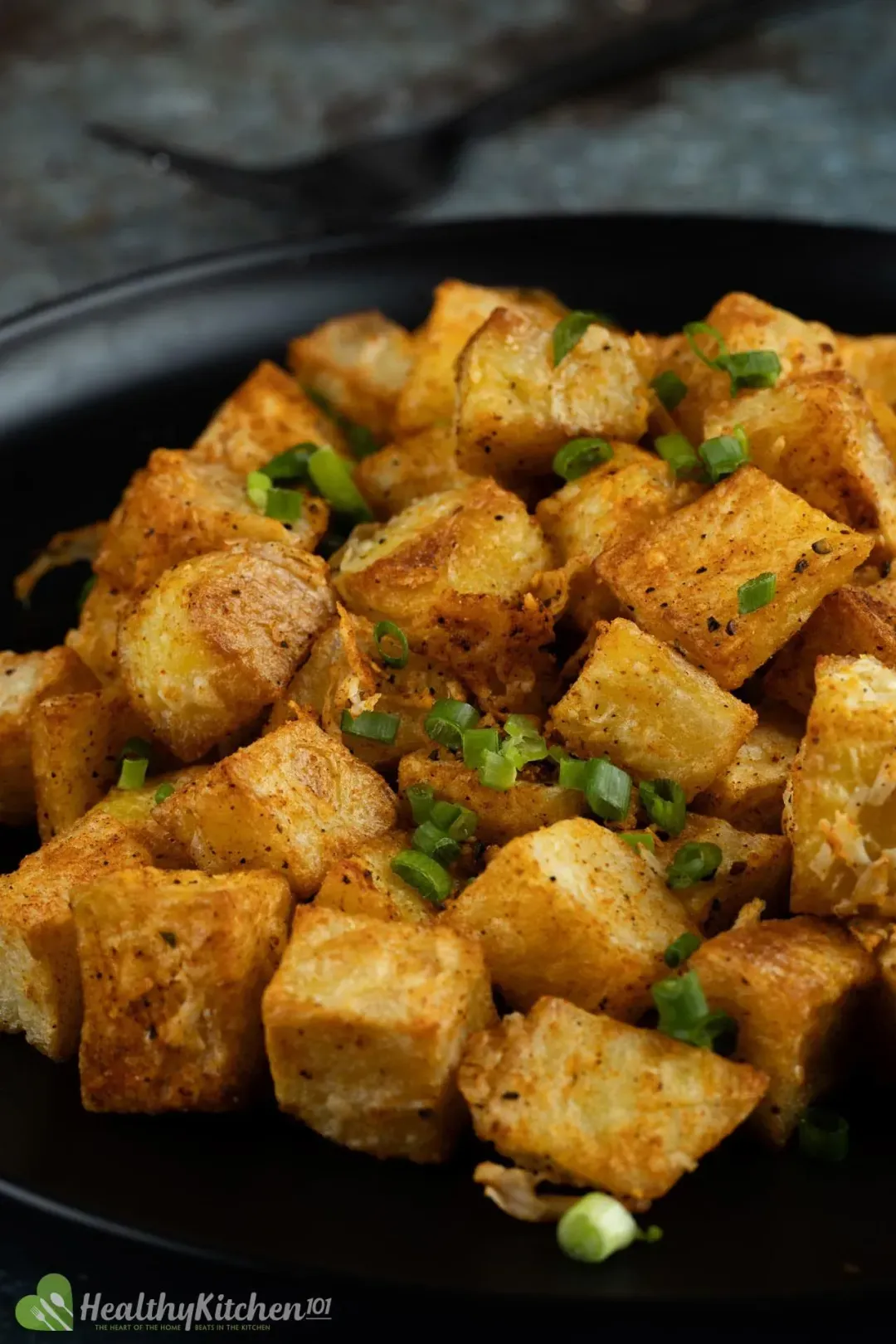 Home Fries
Head Chef, Culinary Consultant
Tuyet Pham is an award-winning Saigonese chef who believes that joy is the secret ingredient to delicious food. At Healthy Recipes 101, Tuyet personally tests and simplifies every recipe, ensuring maximum flavor with minimal effort. With a background at prestigious French restaurants P'TI Saigon and Le Corto, Tuyet knows how to make every dish exceptional.
Writer, Author
Luna Regina is an accomplished writer and author who dedicates her career to empowering home cooks and making cooking effortless for everyone. She is the founder of HealthyKitchen101.com and HealthyRecipes101.com, where she works with her team to develop easy, nutritious recipes and help aspiring cooks choose the right kitchen appliances.
Nutrition Reviewer
Lizzie Streit is a Minneapolis-based dietitian and founder of It's a Veg World After All. She completed her MS in Human Nutrition from Drexel University, and is an expert in culinary nutrition, recipe development, and nutrition communications. Lizzie's philosophy is centered around making nutrition recommendations, and especially the advice to eat more vegetables, approachable and realistic. She is excited to be working with the team at Healthy Recipes 101 to ensure that their recipes are both nutritious and delicious.
Delicious & so easy pickled cabbage!