Pickled eggs are both a delicious treat and fun to look at. They are reminiscent of giant pearls bobbing around in the sea. 
A simple tweak turns them into a healthy dish with a uniquely vibrant color. The richness of the eggs and the bright acidity of vinegar gives them an interesting and appealing flavor.
These eye-catching eggs are perfect for salads, soups, or a quick protein-filled snack!
What Are Pickled Eggs?
Pickled eggs are typically hard-boiled eggs that are submerged in a vinegar-based brine. This brine can be sour, sweet, or spicy, depending on your personal preference.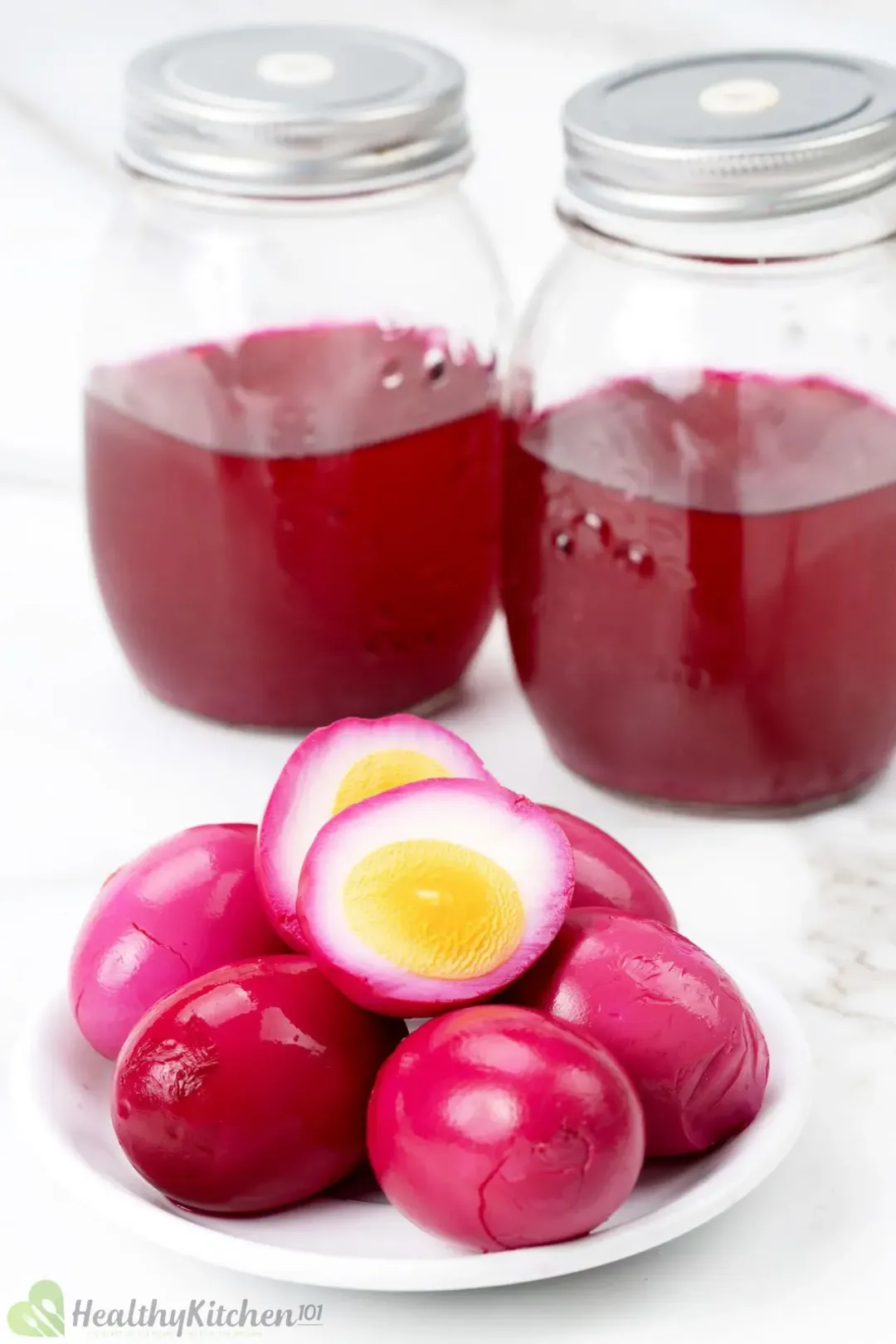 The eggs are in the brine from a couple of days to several months to allow them to absorb the flavor of the liquid. This technique can also be used in any kind of brined/pickled vegetable venture as long as the acidity level is appropriately low (at or below 4.6 pH).
Are Pickled Eggs Good for You?
Pickled eggs are great to keep around your kitchen. But are they healthy?
With boiled eggs, beetroots, vinegar, and sugar as the ingredients, this pickled eggs recipe is pretty healthy. Each egg contains only about 72 calories, and is a good source of protein, providing 6 grams' worth.
Cholesterol is the same amount found in an ordinary egg, about 164 mg, or 55% of your daily allowance. Studies suggest that healthy people can eat up to 3 eggs a day with positive outcomes, so one of these pickled eggs per day shouldn't give you any health concerns.
Our other healthy recipes include these perfect sunny side up eggs, our simple method for cooking fluffy eggs, and these breakfast egg muffins.
Type of Eggs
1. Quail Eggs
Quail eggs are quite small and have bland taste making it perfect to absorb the flavor from brine. Due to the size, peeling quail eggs can be time-consuming. Boil the eggs in the mixture of water and some tablespoon of vinegar, this way you can peel the eggs easier.
2. Duck Eggs
Duck eggs have a large yolk and are considered nutritionally richer than the chicken counterpart. If you want to use duck eggs in pickled recipes, we suggest using one duck egg in the place of any recipes calling for two chicken eggs.
3. Chicken Eggs
Chicken eggs—the most common type of eggs—can vary in sizes and colors. They're our go-to choice for easy poached eggs and a simple egg drop soup.
Regardless of the colors of the shell, white, brown, or blue, all chicken eggs taste deliciously alike. As long as eggs are fresh and clean, they are good to go in this recipe.
Homemade Pickled Eggs and Beets
The name of the recipe reveals its main ingredients: eggs and beets. In this variation, both eggs and beets are pickled, which means we need an extra step— slice boiled beets for the brine.
Of course, you can use canned beets and keep their liquid for the brine mixture. However, we love the fresh note from raw beets, so spending a little time to prep beets is worthy.
With some sliced beets in your pickling jar, the eggs get the deep pink color, and the beets also absorb the tang from the brine. These classic pickled eggs are great with beer, or acts as a base for deviled eggs.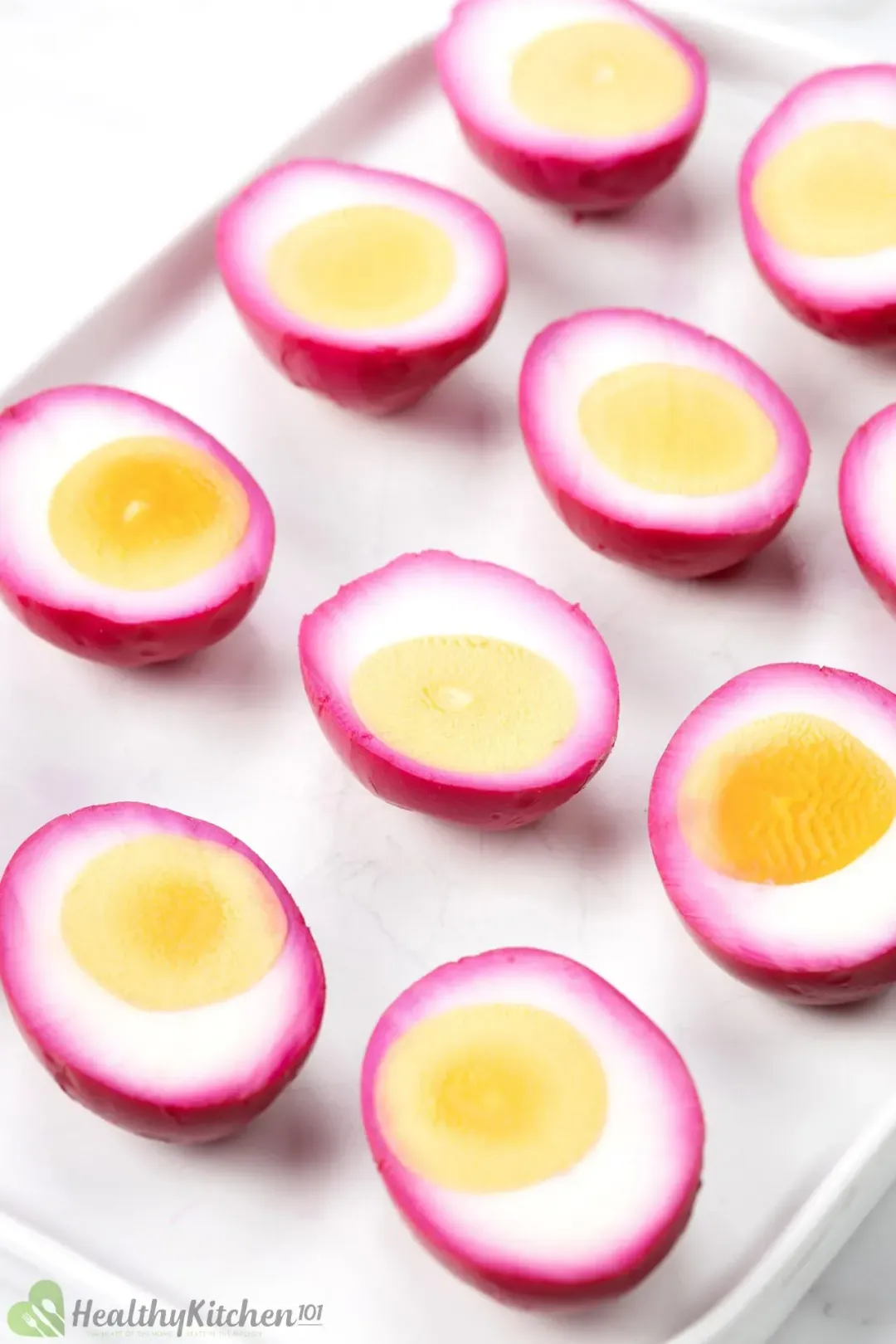 What Else Goes With Pickled Eggs
The awesome thing about pickled eggs is not only their superior taste, but also their versatility; it's fun to play with their flavor and color.
If you so desire, there are many other ways to create pickled eggs that completely suit you. Eggs are easily adaptable to a huge flavor profile, such as cumin, turmeric, chili, or even kimchi, so this recipe is easily customizable.
When making pickled eggs, you can play with the seasoning to achieve the desired color. Our tip is to use a red beetroot for purple eggs, turmeric for yellow, and radish for pastel pink. Just remember that whatever you add will alter the flavor.
Can You Put Hard Boiled Eggs in Pickle Juice?
Yes, you can. 
If it's tepid juice, however, you will have to let the eggs sit for longer than 4 hours for the juice to be absorbed fully into the egg whites. You can also reuse the pickle juice for up to a week once the previous batch is finished. 
Note that using the same pickle juice for more than 2 weeks might be risky, as there is less vinegar in the used brine to protect it from germ infection. The second-hand liquid also degenerates faster due to previous exposure to the air.
How Long Do You Have to Let Pickled Eggs Sit?
The eggs need about 4–6 hours to absorb the "seasoning" from hot pickle juice. If you make them in the evening, leaving them to chill overnight is the best way to make sure they get the desired pink color.
How Long Do Pickled Eggs Last?
Vinegar in the pickle juice can act as a natural preservative to keep the eggs for about 7–10 days in cool weather. Refrigerating the eggs can help prolong their lifespan by up to 3 weeks.
It's not advised to make a big jar of these and keep them for more than 20 days though. These eggs are so easy and quick to make that the time saved wouldn't be worth the risk if they become spoiled.
We also have a large collection of healthy eggs recipes for your reference. Come check them out.
What to Serve with Pickled Eggs
Pickled eggs can be substituted in any recipe that calls for a hard boiled egg.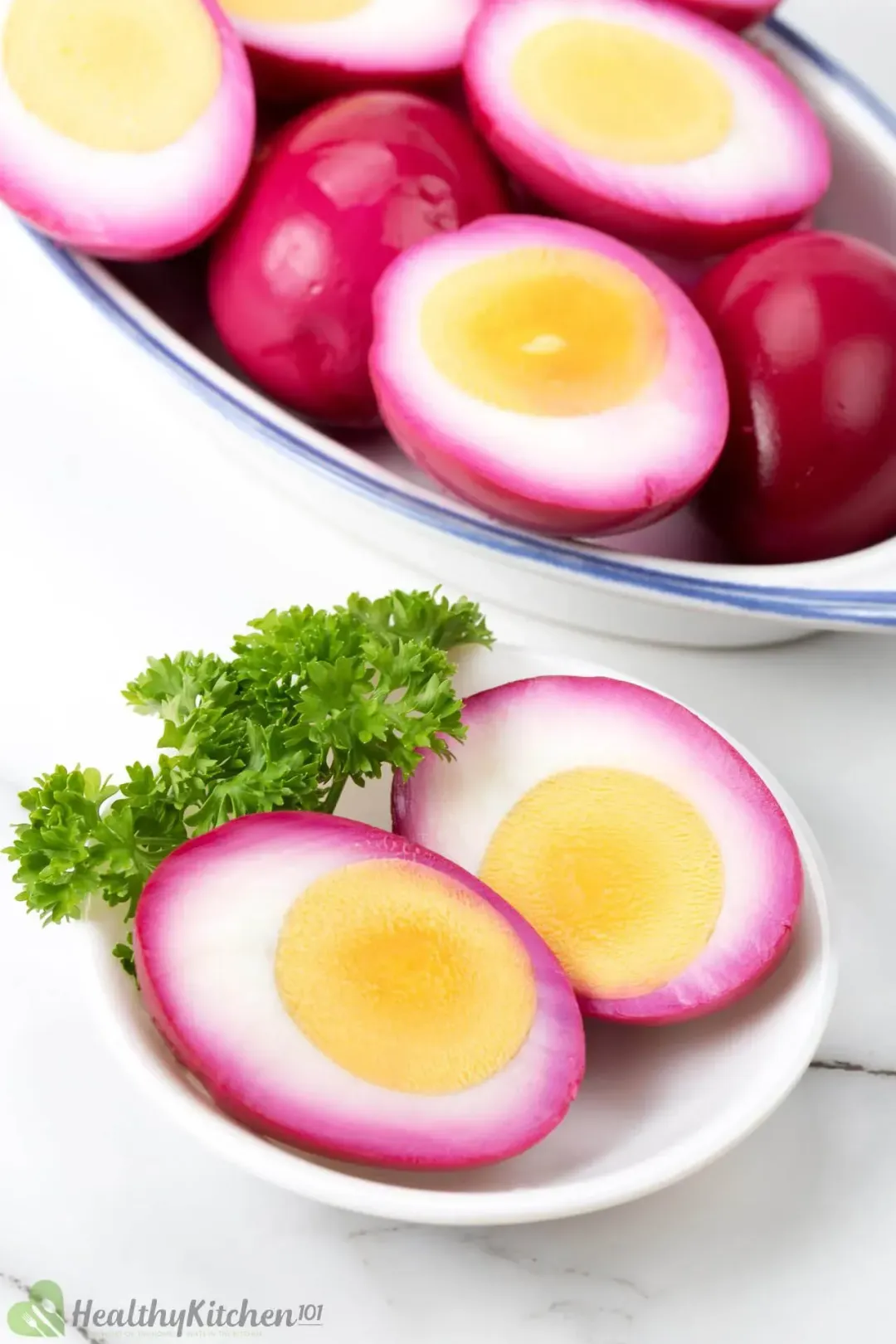 1. Salad
You can use pickled eggs in place of boiled ones in any egg salad recipe. The tangy pickles make the salad so tasty that you may find yourself wanting to have it as a light dinner or lunch every day.
2. Sandwich
Turn your regular egg sandwich into something more exciting by adding pickled eggs and beets. Pickles give an earthy flavor that pairs well with lettuce and tomatoes. Vegetarian sandwiches can be both eye-catching and delicious!
You can even try them in our recipe for deviled eggs or this recipe for scotch eggs and expect gorgeous results.
That's enough of me talking, it's time to get on with making this delicious treat!
More Egg Recipes to Try:
Pickled Eggs
This pickled eggs recipe gives pickled eggs a touch of spice along with a good, strong punch of tartness from vinegar, and an interesting pink color from beetroot. Appealing both visually and tastewise!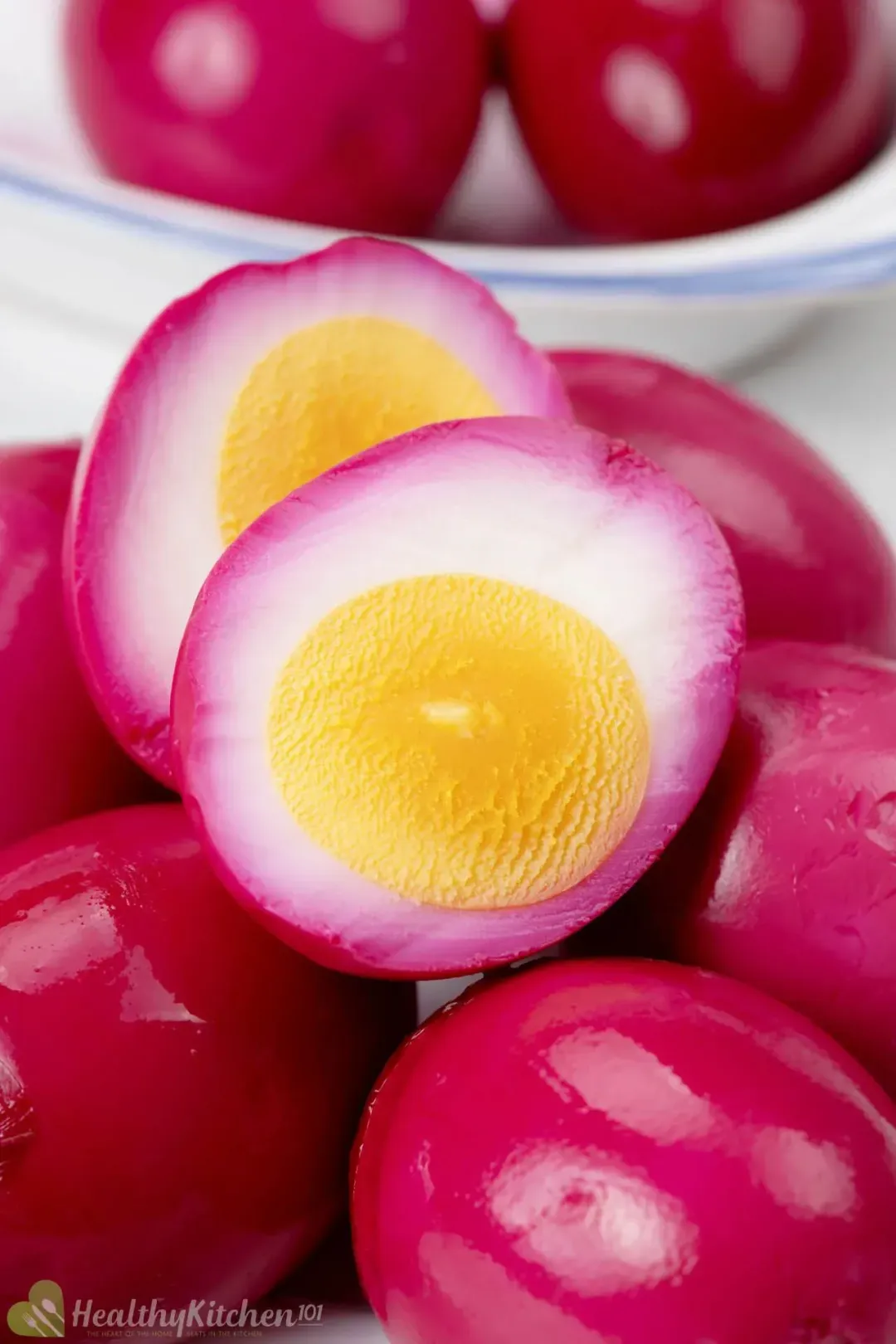 cook TIME

15 mins

prep TIME

15 mins

total TIME

12 hr 30 mins

INACTIVE TIME

12 hr
COURSE

Side Dish

CUISINE

British

SERVINGS

CALORIES

72 kcal
INSTRUCTIONS
1
Put 8 eggs in a pot and cover with cold water. Bring to a boil. Turn off the cooker and let the eggs stand in the hot water for about 8 minutes for firm but creamy yolks (check out How to Boil Eggs.)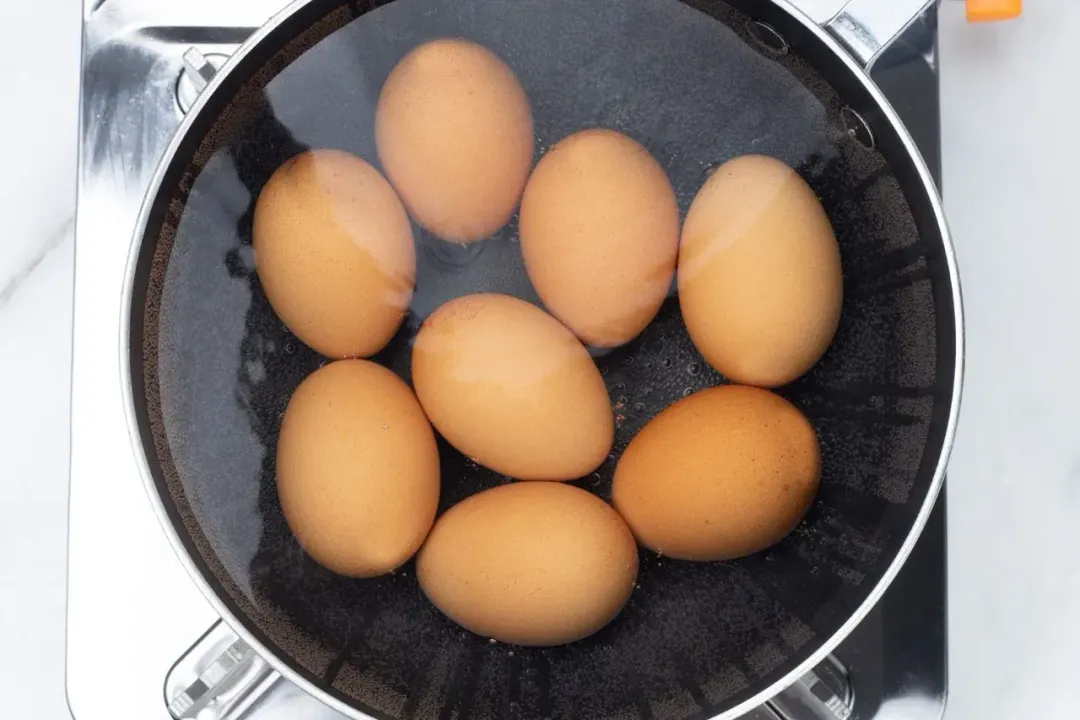 2
Process 8 oz beetroot through a juicer.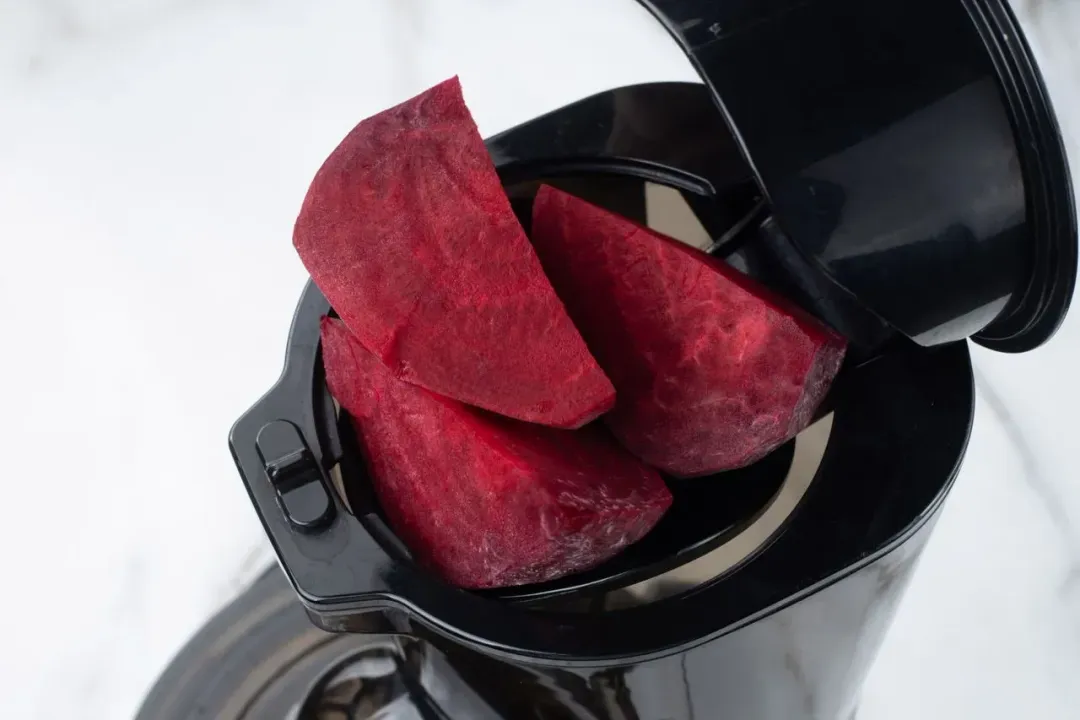 3
In a small saucepan, bring 1 1/2 cups water, beetroot juice, 1/2 cup sugar, 1/8 tsp salt, and 1/2 cup white vinegar to a boil. Remove the pan from heat.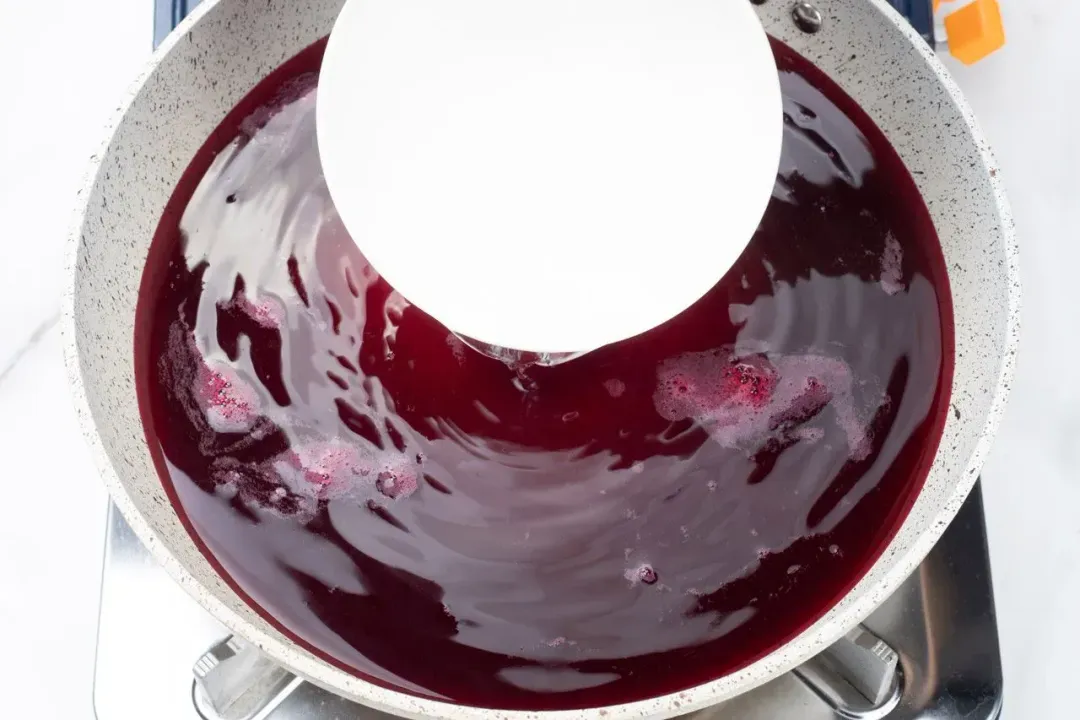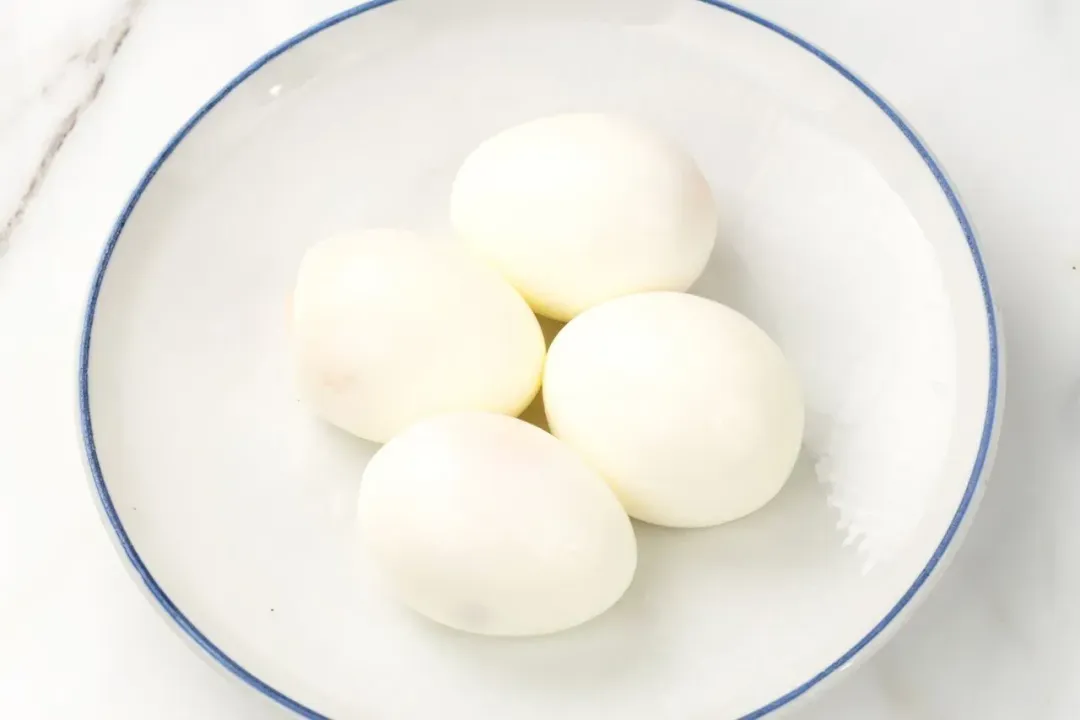 5
Put the eggs into a glass jar. Pour the brine mixture over to submerge. For best results, cover and chill for at least 12 hours before serving.
Because eggs don't absorb all nutrition from the brine, we've calculated nutritional values based on the eggs only.
NUTRITION
Nutrition Facts
Pickled Eggs
Amount Per Serving (1 serving)
Calories 72
Calories from Fat 45
% Daily Value*
* Percent Daily Values are based on a 2000 calorie diet.
Keywords: how to make pickled eggs, pickled egg recipe, pickled eggs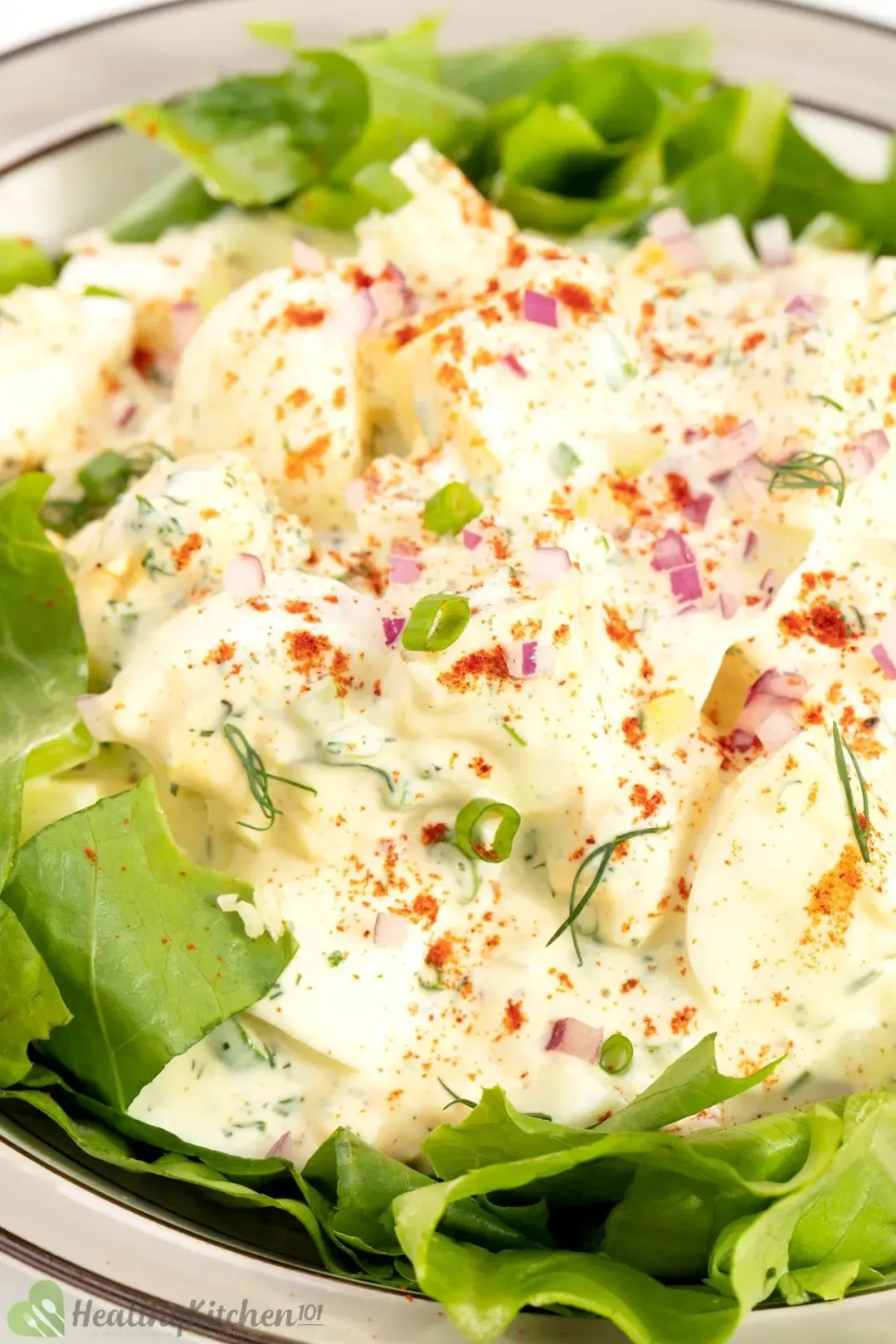 Egg Salad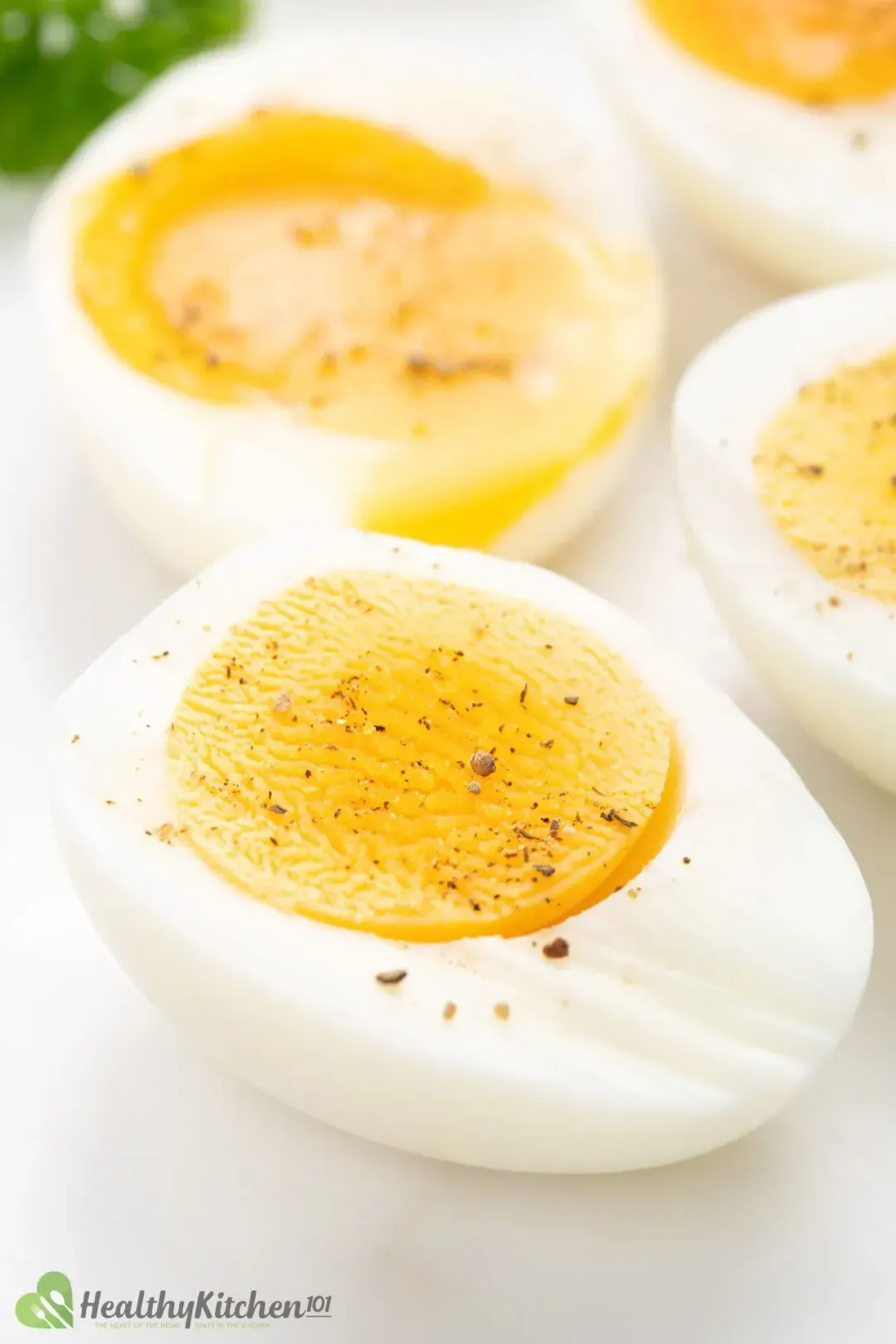 Next Recipe
How to Boil Eggs
How to Boil Eggs
Head Chef, Culinary Consultant
Tuyet Pham is an award-winning Saigonese chef who believes that joy is the secret ingredient to delicious food. At Healthy Recipes 101, Tuyet personally tests and simplifies every recipe, ensuring maximum flavor with minimal effort. With a background at prestigious French restaurants P'TI Saigon and Le Corto, Tuyet knows how to make every dish exceptional.
Writer, Author
Luna Regina is an accomplished writer and author who dedicates her career to empowering home cooks and making cooking effortless for everyone. She is the founder of HealthyKitchen101.com and HealthyRecipes101.com, where she works with her team to develop easy, nutritious recipes and help aspiring cooks choose the right kitchen appliances.
Nutrition Reviewer
Lizzie Streit is a Minneapolis-based dietitian and founder of It's a Veg World After All. She completed her MS in Human Nutrition from Drexel University, and is an expert in culinary nutrition, recipe development, and nutrition communications. Lizzie's philosophy is centered around making nutrition recommendations, and especially the advice to eat more vegetables, approachable and realistic. She is excited to be working with the team at Healthy Recipes 101 to ensure that their recipes are both nutritious and delicious.
Wow, these eggs are absolutely stunning. I've made beet pickled eggs, but not for a while. Now I'm in the mood. You've achieved such a deep color. I love it.

I was surprised at this color also, that was somehow a success to me.
Hope you are going to have a good one soon!

Maaan! Everyone of y'all that has a recipe up here for pickled eggs make this process so complicated.

Just buy a bunch of jars or cans of pickled beets. Collect the pickled beet brine/juice from the can/jars in Mason jars Boyle your eggs, peel them and let them sit in the pickled beet brine/juice for arnd 3 days.
THAT is the easy way to make pickled eggs.without the fuss.
Happy Easter y'all ?

Also, when reusing the beet juice from one batch to the next, the pigment from the beet juice gets absorbed by the eggs, and so each batch of will be successively lighter.

Eggs went fast! Can I put another batch in the same brine ( beet type)

Thanks for the question. You can absolutely reuse that brine as long as it doesn't look cloudy or taste too sour. However, we don't recommend using the brine more than that. Happy cooking!

Delicious! I used to hate the taste of beets when I was little, love them now…these are so yummy, I will be trying in my salad & lots of diff variations. Thank you for the recipe!!

I love these eggs, I also add sliced onion