It wasn't until the summer breeze had gone and the first leaf had turned that I realized it was time for a healthy pumpkin cookies recipe.
Imagine sitting in the backyard with your friends, holding a cup of hot chocolate in the fall twilight. What better than a scrumptious plate full of soft, warm pumpkin cookies to go with it? 
Eating cookies when they're still warm makes them extra delightful: break-apart softness with an exquisite pumpkin flavor, and the perfect amount of sweetness. Finished with a touch of salt and melted chocolate, these cookies are a must for fall— give them a try before the season passes by and make a batch for National Homemade Cookies Day (October 1)!
An Easy Recipe for Healthy Pumpkin Cookies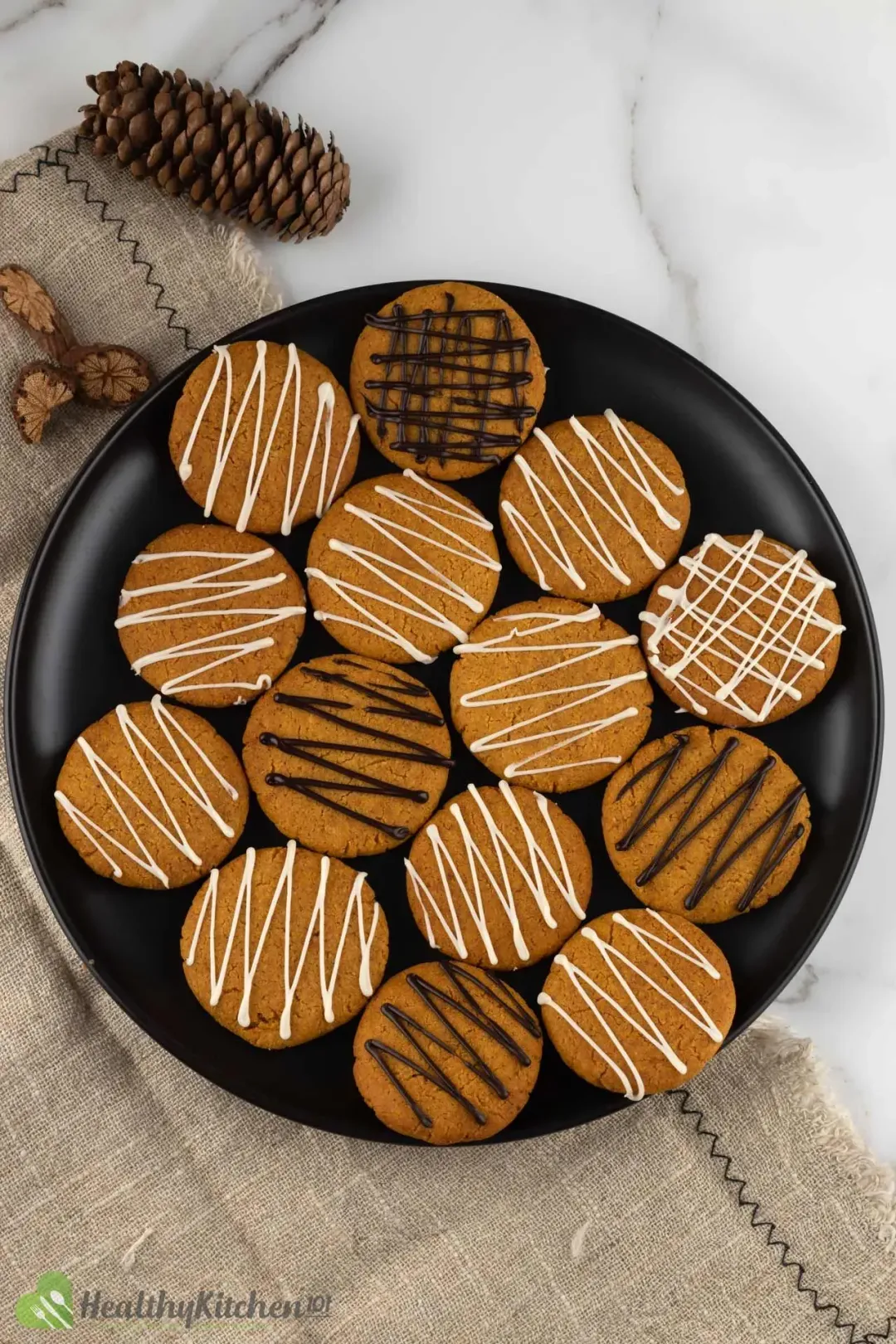 The traditional pumpkin cookie is often deemed unhealthy, high in calories and fat. Not to worry! We have a healthier and even simpler version for you.
Let us show you how simple this recipe is. All you need is a bowl and four essential ingredients: pumpkin puree, quick oats, peanut butter, and maple syrup. If you don't have every single ingredient, this recipe is very forgiving. For example, you can switch out dark chocolate with other ingredients like walnuts or almonds to make it work for you.
You may wonder why we use maple syrup instead of the usual white granulated sugar. Maple syrup is less processed, has a richer flavor and more pleasant sweetness. It is also healthier for you; even though it's three times as sweet, it comes with fewer calories.
Chocolate Chip
For chocolate chip pumpkin cookies, you simply fold chocolate chips into the batter before scooping it out onto the baking sheet. 
You can use any kind of chocolate and in whatever proportion you like (remembering that the more you add, the more sugar and calories you add). The combination of milk and bittersweet is surprisingly delicious.
Baking time is a matter of personal preference; some like firmer cookies, some like softer. However, you shouldn't overbake these cookies. 
If the edges begin to brown too much, your chocolate chip pumpkin cookies will be dry and tough. One tip that helps is to start checking your cookies in the oven at the minimum suggested bake time, then add another minute or two if needed.
You can make some changes to our recipe, and the cookies will still turn out stunning. We can proudly say that these cookies will become your ultimate fall recipe!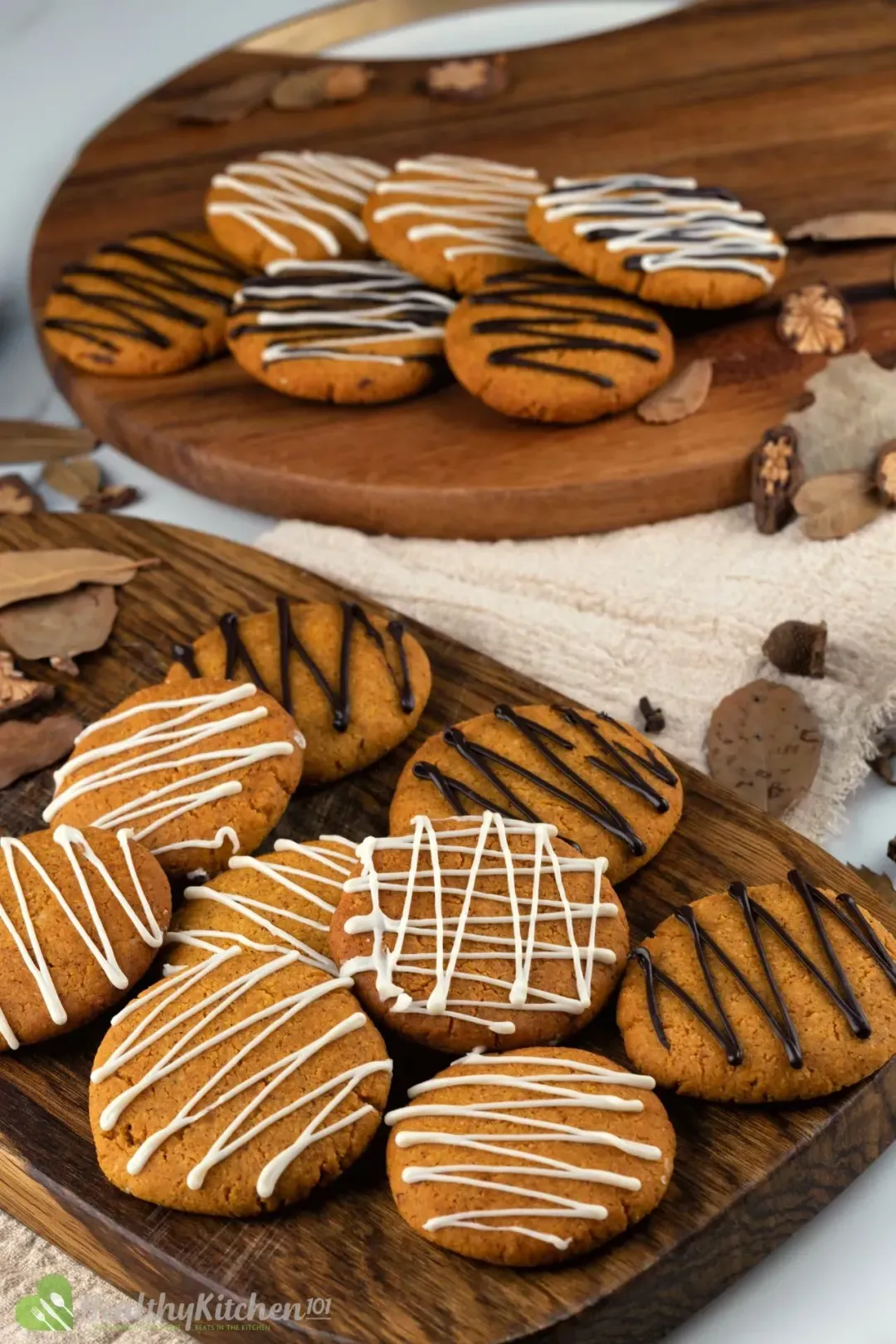 Pumpkin Spice Cookie
Loaded with authentic pumpkin flavor, these cookies are chewy, soft, and tasty with a hint from a cinnamon coating. Pumpkin spice cookies are a great treat for autumn!
Pumpkin spice cookie recipes are quite similar to the original pumpkin cookie recipe, but with the addition of a cinnamon sugar coating. Some recipes even call for a frosting which adds an extra layer of deliciousness.
The frosting is a combination of butter, sugar, and pumpkin spice. You can switch butter with heavy cream, which gives the frosting a richer texture.
Pumpkin Oatmeal Cookies
If you are looking for other pumpkin cookie recipes, pumpkin oatmeal cookies deserve a place on your favorite cookies list. They are dense, soft, and offer a classic element of fall – pumpkin pie spice.
For this recipe, we simply add oats to the classic pumpkin cookies recipe. We use old-fashioned oats, and you can substitute them with flake oats, or quick oats.
Thanks to pumpkin puree and oatmeal, these cookies turn out super chewy with a mild pumpkin taste. Not too sweet and not too creamy – these pumpkin oatmeal cookies hit the mark for almost everyone they are flavor-balanced and healthy.
Check out this 30+ healthy dessert compilation for more tasty cookies.
Are Pumpkin Cookies Vegan?
Most pumpkin cookies recipes require butter, milk, and eggs, so they are not vegan. However, we can easily switch the ingredients to make a vegan version. Simply omit eggs, replace milk with vegan milk, and try vegan butter instead.
So, what is vegan butter? Regular butter contains dairy-based ingredients, but vegan butter is made from plant-based elements like almond flour, coconut oil, and non-dairy milk. More amazingly, it melts the same and bakes the same as dairy butter.
Without eggs and milk, your vegan cookies will be chewy and tasty as any regular cookies. The reason behind that is pumpkin puree. Pumpkin puree can act as an egg replacer in many baked recipes.
Speaking of texture, vegan pumpkin cookies are crunchy on the outside and super soft on the inside. These beautiful treats are flavored with vanilla, pumpkin spice and chocolate chips, or even nuts of choice. Vegan pumpkin cookies are as healthy and delicious as they sound!
Can These Cookies Be Chewy?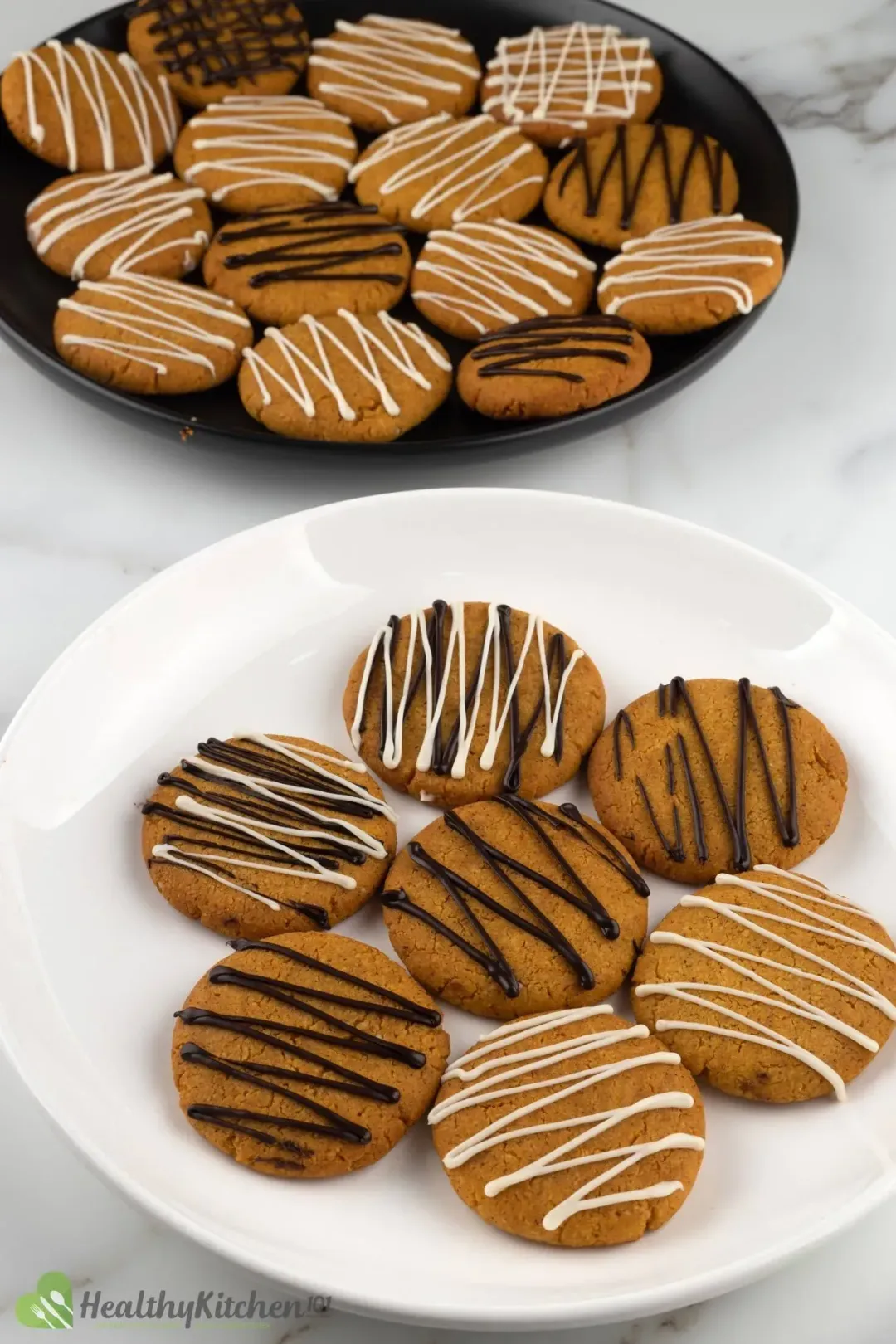 From our experience, most store-bought pumpkin cookies either have a tough texture or taste like soft pumpkin cake. How to make pumpkin cookies with crisp-edges and chewy-centers has haunted me for years.
By making small changes to the ingredients and playing around a bit, we discovered that pumpkin can replace eggs! Using pumpkin puree instead of eggs gave the cookies a soft and chewy texture while adding more pumpkin flavor. And as a bonus, it helps transform the original recipe into a vegan one.
If you are looking for another healthy cookie recipe, our peanut butter cookies and homemade sugar cookies recipes are great options.
But Wait, There're More!
Healthy Pumpkin Cookies
When you try this fall-inspired recipe, ready to be blown away by a variety of flavors: bitter-sweet chocolate, spicy cinnamon, and fresh pumpkin. This Healthy Pumpkin Cookies Recipe is crazy-delicious and you won't be able to resist it!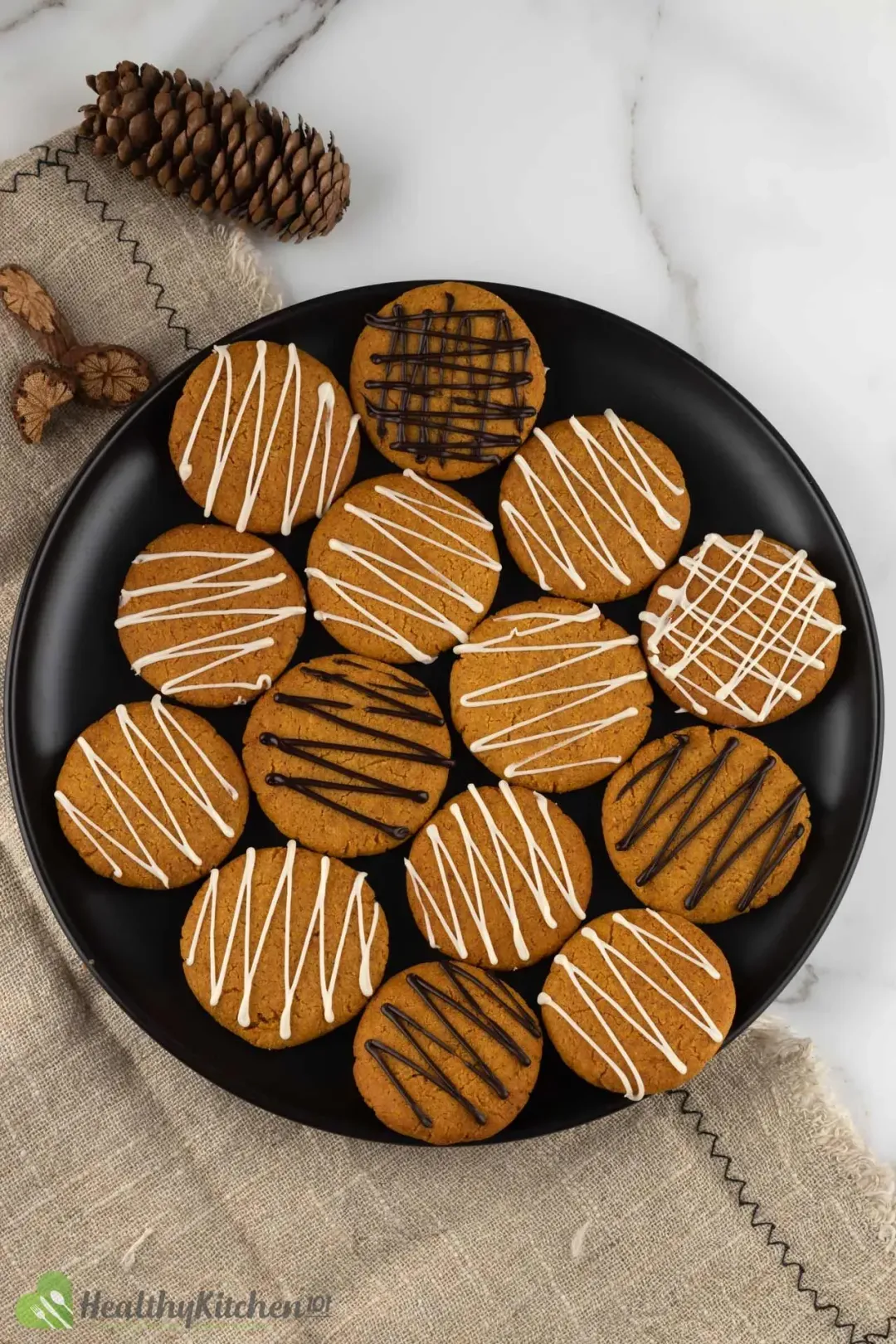 cook TIME

12 mins

prep TIME

10 mins

total TIME

32 mins

INACTIVE TIME

10 mins
COURSE

Cookie, Dessert

CUISINE

American

SERVINGS

CALORIES

129 kcal
INSTRUCTIONS
1
Preheat the oven to 350°F.
2
Combine 1.8 oz peanut butter and 6 oz pumpkin puree in a large bowl. Pour in 3.5 oz syrup and add 1/4 tsp salt to balance the sweetness. Beat until the mixture is creamy
3
Add in 8 oz almond flour, 2 oz cornstarch, 1 tbsp pumpkin pie spice, and 2 tsp baking powder. Mix until just combined.
4
Line a rimmed baking sheet with a silicone mat, parchment paper or spray it with cooking spray.
5
Scoop out a tablespoon of cookie mix, then, using your hands, form it into a cookie shape. Place on the baking sheet.
6
If the stickiness of the batter bugs you, pop the mixture in the fridge for 10 minutes before shaping the cookies. This helps your cookies firmer.
7
Put them in the oven and bake for 12-15 minutes until slightly brown.
8
Remove from the baking sheet to a cooling rack. When completely cool, use melted chocolate (0.5 oz dark chocolate, 0.5 oz white chocolate), drizzle over to decorate your cookies.
9
Serve or store cookies in an airtight conditioner.
NUTRITION
Nutrition Facts
Healthy Pumpkin Cookies
Amount Per Serving (1 serving)
Calories 129
Calories from Fat 39
% Daily Value*
* Percent Daily Values are based on a 2000 calorie diet.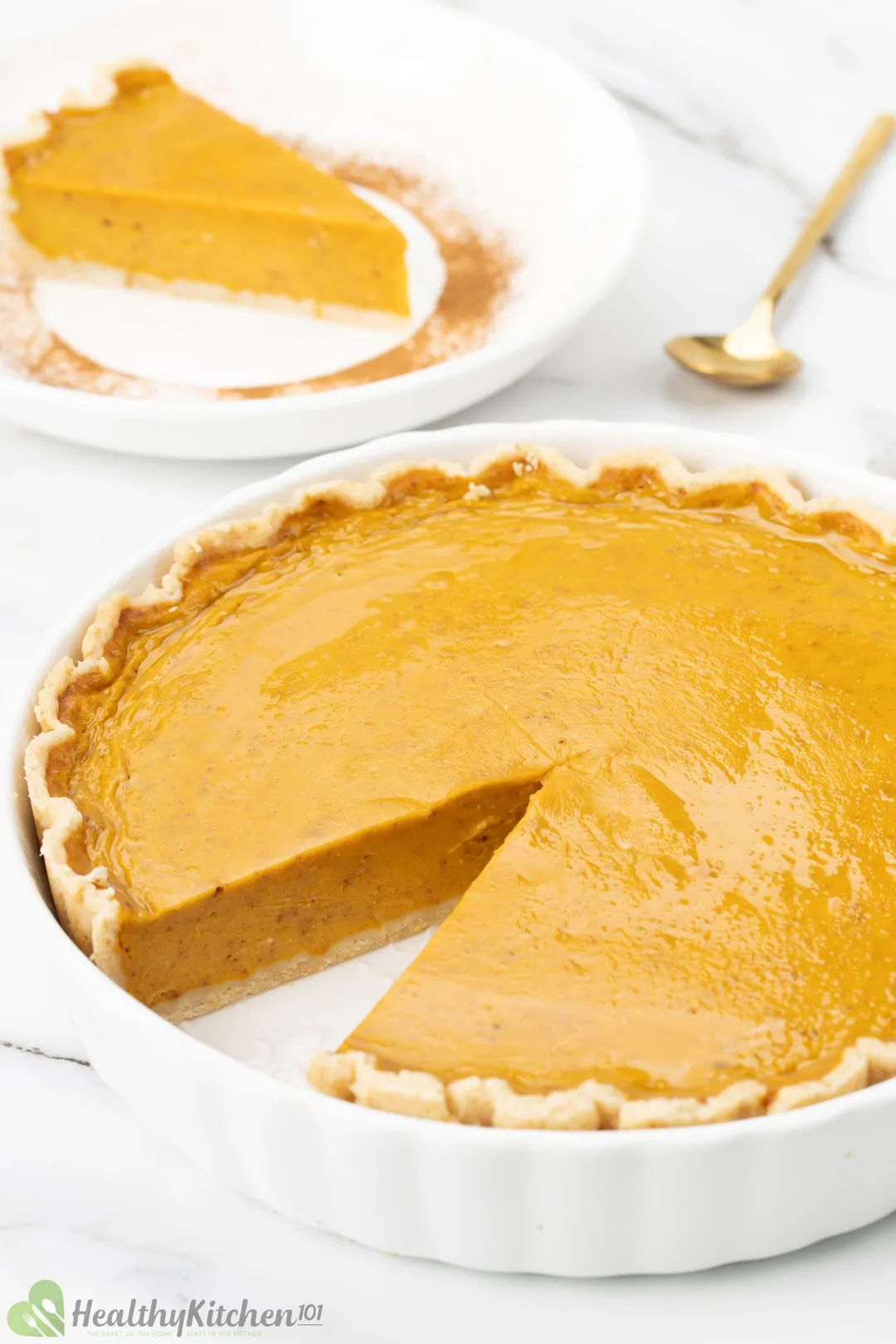 Previous Recipe
Healthy Pumpkin Pie
Healthy Pumpkin Pie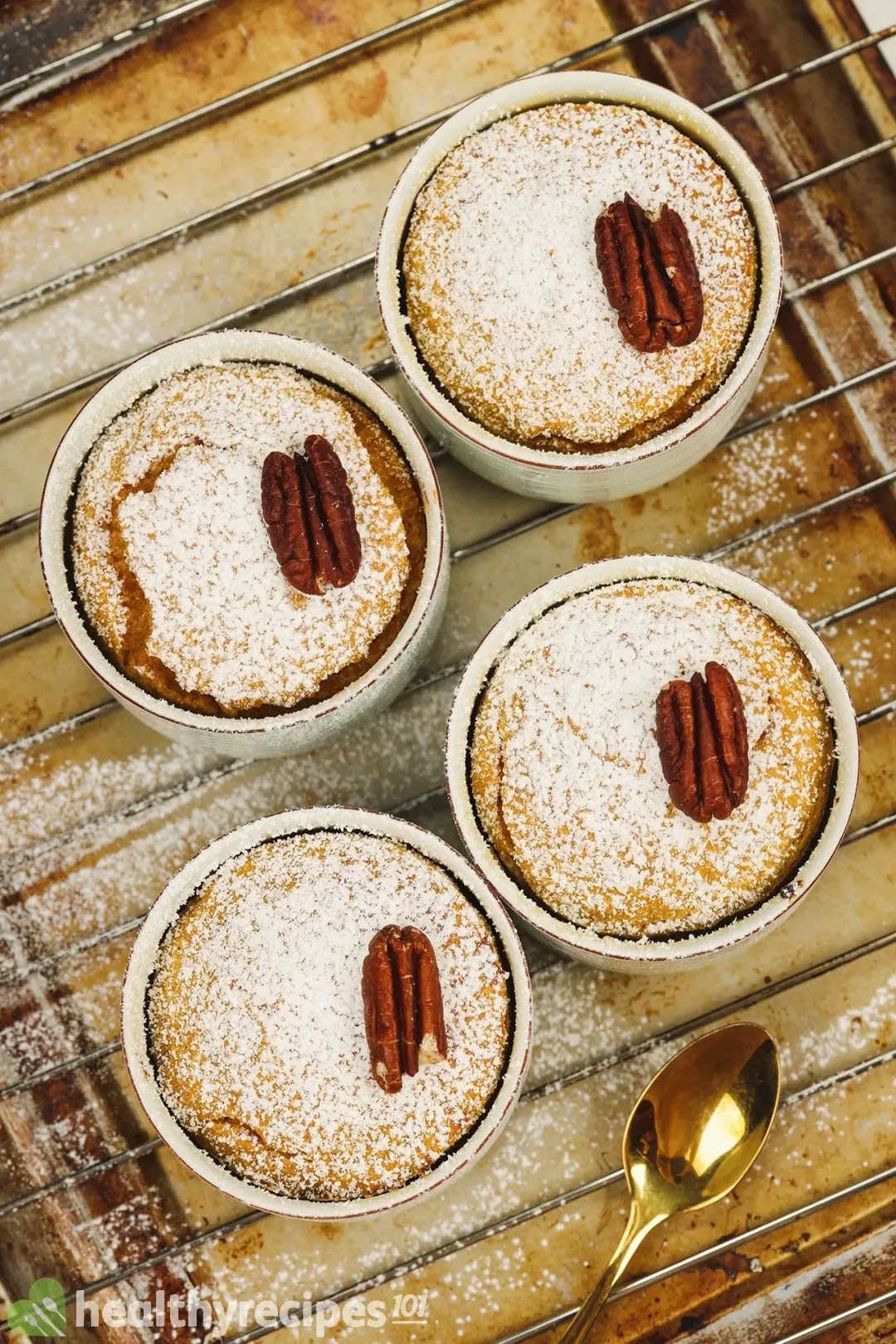 Next Recipe
Sweet Potato Souffle
Sweet Potato Souffle
Head Chef, Culinary Consultant
Tuyet Pham is an award-winning Saigonese chef who believes that joy is the secret ingredient to delicious food. At Healthy Recipes 101, Tuyet personally tests and simplifies every recipe, ensuring maximum flavor with minimal effort. With a background at prestigious French restaurants P'TI Saigon and Le Corto, Tuyet knows how to make every dish exceptional.
Writer, Author
Luna Regina is an accomplished writer and author who dedicates her career to empowering home cooks and making cooking effortless for everyone. She is the founder of HealthyKitchen101.com and HealthyRecipes101.com, where she works with her team to develop easy, nutritious recipes and help aspiring cooks choose the right kitchen appliances.
Nutrition Reviewer
Lizzie Streit is a Minneapolis-based dietitian and founder of It's a Veg World After All. She completed her MS in Human Nutrition from Drexel University, and is an expert in culinary nutrition, recipe development, and nutrition communications. Lizzie's philosophy is centered around making nutrition recommendations, and especially the advice to eat more vegetables, approachable and realistic. She is excited to be working with the team at Healthy Recipes 101 to ensure that their recipes are both nutritious and delicious.
These pumpkin cookies are a delicious fall treat that's also healthy.

what is the temperature of the oven supposed to be?

Hi Daniel, Bake at 350°F for 12-15 minutes