Made with easy-to-find ingredients like bananas, oats, and yogurt, our banana oatmeal smoothie recipe could be your new favorite fuel drink. It's delicious, with a cozy flavor, a creamy texture, and a hint of cinnamon. Our banana oatmeal smoothie is a yummy way to nourish your body.
Can You Put Oats in a Smoothie?
Oats, either raw or cooked, are a wonderfully versatile ingredient. You can sprinkle them on top of yogurt or combine them directly into a smoothie.
A dash of rolled oats makes your smoothies heartier and more substantial. Whole rolled oats blend better than ground oats, and they do not need to be cooked before adding them to your smoothie.
Additionally, oats are an excellent way to boost the fiber content of your smoothie without adding tons of calories.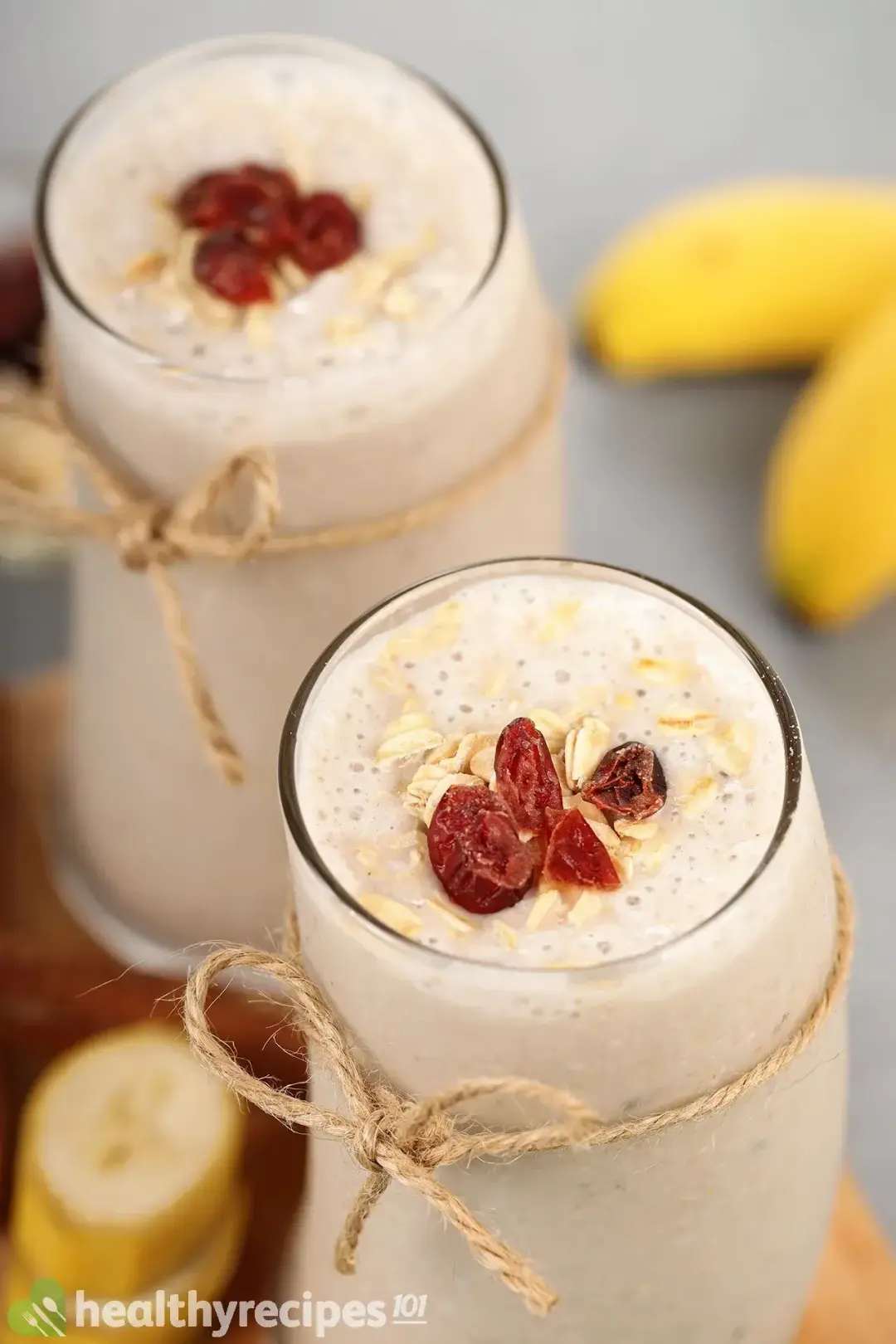 Is This Banana Oatmeal Smoothie Recipe Healthy?
With nutritious bananas and oats as the main ingredients, yes, our banana oatmeal smoothie is healthy.
1. Benefits of Banana
A single medium banana contains 105 calories and is fat-free. Additionally, it contains 26.9 g of carbohydrates, 3 g of fiber, 1.2 g of protein, and a variety of essential nutrients. 
Indeed, one banana contains up to 9% of your recommended daily intake (RDI) of potassium (422 mg) and 8% of your RDI of magnesium (32 mg). 
When it comes to vitamin C, a banana may not be the first food that comes to your mind. However, the fruit provides approximately 11% of your RDI. 
While bananas are well-known for their potassium content — a macronutrient contributes to the regulation of fluid balance, muscular contractions, and nerve impulses. The fruit is also a great source of vitamin B6 and fiber, both of which are necessary for critical bodily activities such as cholesterol reduction and mood regulation.
2. Benefits of Oats
Oats are an adaptable ingredient that may be included in any meal of the day. They are a pantry staple for many people, and for good reasons too: 
The food is high in fiber, protein, and vitamins and minerals. Only 100 grams of oats contains 246% of the daily recommended value (DV) of manganese, 52% of the RDI phosphorus, and 44% of the RDI magnesium.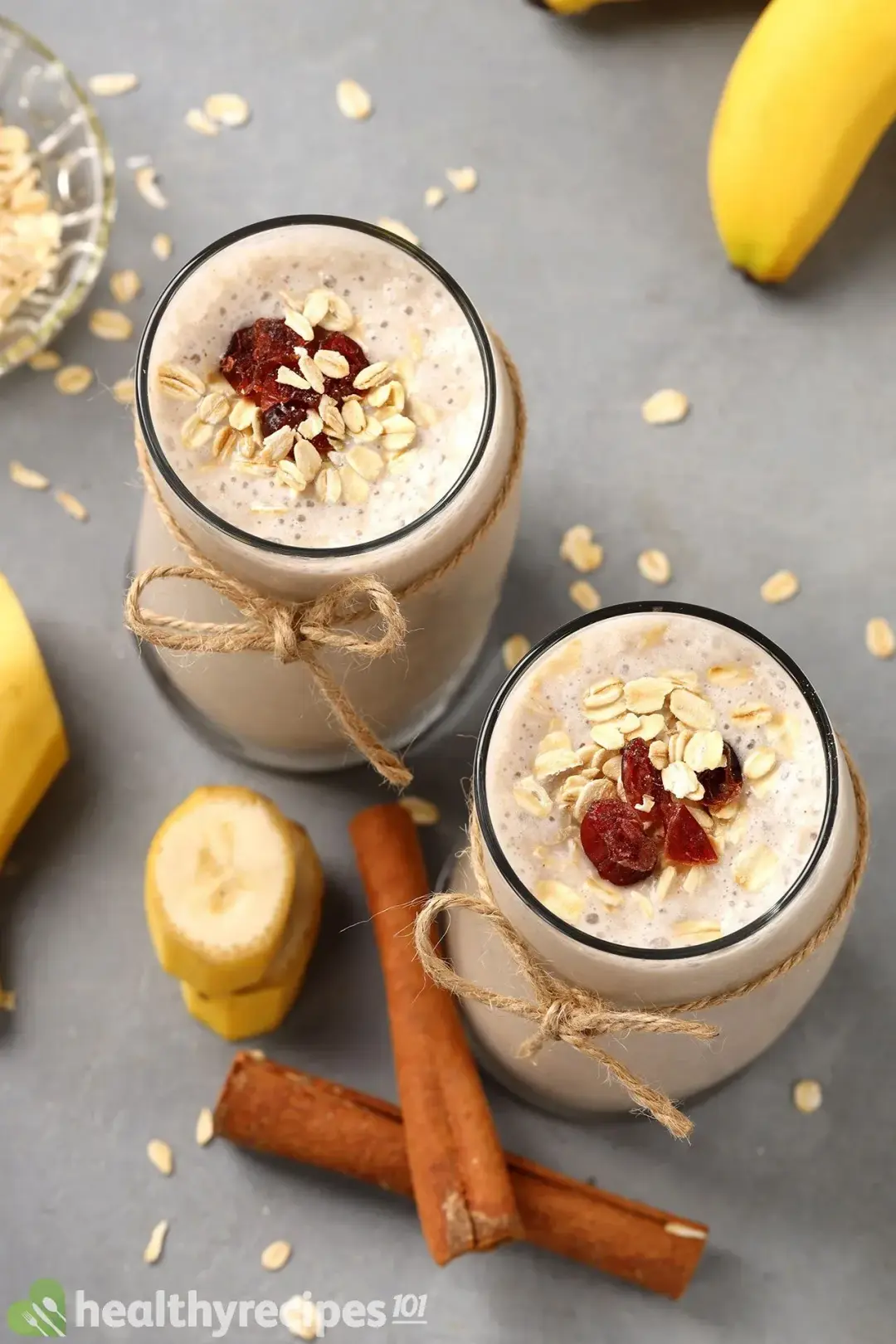 Oats also are high in a form of fiber (16.5 grams of fiber per cup of dry oats) known as beta-glucan. This type of fiber is known to help lower harmful cholesterol levels, is necessary for controlling bowel motions, and may aid with constipation relief. According to the USDA, the recommended daily fiber intake for women is 25 g and for men is 38 g.
Whether you make overnight oats or include oats in a smoothie, you're obtaining a nutritional powerhouse with several significant health benefits.
Ingredients for Banana Oatmeal Smoothie
The ingredients you need to make this simple and lip-smacking banana oatmeal smoothie recipe are:
Oats are rich in fiber, bringing a satisfyingly thick and filling quality to smoothies. This banana oatmeal smoothie will keep you satisfied all morning, and the oats are a crucial part of the drink. 
Because the oats are ground in the blender, you may use any kind of oats you have on hand. I most typically use rolled oats, but quick oats work too. 
If you are creating an instant oatmeal smoothie (using instant oatmeal packets), ensure that the packet isn't sweetened or flavored.
We went with ripe, fresh bananas. Using fresh bananas results in a thinner smoothie compared to using frozen bananas, so we added a few ice cubes at the end to thicken it up.
If you have some spotty bananas on your counter, peel and cut them into pieces, then freeze them in a Ziploc bag. Frozen bananas make any smoothie rich, naturally sweet, and creamy.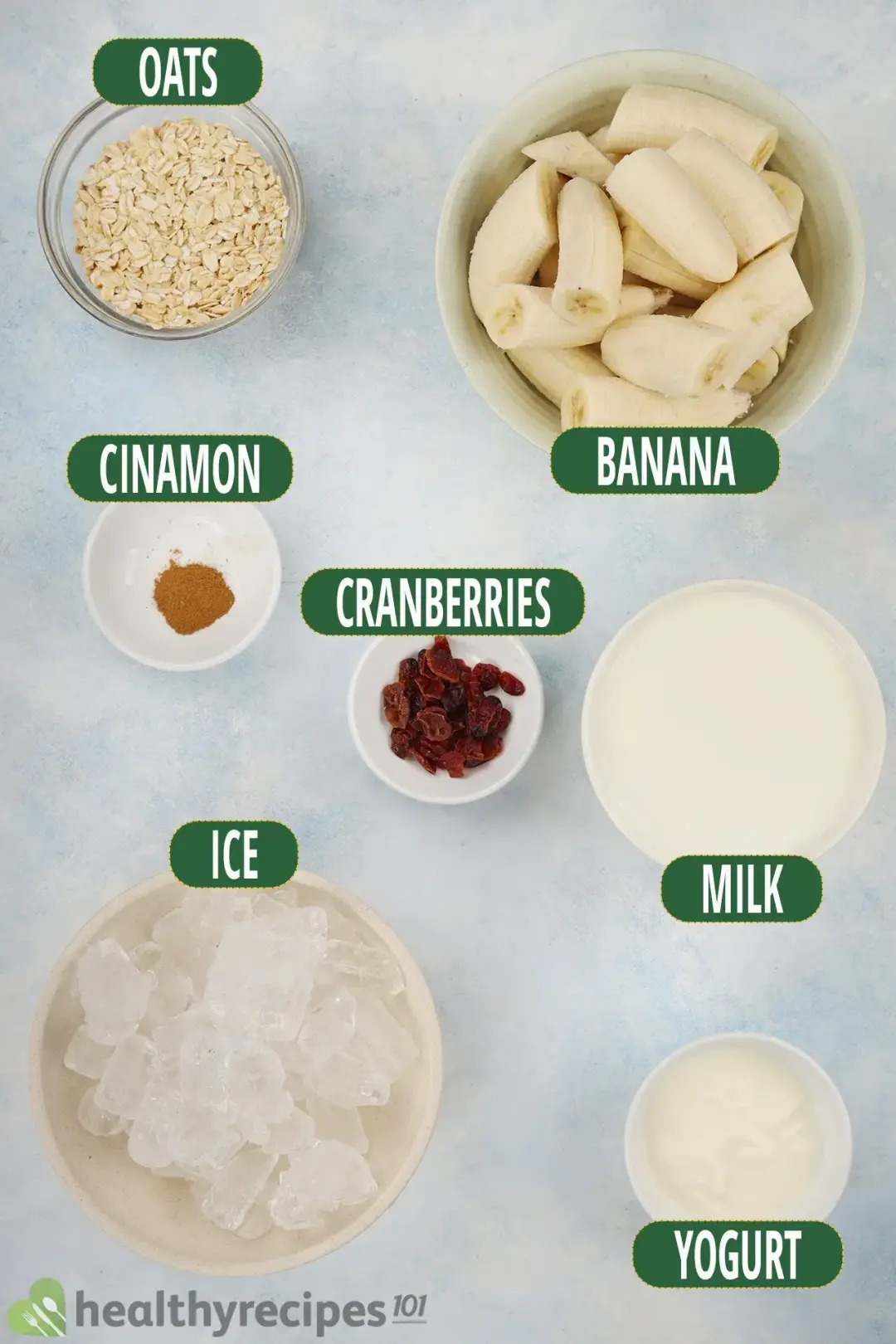 The protein in milk and yogurt is a big part of what makes this banana oatmeal smoothie so filling. They also lend a touch of richness to the smoothie, making it extra satisfying.
Any kind of milk will work here (whole milk or plant-based milk), so feel free to use your favorite.
Intensify the creaminess and give your smoothie the favor of homemade oatmeal cookies.
Dried fruits like raisins, cranberries, or cherries all contribute antioxidants and flavor to smoothies. Simply sprinkle them on the drink for a sweet and delectable treat.
How to Make Banana Oatmeal Smoothie
The beauty of smoothies is their versatility. You can stock up on a few essentials or ingredients that you already have, then use them to bring together healthy morning smoothies. Here's how we made this banana oatmeal smoothie: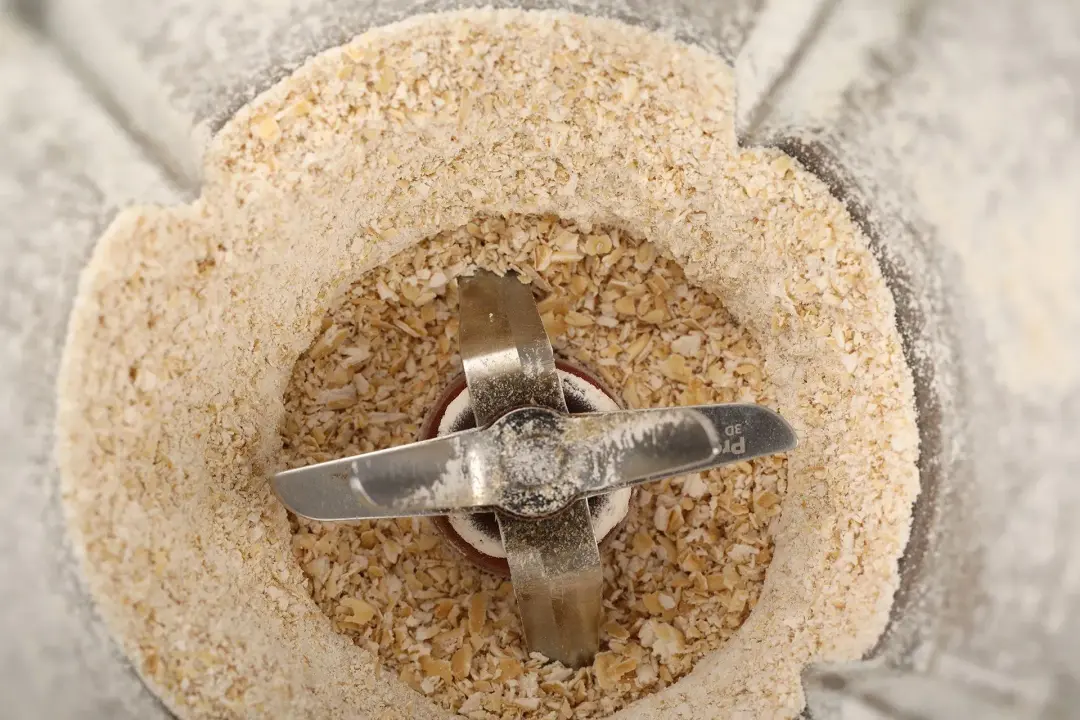 Add the oatmeal to the blender and pulse until it's finely ground.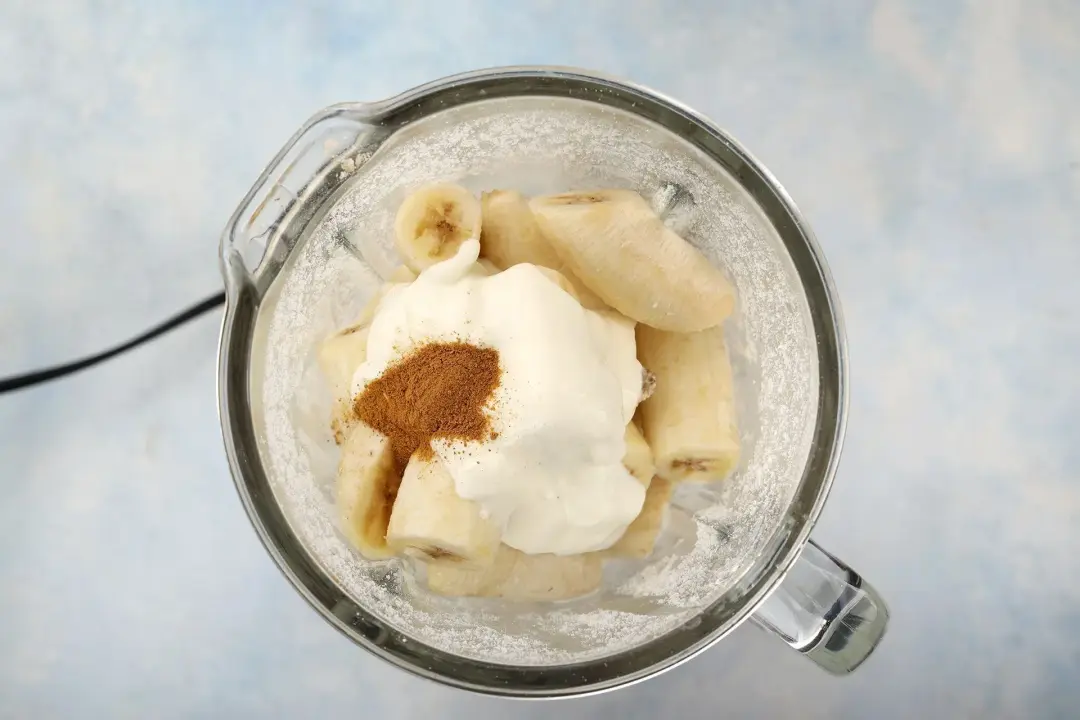 Add the ice, banana, dairy, and cinnamon and blend until smooth.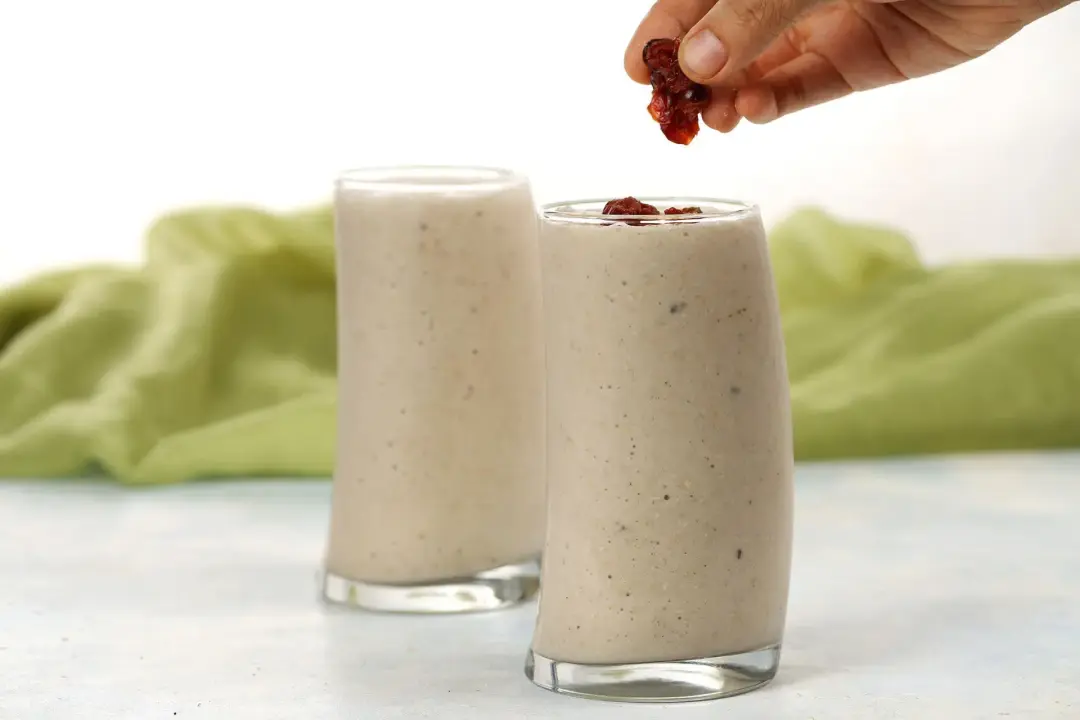 How Long Does Banana Oatmeal Smoothie Last?
Like other homemade drinks, this banana oatmeal smoothie is best drunk freshly after being prepared. There are a few ways to store it, however. If you have leftovers, simply transfer them to the refrigerator and store them for up to 2 – 3 days.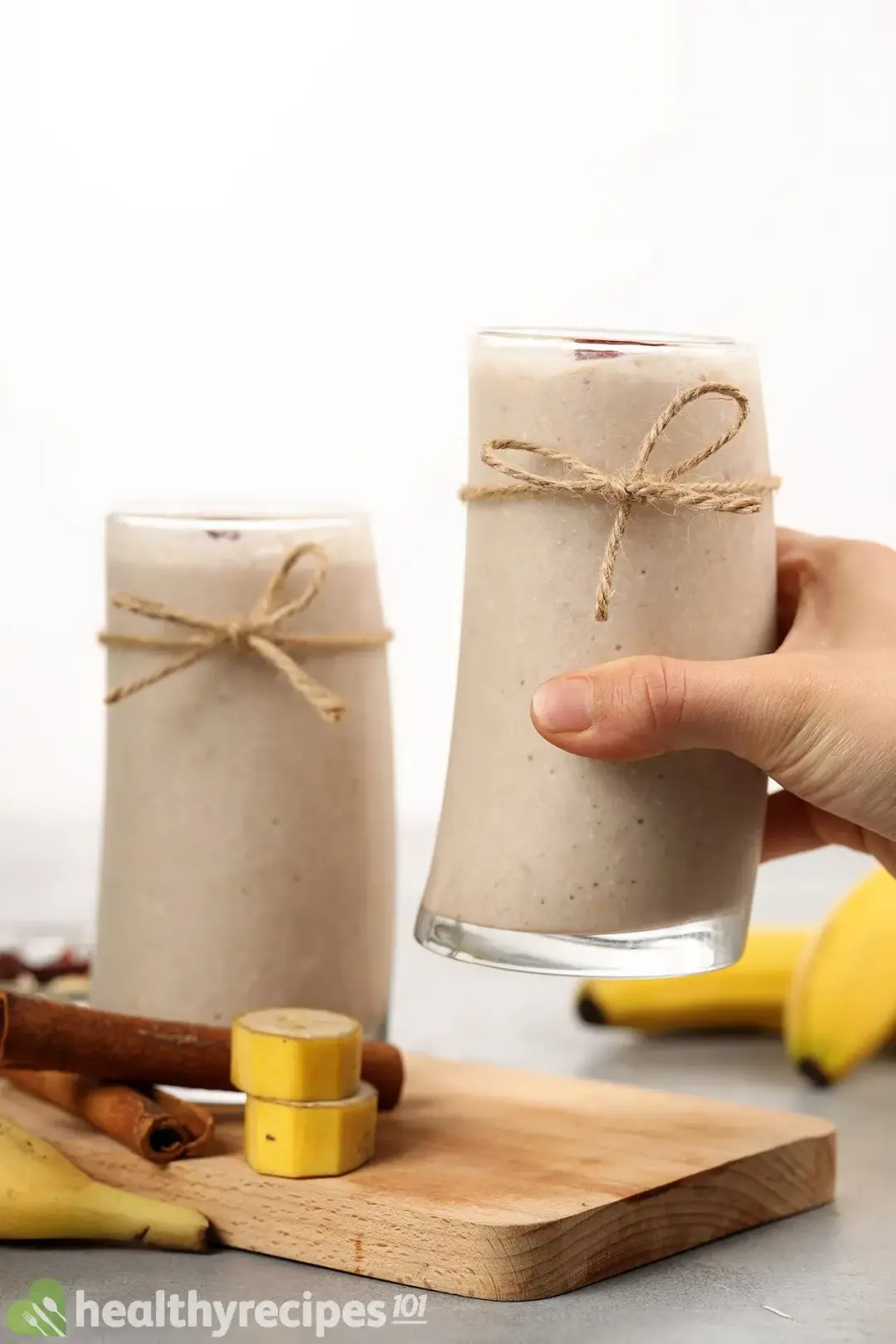 For extended storage, pour the smoothie into a freezer-safe mason jar, and keep it in the freezer for up to 3 months. The night before you want to have the smoothie, place it in the fridge to let it thaw overnight.
Banana Oatmeal Smoothie Recipe
If you need a smoothie for a balanced post-workout recovery drink, our banana oatmeal smoothie recipe is for you.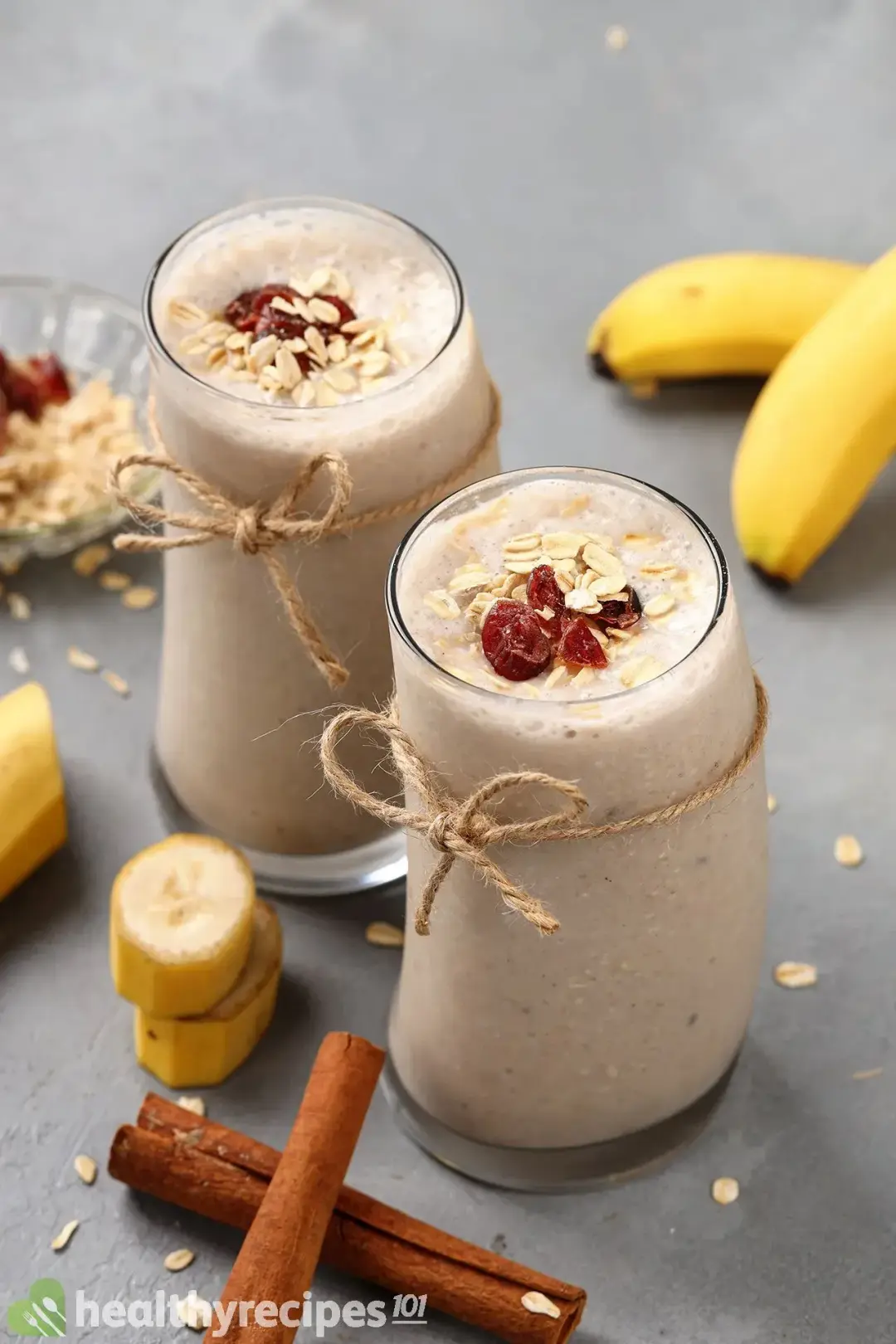 prep TIME

10 mins

total TIME

10 mins
COURSE

Drinks, Smoothie

CUISINE

Global

SERVINGS

servings

CALORIES

217 kcal
INGREDIENTS
2 oz

oats

2 cups

ice

16 oz

banana

1 cup

milk

0.3 cup

plain Greek yogurt

0.3 tsp

cinnamon

0.5 oz

dried cranberries
INSTRUCTIONS
1
Add 2 oz oats to the blender and pulse a few times until finely ground.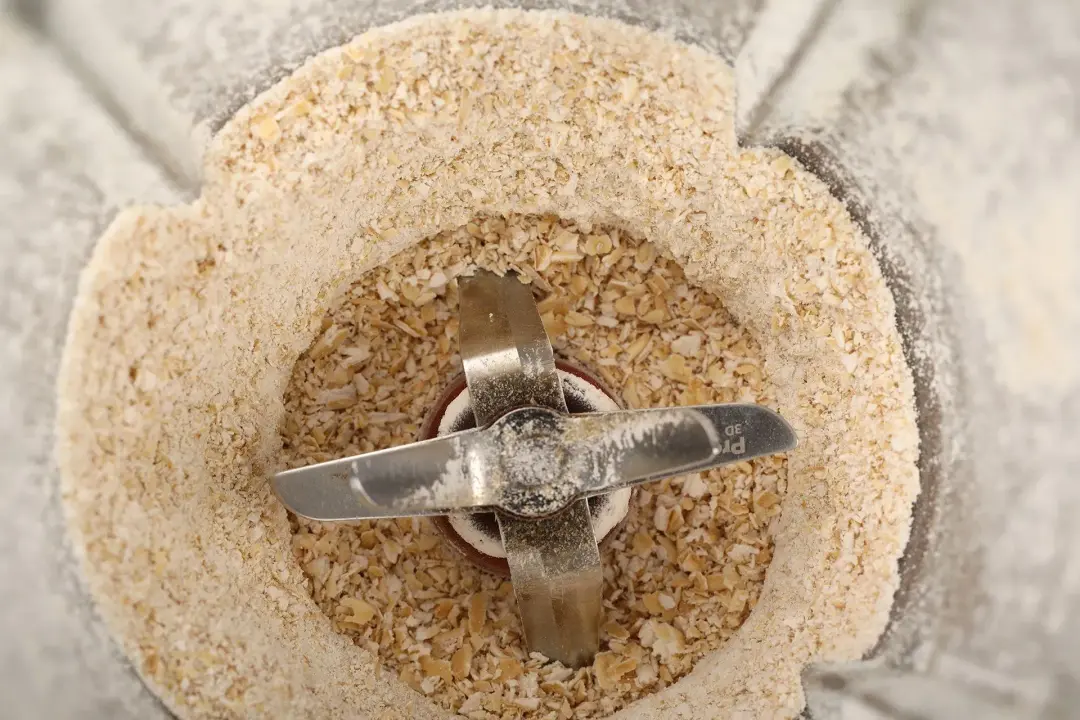 2
Add 2 cups ice, 16 oz banana, 1 cup milk, 1/4 cup Greek yogurt, and 1/4 tsp cinnamon. Blend until smooth and creamy.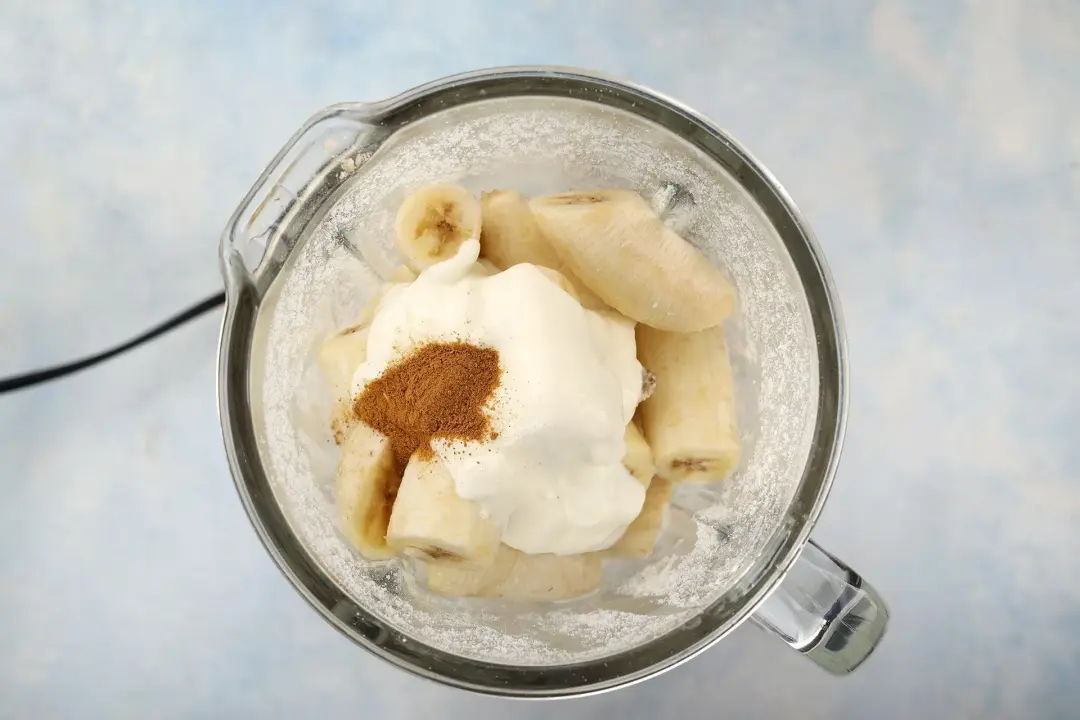 3
Pour into serving glasses and top with 0.5 oz dried cranberries. Serve immediately.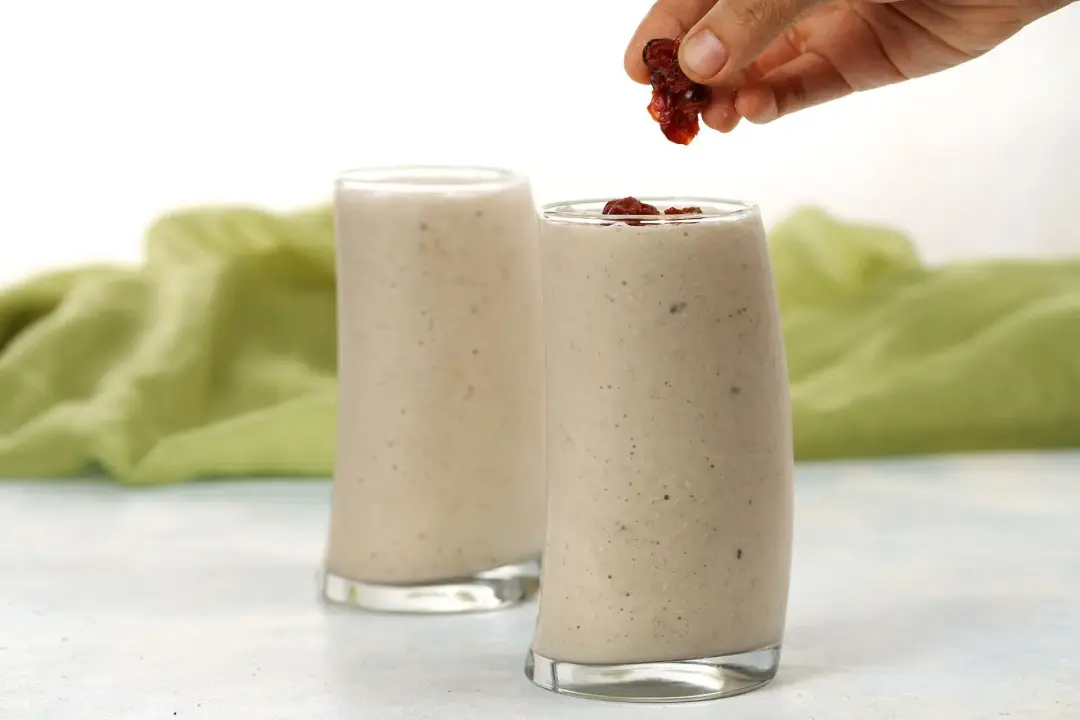 NUTRITION
Nutrition Facts
Banana Oatmeal Smoothie Recipe
Amount Per Serving (1 serving)
Calories 217
Calories from FDA
% Daily Value*
* Percent Daily Values are based on a 2000 calorie diet.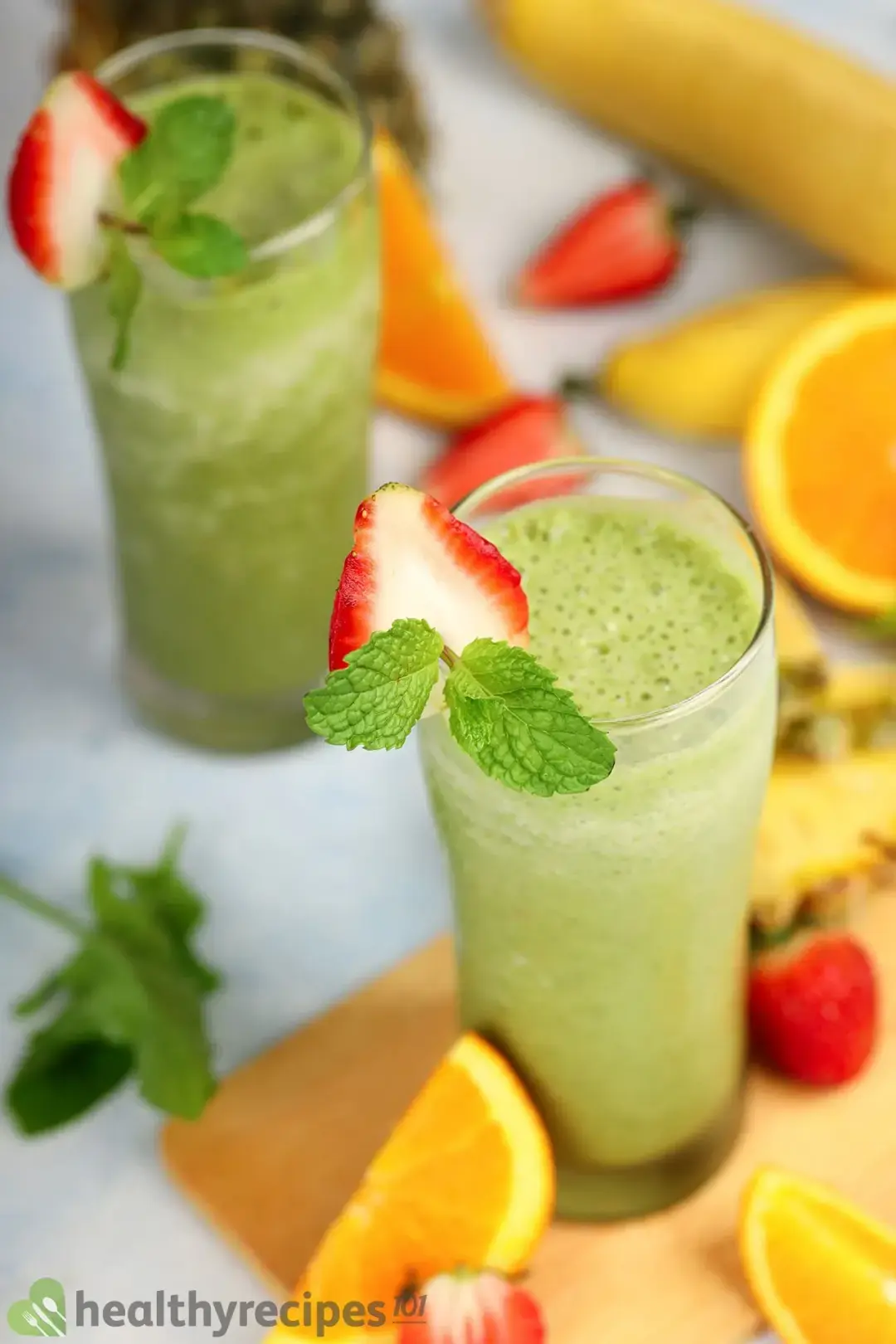 Previous Recipe
Spinach Fruit Smoothie
Spinach Fruit Smoothie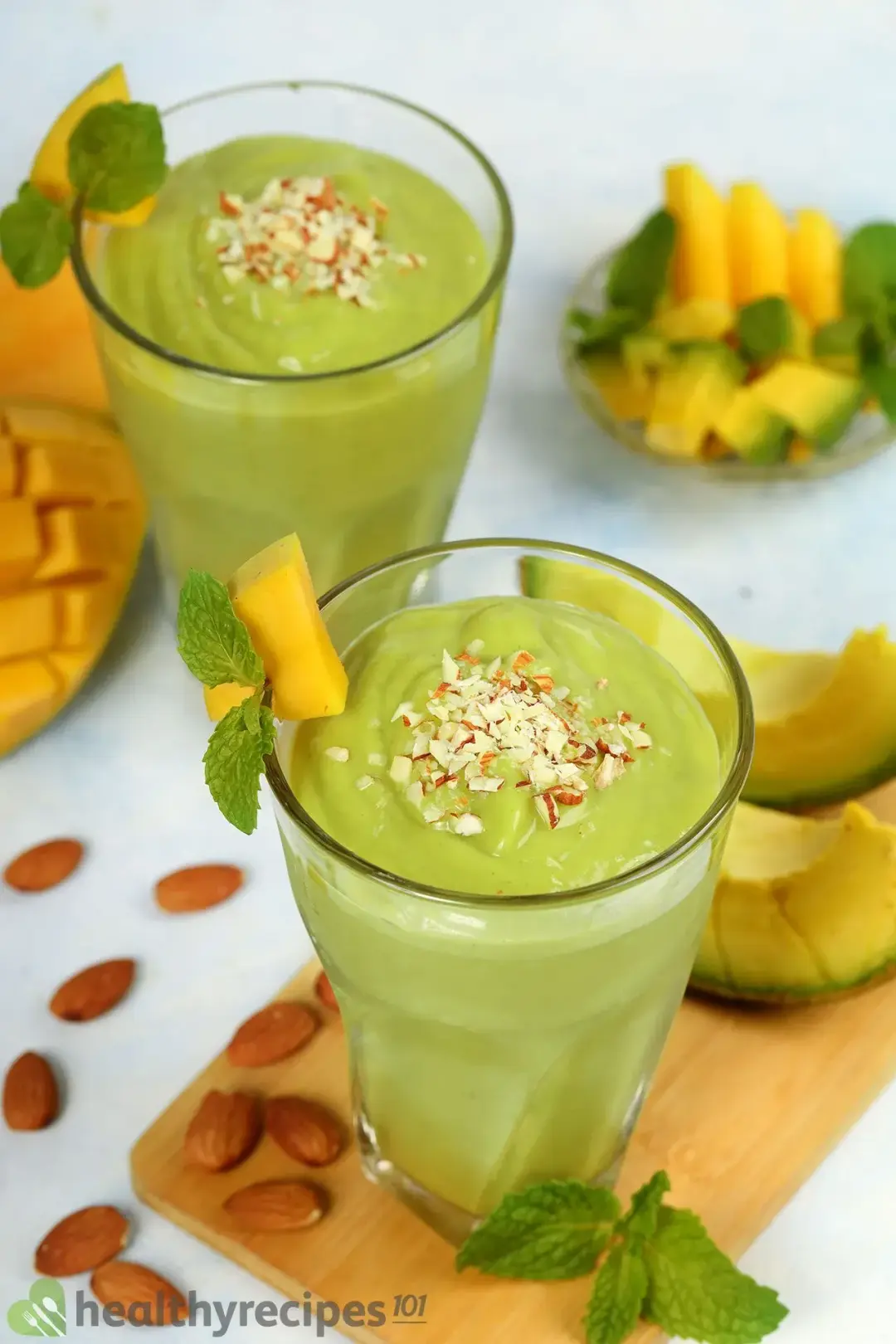 Next Recipe
Mango Avocado Smoothie
Mango Avocado Smoothie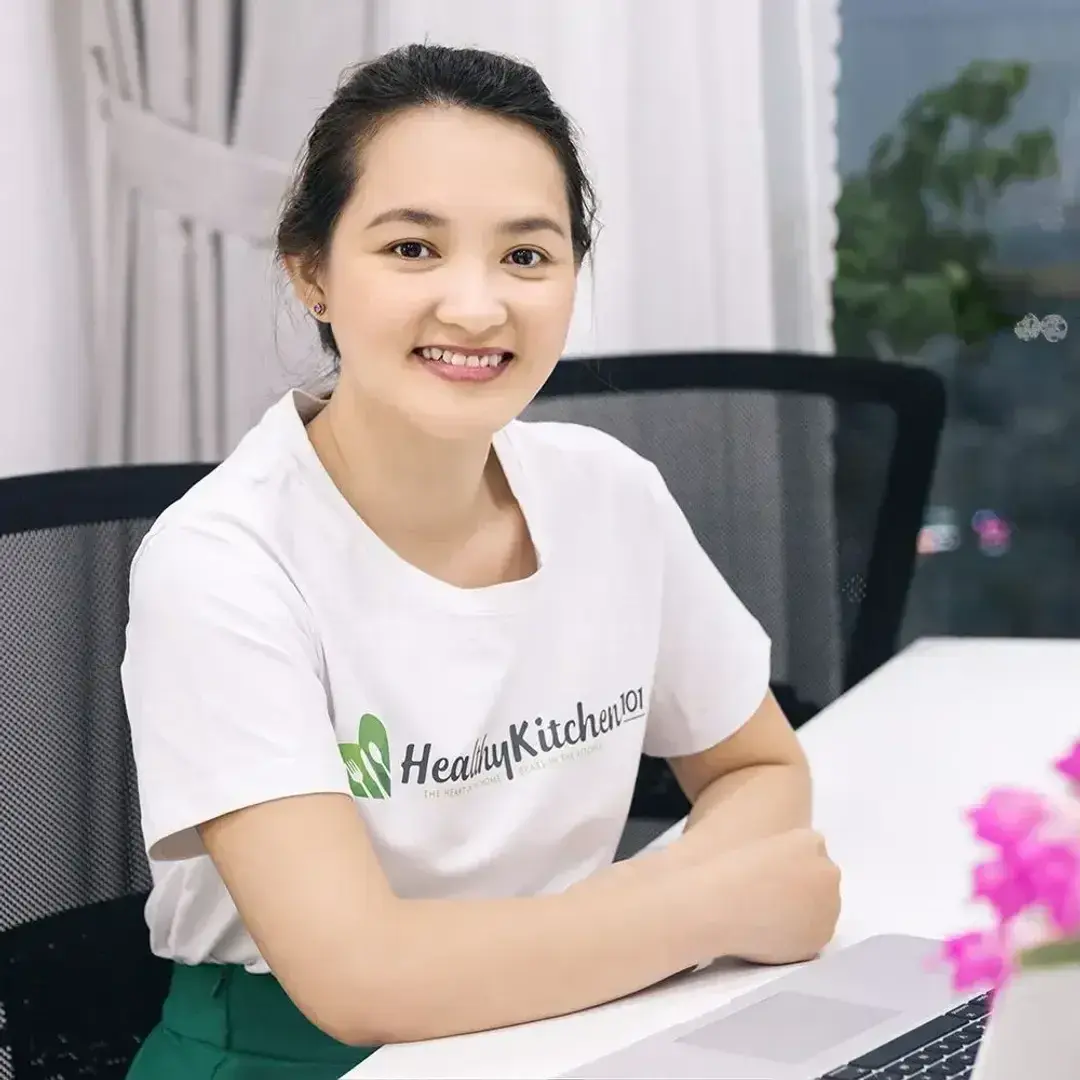 Luna Regina
Luna is the founder and chief recipe developer of Healthy Recipes 101. Apart from cooking, she also loves reading, programming, exploring the outdoors, and collecting useless facts about everything.