Welcome to today's peanut butter cookies recipe. This is a simple baking recipe, perfect for those who want to begin learning how to bake.
If you have children, you can invite them to help you make these sweet treats too. We bet you'll have a great time in the kitchen.
And if you're looking for a way to enjoy National Peanut Butter Day (January 24), National Peanut Butter Lover's Day (March 1), or National Peanut Butter Cookie Day (June 12), these peanut butter cookies will do the trick.
Most importantly, we're going to make these peanut butter cookies as healthy as possible. We are Healthy Recipes 101 after all.
What Are Peanut Butter Cookies?
Peanut butter cookies are a type of popular sweet treat in the United States. And as the name suggests, peanut butter is the main ingredient in a peanut butter cookie recipe.
Peanut butter cookies are believed to originally have been an invention of George Washington Carver. He was an agricultural scientist who promoted peanut consumption.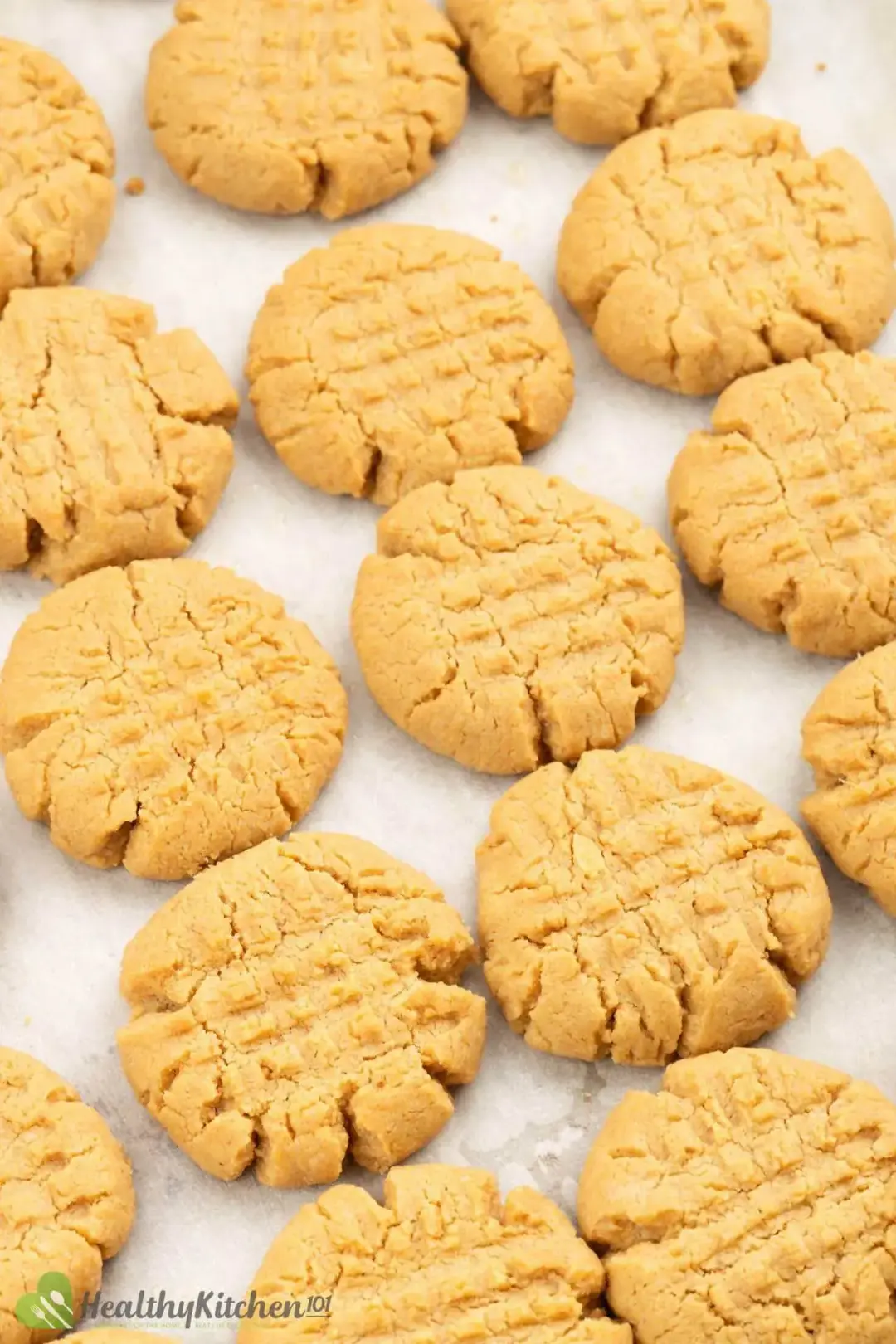 He published a book on how to prep and cook peanuts that included peanut cookie recipes. The original recipes called for crushed peanuts, instead of the now-famous peanut butter.
Why Do Peanut Butter Cookies Have Fork Marks?
Peanut butter cookies usually have a hashtag-like pattern on top of them. This pattern is made by pressing fork tines on the cookies before baking.
We may not know who invented this pattern but we do have a few ideas why they did it.
Peanut butter cookie dough is usually denser than other cookie dough. It may not spread out during baking.
Pressing the cookie with a fork flattens the cookies out. This helps them to bake at the same rate as well.
The criss cross pattern also gives the cookies a beautiful surface and makes them more appealing.
Are Peanut Butter Cookies Healthy?
Sweet treats like cookies aren't usually healthy. But ours are.
Here's how we make a healthy peanut butter cookie recipe:
Many other recipes use 3 to 4 times the amount of sugar as we do. We want to avoid that and reduce the amount of added sugar as much as we can.
Our peanut butter cookies end up containing about 7 grams of added sugar per cookie.
Ideally you want to eat less than 50 grams of added sugar per day to avoid eating too much. Overconsuming added sugar can lead to many health problems, including diabetes, obesity, and increasing the risk of heart diseases.
In addition to that, we also reduce the amount of saturated fat by cutting down on butter. We recommend eating less than 23 grams of saturated fat per day, based on a 2100 calorie diet.
In the end, our peanut butter cookies contain 4 grams of saturated fat per cookie. So you can snack on 2 cookies per day, guilt-free.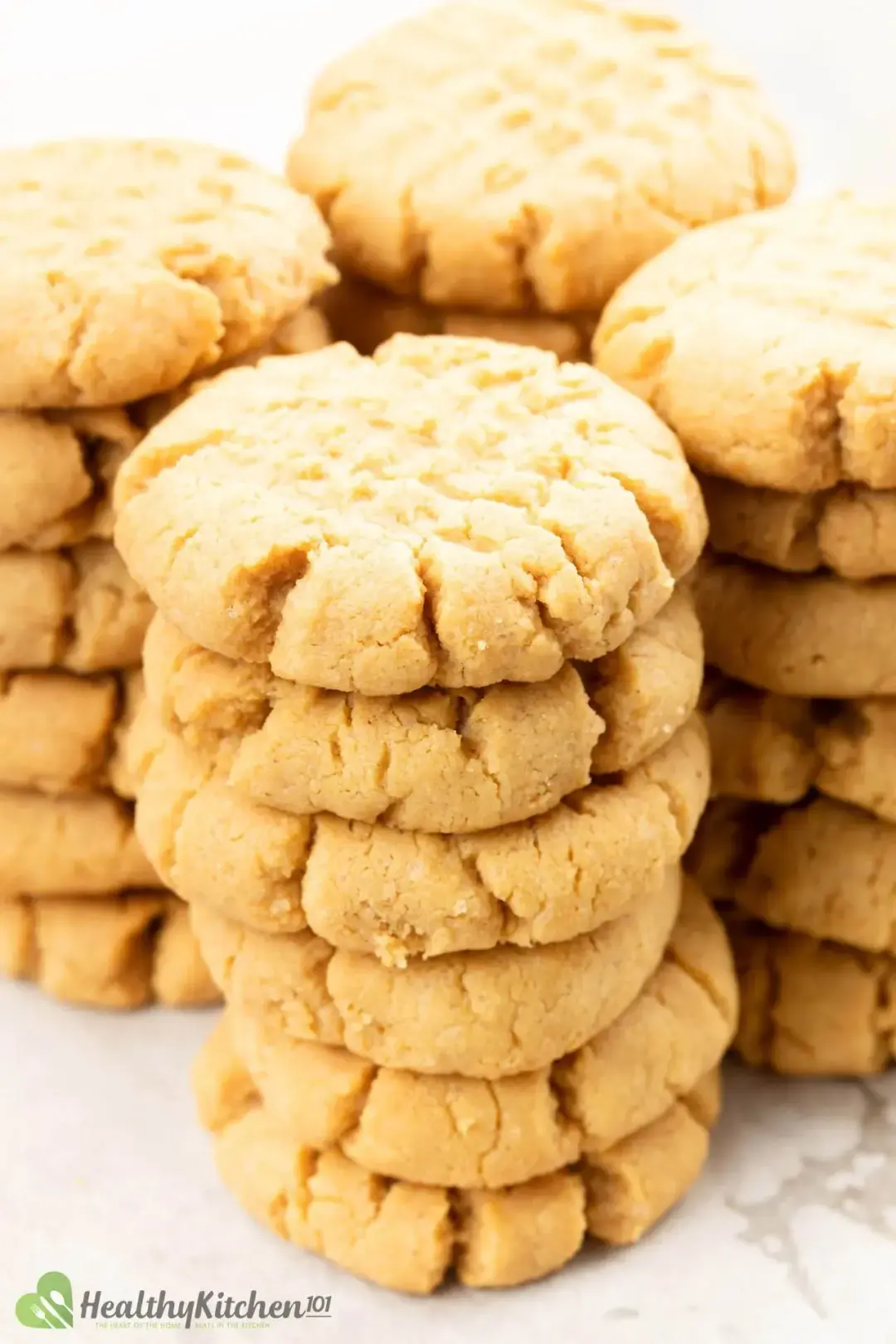 If you love similarly healthy sweet treats, check out our healthy pumpkin cookies recipe and these easy cookies for Christmas.
Calories in a Peanut Butter Cookie
According to our calculations, there are 196 calories in a peanut butter cookie.
If you plan to eat peanut butter cookies after a meal, you should only eat 1 cookie. That way you won't exceed your calories, saturated fat, and added sugar limit for the day.
4 Main Ingredients of a Peanut Butter Cookie Recipe
There are 4 important ingredients in today's peanut butter cookie recipe. They are:
Peanut butter: this is the soul to our cookies. We're using smooth peanut butter for this recipe but you can use the crunchy type if you prefer.
Eggs: these make your cookies light, springy, rich, and decadent.
Sugar: although it may not be healthy, sugar can improve your cookie texture and flavor tremendously.
Flour: is what makes the cookies soft and chewy. If you can't eat flour, we have some substitute recommendations for you below.
How to Make Peanut Butter Cookies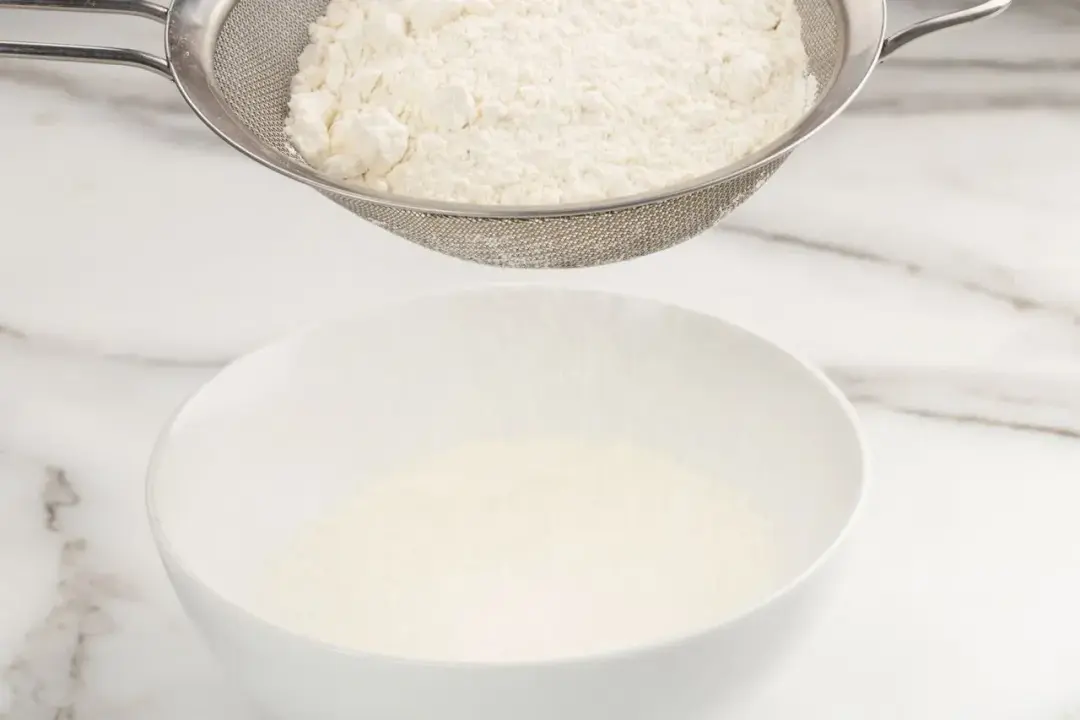 Sift the dry ingredients: Using a sieve, sift flour, salt, baking powder, and baking soda into a bowl.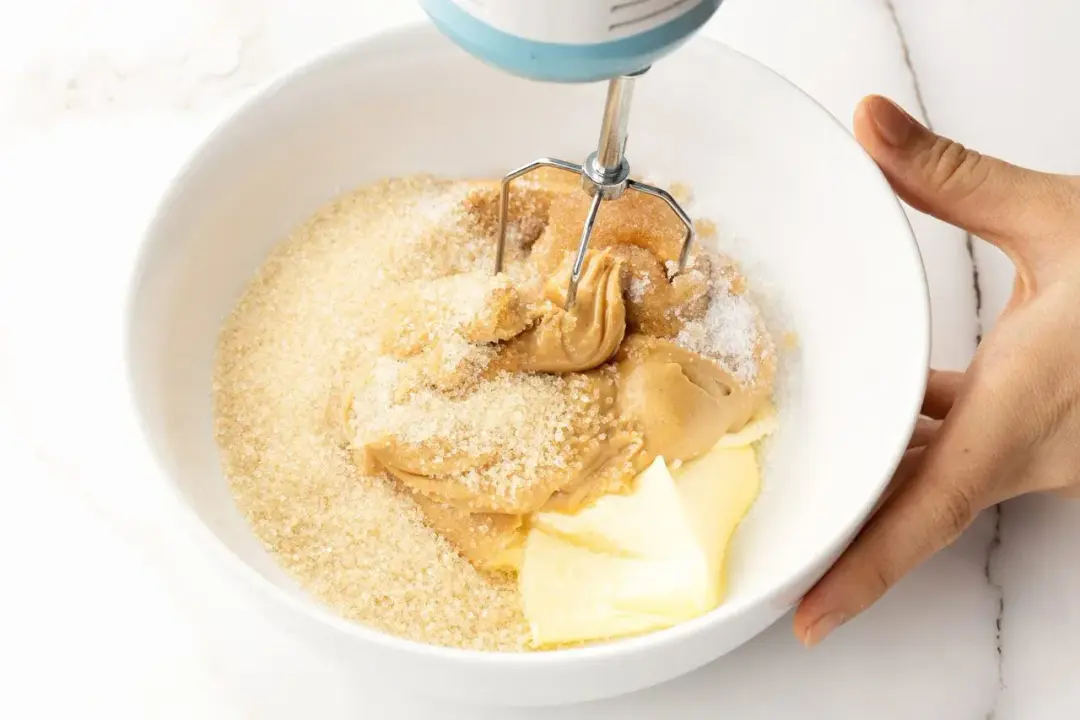 Cream the butter: In another mixing bowl, combine peanut butter, unsalted butter, and sugar. Beat until the butter is light and fluffy.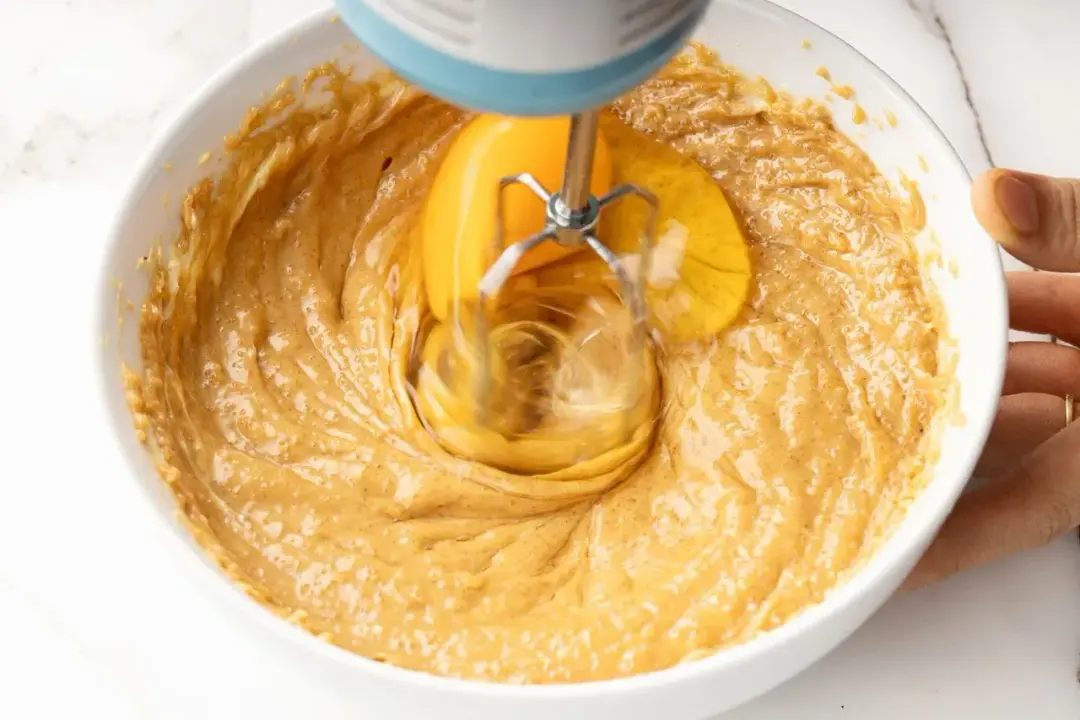 Mix in the egg: Add one egg and vanilla extract to the butter mixture. Beat until fully combined.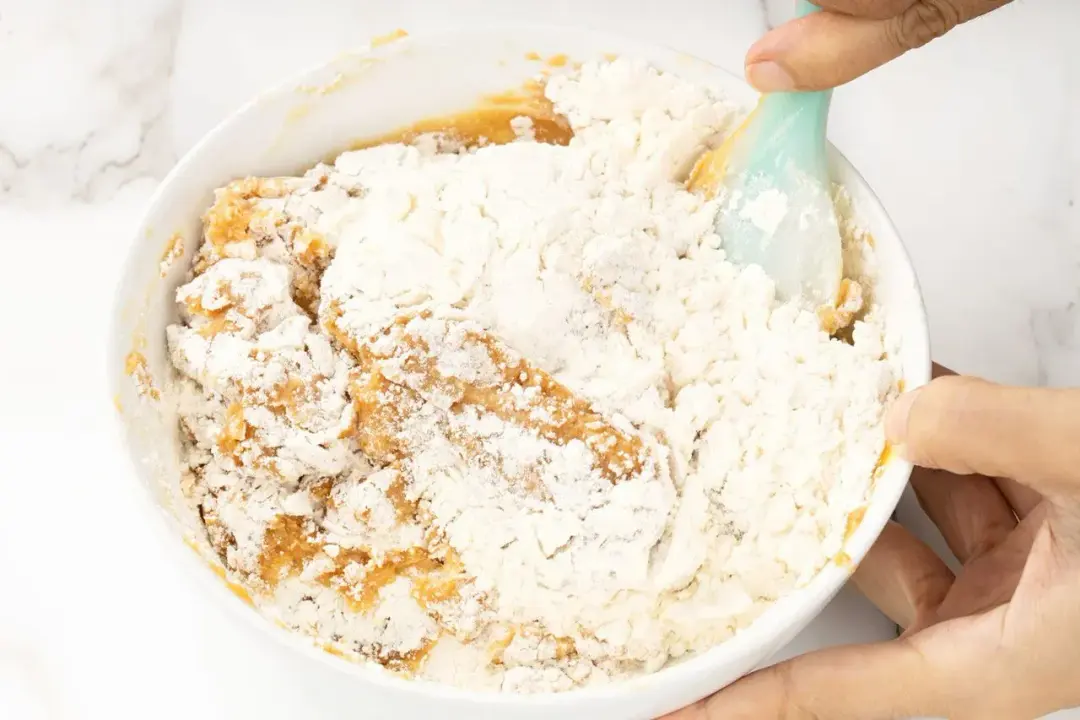 Combine wet and dry ingredients: Add flour mixture to the butter bowl. Mix until just combined.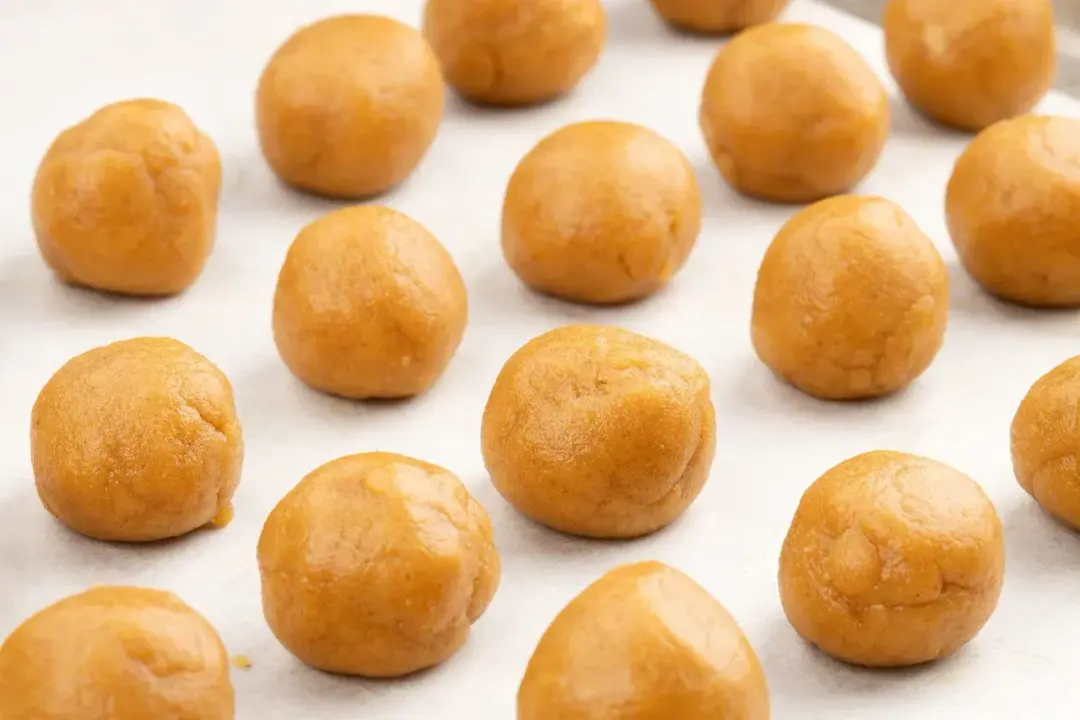 Form the dough balls: Use a tablespoon and scoop out cookie dough balls. Place them on a lined baking sheet.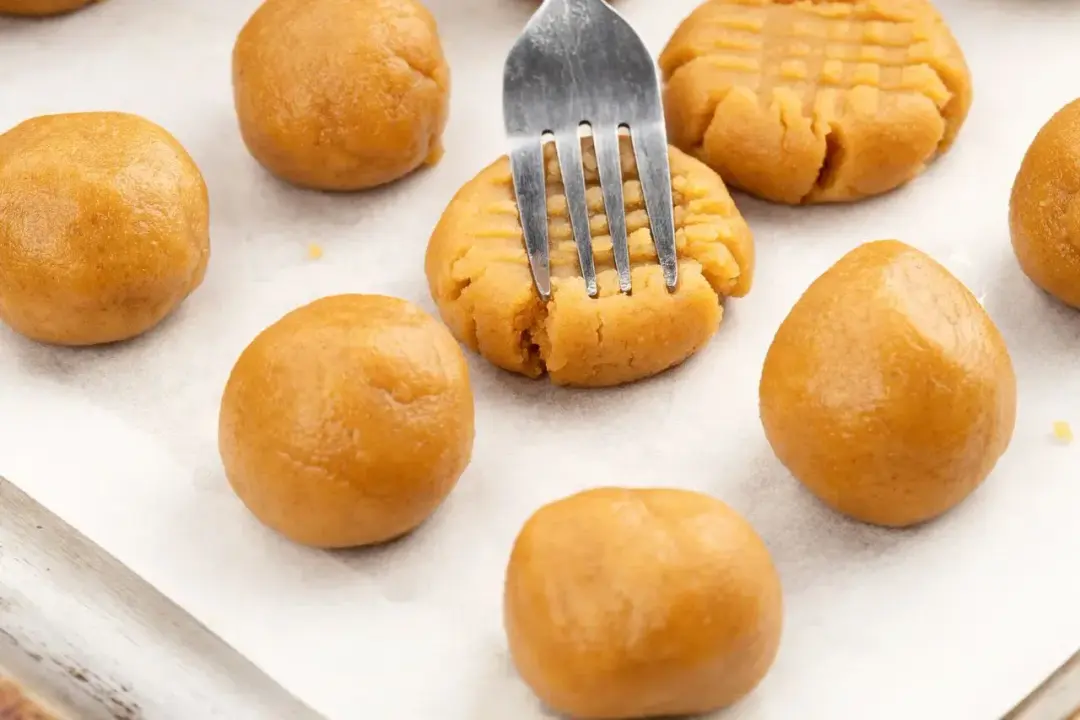 Mark the cookies: With a fork, gently press the cookies down one way and then the other to make a criss cross pattern.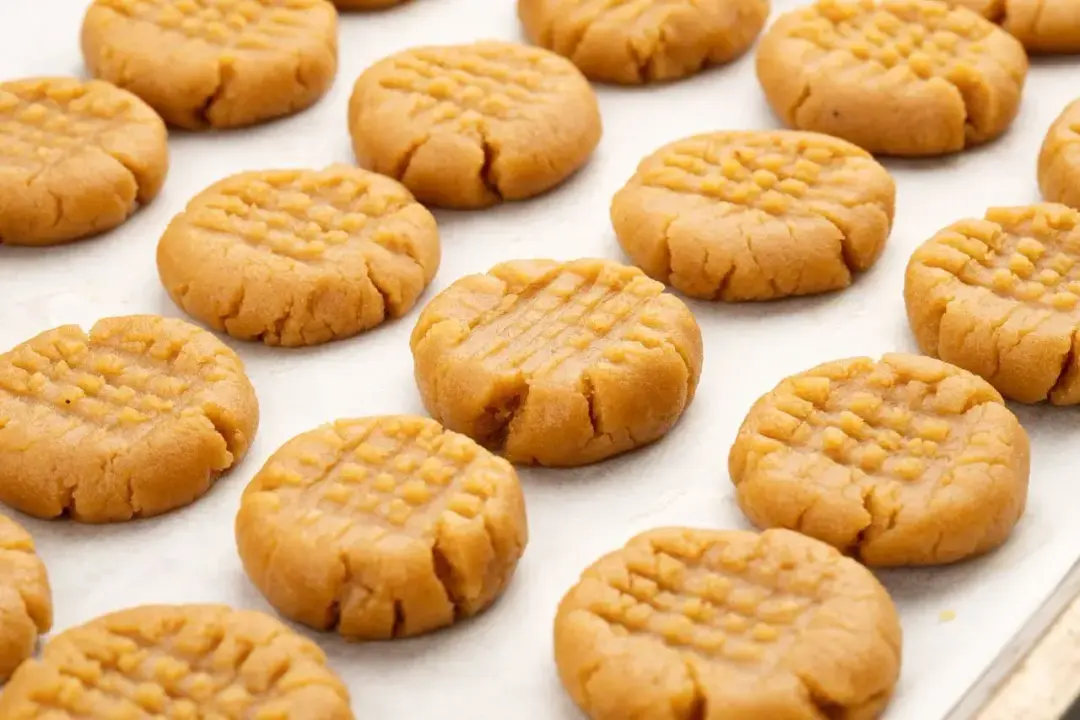 Freeze the cookies: Put the baking sheet in the freezer for 15 minutes or until the cookies firm up.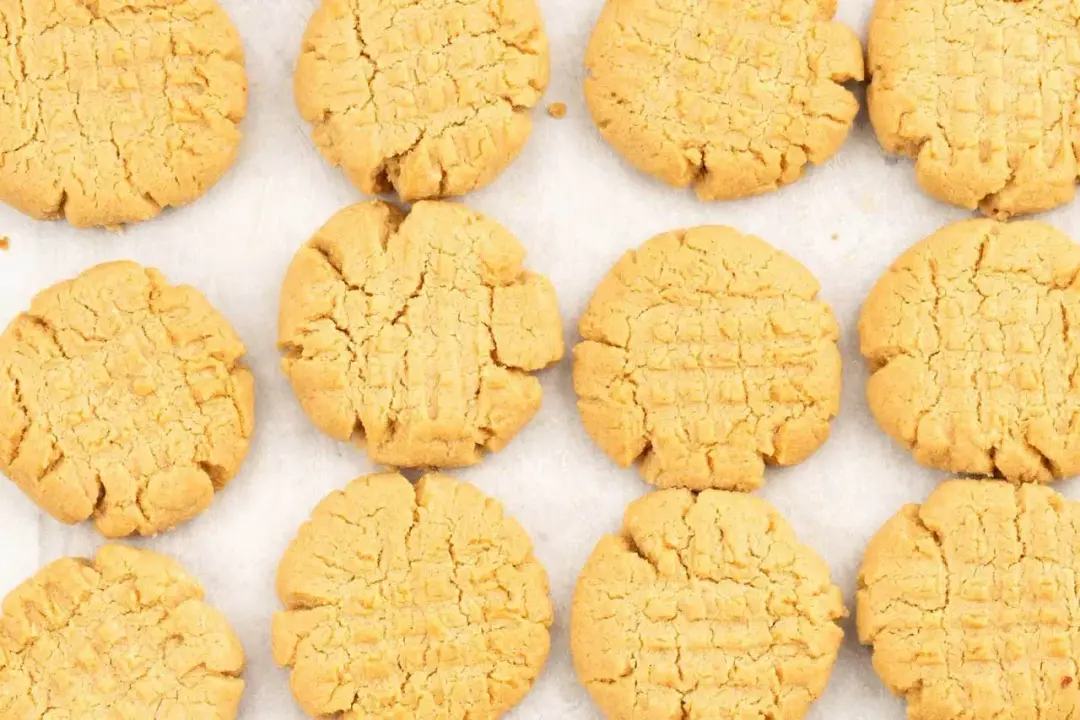 Bake the cookies: Bake the cookies in a preheated oven. Once done, take the cookies out of the oven and let them cool before serving.
How Long to Bake Peanut Butter Cookies
For today's peanut butter cookie recipe, you will need to bake the cookies at 375°F for 10 to 15 minutes. The baking time will vary depending on different ovens.
A good indicator that tells you if your cookies are done is their appearance. They should be dry around the edges, lightly soft and springy on top, and golden brown on the bottom.
If you want your cookies to turn out perfect, we suggest investing in an oven thermometer.
Using a thermometer helps you read the oven temperature correctly to avoid undercooking food or burning it.
Flour Substitutes in a Peanut Butter Cookie Recipe
If you're gluten-intolerant, we have some suggestions to customize the recipe so you can also enjoy these nutty cookies:
1. Oatmeal
Oatmeal is a great alternative to the regular all-purpose flour. You can use either oatmeal flour or rolled oats in your recipe.
If you want your cookies to have a similar texture as the regular peanut butter cookies, use oatmeal flour.
Rolled oats, on the other hand, will give your cookies a lot more texture that can resemble a granola bar.
A combination of both rolled oats and oatmeal flour can give you a chewy, yet crunchy peanut butter cookie.
Most importantly, oats are rich in fiber. Adding them to your recipe is a great way to increase your fiber intake as well.
Fibrous oatmeal is great for improving bowel movements. Oats can also bring many other health benefits, including controlling and improving cholesterol levels and blood sugar levels.
Do keep in mind that if you're using oatmeal flour or rolled oats, make sure they are gluten-free.
2. Almond Flour
Almond flour is a gluten-free ingredient that can replace all-purpose flour in today's peanut butter cookie recipe.
However, since almond flour doesn't contain gluten, your cookies may not be as soft as you would expect.
If you want to make soft cookies with nut flour, we suggest adding xanthan gum or guar gum. These ingredients help develop elasticity in your cookie dough and improve cookie texture.
3. Coconut Flour
Coconut flour is made from dried coconut meat that's been grinded into a fine powder. And similar to almond flour, it's a great gluten-free alternative.
If you want to use coconut flour to replace all-purpose flour, there are a few things to keep in mind.
Like almond flour, coconut flour will change the texture of your cookies. It tends to soak up more moisture and can make baked goods dry.
Coconut flour also lacks the ability to make cookies and cakes soft because it doesn't have gluten.
So if you use coconut flour, you may need to add an extra egg and xanthan gum. This can prevent you from having a dry and crumbly dough.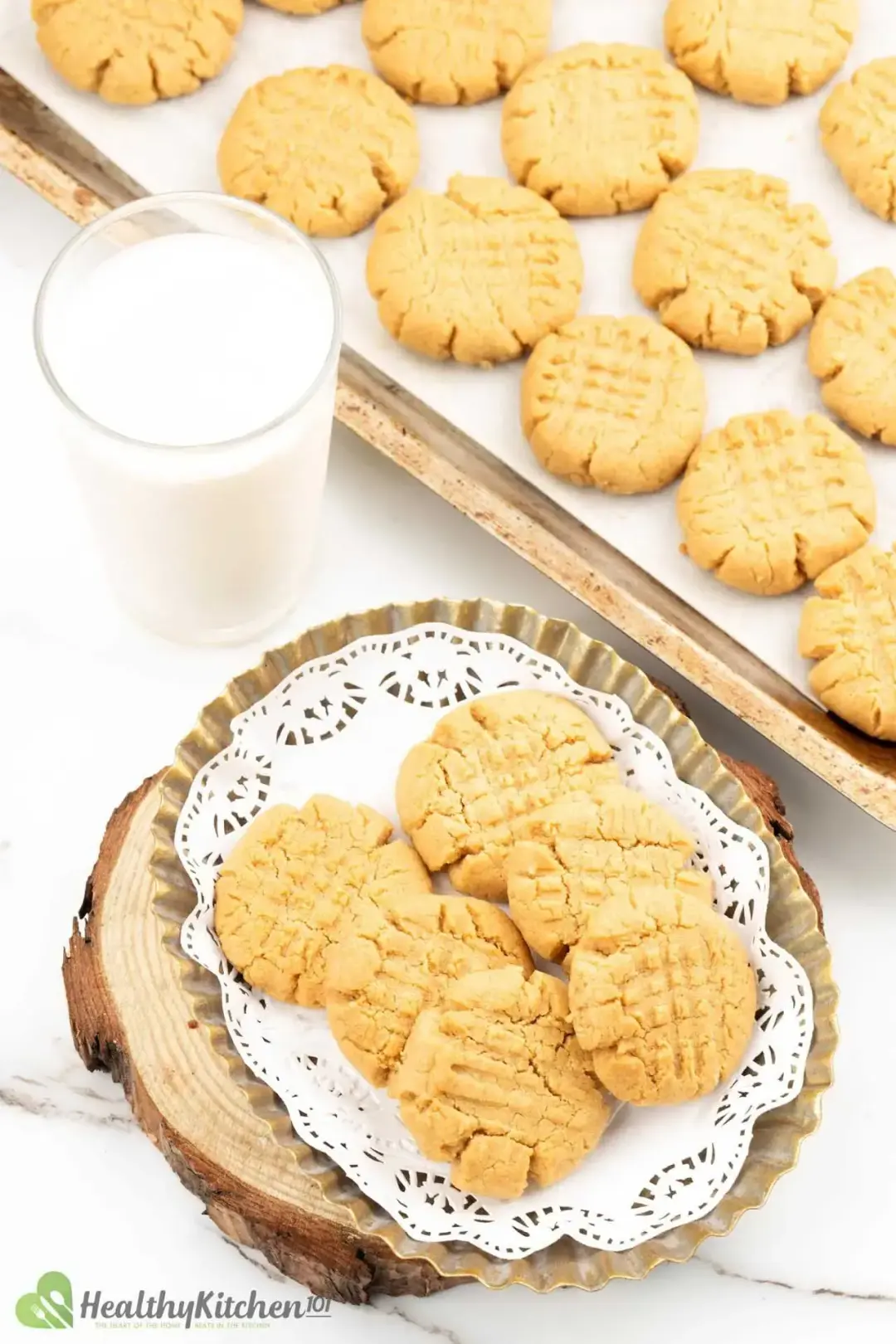 Tips for the Best Peanut Butter Cookie Recipe
Here are a few tips to make the best fail-proof peanut butter cookie recipe:
Use the best smooth peanut butter you can afford. Peanut butter is the soul of your cookies so you should invest in the best product you can get.
Keep ingredients at room temperature before making the cookies. Peanut butter, unsalted butter, and eggs shouldn't be cold as they can be hard to mix. Also, when ingredients are all the same temperature they combine more easily.
Use a measuring tablespoon or an ice cream scoop to ensure your cookies are the same size.
What Goes Well with a Peanut Butter Cookie Recipe?
Peanut butter cookies are delicious on their own. But they can be even more delicious with the help of chocolate and milk.
1. Chocolate Chips
Chocolate can take any dessert to the next level, and peanut butter cookies are no exception.
We recommend using semi-sweet chocolate chips. They can give your cookies a complex bittersweet flavor.
You can even melt chocolate chips and use the melted chocolate to decorate your cookies as well.
2. Milk
Milk is a great addition to have with any type of cookies. So naturally it goes well with peanut butter cookies too.
Try having a glass of warm milk with warm, freshly baked cookies. Together they make the best snack and comfort food that will make your day.
Keep in mind that your cookies are sweet enough on their own. You don't need to add sweetener to your milk.
How to Store and Freeze Peanut Butter Cookies
To store peanut butter cookies, you will need either a mason jar, an airtight container, or a ziploc bag.
It's crucial that you store your cookies in some sort of airtight container. This is to keep them from getting exposed to air and losing their texture.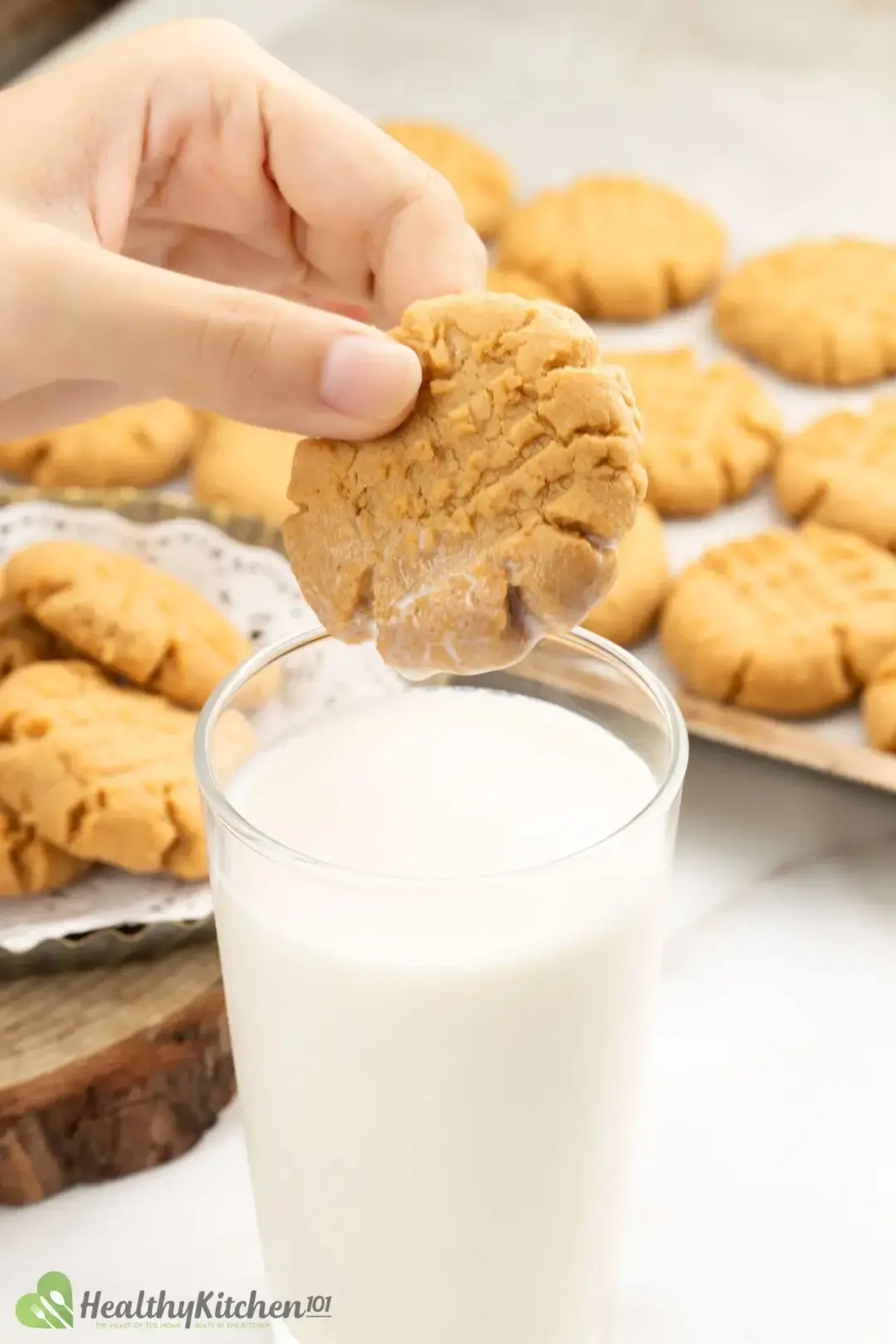 If you keep your cookies in a mason jar on the counter, they can last up to 3 days. Or, you can store them in the refrigerator and they'll be good for a week without losing their qualities.
Now then, how do you freeze peanut butter cookies?
We don't recommend freezing cookies because they often have somewhat altered texture and flavor once you defrost them. You can, however, freeze peanut butter cookie dough.
If you're a busy person, you can make the cookie dough ahead of time. Roll your dough into a log, wrap it in parchment paper, and put it in a ziploc bag.
Frozen peanut butter cookie dough can last up to 1 month. So whenever you want to eat fresh cookies, just cut the log into ½-inch pieces, thaw, and bake them.
If you want more delicious cookies, check out this healthy dessert roundup.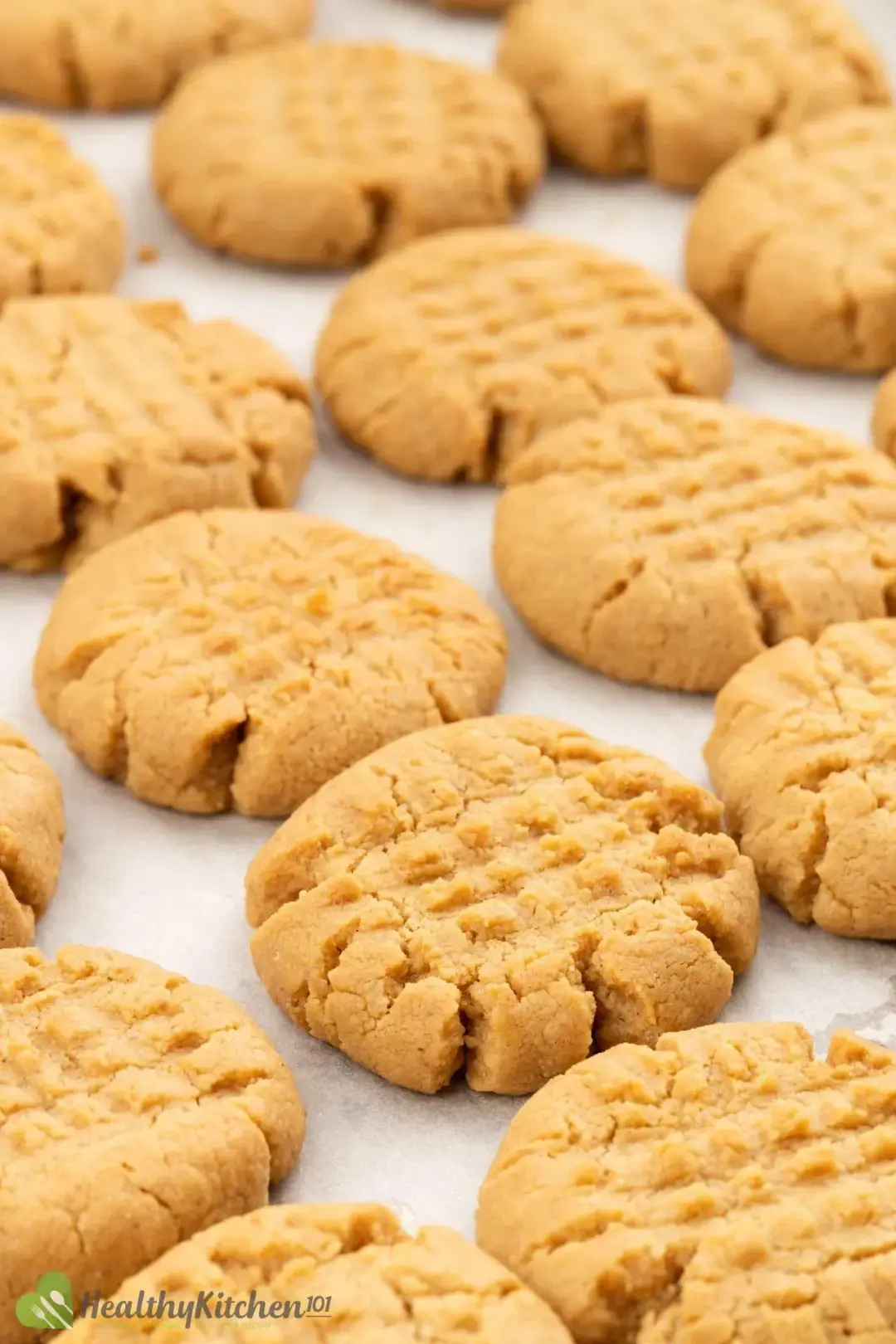 Healthy Peanut Butter Cookies Recipe
This peanut butter cookie recipe is simple. It only requires a few ingredients from your pantry and less than an hour to make from start to finish.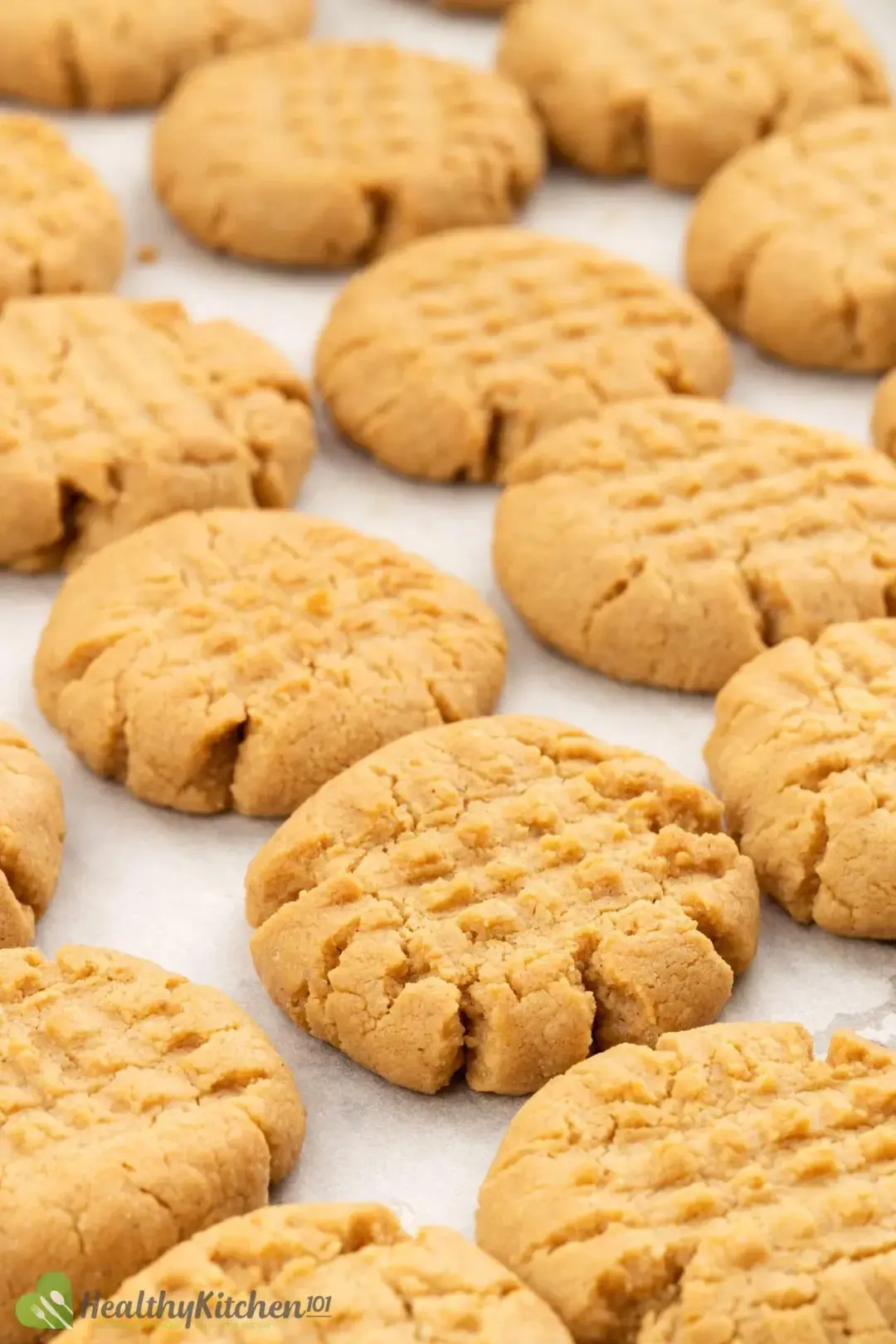 cook TIME

10 mins

prep TIME

15 mins

total TIME

40 mins

INACTIVE TIME

15 mins
COURSE

Dessert

CUISINE

American

SERVINGS

servings

CALORIES

196 kcal
INGREDIENTS
1 cup

white all-purpose flour

0.3 tsp

baking soda

0.5 tsp

baking powder

0.1 tsp

salt

0.3 cup

unsalted butter softened

0.8 cup

smooth peanut butter without salt

0.3 cup

brown sugar

1 tbsp

granulated sugar

1

medium egg

0.3 tsp

vanilla extract
INSTRUCTIONS
1
Line a baking sheet with parchment paper.
2
In a clean bowl, sift flour, baking soda, baking powder, and salt. Set aside.
3
In another bowl, beat unsalted butter, peanut butter, granulated and brown sugar using an electric mixer. Beat on low for 5 minutes or until the butter is fluffy and pale in color.
4
Add egg and vanilla extract to the butter. Continue to mix for another 5 minutes or until the egg is fully incorporated into the butter.
5
Add the flour mixture to the butter and beat on low. You can use a spatula to mix the flour into the butter if you find it easier for you. You should end up with a rather thick batter.
6
Using a tablespoon, take out balls of dough and place them on the lined baking sheet, about 2 inches apart from one another.
7
Press the fork tines twice on each dough ball to flatten the cookies while making a hashtag-like pattern (this step is optional).
8
Place the tray in the freezer for at least 15 minutes to firm up (or 30 minutes in the fridge).
9
Preheat the oven to 375°F at least 10 minutes before baking.
10
Put the cookie tray in the oven and bake for 10-15 minutes.
11
Once the time is up, remove from the oven and allow to cool completely on a wire rack before serving.
NUTRITION
Nutrition Facts
Healthy Peanut Butter Cookies Recipe
Amount Per Serving (1 serving)
Calories 196
Calories from FDA
% Daily Value*
* Percent Daily Values are based on a 2000 calorie diet.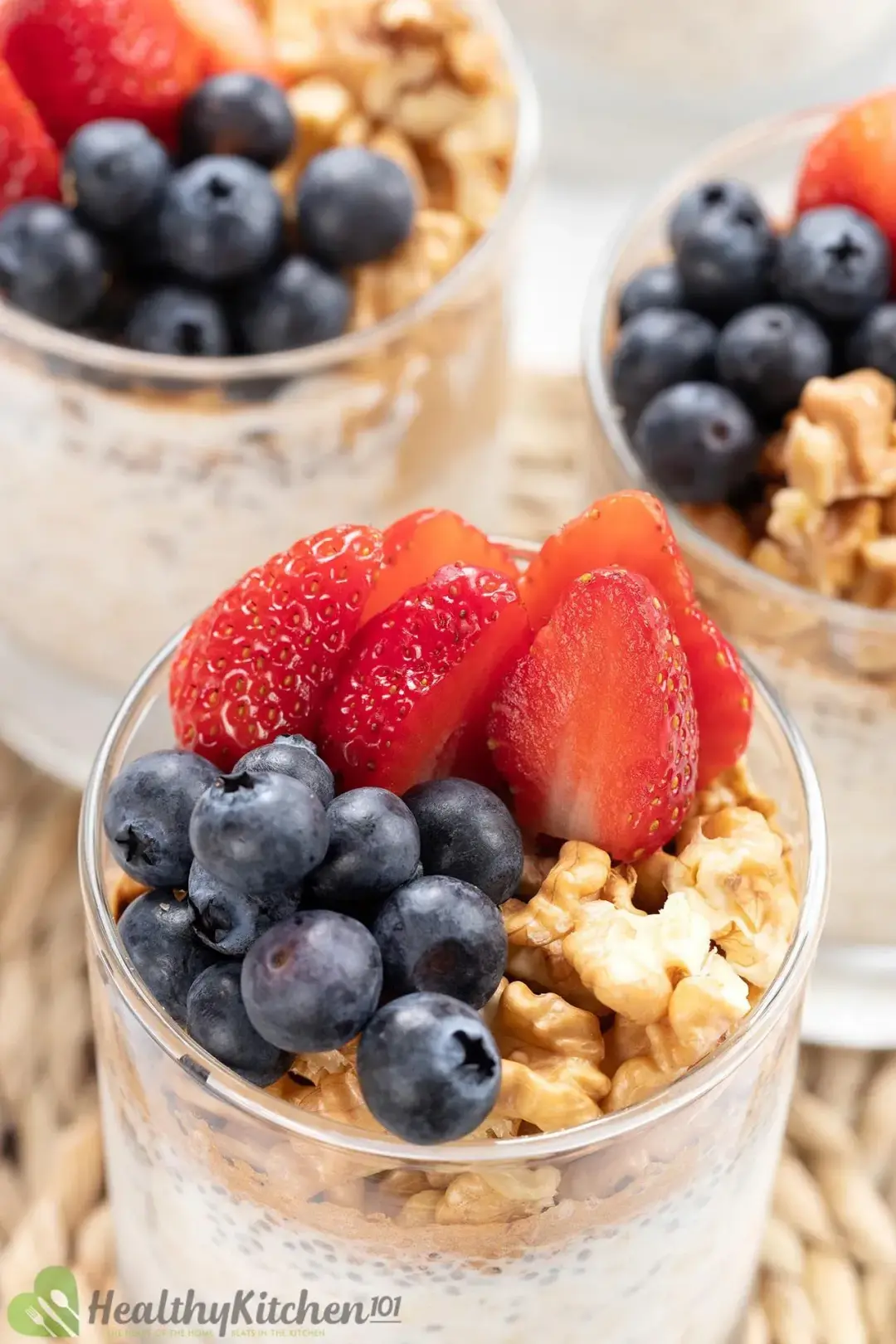 Previous Recipe
Overnight Oats with Yogurt
Overnight Oats with Yogurt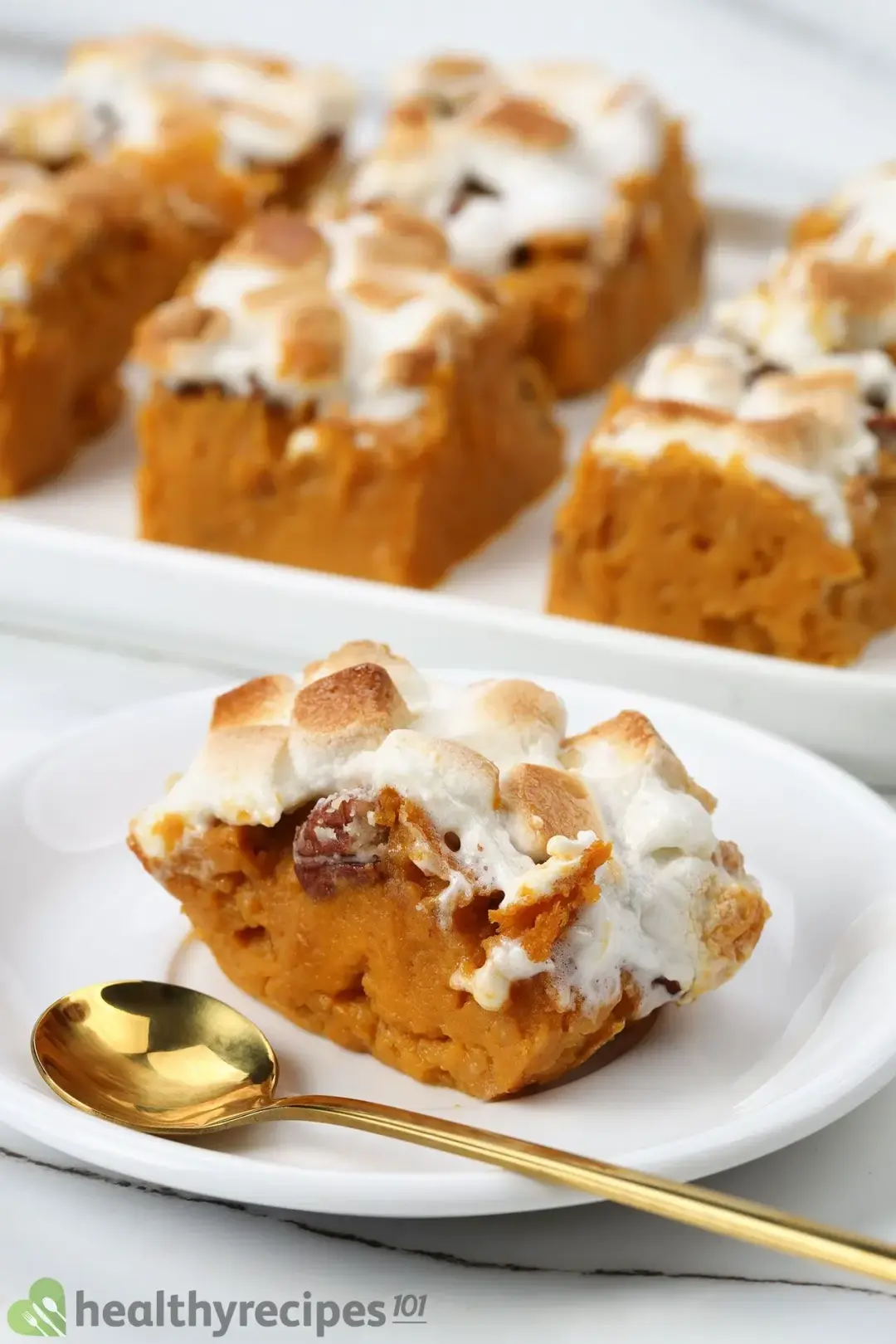 Next Recipe
Sweet Potato Casserole
Sweet Potato Casserole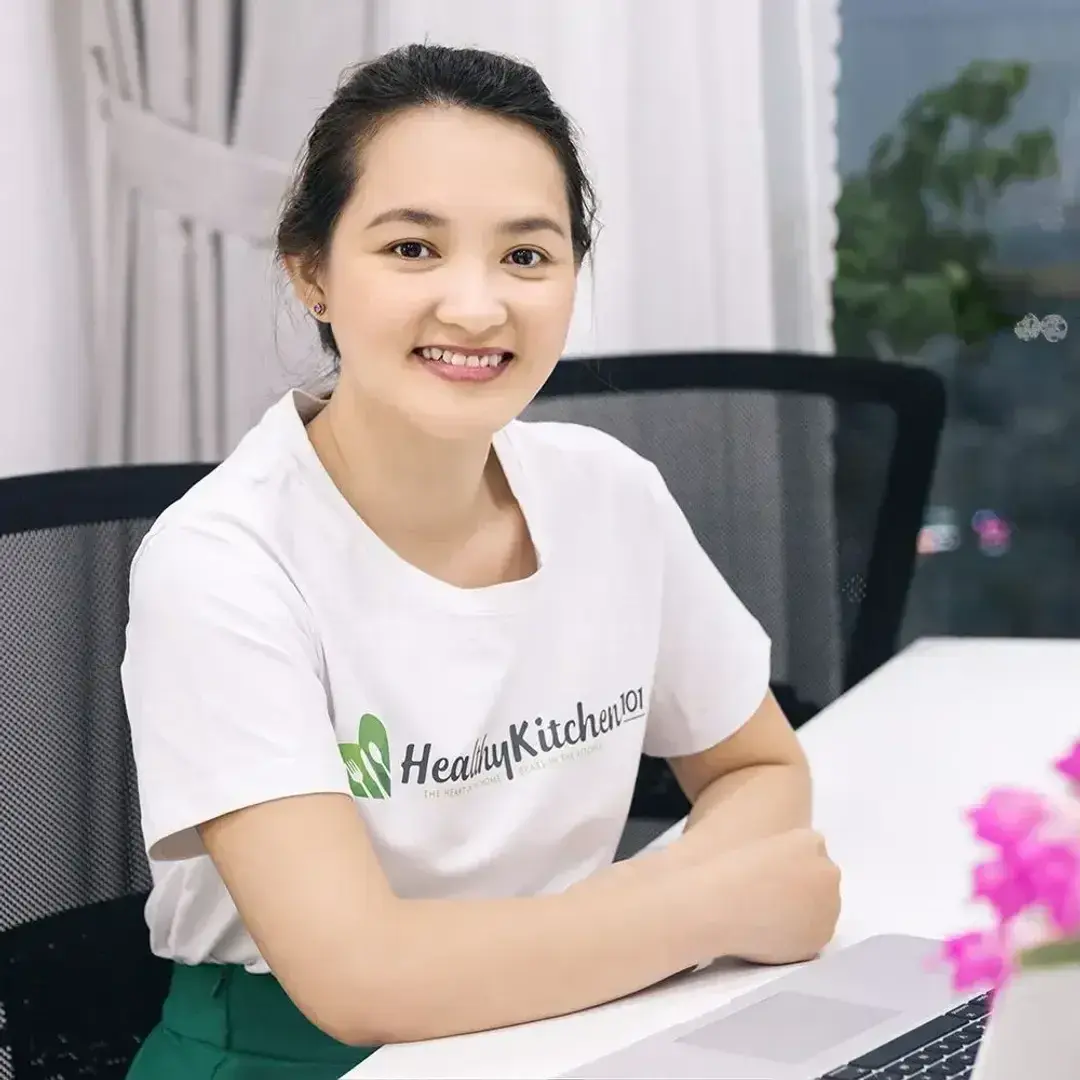 Luna Regina
Luna is the founder and chief recipe developer of Healthy Recipes 101. Apart from cooking, she also loves reading, programming, exploring the outdoors, and collecting useless facts about everything.