If you are longing for a healthy carbonara pasta recipe to bring an authentic Italian vibe to your kitchen, we have exactly what you need. This classic al dente pasta coated with a rich, creamy sauce guarantees a most wonderful culinary experience.
Is Carbonara Pasta Healthy?
Carbonara can be a dish high in saturated fat, sodium, and carbs. We've taken extra care to make sure our homemade carbonara pasta recipe is healthy.
With only 485 calories, this dish provides a hearty and satisfying dinner. Feeling full can also help you avoid late-night snacking and stick with any diet goals you may have.
As for the alluring sauce packed with parmesan cheese, eggs, and milk, our chefs have carefully calculated each ingredient to ensure everything stays within healthy limits. The amount of added sodium and sugar is also kept in check, at 546.3 mg and 2.8 g, respectively.
Even with all of that care and attention, we still do not recommend having this dish daily, since it may have some side effects on your heart health. It works great as a little indulgence every so often, but not every day.
For now, let's take a closer look at all of the wonderful ingredients that go into this pasta dish.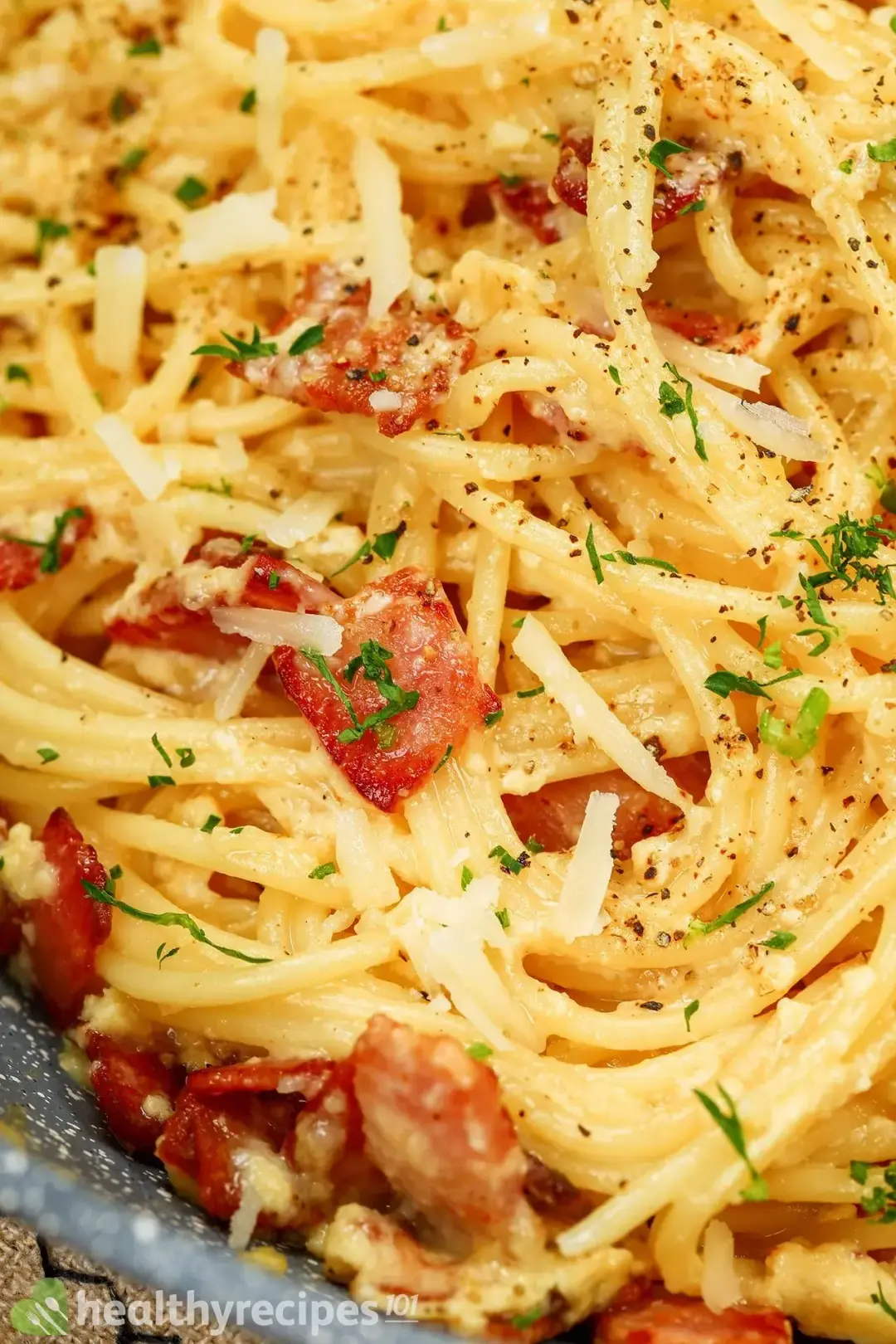 Ingredients for Carbonara Pasta
In this Italian recipe, simplicity is celebrated. You can easily find all of the ingredients at home. If you happen to run out of spaghetti, cheese, or anything else, a quick drive to the grocery store will solve the problem.
Pasta: Whether you prefer spaghetti or linguine, any long-cut pasta works well. For convenience, our chefs use regular spaghetti which you may already have in your pantry, or if not, could definitely buy at the store.
Bacon: Though only a small amount of bacon is included, it's enough to awaken your senses and lift the flavor of the dish. In a pan over low heat, small and thin pieces of bacon are seared until crispy, creating a sizzle that's music to the ears.
Eggs: The hand-whisked eggs give the sauce a dense and velvety consistency. They also add a good amount of dietary protein and other micronutrients, which may help improve many health issues.
Cheese: The go-to cheese for a sumptuous carbonara has to be the nutty and tangy parmesan. If you don't have parmesan, you could also use Pecorino Romano or Asiago.
Milk: Our recipe calls for whole milk with 3.25% milkfat, making the carbonara extra creamy and buttery.
Salt and pepper: Only a moderate amount of seasoning is needed to accentuate the flavor.
Garnishing: A pop of green from parsley to add a fresh note and complete the dish.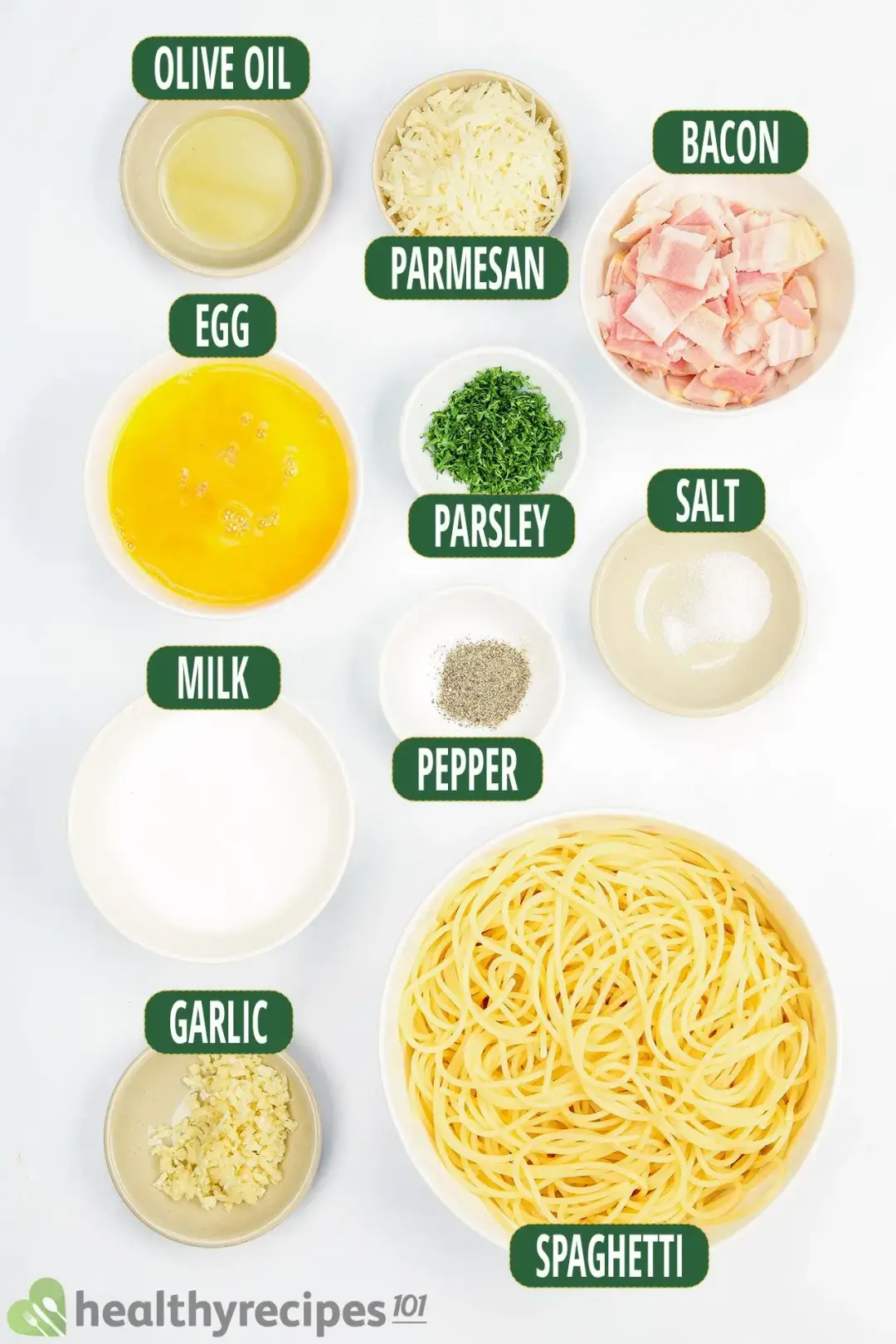 Best Pasta for Carbonara
As mentioned above, there are no specific rules to the kind of pasta you use. The dish traditionally uses spaghetti, but there are many other variants you could choose from, such as linguine or fettuccine. Other types of pasta could be used too, such as ravioli.
The eating experience will differ, but still be very enjoyable. Remember to double-check the instructions on the package as different pastas require different cooking times.
Tips for Cooking Perfect Carbonara
The secret to an irresistible carbonara is getting the pasta evenly coated with the delectable white sauce. However, it's quite tricky for newbies to master the perfect consistency—not too liquid, not too curdled. But not to worry, we have some easy to follow tips and tricks just for you:
Use room temperature eggs: Cold eggs make it harder for you to control the temperature which results in a lumpy sauce. If you leave your eggs overnight in the fridge you should take them out and let them rest for 30 minutes before cooking.
Whisk the eggs to perfection: Whisk your eggs until white and yolk are blended. Your hard work will pay off with a beautiful streak-free sauce.
Add the sauce gently and slowly on low heat: Your eggy sauce can easily turn into scrambled eggs if you leave the heat over 145 °F. To avoid this, once the spaghetti is cooked al dente, you should lower the heat or remove the pan from the stove before carefully adding the carbonara sauce.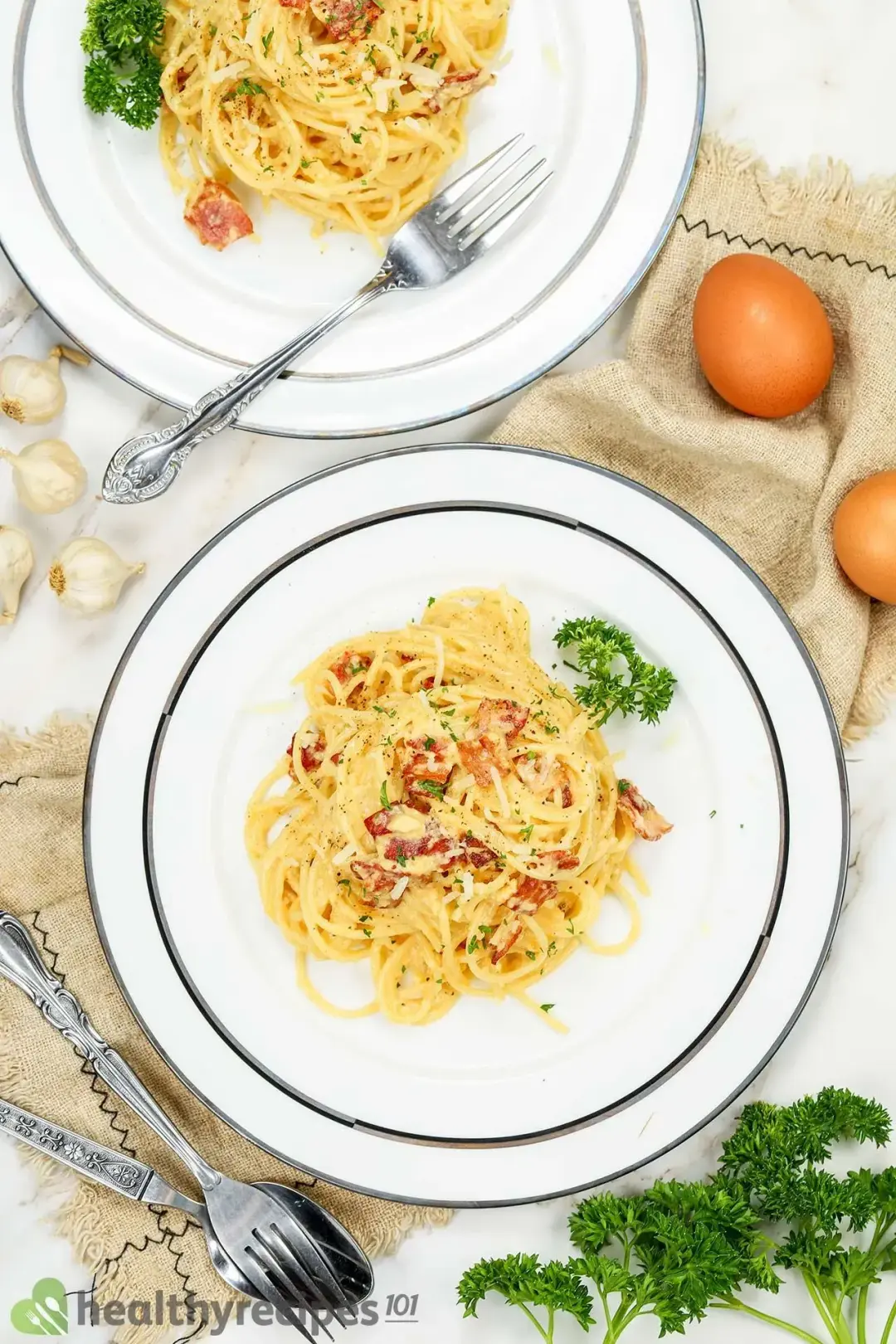 How to Store and Reheat Leftovers
1. How to store
Like any dairy-rich dish, leftover carbonara pasta should be stored properly in an airtight container in the fridge for up to 4 days.
Though frozen pasta can last up to 3 months in a freezer, we don't recommend this method. The noodles themselves can become mushy and soggy during the thawing process.
2. How to reheat
If you are in a hurry, just place your pasta in a microwave-safe bowl, use a microwave cover, and microwave until heated through.
For those who prefer the traditional way, you can turn your stovetop on very low heat, add olive oil, and toss the pasta continuously until warmed through.
What to Serve With Carbonara Pasta
A lightweight watermelon arugula salad and fresh cucumber and lemon juice are two of the best recipes to balance the meal and tie everything together.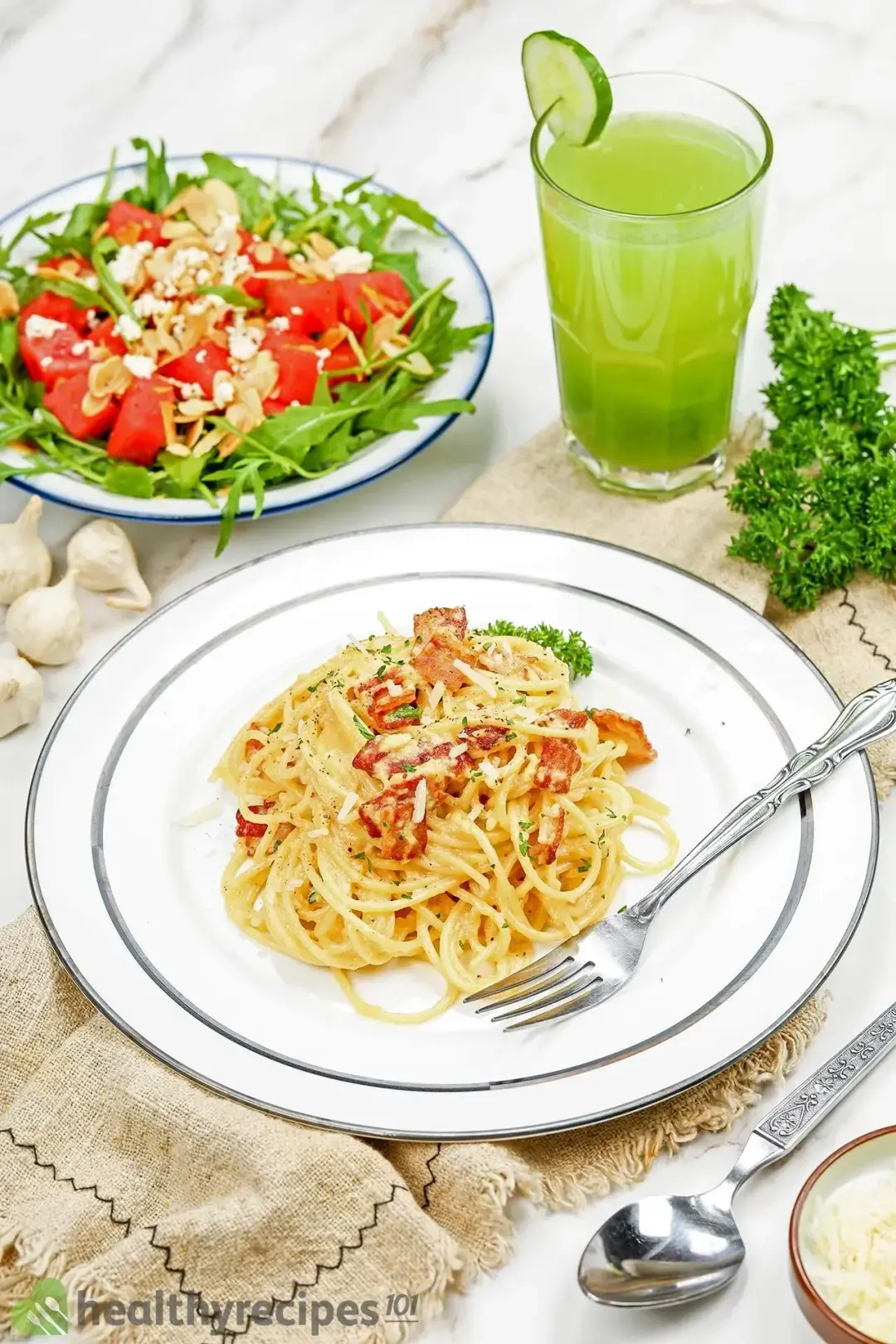 How to Make Carbonara Pasta
The al dente pasta coated with the luscious, creamy sauce guarantees a fantastic eating experience.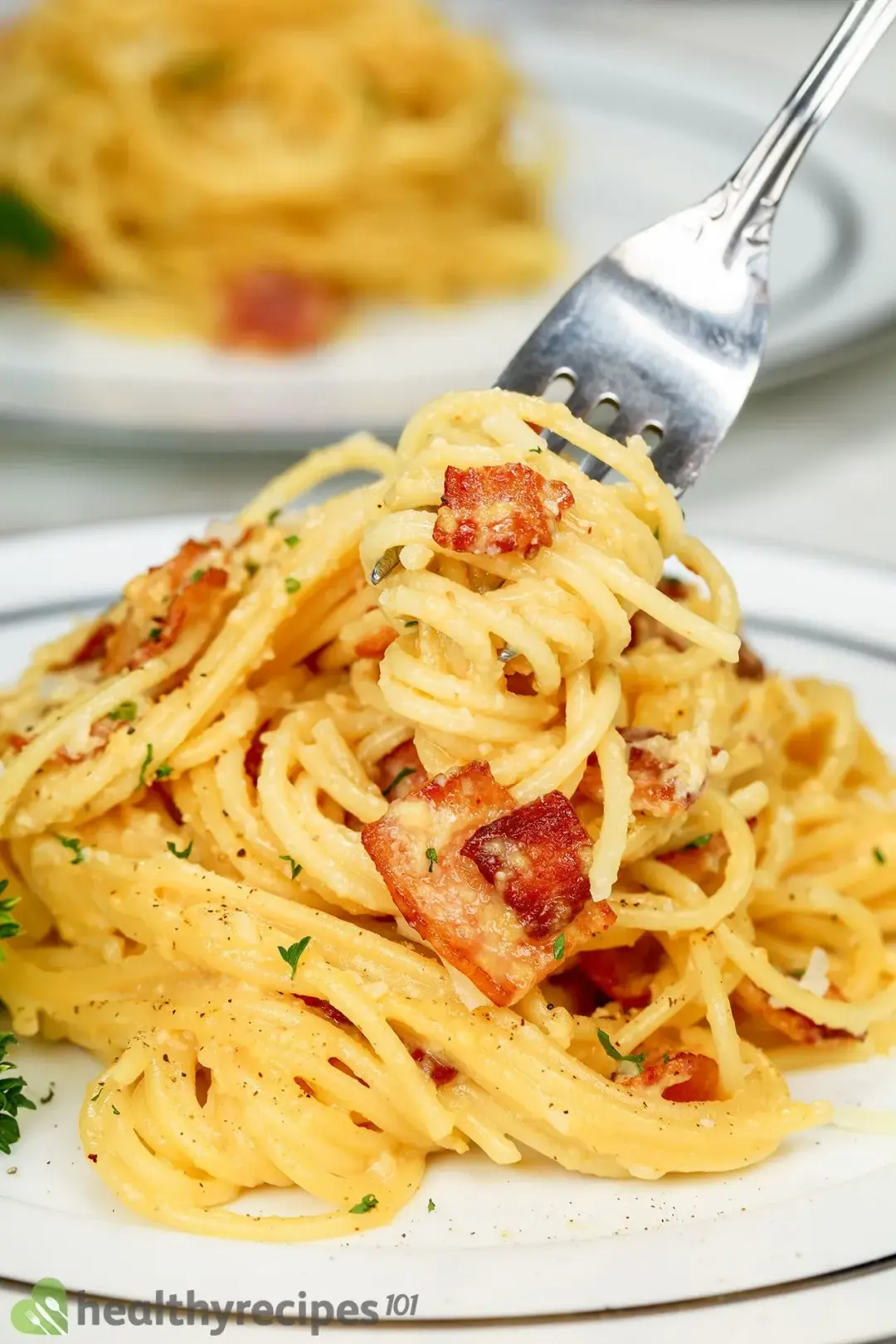 cook TIME

7 mins

prep TIME

5 mins

total TIME

12 mins
COURSE

Main Course

CUISINE

American, Italian

SERVINGS

servings

CALORIES

475 kcal
INGREDIENTS
4 oz

raw cured bacon cut into 1-inch cubes

18 oz

cooked spaghetti

3

medium eggs beaten

0.5 cup

whole milk

1.3 oz

shredded parmesan cheese

0.3 tsp

salt

0.5 tsp

pepper

1.5 tbsp

olive oil

2 tbsp

parsley chopped

2 tbsp

garlic minced
INSTRUCTIONS
1
In a bowl, combine 3 beaten eggs, 1/2 cup whole milk, 1.25 oz shredded parmesan cheese, 1/4 tsp salt, and 1/2 tsp pepper. Whisk the sauce well.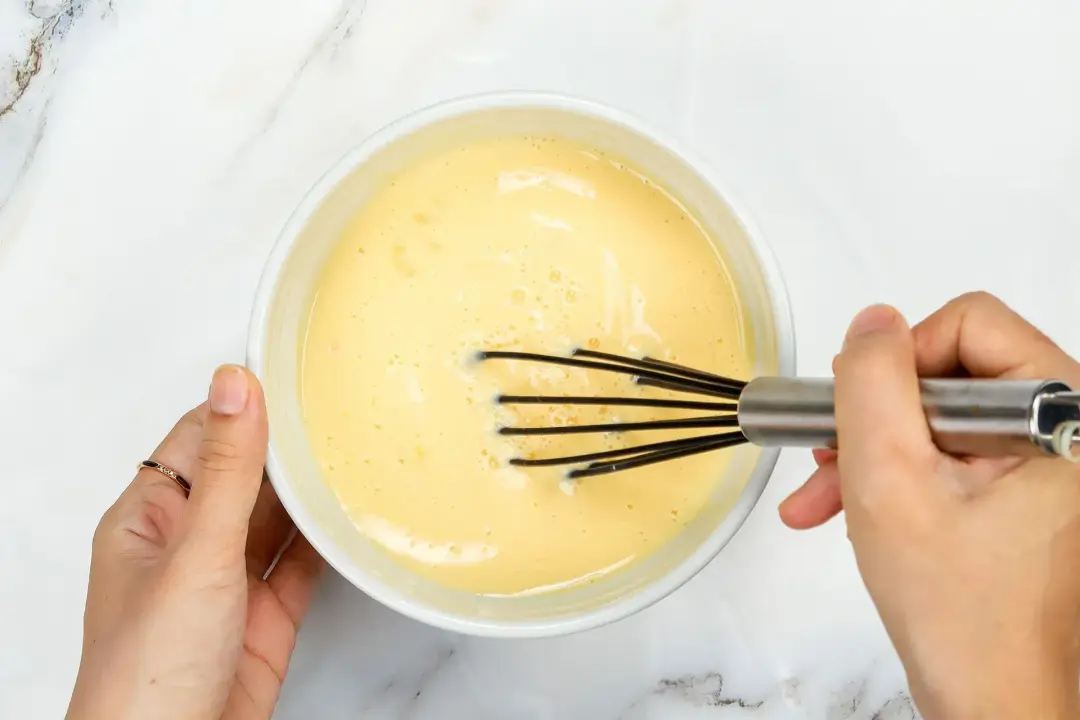 2
Heat a pan over medium-low heat and add 4 oz bacon. Sauté until golden brown.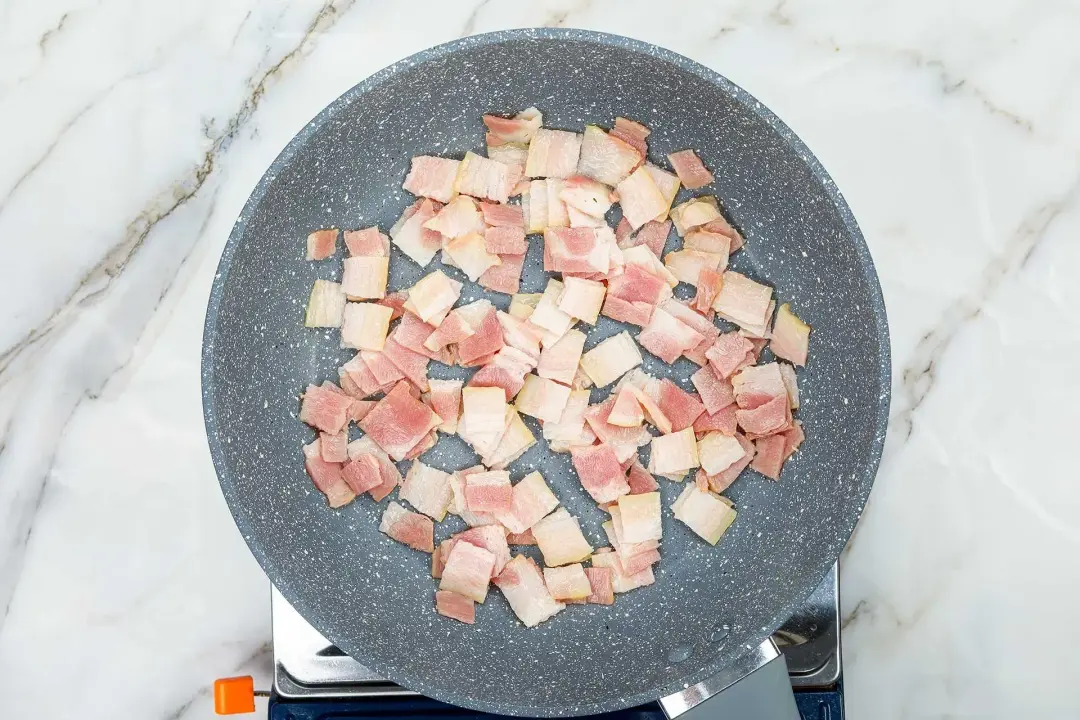 3
Turn up to medium heat. Add 1 1/2 tbsp olive oil and 2 tbsp chopped garlic. Stir fry for 30 seconds.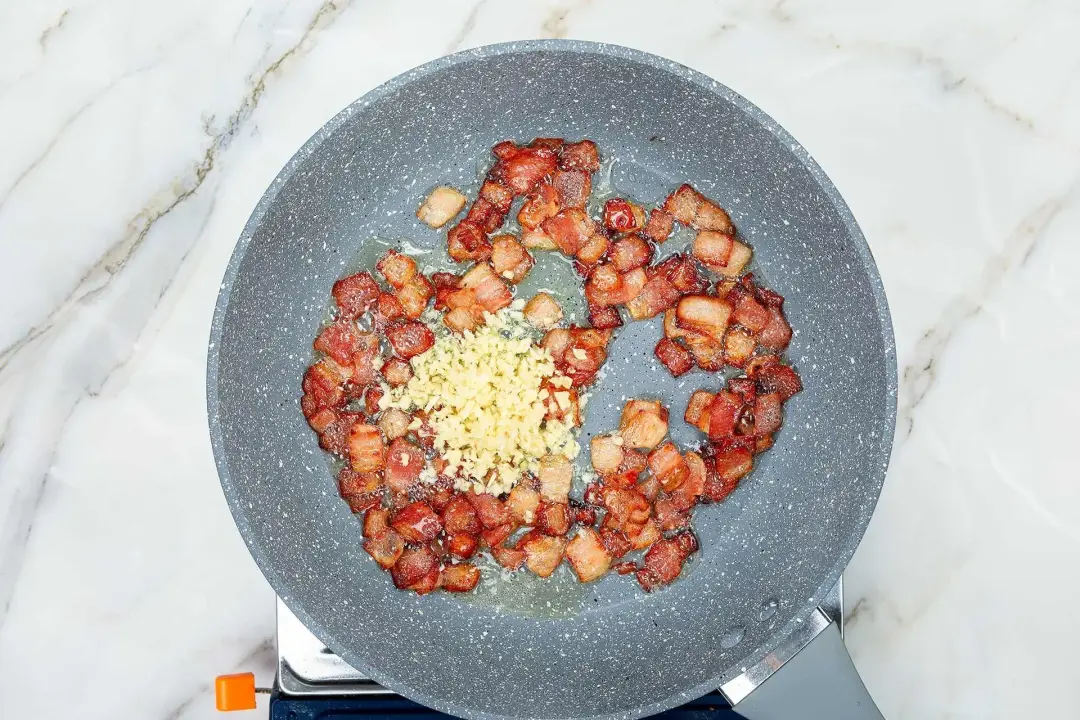 4
Add 18 oz cooked pasta and sauté for 1 minute.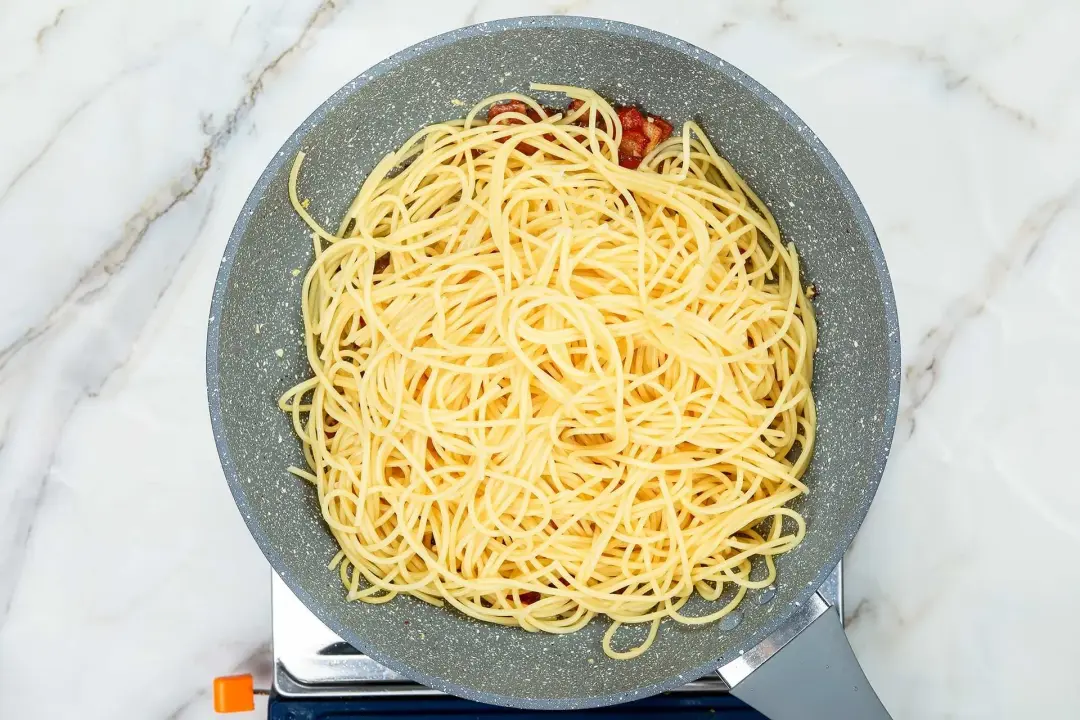 5
Turn the heat down to low heat and slowly pour in the sauce. Stir the pasta and the sauce for 3 minutes until well combined (but not scrambling).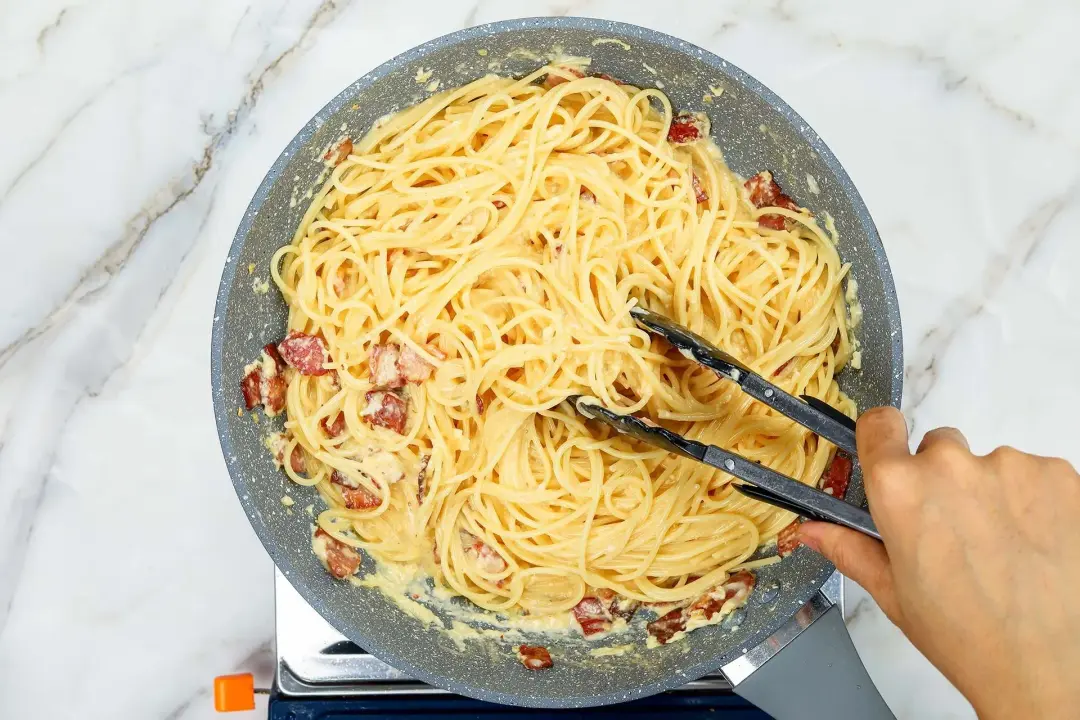 6
Sprinkle the cheese, pepper, and 2 tbsp chopped parsley on top. Enjoy.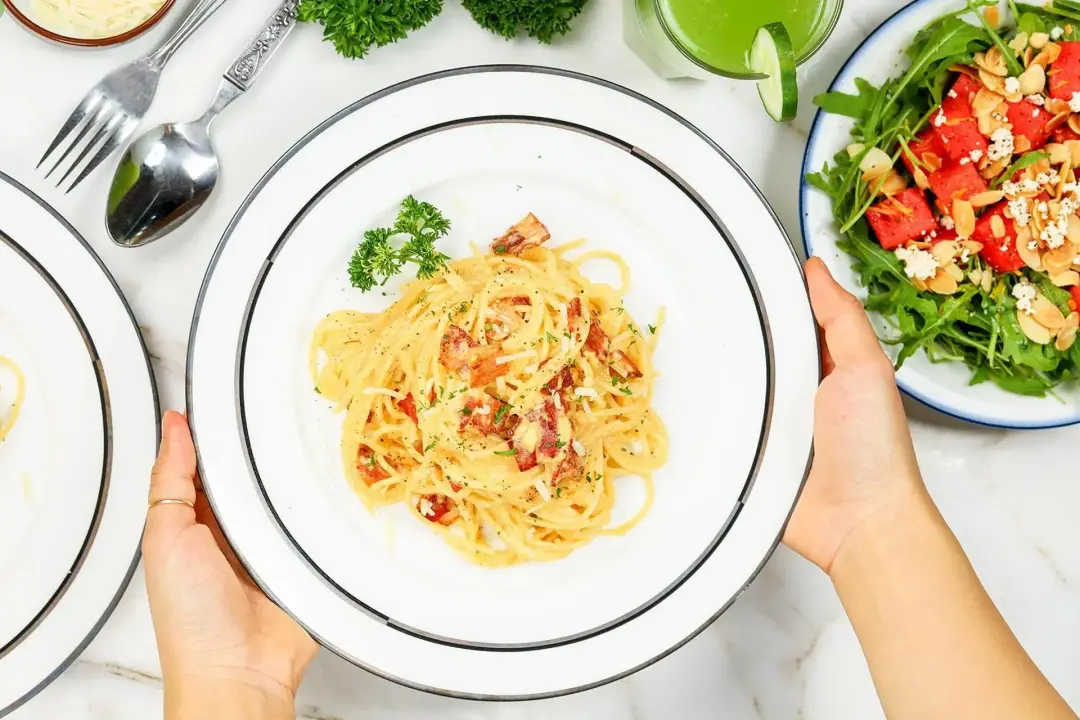 NUTRITION
Nutrition Facts
How to Make Carbonara Pasta
Amount Per Serving (1 serving)
Calories 475
Calories from FDA
% Daily Value*
* Percent Daily Values are based on a 2000 calorie diet.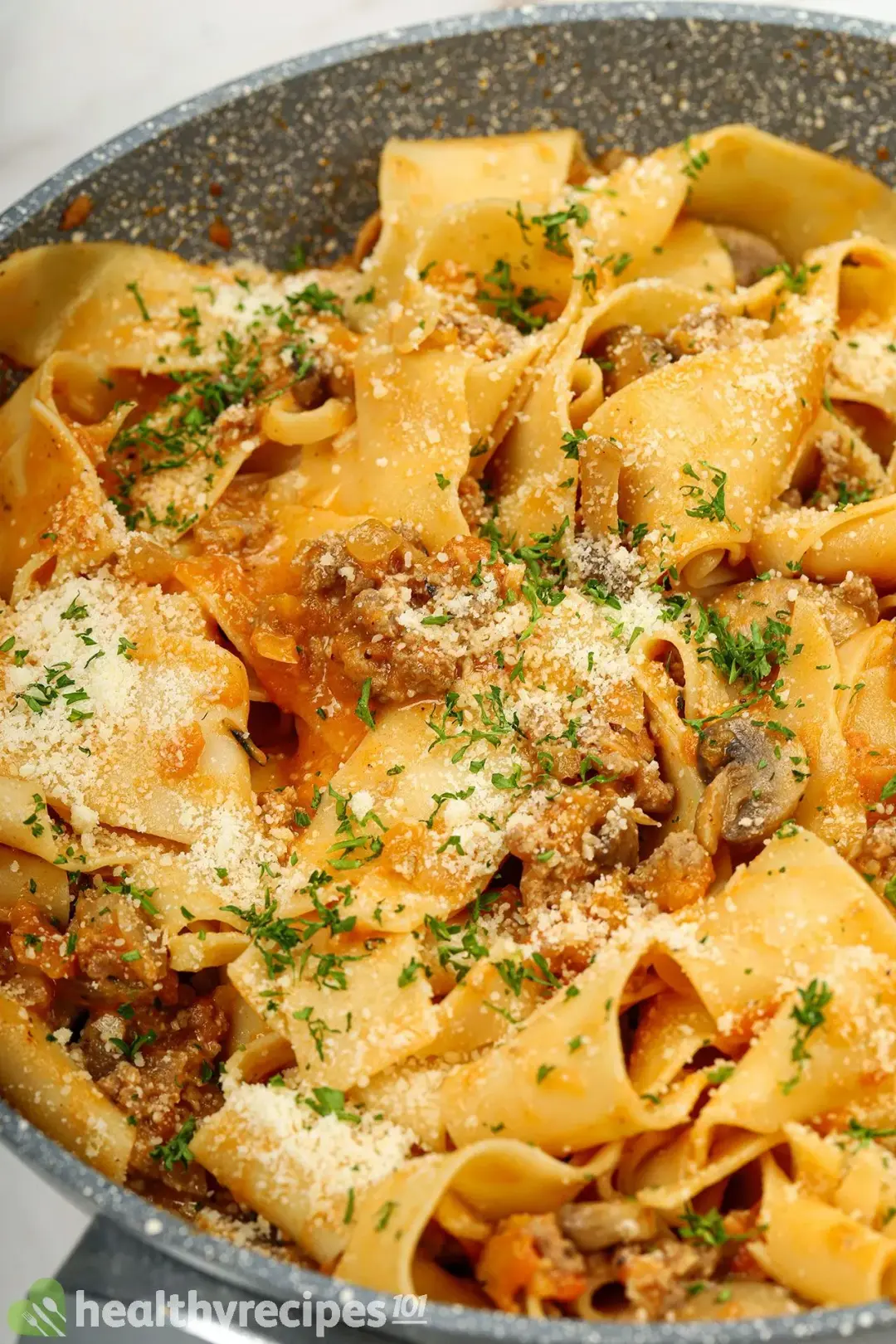 Previous Recipe
Creamy Tomato Pappardelle Pasta
Creamy Tomato Pappardelle Pasta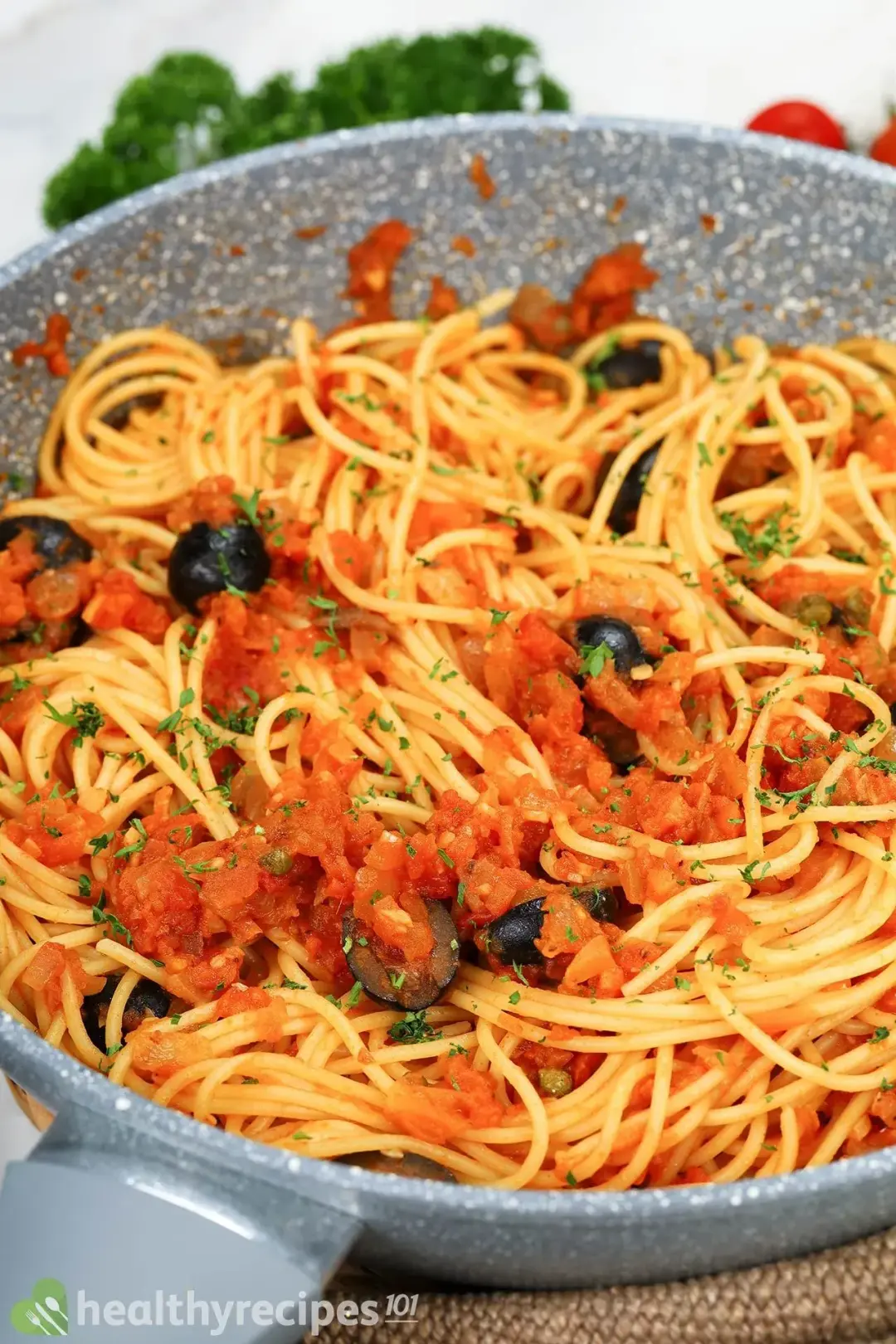 Next Recipe
Pasta Puttanesca
Pasta Puttanesca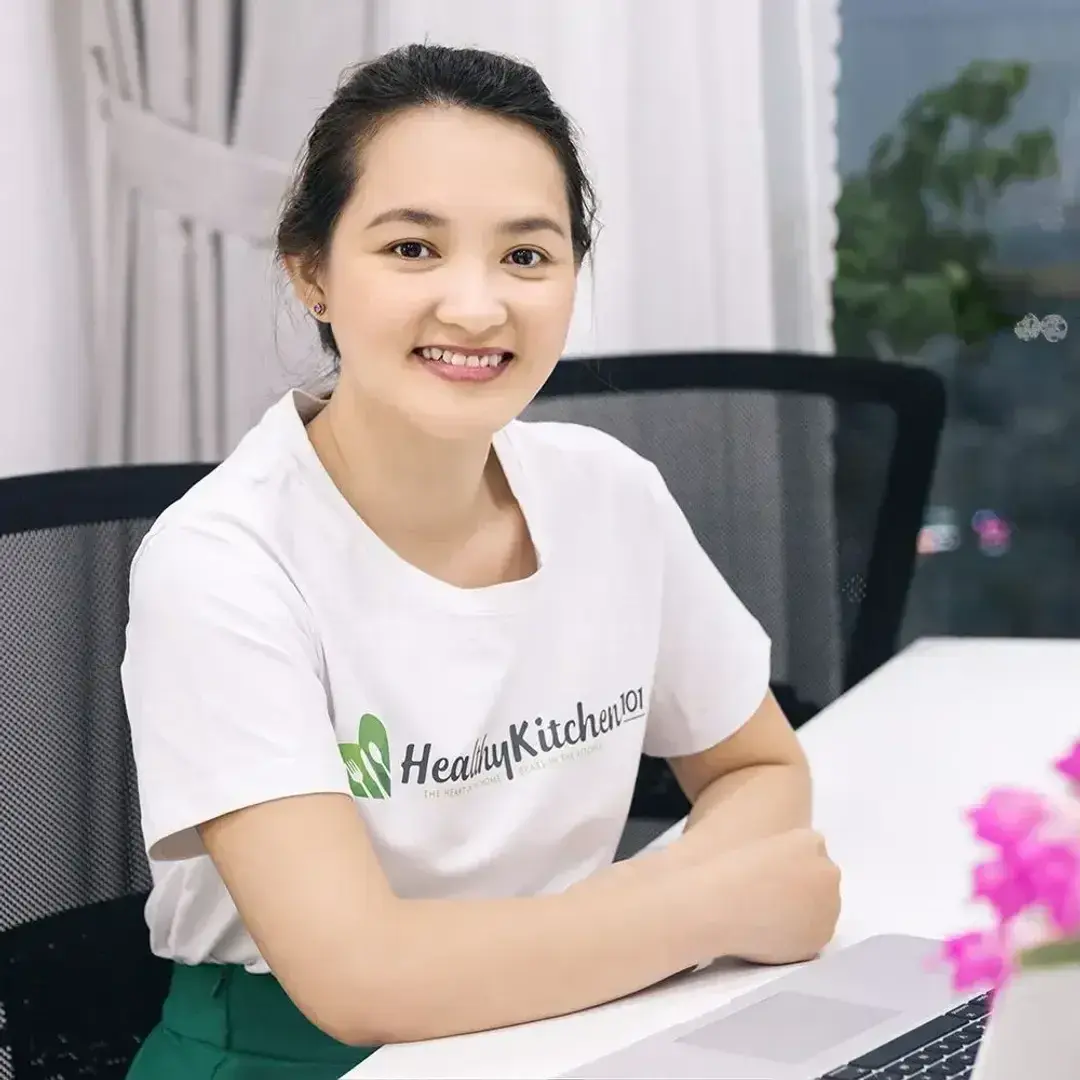 Luna Regina
Luna is the founder and chief recipe developer of Healthy Recipes 101. Apart from cooking, she also loves reading, programming, exploring the outdoors, and collecting useless facts about everything.