Today, we would like to bring you our squid ink seafood pasta recipe: a high-end, flavorful, and gorgeous main course.
This pasta dish has shrimp, mussels, and squid on top of jet-black squid ink pasta, making it a diverse seafood dish. All the beautiful seafood is cooked with a classic tomato sauce to create a perfect blend of both homely and fancy elements of Italian cuisine.
What Does Squid Ink Taste Like?
Squid ink is used mainly for aesthetic reasons, but it adds subtle hints of flavors to the pasta.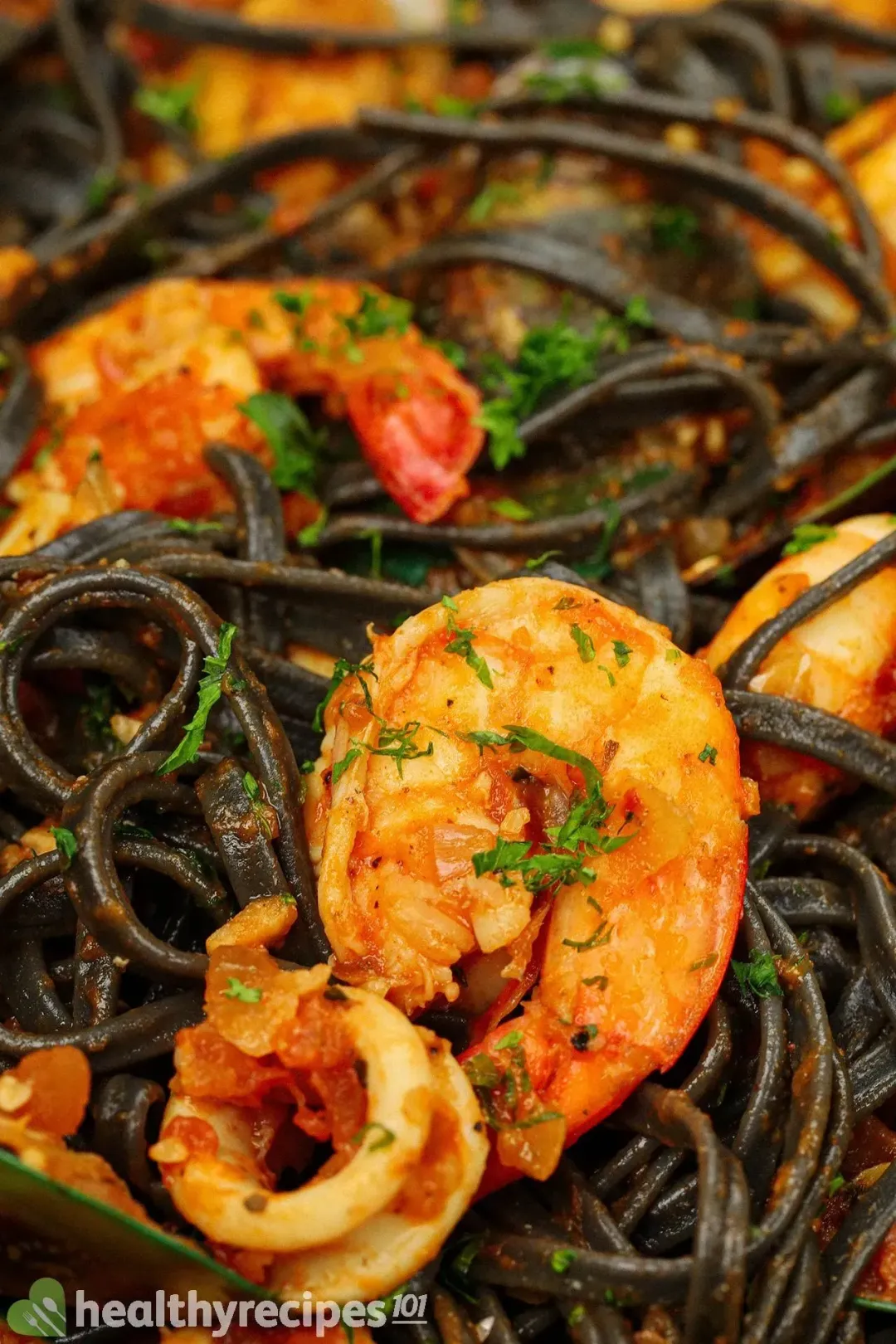 Squid ink pasta is a bit rich, salty, and earthy, much like the taste of fresh seafood. However, these flavors are not overwhelming in the slightest, they are subtle and elegant.
Is Squid Ink Seafood Pasta Healthy?
Yes, this squid ink seafood pasta is healthy.
Shrimp, squid, and mussels share some general seafood nutrients, which means valuable health benefits. Two of those are high protein content and an abundance of omega-3 fatty acids.
Protein may play a role in supporting bone and muscle health and may also aid in weight loss.
Omega-3 fatty acids promote both physical and mental health for their potential role in reducing the risks of cancer and supporting brain health.
Based on the nutrition facts of shrimp, squid, and mussels, these three seafood are low-calorie ingredients. That's why this pasta dish contains only 478 calories and 2.3 g of saturated fat. On the other hand, the amount of protein in this dish is a decent 34.2 g.
Ingredients for Squid Ink Seafood Pasta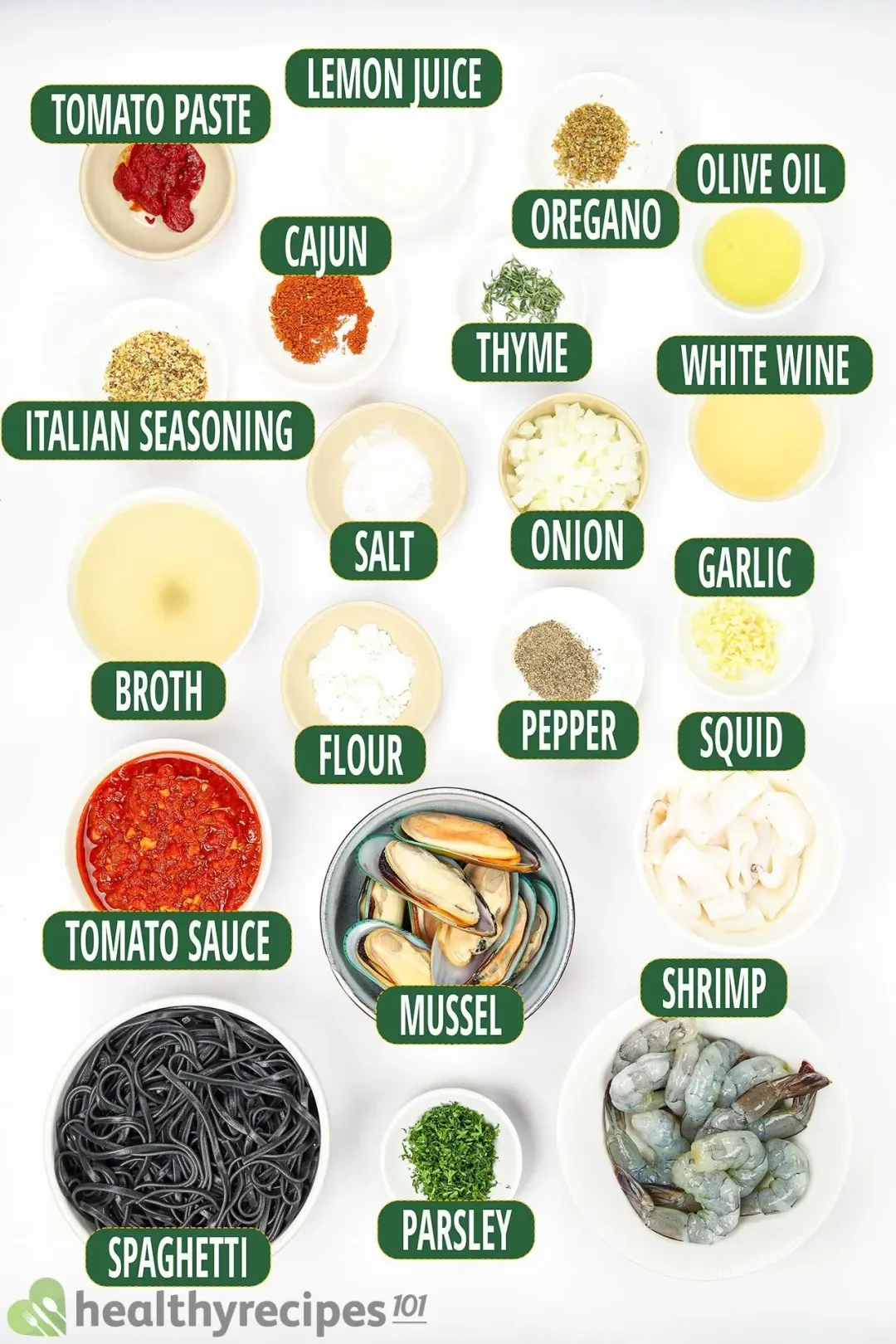 Squid ink pasta: Squid ink pasta is the main attraction of this dish for its gorgeous jet-black appearance. The refreshing change in color and subtle flavor notes mentioned above are what make squid ink pasta unique.
Seafood: Succulent shrimp, chewy squid, and tender mussels make a delectable trio in this seafood feast. Each of these seafood adds its signature traits to this diverse pasta dish.
Seasoning: We use spices that work well with seafood to elevate their authentic taste. We have the familiar duo of salt and pepper alongside Cajun and Italian seasoning for a wide variety of flavors. On top of that, we add tomato paste, lemon juice, dried oregano, and all-purpose flour to complement the sauce. Check out this Creamy Seafood Pasta or Tuna Spaghetti for more seafood spice variations you can try.
Sauce: The base of the sauce is the combination of our homemade tomato sauce and unsalted chicken broth. Since we cook everything together, the sauce also benefits from the seasoning and the essence of the seafood.
How to Store and Reheat Leftovers
We recommend storing the pasta, seafood, and sauce separately.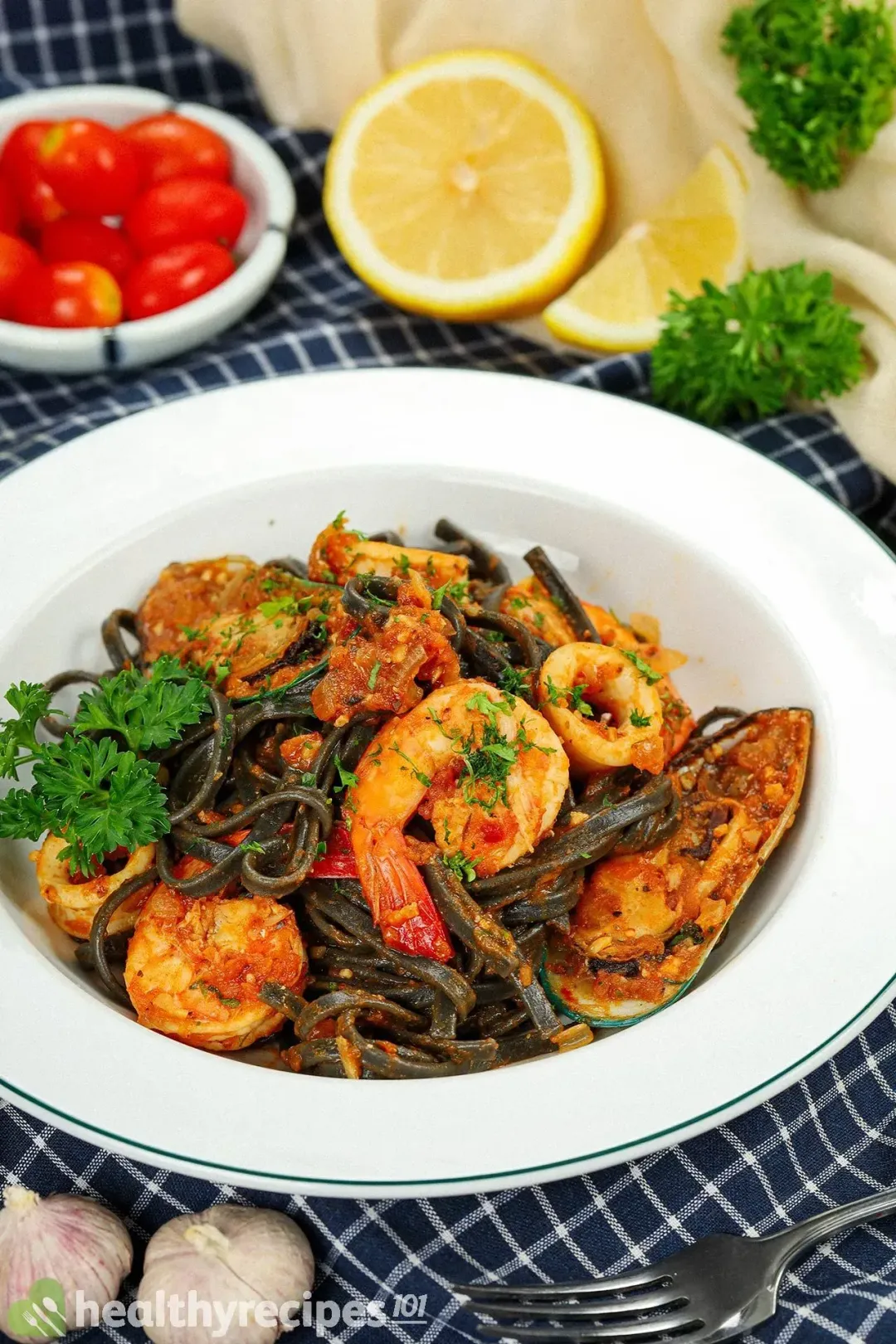 When stored in the fridge, pasta should last up to 5 days, while the seafood and sauce should last for 3-4 days. All of these components should be kept in airtight containers.
Cooked seafood can stay in the freezer for 3 months, the same for the pasta sauce. Freeze them in heavy-duty freezer bags or airtight containers.
We don't recommend freezing cooked pasta because it will turn mushy when reheated.
There are three ways to reheat this pasta dish: the oven, stovetop, and microwave. 
The oven is your best bet because it cooks pasta evenly. Using a skillet on the stovetop is quicker and the microwave is the most convenient method.
Make sure to add a couple of tbsp of water to the pasta while reheating to prevent it from drying.
What to Serve With Squid Ink Seafood Pasta
Bread is excellent alongside this pasta because you can dip the bread in the hearty tomato sauce. Or place some toppings like tomatoes and olive oil on the bread and elevate it to bruschetta.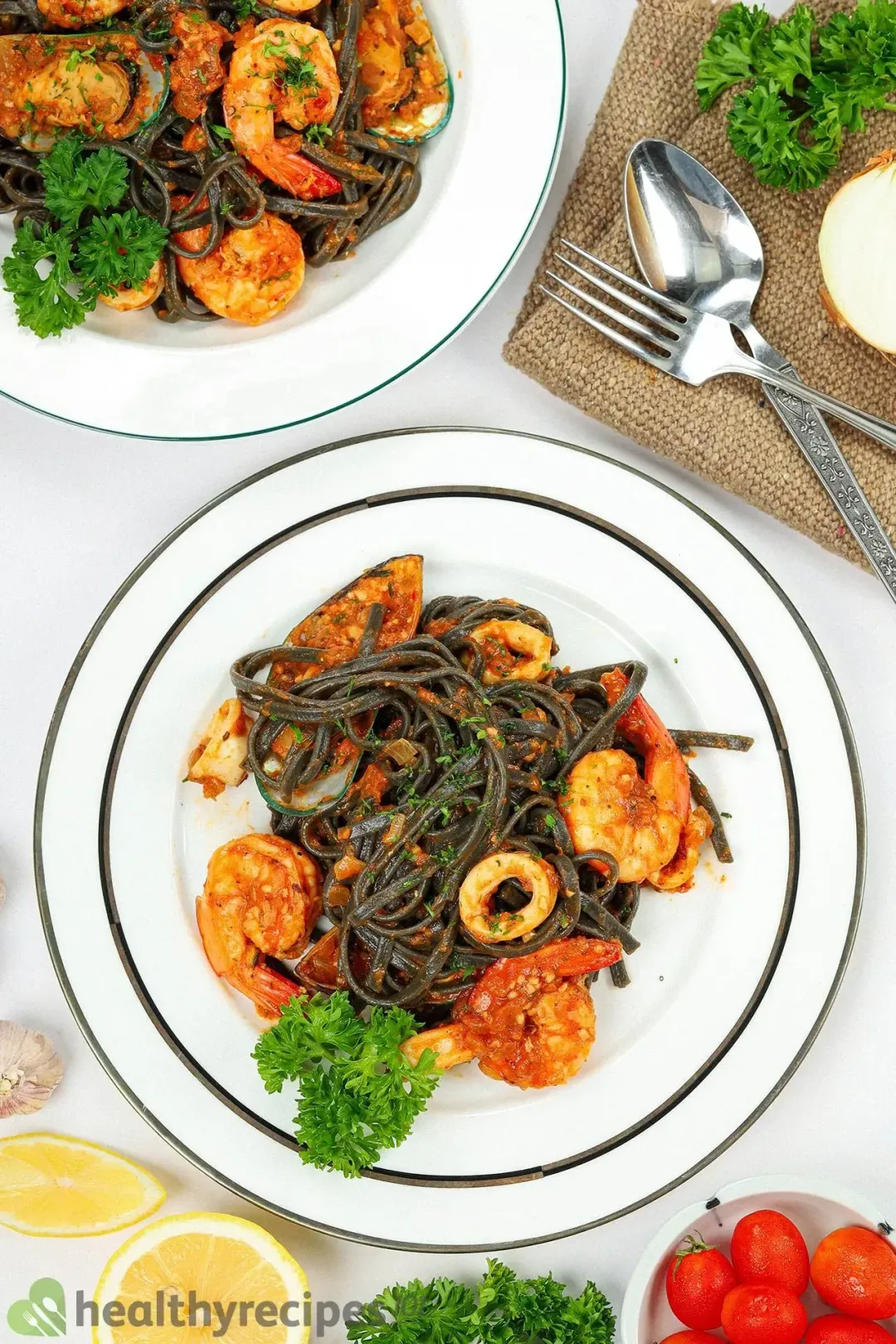 Salad is always a suitable option. Choose your favorite vegetables, whip up a quick dressing, and you'll have a fresh and vibrant salad.
How to Make Squid Ink Seafood Pasta
This squid ink seafood pasta gives you a taste of the sea with shrimp, mussels, and squid served alongside elegant-looking squid ink pasta.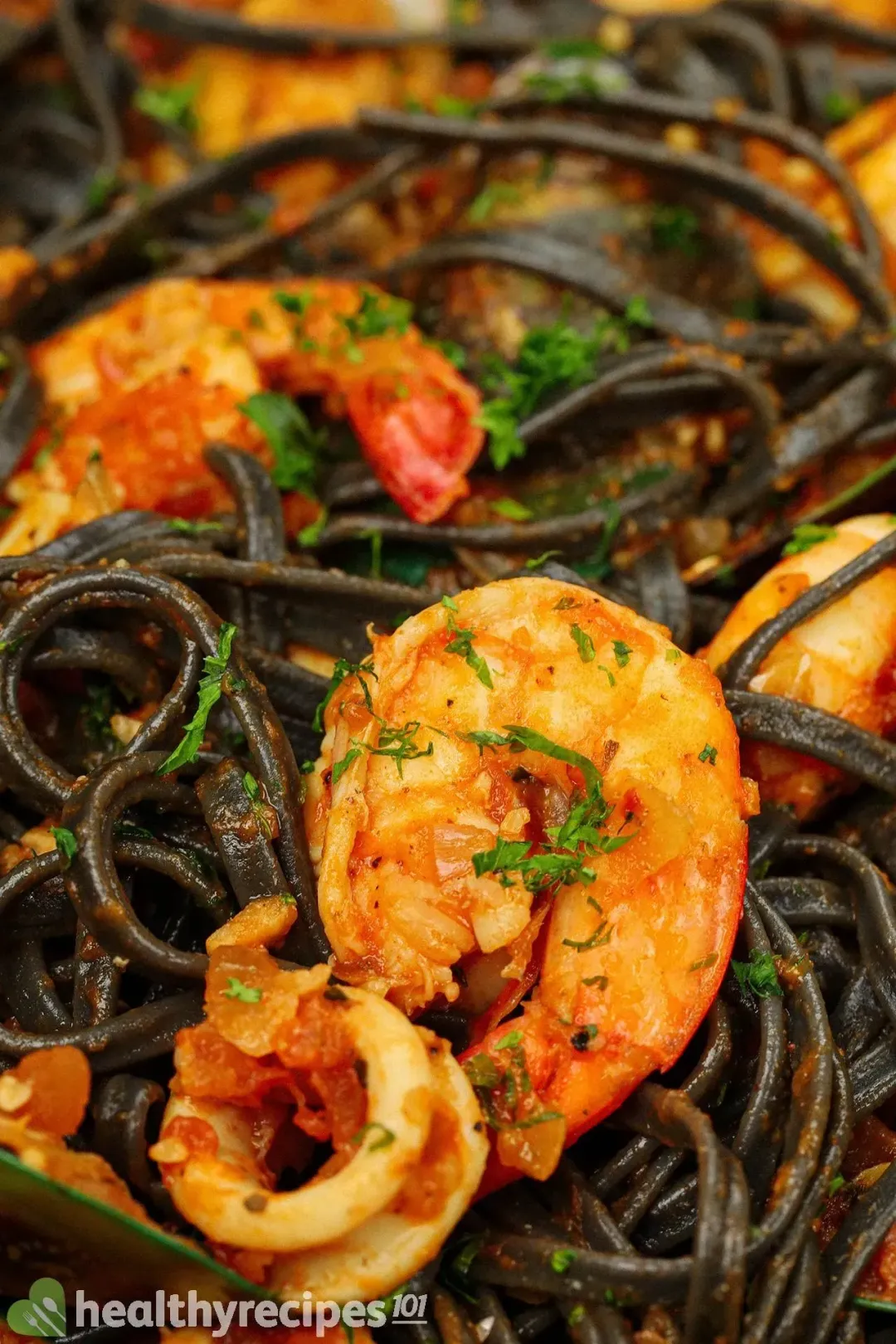 cook TIME

15 mins

prep TIME

15 mins

total TIME

30 mins
COURSE

Main Course

CUISINE

Italian

SERVINGS

CALORIES

479 kcal
INGREDIENTS
16 oz

cooked squid ink spaghetti

6 oz

peeled and deveined raw shrimp

(from 12 oz whole shrimp)

4 oz

raw squid

(sliced into rings)

4 oz

mussels

(from 7 oz whole)

1 cup

Homemade tomato sauce

1 cup

unsalted chicken broth

1 tbsp

Hunt's tomato paste

1 tsp

thyme

(finely chopped)

2 tbsp

parsley

(finely chopped)
INSTRUCTIONS
Prep:
1
Cook the pasta: Bring a pot of water to a boil and add pasta. Cook for 1 minute less than the package instructions then bite into the pasta. If it's tender but still a bit chewy, stop cooking and drain the pasta.
2
Peel and devein the shrimp: Remove the head and legs. Pull off the outer shell starting from the head end and leave the tail part as is for decoration. Cut a slash along the back of the shrimp. Use the tip of the knife to remove the vein on the back.
3
Clean the mussels: Rinse them under cold running water to remove debris. Do this multiple times to make sure they are clean. Check for dead mussels by looking for open ones. Try knocking them with another mussel to see if they close back up. If they don't, discard them.
4
Cut the squid: Pullthe head away from the mantle and gently squeeze the mantle to remove the rest of the innards. Cut off the tentacles and remove the beak. Pull out the cartilage from the mantle. Pinch the skin and gently peel it off. Prepare a bowl of water and gently rinse the mantle and tentacles to remove all remnants of the innards. Slice the mantle into rings.
5
Mince the garlic: Separate the garlic cloves and peel off the skin. Mince the cloves with a rocking motion of your knife.
6
Mince the onion: Cut the onion in half and place the cut side down on the cutting board. Make vertical cuts across the onion. Turn the onion 90 degrees and make a crosshatch pattern with the previous cuts. Chop with a rocking motion of your knife until it's minced.
7
Chop the thyme: Pull the thyme leaves from the stem then chop finely with a rocking motion.
8
Chop the parsley: Bunch the parsley into a small mound on your cutting board and chop finely with your knife.
Cook:
1
Caramelize garlic and onion: Place a pan on medium heat until hot. Add 2 tbsp olive oil, 1 tbsp garlic, 1 tsp thyme, and 2 oz onion. Stir for 2 minutes.
2
Cook the shrimp and squid: Add 4 oz squid and 6 oz shrimp. Stir for 3 minutes.
3
Cook the mussels: Add 4 oz mussels and 1/4 cup white wine. Stir for 30 seconds.
4
Season the seafood: Season with 1 tbsp tomato paste, 1/2 tsp salt, 1 tbsp Italian seasoning, 1 tsp Cajun seasoning, 1/2 tsp pepper, 1/2 tbsp lemon juice, 1/2 tsp dried oregano, 1 tbsp all-purpose flour. Mix well.
5
Make the sauce: Add 1 cup homemade tomato sauce and 1 cup unsalted chicken broth. Cook for 3 minutes.
6
Stir in the pasta: Add 16 oz cooked squid ink spaghetti.
7
Garnish and serve: Sprinkle with 2 tbsp parsley. Enjoy.
NUTRITION
Nutrition Facts
How to Make Squid Ink Seafood Pasta
Amount Per Serving (1 serving)
Calories 479
Calories from Fat 137
% Daily Value*
* Percent Daily Values are based on a 2000 calorie diet.
Keywords: how to make squid ink seafood pasta, squid ink seafood pasta, squid ink seafood pasta recipe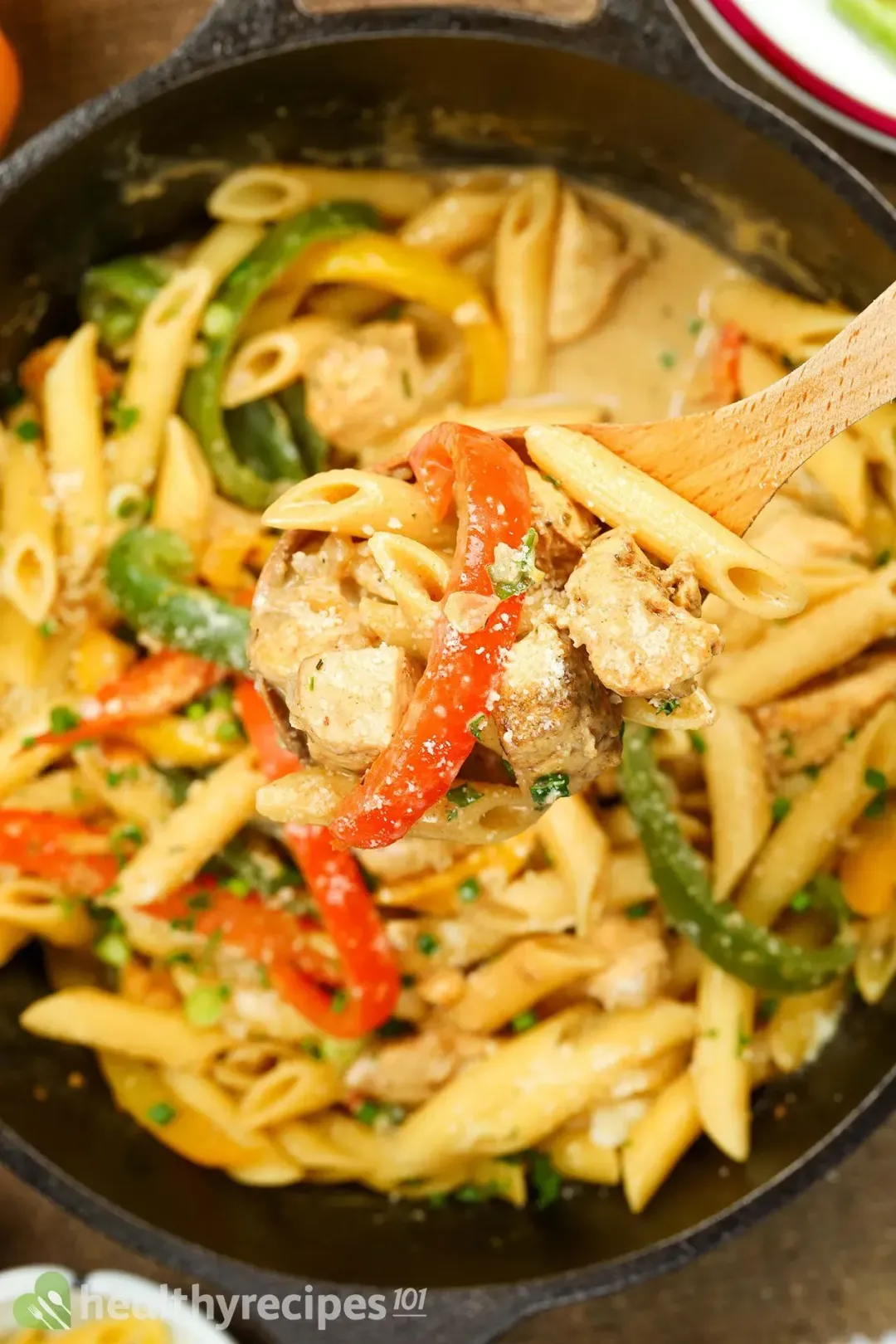 Previous Recipe
Rasta Pasta
Rasta Pasta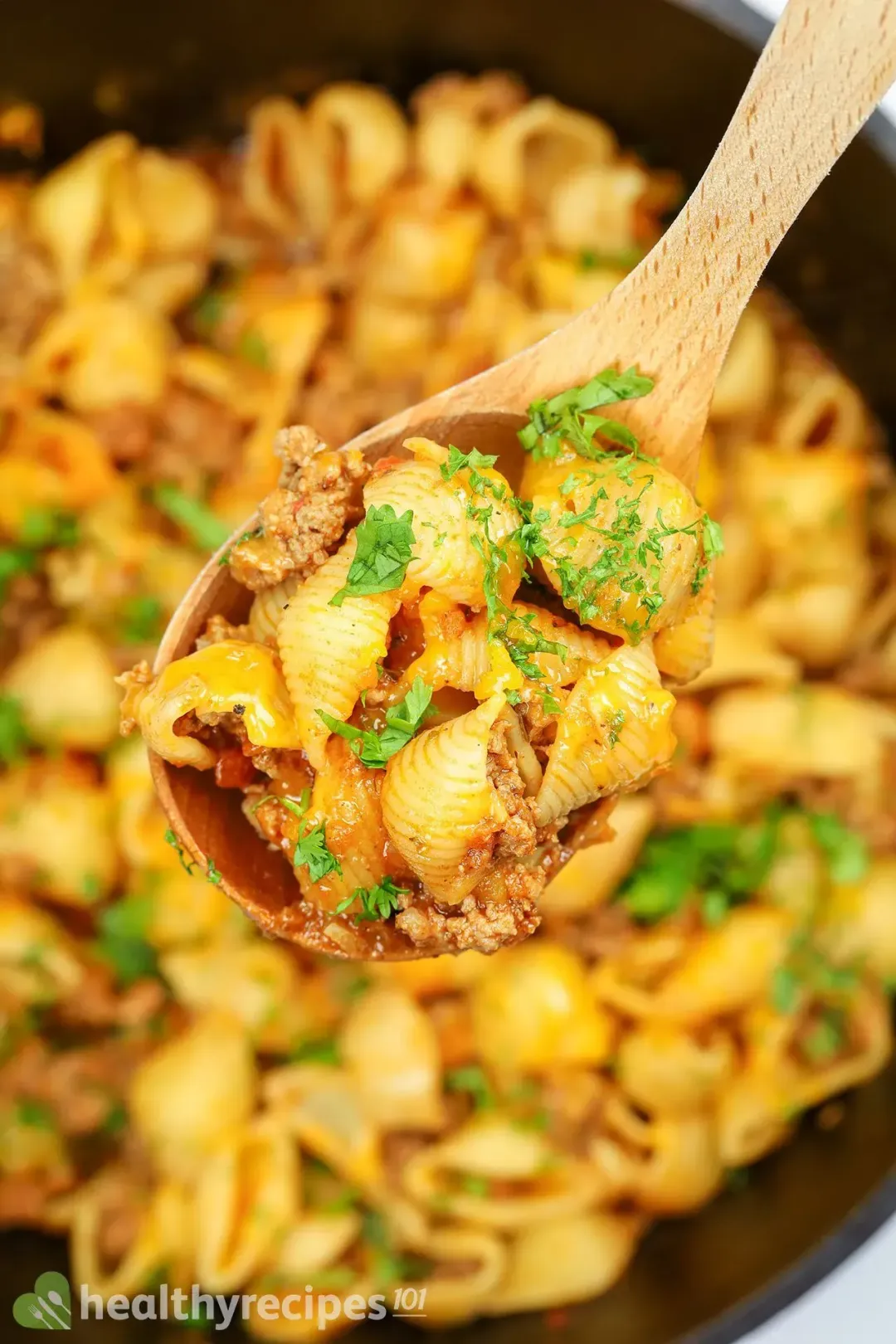 Next Recipe
Cheesy Taco Pasta
Cheesy Taco Pasta
Head Chef, Culinary Consultant
Tuyet Pham is an award-winning Saigonese chef who believes that joy is the secret ingredient to delicious food. At Healthy Recipes 101, Tuyet personally tests and simplifies every recipe, ensuring maximum flavor with minimal effort. With a background at prestigious French restaurants P'TI Saigon and Le Corto, Tuyet knows how to make every dish exceptional.
Writer, Author
Luna Regina is an accomplished writer and author who dedicates her career to empowering home cooks and making cooking effortless for everyone. She is the founder of HealthyKitchen101.com and HealthyRecipes101.com, where she works with her team to develop easy, nutritious recipes and help aspiring cooks choose the right kitchen appliances.
Nutrition Reviewer
Natalie Butler is a registered dietitian nutritionist with a passion to help others live their best life through food, fitness, safer beauty and a healthy lifestyle. She has expertise with a variety of diets and diseases and believes that there is no one-size-fits-all approach for health.
It was good, i will make this again. Thank you!

Excellent! No changes to ingredients. Unique and flavorful squid ink pasta.