If you love the light, cool taste of cucumber and how refreshing it is in a salad, then you have come to the right place. 
Today's Asian cucumber salad recipe is surprisingly easy to make, in just 10 minutes. It comes with crunchy baby cucumbers, red onions, and fresh carrots, all tossed together in a toasty-sweet sesame dressing with a sprinkling of scallions and sesame seeds for a tantalizing aroma.
Even if you're not a fan of cucumber, this tasty salad might just win you over. Come on, let's take a look.
How Healthy Is Our Asian Cucumber Salad?
First of all, cucumber is extremely rich in water, therefore, an excellent source of hydration for your body. And thanks to cucumber being low in calories and high in water, eating it regularly can help with weight loss.
Not just that, this green fruit also offers many awesome health benefits, such as promoting skin health, bone health, and heart health.
Plus, the presence of sesame oil in the salad adds to its nutrition profile, as sesame oil is rich in antioxidants, such as vitamin E and phytosterols, as well as many other healthy fats that are beneficial for your heart.
Last but not least, a serving of this dish only has 92 kcal per serving, so feel free to enjoy this wonderfully fresh cucumber salad without worrying about putting on some pounds.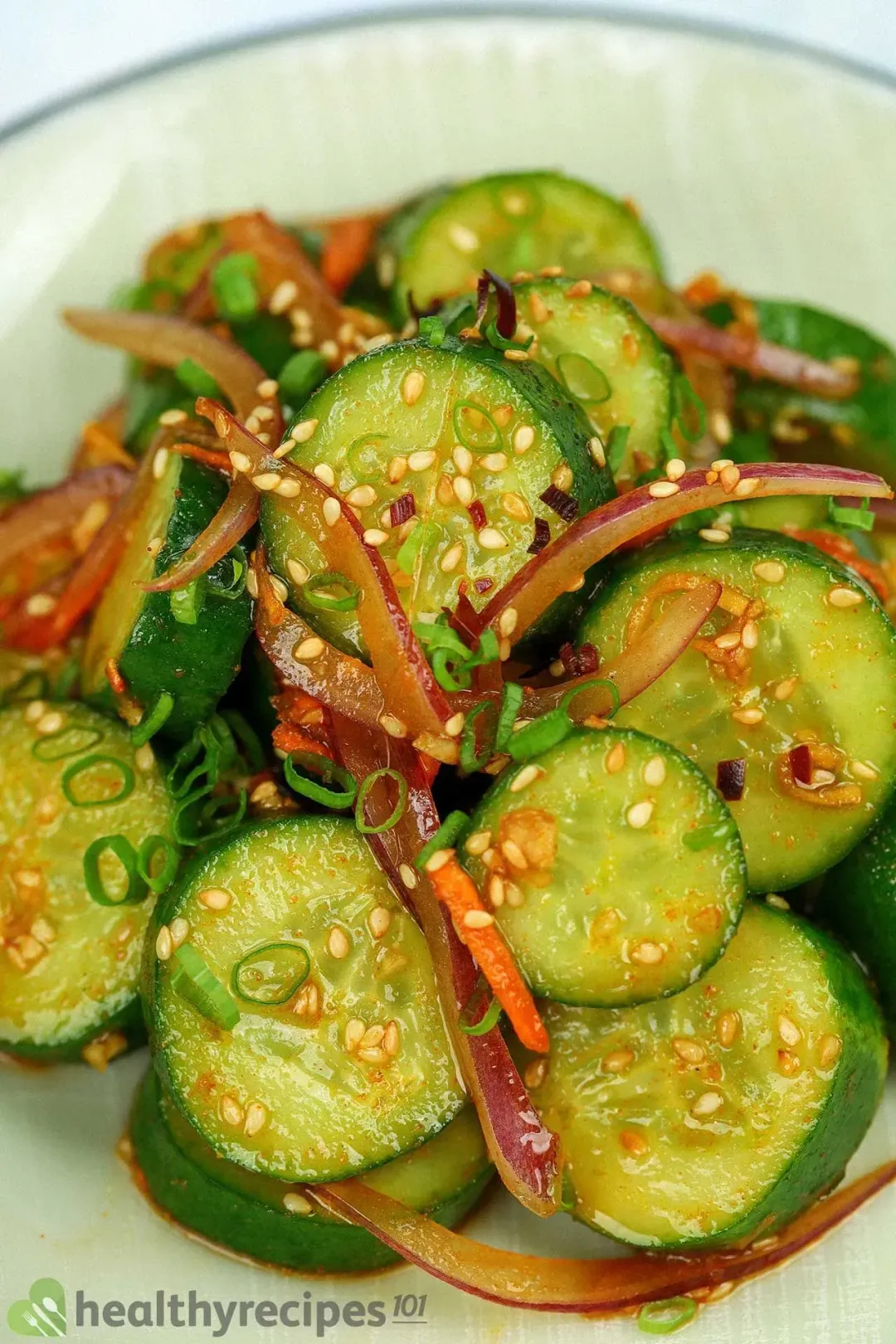 Ingredients for Our Asian Cucumber Salad
1. For the salad
Cucumber: Cool and refreshing slices of cucumber make a brilliant addition to any salad. Especially with this recipe, cucumber is our star, so make sure you choose fresh ones with a mildly sweet and non-bitter taste for the best overall outcome.
Carrot: Carrots have a slightly sweet and nutty taste and a crispy texture, which go great with the cucumber. The vibrant orange color of carrots also adds extra pigment and visual interest into our salad mix.
Red onion: Red onion adds extra crunch and aroma to our dish, but if you find its flavor too strong and overwhelming, then feel free to omit it.
2. For the dressing
Sesame oil: Sesame oil has an amazing fragrance and is a well-loved ingredient for seasoning in many Asian countries. For this dish, sesame oil greatly enhances the flavor with its beautiful savory fragrance.
Soy sauce: Soy sauce is also a popular ingredient in Asian-style dishes, beautifully complementing the other ingredients with its strong umami flavor.
Rice vinegar: Rice vinegar adds a sweet and sour taste to the dressing and elevates the overall flavor of our salad.
Ginger: Ginger brings a mild heat to our dish, giving it a bit of warmth to create a beautiful contrast with the cool cucumber slices.
Paprika: Paprika adds extra heat and depth to the mix.
Chili powder: This vibrant red seasoning also brings extra warmth to contrast the other cool ingredients and reach a fine balance.
Salt: A pinch of salt to enhance all the other flavors.
Garlic: Garlic adds a pungent taste to our salad dressing.
Brown sugar: Brown sugar brings that caramel flavor and helps balance out the tanginess of the rice vinegar.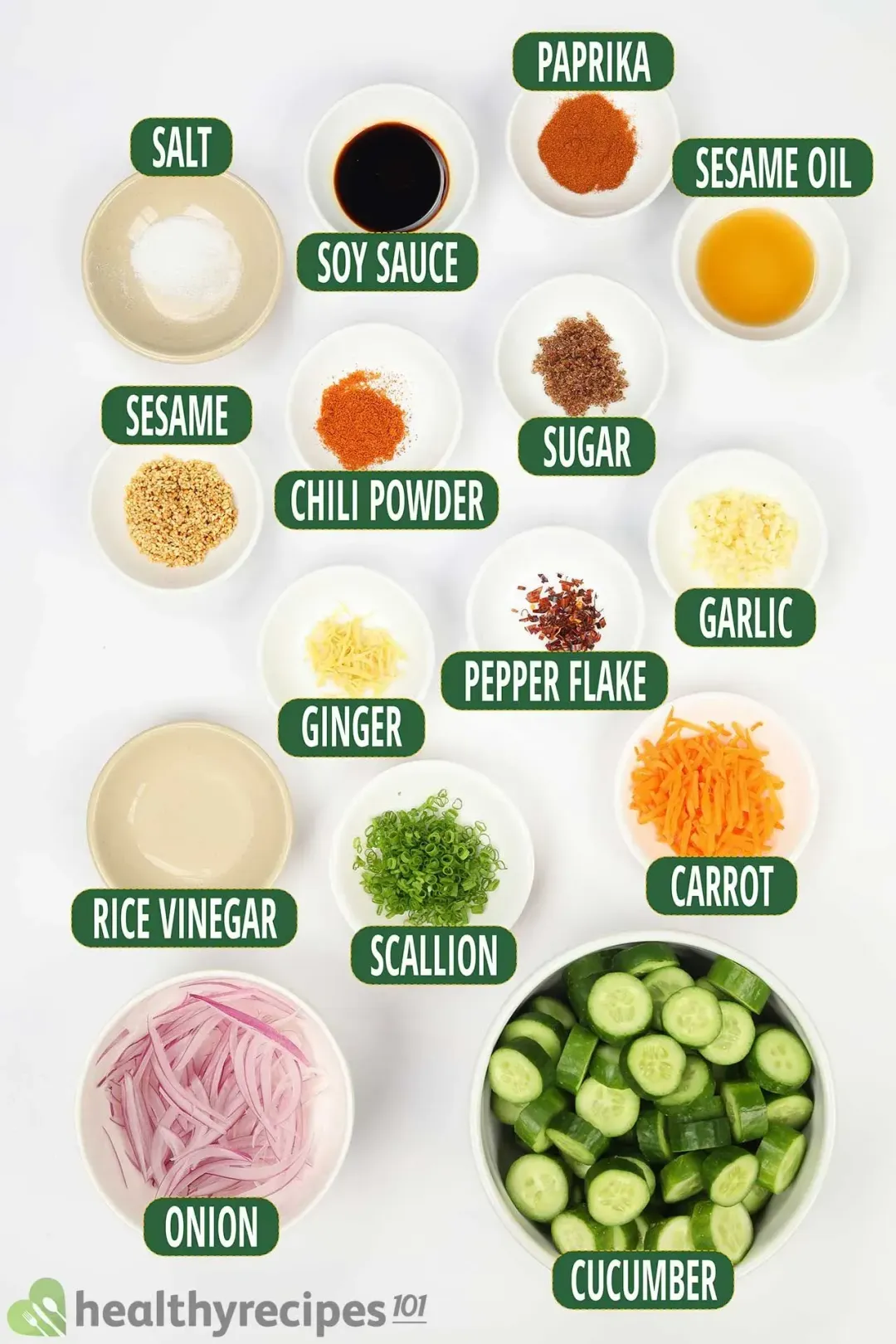 3. For the topping
Scallions: A sprinkling of chopped scallions adds extra aroma to our salad and is a popular topping in many Asian-style dishes.
Red pepper flakes: Red pepper flakes bring that contrasting warm taste and color to our cool salad.
Roasted sesame seeds: Roasted sesame seeds on top add a beautiful finishing touch to our dish, making it look all the more appetizing. 
What Can You Do With Bitter Cucumbers?
Cucumber is the main ingredient, so you want it to be delicious. If you are unlucky and get some bitter-tasting cucumbers, which will happen from time to time, then you can use these tricks to lessen their bitterness and return the fresh, clean taste to your cucumbers.
Cut off the stem ends on both sides of the cucumber and remove the skin. This is because the bitterness of cucumber mainly stays in those two areas.
Milk the cucumber. As odd as this may sound, the method is said to be very effective: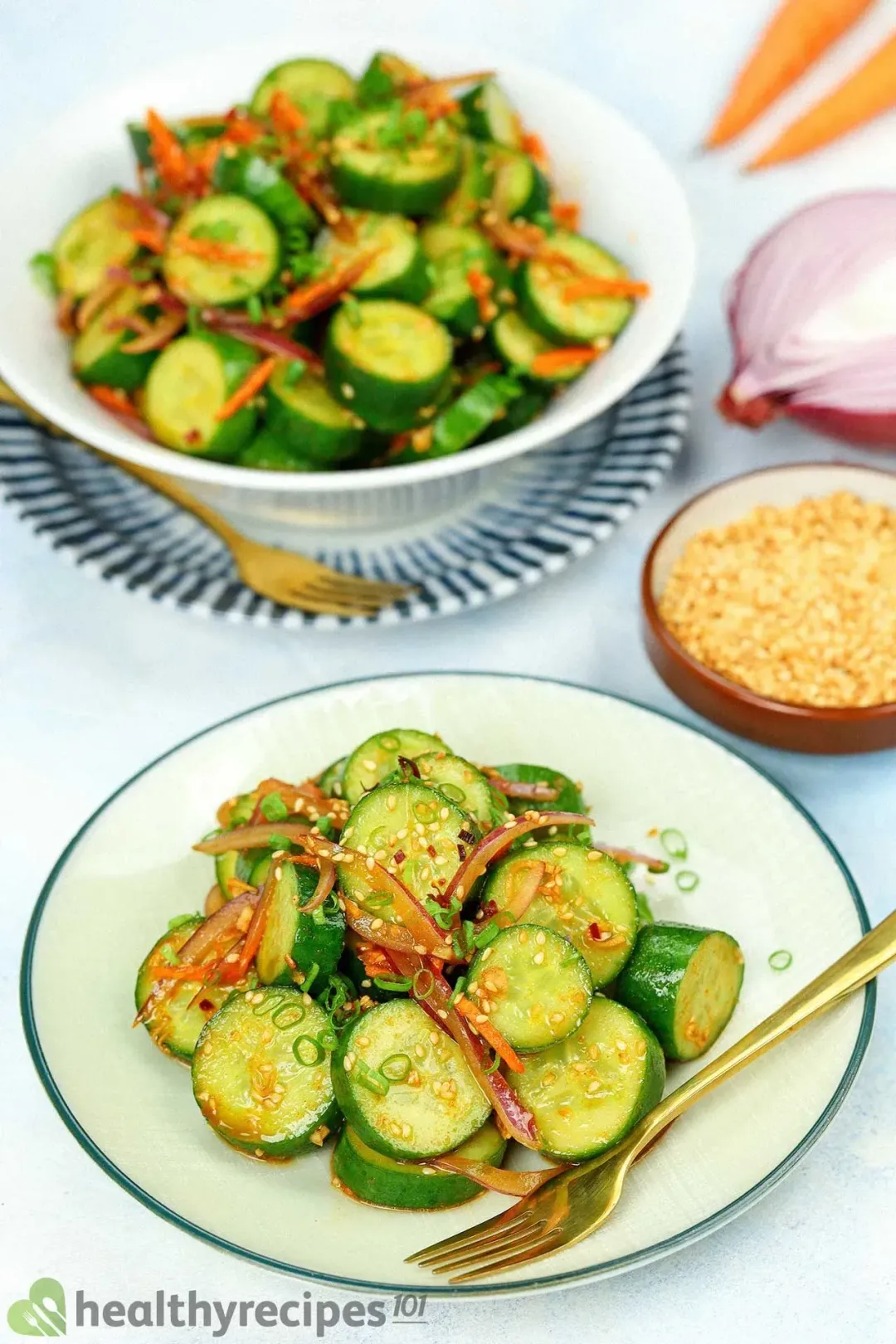 Slice off one end of the cucumber. Rub the end and the rest of the cucumber together on the freshly cut surfaces. Use a circular motion until white foam, or "milk", starts to form. Repeat the same steps for the other end.
You can also add a tiny pinch of salt on the cut surface before rubbing to make it even more effective. Finally, wash off the milky liquid on both ends under running water.
However, if you have tried everything and your cucumber is still way too bitter to eat, then make pickles!
The process of pickling requires your cucumber to be soaked in salt water for a certain amount of time, and salt is known to be extra effective in removing the bitter flavor. 
Pickled cucumbers are good for storage and also save you from wasting your precious food!
How to Make Asian Cucumber Salad 
Here are our three simple steps for whipping up this nice and easy Asian cucumber salad: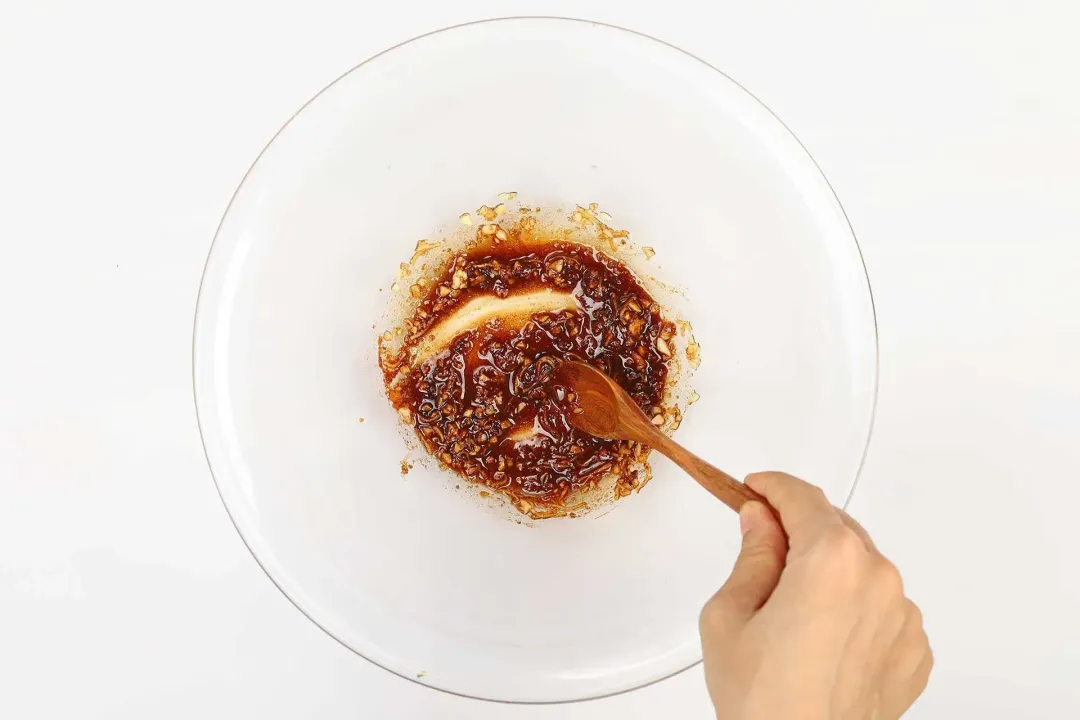 Make the dressing.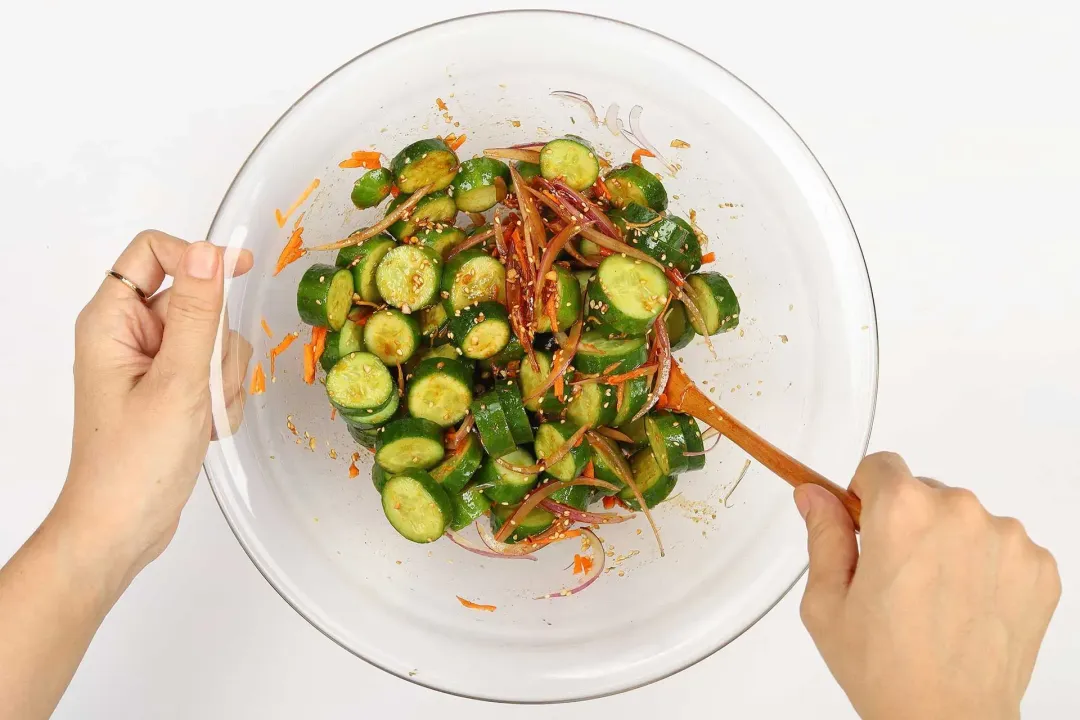 Assemble the salad's ingredients and toss well.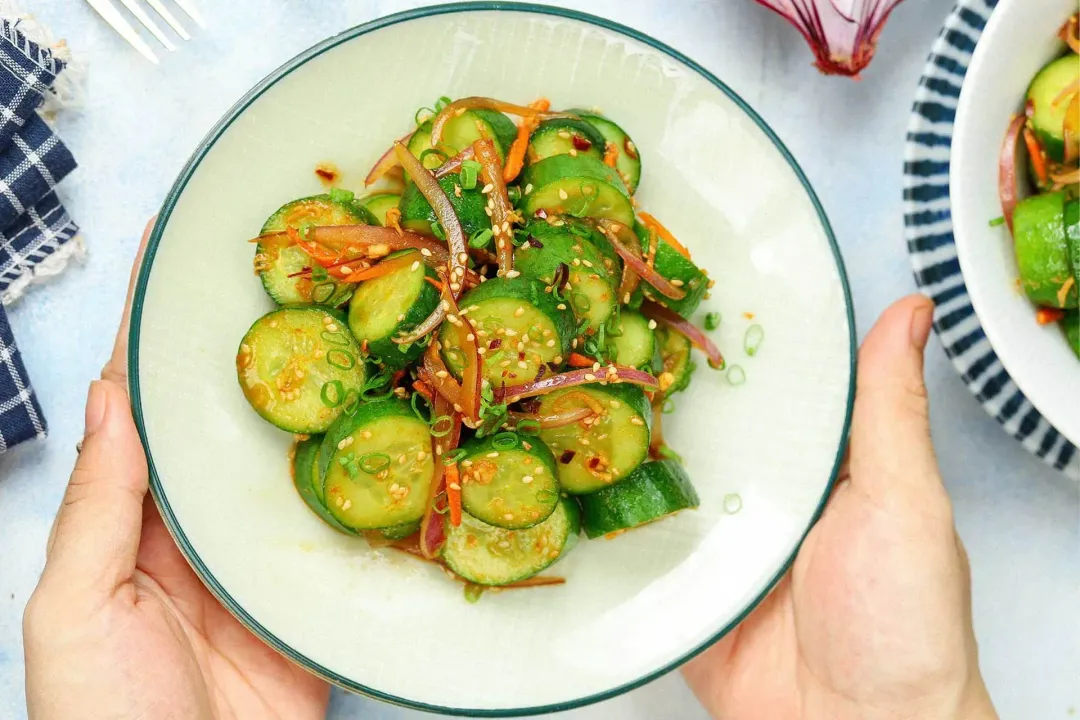 Garnish and serve.
Remember to check out our detailed instructions at the end of this article.
What to Serve Asian Cucumber Salad With
Now, what should we serve with this Asian cucumber salad? You can enjoy it on its own as a refreshing light snack, a late dinner salad, or can make it into a side dish to complement other main courses.
And as the name suggests, this dish would make an awesome pair with Asian-style dishes.
Well, Chinese noodles cannot be any more fitting. Try out these Shrimp Lo Mein Recipe and Shrimp Chow Mein Recipe as a great combination with our cucumber salad recipe.
We also recommend trying high-protein dishes with teriyaki or miso flavors for a delicious, well-balanced meal, such as Teriyaki Chicken Recipe, Teriyaki Shrimp Recipe, and Miso Glazed Sea Bass Recipe.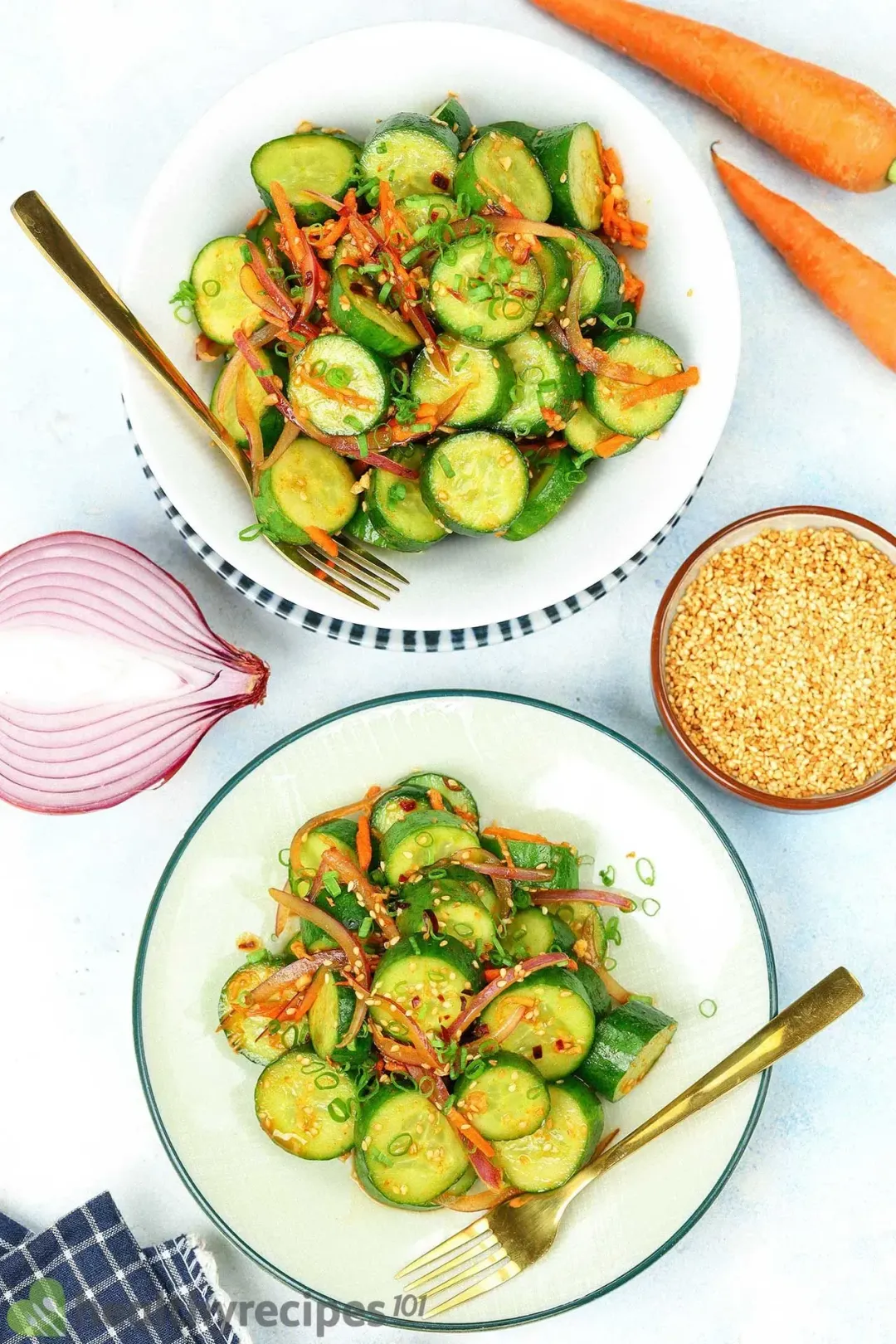 Asian Cucumber Salad Recipe
Today's Asian cucumber salad recipe is surprisingly quick and simple! In just 10 minutes you will have a refreshing and tasty cucumber salad ready on the plate.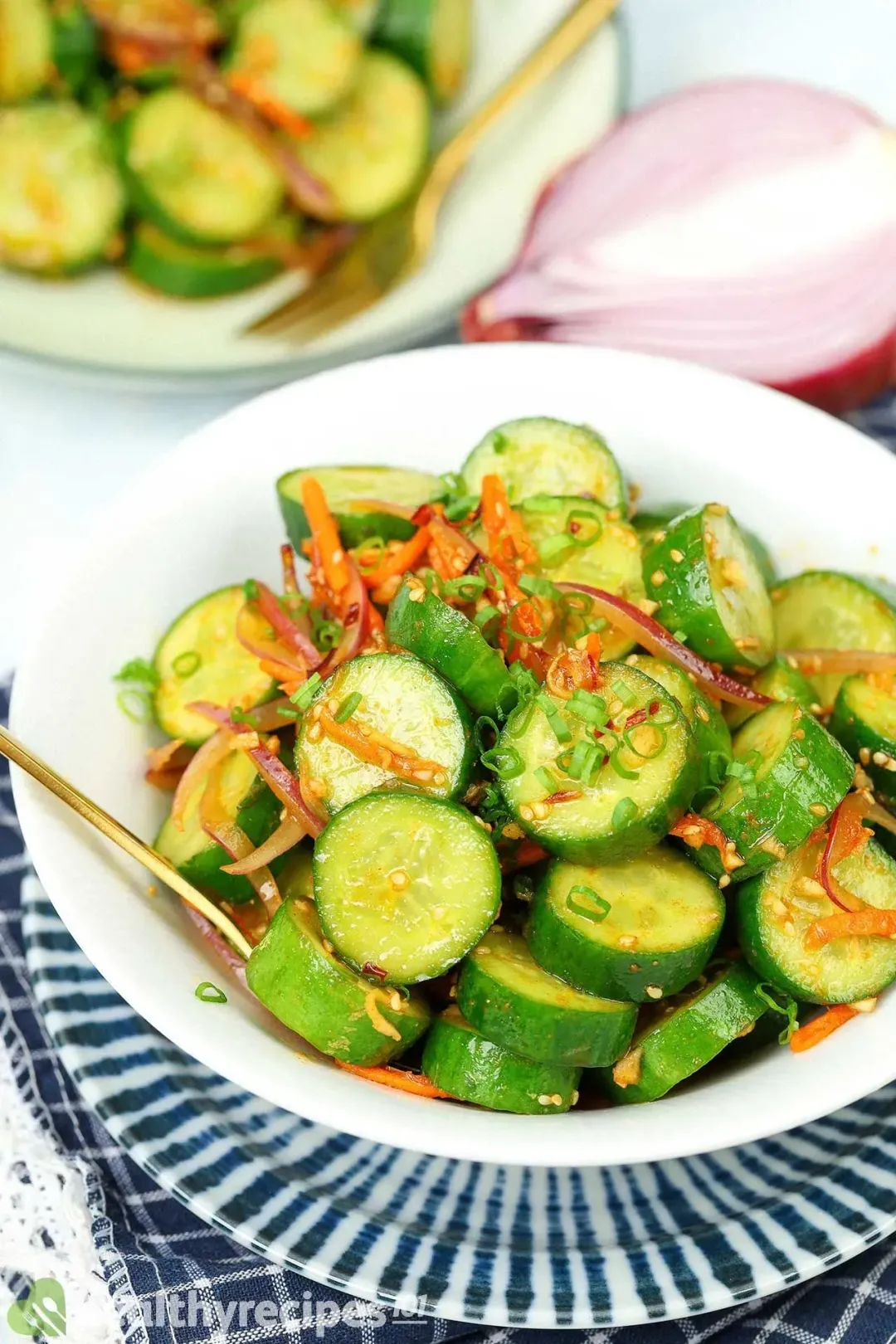 prep TIME

10 mins

total TIME

10 mins
COURSE

Side Dish

CUISINE

Asian

SERVINGS

servings

CALORIES

74 kcal
INGREDIENTS
16 oz

baby cucumbers

(sliced)

0.5 oz

carrots

(cut into thin and small sticks)

2 tsp

reduced sodium soy sauce

2 tbsp

scallions

(chopped)

1/4 tsp

red pepper flakes

1 tbsp

roasted sesame seeds
INSTRUCTIONS
1
Make the dressing. Add 1 tsp ginger, 1/2 tsp paprika, 1/4 tsp chili powder, 1 tsp rice vinegar, 1 tbsp garlic, 1/4 tsp salt, 1 tbsp sesame oil, 1 tsp brown sugar, and 2 tsp soy sauce into a medium/large mixing bowl, then stir well to combine.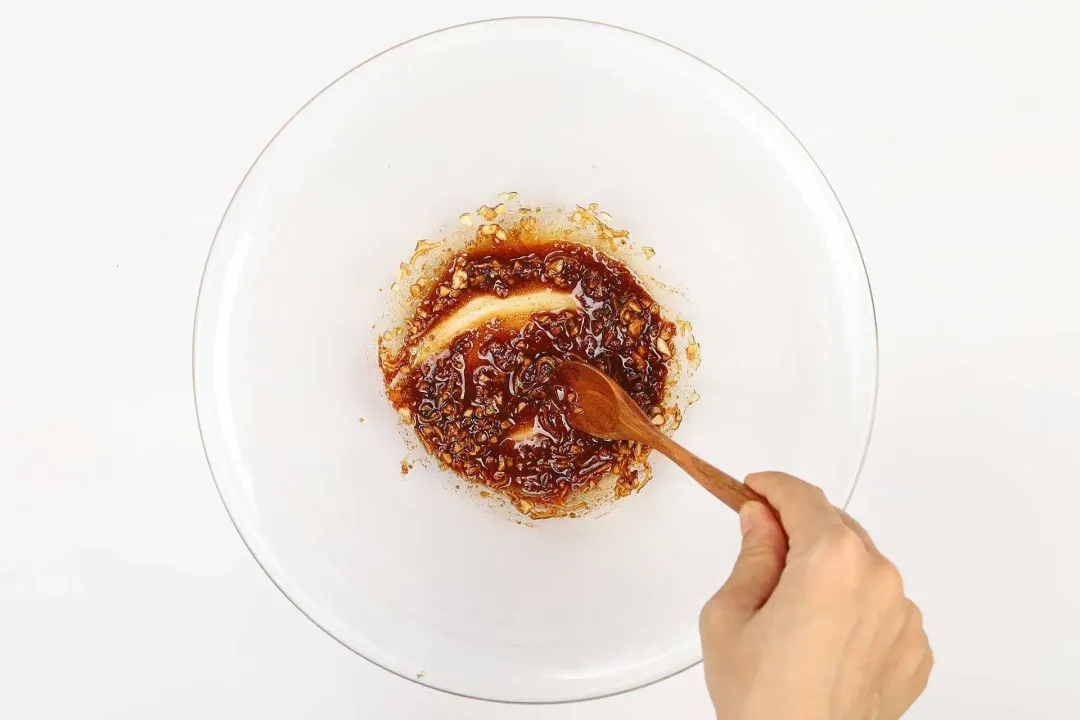 2
Add 16 oz baby cucumbers, 0.5 oz carrots, and 1 oz red onion into the dressing, then toss well.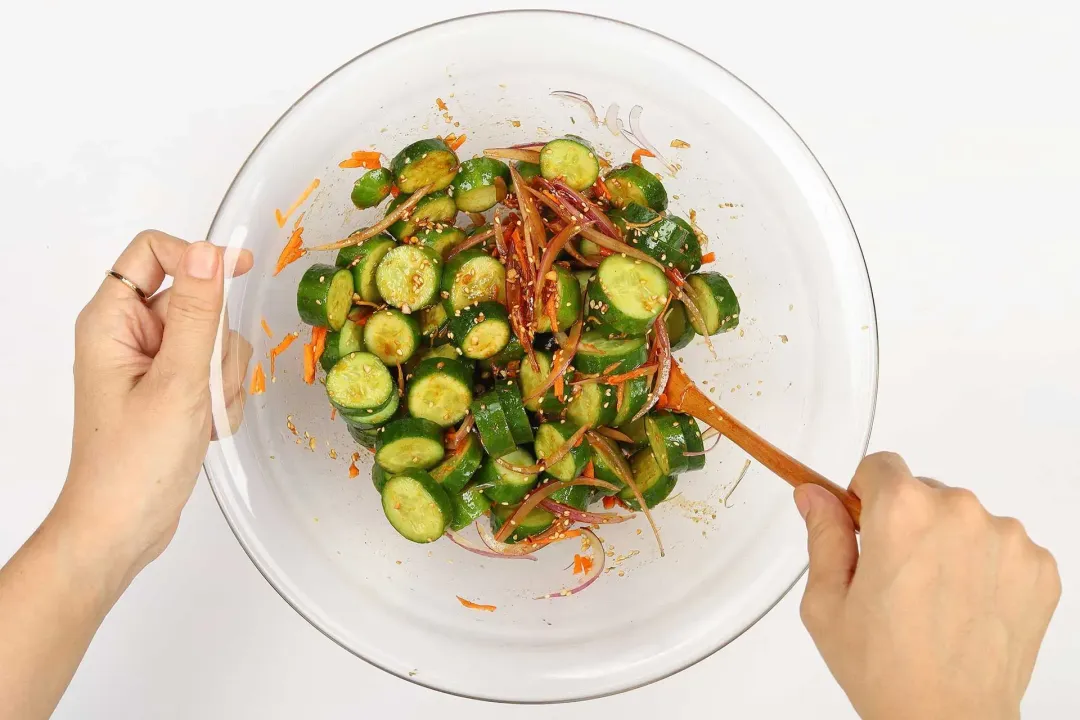 3
Transfer the salad to a serving plate or bowl, then sprinkle with 2 tbsp scallions, 1/4 tsp red pepper flakes, and 1 tbsp roasted sesame seeds before serving.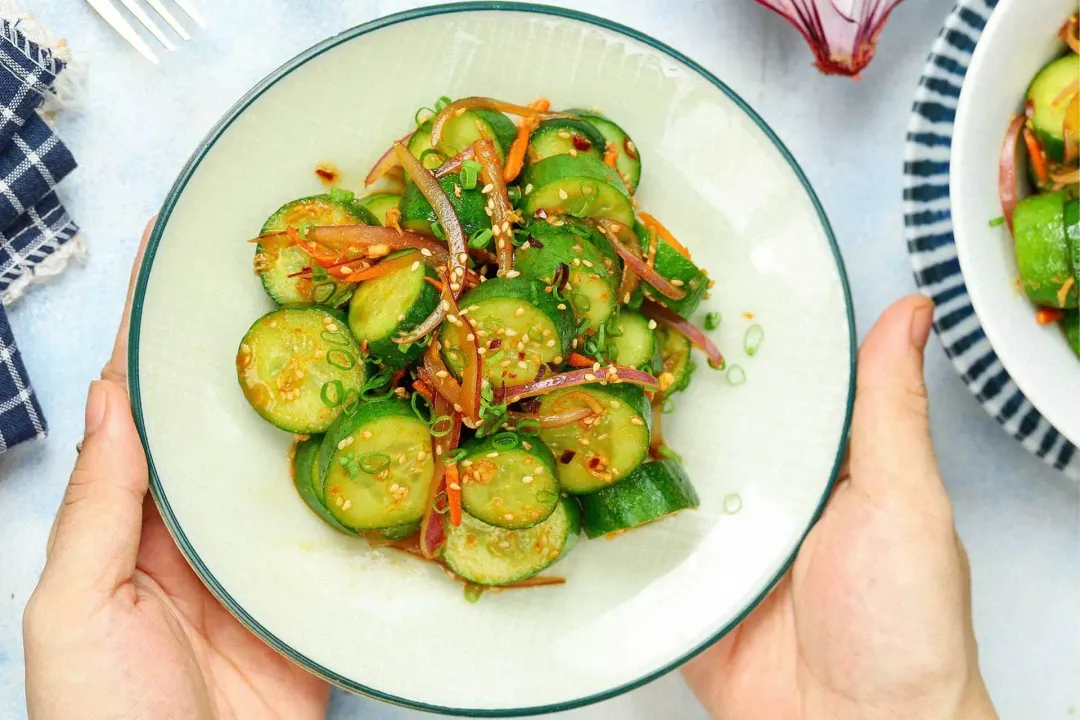 NUTRITION
Nutrition Facts
Asian Cucumber Salad Recipe
Amount Per Serving (1 serving)
Calories 74
Calories from FDA
% Daily Value*
* Percent Daily Values are based on a 2000 calorie diet.
Keywords: asian cucumber salad, asian cucumber salad recipe, how to make asian cucumber salad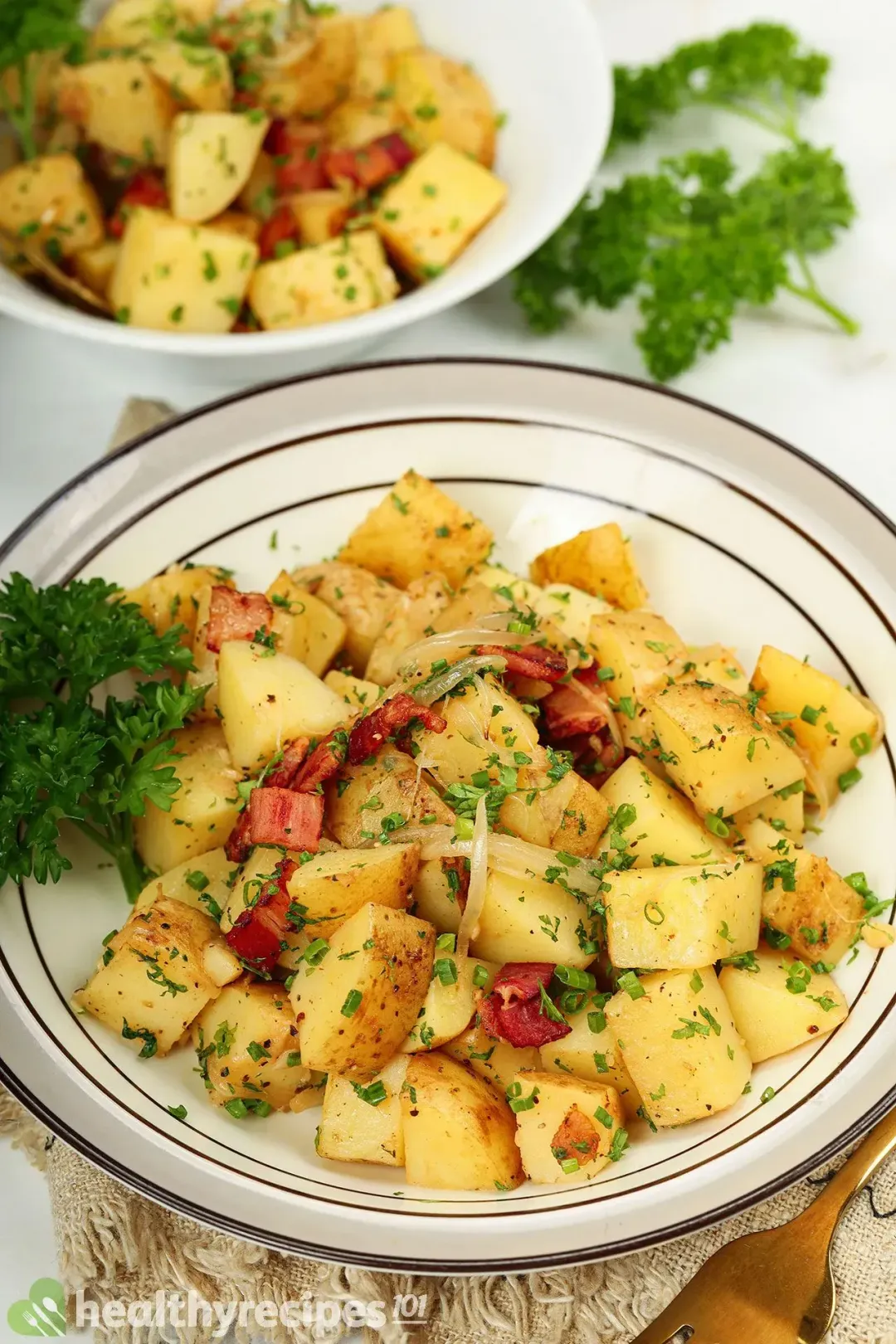 Previous Recipe
German Potato Salad
German Potato Salad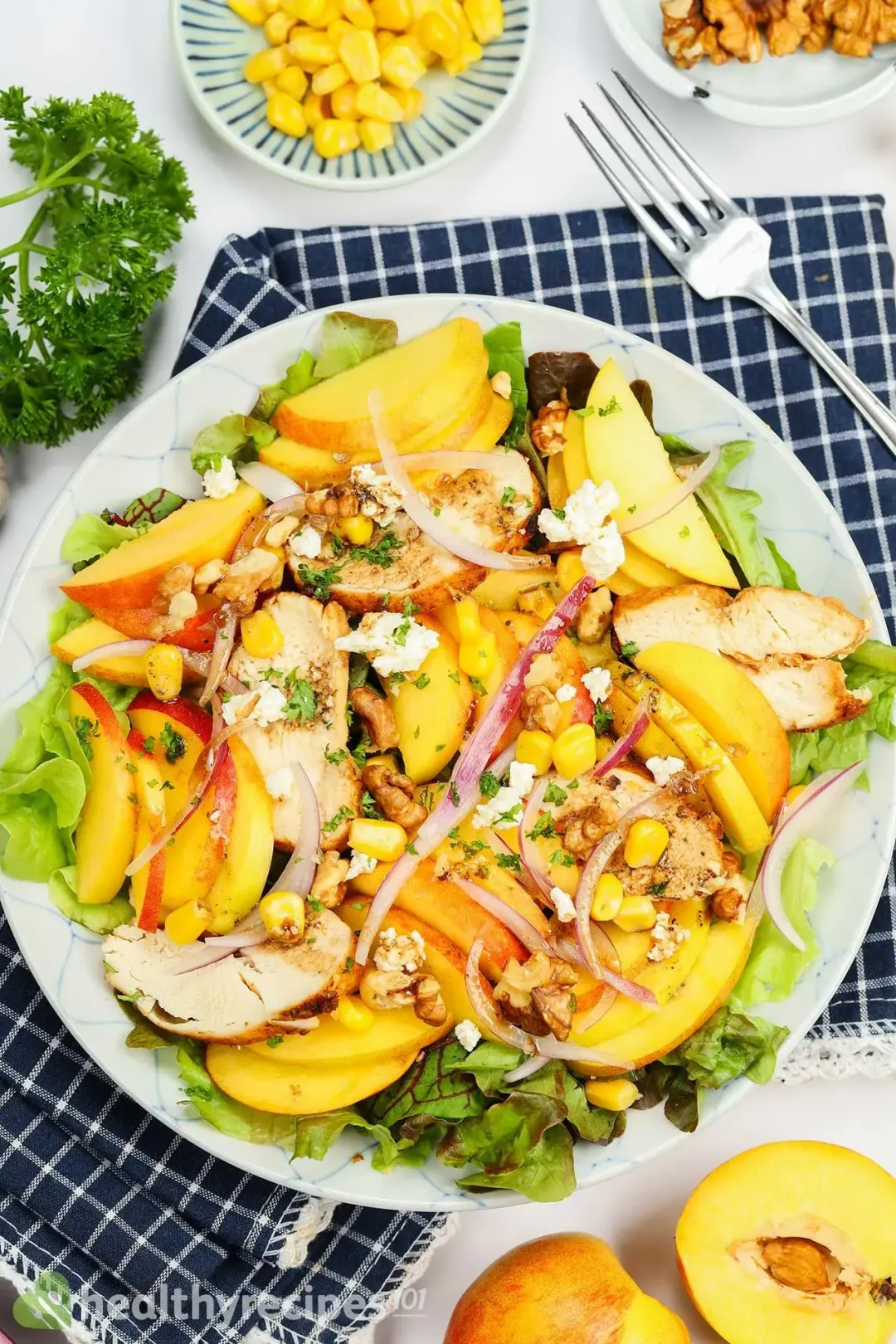 Peach Salad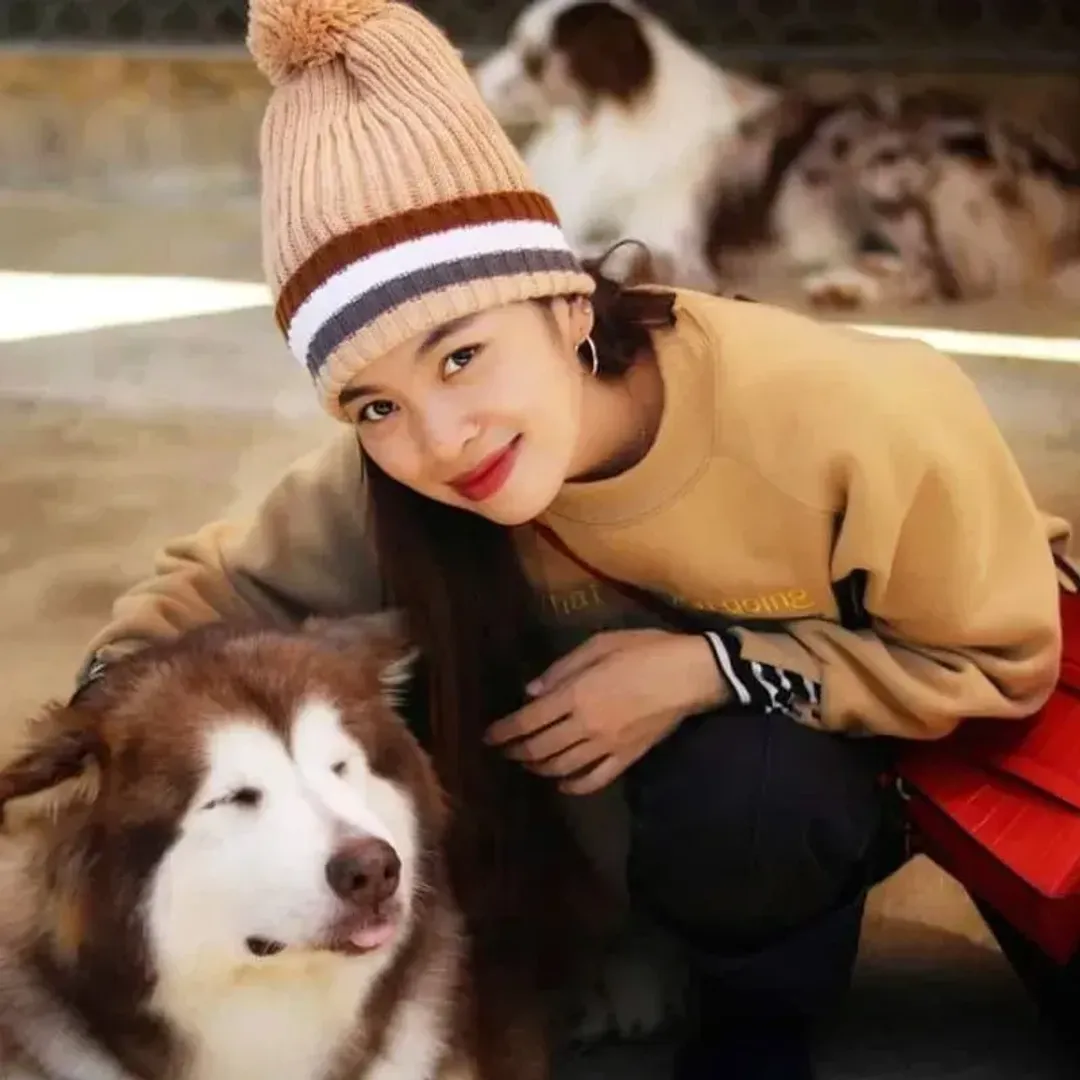 Chef, Culinary Consultant
Tuyet Pham is an award-winning Saigonese chef who believes that joy is the secret ingredient to delicious food. At Healthy Recipes 101, Tuyet personally tests and simplifies every recipe, ensuring maximum flavor with minimal effort. With a background at prestigious French restaurants P'TI Saigon and Le Corto, Tuyet knows how to make every dish exceptional.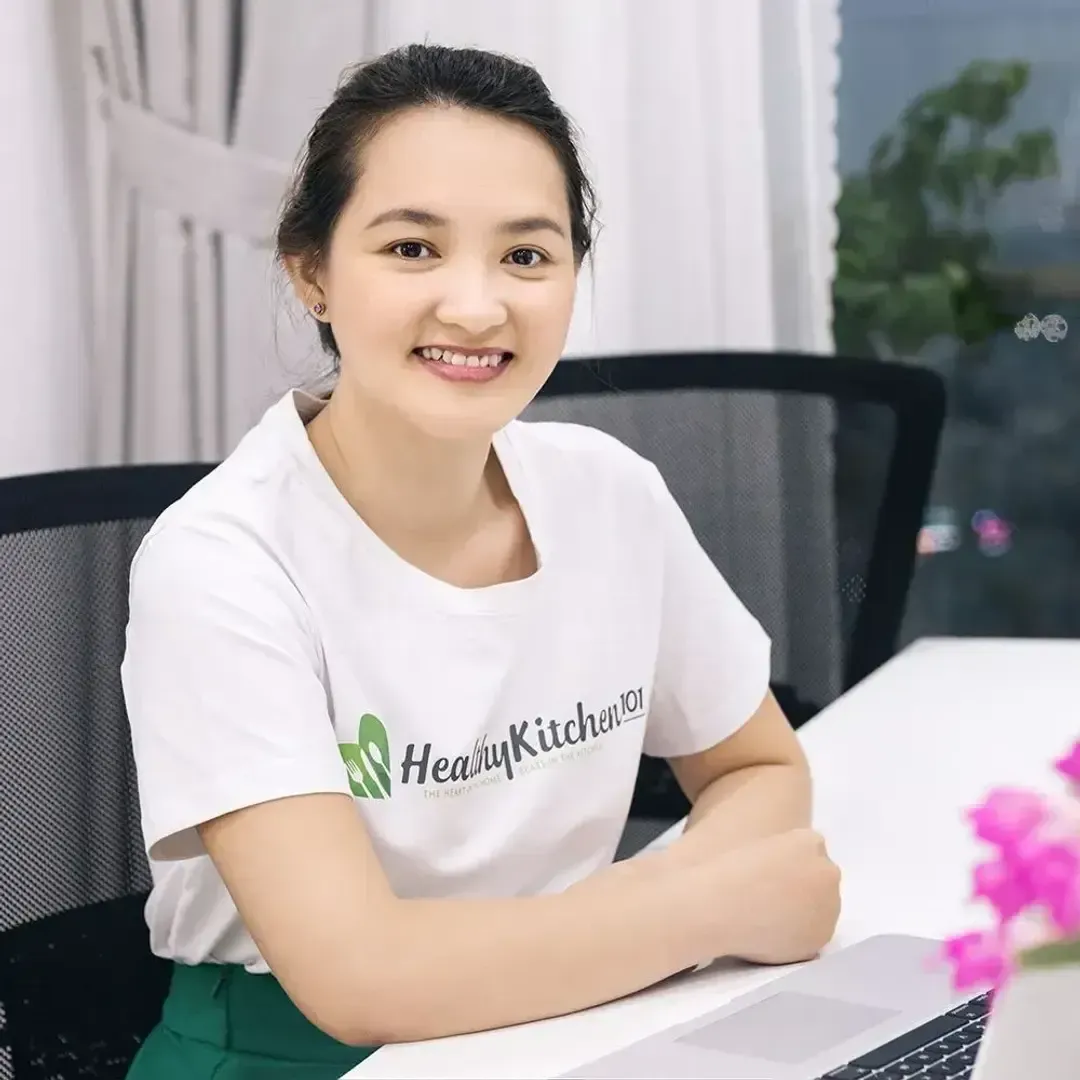 Writer, Author
Luna Regina is an accomplished writer and author who dedicates her career to empowering home cooks and making cooking effortless for everyone. She is the founder of HealthyKitchen101.com and HealthyRecipes101.com, where she works with her team to develop easy, nutritious recipes and help aspiring cooks choose the right kitchen appliances.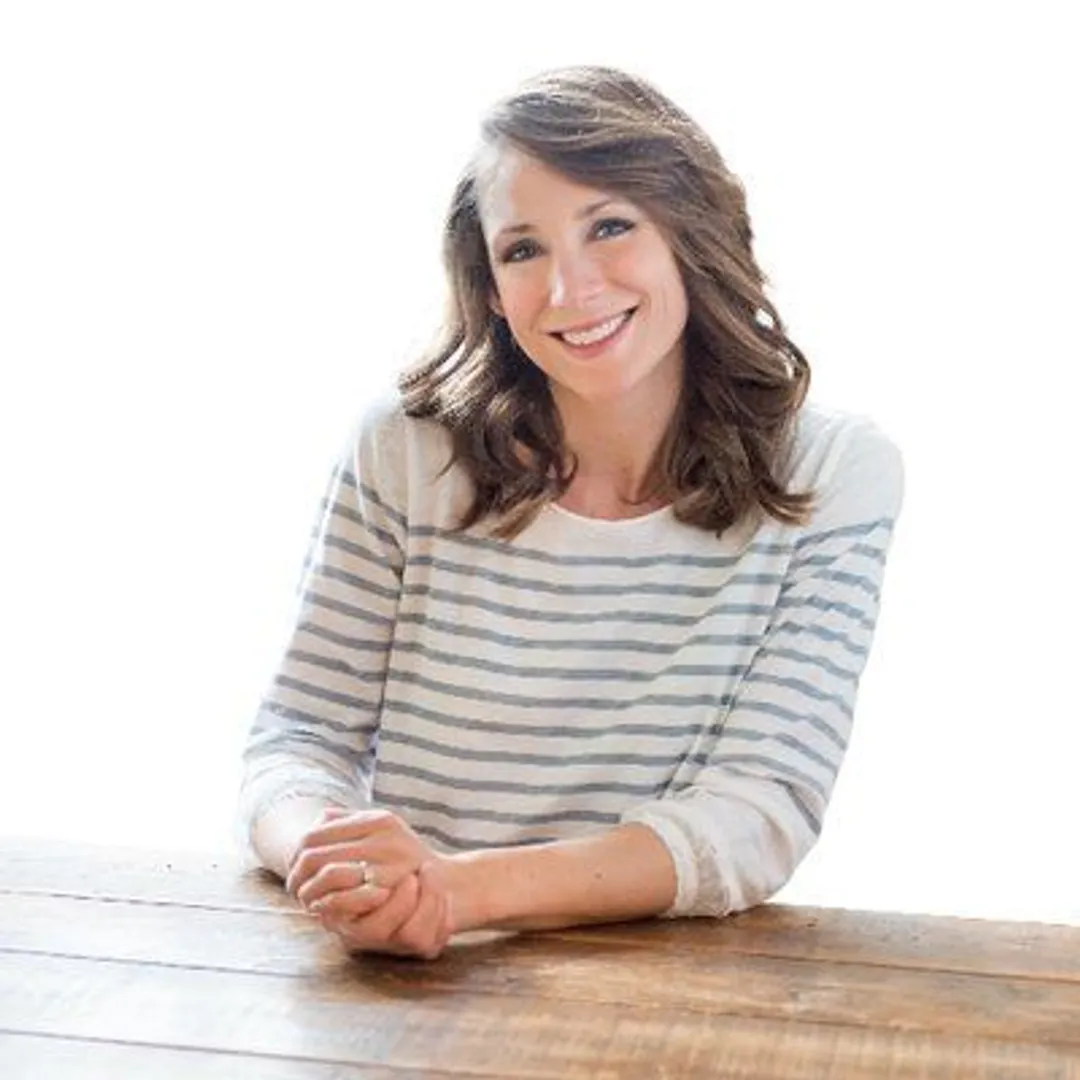 Nutrition Reviewer
Natalie is a registered dietitian nutritionist with a passion to help others live their best life through food, fitness, safer beauty and a healthy lifestyle. She has expertise with a variety of diets and diseases and believes that there is no one-size-fits-all approach for health.
Comments/ Reviews