Our shrimp chow mein recipe makes a delicious dish with authentic flavors that are sure to satisfy your take-out cravings. In this recipe, the tender and juicy shrimp combine with crunchy vegetables in a hot pan, and all get tossed together in a savory Asian-style sauce. This delicious, nutrient-packed meal will be ready in just 30 minutes.
The beauty of chow mein is that it's easy to customize; you can switch up the proteins and vegetables in our recipe depending on your tastes or simply based on what's in the refrigerator. Everything will taste amazing with the flavorful sauce.
What Is Chow Mein?
Chow mein is a Chinese noodle-and-vegetable stir-fry that can also be flavored with proteins like pork, chicken, beef, and seafood.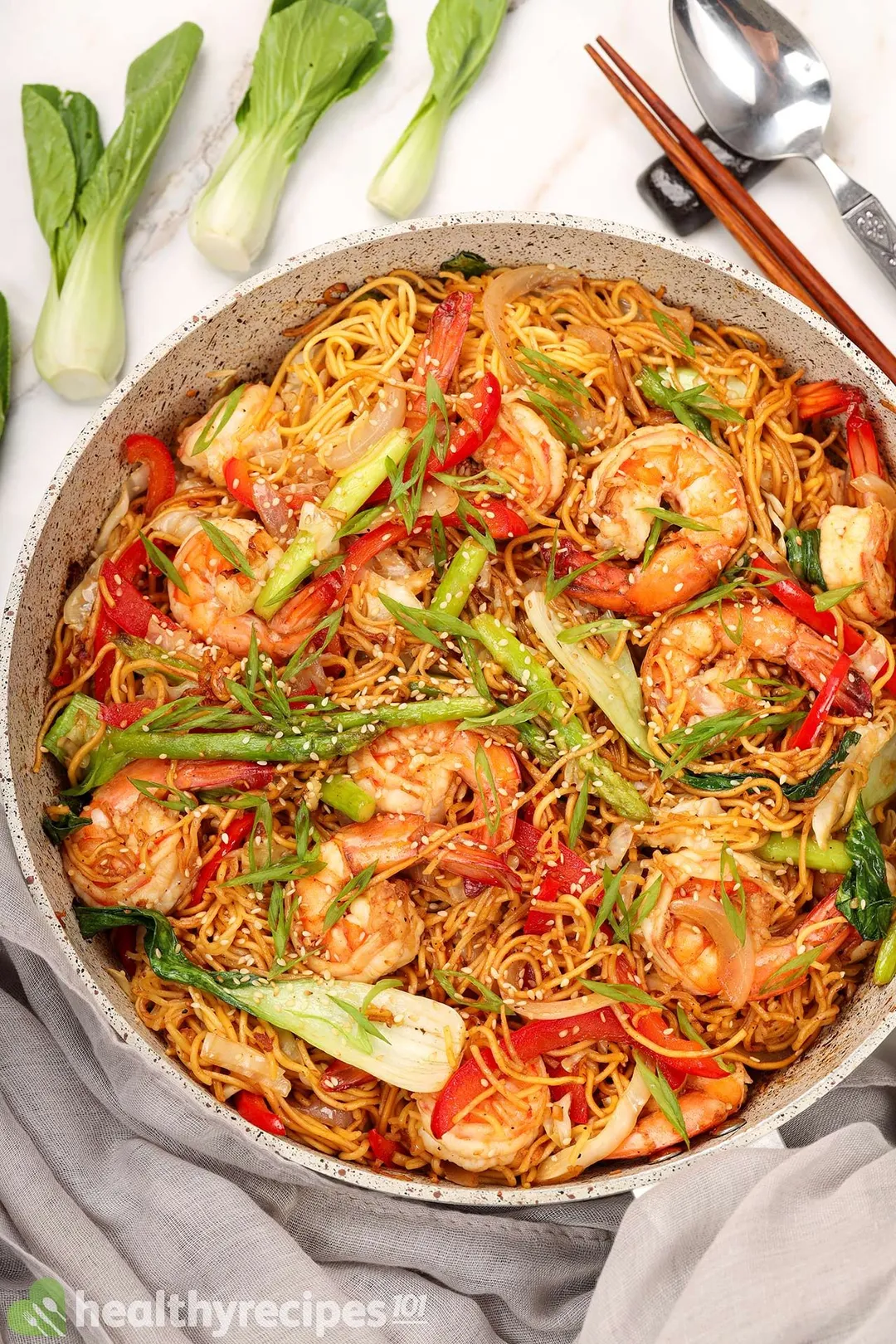 'Chow mein,' in Mandarin, literally means 'fried noodles.' Though the word 'fried' could lead you to think this is a heavy, greasy dish, chow mein doesn't require a lot of oil. Instead of purely being fried, the noodles are first partially cooked in hot water and then tossed over high heat with the accompanying ingredients of choice.
Consisting of simple ingredients and cooking techniques, the dish is convenient and affordable while delivering authentic flavors.
Shrimp Chow Mein vs. Shrimp Lo Mein
Both shrimp chow mein and shrimp lo mein use egg noodles; thus, they result in a pretty similar appearance. But in terms of cooking, they are quite distinct.
In chow mein, the noodles are stir-fried with other ingredients in a hot pan. In contrast, lo mein's noodles do not get fried — they're simply mixed with protein and vegetables that have been cooked separately.
We've got our own Shrimp Lo Mein Recipe if you wanna test out the differences for yourself. For other shrimp dishes inspired by Chinese cuisines, check out our full collection of Chinese Shrimp Recipes.
Is Our Shrimp Chow Mein Healthy?
Unlike the take-out version, our shrimp chow mein recipe is healthy.
Though it's got a few calorie-rich ingredients like shrimp, noodles, and olive oil, our shrimp chow mein contains only approximately 500 calories per serving. When paired with soup and juice, the dish makes a complete meal with proteins, carbs, and vegetables.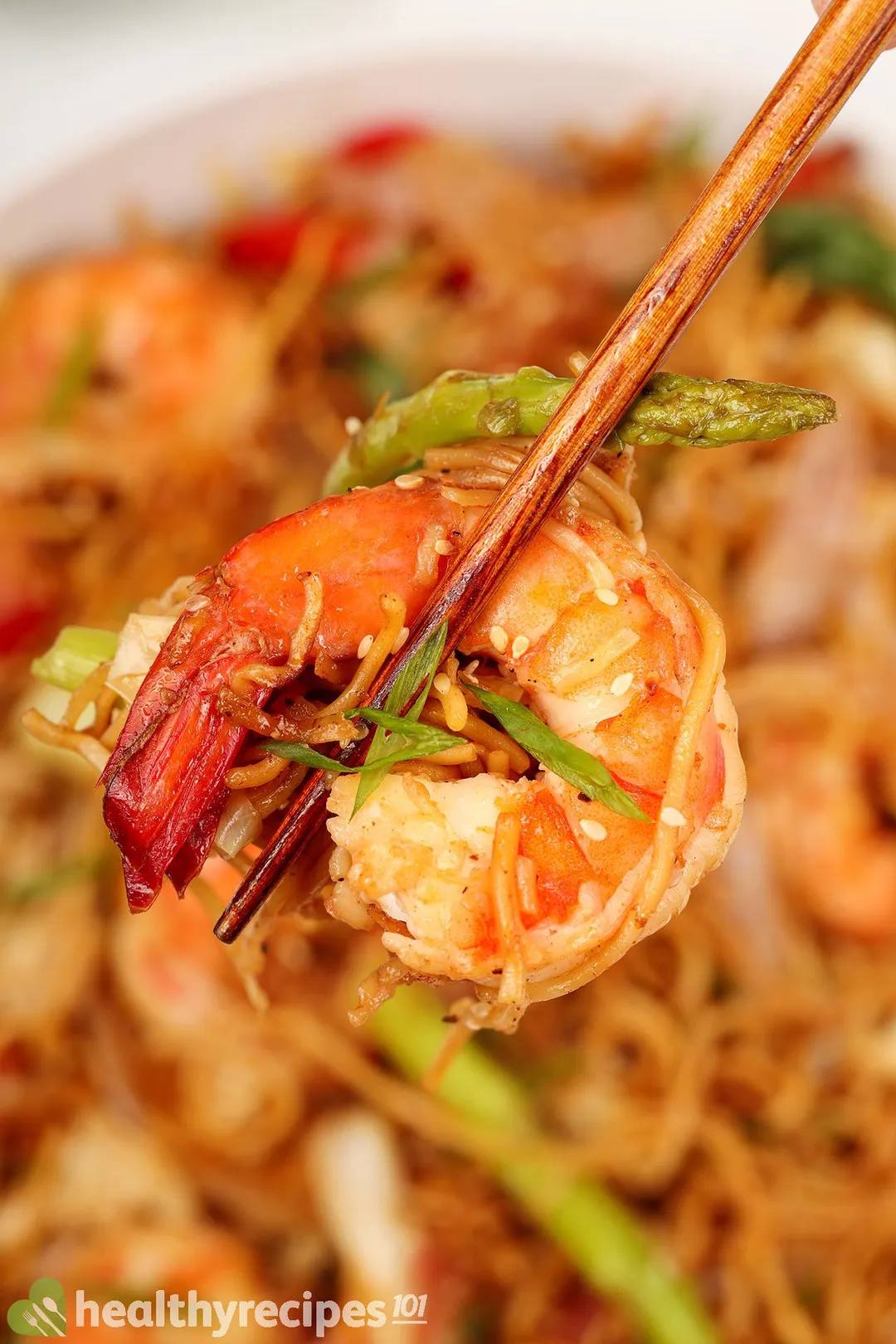 Asian stir-fried dishes are typically loaded with salt, MSG, and oil. We used low-sodium soy sauce and didn't add salt. Plus, we stuck with a minimal amount of canola oil. It didn't harm the flavor; the dish still comes out savory with a nutrient profile that aligns with the USDA's Dietary Guidelines.
Shrimp Chow Mein Ingredients
This shrimp chow mein recipe turns noodles and your accompaniments of choice into a delicious mixture with layers of flavor and texture. To make the dish, here is what you need:
1. Shrimp
We all love the taste of fresh shrimp, but of course, you can go with the frozen type to save some prepping time if you like. 
If you're not into shrimp, you can substitute in chicken or beef and the dish will still be just as delicious. For a vegetarian version of our shrimp chow mein, just leave out the shellfish and use tofu instead.
2. Noodles
Our shrimp chow mein calls for medium egg noodles. If you can't source them, switch to spaghetti or linguine as they'll give you similar results. However, Asian egg noodles only take 2 - 3 minutes to cook, while Italian spaghetti takes more than double of that. Read the instructions on the package carefully before you opt for other noodle variants.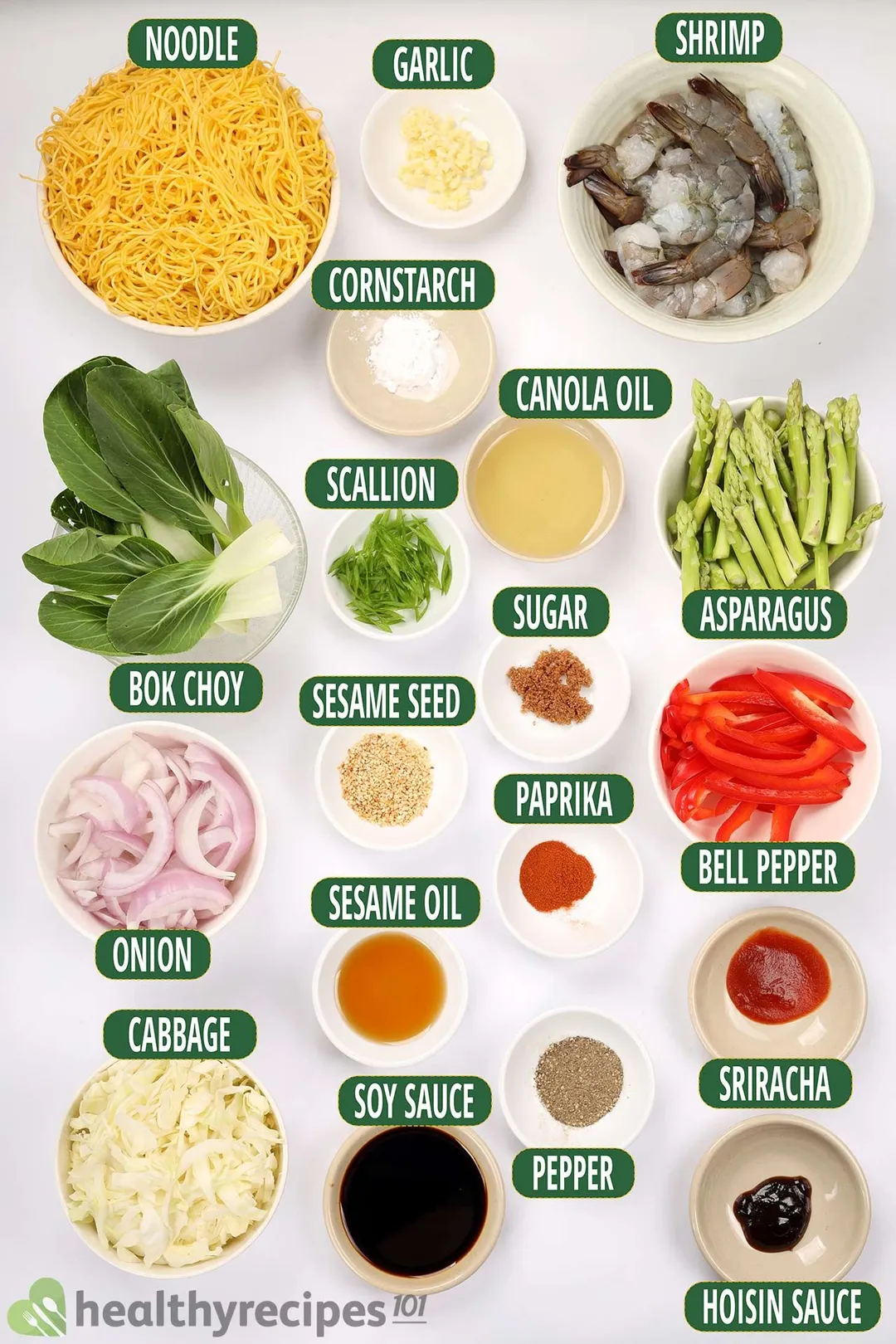 3. Vegetables
The key to authentic chow mein flavor is to cook the vegetables briefly in the hot pan until they're softened on the outside but still firm and crunchy to bite into.
The way you prepare and cook your veggies makes a massive difference in the end product. Since cabbage is quite firm and takes a little longer to cook, we don't recommend using the whole leaves but instead slice them as thinly as possible.
Red onions also need a quick stir-fry to reduce their sharp and pungent aroma before cooking with other veggies. This way, everything will cook within the same amount of time.
4. Sauce
As great as shrimp and vegetables are, most of the taste in our shrimp chow mein comes from the sauce. For this homemade Asian-style sauce, we used soy sauce as the main flavor enhancer, sriracha for a lovely touch of heat, and brown sugar to balance the saltiness. 
A few drops of sesame oil lend the signature smokey note and elevate the overall flavor. And the last key component is the hoisin sauce — just a teaspoon is enough for that rich, luscious color and taste we all love.
All these ingredients are easy enough to buy in your supermarket's Asian aisle. 
Store and Reheat
To properly store the shrimp chow mein, we recommend keeping the leftovers in an airtight container. Refrigerated shrimp chow mein stays fresh for 3 - 4 days, and frozen batches can last for up to 3 months.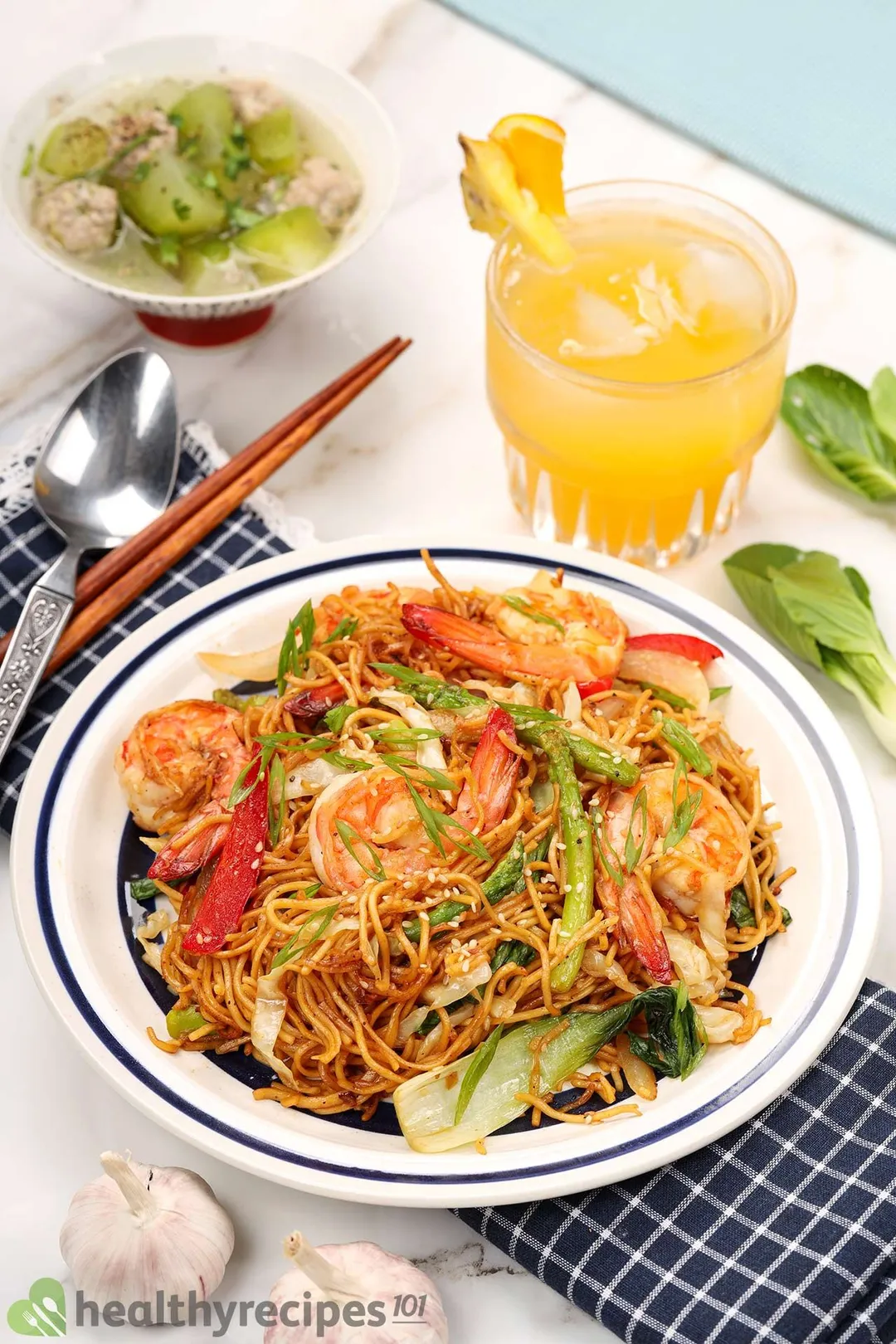 When reheating, it's best to heat the dish using a similar stir-frying technique as you used to make it in the first place. Add one or two tablespoons of water to prevent the noodles from drying out or sticking to the bottom of the pan. 
Then gently stir the noodles in a hot pan until they're heated through. This way, the dish will retain the original flavor and texture.
What to Serve With Shrimp Chow Mein
Since shrimp chow mein is inspired by Chinese cuisine, we paired it with a hearty winter melon meatball soup. A light and refreshing orange pineapple juice makes for a lovely drink to round out this meal.
You Might Enjoy These Too!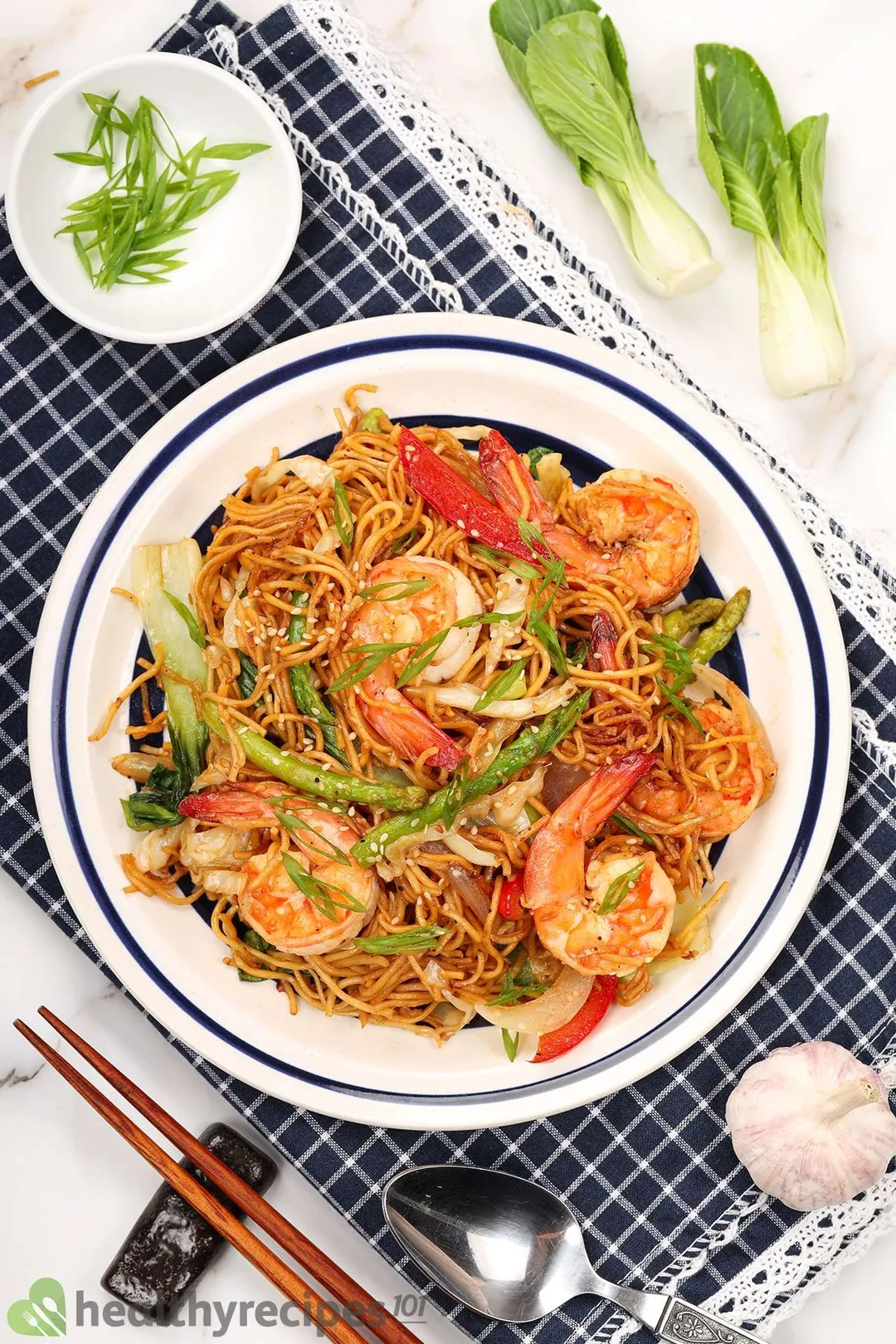 Shrimp Chow Mein
Our shrimp chow mein recipe makes a quick and wholesome meal with plenty of stir-fried shrimp and vegetables tossed with noodles and savory sauce.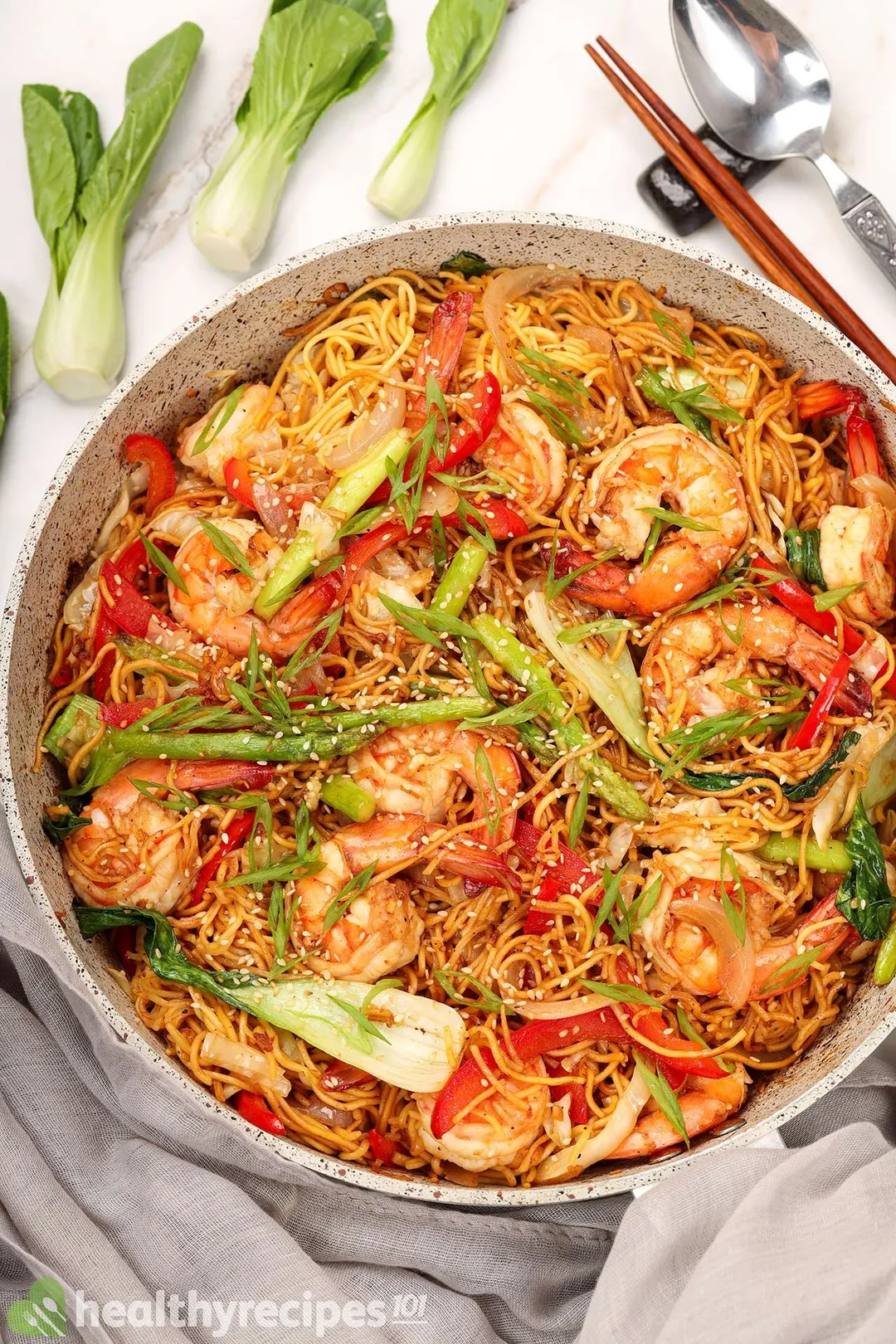 cook TIME

20 mins

prep TIME

10 mins

total TIME

30 mins
COURSE

Dinner, Lunch, Main Course

CUISINE

Chinese

SERVINGS

CALORIES

500 kcal
INGREDIENTS
10 oz

peeled and deveined shrimp

(equals to 20 oz raw shrimp)

2 oz

red bell pepper

(sliced)

14 oz

boiled egg noodles

(equals to 7 oz dry egg noodles)

2 tbsp

reduced-sodium soy sauce

3 tbsp

canola oil

(divided)
INSTRUCTIONS
1
Make the sauce: In a small bowl, whisk together 1 tsp cornstarch, 1 tsp brown sugar, 1 tbsp sesame oil, 1/2 tsp ground pepper, 1/2 tsp paprika, 2 tbsp soy sauce, 1 tsp hoisin sauce, and 1 tsp sriracha until well combined. Set aside.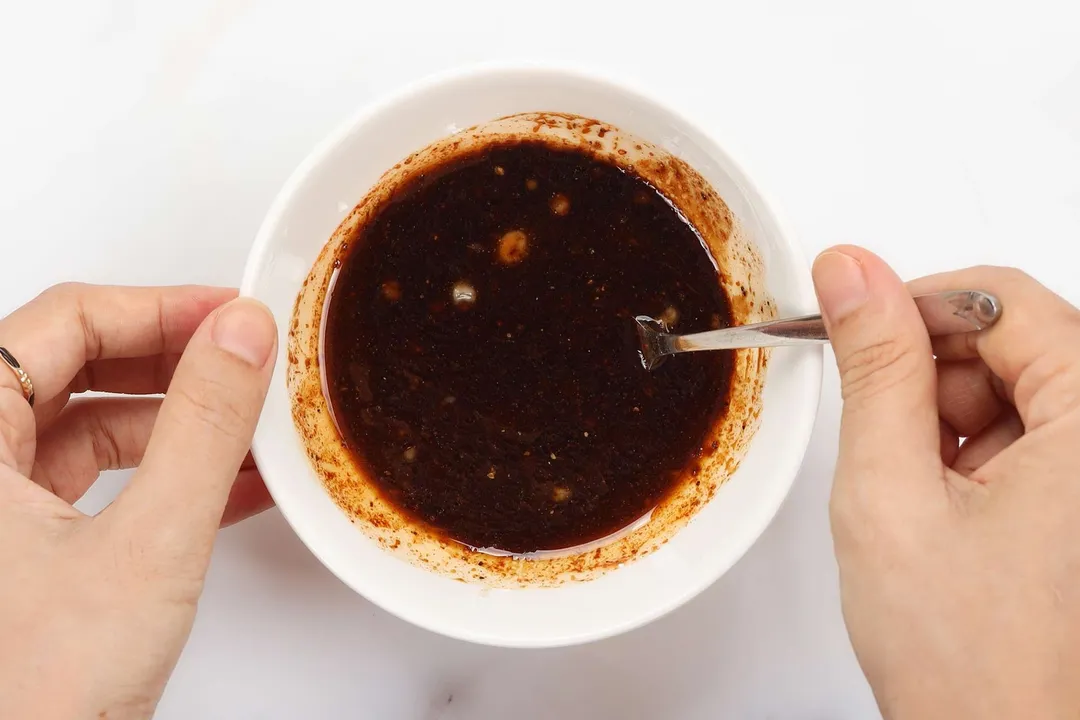 2
Heat 1 tbsp canola oil in a large pan over medium heat. Add 4 oz asparagus and stir-fry for 2 minutes.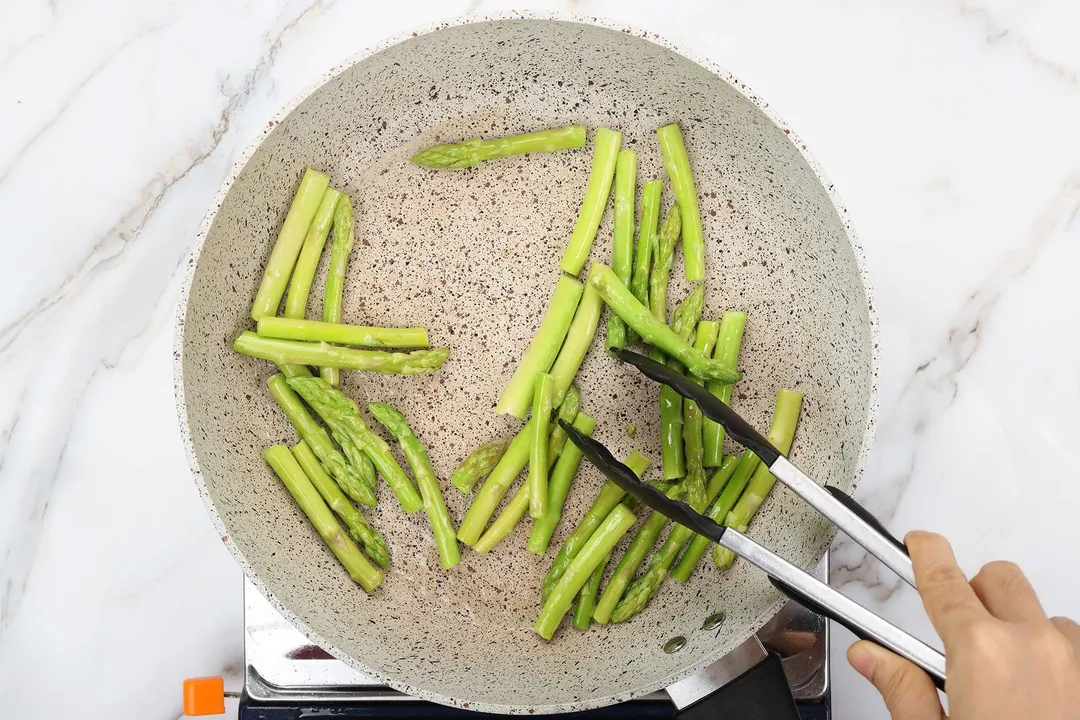 3
Add 4 oz red onion. Cook and stir occasionally for 30 seconds.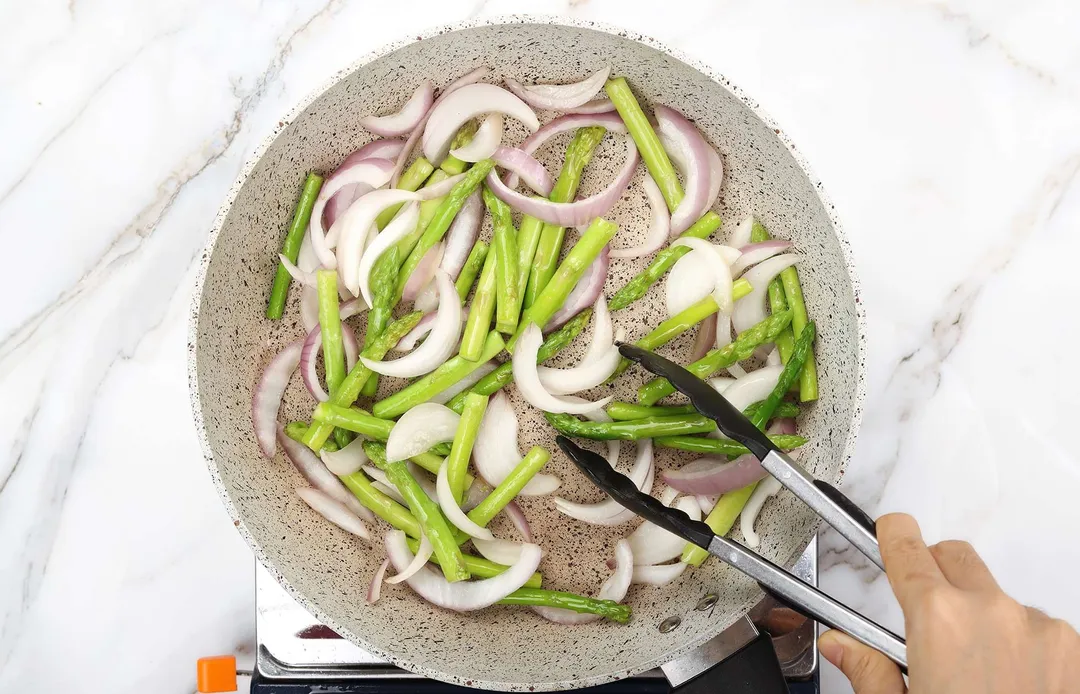 4
Add 4 oz cabbage, 2 oz bok choy, and 2 oz red bell pepper to the pan. Cook and stir constantly until the vegetables start to soften, about 4 - 5 minutes. Transfer to a plate.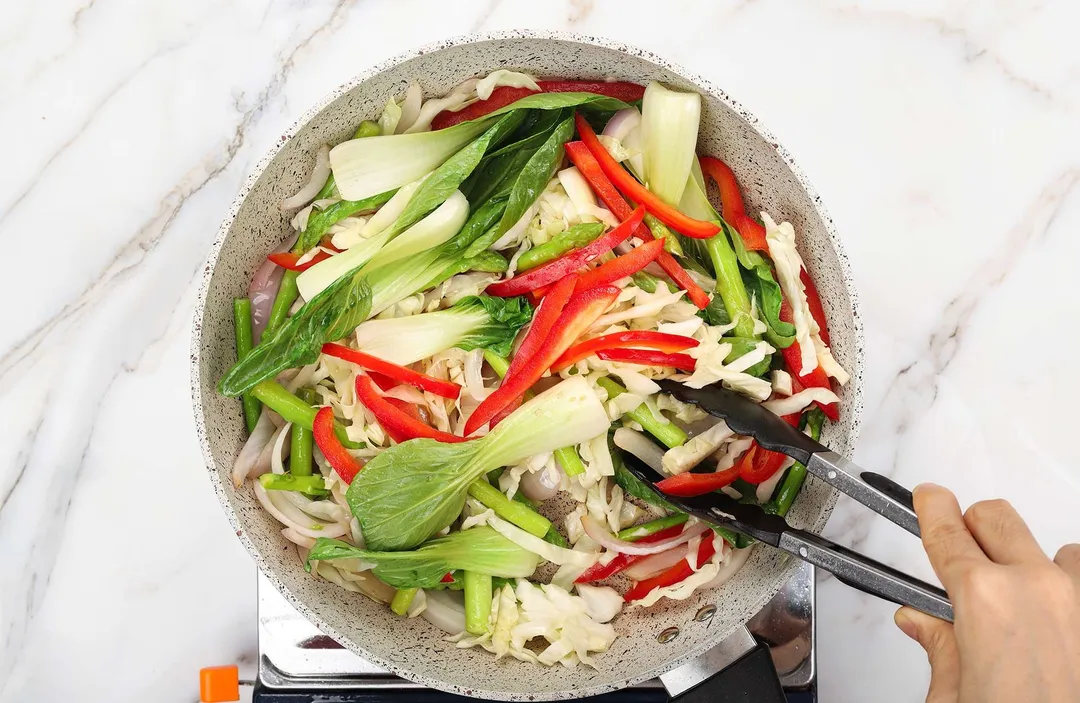 5
Heat up the remaining 2 tbsp canola oil. Add 1 tbsp garlic and sauté for 30 seconds until fragrant.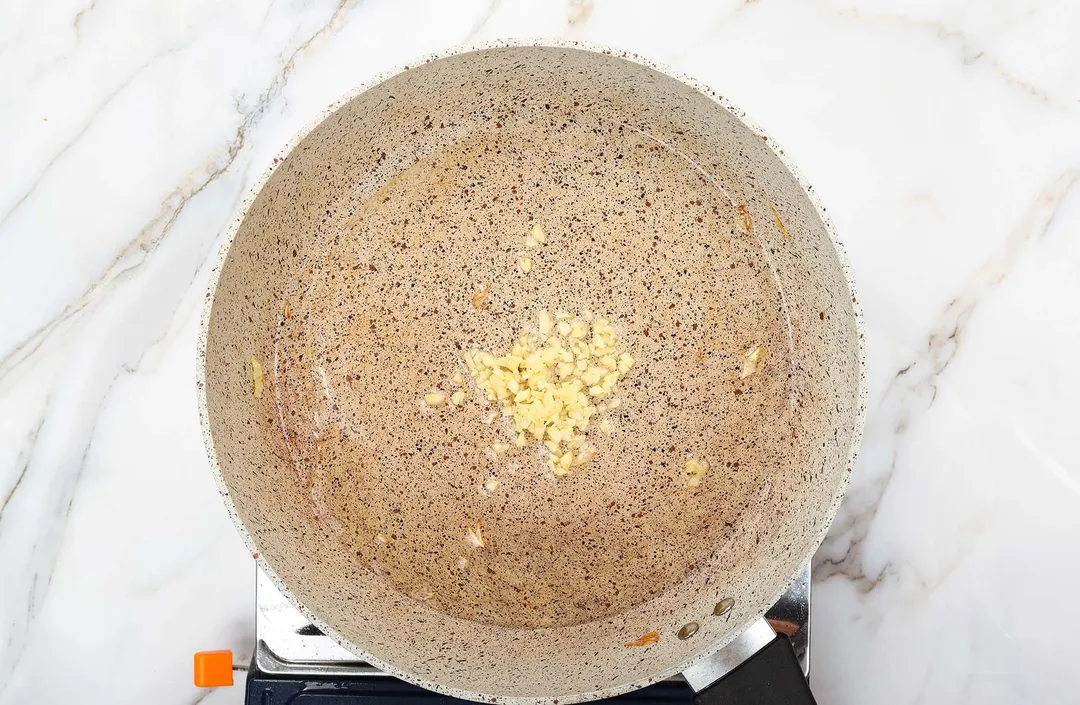 6
Add 10 oz shrimp. Cook and gently stir the shrimp for 1 minute before adding 14 oz egg noodles to the pan. Stir the noodles until the excess water has evaporated — about 5 - 7 minutes.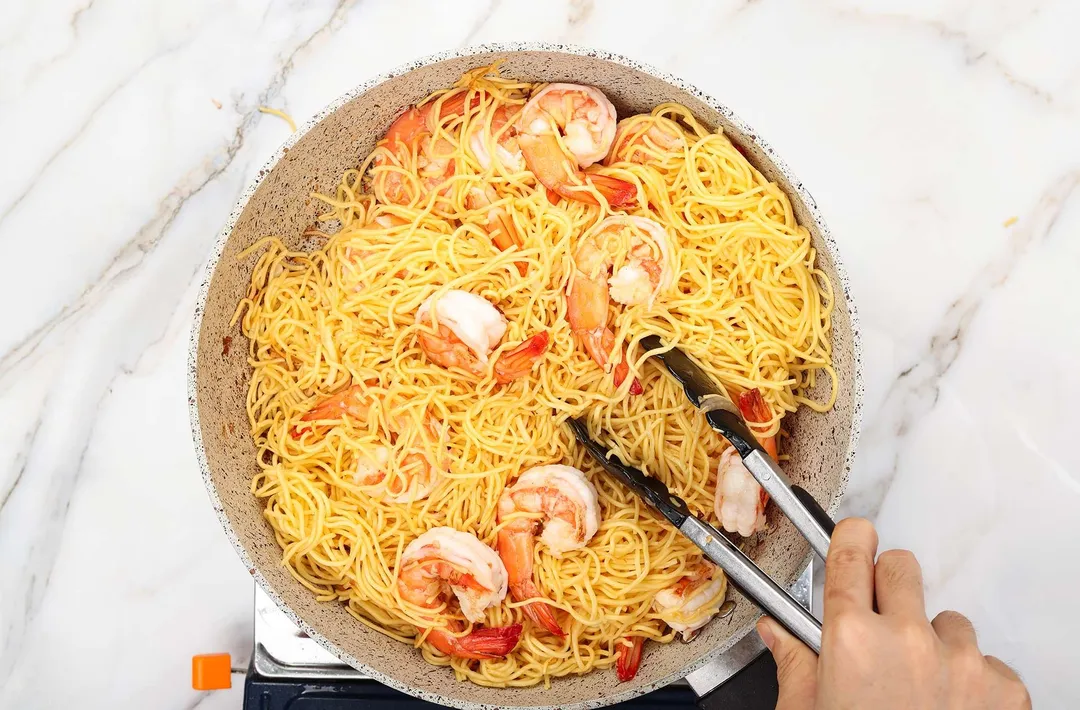 7
Return the stir-fried vegetables to the pan. Cook for another 2 minutes.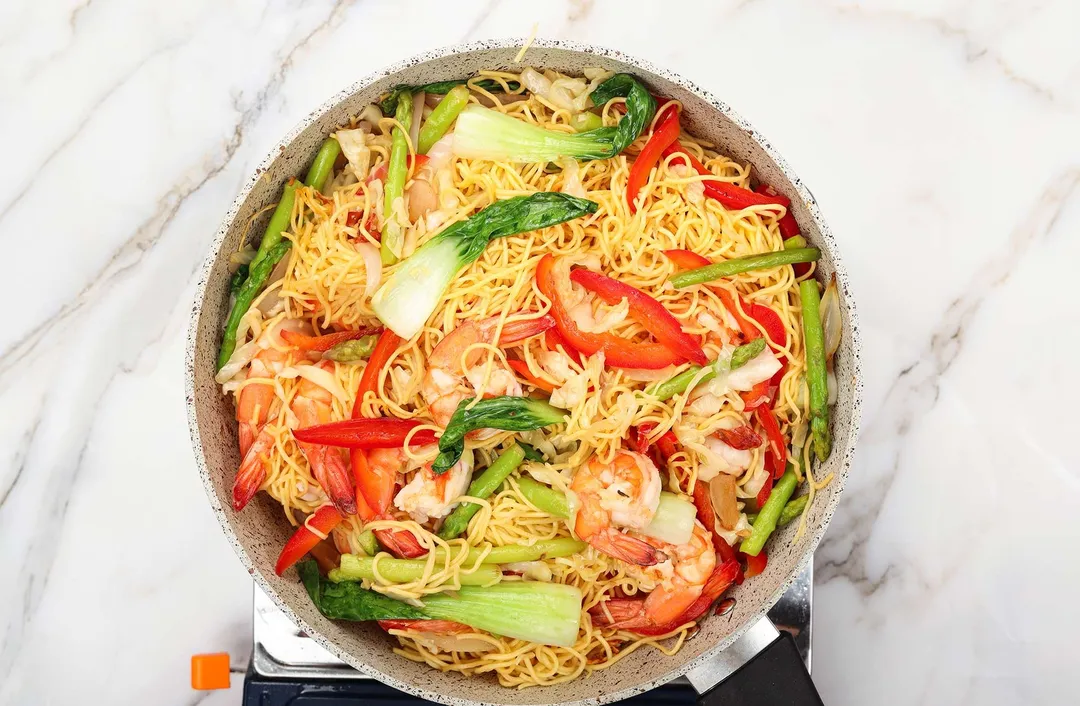 8
Remove from heat and pour the prepared sauce over the noodle mixture.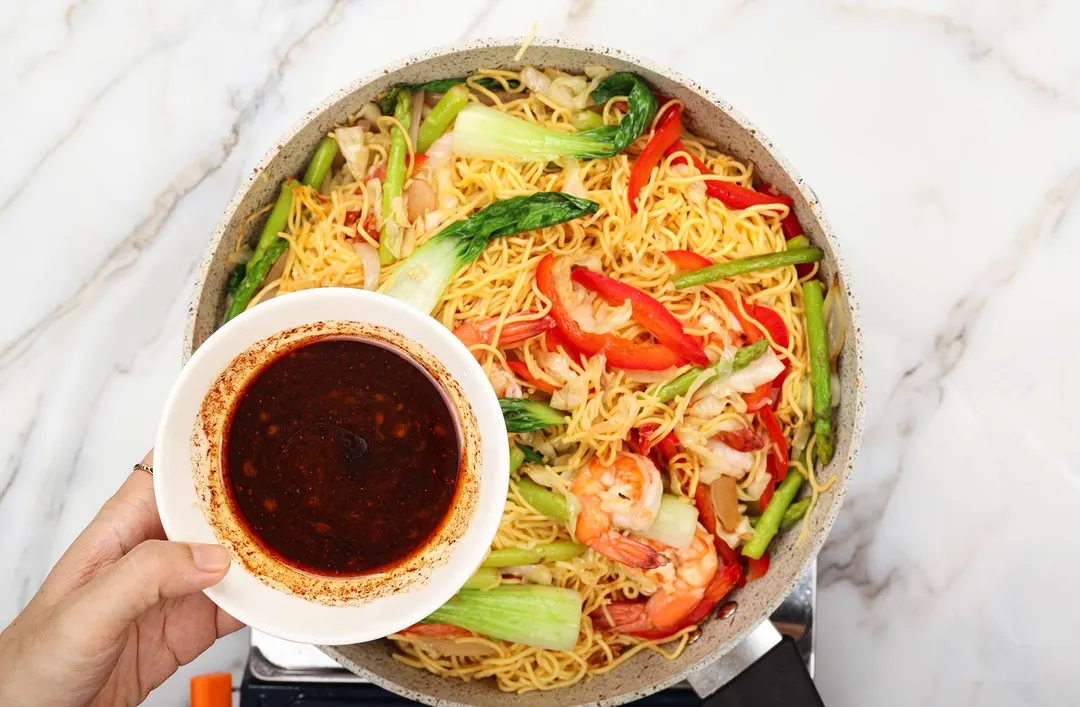 9
Toss the noodles with the sauce until coated evenly. Sprinkle with 2 tbsp scallion and 1 tbsp sesame seeds. Serve hot.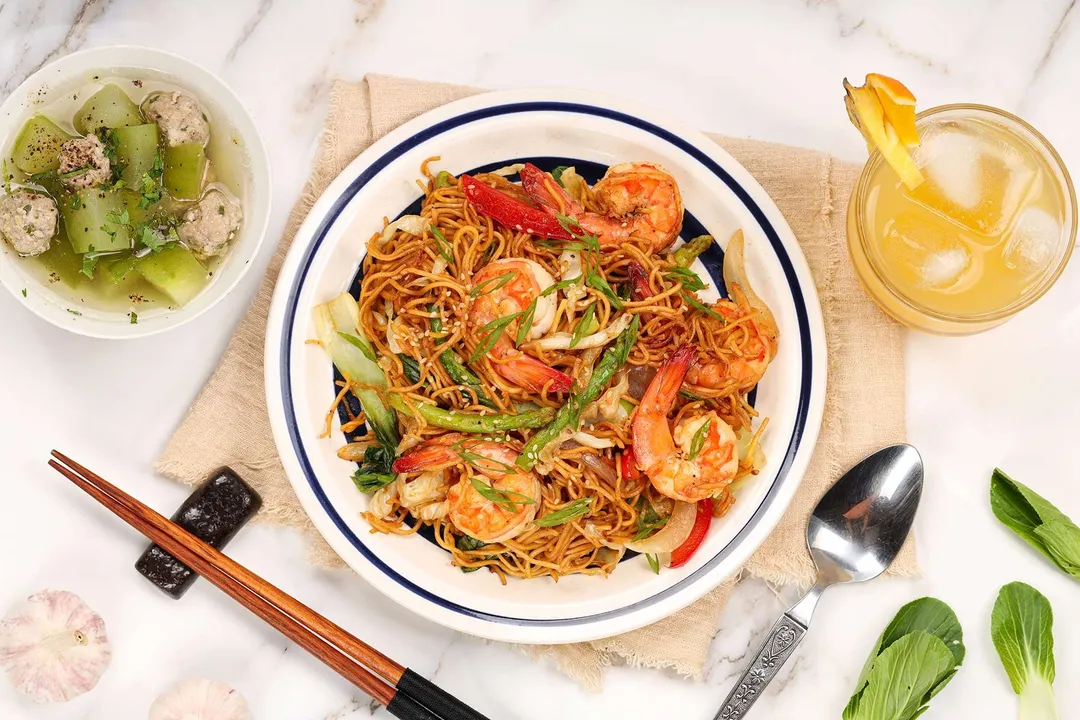 NUTRITION
Nutrition Facts
Shrimp Chow Mein
Amount Per Serving (1 serving)
Calories 500
Calories from Fat 162
% Daily Value*
* Percent Daily Values are based on a 2000 calorie diet.
Keywords: how to make shrimp chow mein, shrimp chow mein, shrimp chow mein recipe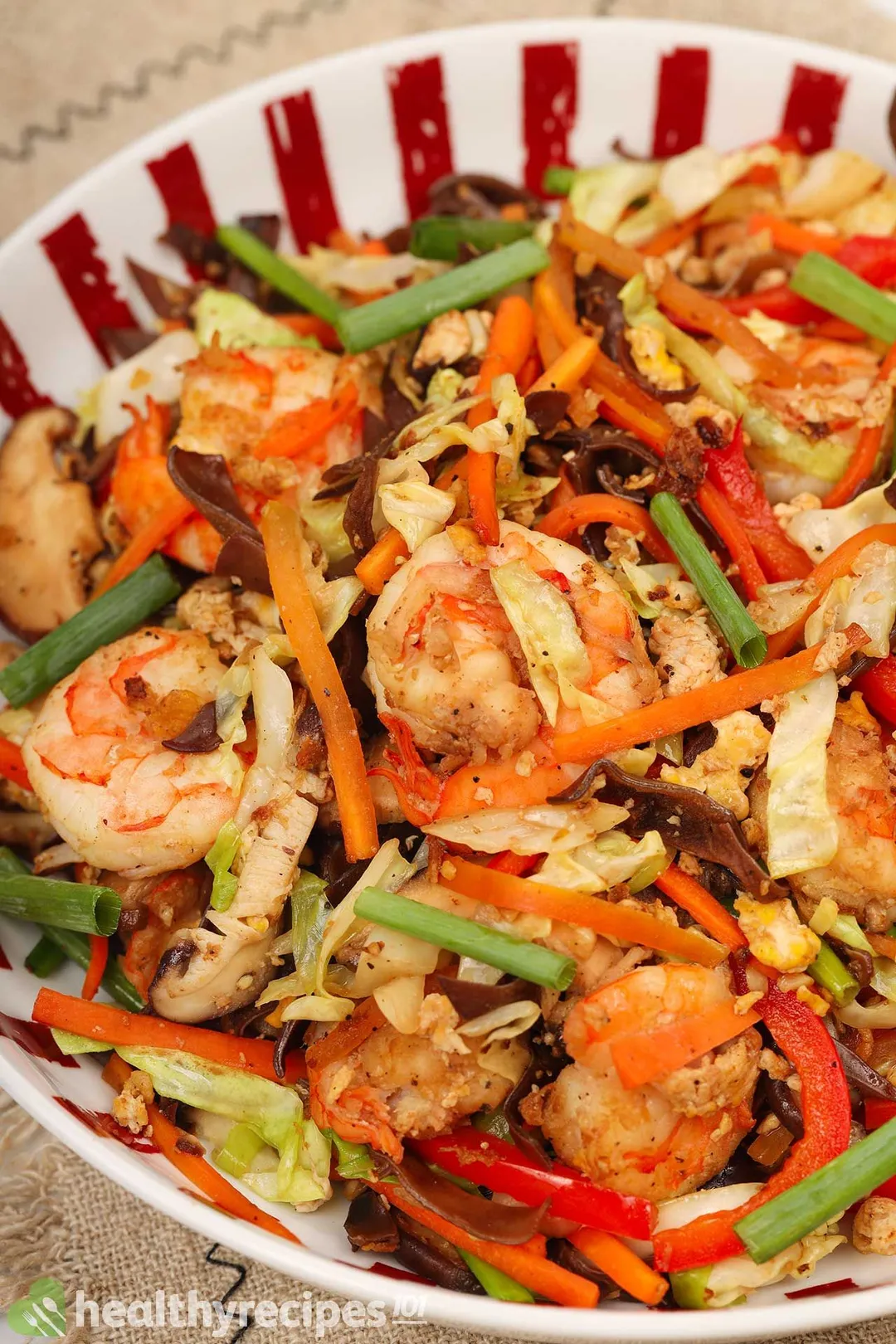 Previous Recipe
Moo Shu Shrimp
Moo Shu Shrimp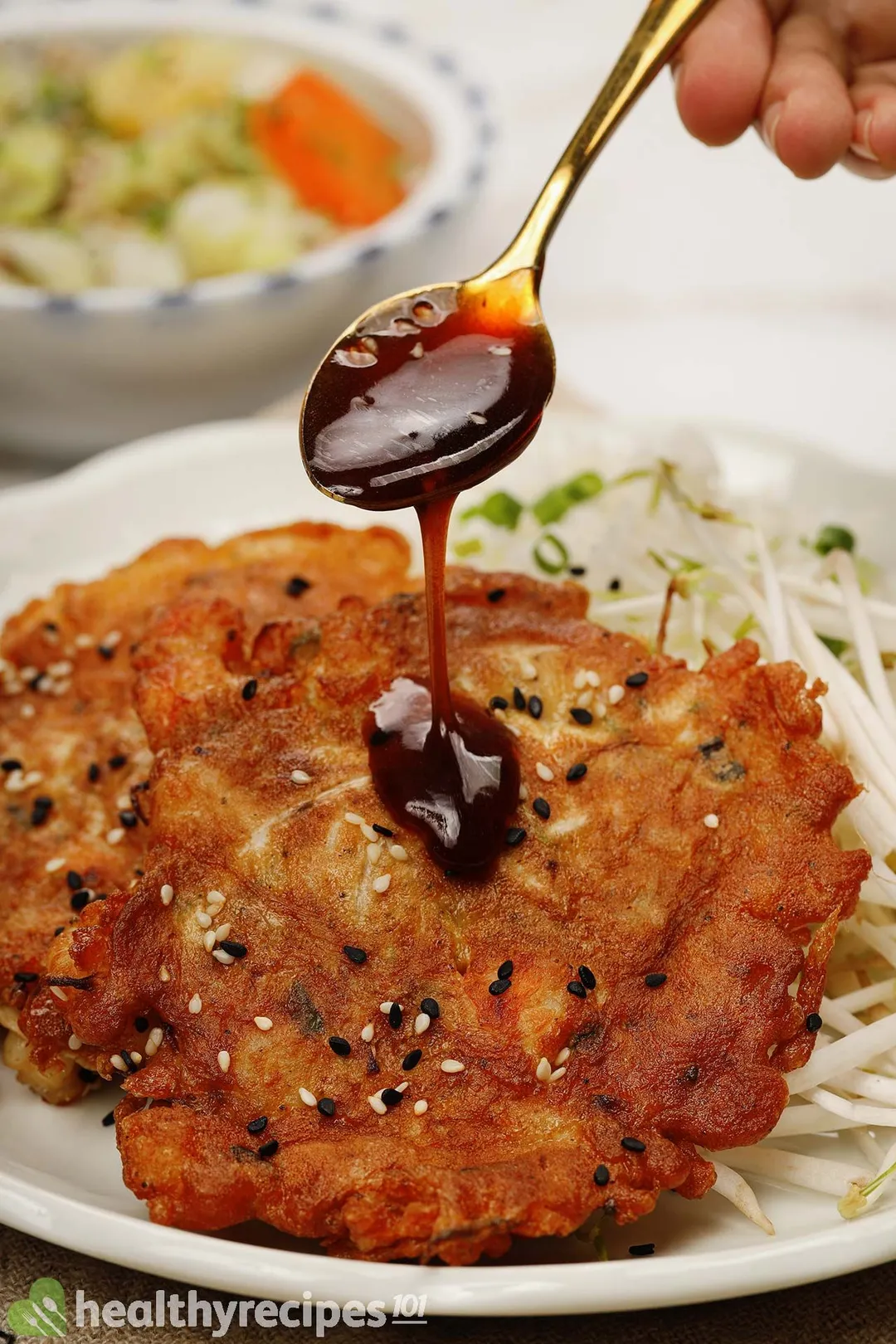 Next Recipe
Shrimp Egg Foo Young
Shrimp Egg Foo Young
Head Chef, Culinary Consultant
Tuyet Pham is an award-winning Saigonese chef who believes that joy is the secret ingredient to delicious food. At Healthy Recipes 101, Tuyet personally tests and simplifies every recipe, ensuring maximum flavor with minimal effort. With a background at prestigious French restaurants P'TI Saigon and Le Corto, Tuyet knows how to make every dish exceptional.
Writer, Author
Luna Regina is an accomplished writer and author who dedicates her career to empowering home cooks and making cooking effortless for everyone. She is the founder of HealthyKitchen101.com and HealthyRecipes101.com, where she works with her team to develop easy, nutritious recipes and help aspiring cooks choose the right kitchen appliances.
Nutrition Reviewer
Natalie Butler is a registered dietitian nutritionist with a passion to help others live their best life through food, fitness, safer beauty and a healthy lifestyle. She has expertise with a variety of diets and diseases and believes that there is no one-size-fits-all approach for health.
a quick and easy stir-fry dish that's packed with flavor.