If you love Japanese cuisine, having a teriyaki chicken recipe is a must. This traditional grilled chicken is glossy, juicy, super aromatic, and goes really well with rice.
What Is Teriyaki?
Teriyaki (照り焼き) is literally "glossy grilling", translated word-by-word. It's one of the many famous Japanese delicacies.
The meat is marinated and grilled with a sweetened soy-sauce-based marinade. As you reduce the sauce, it becomes shiny and smooth.
Despite the name, teriyaki chicken recipes sometimes involve no grilling. Chicken is marinated, then slowly roasted in an oven until the skin becomes golden and the meat is cooked.
If you do have a BBQ set-up and the occasion presents itself, grill your chicken on that. Nothing beats the charred marks of the grilling flame.
If you do it right, the teriyaki chicken should come out with somewhat crisp skin and moist meat. When you take a bite, its fragrance will come rushing in, as the umami sauce coats your palate.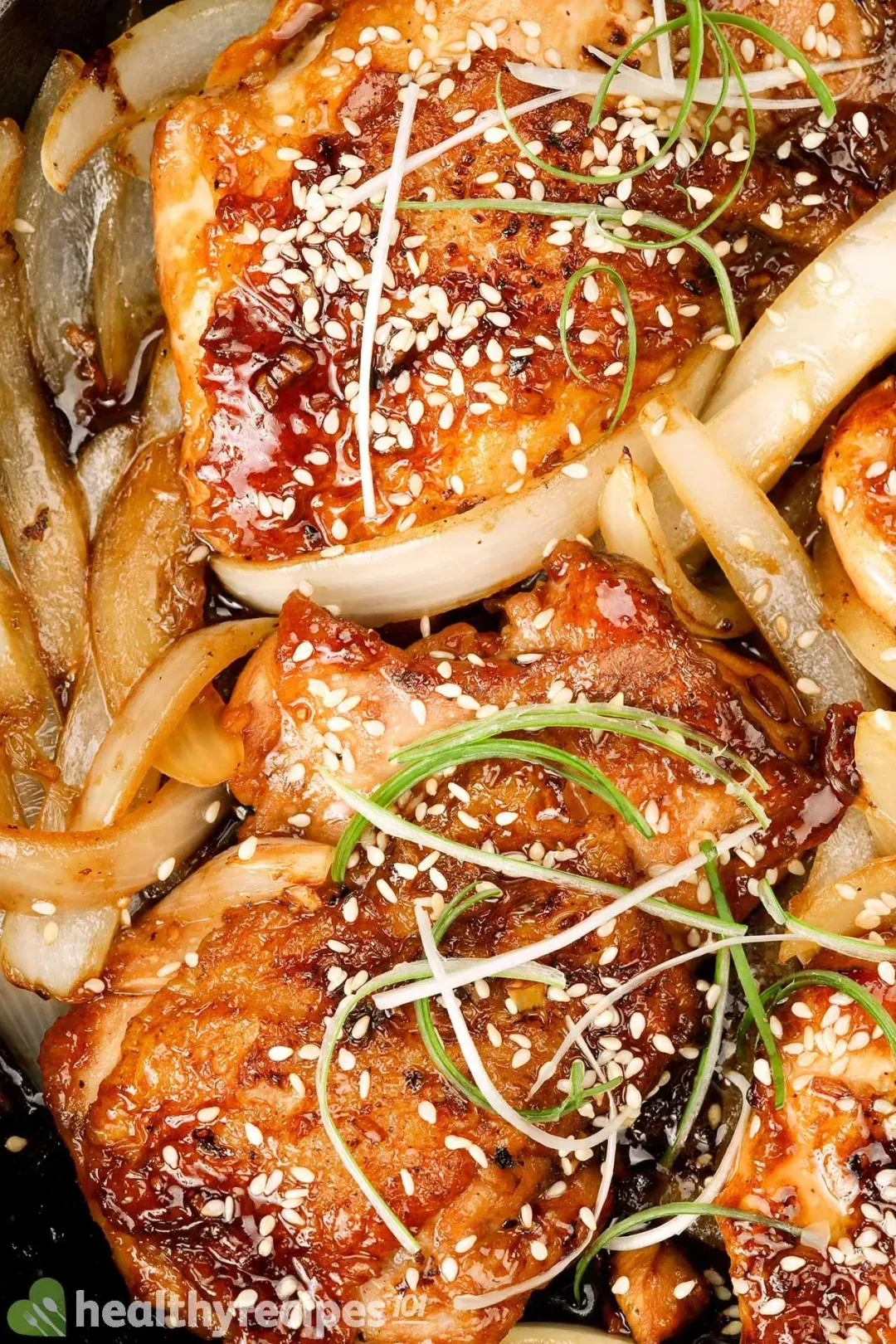 Check out this similar chicken recipe that's also super fragrant and umami: sesame chicken recipe.
Is Our Recipe Healthy?
Yes, it is. Teriyaki chicken has a lot of healthy ingredients.
First off, ginger. This health-promoting root has medicinal properties, including being anti-inflammatory, anti-oxidative, and a reliever of certain ailments.
In addition to ginger, our teriyaki chicken recipe also uses sesame oil and seeds. They are rich in good fats that cut cholesterol, and low in saturated fats (the kind that's bad for you).
We also used honey and reduced-sodium soy sauce. Honey contains trace amounts of minerals and is a better choice of sweetener than granulated sugar, while using less-sodium soy sauce helps reduce the risks of high blood pressure (and more).
Calories
Each serving of our recipe provides around 495 calories, more than 40% of which come from healthy fats and protein.
The amount of saturated fat per serving is less than 5 grams, which mainly comes from the chicken fat. You can use leaner parts of the chicken for a lower-fat meal.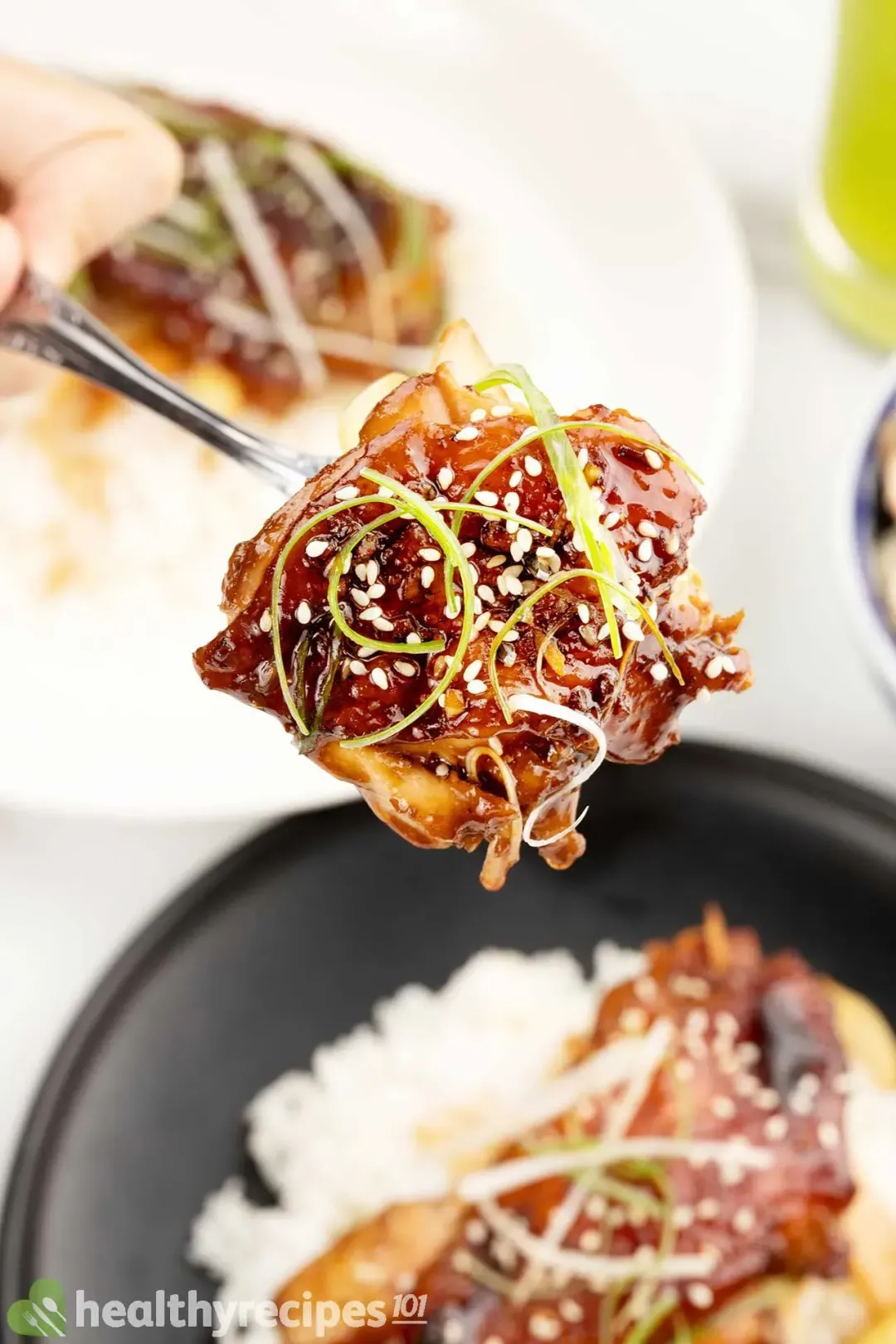 Types of Chicken Meat
Chicken has two types of meat: dark and white.
Dark meat has a darker hue than white meat due to difference in muscle structure. It is found in the thighs and legs, and is preferable because it's juicier.
White meat, on the other hand, is lighter in tone. It's in the animal's breast and wings, and despite not being as juicy, it's still beloved for many reasons.
1. Breast
Chicken breast is the leanest part, for it is often around 21% protein. You can get boneless, skinless chicken breast or simply trim the skin off using a knife, and it'd be only 3% fat.
We often use this part of the chicken (minus the skin) as the main source of protein for salads.
2. Wings
Chicken wings are often divided into three smaller components: drumette, wingette, and wingtip, all of which are white meat. It's 17.5% protein, with 3% more fat than the chicken breast, and it's often prepared skin-on.
Besides the to-die-for hot wings, there are a lot of ways to cook chicken wings. We find that this cut is best stir-fried or grilled, then reduced in some kind of savory sauce.
3. Thighs
We're using thighs in our teriyaki chicken recipe, because they're the most flavorful cut when compared to the other ones. It's 16% protein, and up to 17% fat, but hey, we've got the healthy part covered for you.
To avoid having to deal with bones, you can remove them before baking the chicken, or simply look for boneless thighs.
4. Legs
At around 16% protein and 16% fat, chicken leg is not popular for being lean, but for being tasty and juicy. By removing the skin and trimming visible excess fat, you'd cut off up to 12% unhealthy fat from your meal.
Chicken legs can be used in many ways. However, they're often seen deep-fried.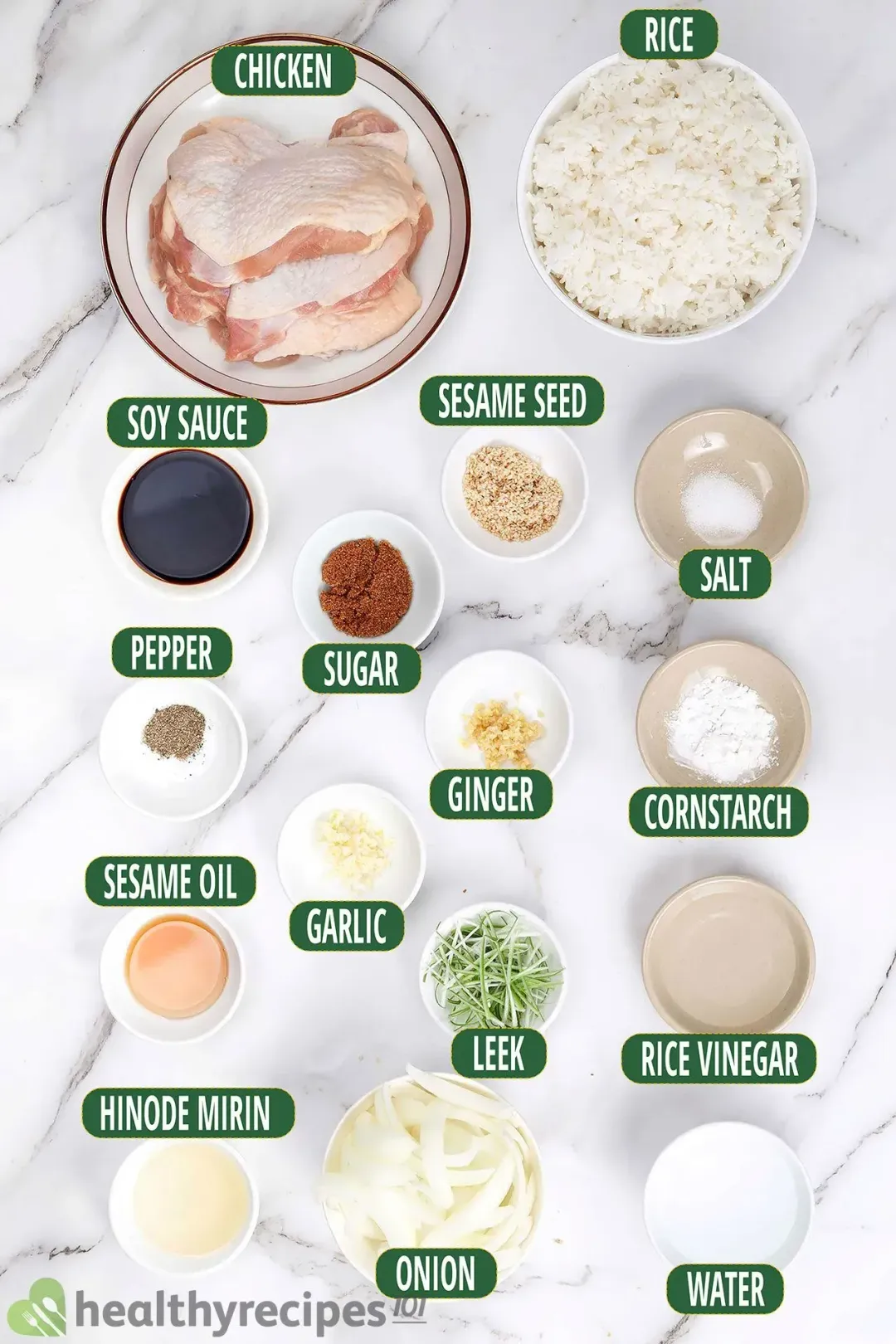 Sauce
Since bottled sauce often contains preservatives, excess sodium and other additives, we want to make as many things from scratch as possible. The sauce in this teriyaki chicken recipe is no exception.
The first ingredient you'll need is mirin. Mirin is a kind of sweet rice wine (14% alcohol), super aromatic and is often used in Japanese cuisine.
If you prefer your teriyaki chicken less sweet and a bit more fragrant, substitute mirin with cooking sake. Cooking sake is sake, but with a little bit of salt, to prevent kids from buying it as a beverage.
Next up, we have dashi (出汁). To make dashi, you'll need to cook katsuobushi (鰹節) with water until the flavors come out.
Katsuobushi is dried, fermented, and smoked tuna shaved into "flakes". It can be used to make dashi or crushed and sprinkled onto some dishes to add a bit of umami.
You can find katsuobushi in most Japanese or Asian grocery stores. In case you can't, use chicken broth instead, like our recipe does.
The rest of the ingredients are soy sauce, honey, ginger, sesame oil, and rice vinegar for a little tanginess. Thanks to honey, your sauce will become glossy, shiny, and coat your chicken nicely as it reduces.
If you want more teriyaki dishes, feel free to try our Asian salmon teriyaki, air fryer chicken teriyaki and Instant Pot teriyaki chicken versions.
Tips for Making
As the chicken cooks, moisture will definitely come out, and you want to collect this juice to make your sauce flavorful. You can place the chicken in a baking dish, or on a piece of foil with the sides folding up.
If you use chicken legs instead of thighs, be sure to rotate them halfway through. It helps to render out all of the fat and get each side golden.
Since we're reducing the sauce, the amount of sauce is also "reduced". If you prefer your teriyaki chicken to have more sauce, add more water, along with 1 tablespoon of cornstarch.
The cornstarch will act as a thickening agent, leaving you with glossy, flavorful pieces of chicken.
What Goes with This Recipe
1. Rice
Traditionally, teriyaki chicken is served along with rice. It's the main source of carbohydrates in Asian cuisine, and it has a neutral flavor that's so versatile.
You can use white rice, like we do, or brown rice for a more sophisticated nutritional profile.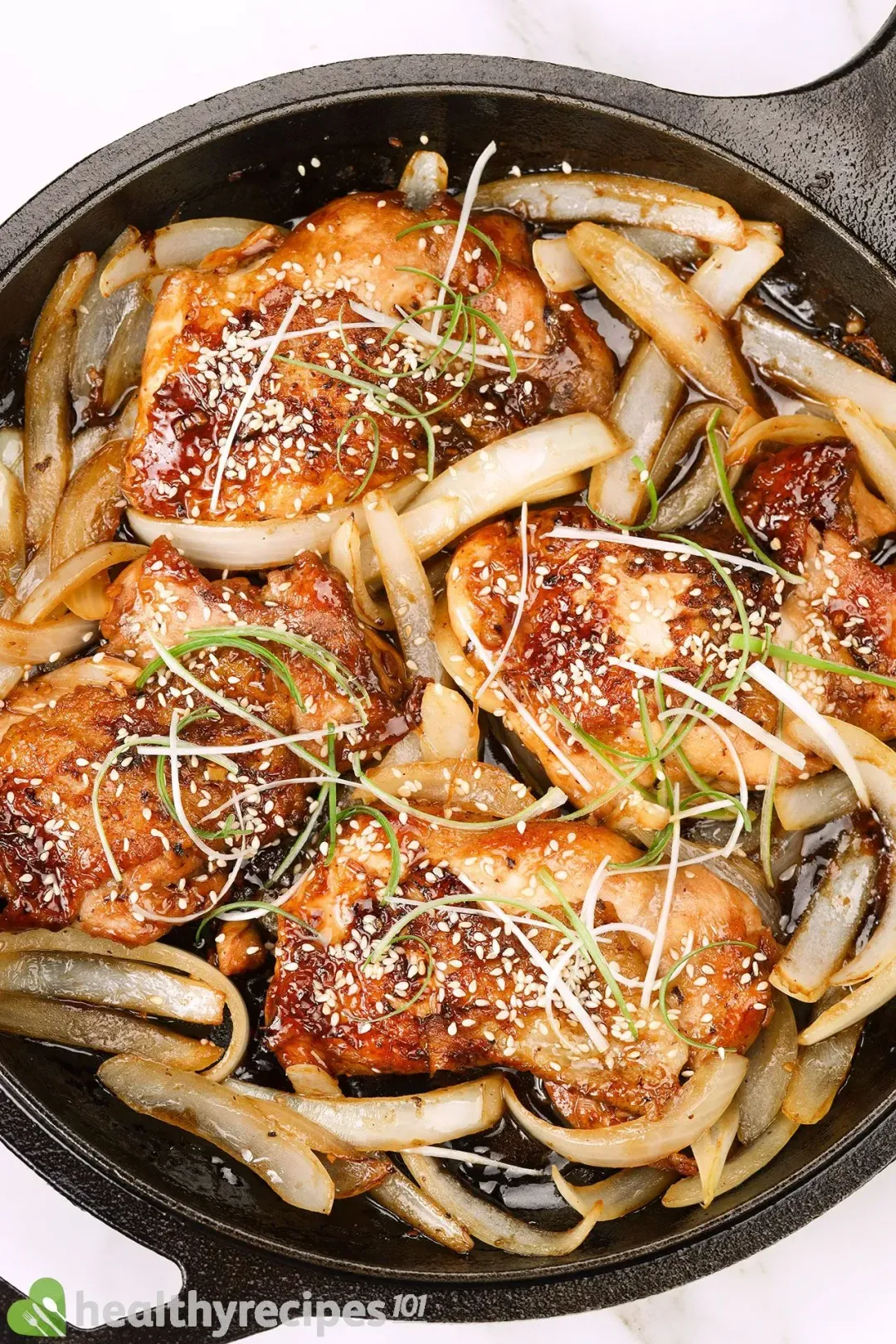 2. Broccoli
Steamed broccoli is one of the healthiest additions to any main dish. In this teriyaki chicken recipe, its tender texture and savory flavor makes it the perfect accompaniment. Simply boil and add it as a side to end up with a tasty dish similar to this recipe.
3. Sandwich
Besides rice, this glossy dish also goes well with bread. You can arrange the chicken, sauce and veg between two slices of white bread, burger buns, or even hotdog sandwiches, or you can use wholewheat or multigrain bread for a healthier option.
4. Noodles
Rice may be an all-time favourite addition to teriyaki chicken, but how about stir-fried noodles with veg in teriyaki sauce. Yummy!
We like our noodles with bell pepper, carrots, and cabbage, cut into slices and cooked quick so it's still crunchy. How about you?
What to Serve with
A typical Japanese meal, like many other Asian meals, includes several side dishes surrounding the main dish. They complement each other and create a variety of flavor and texture, and an overall wholesome feeling to the meal.
As for this teriyaki chicken, it can be served with miso (味噌) soup, simple yet sophisticated. This is a popular side that you can find at almost any Japanese restaurant or convenience store.
To refresh your palate, a cool, tangy green grape juice is what we recommend. It only requires a juicing machine, and 5 minutes of your time.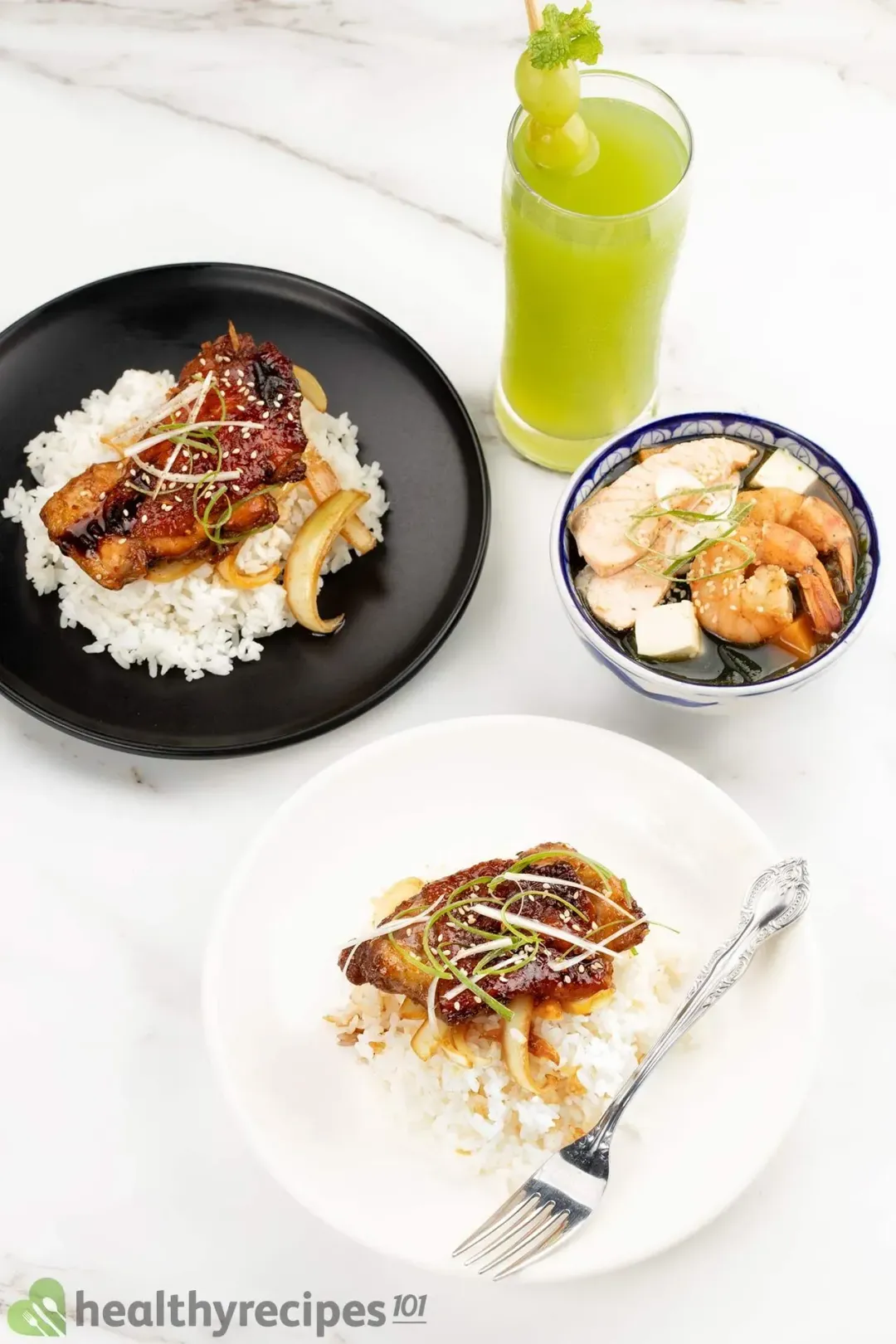 Easy Chicken Skillets to Make for Dinner
Colorful and flavorful, this skillet of chicken chop suey has all types of crunchy textures to complement the lean meat. The soy sauce mixture they're cooked in is so versatile, you can virtually use it for any Chinese sautes.
Orange chicken is, we don't think we need to say more, divine on top of cooked rice and cooked veg. It's one of the occasions where steamed broccoli doesn't taste boring—that sticky glaze ties things together.
Healthy Teriyaki Chicken
Today, we're introducing an easy teriyaki chicken recipe that takes very little time, yet produces amazing results.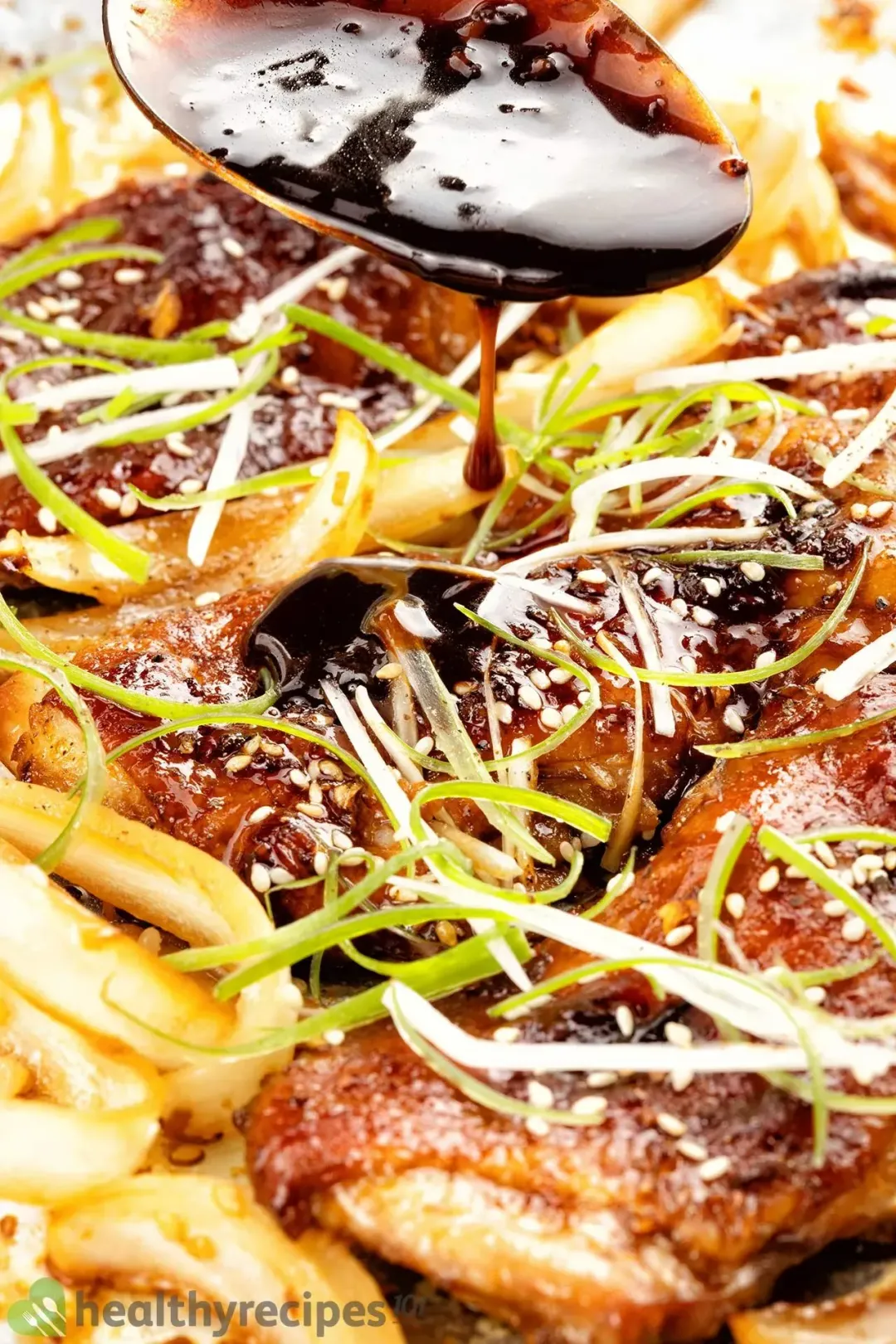 cook TIME

16 mins

prep TIME

14 mins

total TIME

30 mins
COURSE

Main Course

CUISINE

Japanese

SERVINGS

CALORIES

495 kcal
INGREDIENTS
16 oz

boneless chicken thigh

2 tbsp

reduced-sodium soy sauce

1 tbsp

dark brown sugar

(packed)

0.5 oz

leek

(thinly sliced)

1/4 tsp

black pepper

(divided)

3 cups

cooked long-grain rice
INSTRUCTIONS
1
Marinade 16 oz boneless chicken thigh with salt for 5 minutes.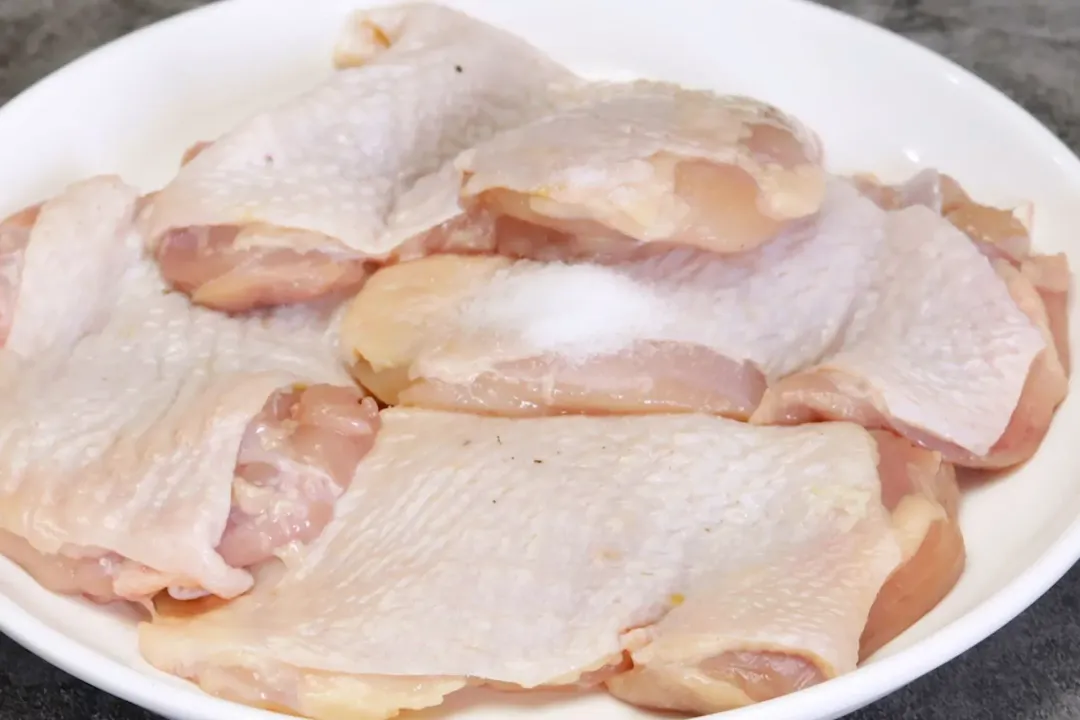 2
Make the sauce by mixing 2 tbsp reduced-sodium soy sauce, 1 tsp ginger, 1 tsp garlic, 2 tbsp cooking mirin, 2 tbsp rice vinegar, 1 tbsp dark brown sugar, 1 tsp cornstarch, 4 tbsp water, 1/8 tsp black pepper in a small bowl.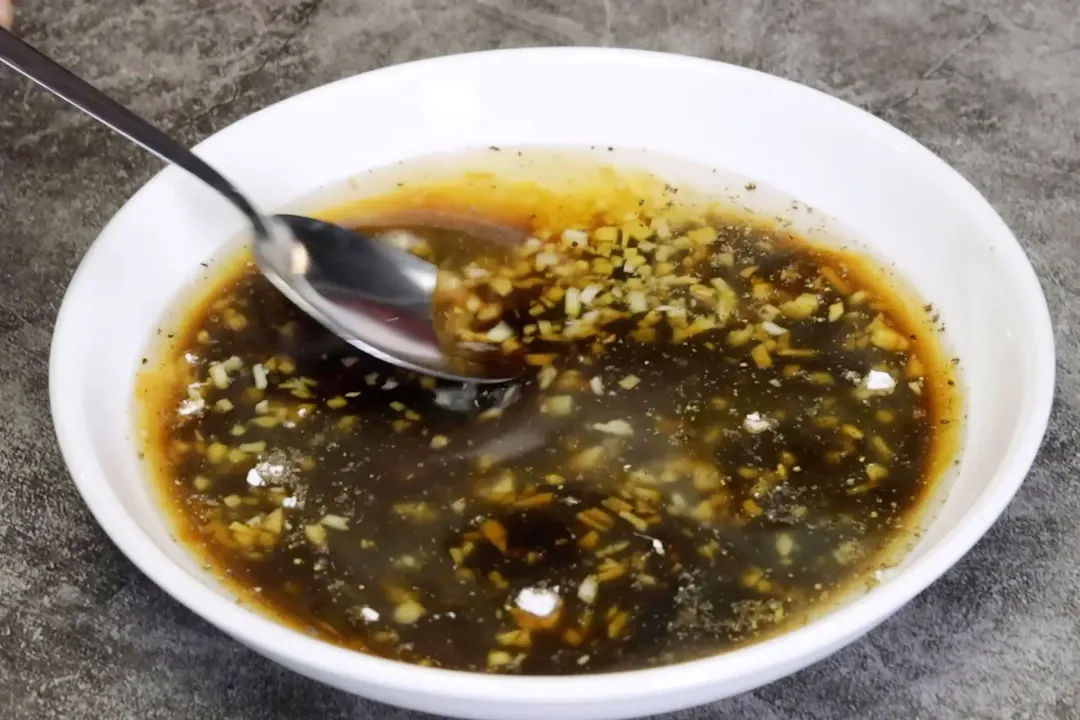 3
On a heated skillet over medium-high heat, sear the chicken skin-side-down for 7 minutes. After the fat is rendered out, turn them over and sear for another 3 minutes or until cooked.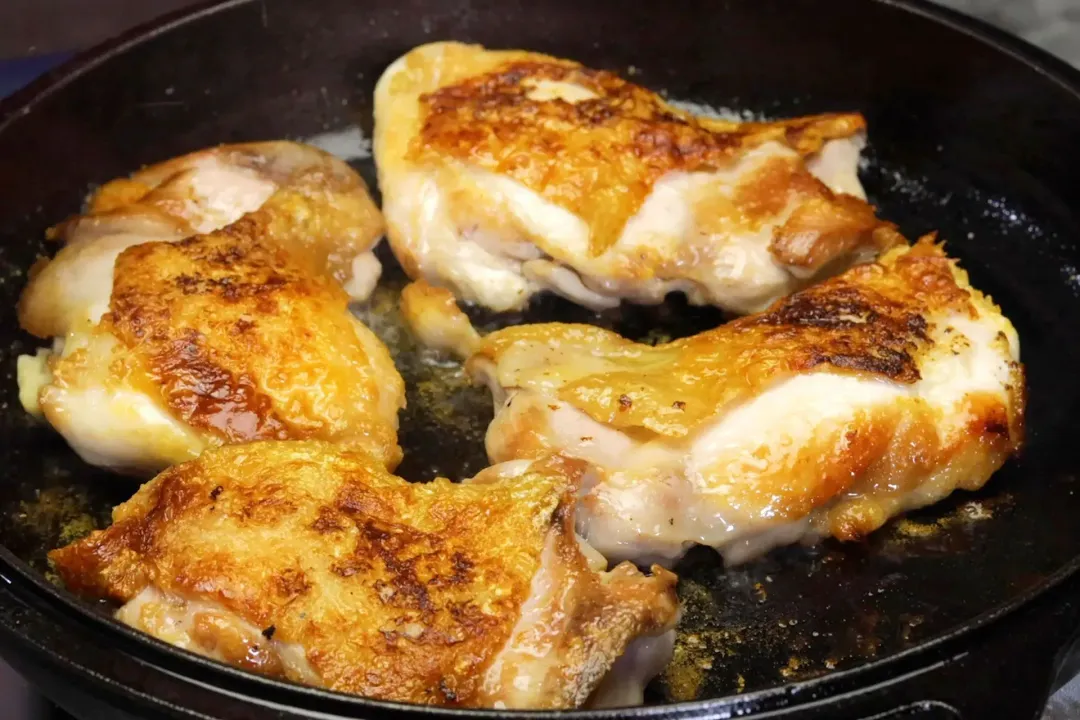 4
Take the chicken out. Add 6 oz onions to cook for 3 minutes and take them out too.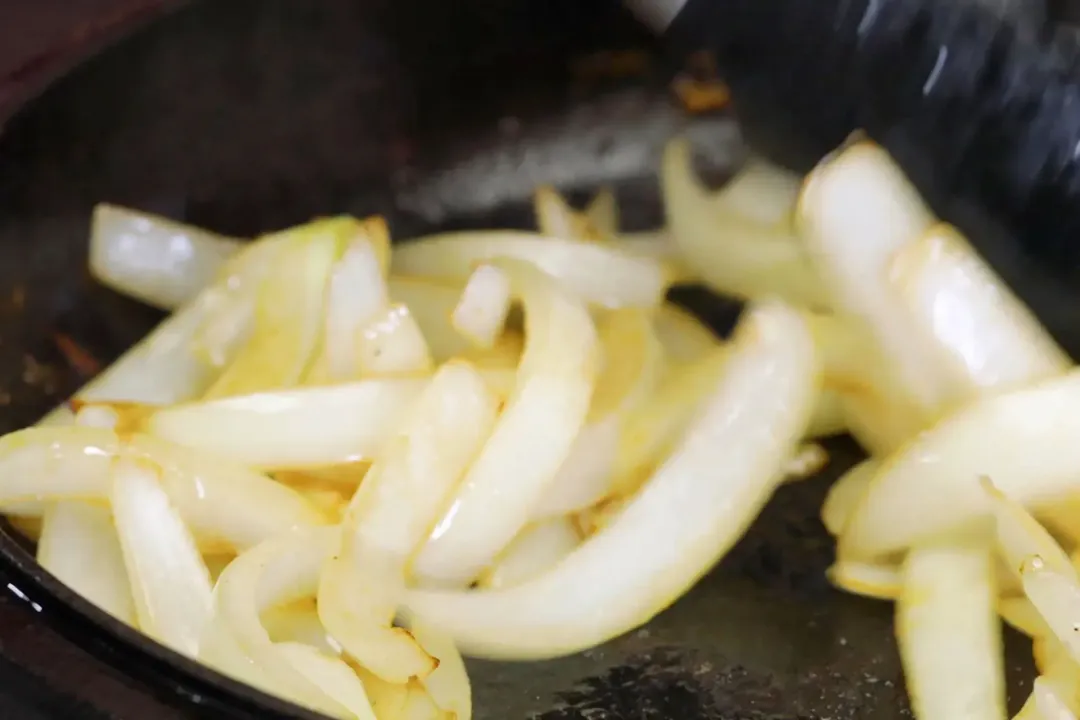 5
Turn the heat to low. Add the teriyaki sauce and chicken to cook for 2 minutes.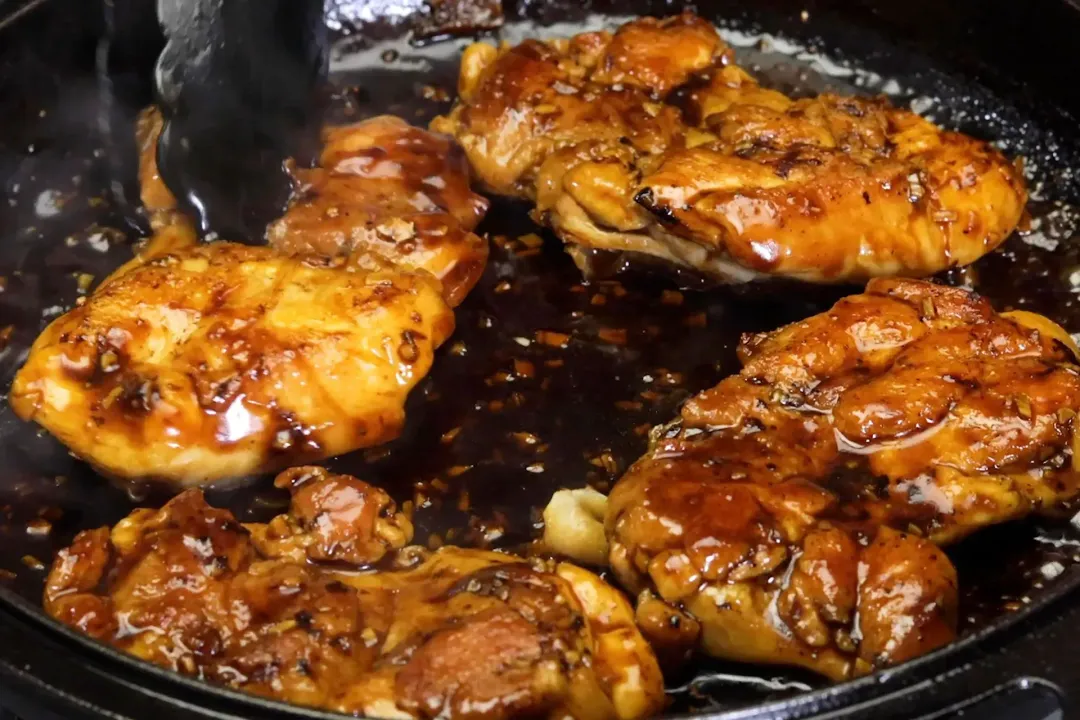 6
Turn the chicken over. Add onions to cook for around 1 minute then turn off the stove. Sprinkle with 1 tbsp sesame seeds, the remaining 1/8 tsp pepper, 0.5 oz sliced leeks, and 2 tsp sesame oil.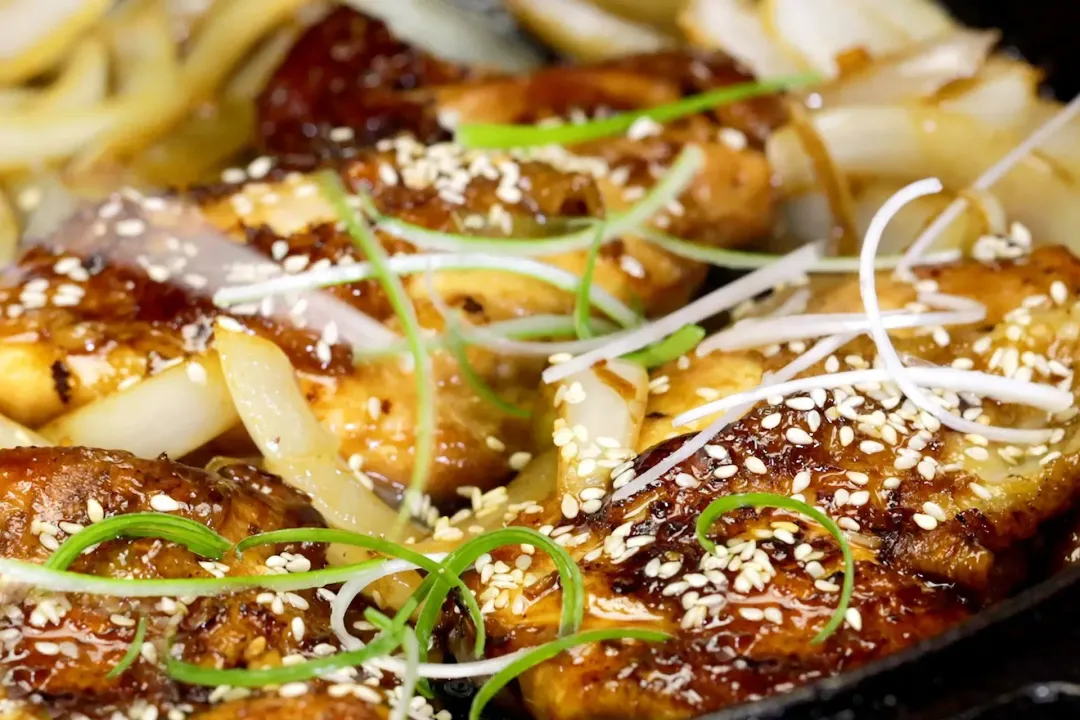 7
Serve with 3 cups hot cooked rice.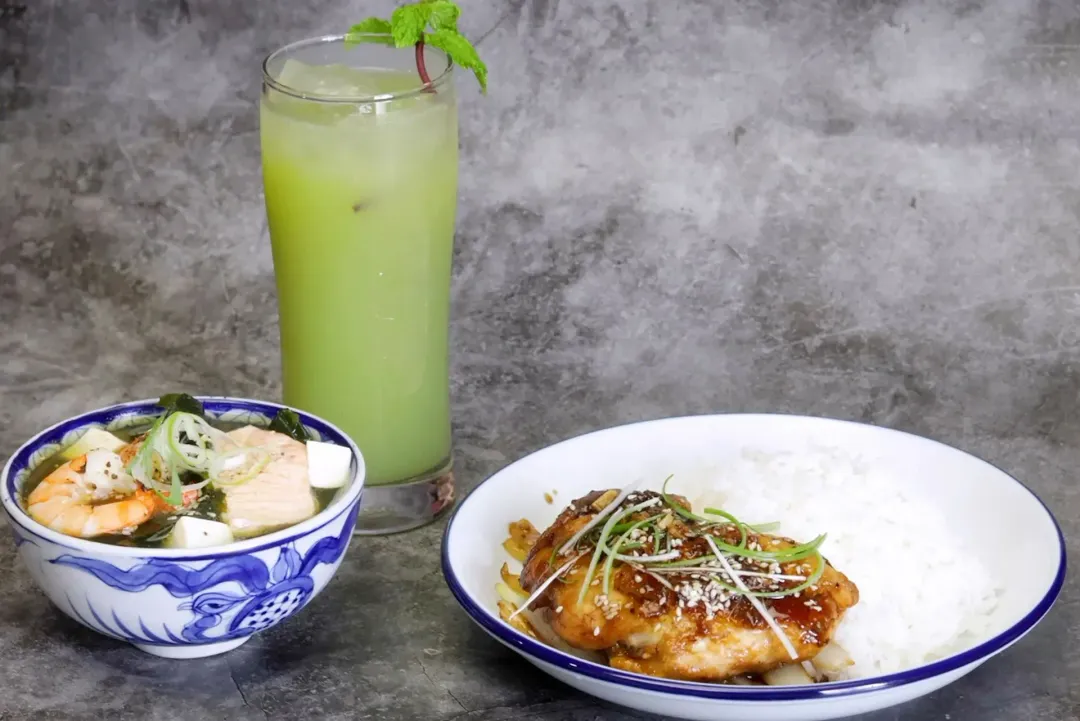 NUTRITION
Nutrition Facts
Healthy Teriyaki Chicken
Amount Per Serving (1 serving)
Calories 495
Calories from Fat 198
% Daily Value*
* Percent Daily Values are based on a 2000 calorie diet.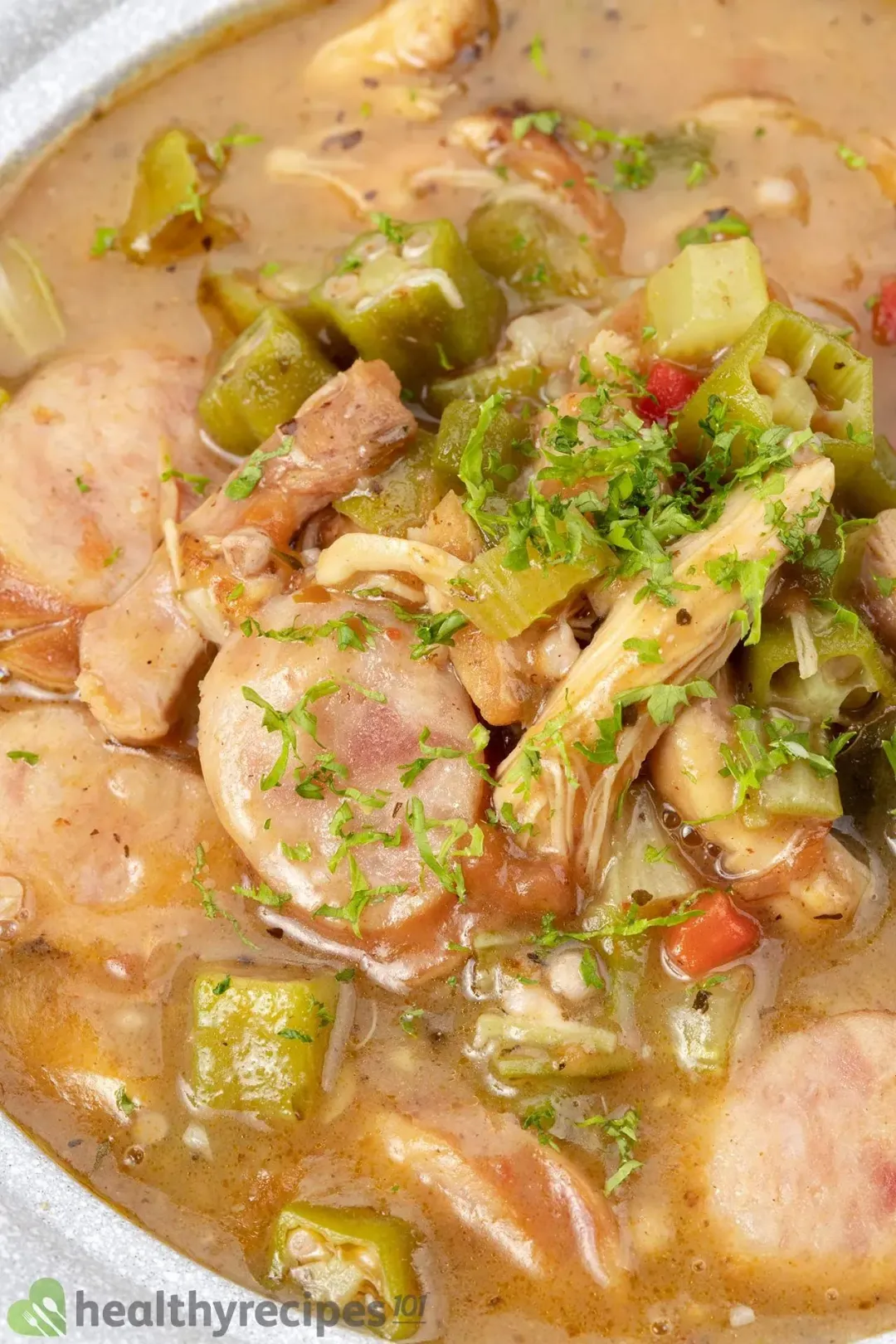 Previous Recipe
Healthy Chicken and Sausage Gumbo
Healthy Chicken and Sausage Gumbo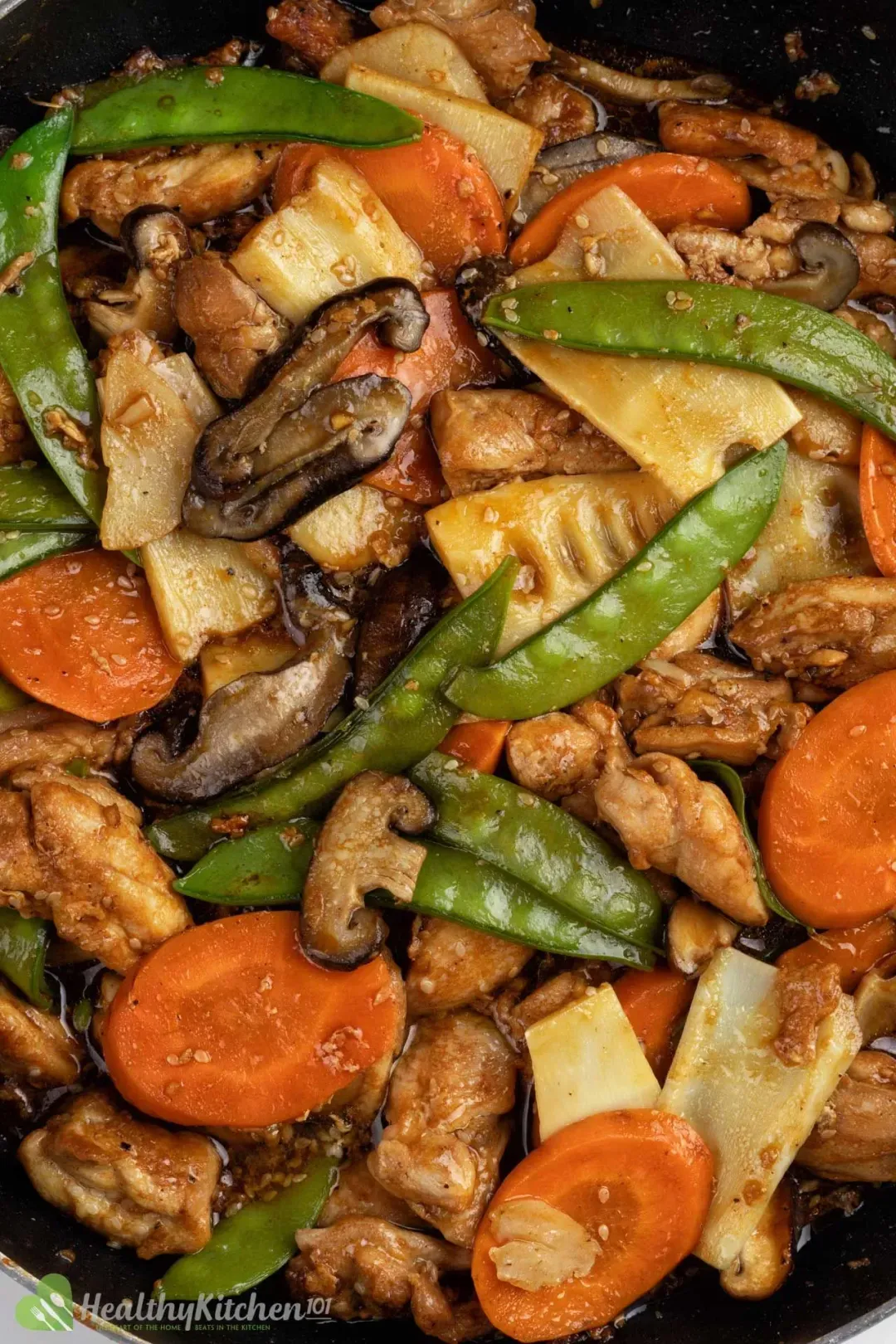 Next Recipe
Moo Goo Gai Pan
Moo Goo Gai Pan
Head Chef, Culinary Consultant
Tuyet Pham is an award-winning Saigonese chef who believes that joy is the secret ingredient to delicious food. At Healthy Recipes 101, Tuyet personally tests and simplifies every recipe, ensuring maximum flavor with minimal effort. With a background at prestigious French restaurants P'TI Saigon and Le Corto, Tuyet knows how to make every dish exceptional.
Writer, Author
Luna Regina is an accomplished writer and author who dedicates her career to empowering home cooks and making cooking effortless for everyone. She is the founder of HealthyKitchen101.com and HealthyRecipes101.com, where she works with her team to develop easy, nutritious recipes and help aspiring cooks choose the right kitchen appliances.
Nutrition Reviewer
Lizzie Streit is a Minneapolis-based dietitian and founder of It's a Veg World After All. She completed her MS in Human Nutrition from Drexel University, and is an expert in culinary nutrition, recipe development, and nutrition communications. Lizzie's philosophy is centered around making nutrition recommendations, and especially the advice to eat more vegetables, approachable and realistic. She is excited to be working with the team at Healthy Recipes 101 to ensure that their recipes are both nutritious and delicious.
Yummy! The chicken appears flavorful with the classic teriyaki sauce made from soy sauce, mirin, sugar, and ginger.