Our teriyaki shrimp recipe is an adaptation of the classic Japanese takeout dish. It features the succulent shrimp tossed in the deliciously tangy, sweet, and spicy teriyaki sauce. All of the ingredients come together to create an irresistible umami flavor that the dish is well-known for. 
As is traditional, we served the teriyaki shrimp over a bed of hot steamed rice — perfect for soaking up that delicious sauce. This simple recipe, ready in just 20 minutes, is the definition of an effortless weeknight meal.
Is Our Teriyaki Shrimp Healthy?
Made from scratch and carefully measured in each element, yes, our teriyaki shrimp is healthy. Some of the health benefits included are: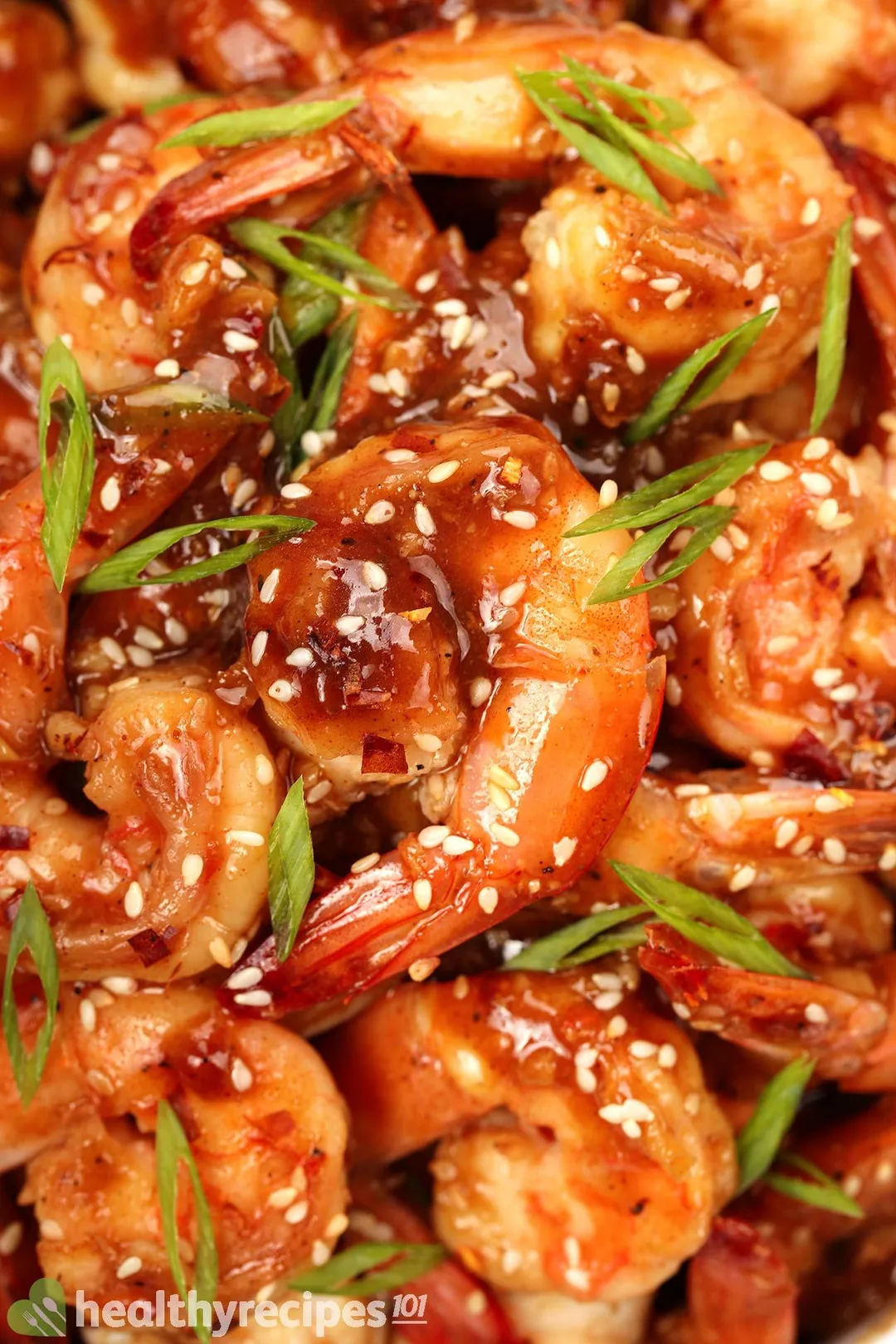 It has a proper amount of calories: Though it contains a few calorie-rich ingredients like shrimp and rice, our teriyaki shrimp provides only 500 calories per serving. This is relatively low for an Asian dish with rice, allowing you ample space to add a soup and drink to the meal.
It's low in sodium: Asian stir-fry dishes have a bad reputation for being loaded with soy sauce, salt, and MSG. Our recipe uses low-sodium soy sauce, no MSG and no added salt, but it's still bursting with flavor.
It's protein-rich: This teriyaki shrimp recipe is a powerhouse of protein. There are 45.7 g of protein in each serving — about 90% of what the USDA recommends to consume daily.
Teriyaki Sauce Vs. Teriyaki Marinade
The teriyaki sauce and teriyaki marinade look pretty similar since they share the same main elements in their ingredient lists. Both teriyaki variants have a sugary soy sauce base with a hint of sesame oil, ginger, and garlic.
Even though they are both frequently present in Asian cuisine, teriyaki sauce and marinade aren't the same:
Usage: The biggest difference between the sauce and marinade is how you use them to flavor the protein. With the marinade, the meat or fish rests in a bath of it, soaking up like a sponge and absorbing the teriyaki flavors. Teriyaki sauce, on the other hand, goes directly in with the meat when cooking.
Texture: Teriyaki sauce and marinade are also slightly different in their textures. The marinade is usually thin, allowing the protein to absorb the liquid. In contrast, the sauce can vary in consistency from water-like (easy to pour evenly) to paste (easy to coat pieces of protein).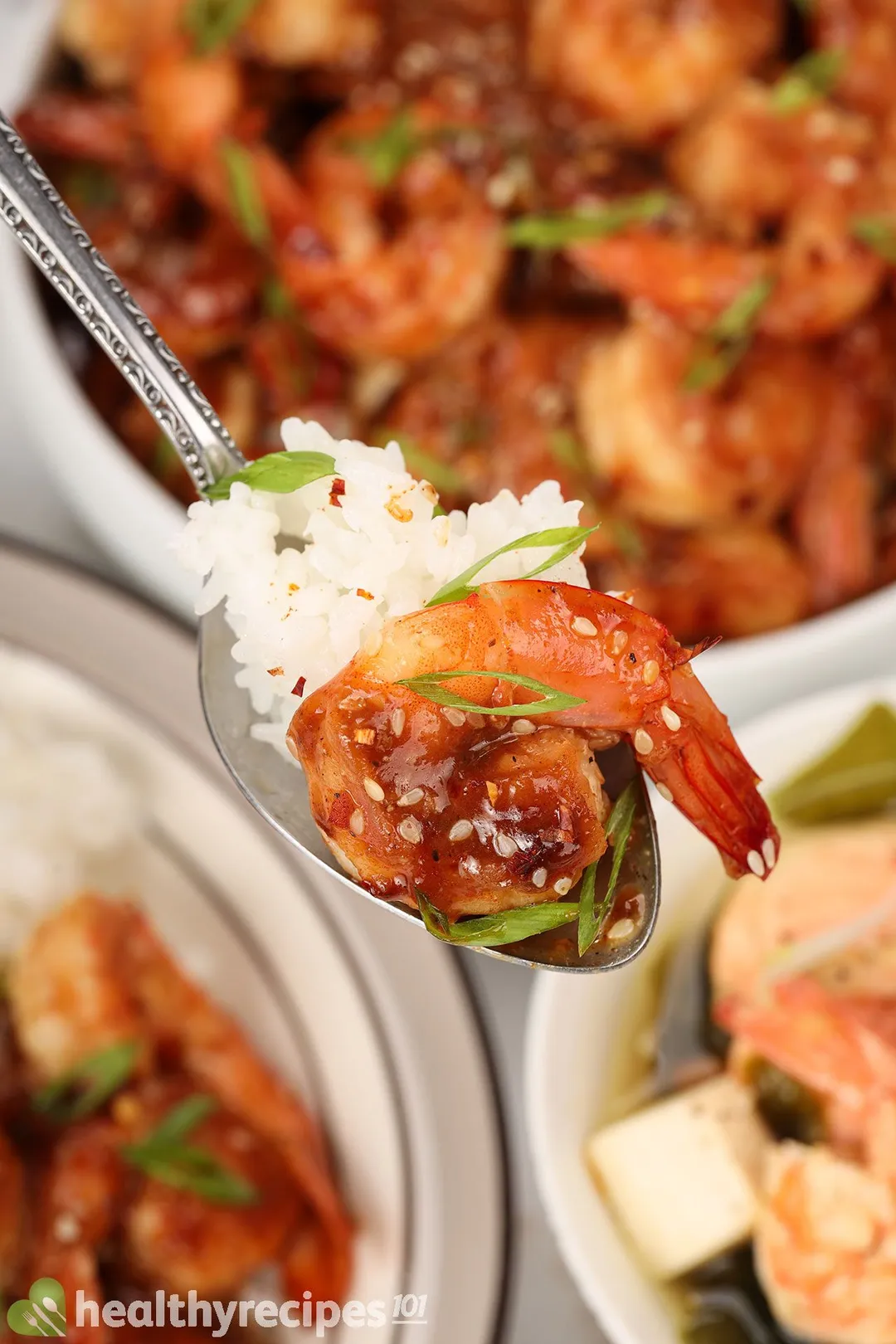 Flavor: With distinct cooking purposes, their flavor profile also differs. Since the flavor develops over time, the marinade is more potent. Teriyaki sauce is made to be instantly palate-pleasing.
Teriyaki works wonders with not only shrimp but also other proteins like beef and chicken.
Shrimp Teriyaki Sauce
Making the teriyaki sauce at home is super easy, and it's also a great way to control the sweetness and saltiness to your preference. For this recipe's sauce, you'll need:
Soy Sauce: We love the less sodium variety since it retains the original flavorful taste but is less salty. You can use regular soy sauce with a splash of water to combat some of the saltiness.
Brown Sugar: Sugar or honey add a nice sweetness and help the sauce cling. Adjust the amount of sugar to suit your taste.
Rice Vinegar: The acidity balances out the overall flavor. This signature Asian vinegar can be found in the international aisle in most grocery stores. 
Paprika: We added paprika to ours for a nice touch of heat, but that's optional. If you prefer a more classic Japanese-style teriyaki, then skip the paprika.
Sesame Oil: A tried and true secret for that signature nutty aroma.
Thickening Agent: We made a simple slurry with cornstarch and cold water. Though the simmering process can help the sauce thicken up itself, we like to add the cornstarch slurry to speed up the process so that the shrimp don't end up overcooked.
How to Store and Reheat Teriyaki Shrimp
Once cooked, the teriyaki shrimp can be portioned into airtight containers and stored in the refrigerator for 3 - 4 days. To lengthen the storage time, you can keep the dish in the freezer for up to 3 months.
The cooked shrimp can be reheated in several ways. If you want to reheat in a skillet, add a bit of olive oil or water and stir occasionally while cooking to evenly warm the shrimp. With a microwave or oven, cover it with a lid to retain the moisture in the shrimp.
What to Serve With Teriyaki Shrimp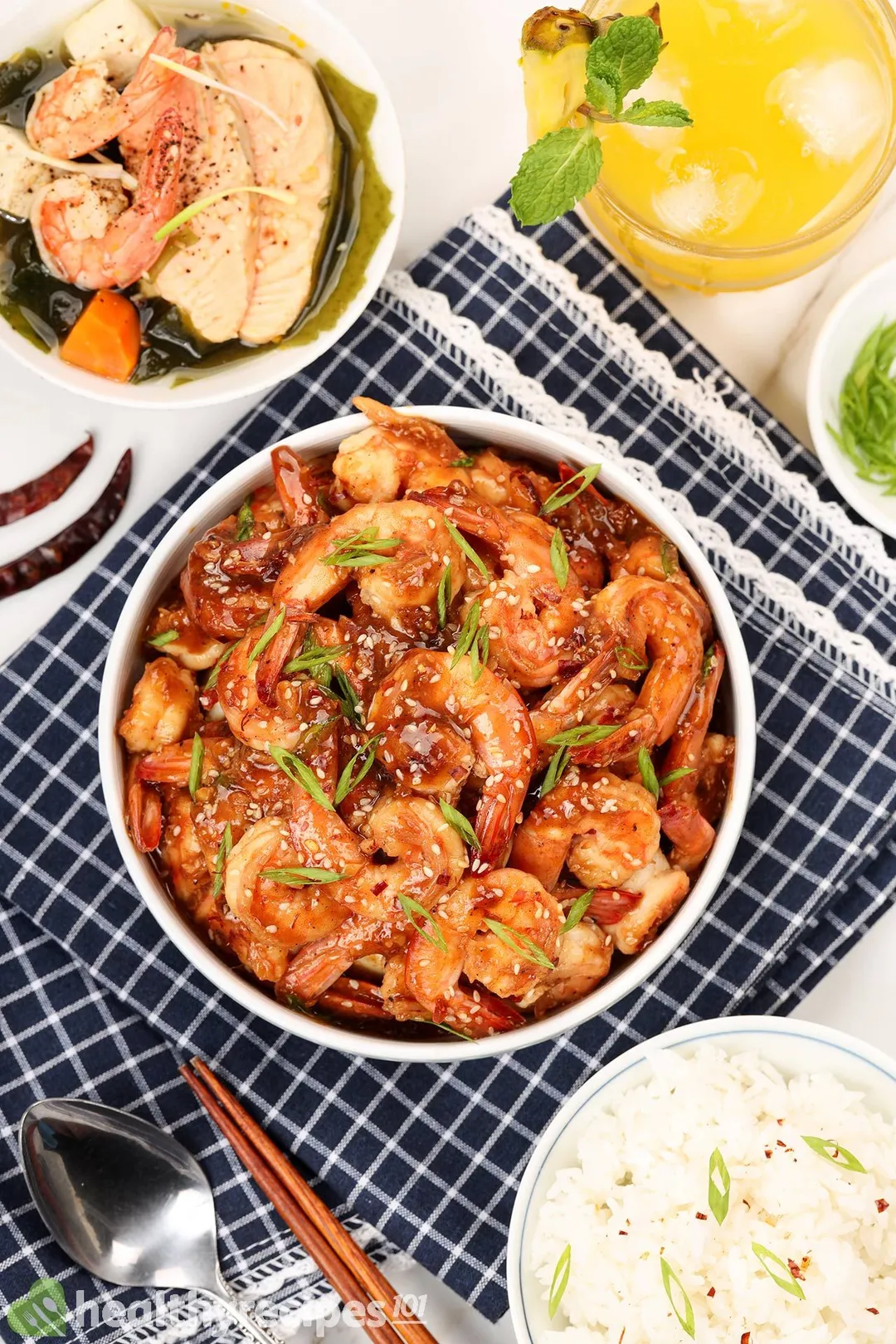 Our teriyaki shrimp has a beautiful blend of sweet and savory notes with earthy and smoky undertones. Since the stir-fried shrimp is pure protein, we paired it with steamed rice, making the combination a wholesome main dish.
To make the dish a meal on its own, we recommend having it with our Asian-style miso soup and a fresh orange pineapple juice. As well as boosting the vitamin and mineral content, these sides help to balance the succulent and chewy shrimp and elevate your meal to a whole new level of goodness.
You May Also Like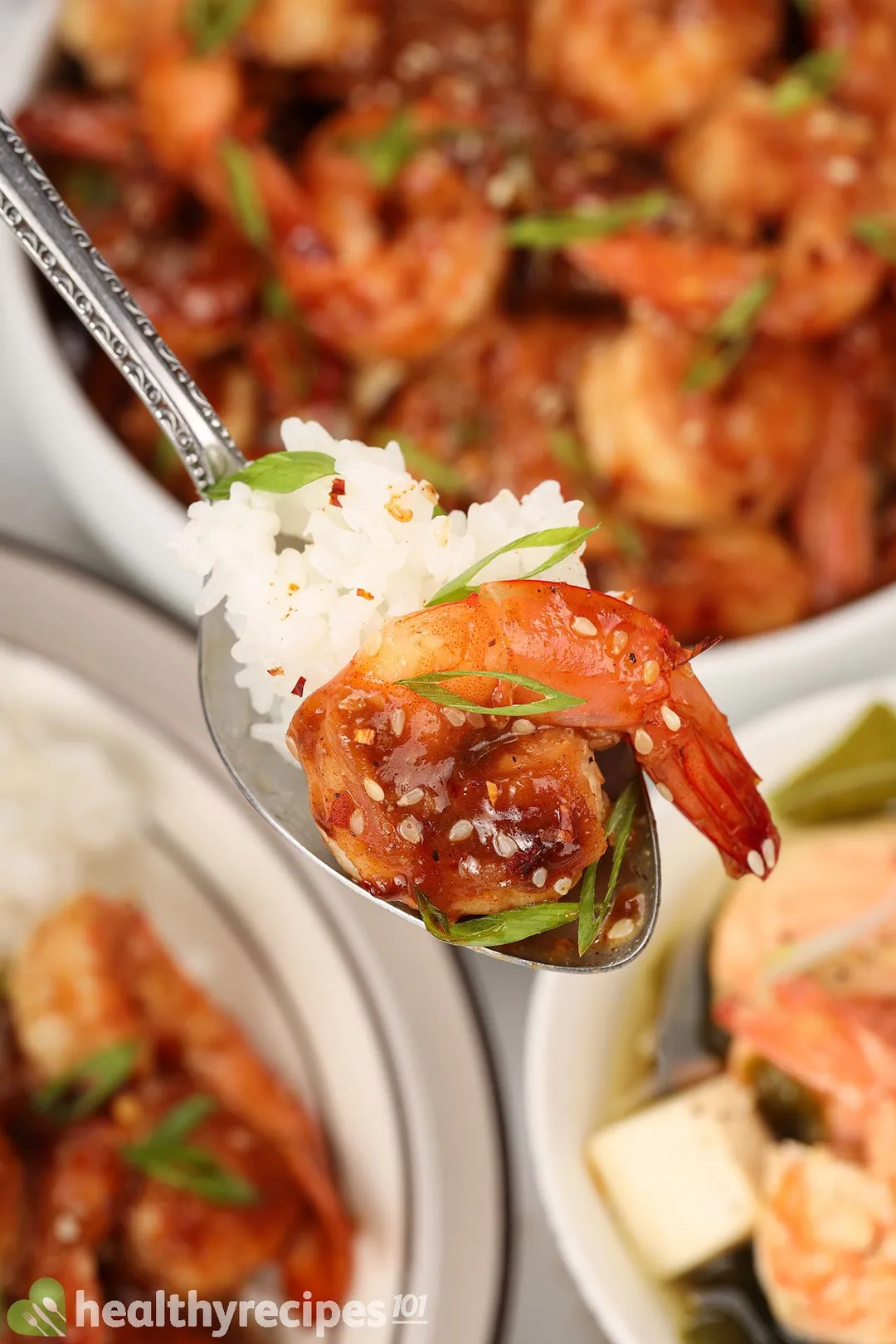 Want to cook up a few more Asian shrimp recipes? Check out our full collection right here.
Teriyaki Shrimp
Quick to pull together, mess-free, and balanced in flavor, our teriyaki shrimp recipe deserves to be part of your lazy-but-tasty dinner options.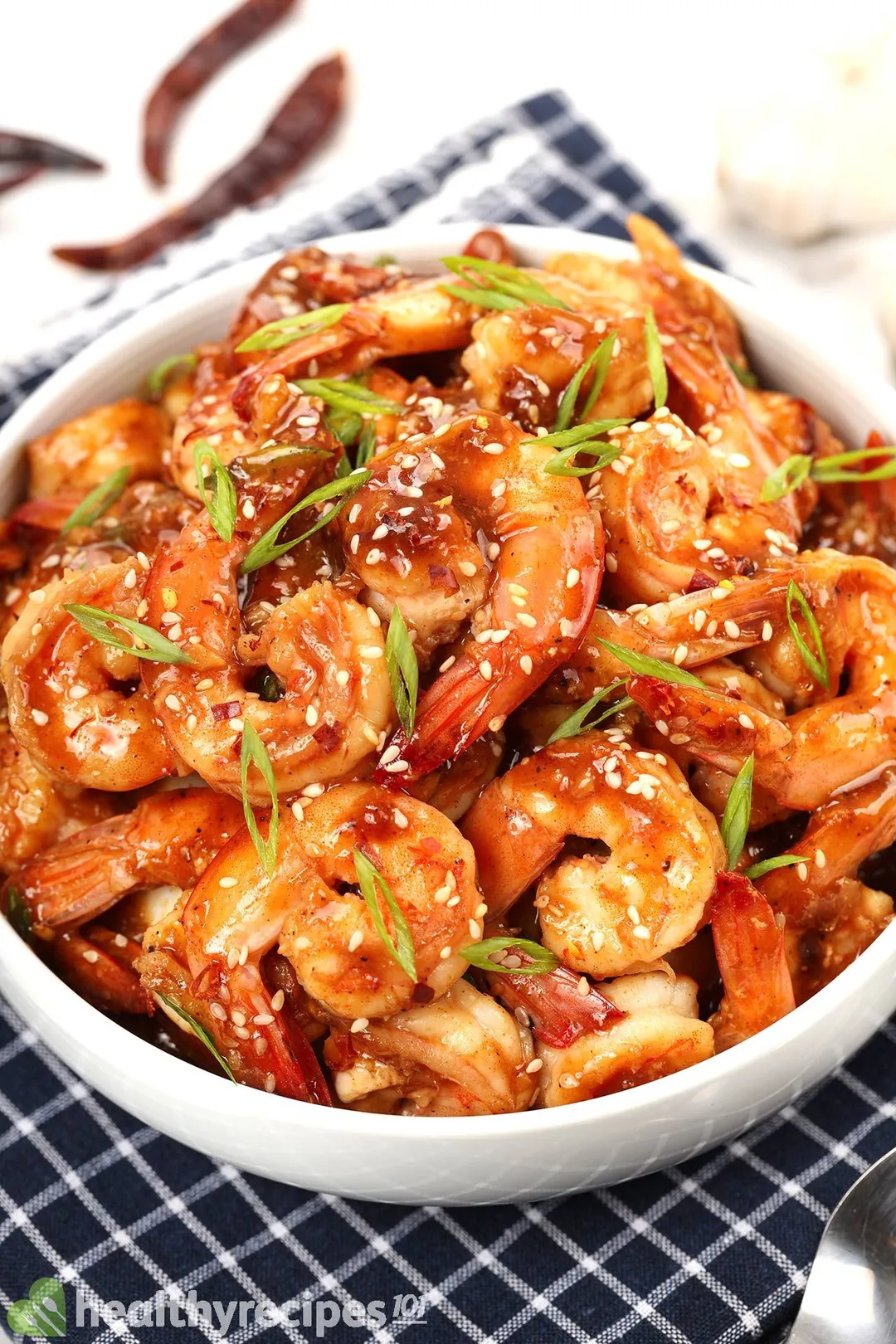 cook TIME

10 mins

prep TIME

10 mins

total TIME

20 mins
COURSE

Dinner, Lunch, Main Course

CUISINE

Japanese

SERVINGS

CALORIES

499 kcal
INGREDIENTS
16 oz

peeled and deveined shrimp

(28 oz raw shrimp)

4 cups

cooked medium-grain rice

2 1/2 tbsp

reduced sodium soy sauce

2 tbsp

scallions

(chopped)
INSTRUCTIONS
1
Make the teriyaki sauce: In a small bowl, whisk together 1 tbsp rice vinegar, 1 tsp brown sugar, 1 tsp honey, 1/2 tbsp sesame oil, 2 fl oz water, 1 tbsp cornstarch, 2 1/2 tbsp soy sauce, 1 tsp paprika, 1 tsp pepper, and 1 tsp lime juice. Set aside.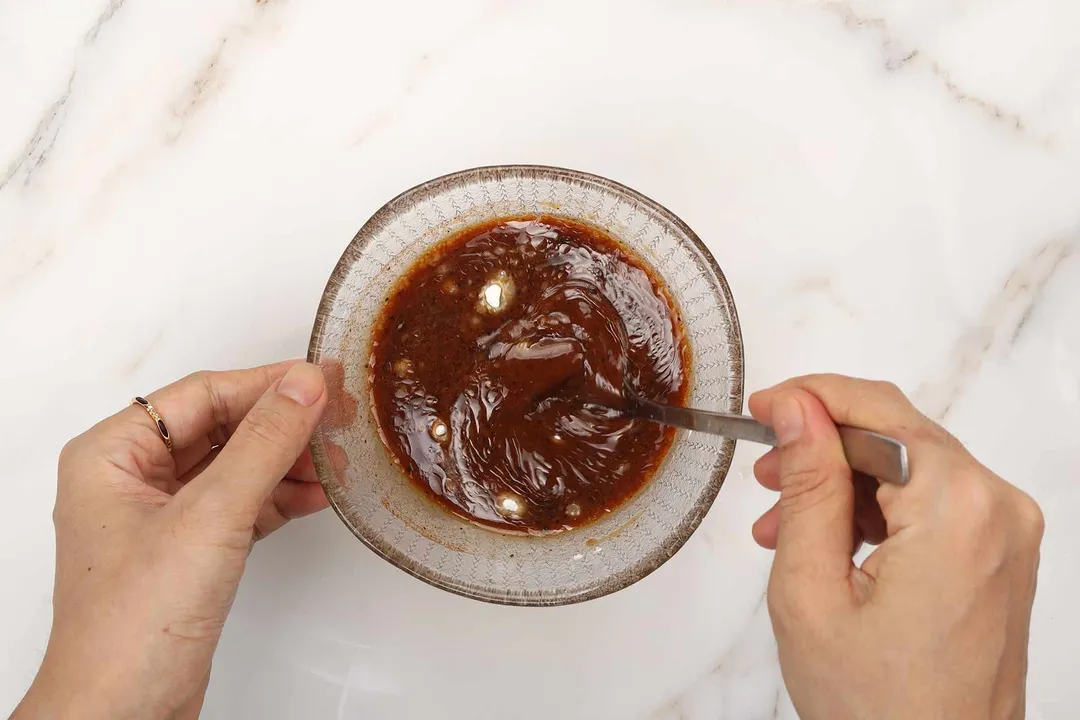 2
Heat a skillet over medium heat. Add 1 tbsp olive oil, 1 tbsp garlic, and 1 tsp ginger. Sauté for 30 seconds.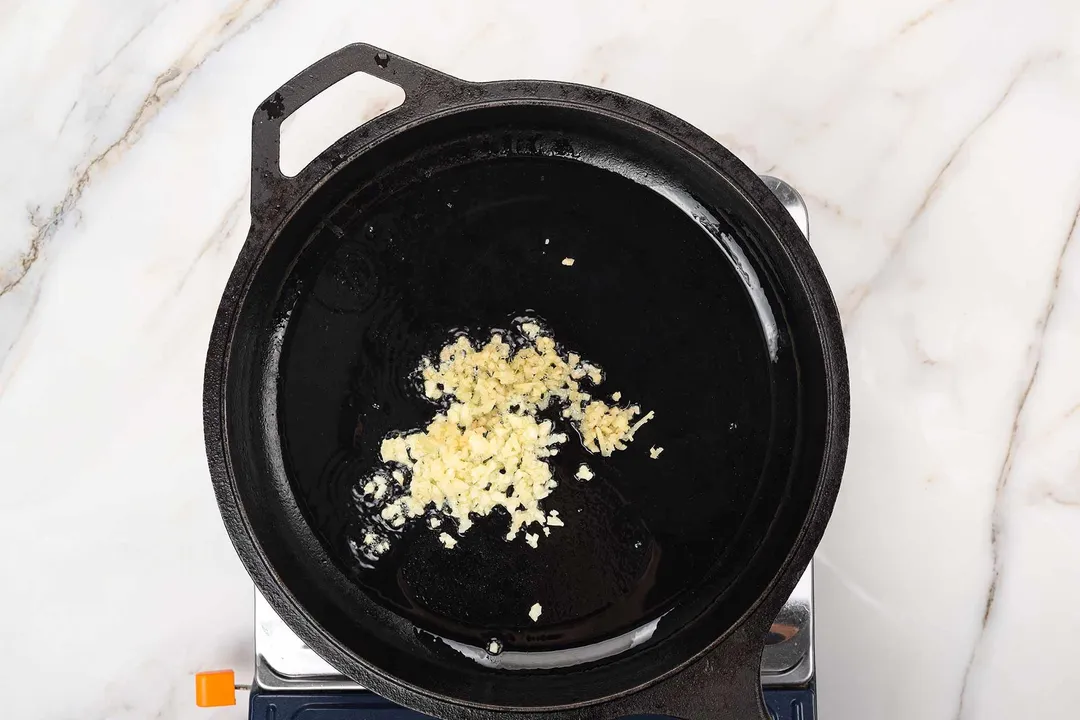 3
Add 16 oz shrimp to the skillet. Cook and occasionally stir for about 7 minutes, or until fully cooked.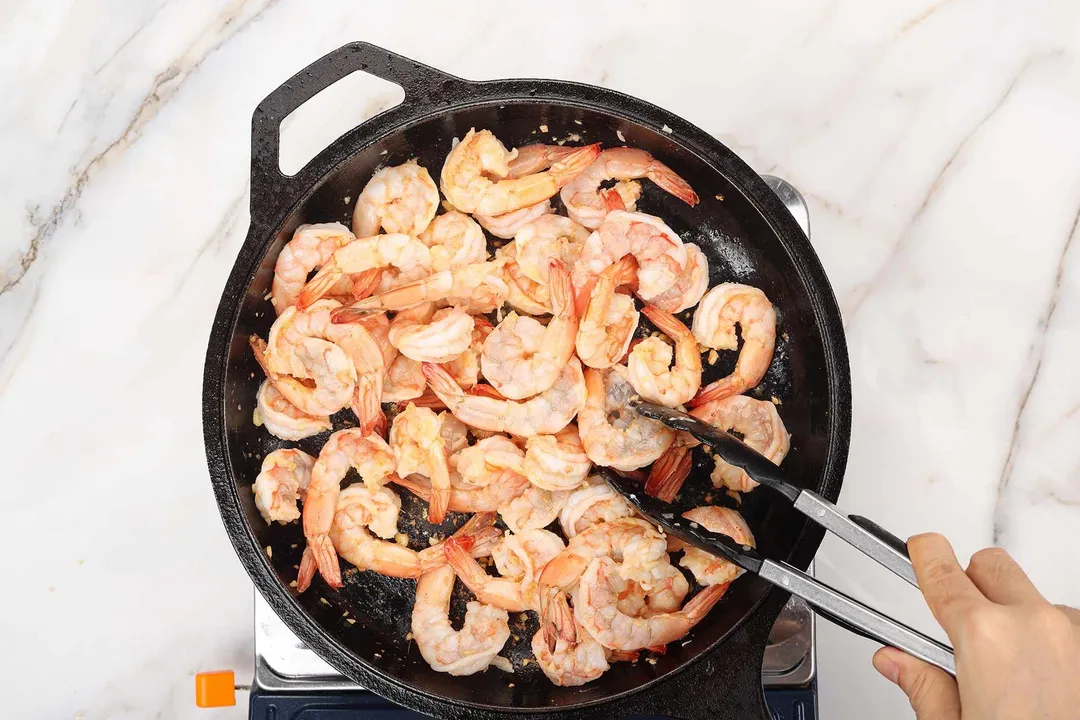 4
Pour in the teriyaki sauce. Simmer and constantly whisk until the sauce has thickened up, about 1 minute.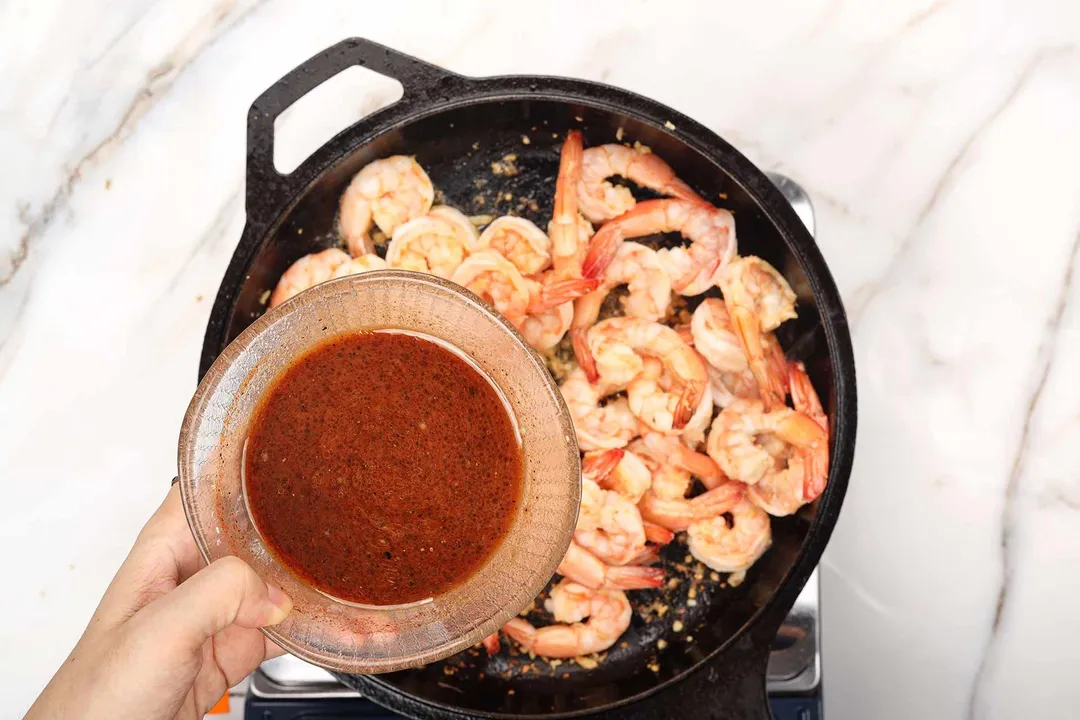 5
Take off the heat. Garnish with 2 tbsp scallions, 1 tsp pepper flakes, and 1 tbsp sesame seeds.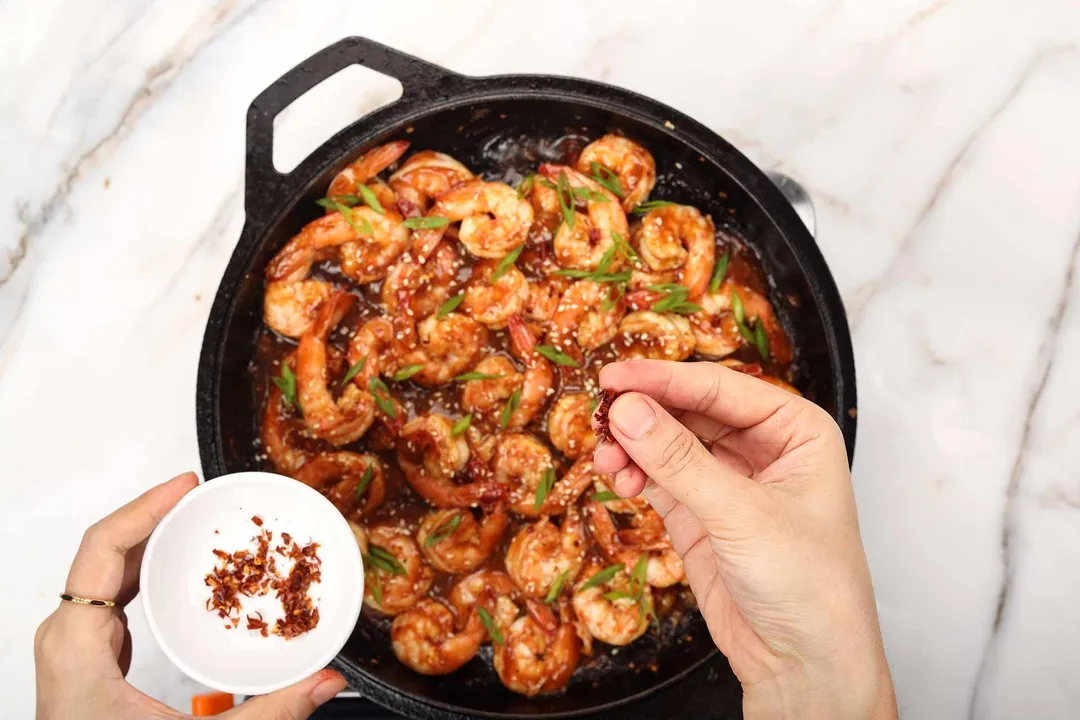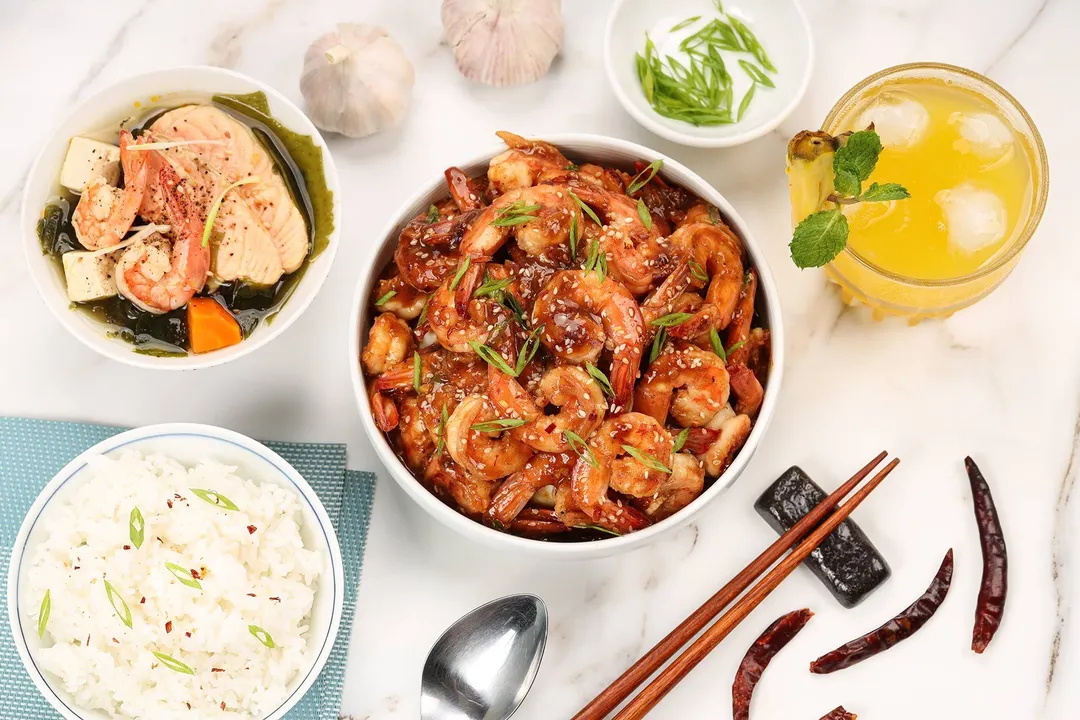 NUTRITION
Nutrition Facts
Teriyaki Shrimp
Amount Per Serving (1 serving)
Calories 499
Calories from Fat 72
% Daily Value*
* Percent Daily Values are based on a 2000 calorie diet.
Keywords: how to make teriyaki shrimp, shrimp teriyaki sauce, teriyaki shrimp, teriyaki shrimp recipe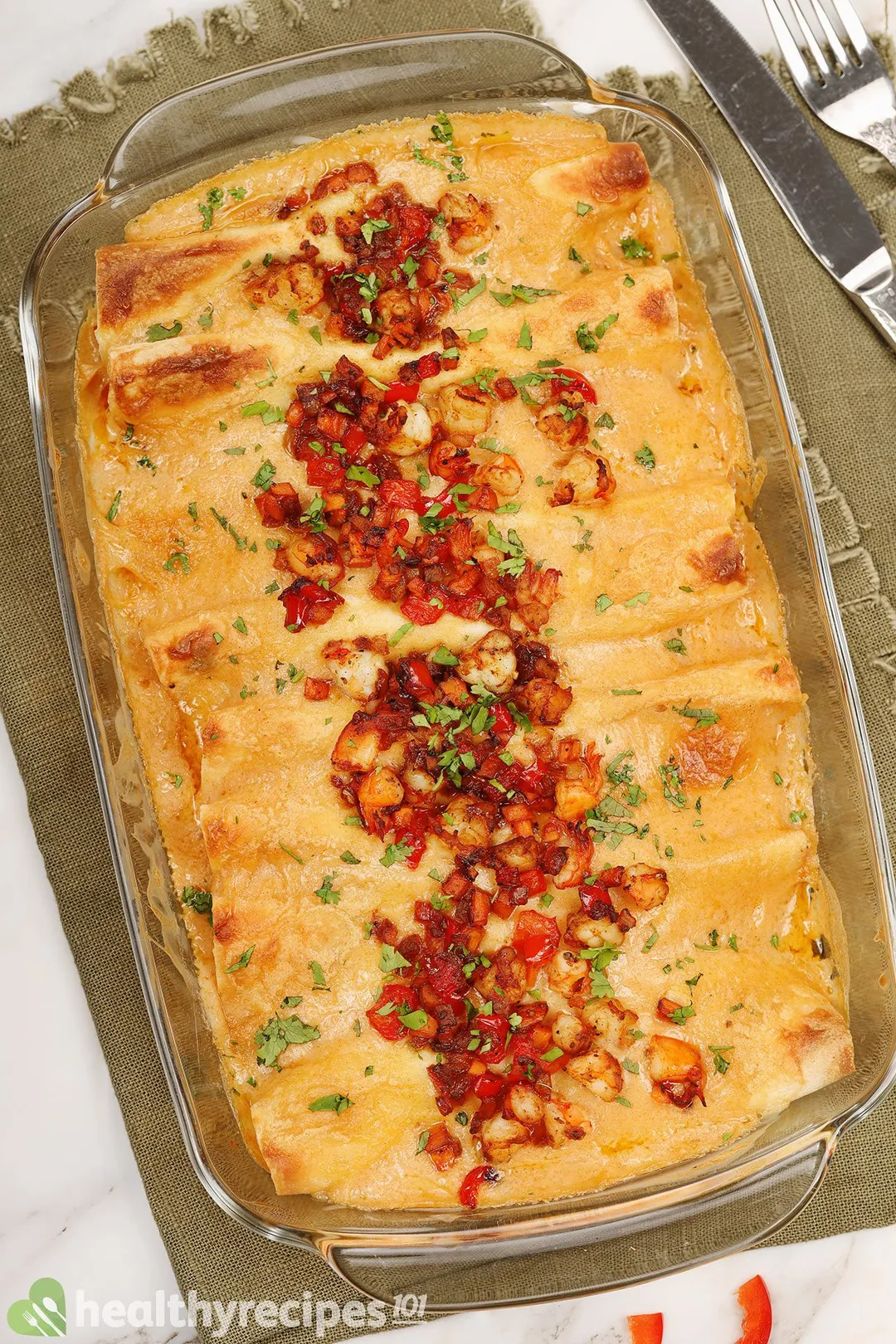 Previous Recipe
Shrimp Enchiladas
Shrimp Enchiladas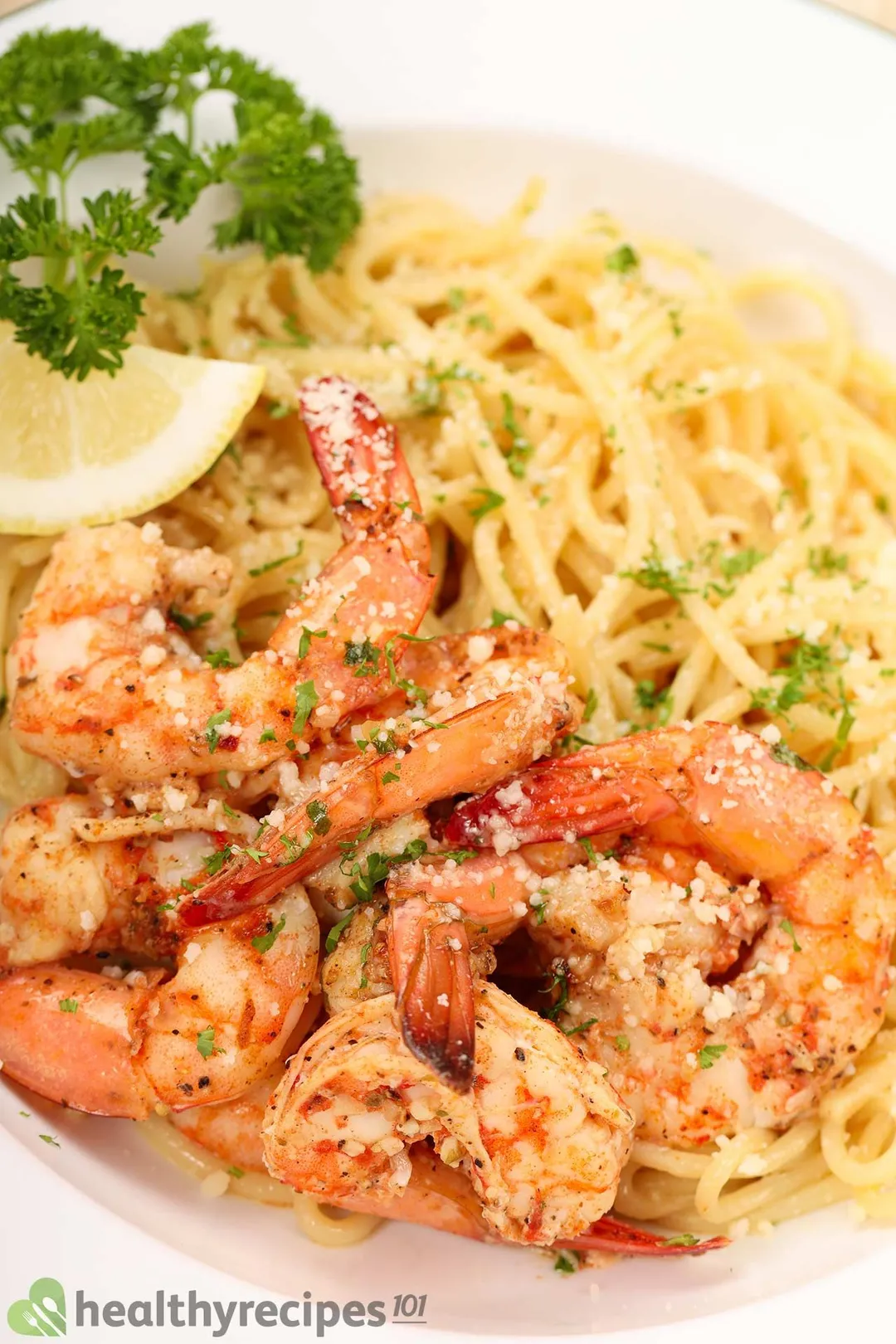 Next Recipe
Instant Pot Shrimp Pasta
Instant Pot Shrimp Pasta
Head Chef, Culinary Consultant
Tuyet Pham is an award-winning Saigonese chef who believes that joy is the secret ingredient to delicious food. At Healthy Recipes 101, Tuyet personally tests and simplifies every recipe, ensuring maximum flavor with minimal effort. With a background at prestigious French restaurants P'TI Saigon and Le Corto, Tuyet knows how to make every dish exceptional.
Writer, Author
Luna Regina is an accomplished writer and author who dedicates her career to empowering home cooks and making cooking effortless for everyone. She is the founder of HealthyKitchen101.com and HealthyRecipes101.com, where she works with her team to develop easy, nutritious recipes and help aspiring cooks choose the right kitchen appliances.
Nutrition Reviewer
Natalie Butler is a registered dietitian nutritionist with a passion to help others live their best life through food, fitness, safer beauty and a healthy lifestyle. She has expertise with a variety of diets and diseases and believes that there is no one-size-fits-all approach for health.
Teriyaki shrimp is a sweet and savory dish that's perfect for a quick weeknight dinner. It's delicious over rice or noodles.