This make-ahead steak salad recipe brings you a delicious and convenient choice when planning meals for one. While the tangy homemade dressing helps bring everything together, the veggie mix matches perfectly with the tender, savory steak.
Is Steak Salad Healthy?
People love salads for their flexibility— especially when they're trying to get the best use out of simple and basic ingredients. It's also a smart way to stay healthy without having to spend so much effort cooking.
This time around, in addition to greens and vegetables, we now have steak in the mix. And of course, just like most green salads, this steak salad is a powerhouse of health-beneficial nutrients.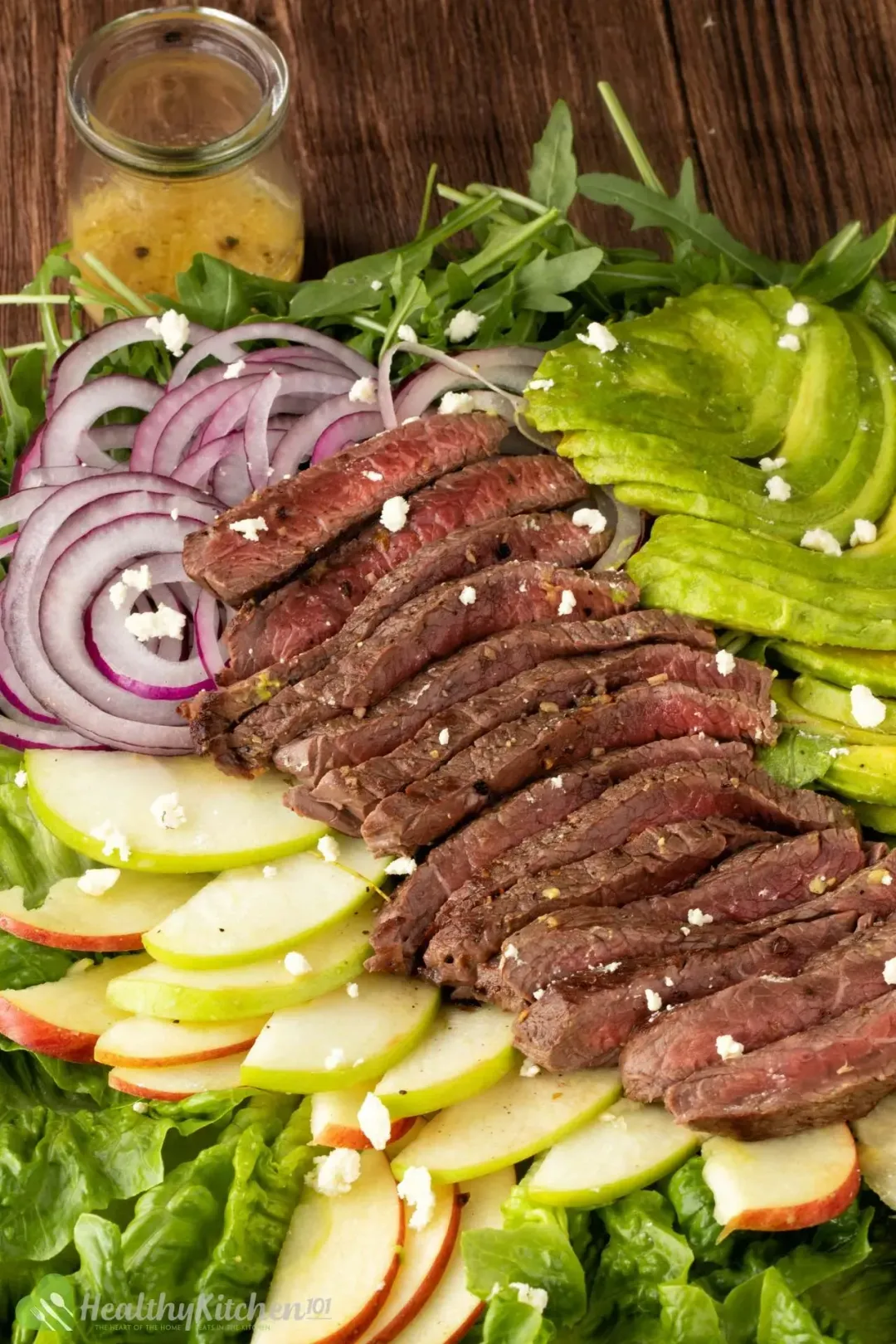 If you're trying to make economical dishes with satisfying flavors, this steak salad could be a solid choice for you. 
One serving of this steak salad provides 216 calories, most of which come from the steak. You need only one portion of it to stay full until the next big meal without craving snacks.
Let's take a look at what goes into it.
What Is the Best Steak Cut for Salad?
In our honest opinion, the suitable steak cut for this salad should be juicy, lean, tender, and affordable.
That's the reason why we believe sirloin steak is the choice to make. It has no bones and little fat, therefore, a quick rub is enough to help bring out its best flavor.
Of course, we're not saying sirloin is the only choice. Ribeye, rump, fillet steak… whichever steak cut you prefer will still do the salad justice.
Steak Salad Ingredients
In today's steak salad recipe, you'll find a good mix of fruits, vegetables, cheese, and a variety of lettuce. Finally, an irresistible dressing to complement the juicy steak wraps up light and comforting dish.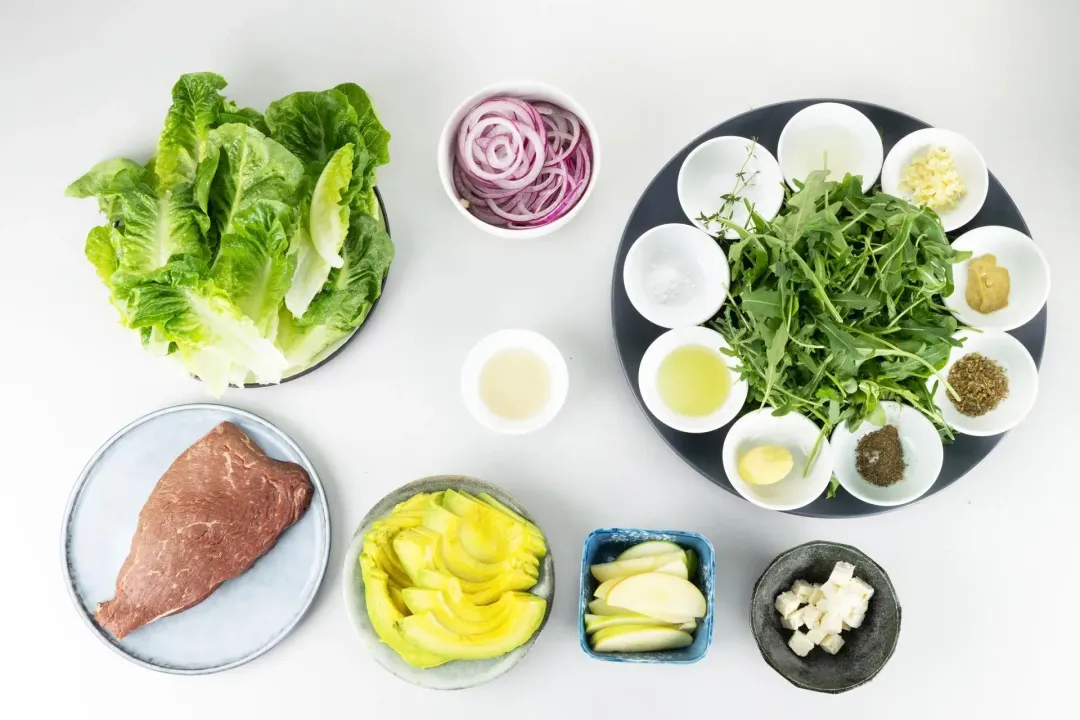 1. Sirloin Steak
As sirloin steak has little fat, it's a wonderful choice for high heat cooking methods on the stovetop. Either sauteing or grilling are acceptable for steak salad— it's sure to be delicious either way.
2. Avocado
Not only is steak salad healthy and tasty, but it also creates a fabulous and colorful display. Aside from the grilled steak, fresh green apples, and red onion rings, you'll also have the creamy and buttery green avocado.
Another bright and colorful veggie salad that looks pretty similar to this steak salad (minus the steak) is Greek salad. While we were making this recipe we realized that you only need a few small ingredient adjustments to transform one into the other!
3. Arugula
The robust arugula in the veggie mix helps to balance the pungency of the mustard-based dressing. Together with the juicy slices of pan-seared sirloin, it creates a harmonious and fulfilling keto-friendly salad to snack on.
4. Cheese
To finish this salad off beautifully, feta cheese, red onion, and romaine lettuce are added on top.
Feta cheese is there to lend a nice touch of creamy, sharp, and slightly salty flavor to this steak salad. Together, these elements create a harmony of earthy flavors and piquancy.
Steak Salad Dressing
In this steak salad recipe, all you need for the dressing is olive oil, lemon juice, mustard, and apple cider vinegar. When accompanying the creamy avocado and crunchy green apples, the dressing ties everything together to give you a pleasing mouthful.
Check out how we throw together a steak salad in the section below.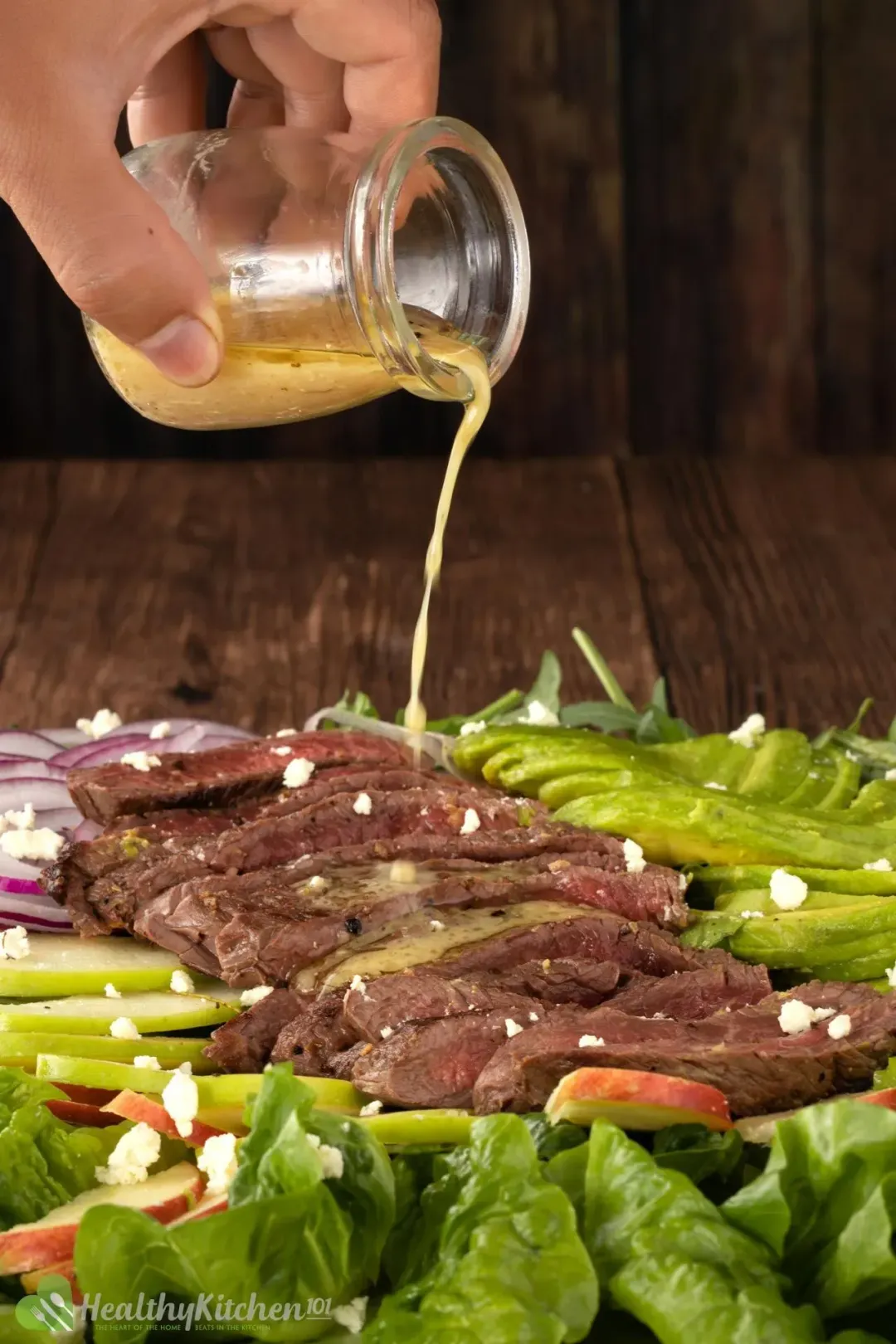 Tips for Making
It's important to keep the following points in mind when prepping the steak— for the sake of a satisfying steak salad.
First, let the steak cool down to room temperature at least one hour prior to cooking. This allows you to char the steak quickly on super high heat later.
If the steak hasn't been defrosted properly, the heat from the grill won't penetrate all the way through the steak cut. The middle of it, in this case, will still be rare.
In actuality, you should only cook the sirloin to medium-rare or medium only. If the sirloin is well-done, chances are that it will get a bit chewy.
To create juicy medium-rare steak, we suggest you heat your pan/griddle/barbecue first. Once the pan is incredibly hot, add the sirloin steak, and char it real quick on both sides.
By doing that, the sirloin steak can caramelize and become as tender as a filet mignon. You'll get a surprisingly appealing steak with beautiful charred marks on the outside but still juicy on the inside.
On the other hand, you also need to turn the steak on the grill every minute or so. This allows the steak to cook evenly, reducing the risk of a partially overcooked steak.
Last but not least, you should always slice the steak against the grain rather than perpendicularly. For sirloin steak, we recommend cutting it into bite-sized cubes or very thin strips (about 1/4 inch in thickness).
How Long Does Steak Last?
Steak salad can last up to 3 days if put into an airtight container and stored in the fridge.
Additionally, it can also be made ahead— all you need to do is store the raw steak, the vegetables, and the dressing separately. When ready to serve, whisk the dressing well before drizzling it over the salad.
Can You Freeze Steak Salad?
We wouldn't recommend it. As steak salad is an ideal choice for meal prepping throughout the week, of course, you can freeze it for later use.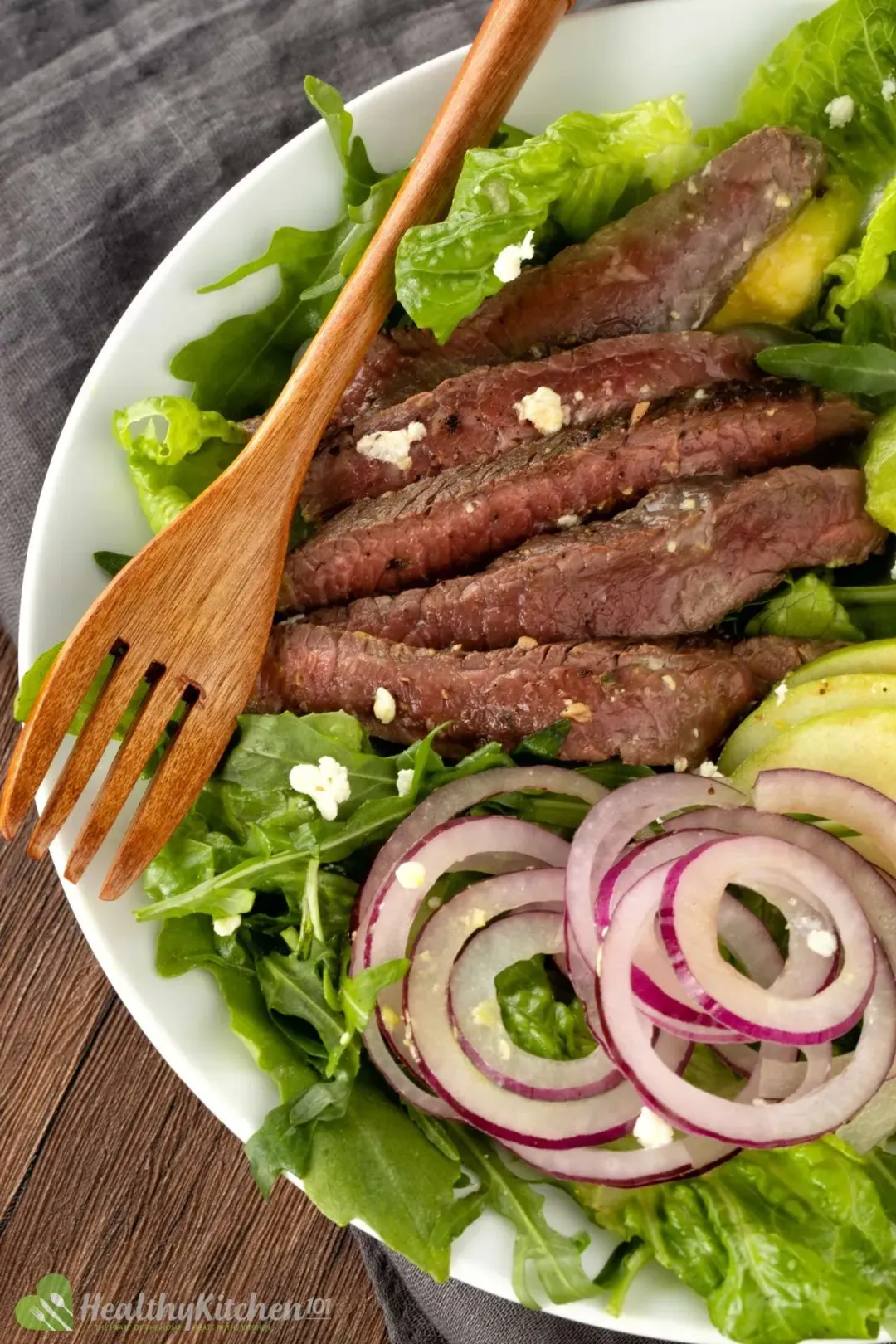 Enjoy These Flavorful Beef Salads, Too
The Taco Salad recipe from Healthy Recipes 101 is a delicious and healthy take on a classic Mexican dish. Packed with protein from the beef, beans, and cheese, this salad is perfect for a filling lunch or dinner option.
If you're looking for a flavorful and healthy salad recipe, this Thai beef salad is the perfect choice. It's made with tender strips of beef, fresh veggies, and a zesty dressing that's bursting with flavor. Plus, it's gluten-free and dairy-free, making it a great option for anyone with dietary restrictions.
For those who enjoy mouth-watering beef salad recipes, we've got you covered with our hand-picked selection. Take a look through our roundup for more inspiration.
Steak Salad
With juicy steak slices on a bed of colorful greens, steak salad recipe gives you an option for either an entree salad or a side dish. All you have to do is divide the dish into individual portions. It's super convenient for low carb and keto dieters!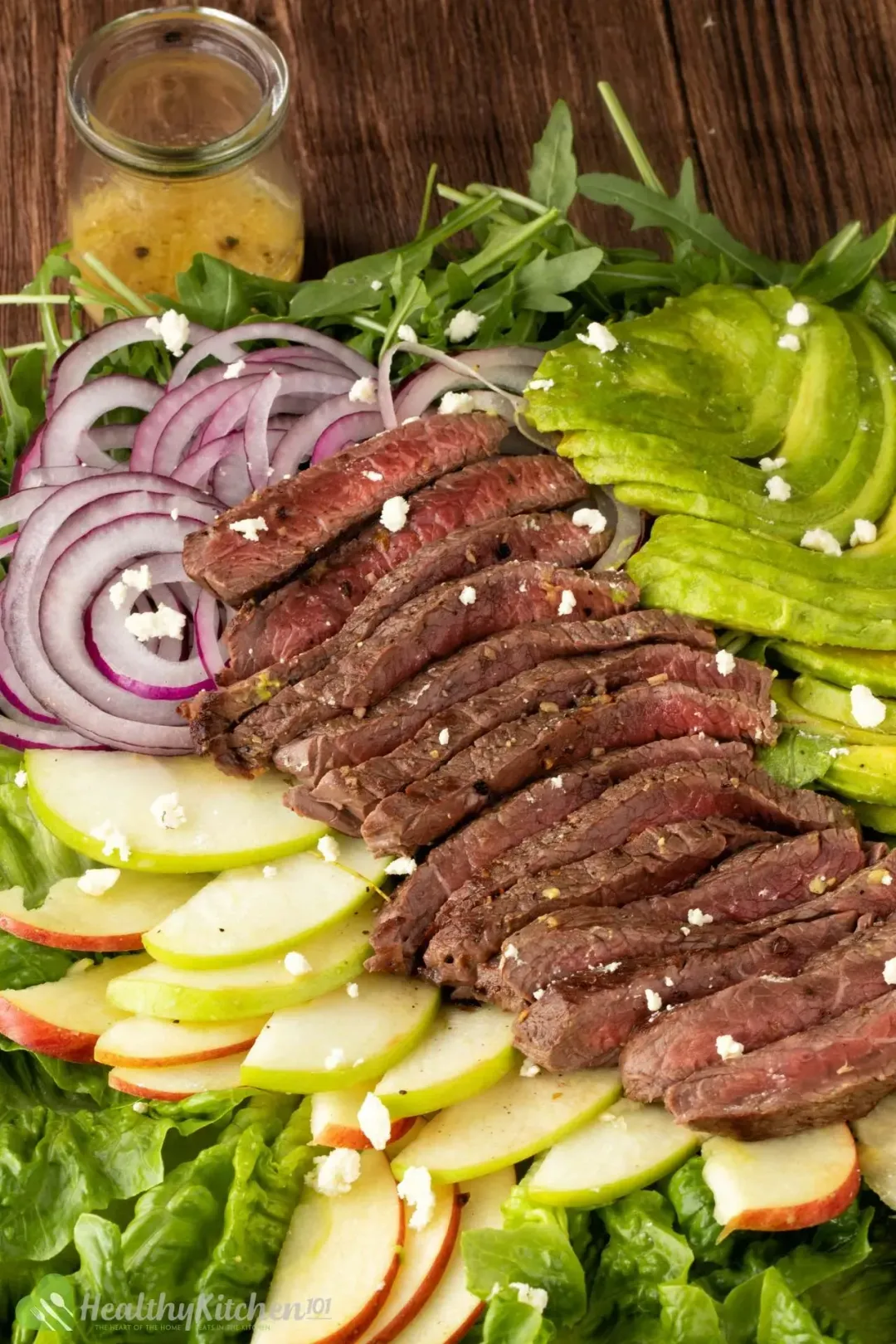 cook TIME

5 mins

prep TIME

10 mins

total TIME

15 mins
COURSE

Salad, Side Dish

CUISINE

American

SERVINGS

CALORIES

238 kcal
INGREDIENTS
0.5 oz

green apple

(1/2 medium)

0.5 oz

red apple

(1/2 medium)

1 oz

feta cheese

(crumbled)

1 tbsp

apple cider vinegar

1/4 tsp

ground black pepper
INSTRUCTIONS
1
Chop 6 oz avocado, 0.5 oz green apple, and 0.5 oz red apple into thin slices.
2
Marinate 8 oz sirloin steak with 1/4 tsp salt, 1/4 tsp ground black pepper, 1/2 tsp oregano, and 1/2 tsp fresh thyme. No need to let it rest.
3
Sear 1 tsp garlic with 1/2 tbsp butter on a cast-iron pan over high heat.
4
Wait until the pan is sizzling hot and add the sirloin steak in. Let it cook on the first side for 2 minutes.
5
Turn the steak over and let it cook for 1 more minute.
6
Remove the steak from the heat.
7
Make the dressing: Whisk together 1 tbsp olive oil, 1 tbsp lemon juice, 1/2 tsp mustard, and 1 tbsp apple cider vinegar. Set aside.
8
Slice the sirloin into thin slices.
9
Assemble the beef on a dish together with the remaining ingredients: 6 oz avocado, green apple, red apple, 4 oz arugula, 1 oz feta cheese, 4 oz red onion, and 4 oz romaine lettuce. As the salad will be tossed, there's no need to put in any particular order
10
Drizzle the dressing all over the salad. Toss to coat.
NUTRITION
Nutrition Facts
Steak Salad
Amount Per Serving (1 serving)
Calories 238
Calories from Fat 144
% Daily Value*
* Percent Daily Values are based on a 2000 calorie diet.
Keywords: how to make Steak Salad Recipe, Steak Salad, Steak Salad Recipe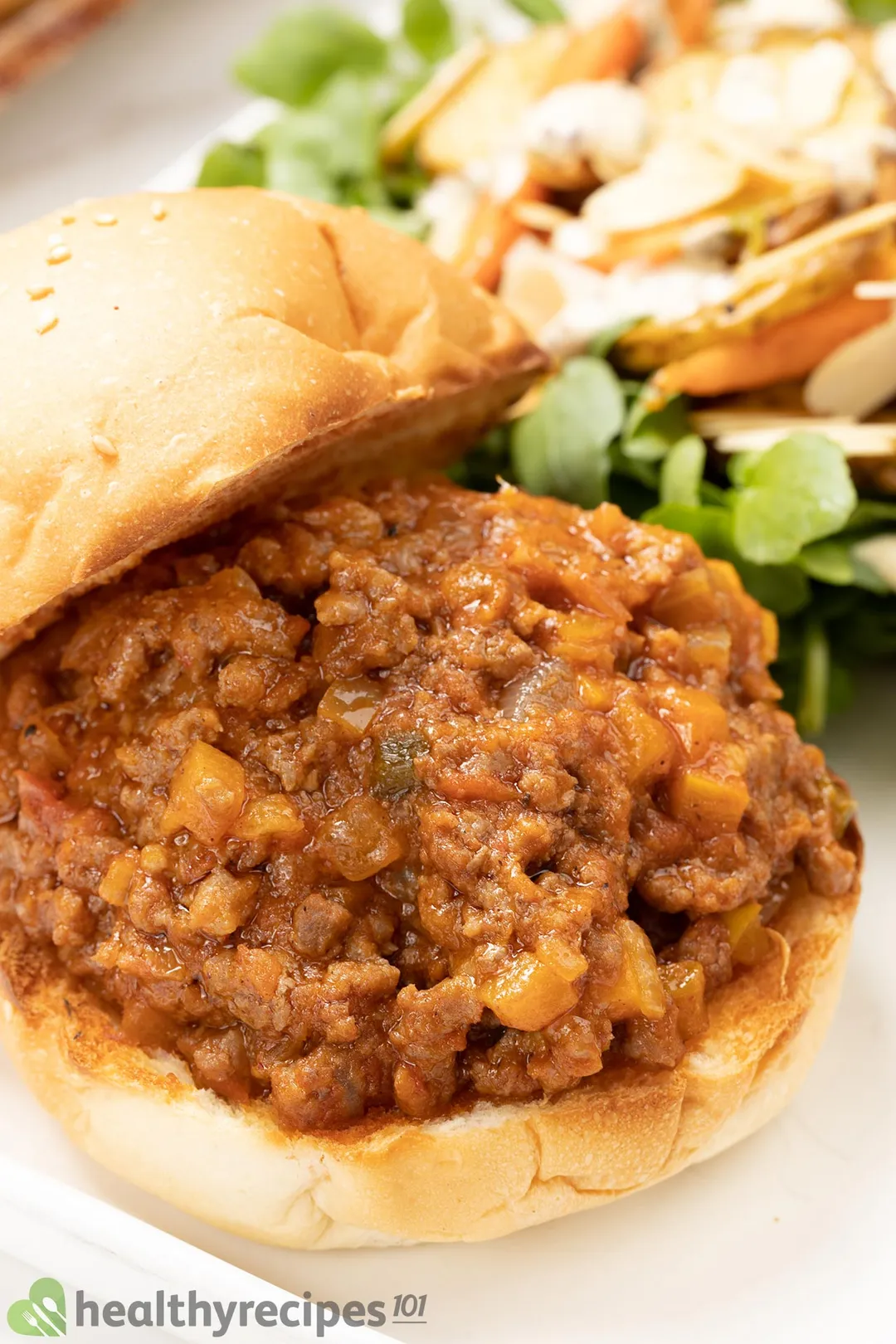 Previous Recipe
Sloppy Joe
Sloppy Joe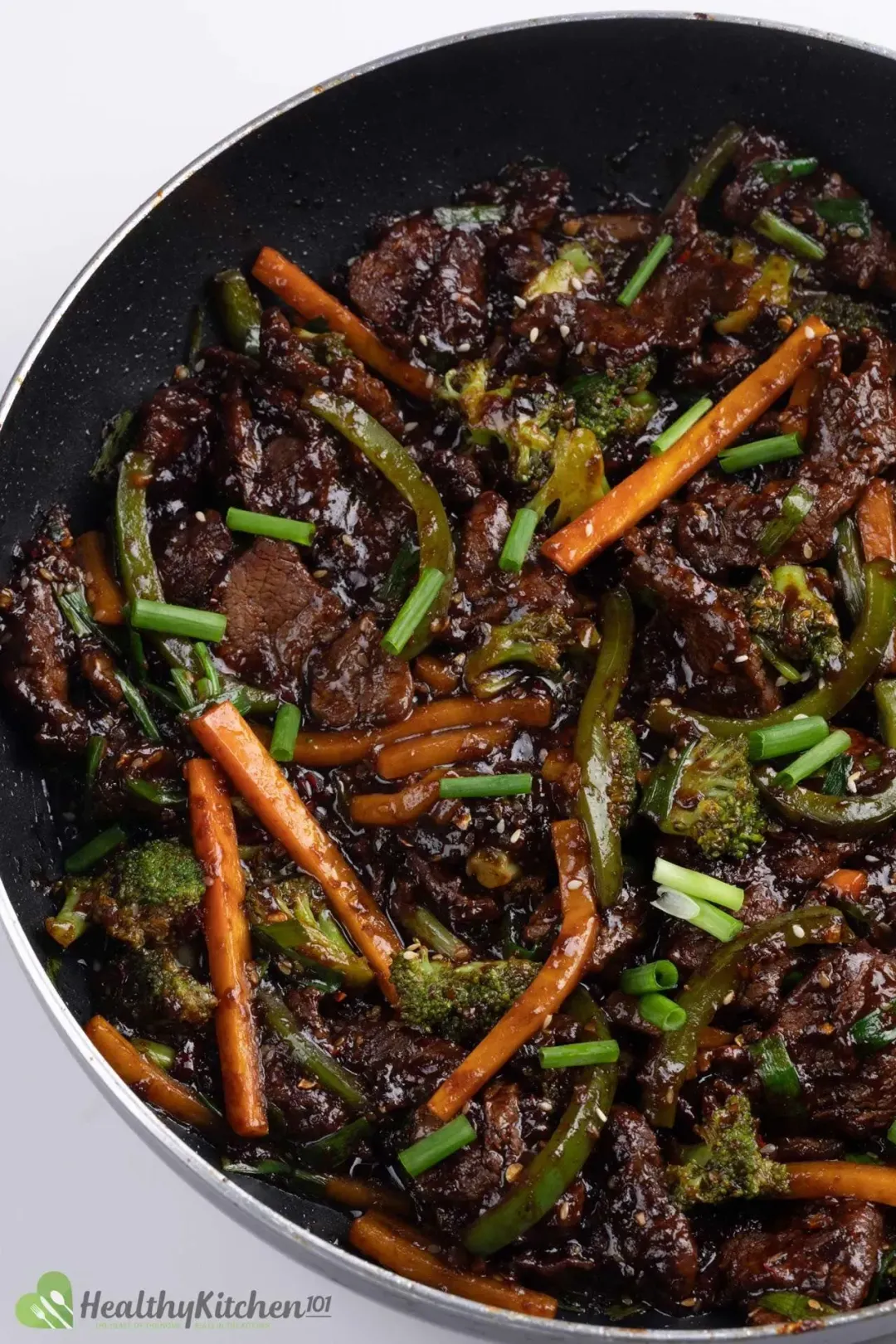 Next Recipe
Mongolian Beef
Mongolian Beef
Head Chef, Culinary Consultant
Tuyet Pham is an award-winning Saigonese chef who believes that joy is the secret ingredient to delicious food. At Healthy Recipes 101, Tuyet personally tests and simplifies every recipe, ensuring maximum flavor with minimal effort. With a background at prestigious French restaurants P'TI Saigon and Le Corto, Tuyet knows how to make every dish exceptional.
Writer, Author
Luna Regina is an accomplished writer and author who dedicates her career to empowering home cooks and making cooking effortless for everyone. She is the founder of HealthyKitchen101.com and HealthyRecipes101.com, where she works with her team to develop easy, nutritious recipes and help aspiring cooks choose the right kitchen appliances.
Nutrition Reviewer
Lizzie Streit is a Minneapolis-based dietitian and founder of It's a Veg World After All. She completed her MS in Human Nutrition from Drexel University, and is an expert in culinary nutrition, recipe development, and nutrition communications. Lizzie's philosophy is centered around making nutrition recommendations, and especially the advice to eat more vegetables, approachable and realistic. She is excited to be working with the team at Healthy Recipes 101 to ensure that their recipes are both nutritious and delicious.
This steak salad I just cooked up is an absolute winner - the steak was cooked to perfection, while the vegetables balanced all the flavors out perfectly.