For those curious souls that love experiencing different cultures through their cuisines, our Chinese steamed sea bass is destined for you. In this healthy version, our chefs opt for fresh fillets (instead of whole fish), sliced mushrooms, julienned carrots, and ginger, steamed with mirin and soy sauce. Pairing this incredible creation with white rice promises a comforting and fulfilling dinner.
So, if you're ready, hold on tight and let the cooking journey begin! 
Is Chinese Steamed Sea Bass Healthy?
Our Chinese steamed sea bass is healthy as it provides a significant amount of protein, dietary fiber, minerals, and vitamins to your diet.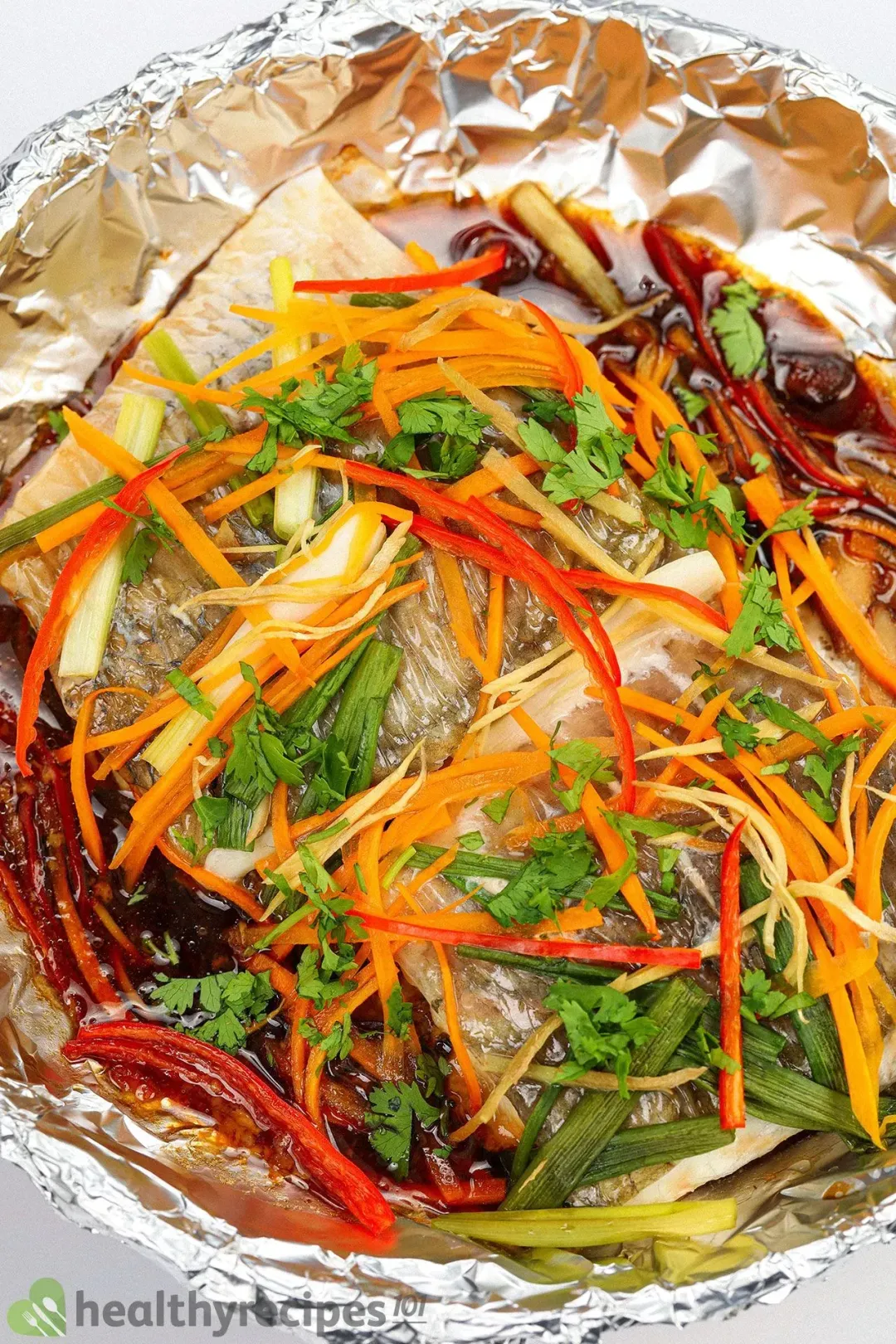 Aside from providing a considerable amount of omega-3 and 6 fatty acids, which may support heart health, sea bass also offers vitamin B complex. Specifically, for 3.5 oz fresh sea bass, you'll gain approximately 2.1 mg vitamin B1, 0.5 mg vitamin B6, and 0.4 mcg of vitamin B12.
Additionally, the selection of vegetables and spices bring more nutrients (dietary fiber, vitamins, minerals, etc.) to our seafood dish. Plus, steaming fish and veggies helps retain their goodness as much as possible.
Overall, this main course yields 498 calories with only around 1.5 g saturated fat, 69 mg cholesterol, and 592 mg sodium.
Ingredients for Chinese Steamed Sea Bass
If you're lucky enough to have an Asian market in your neighborhood, you'll be able to buy a basket full of these ingredients easily. Grocery stores are getting better at stocking world food staples, but if yours doesn't, you can order all these items online and have them delivered in no time.
Here's a glance at the main ingredients: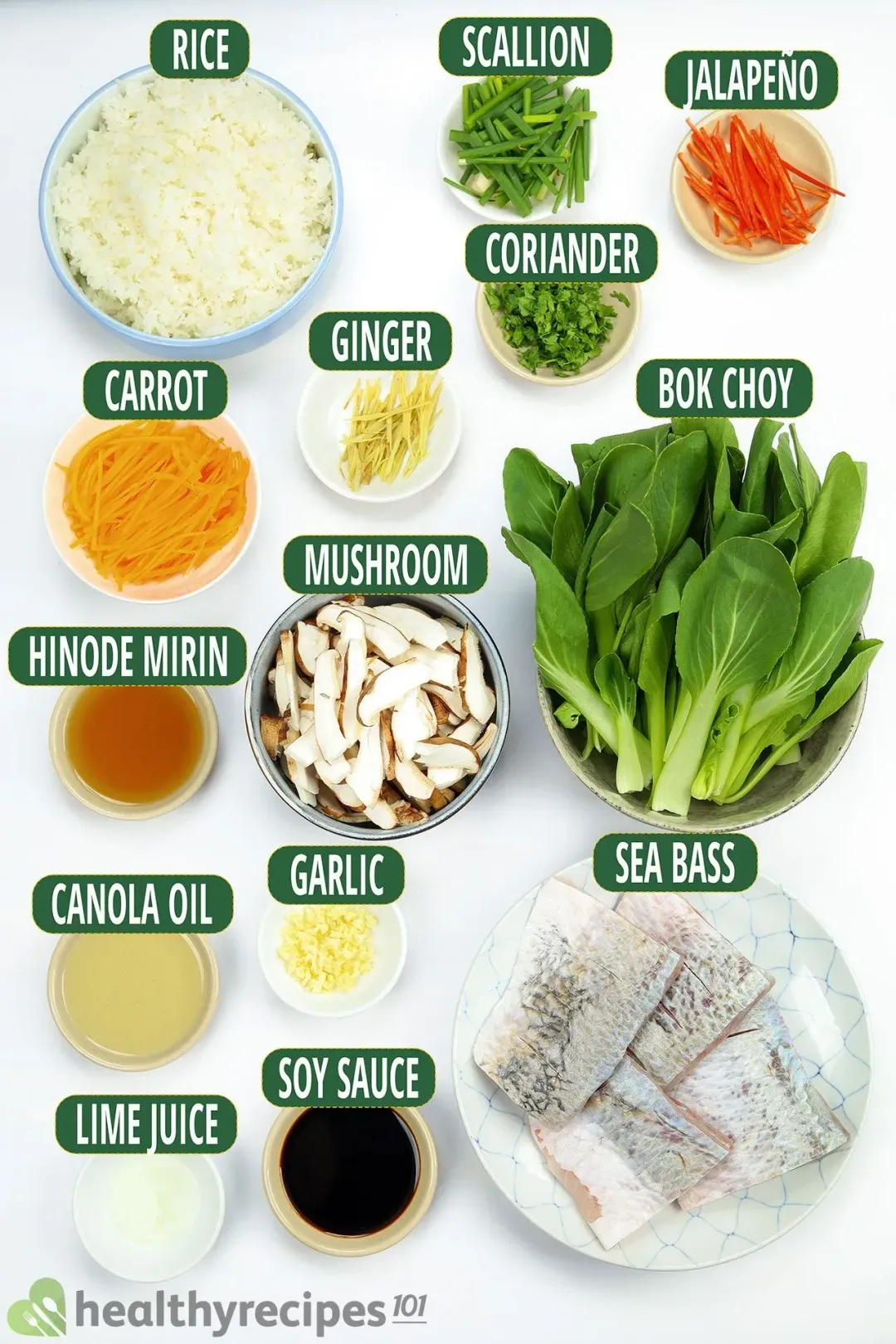 Sea bass: Many diners have fallen for the texture and flavor of perfectly cooked sea bass—flaky flesh with mild oceanic flavor. After spending some time in the steaming pot, your fillets will come out moist, tender, and flavorful, thanks to the inclusion of Chinese seasonings.
Bok choy: We love this vegetable for three main reasons: its stomach-friendly texture, its versatile flavor, and the way it reminds us of Asian food. The traditional Chinese way of enjoying bok choy is to stir fry it with a tablespoon of oil before drizzling on soy sauce and enjoying—classic but unique.
Red jalapeño: Our chefs opt for the ripened red jalapeño rather than the early-picked green one to attain a more noticeable heat. 
Shiitake mushrooms: While their umami taste enhances the freshness of your sea bass, their brown-blackish hue brings a rustic vibe to the dish.
Carrot: Pops of orange scattered on top of your fillets make for a visual feast.
Mirin and soy sauce: Combine cooking mirin and soy sauce at a 1:1 ratio to create a sweet and slightly salty sauce for your fish.
Aromatics: Sautéed ginger and garlic create the irresistible aroma that intrigues your hungry tummy.
Can You Steam Frozen Sea Bass Fillets?
The most frequently asked question we've come across: "Is steaming frozen fish safe and enjoyable?"
Technically, you can cook unthawed fillets and they will still be edible; however, we don't recommend doing so.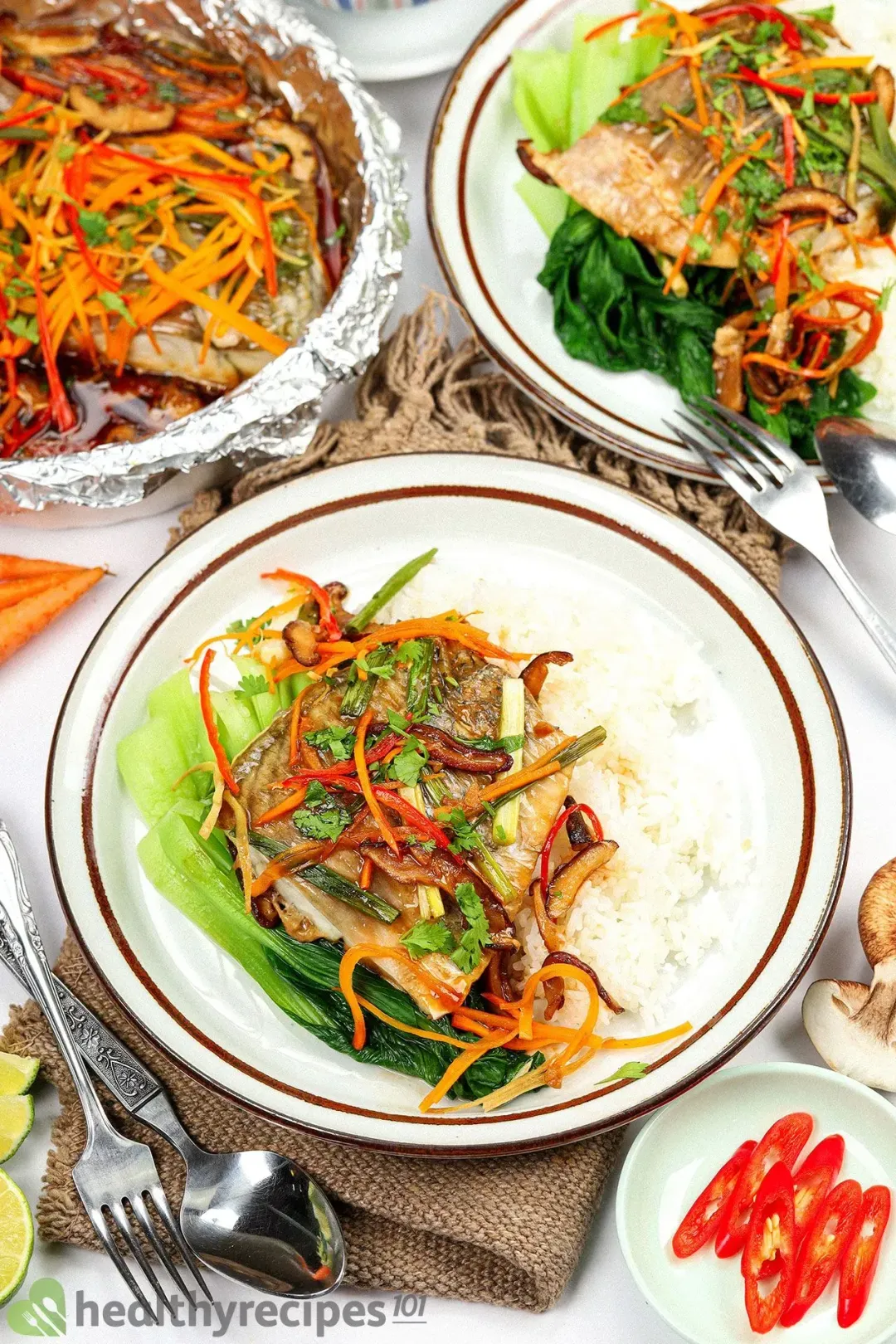 It's quite risky to work with frozen sea bass as there's a higher chance of undercooked, soggy fish. Instead, giving them 8-12 hours to thaw in the fridge is a better solution. You can just pop them in the fridge the night before you intend to cook them.
How to Store and Reheat
1. How to store leftovers
It's best to finish this crowd-pleasing fish fresh out of the kitchen while it's still hot and steamy. However, if you've had a big gathering with many dishes and end up with some leftovers, place them in an airtight container and store them in the fridge. Cooked fish will last for 2-3 days.
We do not recommend freezing because the fish may turn mushy and lose its flavor during the thawing process.
2. How to reheat leftovers
When it's time to serve, transfer your fish into a microwave-safe bowl covered with a lid and microwave until hot. Make sure whatever you cover it with is microwave-safe.
What to Serve With Chinese Steamed Sea Bass
For an even more wholesome meal, check out these accompaniments that pair excellently with Chinese steamed sea bass.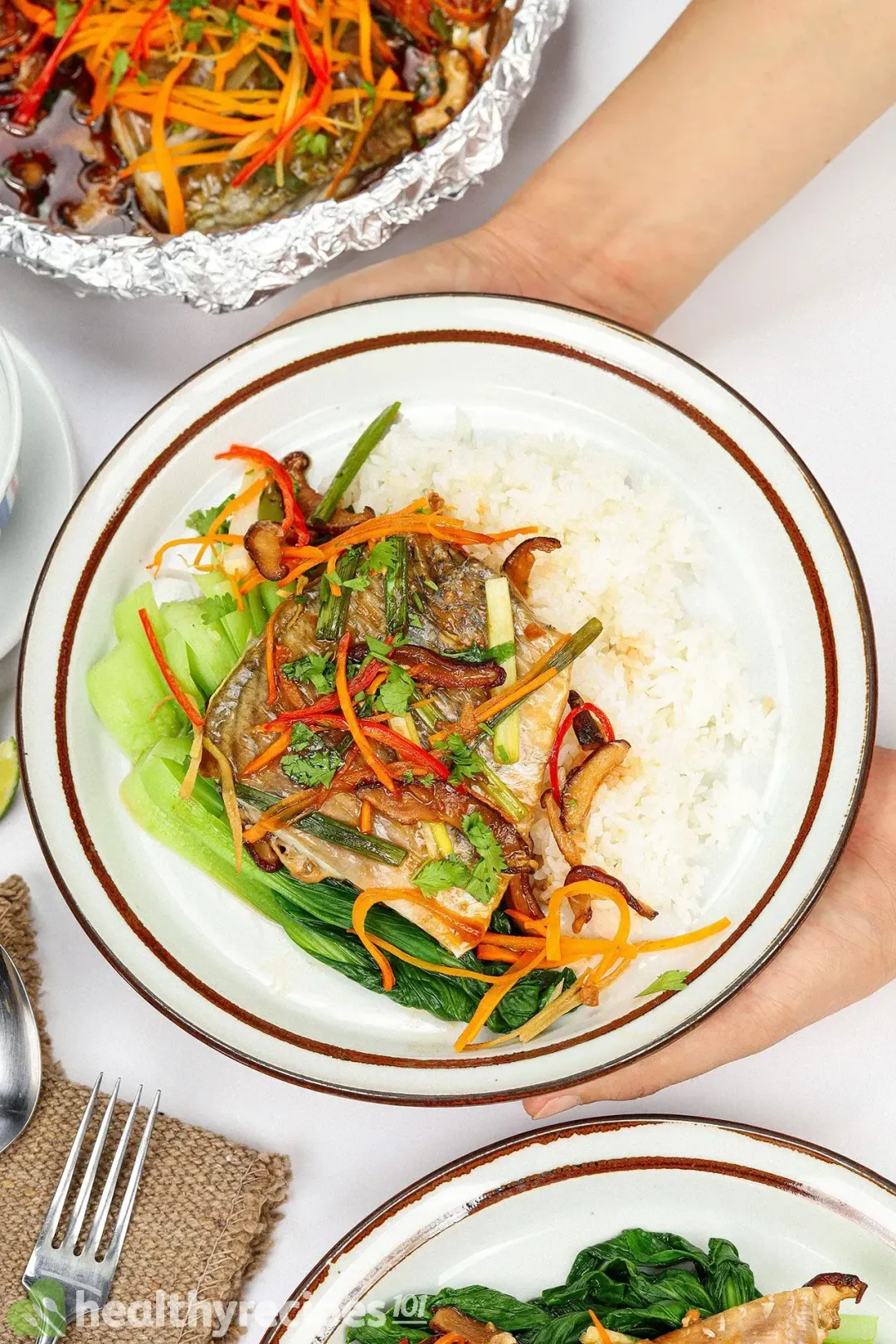 How to Make Chinese Steamed Sea Bass
Today's Chinese steamed sea bass features fork-tender fillets, crunchy vegetables, and flavorsome sauce, setting your taste buds alight. As an added bonus, most of the cooking time is hands-off, so you can kick back and relax while you wait for this steamy meal to be ready.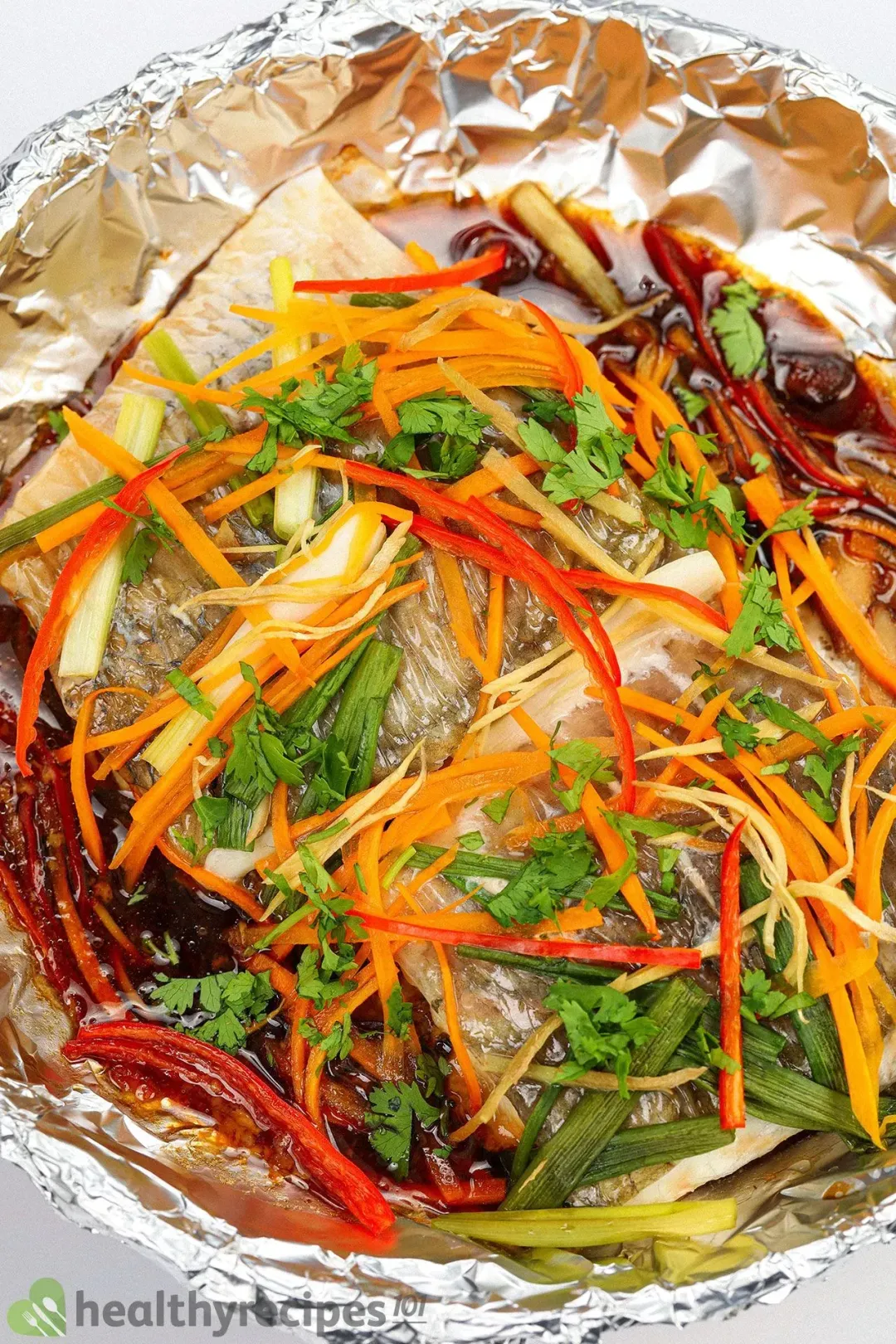 cook TIME

35 mins

prep TIME

15 mins

total TIME

50 mins
COURSE

Main Course

CUISINE

Chinese

SERVINGS

CALORIES

505 kcal
INGREDIENTS
24 oz

skin-on boneless sea bass fillets

4 oz

shiitake mushrooms

(sliced)

4 oz

red jalapeño

(julienned)

1/4 cup

coriander

(chopped)

1/4 cup

scallions

(chopped)

3 tbsp

reduced-sodium soy sauce

3 1/2 cups

cooked medium-grain rice
INSTRUCTIONS
PREP:
1
To check for pin bones, run your fingertips along the length of the fillets. Remove any found with a pair of tweezers. Do not run the fish under running water to prevent cross-contamination.
2
Cook the rice using a rice cooker or an Instant Pot.
3
Trim 1 inch off from the bottom part of the bok choy. Separate the leaves.
4
Cut off the stems of the shiitake mushrooms. Place the stems side down on a cutting board and start cutting them into thin slices.
5
Cut off the stem tip of the jalapeño. Slice them in half lengthwise. Remove the seed packet before starting to julienne them.
6
Cut off the top and the root end part of the carrot. Peel off the skin. Split it in half—crosswise, then split those in half again—lengthwise. Julienne the carrot.
7
Peel and mince the garlic.
8
Peel, slice, and julienne the ginger.
9
Line the coriander bunch on the cutting board. Slice off the long stems, then chop them finely.
10
Cut off the root end and the tough top part of the scallions. Line them on a cutting board, then chop them into 1/4 to 1/2-inch chunks.
COOK:
1
Cook the bok choy: Bring a pot of water to a boil. Add 8 oz bok choy and cook until crisp-tender, about 2 minutes. Drain out the water and place the cooked bok choy on a dish.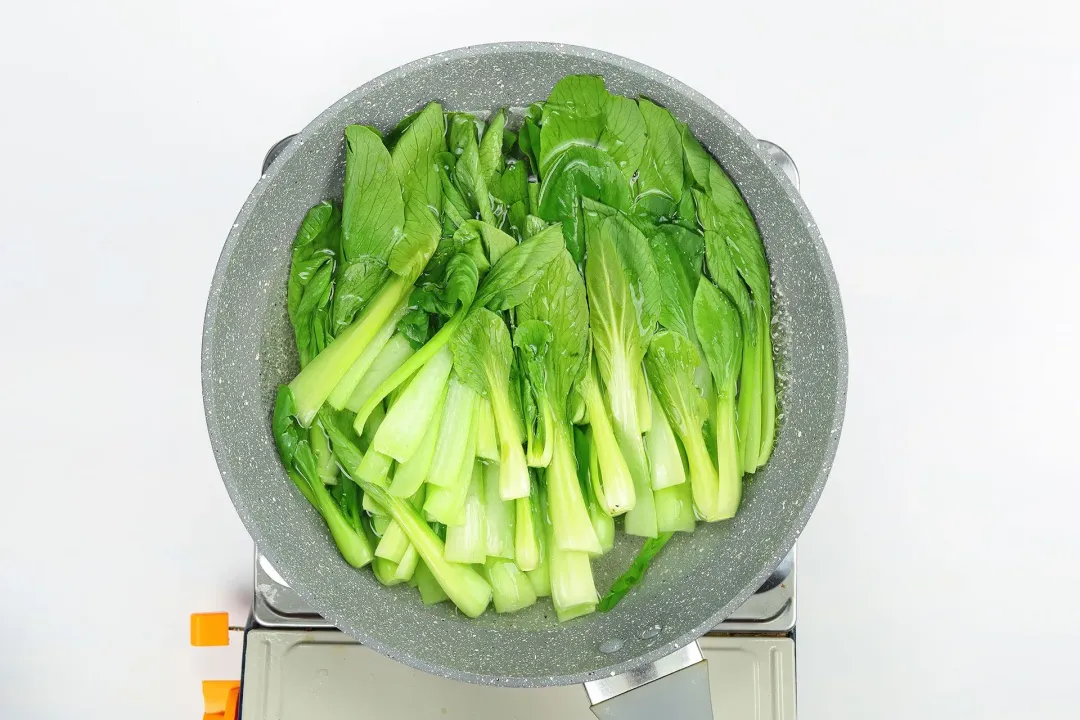 2
Stir-fry the garlic: Place a frying pan over medium heat. Add 2 tbsp canola oil and 1 tbsp minced garlic. Sauté until fragrant, around 30 seconds.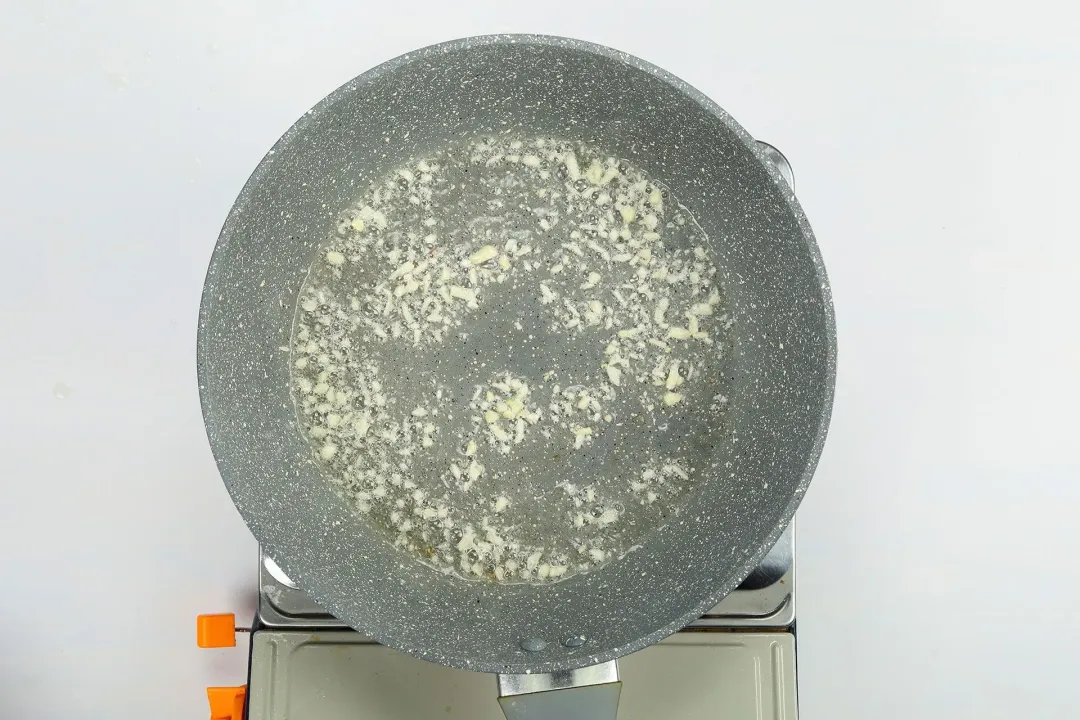 3
Sauté Shiitake mushrooms: Continue to add 4 oz shiitake mushrooms into the same pan. Stir occasionally for 3 minutes. The mushrooms should be firm and slightly caramelized. Remove from heat.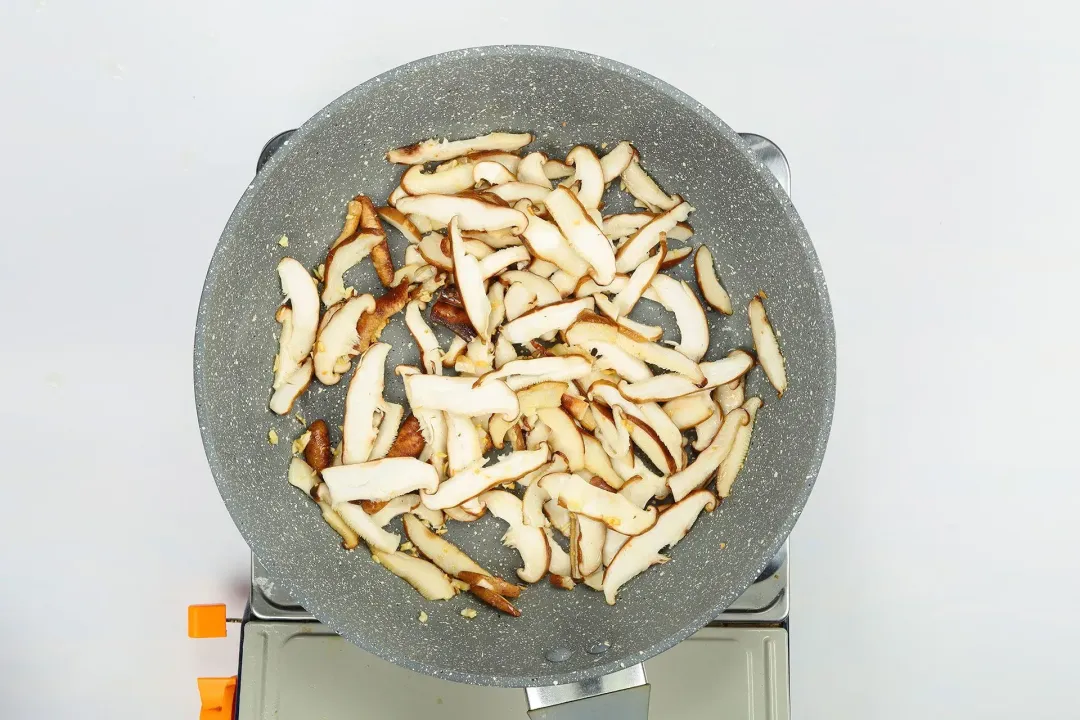 4
Steam all the ingredients: Pour water into a large pot, then arrange a steaming basket lined with foil in the center of the pot. Arrange all the ingredients accordingly: 4 oz cooked shiitake mushrooms, 24 oz skin-on boneless sea bass fillets, 1 oz julienned carrot, 3 tbsp reduced-sodium soy sauce, 3 tbsp cooking mirin, 1 tsp lime juice, 1 tsp julienned ginger, 1/4 cup chopped scallions, 1/4 cup chopped coriander, 4 oz julienned red jalapeño. Cover the steaming basket tightly with another layer of foil before closing the lid. Steam on high heat for 2 minutes, then turn to low heat and cook for 25 minutes.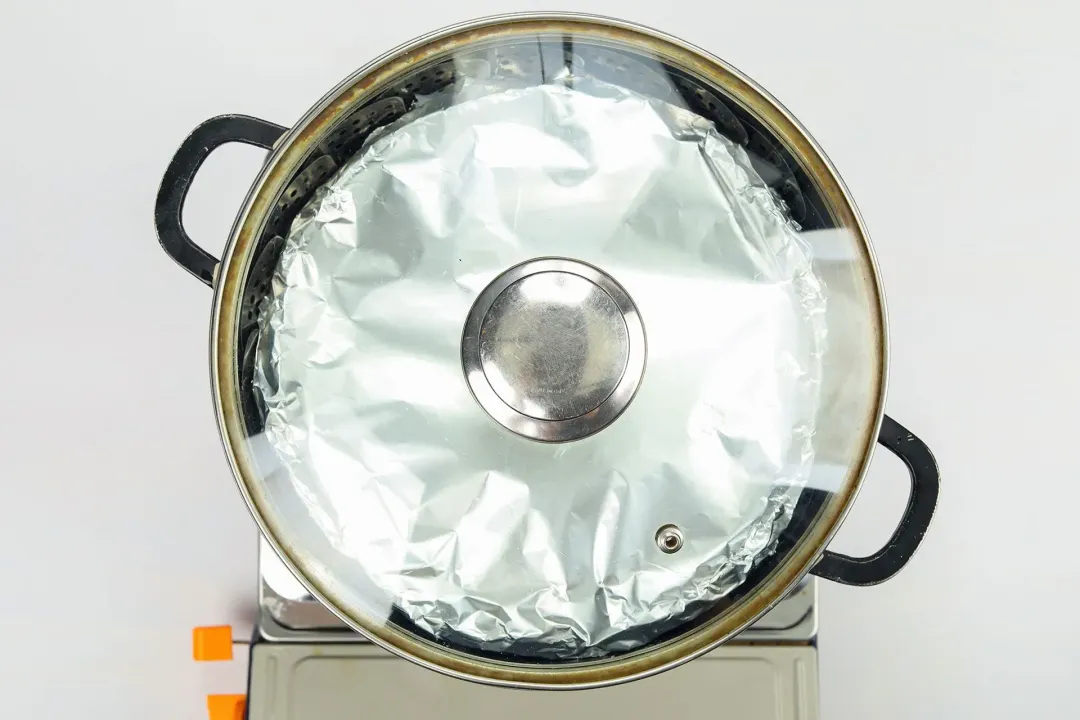 5
Garnish and serve: Place your desired portion on a platter and enjoy with white rice.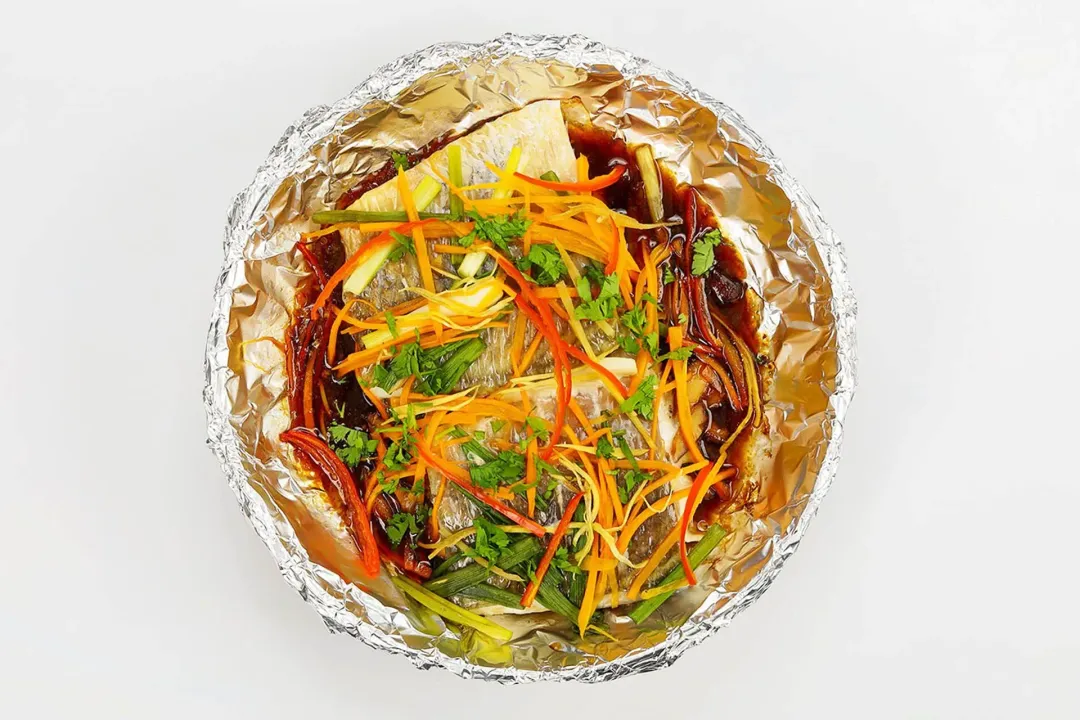 NUTRITION
Nutrition Facts
How to Make Chinese Steamed Sea Bass
Amount Per Serving (1 serving)
Calories 505
Calories from Fat 101
% Daily Value*
* Percent Daily Values are based on a 2000 calorie diet.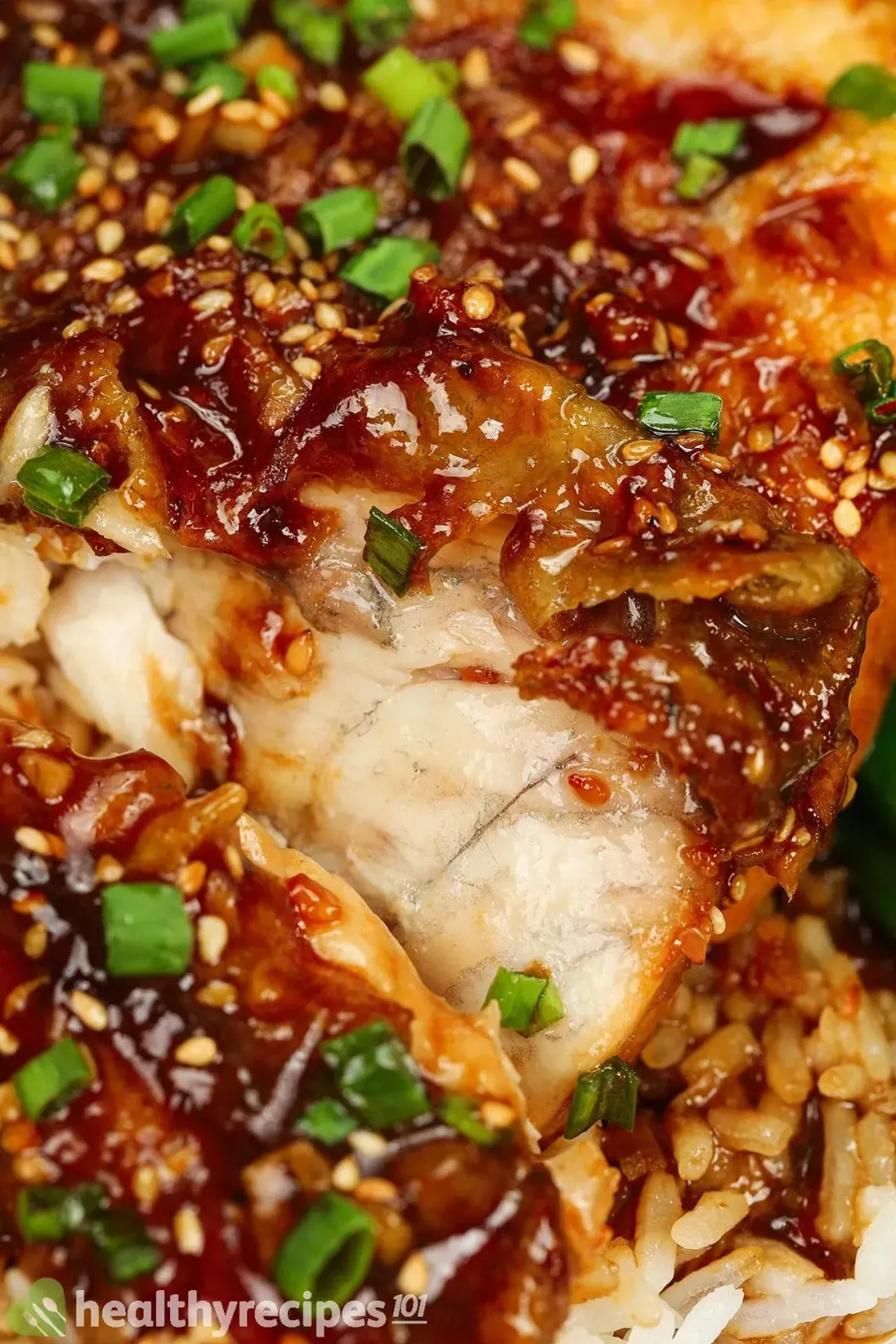 Previous Recipe
Miso Glazed Sea Bass
Miso Glazed Sea Bass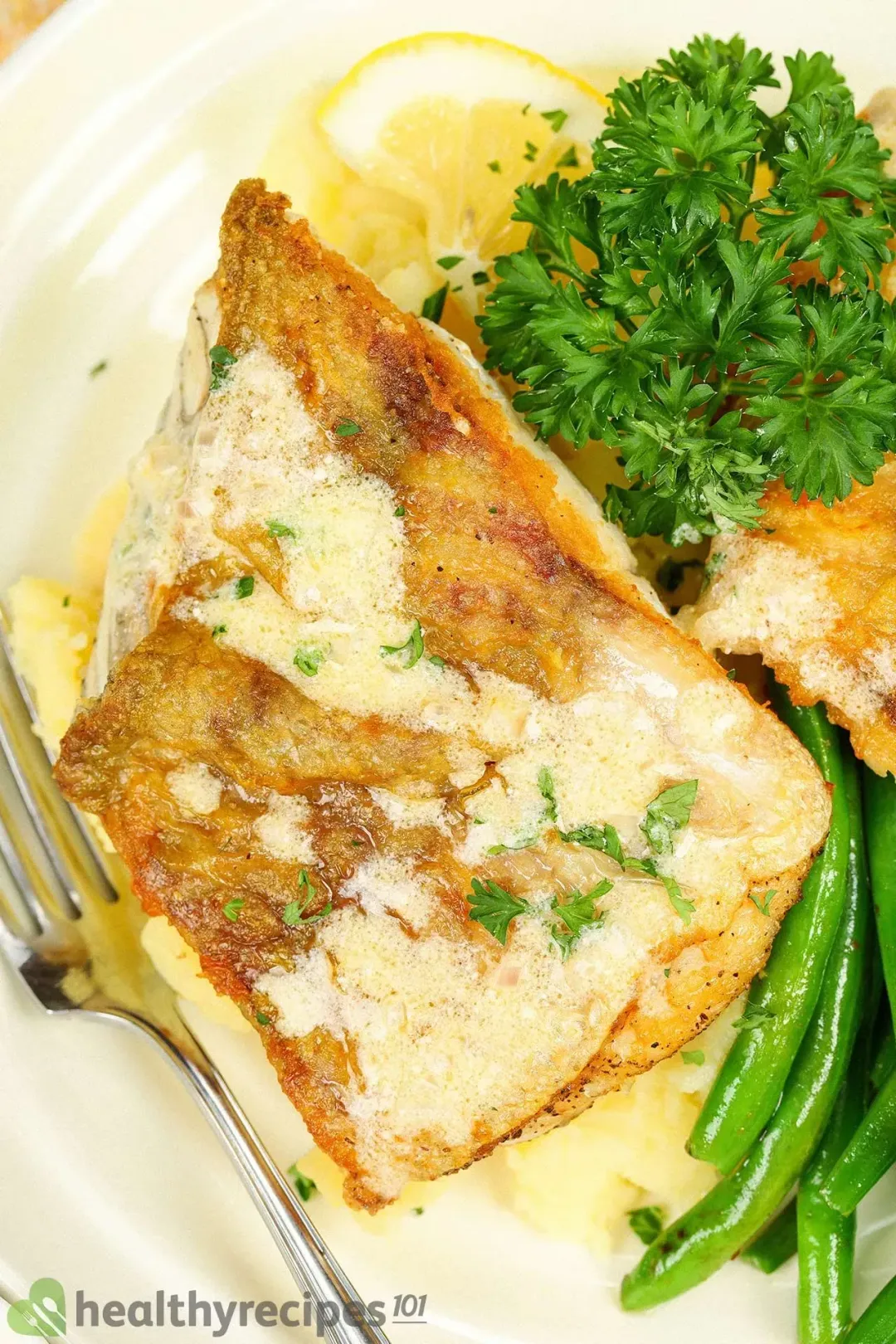 Next Recipe
Lemon Butter Sea Bass
Lemon Butter Sea Bass
Head Chef, Culinary Consultant
Tuyet Pham is an award-winning Saigonese chef who believes that joy is the secret ingredient to delicious food. At Healthy Recipes 101, Tuyet personally tests and simplifies every recipe, ensuring maximum flavor with minimal effort. With a background at prestigious French restaurants P'TI Saigon and Le Corto, Tuyet knows how to make every dish exceptional.
Writer, Author
Luna Regina is an accomplished writer and author who dedicates her career to empowering home cooks and making cooking effortless for everyone. She is the founder of HealthyKitchen101.com and HealthyRecipes101.com, where she works with her team to develop easy, nutritious recipes and help aspiring cooks choose the right kitchen appliances.
Nutrition Reviewer
Natalie Butler is a registered dietitian nutritionist with a passion to help others live their best life through food, fitness, safer beauty and a healthy lifestyle. She has expertise with a variety of diets and diseases and believes that there is no one-size-fits-all approach for health.
Authentic flavors in this Chinese steamed sea bass!