Today's quick and easy air fryer tofu recipe offers you a light and healthy side with a delightful texture and flavor in seconds.
Crispy on the outside while chewy and soft inside, our air fryer tofu makes a great side for a variety of dishes. You can throw it into salads, stews, and wraps, or just enjoy it alone as a delicious snack.
Is Air Fryer Tofu Healthy?
Yes, our 3-ingredient air fryer tofu recipe provides you with a vegan, gluten-free, and dairy-free crispy snack that you can whip up in 30 minutes.
Tofu is an excellent plant-based source of protein, iron, calcium, and essential amino acids. Extra-firm tofu, which we're using in today's recipe, makes a wonderful meat replacement for a diverse range of dishes.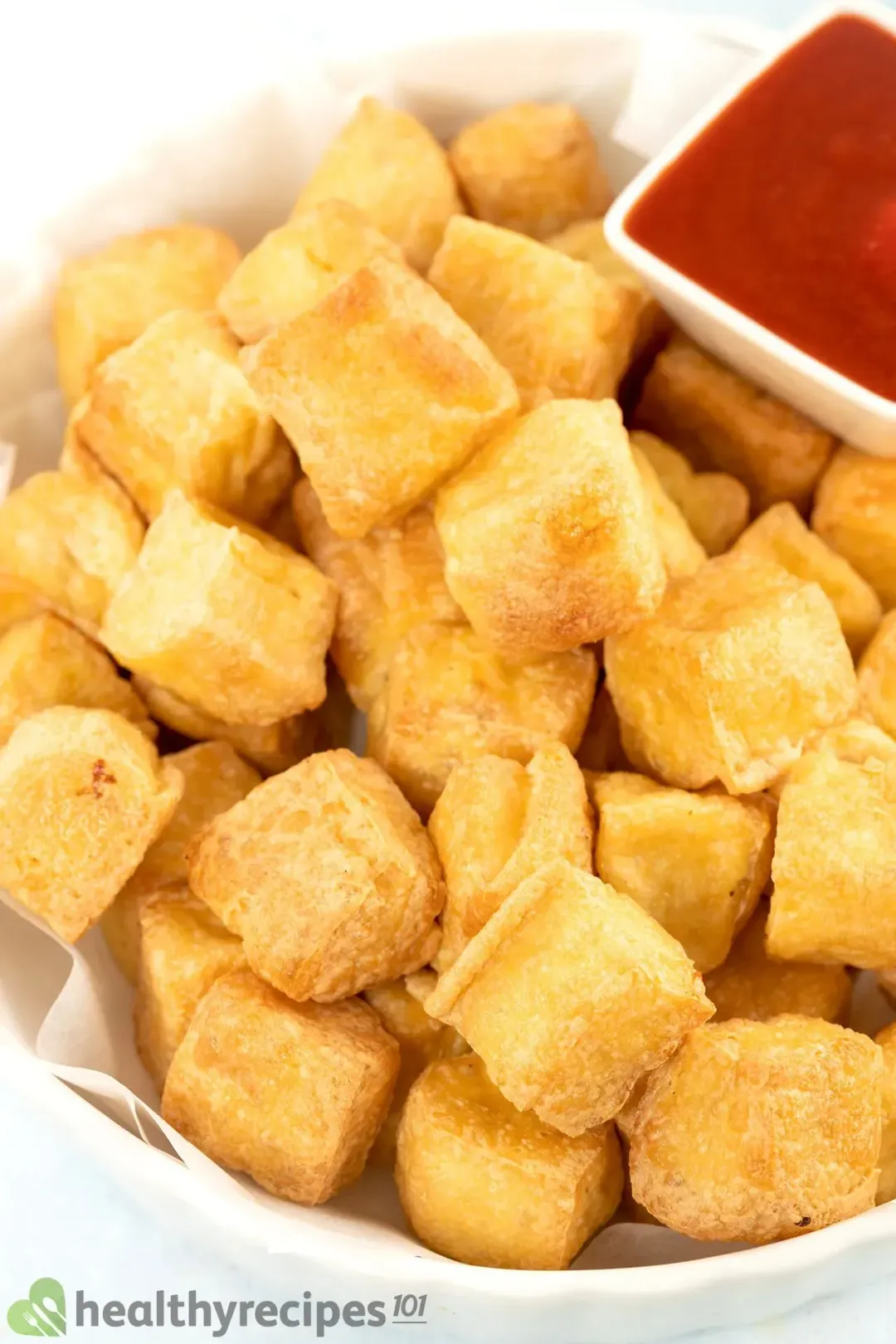 Air-fried tofu surely is a healthier alternative to the store-bought vegan nuggets. It requires very little oil and absolutely no amount of cornstarch to crispen up.
Basically, an air fryer is a highly effective high-powered countertop convection oven. It cooks by circulating hot blown air around the food, making a crispy surface in a matter of minutes.
With an air fryer, you only need 1.5 tablespoons of olive oil to fry a whole tofu batch for four people. This method avoids having the tofu completely submerged in oil like when deep-frying.
Apparently, the air-frying method adds much less fat to the dish and keeps both the cholesterol and the total calorie levels low. Even better, you'll no longer have to spend time draining the excess oil afterward!
Finally, a dash of sriracha adds just the right amount of spiciness, but feel free to omit it if you can't tolerate spicy foods in general. In case you're prepared for a spicier challenge with tofu, this spicy tofu recipe could be your next stop.
Tofu vs Tempeh
Both tempeh and tofu are processed soybean products and are commonly used as meat alternatives in many dishes. 
Tofu originated in China and is made from condensed soy milk pressed into solid blocks. Tempeh originated in India and is made from fermented soybeans that are also formed into dense and firm blocks.
Nowadays, tofu is available on the market in many varieties, with textures ranging from silken, to soft, firm, and extra firm. Tempeh, on the other hand, usually contains a mix of grains and seeds such as quinoa, brown rice, and flax seeds. 
Tofu is mostly used in stir-fries and salads as it offers a mild and neutral flavor, while the chewy and nutty tempeh is more favorable in stews and baking dishes.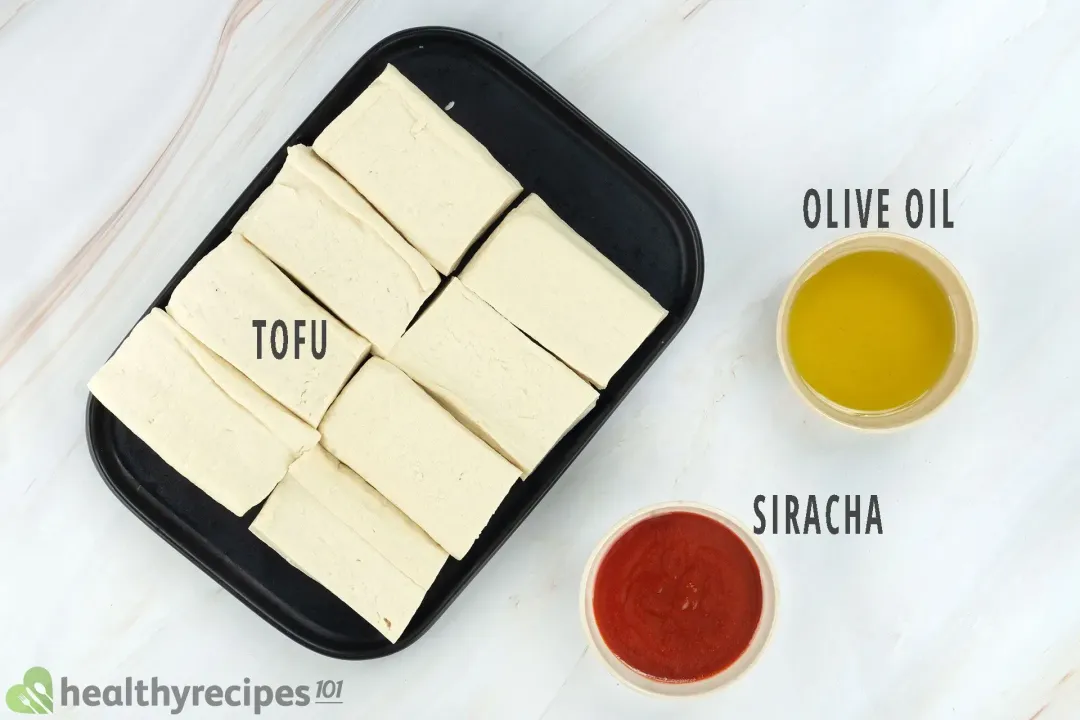 Tips for Making Crispy Fried Tofu
Making crispy fried tofu doesn't have to be brain surgery. Pay a little attention and it will be a piece of cake.
The air frying method ensures success
The air fryer works by blowing hot air around the tofu to roast it crisp. This method ensures that the tofu is fried with an evenly crispened surface, unlike the traditional oven where it can only receive heat to one surface.
It takes only 15 minutes of air-frying over a high temperature (around 400℉) to produce golden-fried tofu that's crispy on the outside while soft and balmy on the inside. While frying, pull the basket out to flip the sides of the tofu cubes or shake the basket vigorously to toss them, then re-insert them.
Remember not to overload the frying basket, otherwise, the tofu blocks won't have enough space to be heated evenly. It's best to fry small batches one at a time and make sure the tofu cubes are aligned in a single layer.
Different air fryer models cook at different levels. Therefore, the frying time and temperature suggested in this recipe might not be compatible with your air fryer at home.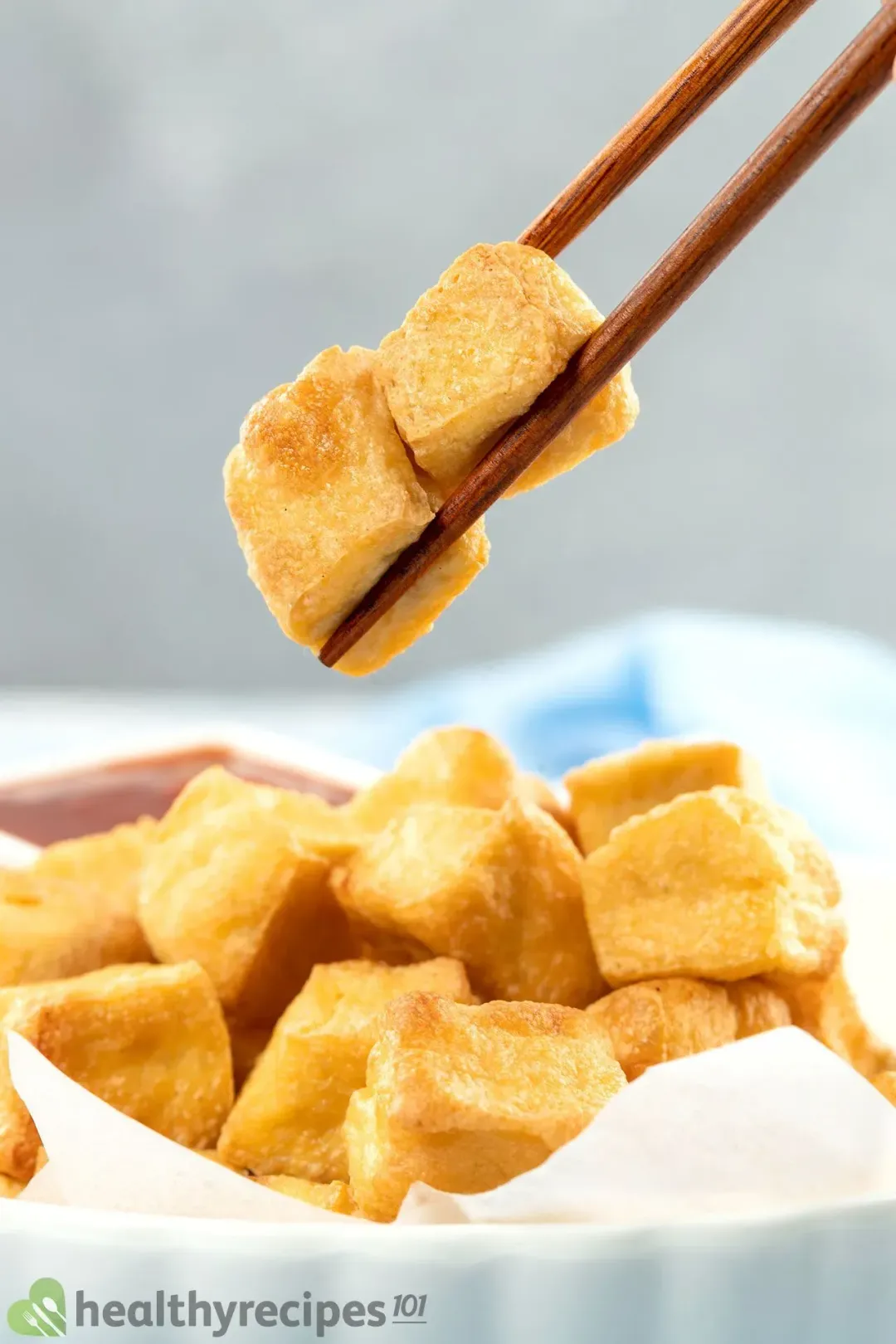 We recommend you take our instructions as a reference only and adjust the time accordingly. You can tell the tofu's done as long as it turns golden with a crispy skin.
Don't worry if the tofu blocks are sometimes slightly blackened in places. Likewise, don't try to char the tofu too hard as it will continue to crisp and cool gradually after it's been removed from the heat source.
Press the tofu before cooking
Before cooking, you need to take some time to press the tofu blocks to release the excess moisture. To do that, put the tofu on a board lined with a clean towel, then gently lay a heavy object on top to let the water drain out. 
By having most of its water squeezed out, the tofu will hold its shape better during cooking, making it easier to get a crispy surface, and won't become soggy. You can also find super-firm tofu that's already pressed and vacuum-packed.
Basically, air-frying doesn't require any oil; however, a little olive oil will surely help to achieve more crispiness. If you don't feel like tossing tofu with olive oil, spraying the bottom of the basket or the top of the tofu with cooking spray will be equally effective.
Besides pressing, you can also apply the freeze/thaw method to get even crispier tofu. You can find the instructions right in the section below!
For more delicious air fryer recipes, check out our healthy air fryer dinner roundup.
How to Cook Frozen Tofu in the Air Fryer
As mentioned above, the freeze/thaw method is an optional step before prepping the tofu to give it a crispy, more meat-like texture. The remaining steps are still the same.
First, pop the whole package of tofu in the freezer. One day prior to cooking, place it in the refrigerator to defrost overnight.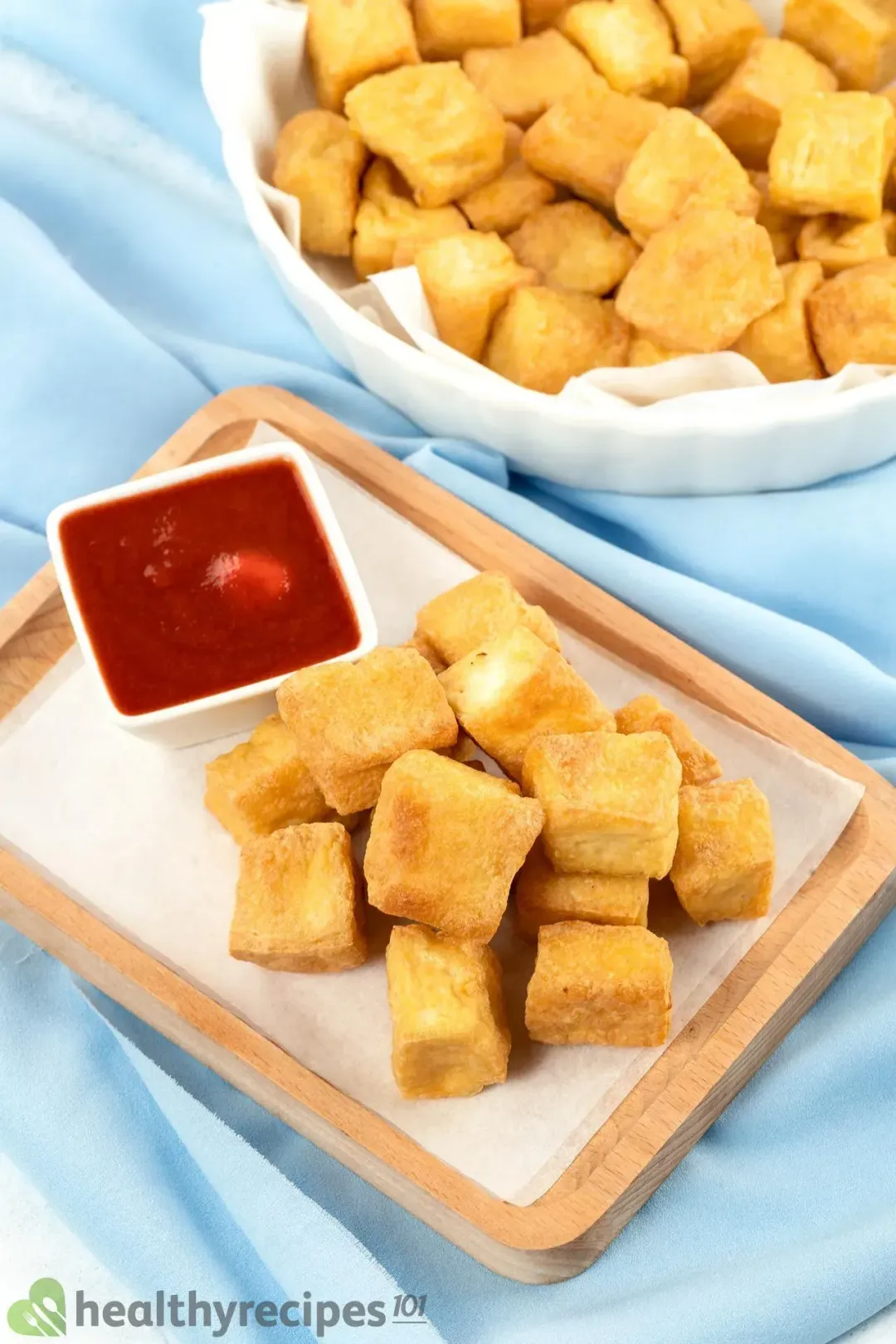 If your time is running short, you can still microwave or let it thaw in a bowl of cold water 30 minutes before frying. Sometimes, a second round of freezing and thawing can be performed if you want to improve the texture even more.
How Long Does Fried Tofu Last?
Fried tofu can last up to 3 days in the fridge, and 3 months in the freezer — both in air-tight containers.
To reheat the leftover fried tofu, simply air-fry the batch quickly using the reheating mode on your air fryer. You can also pan-fry it on the stovetop for a couple of minutes (without oil) until it's warmed through.
More Air Fryer Side Dish Ideas:
Air Fryer Tofu
Today's quick and easy air fryer tofu recipe offers you a light and healthy side with a delightful texture and flavor in seconds. You won't have to compromise on your craving for crispy fried foods, and even cut down on the cooking time!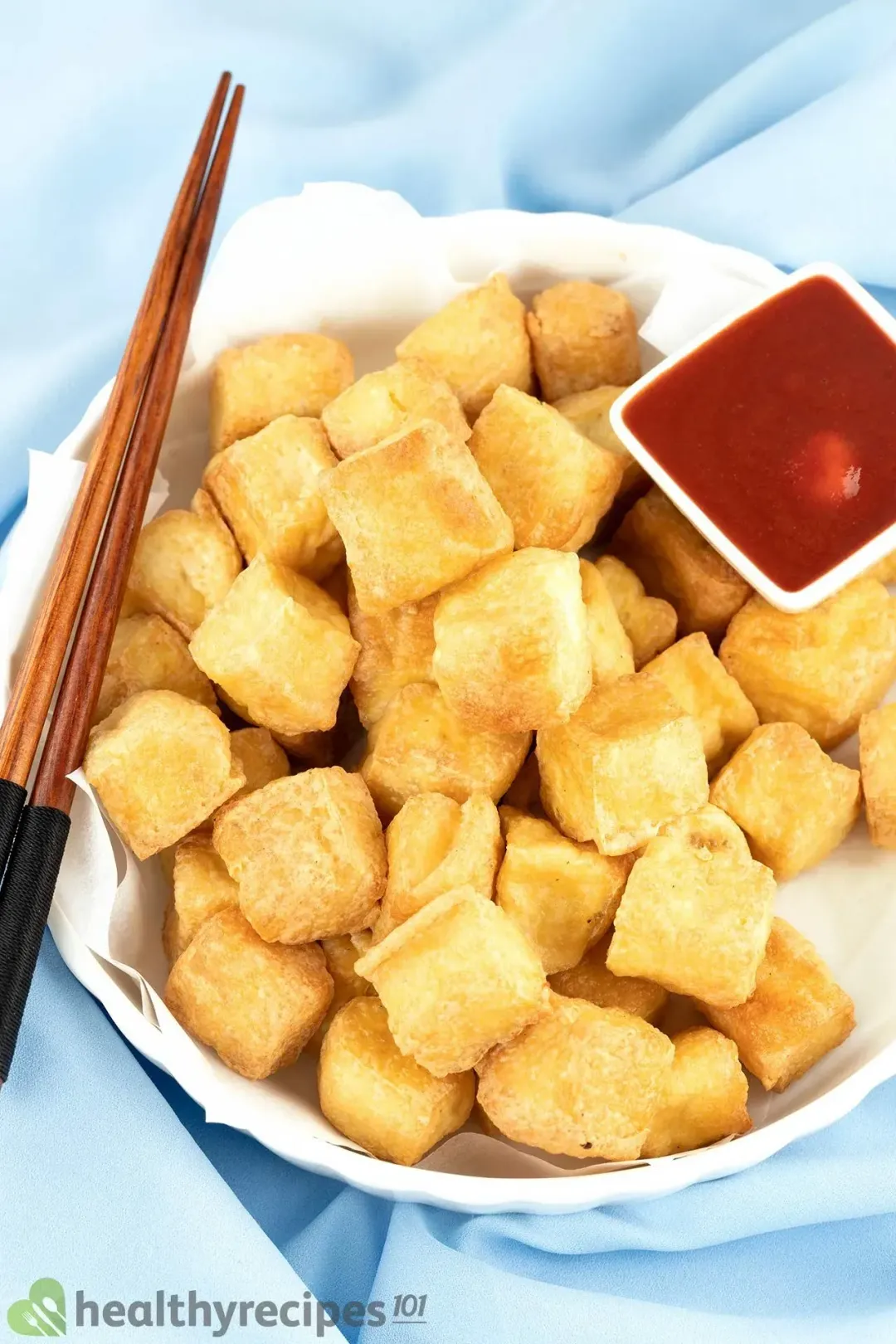 cook TIME

15 mins

prep TIME

10 mins

total TIME

25 mins
COURSE

Side Dish

CUISINE

Global

SERVINGS

CALORIES

195 kcal
INSTRUCTIONS
1
Preheat the air fryer to 400℉ for 5 minutes.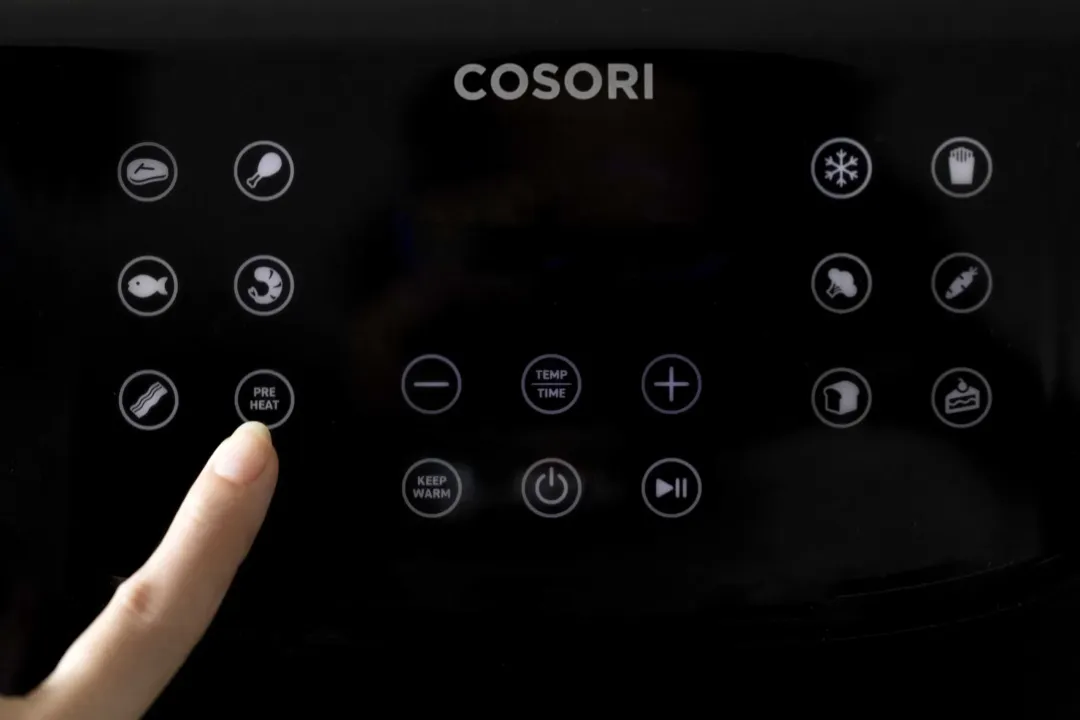 2
Pat dry 20 oz firm tofu using a clean kitchen towel.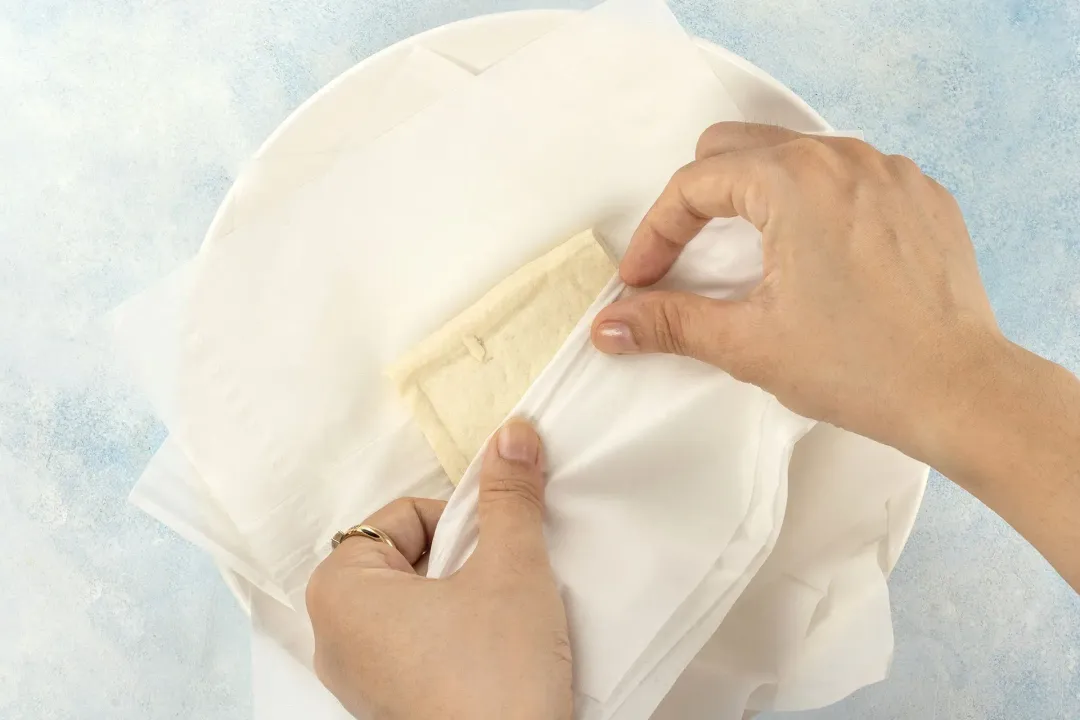 3
Cut the tofu into bite-sized cubes and transfer them to a tossing bowl.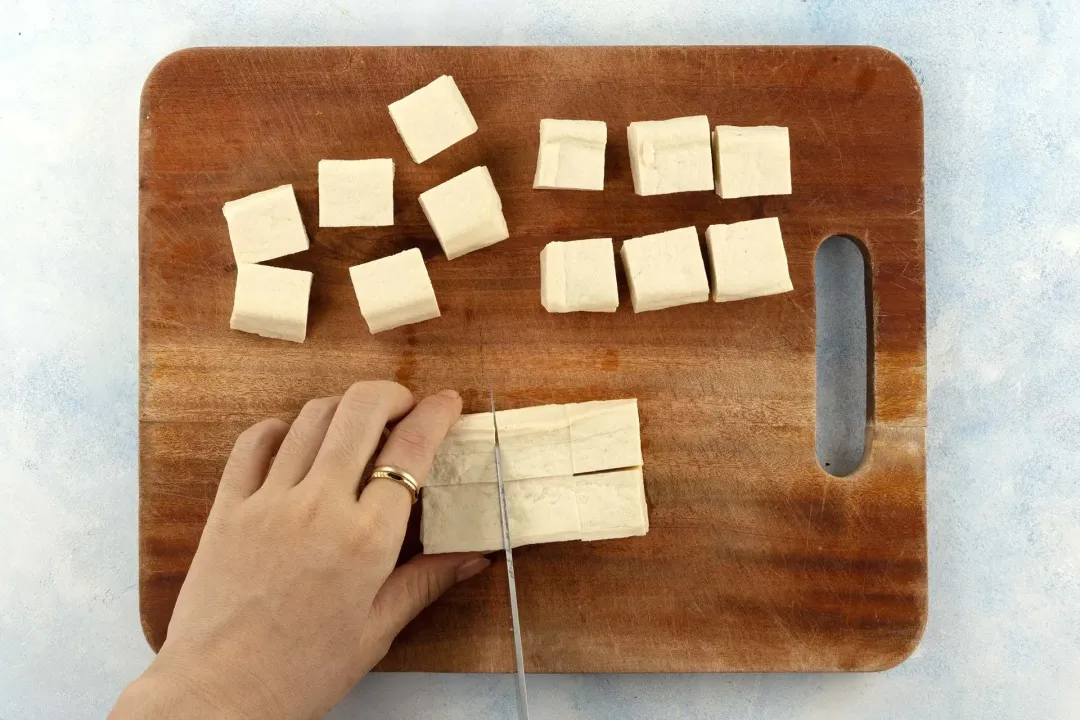 4
Toss the tofu with 1 1/2 tbsp olive oil until thoroughly coated.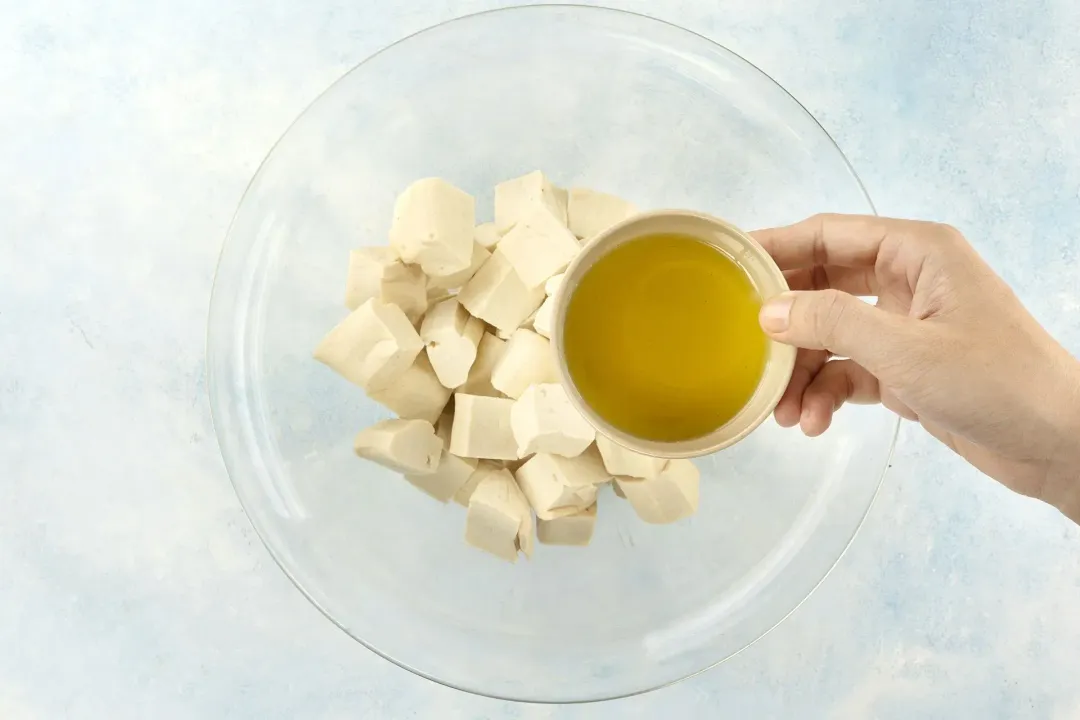 5
Place the tofu cubes in the air fryer, arrange them in a single layer, and leave a small space between each cube. Cook for 10 minutes. Flip sides, then cook for another 5 minutes.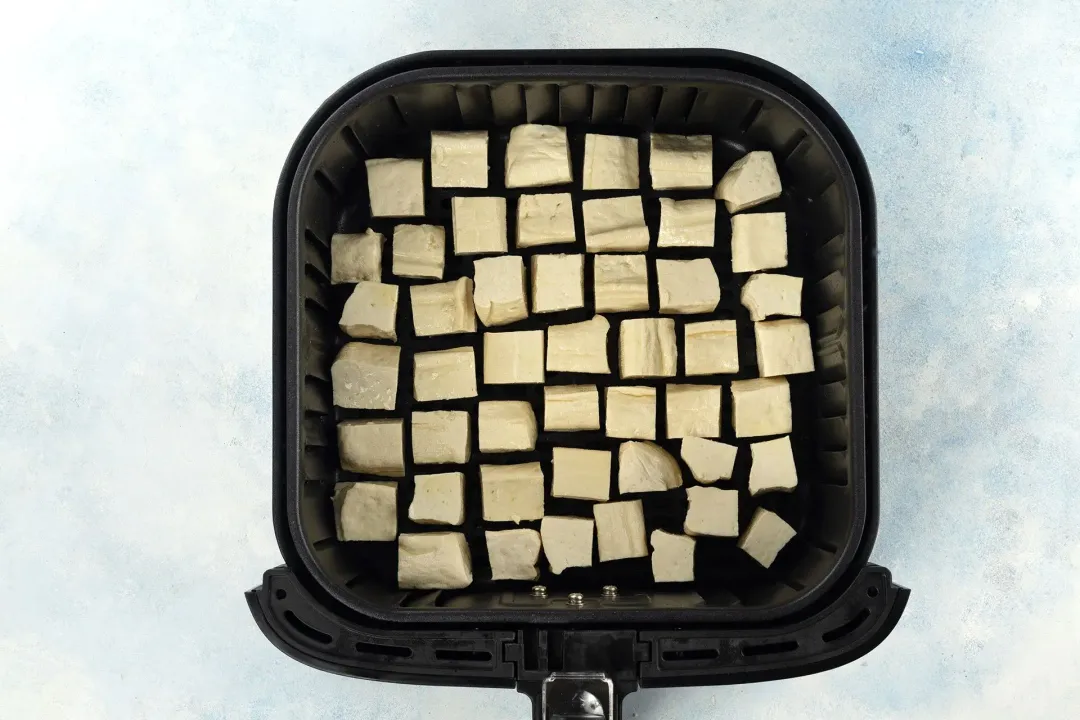 6
Remove the tofu from the air fryer. Serve hot with 3 tbsp sriracha as a dip.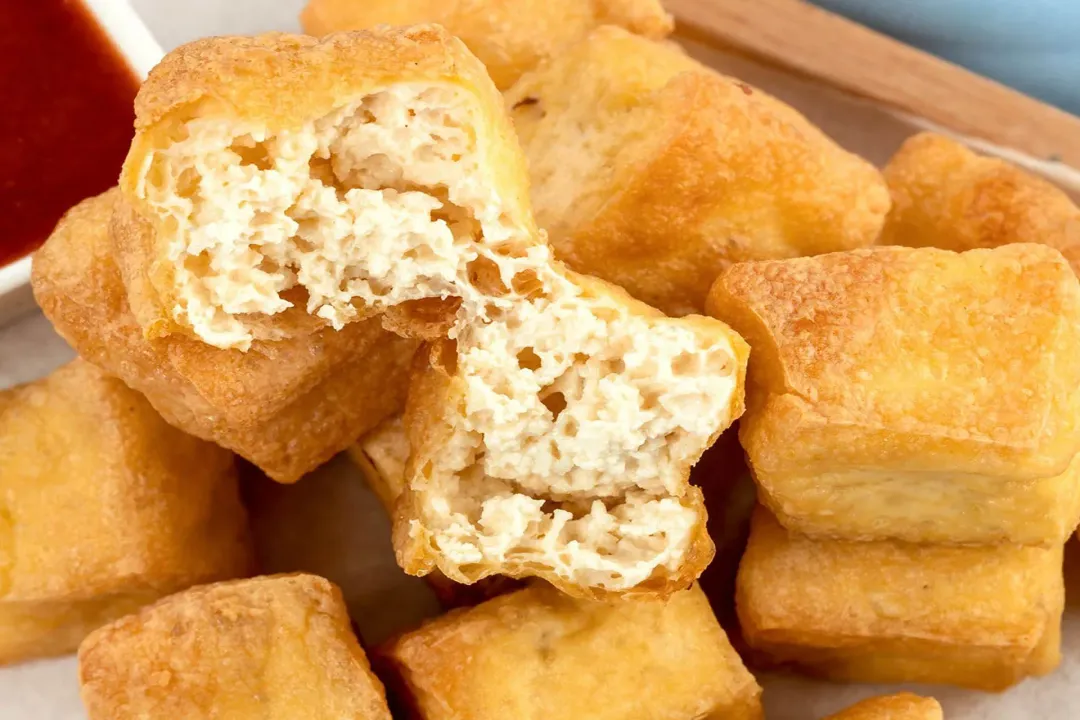 NUTRITION
Nutrition Facts
Air Fryer Tofu
Amount Per Serving (1 serving)
Calories 195
Calories from Fat 117
% Daily Value*
* Percent Daily Values are based on a 2000 calorie diet.
Keywords: air fryer tofu, air fryer tofu recipe, how to make tofu in an air fryer, tofu in an air fryer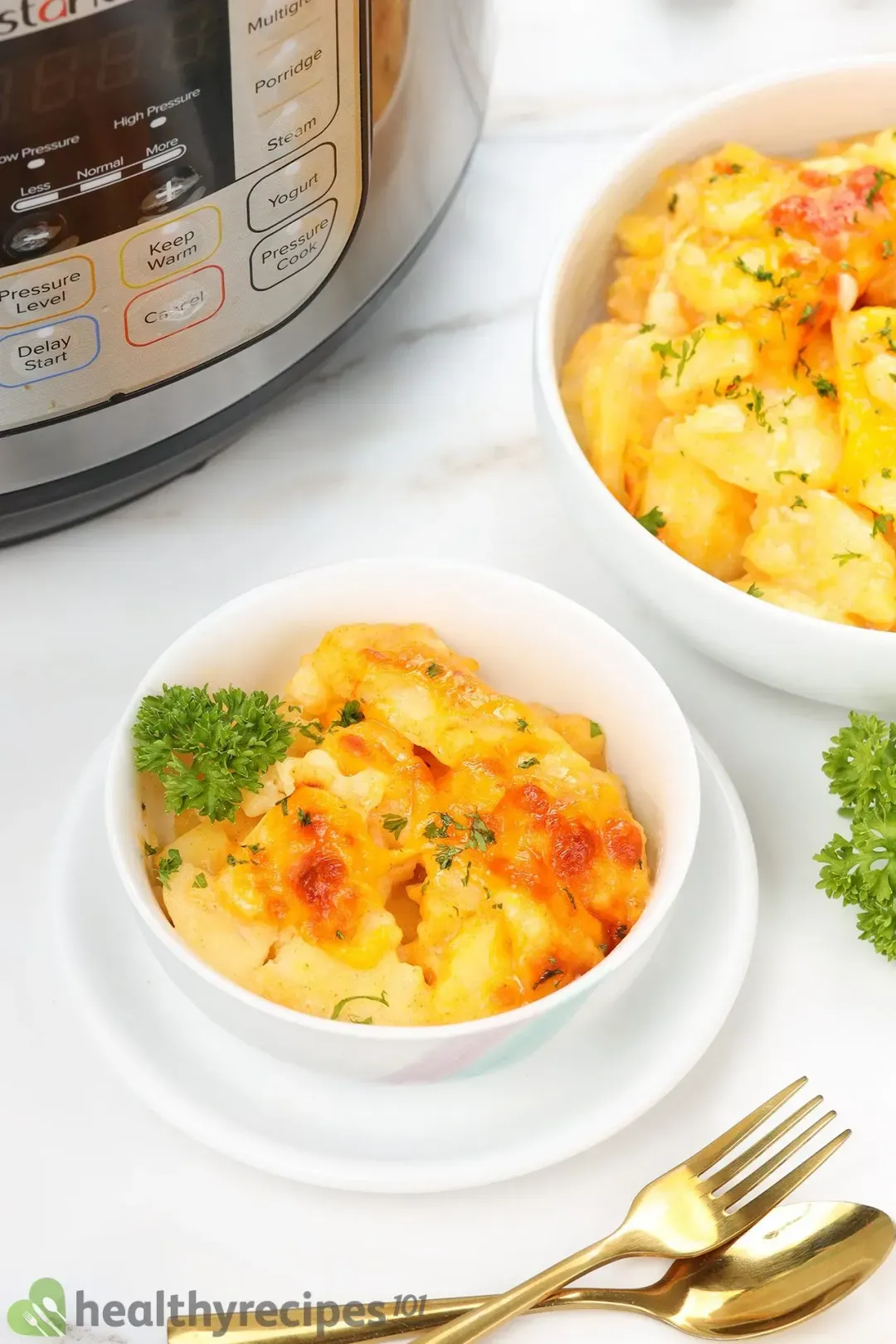 Previous Recipe
Instant Pot Scalloped Potatoes
Instant Pot Scalloped Potatoes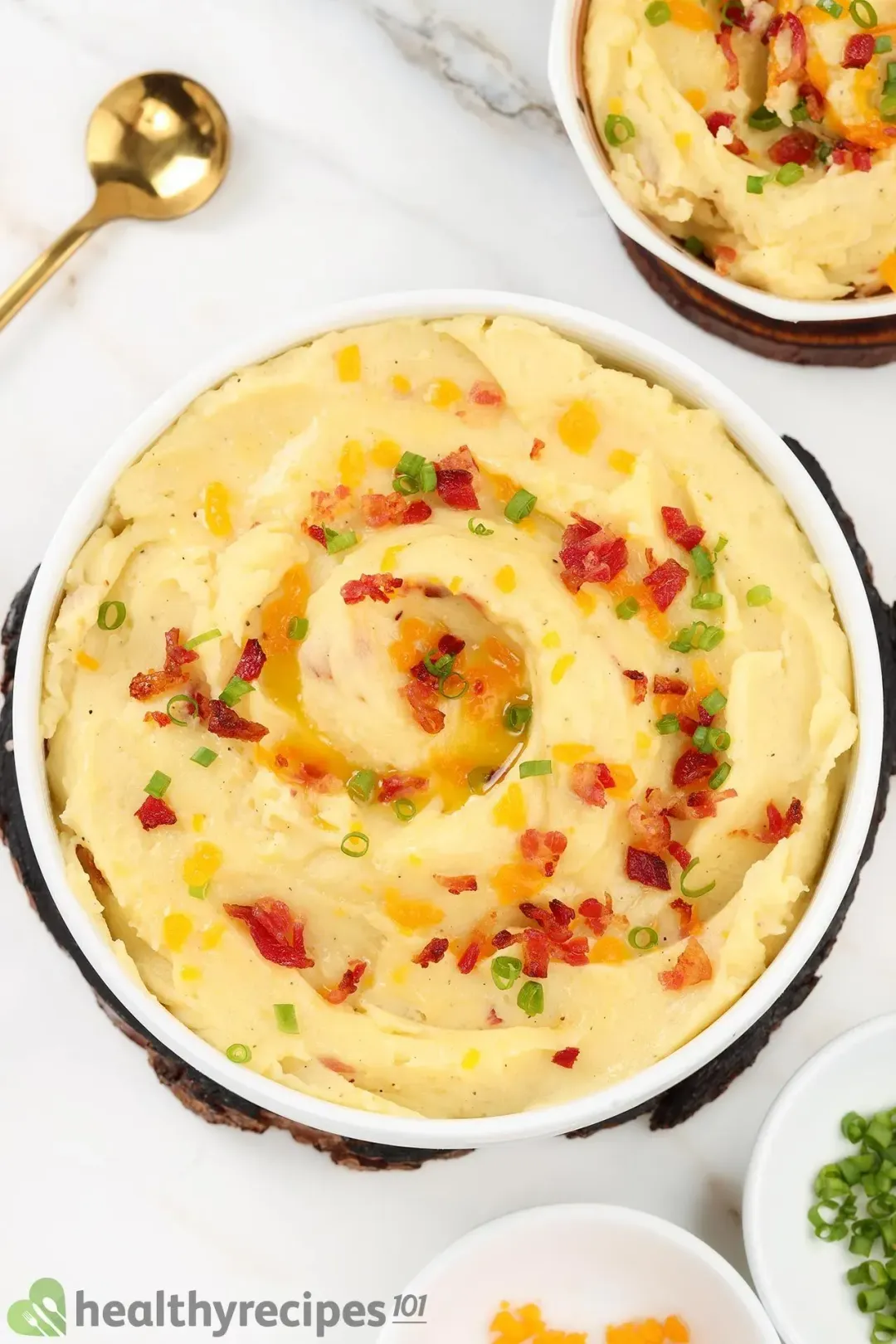 Next Recipe
Instant Pot Mashed Potatoes
Instant Pot Mashed Potatoes
Head Chef, Culinary Consultant
Tuyet Pham is an award-winning Saigonese chef who believes that joy is the secret ingredient to delicious food. At Healthy Recipes 101, Tuyet personally tests and simplifies every recipe, ensuring maximum flavor with minimal effort. With a background at prestigious French restaurants P'TI Saigon and Le Corto, Tuyet knows how to make every dish exceptional.
Writer, Author
Luna Regina is an accomplished writer and author who dedicates her career to empowering home cooks and making cooking effortless for everyone. She is the founder of HealthyKitchen101.com and HealthyRecipes101.com, where she works with her team to develop easy, nutritious recipes and help aspiring cooks choose the right kitchen appliances.
Nutrition Reviewer
Lizzie Streit is a Minneapolis-based dietitian and founder of It's a Veg World After All. She completed her MS in Human Nutrition from Drexel University, and is an expert in culinary nutrition, recipe development, and nutrition communications. Lizzie's philosophy is centered around making nutrition recommendations, and especially the advice to eat more vegetables, approachable and realistic. She is excited to be working with the team at Healthy Recipes 101 to ensure that their recipes are both nutritious and delicious.
I'm looking forward to trying this recipe out and I'm sure it will be a hit with my family. Thanks for sharing!